In Iceland, a country where many natural attractions aren't roped or fenced off, you are free to stand (with caution, of course) right next to the edge of a roaring waterfall. You can even walk behind one, at Seljalandsfoss.
And in the case of the gorgeous 60 meter-high Skógafoss, you can walk into the mist at the foot of the cascade (pictured above) or do like our new Nordic Photo of the Month winner Michelle Hamilton (pictured below), who hiked high up on the cliff over which it tumbles.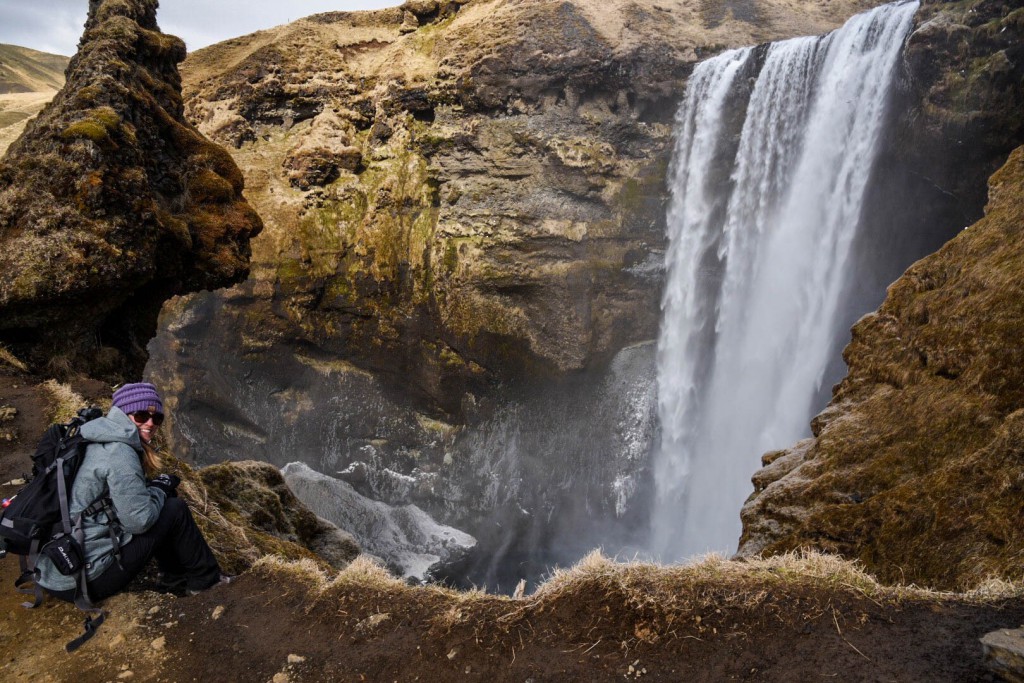 To get Michelle's coveted seat, you'll need to walk up the steps at the eastern side of the falls. If you're not scared of heights or afraid to break a sweat, the effort will reward you with an unbeatable view over not only the waterfall but the surrounding landscapes of the south coast.
To get to this waterfall—and many others—then you should also do like Michelle and drive around Iceland's Ring Road on our best-selling Iceland Full Circle tour. If you can't make it in summer, you'll be glad to know that most waterfalls and other attractions are accessible in winter as well.
---
GOOD TO KNOW: To reach many waterfalls you need to walk on rough, muddy or slippery trails, so make sure to wear supportive footwear with good grip on the soles. Water repellent hiking boots are ideal, with removable ice-cleats for winter travel. Also, wear a rain coat unless you want to get soaked from the mist. See more of our smart dressing tips here.
Michelle's picture will be the cover image on our Facebook page until next month.
And don't forget to hashtag #NordicVisitor on all your fun Nordic photos!