"...On the scenic fjord cruise from Gudvangen to Flam on the ferry through Naeroyfjord. What lovely views — majestic mountains with small villages nestled at the base."
This was written in the email attached to the photo that had stopped us in our tracks. And so we decided right then and there, sort of on a whim, to award this month's Nordic Photo of the Month award to Betty Eich, who stunned us with her colourful photos from Nordic Visitor's 8-day Complete Norwegian Fjord Tour in Norway.
This trip, a combo of a train and cruise tour, was also sort of a snap decision for our winner and her husband, Ed. As Betty explained: "This was rather spur of the moment! We found a very reasonable transatlantic repositioning cruise from Tampa, Florida, to Copenhagen. We decided to take it. Then we had to decide on what we wanted to do in Europe after we got there! We decided that a trip to Norway, after a few days in Copenhagen, would be perfect."
Perfect indeed!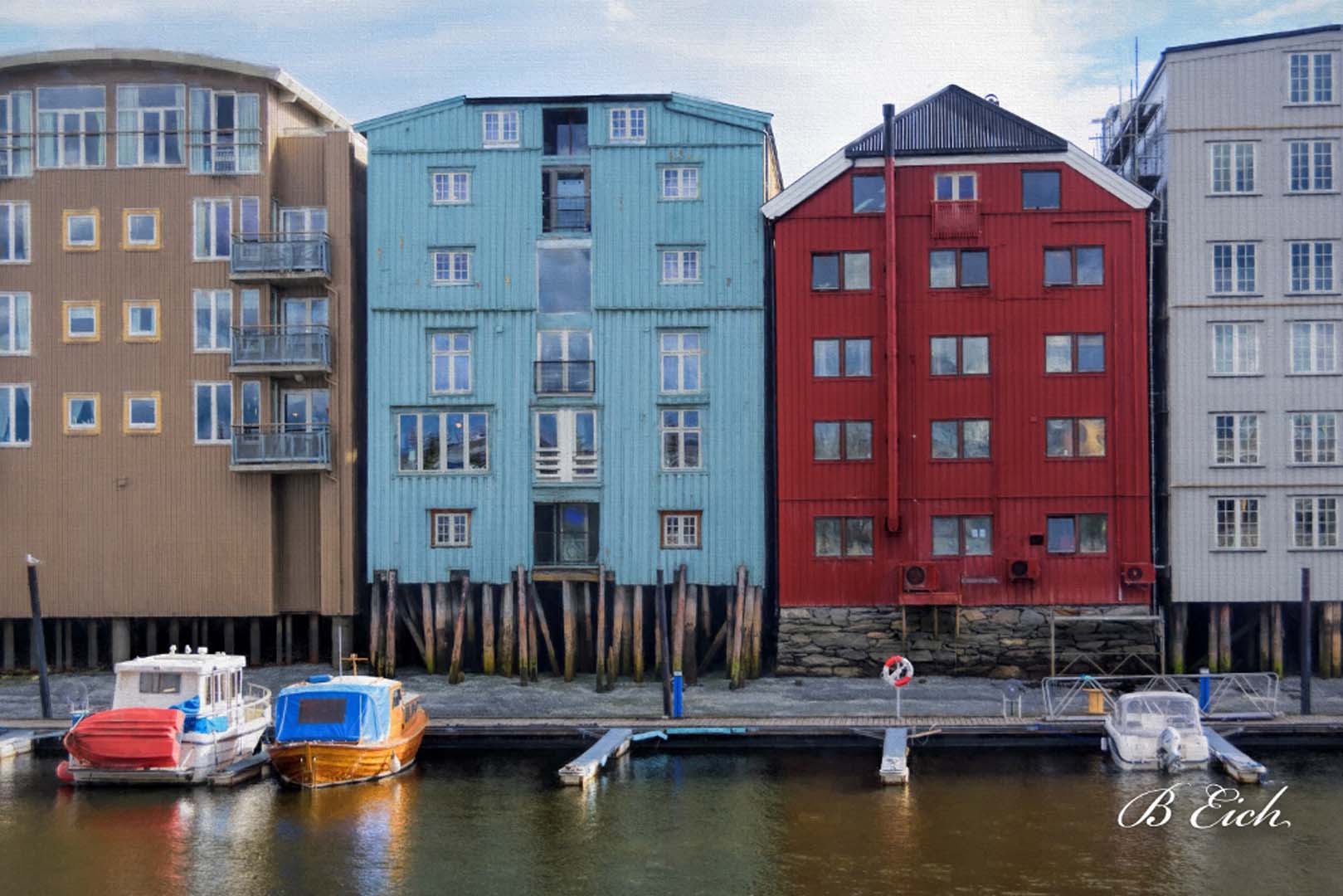 ---
From historic cities to staggering fjords
Asked about her inspiration for this trip, Betty replied:
"We wanted a trip that went beyond the usual one-day Norway in a Nutshell. We liked taking the train from Oslo to Trondheim and then taking the Hurtigruten Cruise down the coast from Trondheim to Bergen — all before the fjord tour.
We enjoy independent travel more than group tours, so we did some internet searching for trips around Norway that we could do on our own — with the support of a travel company that would make the lodging and travel arrangements. We found Nordic Visitor and were drawn to 'The Complete Norwegian Fjord Tour.'
We read highly favorable reviews of both the tour and the company, and the 8 days fit perfectly into our schedule. And, we discovered, we made an excellent choice of both company and trip! Our travel consultant, Kolbrun, was personable and prompt in her replies to us. The itinerary was very well planned and presented. The 8-day trip went off without any problem at all."
As a longtime teacher and administrator, Betty said she has always been passionate about education, and after retirement she soon turned her passion for learning towards travel and photography. Together with her husband Ed — an avid videographer — they traveled to 23 countries and have "just as many" on their bucket list.
Added Betty: "We enjoy meeting the people in a country, getting to know their culture, and seeing (and photographing!) the landscapes and the city sights."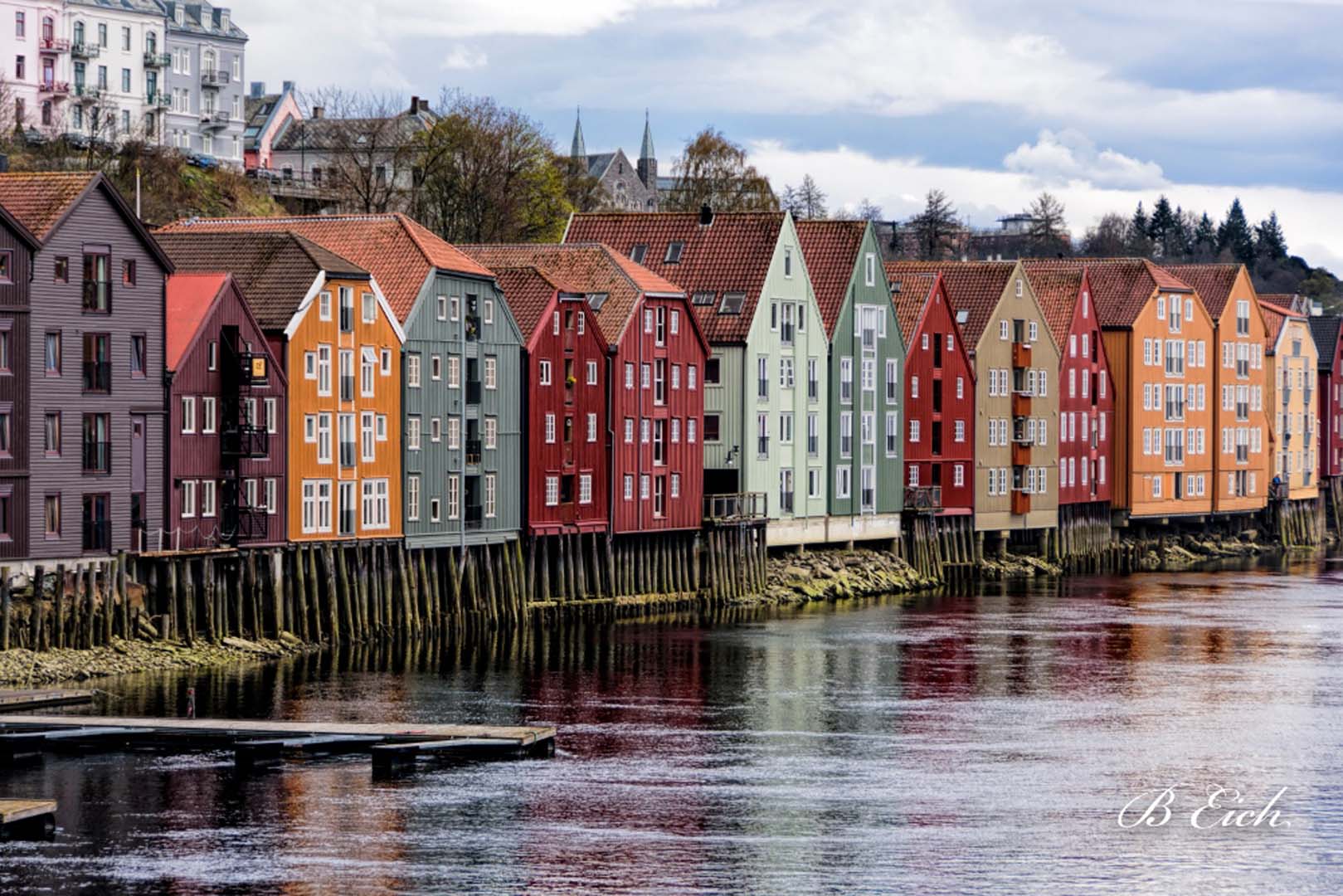 Never a dull moment
So how do you manage to pack train journeys, fjord tours, bus rides on twisting mountain roads and a cruise into little over a week? The itinerary for the Complete Norwegian Fjord Tour looks like this:
We sat on the stern deck enjoying the panoramas of mountains and small villages nestled along the shore. When it got too windy outside, we enjoyed the views from the comfort of the lounge."
"Bergen is our absolute favorite city. It's a wonderful walking city. We strolled Bergen's Hanseatic Quarter (Bryggen), going into the shops and through the narrow alleys. We explored the Fish Market with its hundreds of varieties of fish — some that could be prepared on the spot. We found antique shops filled floor to ceiling with "finds" and curiosities. And we found delightful pubs and restaurants in the Ole Bulls Plass neighborhood.
We had heard that Bergen gets, on average, only 60 days of sun each year. Both of our days in Bergen were sunny! In fact, one was positively summer like. We felt bad that now the natives there have only 58 days of sun left — for the rest of the year!
Another highlight was the trip on the ferry from Gudvangen to Flam. The boat was crowded, but we found the perfect place to photograph the fjord scenery, the car deck! There were only a few of us there, so we could go from side to side, shooting photos and marveling at the narrow fjord, in one spot as little as 820 feet wide, and the little villages under the 3,000 foot high mountains.
Finally, we enjoyed Flam, especially the luxury of staying there overnight. The Fretheim Hotel is lovely, and our dinner there (included in the trip package) was a delicious and memorable end to our Norway experience. "
Not bad for a trip planned on a whim! Thanks, Betty, for filling us in on your amazing trip.
---
Pro tip: As Betty alluded to in her comments above, Norway -- particularly Bergen, can get a lot of rain. Pack a raincoat and warm layers, even for a summer trip! Luckily Betty will be well prepared for all sorts of weather changes on future Nordic trips with her prize from our contest co-sponsor 66 North, a leading Icelandic outdoor clothing brand.
Feel like going to Norway right this minute? Who can blame you? These best-selling train and cruise tours might just cause some extra wanderlust:
---
Have you travelled with Nordic Visitor and want to be in the running for our Nordic Photo of the Month contest?
Tag your travel photos with #NordicVisitor to share them with us on Instagram, Facebook or Twitter! You can even go more direct, like Betty, and email them to us. Read all about the contest, the great monthly prizes (from 66° North!) and all the ways you can enter!