It's not your typical winter destination, that's for sure.
While others jet off to sunny Thailand or Tenerife in mid-February, one brave Nordic Visitor explorer set off to the equally exotic (though slightly colder and darker) archipelago of Svalbard, the northernmost territory of Norway.
Today we're chatting with Sindre, one of our travel consultants who specialises in Norway. After a few days of scouting new experiences for Nordic Visitor travellers, he returned to our Iceland office with some excellent stories, Svalbard travel tips and — we must admit — some envious bragging rights. Read on in the interview below...
---
Besides bragging rights, why should someone go to Svalbard?
Sindre: If you're looking for a real adventure, this is the place. And I mean REAL adventure. There is no town further north anywhere in the world than Longyearbyen, and you share the area with wild polar bears. The tranquillity of this archipelago cannot be found in many places on earth, besides at the poles of course. Svalbard is like the doorstep to the North Pole, so imagine how close you are. Also, at this time of the year the aurora borealis can be seen in daytime due to the polar day phenomenon.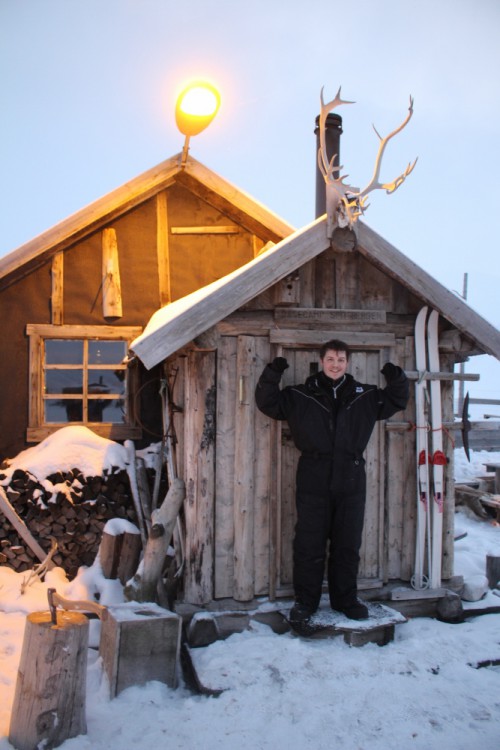 And being in the Arctic means there are plenty of incredible activities to take part in, with people who are true professionals and wilderness experts. The guides here have great local knowledge and they always carry flare guns and rifles to protect against polar bears and make you feel safe at all times. For each excursion we had a briefing first to go over the safety rules and route plan, and for the snowmobile tours they checked if we all had valid drivers licences. (Otherwise you will not be allowed to drive one.)
Tell us more about the polar bears. Any advice?
Sindre: Before your trip it's good to brush up on what to do if a polar bear gets a little too close for comfort, likenot panicking and running for example, but of course your guides in Svalbard know what to do and will give you more information in the briefings.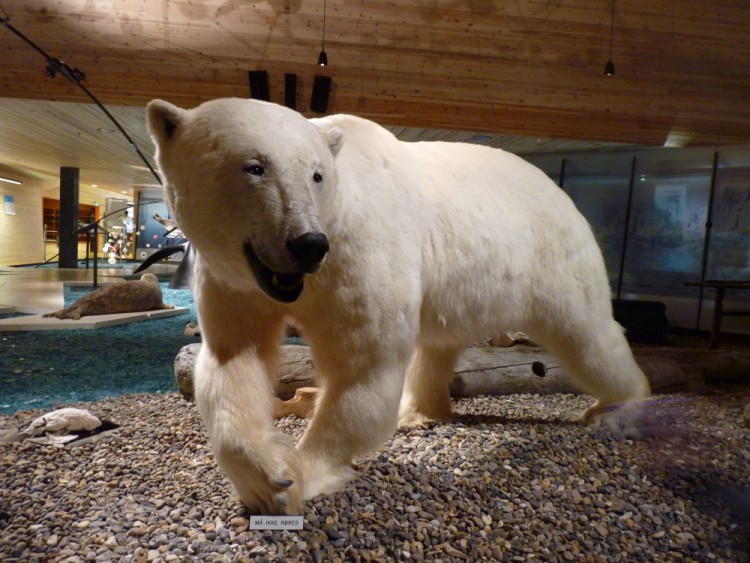 But you should't be too scared — the locals are actually more afraid of having to shoot a polar bear than the polar bear itself. They have been protected by law since 1973 and it's strictly forbidden to hunt / kill them. I'm surprised how long ago they started to protect them.
What else should visitors do in preparation for a trip here?
Sindre: Get wool clothing and then some more wool clothing! You really need warm clothing from top to bottom, and no layers can be skipped. Besides polar bear protection, the tour guides also provide you with necessary safety gear and outerwear for your activities, but underneath the snowmobile suit and helmet you need to come prepared.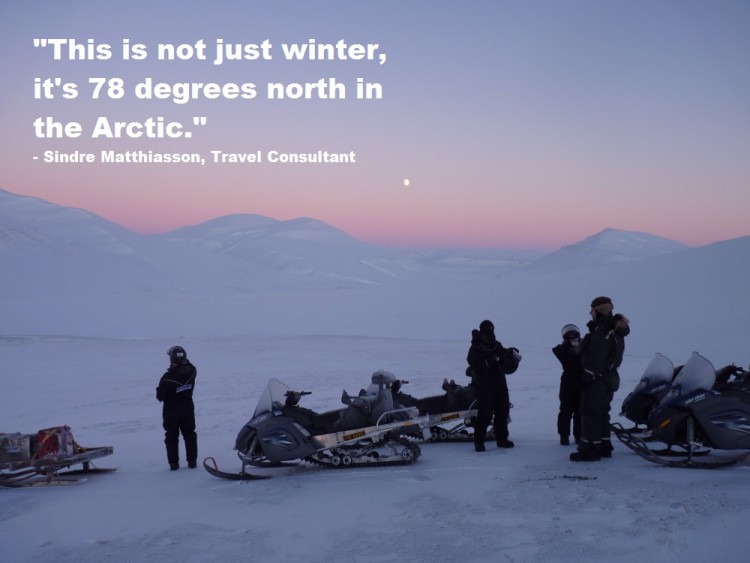 Watching BBC's Frozen Planet is also a fun way to get an understanding of where you are going. This is not just winter, it's 78 degrees north in the Arctic.
How many people were in your group on your excursions?
Sindre: There were six of us in my group, and for the snowmobile trip we had one guide, Ola. For the 2-day dogsledding trip there were the six of us and then three guides: Kristin, Jukka and Stian. Plus the 56 huskies that also worked as the polar bear guards during the night. Kristin knew every dog like they were hers. Besides working with well over 100 dogs, she has 12 of her own!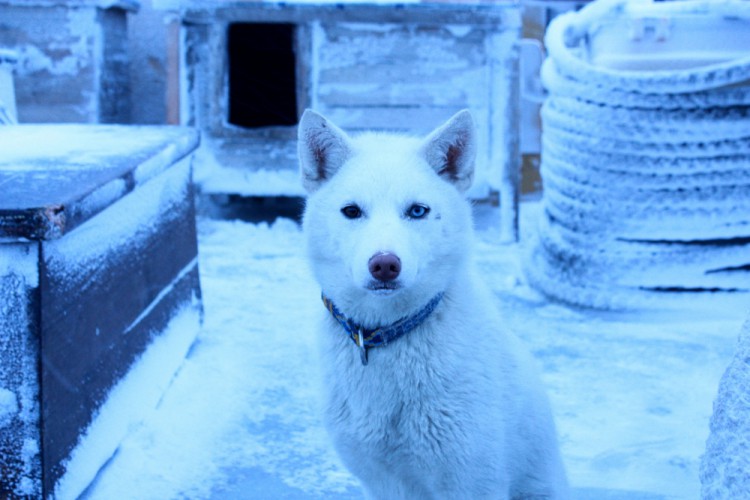 Can you tell us what being in "polar day" is like?
Sindre: In mid-February the sun still doesn't come up completely over the horizon during the day in Svalbard so there is a soft, low light from 8 AM to about 4 PM. You can see the moon throughout the whole day and with snow covering all land it makes the days brighter. This dark period, which lasts for about three months over winter, is tough on the locals, but the midnight sun in summer equals it out somehow.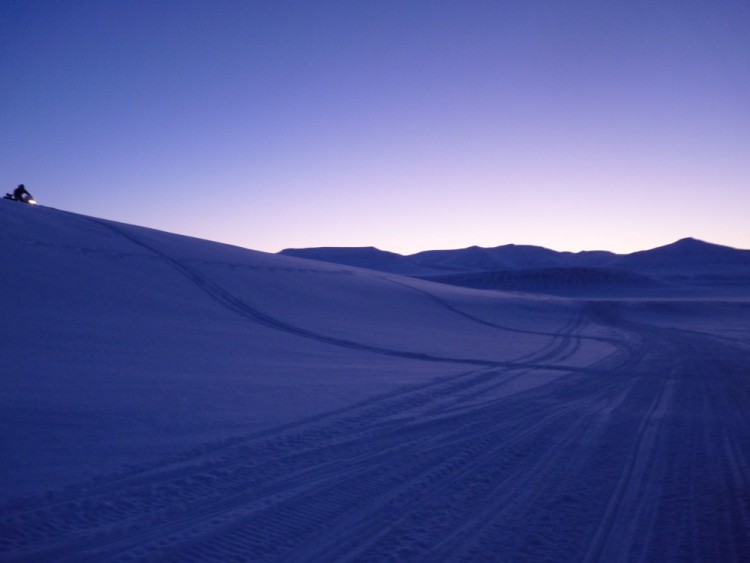 They also see a lot of northern lights through this period. There is little to no light pollution here so it gives you a great chance to see the best light show on the planet. Since it's pitch black and the moon is out 24/7 you can even see northern lights even in day time! This is quite unique and you can stay in Longyearbyen to see it. Sometimes you don't even have to leave your hotel room to enjoy this phenomenon. In my opinion this is the best place to go see aurora borealis.
How about the accommodations up there at 78 degrees north?
Sindre: It's got everything from comfort-level hotels to tent camping, and on this trip I got to try both! Svalbard overall has some interesting lodging options. Notable accommodations are the Noorderlicht hotel-ship frozen in sea ice [winter only] and Isfjord Radio, a place with a long story. It had been important for ships and air traffic and also for telecommunication since it was built in 1933. When fiber optic cable was connected between Svalbard and the mainland [Norway] in 2004 it was no longer needed as a communications base. So today it's used for accommodation, and it's quite comfortable and of high quality. Some locals even go there for a nice dinner or just to have a relaxing getaway.
But, as wilderness and nature rule up here, our planned trip to Isfjord Radio was unfortunately cancelled. There was no sea ice at the time, so it was not possible to get there by snowmobile and not enough snow on the route to get there with dog sleds.
Yes, nature certainly rules in Svalbard. What was Plan B?
Sindre: You always have to stay flexible with your plans in the Arctic. Instead of spending the night at Isfjord Radio as planned we went on a 2-day dog sledding trip to Reindalen, where we had enough ice and snow. It was so amazing to let the dogs lead the way into the wilderness, so authentic. It was a lot of fun having huskies as "the machinery" and for companionship.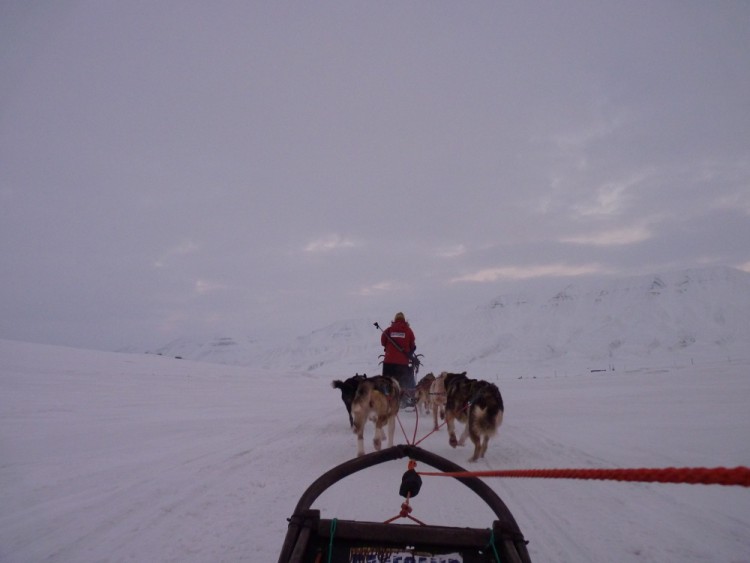 We went over a mountain pass climbing to an altitude of about 400 metres above sea level. And at the top we had a light lunch and let the dogs rest for a while. After this we went full speed downhill and as we entered Raindalen all of us where speechless. The scenery was breathtaking even for me who as seen a lot of snow, ice and mountains in my life. We made it to the camp before full darkness and made dinner for the huskies, and then for ourselves once the dogs settled down.
We spent the night in tents, surrounded by polar bear protection, our 56 dogs and raw nature. The only connection to the outside world was a satellite phone. The next morning we had to pack down our tents and get going early as there was some bad weather coming, but everybody chipped in and we got a nice and early start of sledding back to Longyearbyen.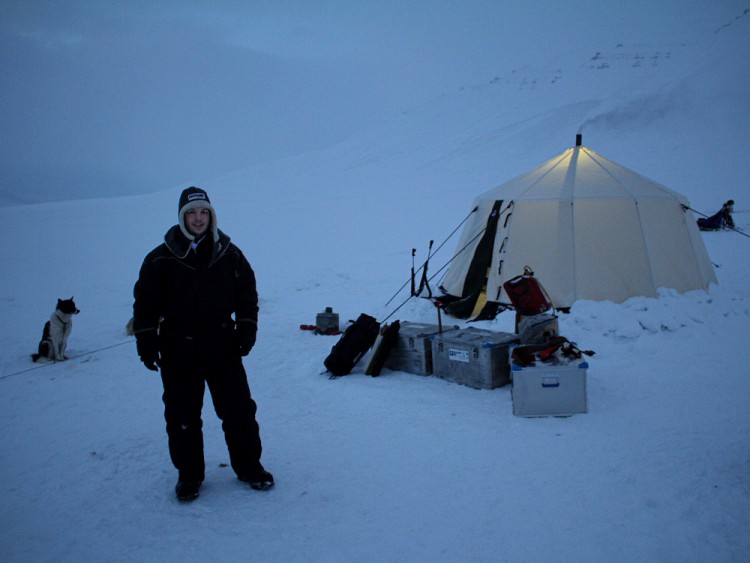 Thanks, Sindre. We think you've earned your bragging rights.
---
Why not bring your own impressive stories back from Svalbard?
You don't even have to sleep in a tent to do it. If you like the looks of Sindre's trip but want to stick to sleeping in hotels, then check out Nordic Visitor's 4-day Winter World in Svalbard package for all the details.
If you have something else in mind, we have an exciting selection of travel packages to take you to Svalbard that you can book as-is or customize to fit your specific wishes.
Still not sure what to pack for an adventure like this?
Another one of our experts on Norway travel, Kolla, has some great advice for keeping warm at 78 degrees north.