Travel With Confidence
Look forward to travelling again and rest assured that you are supported every step of the way. Your safety and wellbeing is at the heart of everything we do, which is why we have established new protocols to ensure you Travel With Confidence.
What we're doing for your wellbeing
Thanks to Nordic Visitor's cancellation insurance offering flexible terms, you can Book With Confidence knowing you will never lose money.
Of course, we also care about your peace of mind while you travel. Here are our commitments to you.
Safe transportation
Rest assured that we only work with the most trusted transport providers. Any vehicle that you travel in will be cleaned to keep you safe.
For example, if you join one of our small group tours, your bus will be equipped with hand sanitiser and disinfected regularly. If you are on a self-drive tour, your car will be thoroughly cleaned before you collect it.
Quality-checked hotels
Our travel teams have always selected hotels for their quality and high service standards. Now, we are working with our accommodation partners to ensure that they meet our new health and hygiene protocols.
You can relax knowing that all key touch points will be sanitised regularly and hand gel will be provided at the hotels you stay in. If you are a solo traveller on a small group tour, you will have your own private room.
Handpicked restaurants and activities
Dining and excursions form an important part of your tour, whenever you travel.
To make sure you still have the best time on your trip, we certify that our experience providers are aligned with us when it comes to meticulous health and hygiene procedures. This includes physical distancing and regular sanitising of surfaces.
Trained tour guides
Our on-the-ground guides are local, well trained and prepared for anything. They are there to keep you safe and help you have an unforgettable trip. Leave it to them to provide you with an authentic experience and to support you from start to finish.
They have had extra training for new safety protocols so they know exactly what to do in all possible scenarios.
Detailed travel documents
Before you arrive you will receive all the details of your tour, as well as important updates on local guidelines. Your comprehensive travel documents have all the information you need in one place to help you prepare for your trip. Your dedicated travel consultant will keep you updated should any changes arise.
24/7 support
Relax knowing we are there for you around the clock during your tour. If you urgently need to contact us, you can access our emergency line at any time of day.
What's more, our regional teams – based in Reykjavík, Edinburgh and Stockholm – are always on top of events to keep you safe. Should anything unexpected occur, we will take care of rearranging your itinerary wherever necessary at no additional cost to you.
Our certifications and commitments
We want you to have the utmost confidence in booking your trip with Nordic Visitor. You can depend on us to deliver high standards of quality and trust, as these core values are the cornerstones of who we are.
Here are some of our professional memberships and pledges that reflect our commitment to creating unrivalled and safe travel experiences for you.
Certified Travel Service Vakinn - Quality System
Member of The Icelandic Travel Industry Association
Official agent Norway Hurtigruten cruises
Member of The Scottish Tourism Alliance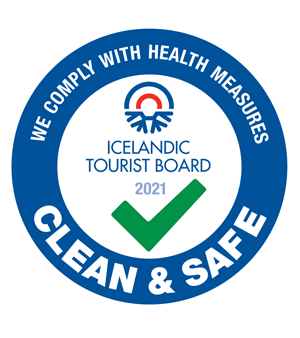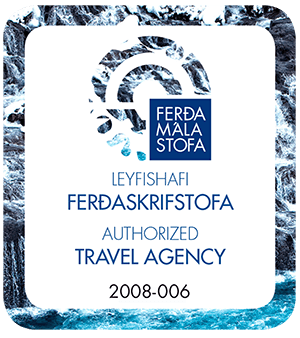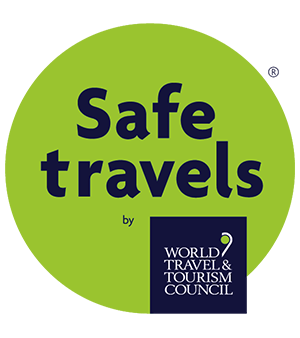 What our customers say
Discover what our amazing clients, who travelled during the pandemic, thought about their experience with Nordic Visitor.
What a fantastic trip, to such a unique and beautiful island! […] All the arrangements worked perfectly, and the detailed and personalised itinerary prepared by Nordic Visitor was much appreciated. We also loved all the hotels and guesthouses that we stayed in, and the food was uniformly great. Everywhere felt very Covid safe and conscious, and the arrival and departure formalities were fine. Fantastic trip!

- Ian, visited Iceland in 2021
We had such an amazing holiday! First time booking a self-drive holiday, but we were put at easy with such great organisation and communication from our very own travel consultant. […] The journey was well planned out, the itinerary was amazing!

- Alice & Jay, visited Scotland in 2021
This was one of our best trips ever and the amount of research and detail they provided us in hard copies was worth every penny. We knew this trip was going to be full of once in a lifetime experiences and it simply was easier to have them plan it without worrying about the day to day schedule. […] they were available 24/7 which gave me great comfort in knowing I could reach them anytime throughout our trip. Do not hesitate in using Nordic Visitor!

- Melanie, visited Iceland in 2021

See all reviews
How to prepare for your tour
We believe in responsible travel. That's why, to keep you and others safe, we would ask a few things of everyone who is travelling with us. We recommend you prepare for your trip with the following steps:
Frequently Asked Questions
To help you Travel With Confidence, we've answered commonly asked questions here. If you'd like more information on our flexible booking policy, visit Book With Confidence. Or if you have questions about international travel and destinations, see our Travel Updates.
Before travel:
During your tour:
Why book with Nordic Visitor
Book with Confidence
Secure your trip your way with Nordic Visitor. Book a tour with as little as 10% deposit. With a 20% deposit or more, you will receive our cancellation insurance free of charge. You can also pay the full price right away to guarantee today's exchange rate. Terms & conditions apply.
Trusted local travel experts
Nordic Visitor was established in 2002 and has been creating unforgettable tours in Northern Europe ever since. Our travel consultants have extensive knowledge of the regions they are based in and will use their expertise to craft your perfect trip. They will support you every step of the way.
Flexible tour options
Your dedicated travel expert will do everything to make your trip personal to you. If you have a particular wish list in mind, don't hesitate to share your ideas. Whether you want to add extra nights, visit specific attractions or make any other adjustments, they will tailor your itinerary to your needs.
You are in good hands
We are used to dealing with unforeseen and sometimes disruptive situations, such as volcano eruptions. So should anything unexpected arise during your tour, don't worry. We will take care of reworking your itinerary while keeping you safe and informed. Our 24/7 helpline means we're only a call away.
Great reviews
Nordic Visitor is dedicated to the best service quality, and this is reflected year after year when Tripadvisor awards us with their Certificate of Excellence. We also take great pride in our customer feedback: 97% of our travellers say they would recommend us to friends and family.
Stress-free experience
Relax and let someone else handle all the details of planning your trip. We take care of organising everything for you, from route planning to making bookings, so you save time and effort. You can look forward to your tour knowing that the experts have everything in hand.
Full financial protection
With Nordic Visitor, you have peace of mind knowing your holiday arrangements with us are 100% financially protected. Your payments are safeguarded with an insurance protection that guarantees you a refund in the unlikely event of insolvency.
Covid Information Hub
Here you can find everything you need to know about planning and enjoying travel following the global pandemic.
Contact us
Keen to learn more about a tour destination? Or do you want to customise a package. Whatever you need, our helpful travel team is happy to help. Get in touch today.
Call
Our main phone number is
+354 578 20 80
Chat
How about a live chat with one of our local travel expert?
We are here to help
Whether you have a single question or a special request, we're here for you.