Embarking on a road trip around Norway is a great way to see all the glories this Scandinavian country has to offer. And making the most of your time away is all about getting your itinerary just right.
After all, you want to be able to catch sight of those incredible fjords and sweeping arctic landscapes. But you still need a little time to wind your way through heritage-listed Norwegian towns and cities such as Oslo and Bergen.
So what is the best way to do a driving tour of Norway? Glad you asked!
Expert-approved Norway road trip routes
You could easily be forgiven for not knowing which of the many different routes to choose from. That's why we asked one of our Norway specialists, Sindre Matthíasson, if he could give us a breakdown of his favourite Norway driving routes that will suit any intrepid road tripper.
He's recommended journeys ranging from 5-day express tours that can see you sliding past some of Norway's best attractions, up to comprehensive 16-day itineraries that take you across large parts of the country. Plus, there are plenty of other choices in between.
So get seated, we're about to set off!
---
Top driving itineraries in Norway:
---
1. Express beauty in Lofoten – 5-day road trip in Northern Norway
A 5-day driving tour of Norway may seem ambitious, but it is wholly achievable, especially if you set your sights on the gorgeous and scenic Lofoten Islands. This itinerary is ideal for birdwatchers, hikers, and travellers wishing to see the untouched northern terrain of Norway.
Experience the rugged wilderness of the Lofoten Islands, and explore the arctic fjords, marvel at the majestic mountains, spy seabird colonies, and step off into beautiful villages like Henningsvær.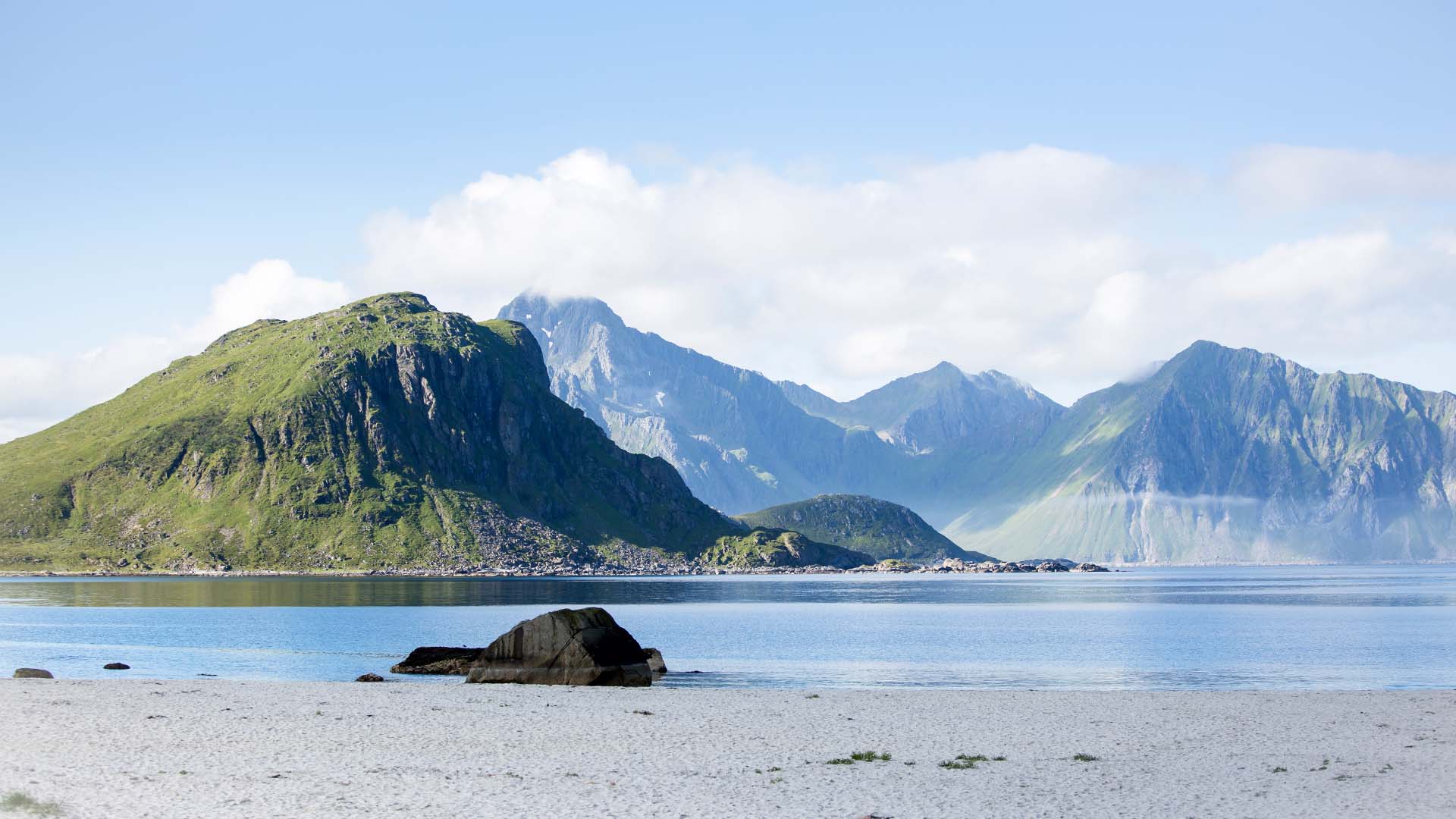 What's the drive like?
The driving for this itinerary is light, roughly 158-252 kilometres (98-157 miles). And, you can drive it in two major stretches, each of which takes around 2 hours. For more information, see our guide to driving in Norway.
What itinerary is best for a 5-day Norway road trip?
Day 1 – Start in Svolvær, the hub of the Lofoten Islands, where you can spend the day investigating the delightful shops and cafes in the main town, and if you're feeling adventurous, hike Svolværgeita, the mountain that overlooks the town.
Day 2 – On your second day in Svolvær, bring your camera and head to Trollfjord, known for its watersports, fishing villages, and incredible birdlife. Make time especially for Henningsvær, affectionately known as the "Venice of Lofoten" because of its pretty maritime looks.
Day 3 – Drive to Reine today, where you can take the national tourist road that runs through the islands. Prepare for some excellent stopovers at places like the Lofotr Viking Museum for a little Norse history, and to Gimsøya and Haukland beach for seaside views and fun.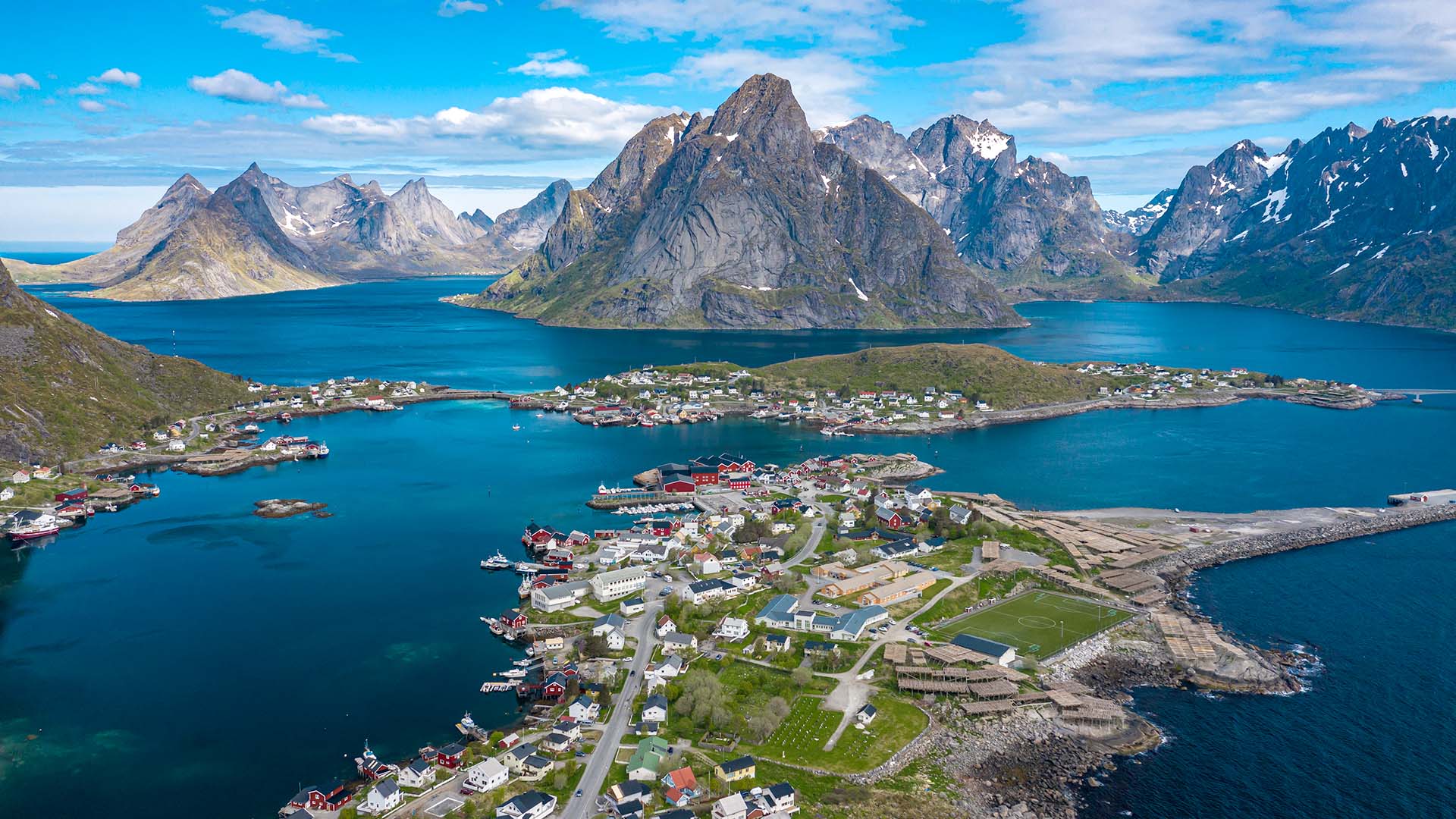 Day 4 – In Reine, make the most of the fjords, by enjoying watersports in Reinefjorden, and panoramic views with a hike to Reinebringen. You can also duck into the local Norwegian Fishing Village Museum to learn about the culture and heritage of these islands.
Day 5 – Hop in your car and head back to Svolvær, where you can extend your trip, or fly to Oslo and investigate the charms of Norway's capital.
Best Norway road trip for: A short break with incredible scenery.
---
---
2. The Norway Express Route – 7-day driving tour of Norway
If you've got a whole week to plan a Norway self-driving tour, then your best bet is to travel along the central part of the country's coast, starting and ending in Bergen. This itinerary brings you face-to-face with some of the nation's most glorious fjords, and gives you a chance to wind your way around some of Europe's most exciting roadways.
The route is circular and perfect for coastal, lakeside and inland exploration, without making you feel like you're racing from attraction to attraction. Plus, the extra days give you enough time to step away from the wheel and head out to sea on a spectacular overnight cruise.
What's the drive like?
This is a mid-level road trip, with drive times varying between 2-hour and 4-hour stints. Total driving for this trip is around 554 kilometres (344 miles).
What itinerary is best for a 7-day Norway road trip?
Day 1 – Kick off your trip in Bergen, the second-largest city in Norway, and home to the incredible UNESCO-listed Bryggen. This historic part of the city is an old wharf, filled with museums, markets, cafes, and shops. You could also pop up the funicular railway, the Fløibanen, to see Bergen from above.
Day 2 – On your second day, head to Voss and seek out the famed Tvindefossen waterfall nearby (see image). Driving on will take you past several gorgeous coastal towns, and panoramic views of Aurlandsfjord.
Stop off in Flåm, where you can ride the jaw-dropping Flåmsbana railway to Myrdal. Then take a short ferry ride to Sogndal which sits on Norway's longest and deepest fjord, Sognefjord.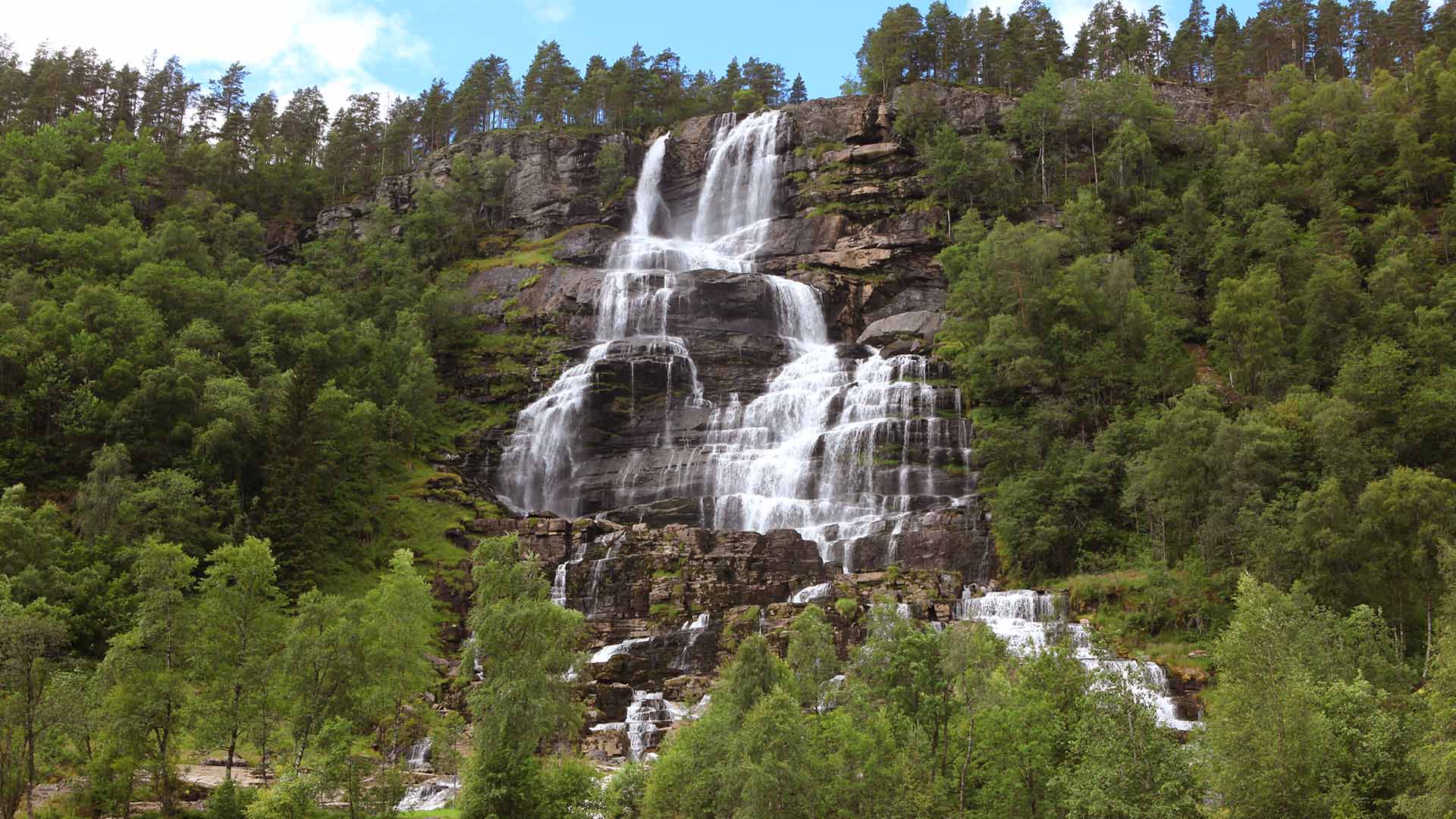 Day 3 – Today, make for Loen. This is a short drive, so you'll have more time to enjoy at each stop – see mainland Europe's largest icecap, the Jostedal glacier, and pop into the Norwegian Glacier Museum. Once in Loen, take the skylift, so you can see both the town and the spectacular Nordfjord.
Day 4 – Next up, is Geiranger. To get there you'll board a ferry and sail through the UNESCO-listed Geirangerfjord. Here you will see celebrated waterfalls like the Bridal Veil and the Seven Sisters.
Day 5 – In the morning, drive up the winding slopes of The Eagle Road, and hop on a short ferry to Linge before winding your way around the Trollstigen – The Troll Ladder. In the afternoon, board a Hurtigruten cruise and head south towards Bergen.
Top tip: in the summer months, you could enjoy coastal views from the ship deck under the midnight sun before returning to your private cabin.
Day 6 – Today, you'll reach the endpoint of the cruise and road trip in Bergen. Rounding off your trip here means you can either spend time hiking the seven (that's right, seven!) mountains that surround the city, or see attractions like Håkon's Hall in Bergenhus fortress.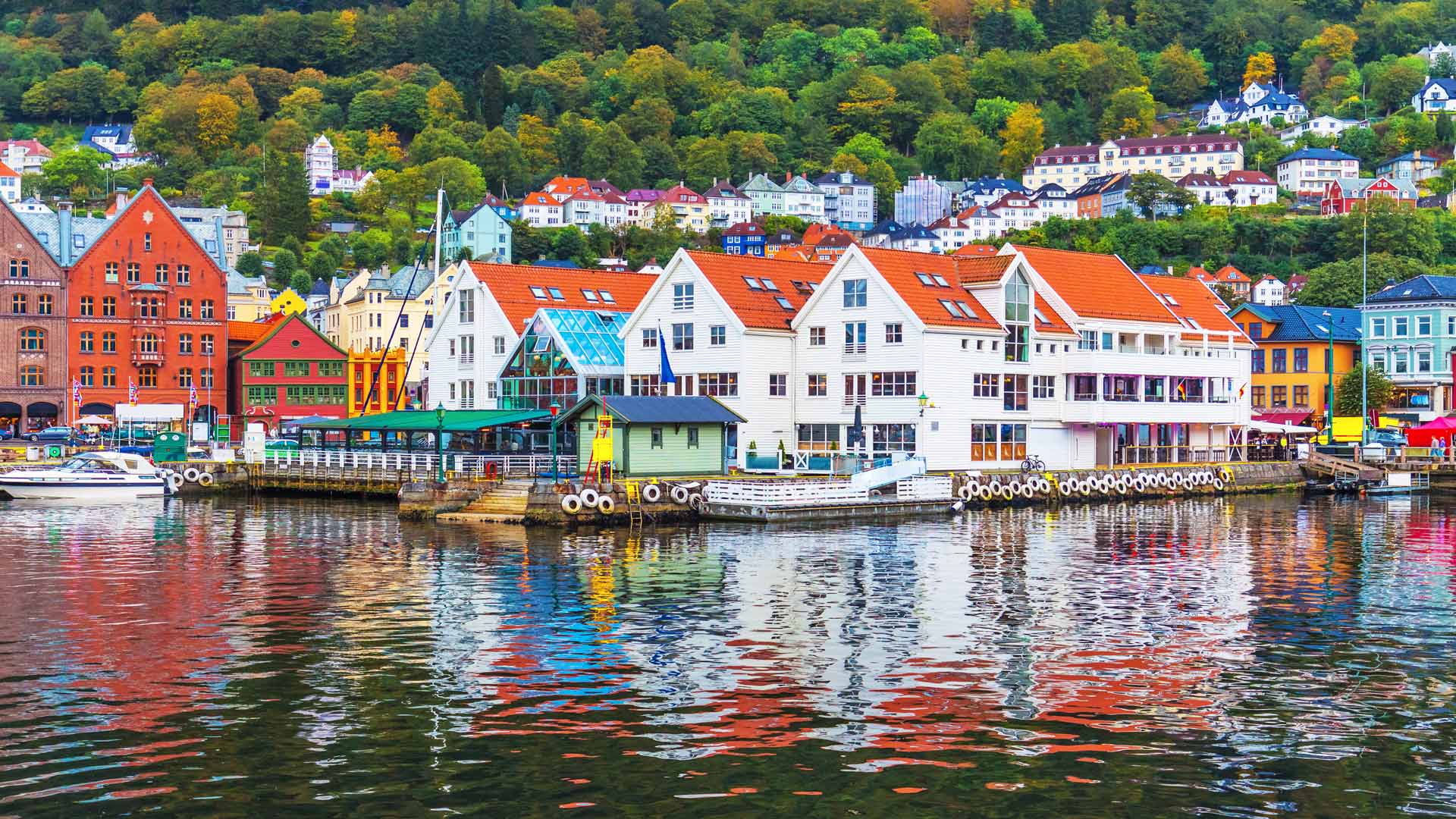 Day 7 – It's time to set your sat nav for the airport. If you still have some time, you can stroll down to the harbourside and grab breakfast or lunch at one of the delightful cafes in town, and grab some souvenirs.
Best Norway road trip for: A whistlestop tour of the north
---
---
3. The Classic Norway Route – 10 day driving tour of Norway
This classic route is for any traveller who wants to tick off all the main attractions during their holiday across Norway. This scenic drive includes the cities of Oslo and Bergen, plus national tourist routes that go past stunning fjords such as Sognefjord and Hardangerfjord.
And let's not forget world-famous waterfalls such as the Seven Sisters and the Bridal Veil.
For a bucket list driving tour of Norway, this is your ticket. Beyond the charms of the attractions, 10 days here allows for a few days away from the wheel, so you can bask in the atmosphere of the country's rugged landscape.
What's the drive like?
This is a circular route starting in Oslo, with a total driving distance of 1,344 kilometres (836 miles). Spread across the 10 days, you'll find that you shouldn't have to drive more than about 4 hours at a time.
What itinerary is best for a 10-day classic Norway road trip?
Day 1 – Oslo is your starting point, and you should head into the city centre before you rent a car, to enjoy this sophisticated capital. See the Royal Palace, the Norwegian Maritime Museum, and the incredible Akershus Fortress.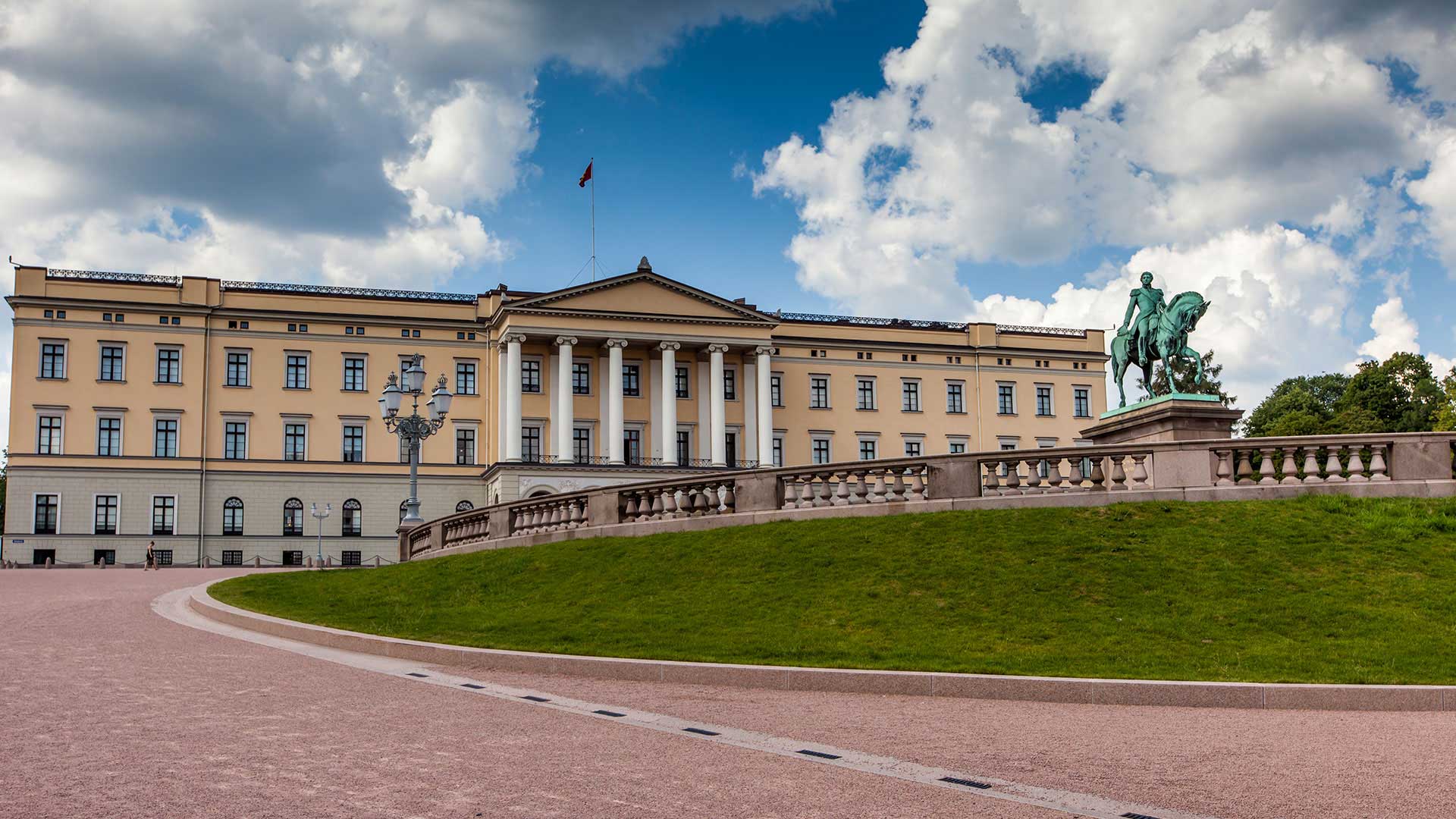 Day 2 – On your first driving day, go north to lovely Lillehammer, set inland, and the site of the 1994 Winter Olympics. Visit the Olympic Museum and arena, but don't forget to pop your head into the Maihaugen open-air museum, which is made up of 200 buildings, some of which date back to the 1400s!
Day 3 – On your third day, you'll swap cultural attractions for natural ones, as you sweep into the Gudbrandsdalen valley, which is flanked by several national parks. On your way to Geiranger, stop off at the Dalsnibba skywalk where you can gaze at magnificent views of Geirangerfjord and the Blåbreen glacier.
Day 4 – Indulge in a spot of kayaking or watersports along the Geirangerfjord in the morning, then take a ferry to Loen. Once you're on the water you'll be able to marvel at the Seven Sisters and the Bridal Veil, vaunted waterfalls of the region.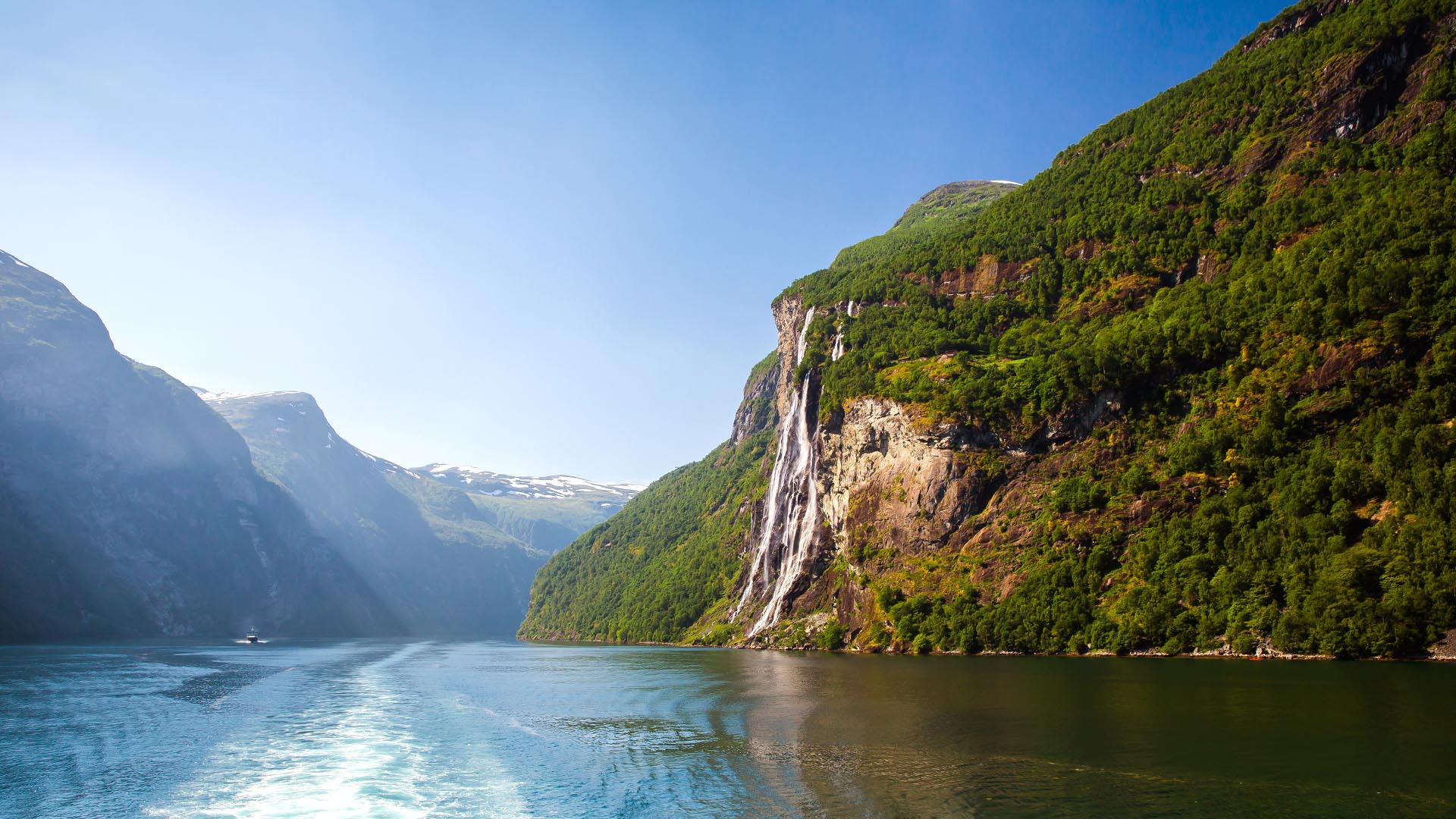 Day 5 – From Loen, you can drive south to the Jostedal glacier, the largest in mainland Europe. You can learn all about it in the Norwegian Glacier Museum in Fjærland. Learn how the fjords of the region are carved, before getting to Sogndal, situated in Sognefjord, the deepest and longest fjord in the country.
Day 6 – Today, take another ferry, this time from Sognefjord to the gorgeous Aurlandsfjord. Once you're back on dry land, pull over in Flåm to ride the legendary rails. Lastly, don't forget to make time for Voss – the adventure capital of Norway – on your way to Bergen.
Day 7 – Stay in Bergen, where you can wander the ancient streets of the UNESCO-listed Bryggen, tour the delightful museums, or enjoy the views from the top of Mount Fløyen by taking the Fløibanen Funicular.
Day 8 – On the eighth day be swept away by the scenic charms of Hardangerfjord and the impressive natural sites of the Hardangervidda National park. Whilst heading to your end-point Geilo, make time for Vøringfossen, the highest waterfall in Norway.
Day 9 – Before you make that drive to Oslo, mark your map for Gol. Here, you'll find the renowned Gol Stave Church, a Viking village, and if you keep your eyes sharp, you may even see trolls in the Trollkirka Caves.
Day 10 – It's never a bad idea to spend another night in Oslo. Go to the Vigeland Sculpture Park, and the Norse Folkemuseum, before relaxing with a well-deserved drink.
Best Norway road trip for: Classic attractions.
---
---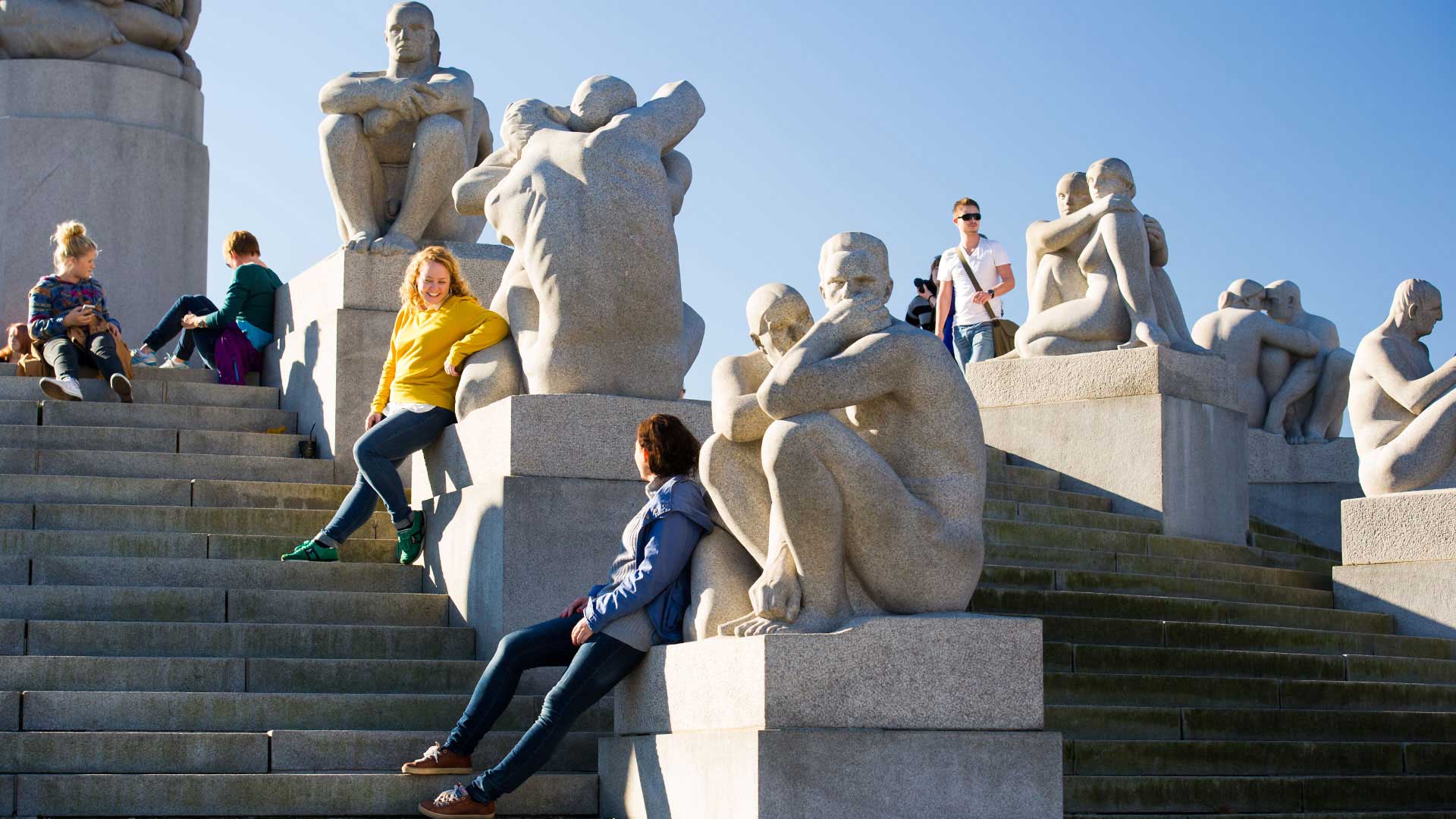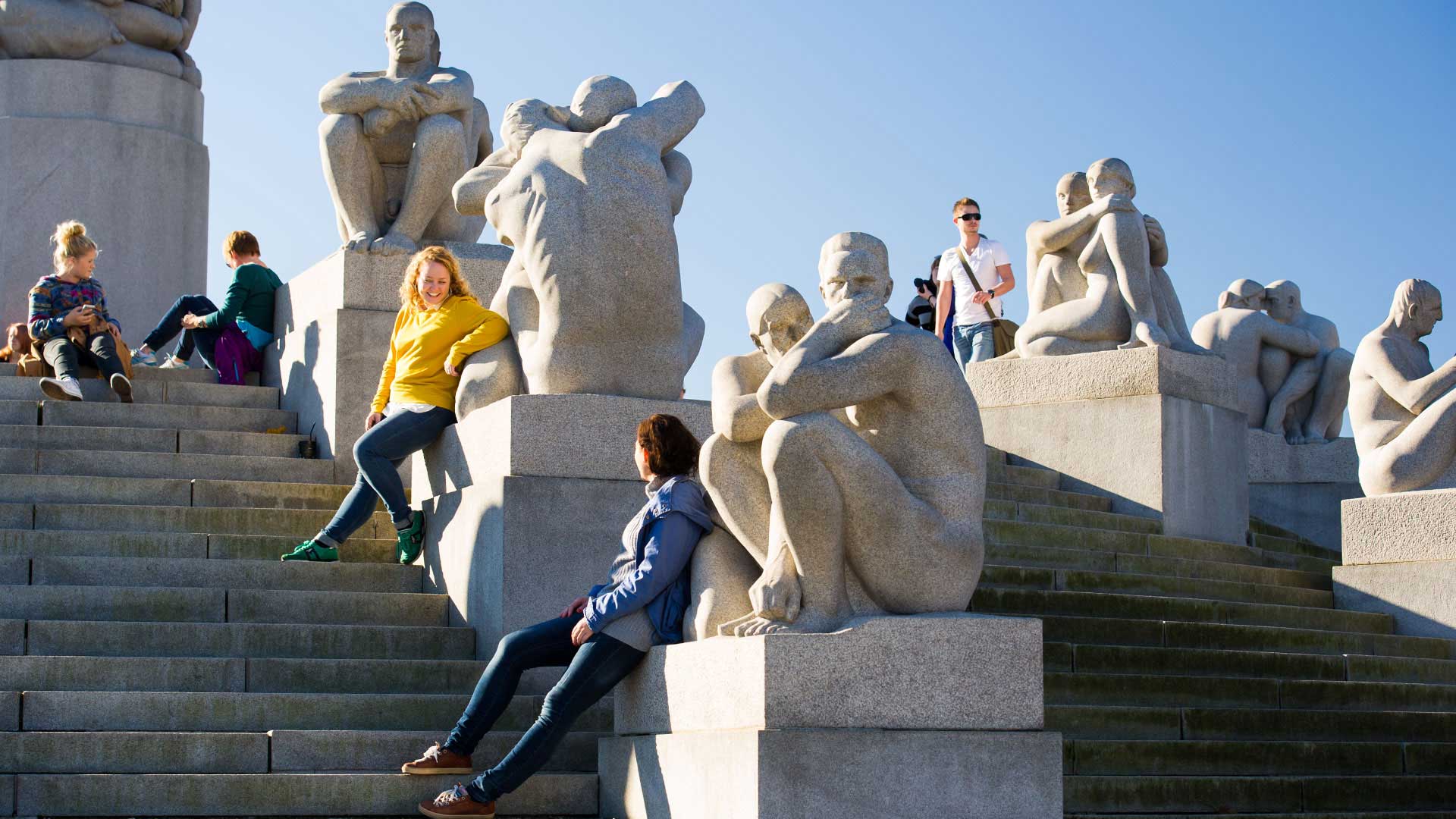 4. The Complete Norway Route - 10-day driving tour of Norway
If you're interested in seeing the epic waterways, glaciers and fjords of Norway, this is the tour for you. It's 10 days-long, and starts and ends in Bergen From here you'll wind your way through Geirangerfjord, the gorgeous Balestrand region and pretty Loen.
This is an ideal summer itinerary, as you'll have access to the fjords. This means plenty of time to try your hand at kayaking, swimming and cruising across those glorious fjords. Nature lovers will adore this road trip!
What's the drive like?
This is an exciting route that takes you on Trollstigen on the way to Ålesund, as well as on the Eagle Road. In total, the distance you'll cover is 1,234 kilometres (777 miles), with each driving stretch achievable in 3 to 4 hour stints.
What itinerary is best for a 10-day complete Norway road trip?
Day 1 – Begin in Bergen, the colourful coastal city, which is home to the UNESCO-protected Bryggen, an old wharf made up of beautiful heritage buildings. Explore the city by ducking into shops and dining in the hip restaurants in town.
Day 2 – There is plenty more to see in the "capital of the fjords". Take the Fløibanen Funicular up to Mount Fløyen to see Bergen from above. Then, you can either hike within the mountains that surround the city – there are seven! – or investigate the museums, such as the Edvard Grieg museum and the KODE art museum.
Day 3 – Kick off your fjord tour by driving towards Voss, where you can witness the might of the Tvindefossen waterfall. Then head towards Sogndal, where you will pass by Flåm and its famous railway – hop on board for stunning valley views.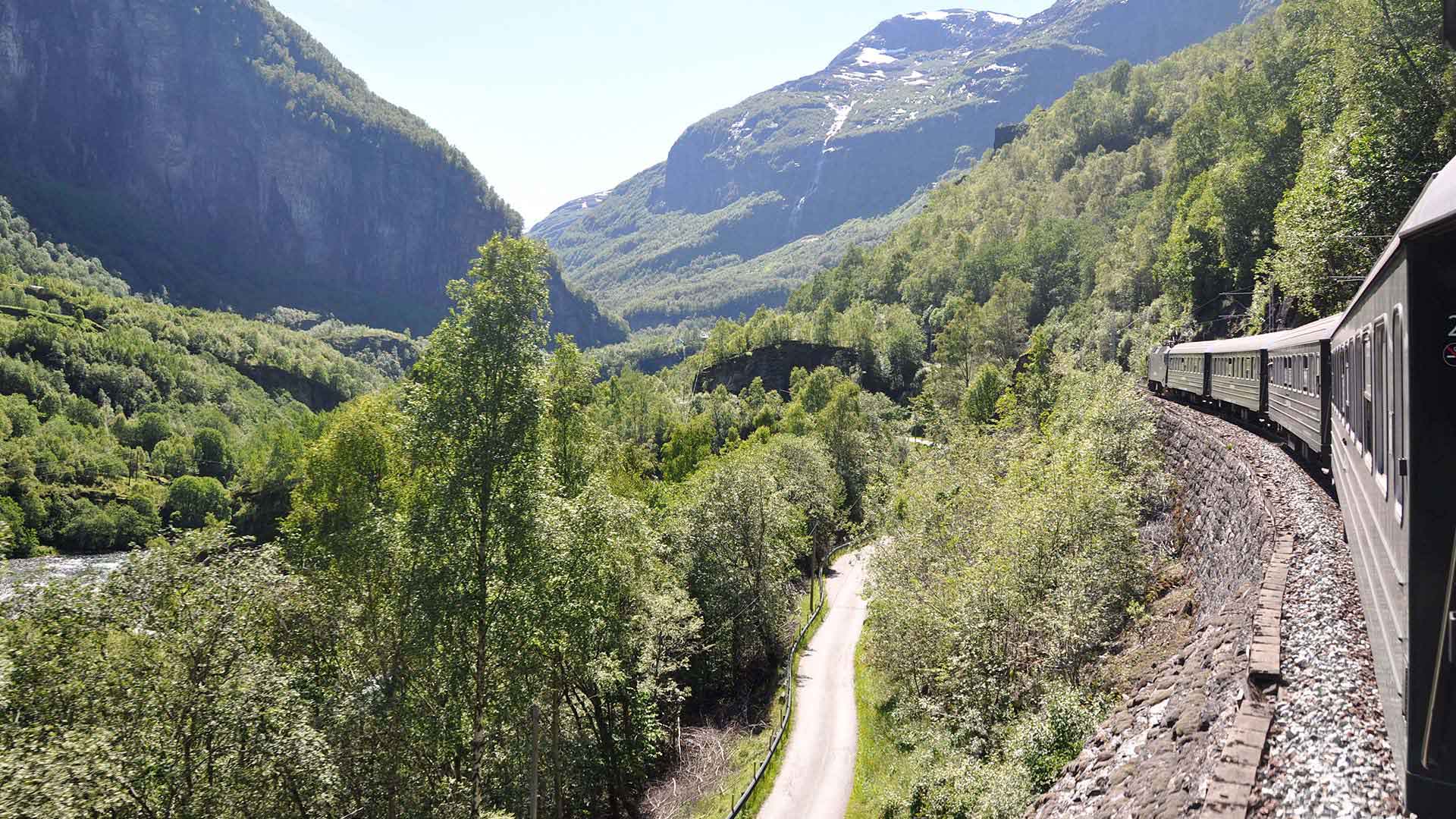 Day 4 – Sogndal could be the poster child for Norway, especially as it is located on the Sognefjord, the longest and deepest fjord in the nation. Swim or kayak in the fjord, or bike along the coast. Then go to Urnes to see one of the oldest stave churches in Norway, or visit the dazzling Nigarsbreen glacier.
Day 5 – A trip to the fjords of Norway wouldn't be complete without going to magical Geiranger, filled with snow-capped mountains, lush forests, and towering waterfalls. But first, you'll drive north along the celebrated National Tourist Route "Sognefjellsvegen", the highest mountain pass in northern Europe which passes through the glorious Jotunheimen national park.
Day 6 – Today is made for road trip enthusiasts – wind your way up Ørnevegen, known as "The Eagle Road" to Eidsdal. Then, after a short ferry ride to Linge, you'll be able to tackle the twisting Trollstigen, or Troll Ladder – one of the best-known roads in Norway. End in Ålesund, celebrated for its fantastic Art Nouveau architecture.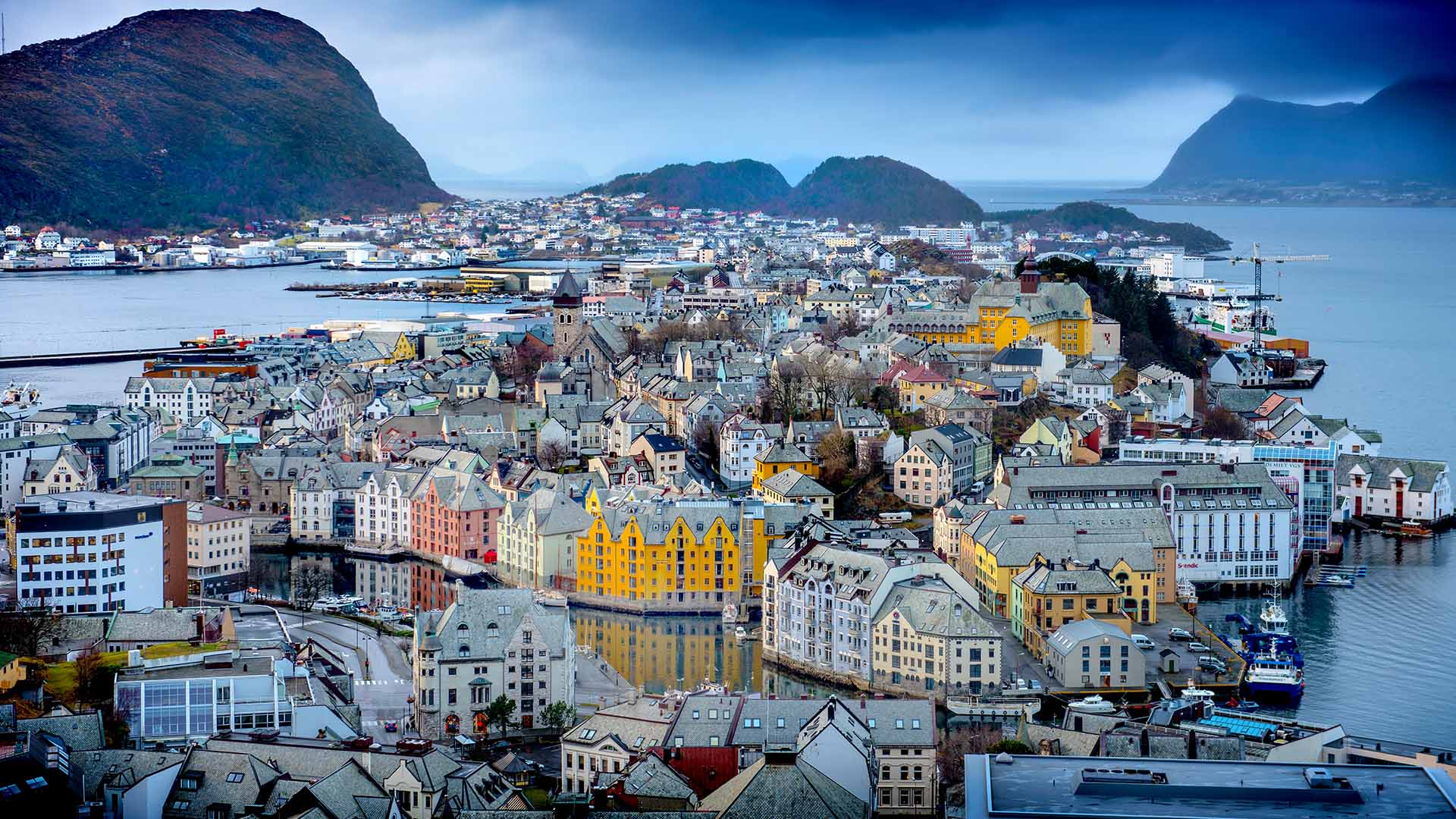 Day 7 – Hop on a ferry to Loen, where you'll sail past beautiful fjords like Vartdalsfjorden, Østrafjorden and Voldsfjorden. Once you get to this lovely town, stretch your legs on a hike up Mount Skåla, which promises gorgeous views from the top.
Day 8 – Scenic roads and hairpin turns are on today's agenda. The drive to arty Balestrand will take you past the lakes of Jölstravanet and Hakedalsvatnet, right up to the mesmerising Gaularfjellet route. You'll find yourself wanting to stop often to take photos – we recommend Utsikten for a perfect snapshot of the scenery.
Day 9 – Take your time exploring the picturesque village of Balestrand, and then pick the leisurely route back to Bergen. For instance, take the ferry from Balestrand to Vangsnes and visit Vik, where you can duck into the oldest stone building in the region, Hove Church. Then cruise in the car along Vik mountain before getting back to the city.
Day 10 – On your last day, pop into the Bergenhus Fortress Museum, a fascinating window into the city's past, and wander down to the Old Bergen Open-Air Museum, which can show you what life was like in days gone by. And lastly, stock up on Norwegian treats like multekrem and krumkake before you depart!
Best Norway road trip for: Fjords and incredible roadways.
---
---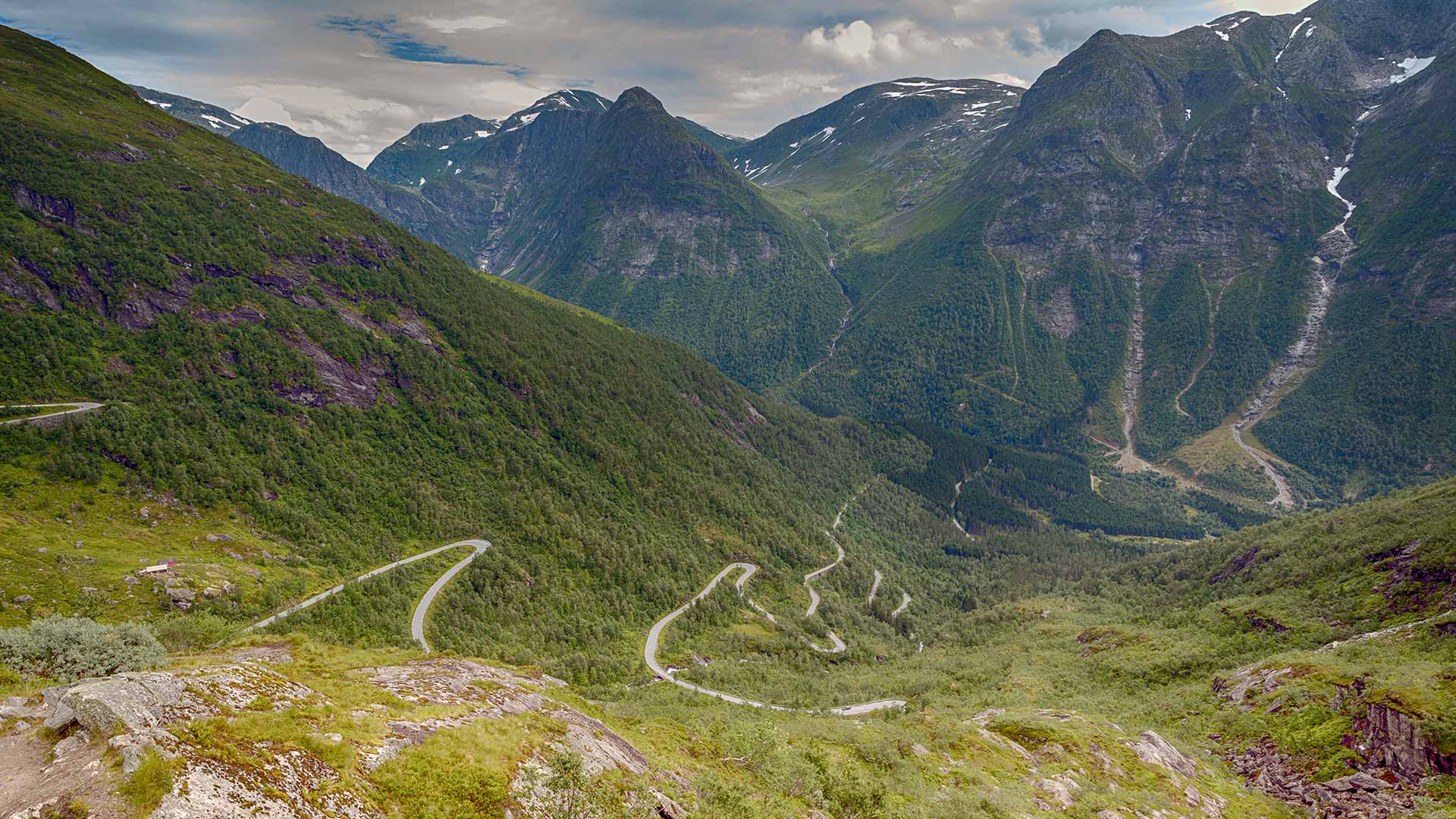 5. The Full Norwegian Monty – 16-day driving tour of Norway
The saying might be "you can't see it all", but on this trip you will come pretty close. This 16-day itinerary focuses on showcasing the best of Norway, but also takes you to some lesser-known national attractions.This is a trip that also allows you to hop on trains or boats so you can see those incredible mountain passes via the railways, or marvel at the fjords from the water.
Visit stunning Oslo and beautiful Bergen, explore sweeping alpine landscapes, tour pretty fishing villages, and swim in pristine fjords all on this fabulous self-driven tour of Norway.
What's the drive like?
Whilst this is itinerary may be the longest in days, it's not the longest when it comes to driving. This is because we've factored in trips on public transportation, scenic train journeys, as well as cruises. The driving distance in total comes to about 905 kilometres (562 miles), and is sectioned off in manageable 2-4 hour chunks.
What itinerary is best for a 16-day comprehensive Norway road trip?
Day 1 – Your adventure starts in Oslo, the capital of Norway, and a great place to kick off a cultural tour. Stroll to the Vigeland Sculpture Park, the Oslo City Hall, and the Kon-Tiki Museum on your first day.
Day 2 – On your second, go to the stunning Akershus Fortress, and the Royal Palace, and then spend time in the Aker Brygge area, where you'll find a seaside boardwalk, upmarket and cute boutiques, patio bars, and plenty of excellent restaurants.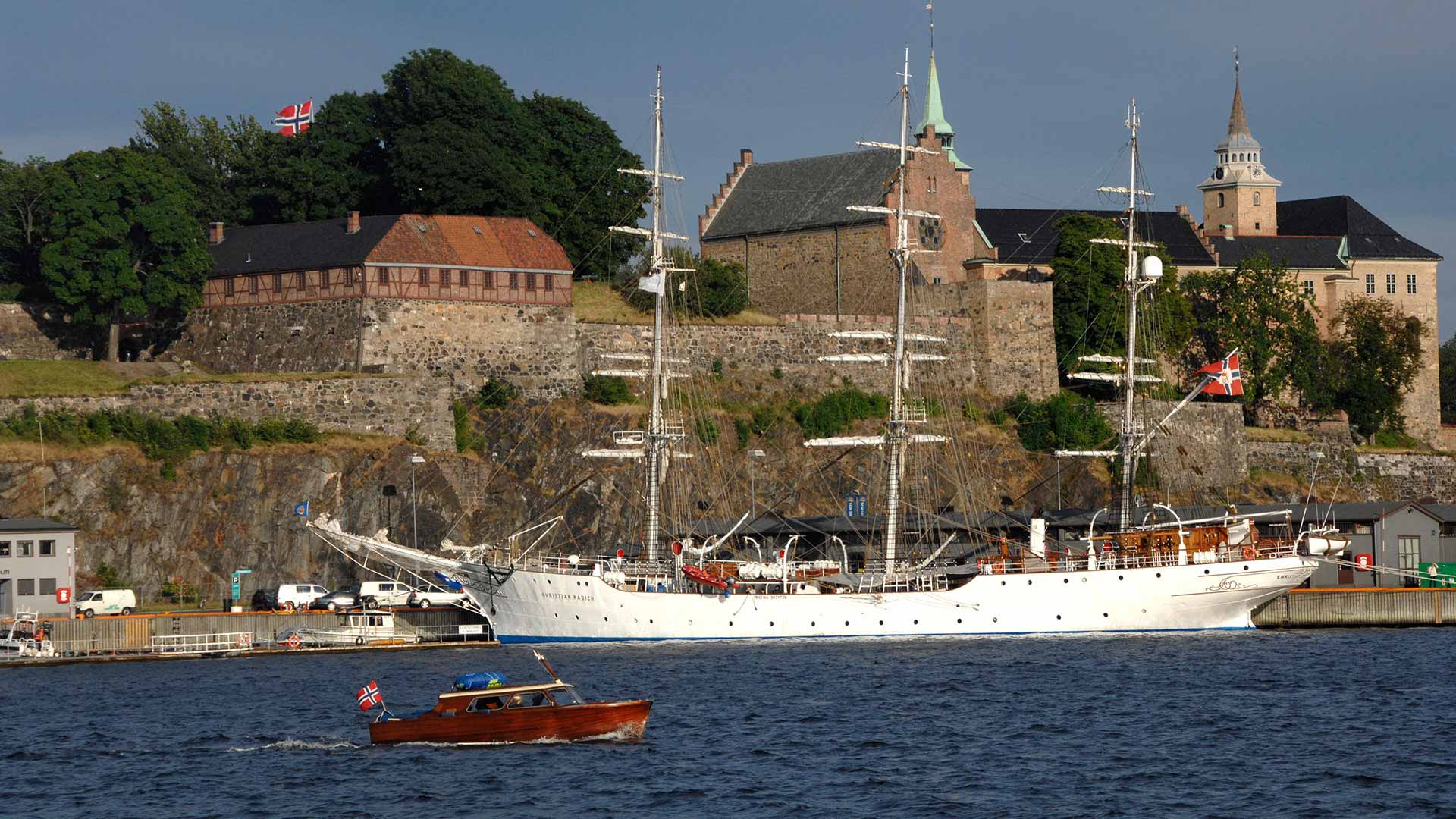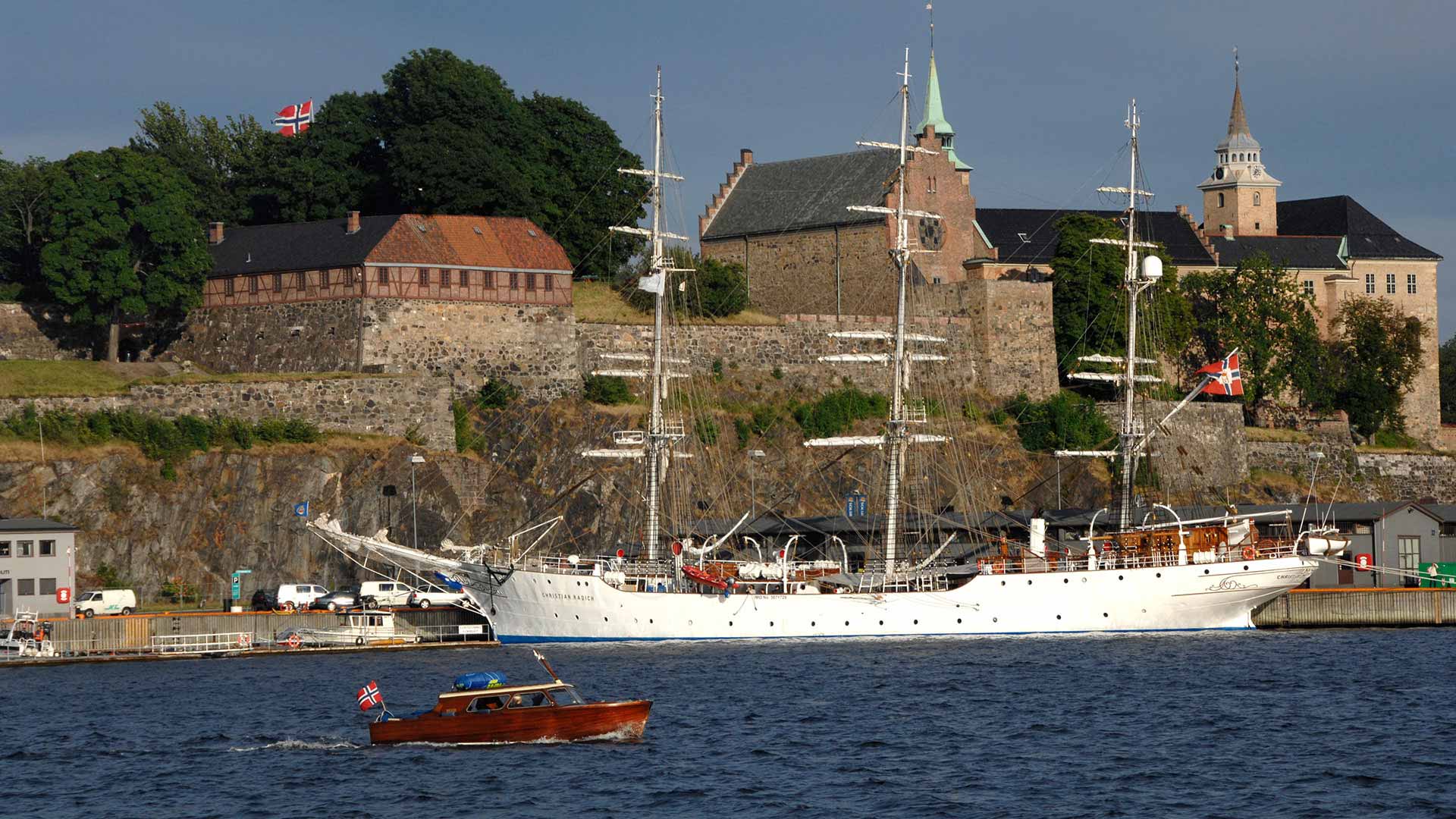 Day 3 – From Oslo, take a train that weaves its tracks through the mountains of Norway, all the way to Bergen. This city is home to the charming UNESCO-listed Bryggen, an old wharf filled with colourful clapboard heritage buildings. A must-see.
Day 4 – Today you should pick up your rental car in Norway, because you'll be driving towards Voss to chase its Tvindefossen waterfall, and then onto the remarkable Aurlandsfjord and the lovely town of Flåm. If you fancy it, we recommend going on a return train ride from Flåm to Myrdal for sweeping views of the landscape – bring your camera! Then drive on from Flåm to Sogndal.
Day 5 – Sogndal is set on the Sognefjord, so exploring fjords is on the itinerary today. Drive the Fjærlands road to the Jostedal Glacier, and after that chilly stop, slide by Nordfjord, where cascading waterfalls, rising mountains, and sapphire lakes will greet you. End in Loen for the night.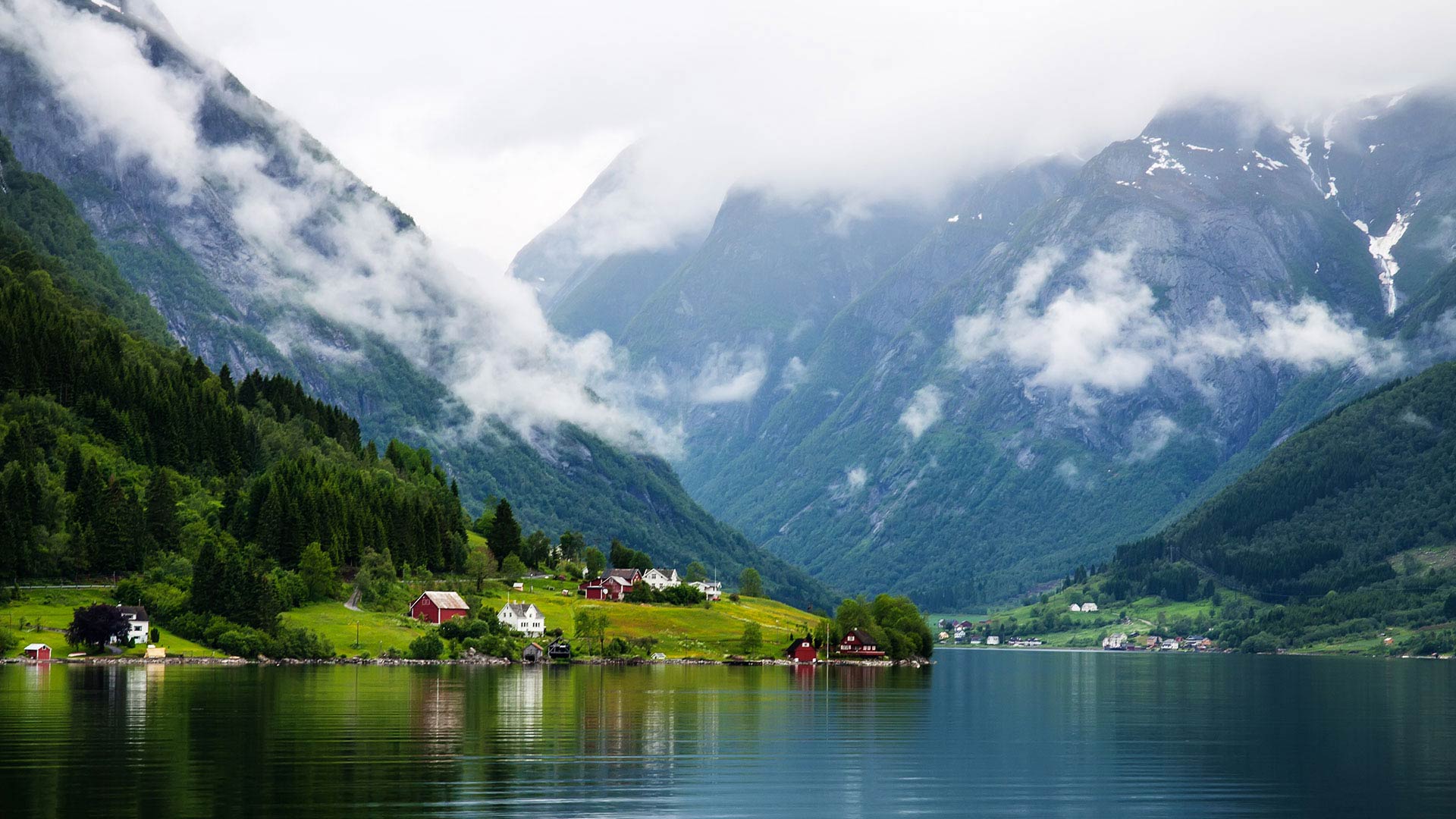 Day 6 – Explore a little of lovely Loen, then take the ferry through the UNESCO-protected Geirangerfjord. This is where you'll see the Seven Sisters and Bridal Veil waterfalls, perhaps Norway's most famous falls. At the end of the ferry ride, you'll get to stay in the town of Geiranger, the stuff fairytales are made of. Think pristine fjords and sugar-topped mountains studded with emerald trees.
Day 7 – You couldn't get all the way to Geiranger and not spend another night there. Soak in the magical atmosphere of this alpine haven, and kayak or take a boat safari across the fjord. You can also take your rental car up to the Dalsnibba skywalk for unparalleled views.
Day 8 – Why have a car if you can't make the most of it? Climb the winding ways of Eagle Road, then cruise across, car and all, on a ferry to Linge. Once there, you can try your hand at the extremely fun, and gorgeous Trollstigen road, known for its 11 hairpin bends, before stopping for the night at Ålesund.
Day 9 – Keep to the coast today, as you'll be heading to the harbourside Kristiansund down the Atlantic road. First, drive and ferry your way to beautiful Bud, a historic trading village, and then onto to the Atlantic Ocean Road, which is cradled by mountains that look out to the sea, a route which road trip dreams are made of.
Day 10 – Norway may be an adventure, but this country breeds adventurers too, and nowhere is this more true than in Trondheim, the capital of the Vikings. Explore this remarkable port city in northern Norway, and duck into its Trøndelag Folk Museum, the old wharf Bakklandet, and the Nidaros Cathedral.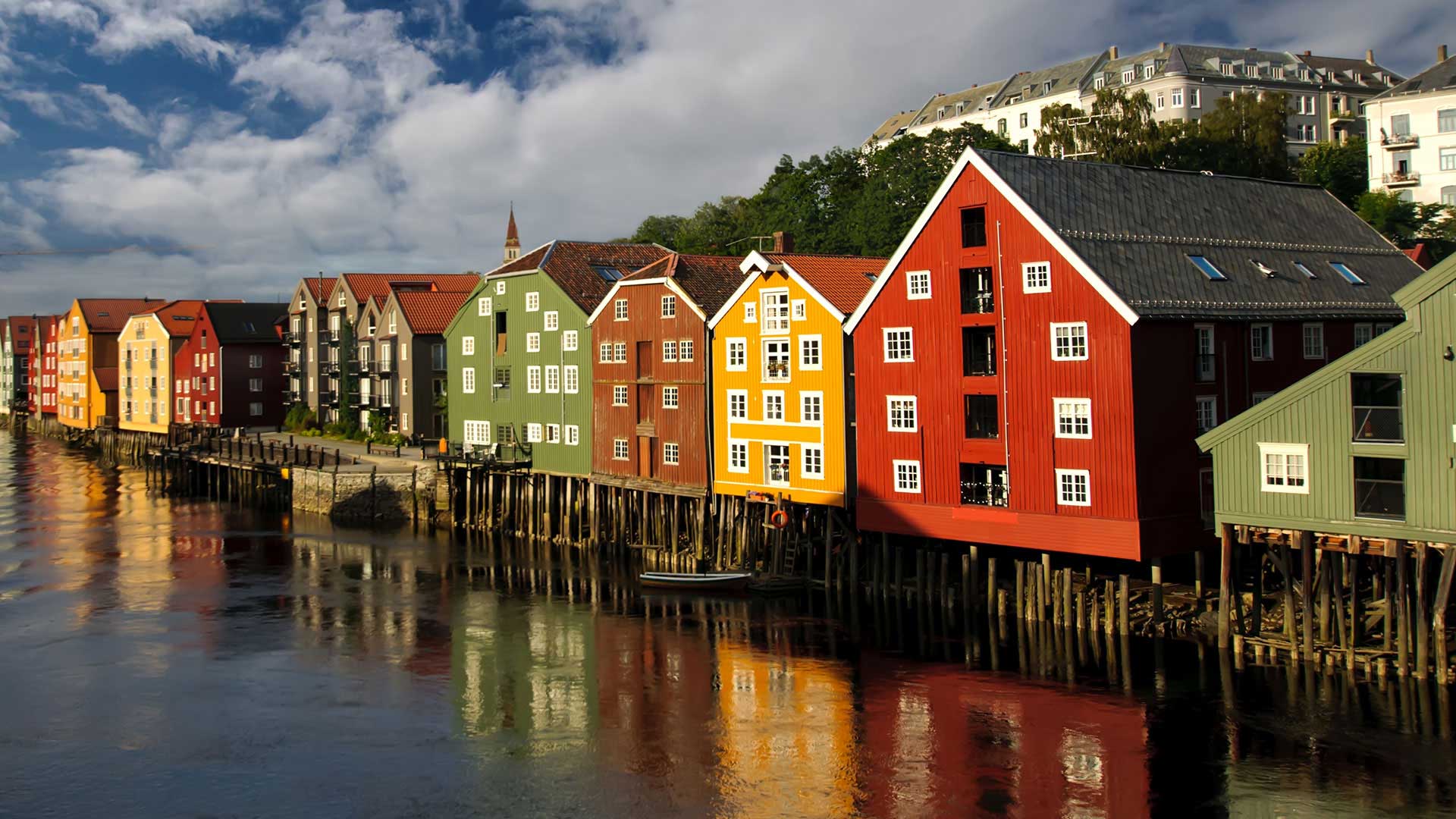 Day 11 – Of course, why come to the Viking capital if you aren't going to get to taste a little sea life? Leave your rental car behind and go on an overnight cruise, where you can sail along the Trondheim fjord out to Hitra Island.
Day 12 – You'll dock in Bergen, giving you a chance to see everything you might have missed first time around, such as the Old Bergen Open-Air Museum, and the Hanseatic Museum in Bryggen.
Day 13 – With so much to see, it's worth another night in this city. We recommend going to the Bergenhus Fortress, where you can see King Håkon's Hall, and the Rosenkrantz Tower. And since you're by the sea, why not try pickled herring? This ancient Viking favourite is still a local staple.
Day 14 – From Bergen you will board a coach that will take you down the rugged western coast of Norway, and on a couple of spectacular ferry rides, all the way down to Stavanger, a lively city known for its historical district Gamle.
Day 15 – Using Stavanger as a base, you can easily explore this majestic region of Norway, including Lysefjord and its surrounding terrain. You'll also be able to see the iconic natural landmark known as Pulpit Rock.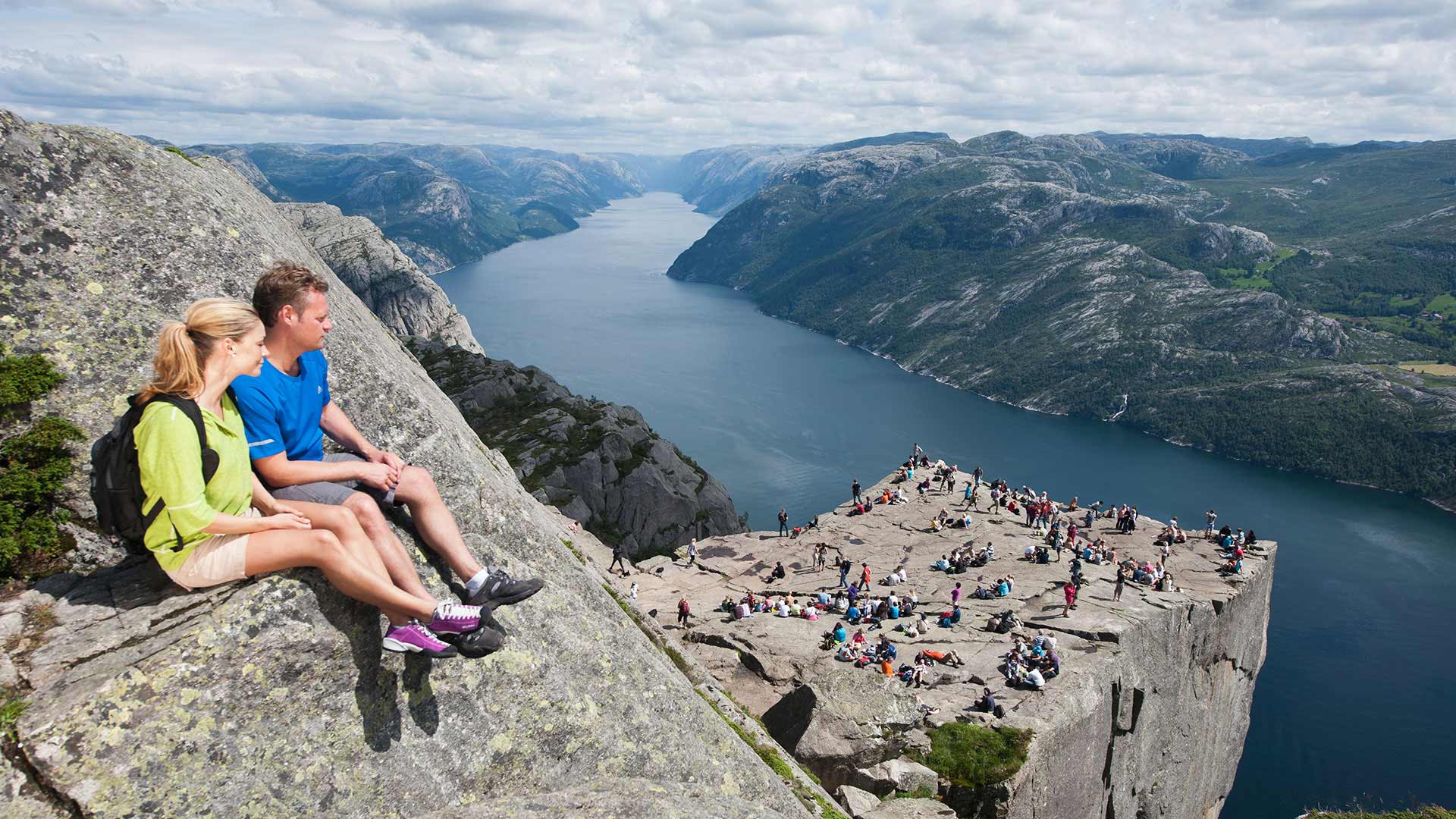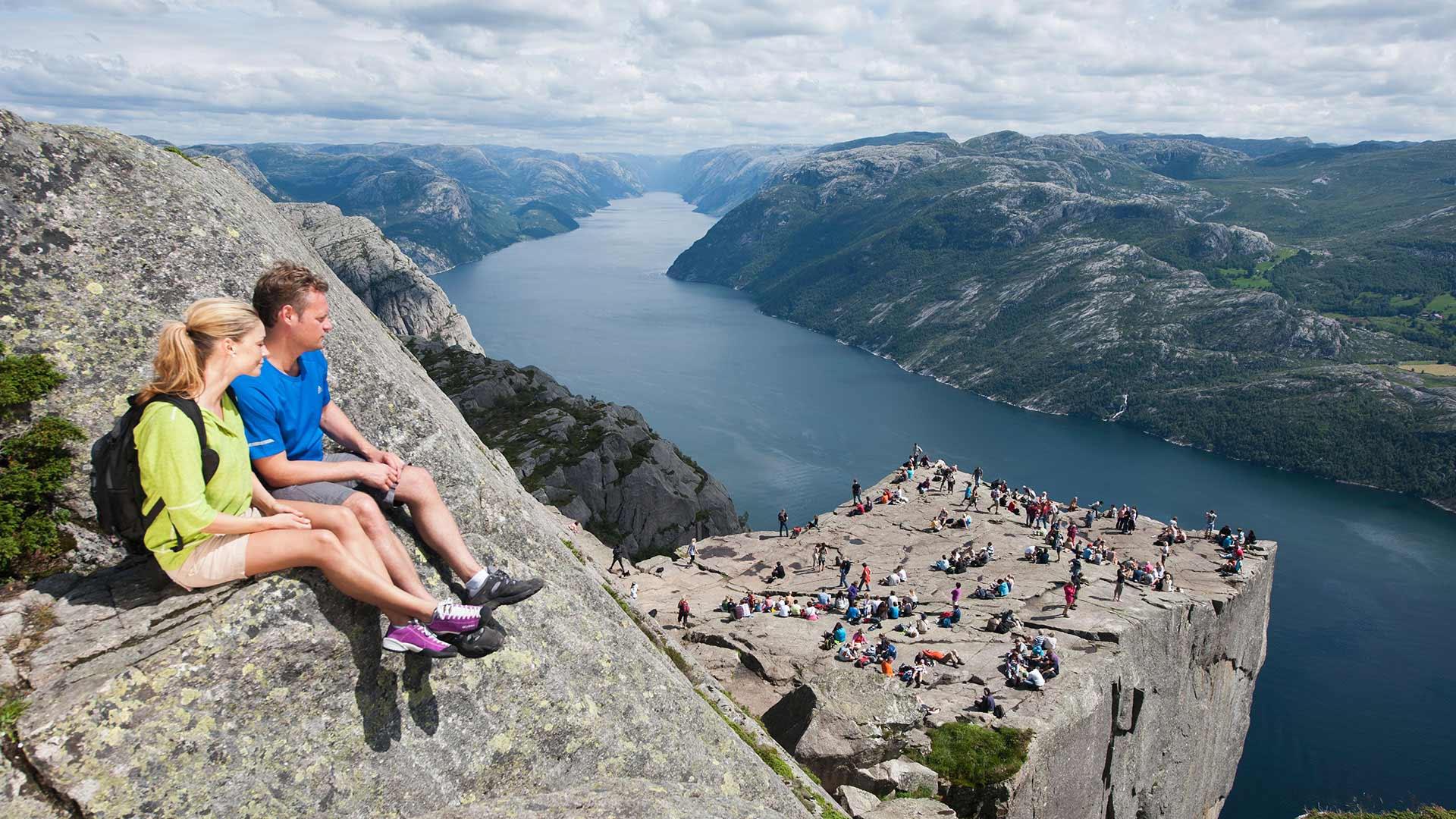 Day 16 – On your last morning in Stavanger, spend time along the harbour, and investigate the restaurants and cute museums in the Gamle area. Relax, sit back, enjoy the atmosphere, you're done!
Best Norway road trip for: Those who want to see it all.
---
---
To set up your own Norway road trip with a little expert help from a Scandinavian travel specialist, contact us with your travel wish list.