Grab your wool jumper and get ready for the adventure of a lifetime. Choose a trip to Norway and you will find it quite unlike anywhere you've been before. Its breathtaking beauty will linger in your memory for years to come.
But where should you go? What to see and do in Norway? You can't hope to pack a whole country into one trip unless you're visiting for months or more.
Read our helpful recommendations guide to uncover 7 incredible sights and things to do in Norway.
1. Explore the Norwegian fjords
Norway boasts more than a thousand fjords, so where should you start? Well, our local experts have 3 all-time favourites for starters.
Geirangerfjord
This Norwegian beauty was deservingly placed on the UNESCO World Heritage site list with Nærøyfjord in 2005. Geirangerfjord consistently ranks amongst the top contenders for the "World's Most Stunning Fjord".
Here, you can gaze over tranquil waters, mighty mountains, and powerful waterfalls, including the famous Seven Sisters and the Bridal Veil. Get inspiration and ideas for your visit with our guide to Geirangerfjord.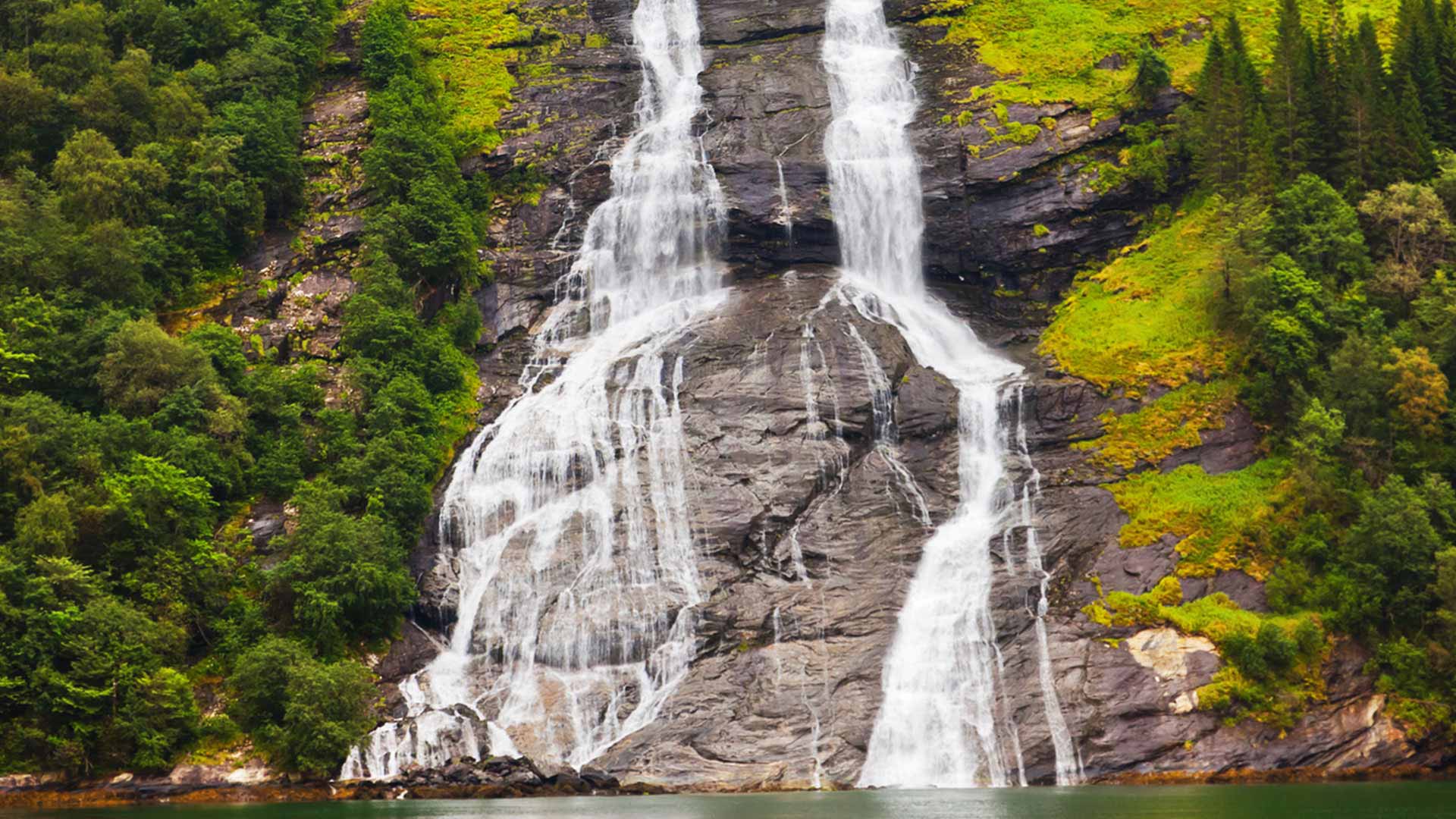 Nærøyfjord
Not to be outdone by its UNESCO-inscribed cousin Geirangerfjord, Nærøyfjord serves up its own distinct charms. This fjord earned its prestigious co-status thanks to its outstanding scenery, considered to be among the best in the world.
As one of the arms of Sognefjord, you can easily visit both during the same trip.
Sognefjord
Known as the "King of the Fjords", Sognefjord is the longest and deepest fjord in Norway. The dramatic scenery of steep mountains and deep blue waters will enthral you.
Sognefjord extends inland into Jotunheimen and Jostedalsbreen National Parks. You can explore it from nearby towns like Sogndal, Flåm and Gudvangen.
---
---
2. Hike to iconic natural wonders
Uncover Norway's natural beauty by hitting the trail and climbing mighty mountains to reach photogenic sites. We promise the view from the top is worth the effort!
Preikestolen
Also known as Pulpit Rock, Preikestolen is one of the top things to see in Norway. The hike to Pulpit Rock is a round trip of about 4-5 hours (10 kilometres or 6 miles). You'll reach the summit of a 604-metre (1,982-foot) high cliff, offering sweeping views over Lysefjord below.
If you're brave enough, you can even venture forth and look over the edge of the "Preacher's Pulpit".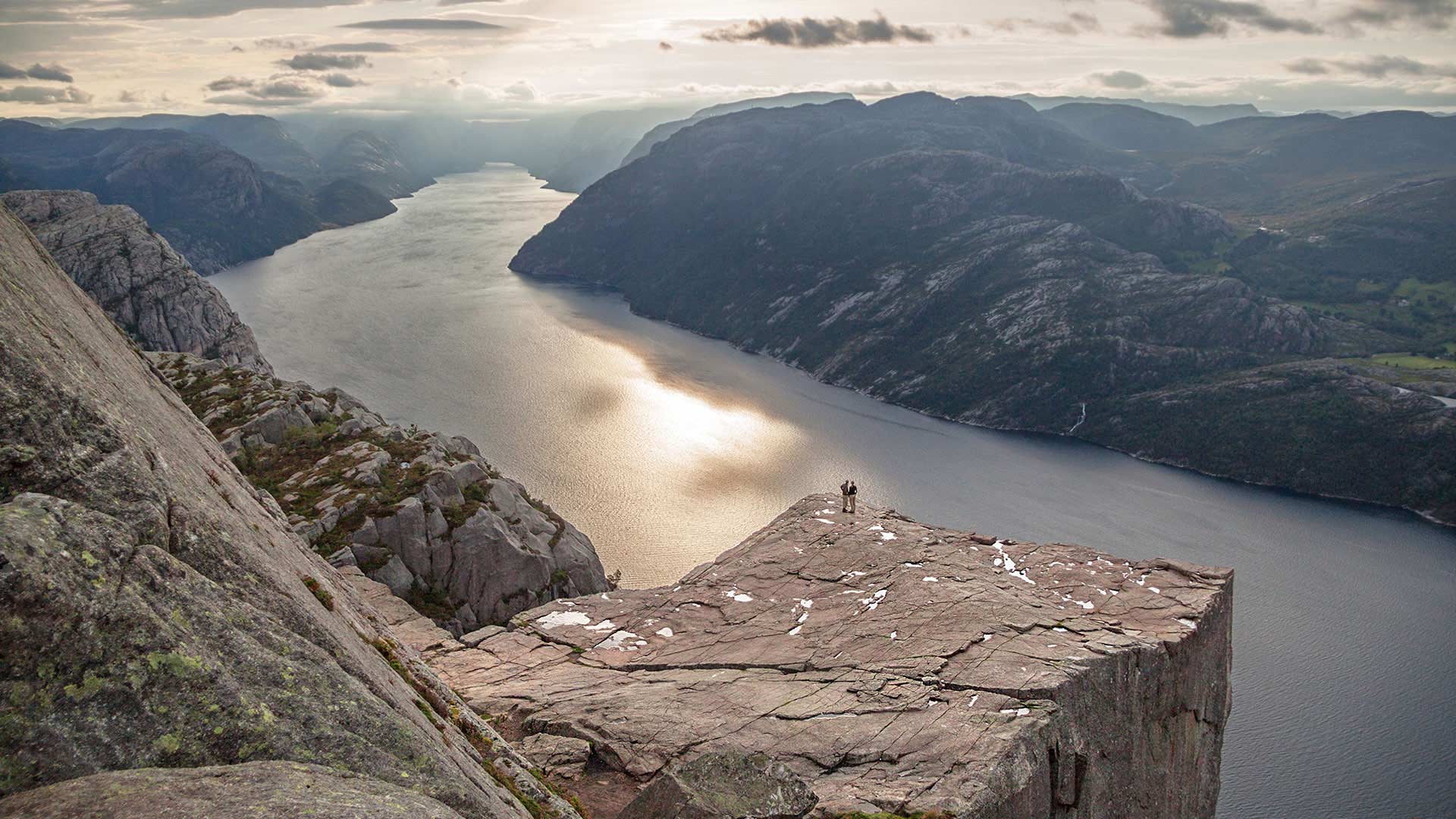 Loen Skylift
Opened by the Queen of Norway in 2017, the Loen Skylift is one of the more recent additions to Norway's many incredible viewpoints. Hop aboard the cable car here and the aerial tramway will take you 1,011 metres (3,317 feet) to the top of Mount Hoven. You'll go "from fjord to sky in 5".
From the summit you can marvel at the spectacular views of Nordfjord, take part in activities, or even stop for a bite at a restaurant that overlooks the fjord.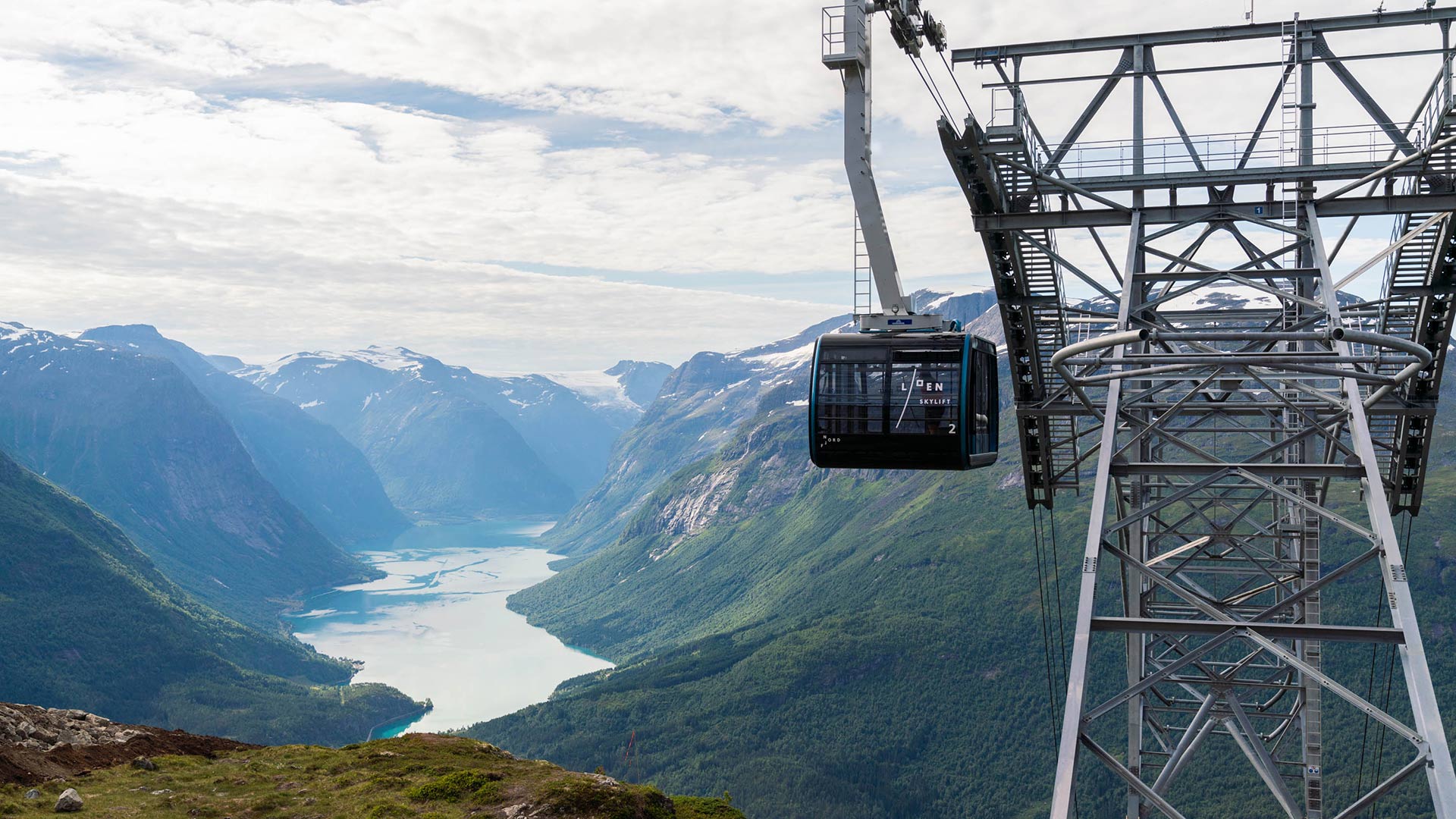 Trolltunga
If you're looking for the ultimate thrill, visit Trolltunga: a gravity-defying rock formation that juts straight out of the mountainside.
The rock formation hangs, unsupported, more than 700 metres (2,300 feet) above Lake Ringedalsvatnet. The mind-blowing views make the 10 to 12-hour hike totally worthwhile.
---
---
3. Discover Norway's cultural highlights
As well as natural wonders, Norway is home to many cultural gems and fascinating cities. Think cosmopolitan Oslo, Lillehammer – host of the 1994 Winter Olympics – and Bergen, where you'll find the UNESCO World Heritage listed wharf, Bryggen.
Oslo
As Norway's capital and cultural centre, Oslo has many highlights that should feature on any itinerary.
Here you can admire the lifetime works of one of Norway's most famous artists, the sculptor Gustav Vigeland, by visiting the Vigeland Sculpture Park. And take in the grand architecture of the Oslo Royal Palace, official residence of the Norwegian Royal Family.
There are plenty of museums to check out too. Step back in time at the Norwegian Museum of Cultural History, and browse the artwork of Edvard Munch at the Munch Museum.
While you're in town, make sure to also visit the Norwegian Maritime Museum to learn about the country's seafaring history.
Oslo is also the perfect jumping off point for exploring the country's natural beauty and more remote areas.
---
---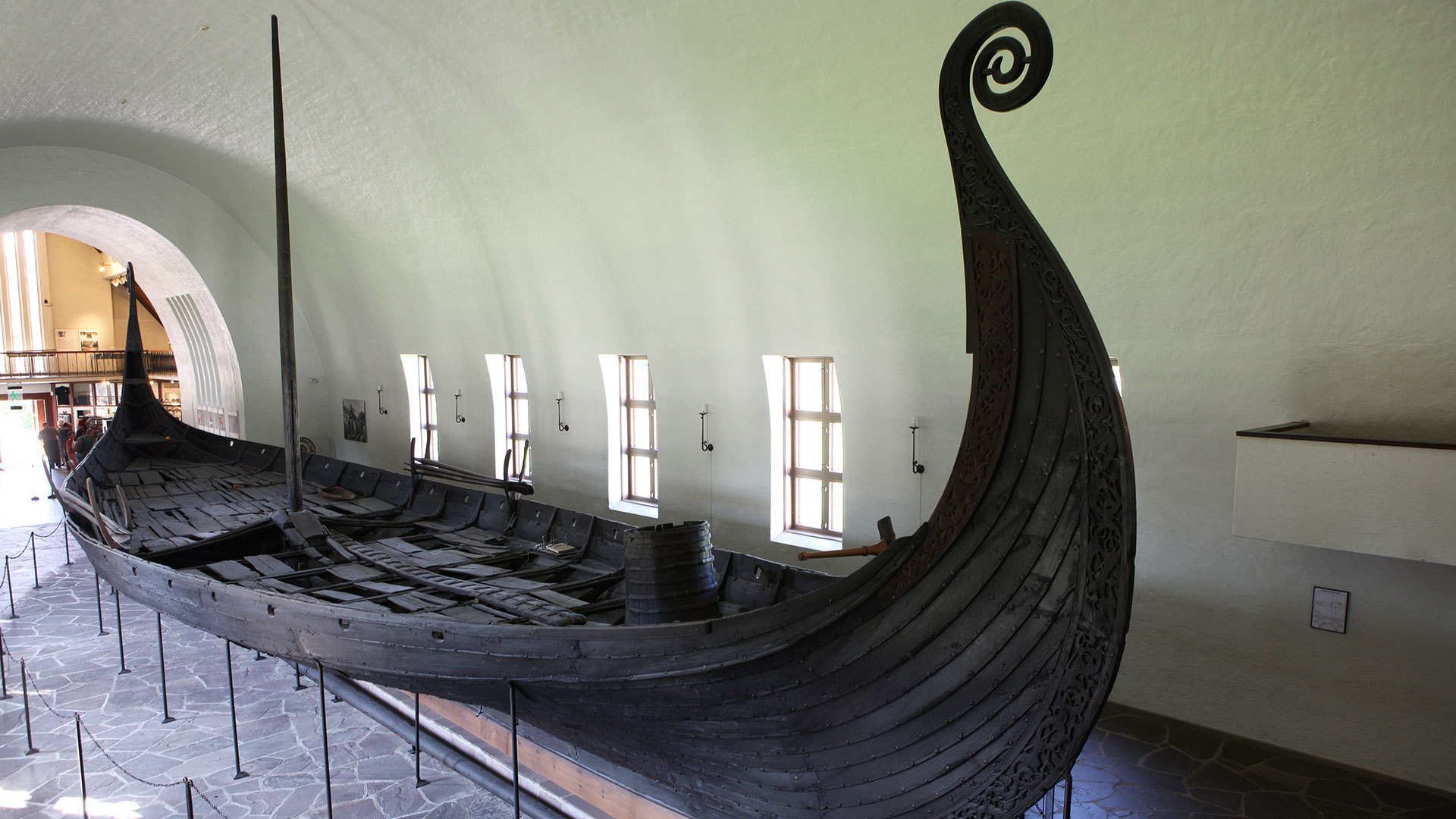 Lillehammer
The city that hosted the 1994 Winter Olympics, Lillehammer very much remains an outdoor sports paradise.
Here you can learn about the historic games at the Norwegian Olympic Museum. Or visit the Lysgaard Bakken Ski Jumping Arena, where the opening and closing ceremonies were held.
Lillehammer has more to it than Olympic glory, though. Go exploring and you'll also find Norway's largest open-air museum, as well as a collection of picturesque 19th-century wooden cottages along the shores of Lake Mjøsa.
Trondheim
Norway's third largest city is full of life, serving you scenic viewpoints and historical points of interest aplenty. It was founded in 997 AD as a Viking trading post, and became an important Christian pilgrimmage destination. Trondheim was even the capital of Norway for a spell.
Look out for the charming-yet-trendy Bakklandet district, with its cobbled streets and cute wooden houses overlooking the Nidelven River.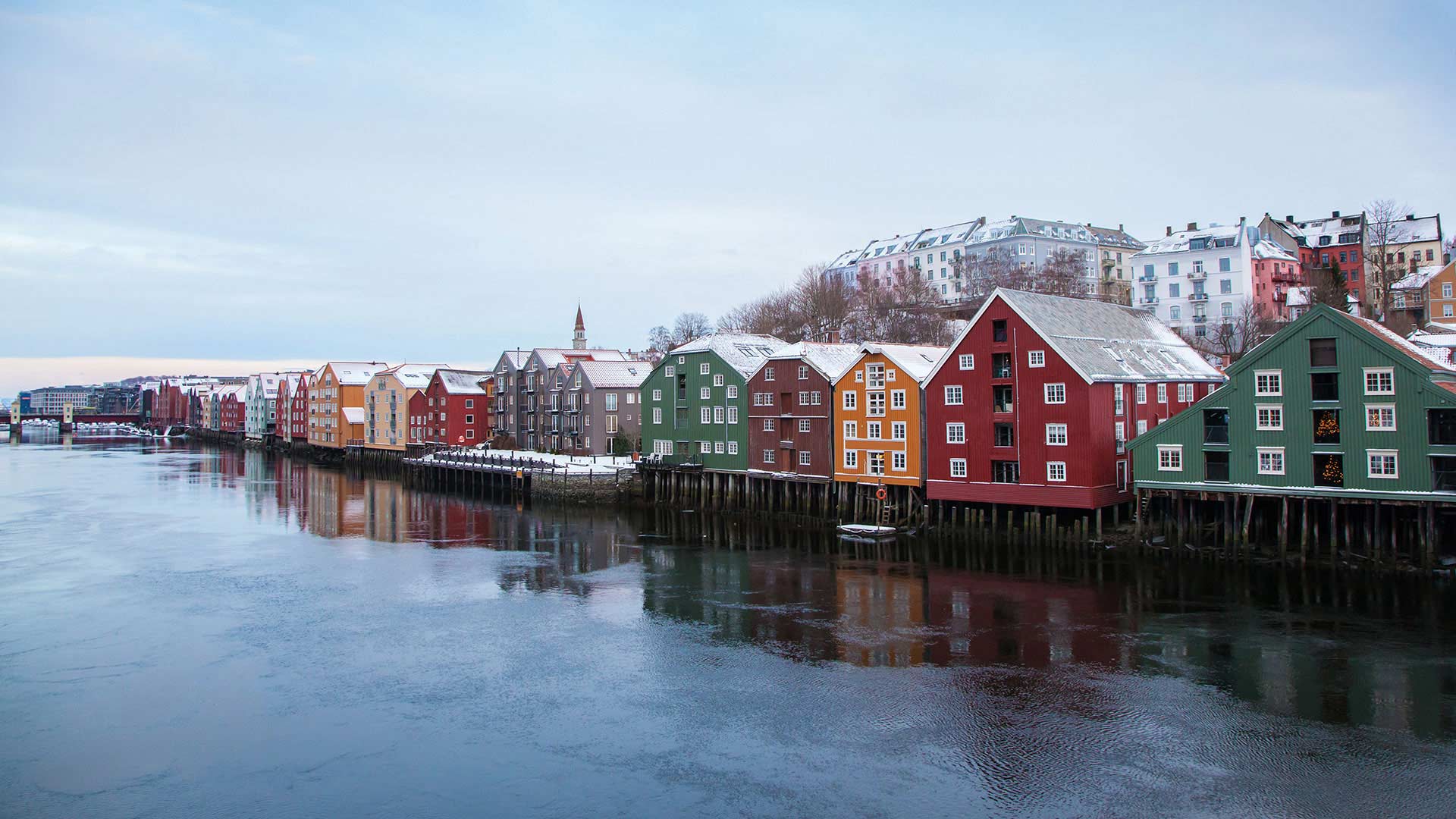 Bergen
Ideally situated between Sognefjord and Hardangerfjord, Bergen is often used as a jumping off point for excursions to Norway's fjords and coastline. But this city is much more than a convenient base for further travel.
Back in the 13th century, Bergen was Norway's capital and home to many Norwegian merchants. Today the wharf area, Bryggen, retains much of its original charm and has plenty of cultural and historical attractions to boot.
Make sure to ride the Fløibanen funicular up Mount Fløyen to get the best views over the city, a real highlight for visitors.
---
---
4. Journey around Norway by train
Norway has an extensive rail network, which makes exploring the country easy and enjoyable, even if you don't have a car. Some of these routes offer unique glimpses at Norway's stunning natural beauty and access to remote towns.
Here are our 3 favourite railway journeys.
Flåm Railway
Nestled beneath towering mountains and within striking distance of powerful waterfalls, Flåm is a haven if you love the great outdoors. Located at the very end of the Aurlandsfjord, it is perfect for hiking and exploring sites like the 17th-century Flåm Church and Ægir Microbrewery.
This is where the Flåm Railway ("Flåmsbana") departs from to reach Myrdal high above. Often name-dropped on VIP lists of the most beautiful train journeys in the world, this 20-kilometre (12-mile) route is also one of the world's steepest railway tracks.
You can ride the Flåm Railway as part of the popular Norway in a Nutshell® tour, allowing you to take the scenic route between Oslo and Bergen for an unforgettable journey.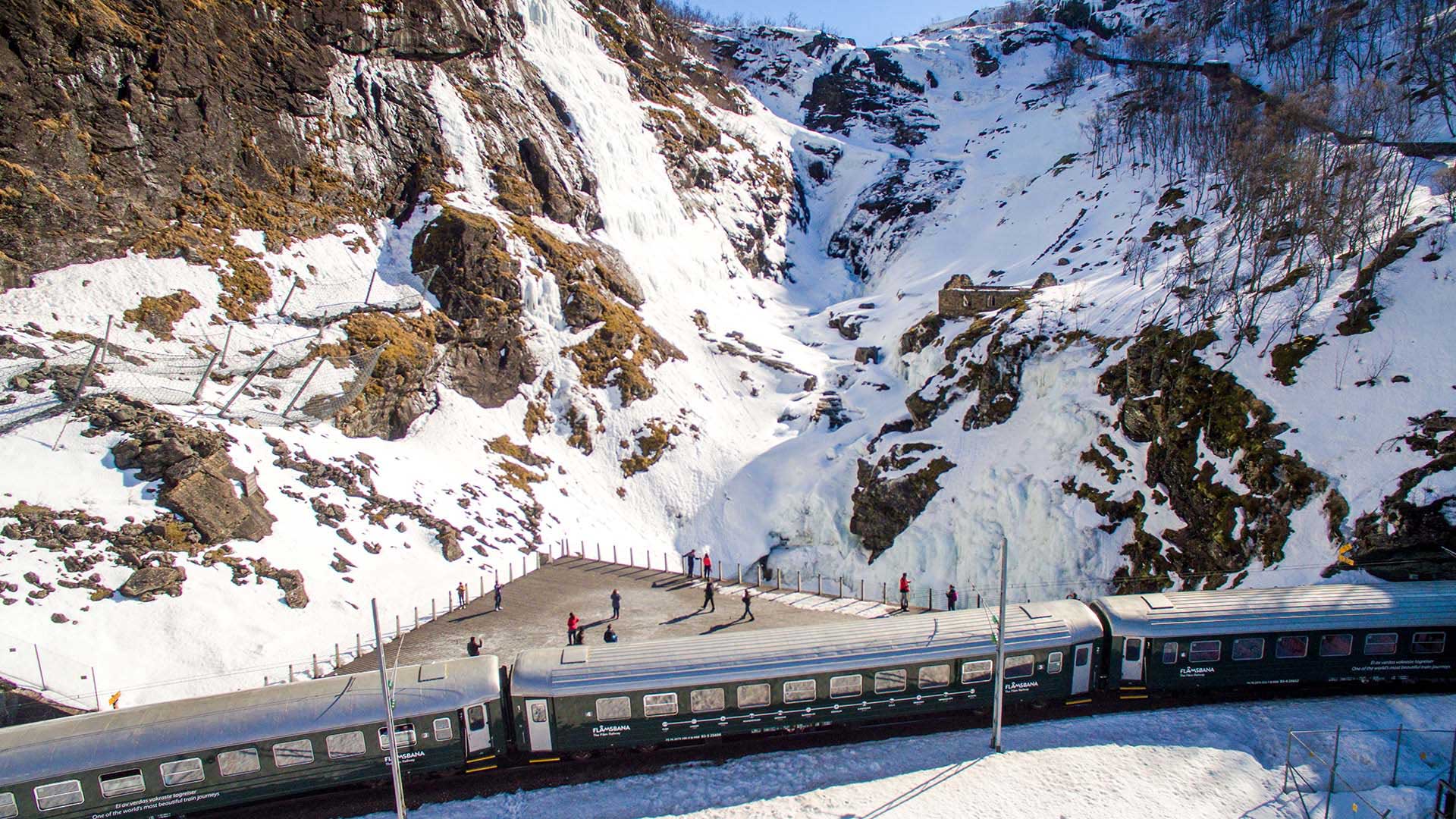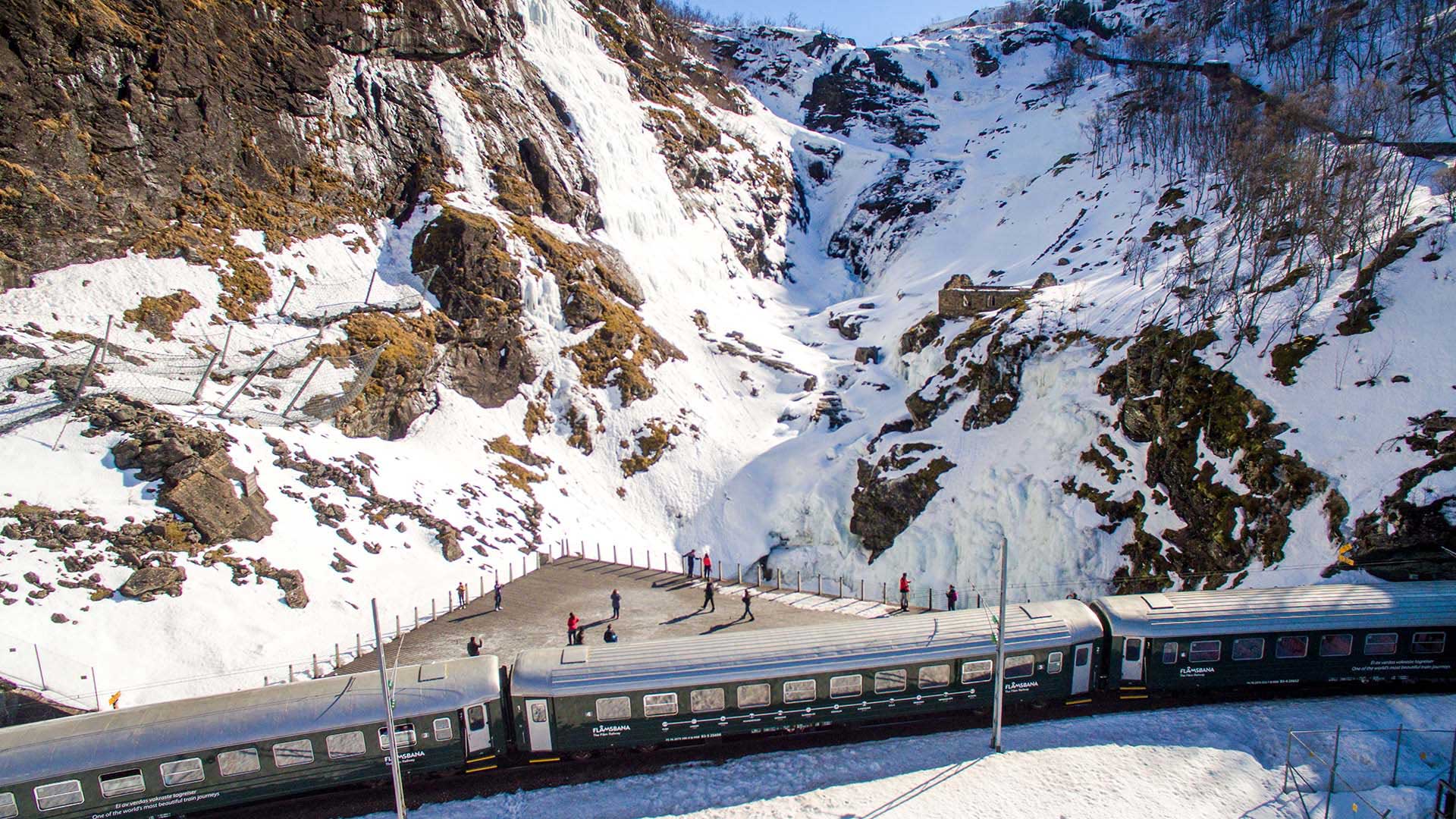 Dovre Railway
Retreat into Norway's wilderness on the Dovre Railway. Running from Oslo to Trondheim via the Gudbrandsdalen valley, the Dovre Railway takes you past fjords, mighty mountains and gushing waterfalls.
The journey takes 7 hours and offers the option to stop off at ski resorts like Lillehammer, hiking trails in the Dovrefjell mountains, and national parks such as Jotunheimen and Rondane.
With so much to explore, you could spend weeks on a tour along the Dovre Railway.
Rauma Railway
Hop aboard the Rauma Railway and discover some of Norway's most beautiful scenery. The Rauma Railway runs from Dombås to Åndalsnes and covers the relatively short distance of only 113 kilometres (70 miles).
Nonetheless, the 1-hour ride will have you gliding past dramatic fjords, thick wild forests and towering mountains.
Harry Potter fans will especially enjoy this journey as parts of Harry Potter and the Half-Blood Prince were shot along this route.
---
---
5. Venture into the remote Arctic Circle
Visiting the northern regions of Norway is an essential item on any wish list for Nordic explorers. Get ready to come face-to-face with polar bears, chase the northern lights, and experience Viking culture at its finest.
Cruises
Setting sail to the Arctic Circle allows you to admire the beauty of Norway's rugged coastline from an entirely new angle. On the way, you can marvel at towering glaciers, iconic fjords and a variety of wildlife, such as humpback and minke whales, walruses, puffins and polar bears.
The Hurtigruten cruise is an epic, 2,000-kilometre (1,243-mile) journey from Bergen to Kirkenes along the coast of Norway. You can do the entire journey in a week, or choose to sail just part of it.
To explore Norway's most northerly region from the sea, start in the Lofoten islands and finish in Kirkenes, passing by the North Cape ("Nordkapp"). You could join a king crab safari, take a boat tour on the fjords, and much more.
Cruising along the coast of Norway is one unforgettable and epic way to experience the country.
Tromsø
Voyage north to Tromsø and discover a city bustling with culture, history and direct access to the great outdoors.
Known as the "Gateway to the Arctic", Tromsø is a natural stopping point on any journey to the Norwegian Arctic Circle. Sample a glass of akvavit in a local tavern, ride the Fjellheisen cable car for stunning views, or try to spot the northern lights during the winter time.
Set at the heart of Norway's "aurora zone", Tromsø is proudly recognised as one of the best places in Europe to see the northern lights.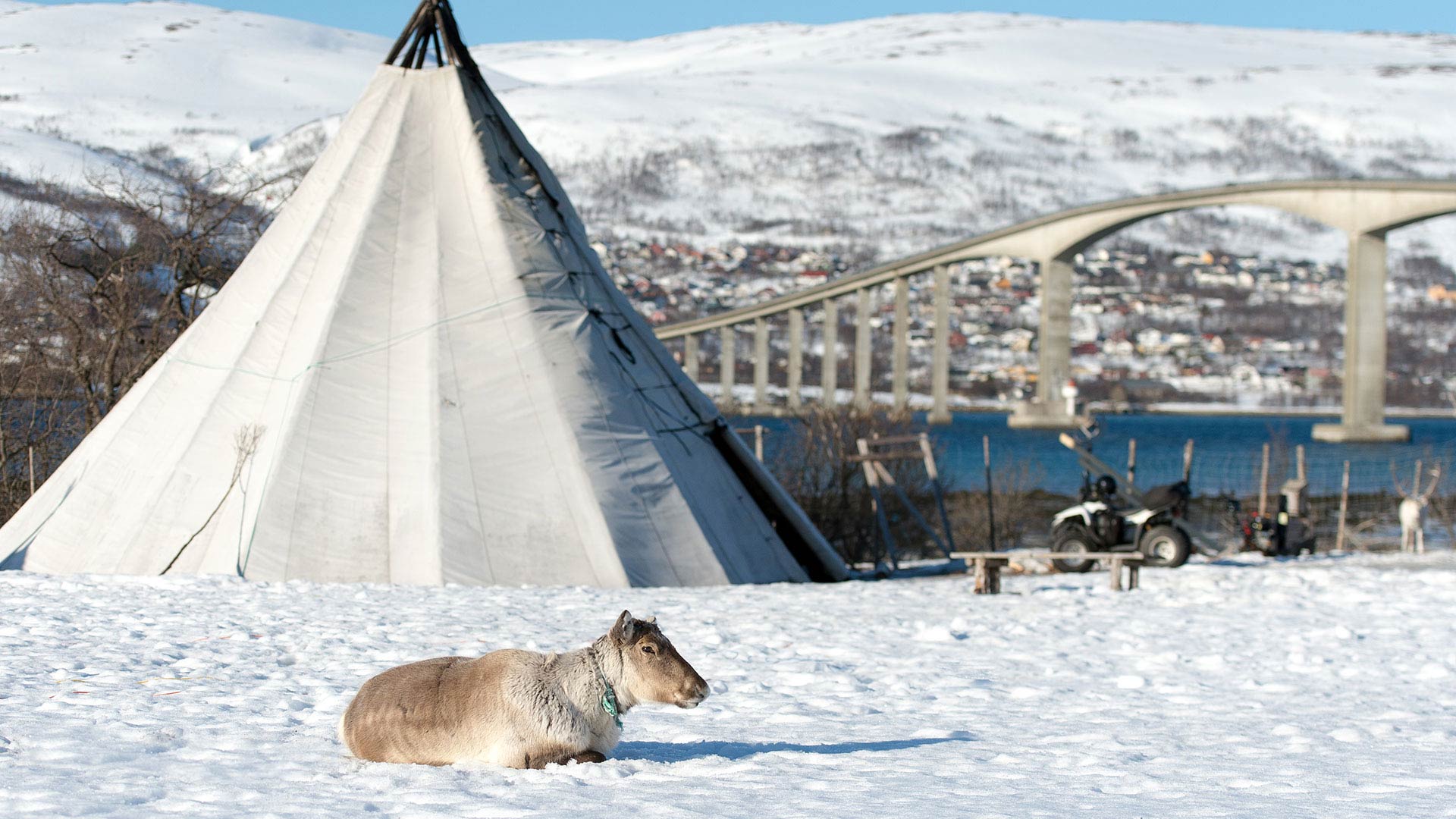 Lofoten islands
Located above the Arctic Circle, the Lofoten islands are renowned for their natural beauty, rustic fishing villages and a special glimpse into Norway's past. Historically, this area was a Viking stronghold, and today it retains a rich culture centred around the sea and fishing.
Make sure to explore towns like Svolvær, with its art galleries and cafés, as well as spots of natural beauty like the rock pinnacle, "Svolvær Goat" (Svolværgeita). Or take to the seas where you might spot wildlife, including mischievous otters and playful orcas.
Visiting the Lofoten islands also means you could experience a world where the sun never sets or never rises, depending on when you visit!
Svalbard
An Arctic archipelago poised halfway between Norway and the North Pole, Svalbard is a wild and remote place that few people get to experience. Come here to encounter graceful glaciers, imposing mountains and vast snow-covered plains.
Plus, as the home of nearly 1,000 polar bears, Svalbard is the place to try and catch sight of these majestic creatures.
Take a cruise along this frozen coastline as part of a Svalbard tour. Watch polar bears hunt for seals in their natural habitat, spot humpback whales as they surface for air, or admire the quick movements of Arctic foxes.
---
---
6. Watch the northern lights dance
Norway has always held a fascination with the northern lights (or "aurora borealis"). According to Norse mythology, the northern lights were reflections of the weapons and armour of the Valkyries, casting a strange flickering light across the land.
Today, people from across the world travel to Norway to do a spot of aurora hunting. You might be thinking about doing the same thing.
If you catch sight of the northern lights, get ready to have your mind blown as you watch them dance across the dark sky with their vibrant shades of green, pink and violet.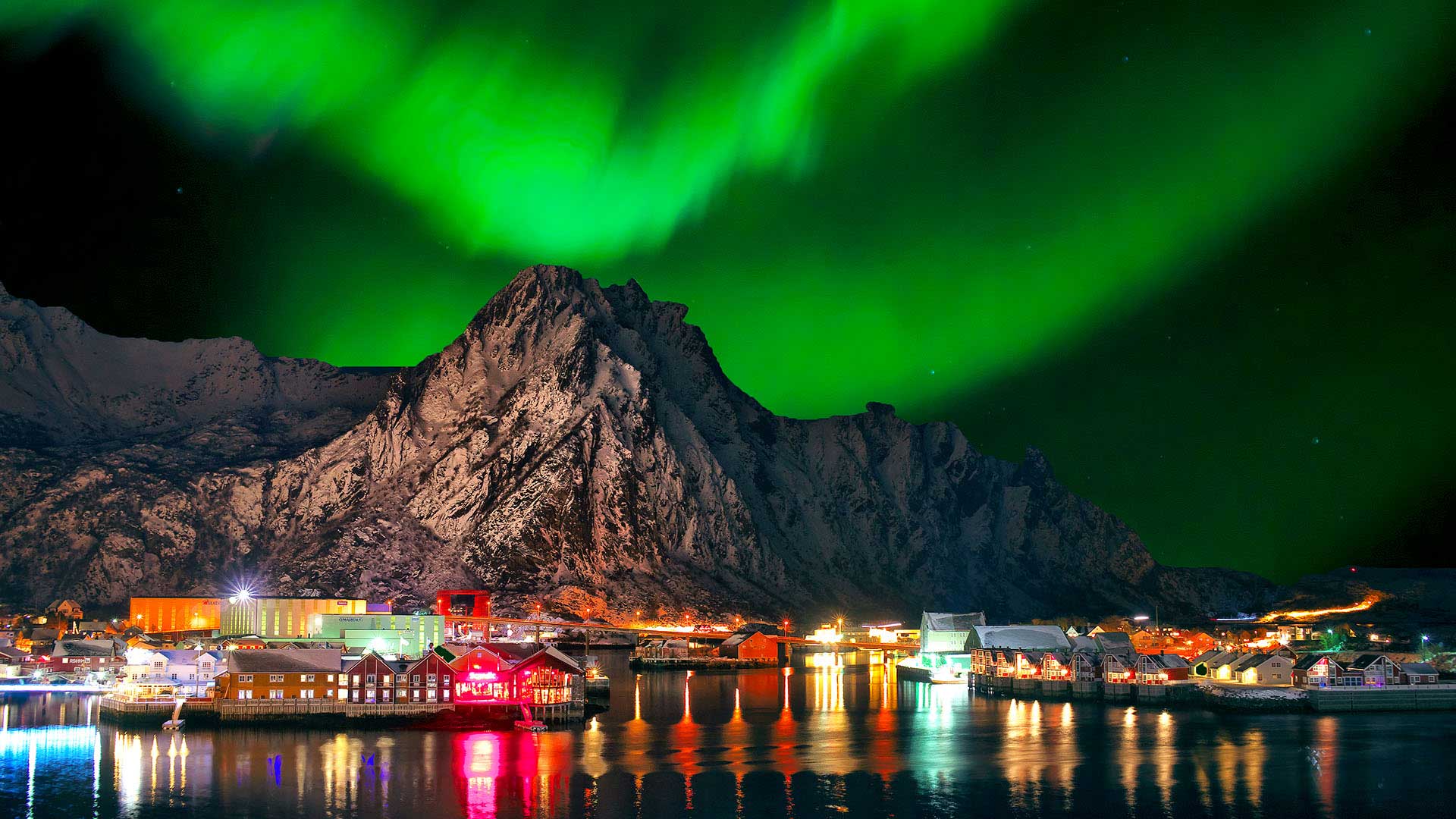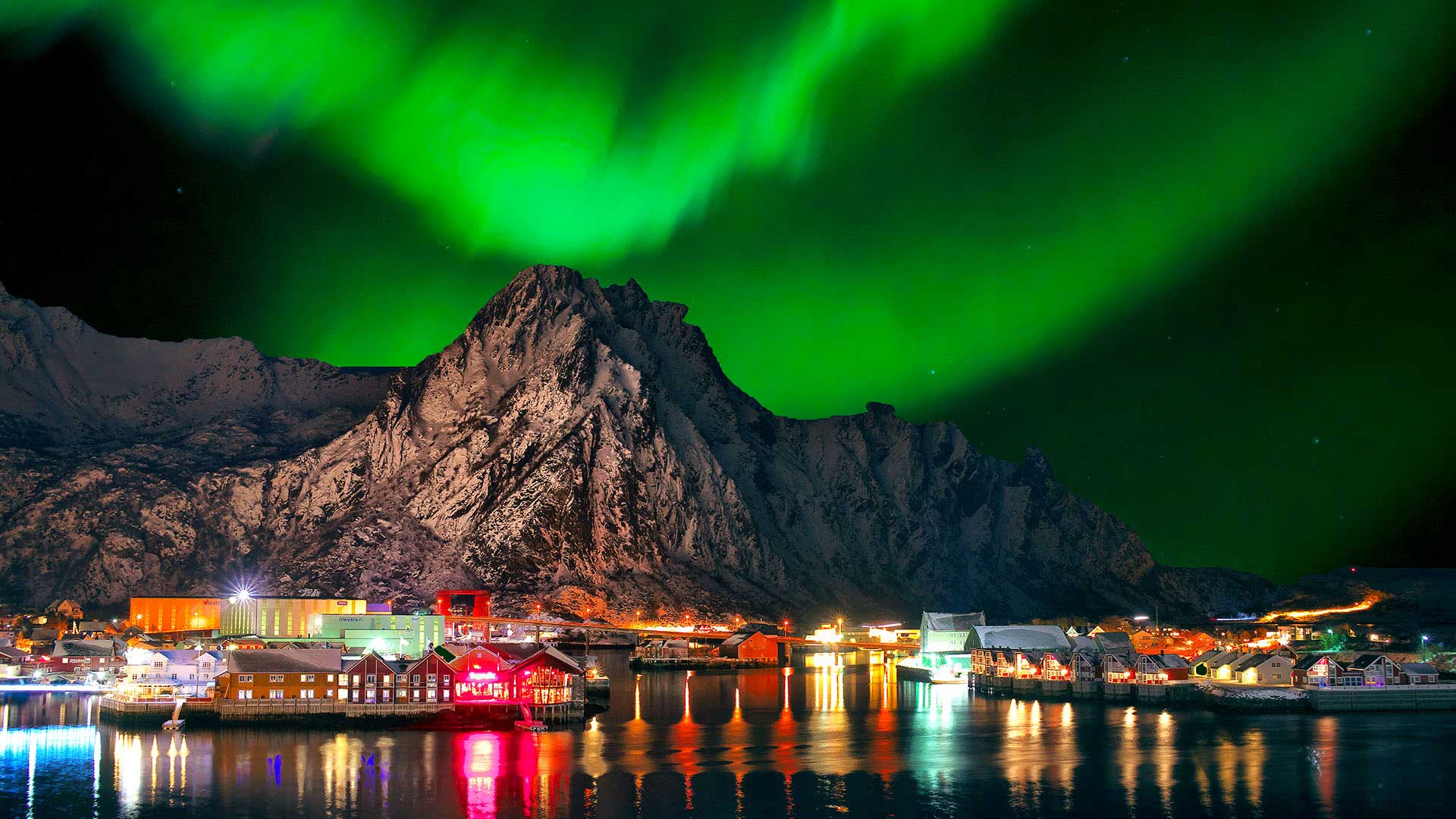 When to see the northern lights
To increase your chances of spotting the aurora borealis, make sure to visit Norway in winter, between October and late March.
During this period Norway has less daylight and more hours of darkness compared to the summer. Longer nights mean that you'll be more likely to witness this spectacular light show.
A bonus of exploring this region at wintertime is that you can stay in a Norwegian hotel made of snow and ice.
The Kirkenes SnowHotel is a frozen masterpiece that will have you sleeping on an icy bedframe, surrounded by artwork sculpted from snow. It promises a unique stay you won't forget!
Where to see the northern lights
The best spots for seeing the aurora borealis in Norway are in the north of the country:
Tromsø
Kirkenes
The Lofoten Islands
North Cape ("Nordkapp")
Svalbard
Good to know: The northern lights is a natural occurence so sightings cannot be guaranteed.
---
---
7. Have an epic road trip
Hit the open road in Norway and you'll soon find yourself immersed in jaw-dropping landscapes. This is a land carved up by soaring mountain roads, hairpin bends, and bridges connecting one island to the next. The scenery outside your window will leave you spellbound.
Trollstigen
Drive along an impressive mountain pass in Norway and prepare for stunning views as you go. The Trollstigen, or "Troll Ladder", is a 6-kilometre (3.7-mile) section of Road 63 between Åndalsnes and Valldal. It features 11 hairpin turns on a steep 9% incline, with the highest point being 850 metres (2,788 ft).
Once you reach the top, stop and gaze out over this mind-boggling, zig-zagging road from the viewing platform. You'll also be able to spot the Stigfossen waterfall from up here.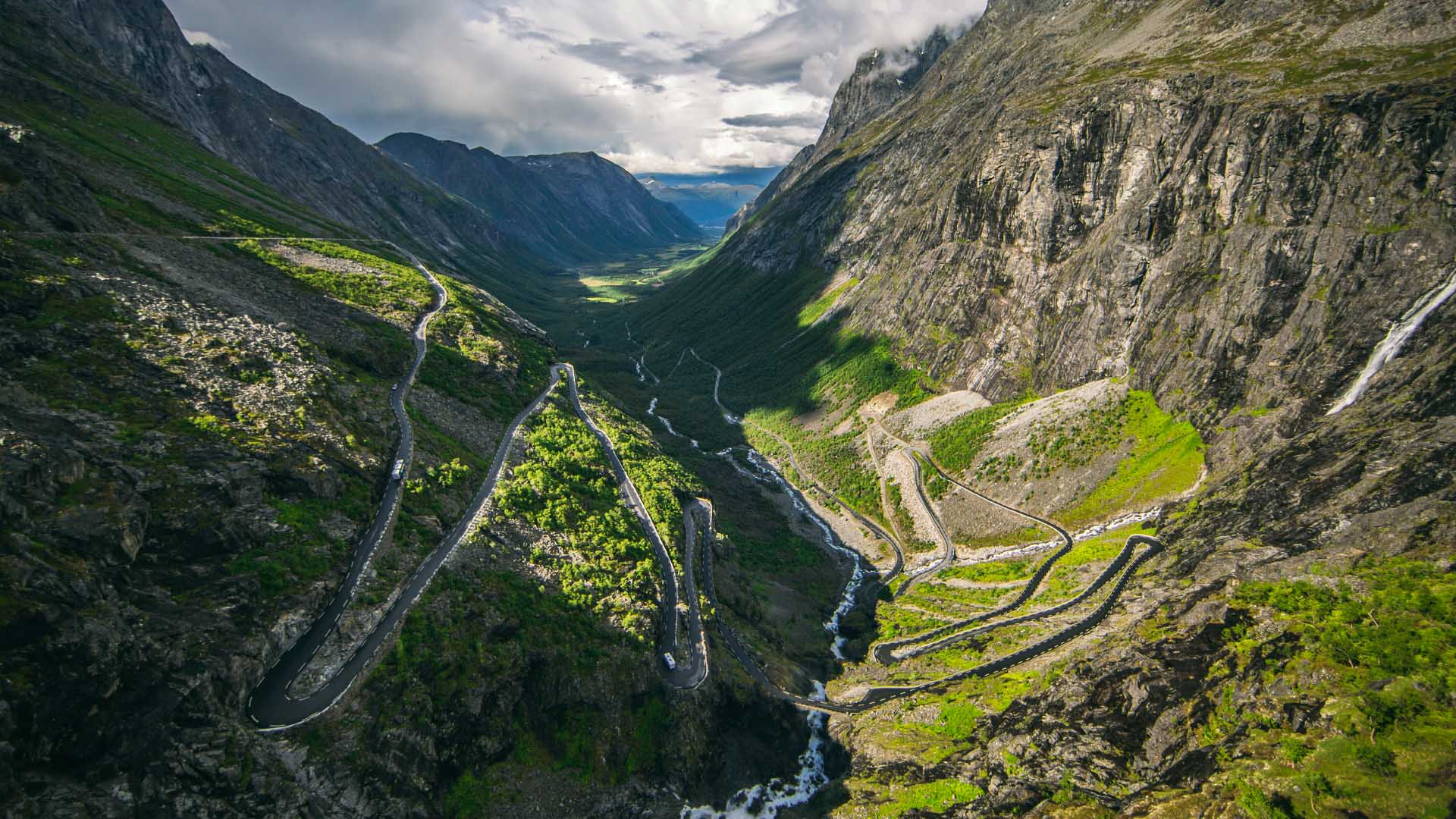 Eagle Road
You might also encounter the Eagle Road ("Ørnevegen") while driving Road 63. This is the steepest part of the highway, with 11 hairpin bends teetering high above sea level, between Geiranger and Eidsdal.
Look down from the Eagle Road's viewpoint to drink in the sight of Geirangerfjord, surrounded by tree-clad cliffs.
Atlantic Ocean Road
Another exhilarating drive you should consider for your Norwegian adventure is the Atlantic Ocean Road ("Atlanterhavsveien"). Zip between the islets and skerries of Averøy and the Romsdal peninsula, driving over multiple bridges and causeways for 8.3 kilometres (5.2 miles).
Be sure to stop for photos along this oceanfront route, which leads you to the city of Kristiansund, sprawled over 3 islands in the North Atlantic.
---
---
These are the top things to see and do in Norway, but there are so many more incredible places and activities you can enjoy. Whether you want travel by road, rail or sea, Norway promises an unforgettable adventure filled with stunning sights.
You could discover Norway with the help of regional experts who know the country inside out. With Nordic Visitor, you'll have a personal travel consultant to plan your itinerary and arrange all on-the-ground bookings for you. Then, during your tour, you'll have access to our 24/7 helpline just in case you need us.
Start exploring classic holidays in Norway for more inspiration, or contact our travel consultants to put your trip plans into motion.