Think of Norway and you may well picture fjords: steep flooded valleys covered in green trees and hairpin-bend roads. Norway is so famous for its fjords that it even exported the word the world over. And Geirangerfjord is one of the most spectacular.
You'll find Geirangerfjord in western Norway, a few hours' drive from the Atlantic town of Ålesund. It's the innermost branch of a huge network of meandering fjords, and is completely navigable by boat.
So is it worth going on a tour of Norway's fjords? Absolutely! Imagine sailing past sheer cliffs, impressive waterfalls and quaint villages as the sun gently slips behind the mountaintops.
Geirangerfjord's beauty has been recognised globally. Along with the neighbouring Nærøyfjord, Geirangerfjord is a UNESCO World Heritage Site.
Read on to find out what makes this slice of Norway such a spellbinding destination.
Things to see and do in Geirangerfjord
On a trip to Geirangerfjord in Norway, you'll see:
Ribbon-like waterfalls cascading down sheer rock faces.
Abandoned farms tucked away in the hillside.
Snow-dusted mountaintops nestled above lush green forests.
Jaw-dropping views over the fjord below.
There's plenty to do in and around Geirangerfjord too. Join one of the popular RIB boat sightseeing trips along the fjord, hike the mountain trails and dine at one of the area's many top-quality restaurants.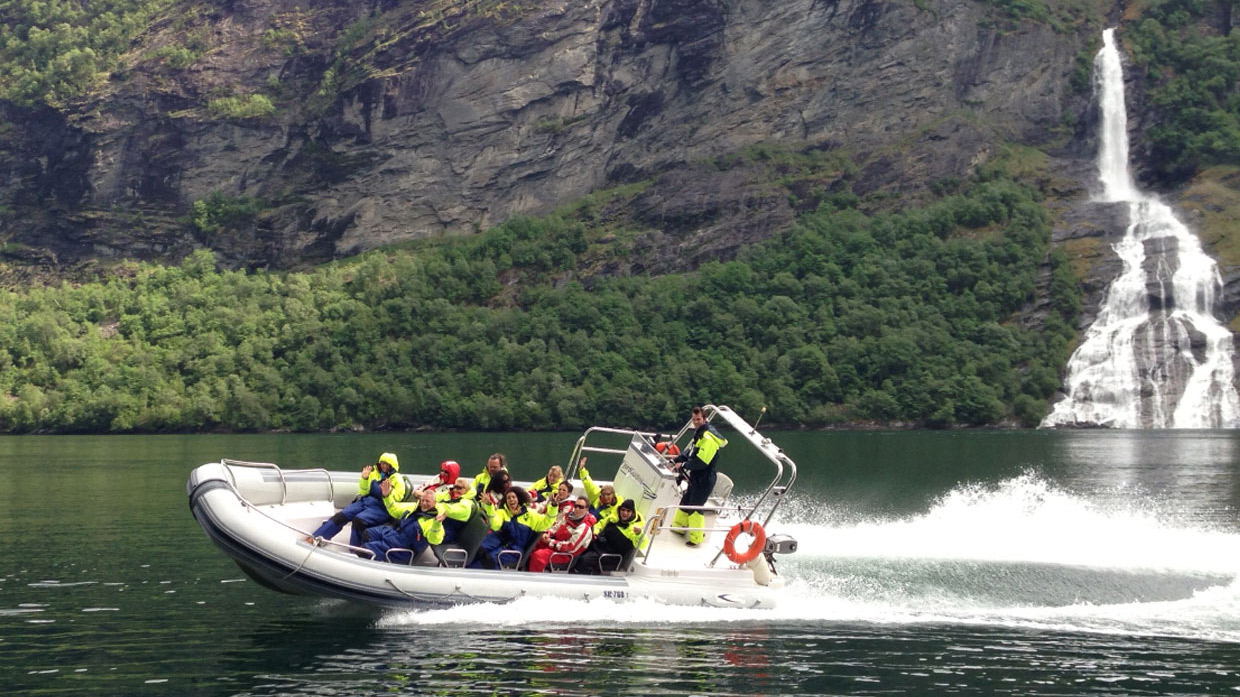 You can also stop at the Norsk Fjordsenter ("Norwegian Fjord Centre") in the town of Geiranger, where you'll learn about how Norway's fjords were formed. Check out the centre's exhibition, cinema, café and gift shop.
---
---
Below, we've put together a few of this Norwegian fjord's star attractions. Get inspired for your holiday to Norway!
1. Jaw-dropping lookouts
Geirangerfjord is skirted by high mountains that plunge into the deep sea-filled valley below. The best way to appreciate the scale and majesty of the fjord is from a viewing point.
Luckily, there are plenty of mountaintop lookouts along Geirangerfjord and its neighbouring fjords. Here are some of the best:
Ørnevegen – Meaning "the Eagle Road", Ørnevegen winds its way up the sides of Geirangerfjord. At the viewpoint, you can stand on a balcony that overhangs the fjord.
Flydalsjuvet – Catch a view of Geiranger town and the lush sides of the fjord. If you dare, you can also sit in a seat on the edge of the mountain.
Geiranger Skywalk Dalsnibba – At 1,500 metres (4,900 feet) above sea level, this lookout offers you epic views over the end of Geirangerfjord. Don't miss the vast mountain-studded panorama.
2. Wonderful waterfalls
Geirangerfjord boasts numerous waterfalls, each with its own appeal. The shape of the fjord means rivers run straight down the rockface into the sea, to stunning effect!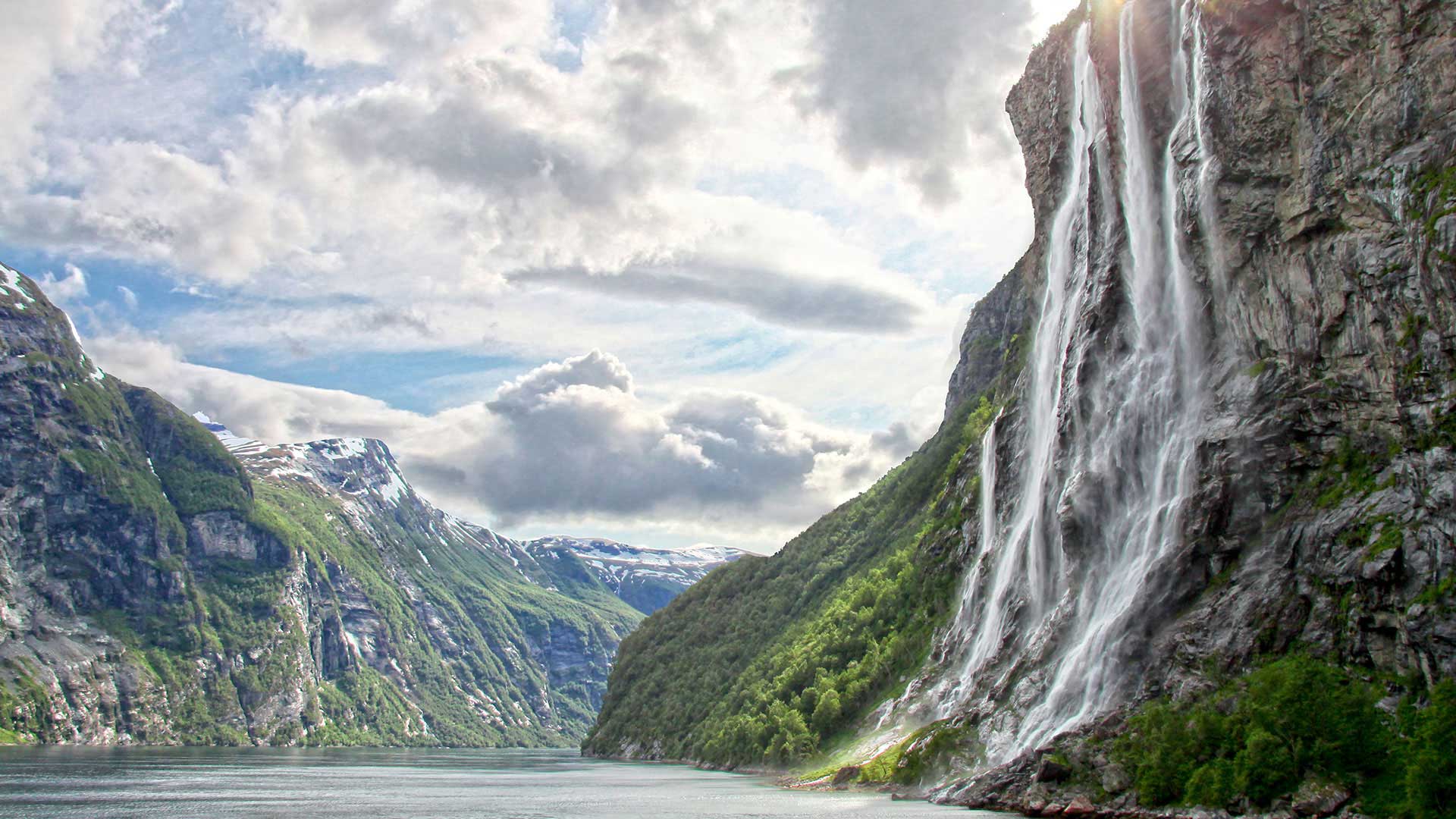 If you like a good waterfall, the Seven Sisters ("de Syv Systre" in Norwegian) aren't to be missed. This set of waterfalls is named for its resemblance to long women's hair as seen from behind.
With an average drop of 250 metres (820 feet), they certainly are a sight to behold. On the opposite side of the fjord is the Friaren waterfall ("the Suitor"). According to local legend, the Suitor tried to woo the Sisters, but was continually rejected.
Further along Geirangerfjord you'll spot the Bridal Veil ("Brudesløret") waterfall, named for its likeness to a wedding veil draped gently over the side of the mountain.
---
---
3. Traditional fjord life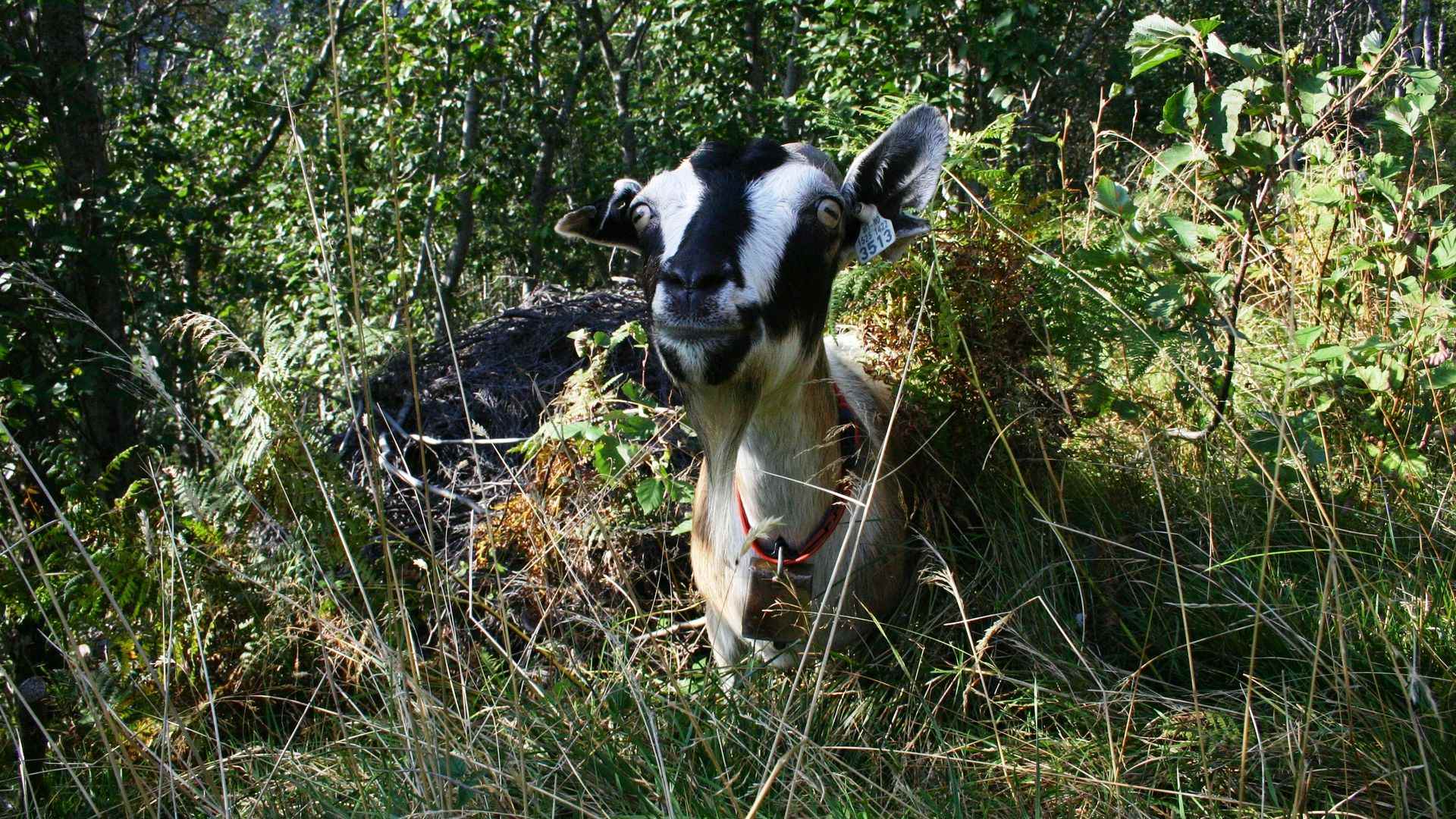 Dotted amongst the forests along Geirangerfjord are many mountain farms, most of which have fallen into beautiful decay.
These farms are a symbol of traditional life in Norway's fjord country. In this part of the world, even the unlikeliest parcel of land would be put to use as pasture or for growing crops.
You can visit some of these historic farms, such as Knivsflå, to get an idea of what life would once have been like for Norwegian fjord-dwellers. Knivsflå is a short boat trip from the town of Geiranger.
When to visit Geirangerfjord
You'll find the best time to visit Geirangerfjord is early summer, in May or June. This is when the waterfalls are at their fullest, during the post-winter thaw. The fjord's winding roads will also be free of snow and ice, making any driving easier for you.
You also have the option to visit in mid to late summer, from July to August. At this time of year, the weather is at its brightest and warmest. You also have more light hours, meaning more time to take photos!
And although the weather starts to cool in September, it's definitely still possible to visit Geirangerfjord then too.
---
---
Many services around Geirangerfjord, such as restaurants and hotels, are seasonal. Visiting in the summer gives you the best choice of places to eat and stay. What's more, all the attractions you want to see are likely to be open.
Getting to Geirangerfjord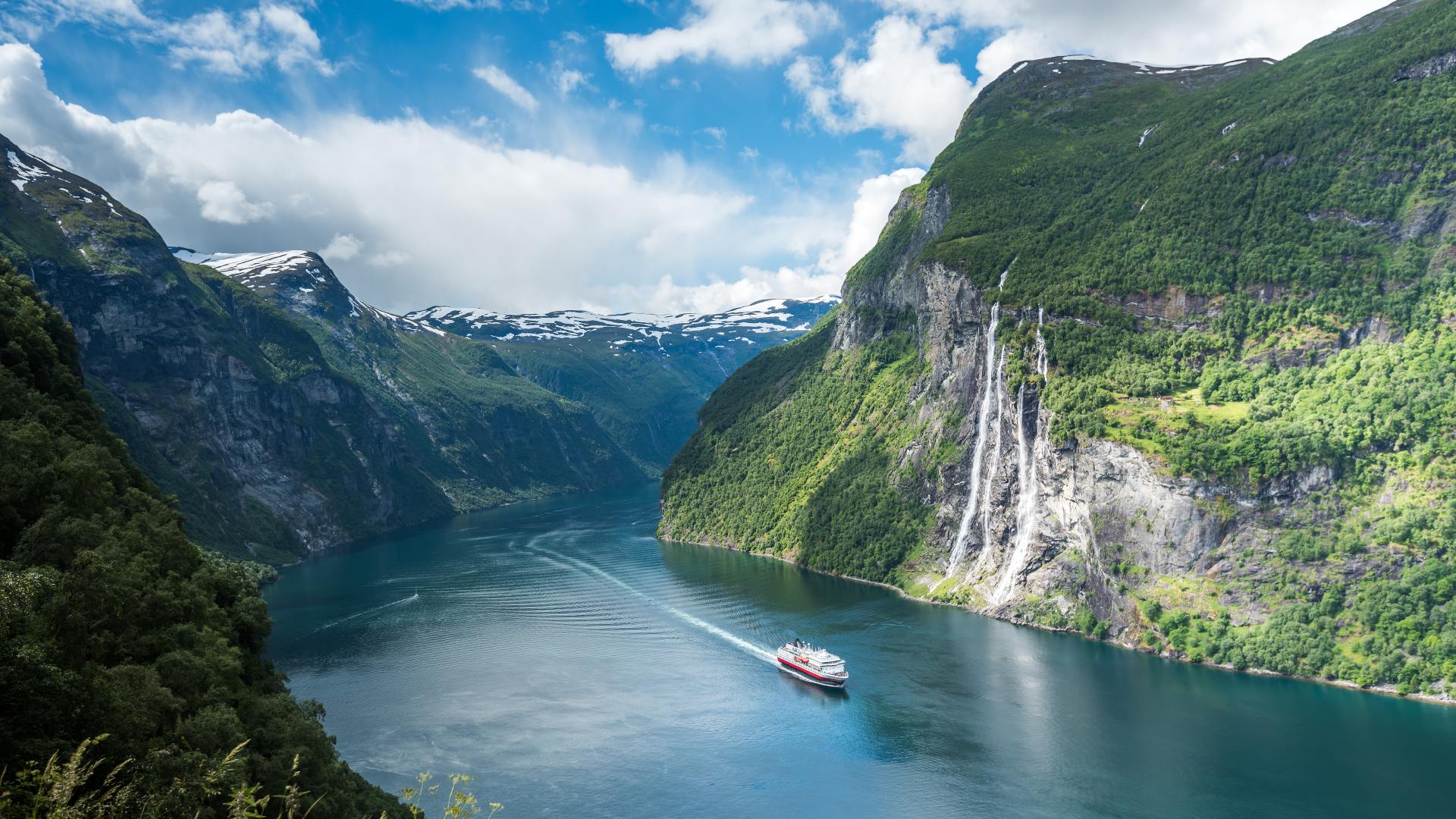 A popular way to see Geirangerfjord is by boat. The entire fjord is accessible to cruise ships, meaning you can sail all the way inland to the town of Geiranger. By cruise, you won't miss a single waterfall from the observation deck.
---
---
If you're travelling by car, follow the scenic routes that run alongside Geirangerfjord. The 60 road, accessible from Ålesund by car ferry, takes you down to the quaint village of Sunnylven.
Alternatively, you can join the 650 road just east of Ålesund. When you reach Linge, take the ferry across to Eidsdal and follow the 63 road south. As you approach the town of Geiranger, you'll wind down hairpin bends with spectacular views.
---
---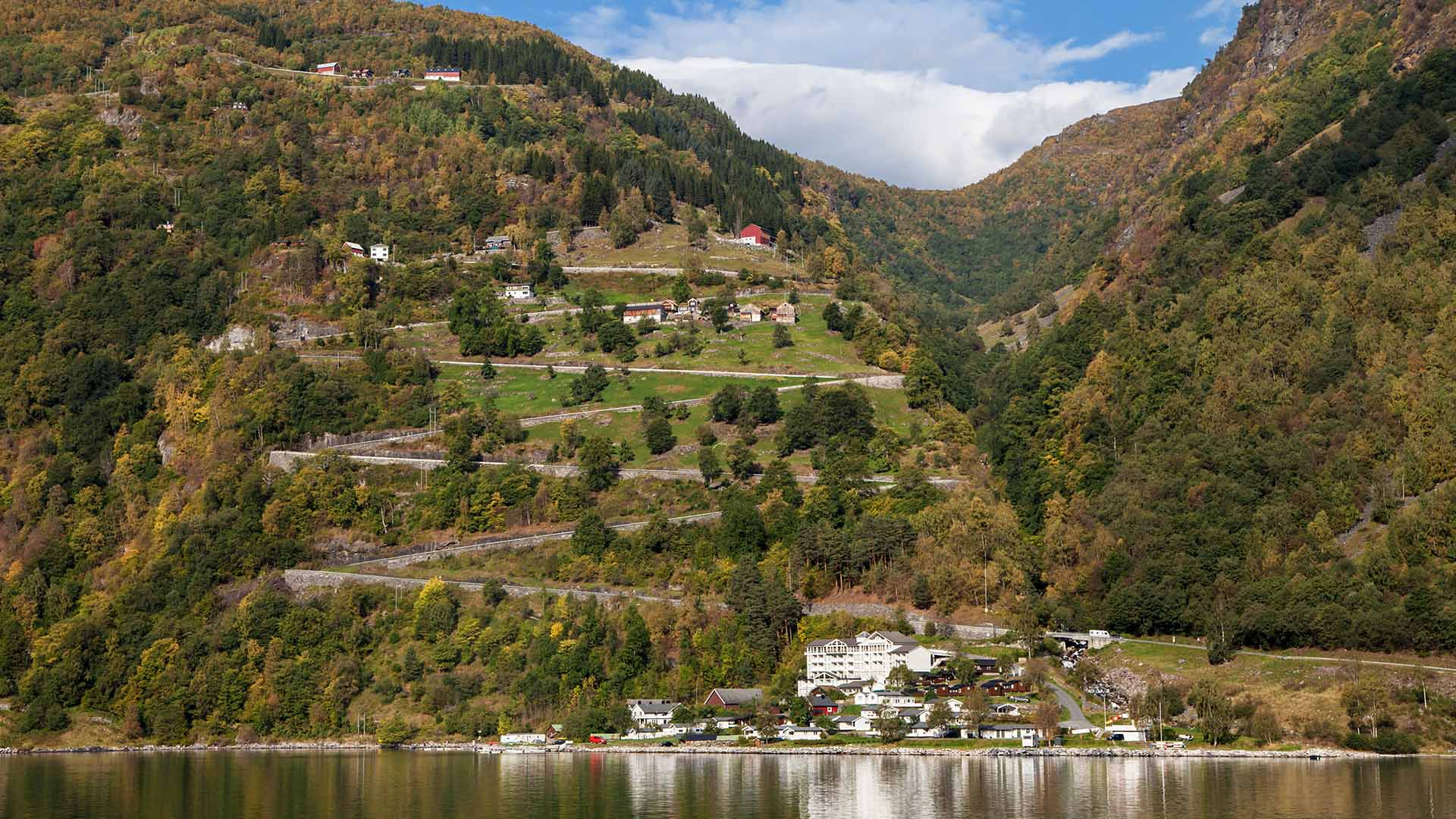 Planning your visit to Geirangerfjord
There are plenty of ways to see Norway. A great option is a self-drive tour. This gives you the freedom to go wherever you want, whenever you want. And you can stop as often as you like for pictures!
Or if you want to skip the driving, you might prefer a fjord cruise and train tour. Sail around Geirangerfjord and more, and hop between cities using Norway's modern and efficient rail network.
Alternatively, you could join a guided small group tour. This way you can meet like-minded travellers and you'll be driven from place to place in a minibus. So all you need to do is relax, enjoy the view and follow your guide.
However you prefer to travel, we've got you covered at Nordic Visitor. And when you're ready to book, or if you just want to know more, our friendly and knowledgeable travel consultants are just a click or call away.
So why not start planning your Geirangerfjord adventure today? Browse all of our fjord tours in Norway to get started. And if you have questions, or you're ready to book, contact us.