If you're planning a trip to Iceland or really inspired to come to this Nordic gem, you may be wondering when is the best time to visit Iceland. One of the country's many charms is being a year-round destination, but your personal choice can influence when to visit Iceland!
Whether you want to visit in winter or summer, or come for a particular interest of yours, we have it all below.
Iceland is a country that is beautiful and interesting all year long. This is why, at Nordic Visitor, our travel consultants have crafted tours for both the winter and summer seasons.
There are countless fantastic activities and sights to see and do, so depending on your interests or your available time to come, we have you covered with this useful guide.
---
Contents:
---
When is the peak season in Iceland?
Peak season for travelling to Iceland is during the summer, between June and August.
If you visit at this time, it'll coincide with the mildest weather, summer holidays, the most daylight, and the most activities available. In recent years, the winter months have also been very popular, with people flocking to Iceland to see the northern lights.
---
---
When is the best time to visit Iceland for the weather?
Iceland isn't as cold as its name may suggest and enjoys a temperate climate all year long. That's not to say that the weather doesn't change quickly over the course of a single day.
For that reason, regardless of the time of year, make sure to have wind and water resistant layers on hand.
The mildest weather of the year in Iceland is, of course, during the summer months.
If you're looking for maximum sunlight, or even to experience the midnight sun (when the sun doesn't fully set below the horizon), the best period to come is in June, July or August.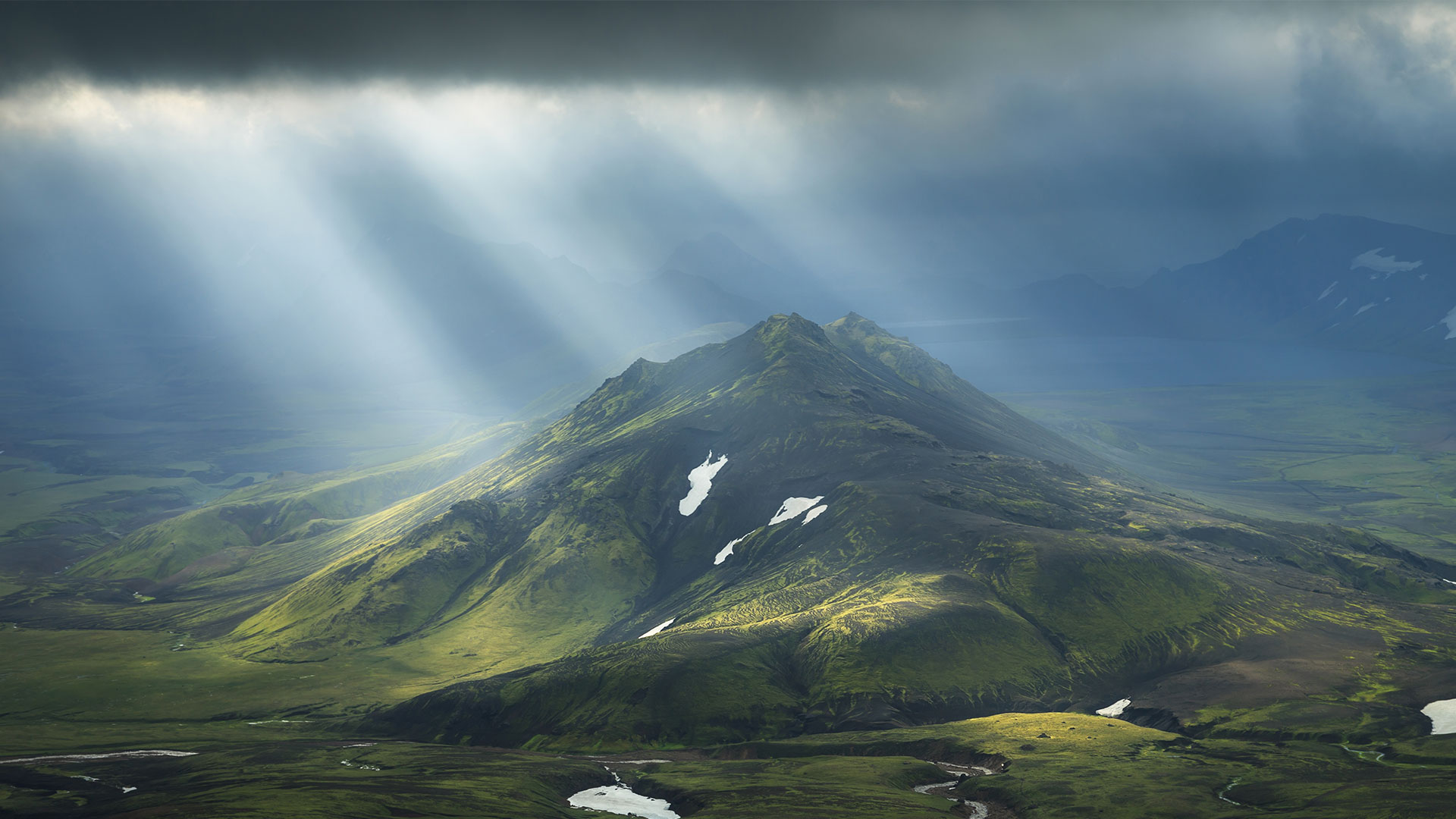 The shoulder months of May and September are also ideal for those who prefer a quieter holiday, as they usually attract less crowds. The weather is usually still mild, although a bit more unpredictable.
---
---
Of course, maybe the perfect weather for you is a crisp and snowy day. Then the winter months will be the time when you want to come and enjoy the best that Iceland has to offer.
The months between October and April define the winter season and shoulder season. You may also enjoy visiting in late December to join in the Icelandic New Year's festivities.
You can find out more about the weather in Iceland in our handy climate and weather conditions guide.
What is the best month to visit Iceland?
While the weather may be a big draw for some, you may want to come to Iceland for a particular month or season, whether that's when you have holiday or when you want to enjoy a certain activity.
Exploring Iceland in summer
Summer in Iceland is from June until August. The shoulder months May and September are very popular among travellers as well.
The summer is by far the most popular with visitors. This is because, at that time of year, the temperature is generally milder, there is more daylight to take advantage of when sightseeing, and there are more activities available.
There is a lot of festivals and events as well, you can read more about that below.
You're also more likely to enjoy a road trip in the summer as you'll have more daylight hours to drive. If you only have a week, you can still drive the Ring Road but it will involve longer daily driving distances.
The roads are also less likely to be shut due to the weather conditions at this time.
The one downside some people may find is that, as summer attracts the most visitors, it means more crowds at popular attractions. If you prefer a quieter time, you could also visit during the shoulder season, the months of May and September.
For the most beautiful colours in nature, but also a quieter time for tourism in Iceland, I would recommend September. The fall colours are amazing and that is my favourite time to explore the country. - Helga Guðmundsdóttir, Travel consultant for Iceland
---
---
Exploring Iceland in winter
Winter is slowly attracting more and more visitors. Quieter months such as October and November are a great time to visit Iceland. This is especially true if you want to experience the long nights and darkness of the northern parallels.
The enchanting natural phenomena that are the aurora borealis deserve attention too. As do the wintry landscapes of the higher altitudes and North Iceland.
While Iceland is a year-round destination, there are fewer activities available at that time of year, with less daylight to take advantage of them. For a road trip, we would recommend staying around the west and southern coast of Iceland. There is plenty to see here, including the Golden Circle.
You could also fly up to the capital of the north Akureyri. Experience this beautiful region and see a true winter landscape.
---
---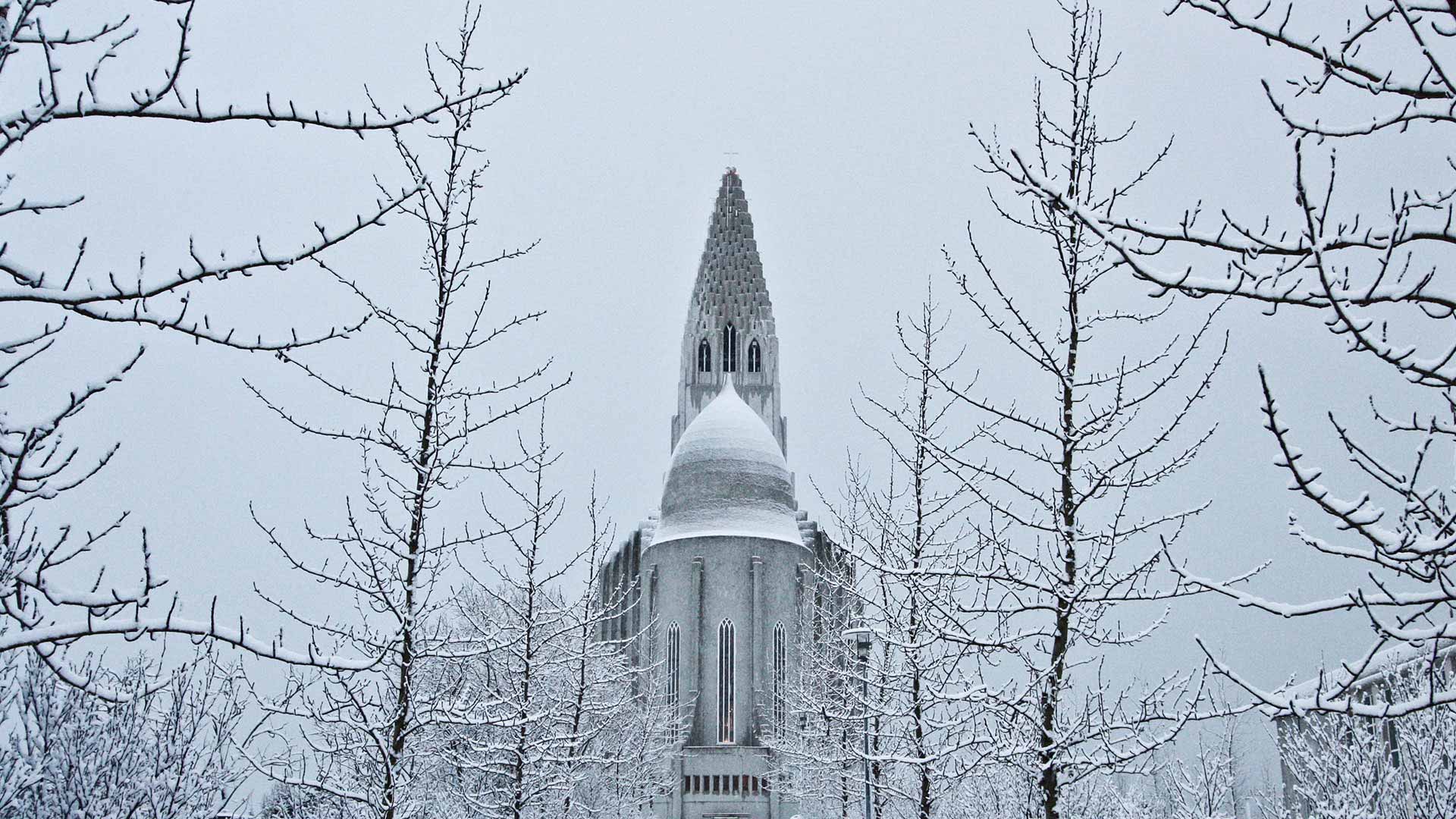 During many months of the winter, it's also possible to tour the famous Ring Road if that's what you're looking for. However, be aware that the weather can often make the roads and driving conditions unpredictable and difficult.
Driving during the winter months in Iceland is not for everyone.
This is why we do not recommend a long road trip in the winter if you have never driven on snow and ice.
If you are going to embark on a winter driving tour in Iceland, you should be comfortable driving in what can be challenging conditions. This includes snowstorms, icy roads and little daylight.
---
---
If you do want to come in the winter, make sure to dress for the Icelandic weather. We have a handy packing guide here to help you with that.
When is best time of year to visit Iceland depending on your needs?
As we've mentioned many times again, there is no bad time to visit Iceland, there is something beautiful to see and something interesting to do all year long.
Below we've highlighted the most requested interests and activities and when is the best time to go to Iceland for them. Look up the one you'd love to experience while in Iceland:
Best time to visit Reykjavík, Iceland
Reykjavík is a colourful, cultural, and buzzing city throughout the seasons. From year-round festivals, to New Year's Eve celebrations, and world-renown attractions, visiting Iceland's capital is always fun.
The best time may depend on what you want to do during your visit. Most museums, such as Perlan the top attraction in town, open their doors throughout the year. The swimming pools, heated by geothermal power, are also visited by locals and visitors all year long.
To attend specific events, you may want to visit at a particular time. Attend Iceland Airwaves in November, the Culture Night in August, or the Secret Solstice in June. Summer has the largest concentration of festivals if you want to feel the lively atmosphere.
December is a great time to visit to get in the festive spirit. There are fireworks, bonfires and more to celebrate Christmas and mark the start of a new year.
---
---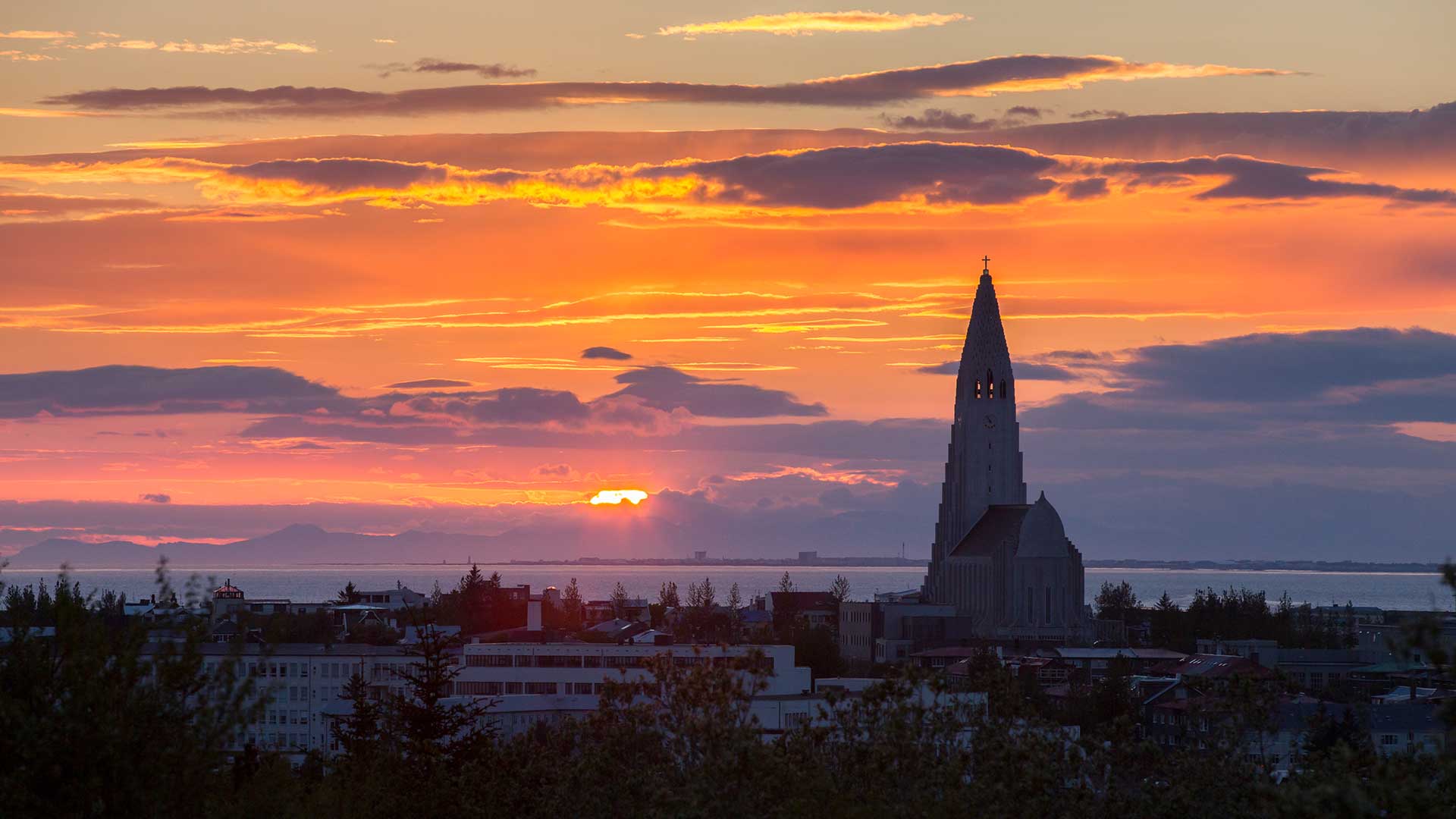 Best time to visit for birdwatchers
If you love birds and birdwatching, you will be spoiled in Iceland!
While it is possible to birdwatch all year round, many of the bird species are migratory and thus only spend a portion of the year in Iceland. This means some periods of the year are indeed better for birdwatching, or for spotting certain kinds of birds.
Generally speaking, the best time for birdwatching is considered to be between mid-April and the end of June. This is the time of the year that sees the most bird species in Iceland, and long daylight hours gives visitors ample time to admire them.
There are five species that people often seek out and we've made a wee guide for you:
Puffin
There are 8 to 10 million puffins that spend their summer in Iceland every year! That makes up nearly 60% of the world's Atlantic puffin population. These adorable birds can be spotted from late April, with the best period to see them being between May and early August.
Harlequin duck
Since Iceland is the only country in Europe where this colourful duck species can be found, it is an exciting sighting!
There are around 2000 to 3000 pairs that breed around the country. While they stay in the sea around the island during the winter, in the spring they travel up rivers for their nesting season. They can, for example, be found in Ölfusá river.
Barrow's goldeneye
90% of the Barrow's goldeneye around Lake Mývatn and stay there year-round. Around 150 birds can also be spotted on the south coast during the winter, but they head for Lake Mývatn for breeding season around mid-March.
Gyrfalcon
It's important to note that the Gyrfalcon is a fully protected species and so, no specific location can be given about their breeding location.
While it is not commonly sighted, when it is spotted, it is usually around Lake Mývatn due to the abundance of prey, and around Reykjavík and the Reykjanes Peninsula in the winter.
If you are lucky enough to spot one, please be aware that approaching nesting sites is not permitted. Neither is sharing information about their breeding sites.
Brünnich's guillemot (also known as thick-billed murre)
In the winter, you can spot this species in the north and east coast of Iceland. But if you happen to be here in the spring or summer, you may be able to observe a Brünnich's guillemot around the various seabird cliffs around the country.
They are commonly spotted between the end of March and the end of July. As of where to go, we recommend: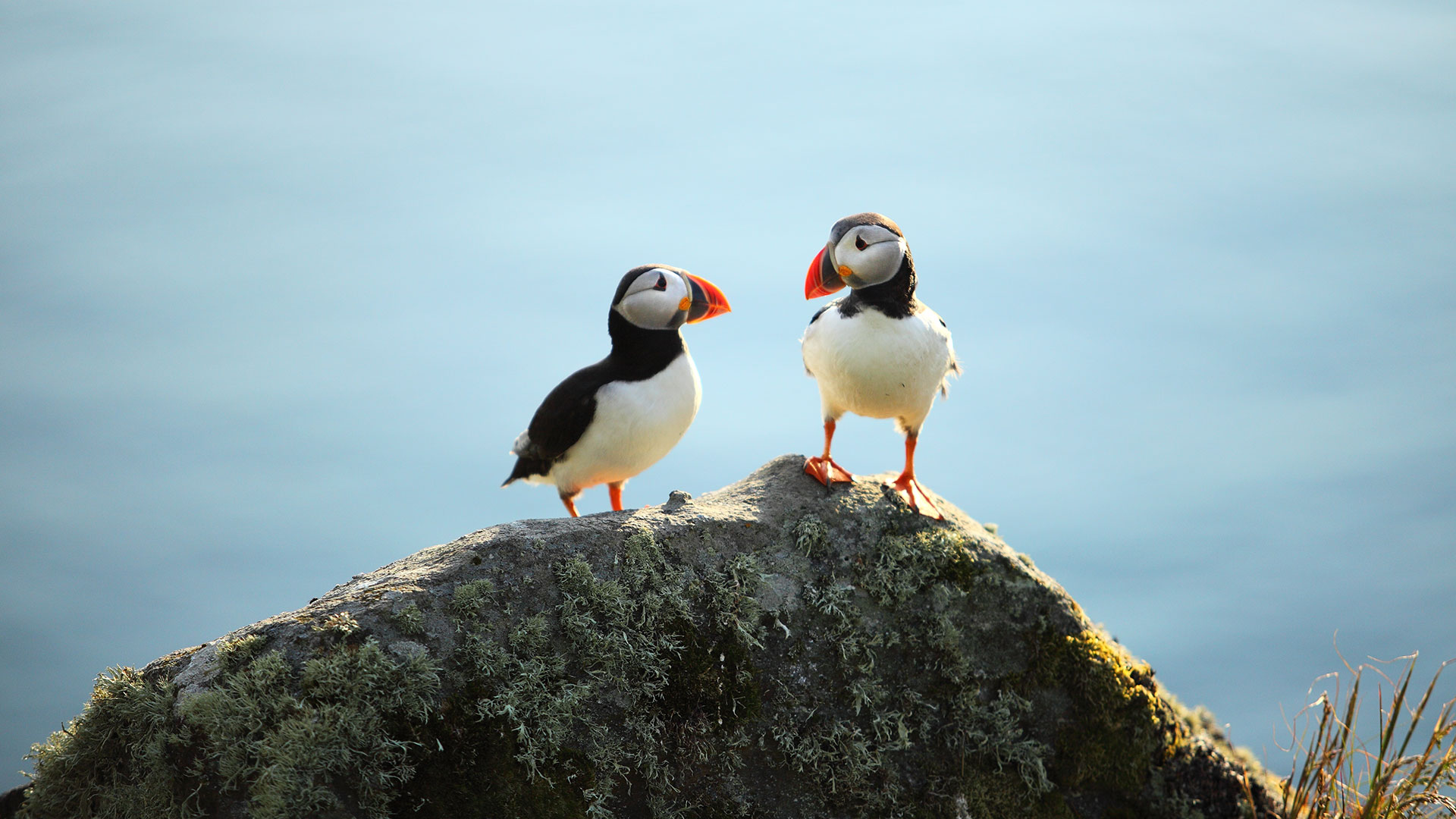 Best time to visit Iceland's Golden Circle
We would recommend visiting during the shoulder season to have the best experience of the Golden Circle and its attractions.
Even though, it is worth mentioning that the Golden Circle is beautiful at all times of the year. In the winter, the landscape will be enchanting, dusted in snow and frost. In the summer, you can enjoy longer walks in the landscape and spend more time at each site.
However, at the peak of summer, you may find that you're not alone at Þingvellir, Strokkur, or Gullfoss.
Indeed, as they are the closest sights to Reykjavík, they are easy to visit on a city break. It means these locations are usually more crowded than others, especially so at the height of summer.
For a bit of peace and quiet, visit on either side of the summer, in April, May, September or October.
---
---
Best time to visit Iceland for hiking
Hiking in Iceland will be an unforgettable experience as the mountains aren't just beautiful, but also full of stunning trails. It is also extremely dependent on weather due to the accessibility of those hiking trails.
The best time to visit Iceland for hikers will be between May and September. It is during these summer months that the trails are accessible and when there is the most daylight to take full advantage of the trails and Iceland's natural beauty.
Hiking in the highlands of Iceland is often limited by the opening of the road leading into the highlands after winter. This is all dependent on weather conditions and location, but will normally open from mid-June.
This also means that some hiking trails high up the mountains may still have snow in May. It is not recommended, as an example, to hike to Stórurð in May because it is usually covered in snow at that time.
Please always be careful as a hiker to not put yourself in danger and always be ready for the weather conditions.
My favourite time to hike in Iceland is in midsummer when everything is green and lush. It can be even better if it's raining, then the fragrance of nature is so fresh. During this time of year, the highlands turn into a fairy tale and the options are endless. Hills, lava fields, river banks... It doesn't matter, it's simply gorgeous! –Perla Magnúsdóttir, Travel consultant for Iceland
---
---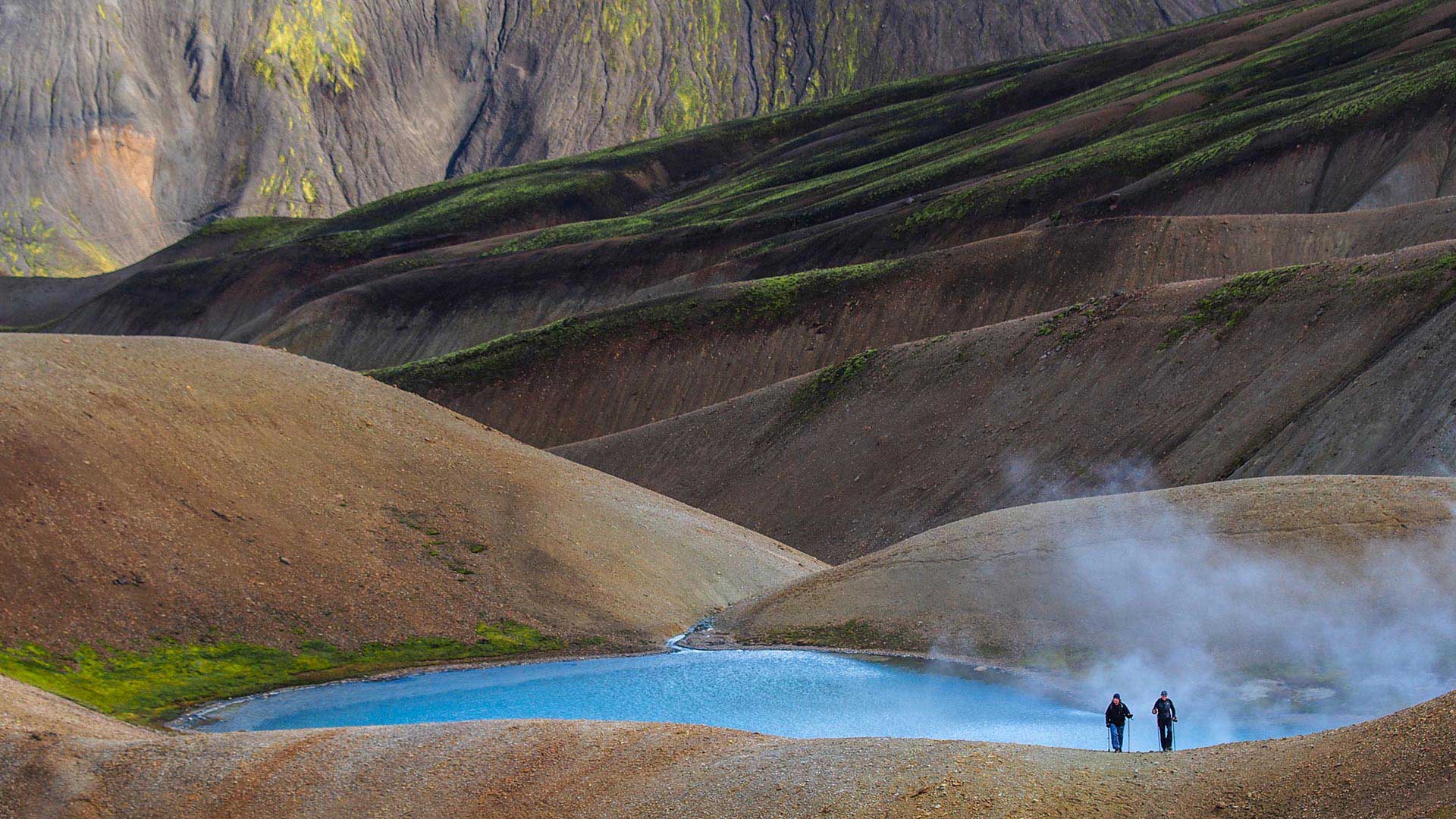 Best time to visit ice caves in Iceland
To explore and experience the surreal atmosphere of an ice cave, come in winter. Between mid-November and early March, you can book an adventure inside the Katla ice cave, located inside the Kötlujökull glacier. You could also walk through parts of the largest glacier in Iceland, Vatnajökull.
Visit the second largest glacier on the island, Langjökull, with the Into The Glacier experience. This is a man-made tunnel taking you into the depths of the glacier.
Or, if you're coming in summer and still want to experience an ice cave, pop by the Perlan in Reykjavík. This must-see attraction offers you the chance to walk through an artificial ice cave, made as a replica of a real glacier.
Best time to visit Iceland for northern lights
Aurora borealis are one of the most wonderful natural phenomenon to witness and many visitors come to Iceland just for this!
If this has always been on your bucket list, the season to see them is from mid-September until the middle of April, when darkness makes it more likely. But as these are naturally occurring, it means no one can guarantee you will see them.
Sighting depends both on northern lights activity and weather conditions, because it requires both dark and clear skies. You can read more about the northern lights and how best to capture it on our dedicated travel guide.
---
---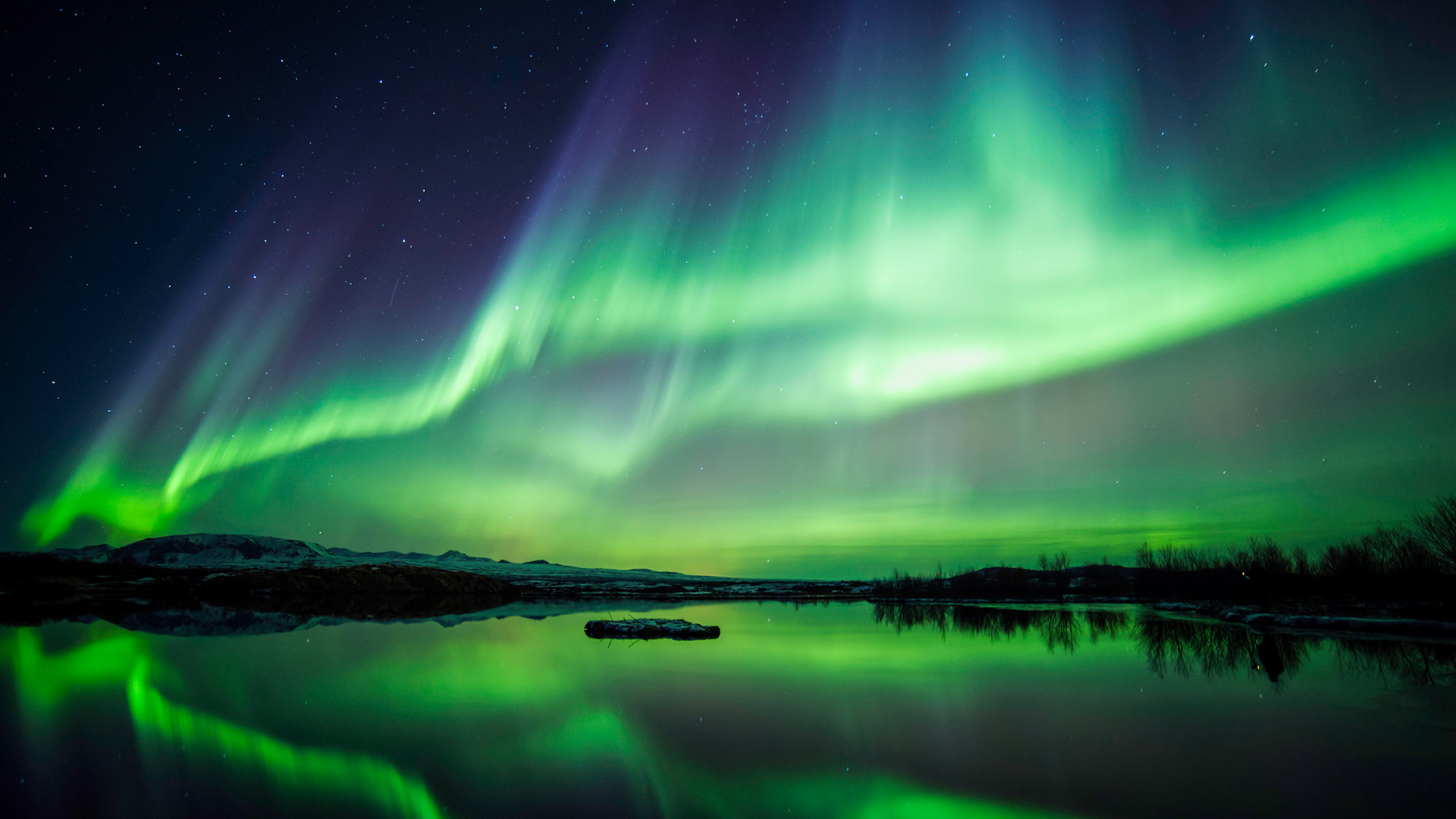 Best time to visit for the midnight sun
To experience the midnight sun, you must visit Iceland during the height of the summer, between May and July. The longest day of the year is at the summer solstice on the 21 June, which means this is when midnight sun peaks in Iceland.
Although you may want to bring an eye-mask to sleep!
---
---
Best time to visit Iceland for photography
Photographers will love Iceland regardless of the time of the year, month, or location. The Icelandic landscapes are breathtaking and extremely photogenic, if we can say so ourselves!
Moreover, when the weather is on your side, the light in Iceland is great for photographers!
During the winter months, photographers who look for wintry landscapes and snowy mountain tops will have plenty to enjoy. There is also one added bonus to winter photography in Iceland: blue and golden hour being during the day!
Yes, due to its location in the north, in the winter the sun doesn't rise very high in the sky. This creates a golden hour that lasts for the duration of daylight (all dependent on the exact date).
Location wise, if you want to take some photos in the east and north of the country, you may want to visit during the summer and shoulder season, when the roads are more accessible and reliable.
And fear not, photographers will also be spoiled for golden and blue hour during the summer! At the peak of the summer months, they both can last for hours!
---
---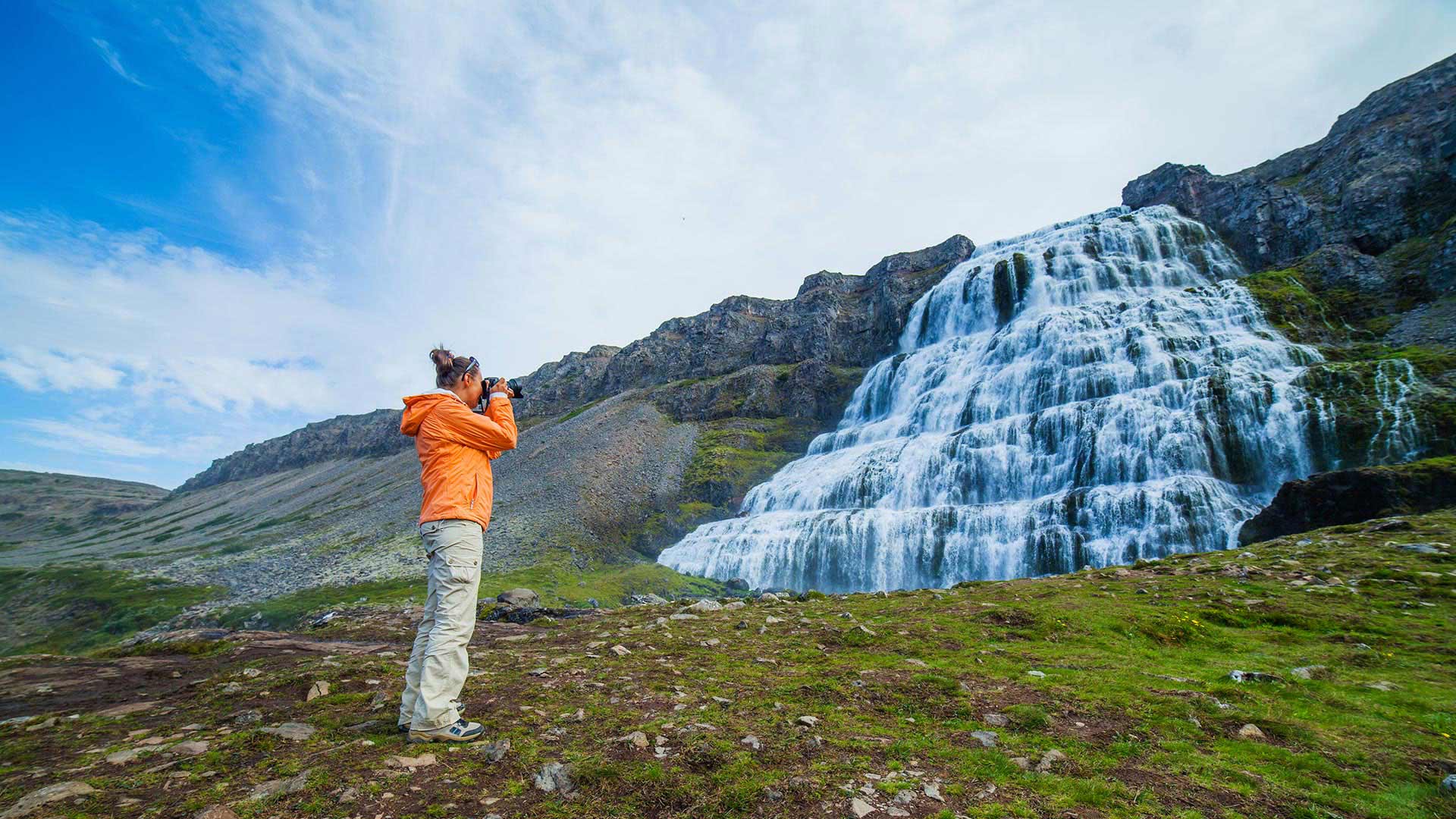 Best time to visit Iceland for families
Coming to Iceland with your family may depend on school or work holidays, or what you're looking for as an experience. Do you want to see the northern lights or experience the midnight sun? Look up our above categories to get a better idea.
What we do recommend is coming in the summer as there are more kid-friendly activities available at that time.
This includes whale-watching (it is also available in winter, but the seas are rougher at that time), hay cart puffin tours, and boat tours on Jökulsárlón Glacier Lagoon. Something to interest all young adventurers!
Usually, I recommend travelling in the summer time with children, because the long daylight hours give families flexibility to stop frequently and for a longer time. - Kristín Halldóra Halldórsdóttir, Travel consultant for Iceland
We also recommend generally slower-paced tours where you can spend more than one night in one location. This is especially true in winter as you may have to change your plans last minute if the roads are closed due to the weather conditions.
---
---
Best time to visit Iceland for honeymoon
Honeymoons all depend on you! What are you planning for? Straight after your wedding or a bit later, when you've had time to save and prepare for your dream trip?
If you've always dreamed of a honeymoon in Iceland, the best time to come, may depend on what you want out of it.
We believe that travelling in the wintertime can be very romantic! There are fewer people in Iceland at that time of year. This means there are less visitors at each highlight, like the Golden Circle, giving you more time together in a more relaxed atmosphere.
Finally, our travel consultants would recommend spending at least more than one night in the locations you're visiting, to give you the chance of a leisurely stay with your partner.
---
---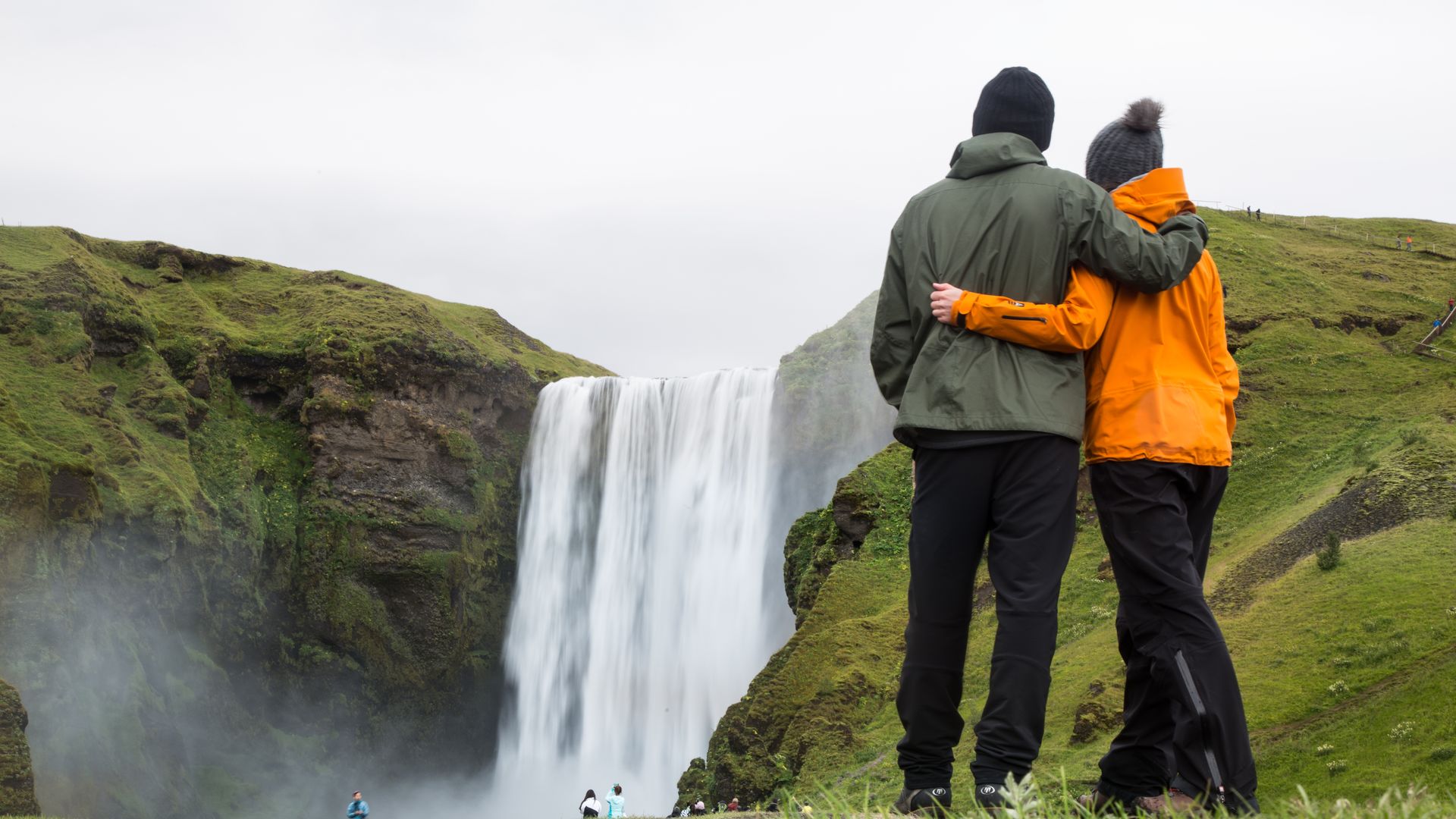 Best time of year to visit the Blue Lagoon, Iceland, & other spas
One way to take advantage of Iceland's geothermal energy as a tourist (except for the wonderful sight of volcanoes of course!) is to go for a dip into one of the many geothermal pools.
The Blue Lagoon, Iceland's most famous spa, is a must stop for many visitors. It is open all year round, but those won't don't like the cold may prefer to go in the summer.
However, it isn't the only geothermal pool you can experience on your trip. There are many around the country, including natural hot springs and geothermally-heated public pools in the city of Reykjavík. Most are open all year long.
The winter dips won't be for the faint hearted as you'll have to shuffle in your bathing suit from the changing rooms into the water in the cold wind. But it's ultimately worth it!
---
---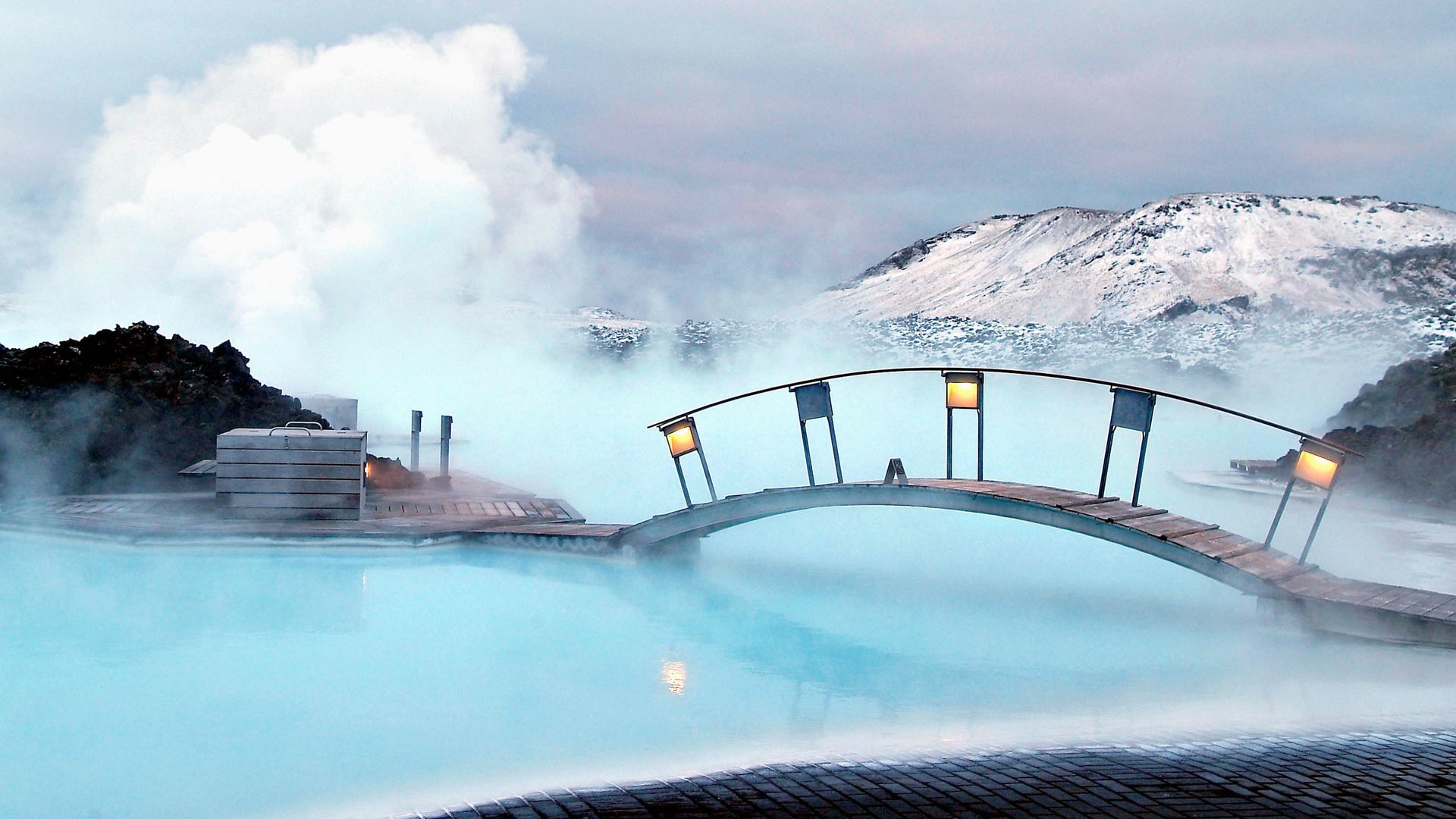 Best time to visit Iceland for hot springs
The beauty of hot springs is that they are warm all year long. That means you could visit at any time of the year and enjoy bathing in the warm, relaxing waters.
Summer is the best time to go hiking to remote areas where you'll have hot springs to yourself. You may also find it easier to get into your swimming suit and walk in and out of the water during the summer.
The winter isn't without its advantages though. You could warm up after a day of snowy excursions. Enjoy the difference between the cold air and hot water and admire the snow drop from your cosy spot.
---
---
Best time to visit Iceland to see whales
The summertime is the best time to come to Iceland if you want to whale watch. Taking usually a few hours, the excursion is a great addition to any trip around Iceland, especially for those who love to see wildlife. The best location is Húsavík in the north of Iceland.
The northern peninsula Snæfellsnes is also home to orcas if you would like to go orca watching.
Best time to visit for fun events and festivals
There are interesting festivals and events all year long in Iceland. But the summer sees most of the events of the year, as the good weather brings about a festive spirit!
There are also many festivals being held in smaller towns. Verslunarmannahelgin is the most popular weekend of the summer when there are celebrations in many towns around Iceland.
In June there are two big celebrations. The Iceland National Day marks Iceland's independence from Denmark on the 17th June 1944. It is celebrated on the 17th June and is one of the most popular events of the summer.
The second is an outdoor music festival to celebrate the summer solstice. Held in Laugardalur in Reykjavík, the Secret Solstice Festival sees Icelandic and foreign bans perform under the midnight sun.
One festival we recommend is also Bræðslan, held in July every year in Borgarfjörður eystra in the east fjords of Iceland. It is a music festival where Icelandic and foreign bands perform.
Bakkagerði (the town in Borgarfjörður eystra) is one of the most remote villages in Iceland. It is located amongst a beautiful fjord with colourful mountains towering over the small town.
---
---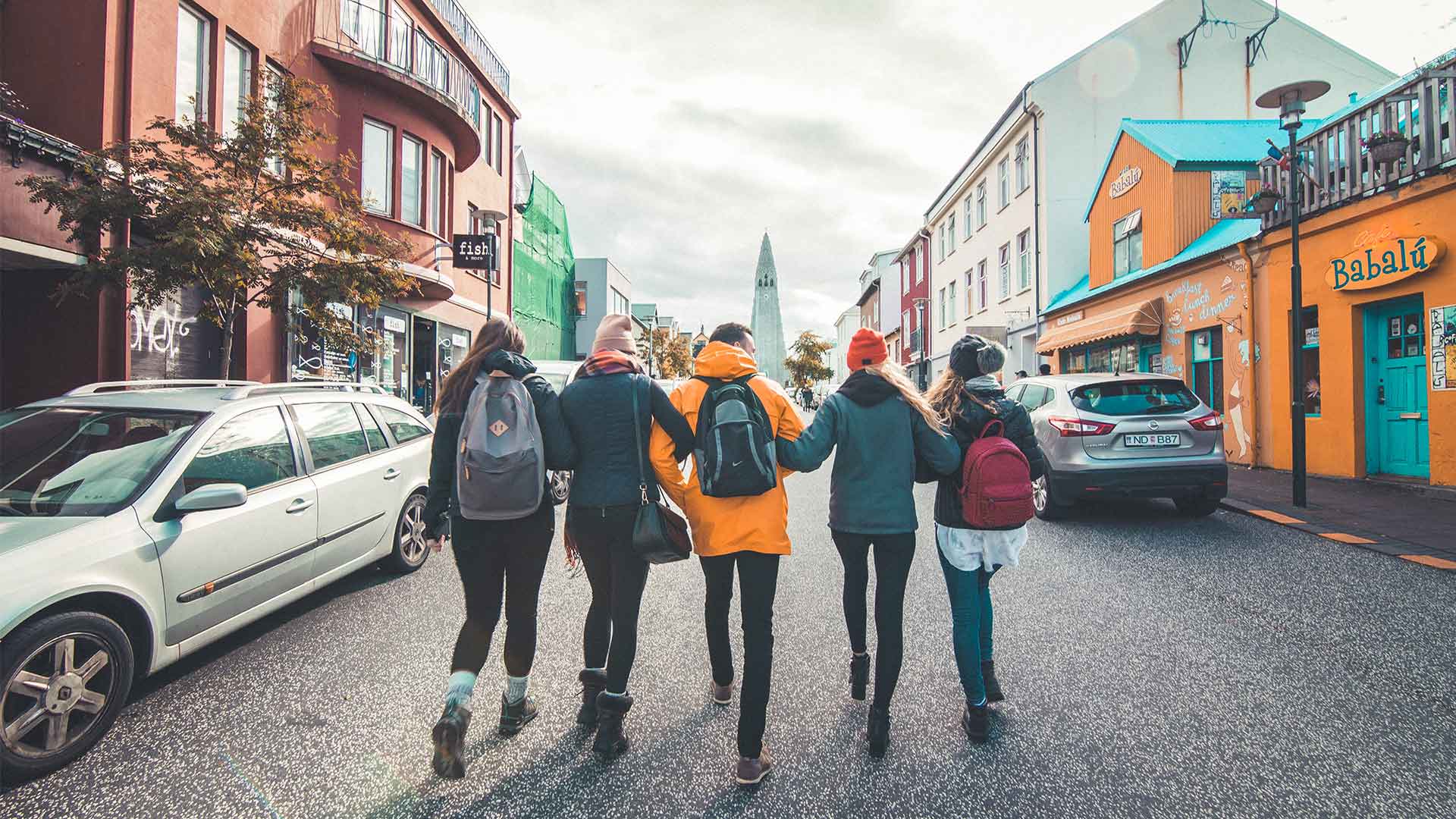 August brings a good mix of interesting events in the capital, with the Reykjavík Pride, the Reykjavík Marathon and the Reykjavík Culture Night.
The latter is especially exciting as it celebrates Iceland's diverse cultural scene. There are countless free events through the evening, including outdoor concerts, film screenings, art and photography exhibitions, street performances and a firework display by the harbour to close the night.
There are also two major festivals in the autumn that we need to mention. The first is Reykjavík International Film Festival (or RIFF) which features films from both Iceland and abroad (the winner takes home a Golden Puffin!). It is held every year between mid-September and mid-October.
The second is one of the biggest music festivals in the country, Iceland Airwaves. It is held every year in early November and if you love discovering new bands, this is for you!
And last but not least, you could always join us in December for New Year's Eve celebrations!
For more information about events in Iceland, look at our annual events guide.
Best time to visit Iceland and Greenland
The best time to combine a tour to both these glorious Nordic islands is to travel in summer. Although you could visit at any time of the year, flights to Greenland from Iceland can be affected by severe winter weather.
For that reason, book your Greenland and Iceland trip between June and August. At this time, you'll also enjoy nicer weather and longer daylight hours for more sightseeing.
You can bask in the glow of the midnight sun while admiring glaciers, icebergs, and more.
---
---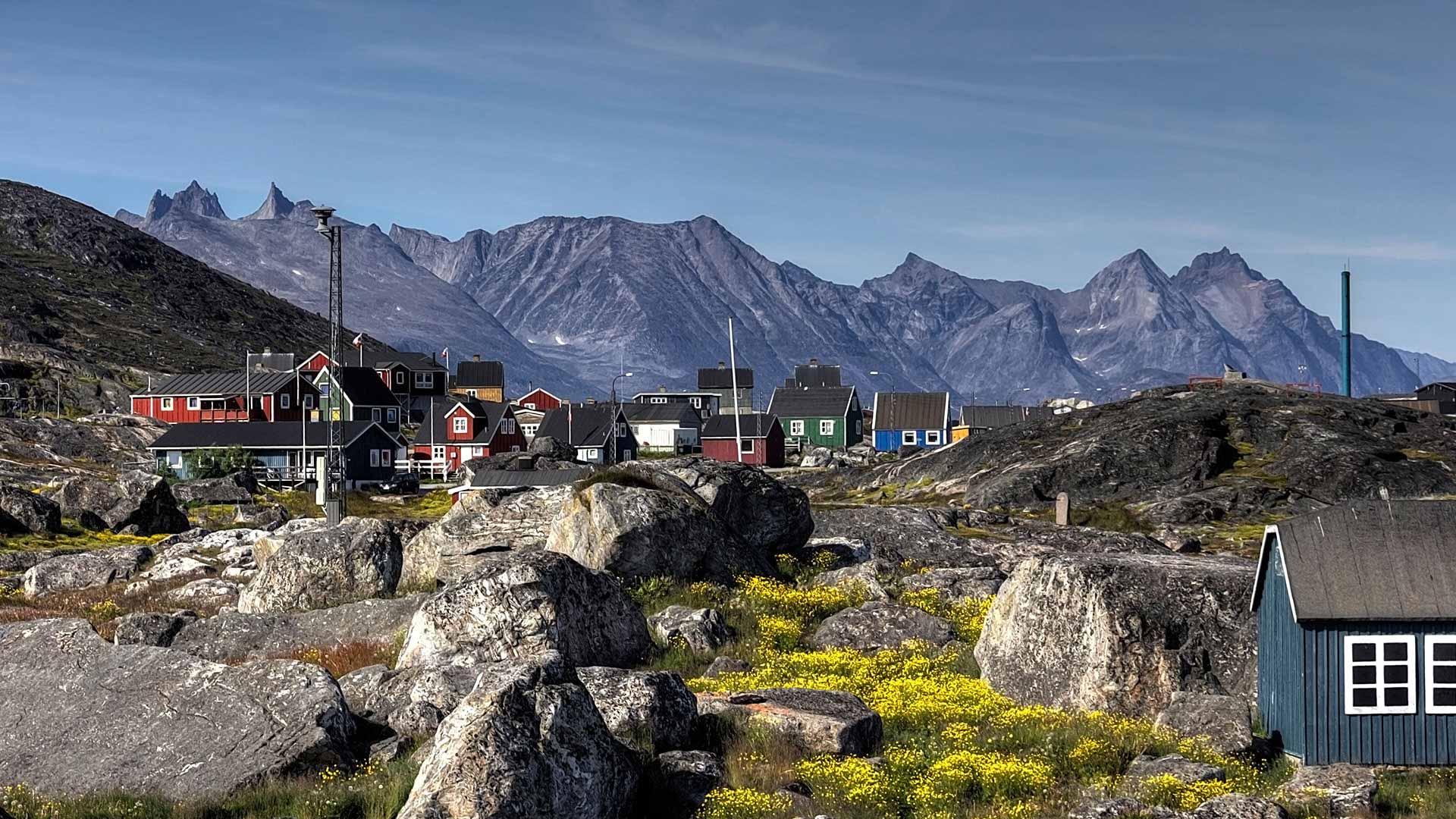 Did you find the perfect time for you to book your Iceland adventure? Or maybe you're still not sure? Either way, get in touch with our Icelandic travel consultants. Based in Reykjavík, they'll use their local knowledge to help you figure it all out.
All our itineraries can be tailored to you as well, so don't hesitate to ask if you want to do something special. You can stay in a location longer, add excursions, day tours, or even spa days to your stay.
Our goal is to make sure you have a great time in Iceland!