Iceland is well-known for its "Land of Fire and Ice" nickname, earned from its long history of eruptions at volcanoes with tongue-twisting names. Eyjafjallajökull, anyone?
But keep in mind that like the northern lights, volcanic activity doesn't happen on demand. And if an eruption does occur, you don't really want to get too close to the action for obvious reasons.
You'll be able to safely visit plenty of places on your trip to Iceland. This includes ancient geological sites and the Fagradalsfjall volcano on the Reykjanes peninsula.
Let's take a look at 8 impressive volcanic attractions you could check out in Iceland.
---
---
Good to know: At Nordic Visitor, we stay up-to-date with volcanic activity in Iceland. We also make sure our clients are informed about any potential disruptions to travel plans and take care of any itinerary changes.
1. Fagradalsfjall volcano on the Reykjanes peninsula
Iceland's most recent volcanic eruption lasted from 10 July until 5 August 2023. This was the third eruption at Fagradalsfjall volcano since 2021. Before then, the volcano lay dormant for around 800 years.
The latest eruption site was located near Litli-Hrútur, a hill in an uninhabited area of the Reykjanes peninsula. At around 38 kilometres (24 miles) away from Reykjavík, local authorities didn't consider it a threat.
What's more, with no ash produced during the eruption, air travel to and from Keflavík International Airport wasn't affected. In fact, if you visited Iceland while the volcano was erupting, you might have glimpsed the fresh lava flows from your flight.
During the eruption, a 900-metre (2,953-foot) long crack in the earth, known as a fissure, opened up. This was several times bigger than the fissures that formed in the 2021 and 2022 eruptions.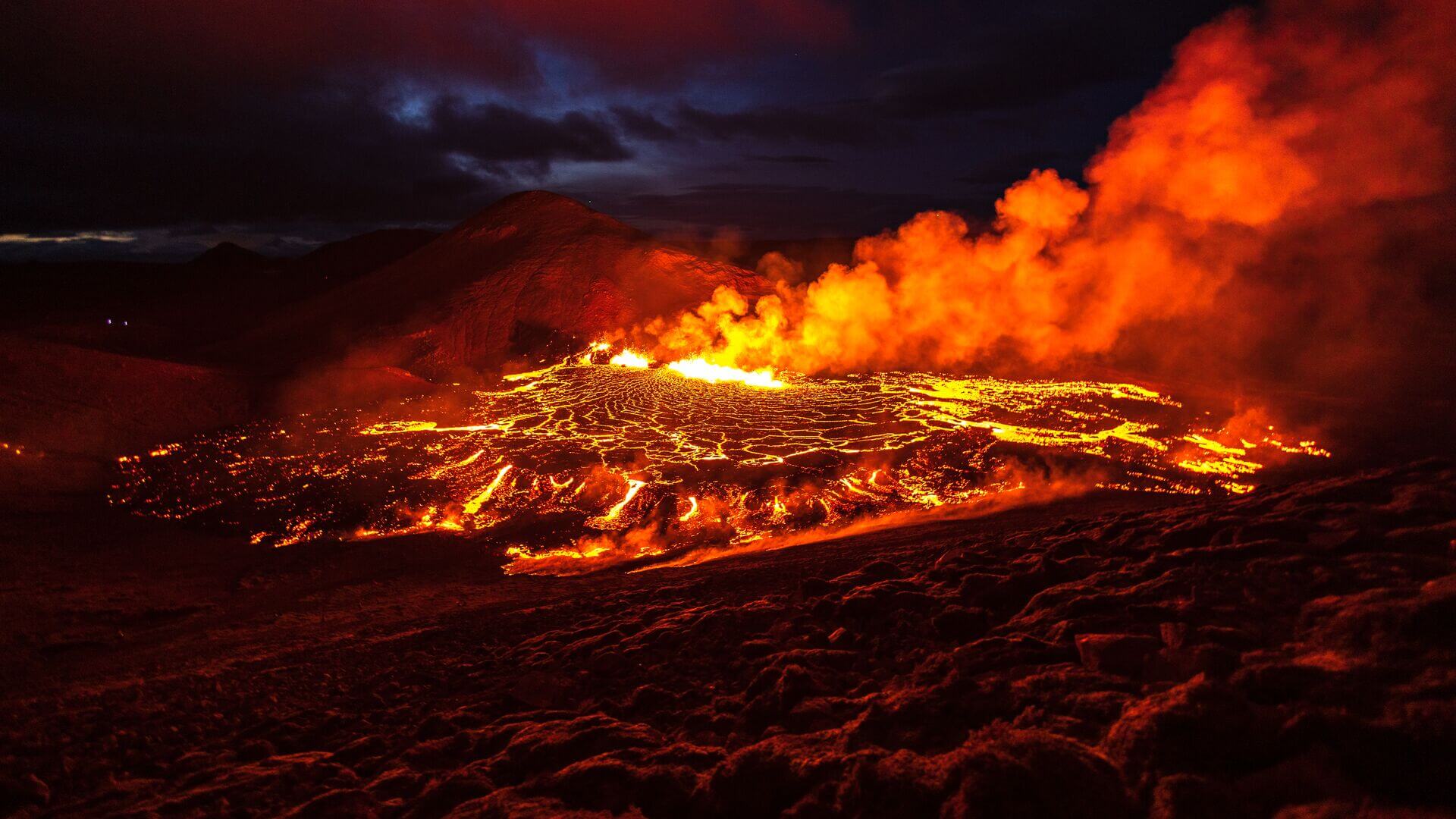 How to visit the eruption sites at Fagradalsfjall
While the eruption is over for now, you might want to see these recently formed lava fields in southwest Iceland for yourself. If you decide to go to the Fagradalsfjall area, we recommend following the advice of local authorities.
You'll also want to visit these websites to check if there are any active warnings for the area:
If the eruption sites are safe to visit, you can access them using hiking trails from car parks just off road 427. There are a few routes to choose from, but most will take you over rocky ground and steep slopes. This means they're only suitable for experienced hikers.
For instance, the path to the most recent eruption site near Litli-Hrútur is a 20-kilometre (12.5-mile) return trip and could take 5-8 hours to complete.
To prepare for any of these hikes, you'll need sturdy hiking shoes or boots, along with warm and waterproof clothing. Plus, don't forget a fully charged mobile phone, plenty of water, and food for the day.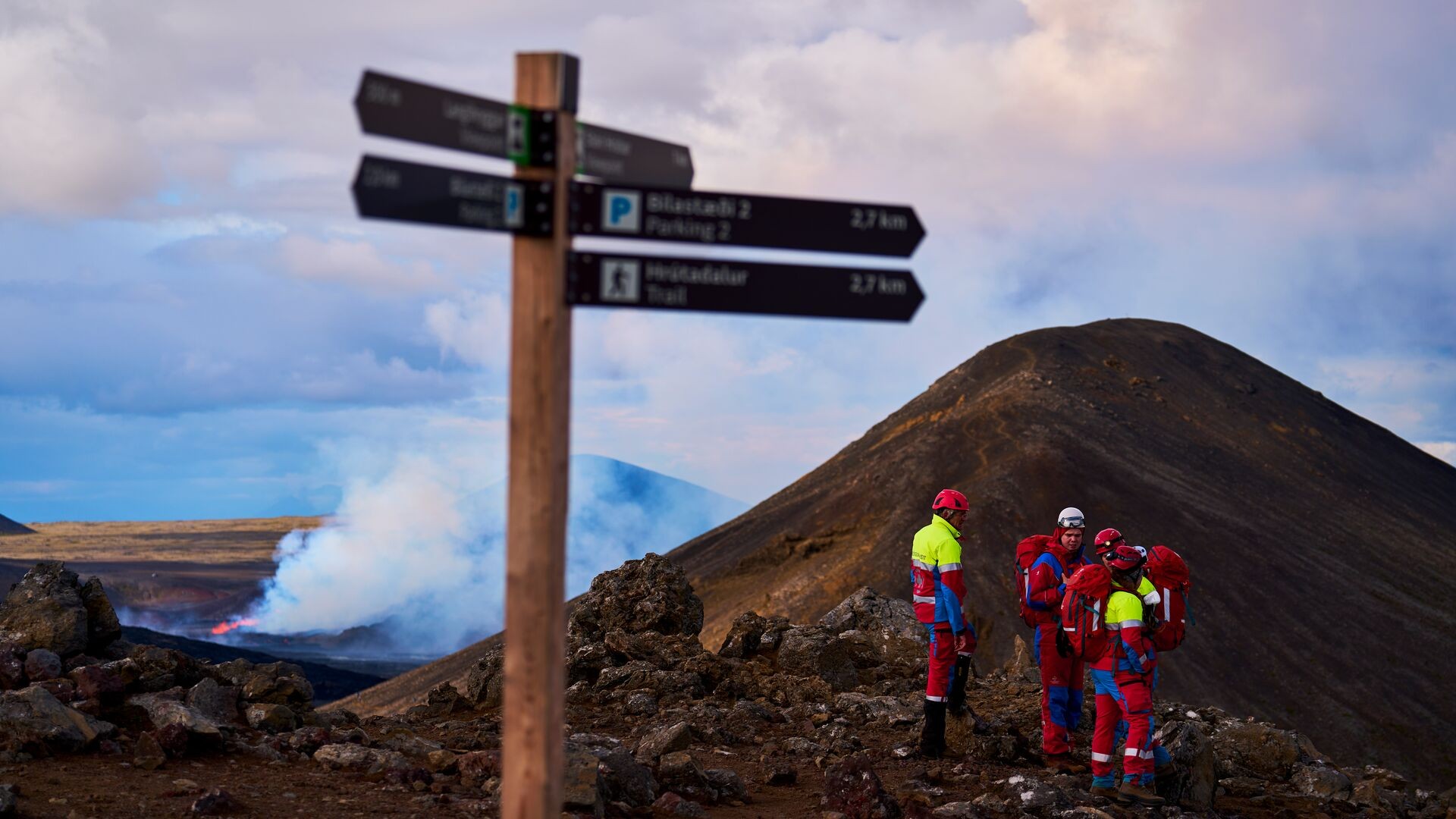 2. The Volcano House in Reykjavík
Before venturing into the Icelandic countryside to see actual volcanic sites, why not take some time to learn about volcanoes in the capital city?
Located right by the old harbour in the Reykjavík city centre, the small Volcano House museum features exhibitions on Iceland's geological history as well as a collection of volcanic rocks (that you can touch!).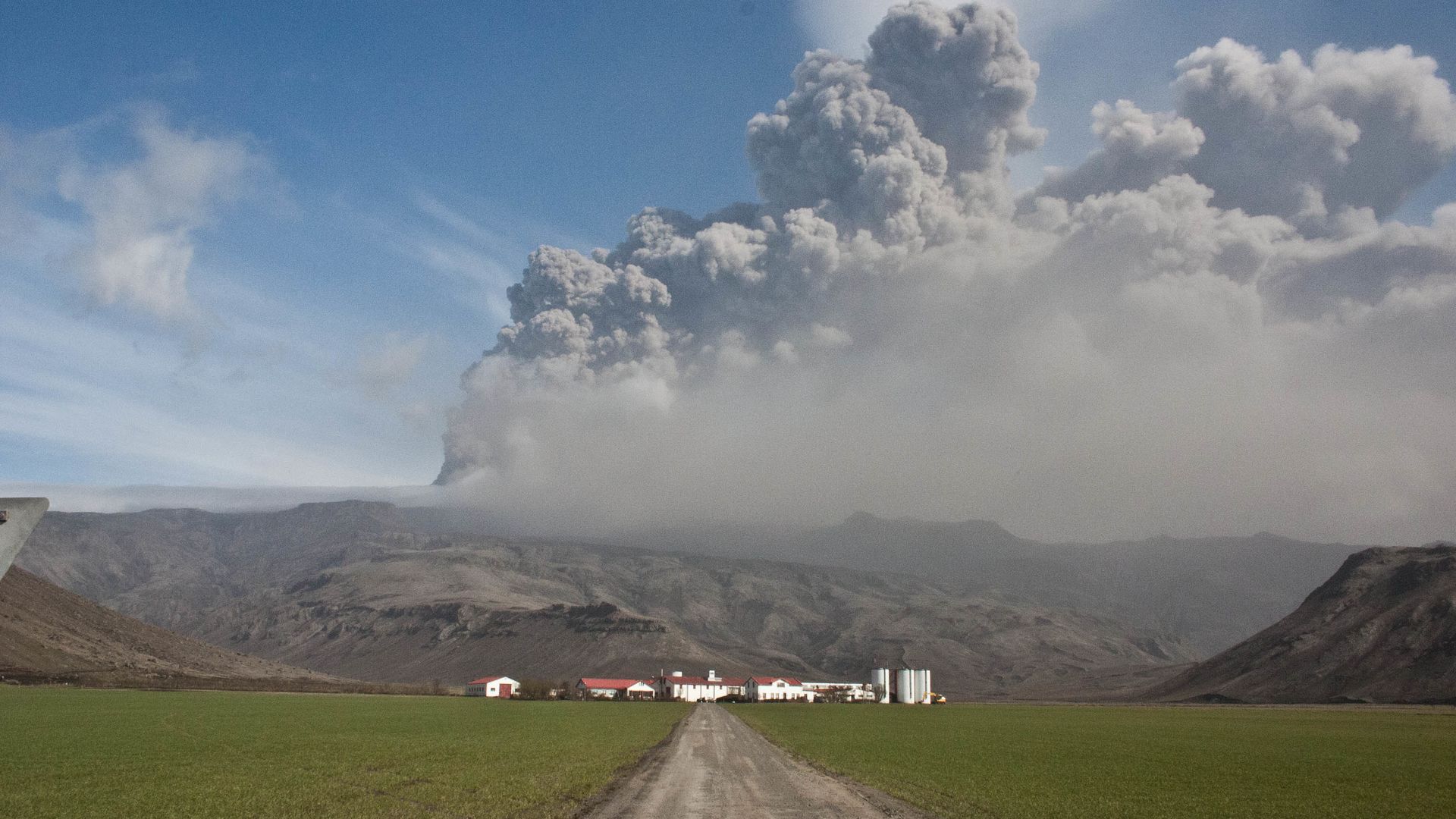 It also screens two documentaries about famous eruptions. The first one is about the sudden eruption in the Westman Islands (which you can read about below). The other covers the famous 2010 volcanic eruptions at Eyjafjallajökull and Fimmvörðulháls.
---
---
3. The Eldheimar Volcano Museum in Heimaey
Vestmannaeyjar, or the Westman Islands, is a stunning archipelago off Iceland's south coast. Sometimes called "Pompeii of the North," all of the archipelago's islands have evolved from underwater eruptions.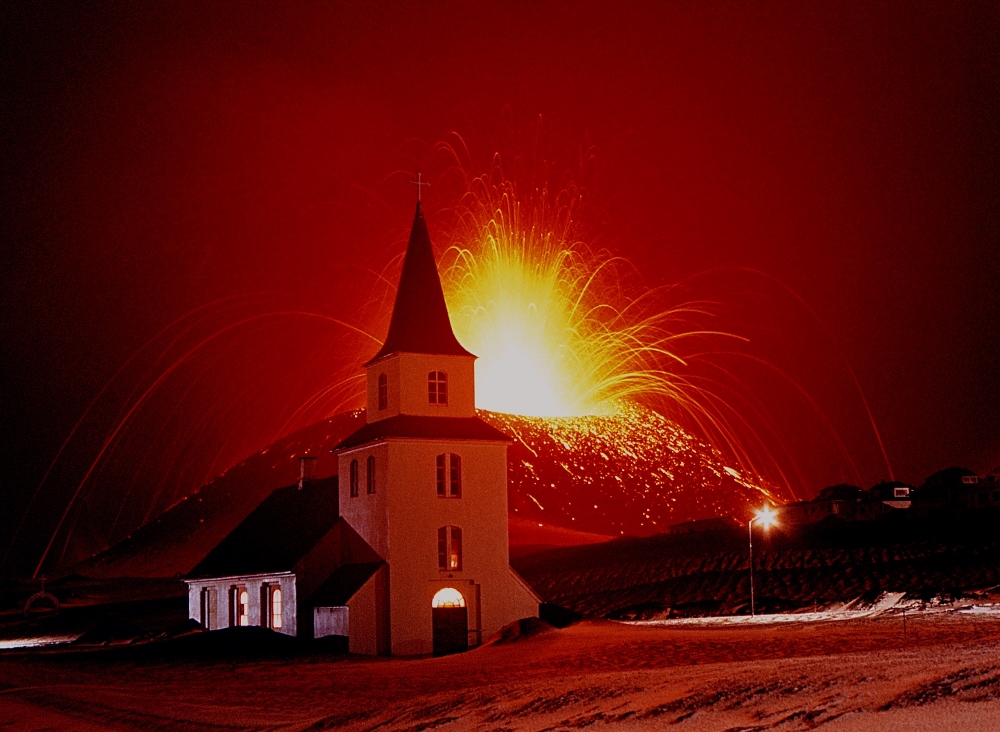 Heimaey, the only inhabited island, was the site of an eruption in 1973. It buried 400 buildings under thick lava, some of which have been partially uncovered and preserved.
The Eldheimar Volcano Museum in town focuses on this event, which is today considered one of Iceland's largest natural disasters. The exhibit looks at the lives of the residents before the eruption that saw them evacuating their homes in the night and never being able to return.
4. The Lava Centre in Hvolsvöllur
If you came to Iceland to experience the Land of Fire and Ice, the Lava Centre museum in South Iceland is worth a visit. This innovative museum opened in 2017 not far from Mount Hekla, an active volcano that was considered to be the gateway to hell in the Middle Ages.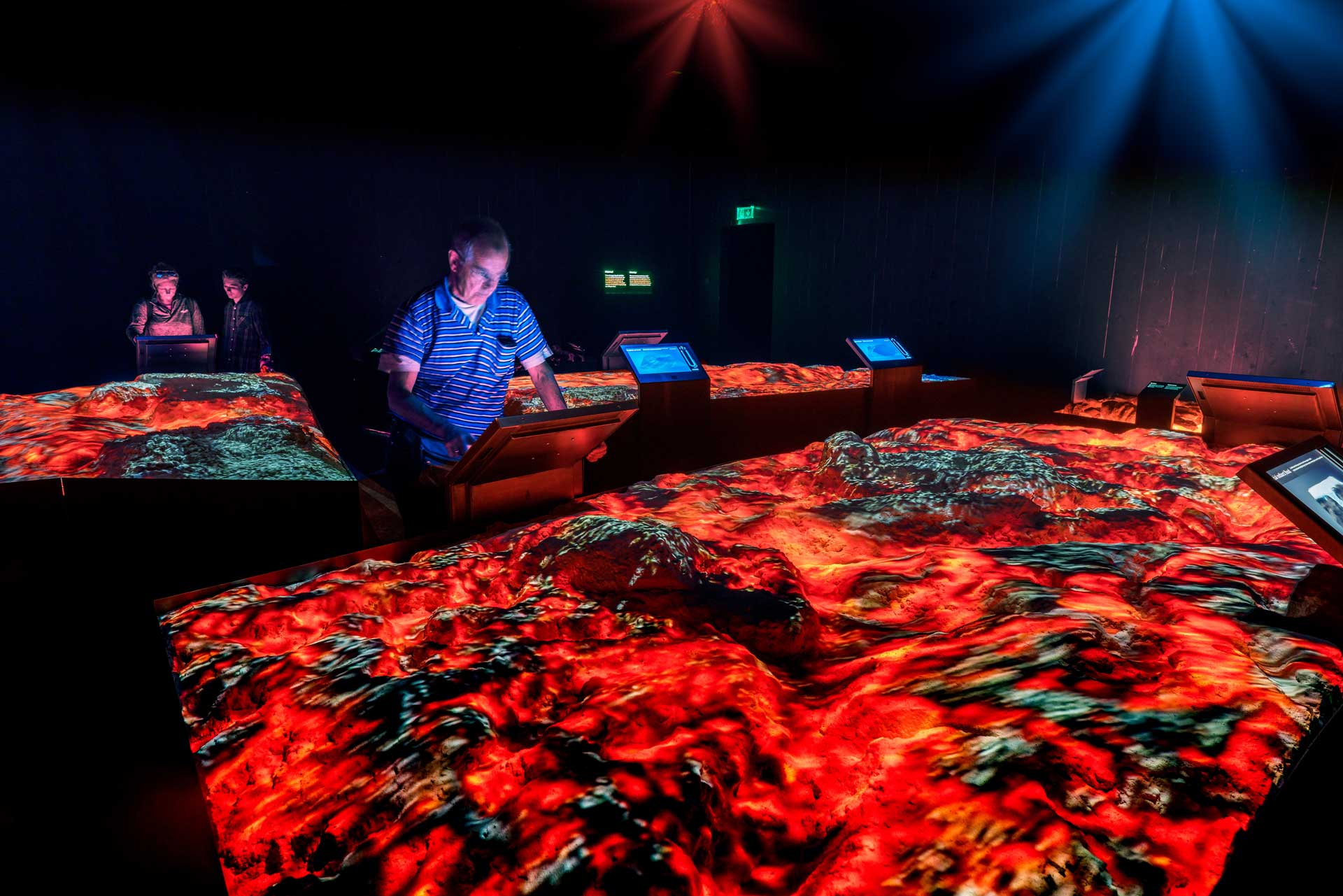 Inside, the interactive, state-of-the-art exhibit depicts millions of years of Icelandic volcanic activity. It covers earthquakes, eruptions, glacial floods, rift systems and the formation of Iceland's landmass.
If all that tectonic rumbling makes your stomach rumble, you can grab a bite at the onsite Katla Restaurant, aptly named for one of Iceland's largest volcanoes.
---
---
5. Snæfellsjökull National Park in West Iceland
Located at the tip of the Snæfellsnes peninsula in West Iceland, the terrain of Snæfellsjökull National Park looks as though it was ripped from prehistoric times.
The park is named for the prominent, glacier-topped Snæfellsjökull volcano, which Jules Verne famously used as the setting for his classic novel Journey to the Center of the Earth.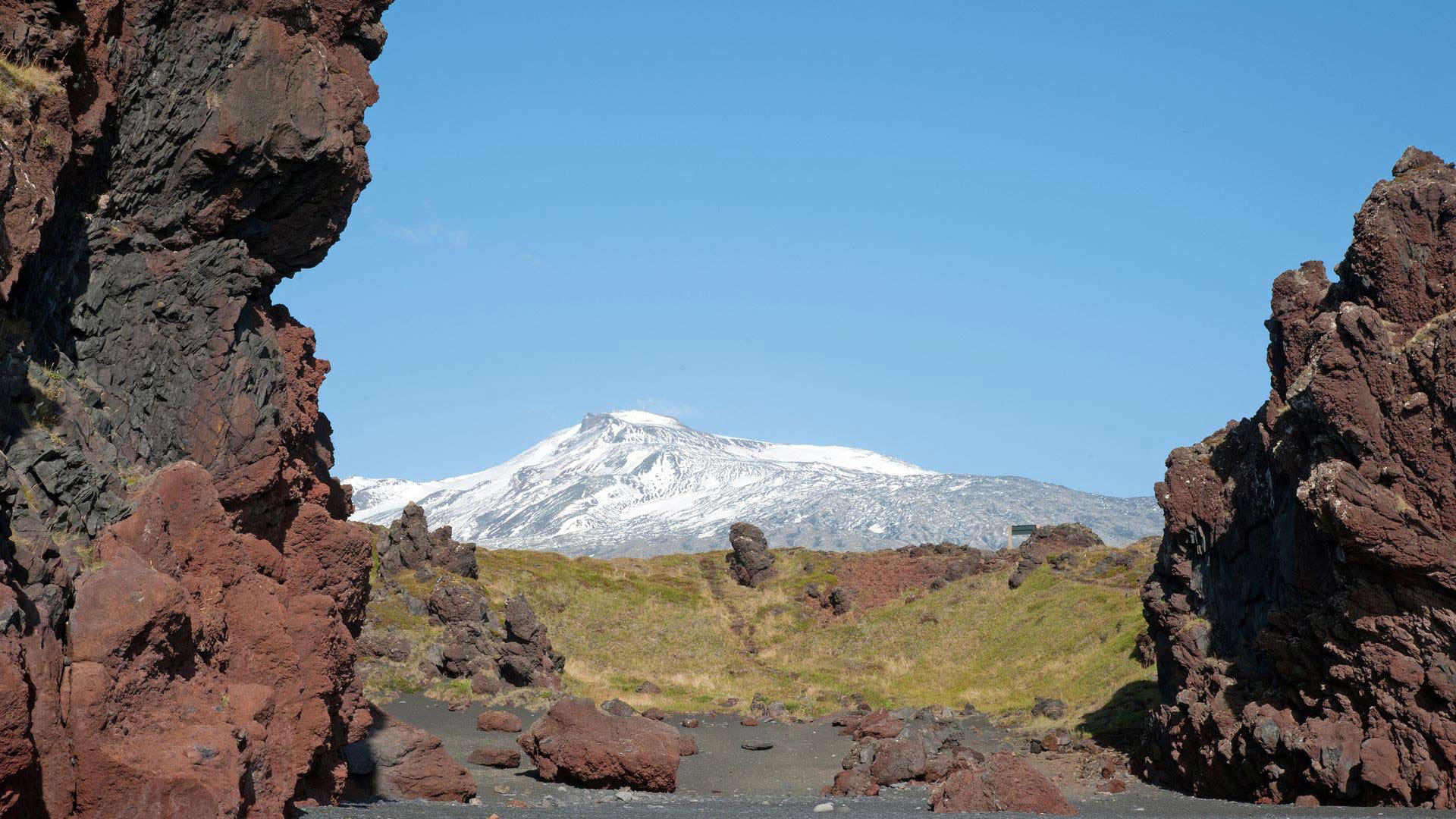 This park boasts many other unusual volcanic landforms to explore, such as Djúpalónssandur beach with its smooth black pebbles and "lifting stones", and the beautifully secluded Dritvík cove. You could also discover the jutting cliffs at Lóndrangar and the extensive lava fields surrounding the volcano.
For a closer look at the area's volcanic history, you can even join a guided tour of the Vatnshellir or Víðgelmir cave.
6. "Inside the Volcano" tour near Reykjavík
Not only can you walk into a glacier in the Land of Fire and Ice, but you can also go deep inside a dormant volcano.
The Inside the Volcano day tour is a real-life journey to the centre of the earth. You descend 120 metres (394 feet) via a cable lift into the ancient magma chamber of the Thrihnukagigur volcano. From the bottom of the cave, you'll be able to marvel at the colourful lava-rock walls.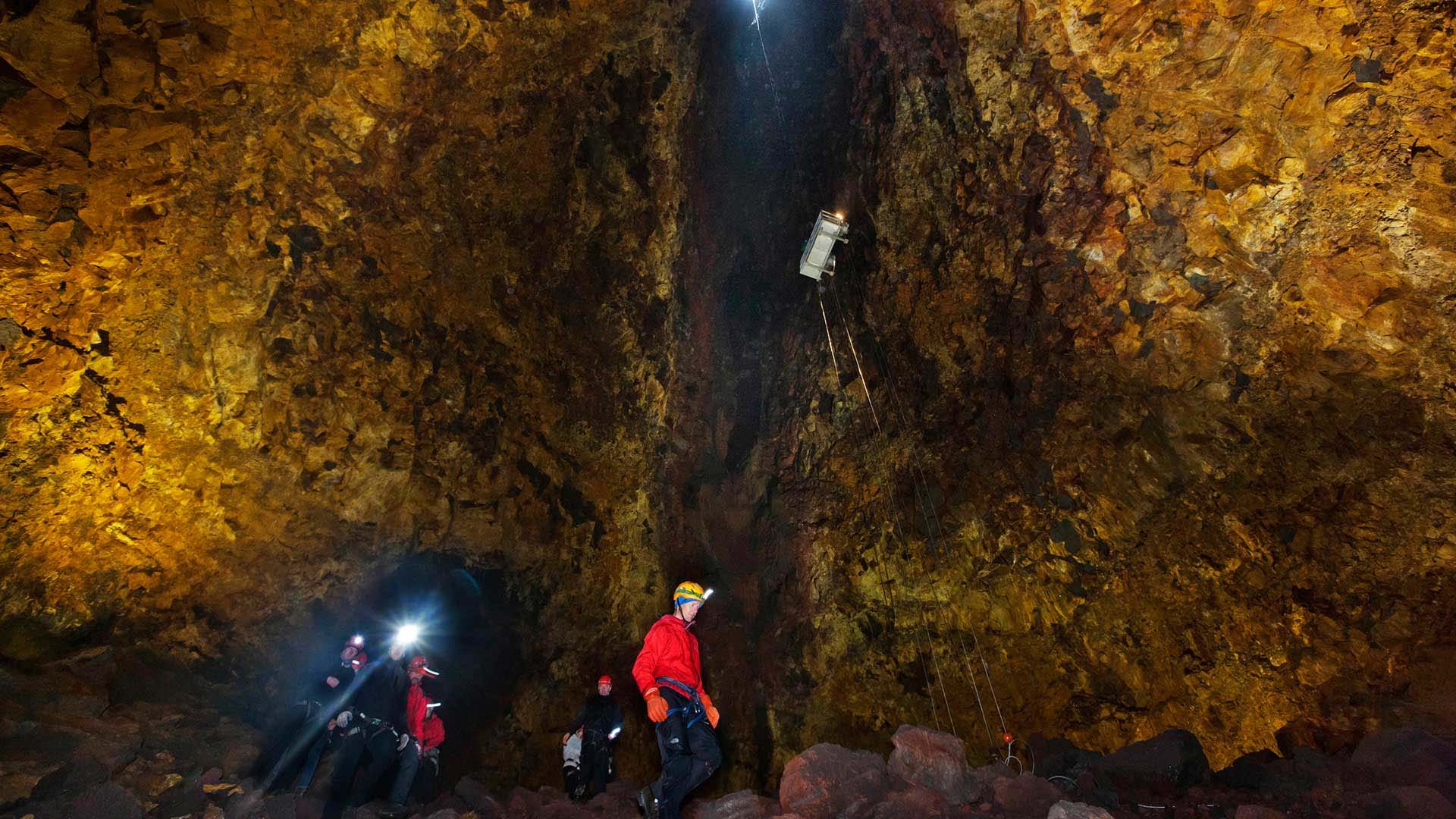 For a similarly adventurous experience not far from this volcano, we recommend a guided "Lava Tunnel" tour inside the Raufarhólshellir lava cave.
---
---
7. Hverfell volcanic crater in North Iceland
The Lake Mývatn area of North Iceland is a hotbed of unusual volcanic terrain and geothermal activity.
At 1 kilometre (0.6 miles) in diameter, Hverfjall is probably the biggest tephra crater in Europe, making it well worth a visit. Located nearby the popular Dimmuborgir lava formations, this enormous crater was formed in an explosive eruption some 2,500 years ago.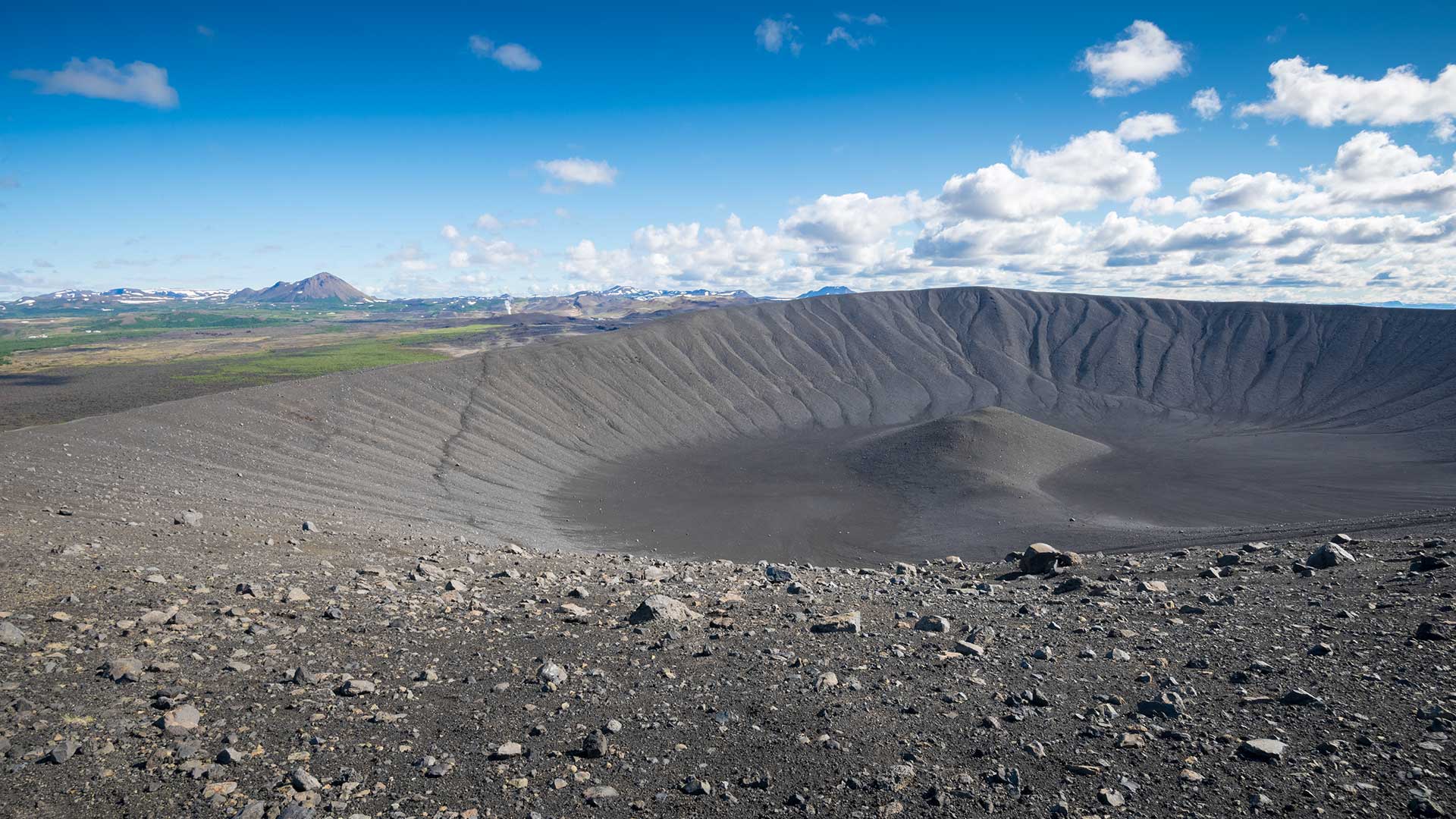 8. Krafla caldera in North Iceland
Another major Lake Mývatn area volcanic attraction is Krafla, a massive caldera with a diameter of 10 kilometres (6.2 miles) and depth of 2 kilometres (1.2 miles).
Situated along a 90-kilometre (56-mile) long fissure zone, it erupted a staggering nine times between 1974 and 1984, with 29 total eruptions in recorded history. Among these events is the "Krafla Fires," a long-lasting eruption from 1977 to 1984.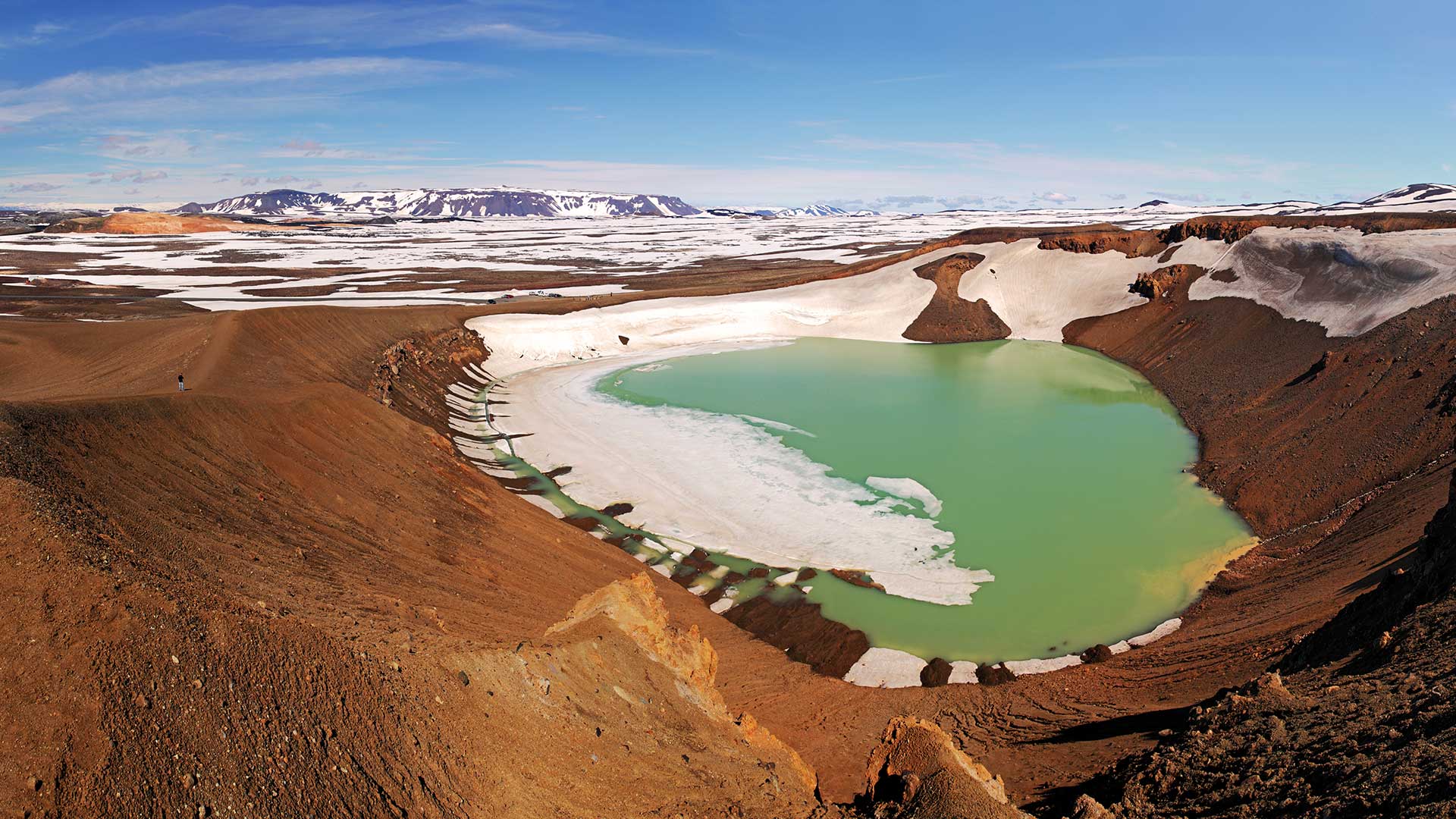 On the northwest side of the Krafla caldera is Víti, an explosion crater 300 metres (984 feet) in diameter with a greenish-blue lake inside of it. The name Víti, meaning "Hell" in Icelandic, comes from the old local belief that the underworld was located under the volcanoes in this area.
From the Krafla parking area you can walk to the edge of the rim on a marked path, guiding you through sulphur vents and rocks that are still warm to the touch from the Krafla Fires.
---
Want more volcanic adventures?
It is possible to embark on guided day hikes at eruption sites, though this requires good hiking experience and an excellent fitness level. If you're up to the challenge, ask your Nordic Visitor travel consultant about Iceland volcano tours.
Note: Never attempt to hike in the highlands or on glaciers without a professional, licensed guiding service.
Learn more about the Land of Fire and Ice: contact us to book a trip.