Iceland continues to impress visitors and locals alike with epic displays of volcanic activity. The country's most recent volcanic eruption was declared over on 5 August 2023. This was the Litli-Hrútur event at Fagradalsfjall on the Reykjanes peninsula – the third volcanic eruption in southwest Iceland since 2021.
Unlike the well-known 2010 Eyjafjallajökull eruption, this volcano didn't cause any disruption to air travel.
In fact, if you were in Iceland for any of the Fagradalsfjall eruptions, you might even have visited the volcano. The local authorities created a waymarked hiking trail to the eruption site where you'd have seen molten lava flowing out of the earth.
---
---
Good to know: At Nordic Visitor, we stay up-to-date with volcanic activity in Iceland. We also make sure our clients are informed about any potential disruptions to travel plans and take care of any itinerary changes.
Where is the Fagradalsfjall volcano located?
The Fagradalsfjall volcano is located in an uninhabited area of the Reykjanes peninsula. Since 2021, there have been three eruptions in this region of South Iceland. At around 30 kilometres (19 miles) away from Reykjavík, these eruptions weren't considered a threat by local authorities.
Although the latest eruption site was close to Fagradalsfjall volcano, this time lava was flowing from fissures between the nearby peaks of Litli-Hrútur and Keilir.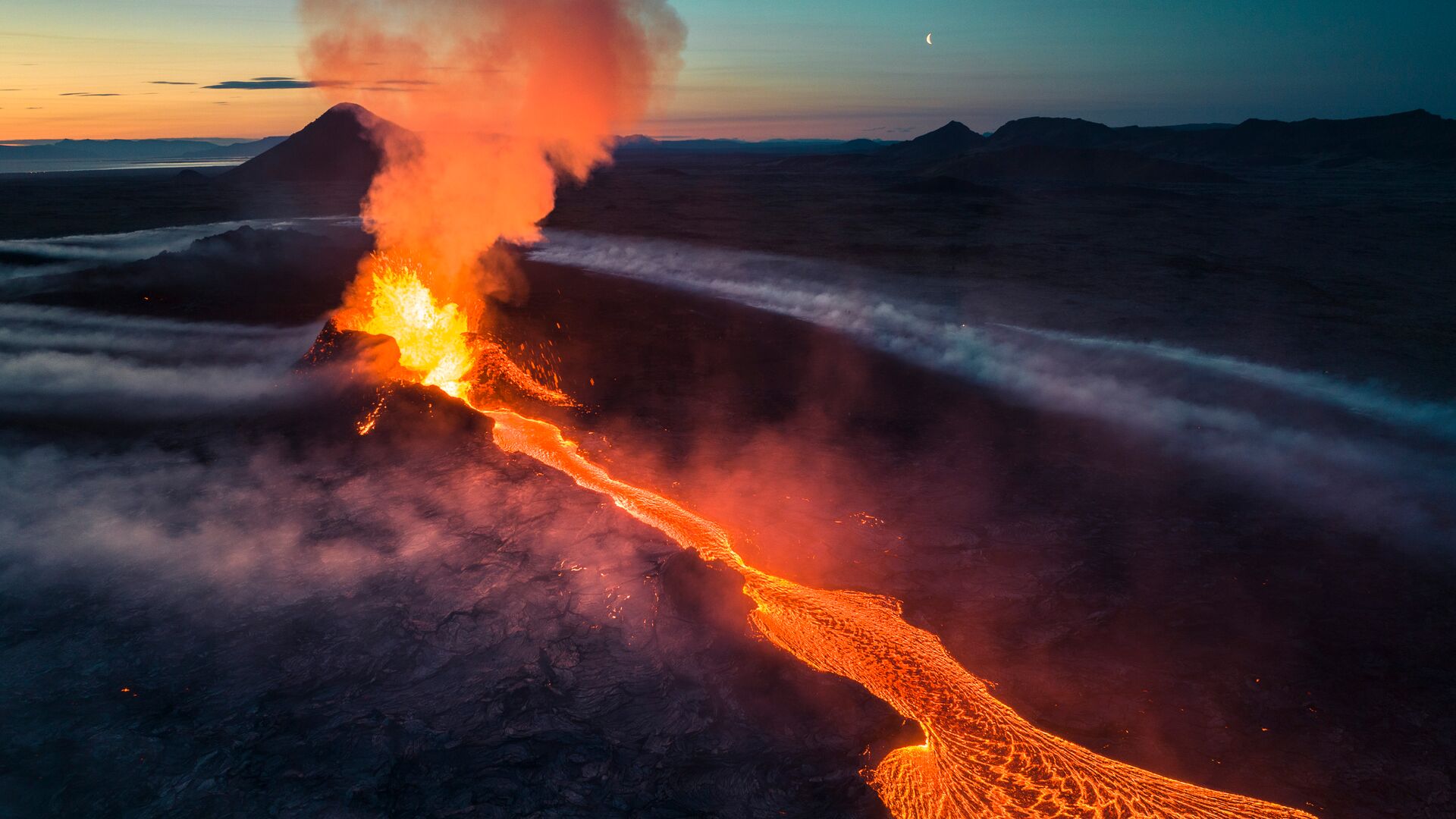 When did the last volcano start erupting in Iceland?
The most recent eruption on the Reykjanes peninsula lasted from 10 July to 5 August 2023. It began when a 900-metre (2,953-foot) long crack, known as a fissure, opened in the earth. During the eruption, red-hot lava poured out of the ground.
But this wasn't the first time there's been an eruption in the area. The first known eruption in 800 years at Fagradalsfjall began back in March 2021. After a series of earthquakes, fissures opened and lava started to fill the Geldingadalir valley. And it continued to flow for the next 6 months.
The following year, a second eruption started in the nearby Meradalir valley. But this event was much shorter, lasting just 3 weeks from 3 August 2022.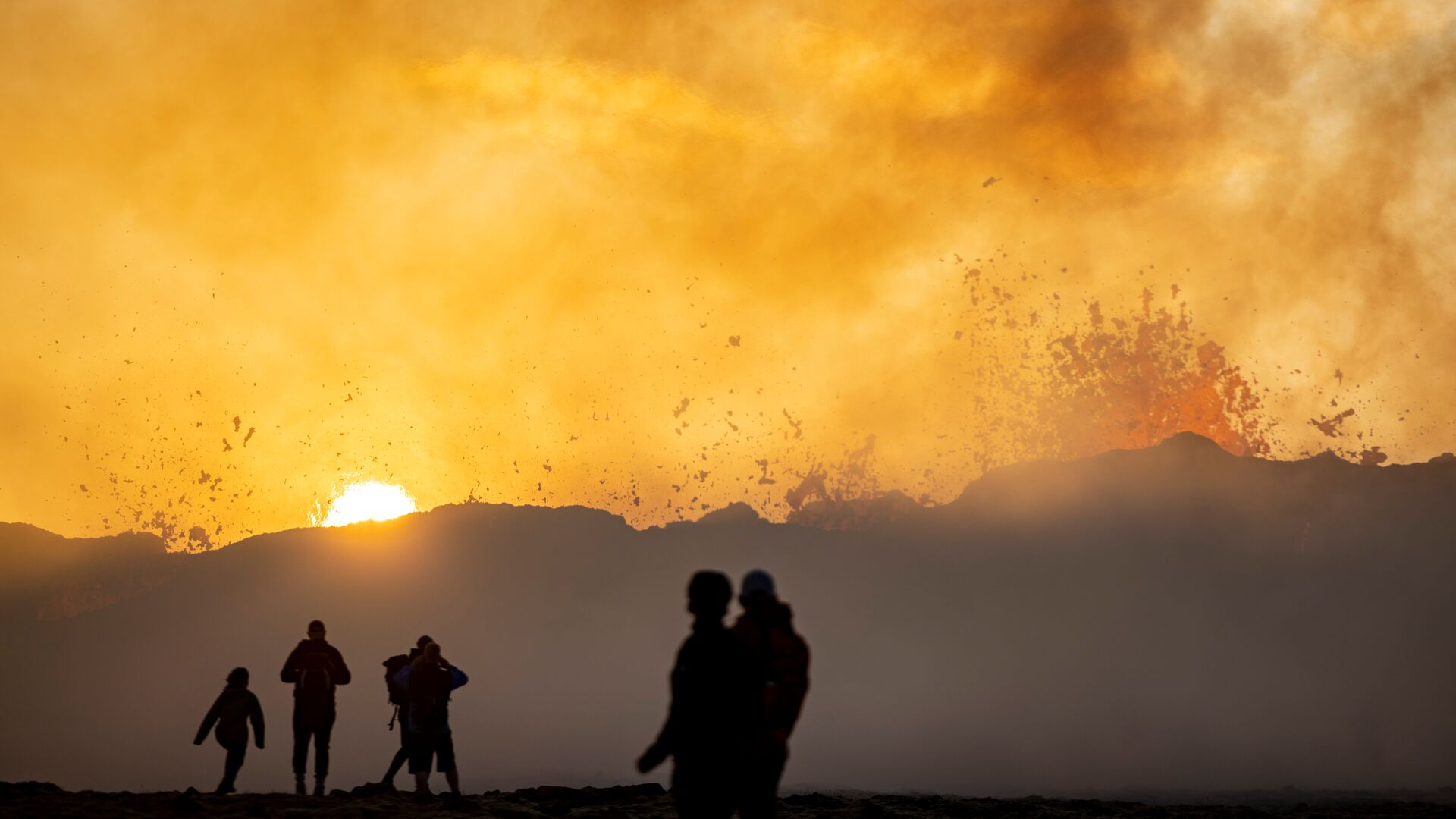 Can you visit the eruption sites at Fagradalsfjall?
Now that the Fagradalsfjall eruptions are over, you won't be able to glimpse any molten lava at the site. That said, if it's safe to do so, you might want to stop off here to see recently formed lava fields.
Make sure to check for any safety advice on the Safe Travel Iceland website before you go.
We also recommend heading to the Visit Reykjanes website to get details on parking and trails to the previous eruption sites. Here you'll find a map of the region marked with the hiking routes created by the Icelandic authorities.
From the parking areas located just off road 427, the trails will lead you to viewpoints overlooking the recently formed lava fields.
It's good to know that these hikes cover rough terrain and steep slopes, so they're only suitable for experienced hikers. The route to the most recent eruption site is a 20-kilometre (12.5 mile) round-trip that could take around 5-8 hours to complete.
If you do decide to visit the Fagradalsfjall area, bear in mind that walking on fresh lava fields is not safe. This is because although the surface might look solid, it's actually fragile and unstable underfoot.
It's also worth noting that the local authorities might decide to close or redirect the route if the volcano becomes active again.
---
---
Can you walk on the lava in Iceland?
Touching or walking on even solidified lava is extremely dangerous so you should not attempt to do so. Make sure you enjoy this sight from a safe and comfortable distance.
Is it safe to walk to the Reykjanes volcano site?
The eruption in the Fagradalsfjall area is over for now, but it's worth bearing in mind that nature can be unpredictable. Because of this, we recommend checking the Safe Travel Iceland website for information before visiting a recently active eruption site.
If you do want to see where the eruption happened, head to the Visit Reykjanes website to find out how to get there. You'll also want to check the Icelandic Met Office website for updates on the weather, along with any gas pollution or earthquakes in the region.
When the route is open, you'll discover that the local authorities have put infrastructure in place. This includes a car park and a hiking trail, which allow access to the eruption site.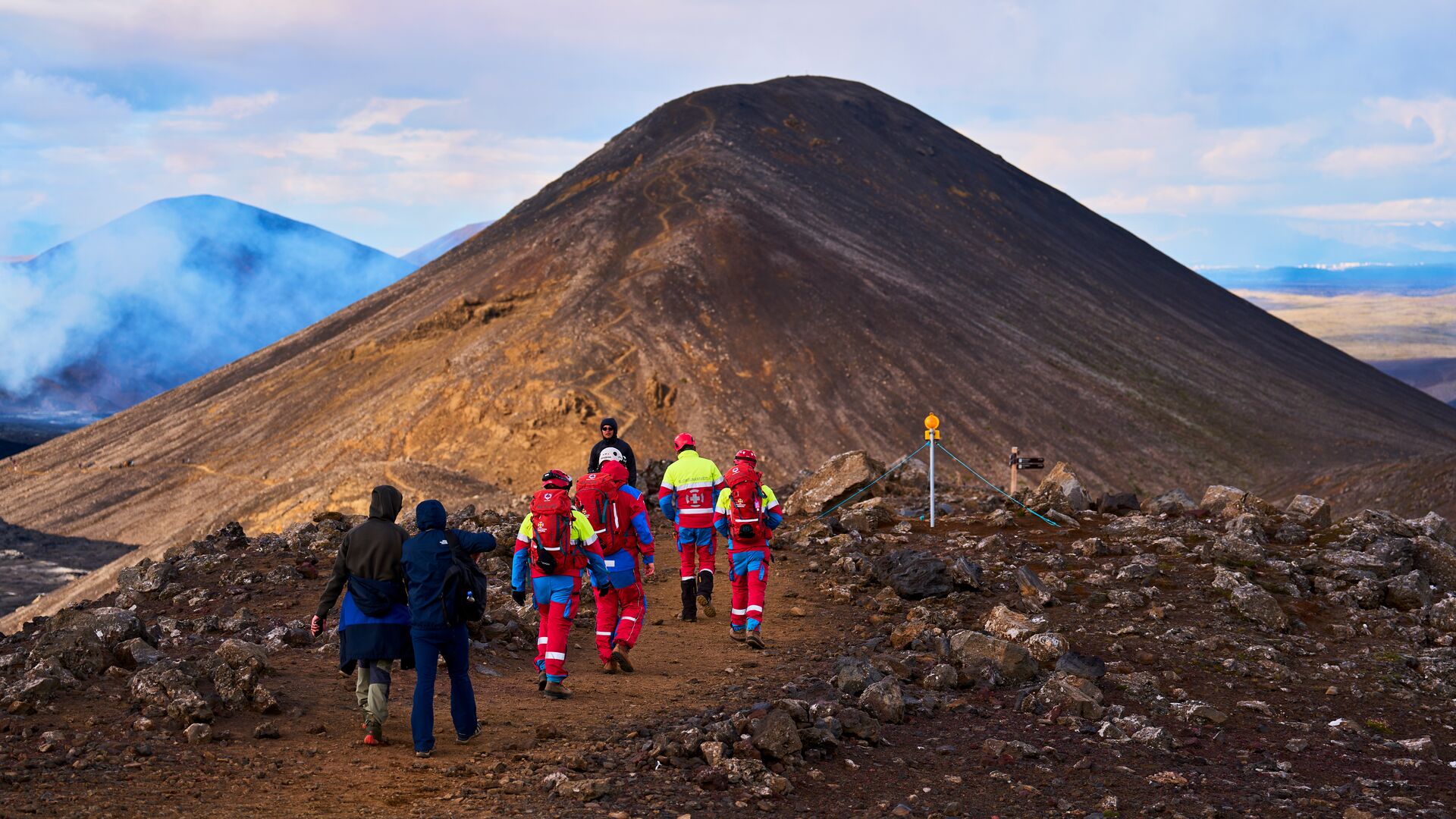 When is the best time to visit the Icelandic volcano?
Although there's no ongoing eruption in Iceland at the moment, there are plenty of fascinating volcanic and geological sites for you to visit.
It's worth bearing in mind that volcanic eruptions are natural phenomena. This means that it helps to be open-minded and flexible when planning your trip to Iceland.
Get up-to-date information about any potential volcanic activity on sites including:
---
---
How do you get to the volcanic eruption site in Iceland?
If the eruption site is safe to visit, the easiest way to get there is by driving to the car parks near road 427. From here, if the hiking routes are open, you can walk to the latest eruption sites.
The car parks for the eruption sites close to Fagradalsfjall are around a 1-hour drive from Reykjavík and 25 minutes from Keflavík Airport.
Alternatively, you could take to the air on a helicopter flight over the newly forming lava fields from Reykjavík Domestic Airport.
The most convenient way to see the fresh lava fields is on a self-drive tour of Iceland. You could drive to Fagradalsfjall on the way to the south coast from Reykjavík.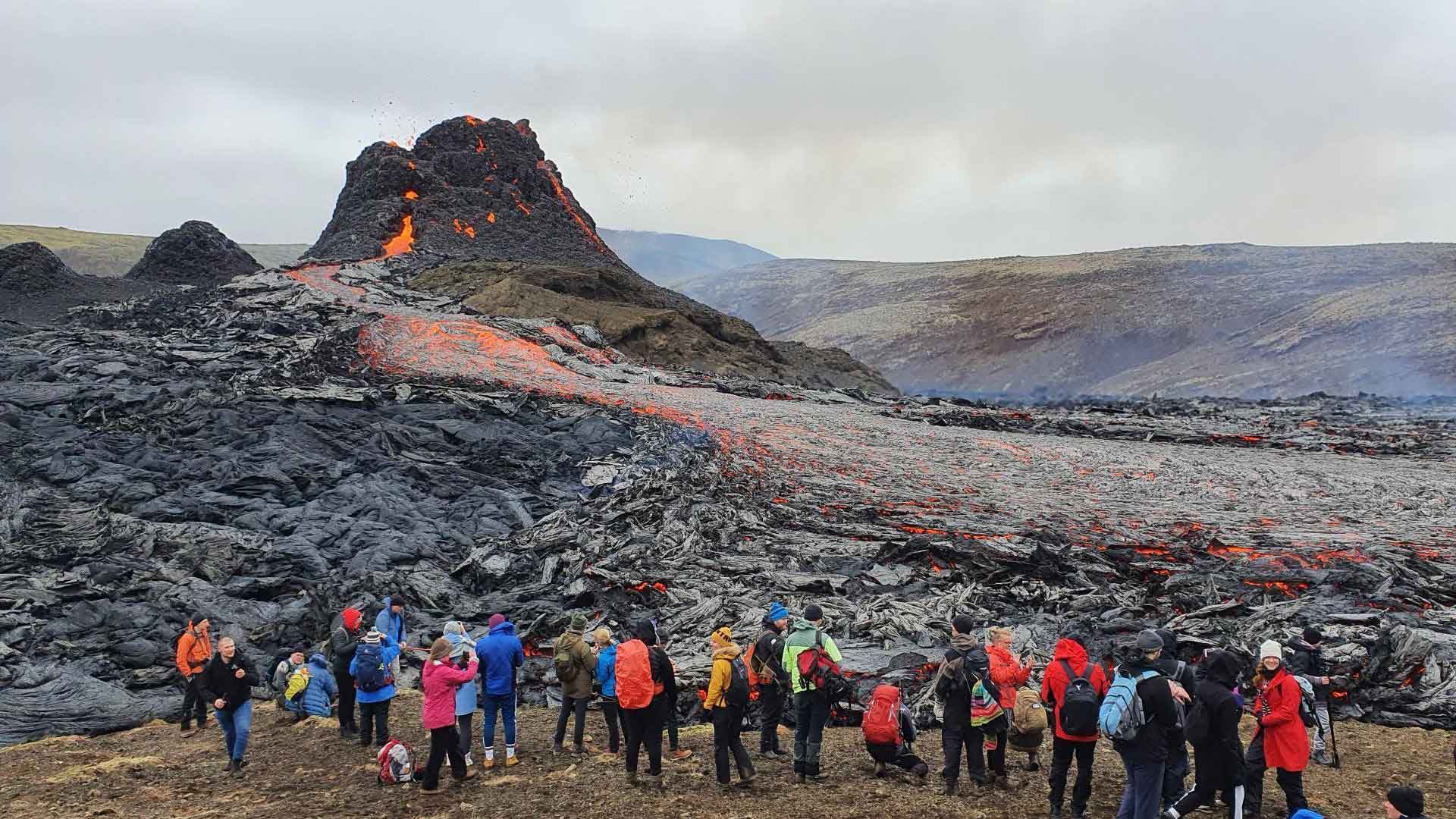 Parking near the Litli-Hrútur eruption site
There are two paid car parks (P1 & P2). The fee is 1,000 ISK, around 6 GBP or 8 USD, and is valid for 24 hours. You can find detailed instructions for how to pay electronically at the car parks.
It's worth noting that the car parks could be muddy after heavy rain, so take care when choosing a space.
You can find directions to the car parks for the old Fagradalsfjall eruption sites on the Visit Reykjanes hiking and parking page.
What should I pack when I visit the Iceland volcano?
Please respect the advice of Icelandic authorities and only visit the site of this previous eruption if it's considered safe. If the hiking trails are open and you're confident you can complete the routes, you'll want to be prepared for the journey.
Good hiking boots are of course recommended. And as on any hike in Iceland, weather conditions can change quickly, so bring a waterproof jacket and warm layers.
As some of the hikes can take several hours, having plenty of food and water with you is essential. So to recap, your packing list for an Icelandic hike should include:
Sturdy hiking shoes
Walking poles, if you feel you need them
Waterproof jacket and warm layers
Food and water
---
---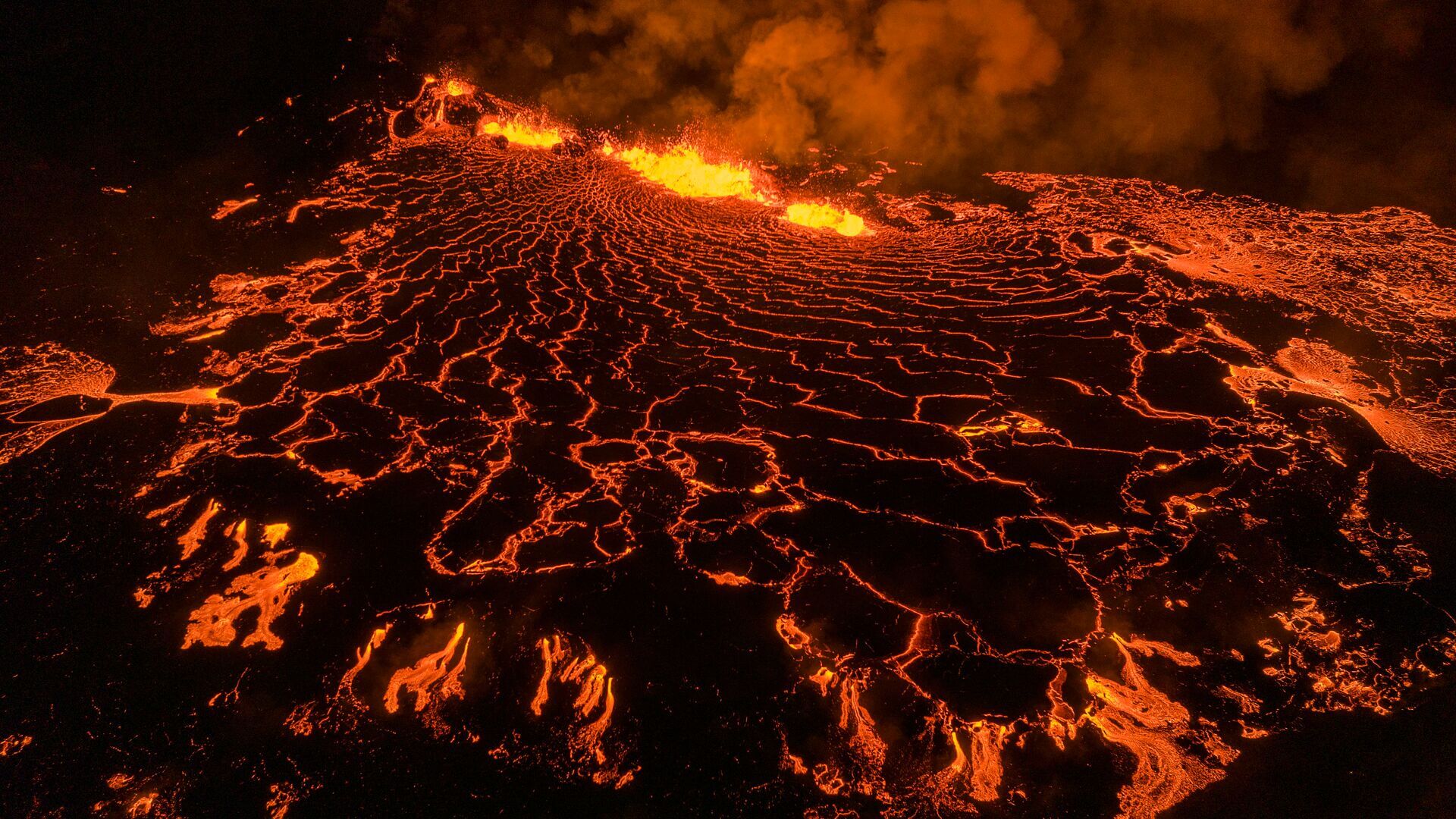 Can you help me plan my visit to Iceland?
Iceland has plenty of volcanoes, and you can explore these geological wonders on an Iceland volcano tour.
To find out more about any volcanic activity near Fagradallsfjall, check out this Iceland volcano eruption page. You'll get the latest updates, along with answers to frequently asked questions.
Ready to start planning your Iceland volcano trip? Nordic Visitor will put together the perfect itinerary so you can experience Iceland's natural attractions.
Your Reykjavík-based travel consultant will take care of everything for you. They can customise your tour to suit your needs and will reserve your accommodation, local transport and activities.
All you need to do is book your flight and enjoy your trip! Plus, once you arrive in Iceland, you'll have access to our 24/7 helpline.
Get in touch for up-to-date travel advice from our Reykjavik-based consultants and expert help planning your perfect Iceland itinerary.