Iceland may not have a reputation for being a warm destination, but there's no shortage of sizzling attractions for you to visit.
As a volcanic island situated on the Mid-Atlantic Ridge, Iceland is a powerhouse of geothermal activity. This results in wonderfully warm homes and numerous heated outdoor swimming pools.
Head to Iceland and you'll be able to see fascinating geological features like hot springs, geysers, mud pots and steam vents for yourself. Below are some of the most popular geothermal attractions to visit in Iceland.
---
---
1. Krísuvík geothermal area & Seltún
Located on the Reykjanes peninsula—a designated UNESCO Global Geopark—the large geothermal area of Krýsuvík lies on a fissure zone created by the separation of the Mid-Atlantic Ridge running across Iceland.
Within the same area is the Seltún geothermal field, full of volcanic fumeroles, mud pots and hot springs. The bright yellows, reds and greens of the landscape here is a result of sulfur interacting with the other minerals in the soil.
Make sure to follow the marked paths and viewing platforms to see these wonders from a safe distance.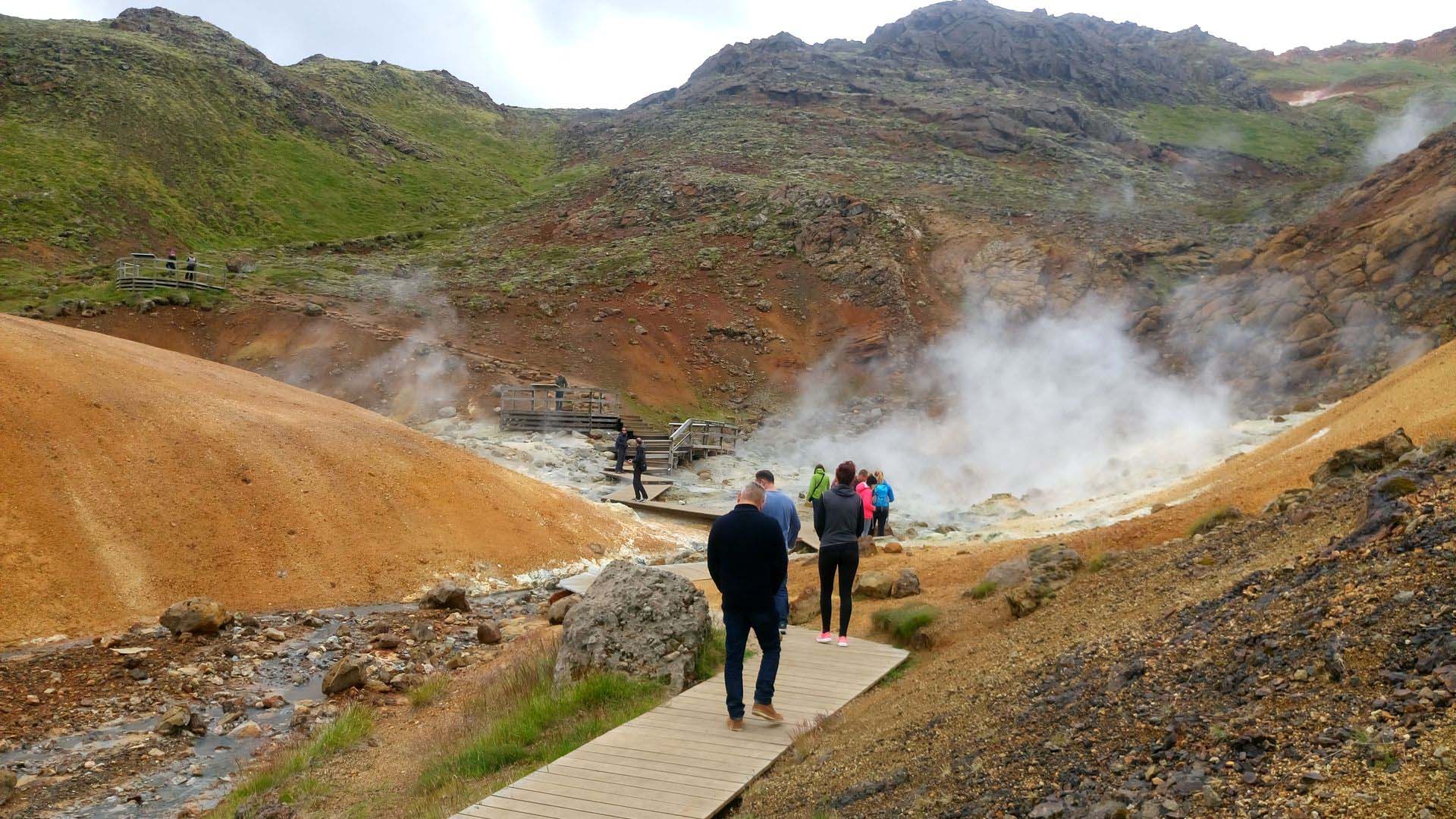 2. The Blue Lagoon
The Blue Lagoon is one of Iceland's most famous attractions and—as this geothermal spa is on the way to Reykjavik from Keflavík International Airport—it's often the first or last stop for international visitors.
While the lagoon itself is man-made, its stunning lava rock surroundings and skin-soothing clay masks make for a naturally relaxing experience.
---
---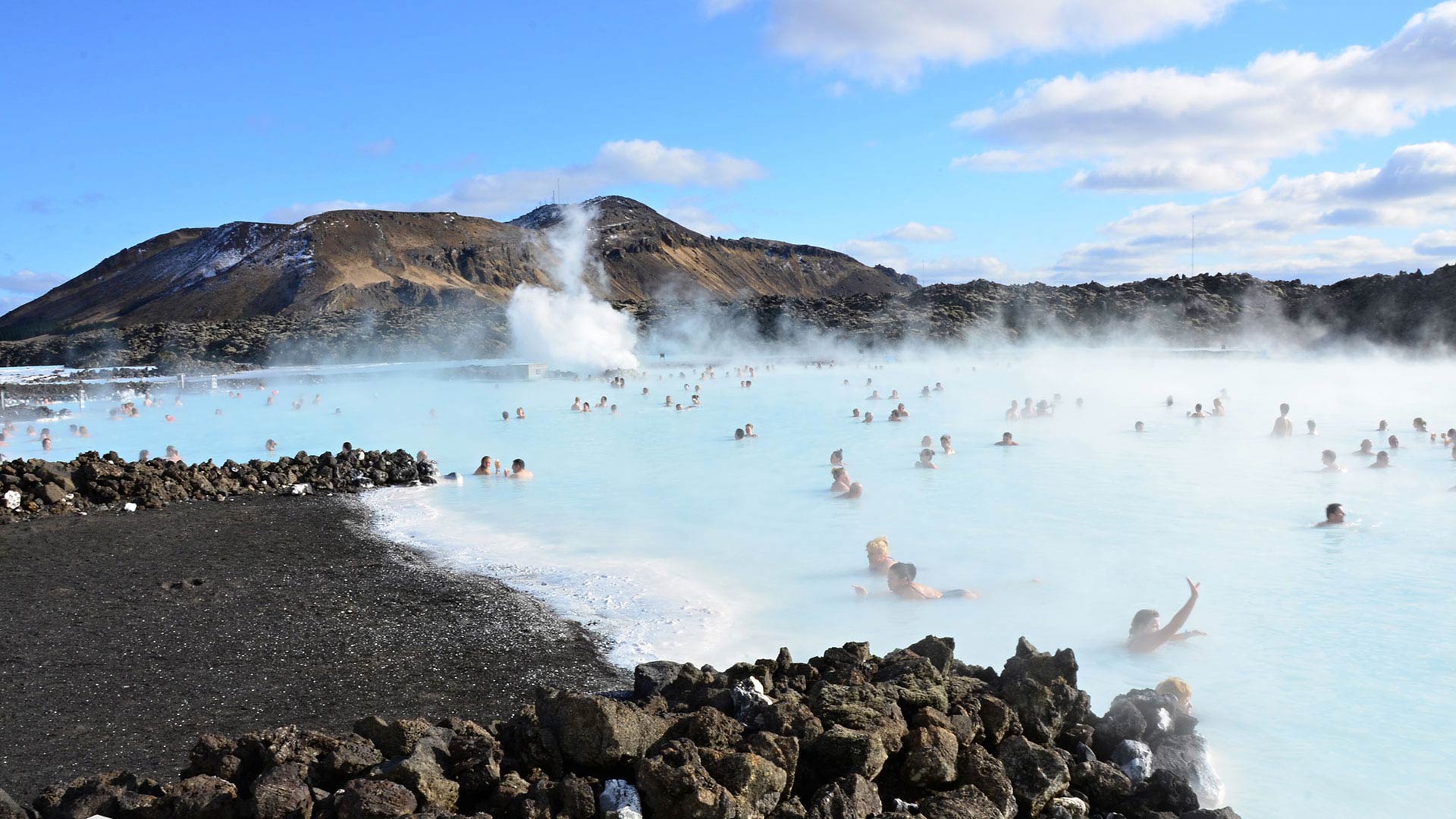 3. Deildartunguhver
This hard-to-pronounce hot spring is the largest in Europe. Though not as scenic as other sites on our list, Deildartunguhver provides a fun selfie opportunity as you're engulfed in steam. Located in West Iceland, this steamy attraction is just a short drive from the Ring Road, not far from the village or Reykholt.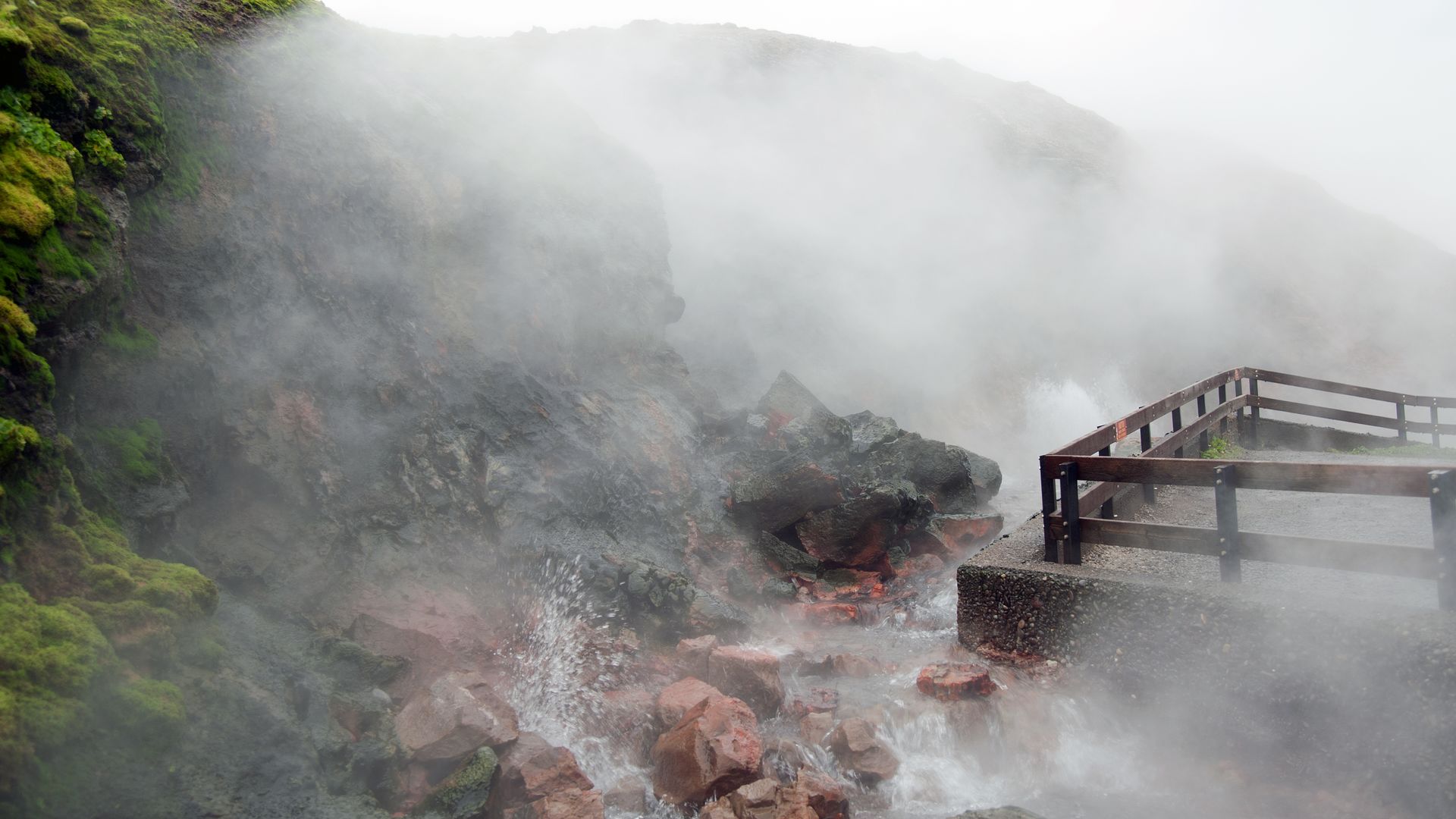 4. Strokkur
Strokkur means "churn" in Icelandic, and churn it does—roughly every 8 minutes. Each mini-eruption sends a stream of scalding water 15 – 20 metres into the air, sometimes as high as 40 metres.
Fun fact: The English word geyser is derived from Strokkur's neighbour, the largely dormant Geysir—the first geyser ever described in a printed source. The Strokkur geyser is part of the Haukadalur geothermal field, one of the major attractions along the famous Golden Circle route in South Iceland.
---
---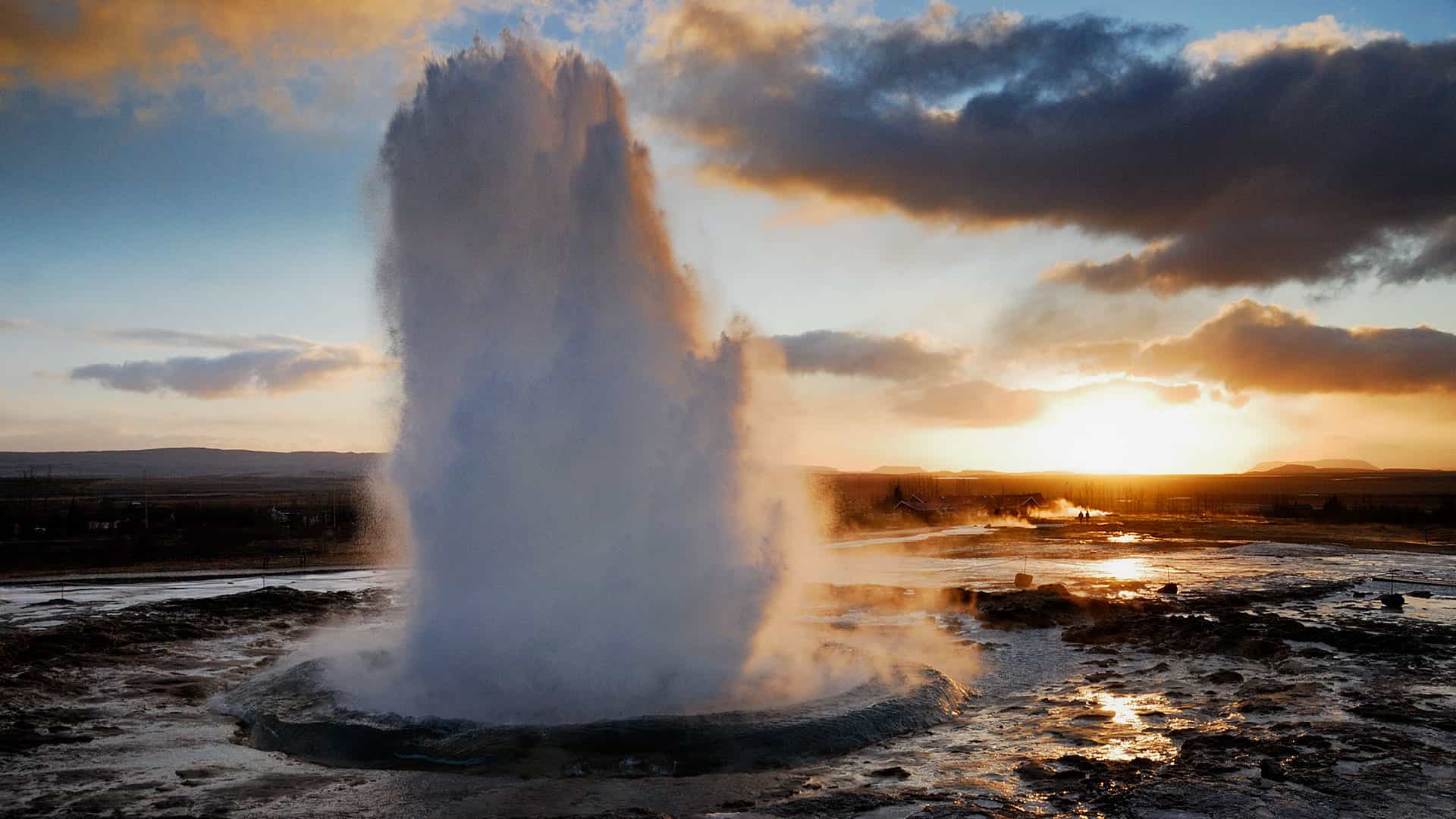 5. Námaskarð
Located in the Lake Mývatn area of North Iceland is Námaskarð (which also goes by the names Námafjall, Hverir and Hverarönd). Before you even reach this Mars-like terrain, you'll probably smell its characteristic sulfur scent from the car. Due to the various gases escaping from subterranean vents, this mountainside geothermal field not only smells interesting but is stained in bright colours.
For a closer look (and smell), take a walk around its steaming vents, boiling mud pools and multi-coloured sands. Just remember to stay within the roped areas to protect both yourself and the delicate environment.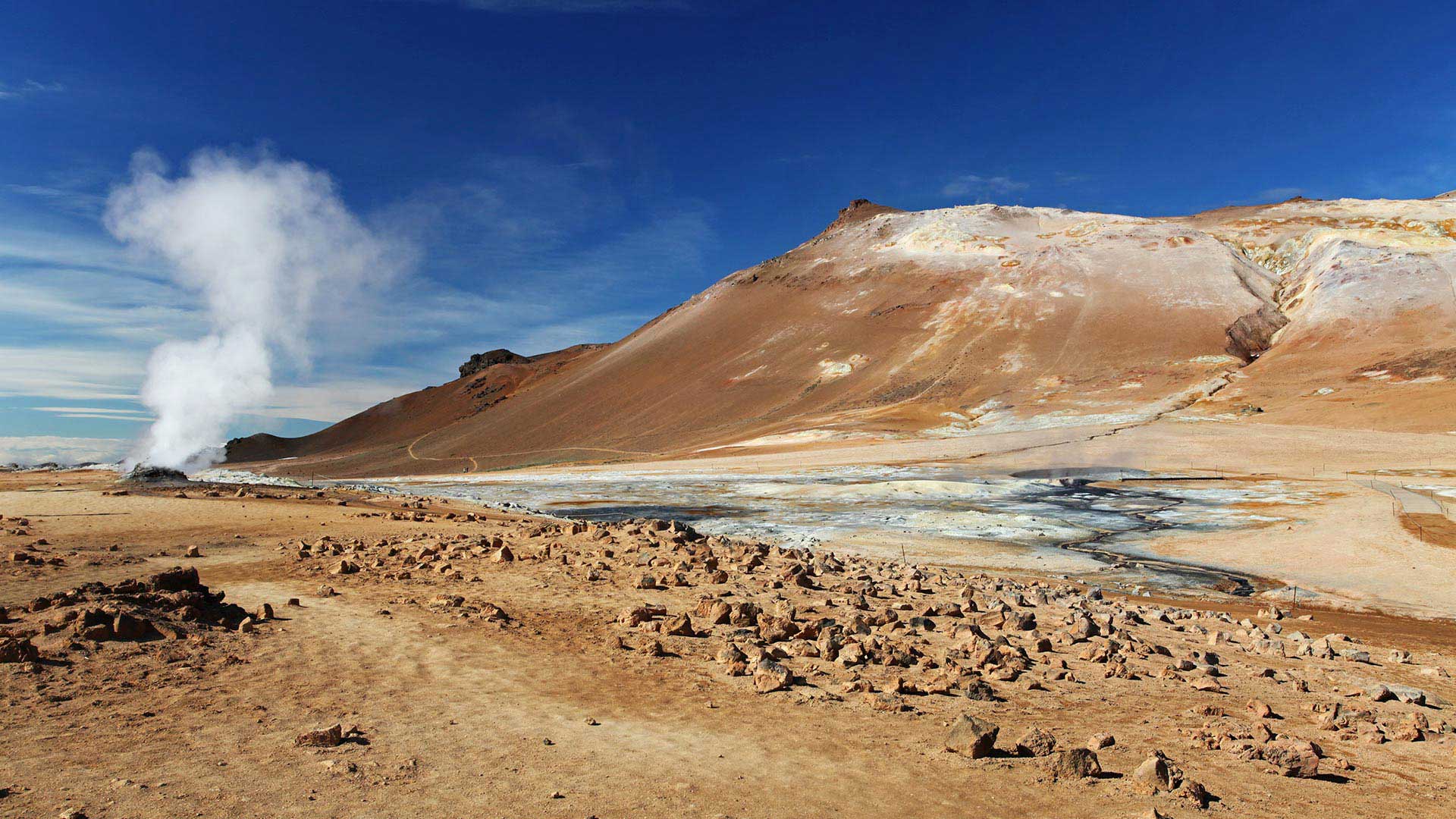 6. Mývatn Nature Baths
North Iceland's answer to the Blue Lagoon, the Mývatn Nature Baths are an ideal spot to stop to soak travel-weary muscles in soothing geothermal waters, while enjoying some pristine natural scenery to boot.
The water temperature of this lagoon is maintained at between 38°C (100°F) and 40°C (104°F) after it has cooled from its intense natural underground temperature of 130°C (266°F).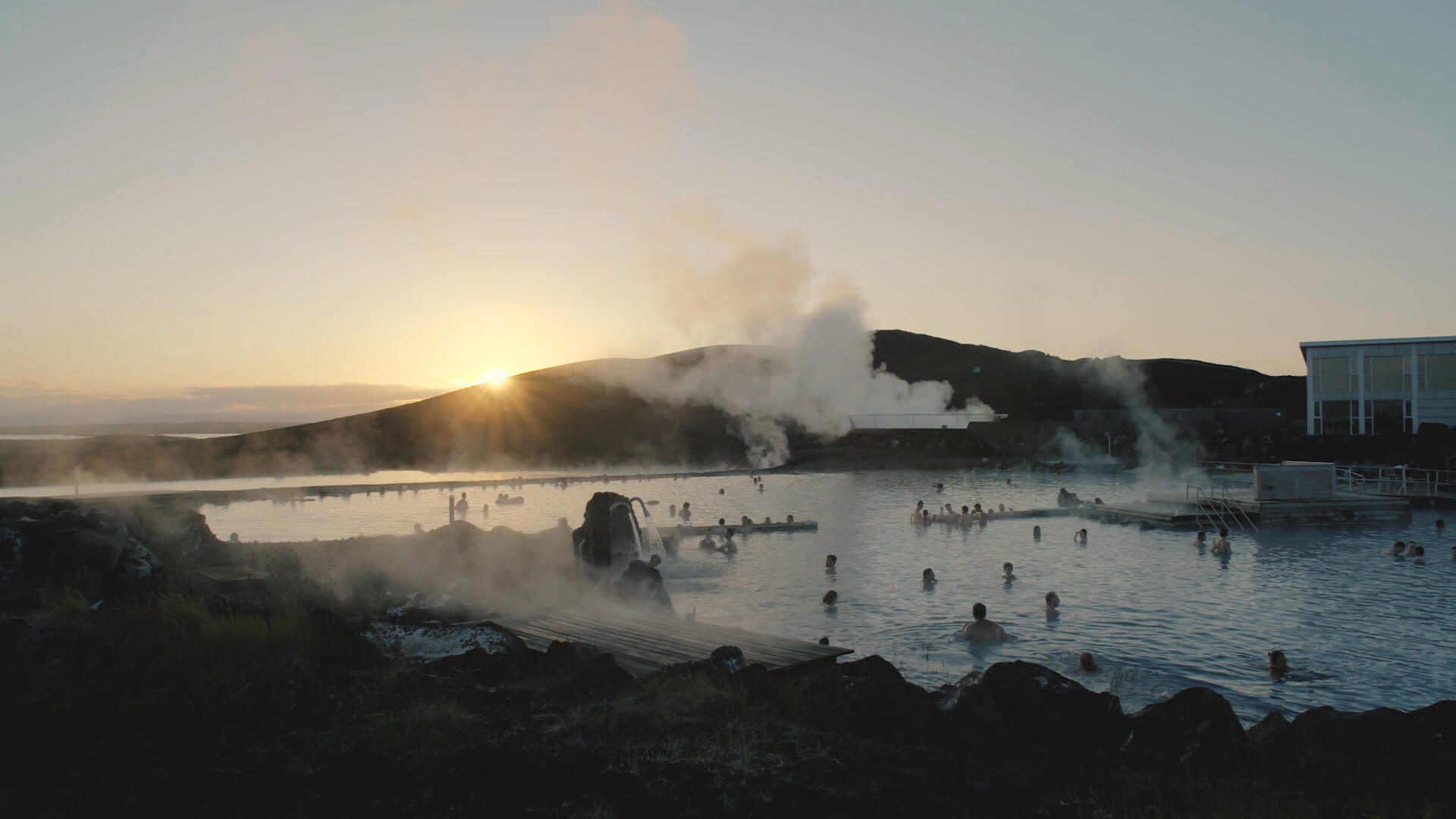 7. Friðheimar
Visiting the large, family-run Friðheimar farm in South Iceland is a great opportunity to learn about geothermal greenhouse farming and green energy... and to taste the best fresh tomato soup on the island.
If you don't have to drive, you may also wish to try one of their Bloody Mary cocktails, made with green tomatoes and honey from their own bee hives. As the greenhouse is operated year-round, stepping into its tropical warmth is an especially rewarding experience during winter.
---
---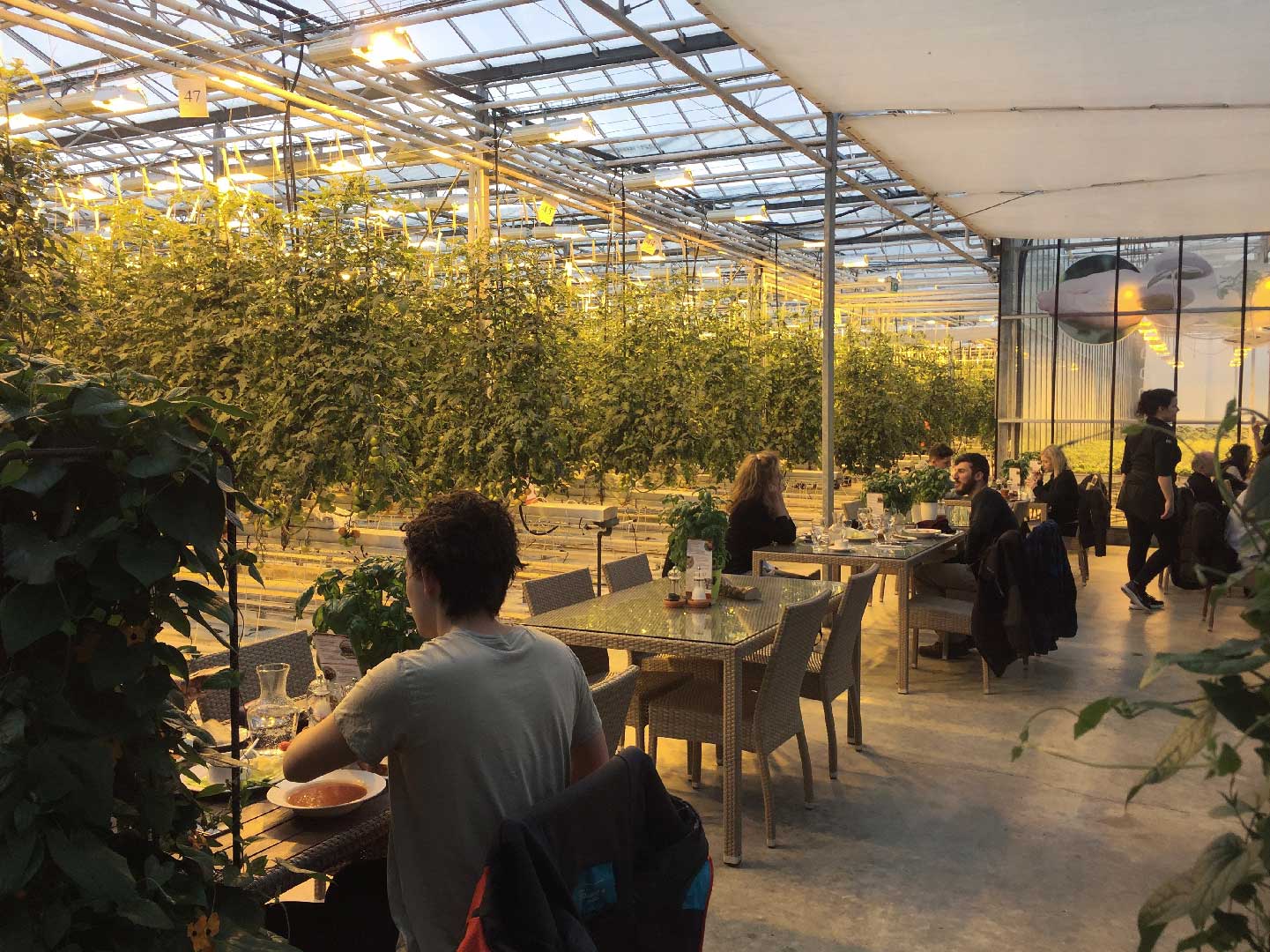 8. Reykjadalur
If you want to combine hiking and a unique bathing experience in one go, Reykjadalur is just the place. Meaning "Steam Valley" in Icelandic, the beautiful Reykjadalur valley is located in the mountains next to Hveragerði, a small town known for its abundance of hot springs and geothermal greenhouses.
From the parking lot at the edge of town, it takes about 45 minutes of hiking on a moderately challenging trail to reach the natural hot stream that's become popular with bathers.
Good to know: There are no changing rooms by the stream, just a small divider that provides a tiny bit of privacy to get in and out of your swimsuit. It's an all-around natural experience!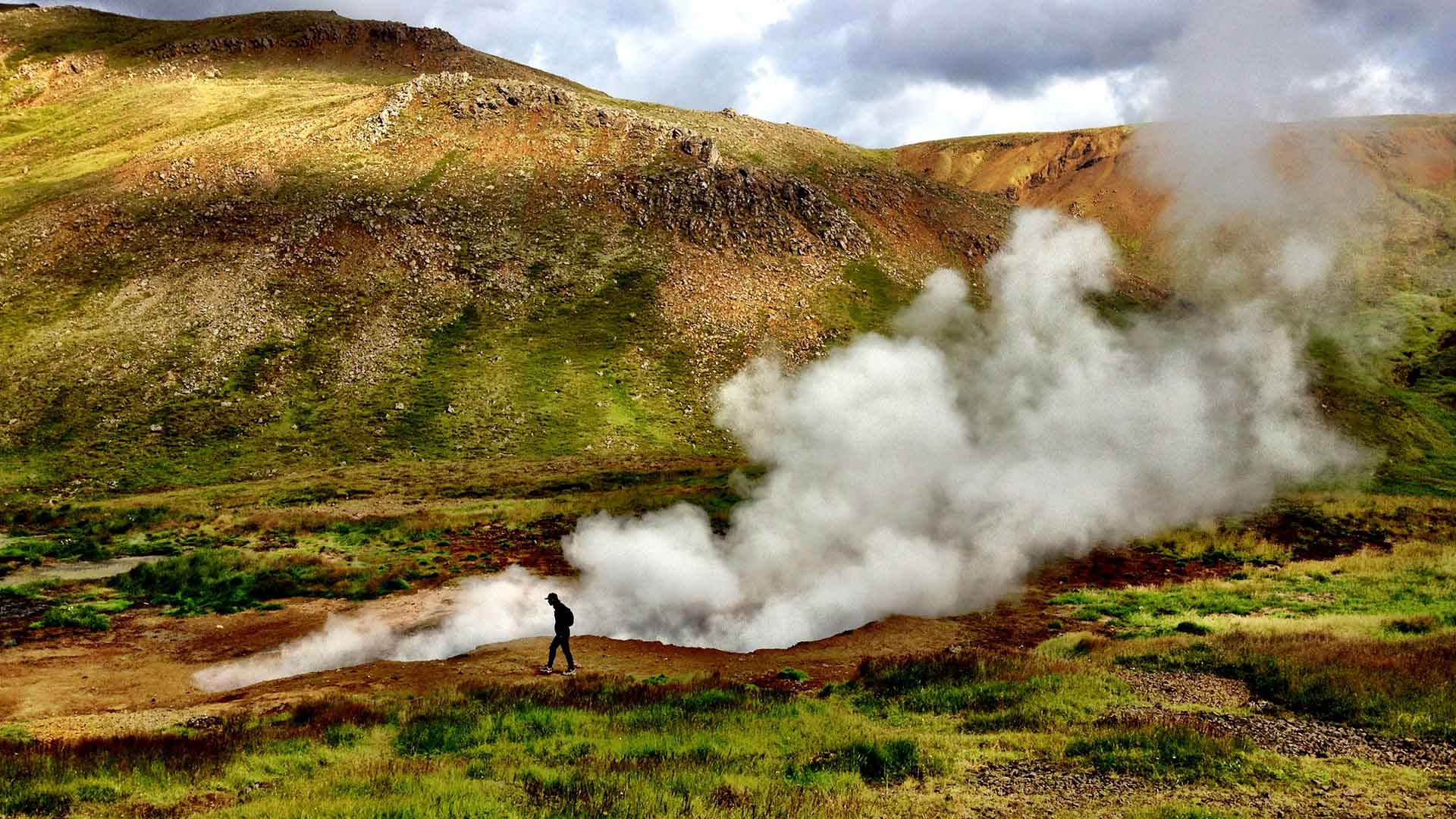 ---
Come see Iceland's sizzling attractions on one of Nordic Visitor's popular self-drive tours. For even more sizzle, ask your dedicated Nordic Visitor travel consultant about customising your itinerary.