The following post is part of our "My Destination" series, in which staff or clients of Nordic Visitor tell us about their favourite highlights from our Nordic destinations.
The only thing we love more than being out on the road ourselves is seeing our travellers' adventures unfold in words and pictures. Alice and Bob Friedenson, who travelled on a custom version of our Iceland Grand Tour to celebrate their 51st wedding anniversary, documented each day of their 21-day journey in June.
Using the Pages app on her iPad, Alice, a sculptor and retired math teacher, kept up the daily travel journal while her husband Bob, a photographer and retired engineer/computer scientist, maneuvered their 4x4 rental jeep counter-clockwise around Iceland. Combined they took more than 4000 photos!
In the final part of the three-part series, we follow in Alice and Bob's footsteps as they complete their circumnavigation of Iceland via West Iceland.
---
June 20, 2015: Ferry to Snæfellsnes
We never even dreamed 50 years ago that we would spend our anniversary surrounded by the glaciers, green plains, sheep, fjords, horses, volcanoes, lava cliffs and bright sunshine of Iceland. Today we took the ferry over the Breiðafjörður Bay to Snæfellsnes Peninsula [from Brjánslækur in West Fjords to Stykkishólmur] as we begin our journey south.
We continued to celebrate our anniversary with a meal at the Hraun restaurant [in Ólafsvík], a local favorite. Bob had fillet mignonette with beer and I enjoyed two appetizers, lobster bisque and mussels with wine. After dinner we discovered more cliffs with terns.
June 21: around Snæfellsnes Peninsula
Cliffs, ocean, small villages, caving, seabirds, and sheep: a beautiful sunny day! The Lóndrangar rocks on the Snæfellsnes Peninsula were beyond imagination and a lovely short hike to the sea.
On a day tour in the Vatnshellir lava caves nearby, the guide told fun folktales about trolls. Caves were beautiful with colorful lava, and we tasted delicious water collected in small pools. At Bjarnarhöfn we found massive lava formations as we hiked to the ocean.
In the fishing village of Hellnar we enjoyed apple pie and chocolate cake in a small restaurant overlooking a sea cave where we sat at an outdoor table. At another fishing village, Arnarstapi, we watched birds flying and nesting in the cliffs.
By late afternoon the temperature hit 63 degrees F, the high for our trip. It felt wonderful! We drove for a while on route 574 seeing waterfalls, landslides, volcanoes, farms, glacier, and very colorful sandstone. Later we returned to the Hraun restaurant for dinner. We both had pizza. Mine was amazing with chunks of lobster, tiny shrimp, mussels, and tiny scallops.
June 22 – 25, 2015: West Iceland & Reykjavik area
We take a mystical ride through cloud-covered mountains, black volcanic rock, and covers of snow, lime green, tan, grass, and moss with waterfalls, sheep, fjords and flat planes along the way.
We stopped at the Settlement Center in Borgarnes, where we enjoyed a creative display of the Viking saga / settlement era of Iceland in the year 870. Hvalfjörður was our final fjord before arriving in Reykjavík.
The next day, we returned to Þingvellir [National Park] with a guide to snorkel in Silfra in between the North American and Eurasian tectonic plates. With a water temperature of 1 degree C we had to wear dry suits. Under them we wore long underwear: I had Polartec pants and shirt and a warm one piece "snowsuit". The guide had to literally dress us into the dry suit, a very painful process. Movement of arms and legs were extremely restricted. Bob's mask and my snorkel kept filling up with water. I drank too much though it tasted delicious. I felt like a first time snorkeler. I could barely swim. The views were beautiful but I needed the guide's help to complete the course to the end.

Back in Reykjavik we had a fabulous dinner at an Italian restaurant. I had seafood with spaghetti, calamari, tiny shrimp, lobster, and tiny mussels and Bob had lasagna. Our day ended on a high note.
Wednesday we flew to the Westman Islands, a short 20 minute hop in a small plane. Wow!
The islands are absolutely gorgeous: vivid colors, unique volcanic shapes, caves, cliffs, birds, sheep, stunning town and wonderful people—immaculate. We took a boat tour through the islands. A ride into a large cave was breathtaking, especially when our guide/captain played his baritone saxophone to demonstrate the amazing acoustics of the volcanic cave glistening with color. Later we took a bus tour hopping on and off to enjoy views and walks. For lunch I had delicious lamb soup with chunks of lamb, barley, and more. A fabulous day!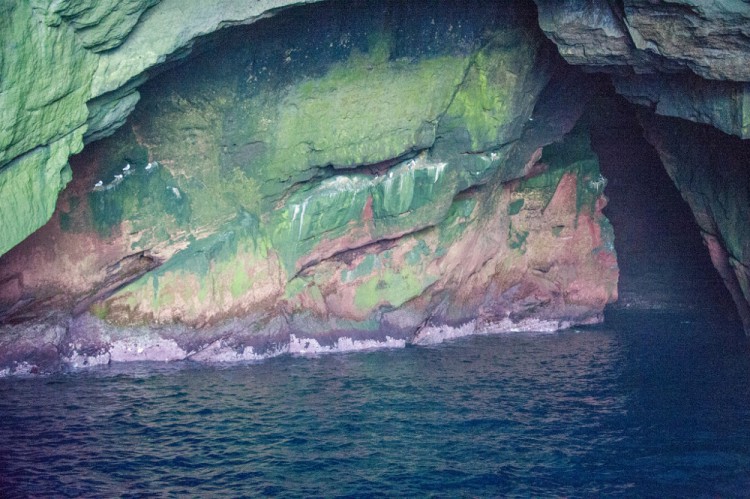 Iceland is the cleanest country we have ever seen. Young people are busy with summer jobs picking weeds and keeping the town immaculate. There is also time for fun!
Back in Reykjavík, for dinner we had hamburgers which are huge and come with tasty dressing, lettuce, tomato, and onion. Art is everywhere in the city.
Thursday was our last full day in Iceland. We had a bakery breakfast and Bob was in heaven with all the chocolate and donuts. Baking with fruit is very limited.
We spent a lot of time walking the streets, checking out stores and creative murals on buildings. Exhausted, we sat at a coffee shop and enjoyed a delicious salmon and spinach quiche for me and for Bob more pastry.
Our evening entertainment was wonderful, all at the [Harpa] Opera House (pictured in header image of this post), which in the sun was amazing. First, we saw a hilarious one-man show, How To Become Icelandic In 60 Minutes, followed by a quick snack—open faced sandwiches and pastry—and then watched a blues concert overlooking the seaport. A wonderful last evening here.
June 25, 2015: Back home & final thoughts
Today we flew home from Keflavik Airport, scheduled to depart at 17:25 Iceland time arriving home at 19:40.
Are we glad we visited Iceland? Absolutely! Would we ever consider living here? NO! Much too cold in summer and too dark in winter!
The following are our random thought while brainstorming what we learned and felt about Iceland. They are in no particular order:
Beautiful mountains, waterfalls, fjords, lava rock, glaciers, flatlands, and a few rolling hills
Free ranging sheep, horses, cattle, puffins, arctic terns, variety of ducks and other birds
Blue whales, lethargic seals
Hard working people, honest people, almost no crime, bicycles left unlocked in towns
Red roofs, bright colored houses in pink, blue, green, and white
Landslides
Beer
Sweaters

Trolls and folktales
Immaculate, clean country
Cold outdoors, too hot indoors due to cheap natural geothermal heat
Genuine, friendly people
Mesas like Utah
Hayfields and bales of hay dot the countryside
English is a universal language for all tourists
Mostly European tourists, as Iceland is part of Europe
Resourceful use of driftwood from Siberia
Expensive restaurants, expensive food in supermarkets
Down from birds used for warm clothing
All shades of green, red, brown, black, white, and blue in nature
Not so accessible for people with disabilities
No air pollution except geysers, and sulphur springs
Clean water
No laundry facilities, tiny sinks in bathrooms
Beautiful women and big, strong men
Limited food selection: little fruit, veggie, and salads (fruit, salads, veggies must be imported)
Raised roads, no shoulders, dangerous for bikers
Stone trail markers designed to keep horses carrying mail from sulphur springs
Buffet breakfast: cereals, a little fruit, hard boiled eggs, ham, cheeses, lox, herring, bread, a little pastry, sometimes waffles with syrup and whipped cream, coffee, tea, milk, juice
Dinner staples: lamb, fish
Other dinner offerings: beef, pork
Fish variety: Arctic char, salmon, langoustines, halibut, mussels, scallops, tiny shrimp
Sleet, fog, sunshine, rain, snow, blue sky, strong winds, and calm all in one day
Temperature: 35 – 67 degrees F
Alphabet different, twenty letter words

Old stone homes left to crumble
Strikes
Scarce trees unless planted
Lava fields
Summer homes
Internet ancient history but it works
Population less than 400,000, 75% live in Reykjavík
Sod houses used as refrigerators
Hitchhikers
Power lines far from road
Satellite TV
Farms, caves, lakes, streams, rivers
Vertical rivers and streams
Amazing tunnels, single lane, bare bones
Roads well maintained
Single lane bridges deliberate because they wash away frequently
Few flowers but amazing tiny mountain flowers
Small family churches
Functional houses
Single lane roads and tunnels do not cause problems
Occasional ultramodern buildings reflecting lava shapes and textures
Traffic lights green, yellow, red and red; yellow & green warning light both ways
After 15 days driving outside of Reykjavík, fewer cars than in one trip to Boston
Iceland defined: sparsely populated, desolate, isolated
Independent People by Nobel laureate Halldór Laxness accurately portrays Iceland
---
Catch up here with Part 1 - Reykjavik to Höfn and Part 2 - East to West.
Heartfelt thanks to Alice and Bob for sharing their Iceland travel diary with us! To make your own Nordic travel story, check out all the possibilities offered by Nordic Visitor.