Seeing the northern lights ripple across the sky is a magical experience and creates memories that will live with you for the rest of your life.
Of course, to achieve this, you need to be lucky enough to be in the right place at the right time. But I'm a big believer in creating your own luck. You can give yourself the best chance possible by choosing a calendar month and a geographical area that will stack the odds in your favour.
That means getting yourself close to the 'Northern Lights Belt', which at 65 to 72 degrees north in latitude, lurks just inside the Arctic Circle. This belt, also known as the 'aurora zone', covers several Scandinavian and Nordic destinations, including Iceland, Sweden, Finland, Greenland... and Norway.
---
---
So if you're headed on a trip to the celebrated fjords, mountains and snowscapes of Norway, with a desire to see the legendary aurora borealis, we've listed the best times of year and the best places to see the northern lights. Without further ado…
---
Where is the best place to see the northern lights in Norway?
There are a few prime spots for spotting the northern lights in Norway, and they are:
Tromsø
Kirkenes
The Lofoten Islands
North Cape (Nordkapp)
Svalbard
Tromsø
Tromsø is known as 'the capital of the Arctic', and just so happens to be one of the best places in the world to view the northern lights.
This small city is effortlessly charming, and makes for pretty viewing in the daytime too. Tromsø is also well set up for aurora borealis hunters, running 'northern lights safaris' to spots free of light pollution.
Kirkenes
Kirkenes is a tiny town right near the Russian border, and is right in the heart of northern lights territory. It is also home to the famed Snow Hotel of Norway, which is made entirely out of snow and ice, and rebuilt every winter.
The Lofoten Islands
If you think the northern lights look beautiful up in the sky, imagine seeing the flickering lights reflected in the sea. For that sight, head to the Lofoten Islands. This tranquil archipelago is famous for its sheer mountains and quaint fishing villages, and it's a popular port for coastal cruises.
The North Cape (Nordkapp)
The North Cape is as far as mainland Norway goes, and here there's nothing between you and the Arctic except Svalbard. See the incredible birdlife, stark landscape and, of course, the aurora borealis.
Svalbard
Home of polar bears, it doesn't get more icy or ethereal than Svalbard. This remote archipelago is one of the most incredible spots for viewing the northern lights outside of Tromsø. Situated halfway between mainland Norway and the North Pole, a visit here is one to remember.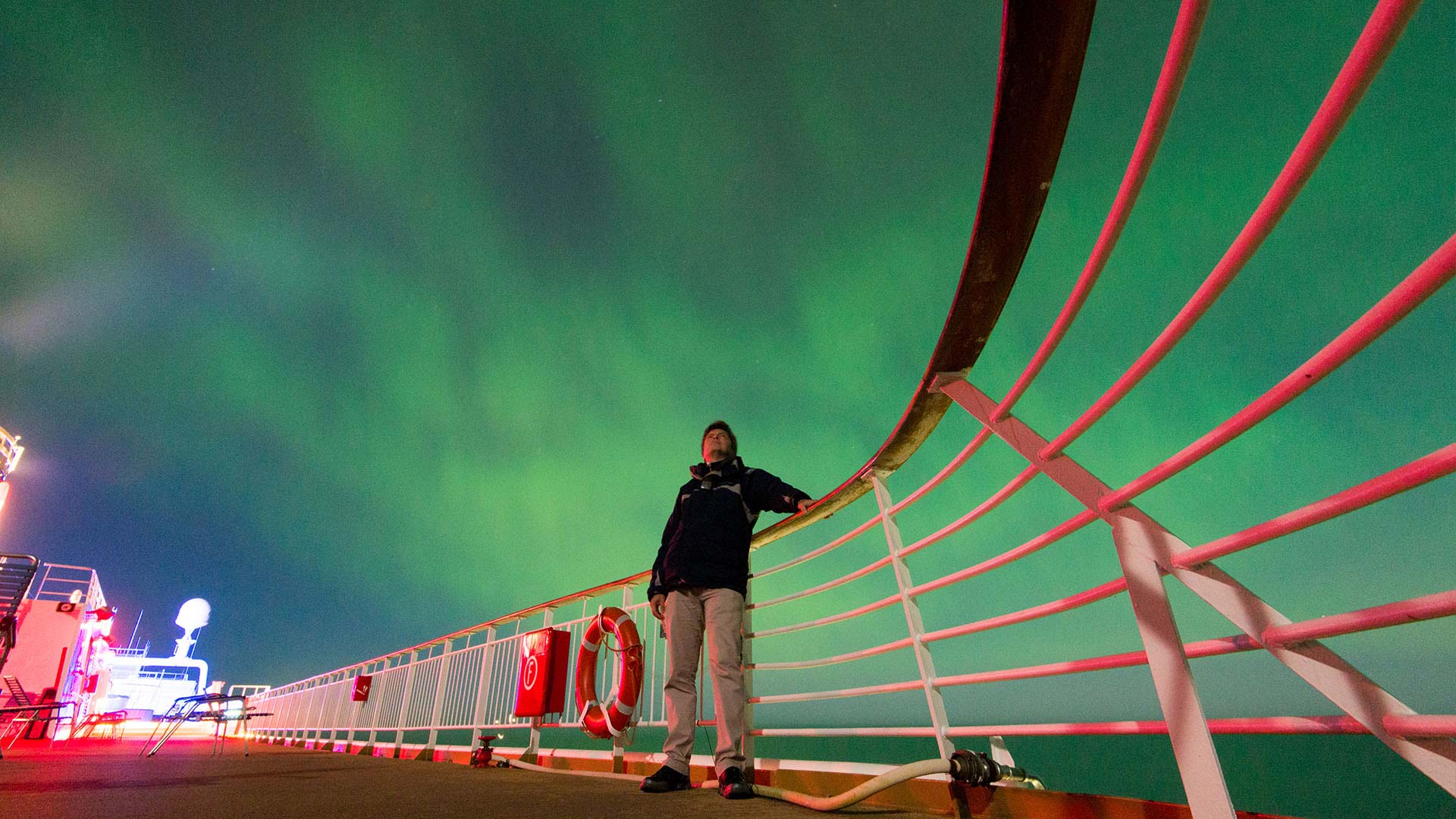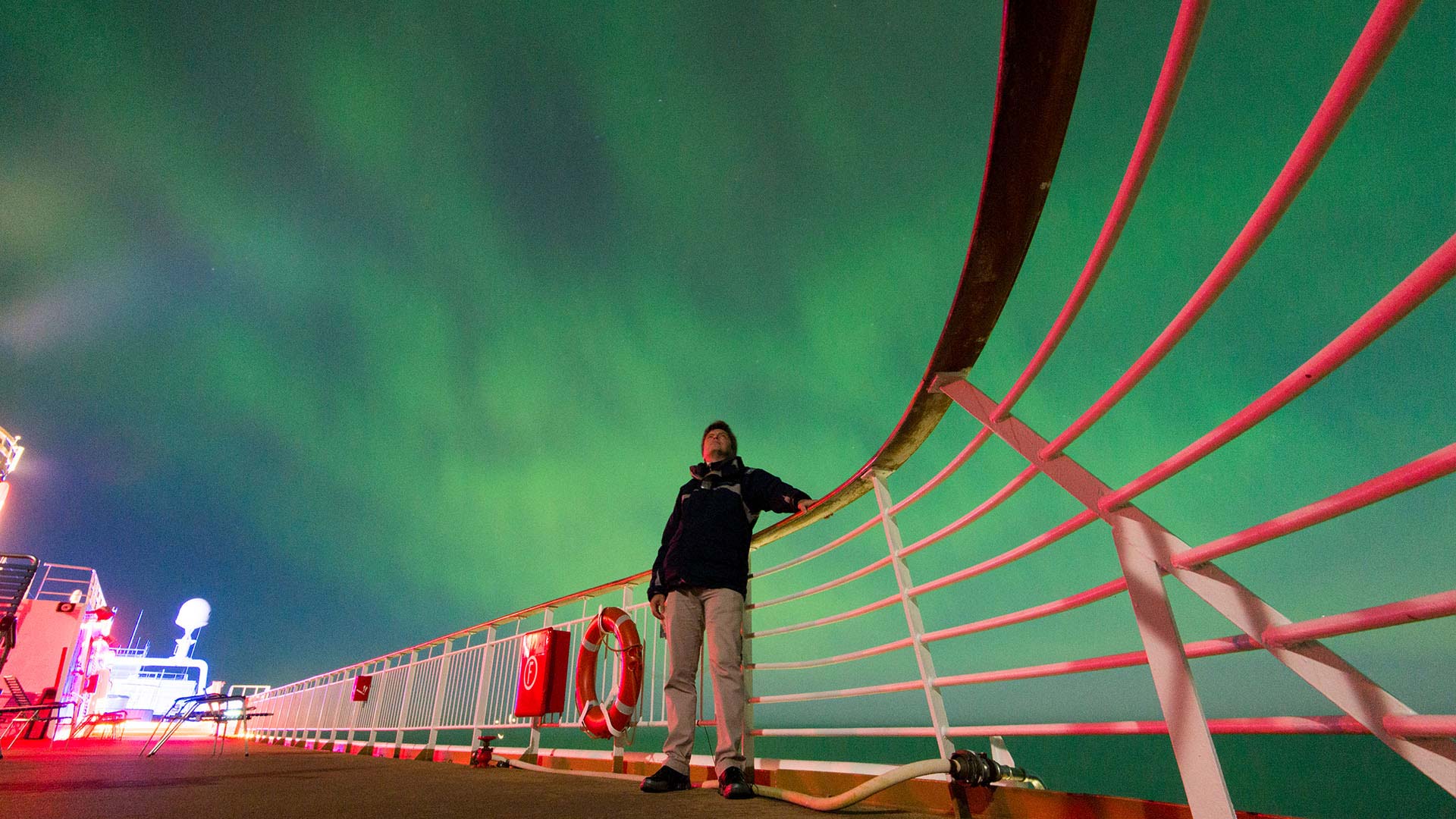 What other attractions are there in Tromsø?
Along with being the capital of the Arctic, Tromsø is also considered the 'Paris of the North', and this is primarily because it is the cultural hub of the region. If you want to get to know contemporary Arctic culture, whilst gaining an insight into its past, Tromsø is the place to be.
As such a major hub for the northern region of Norway, it is likely you'll be passing through Tromsø at some point. As an Arctic city, you can live out all your winter fantasies here, such as racing through the snow-strewn landscape on a snowmobile, or on a dog sled or reindeer sleigh.
Otherwise, there are leisurely cruises from here around the spectacular fjords that line the rugged coast of northern Norway. Enjoy excursions to nearby colourful fishing villages and — our favourite — spas and saunas designed to banish the chill of the winter air.
There are also city attractions to explore, like the Tromsø University Museum, the striking Arctic Church and the Polaria, an Arctic aquarium.
What is the best time to see the northern lights in Norway?
Winter, is the short answer, in the months between September and March. During the summer months, there is almost constant daylight, and up north there is the famous 'Midnight Sun' to contend with, so even if the aurora borealis has come out to play, you won't see it.
September-October: Summer is waning, but still, there aren't that many hours of darkness during these months. However, there is lots of solar activity, so this is typically one of the best times to see the northern lights.
November-February: You want dark nights? You got it! The sun is in short supply during this period, with dim daylight/twilight from 9am-2pm. However, there is more chance of snow and cloud cover during this time of year, which is great for winter activities but could hamper your efforts to spy the light show.
March (and a little of April): Like the autumn equinox, the spring brings more daylight, but also more solar activity. March is also a peak time of year to visit Norway for a chance at seeing the northern lights.
Complete darkness and zero light pollution are essential for seeing the northern lights in their full glory, so stick to the smaller towns for a good chance at a sighting. If you're only going to be hanging out in Oslo during your trip, your chances will be drastically reduced.
---
---
What is the weather like in Norway?
The weather in Norway is actually milder than you'd expect (i.e. not freeze-your-nose-off temperatures) thanks to the Gulf Stream, but as you'll be heading to the Arctic Circle in the colder months, expect the average temperatures to hover around -5 to 6°C (23-43°F).
Do I need special gear to see the northern lights?
You will not need to bring heavy-duty gear. For most excursions, like a snowmobile safari, you will be provided with gear. However, you will need to pack for the winter.
We recommend bringing an insulated coat and boots, warm woollen layers, a scarf, a hat, gloves and — if you intend to do things like dog sledding — maybe a balaclava, glove liners and cheeky hand warmer packs.
How long should I plan a trip to see the northern lights?
We recommend that you spend at least 3-4 days to see the northern lights, though the more time the better. Typically, an ideal amount of time within the Arctic Circle is around 8-10 days.
This will allow you to really explore the inlets, fjords and islands of the north, and if the weather becomes unpredictable, enough time to score a clear night. You'll also want time to experience some unique excursions in the snow.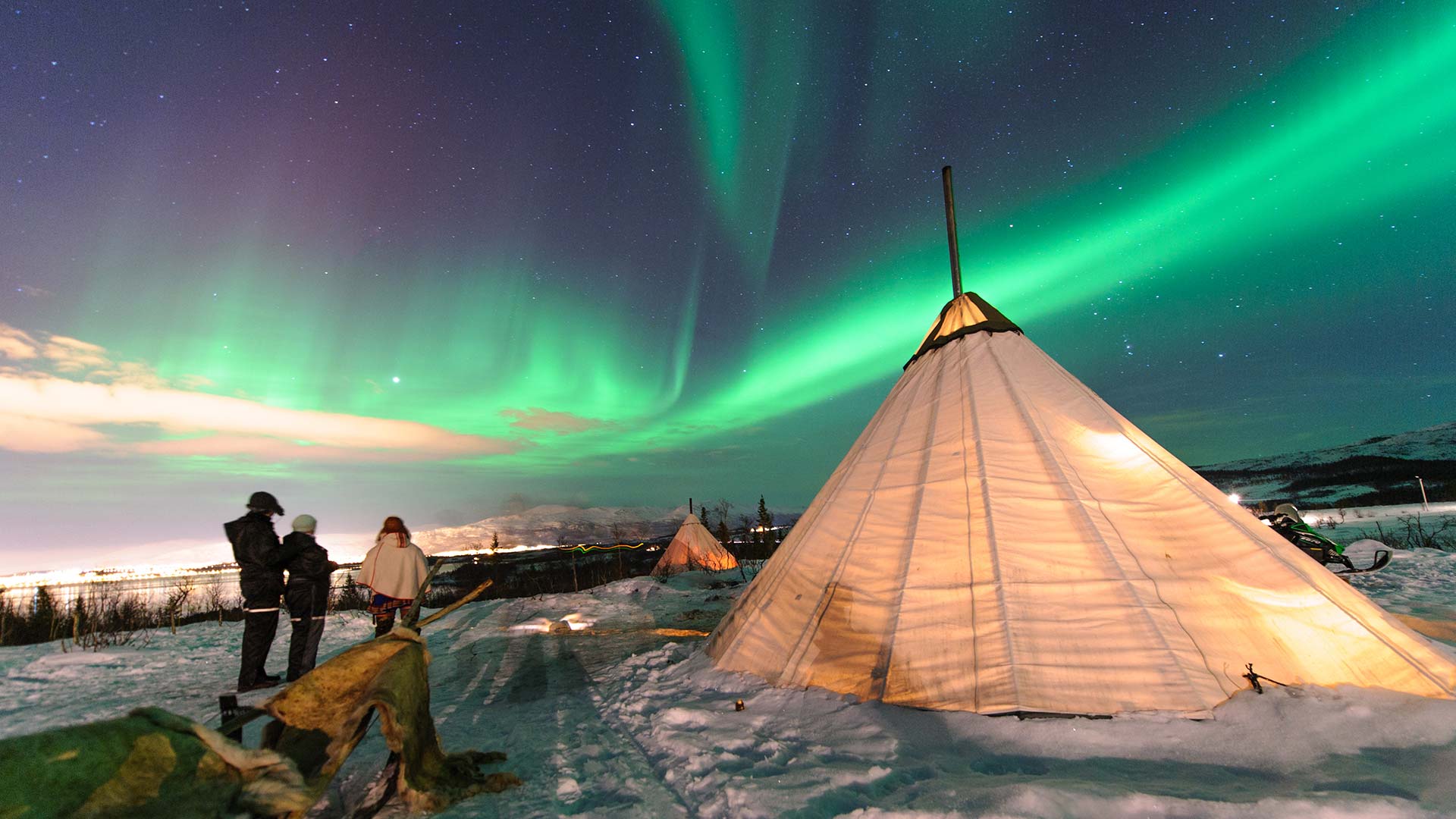 What other things can I do on a trip to Norway to see the northern lights?
You'll find lots to do on a winter trip to Norway, particularly if you choose a package tour that puts equal focus on daytime activities as well as nighttime ones. Nobody can guarantee a sighting of auroras, so it's best to play it smart and have some day trips organised as well.
Here's what our travel consultants recommend:
1. Experience Norway like the Sami people
We've mentioned it before, but dog sledding is amazing, and after a rollicking trip through the snow, many trips will incorporate a diversion to a lavvu (a Sami tent) — a traditional tent used by the native Sami people of northern Scandinavia, where you can warm up with a hot drink and some local fare.
2. Indulge in winter sports
With all the powder fresh snow decorating the landscape, it'd be mad not to take advantage of all the winter sports on offer. Go cross-country skiing through the alpine forests, or try your hand at snowshoeing, and feel like an Arctic explorer.
If you'd rather a pastime that is not quite so energy heavy, go ice fishing, a sport best done with a hot drink in hand!
3. Go whale watching
The Arctic is brimming with some of the biggest marine animals in the world, and seeing the sharp black fin of an orca surfacing above the iron-grey waves off Tromsø and Svalbard is a memory you will never forget. However, orcas aren't the only exciting sea dwelling mammal hanging out here. You can also spot humpback, minke and pilot whales, as well as walruses, seals, and, of course, dolphins.
4. Safari on a snowmobile
A snowmobile safari is exhilarating; you can race across the wilderness at speed. Keep your eyes peeled for moose, Arctic fox, white-tailed eagles and reindeer.
If you're in Svalbard, you may even spot the remarkable polar bear! But have no fear, as guides in Svalbard carry rifles to sound warning shots in case of close encounters.
5. Tour the picturesque towns
If you're cruising up the coast of Norway, this provides you with a perfect opportunity to duck in and out of the little fishing villages and towns that cluster along the fjords. Make time for the gorgeous town of Ålesund with its pastel-coloured Art Deco buildings that are a photographer's dream.
6. Learn about Norway's Viking past
It's hard not to immediately think of the Vikings when travelling to Scandinavia, but being as Norway was once home to Ragnar Lothbrok, a little Viking history is inevitable. Go to Trondheim, a Viking trading post established as early as the 10th century, and considered the 'Capital of the Vikings'.
Lastly, what exactly are the northern lights?
It would be silly to dedicate a whole article to seeing the northern lights without doing a little sum up of what exactly this natural phenomenon is.
The northern lights, also called aurora borealis, are electrically charged particles from the sun colliding with the earth's atmosphere, that's why super amped solar activity is preferable when planning a time of year to travel.
The phenomenon occurs near the magnetic poles, so along with the aurora borealis, there is also the southern aurora australis (though you have to be in the much-harder-to-reach Antarctica in order to see it properly!).
The Aurora can occur in any number of colours, though the most common is the pale ethereal greens and pinks. However, don't be surprised if you see flashes of red, blue and even violet.
---
The aurora borealis is one of the world's most extraordinary sights and a major bucket list contender, so if you're thinking of seeing the northern lights this year, what are you waiting for? Check out these great aurora tours in Norway to make that happen.