Harry Potter, Hermione Granger, Dumbledore, He-Who-Must-Not-Be-Named. These characters have become such an important part of modern-day culture. In Scotland, you can immerse yourself in this real-life magical world by visiting local filming locations and inspirational landscapes.
If you're a big fan of the books or the movies (or both!), our travel experts have put together this blog with Harry Potter locations in Scotland. Add them to your wish list for your next trip to the Scottish Highlands.
Top Harry Potter locations to visit in Scotland
Did you know that Hogwarts is supposed to be in the Scottish Highlands? And that JK Rowling wrote part of the books in Edinburgh? Yes, you probably do as you're a fan! Below, we've put together top film backdrops and the places that inspired the books located in Scotland.
1. Edinburgh
Scotland's capital is a treasure trove of Harry Potter locations thanks to JK Rowling writing the books while living here.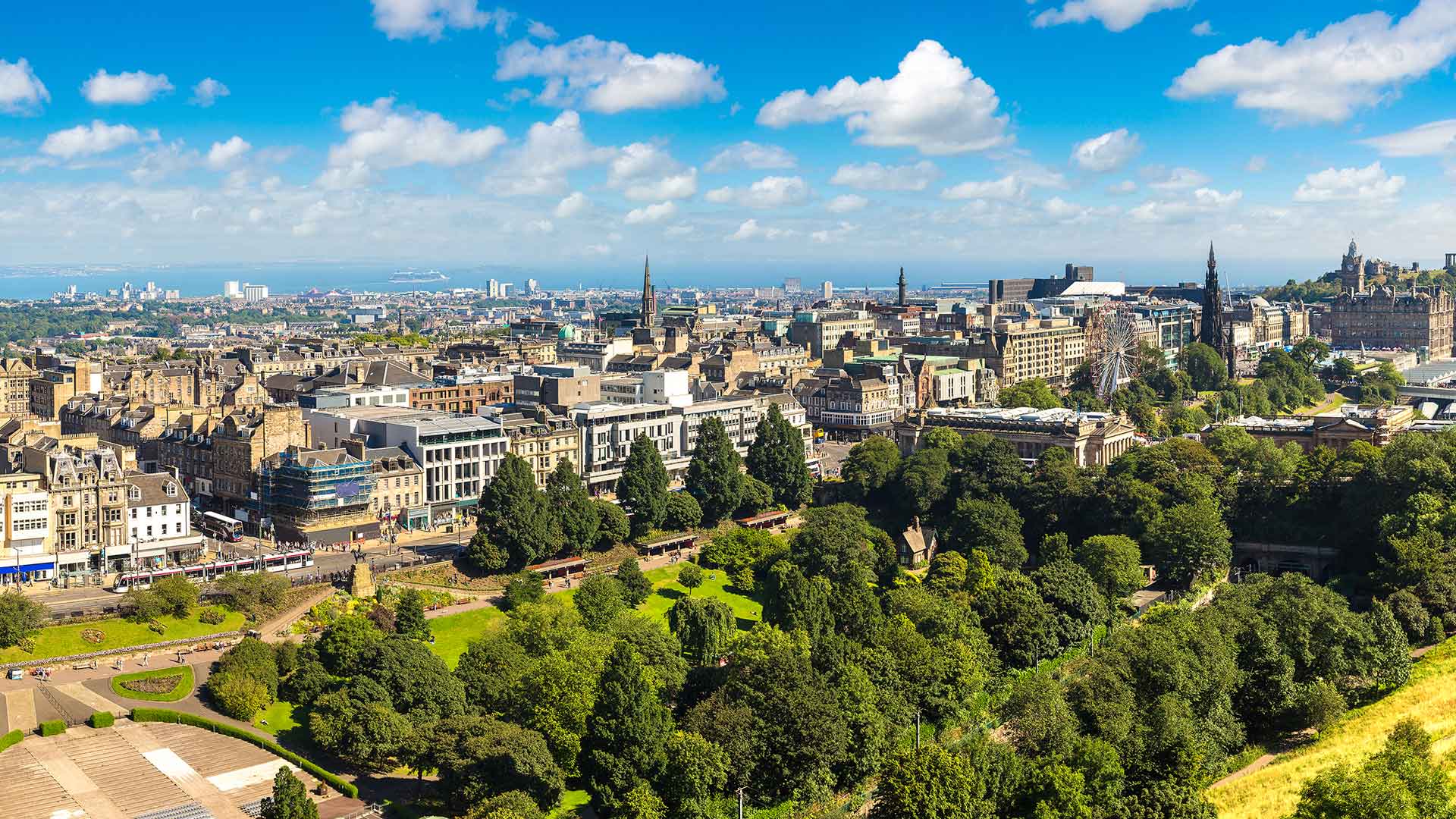 You'll want to visit the Elephant House Café, a famous writing location, on George IV Bridge just off the Royal Mile. Join the other Harry Potter fans that flock here to grab a coffee, and experience the atmosphere for yourself.
So sit down, and be patient as it's a popular spot. While you're there, don't forget to pop into the loo as it is famously full of quotes from the books.
Nearby, you can walk down Victoria Street and Bow Street to admire the colourful shops and do some speciality shopping. It is said to be an inspiration for the books' Diagon Alley.
One of the other top locations you can't miss is the Greyfriars Kirkyard cemetery. You'll find some recognisable names on the graves here. Plus, you'll get a good look at the private school George Heriot, which is said to have inspired the creation of Hogwarts School of Witchcraft and Wizardry.
To get a glimpse into Edinburgh's history and uncover more links to Harry Potter, you could book one of the many walking tours through the Old Town.
---
---
2. Glasgow University
If you're travelling around Scotland, you'll want to get a taste of Glasgow, the largest city and buzzing centre of arts and music. The West End is a brilliant location to explore with the Botanic Gardens, Kelvingrove, and the University of Glasgow.
With its gothic architecture, towers, courtyards and famous Cloisters, this university campus will make you feel like you've stepped straight into real-life Hogwarts.
3. Rannoch Moor
From Scotland's historic cities, we head north into the beautifully rugged Highlands. One of the best locations to experience the breathtaking Scottish wilderness is the mystical Rannoch Moor.
If you have a keen eye, you'll probably recognise it from the films as the Hogwarts Express travels across this landscape. Specifically, this is where the Death Eaters board the train in Harry Potter and The Deathly Hallows Part 1.
There are a few scenic viewpoints just off the A82 road where you can stop to take in the beauty of the moor.
---
---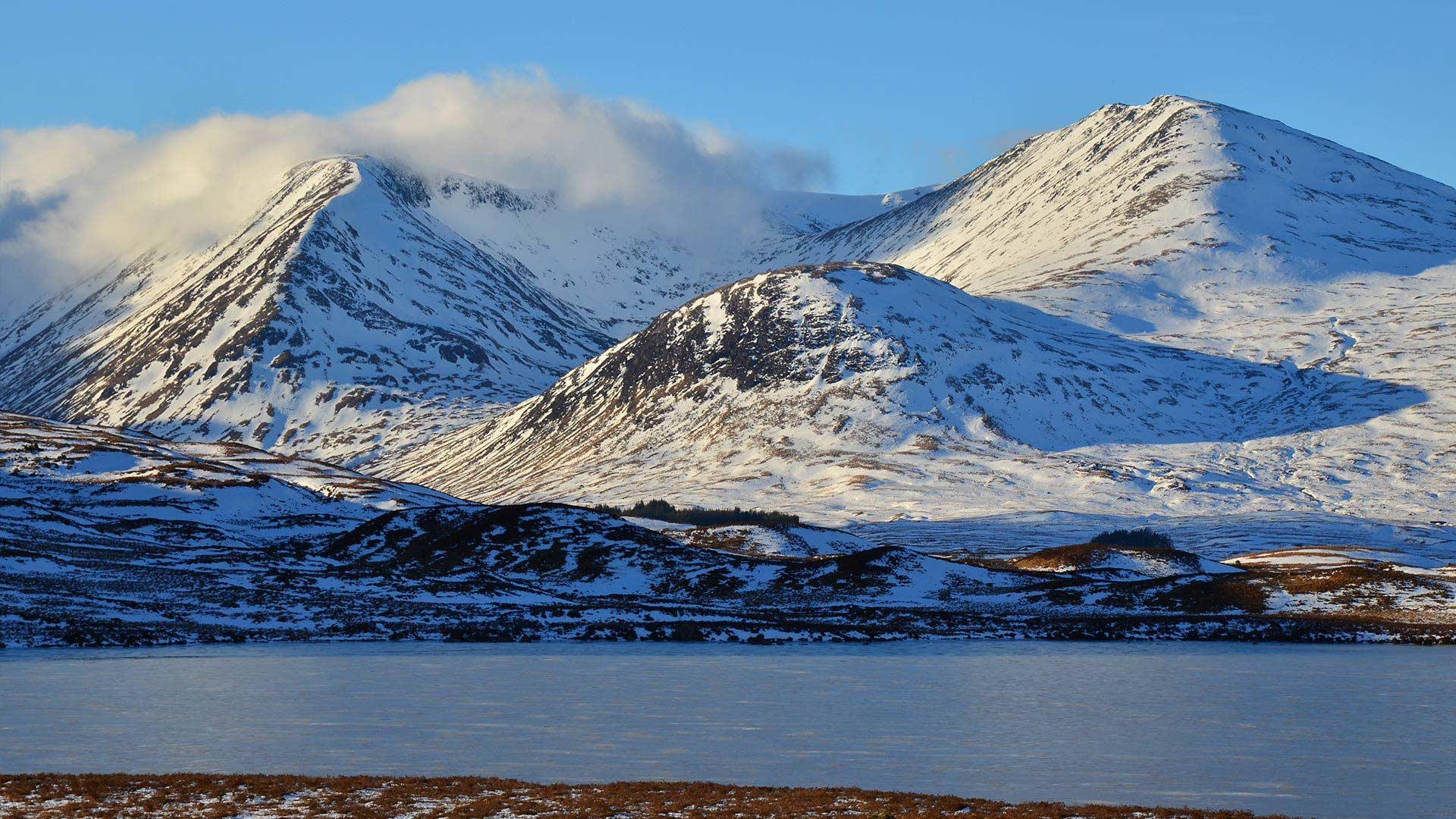 4. Glenfinnan Viaduct & Jacobite Steam Train
This may just well be the top Harry Potter filming location that most people want to see when they visit Scotland. Plus, you can make this a 2-in-1 experience if you decide to take the steam train that goes over the recognisable viaduct.
The Harry Potter train, Scotland's beloved Jacobite Steam Train, is part of the West Coast Railways. It also includes other iconic rail journeys such as the Flying Scotsman.
To ride the Hogwarts Express, and see some incredible Harry Potter filming locations along the way, book a journey on the steam train. The Jacobite travels between Fort William and Mallaig and you could make your trip a return journey if you're staying the night in the Fort William area.
The train runs every morning between early April and end of October. There's also an afternoon service from late April to early October.
---
---
If you're on a road trip and you don't have the time to take the steam train, you can still see it in action. Walk up to the viewpoint at Glenfinnan, and if you time it right you could photograph the train as it crosses the viaduct.
The Glenfinnan Viaduct itself is also worth the visit. It features in many films, but you'll surely recognise it from Chamber of Secrets, when Ron and Harry steal the flying car and try to catch up with the train.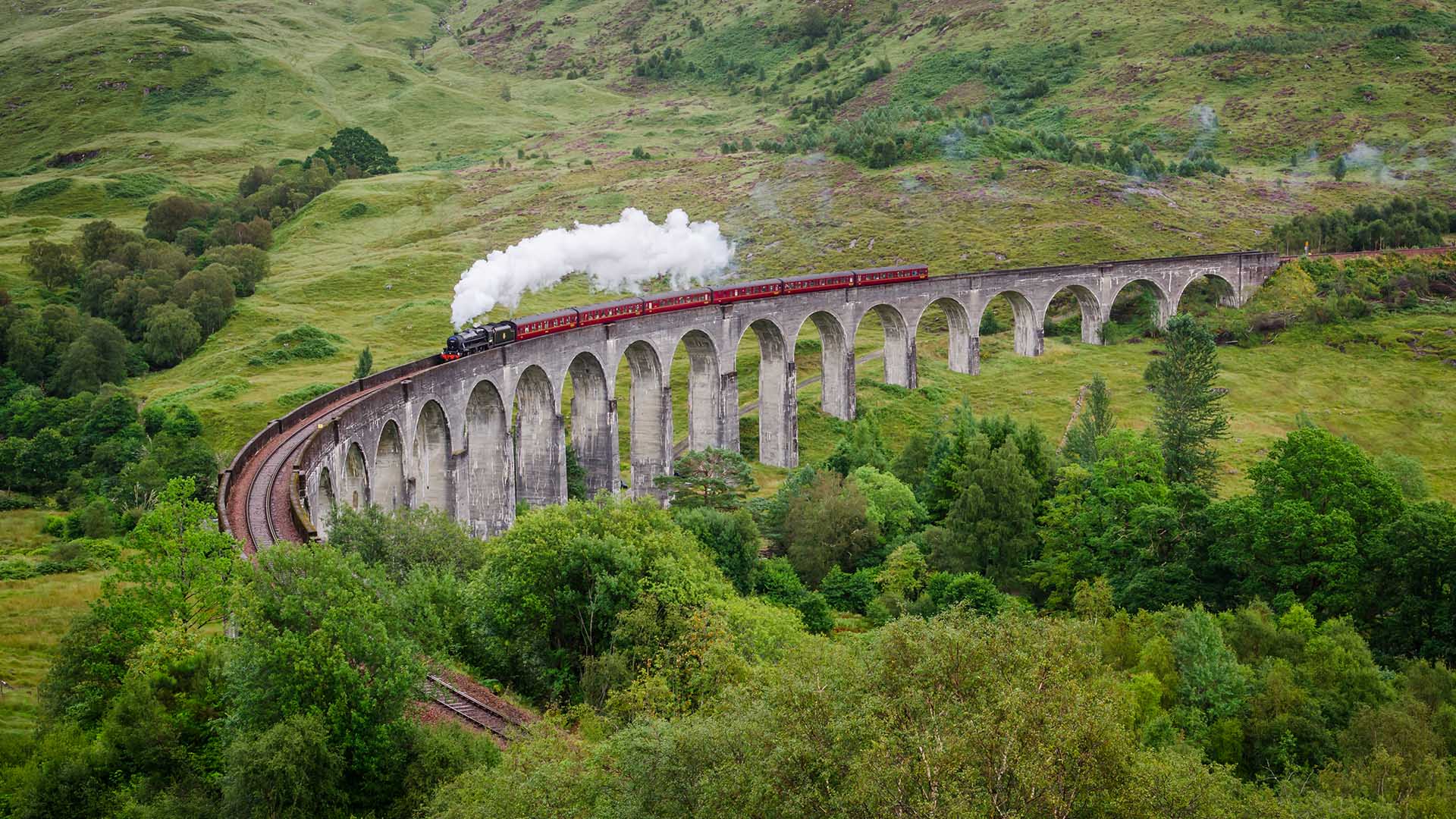 From here, you could also take the time to admire the next filming location…
5. Loch Shiel
An important part of the school campus in the books and movies has to be the Hogwarts lake, also called Black Lake or Great Lake. The real-life Loch Shiel, located near Fort William and close to Glenfinnan Viaduct, was used to represent it.
In many of the films, you'll be able to admire this dark lake and its stunning surroundings. It was also used to shoot the underwater task of the Triwizard Tournament in the Goblet of Fire. Although we can't confirm or deny if there are Merpeople in Loch Shiel.
To take in Loch Shiel in all its beauty, we recommend stopping at Glenfinnan. You'll probably do this anyway based on the previous filming location. From here, you can also visit the Glenfinnan Monument and nearby Visitor Centre.
---
---
6. Glen Coe
Glen Coe is the most famous of all glens (valleys) in Scotland. If you're on a road trip around the country, you'll probably drive through it and if you're on a guided tour, they won't miss the chance either.
It's a must-see destination, so it's no wonder that this spectacular location is such a popular filming spot. And Harry Potter was no exception. Glen Coe's mountains and stunning valley scenery have featured in many shots across the different films.
But you'll probably recognise it specifically from Prisoner of Azkaban. Imagine Hagrid's Hut, right there… do you see it?
---
---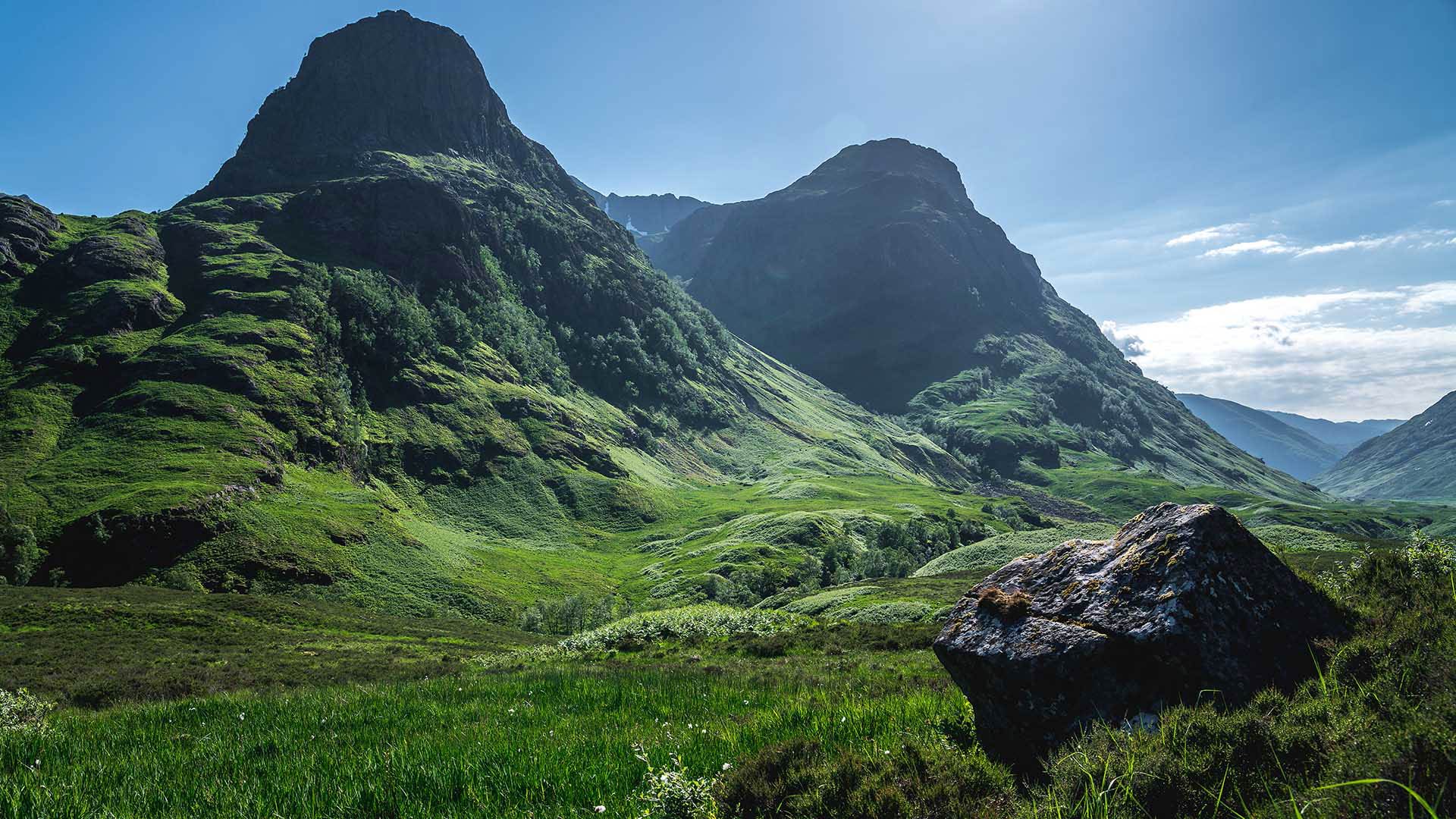 7. Steall Falls, Glen Nevis
This is another outstanding location in the Fort William, Ben Nevis area. With a single drop of 120 metres (394 feet), Steall is the second highest waterfall in Scotland and all of the UK. That alone should make it worth a detour!
But the valley where the falls are set, Glen Nevis, has also made an appearance in many of the Harry Potter films. You'll maybe even spot Steall Falls in the background of a Quidditch match and when Harry battles against a dragon in the Goblet of Fire.
8. Lochs Arkaig, Etive, and Eilt
We had to include all 3 lochs in one and you'll see why. All these amazing lakes were used in the last two films, the Deathly Hallows. They added to the abundance of atmospheric Highland scenery in the epic ending to the series.
When Harry, Ron and Hermione escape from Gringotts on the back of a dragon, they fly seemingly all the way from London to Scotland. They then take an long dive into a lake as the dragon flies off. Different sources say that either Loch Etive or Loch Arkaig were used to film their landing.
Whichever you choose to visit, a beautiful Scottish backdrop awaits.
Loch Arkaig was also superimposed over Loch Eilt, along with the Eilean na Moine island, to create Dumbledore's final resting place. And what an impressive fake location it is for when Voldemort takes hold of the Elder Wand in the Deathly Hallows.
You'll recognise the iconic island right away if you're travelling on the Jacobite Steam Train.
Because the locations were digitally merged together, this just makes for even more striking places that you can visit.
---
---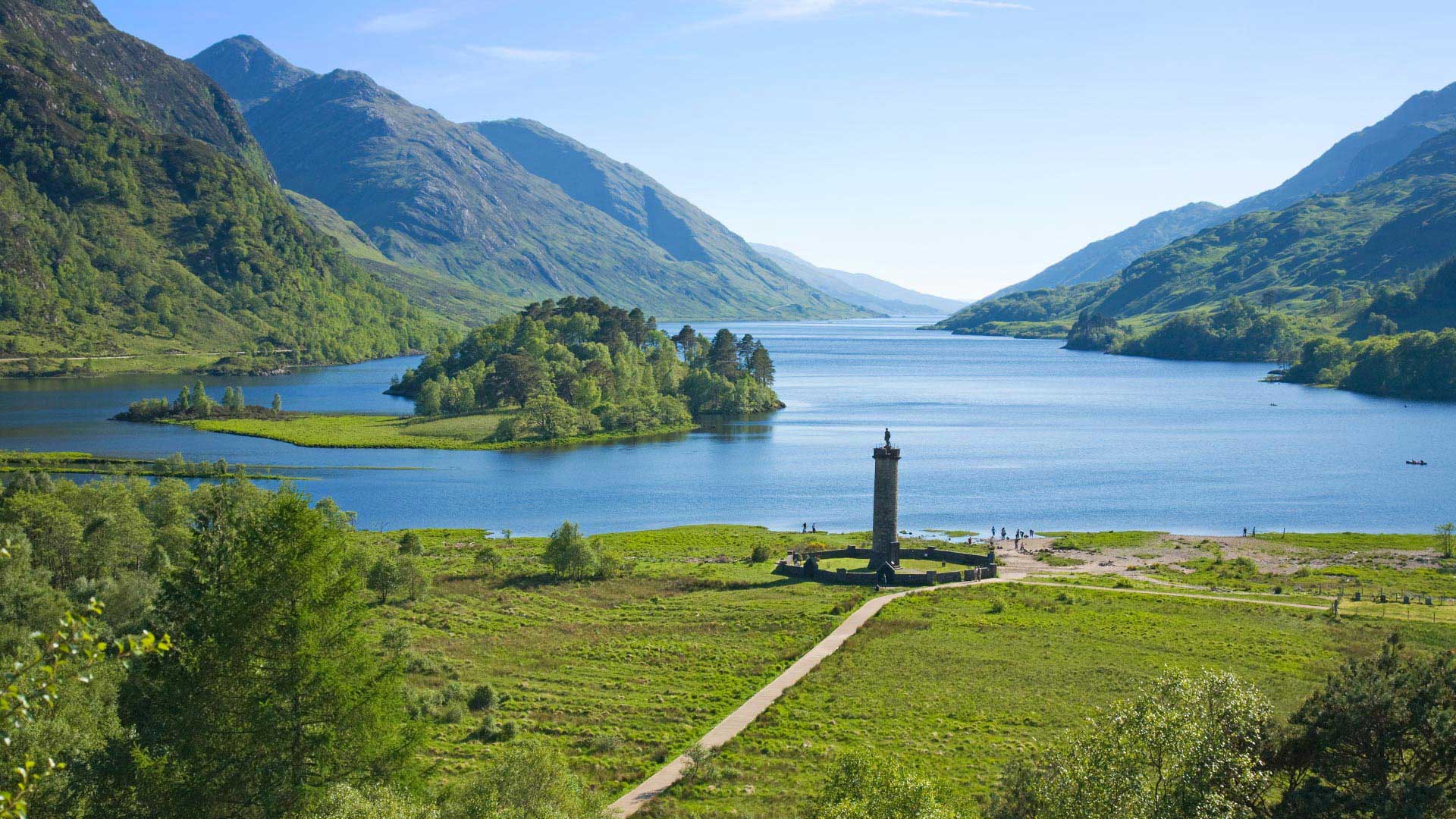 Why not let a local expert organise your Harry Potter adventure for you?
Our Scotland travel consultants are based in Edinburgh and can use their insider knowledge to plan your dream itinerary. They'll tailor any of our Scotland packages to fit your needs and tastes. You'll also have Nordic Visitor's support throughout your tour, with access to our 24/7 helpline.
Get in touch with our Scotland travel experts today to get started.