The Westfjords, Iceland's jewel of the north-west, are simply beautiful. This western peninsula makes up one of the most remote and sparsely populated regions of Iceland.
Some of the most striking beauty on the island can be found in this region. If you're wondering what to do in Westfjords, Iceland, read on to learn about the best places to visit and see.
What to Do in the Westfjords
Visit this area to see its characteristically stunning nature with high flat-topped mountains and fjords. Here, you will find endless coastlines, jaw-dropping bird cliffs, well-maintained hiking paths, and gorgeous mountainous landscapes.
Rest assured you're in for a treat if you visit. Few travellers have the Westfjords on their itinerary, so you can really enjoy Iceland off the beaten path. Here are just a few of the highlights awaiting you in the Westfjords region, whether you visit on a customised tour or add it to your grand tour of the island.
1. Marvel at the Dynjandi waterfall
You can't visit and not see a waterfall in Iceland! Some are small and some are grandiose, but you'll find a multitude driving around the country. Dynjandi waterfall is the largest waterfall of the Westfjords and a must-see if you adventure yourself here.
Standing 100 metres tall, it is often described as a bridal veil for its tapered look. It comes down from a rocky cliff in multiple layers. This stunning background makes for lovely photos and a peaceful walk.
It's easy to reach it as it's only a short detour from the main road. After only a few minutes' drive following the coast, you'll find a car park. You can admire the waterfall in the distance or you can follow the Dynjandi walking trail.
Take your time along this ascending trail and admire the smaller waterfalls dotted along the way.
---
---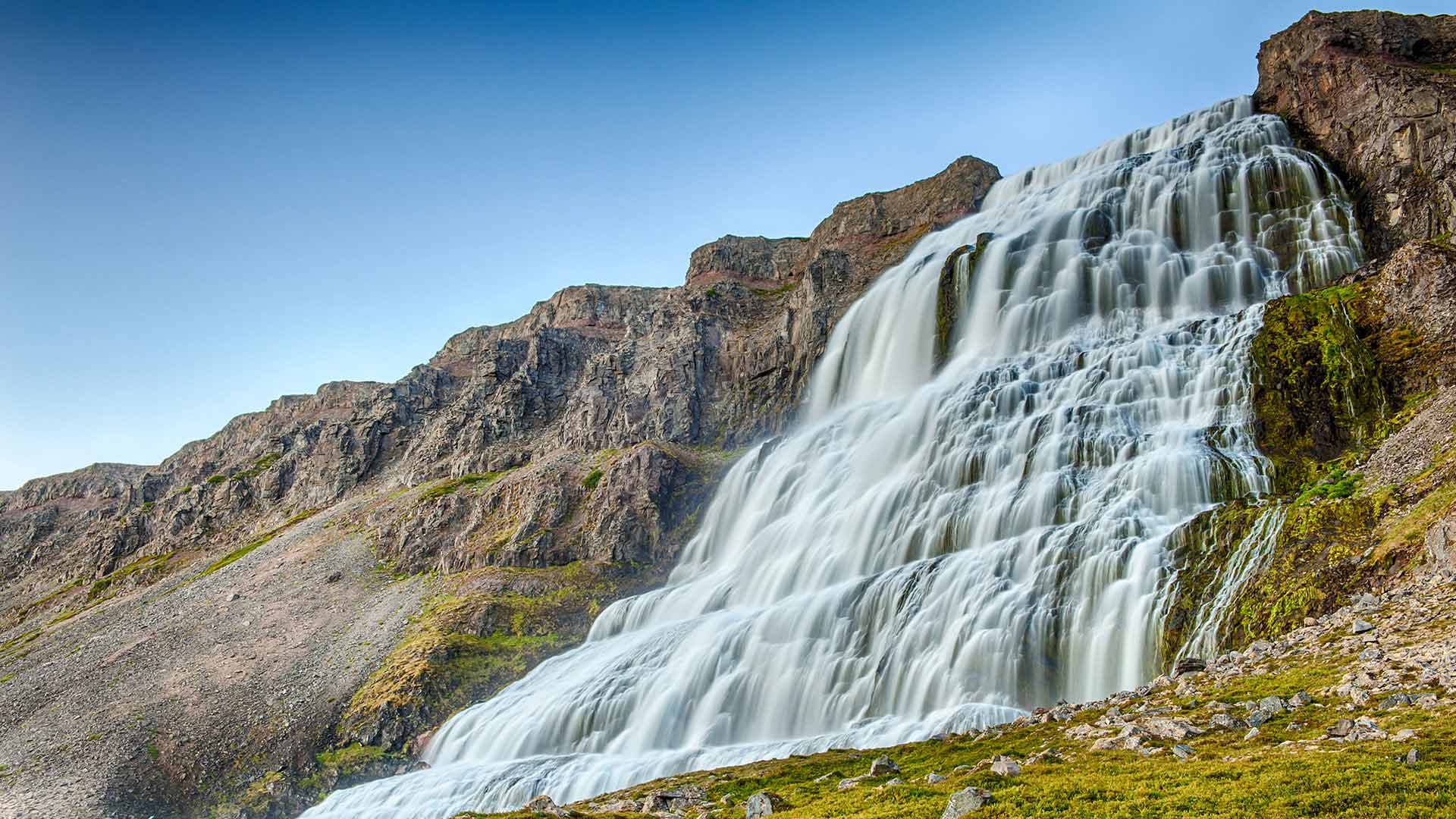 2. See puffins at the Látrabjarg cliffs
When you explore the Westfjords, you'll want to stop at the Látrabjarg cliffs. This point is not only known as the westernmost point of Iceland but also of Europe.
Látrabjarg includes a series of cliffs that go on for 14 kilometres (8.7 miles). Standing at 440 metres high, they are a perfect habitat for bird colonies as it keeps nests clear of the predators.
In summer it is in fact one of the most crowded bird cliffs in the world. With over one million birds nesting every year, you can easily spot them and take some beautiful nature photos.
Make sure to keep an eye out for puffins who inhabit the northernmost points of the cliffs. Come between May and August to hike along the peninsula and go birdwatching.
The cliffs are accessible via a car park from where you can follow the trail. Be careful next to the edges as the soil may be fragile and loosen up and the wind can be very strong.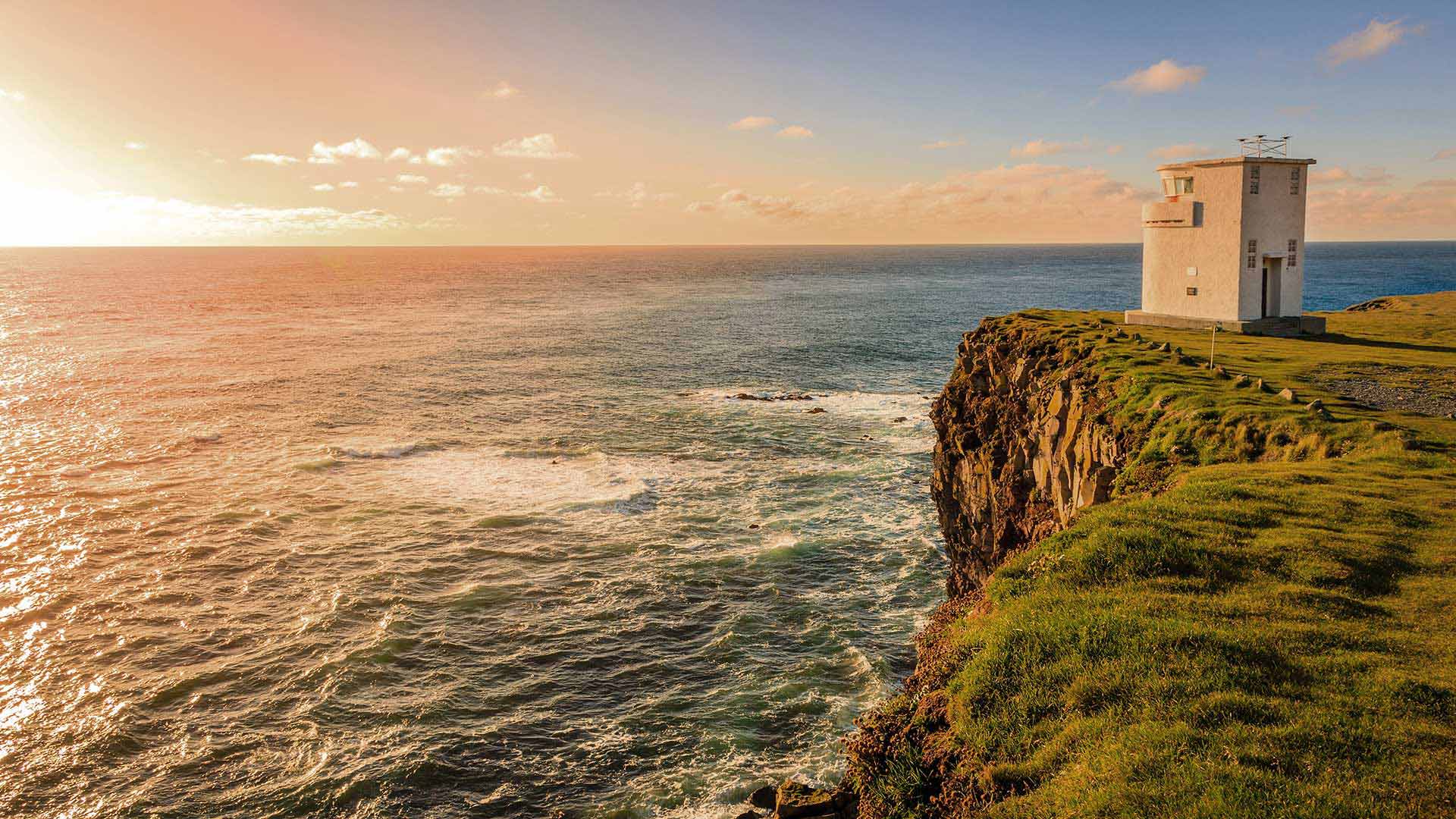 3. Walk along the Rauðisandur beach
Rauðisandur, which translates as 'red sand', is indeed a beautiful golden-red sand beach. This will be a big change from the volcanic black sand beaches of South Iceland.
Located in the Látrabjarg area, you can come here for awe-inspiring scenery and walks in tranquillity.
Spanning 10 kilometres (6.2 miles), it is a vast, sandy shoreline facing south. It is also a prime viewing spot for a variety of wildlife, including harbour seals and seabirds.
---
---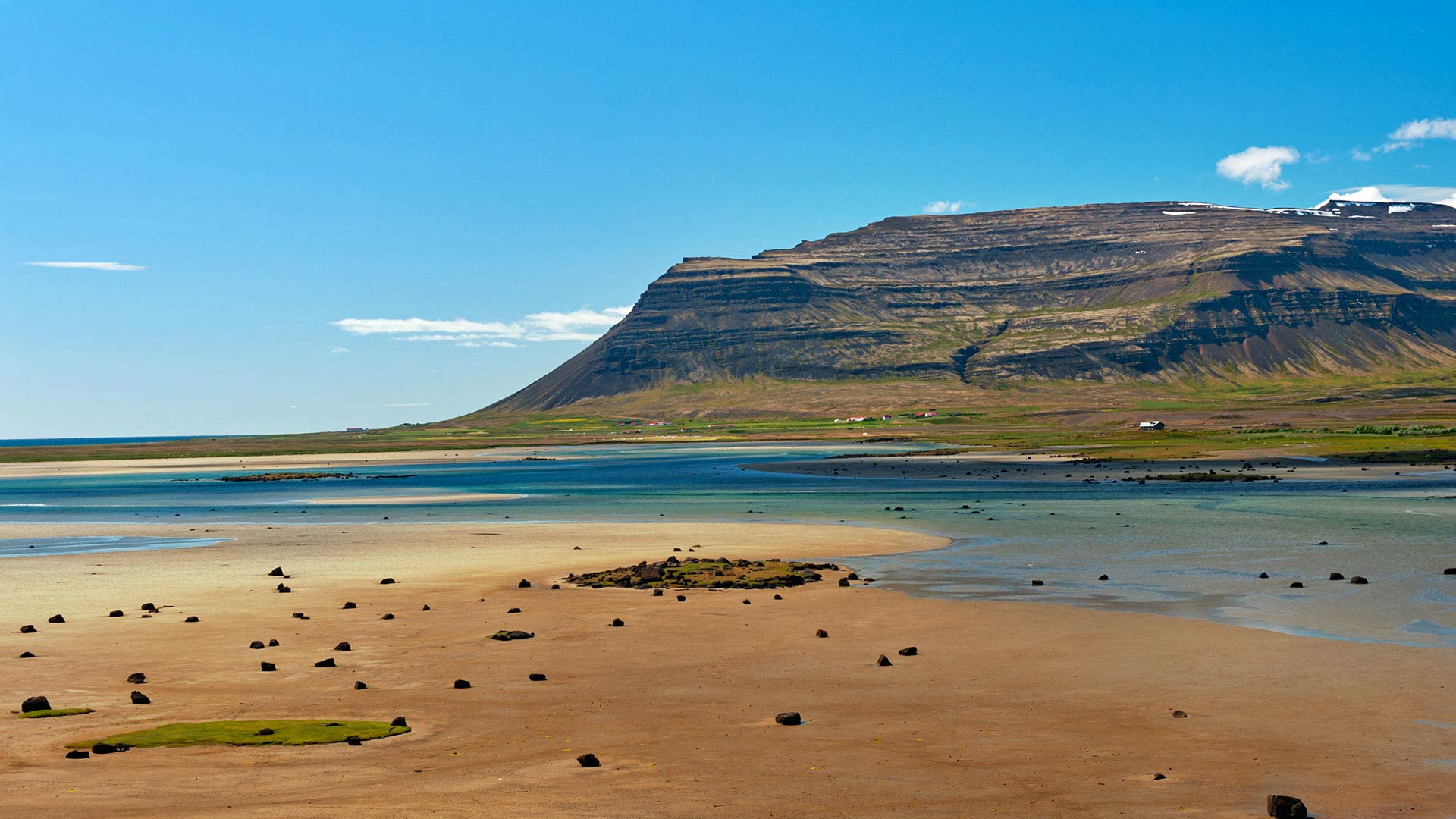 4. Pop over to Flatey island
Located halfway between the Westfjords and the Snæfellsnes peninsula, Flatey island is set amongst the beautiful Breiðarfjörður fjord.
A remote island off the remote Westfjords? Yes, indeed and for that reason it is a unique destination. With a single dirt road and no cars, you can easily get the feeling that time is standing still here.
While you're here, look out for the island's church with its fresco by a contemporary painter, the many well-preserved old houses, and the rich birdlife.
You'll be surprised to learn it is the largest of the Western Islands in Iceland. But you can walk the length of it quite easily as it measures only 2 kilometres by 1 kilometre.
Take a half day trip to Flatey or pop over on your way to Snæfellsnes, continuing your tour of Iceland.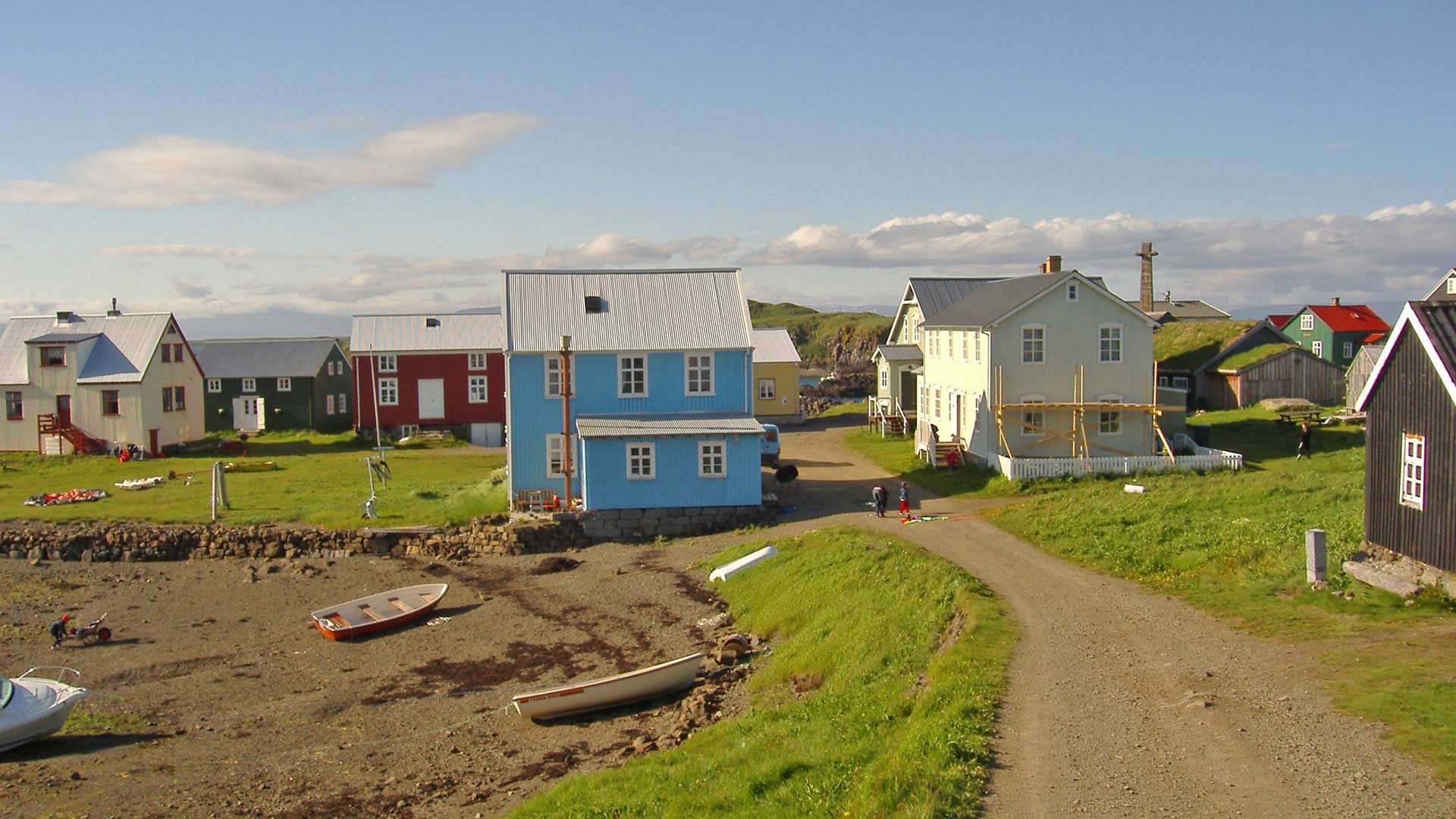 5. Visit Hornstrandir nature reserve
This is the place to see some of Iceland's wildlife in its natural habitat. It is affectionally known as the territory of the Arctic fox. They are famously elusive and rare to catch sight of, but you may be lucky in Hornstrandir.
It is the northernmost peninsula of Iceland and has been uninhabited since the 1950s. There is no real infrastructure here so it is not so easily accessible.
If you want to see it for yourself, you'll have to take a boat. From Ísafjörður, take a ferry and head over for a day trip to go hiking in its beautiful parts. The easternmost cliffs are renown for their birdlife so don't forget your binoculars.
---
---
6. Explore Ísafjörður
The unofficial capital of the region, Ísafjörður is the largest town in the Westfjords.
It has a long history dating back to the 16th century. Throughout that time Ísafjörður has been a church site and a trading post before becoming a proper settlement in the mid-19th century.
As the main town of the peninsula there is much to do and see here. It is also an excellent location to base yourself in. This way you can discover more of the surroundings as striking nature is just a quick car ride away.
Here you'll find a golf course. You could also go hiking and biking as well as kayaking and bird watching. From the pier you can catch a ferry to the Hornstrandir reserve.
You could also visit some of the most historic houses in all of Iceland, dating back to the mid-18th century.
Ísafjörður is also known for its rich art and music scenes with exhibitions and concerts held throughout the year. Every Easter, the town hosts the Aldrei for eg Sudur (I never went south) music festival. These weekend-long festivities are held in conjunction with Skíðavikan (Skiweek).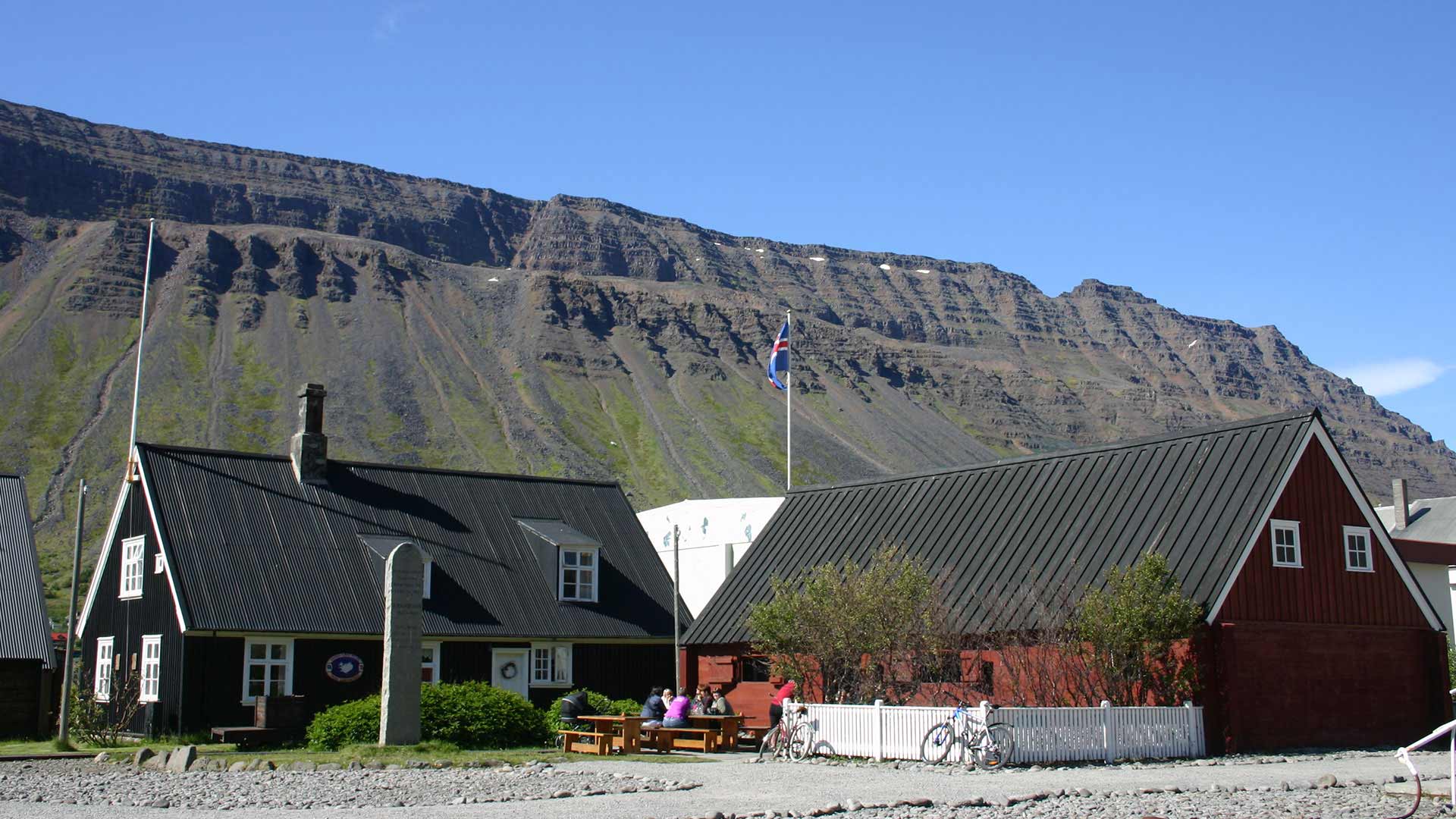 7. Learn about witch hunting in Hólmavík
In Hólmavík, you'll find an activity the whole family will enjoy. Visit the Museum of Icelandic Sorcery and Witchcraft.
You'll learn about how witchcraft is presented within the Icelandic folklore and the history of witch hunting during the 17th century. You could even learn a spell or two if you dare…
---
---
8. Warm up in Drangsnes
Drangsnes is a fishing village located on the eastern side of the Westfjords. With fewer than 70 residents, one guesthouse and one restaurant, you may wonder what the attraction is.
The main draw is the nearby Grímsey island, not to be confused with the other Grímsey which stands inside the Arctic Circle. This one is located a bit closer, only a 10-minute ferry away. Folklore has it that the island was created by giants.
You can visit Grímsey during the summer for prime puffin-watching and gentle walks.
The pair of hot pots by the rocky shore of Drangsnes also attract visitors far and wide. You can easily spot them from the road, and they can be used all year long. This is the perfect way to meet the locals.
You'll also find hot springs and geothermal swimming pools around the island. Relax in the warm waters after a long day of exploration.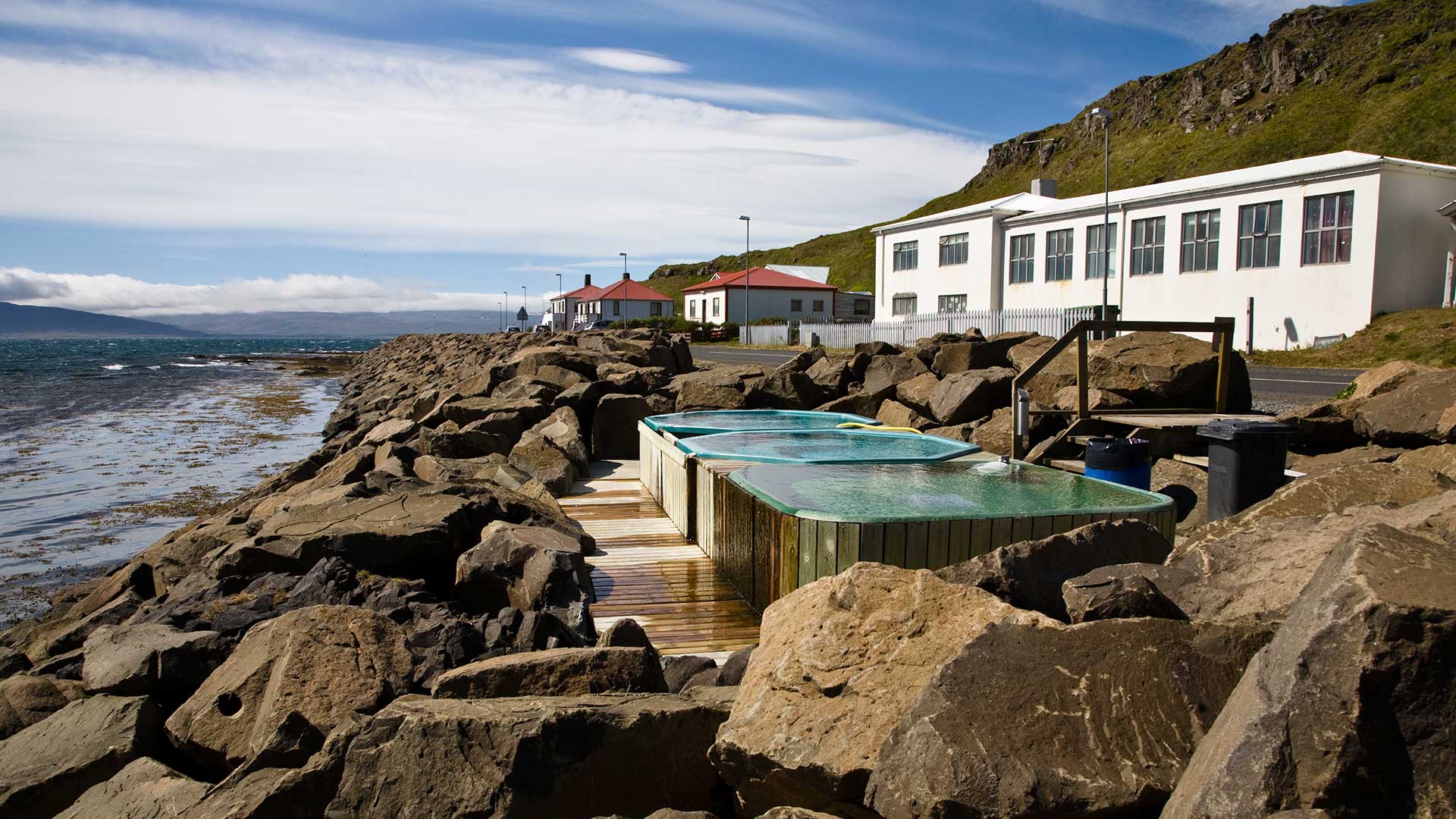 Best time to visit the Westfjords
The Westfjords are remote and sometimes cut off from the mainland in winter. For this reason, we recommend visiting during the summer months.
The road conditions between May and September make the region more accessible. You'll have more fun driving around and exploring all the remote corners of the peninsula.
You'll also have plenty to enjoy at that time, from spotting the summer bird colonies to hiking.
---
---
Don't be put off by their remote location, if you come to Iceland you should visit what you truly want to see. Experience the wondrous Westfjords for yourself to see their beauty, experience its culture and immerse yourself in its nature.
Whether you want to come explore Iceland as a whole by touring the Ring Road or want to visit the Westfjords in depth, contact us. With your dedicated travel consultant, you can tailor the perfect tour that fits your preferences.