Iceland is famous for its otherworldly landscapes and outdoor activities. But this doesn't mean it's only for adventurous adults. In fact, your whole family can have a good time here because Iceland is actually extremely family friendly. With activities offered for all ages, everyone, children, teenagers and adults, can enjoy Iceland.
Whether you're planning a family trip to Iceland with your kids, or are just thinking about it, read on. We've compiled 20 amazing things to do with your children when you visit the Land of Fire and Ice.
---
Contents:
---
Family adventures in Iceland
Your young adventurers will have plenty to dig their teeth into during your tour of Iceland. This can include soaking up the movie-set worthy landscapes, exploring lava caves and sailing between icebergs.
1. Explore Iceland's striking scenery
Adults and young children alike will love the natural settings of Iceland. Sometimes reminiscent of lunar landscapes, it's easy to imagine kids being in awe of the Icelandic countryside.
And you don't have to go far from the capital to immerse yourself in incredible scenery. Drive the Golden Circle, giving the whole family a snapshot of Iceland. Easily done in a day, it's not too much time in the car, giving plenty of opportunities for your kids to explore.
The parks, such as Þingvellir National Park, are perfect locations to let the whole family stretch their legs while admiring the historic and natural beauty of the country.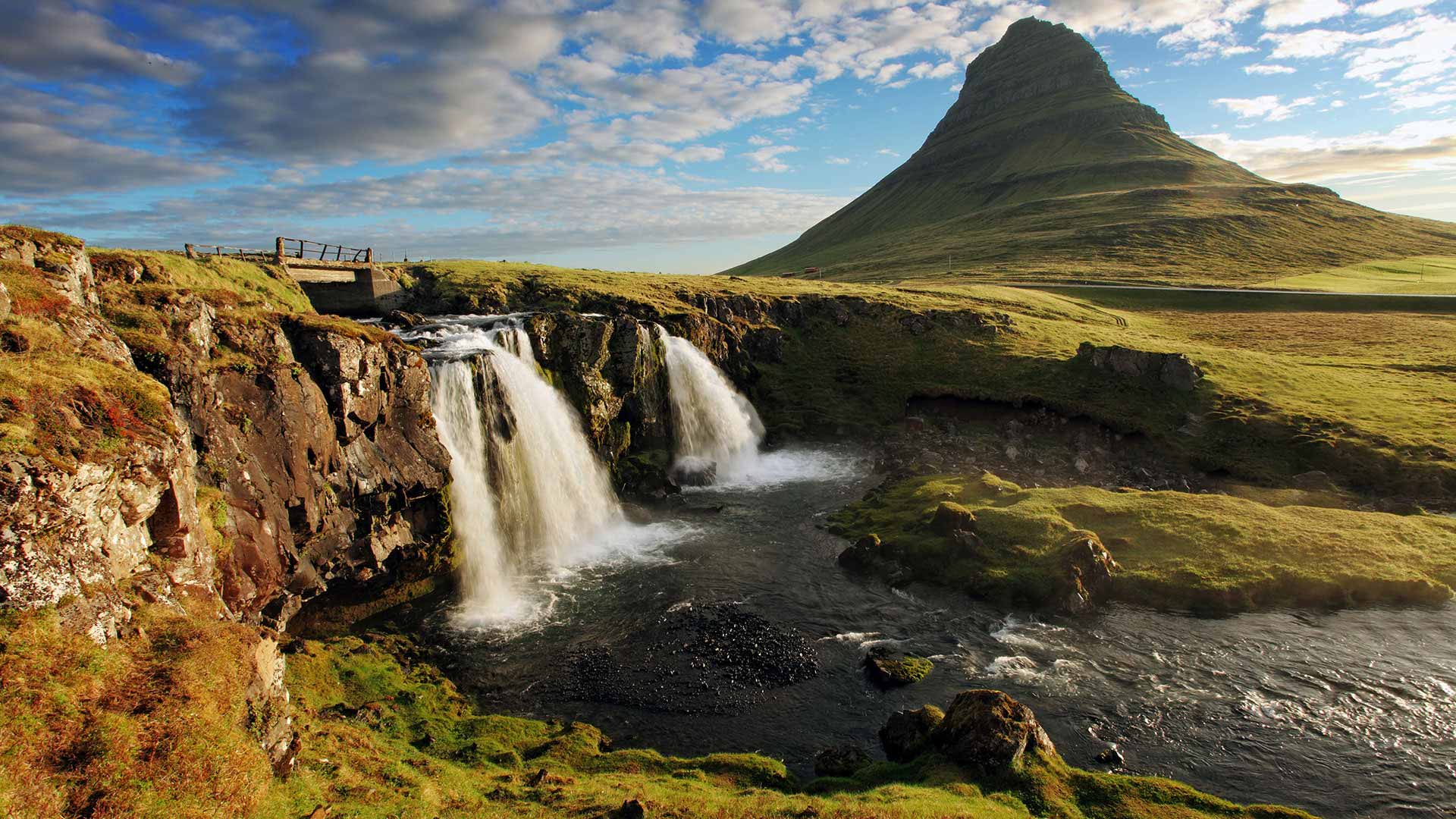 2. Walk through lava caves and tunnels
Do you want to give the experience of a lifetime to your children? One way for the whole family to have a fun adventure is to walk through a lava cave or tunnel. Kids can imagine being in their favourite movie and seeing Iceland from the inside.
The Víðgelmir lava cave provides a tour along a lit walkway so the whole family can enjoy the amazing rock formations in safety. You could also discover Raufarhólshellir, one of Iceland's longest caves.
Join a fun boat trip that will take you on this famous lagoon. You'll sail among huge icebergs with the chance to see some seals. You could also taste ice. We know it sounds weird, but would you pass your chance to taste 1,000-year-old ice?
Lasting only 30 to 45 minutes, the boat trip includes a talk about the geology of the lagoon as well. Perfect for budding scientists!
Nearby, you could also visit Diamond Beach. Located only a few minutes away, you simply cross the main road to explore the beautiful black sand beach.
---
If you're planning to discover Iceland with your children, check out our self-drive tours to be able to travel at your own pace.
---
4. Hike to an abandoned farm
You could also go for a pleasant hike if that's something your family fancies. At the edge of the highlands, in the east of Iceland, you'll find the abandoned farm of Kleif. There are guided walks available and suitable for the whole family.
Enjoy the beautiful surroundings, a hot drink and time with the family in the fresh air.
If your kids have adventurous souls, they may love the daring section when you embark a traditional cableway. It crosses the glacial Jökulsá river.
Wildlife encounters in Iceland with kids
Spend a special moment during your family vacation by getting acquainted with the Icelandic wildlife. From the thriving bird life to marine animals and cute ponies, there is plenty to discover.
1. Ride an Icelandic horse
The Icelandic horses are small, sturdy and very fluffy. This is an ideal experience when the whole family likes to ride. Whether you or your kids are beginners or experts, plenty of farms in Iceland offer riding with friendly horses.
If your family isn't too keen to ride horses, you can still see them. As you drive you may see some along your way. Park safely to go take a few photos. Or you could stop at Friðheimar Greenhouse to visit them at their stables.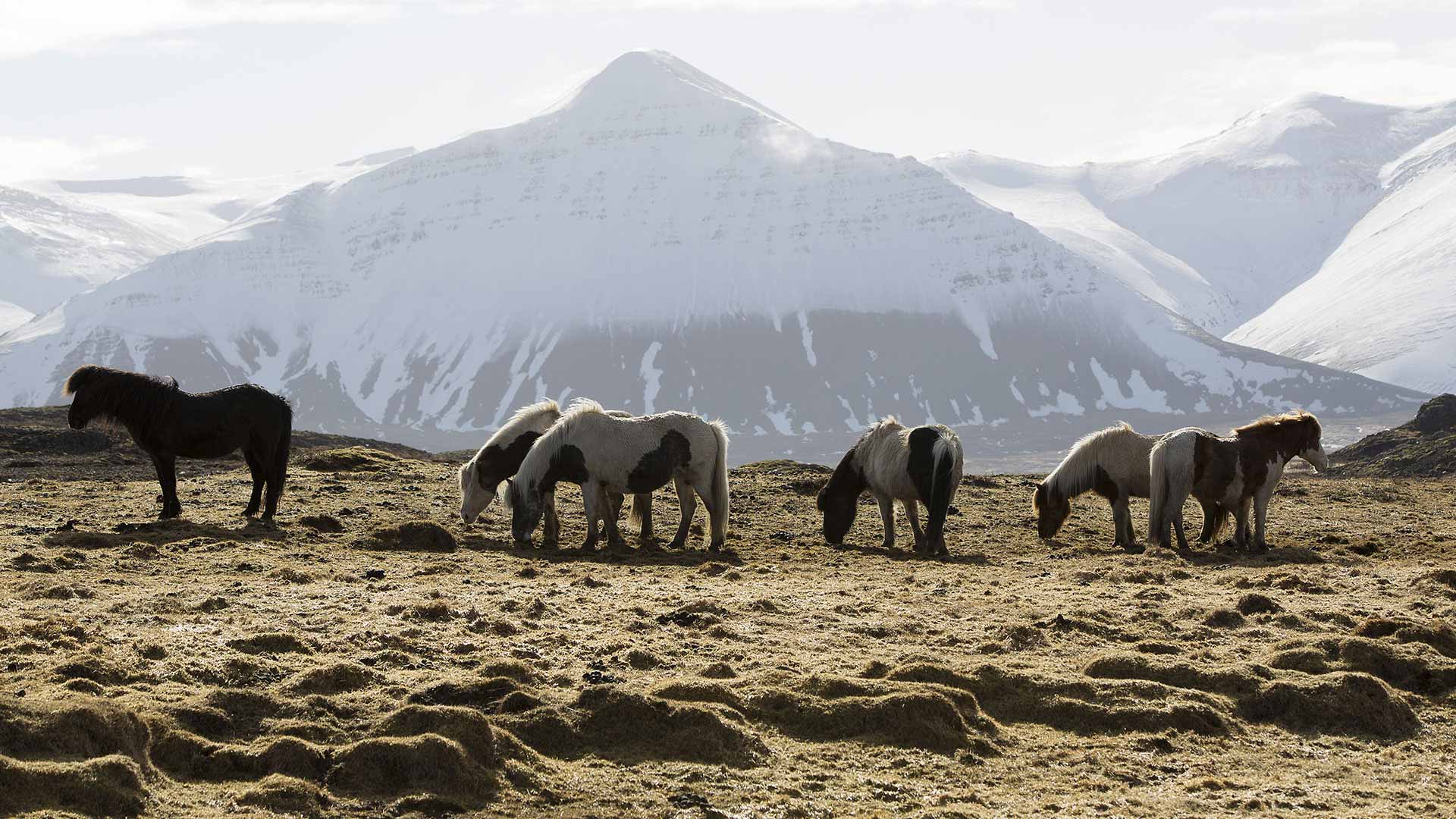 2. Go puffin- and whale-watching
Marine and bird life is abundant in Iceland. This means it's an ideal location to go see it and experience it in real life.
Even if you're just in for a short visit, there are whale-watching tours available from Reykjavík. The best place to go though is in the north, to Húsavík, the whale capital of Iceland. It sits along the Skjálfandi Bay, which has a thriving ecosystem that attracts baleen whales.
Your children may also love to see real puffins. These beautiful birds nest in Iceland, making up one of the largest colonies of puffins in the world. The best time to see them is during the summer.
---
---
3. Look for wild reindeer
While reindeer aren't native to Iceland, there are herds of wild reindeer roaming the countryside. They were brought to the island in the 18th century and mostly settled along East Iceland.
Your best chance to see these majestic animals is to travel to Iceland with kids in winter and early spring. That's when these large herds migrate down to the valleys in search of food.
If you want the full experience of Iceland wildlife, you could join a local farmer on 4x4 super jeep tour to go searching for reindeer.
4. Visit the Háafell goat farm
Your wee ones may love to meet with Icelandic goats on the Háafell farm.
Icelandic goats were first brought to Iceland by Norwegian settlers over 1,100 years ago. Located in Borgarfjörður, north of Reykjavík, this centre works hard to protect this endangered species.
Not only is the farm family-friendly, but the goats are also very people-friendly. Take a guided tour of the farm and pet these softies. You could also see horses, sheep, chickens, dogs and cats on the farm.
Family Iceland activities for rainy days
If you're looking for things to do in Iceland with kids when you can't explore the great outdoors, we've got you covered (pun intended). There are plenty of indoor activities available, from attractions in Reykjavík to underground adventures in the highlands.
1. Try a flight simulation experience
Experience Iceland's striking landscapes and beauty without leaving the capital city. Located at the heart of Reykjavík, FlyOver Iceland allows you to take in and discover the interesting geography of the country.
The immersive experience will have your feet dangling, giving you a real sense of flight. Watch the movie and admire the volcanoes, glaciers and mountains from up high.
The experience is perfect for families as it's the safest way to 'fly over' Iceland.
2. Visit the Lava Centre
Your kids may have learnt all about volcanoes in school, but they'll love this interactive exhibition. Located in Hvolsvöllur, it is only 90 minutes away from Reykjavík.
The Lava Centre's exhibitions showcase a live monitoring of Iceland's volcanoes and earthquakes. It gives insight into the creation of Iceland millions of years ago and provides an interactive journey into volcanology.
Your kids will be able to experience the hot spot located under Iceland, touch different kinds of lava and learn about how eruptions and earthquakes are monitored and predicted.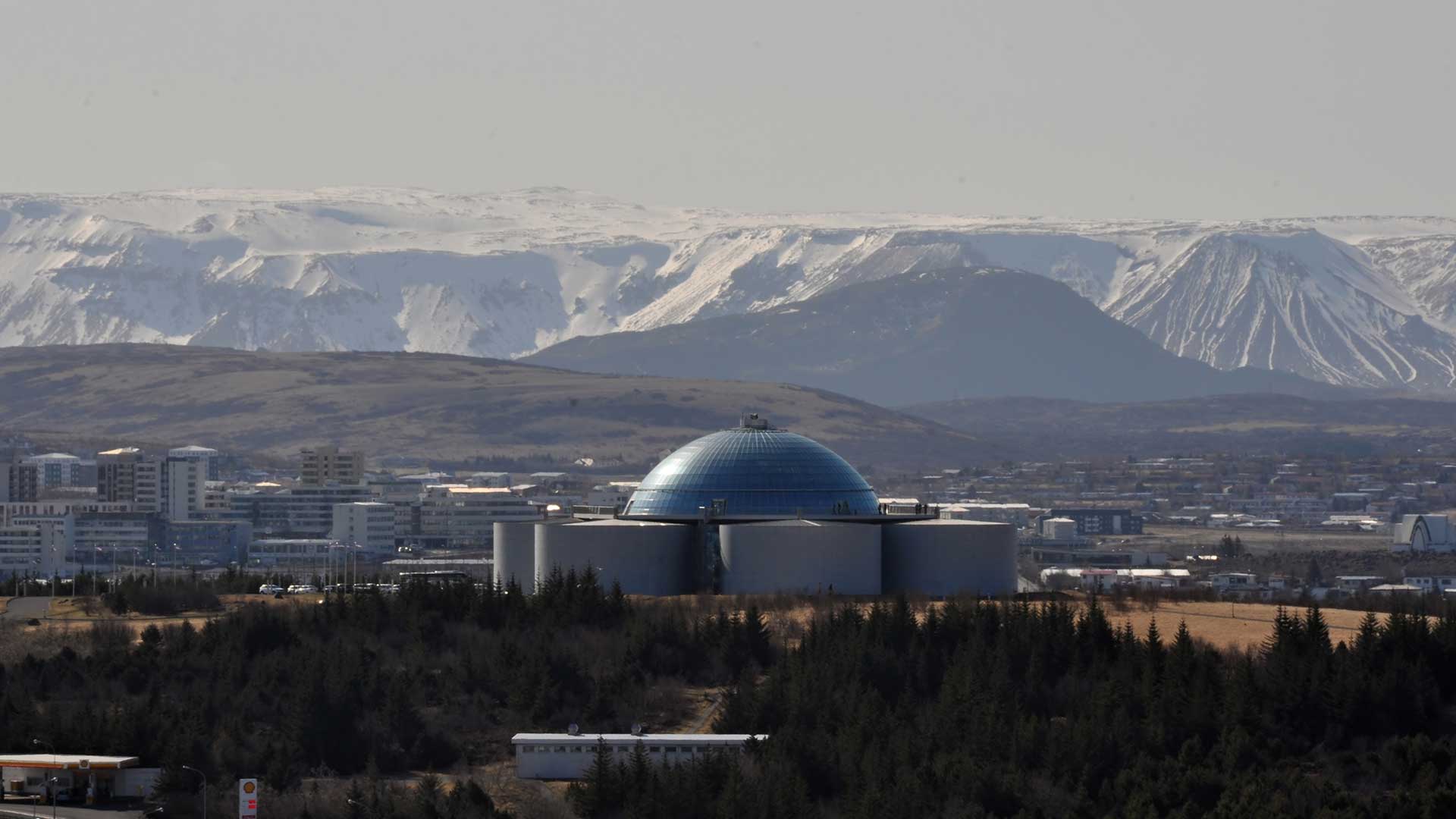 3. Learn about Icelandic geology
Another one of Reykjavík's top attractions is the Perlan planetarium. "The Pearl" is located right outside the city centre, but you won't miss it with its peculiar dome-shaped roof.
The Perlan houses the Wonders of Iceland exhibitions as well as the planetarium. Here you'll be able to experience the power of nature, from volcanoes to earthquakes. Meet giant whales in the underwater journey, and even walk along a real 100-metre (328-foot) long ice cave.
If you come in the summer, when the sun doesn't set, the planetarium will allow you to experience the wintry northern lights as well. Look up into the "starry sky" regardless of the weather.
4. Venture "Into the Glacier"
What is more epic than a journey to the centre of the earth? Okay, not exactly that deep, but in Iceland you could venture into a glacier.
At Langjökull, which is the second largest glacier in Iceland, you can venture inside via a man-made tunnel. Deep into the ice, you'll go on an adventure to learn about glaciers and see the blue-coloured ice formations.
You'll first head into the untouched beauty of the ice cap's white slopes, giving you an experience few have had before.
---
---
Cultural experiences in Iceland for families
The striking landscapes aren't the only things making Iceland so special. The distinct cultures and traditions do so as well. The capital is full of gems where you can learn more about them. But you could also join tours to get the locals' perspective.
1. Go on a Viking sushi adventure
If you and your family are fans of fresh seafood, you may enjoy joining a boat tour. See first-hand how it's caught!
In the western town of Stykkishólmur, you could join local fishermen. Catch and taste fresh scallops and sea urchin roe, straight from the sea. With some soy sauce, wasabi and ginger, it'll be an Icelandic sushi experience.
You could also spot some wildlife on the way. Watch for puffins, cormorants and even eagles. On this tour, you can admire the Icelandic coastline from a different perspective too.
2. Explore Reykjavík's museums
The capital city has a host of fun museums to visit. Whether you're looking for an activity for a rainy day, or simply to learn more about Icelandic history, you'll find plenty to visit.
One of them is the National Museum of Iceland. It houses an extensive collection of Icelandic objects and artefacts. Whether to admire Vikings artefacts or to learn more about Iceland's cultural history, everyone in the family will find something to do.
Young ones may enjoy learning about the Viking settlers at the Saga Museum. You could also discover more about Iceland's seafaring history at the Reykjavík Maritime Museum.
3. Head to a family-friendly festival
If you're wondering what to do in Iceland with your family, rest assured that there are also plenty of events and festivals you could attend. Some aimed at families and some that are child-friendly.
Between April and August, you'll find plenty of family-friendly events in Reykjavík especially. In April, the Children's Culture Festival is a week-long arts and culture event dedicated to children and young people under the age of 16.
Celebrations continue with the First Day of Summer. This national holiday is held in April in various locations around Iceland. The end of winter is marked with parades, sporting events and entertainment.
Other noteworthy events are the Festival of the Sea (June), the National Day of Iceland (17 June), and the Reykjavík Culture Night (August).
4. Taste Icelandic ice cream and hot dogs
One of the most delightful activities in Iceland, that the whole family will enjoy, is to grab an ice cream with friends and family.
And no visit to Reykjavík will be complete without visiting Ísbúð Vesturbæjar. This ice cream bar is an institution in the capital and a favourite amongst locals. Whatever the weather, you're likely to see a queue coming out the door, but it's definitely worth the wait.
After a dip in the local swimming pool Laugardalslaug, you can grab a snack at the hot dog stand outside. It's another must-do for locals and surely something your kids won't say no to!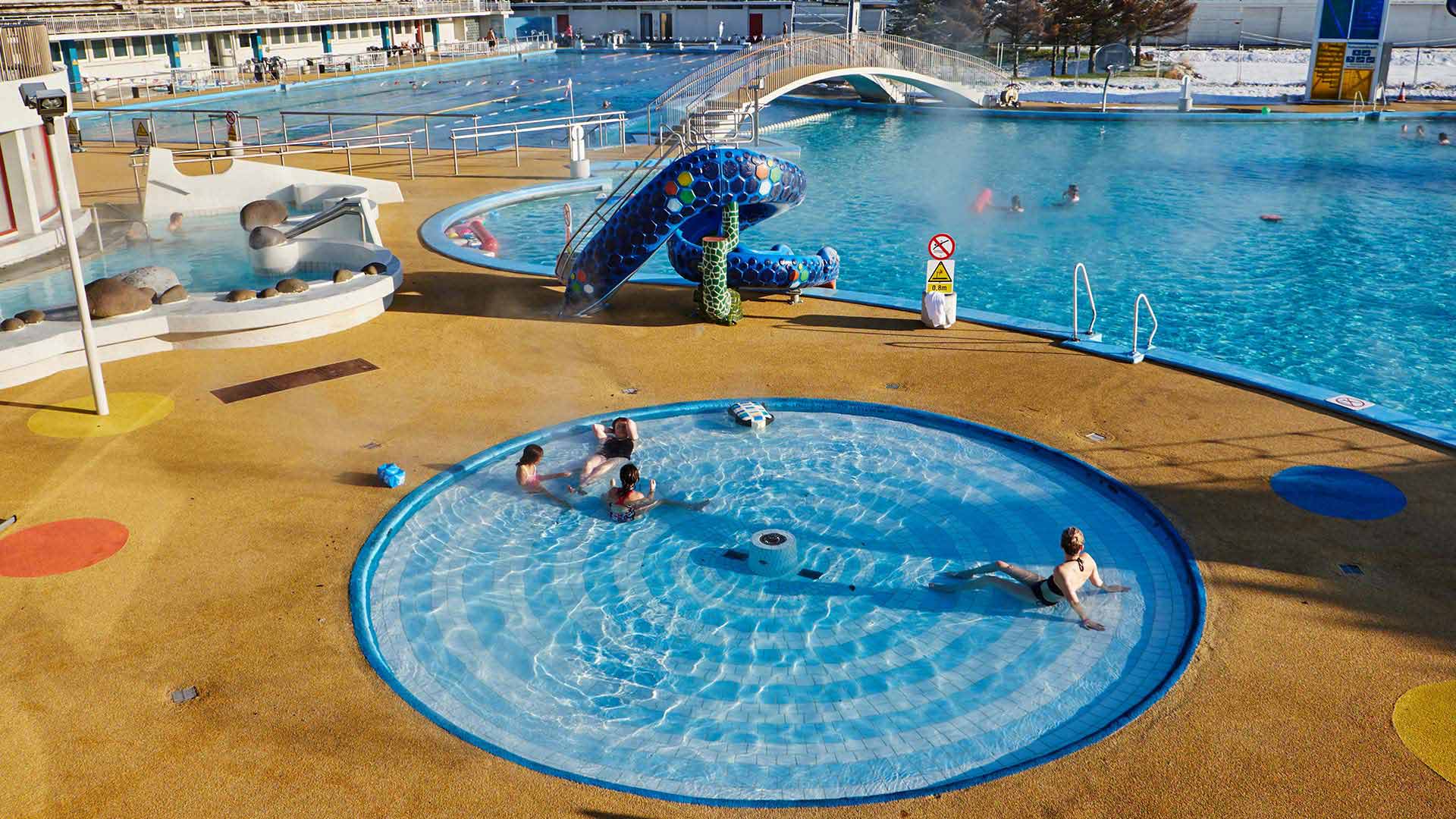 More cool things to do in Iceland with kids
If all the above didn't convince you that your whole family will love Iceland, here are a few extra ideas for fun things to do and experience together in the country in general.
1. Swim in geothermal pools
One of the favourite pastimes of Icelanders is to visit their local swimming pool or natural hot spring. This is done all year long, whatever the weather, thanks to the heated geothermal water.
There are some very natural hot springs where you could go for a dip, but you and your kids may enjoy the more established complexes. This includes the famous Blue Lagoon, but also the many local pools.
Reykjavík has a number dotted around the city. The most popular one is Laugardalslaug, a large outdoor pool complex including an 86-metre (282-foot) water slide. There is also a shallow pool for children, steam baths and hot tubs. Perfect for the whole family.
Outside the capital, Blönduós, located in the north west, is considered one of the best pools in the country.
---
---
2. Celebrate Christmas with the Yule Lads
If you want to give your kids a Christmas to remember, why not spend it in Iceland? A white Christmas awaits you with unique traditions and stories.
Iceland doesn't have just one Santa Claus, but 13! The Yule Lads visit Icelandic children on the 13 days leading to Christmas. Every night one of the Yule Lads leaves a small gift for the kids of the house and maybe plays some pranks.
For teenagers and adults, why not recreate the Jolabokaflod tradition? This is the Icelandic book-giving holiday taking place on Christmas Eve.
3. Discover Icelandic myths and legends
Icelandic folklore is full of colourful stories. From supernatural beings to larger-than-life characters, the myths and legends are intertwined with the country's ancient history and spectacular landscape.
Chat with a local or join a guided tour to hear the stories of Huldufólk (hidden people or elves). See the Fjaðrárgljúfur canyon where legend has it a troll is buried.
Visit Reynisfjara to see Reynisdrangar sea stacks. It is believed that these rock pillars are petrified trolls that were caught outside at sunrise and frozen in time.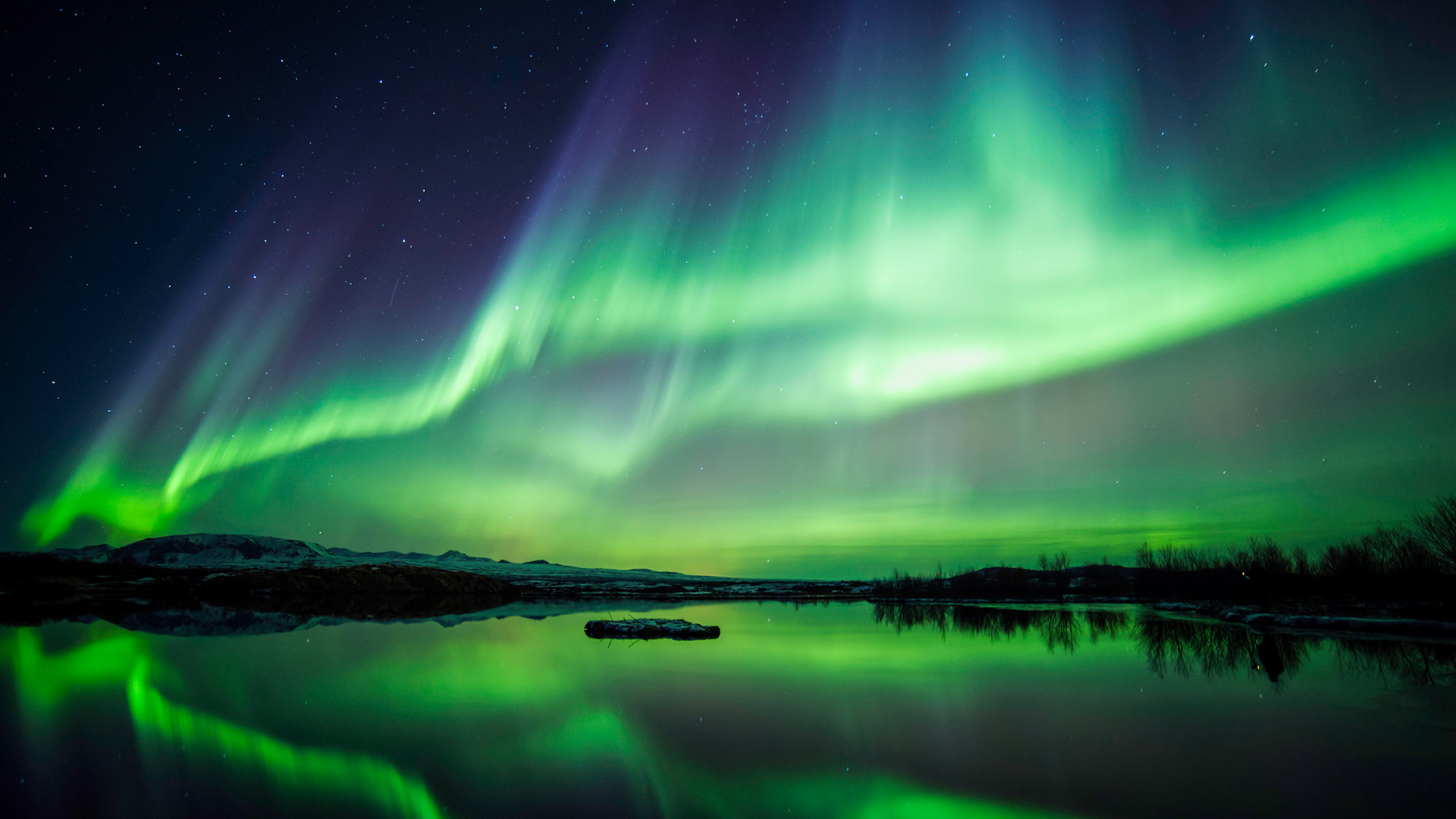 4. See the northern lights together
Many people have the northern lights on their bucket list for a good reason. They are exceptional to witness. The photos are amazing, but imagine standing under a dark sky seeing these green, blue and pink ribbons dance above you.
If you and your family want to see the auroras together in Iceland, we recommend travelling in the winter, between October and March. Iceland is located right in the "Northern Lights Belt", making it an ideal location for aurora spotting.
You can go on an evening or night tour to chase the northern lights. Or some hotels also offer wake up calls if the northern lights make an appearance.
---
---
Practical tips for visiting Iceland with kids
Maybe you're wondering if Iceland is kid-friendly? We're here to tell you yes! And when you're ready to start planning your trip, use these 5 practical tips on travelling to Iceland with children to help you make the most of it.
1. When to visit Iceland
Coming to Iceland with your family may depend on school holidays. You may also want to plan it around a specific experience. Do you want to see the northern lights? Come between October to March. Or perhaps you want to experience the midnight sun? Visit in June.
What we recommend for families with young children is coming in the summer. At that time there is more daylight to take advantage of and more kid-friendly activities available. This includes many of the excursions mentioned above such as whale-watching and boat tours. Something to interest all young adventurers.
2. Plan ahead
Make sure you have everything booked ahead of time, especially for the busy summer months. Book your accommodation, travel arrangements and preferred excursions ahead of time to avoid disappointment. If you need it, family rooms are available in Iceland, so don't forget to ask.
Booking and planning ahead will allow you to make the most of your time in Iceland. Focus on enjoying yourself and spending quality time with your family.
With a local company like Nordic Visitor, you can rest assured that you'll have the trip of a lifetime. We handpick family-friendly lodgings and kid-friendly activities. We also make sure everything is taken care of in advance and match your specific needs.
3. Packing tips
Iceland's weather can vary greatly even at the height of summer. This shouldn't stop you from enjoying the sights. Pack and dress appropriately to keep warm and dry whatever the weather.
The best advice is to bring many layers. This includes a waterproof and windproof jacket, fleece jumper, rain trousers, gloves, scarves and hats. Don't forget warm socks and sturdy hiking or walking boots depending on what you're hoping to do during your visit.
Look up our packing guide for a more detailed and season-specific packing list.
4. How to travel around Iceland with kids
Driving is a great option. You can visit so much of the country by renting a car and hitting the road. It will give you freedom to stop when you want to visit the sights you want to take in.
You can also stop whenever the family needs to stretch their legs a bit. See our guide to driving in Iceland for useful tips.
Another way is to hire a private guide to take you around, or to join a small group tour. These allow you to lean back and enjoy the sights without having to worry about driving. You can also enjoy the stories and insider knowledge of a local guide.
You could also base yourself in Reykjavík and join day tours. This allows you plenty of independent touring time to enjoy the capital with your kids too.
5. Safety tips
Another reason why travelling to Iceland with kids is great? Iceland is one of the safest countries on the planet.
That's not to say you shouldn't heed warnings where there are some. Nature is powerful and must be respected. We have some safety tips for you as you visit this gorgeous land:
On beaches we recommend staying at a safe distance from the shoreline. This is because waves can come quickly and unexpectedly and the currents can be strong.
Never climb on icebergs, on the lagoon or even on the beach.
Never stop your car in the middle of a road or on a shoulder. Make sure to park in designated spaces.
We also recommend checking weather and road conditions before embarking on a long drive. This is especially true in the winter.
---
Iceland is fantastic for children, whether you have little ones or teenagers. There are amazing activities you can do here as a family, from exploring nature to seeing local animals, tasting ice cream to swimming in geothermal pools.
Are you ready to plan your dream trip to Iceland? Give your whole family an unforgettable holiday!
For your next family travel plans, think of Iceland and get in touch with our local travel consultants. They can help you plan and make the most of your time in Iceland.