Snæfellsnes is a peninsula on Iceland's western coast, stretching 55 miles into the Atlantic Ocean. A patchwork of spectacular natural landscapes, Snæfellsnes is famed for its glacier-capped volcano, lava fields, basalt cliffs, and tranquil fishing villages.
Often referred to as "Iceland in miniature", this beautiful peninsula is the ideal place to immerse yourself in Icelandic scenery and culture. Whether you're touring the wider region or simply snatching a few days on Snæfellsnes alone, this is one part of the country you don't want to miss on a package holiday in Iceland.
Read on to discover some of the peninsula's unmissable attractions.
Snæfellsnes Peninsula tour itinerary ideas
The best way to experience the splendour of the Snæfellsnes Peninsula is to drive or take a guided bus tour. If you're stretched for time, you can look into day tours of the region from nearby Reykjavík.
---
---
If you're coming from Reykjavík, the easiest driving route to the Snæfellsnes Peninsula takes you off the Ring Road (Route 1) at Borgarnes and onto Route 54.
You can drive around the peninsula on Route 54, using the Útnesvegur road (Route 574) at its western tip to explore Snæfellsjökull National Park.
For stop-off points, here are 11 ideas on what to do when you're visiting the Snæfellsnes Peninsula.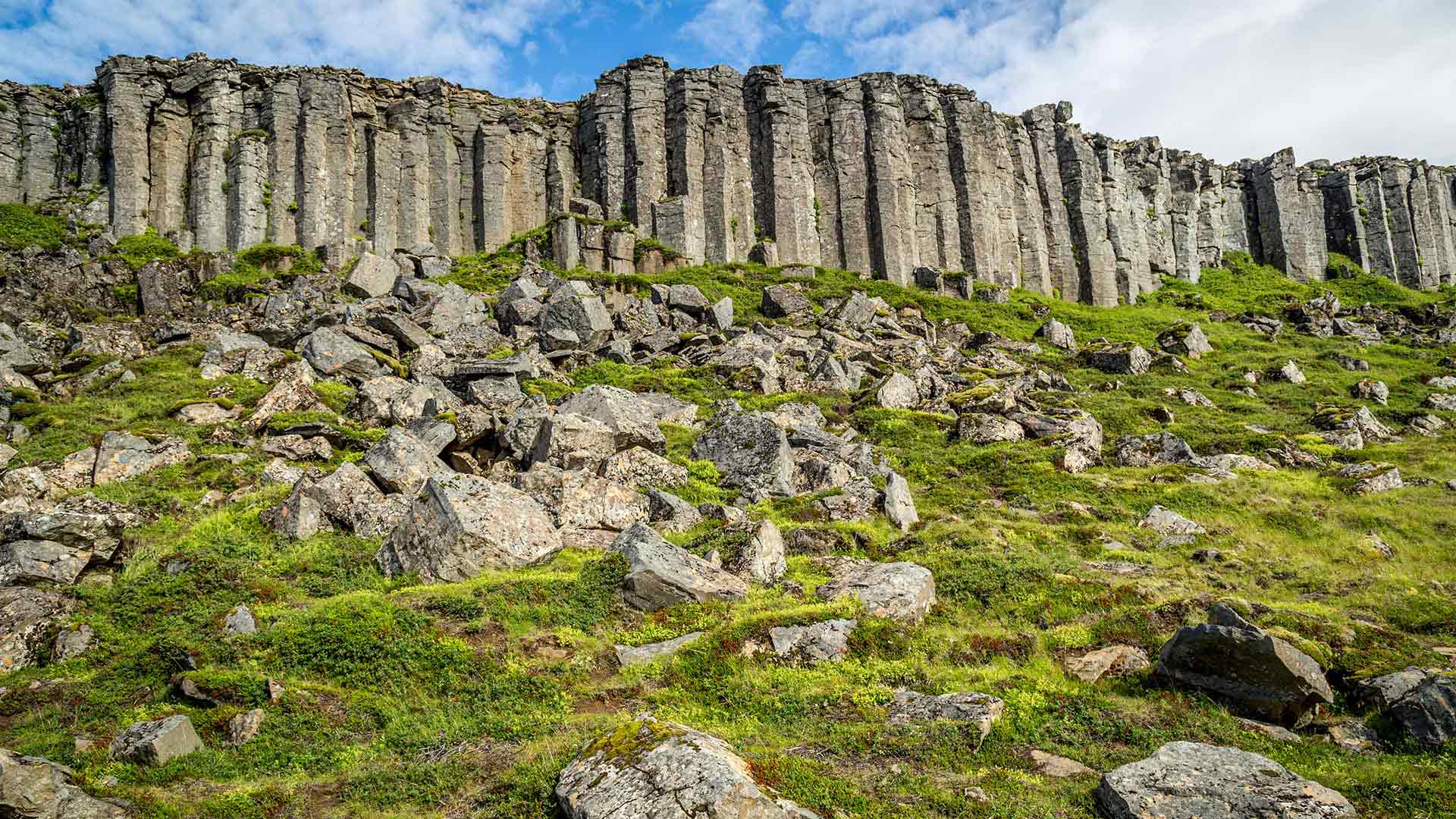 1. Marvel at the Gerðuberg basalt cliffs
These astonishing basalt columns are situated just off Route 54, a 30-minute drive from Borgarnes, just north of Reykjavík.
Like the Giant's Causeway in Northern Ireland, the Gerðuberg cliffs are made of towering hexagonal columns formed by ancient lava flows. Seen from afar they appear to form a solid wall, but up close the precise geometric symmetry is simply astonishing.
2. Sample the water at Ölkelda Mineral Spring
Ölkelda Farm is situated, again, just off Route 54 and is home to a natural mineral spring, said to produce water with many different health benefits.
The mineral water, which is rich in iron and has stained the surrounding ground a bright red, can be accessed via a public tap – although visitors are asked to leave some money in a donation box.
3. Spot seals at Ytri Tunga beach
Ytri Tunga is a beach on Snæfellsnes' south coast notable for its golden sand, which is relatively unusual in Iceland.
The key draw for travellers, aside from the beautiful ocean scenery, is the seal colony which resides here. Visit in June or July for the best chance of spotting the local seals snoozing on the black rocks in the summer sun.
Ytri Tunga is incredibly easy to access from Route 54. A smaller road leads off to a parking lot just a short walk from the beach.
4. Enjoy a soak at Lýsuhólslaug swimming pool
This outdoor swimming pool complex is the perfect place to unwind after a long drive or an afternoon of hiking.
The mineral water in the pools here is heated via geothermal energy and is rich with algae, giving it a distinctive green colour. The high mineral content is said to be fantastic for your skin.
Lýsuhólslaug geothermal bath is open between June and mid-August from 11am to 8.30pm.
5. Traverse a lava field beside Búðakirkja black church
One of the most popular human-made tourist attractions on the Snæfellsnes Peninsula is Búðakirkja, a small church constructed from black wood. The church, which was rebuilt in 1987 on the site of the original 18th-century building, is picturesque in itself, but what makes Búðakirkja unmissable is its impressive surroundings.
Stretching out around the building is an ancient lava field, potted with jagged black rock formations. Positioned within this otherworldly landscape, the church looks straight out of a fairy tale.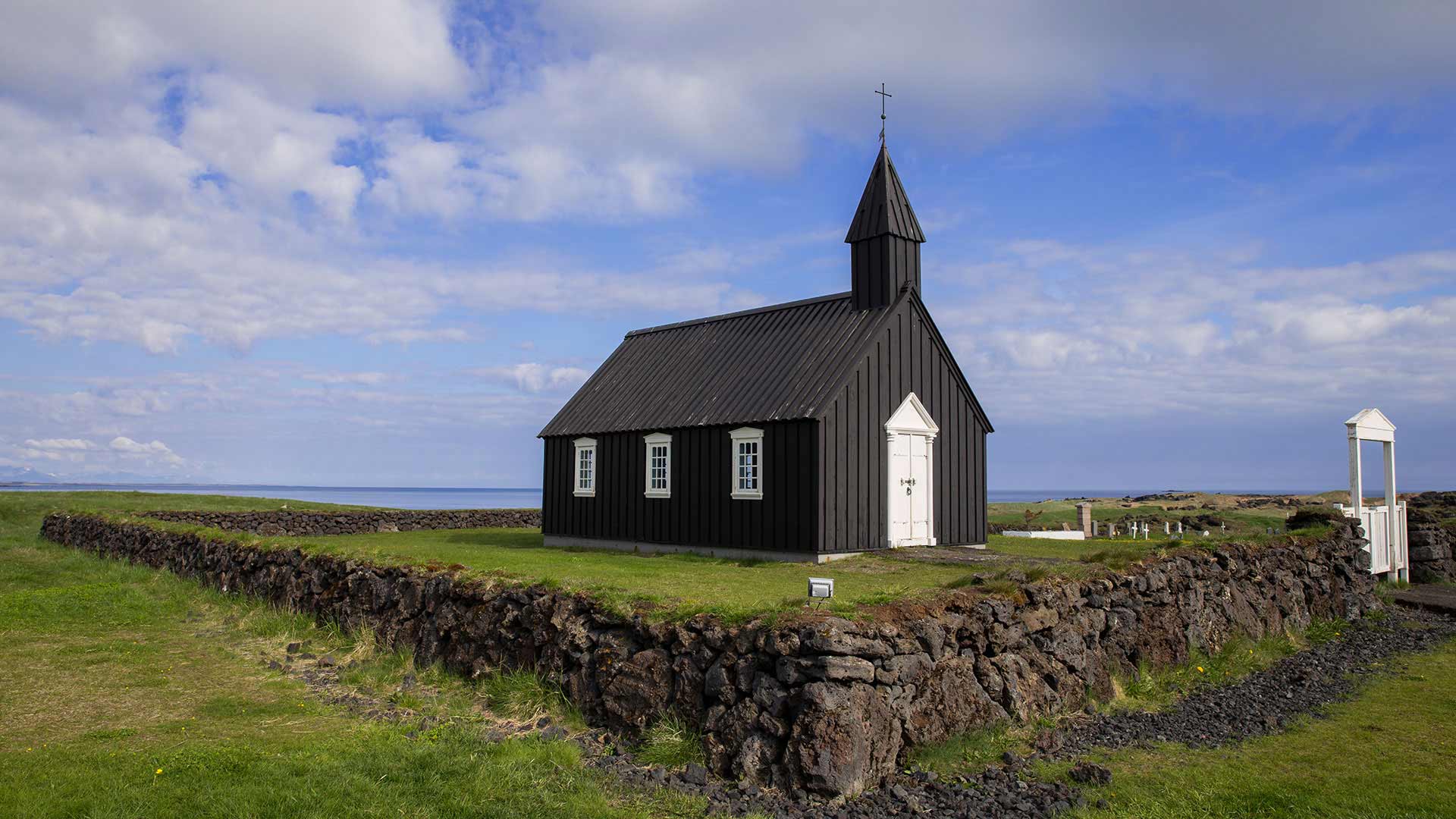 6. Explore historic Rauðfeldsgjá Gorge & the echoing Sönghellir cave
Outside the village of Arnarstapi (the next must-see destination on our list), just off Route 574, are two natural landmarks well worth exploring.
Rauðfeldsgjá Gorge is a deep ravine that holds close associations with key figures from the Icelandic sagas. The most notable character connected with the ravine is Bárðar Snæfellsáss, a half-man, half-troll who once ruled these parts and is said to live on as a guardian spirit.
A parking lot by the entrance of the gorge makes it easy to access in the summer months. If you're feeling adventurous (and you're wearing appropriate footwear) you can take a clamber through Rauðfeldsgjá, keeping your eyes peeled for legendary ghosts.
Down the road, the Sönghellir Cave offers a further insight into Iceland's rich history. Sönghellir (the "singing cave") is gifted with brilliant acoustics, which has made it famous for its echoes. The cave is also home to centuries-old graffiti, including the names of two 18th-century travellers.
As with Rauðfeldsgjá Gorge, Sönghellir has a strong connection to Icelandic legend. It is said that Bárðar Snæfellsáss once sheltered in this very cave.
7. Uncover legends in Arnarstapi village
This historic village was once a vital trading post, and though its population has diminished over the years, it remains a key tourist hotspot due to its incredible natural scenery, quaint buildings, and key ties to Icelandic mythology.
Once the home of Bárðar Snæfellsáss himself, Arnarstapi is a place steeped in legend. It even boasts a stone statue of Bárðar made by contemporary artist Ragnar Kjartansson.
The landscapes here were forged by lava from the Snæfellsjökull volcano. From the cliffs of Arnarstapi – which are home to arctic terns, kittiwakes and fulmars – you can look out over basalt columns, sea arches, and caves.
Inland, the scenery of Arnarstapi is dominated by Stapafell, a cone-shaped mountain that provides the perfect backdrop to the village's charming wooden houses.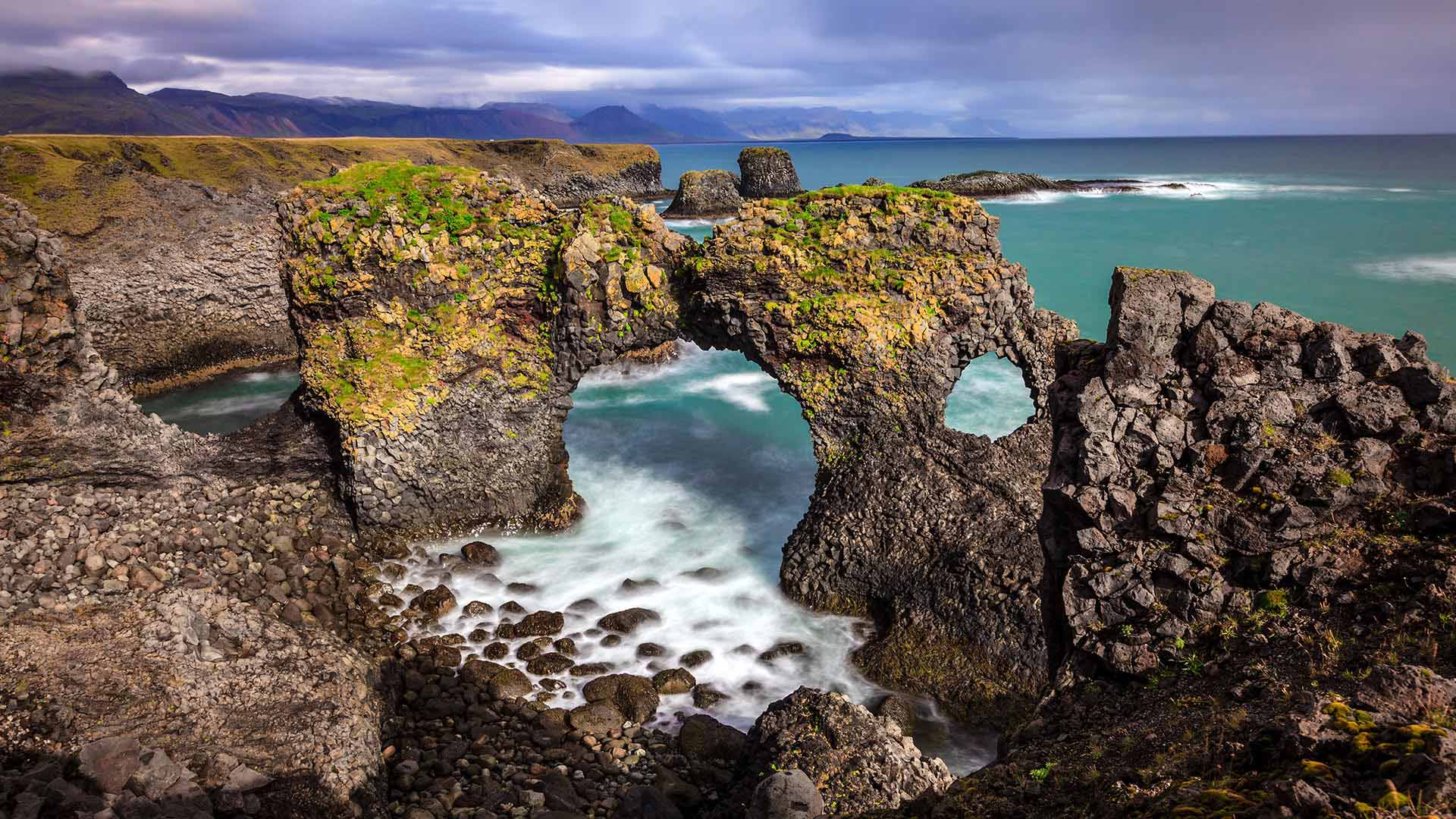 8. Hike a glacier at Snæfellsjökull National Park
A popular feature in Icelandic travel guides, Snæfellsjökull National Park is not something to skip on your visit to Snæfellsnes. This vast park stretches across the entire western tip of the peninsula, incorporating lava fields and caves, black sand beaches, basalt cliffs, and, of course, the Snæfellsjökull glacier and volcano.
The glacier-capped volcano, which has formed much of the surrounding landscape, is notable for being a setting in Jules Verne's Journey to the Center of the Earth.
If you're keen to experience the glacier in all its glory, arrange a guided hiking tour. If you'd prefer to enjoy the scenery from a distance, simply spend some time driving through the area.
Make sure to head to the Londrangar viewpoint, where you can marvel at the basaltic sea columns, and Djúpalónssandur, one of Iceland's most famous black sand beaches, where men once tested their strength by lifting the heavy stones.
If you're interested (and not claustrophobic!), you could also descend into Vatnshellir Cave, an 8000-year-old lava tube, for a guided tour, and snap photos of the golden sands at Skarðsvík Beach.
Many of the key attractions within Snæfellsjökull National Park can be easily accessed from the Útnesvegur Road, Route 574.
9. Snap astonishing photos at Kirkjufell mountain
Outside of Snæfellsjökull National Park, the most significant geological site you'll find on the peninsula is Kirkjufell Mountain, a shooting location for Game of Thrones.
Found on Snæfellsnes' northern shore, this distinctive landmark – which takes its name, "Church Mountain", from its steeple-like shape – is one of the most photographed places in the country.
Kirkjufell's natural good looks are enhanced by a nearby waterfall, Kirkjufellsfoss, Though relatively small, this waterfall looks spectacular when set against the backdrop of Church Mountain. It can be particularly picturesque during the dark winter months when you may also spot the northern lights.
The trail surrounding Kirkjufell is an excellent place to enjoy a leisurely stroll and try to spot local wildlife. If you want to try some actual climbing, make sure you enlist the help of a guide.
Kirkjufell is only a short distance from the small town of Grundarfjörður, which is the perfect place to grab some food and refuel after a day in the outdoors.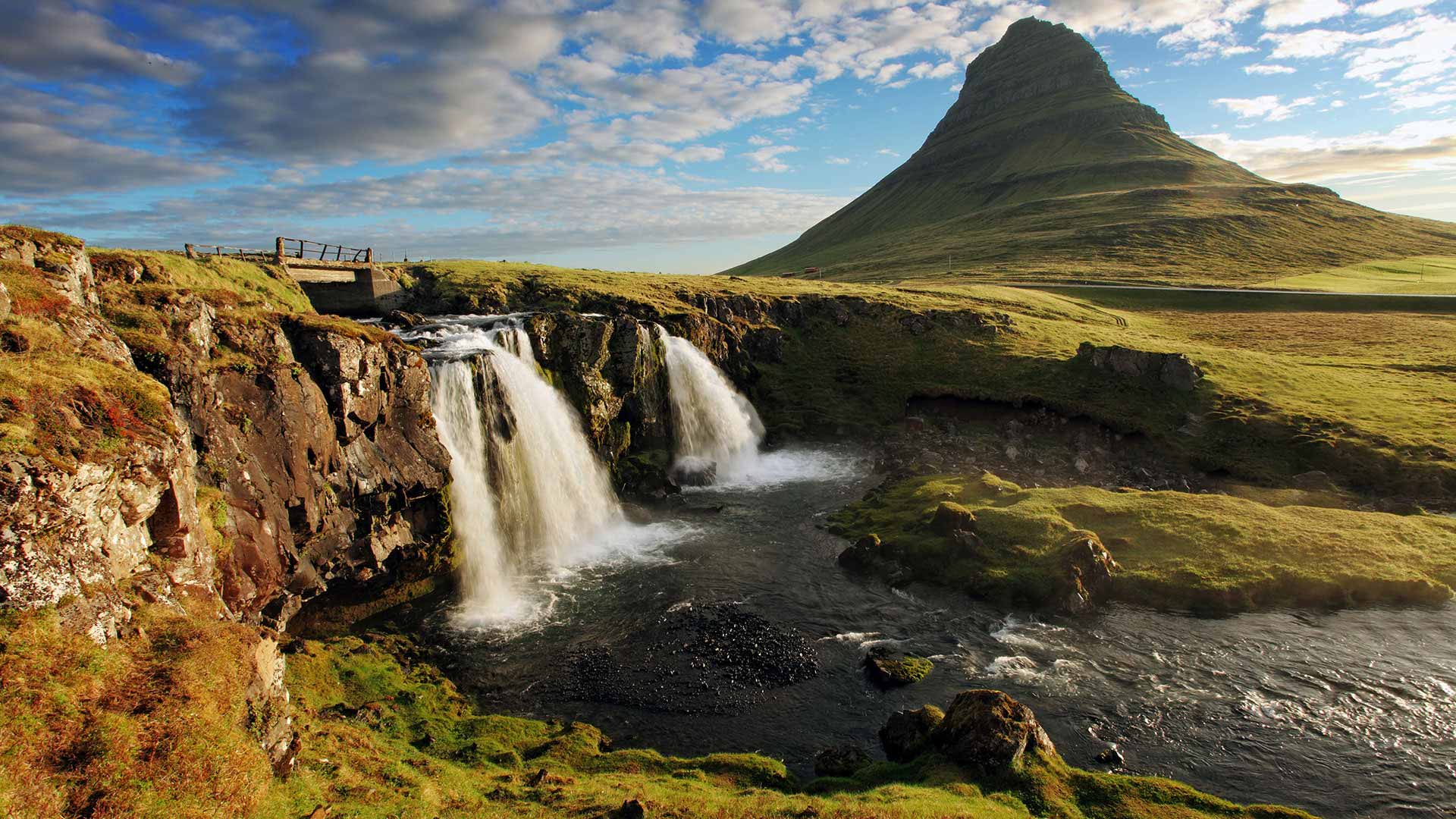 10. Try an Icelandic delicacy at Bjarnarhöfn Shark Museum
To enjoy a truly authentic taste of rural Icelandic life, make a stop at the Bjarnarhöfn Shark Museum as you head east on Route 54. This curious little museum is an active food processing business – the family who owns it have been making hákarl (fermented shark) for generations.
Pay a visit to the museum and you'll learn about the history of this iconic Icelandic delicacy, and even get to try some – if you're willing!
11. Meet the locals in Stykkishólmur
Stykkishólmur is one of the larger settlements on Snæfellsnes, a place notable for its bustling harbour, traditional houses, and plentiful tourist attractions. You can easily access the town by turning off Route 54 onto the Stykkishólmsvegur Road (Route 58).
Situated on Breiðafjörður Bay, the town boasts gorgeous views of the surrounding islands, and offers a ferry service across to the Westfjords. If you want to stick closer to home, you can arrange a kayaking trip or boat tour in the bay.
Some highlights in town include the Volcano Museum, the passion project of a local volcanologist, and the Library of Water, an incredible art installation comprised of glass tubes filled with melted water from Iceland's various glaciers.
Stykkishólmur is also home to an outdoor swimming pool complex and a number of hotels, bars and restaurants that make it the ideal place to spend a few days getting to know the locals.
Advice for driving on the Snæfellsnes Peninsula
You shouldn't encounter too many difficulties driving on Snæfellsnes. This is because the major roads on the peninsula are paved, allowing you to drive safely at a maximum speed of 90km/h (56mph).
Certain areas, including internal roads within the National Park, Route 55, and the section of Route 54 west of Stykkishólmur, are gravel roads, meaning you will have to take slightly more care and drive at a maximum speed of 80km/h (50mph).
---
---
When to visit the Snæfellsnes Peninsula
There is no right or wrong time to visit the Snæfellsnes Peninsula. You can visit in the summer months and enjoy endless daylight, mild weather, and excellent driving conditions.
Visit in the winter months, on the other hand, and you can see Iceland draped in snow, spot killer whales off the northern coast, and maybe even catch a glimpse of the northern lights.
It's worth noting that driving in the winter in Iceland can be more difficult, and that if you do travel between October and April you'll have to take precautions, checking up on road conditions regularly. You can find out more about driving in the winter with our guide.
Certain tourist attractions may be obscured by snow, or may even close down in bad weather conditions. You may also be prevented from certain climbs or hikes if winter weather conditions are particularly poor.
To find out more about travelling in Iceland – including what to pack, and how to say a few key phrases in the local language – check out our travel guide.
Make your Iceland travel dreams a reality – contact our local consultants.