If you're planning to visit Iceland, hot springs should definitely be on your to-do list.
The variety of geothermal pools Iceland has to offer provides the perfect reward to a day of sightseeing. Whether you're there to swim, enjoy the soothing benefits of the mineral rich water, or simply admire the scenery.
Visit Iceland in the winter and you can even experience the famous northern lights from the comfort of a steaming hot outdoor pool.
For some hot spring inspiration, read on. We've compiled a comprehensive guide to our favourite geothermal pools in Iceland. Alternatively, if you're keen to start planning your trip, check out our Iceland vacation packages.
---
Please note that all prices listed below are accurate at the time of writing. Where possible, visit the attraction's website for a definitive, up-to-date guide to pricing and opening times.
---
Contents:
---
FAQs on Iceland's hot springs & geothermal pools
What are geothermal pools and hot springs?
Geothermal pools and hot springs are small bodies of water that are naturally heated by the earth. They are found in areas with high volcanic activity.
Why does Iceland have so many hot springs?
Iceland lies across the Mid-Atlantic Ridge, the boundary point between two tectonic plates, and sits above an area of high volcanic activity known as a hotspot. As a result, this island nation is home to numerous active volcanoes and hot springs.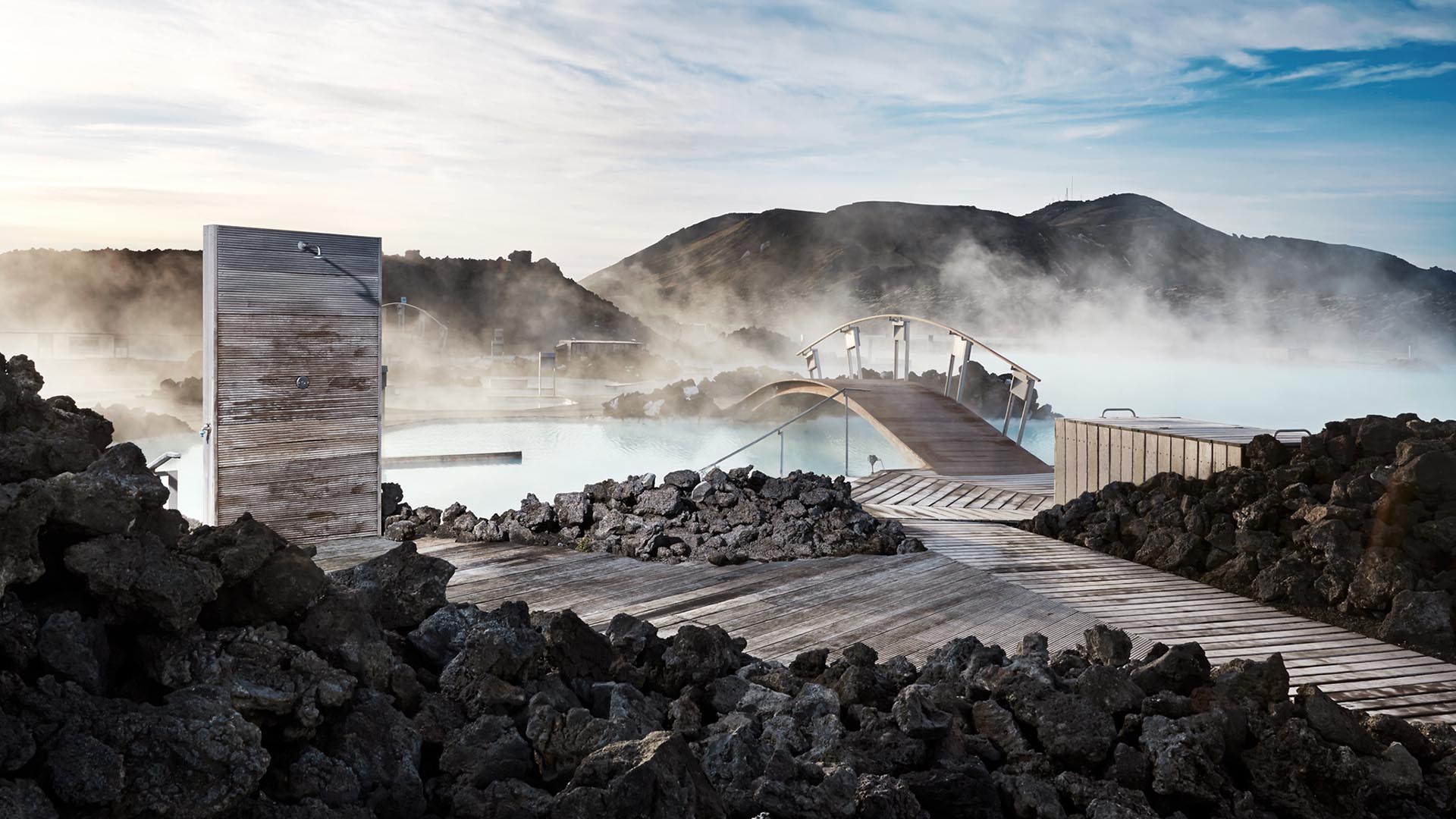 Where are the geothermal pools in Iceland?
Because volcanic activity is so widespread across Iceland, you can find hot pools and springs almost everywhere.
What is a hot pot in Iceland?
Hot pots are an Icelandic institution! These man-made tubs are sunk into the ground and filled with water, which is heated geothermally. The pots are constructed from a variety of different materials including stone, tin and plastic.
Can you swim in Iceland's thermal pools in winter?
Due to their heat, Iceland's thermal pools typically remain open year-round. In fact, it's a popular Icelandic pastime to take to the hot water in the coldest months.
How warm are Iceland's hot springs?
Some hot springs and pools in Iceland are simply warm, making them ideal for swimming, but most are as hot as a bath (around 36-40°C/97-104°F). Some may be too hot to bathe in, but are worth visiting for the spectacular views.
---
---
Are hot springs healthy?
The mineral-rich water found in many of Iceland's natural hot springs is said to have softening and soothing benefits for the skin.
What should I bring to the hot springs in Iceland?
That depends on the facilities! Many of the smaller, more remote springs may have no facilities whatsoever, while others will have changing rooms, toilets and eateries. It's generally recommended that you bring a swimming costume, towel and some warm clothing.
---
---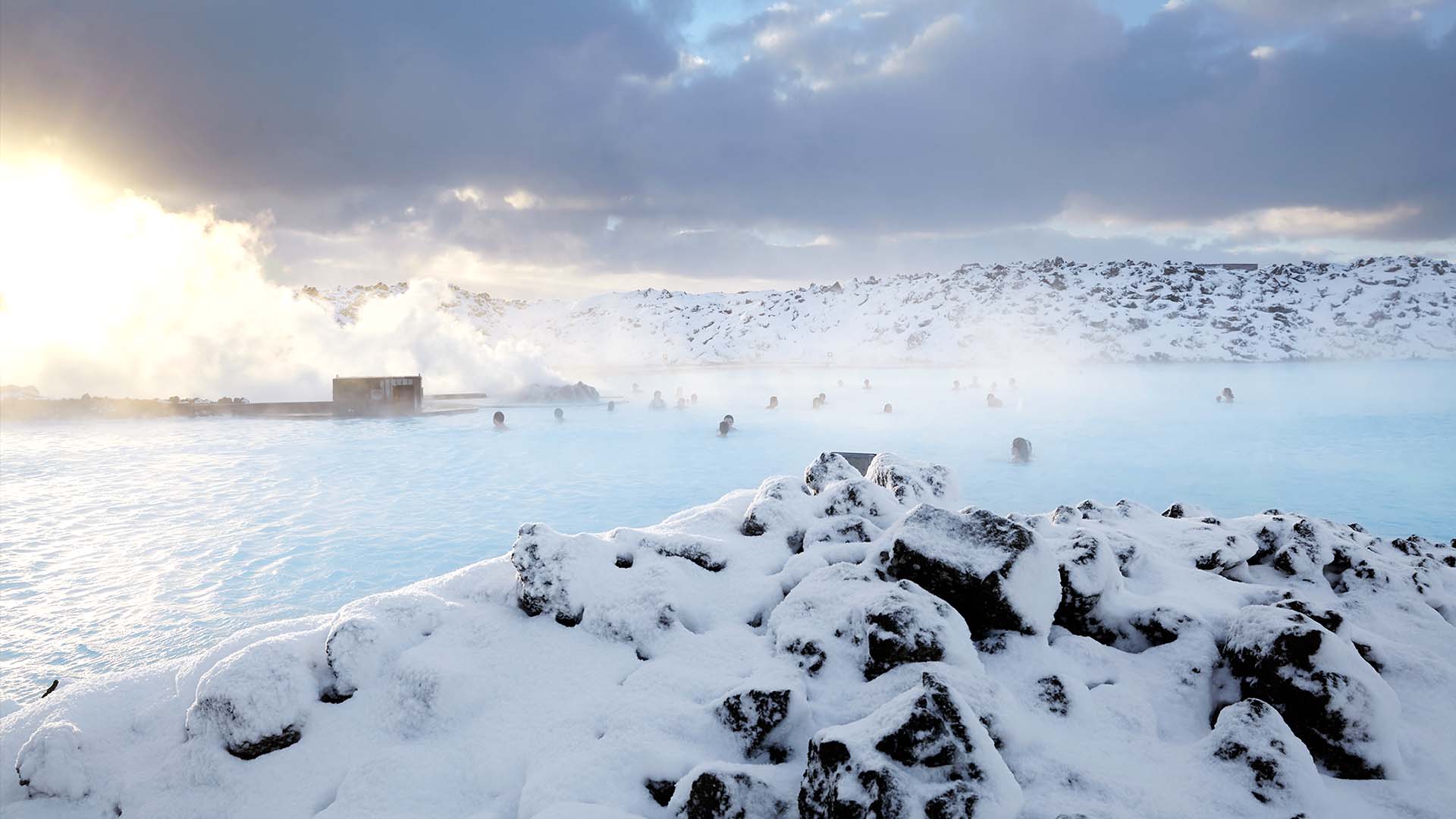 The best geothermal pools in West Iceland
The Blue Lagoon
Iceland's most iconic geothermal pool is the Blue Lagoon, a popular starting point or last day destination for travellers coming into or out of Reykjavík. Set in the middle of a black lava field, this sprawling complex of hot pools is famed for its milky blue, mineral-rich waters.
Visit for the day and you can choose between various entry packages which offer tiered levels of extras. Entry is timed by the hour, but once you're in the complex you can stay until closing – so it's worth booking an early ticket!
For visitors seeking more than a quick dip, the Blue Lagoon is home to spa facilities, eateries, and hotels.
Location: The Reykjanes Peninsula
Opening times: June to August, 07:00-23:00; August to June, 08:00-21:00
Entry cost: Adult entry starts at £42 (ISK 6,990) and includes a towel, silica mud mask and free drink
Landbrotalaug Hot Pot
This hot spring is one of the smallest geothermal pools that Iceland has to offer – but what it lacks in size, it makes up for in charm.
Situated north of Reykjavík on the Snæfellsnes Peninsula, this tiny pool is perfectly sized to accommodate two people, and boasts incredible views of mountain scenery.
Landbrotalaug can be reached from a nearby parking lot – a shortcut from here takes you across a small river on a series of stepping stones.
Due to the hot pot's small size, you may have to wait your turn to use the pool. It's also worth noting that there are no changing or bathroom facilities.
Krauma Spa
This well-equipped geothermal spa is decked out with five heated pools, as well as a cold tub. The water that runs through Krauma Spa originates in Europe's most powerful hot spring, Deildartunguhver. To achieve the ideal bathing temperature, it is mixed with glacial meltwater.
The pools vary in size and shape to serve different functions, letting you enjoy a gentle swim, lie back and soak, or – on sunny days – bask in the shallows.
Once you're finished in the pools, you can head into the restaurant for a bite to eat, or make use of the saunas and relaxation room.
Location: Reykholt
Opening times: June to August, 11:00-23:00; August to June, 11:00-21:00
Entry cost: Adult entry is £24 (ISK 3,950)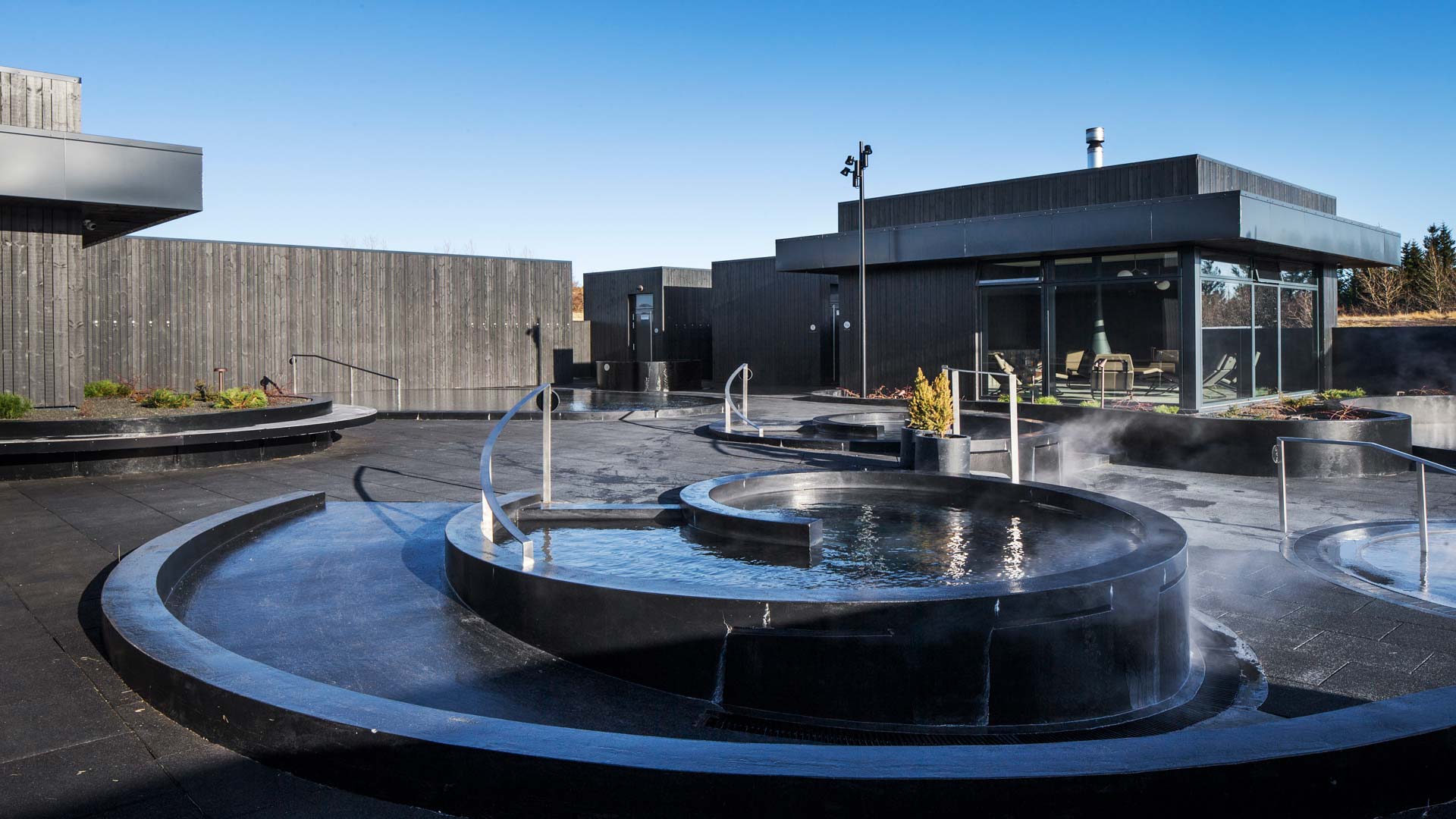 Nauthólsvík Geothermal Beach
Iceland may be most famous for its craggy lava fields and soaring mountains, but it's also home to some beautiful beaches. Head to Nauthólsvík Geothermal Beach, a 10-minute drive from the centre of Reykjavík, and you can enjoy a little slice of tropical paradise.
Opened in 2001, this unique beach area incorporates a manmade, geothermally heated lagoon draped with golden sand. A seawall borders the lagoon, meaning it maintains a mild temperature year-round.
Additionally, there are two hot tubs at the beach, one of which is kept at a toasty 39°C (102°F).
Location: Reykjavík
Opening times: Monday to Thursday, 11:00-19:00; Saturday, 11:00-16:00
Entry cost: Free in summer (May to August); otherwise, entry is £4 (ISK 650)
Guðrúnarlaug Hot Spring
Guðrún, one of the most important figures in Icelandic legend, is said to have dwelt in the region of this hot tub, which was rebuilt in 2009 following a landslide. This charming, stone-sided circular pool nestles on a hillside looking down towards the Hotel Edda Laugar and Laugar Campsite.
Enjoy a long soak in Guðrúnarlaug's naturally heated waters while pondering the legend of the formidable Guðrún.
Location: Sælingsdalur
Opening times: 24/7
Entry cost: Free
Húsafell Canyon Baths
One of the newest geothermal pool experiences that can be had in Iceland comes courtesy of Hotel Húsafell. Three pools of varying temperatures have been constructed in a scenic canyon, with surrounding views of glaciers and mountains. There's also a cold pool if you can brave it!
The baths were built from locally sourced materials using traditional techniques, and the changing room from upcycled timber. The idea being that these pools are as sustainable as possible, segueing effortlessly into their surroundings.
You can admire the view en route here too, as you need to take a guided hike from Hotel Húsafell to the baths.
Location: Húsafell
Opening times: 10:00-17:00
Entry cost: From £78 (ISK 12,500)
---
---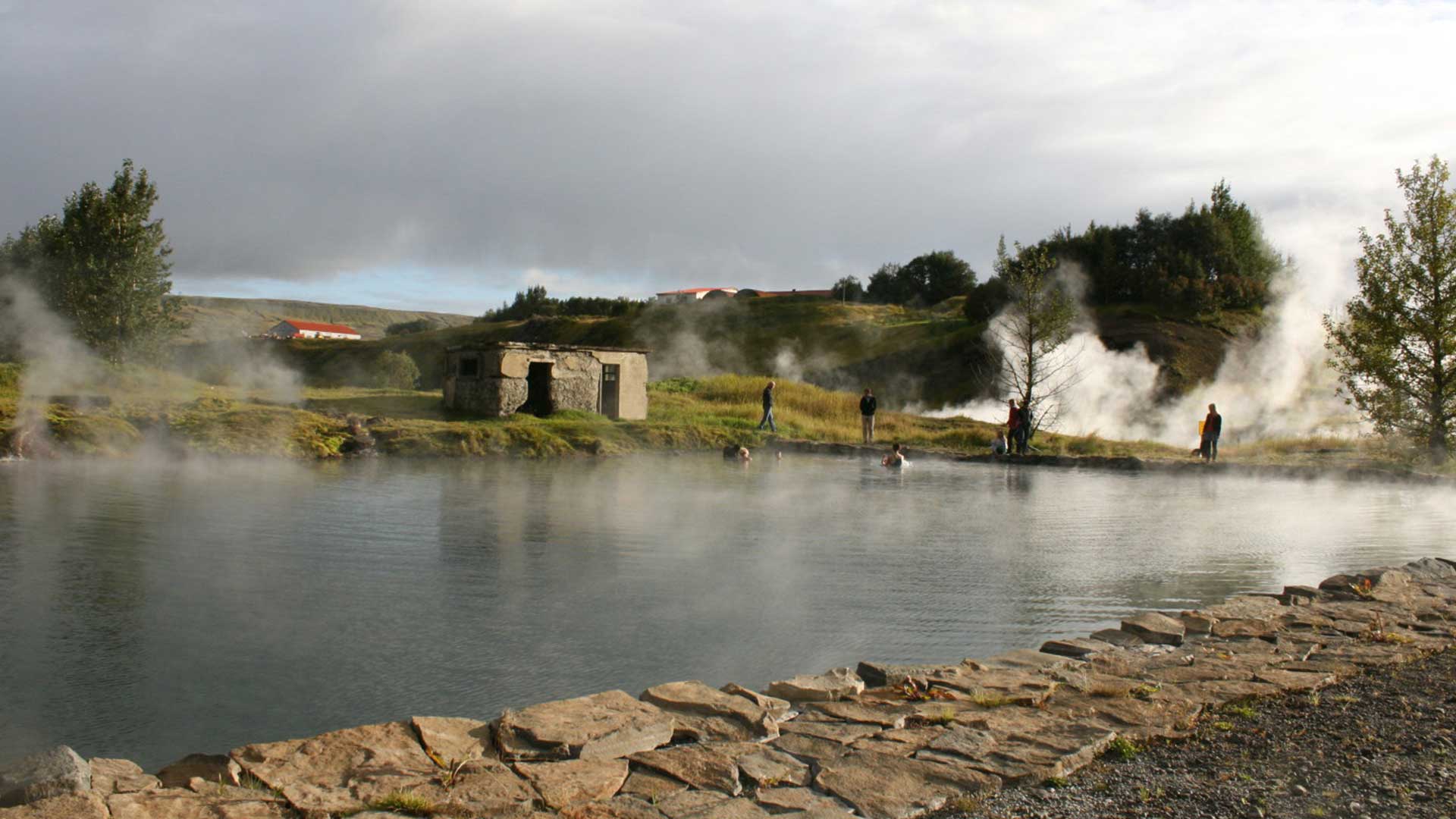 The best geothermal pools in South Iceland
The Secret Lagoon
Despite the name, the Secret Lagoon is actually one of Iceland's most popular hot spring destinations. The lagoon is situated in the village of Flúðir, a 90-minute drive from Reykjavík. It is a great pitstop if you're taking a self-drive tour around the famed Golden Circle.
Originally constructed in 1891, the lagoon is the oldest in Iceland, and – although man-made – is notable for its moss-covered, natural surroundings.
In addition to swimming and bathing, you can also enjoy a stroll around the grounds, stopping to watch the small geyser that erupts every five minutes. Drinks and snacks can be purchased in the on-site café.
Location: Flúðir
Opening times: June to September, 10:00-22:00; October to May, 11:00-20:00
Entry cost: Adult entry is £18 (ISK 3,000) and includes locker access
Laugarvatn Fontana Geothermal Baths
This geothermal bath complex is perfectly situated for travellers exploring Iceland's Golden Circle.
Perched on the banks of Lake Laugarvatn, Fontana houses steam baths and a sauna, along with three outdoor mineral pools of differing sizes and temperatures. The hot tub, Viska, sits at an elevated height and provides exceptional views of the lake and beyond.
Featuring a café and geothermal bakery (where bread is cooked in the ground), Fontana is a fantastic place to spend the day. For the ultimate experience, take a dip in the lake before heading into the sauna or steam bath. This kind of cold-water immersion is said to have numerous health benefits!
Location: Laugarvatn
Opening times: June to August, 10:00-22:00; September to May, 11:00-22:00
Entry cost: Adult entry bought online is £23 (ISK 3,800); adult entry at the door is £24 (ISK 3,950)
Reykjadalur Geothermal River
Reykjadalur – Icelandic for "smoky valley" – is located just off the Ring Road, around a 50-minute drive from Reykjavík. Situated in the vicinity of an extinct volcano, the valley is home to multiple hot springs and mud pools. The key highlight of this region, though, is its geothermal river.
From a nearby parking lot you can follow a well-marked trail through the valley on foot. After around 1 hour you'll approach the river, seeing plumes of steam and smelling the unmistakeable scent of sulphur. Don't let that put you off though, as the water is perfectly safe to bathe in!
Once you've arrived you can strip off and slip into the warm waters, enjoying your incredible surroundings. Just be warned: this is a wild swimming spot, so there are no toilets or changing facilities.
Location: Hveragerði
Opening times: 24/7
Entry cost: Free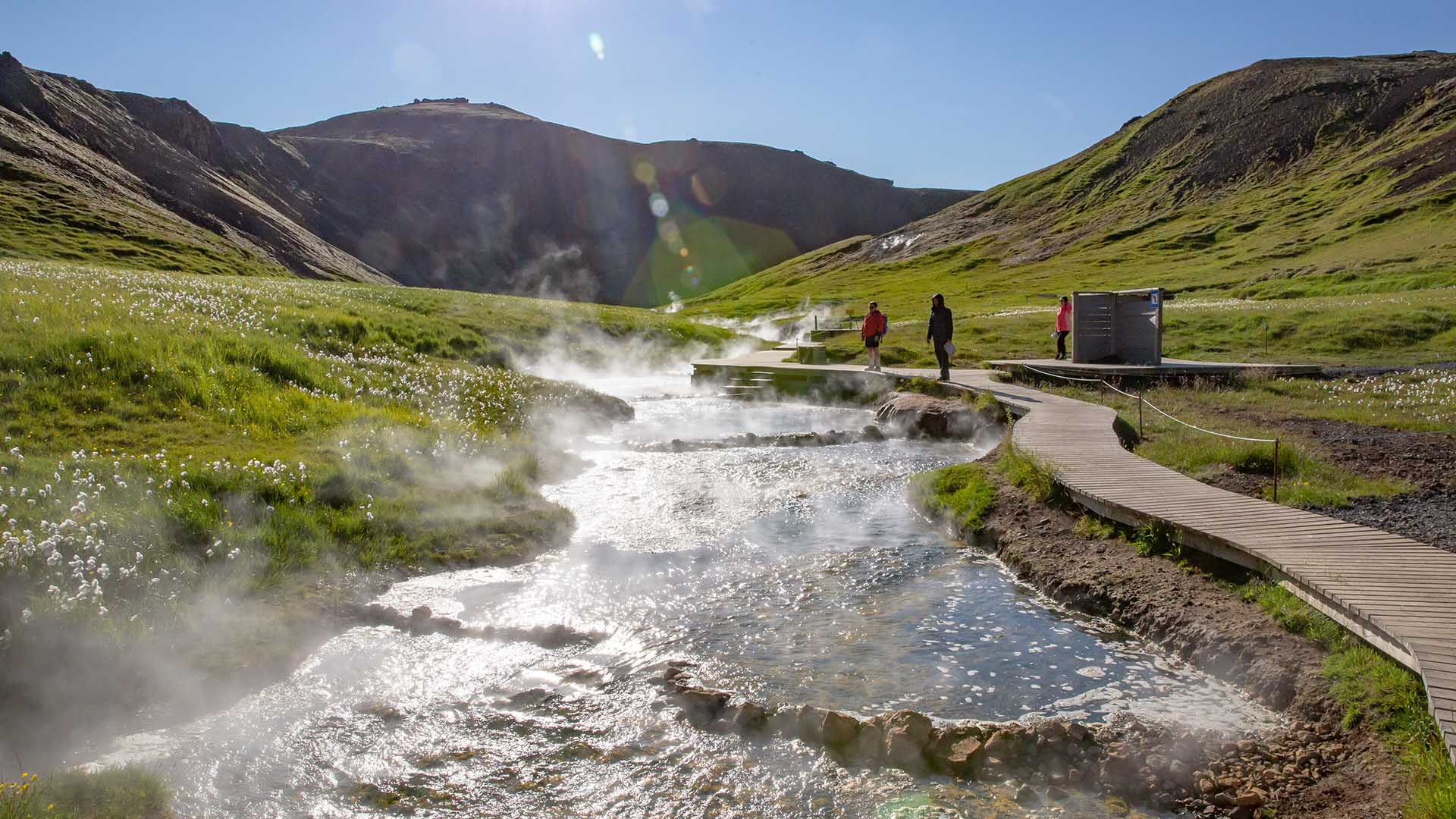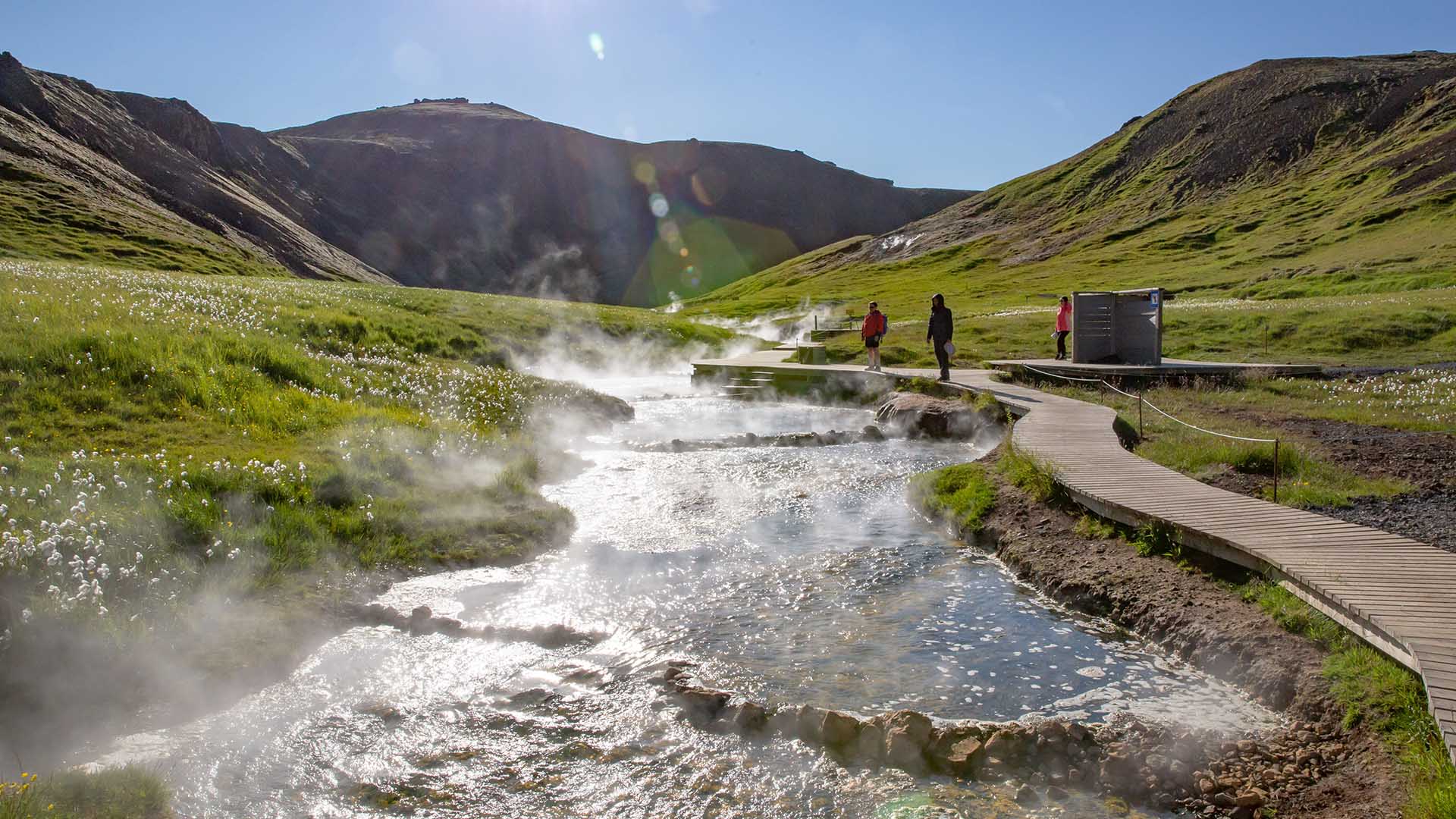 Seljavallalaug Pool
Seljavallalaug is one of the original bathing pools in Iceland, dating back to 1923. It's located in southern Iceland in a cluster of hills just off the Ring Road, not far from Skógafoss waterfall.
The pool is warm rather than hot, typically at a temperature between 20-30°C (68-86°F). It is also notable for its algae blooms which, when growing in excess, cause the water to turn a deep green.
The Seljavallalaug Pool is accessible from a nearby parking lot. The walk takes around 20 minutes, leading you through a scenic river valley. There's an on-site changing room but the facilities are very basic, so it's a good idea to come prepared, and to take any waste away with you.
Location: Skógar
Opening times: 24/7
Entry cost: Free
Landmannalaugar Natural Pool
The Fjallabak Nature Reserve is a rugged, mountainous region in southern Iceland that encompasses lakes, canyons and waterfalls just begging to be explored.
If you decide to venture here for a scenic hike, make sure you don't miss a trip to Landmannalaugar. Here, you can admire colourful rhyolite peaks and enjoy a dip in the hot spring.
This natural pool is accessed easily from the Landmannalaugar information hut by following the wooden boardwalks. Be aware that the gravel road that leads to Landmannalaugar is closed to private drivers in the winter. As such, if you want to visit in these months, you'll have to take a Super Jeep tour.
Location: Fjallabak Nature Reserve
Opening times: 24/7 although access may be restricted in winter
Entry cost: Free, with a small fee to use the changing facilities nearby
---
---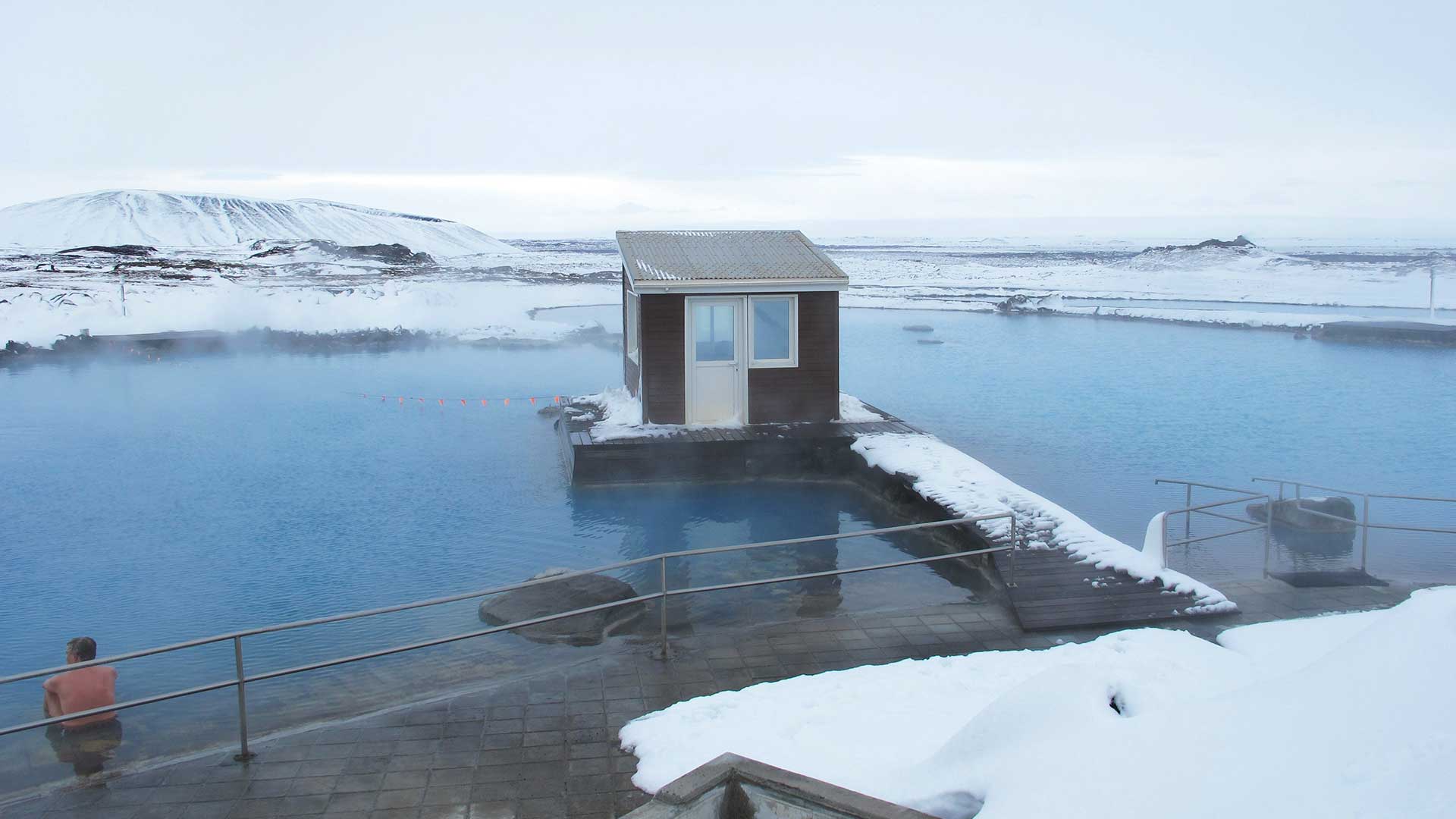 The best geothermal pools in North Iceland
Mývatn Nature Baths
Mývatn Nature Baths is a geothermal pool complex situated in beautiful surroundings in the north of the Iceland, just off the Ring Road. With steam baths, changing rooms and a large café on site, it's the perfect stopping off point if you're on a driving tour of the country.
Entry to the baths is not timed, and once you're inside you can stay until closing, although most people enjoy a visit of around 90 minutes.
It's worth noting that the waters here have a high sulphur content. This means that, although it is perfectly safe to swim here, it gives off a distinctive smell and can damage brass and silver jewellery.
Location: Mývatn
Opening times: October to April, 12:00-22:00; May to 15th September, 09:00-00:00; 16th September to 30th September, 10:00-22:00
Entry cost: Adult entry is £30 (ISK 5,000) and includes locker access
GeoSea Geothermal Sea Baths
For a truly unique geothermal bathing experience, make sure you head for the coastal town of Húsavík in northern Iceland. Here you can pay a visit to GeoSea to unwind in the naturally heated seawater pools, comprising infinity tubs, waterfalls and even a swim-up bar.
Admire breathtaking sea views from the gently steaming swimming pools, soaking in the hot water while you look out across the ocean. Afterwards you can relax on the outdoor terrace or in the restaurant. If needed, towels, swimming costumes and robes are available to rent.
Location: Húsavík
Opening times: May to September, 10:00-00:00; October to April, 12:00-22:00
Entry cost: Adult entry is £26 (ISK 4,300)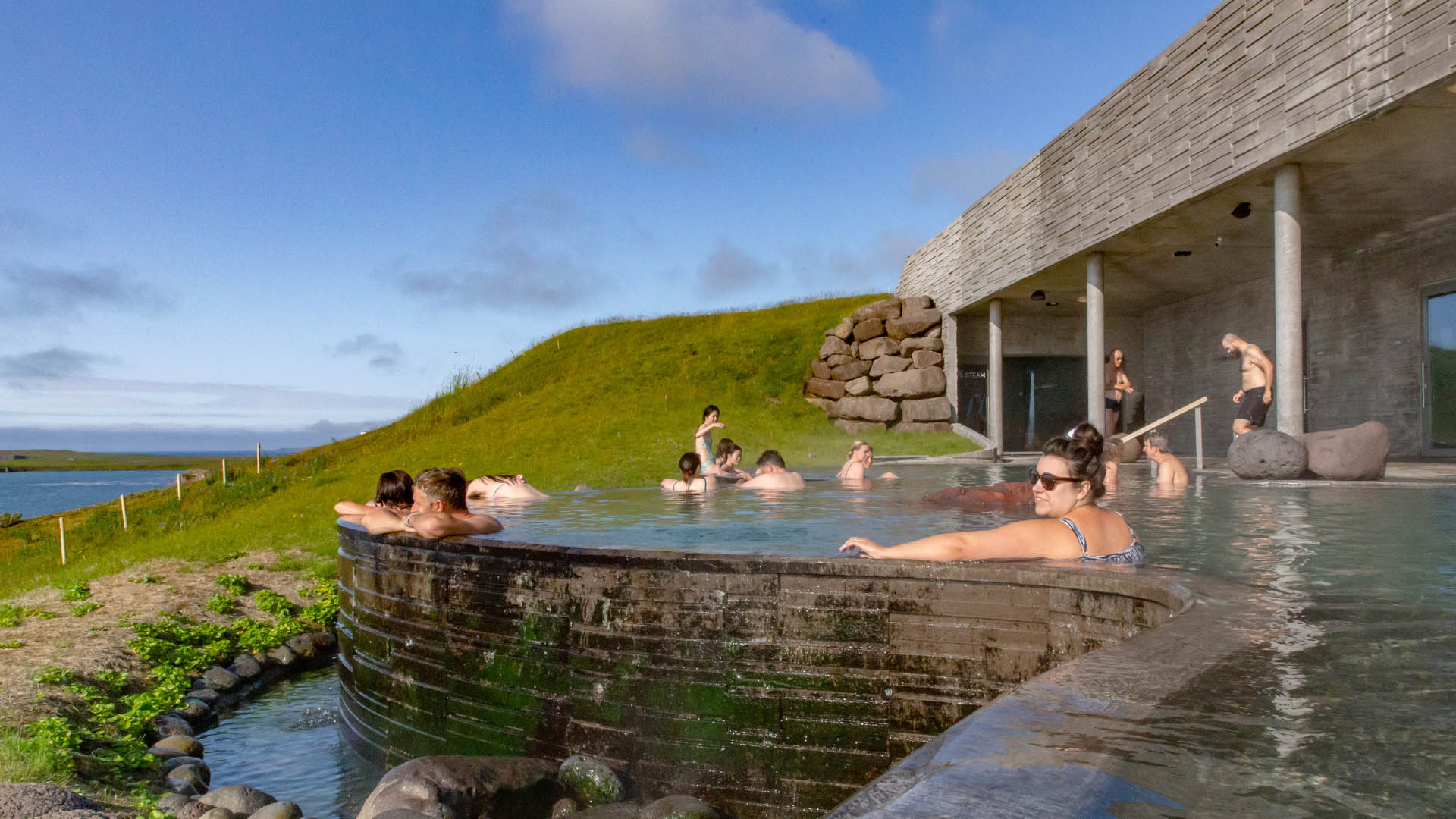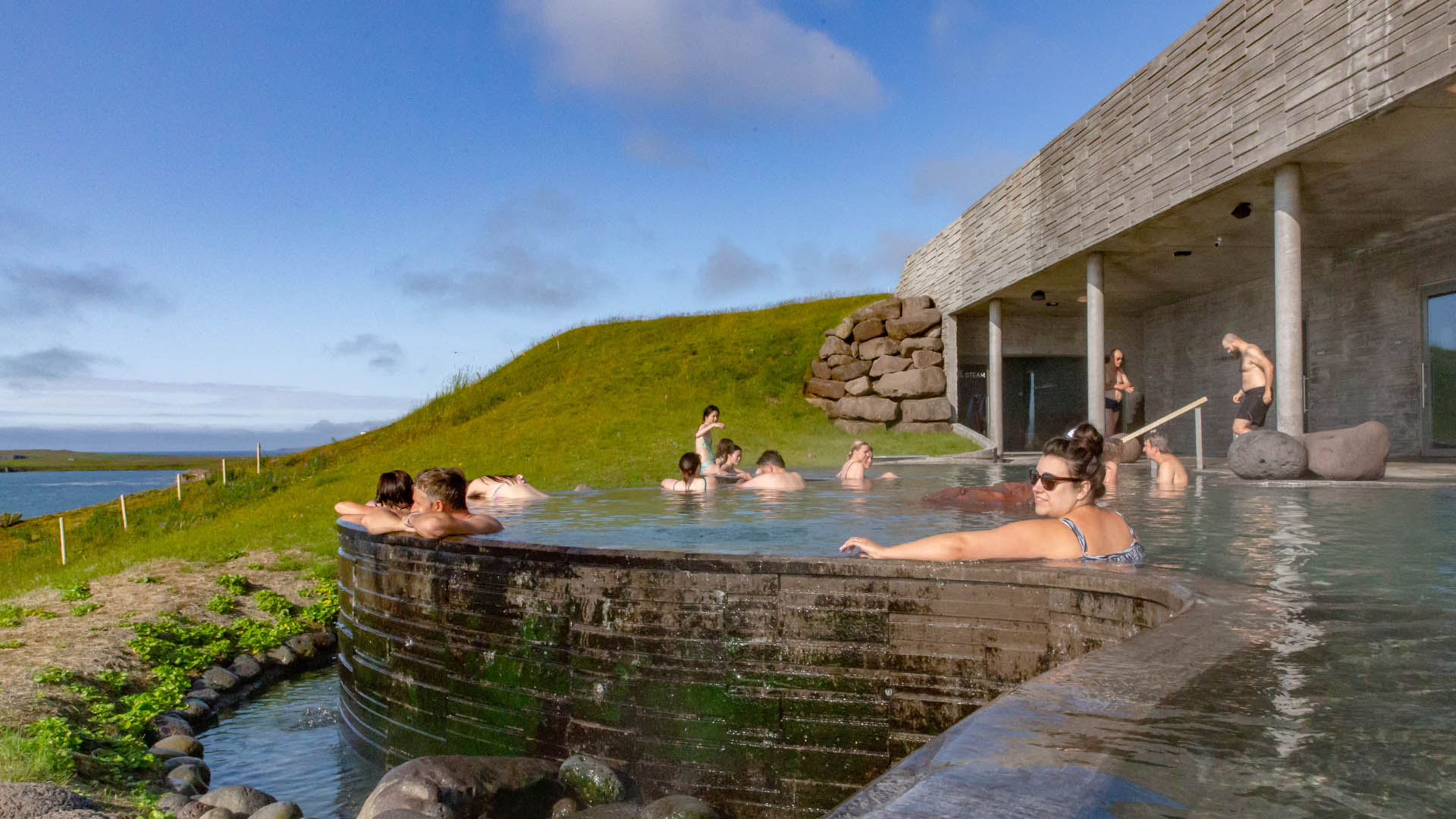 Bjórböðin Beer Spa
Beer drinkers, this one's for you. At Bjórböðin Spa & Restaurant, you have the opportunity to kick back and relax in a tub filled with heated beer.
Why? This warm brew possesses health benefits, as it is said to gently cleanse and revitalise the skin and hair. Plus, for anyone over 20, a cold pint can be part of the experience too.
With each tub accommodating only one or two people, it's ideal for couples seeking a slightly alternative hot pool experience. The complex also has an extensive outdoor area with two traditional hot tubs and a sauna, as well as a restaurant and bar serving locally brewed beer.
Location: Árskógssandur
Opening times: Tuesday to Thursday, 12:00-20:00; Friday & Saturday, 11:00-21:00
Entry cost: Single adult entry is £72 (ISK 11,900); couples entry is £121 (ISK 19,900)
Grettislaug and Jarlslaug Hot Springs
Visit these twin hot springs in northern Iceland and you can experience a little Icelandic history – both old and new.
The first pool, Grettislaug ("Grettir's Pool"), is named for the strongest man in the Icelandic sagas. The second, Jarlslaug ("Earl's Pool"), is named for a local man, Jón "Earl" Eiríksson, who led the rebuilding of the pools after they were damaged in a storm.
The pools are nicely maintained and have nearby changing facilities. They also boast some lovely sea views.
Location: Skagafjörður Peninsula
Opening times: 24/7
Entry cost: Free with a recommended donation of £6 (ISK 1,000)
---
---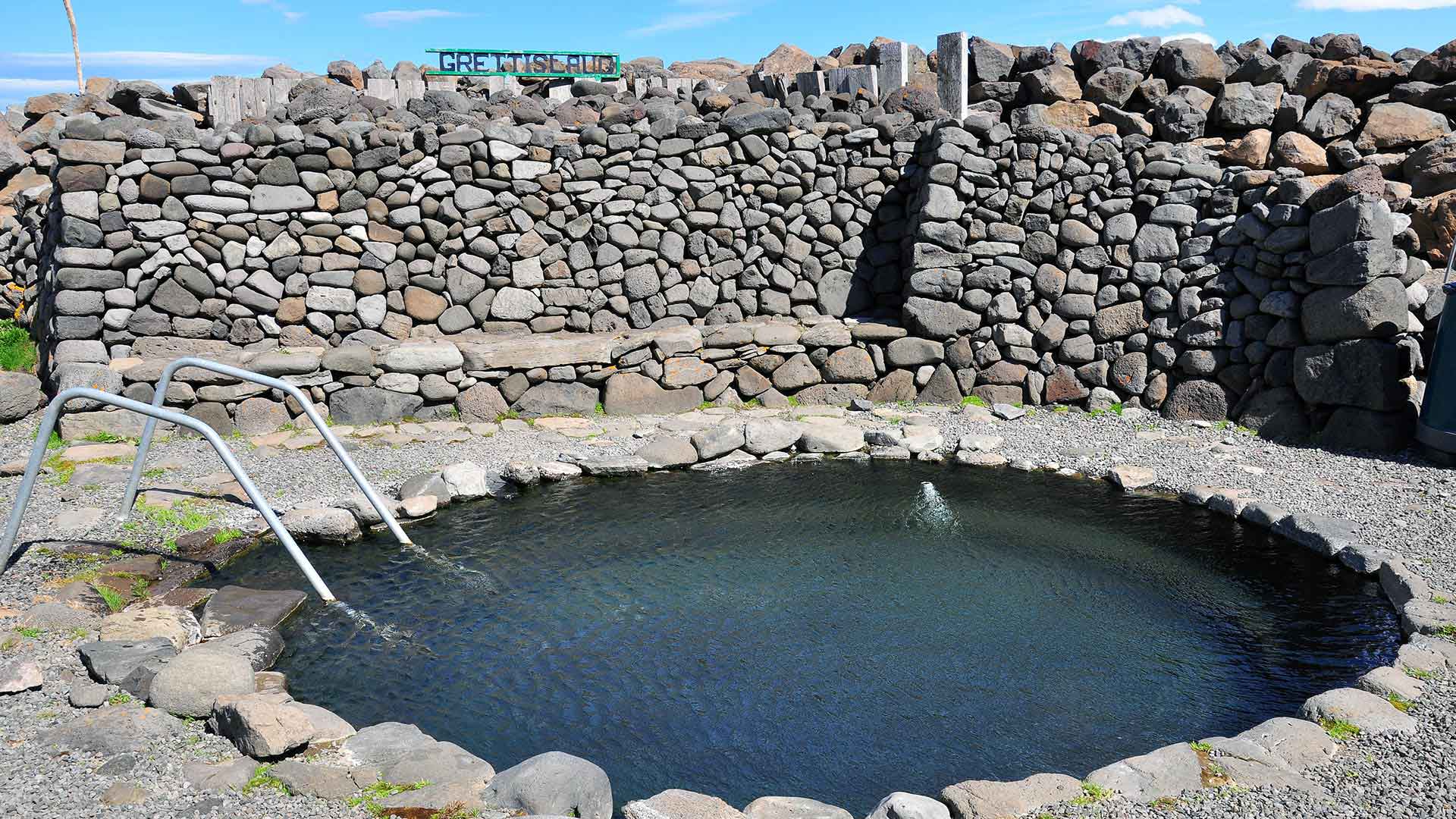 The best geothermal pools in the Westfjords
Drangsnes Hot Pots
Drangsnes is a fishing village in the Westfjords known for its geothermal activity. The town and surrounding area are home to several heated pools, but we recommend the Drangsnes Hot Pots, perched on the rocks overlooking the water.
These three naturally heated tubs are completely free to use and bestow stunning views of the ocean and the coastline of northern Iceland.
Unsurprisingly, they are very popular among locals and tourists, so at busy times of year you may have to share. Spacious bathrooms and changing facilities are located just across the street.
Location: Drangsnes
Opening times: 24/7
Entry cost: Free
Heydalur Hillside Hot Pot
This natural geothermal spring is located in a remote corner of the Westfjords, not far from the Heydalur Farm guesthouse. Said to have been blessed by Bishop Guðmundur the Good in the 12th century, this hot pot offers a delightfully tranquil bathing experience.
You can reach the hot pot on foot from Heydalur Farm. Stay at the guesthouse itself, and you'll also have access to their outdoor spring and greenhouse pool. This has a temperature between 23 and 28°C (73-82°F), making it perfect for swimming, while the hot pot water is typically very hot, at around 40°C (104°F).
Location: Heydalur
Opening times: 24/7
Entry cost: Free
Krossneslaug Hot Spring
Leave civilisation behind and head to the tiny settlement of Krossnes to enjoy a gentle swim in the warm waters of this charming geothermal pool.
Krossneslaug is bordered by ocean and mountains, and lies just metres from the water. It is equipped with showers and changing rooms – a necessity as there's not much else around.
It's worth noting that this hot pool is largely inaccessible outside of the summer months, as the journey to reach it involves a gravel road.
Location: Krossnes
Opening times: 24/7 but the gravel road makes it inaccessible during winter
Entry cost: Requested donation of £1.50 (ISK 250)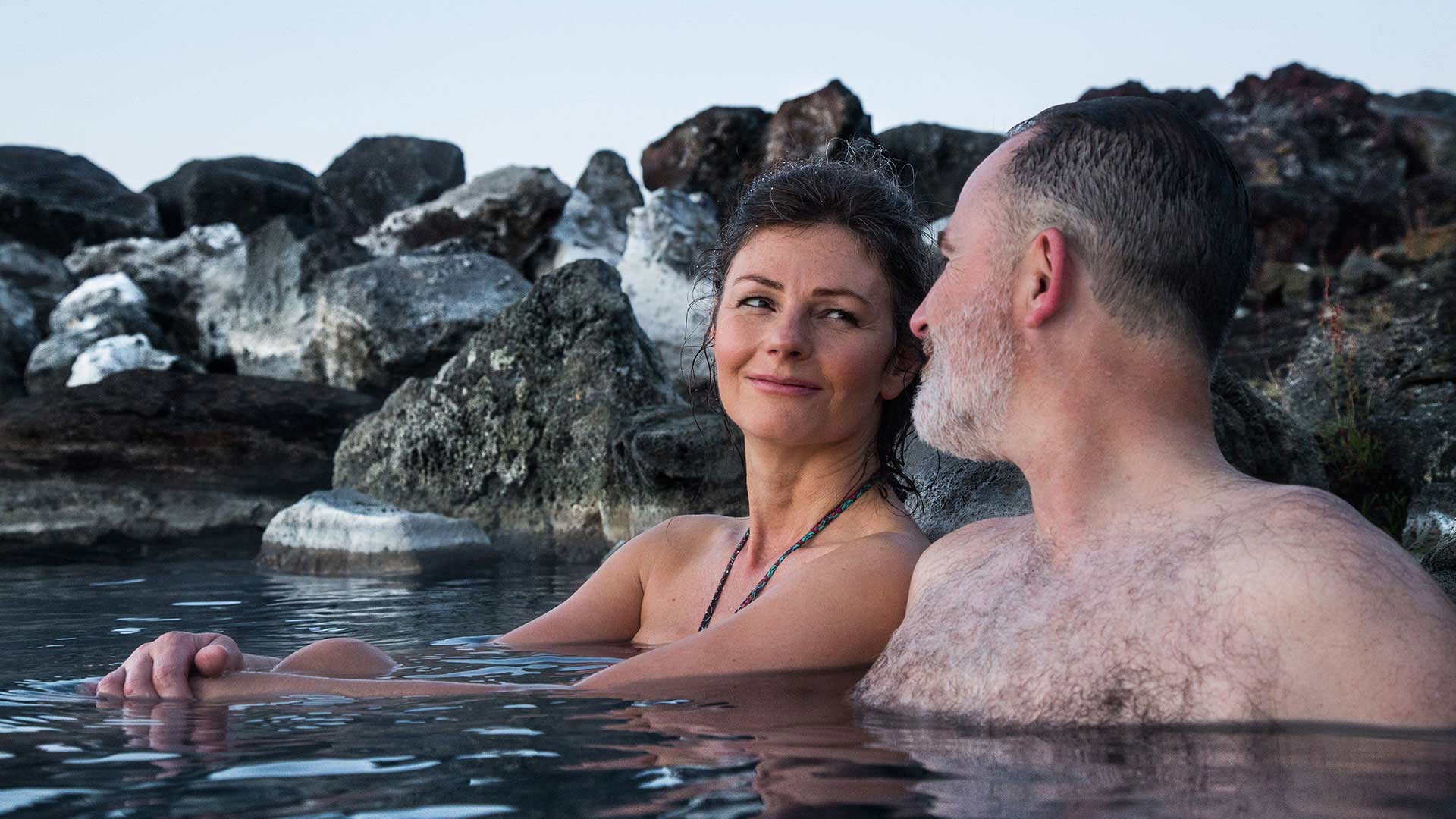 Hellulaug
This hot pool is situated on the Vatnsfjörður fjord, in a stunning waterside location that flaunts some brilliant views.
Fed with geothermally heated water from a borehole above the pool, Hellulaug maintains a year-round temperature of about 38°C (100°F). It isn't the biggest of pools, and has a depth of only 60 centimetres (2 feet), making it best suited to a relaxing soak rather than a swim.
The path to the pool is well marked from the nearby parking lot, and entry is completely free. Visitors are encouraged to make a small donation upon leaving to contribute to the maintenance of the pool and the surrounding area. If you'd like to do this, you'll find a money box in the parking lot.
Location: Vatnsfjörður
Opening times: 24/7
Entry cost: Free (donations welcome!)
Birkimelur
This hot pool is situated just a 15-minute drive from Hellulaug. Overlooking an estuary and the sea beyond, this easy-to-miss spot is comprised of a swimming pool, stone-lined hot pot, and basic changing and shower facilities.
The pools tend to be open year-round, but the changing and showering facilities are only open at set times of day.
Location: Barðastrandarvegur
Opening times: 12:00-19:00
Entry cost: Small donation
---
---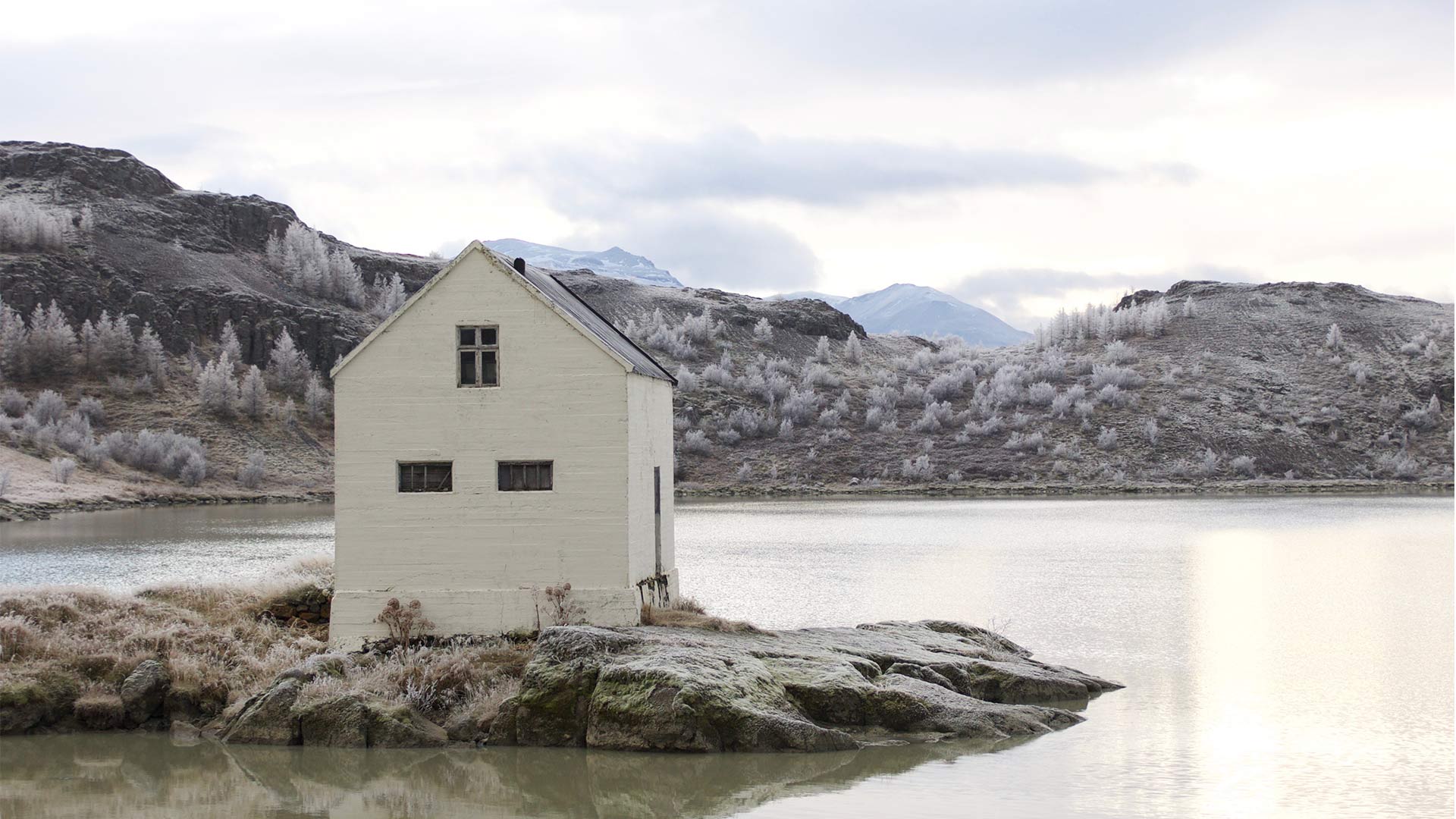 The best geothermal pools in East Iceland
Vök Baths
This unusual complex perches on the banks of Lake Urriðavatn in East Iceland, just off the Ring Road, boasting the only floating geothermal pools in the country.
These baths were built on the lake's waters after locals noticed that it would only freeze over in certain areas, indicating the presence of geothermal heat.
On land, Vök Baths features a bar, steam room, cold tunnel and café. There are also two hot tubs, connected to the floating pools by wooden walkways. Ticket entry includes a herbal tea brewed from the spring water, which is incredibly clean and safe to drink.
Location: Fellabær
Opening times: May to August, 11:00-23:00; September to April, 12:00-22:00
Entry cost: Adult entry starts at £30 (ISK 5,000)
Laugavallalaug Hot Spring & Waterfall
This unusual geographical feature is best thought of as Mother Nature's take on the hot shower. The waterfall at Laugavalladalur is fed by the Laugavallalaug hot spring and stream, which empties over a cliffside and into the river below.
Access to this incredible spot is limited by the quality of the roads, so if you plan on driving yourself we highly recommend taking a 4WD. Alternatively, you can opt for a guided tour of the region and have an expert lead you to Laugavallalaug.
Location: Highlands
Opening times: 24/7 although access may be restricted in winter
Entry cost: Free
---
If you'd like to leave the hard work of planning your Iceland itinerary to someone else, get in touch with Nordic Visitor today.
We offer a wide range of packages incorporating Iceland's most celebrated hot springs and pools, including self-drive, small group, private and multi-day tours.