Has Outlander inspired you to discover more about Scotland? Do you dream of exploring Outlander filming locations in Scotland and immersing yourself in the local heritage?
If so, then you're in the right place. Here our Scotland experts uncover the top Outlander filming spots and real-life locations that inspired the books so you can prepare your next trip.
Since its debut in 2014, the TV series has tugged at the heartstrings of viewers with its epic love story and stunning Scottish setting. And we're sure you'll agree that Scotland makes for an amazing visual backdrop, with its rolling hills, rugged moors, and historic landmarks.
While some locations are fictional, even these are based on actual Scottish destinations. During your visit, you're sure to find plenty of grand houses, castles, and stone circles to see.
Note: this article contains spoilers!
---
---
1. Stroll through Edinburgh and its surroundings
Edinburgh is unmissable when you're touring Scotland. So head here and you'll find yourself at the heart of many wonderful places to visit, including a lot of Outlander locations!
Whether you're in the capital city for a day or 2, or enjoying a longer stay, make sure you take some time to wander. Go for a walk and discover some of the top sights, not only central to Outlander plots but to Scottish history.
In season 3, Edinburgh features as the real setting of Jamie's print shop. This is where he and Claire reunite after 2 decades apart.
The top locations you shouldn't miss include:
The Royal Mile
Taking a stroll in the heart of the Old Town, a UNESCO World Heritage Site, will bring you back in time, whether you recognise the settings from Outlander or not.
The Royal Mile, and the network of closes (alleyways) and buildings that flow in and out of it, are reminiscent of the 17th and 18th centuries. One of them, Bakehouse Close, just off the famous Mile, is the external location for Jamie's printing press.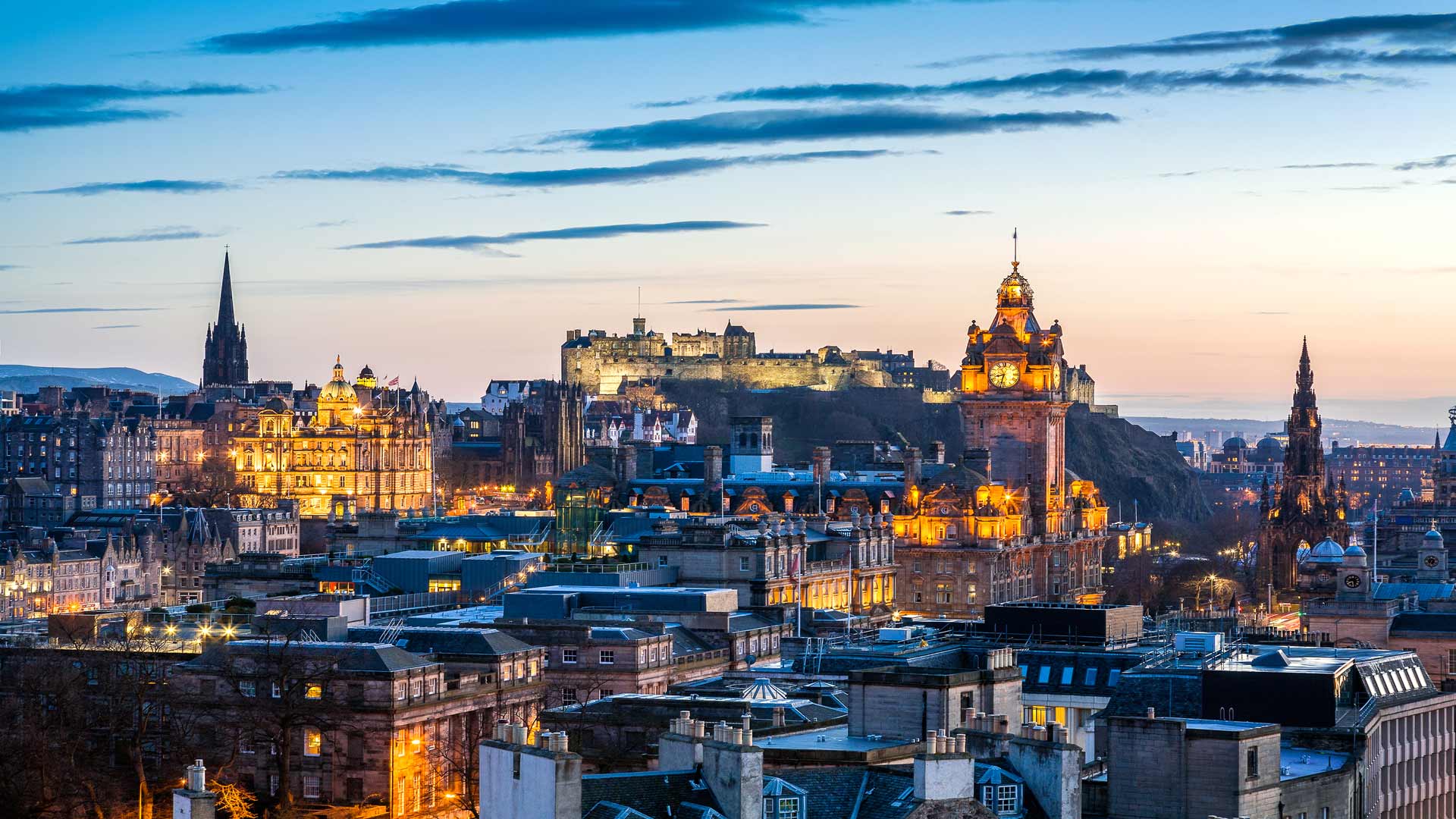 The Signet Library
If you head towards Edinburgh Castle from Bakehouse Close, you'll pass by the Signet Library. It's a Georgian building just off the Mile, behind St Giles' Cathedral.
The interior was used as Lord John Grey's Governor's Mansion in Jamaica. The building itself is well-worth a visit, and they even make a delicious afternoon tea if you want to grab a bite.
Craigmillar Castle
Craigmillar Castle is found south of the city centre, and you may recognise it as Ardsmuir Prison. This is where Jamie was incarcerated after surviving Culloden and where he befriends Lord John Grey.
To see the castle, you can drive or take a bus from central Edinburgh towards the Craigmillar area.
---
---
Gosford House
If you have some time to explore the area surrounding Edinburgh, you could take the train or drive to Longniddry in East Lothian to see the beautiful estate of Gosford House.
Its exterior stood in as Helwater Estate, the private residence located in northern England, where Jamie works after his imprisonment – and fathers his illegitimate son.
The house is open for tours during the summer if you want to see the lavish interiors, especially the impressive Marble Hall, a filming location used for other scenes.
Hopetoun House & Newhailes House
Located near Edinburgh, Hopetoun Estate is a stunning place to visit. The large house is set amidst a lawn and lush woodlands, and even features a pond. And if you're a fan, you'll recognise it as the residence of the Duke of Sandringham.
The estate was used for a range of filming locations throughout seasons 1, 2 and 3.
Newhailes House is a Palladian mansion located on the other side of Edinburgh, in East Lothian. This National Trust for Scotland site also sits at the heart of a historical estate and offers unspoilt views of the Firth of Forth.
Its lavish exterior is understandably why it was used as the Governor of North Carolina's mansion.
2. Explore historic ruins and castles
There are so many historic castles in Scotland, thousands even. For a historical drama, it's no wonder the series is making good use of these fascinating locations. From eerie ruins to strong fortresses, you'll feel as though you're stepping back in time yourself when you visit them.
These are the top castles that feature in Outlander:
Doune Castle
One of the most popular ruins to film in Scotland, Doune Castle in Stirlingshire stands in as Castle Leoch.
This is where Jamie and Claire's adventure really begins. In fact, Claire and Frank visit the ruins post-war but Claire gets to see it at its best when she travels back in time.
Good to know: Other movies and TV series, such as Game of Thrones, Outlaw King and Monty Python, have featured Doune Castle too.
---
---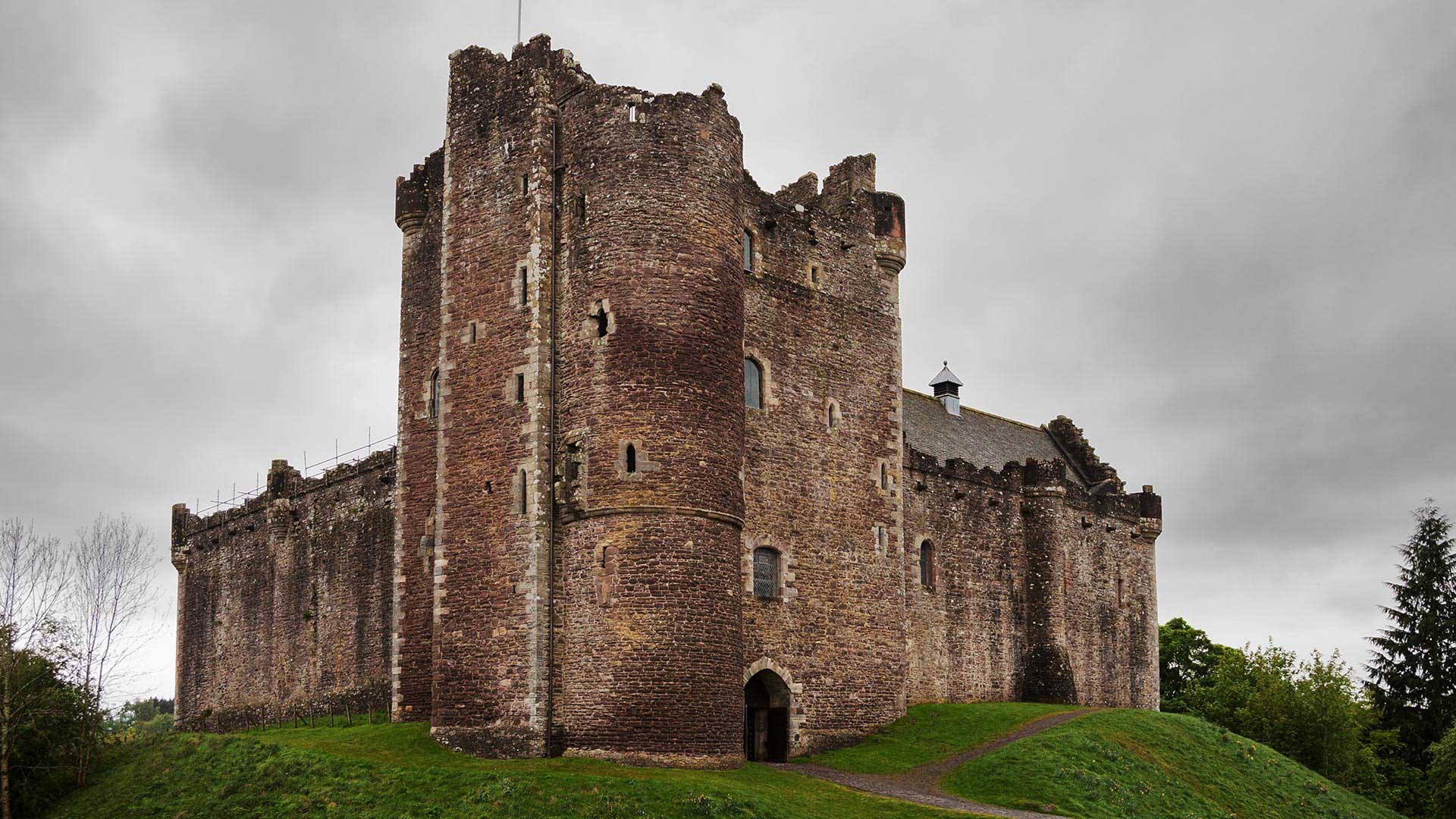 Blackness Castle
You won't have to venture far from Edinburgh to see the show's Fort William. It's used as the filming location for scenes at Blackness Castle.
This is where Jamie receives his lashings from the evil Black Jack Randall. The boat-shaped fortress juts into the Firth of Forth and offers terrific views of the area and nearby bridges.
Midhope Castle
Midhope Castle used to be a tower house that is now an abandoned ruin. Located on the estate of Hopetoun House, you can only visit it as part of a tour. The inside is derelict, but the exterior is mostly intact and was used to film Jamie's family home of Lallybroch.
Drummond Castle & Gardens
Drummond Castle, near the market town of Crieff in Perthshire, boasts an extensive garden that's open to visitors.
Visit for a leisurely wander and you may find yourself transported to France. In season 2, were you fooled when these particular gardens passed for the lush park of the Palace of Versailles?
---
---
3. Visit the quaint Fife villages
The Kingdom of Fife lies just across the Firth of Forth from Edinburgh. If you drive through it on your way up to Inverness or Aberdeen, you'll be able to stop at a few of the villages that were used to film Outlander.
These two medieval villages were used to represent other Scottish towns. Their history and old-time charm made them the perfect backdrop for the 1740s and 1940s alike.
Culross
In the series, the village of Culross stands in for the fictional village of Cranesmuir, where Geillis Duncan stays near Castle Leoch.
Culross is one of the most complete examples of an old burgh, which is probably why it was used so many times in Outlander. You won't miss it with its yellow palace, which really stands out.
Falkland
Falkland is seen in the first episode of the series, posing as the northern city Inverness, where Claire and Frank are honeymooning after the war.
Falkland was the first conservation village in Scotland and is perfect for a stroll. You could even visit Falkland Palace at the same time, which used to be a favourite of Mary Queen of Scots.
---
---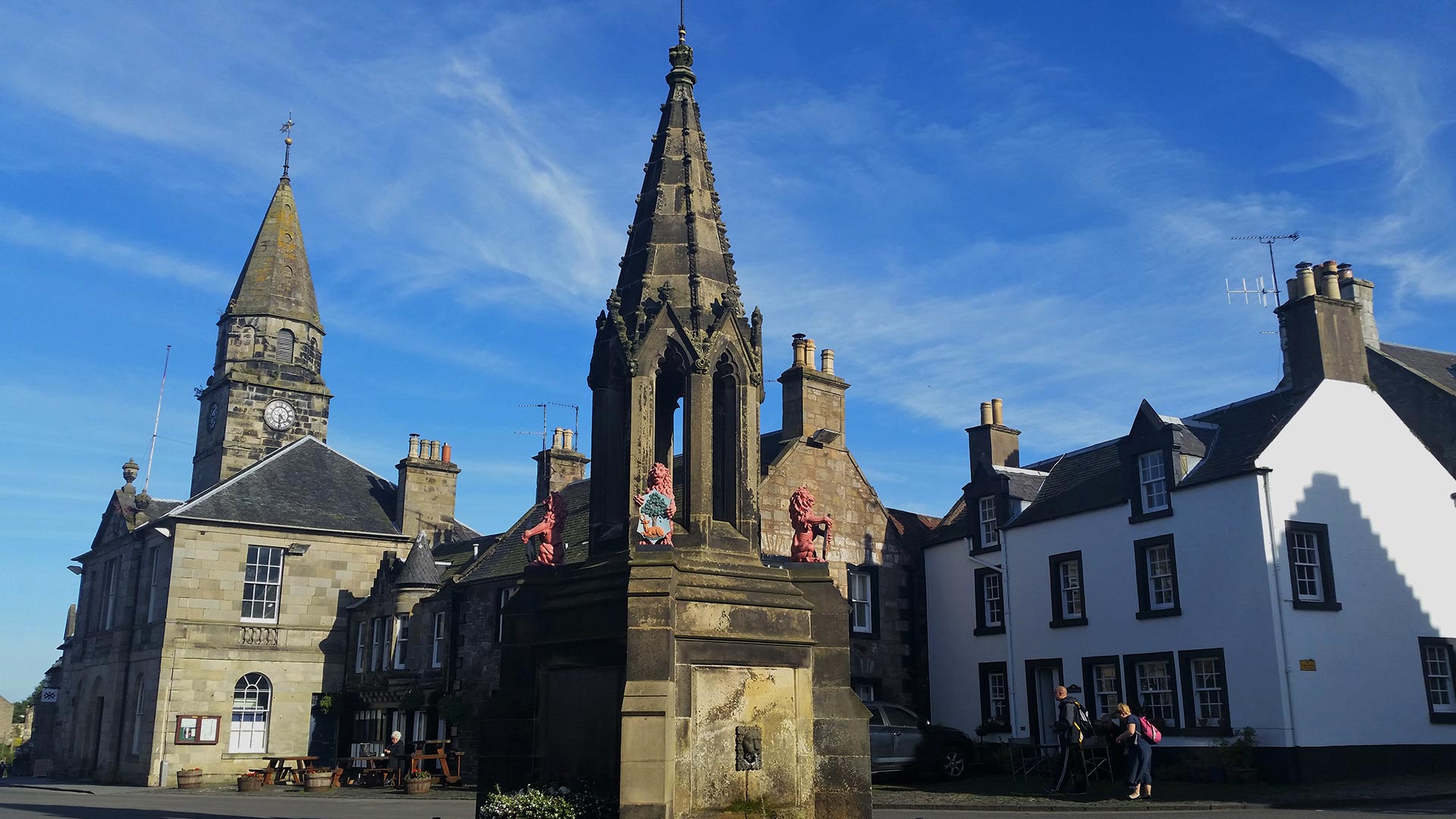 4. Experience the natural beauty of Perthshire
This is where it all began. While Claire's journey starts in Inverness in the books and TV series, it is in fact in Perthshire that a big part of Claire's journey was filmed in the earlier seasons.
Rannoch Moor
You'll probably know that Claire passes through the Craigh na Dun standing stones near Inverness to reach the 17th century. But these scenes were actually filmed on Rannoch Moor.
Stretching from Perthshire into the Highlands, Rannoch Moor will remind you of season 1 when Claire and Jamie ride across these moors and valleys.
In season 5, the signature stones make a comeback. This was filmed in the quaint village of Kinloch Rannoch, located at the eastern tip of the scenic Loch Rannoch.
For a similar feel, you could also visit nearby Glen Coe. This iconic Scottish spot offers scenic views of high peaks and deep valleys.
---
---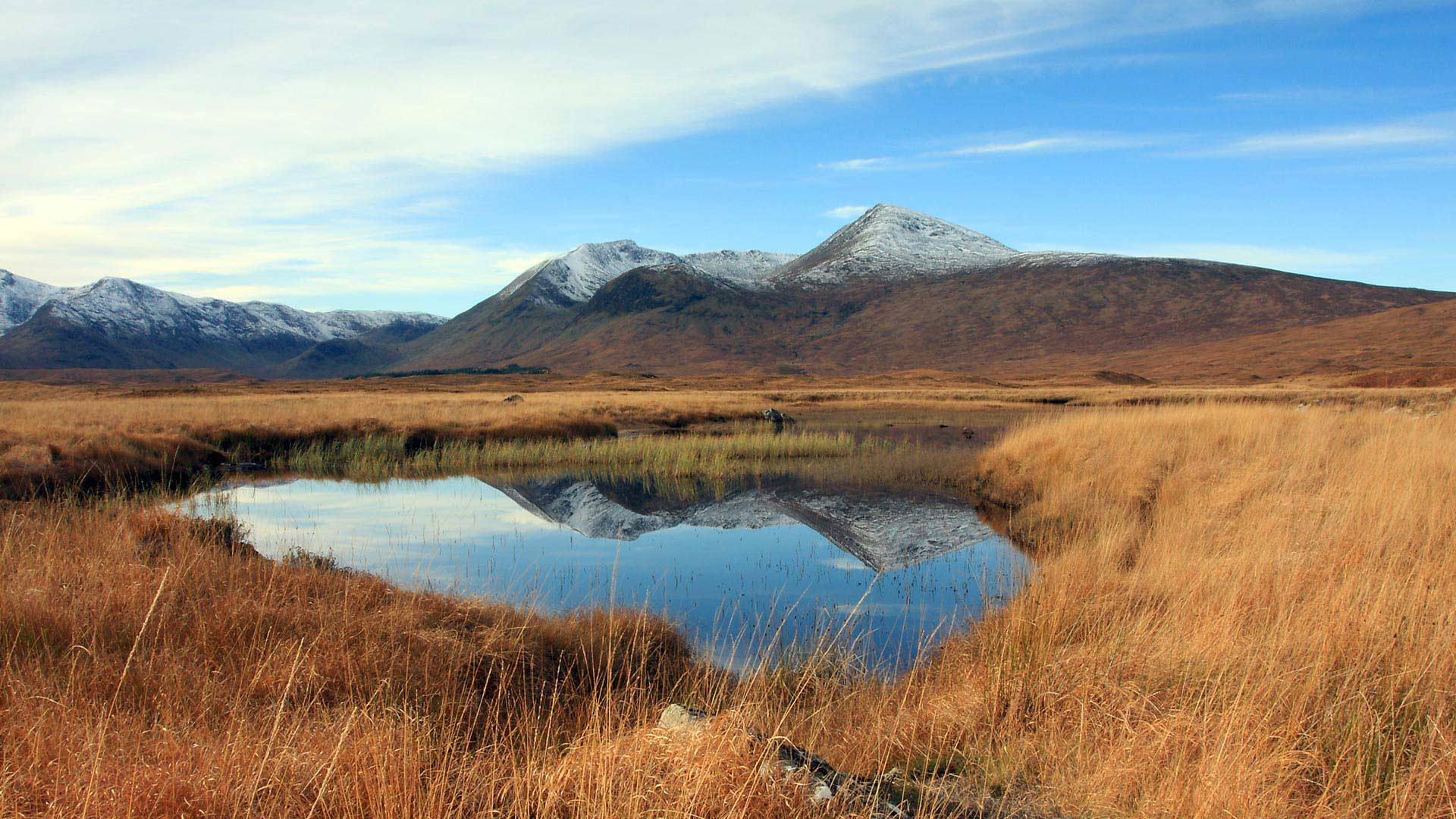 Crieff
Even though Diana Gabaldon moves our heroes and the action to the Americas, a lot of Outlander is still filmed in Scotland.
Pretend you're in North Carolina by visiting the lovely market town of Crieff. Indeed, this is where you'll find Jocasta's River Run Plantation. It was built from scratch on the Abercairny Estate, just outside the town.
Perthshire woodlands
North Carolina during the time of European settlers was a lush and wild country. It's no wonder the show runners had to find forested areas worthy of the name. Highland Perthshire is renowned for its tall and rich woodlands.
In season 4, "New World" scenes, including Cherokee and Mohawk villages, were filmed in the Faskally Forest, near Pitlochry. The town is a must-stop on your way into the Highlands. You could also visit Edradour or Blair Athol distilleries, go for a hike nearby or enjoy a delicious afternoon tea.
In season 5, the Hermitage was used as a filming location. You may be able to spot the River Braan and the Falls of Braan in late episodes.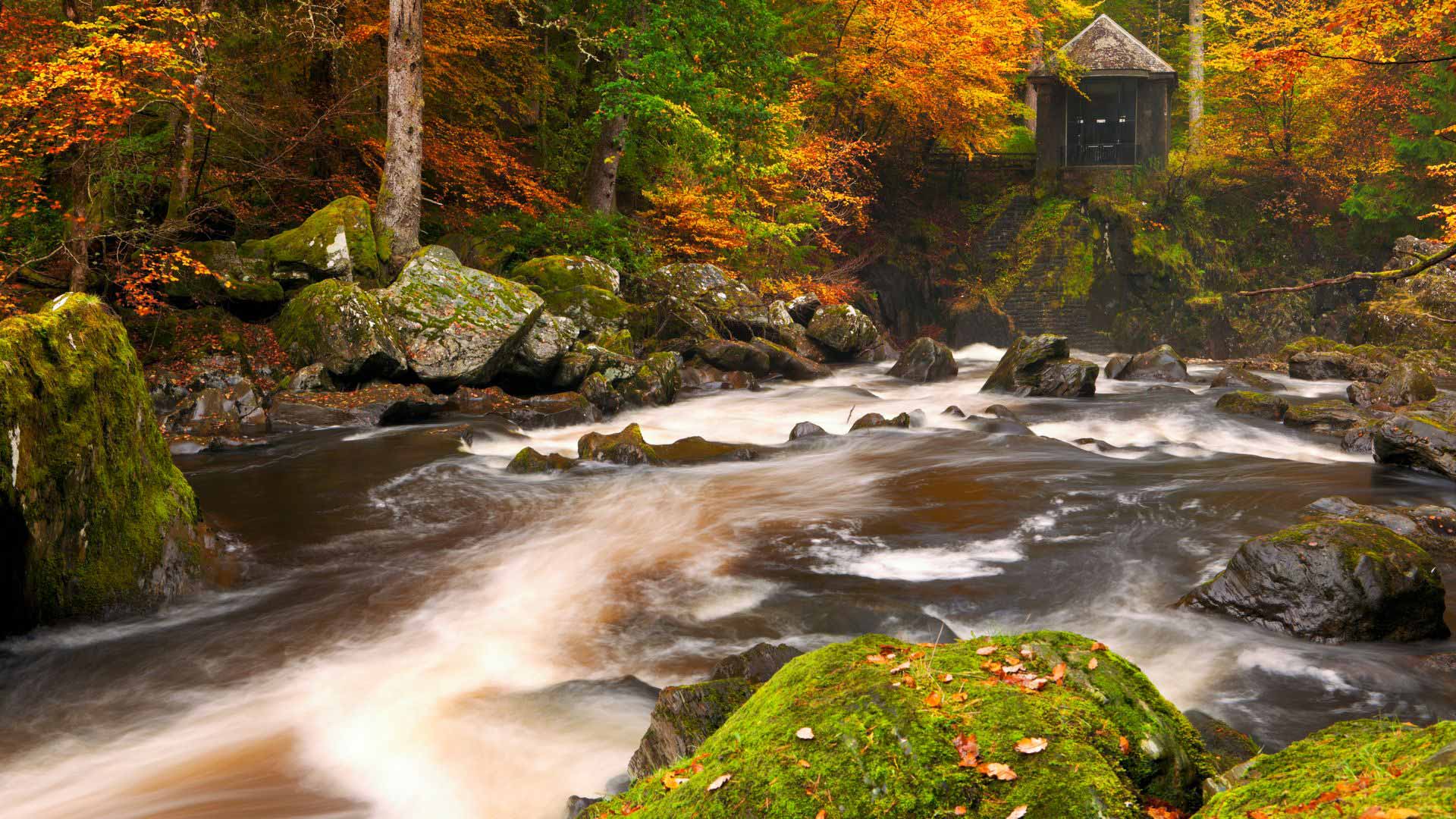 5. Witness real-life stone circles
Unfortunately, Craigh na Dun is fictional, but it was inspired by very real standing stones. In fact, there are around 500 stone circles in Scotland so if you want to see one, you'll find them dotted around the countryside.
Here are some of the standing stones and ancient tombs you could visit:
---
---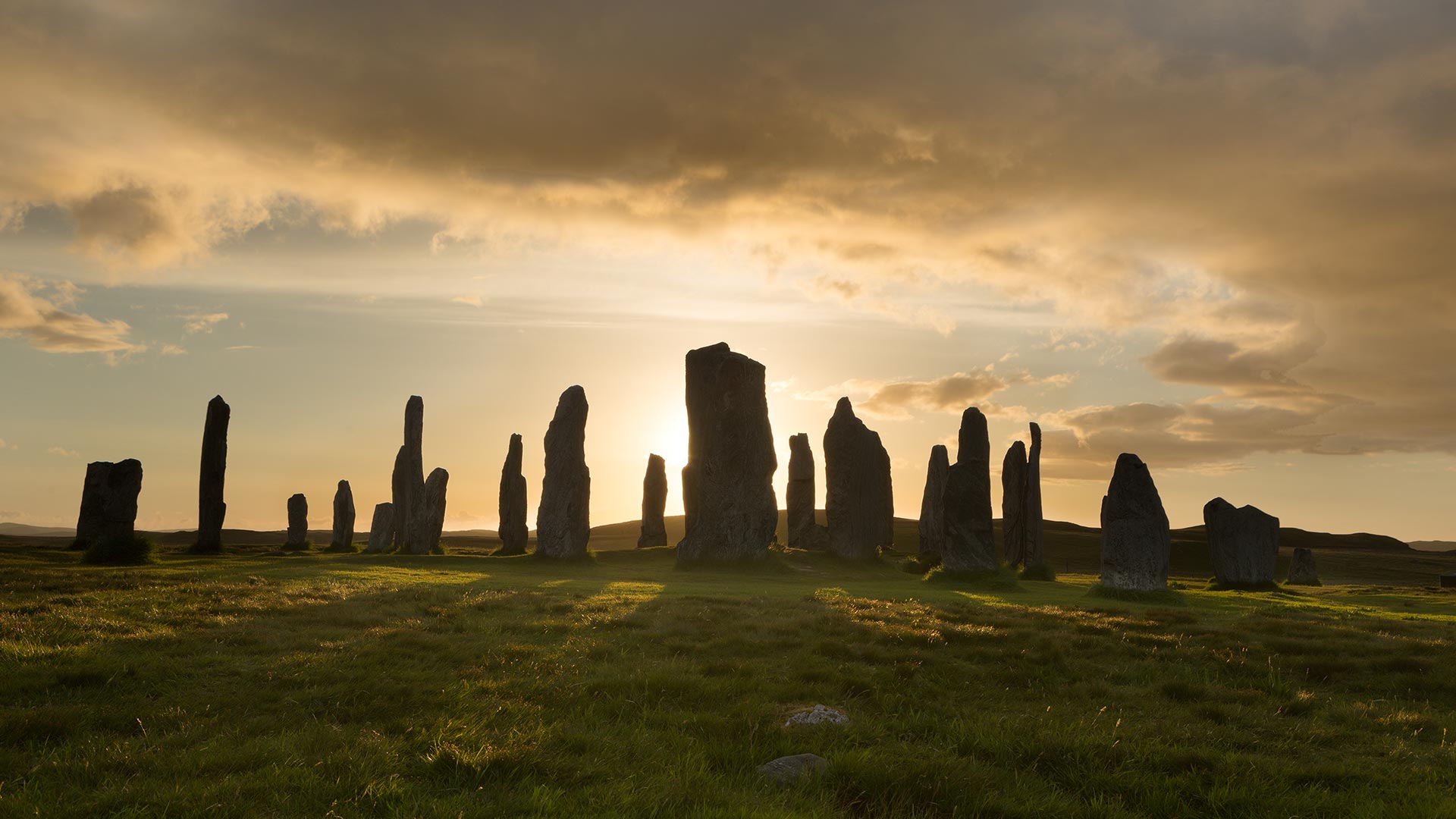 6. Explore the West End of Glasgow
Glasgow is known for being the largest city in Scotland, with an industrial background and incredible music scene.
While the city centre offers good shopping opportunities, you'll want to pop to the West End (subway station Hillhead). Here you will be able to visit the Gothic buildings that make up one of Scotland's oldest universities.
What is the Outlander connection? Well, if you paid close attention during season 3, you may well notice similarities between these parts of Glasgow and Boston.
Yes, most of the Harvard University scenes, as well as the exterior shots of Frank and Claire's home, where filmed in the West End of Glasgow.
Claire is also seen walking through Kelvingrove Park with baby Brianna. Then, nearly 20 years later, Brianna and Roger walk through the famous cloisters at the University of Glasgow.
You could also head south of Glasgow's River Clyde to visit charming Queen's Park. It features in a flashback scene of season 5.
---
---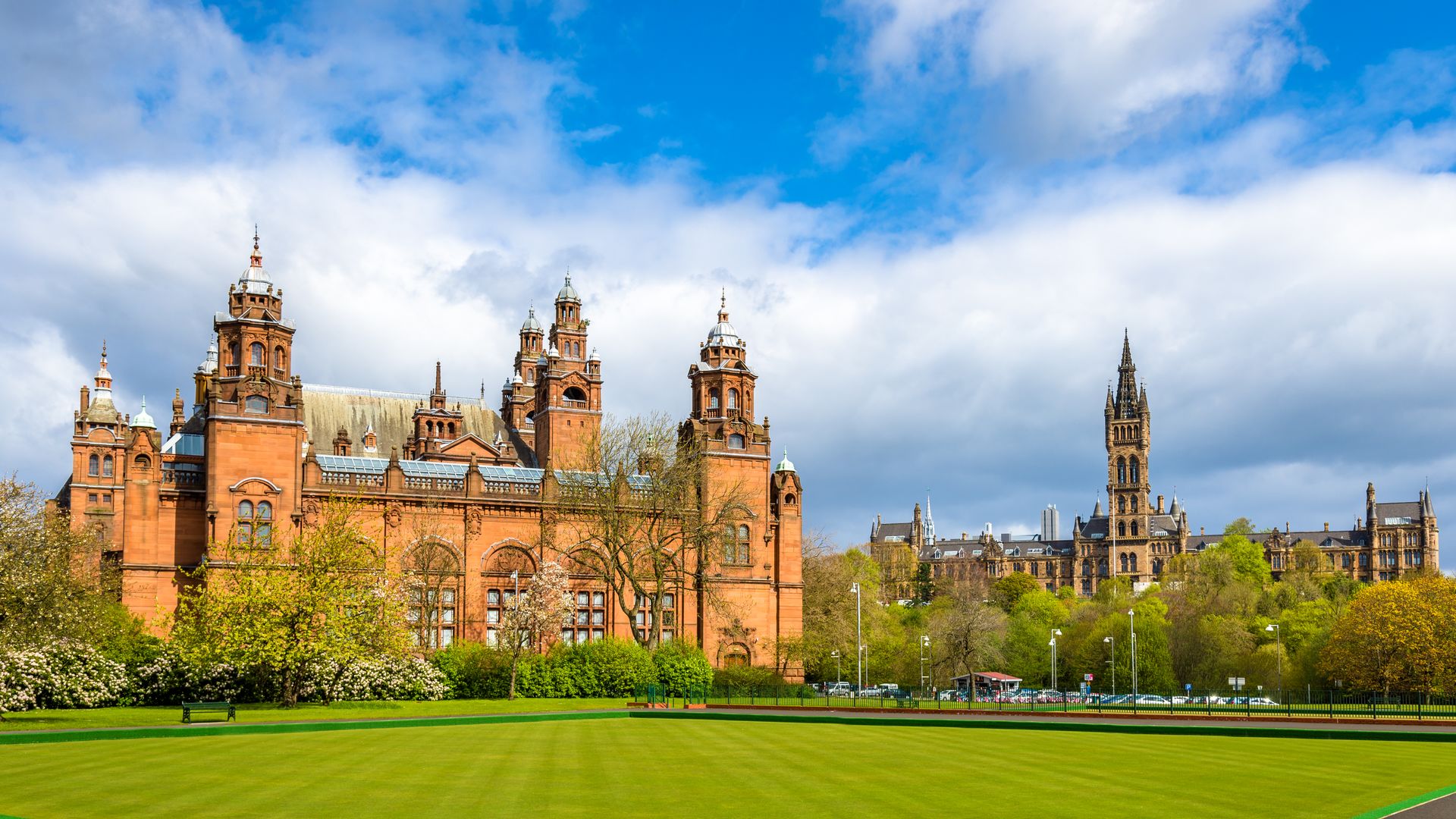 7. Discover the Trossachs National Park and Stirlingshire
The Trossachs National Park is another great stand-in for the wilderness of North Carolina, where Claire and Jamie Fraser settle in later seasons. This is where the true Fraser's Ridge is located.
Existing woodlands were topped up with extra ferns and strawberry bushes to match the book descriptions.
The camp where Murtagh and the rebels live was filmed near the spa town of Bridge of Allan, near the city of Stirling. You can also explore nearby towns, such as Callander and Cambusbarron, to find more Outlander inspiration.
---
---
Booking your Outlander holiday
You could build your own itinerary based on the locations above. Or, why not let a local plan your trip for you? Nordic Visitor's Scotland travel experts are based in Edinburgh and know the country inside out. They will help you make this an even more memorable holiday.
Browse these Outlander tours and pick your favourite. You could explore at your own pace on a road trip or enjoy a private tour with a local guide who will share all their knowledge with you. When you book with Nordic Visitor you get personal service and 24/7 support.
Are you ready to plan your Outlander adventure? Get in touch with our Scotland experts.