When Ekaterina Kozhevnikova and her husband visited Iceland this summer, they were treating themselves to a very belated honeymoon and captured a photo that melted the Nordic Visitor team's hearts.
The Russian couple, who live and work in the UK, travelled on a customised version of Nordic Visitor's Iceland Full Circle tour, which includes stops at popular areas like the Golden Circle, Snæfellsnes Peninsula and Mývatn. Ekaterina combined her love of travel and exploration with her anniversary celebration for some beautiful snapshots on her Instagram account. And for that, she is our Nordic Photo of the Month winner for September 2016.
To get the story behind the photo, join us for a Q&A session with Ekaterina below…
---
NV: Why did you choose Iceland as your holiday destination?
Ekaterina: I chose Iceland for our anniversary, because I always dreamed of coming to such a diverse country. Iceland is the country of fire and ice, where icebergs are very close to hot volcanic earth. We love hiking and nature, and we love place where there are few people. So Iceland was the only choice.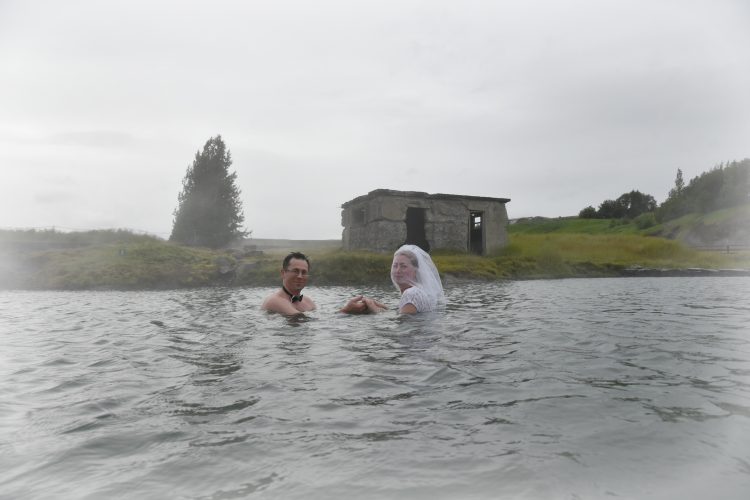 NV: Were you planning to visit the Secret Lagoon or was it recommended to you?
Ekaterina: I planned our holidays along with Silja, our Nordic Visitor travel consultant, and explained that I hoped we could visit a geothermal spring or pool every day and the Secret Lagoon was on the list she provided.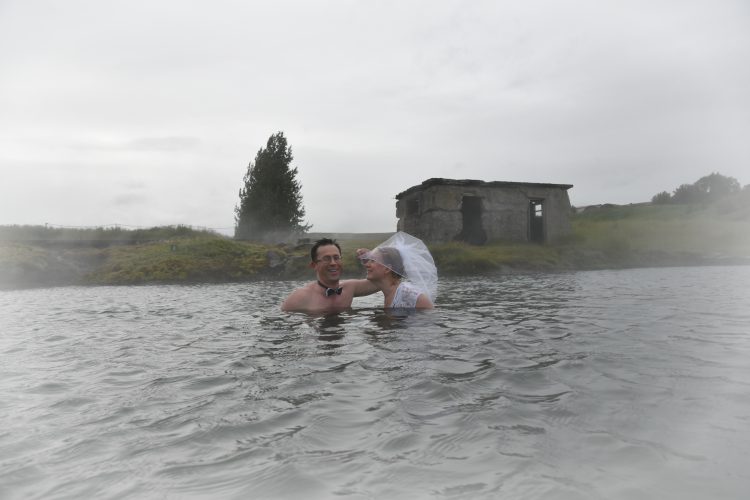 NV: What was the day like?
Ekaterina: That day was rainy and getting cold, so after visiting the Geysir area, we were cold and wet and not really looking forward to soak even more under the rainy sky... But, after our early dinner (yes, because of awful weather), the sky has cleared a bit, our mood improved after a yummy meal and we decided that we will regret it all our life, if we miss this experience.
I always plan my trips, trying to get the most from them, so I brought with me my "wedding dress" (short white beach dress), tiara and a bow-tie for my husband. After already soaking in the lagoon for 10 minutes, I realised that were not many people around and it was the perfect time for taking photos. So, I told my husband that I'm going to take my camera (by the way, it's a huge Nikon DSLR in a usual PET bag to avoid extra moisture, looking very silly among the people with tiny GO-PRO, but I didn't care, the result was worth it!).
When I came back in my 'wedding' outfit, I surprised not only my husband but the few people around and even caught some applause And it helped a lot to relax the atmosphere in the pool and even start some conversations with absolute strangers (everybody was surprised to learn that it's our 20th anniversary, that we weren't "just married". I did very little editing, because the old house, grey sky and the steam made this picture very special already.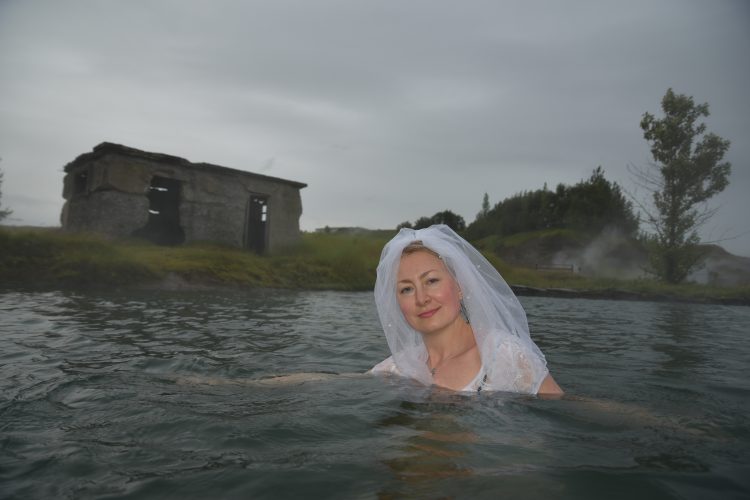 NV: Would you say Iceland is a good honeymoon destination?
Ekaterina: I would definitely recommend Iceland for other honeymooners (for my daughter in the future, definitely!!). There are so many things that can be done only in very rare places on Earth (whale watching, visiting volcanoes, hot geothermal pool swimming, tasting shark meat, glacier walking, etc.) and Iceland can give you all of them in one unforgettable trip!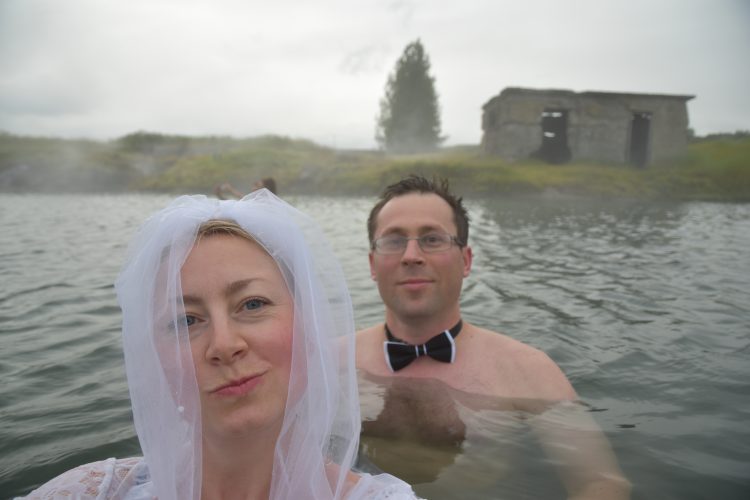 NV: Any tips for photographers visiting Iceland?
Ekaterina: I love photography and always take my camera (even 2) with me. I would advise everybody to take a spare battery and spare memory card, because there is so much beauty in Iceland, you can shoot non-stop and exhaust you equipment very fast. For the whole trip I shot 52 Gb of photos!
Thanks and congrats, Ekaterina!
---
Pro tip: .... like the 66 North Vatnajökull primaloft jacket and Surtsey cap that our Photo of the Month winners receive as prizes.
Good to know: A self-drive tour in Iceland gives you the freedom to choose your own photo stops and spend as much time at each place as you want...or as long as your other half can patiently wait for you to set up the perfect shot. Nordic Visitor can even custom-make your own road trip if you have specific areas or attractions in mind.
---
Have you travelled with Nordic Visitor and want to be in the running for our Nordic Photo of the Month contest? Tag your travel photos with #NordicVisitor to share them with us on Instagram, Facebook or Twitter!