Shhhh... don't tell anybody, but there's a top secret lagoon not too far outside Reykjavík that is a geothermal oasis for low-key luxury seekers and those with a tired muscle or two in need of a good, warm soak.
How secret is it? So secret that it's even called "The Secret Lagoon."
And this is what happened when We Tried It.
---
What and where is the Secret Lagoon?
Tucked behind an unassuming building in the small town of Flúðir is an old, rough-edged swimming pool brimming with clean geothermal water. What is now known as the Secret Lagoon (Gamla Laugin in Icelandic, meaning "old pool"), was Iceland'c first public swimming pool, having been created in 1891.
Situated in the geothermally rich countryside not far from the famed Golden Circle route, alongside hot springs and spouting geysers, the pool was the recreational hub of the small town. It was also the place where the townspeople learned to swim, until a more modern pool was built in 1947.
With the rise in popularity of the town's more modern facilities, the old pool was long forgotten and ignored until being lovingly restored and reopened in 2014.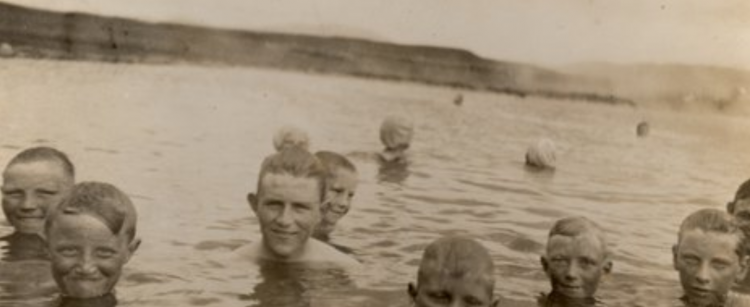 Now the old concrete changing facilities stand as crumbling, mossy ruins alongside the still rough-edged but spacious pool. New facilities with changing rooms, lockers and showers — which must be used (without clothing and with soap!) prior to entering the pool — line one edge of the swimming hole, where a modern deck and stairs into the water have been created.
Though restored, the old pool was kept authentic, so when not floating you'll be walking on the loose stones that line the pool's floor... and will sometimes come across a boulder, so don't run or horse around in the water unless you're looking to get a stubbed toe!
We Tried It...
Ævar, Hafdís, Þór and Catharine (yours truly) visited the Secret Lagoon recently and... well... we didn't want to leave. Floating in the perfectly warm waters, alongside bubbling hotsprings and a small geyser (Litli Geysir) that erupts every ten minutes or so just off the pool's far left corner was just too relaxing to part with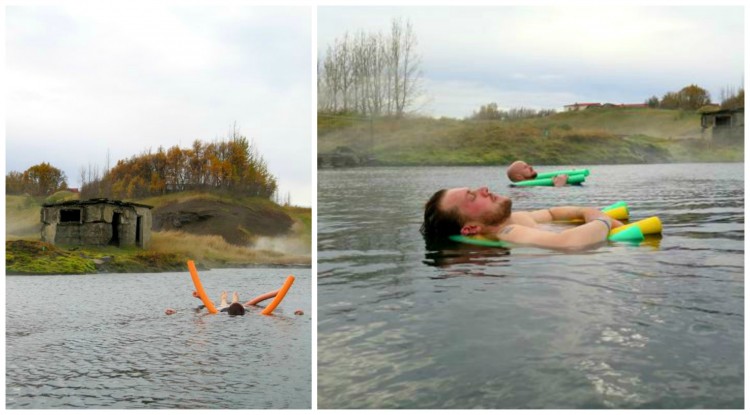 Still, despite wanting to linger all day, we summoned the strength to crawl back onto dry land once our fingers and toes were sufficiently wrinkled and our muscles plenty loose.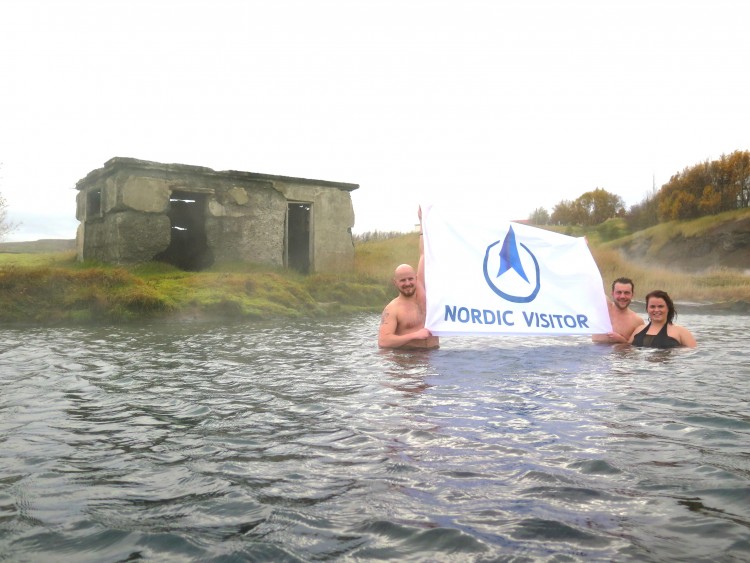 ---
Either before or after taking a dip in the pool, visitors can also walk on marked paths around the facilities to see the area's geothermal sites, including the Vaðmálahver hot spring, where women used to wash clothes in the naturally hot waters, and Básahver, a colourful hot spring that spurts and bubbles noisily.
If your self-drive package is bringing you through Flúðir or anywhere in the vicinity of the famed Golden Circle route, your body will thank you for a short stop at the Secret Lagoon. Ours sure did!