Iceland is often referred to as a dream destination for every photographer. The diverse landscape, beautiful natural wonders and the ever-changing light is something that sets Iceland apart. As Iceland's brief autumn comes to an end, the temperatures get colder and colours more muted as the island segues into its long winter. But, the beauty remains.
This month's Nordic Photo of the Month winner, Swapnil Deshpande, captures Iceland's unique and vast landscape from towering waterfalls to haunting black sand beaches. Swapnil travelled from India on Nordic Visitor's Iceland Grand Tour, a 17-day self-drive journey following the 828-mile (1,332 km) Ring Road, the nickname given to the major highway that loops the whole island. This route includes regions such as the famous Golden Circle, popular South Coast, dramatic East Fjords, gems of the North and the rugged West Fjords.
The tour includes a detour around South Iceland and the village of Vík, where Swapnil captured his winning photo of northern lights dancing above a church and posted it on Instagram tagged with #nordicvisitor.
We caught up with Swapnil to chat about his photographic interest in Iceland. Take a look below for his expert tips and more photos!
---
NV: What made you want to travel to Iceland?
Swapnil: Iceland is a dream destination for every photographer. The diverse landscape, the ever changing weather, and the beautiful light is something to really look for when photographing a destination. Also, the exciting natural phenomena like northern lights, the midnight sun in the summer, and the beautiful waterfalls make it one of the most amazing destinations for travel and photography.
My purpose for travelling to Iceland was for photography, but my experience there was overwhelming and much more than just taking photos. It is a phenomenal and enriching country and makes everlasting memories.
NV: What was your favorite place in Iceland to photograph?
Swapnil: All of Iceland was my favorite place to photograph, but if I have to single out one place it would be Jökulsárlón. The moods from the constantly changing light, the glaciers and the floating ice is a scintillating experience in itself. There are numerous images of sunrises and sunsets of the lagoon, but the mood is awesome most of the day there. Also, the boat trip around the lagoon and watching the glacier itself is a wonderful sight.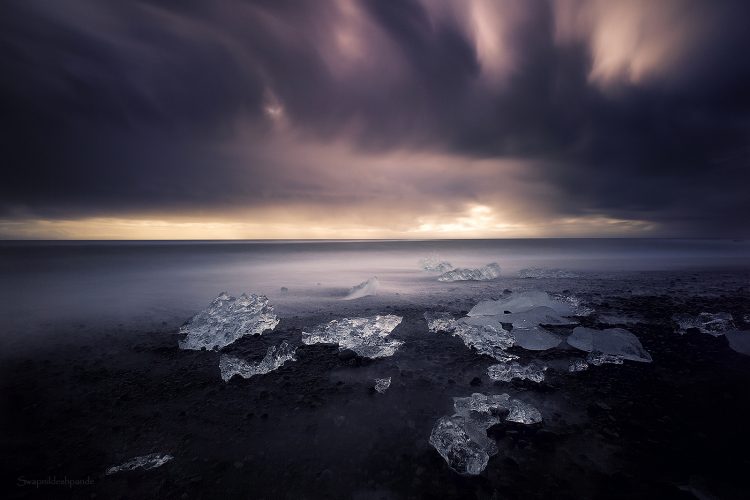 NV: Is it challenging to take photos in Iceland?
Swapnil: It is certainly challenging to photograph Iceland. The winds, weather and rains can present many obstacles to getting the image you want, but hey, you can't see rainbows if it doesn't rain :) Having the right techniques, use of a tripod, raincovers and proper clothing for the climate makes life easier out there in the open.
NV: What kind of photo gear do you use?
Swapnil: I use Canon equipment for my photography. A 1D Mark 4, a 5 D Mark 3, a couple of wide angles and a telephoto lens takes care of the optics, and I use a Sirui tripod and ND and polarising filters.
NV: Do you have tips on how to get good photos of northern lights?
Swapnil:
The best tip would be to keep an eye on the cloud cover and the aurora forecast.
Second is your tripod; the sturdier the better and it's as important as the lens itself I'd say for photographing northern lights.
About camera settings, keep your ISO starting from 800 towards 3200.
The aperture is to be kept as wide open as the lens permits, 2.8 is best, and f4 also would be useful.
Try different shutter speeds for creative effects from 6-8 seconds to 20 seconds. I do not prefer 30 seconds because the auroras get too bright and highlights may burn out.
Experiment and never have high expectations of northern lights to occur. I saw them three times during my 17-day trip.
Also heavy clouds can play spoilsport, but light clouds can create some beautiful effects. So look out for them and make sure that you have an interesting foreground to balance the amazing auroras.
NV: What surprised you about Iceland the most?
Swapnil: When I walked out of Keflavik International Airport I was welcomed by a beautiful rainbow and a soft drizzle of rain and great morning light. The light kept changing and sunlight shimmered through the clouds and there was beautiful mood. It was somehow a prelude to the coming days.
As the tour progressed, the various natural elements like rain, hail, wind, and the stories of volcanoes at Eyjafjallajökull and Hekla kept me intrigued. It was extremely surprising to see people living in the vicinity of such volcanoes and still so happy somehow. The emptiness of the East and West Fjords, the great food, especially the homemade rye bread, and the amazing auroras all left an everlasting impression on me.
NV: What recommendations or tips would you give first-time travellers to Iceland?
Swapnil:
Iceland is an extremely beautiful country blessed with nature as well as technology in terms of being a perfectly wired country. So travelling here isn't tough at all.
If you are driving, be cautious about sheep during twilight and the gravel roads as tyres are not insured in Iceland, and always purchase the proper car insurance.
Another important thing in Iceland is that the journey between your morning and night hotel is a destination in itself. Sometimes the roads are more beautiful than the destination itself, so prepare mentally about being on the road the whole day.
When it comes to nature, do have a look daily on the Iceland weather website, but also prepare for anything, anytime. Iceland is all about extremes and changing weather :)
Thanks and congrats, Swapnil!
P.S. We love Swapnil's Instagram username @walter_mitty19, referring to the The Secret Life of Walter Mitty movie filmed in Iceland that inspired other Nordic Visitor photo contest winners!
---
Pro tip: Pro tip: As the seasons change in Iceland and elsewhere in the Nordics, you need to think layers, layers, layers when packing for your trip. To dress as the locals in Iceland, we recommend garments like the Vatnajökull primaloft jacket and Surtsey cap from our friends at 66 North. As this month's winner, Swapnil wins one of each to use on his future photography adventures.
Good to know: A self-drive tour in Iceland gives you the freedom to choose your own photo stops and spend as much time as you need setting up that perfect shot. Nordic Visitor can even custom-make your own road trip if you have specific areas or attractions in mind.
Have you travelled with Nordic Visitor and want to be in the running for our Nordic Photo of the Month contest? Tag your travel photos with #NordicVisitor to share them with us onInstagram, Facebook or Twitter!