With their rugged green landscapes, wild coastlines and crumbling castles, Scotland and Ireland have a lot in common. Yet as you'll discover on a visit to these two Celtic nations, they have many differences too.
So, which one should you visit, Scotland or Ireland?
Head to Scotland for craggy mountain peaks, deep valleys (or glens), and the fascinating history of kings, queens, and Highland clans. In Ireland, you'll cross emerald landscapes, uncovering ancient traditions and a proud literary culture.
Whichever you choose to visit, you'll come across sublime beaches and vibrant cities while meeting famously friendly locals along the way.
Here you'll find all the information you need to plan your trip. But, really, there's no reason to miss out on either destination. With a tour of Scotland and Ireland, you can experience all the magic and charm of both.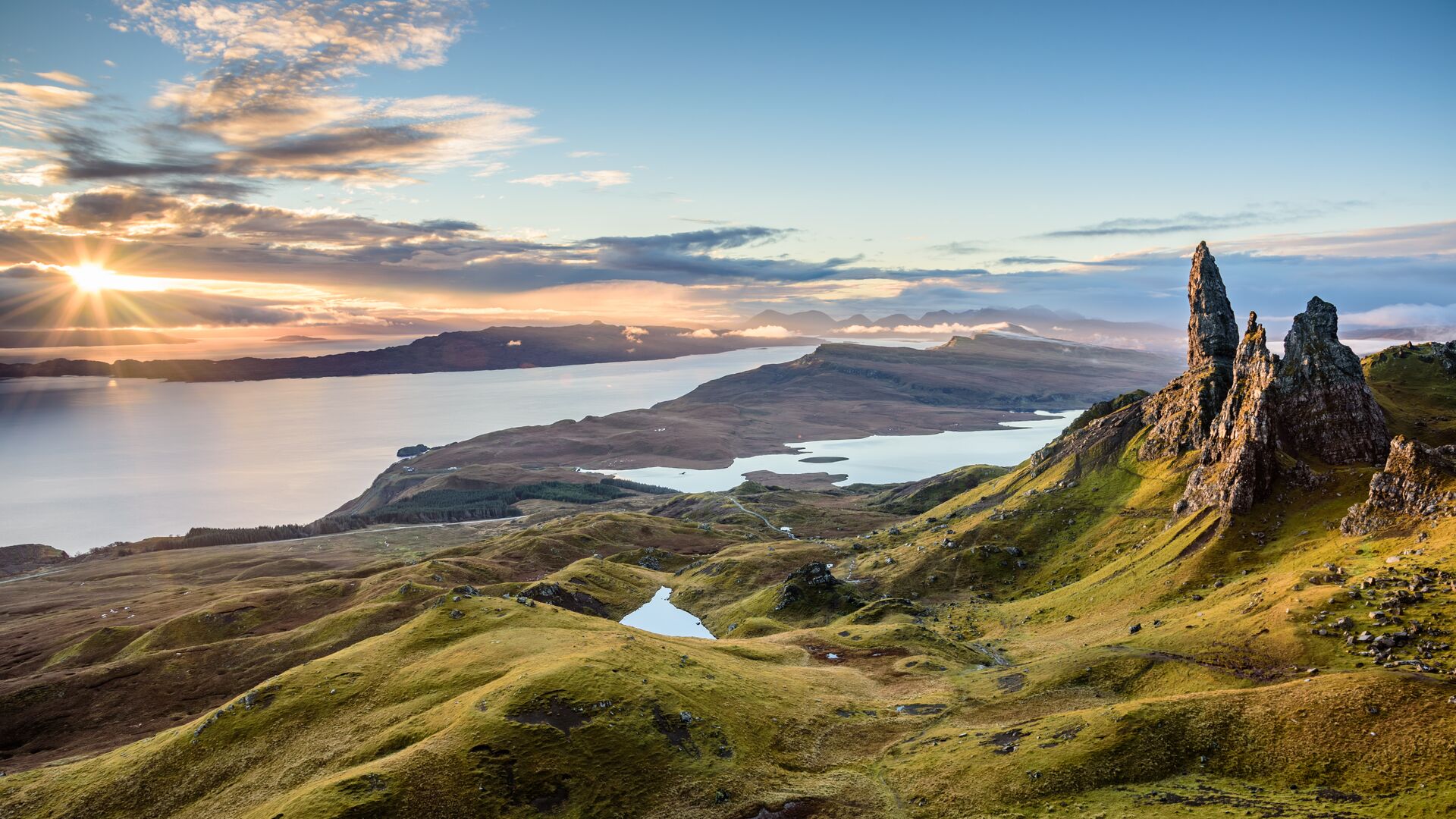 1. Where are Scotland and Ireland?
Before choosing between Scotland or Ireland, it's worth knowing a bit about their geography.
Scotland is the most northerly nation in the UK (United Kingdom), which Wales, England, and Northern Ireland are also a part of. Alongside the mainland, the country has around 800 islands, with 93 inhabited ones for you to explore.
Then there's Ireland or the "Emerald Isle". When people say Ireland, they're often talking about the island of Ireland, which includes two countries.
One is Northern Ireland, which is in the UK and has Belfast as its capital. The other is the Republic of Ireland, whose capital is Dublin.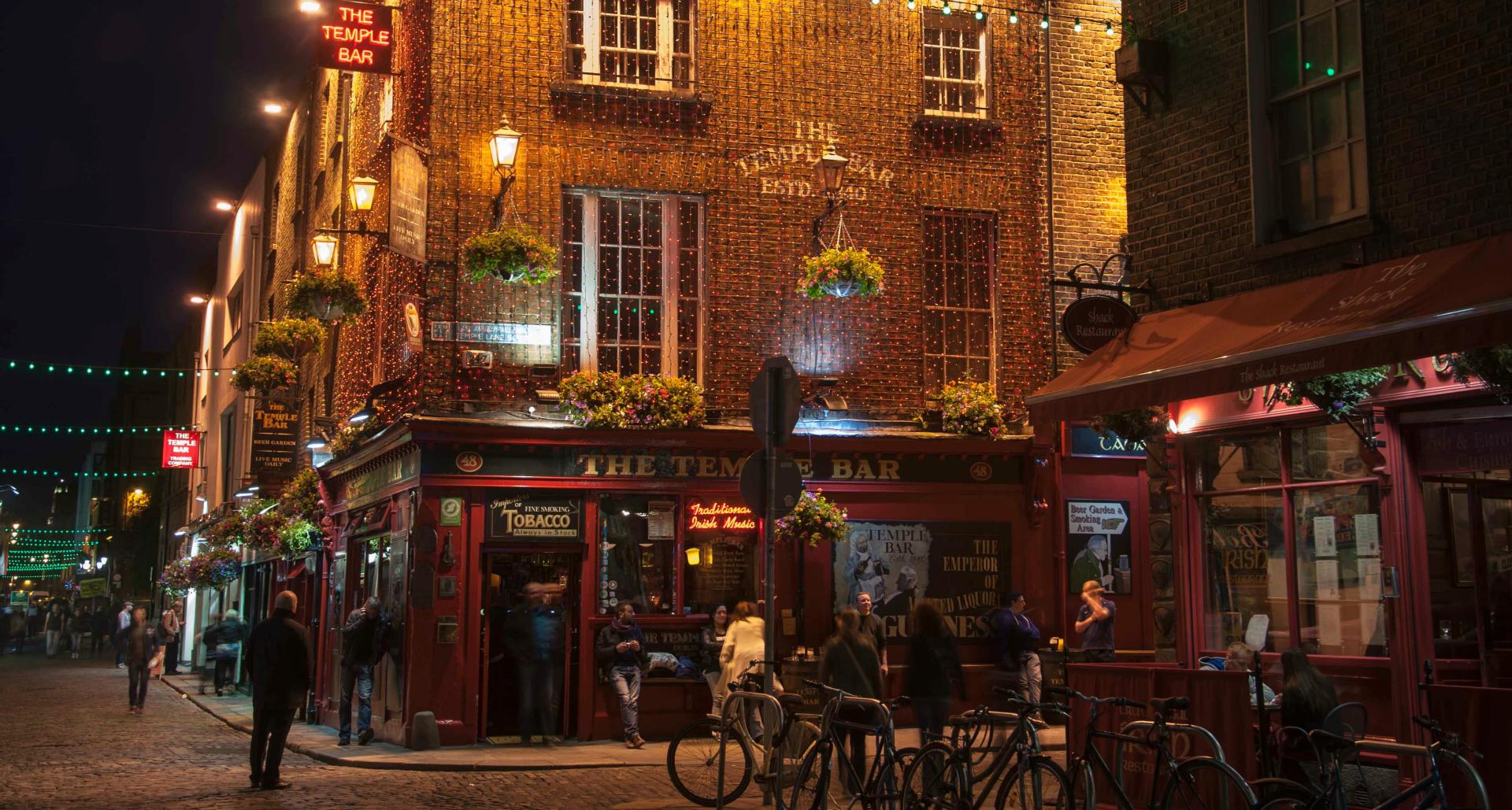 How do I get to Ireland and Scotland?
From around the world, travelling by plane is easy to Scotland or Ireland. To visit either country from mainland Europe, you could also check out a few ferry routes.
You can fly into Scotland's largest international airports, Edinburgh and Glasgow, via direct flights from North America and Europe. But it's also possible to book flights to Glasgow Prestwick, Aberdeen, and Inverness airports.
From North America, non-stop connections depart from Atlanta, Boston, Calgary, Chicago, New York, Orlando, Toronto, and Washington DC. It's also possible to fly directly to Scotland from European cities, including Amsterdam, Frankfurt, London, Madrid, Paris, and Reykjavík.
If you're travelling from outside of North America or Europe, you'll likely need to take a connecting flight. These often include a stopover in international air travel hubs such as London Heathrow, Paris Charles de Gaulle, or Amsterdam.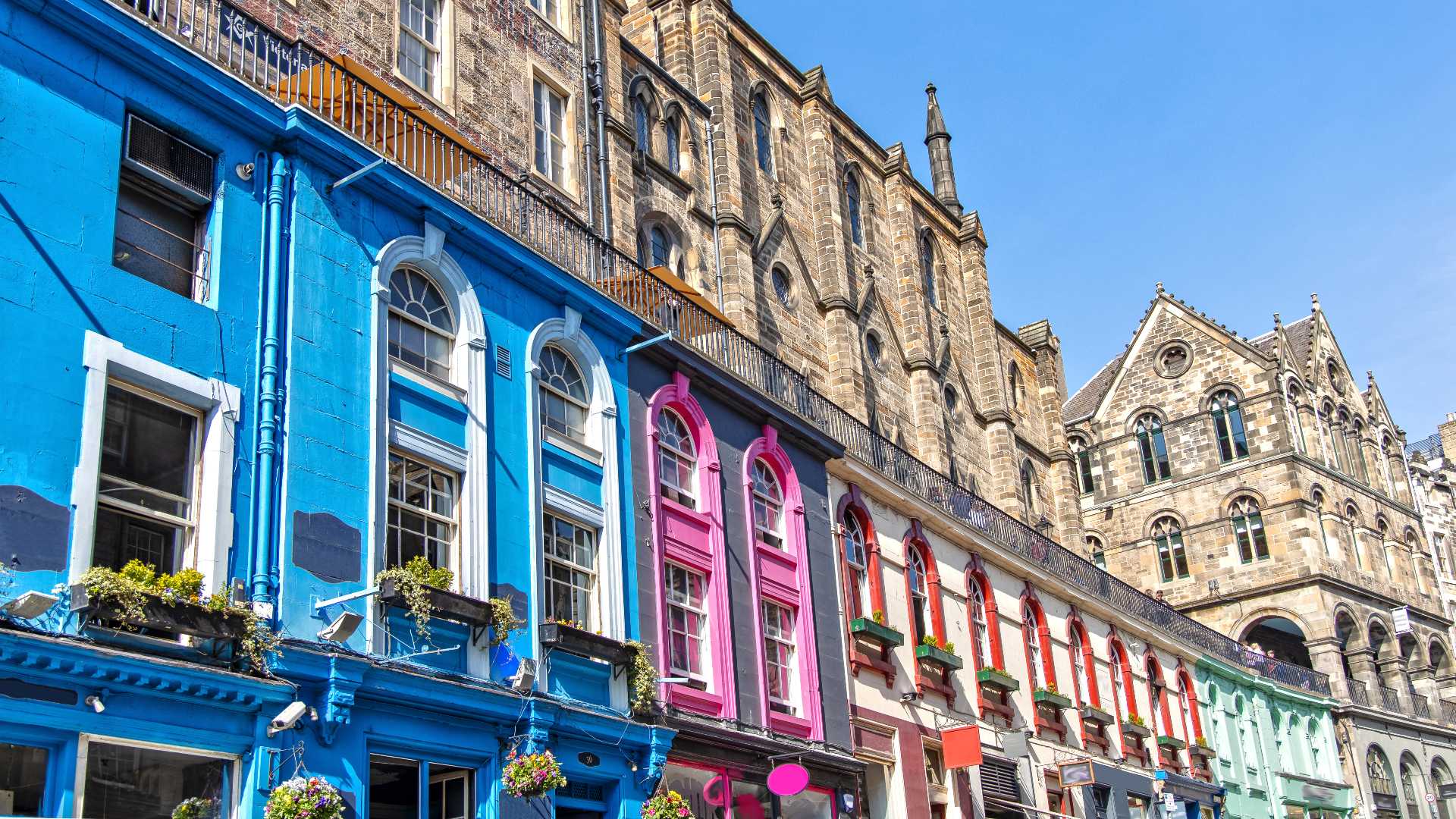 Meanwhile, most international flights to Ireland arrive at either Dublin, Belfast International, or Cork airports. From the US, you can fly non-stop from many of the major cities. Or you can take a direct flight to Dublin from over 120 European cities.
If you'd prefer not to fly, and are coming from Europe it's also possible to travel by ferry. You can get to Ireland from Spain or France, along with ports in England, Scotland, and Wales. To reach Scotland by boat from Europe, you'll need to pass through England.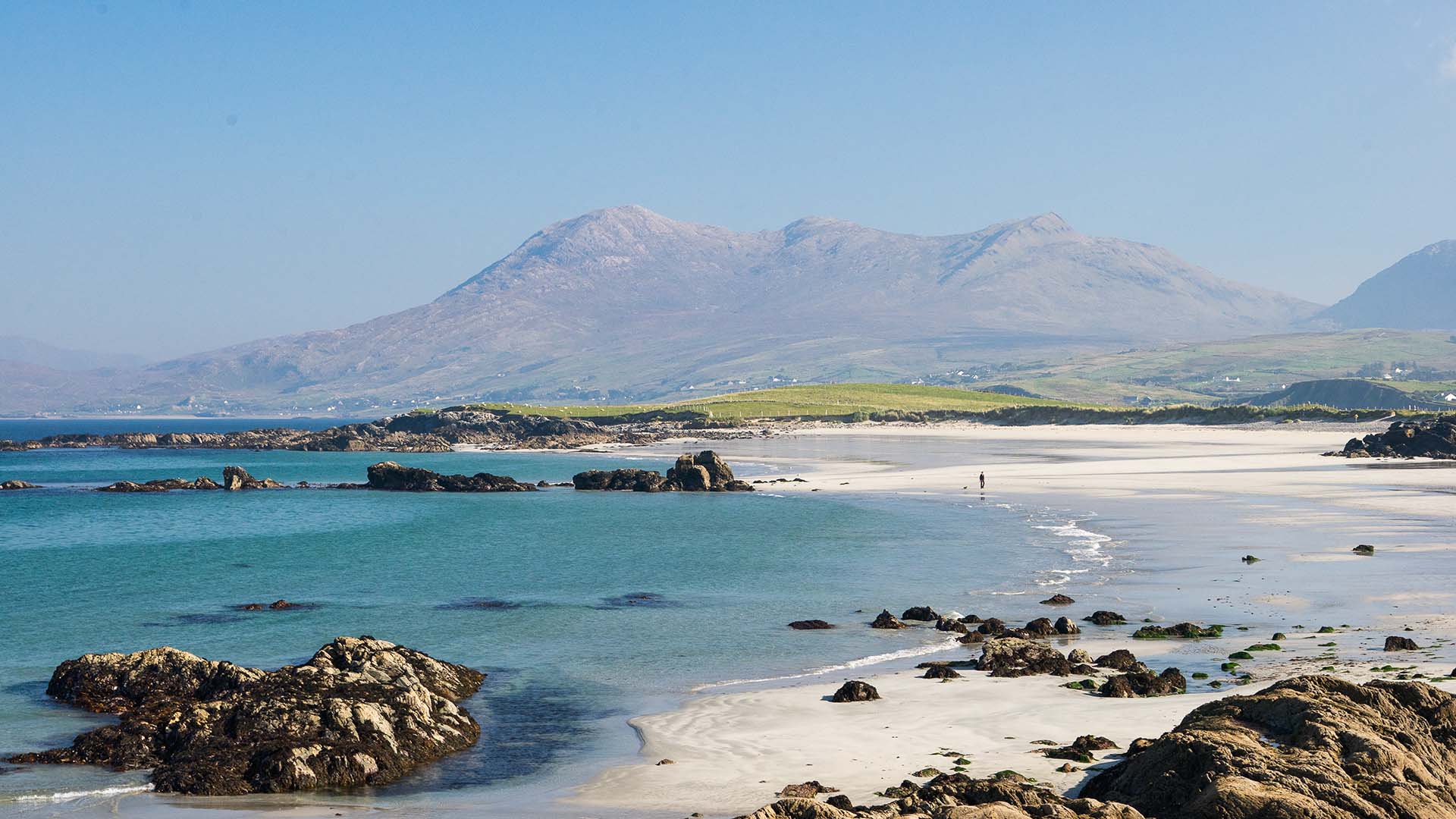 How close is Ireland to Scotland?
At their closest points, Scotland and Ireland are only 12 miles (19 kilometres) apart.
They are separated by the North Channel, which is narrowest between the Mull of Kintyre in Scotland and Torr Head in Northern Ireland. On a clear day, you can easily see the land on the other side.
How can I travel around Ireland and Scotland?
It's really simple to travel around Ireland and Scotland. For the most freedom and flexibility, we recommend hiring a car. For instance, on these self-drive tours of Scotland and Ireland, you can go at your own pace and stop wherever you like along the way.
When you book with Nordic Visitor, we'll handle the accommodation, transport, and any extras, so you can buckle up and enjoy the adventure.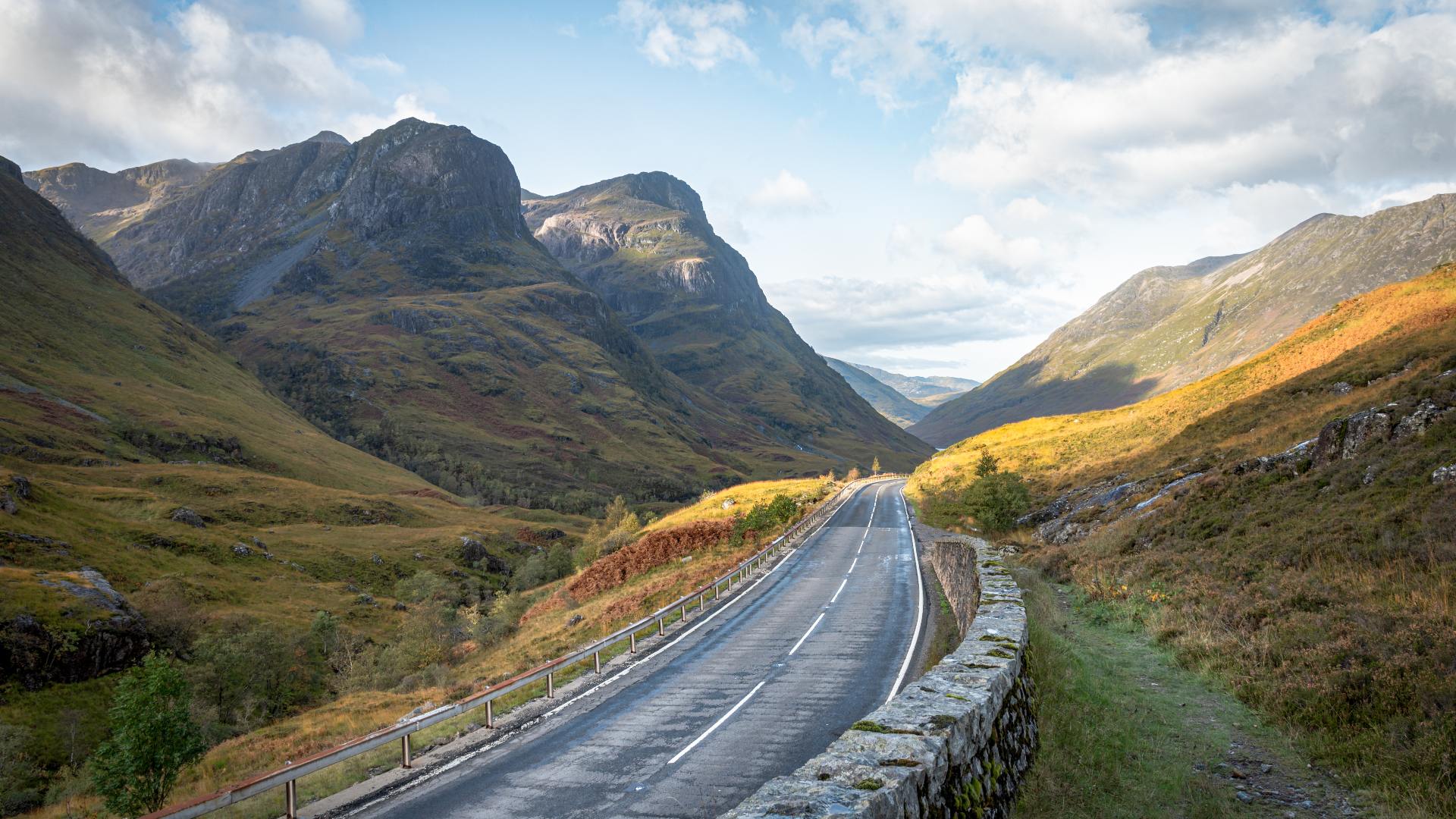 Alternatively, join a small group tour in Scotland or Ireland and a local guide will take care of the driving while showing you the magic of each country. You could also book a completely private tour of Ireland or Scotland, for a personalised guided trip.
If you're short on time, a Scotland multi-day trip could be what you're looking for. On this type of tour, you'll return to the same hotel in Edinburgh each night. And by day you'll enjoy guided tours of the city's top attractions and take day trips into the countryside.
Good to know: In both countries, you can use public transportation to get between the major cities and many of the main sights.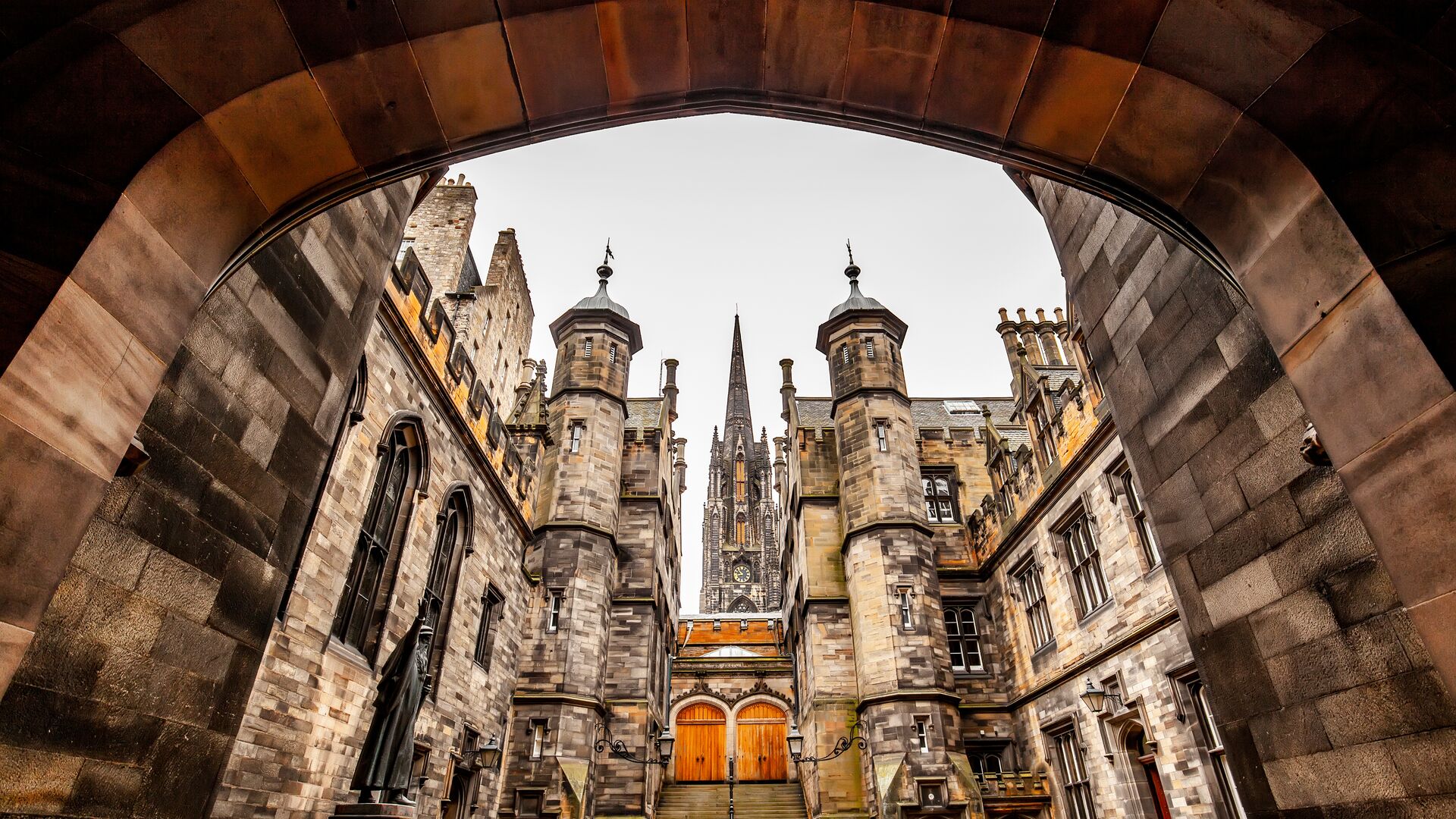 2. Climate
Ireland and Scotland both have a temperate maritime climate. In practical terms, that means you can expect mild weather throughout the year, with average summer temperatures of around 15°C (59°F). Whenever you come, you'll probably want to have a jacket to hand.
What's the weather like?
On the edge of the Atlantic Ocean, Scotland and Ireland have a reputation for being somewhat wet and windswept. And while this is sometimes the case, the weather is unpredictable so often you won't need to wait long for it to change.
You'll also experience different weather, depending on where you are in either country.
For instance, some areas on the west coast of Ireland and Scotland get a lot of rainfall, which adds to their moody atmosphere. Whereas, other regions, such as Scotland's Firth of Forth, are considerably drier. Indeed, Edinburgh has similar annual rainfall to Barcelona and gets a lot less precipitation than New York.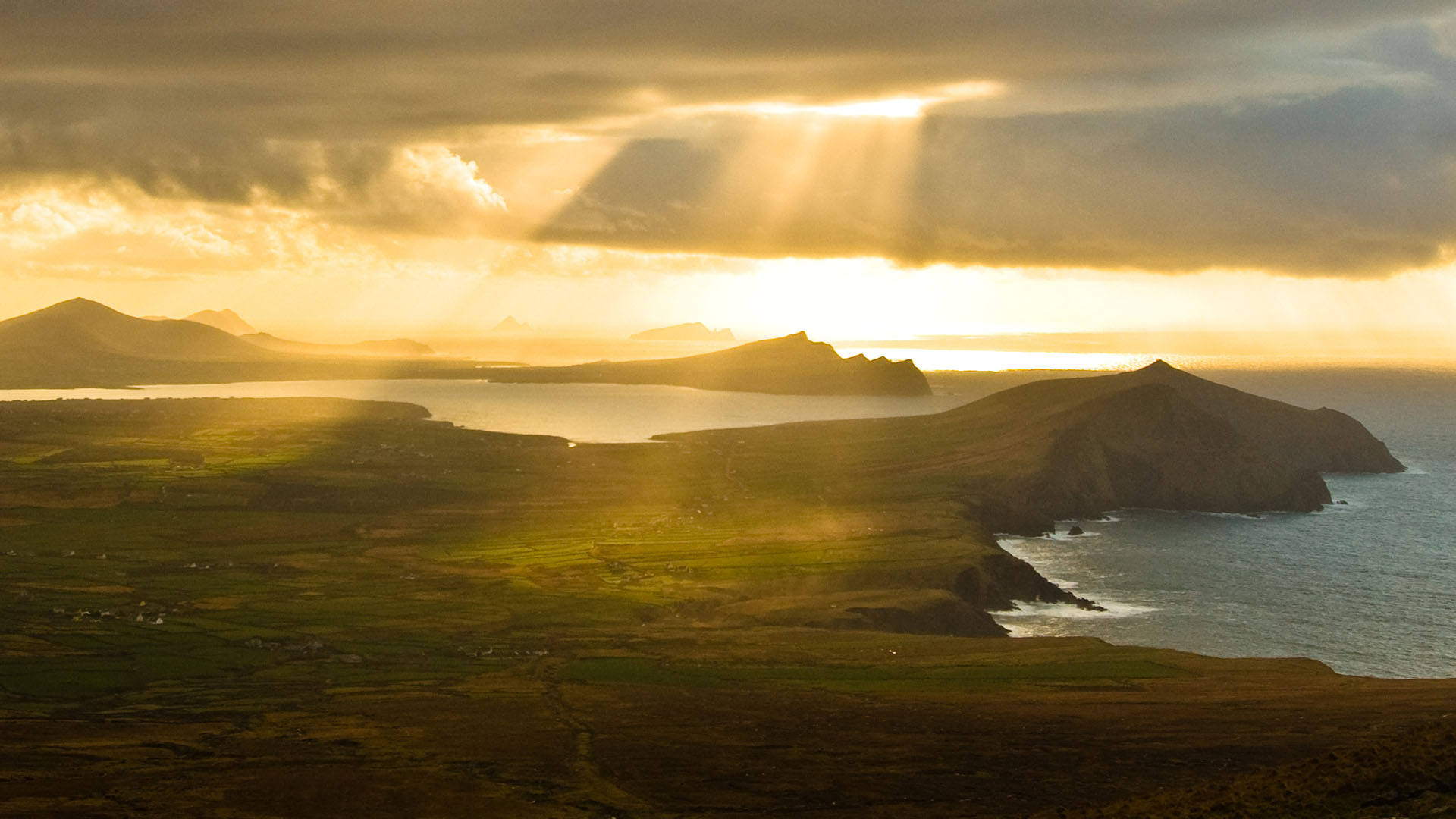 Is Scotland colder than Ireland?
In general, you'll encounter slightly lower temperatures in Scotland than in Ireland. That's because Scotland is further north and has more mountainous terrain. That said, there's not enough of a difference for you to notice.
When is the best time to visit Ireland and Scotland?
All seasons have their charms in Scotland and Ireland.
For instance, visit in April and May and you'll spy spring blooms bringing colour to the cities and countryside alike. Depending on when you travel, you could see purple bluebells, yellow daffodils, and pink cherry blossoms. Spring also tends to be a quieter time of year for taking in the top attractions.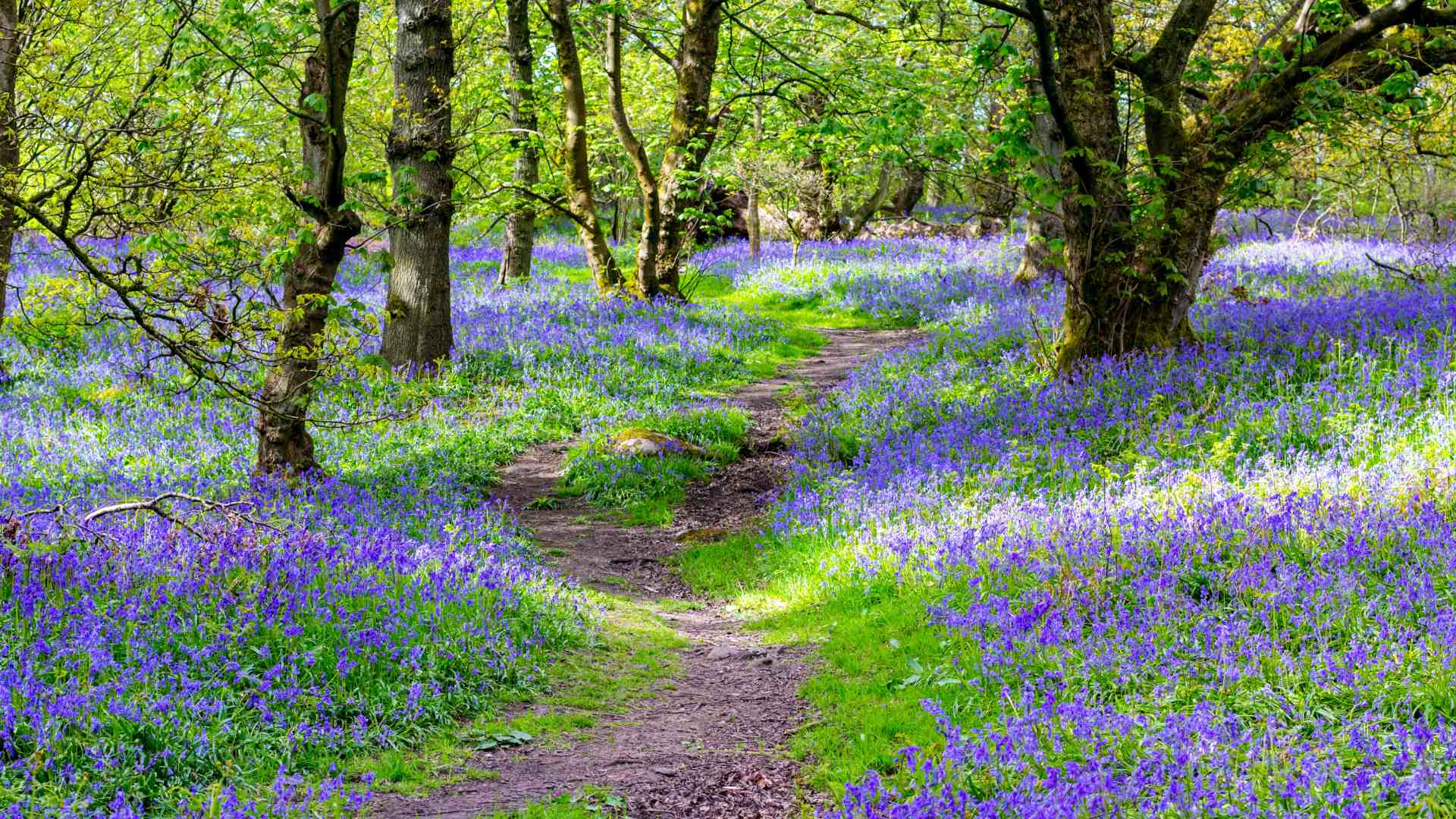 Summer – June through mid-September – brings the mildest weather, making this the most popular time to visit. Explore Scotland and Ireland during summertime and you'll have plenty of daylight hours. So you can soak up the scenery late into the evening.
Like spring, autumn is a quieter time of year for travelling around Scotland and Ireland. From mid-September to November, you'll be treated to the sight of trees turning fiery shades of red and orange. And of course, the temperatures become cooler as winter approaches.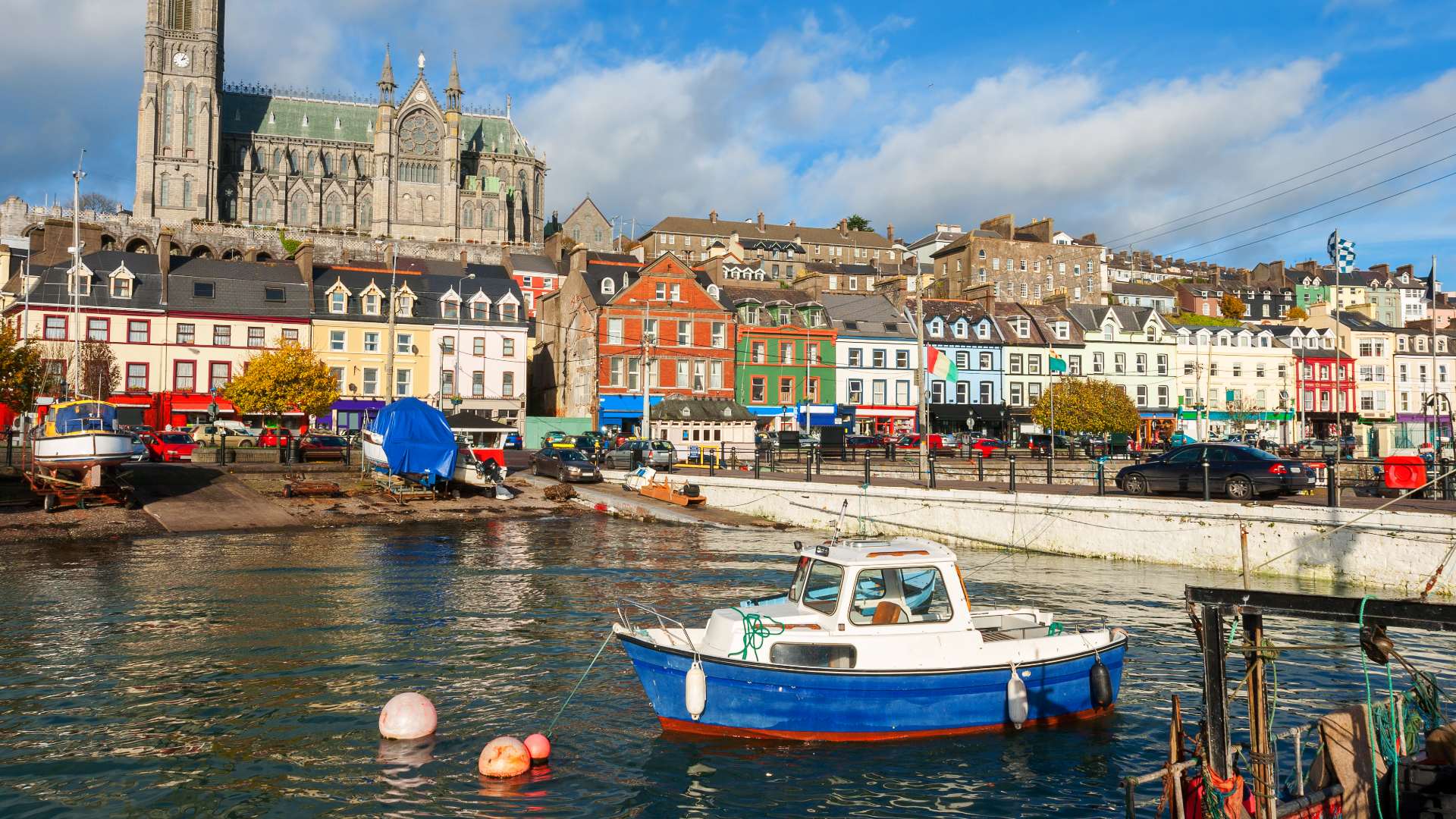 Winter – November to March – brings more changeable conditions, but it's still a beautiful time to visit. Throughout the season, you could see snow or frost on the mountain peaks and enjoy cosy nights in traditional pubs.
Don't forget Christmas or New Year, when Scotland is known for throwing legendary Hogmanay celebrations across the country.
---
---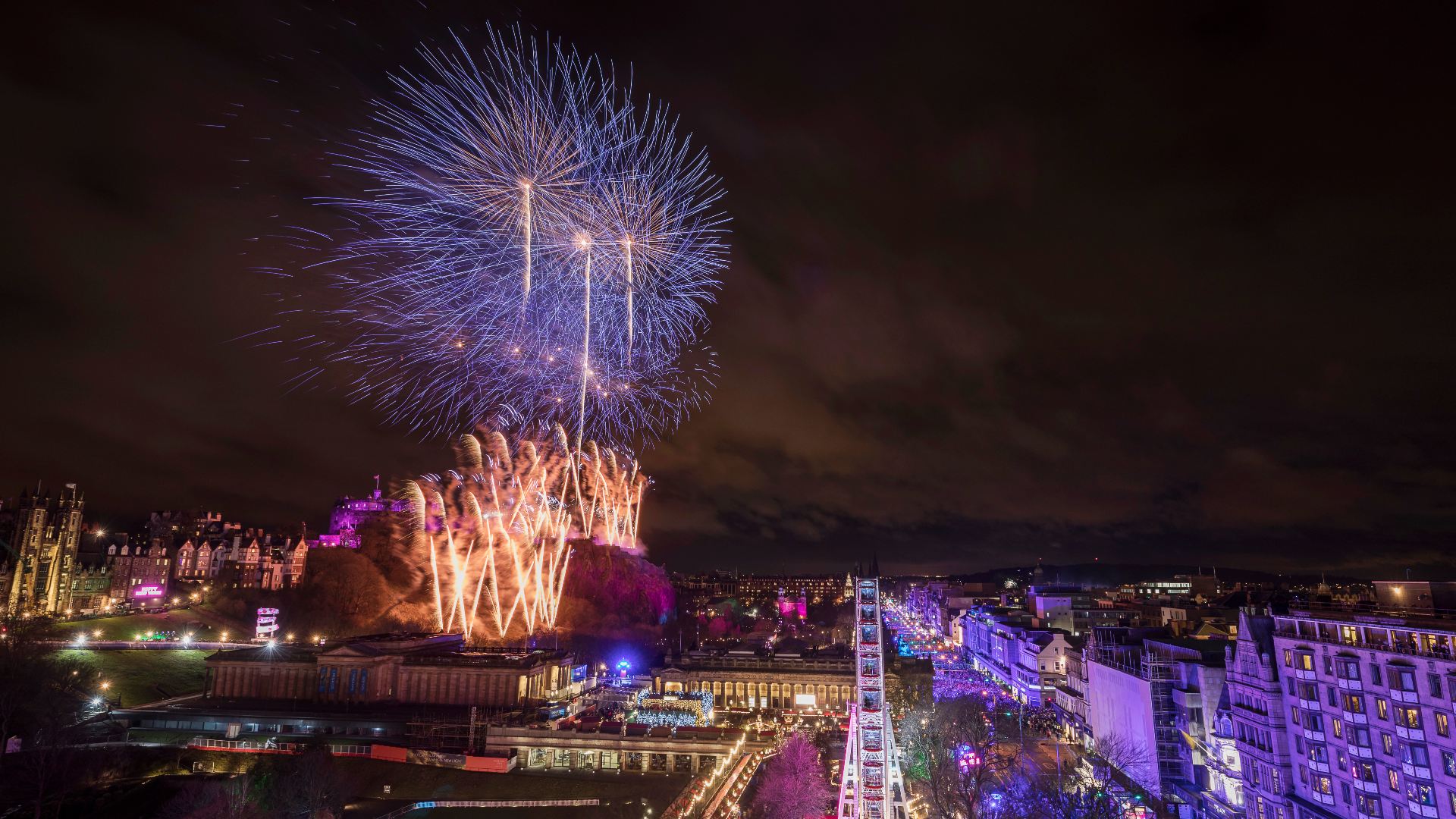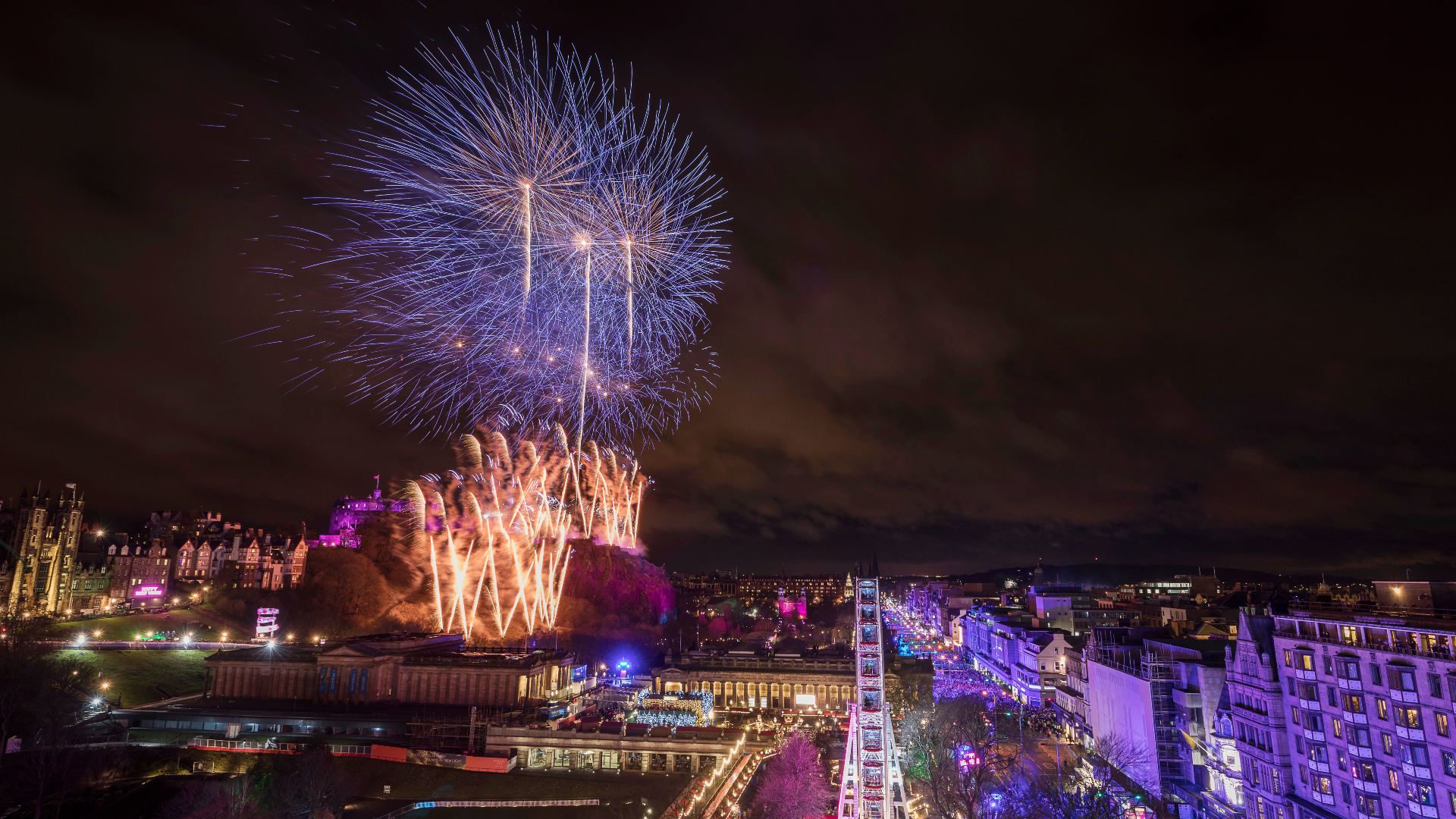 3. Scenery
Both Scotland and Ireland are breathtaking places, with spectacular views and diverse scenery.
Is Scotland or Ireland more beautiful?
Scotland is known for its high mountains, heather-carpeted glens, and some of the most beautiful beaches in the world. And, like many visitors, you'll probably fall in love with the grand cities of Edinburgh and Glasgow too.
Meanwhile, Ireland is known as the "Emerald Isle" for a reason. Although there are fewer mountains here, you'll glimpse rolling green hills that glow like jewels in the sun. Not to mention some of Europe's tallest, most impressive rock faces at the Cliffs of Moher and the Slieve League Cliffs.
Read on for recommendations of the best places to explore in Scotland and Ireland.
---
---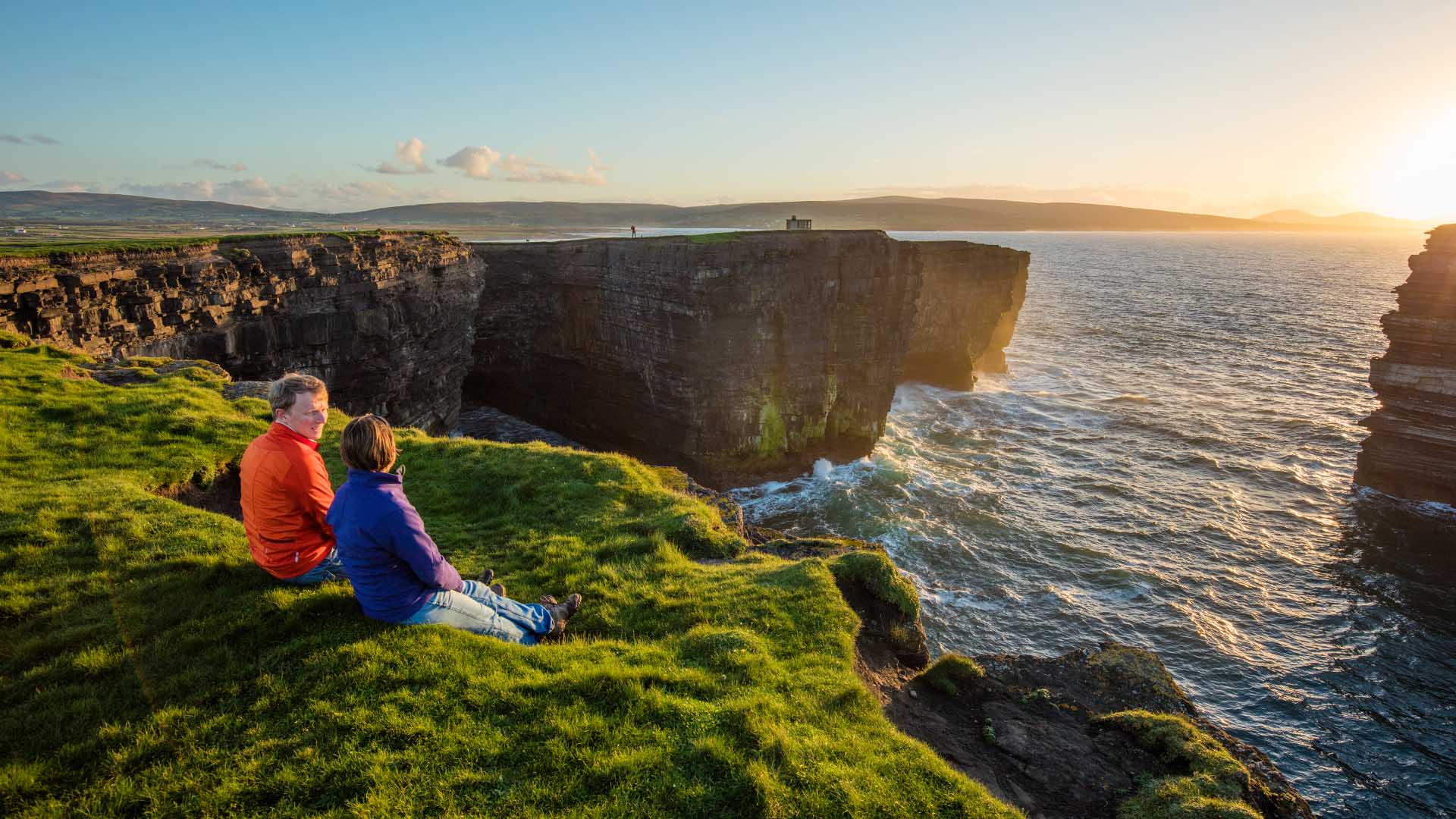 What are the best places to visit in Scotland?
Scotland combines world-class cultural highlights with jaw-dropping natural scenery. It's worth including a bit of both in your trip.
For example, Edinburgh's Old and New Towns are a UNESCO World Heritage Site, recognised for their literary history and elegant architecture. Come in August and you could take part in Edinburgh's Fringe, the world's largest arts festival, including unforgettable performances at Edinburgh Castle.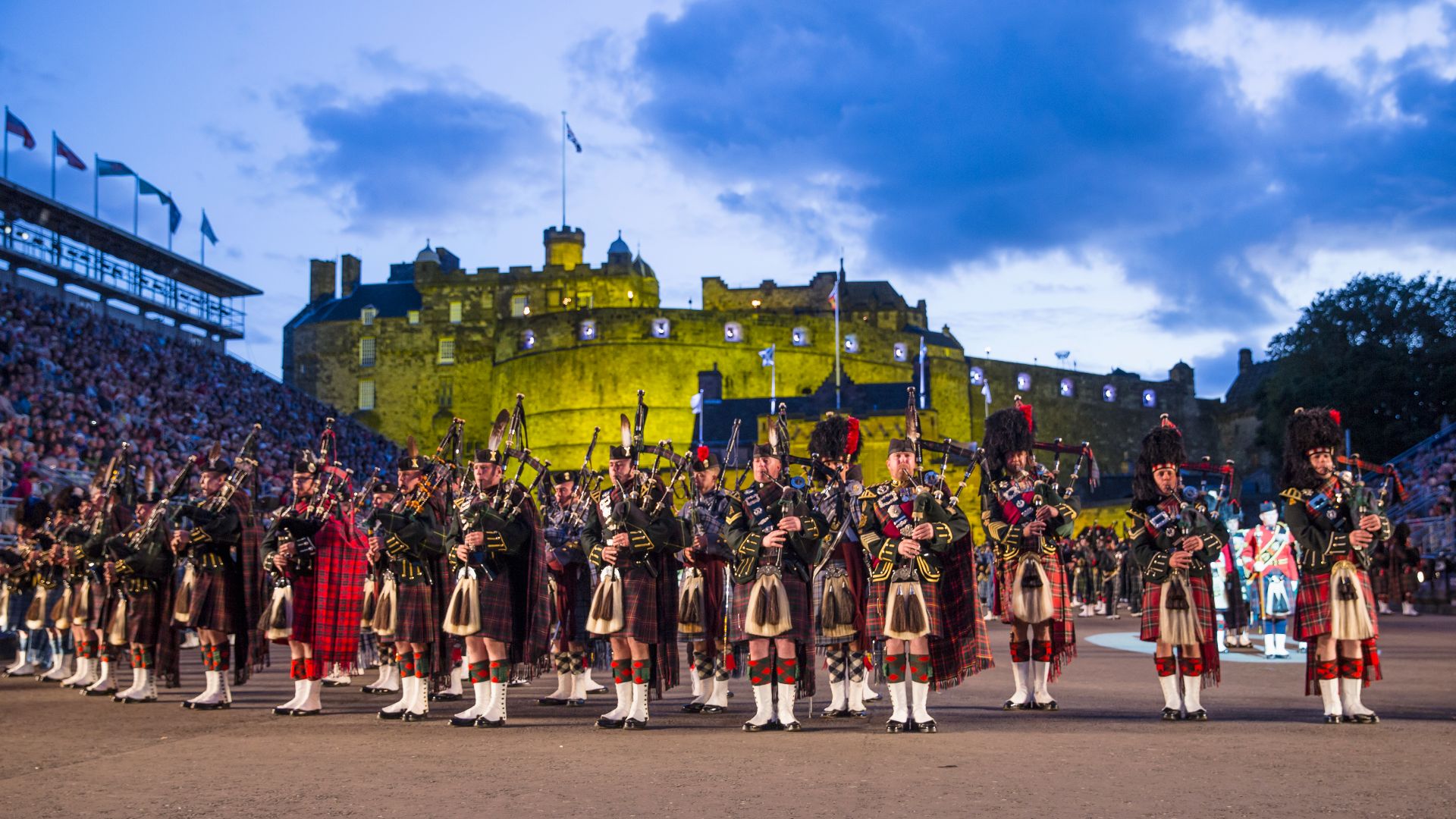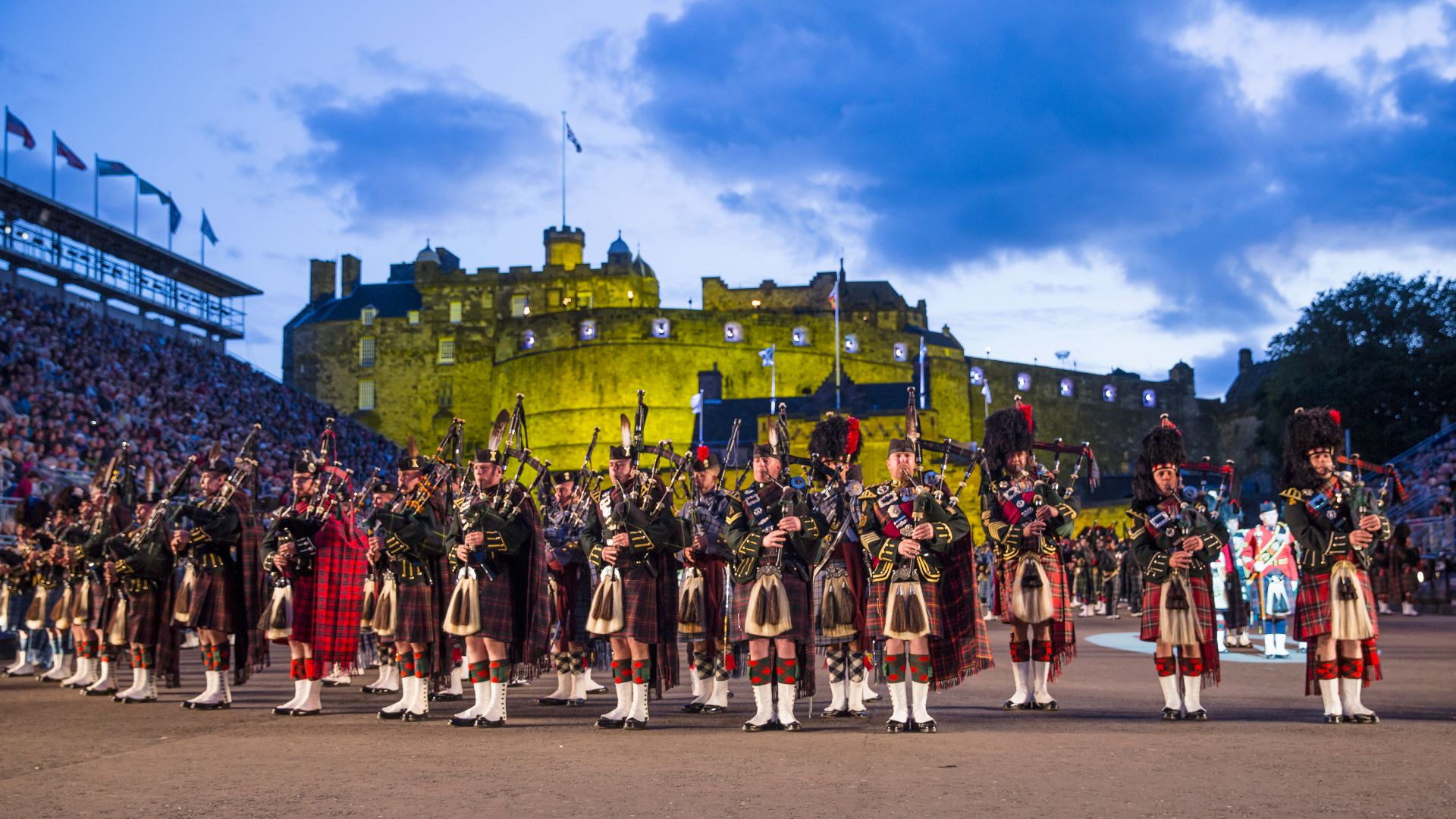 Then there are the Scottish Highlands and islands. Head to Loch Ness, where you can look out for the mysterious Loch Ness Monster. Or venture to the jaw-dropping Isle of Skye for sweeping sea views, picturesque villages, and rocky pinnacles.
Wherever you go, make time for Scotland's castles, including ancient ruins, royal estates, and impenetrable fortresses.
---
---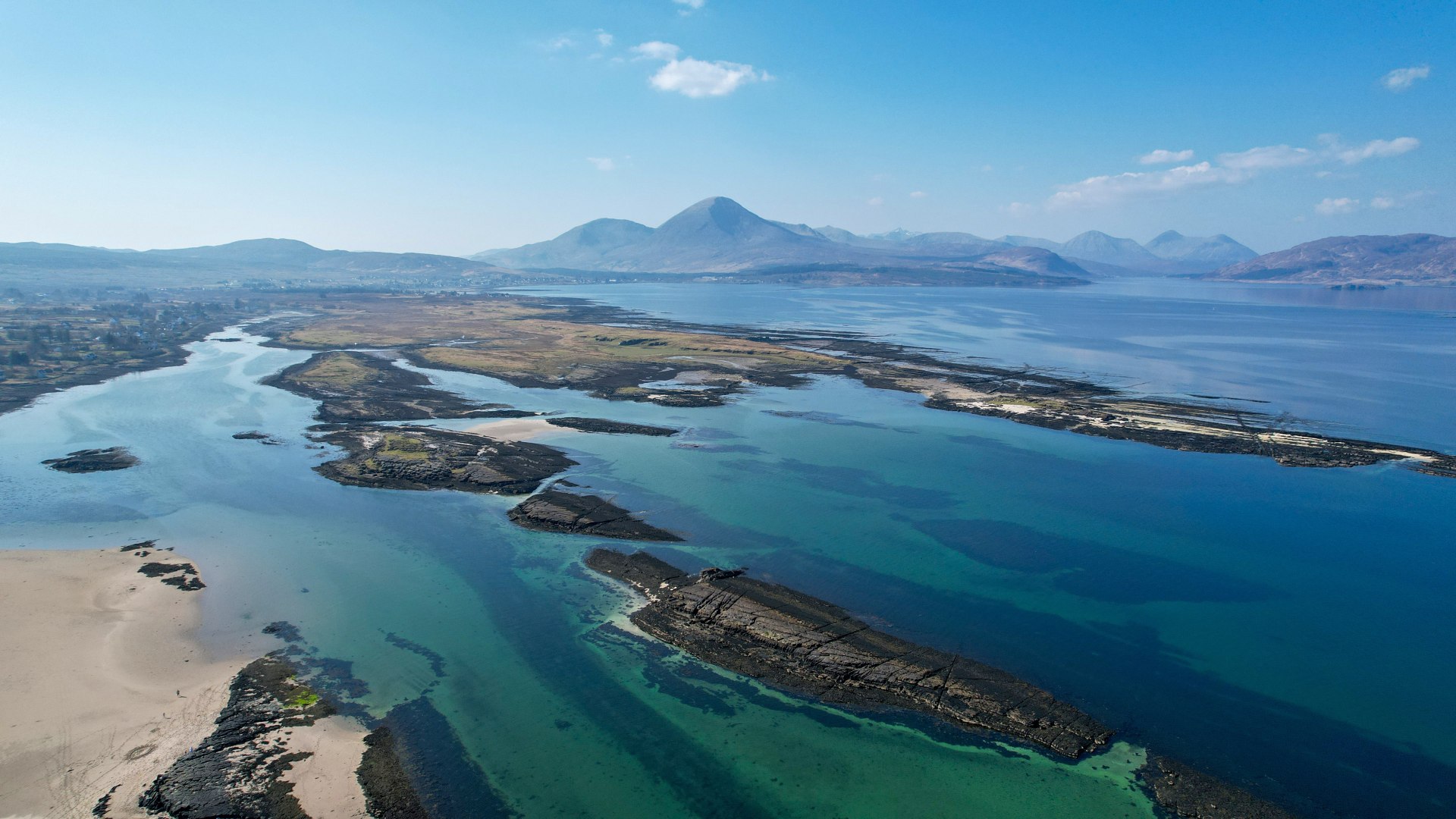 What are the best places to visit in Ireland?
Like Scotland, Ireland has an enormous variety of things to see. Start in a historic city such as Dublin or Belfast, before heading into the Irish countryside.
For instance, the Wild Atlantic Way is one of Ireland's most spectacular routes. It runs the length of the west coast, from Malin Head in County Donegal to Kinsale in County Cork. Along the way, you'll take in national parks and fishing villages, as well as the dramatic Ring of Kerry.
Other must-visit sights include the rugged Connemara National Park and the strange rock formations at the Giant's Causeway.
---
---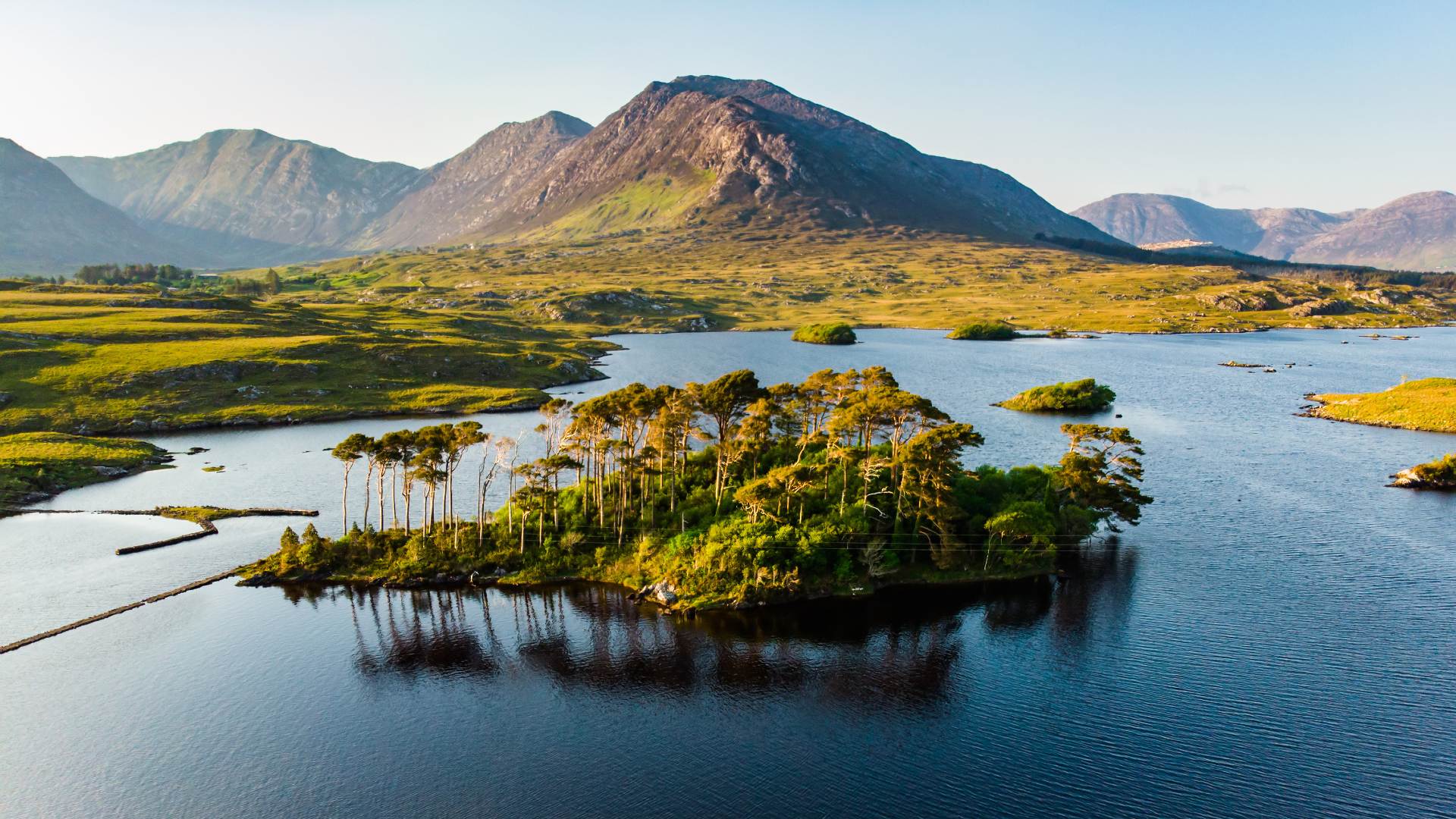 4. Culture
The Scots and the Irish are renowned the world over for their legendary hospitality. Not to mention, their dry sense of humour and a tendency not to take life too seriously.
These neighbours don't just share similar attitudes though. Visit both and you'll discover that their histories have long been intertwined.
Are people more friendly in Scotland or Ireland?
Scottish and Irish people both have a reputation for being friendly, warm, welcoming, and a lot of fun. In any pub or guesthouse you visit, you'll see for yourself just how hospitable and chatty the locals can be.
Which country has the best castles?
According to some estimates, there have been many as 30,000 castles in Ireland. While most of these have been lost to history, those that are still standing are definitely worth your time.
Blarney Castle, home to the famous Blarney Stone, is one of the most visited. You'll find it just outside Cork, set in lush forest. Or there's Bunratty Castle, a 15th-century treasure, which sits on ground that may once have been occupied by Vikings.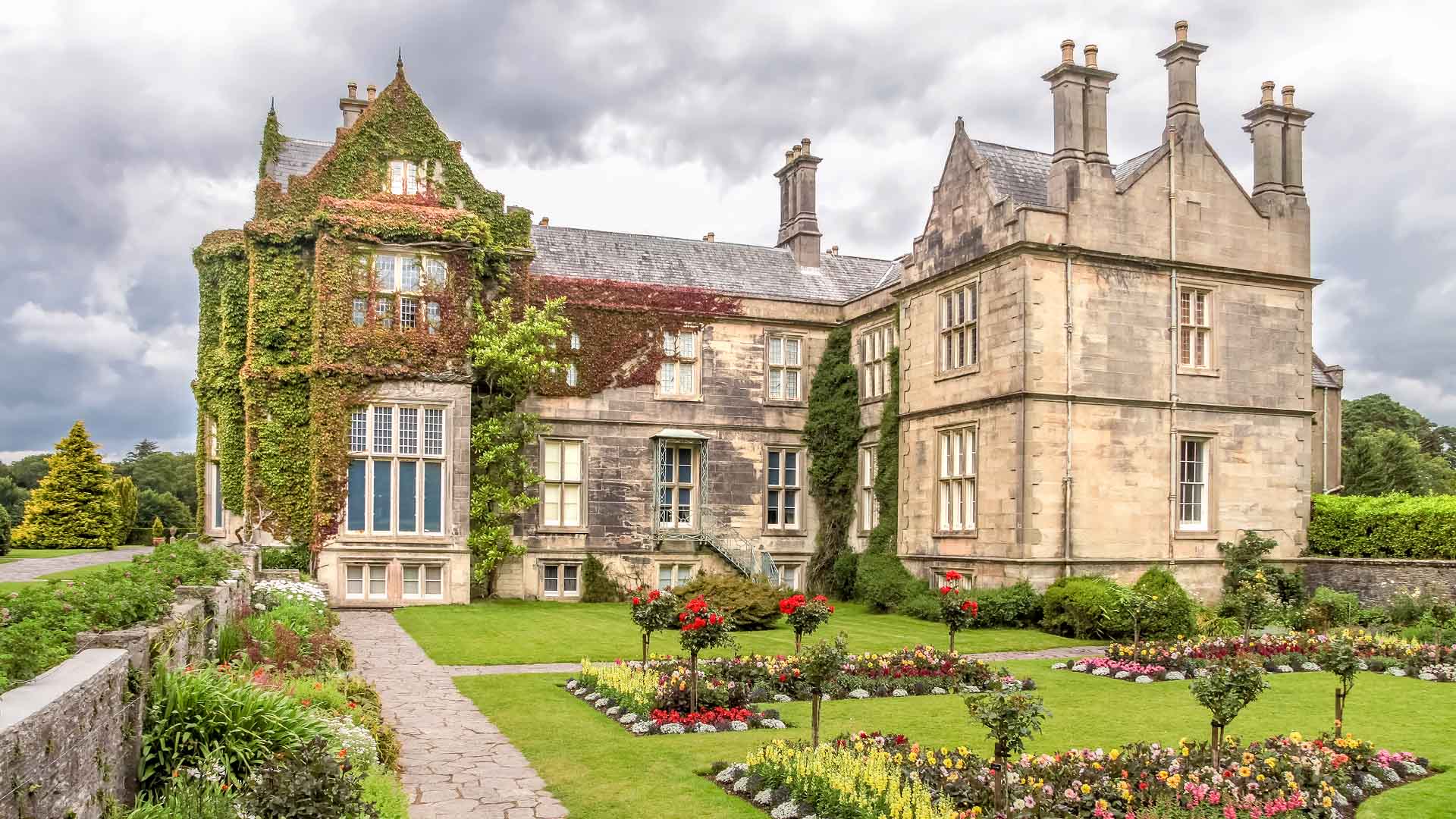 While Scotland doesn't have quite as many castles (more like 2,000), you won't be disappointed. Visit Eilean Donan or Kilchurn Castle and you'll be transported back to a world of battling clans and Highland warriors.
---
---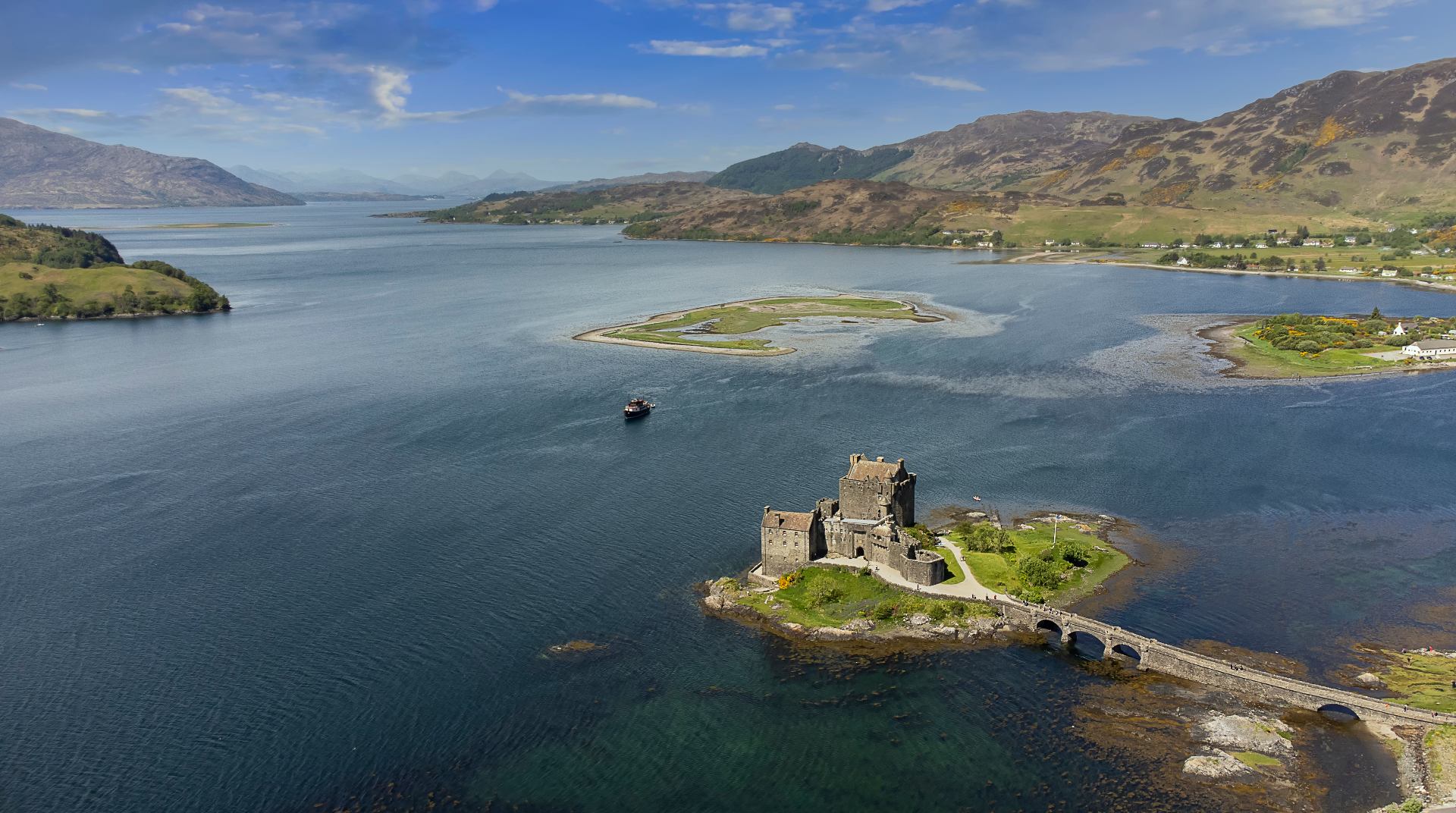 What's the food like?
You'll find there are many similarities between Scottish and Irish food. Expect fresh seafood, international restaurants, and delicious traditional delicacies.
In Scotland, haggis is the best-known dish to try. Cooked in a sheep's stomach and made of meat minced with spices, oatmeal, and onion, it's a comforting dish that doesn't get the appreciation it deserves. What's more, the vegetarian version is just as tasty.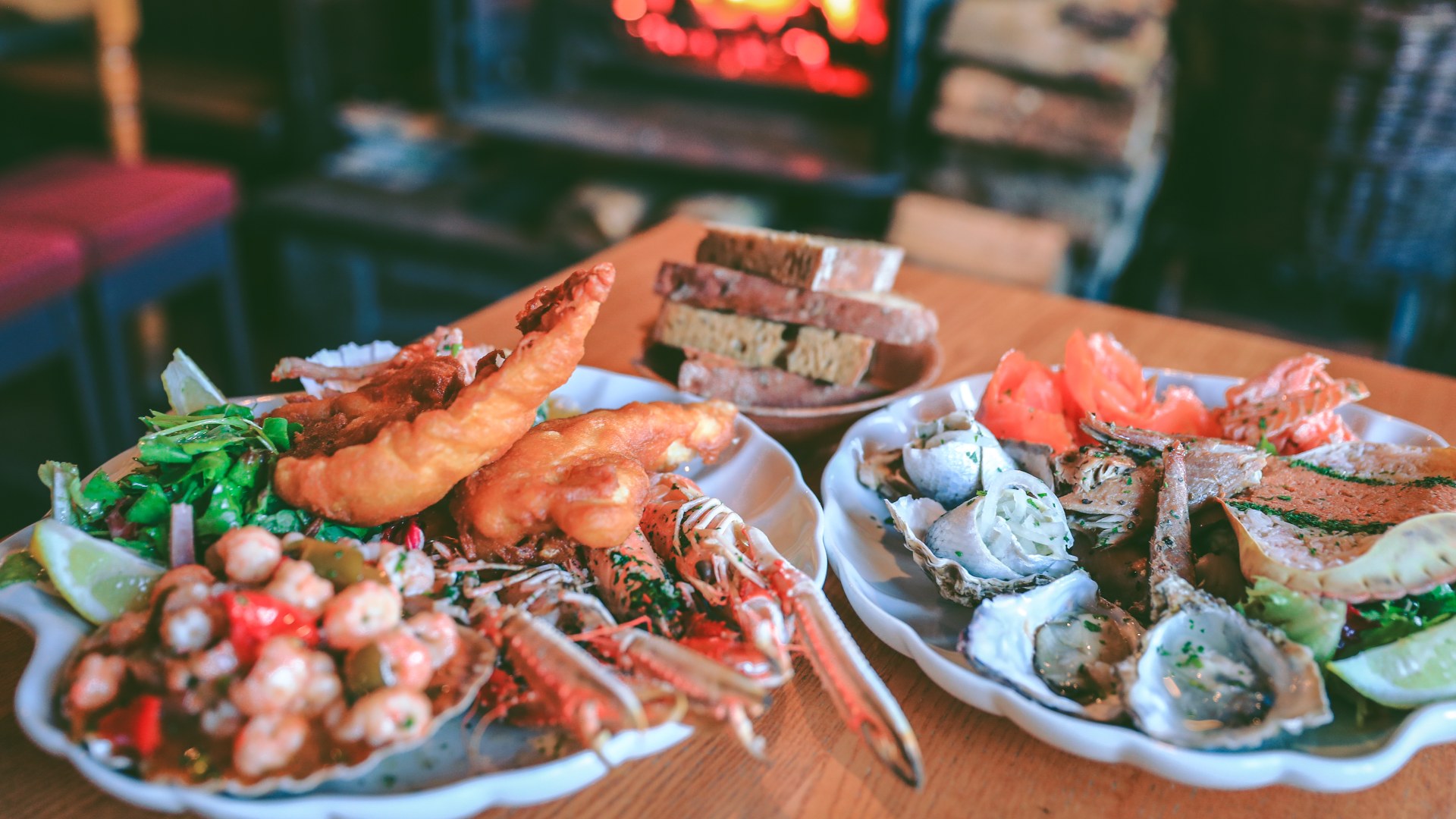 On the other hand, Ireland is better known for Irish stew, traditionally made of beef and potatoes. Try it with colcannon, a mix of mashed potato and cabbage, along with soda bread, an unleavened loaf.
Alongside the food, these Celtic neighbours have two drinkable delicacies in common – beer and whisky. Walk into almost any pub in Scotland or Ireland and you'll be able to sample some of the best.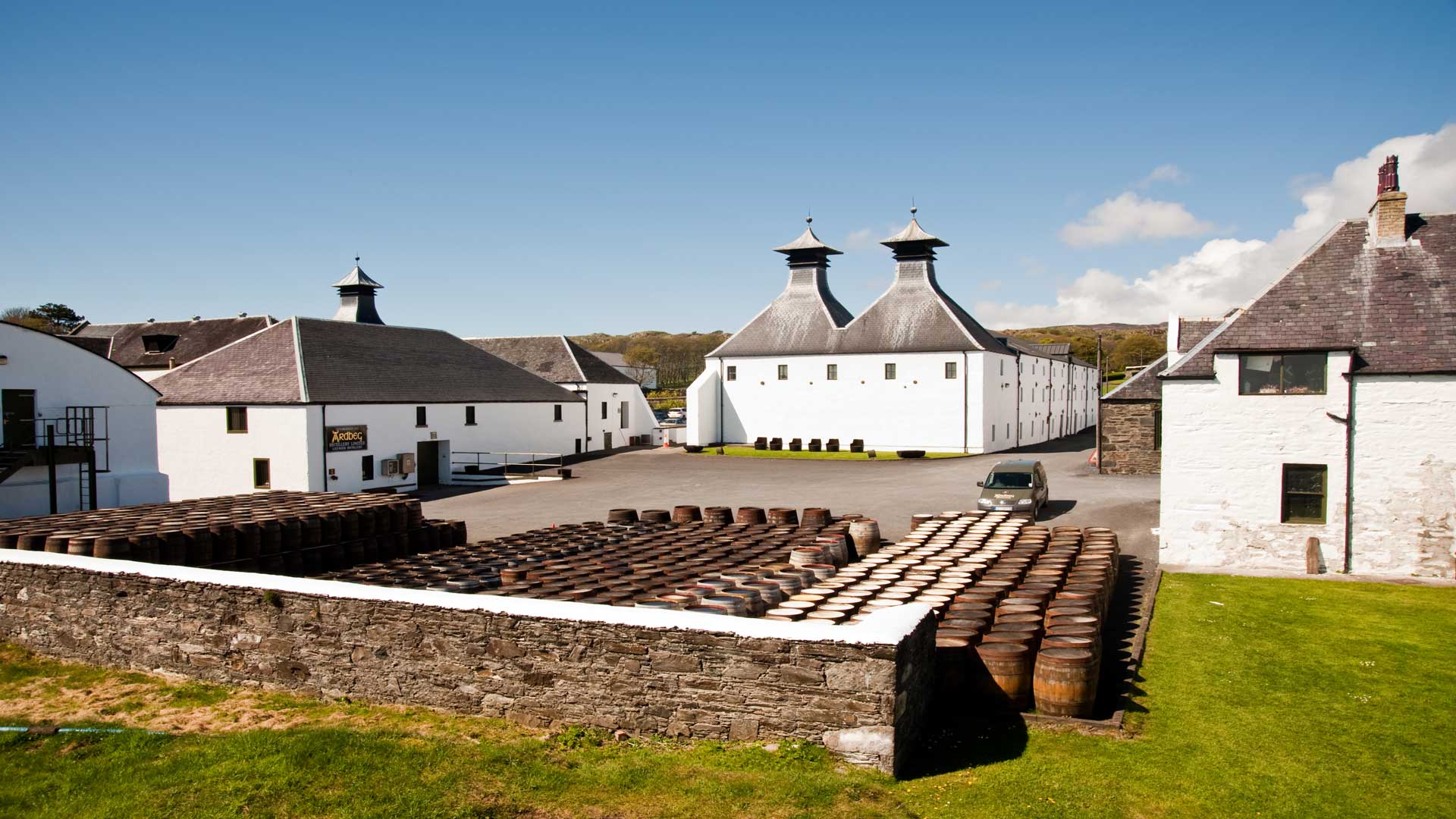 5. Things to do
In Scotland and Ireland, you can choose between cultural sights, outdoor activities, food and drink tours, and so much more.
What are the top things to do in Scotland?
Here's some inspiration for what you can get up to on your dream Scottish getaway.
1. Explore Edinburgh's Old Town
From Edinburgh Castle to Holyrood Palace, experience Scottish history on a walking tour of the Royal Mile.
2. Go island hopping
Scattered off the Scottish mainland are hundreds of picturesque islands. The Isle of Mull, Outer Hebrides, and Isle of Skye are among some of the most popular. Experience their wild beauty on an epic tour of Scotland's islands.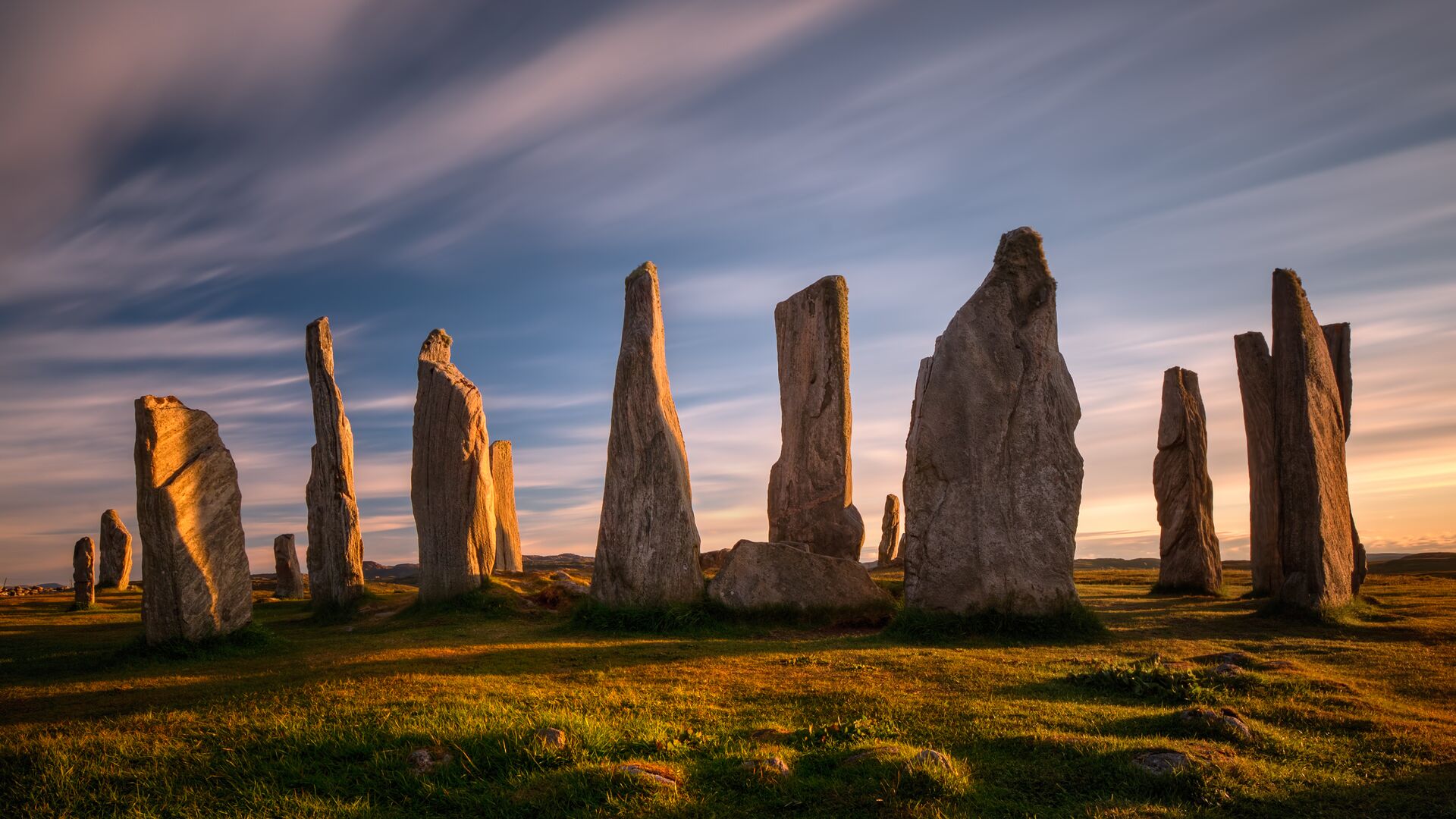 3. Visit famous filming locations
Scotland has been used as the backdrop for many series and films, including Outlander and Harry Potter. Plan a trip to explore the real-life locations and star in your own adventure story.
4. Venture to the awe-inspiring Scottish Highlands
Scotland is often cited as one of the most beautiful places on Earth. See why on a journey through the Scottish Highlands. Here you'll find mountains, glens, and forests to explore.
5. Take a Scottish food tour
A culinary trip around Scotland isn't just for connoisseurs.
The country's natural larder produces a bounty of fresh ingredients, such as scallops and venison, which are whipped into mouth-watering dishes. Then of course there are national icons that you'll want to try at least once: whisky, haggis, and Iron Bru.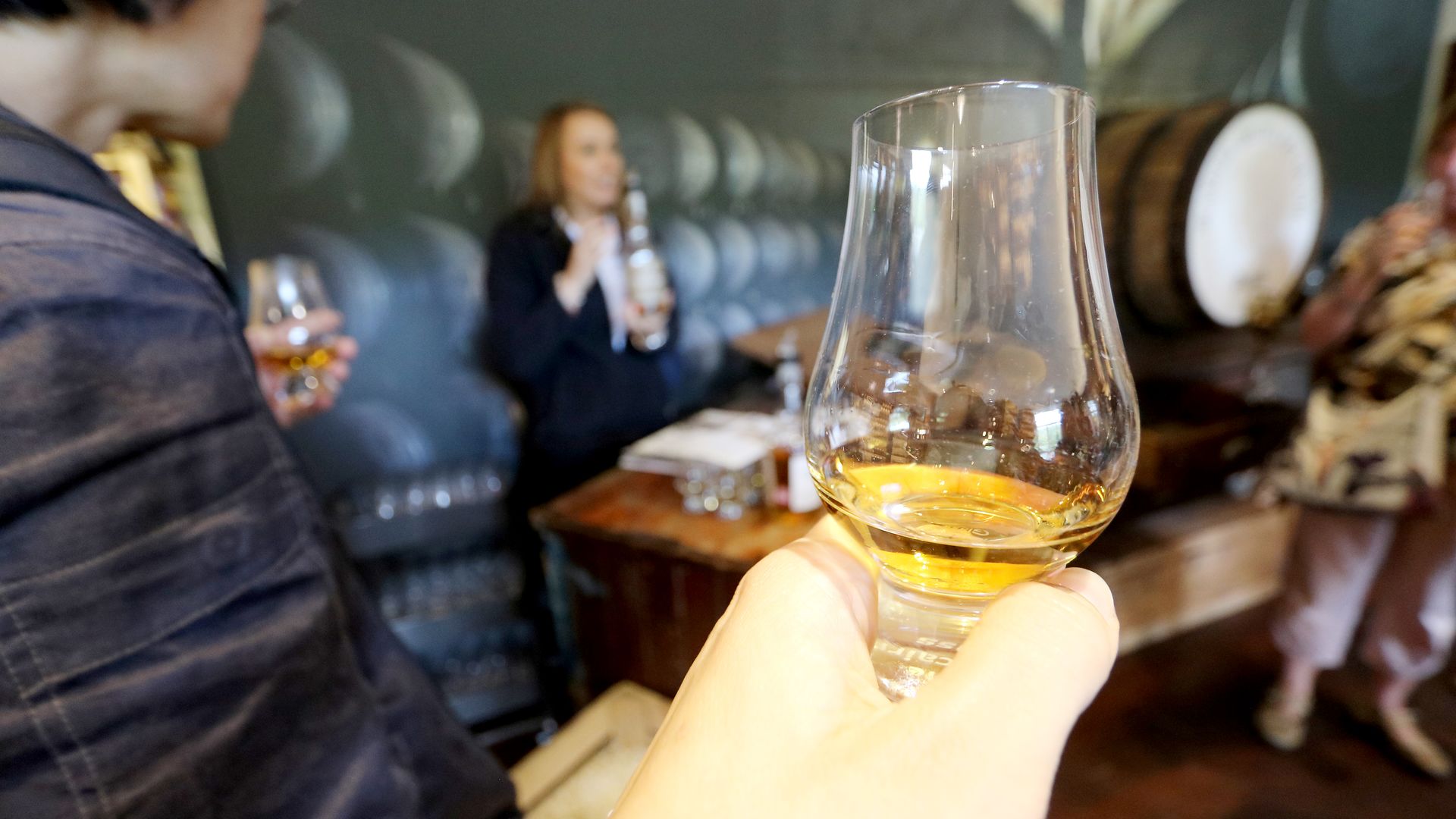 Uncover more things to do in these Scottish guides to what to do in summer and winter.
What are the top things to do in Ireland?
Get ready to start planning your Irish escape with these ideas for amazing things you can do in Ireland.
1. Discover literary Dublin
The Irish are famed wordsmiths and storytellers, and Dublin has long been home to some of the best. Walk in their footsteps on a literary tour as part of a culture and history trip in Ireland.
2. Go on an Irish road trip
Whether you're looking for coastal scenes or city vibes, a road trip through the best of Ireland is sure to be memorable. Get inspired by these expert-curated self-drive packages in Ireland.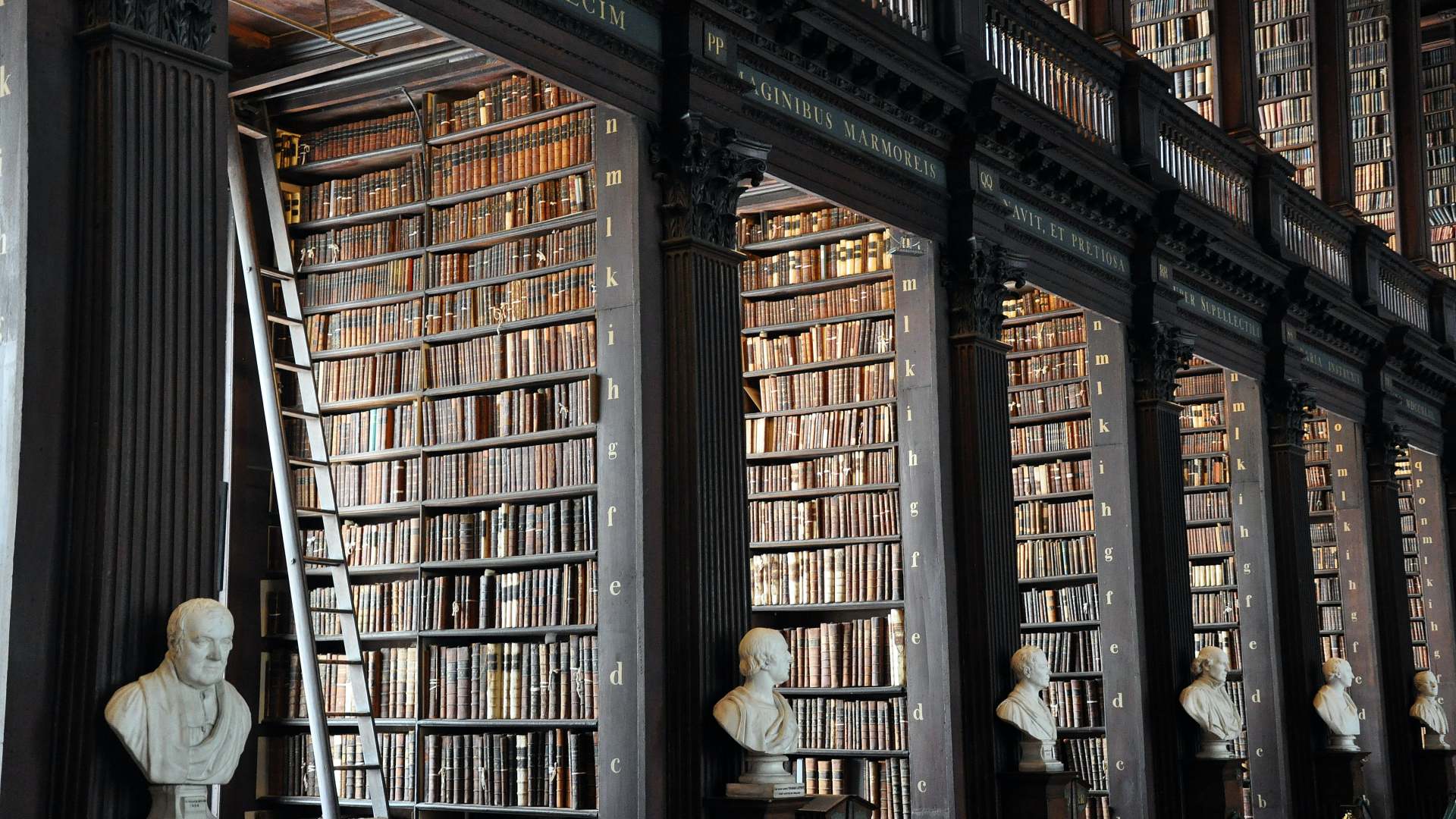 3. Witness breathtaking seascapes on the west coast
Dramatic cliffs, astonishing geology, and stunning islands await. Fall in love with the Irish seaside on an Ireland countryside and nature tour.
4. Experience Irish music
Book a concert or just head down to a local pub to see some seriously talented musicians perform. From Belfast to Cork and all the villages in between, music is everywhere.
5. Dive into Irish history
Discover the nation's complex identity as you unravel its troubled, yet fascinating, past.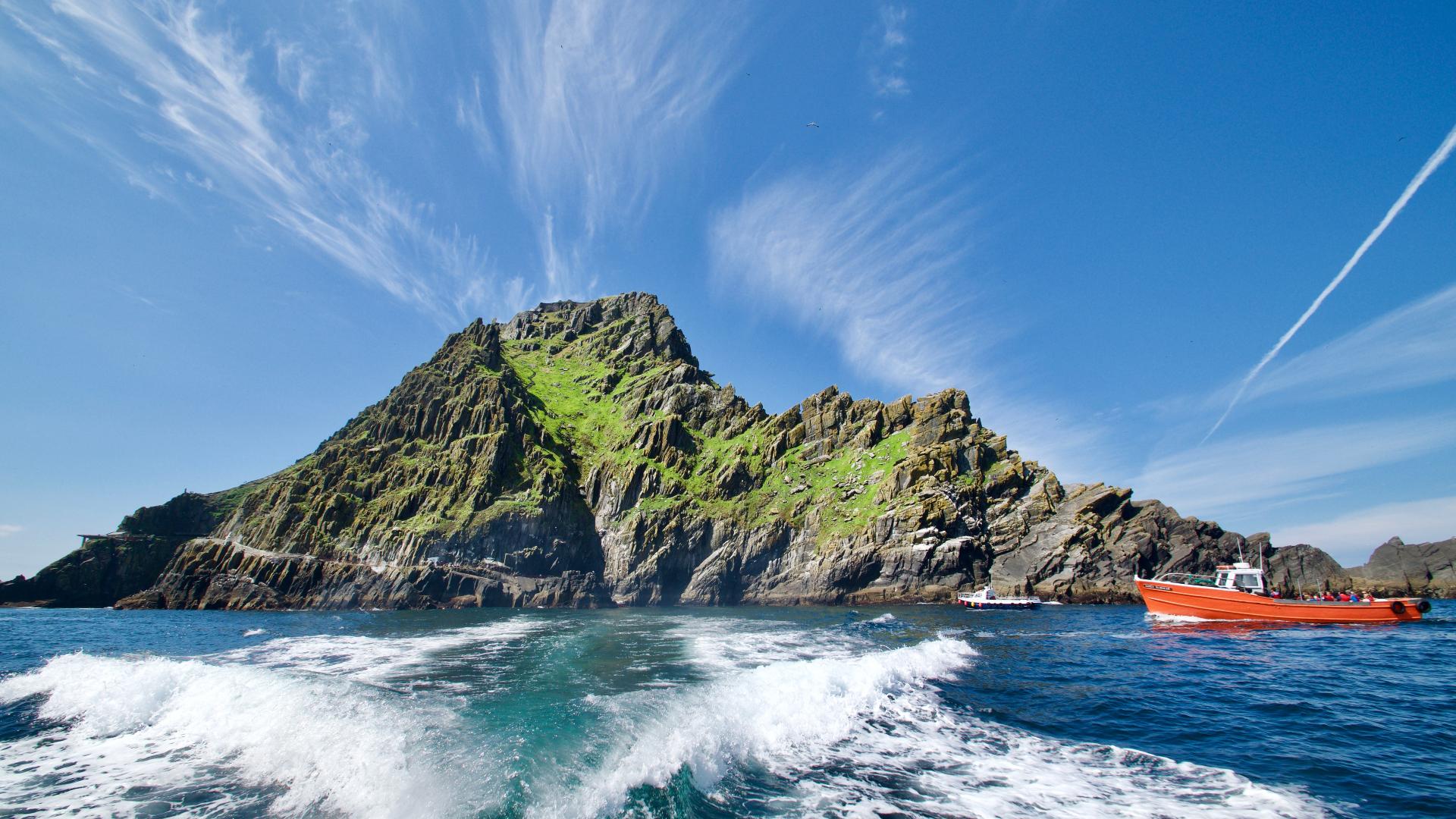 ---
---
How to visit Ireland and Scotland
Has this settled your Scotland vs Ireland vacation debate? Don't worry if not, there's no need to limit your trip to just one destination. With these combined Scotland and Ireland tours, you can experience the variety and thrill of them both.
However you want to travel, Nordic Visitor makes it easy. You can choose between self-drive trips or travel with a guide on a small group or privately guided package. Whichever you prefer, our local experts will be on hand to book accommodation, car rental, and connections between Scotland and Ireland.
Start planning your trip to Ireland and Scotland with Nordic Visitor. Contact our team to book your getaway to Scotland, Ireland, or both.