A lot of Nordic Visitor travellers find inspiration in films. In Iceland, you can explore Game of Thrones filming locations. In Scotland, you can immerse yourself in the magic of Harry Potter's world. In Stockholm, you can walk the same sophisticated streets from Stieg Larsson's thrillers.
As for Amy Charles, her dream of dog-sledding in Finland was also inspired by a movie. (Which one? Find out in the interview below!)
A professional dressage horse rider and enthusiastic solo traveller, Amy is an inspiration in her own right. She recently explored snowy Finland on Nordic Visitor's Winter Week on Top of the World, a 6-day adventure in the winter resort town of Levi in the Lapland region. She has also previously travelled on one of Nordic Visitor's guided small group tours in Iceland, so she's no stranger to rugged, outdoorsy destinations.
We were thrilled to have a chance to hear more about Amy's trip, her inspirations and her words of advice for other solo travellers and visitors to the Arctic.
---
So, what inspired you to visit Lapland?
I love photography, particularly natural landscape shots and wildlife, and follow many photographers on Instagram. The main thing most of them have in common is that they are based in one of three countries: Iceland, Norway or Finland.
Having visited Iceland on a 10 day tour with Nordic Visitor back in November 2016, I caught the travel bug. Keen to see the world, I had decided my next adventure would be to Levi, Finland as that is the main area the photographers I follow take the best pictures of. Levi is a popular skiing holiday destination, which is what most people go for, but I wanted to spend my week on top of the world trying as many new activities as possible as well as having free time to go explore by myself, finding exciting places to experiment with my photography.
I am also a very active person. I like sports and trying new things and, as I have never been in proper snow, the thought of trying winter sports and activities was exciting. I have always wanted to try dog sledding, and now I am old enough to drive a skidoo, so I felt that it was a must to pick a holiday package with all these activities in.
Which activities were you most excited to try?
There were so many interesting activities in my itinerary that it is hard to say which I was most excited for, but I was super keen to try dog sledding (although I was also really looking forward to the snowmobile safaris too).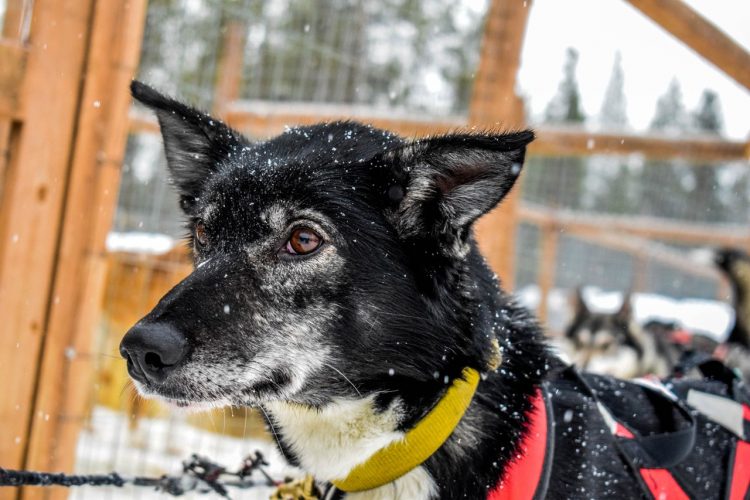 When my sister and I were young, we used to love the film Snow Dogs (with Will Smith from 2002). Although I haven't seen that film in a long time, I'm sure that is why as soon as I saw dog sledding on the itinerary I got so excited!
You have a knack for dog photography! Tell us about your husky tour.
Ten kilometers, four dogs and thousands of miles of Finnish wilderness. The day could not have gotten any better!
When you first arrive at the kennels, you can hear the dogs before you can see them. After a quick demo on how to drive and some information on the huskies you are put with your team, which in my case was made up of four Alaskan huskies, and you prepare to set off. The huskies are eager and ready to get going, so from the word go you are really getting some speed as the dogs set off at a full sprint.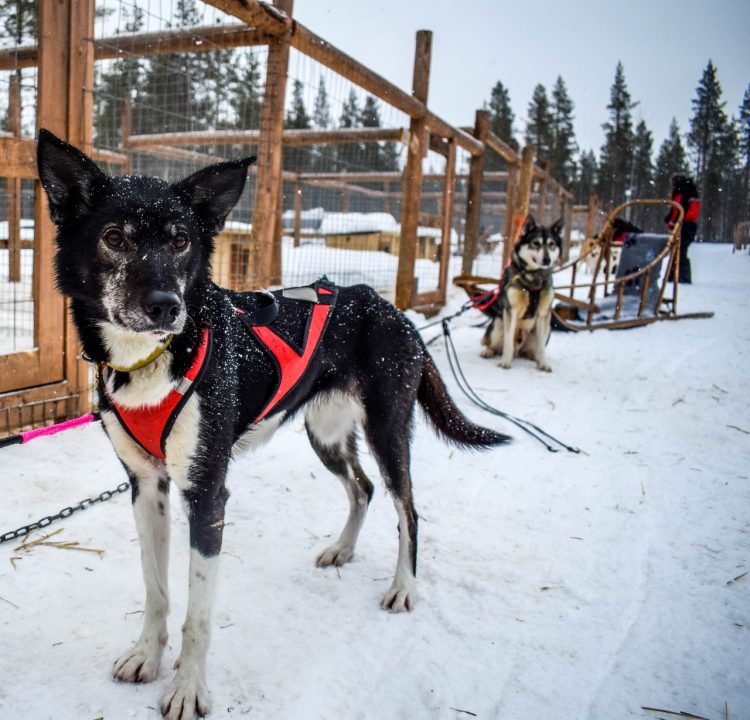 Once in a steady rhythm speed is not a problem, but steering, on the other hand, becomes a bit of a challenge. You have to lean to help shift the weight of the sledge without tipping it over and try to send your dogs the right way. This is normally okay if you are following someone else (the dogs just follow the guide in front) but as per usual I happened to end up with one of the dogs known for having a bit too much of a personality. With every other dog on the team going left around the tree, I'm not to sure why she thought she should go the other way but we did end up in a little bit of a mess!
After our little hiccup, everything ran smoothly, the dogs were doing what they love best, I got to see the beautiful Finnish forests and the weather conditions were perfect. Although not a bright, sunny day it was not as cold as it had been. And having had a fresh layer of snow from the night before the tracks were in perfect condition, making driving a lot easier than if we had gone the day before when it was icy.
After our lovely 10 km trip, once we had arrived back at the kennels, it was time to feed the dogs, take some pictures and go into the warm log cabin with an open fire where hot berry juice and biscuits were served. After warming up and having a good chat and a laugh it was time to say our goodbyes and head back to the coach. Dog sledding has to have been my favourite part of my trip and, if I could, I would have taken all four members of my team home with me!
What everyone wants to know: how did you stay warm?
How to stay warm in Lapland? Layers, lots and lots of layers. When not doing activities and just exploring, I would wear a thermal base layer with a t-shirt, fleece and waterproof winter jacket along with fleece-lined waterproof trousers with warm socks and my walking boots.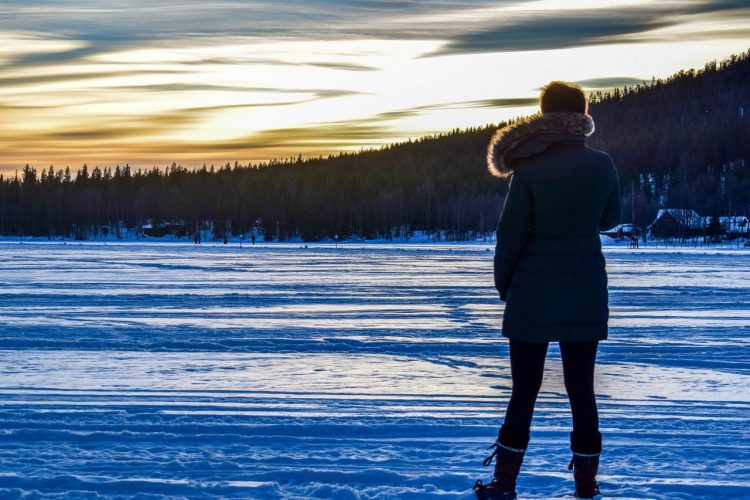 During the activities I was supplied with clothing from the local tour operator Lapland Safaris. I got to keep the clothing all week and returned it after my last activity. I was given woolen socks, snow boots, a scarf, snowmobile overalls, a balaclava and mittens. Under this, all I needed was basic leggings, a long sleeve shirt and a fleece. I was so warm and cozy, even at 11 pm in -16 °c on a snowmobile searching for the Northern Lights!
What appeals to you about the Nordic countries?
I think what makes Nordic countries so appealing for any traveller, but particularly solo travellers, is that there is so much variety in what you can do and see. There is something for everyone, from beautifully designed cities to active sporty trips to relaxed spa weekends. I visit Nordic countries for the unspoiled landscapes and to see wonders of the natural world.
Any tips for other solo travellers out there?
Don't isolate yourself and get talking to people. If you are a solo traveller, join a tour group and get chatting -- you will meet some amazing people from all over the world. One of the things that has made my last two trips with Nordic Visitor so great is the people I have met along the way! From fellow adventures from America and Germany to tour guides from Iceland, France and Sweden, all with interesting stories to tell and inspiration for my next trip.
Thanks for the inspiration, Amy!
Amy has started to blog about her travels, and we can't wait to see where she goes next. If her trip to Lapland is any indication of what's to come, we know she'll have some great stories to share.
---
Good to know: While most activities in Lapland can be considered beginner-friendly, it's important to be in good health to take part. Some of the dogsled or reindeer rides can be fast and/or bumpy and you'll need to feel comfortable walking on snowy or icy terrain. But if you ever have any questions about the physical demands required for an activity, just ask one of our friendly travel consultants, who themselves have tried the same tours we sell online.