Lapland is a dream destination for many travel enthusiasts. A region of pure wonder and adventure, the stark white winters provide the ideal backdrop for dog-sledding, as well as snowmobiling and northern lights hunting!
Mike Frost, our first Nordic Photo of the Month winner for 2017, had a blast experiencing the rugged beauty of the unique Lapland landscapes during Nordic Visitor's 4-day Husky Tour in the Wilderness of Lapland. We caught up with Mike to ask a few questions about his recent trip.
---
What made you want to book this trip to Lapland?
I wanted to experience a real winter in the wild. So why not do this with your own husky tribe! On the back of my recent trips to Iceland and Norway, Swedish Lapland was my goal destination leading into the new year. Another piece to add to my Scandinavian puzzle since moving from Australia to Sweden. Next up is Greenland and the Faroe Islands.
This trip was a subtle reminder to regularly escape the modern mania of the working life and get back to basics; to soak in the surrounding nature without cell phone coverage, start a fire to keep warm, fetch water to drink and work hard to earn the right to relax. This was as much of a cultural experience as a new adventure for me since moving to Sweden. Thanks to my guides, I've finally learnt how to embrace a real winter full of snow, survive it, man a husky sled and eat like a viking.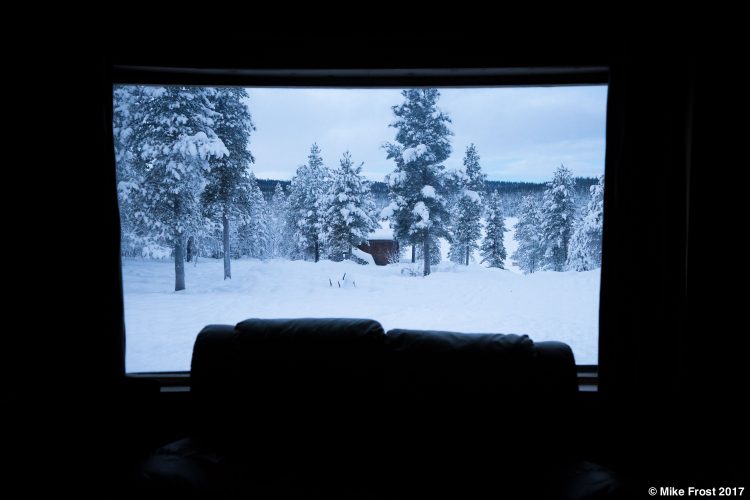 What were the highlights of your tour?
Seeing a tonne of snow as I hadn't for 10 years and getting back to basics. There was no cell phone coverage and you are living the cabin life -- no electricity or running water. Just a wood fire, candles and good company. Another highlight was meeting new people. Our guides were from all over -- Denmark, Poland, Sweden and Germany to name a few. It was great seeing them in their element, their true love for nature, their jobs and their huskies.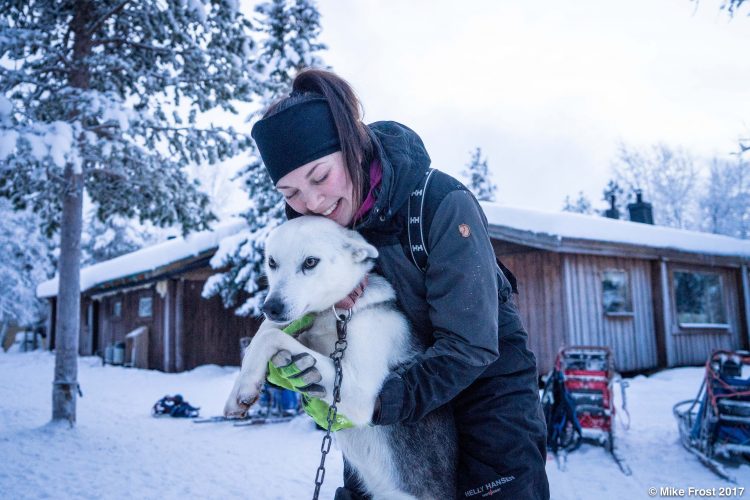 Did you enjoy any traditional foods during the trip?
A pot of reindeer stew was the winner in minus 25 degree weather! As was the 'svart kaffe' [black coffee in Swedish]. 5-6 cups per day.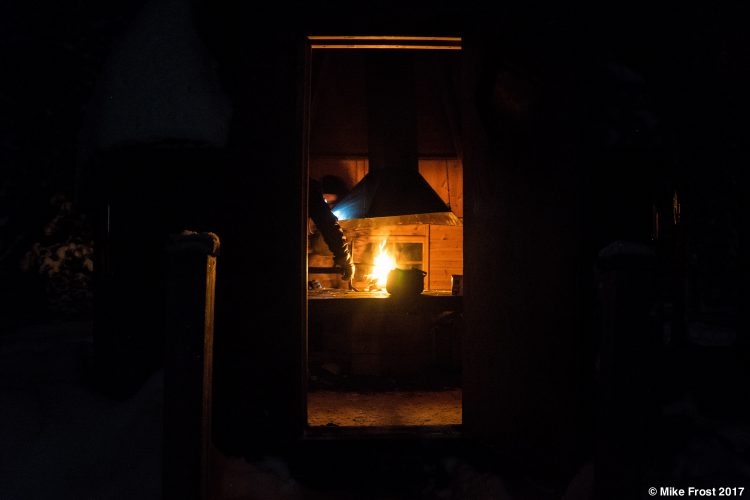 Tell us about your winning photo.
This photo [at the top of the blog post] simply captures my then lead dog Ettan in his own backyard. He was an eager character who'd love nothing more than to keep on running or howl solo. This was a short lived moment of silence as I sat beside my sled watching the sun drop through the valley. His right blue eye caught mine after he dunked his head in the snow.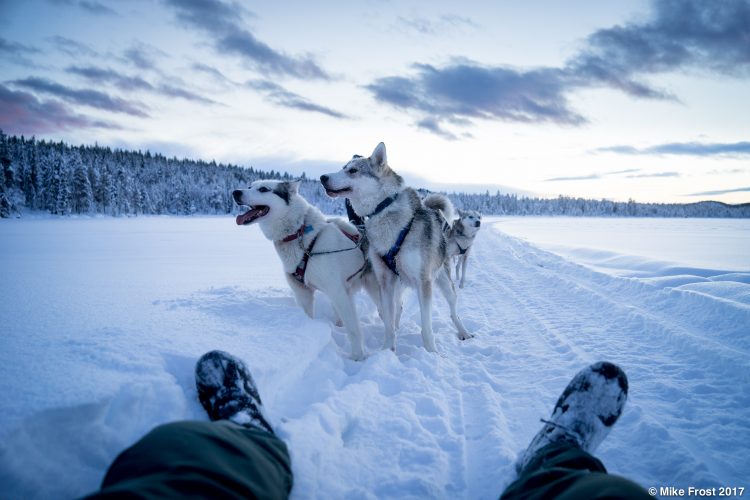 Can you describe the landscape?
There was a kaleidoscope of colours splashed across the sky -- pinks, oranges and blues while gliding on the sled.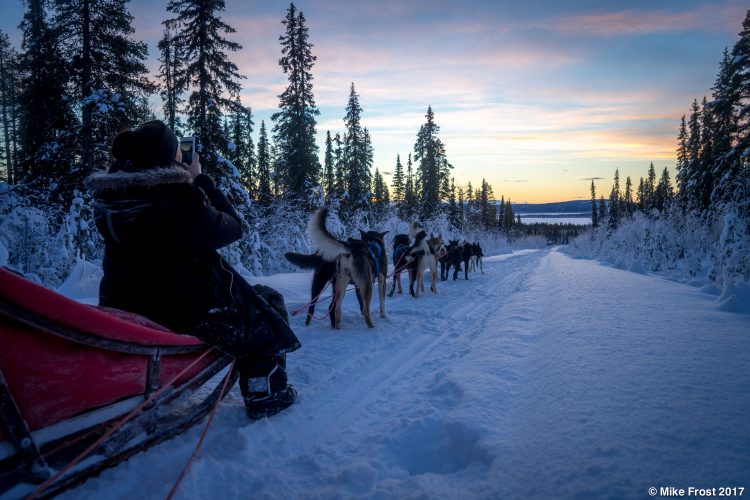 Do you have any tips for those that want to take good photos in Lapland?
Get to know how your camera works. Whether it's your iPhone, DLSR or smaller format camera you don't want to miss that split second moment distracted by dials and the 'on' button. Take your time. if you're not in a rush, take a few minutes to frame and compose your photograph. Make your photos stand out. Add a subject in the frame. A person, animal or object can dramatically improve the story your photograph tells. It can also help give a sense of scale. Change up the perspective/angles and be different. Use the rule of thirds as a guide when composing your shot and get creative.
Take your time. if you're not in a rush, take a few minutes to frame and compose your photograph. Make your photos stand out. Add a subject in the frame. A person, animal or object can dramatically improve the story your photograph tells.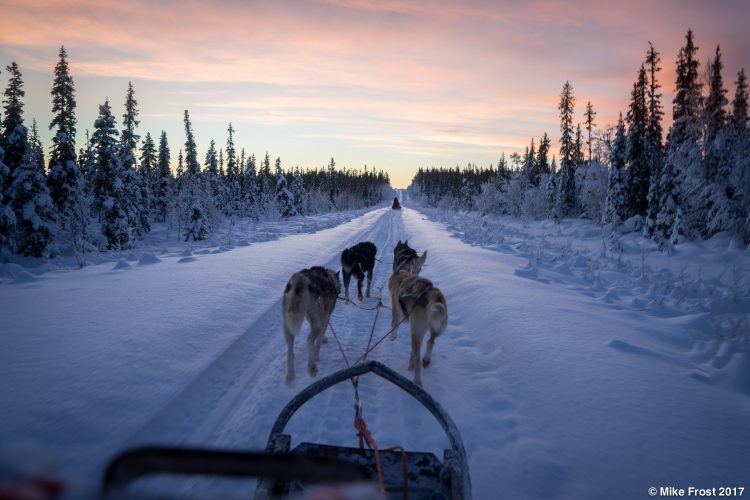 Was it challenging to photograph in the limited light of winter?
Make the most of the 'golden hours'. Get up early! Capture that beautiful landscape or portrait just following the sunrise or leading into sunset. It's these periods of the day when lighting is on it's softer more natural side and colours most vibrant. Add a polarised filter to boost colour and reduce glare. Especially when there is snow.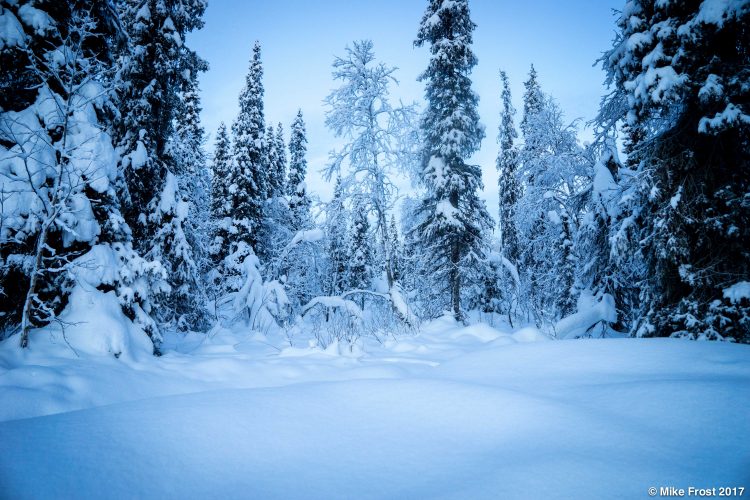 Any tips about what gear to bring?
Travel light, keep gear to a minimum and don't forget the essentials. Think spare batteries and spare memory cards. There's nothing worse than running out of space during a trip. Weather tends to change sporadically in the Nordic countries so use a rucksack or camera bag that can handle a little rain. A pair of fleece glove liners can go a long way in the cold conditions. You don't want that wind chill to make you drop your camera!
Finally, don't forget to soak in the experience without your camera. Yes it's great to capture moments but nothing beats the memory bank from your own two eyes! Take time out to sit and admire your surroundings.
Well said, Mike!
---
Pro tip: You don't have to be a seasoned arctic explorer to travel in Lapland! If you're in good health, and you've got a spirit of adventure, you're ready to go. All activities like snowmobiling, dog-sledding, snowshoeing and other excursions are supervised by local guides.
Of course, you will need to bring warm clothes. To dress for arctic conditions, we recommend all-weather garments from our friends at 66 North. As this month's winner, Mike will receive a cosy primaloft jacket to use on future cold-weather photography adventures.
Have you travelled with Nordic Visitor and want to be in the running for our Nordic Photo of the Month contest? Tag your travel photos with #NordicVisitor to share them with us on Instagram, Facebook or Twitter!