Sweden in winter promises an escape like no other. Between December and March, this Nordic nation is swathed in snow and comes alive with a host of wintry traditions.
Whatever your interests, you'll find plenty of things to do in Sweden in winter – particularly if you make your way north to Lapland.
This is a realm of frozen lakes, reindeer, and snow-covered plains glimmering under the northern lights. Here you can uncover the ancient traditions of the Sami, go dog sledding, visit ski resorts, and experience the most magical Christmas of your life.
---
---
Read on for more inspiration, or get started today by booking one of our package tours of Lapland.
Sweden: things to do in winter
Spending a winter holiday in Sweden is all about getting out in nature and immersing yourself in the local customs and traditions. You could start in the capital, exploring Stockholm's old town, Gamla Stan, visiting the famous City Hall, and going ice skating at the famous Kungsträdgården.
Then, head north to Swedish Lapland, where an abundance of winter activities awaits. Here, you'll experience a completely different side to Sweden compared to Stockholm and the south.
Fall for Kiruna – the main hub in Swedish Lapland – with its rustic, authentic and laidback atmosphere. Immerse yourself in the beauty of Abisko National Park and learn more about the indigenous Sami communities.
Here's our top pick of things to do in Swedish Lapland in winter.
Hunting the northern lights
One of the key reasons to head to northern Sweden in winter is the aurora borealis. Marvel at brilliant curtains of green, violet and red light rippling across the night sky.
Lapland lies within the Arctic Circle, in a region known as the "aurora zone". Between December and March you have an excellent chance of seeing the world-famous northern lights in person.
One excellent place to spot them is the Aurora Sky Station, an observation tower perched on the side of Mount Nuolja in Abisko National Park.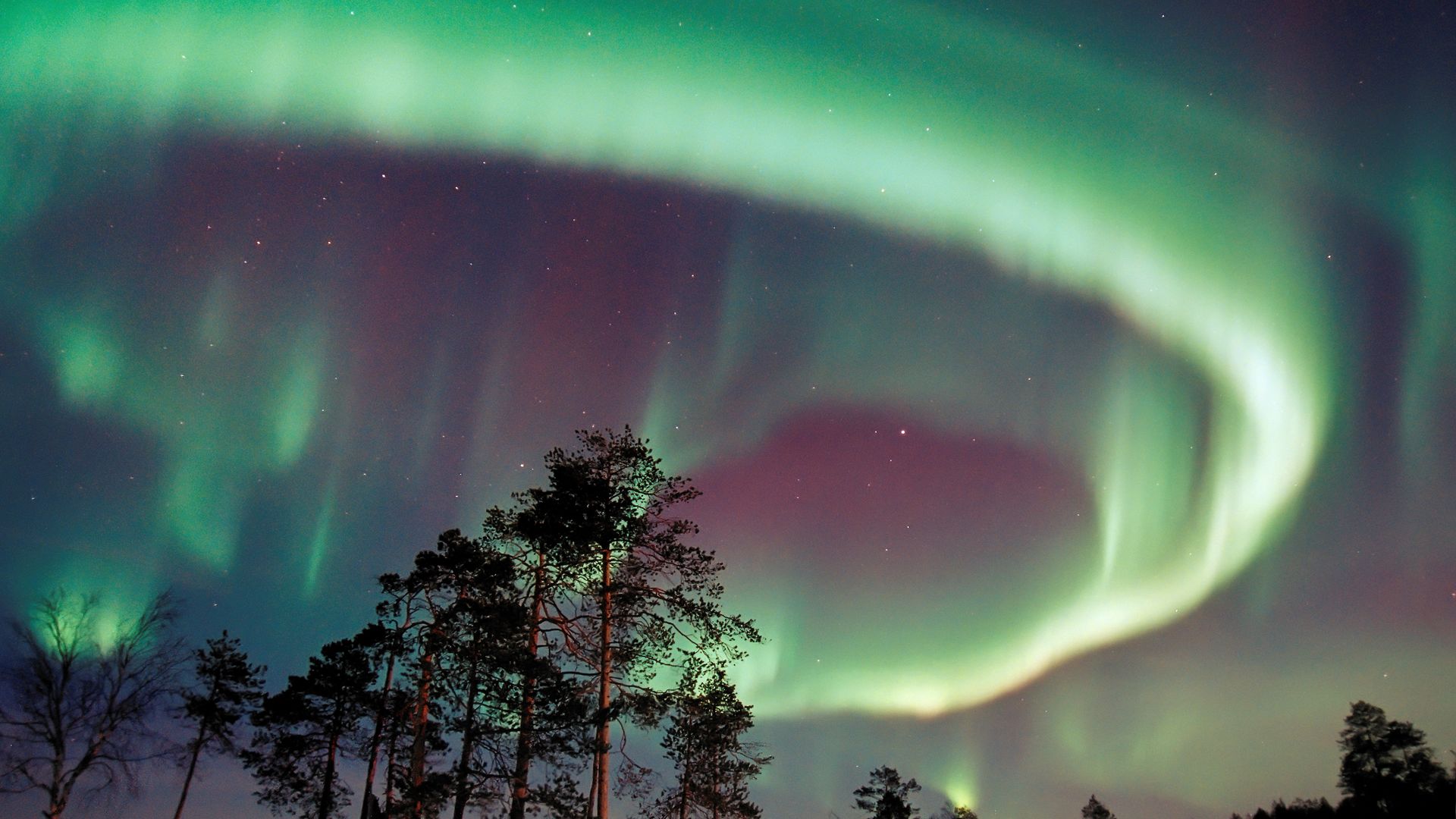 Dog sledding
Driving a dog sled through the northern wilds of Lapland is the quintessential Swedish winter activity. It's also, in our opinion, an unmissable experience.
Wrap up warm and sit back as your guide and their pack of huskies whisk you through the snowy wilderness. After a little training, you can even try your hand at guiding the pack yourself.
Spotting Arctic wildlife
With their thick coats and towering frames, the native animals of northern Sweden are formidable to observe, especially when seen in their natural habitat.
Come to Lapland in the winter and you might spot moose and wild reindeer roaming the snowy plains. You may even catch a glimpse of some wolves – from a safe distance, of course.
Snowmobiling
Adrenaline junkie or not, snowmobiling is an absolute must if you plan on travelling to Sweden in winter. You'll have the opportunity to explore remote, scenic areas that would otherwise be impossible to traverse.
Don't worry if this is your first time snowmobiling, as full training is given and safety gear always provided.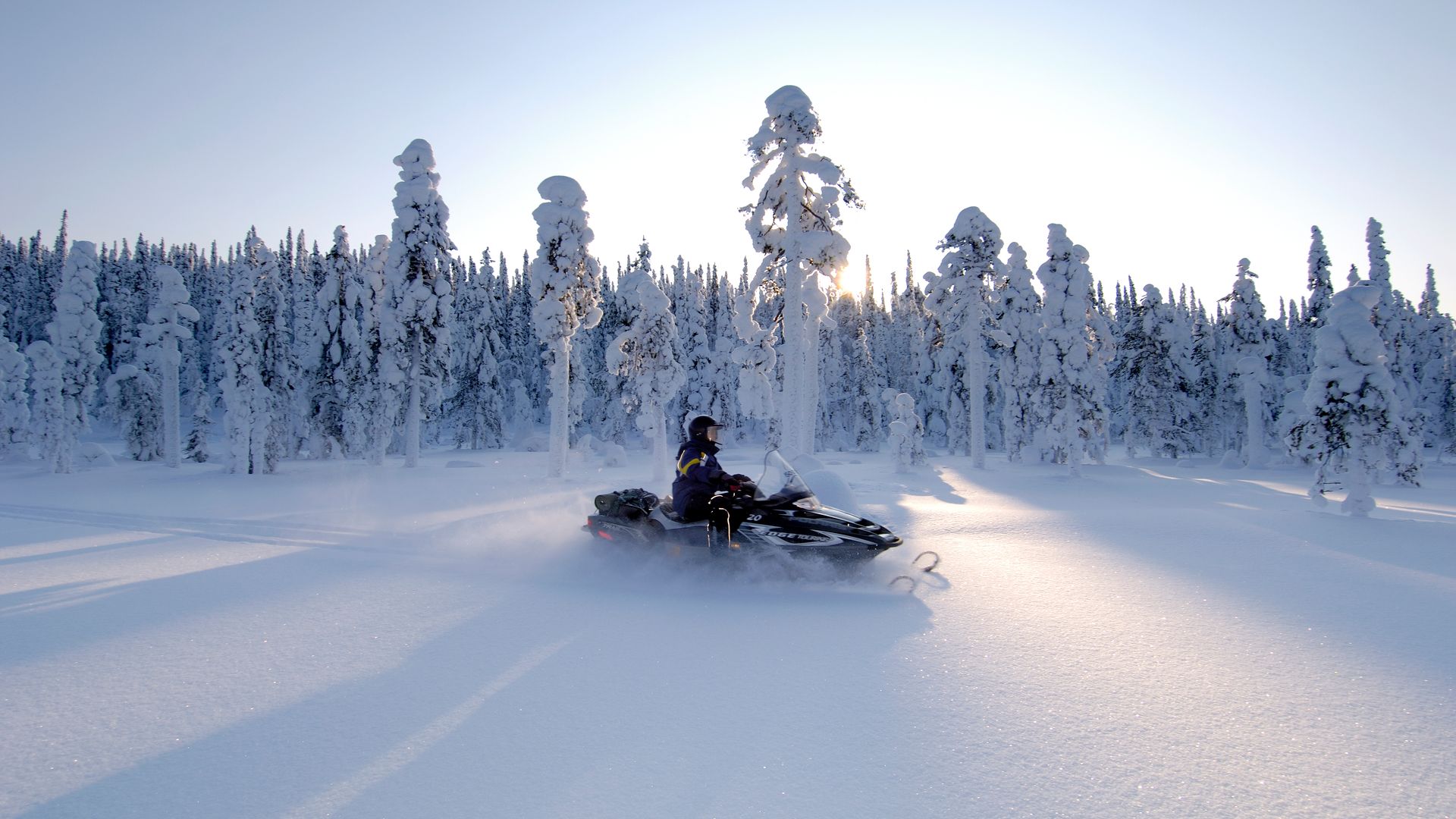 Experiencing Sami culture
The ancient Sami culture is indigenous to Lapland, and is characterised by a semi-nomadic lifestyle of fishing, fur trapping and reindeer herding. Delve into Sami life during your trip to Kiruna, learning all about this civilisation that dates back 6,000 years.
When you travel to this part of Sweden, you can visit traditional reindeer farms and uncover locally made arts and crafts ("slöjd"). Why not also try local specialities such as cloudberry jam?
Be prepared to come away with multiple souvenirs!
Sightseeing in Kiruna
Visit the northernmost city in Sweden, Kiruna, and you'll have plenty of hotels, shops, sightseeing spots and public transport links at your disposal. You'll also be close to the incredible snowy scenes that envelope this northern hub.
Tour the iron mine and explore the iconic Kiruna Church, which was built in the shape of a traditional Sami dwelling.
In nearby Esrange and Jukkasjärvi, further delights await. You can visit an 18th-century church and – rather unexpectedly – visit Europe's largest civilian space centre.
Snowshoeing & cross-country skiing
Snowmobiles and dog sleds might be the quickest way to get around. But there's something special about exploring the wilderness on a snowshoe or cross-country skiing tour.
Following an experienced guide, you'll sweep across the snow, enjoying a serene exploration of Lapland's most tranquil regions.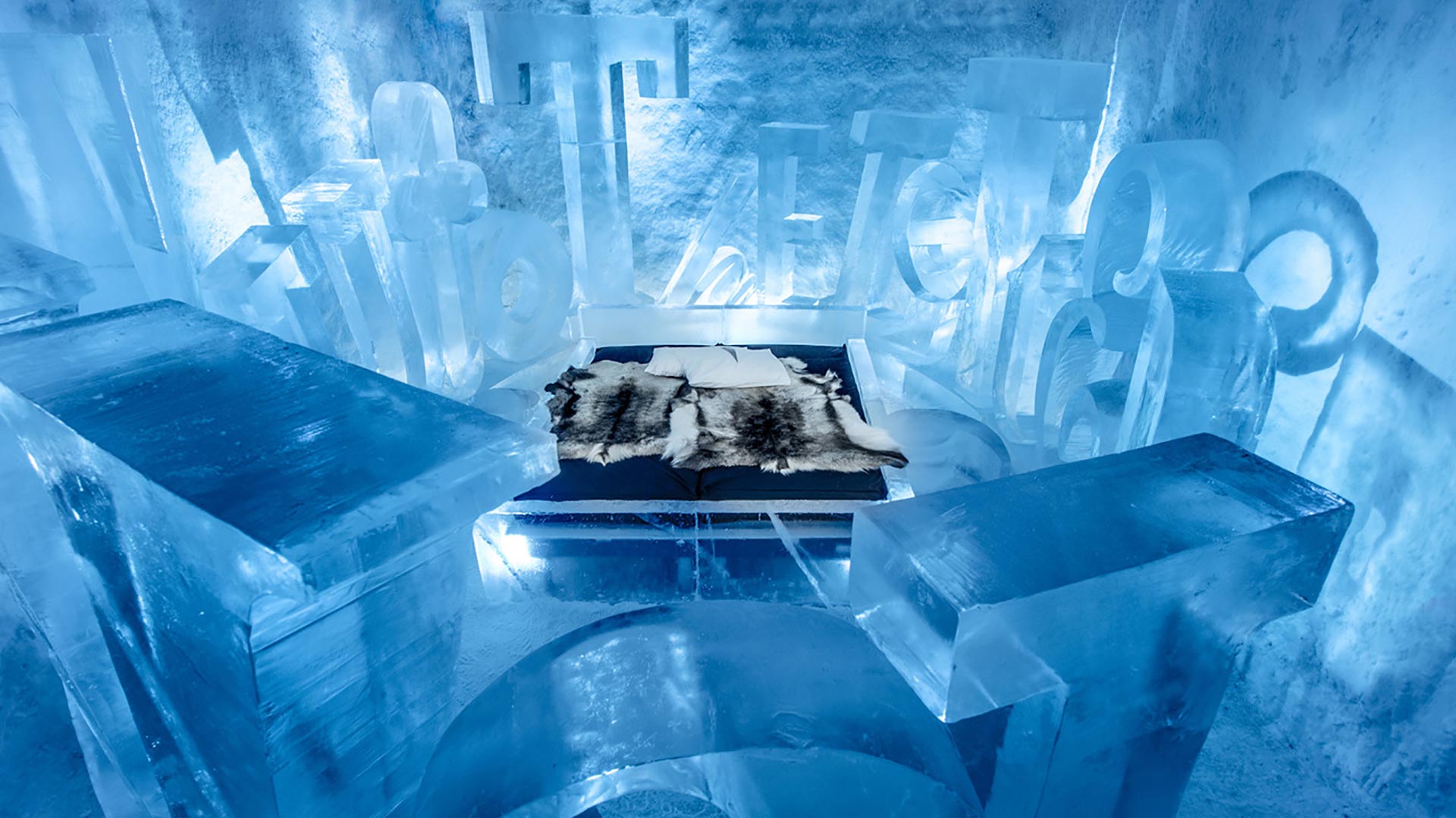 Staying at the ICEHOTEL
At once an art installation and a luxury hideaway, ICEHOTEL offers you the opportunity to sleep in a room entirely constructed from ice.
Kept at a temperature of between -5 and -8°C (23 and 17°F), this is without doubt one of the most unusual hotels in the world. Don't worry though, as you'll be protected from the cold with thermal sleeping bags and reindeer skins.
What makes this experience truly unique is that the hotel melts every spring, meaning each winter it is rebuilt from scratch. Spend a night here and it will stay with you forever.
Celebrating Christmas & New Year
What could be more festive than a snowy landscape dotted with pine trees and reindeer? Beyond the magical scenery, northern Sweden is bursting with things to do come Christmastime.
Tour the Christmas markets, go ice skating, enjoy a candlelit "Santa Lucia" church service, and sample the festive foods. Try Swedish gingerbread, mulled wine, cured salmon, meatballs, and clove-studded ham.
And of course, kids will love meeting Santa in his homeland – that includes big kids!
---
---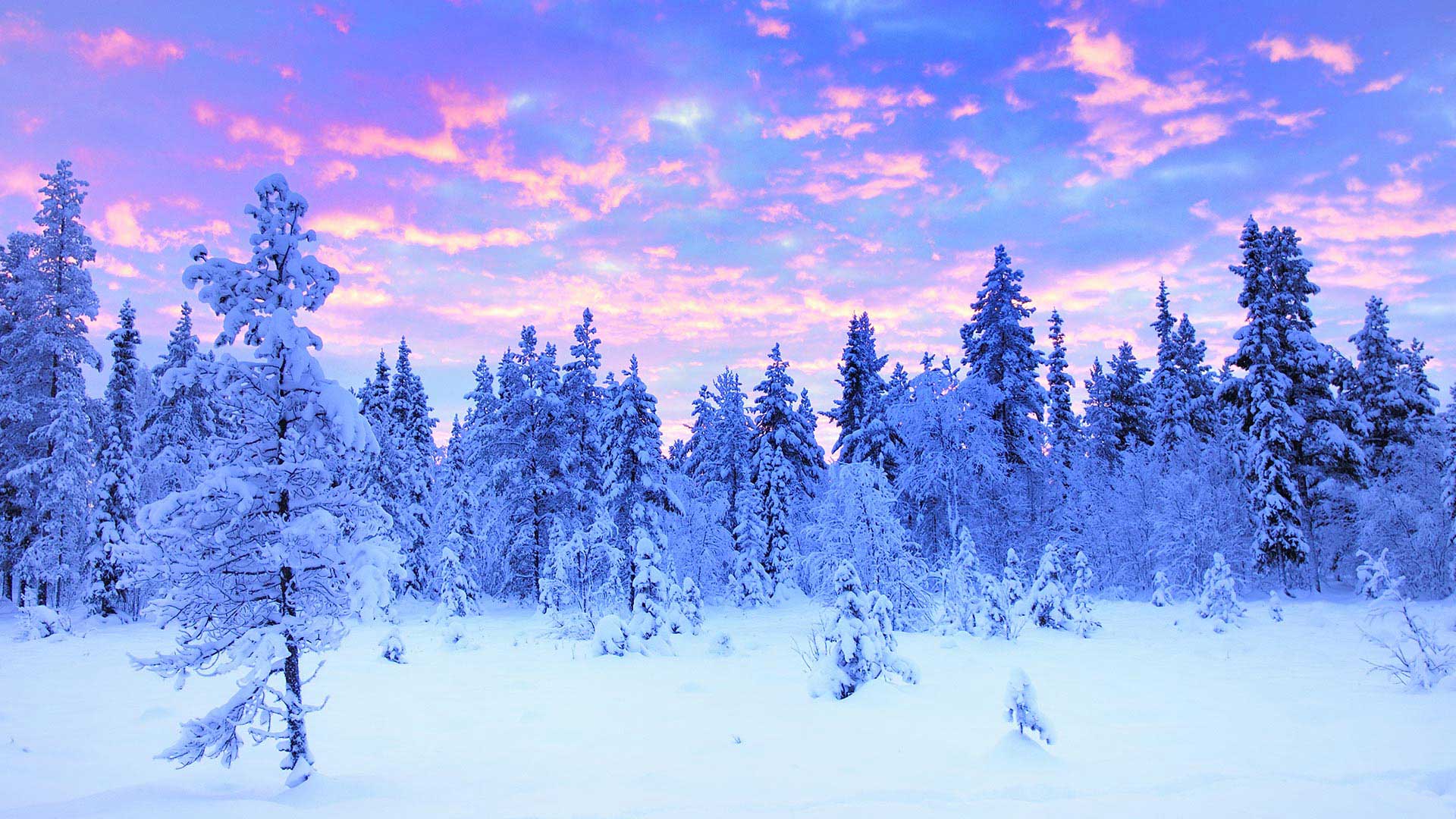 Tips for visiting Sweden in winter
Weather and average winter temperature in Sweden
The average winter temperature in Sweden is fairly frosty. In the south of Sweden, you can expect the thermometer to hover just below freezing.
Head north to Lapland and you're in for even colder temperatures. In Kiruna, the average January temperature is -11°C (13°F), with snow covering the ground from November onwards.
---
---
What to pack and which clothes to wear in Sweden's winter
It goes without saying that warm clothing should be top of your list. We recommend bringing plenty of insulating inner layers, as well as a proper winter coat and good, thick socks.
When you book a winter Lapland tour with Nordic Visitor, we provide warm clothing for you to wear. You'll also receive protective gear for any day trips or activities such as dog sledding.
---
---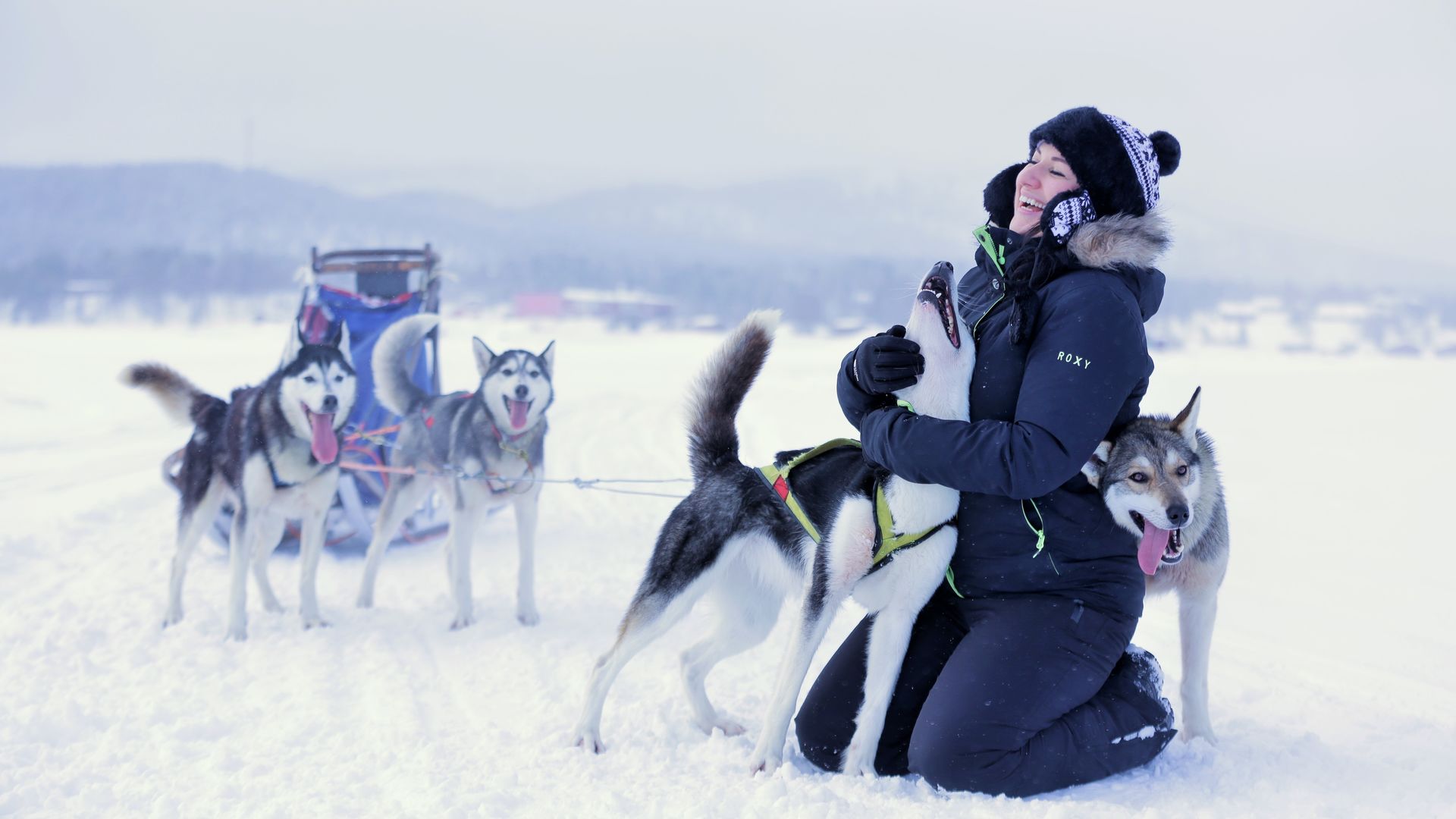 Getting there
The easiest way to reach Lapland is to fly from Stockholm. The airport at Kiruna is a fantastic entry point for the region, with daily flights from the capital arriving and departing year-round.
The flight between Stockholm and Kiruna takes approximately 1 hour 40 minutes.
---
---
If we've sufficiently whetted your appetite for a wintry trip to Swedish Lapland, now's the time to get booking. Here at Nordic Visitor, we offer a variety of exciting Lapland tours to help you explore this magical corner of the world.
Whether you're travelling to Lapland as a couple, or taking the kids on a family trip, visiting Sweden in winter won't disappoint!
Get in touch with our friendly team to learn more and make your dream trip a reality.