Ireland is a country of beautiful and diverse landscapes.
Here you'll see rugged coasts lined with glacial-era limestone, vast peninsulas made up of sandy white beaches, and green hills that roll off into the distance. In Ireland you also get to experience modern cityscapes, Georgian architecture, and delicious Irish food and drink.
Curious about where to go in the Emerald Isle to enjoy the best views (and pints of Guinness)? Look no further. Read on to find out the best places to visit in Ireland and add them to your travel wish list.
---
---
1. Dublin
Make sure to roam the capital city of Ireland and its pretty canals lined with cobbled streets. Here you'll discover some of the best live Irish folk music you'll ever tap your foot to.
Once you explore some of the capital's historical and cultural attractions, you'll wonder why you didn't take a trip to Dublin sooner.
Tour Ireland's oldest university, Trinity College Dublin, where you can see the Book of Kells. Another historical highlight you should visit is the grand St Patrick's Cathedral.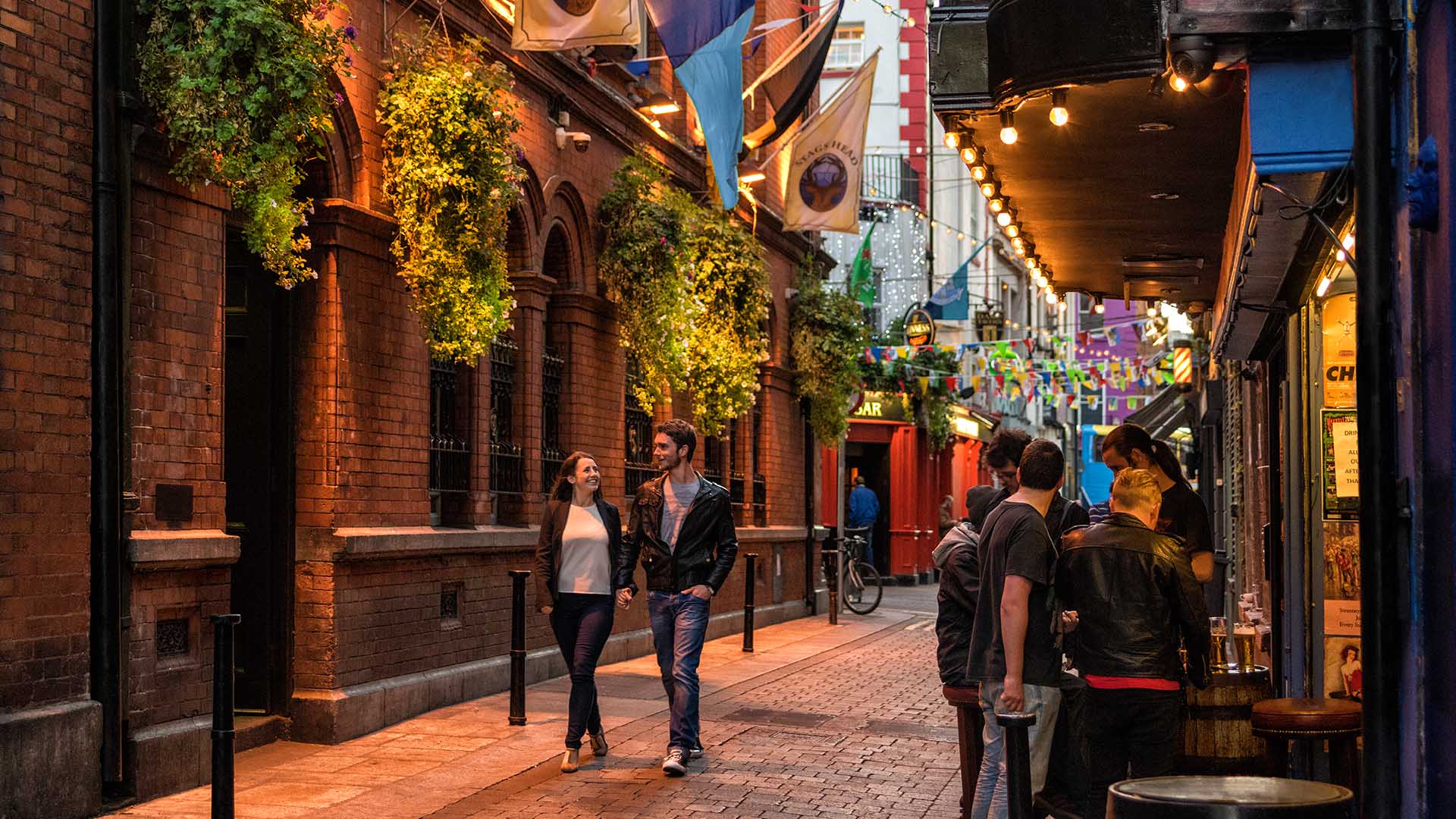 No trip to Dublin is complete without a visit to the Temple Bar District. As soon as you enter the famous quarters, you'll hear live music from the many bars and pubs, as well as buskers on the street.
Of course, you can't go home without having tried one of Ireland's most famous exports: Guinness.
Whether you're a staunch stout enthusiast or just want to see why it's so beloved in Ireland, make sure to visit the Guinness Storehouse. At this top attraction in Dublin, you'll get to go behind the scenes at a working brewery and taste a perfectly poured pint.
Fun fact: Did you know that across the globe, an average of 10 million pints of Guinness are sold every day?
---
---
2. Galway
The colourful harbour city of Galway is effortlessly cool, with its burgeoning art scene, rich musical background and roots in Irish history and language.
You'll enjoy the best sightseeing in Galway by exploring the city on foot. Stroll down the Salthill Promenade, dating back to the 19th century, and breathe in the sea air that rolls in from Galway Bay.
Don't miss the opportunity to pass by Galway Cathedral, the Galway City Museum and the medieval Kirwan's Lane. This will give you a fascinating taste of the city's heritage and architecture.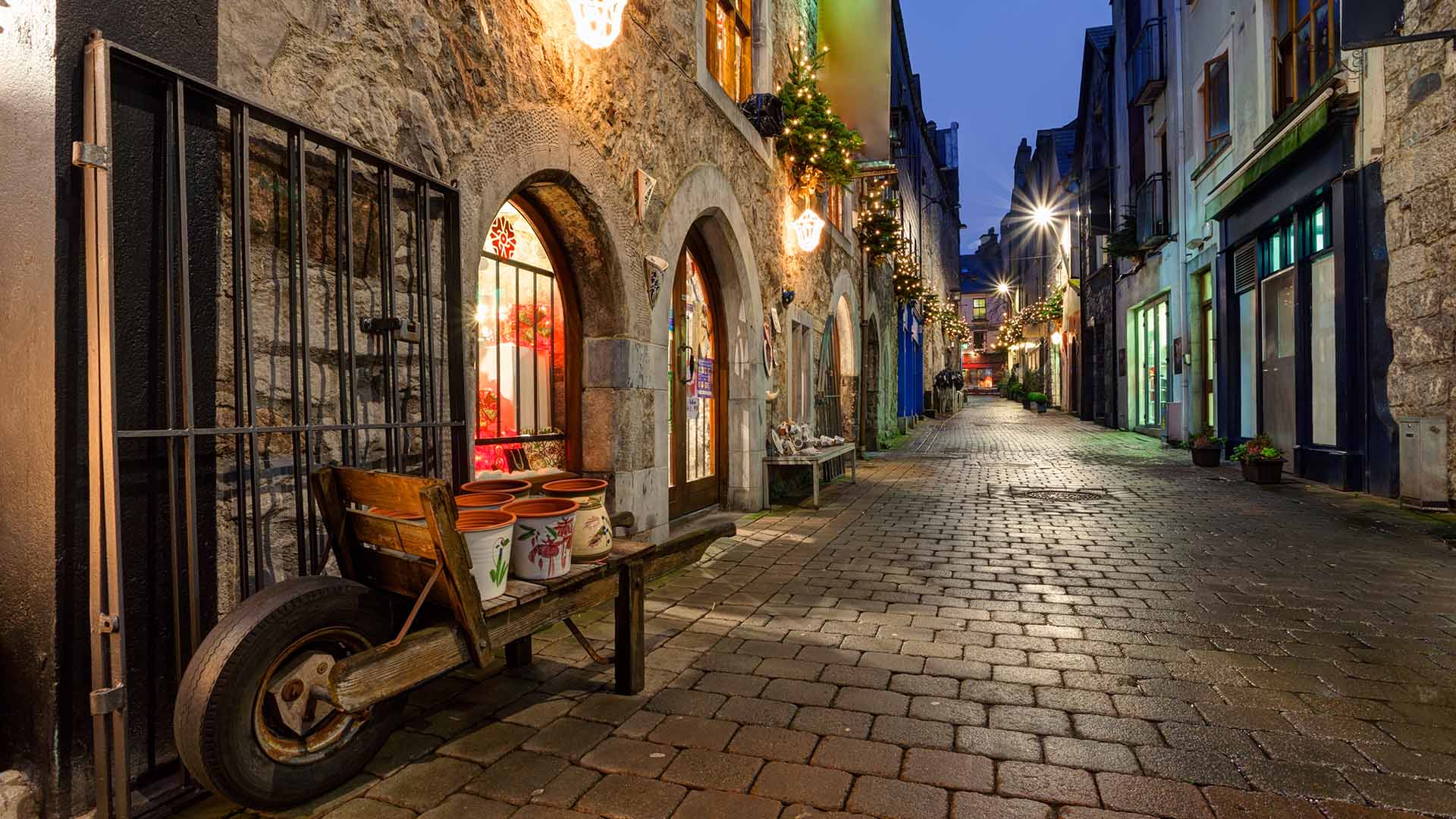 If you love soaking up local cultures through festivals, be sure to time your trip to Galway for one of the exciting events held here annually.
You could go along to the Galway International Arts Festival in mid to late July, for a complete immersion into the vibrant art, theatre and music scene. Or savour one of the region's finest delicacies at the Oyster Festival at the end of September.
---
---
3. Cork
Nestled on the banks of the River Lee, Cork is a bustling city with a history that can be traced back to the 6th century. Today though, Cork has a reputation for being the foodie capital of Ireland.
The city has so many inviting cafés, traditional pubs, and enticing restaurants serving everything you could want to sink your teeth into. You'll be able to enjoy a bit of everything, from hearty farm-to-table Irish fare to modern and flavourful vegan cooking.
Be sure to visit the English Market, with its high ornate vaulted ceilings and grand marble fountain. This market sells some of the tastiest fresh produce in the region.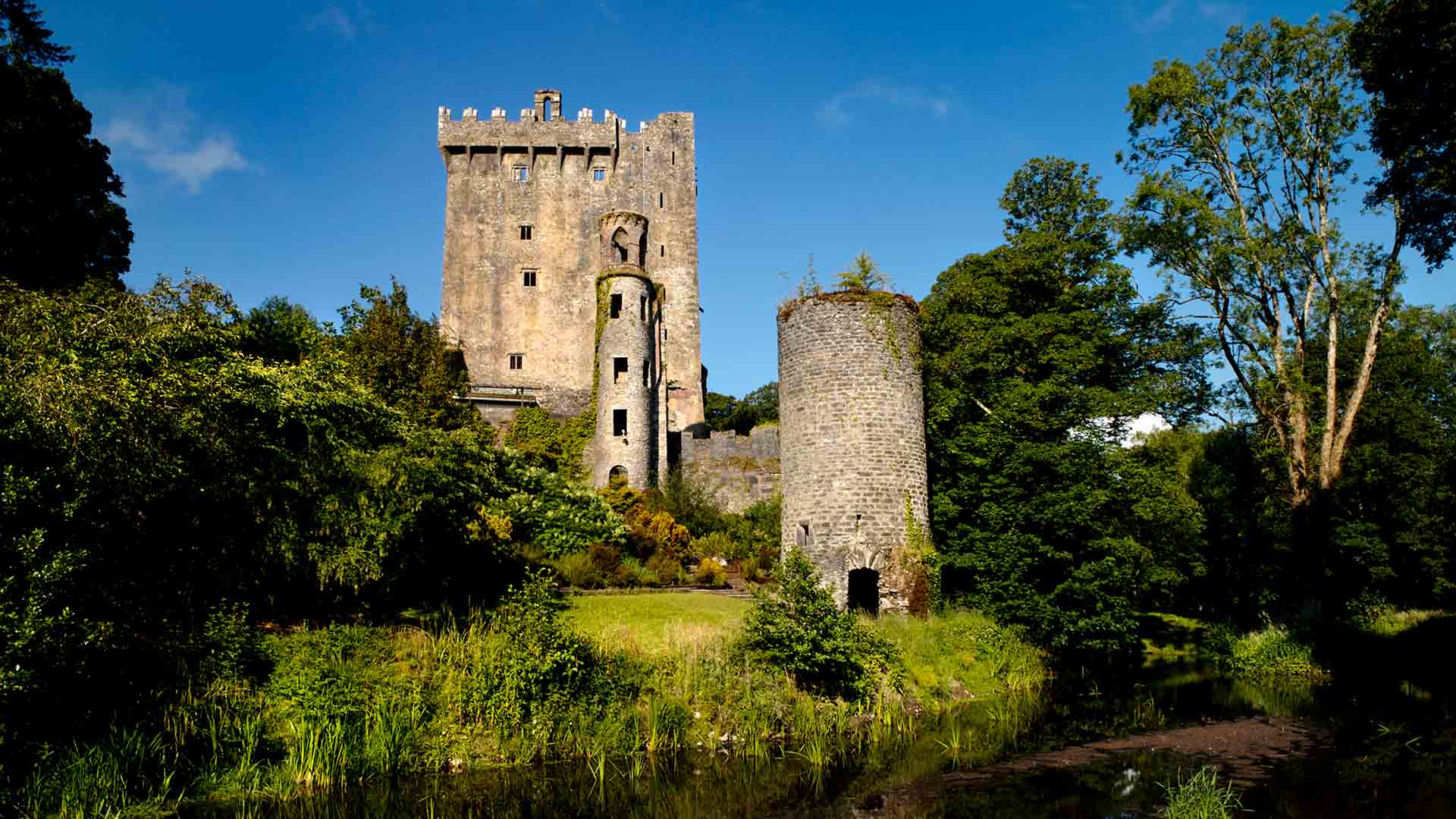 Cork also has plenty of eye-catching architecture for you to admire. As you walk around town, feast your eyes on grand Georgian streets and hidden alleyways that date back to the 17th century.
If you're a history buff, you'll want to visit Blarney Castle. Situated just north of Cork, you'll find this striking medieval stronghold in a picturesque setting, surrounded by leafy woodlands.
You could kiss the famous Blarney Stone and perhaps you'll be blessed with the gift of the gab, as the legend goes!
---
---
4. Ring of Kerry
If you only take one Irish road trip, make it the Ring of Kerry. Whichever window you peer out of, you're guaranteed impressive views along these 179 kilometres (111 miles) on the southwest coast of Ireland.
This circular route, part of the Wild Atlantic Way, takes you across the green hills and stunning coastlines of the Iveragh Peninsula.
You could enjoy activities such as fishing, golf and water sports, and stay the night at cosy hotels to experience the warm Irish hospitality. On clear nights, you may even be able to watch the sun melt into the vast North Atlantic Ocean.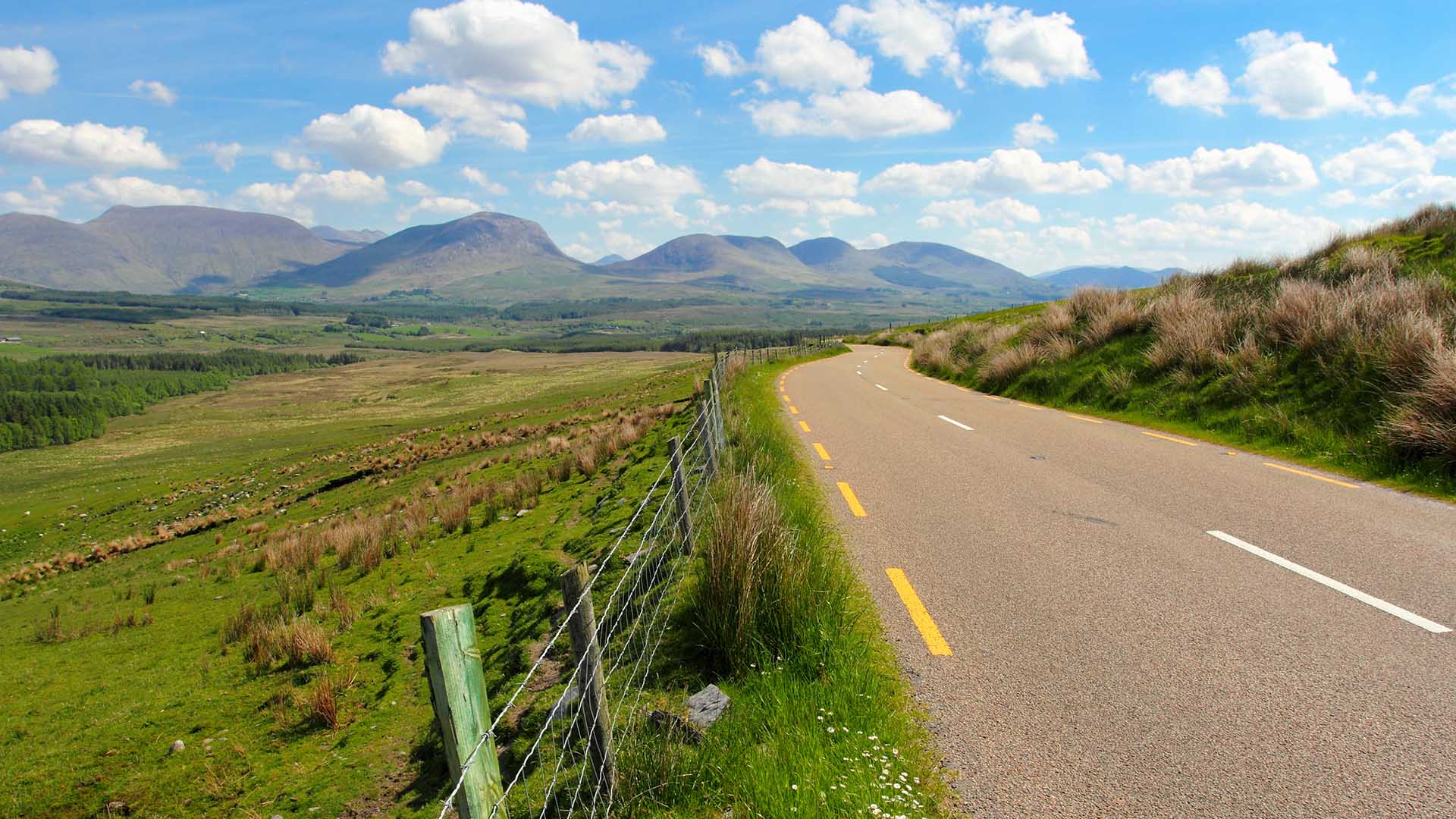 Explore Killarney, where your Ring of Kerry road trip begins, and the beautiful Killarney National Park. Marvel at historical sites like Ross Castle, Muckross House and Abbey, and the ancient stone forts of Caherdaniel and Staigue.
Soak up stunning natural wonders at Torc Waterfall, the Skellig Islands, and the Gap of Dunloe mountain pass.
The Ring of Kerry really is one of the best places to visit in Ireland for a remarkable snapshot into Irish culture and nature.
---
---
5. Dingle Peninsula
Also part of the popular Wild Atlantic Way route, the rugged Dingle Peninsula is brimming with natural charm. If you love hiking and wildlife watching, this is the place for you!
You'll have 48 kilometres (30 miles) of scenic sights to explore in the Dingle Peninsula, located in southwest Ireland.
Roam remote shores, mountain ranges such as Slieve Mish, and pristine beaches. Stop by one of the small towns and seaside villages where you can immerse yourself in Irish traditions and culture.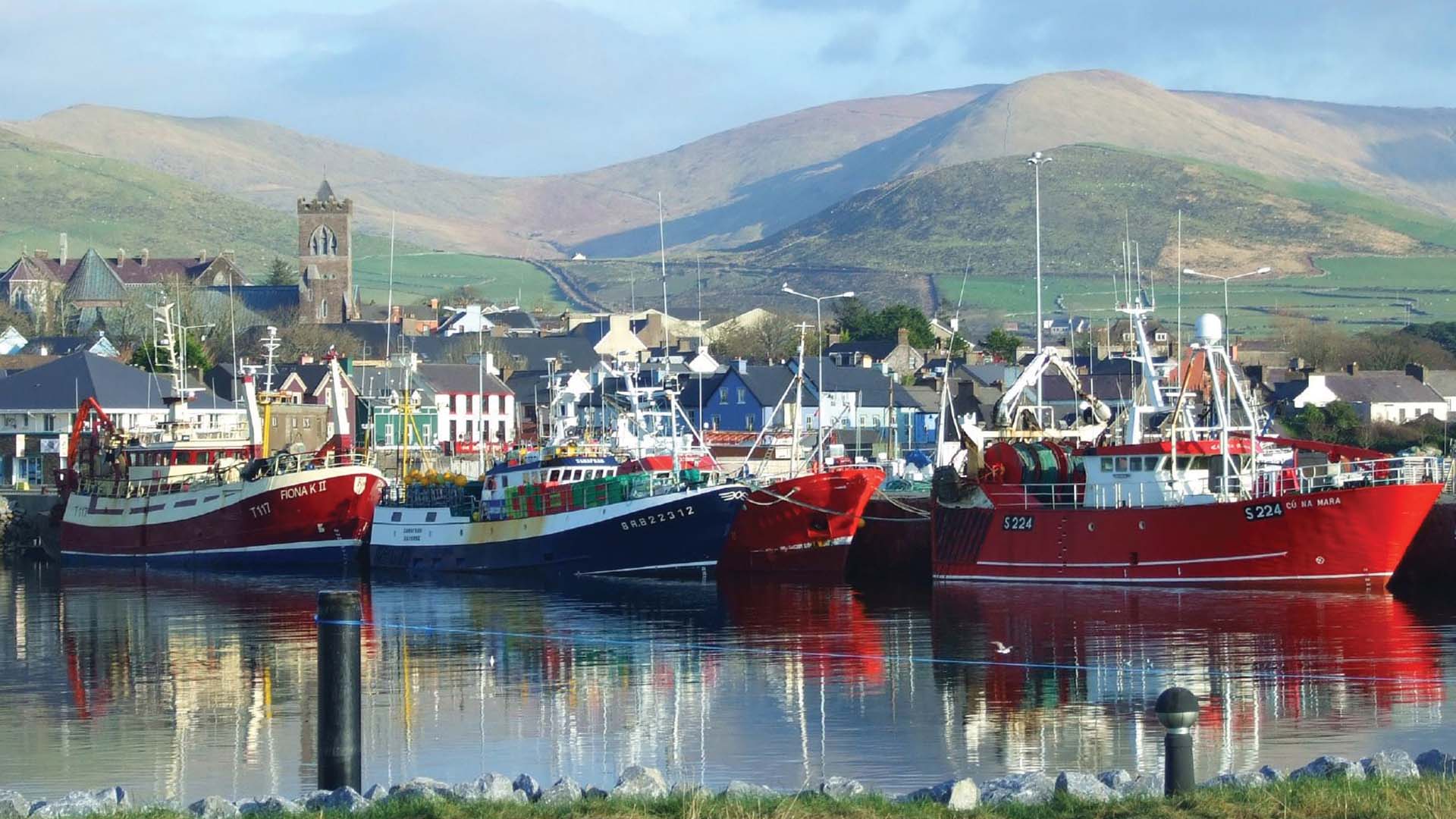 During your visit to the Dingle Peninsula, you could take a boat tour of Dingle Bay to see dolphins and other marine wildlife. You might also want to hike up Mount Brandon or stroll along the sands at Inch Beach.
Don't miss a trip along the Slea Head Drive, a circular route at the westernmost point of the peninsula.
Here you'll find fascinating artefacts at the Celtic & Prehistoric Museum and learn about life on this remote archipelago at the Blasket Centre. What's more, on a clear day you can see the Blasket Islands from the shore.
---
---
6. Antrim Coast
Discover the Antrim Coast on a trip to Northern Ireland and you'll experience one of the best gems on the island of Ireland.
Northern Ireland is actually part of the UK, but it's located on the same island as the Republic of Ireland. This means you can easily enjoy a tour of both countries on the same trip.
When you visit Northern Ireland, you don't want to miss the Antrim Coast.
The best way to explore the cliffs, beaches and historical attractions of Antrim is by travelling the Causeway Coastal route.You'll start in Northern Ireland's capital, Belfast, and follow the coast towards Derry-Londonderry, taking in the region's top highlights along the way.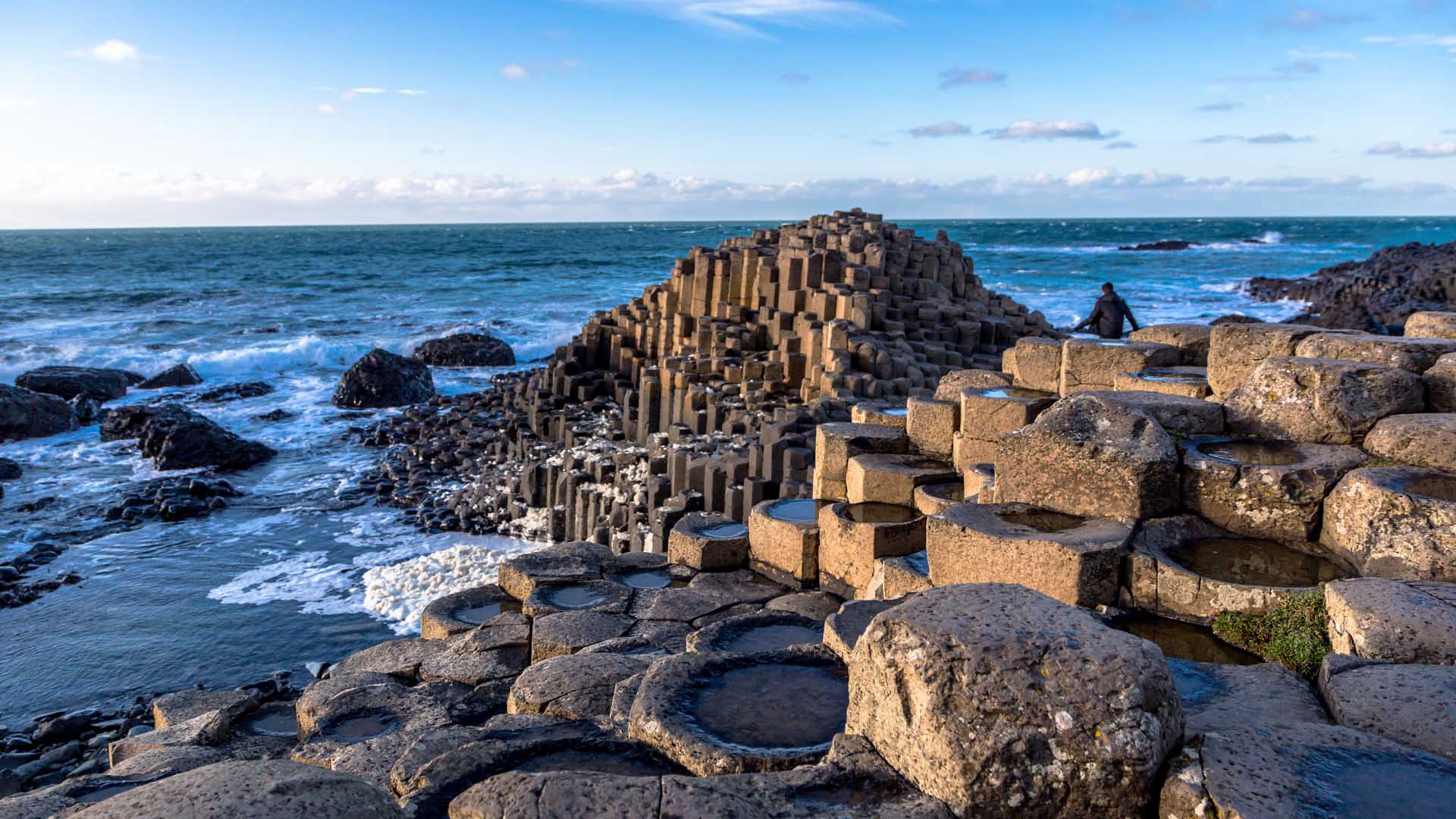 Visit the intriguing Giant's Causeway and ponder how the 40,000 basalt columns were formed. Legend has it that an Irish giant built the causeway to cross over to Scotland and fight a Scottish giant.
Also on the route you could walk across the Carrick-a-Rede rope bridge, linking a small island to the clifftop of the mainland. Soak up the majesty of Dunluce Castle, a ruined fort clinging to the rocky coast. You may recognise it as the stronghold of House Greyjoy from Game of Thrones.
The Dark Hedges, another of the hit TV show's filming locations, is just 20 minutes away from Dunluce. If you loved Game of Thrones, be sure to make a stop here.
---
---
7. Cliffs of Moher
Head to the Cliffs of Moher to witness one of the most beautiful places to visit in Ireland. This natural wonder serves as a reminder of just how striking and diverse Ireland's landscape is.
These cliffs have been here for over 350 million years and are a geological gem. Situated in County Clare, they are 8 kilometres (5 miles) long, and 214 metres tall (702 feet) at their highest point.
You can't help but sense the raw beauty here, with the sound of the Atlantic Ocean waves crashing below.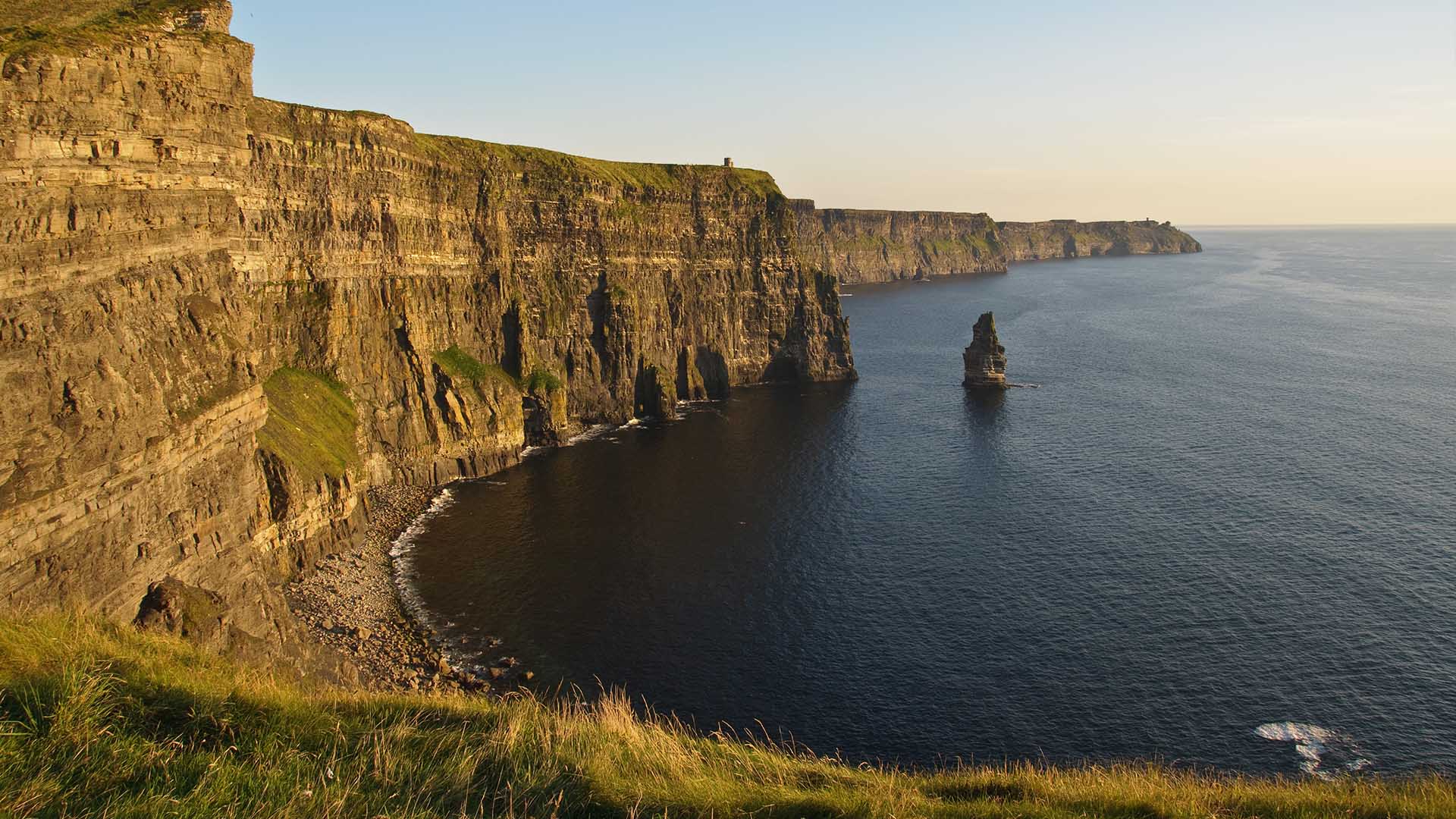 What's more, the Cliffs of Moher are home to the largest mainland colony of puffins in Ireland. They are also a habitat for more than 20 species of birds, such as the peregrine falcon, guillemot and razorbill. So when you visit, you might like to enjoy a spot of birdwatching.
You may also recognise these rugged cliffs from film and television. They have appeared in Harry Potter & the Half-Blood Prince, The Princess Bride, and comedy classic Father Ted, among many others.
Another stunning place you should visit in County Clare is the Burren. This national park is made up of naturally formed karst landscapes and limestone pavements, which you can reach within 45 minutes from the Cliffs of Moher.
---
---
8. Kilkenny
Wander through a maze of cobbled streets and alleyways in the atmospheric town of Kilkenny in southeast Ireland.
Kilkenny is where you'll find a fascinating mix of religious roots, national history and medieval architecture. Take a tour of Kilkenny Castle, St Canice's Cathedral, and the Black Abbey to immerse yourself in medieval history.
You could head to the Rock of Cashel (Carraig Phádraig), located 50 minutes out of town, to discover one of Ireland's must-see ancient sites. The medieval buildings are set on a rocky outcrop with beautiful countryside views all around.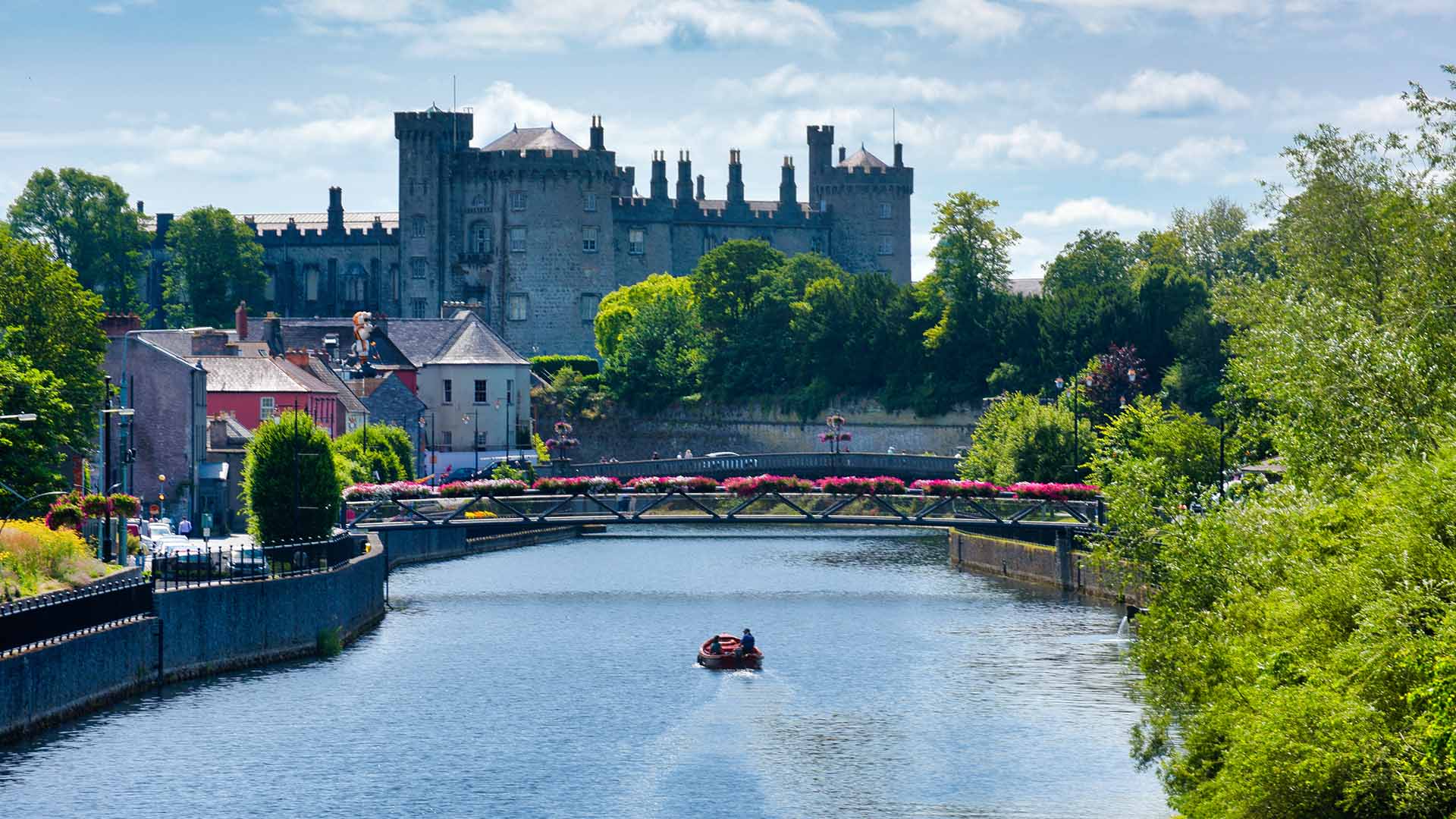 Back in Kilkenny itself, stroll along the River Nore which winds through the town, admiring the attractive architecture that lines the riverbank.
Kilkenny is also one of the best places to go in Ireland for delicious food and lively nightlife. Taste beer and ales from the local breweries and listen to live music in the town's friendly pubs.
---
---
9. Aran Islands
Get ready to see breathtakingly high cliffs, ancient settlements and prehistoric forts. Just a short ferry ride away from the Galway coast, the Aran Islands are full of historically significant sites.
The 3 islands are Inishmore (Inis Mór), Inishmaan (Inis Meain), and Inisheer (Inis Oirr). The former is the largest of the Aran Islands, where you arrive on the ferry from the mainland.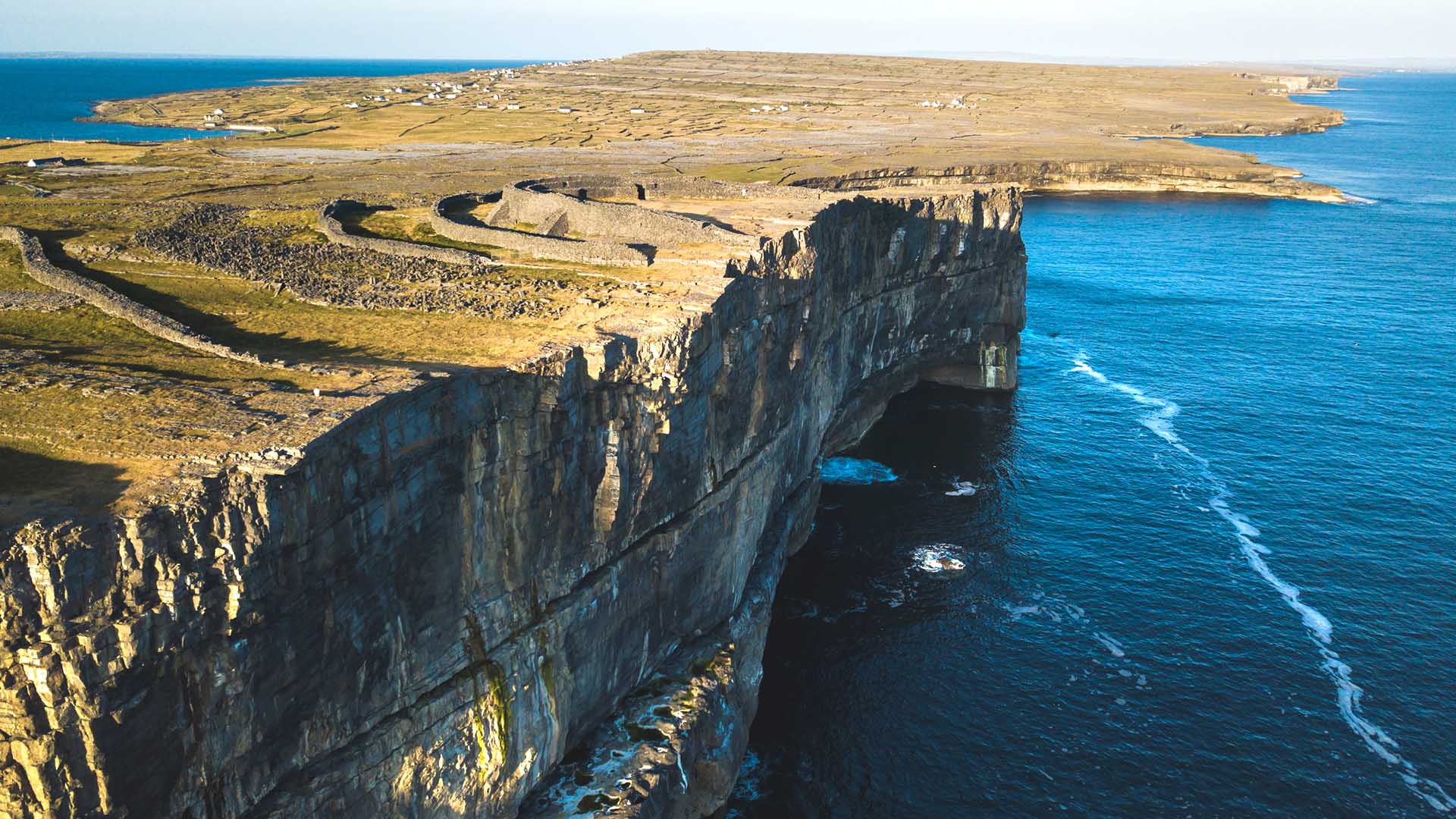 You'll have plenty to discover, from the clifftop fort of Dun Aengus (Dún Aonghasa) to the ruins of the Medieval Seven Churches.
You can also explore the Wormhole (Poll na bPéist), a natural pool shaped in a perfect rectangle, and the beehive-shaped Clochán na Carraige.
During your trip to the Aran Islands, why not try getting around on a "pony and trap" (horse and carriage) for a memorable tour?
---
---
This is just a taste of the amazing places that await you in Ireland. There are many more towns, national parks, castles and coasts to discover across the Emerald Isle.
If you're inspired to explore the island and visit these places for yourself, our Ireland travel experts can create a dream trip for you.
Take a look at our top vacation packages for Ireland to see highly recommended routes packed with must-see sights. Choose from self-drive trips, small group tours and privately guided packages in Ireland. And you can ask your personal travel consultant about tailoring a tour for you.
They will book you into handpicked accommodation, arrange your rental car or local transport, and plan activities for you. As well as this, you get daily breakfast and 24/7 support included in the cost of your tour.
Don't hesitate to get in touch. Our knowledgeable travel experts will ensure you see the best of Ireland on an unforgettable trip!