Ireland, also known as the Emerald Isle, is a country you can enjoy whatever the season. There are countless fantastic activities to enjoy and sights to admire all year long. As your visit may depend on your interests or your available time, we have you covered with this useful guide.
If you've already booked your trip, you can see what the best things to do in Ireland are at that time of year. Maybe you want to visit for a particular activity, or you're simply looking for some inspiration. Read on to learn all about the best time of year to visit Ireland.
When is peak season?
Thanks to its temperate climate and beautiful sights Ireland is a great year-round destination. That said, it's still the summer months that draw the most visitors. You'll find the high season for accommodation and attractions is usually from April until September.
The most popular time to travel is July and August, when you may find yourself sharing attractions with many other visitors. Meanwhile, during spring and early autumn you can enjoy mild weather paired with fewer other travellers.
Another period that sees a lot of international visitors is mid-March. Dublin is particularly lively around this time of year as it coincides with the ever-popular St Patrick's Day celebrations.
---
---
When is the best time to visit Ireland for the weather?
To make the most of the year's best weather, you'll definitely want to explore Ireland during the spring and summer.
Between May and September, you can take advantage of the warmest and driest months of the year. Plus, there's more daylight at this time of year. This is ideal for soaking up the scenery and enjoying the sights into the evening.
It's good to keep in mind that, like many countries in Northern Europe, it rains year-round in Ireland. It is not such a green country for nothing! As the weather is pretty changeable, you may find you encounter rain, sunshine and wind all within one day. It is part of the experience and charm of Ireland!
But, come prepared and you won't need to miss a single thing. This is why we recommend always having a few layers with you, especially windproof and waterproof layers. Check out our Ireland packing guide for more information.
The weather conditions you experience also depends on where in Ireland you're visiting. For instance, the west coast is windier as it is exposed to the Atlantic Ocean. Meanwhile, it tends to be sunnier and drier in the southeast.
You can find out more about the weather in Ireland in this handy guide.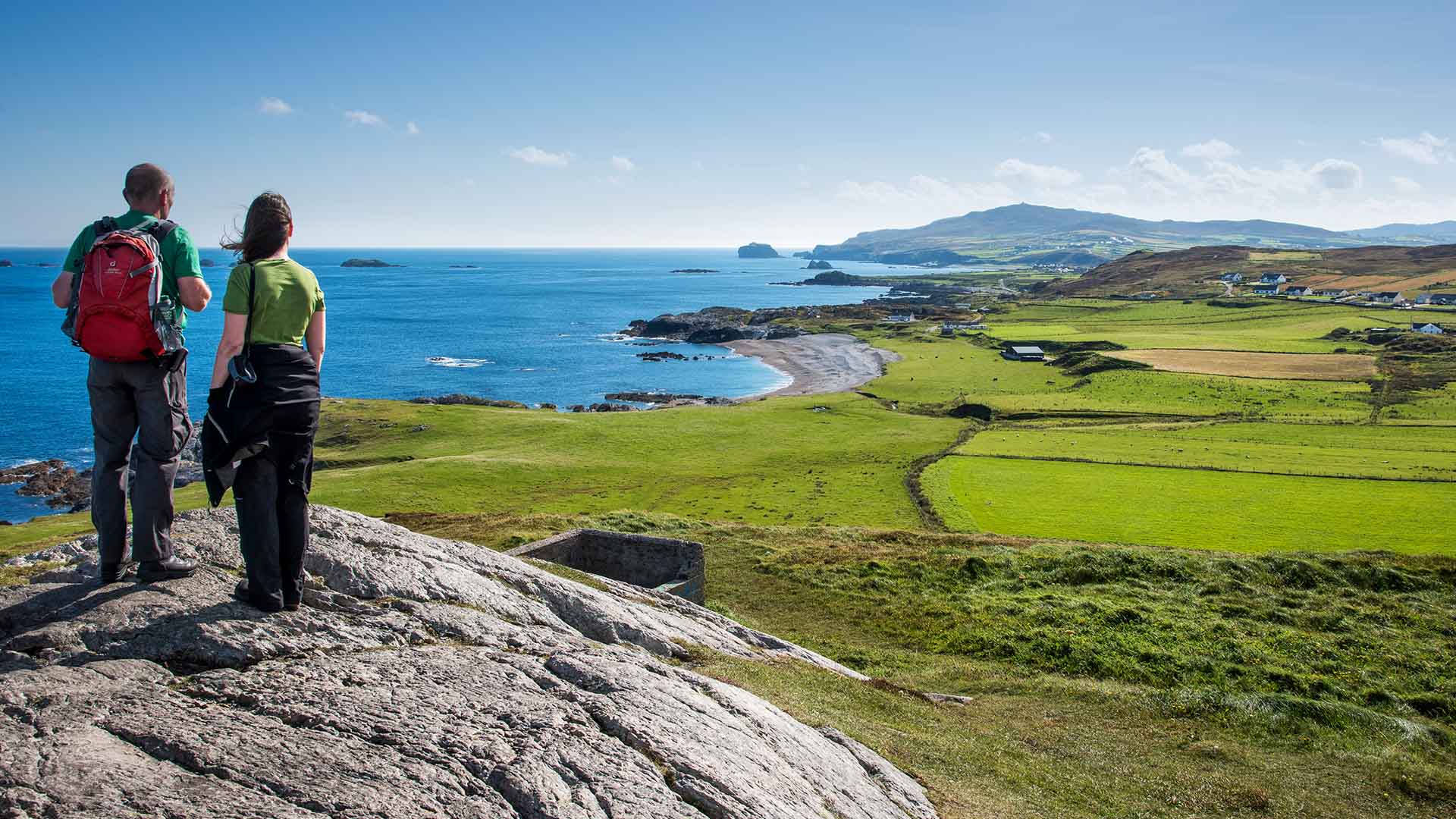 ---
---
What is the best month to visit Ireland?
While the weather may be a big draw for some, you may want to come to Ireland for a particular month or season, whether that's when you have holidays or when you want to enjoy a certain activity.
Exploring Ireland in summer
One of the best times to visit Ireland is during the summer. You'll enjoy warmer weather, ranging between 13°C and 18°C (55°F-64°F) and longer daylight hours to take advantage of all the summer activities, festivals, and attractions.
Ireland is truly booming at this time of year, offering you plenty to do and see.
Summer is also the perfect season to take the wheel on an Irish road trip. Plus, with longer daylight hours, driving in Ireland can feel easier at this time of year.
Or if you'd like to travel with a local expert, why not join a small group trip or privately guided tour? This way you can sit back and learn from your driver-guide as they take you between Ireland's highlights.
If you want to visit the remote Aran Islands or even Skellig Michael, the summer is the time to plan your visit. Boating trips are often only available during the high season, and are always dependent on weather and sea conditions.
To make the most out of your visit, especially if you intend to go to a lot of attractions, we recommend you plan your trip between April and September. Places such as museums, distilleries and historic sites often have restricted hours during the winter. Some are closed completely after October.
One thing you should consider when planning to explore Ireland is how popular the country is during the 'peak season'. Between June and August, the country is abuzz with visitors from around the world.
For that reason, we recommend the shoulder months. April-May and September-October still features nice weather and has fewer visitors as well. Those months are ideal if you are looking for a quieter vacation.
---
---
Exploring Ireland in winter
Winter in Ireland roughly extends from October until March. Thankfully, because of the island's location, right in the path of the Gulf Stream, local temperatures rarely drop too much during this time. The average temperature is between 4°C and 8°C (39°F-47°F).
Irish winter is a season characterised by wind and rain. You'll also find that it rarely snows in Ireland. However, you may find some snow up in the mountainous regions, which receive around 30 days of snow a year.
Travelling during the 'off season' has its advantages. While the shorter daylight hours may mean you have less time during the day to visit and see the sights, you'll enjoy uninterrupted sweeping views and smaller crowds. You may even find you have some sites to yourself!
The great thing about Ireland is that since it doesn't get too cold during the winter, you can still experience all the famous sights. Don't let the weather stop you! You may even really enjoy the different perspective and lovely soft light that winter casts on the Irish landscape.
If you want to experience the local culture, you may really enjoy visiting Ireland during the winter. It's the ideal time of the year to curl up in a warm pub with a glass of whiskey listening to traditional music. Get a taste of the local food and drink and experience the warm Irish hospitality.
The downside of travelling to Ireland during the winter is that, despite being a year-round destination, there are fewer activities available at that time of year. Be aware that some top attractions have restricted opening hours, or are closed for the winter.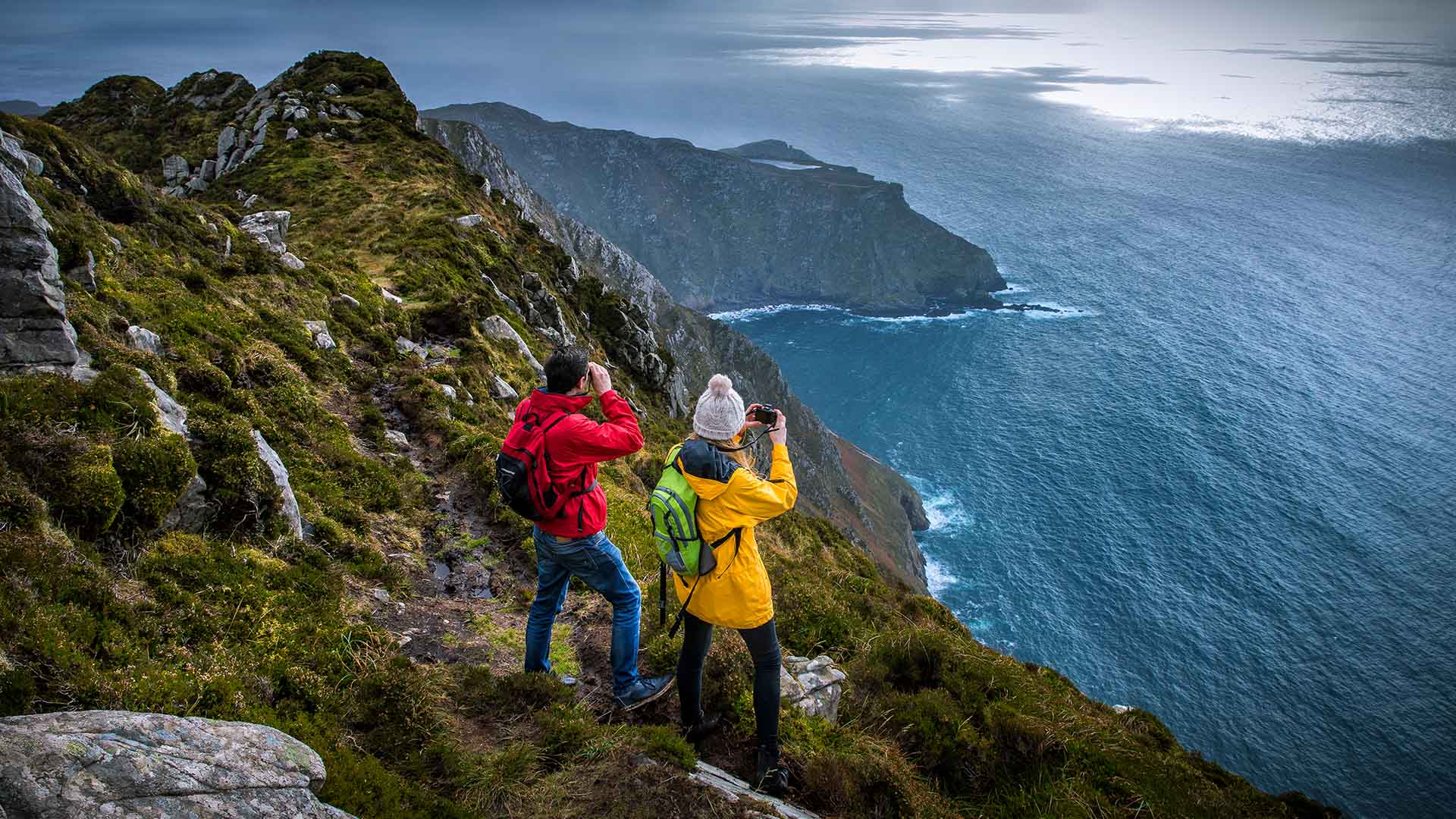 When is best to explore Ireland for…
There are truly no bad times to visit Ireland. To help you plan your dream trip we've compiled the most requested interests and activities and when is the best time of the year to come to Ireland for them. Look up the one you'd love to experience while in Ireland:
What is the best time to visit Dublin, Ireland?
The best time to visit the capital of Ireland, Dublin, has to be summer. This is a great time to enjoy all that this buzzing city has to offer. From festivals to discovering its green parks, and even day trips to the seaside nearby.
There is so much to love about Dublin at this time of year. The air is warmer, there are many events, and people will be celebrating and enjoying themselves outdoors. The longer daylight hours also mean longer opening hours for parks, gardens and attractions.
You could take a walking tour to feel straight out of a James Joyce novel, have a picnic, or even enjoy shopping along Grafton Street.
If you would rather come in winter, it's good to note you'll have plenty to dig your teeth into as well. Does sitting in a cosy pub with a local brew in hand listening to live music sound great? The cooler months are definitely for you, then.
---
---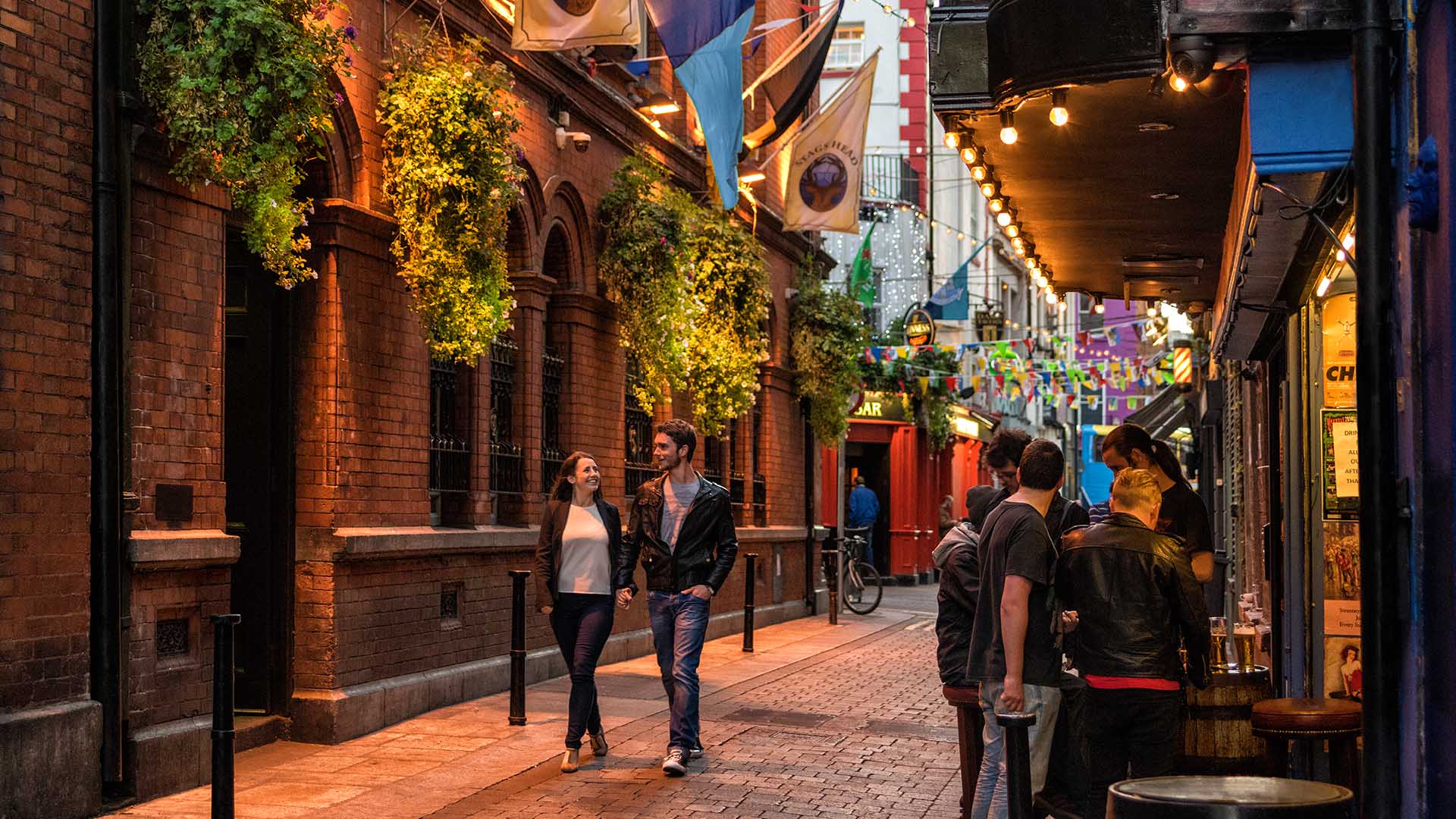 Best time to visit Ireland for wildlife watching
Avid wildlife watchers will have much to spot while touring the Emerald Isle!
Birds
Ireland welcomes more than 250 migratory birds to its shores, in addition to more than 100 local species. These bird species include puffins, guillemots, cormorants and gannets – colonies are especially present on the west coast.
The Cliffs of Moher are a Special Protected Area according to Irish and EU regulations. This declaration was made because of the 20 species of seabirds found here.
If you're visiting this iconic Irish attraction, you'll want to look out for a huge range of birds, including:
Guillemots
Razorbills
Kittiwakes
Peregrine falcons
Puffins.
Some of the species are present here all year long, but the best time to spot them is between April and July.
Sea life
The coast is also a good location to go in search of the marine life surrounding Ireland. There are plenty of fish (and other species) in the sea! This is important as fishing is an important national industry.
To spot some of the best sea life, make sure to travel the iconic Wild Atlantic Way route. From Malin Head down the west coast to County Cork. Stop by the water to try to spot animals including whales, dolphins, and otters.
Summer is the best time to try to catch a glimpse of the different types of whale.
If you're a fan of seals, you're also in for a treat. Common seal pups are born in the spring around May. You may be able to get a look at grey seal pups later in the year as they are usually born around September.
Wildlife enthusiasts may want to make sure to bring their binoculars and camera to capture it all!
Is there a best time to visit Ireland for photographers?
Photographers will have the time of their life in Ireland. The dramatic coastal sights (especially on the west coast) will make you want to take your camera out!
We recommend the shoulder months of April and October as the popular attractions and scenic locations will be far less crowded.
Because of the country's northerly latitude, the days are shorter in October. This means the sun does not rise too far above the horizon, which produces a very special light for photography.
While the weather may be more changeable at this time of year, you may find the occasional storms coming in from the Atlantic a real treat. They can produce powerful images of dramatic skies and waves crashing onto the rugged coastline.
A bonus is the sunsets. They are often a highlight for photographing the Atlantic coast, and during this time of year can be enjoyed at a more convenient time of the day. This is in contrast with the summer when sunsets occur late at night.
One of my favourites is the Dingle Peninsula with its narrow, twisting roads, miles of golden beaches, jagged coastal cliffs and green, sheep-filled pastures backed by mountains – a photographer's dream!

- Chris Glauche, Travel Consultant & Photographer
---
---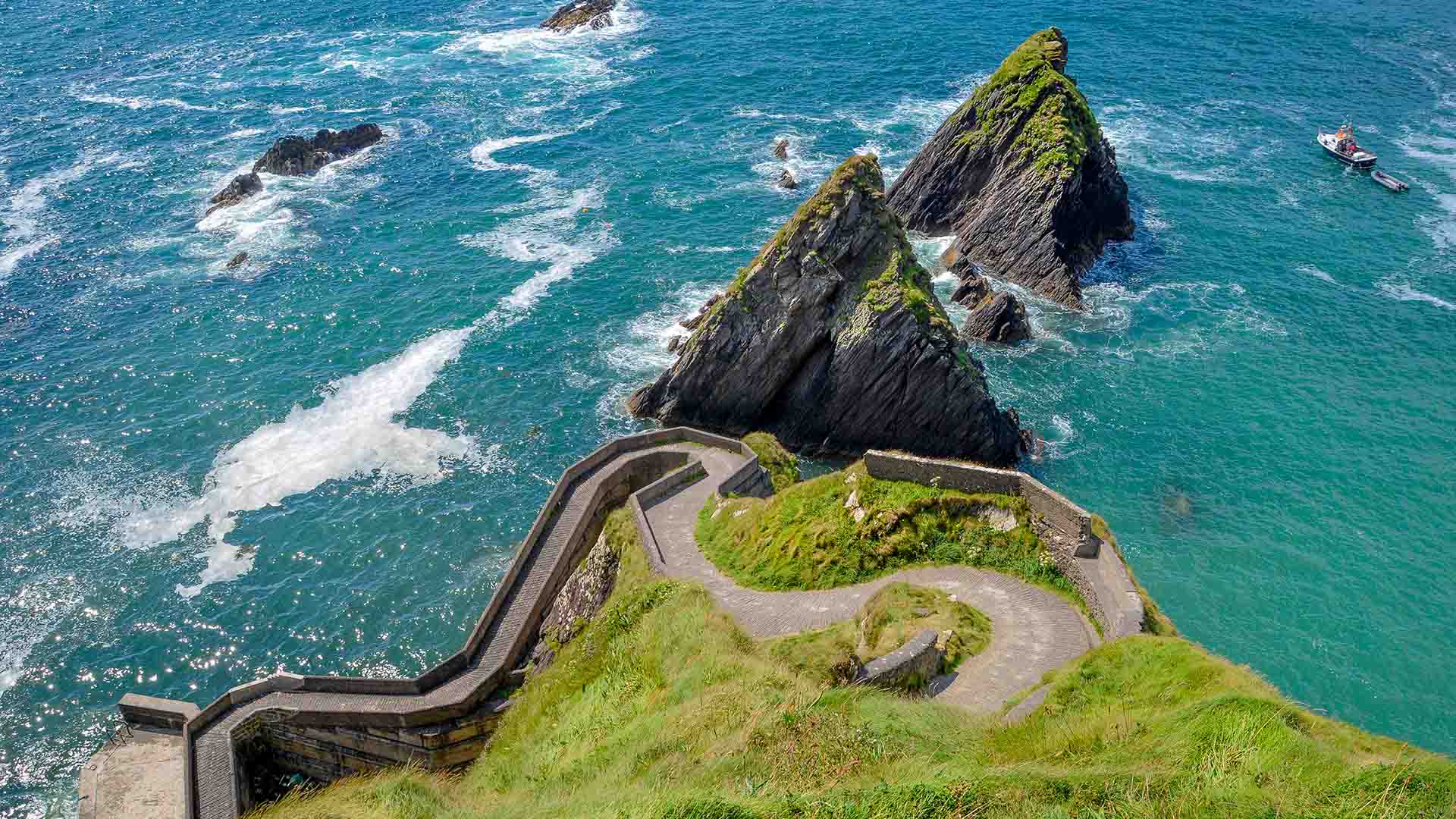 Best time to explore Ireland for walking and hiking
Ireland is a beauty for hikers and definitely worth the effort! You'll want to walk along the high coastal cliffs and see the sweeping views from the top of national parks.
While Ireland rarely gets too hot or too cold to go for a hill walk or a good hike, you'll want to visit during the April to September period to enjoy this activity.
During spring, summer and autumn, the temperatures are comfortable for you to enjoy a half or full-day hike.
More specifically, the beginning and late summer is probably the ideal time for hikers to visit and be able to take full advantage of Ireland's beauty.
During this time of year, the trails are most accessible and less crowded. The lengthy daylight hours mean you can take advantage of long days to explore even more.
In the spring and autumn, you may enjoy the mild weather for a day of physical activity. However, you may find it a bit windy and the weather more changeable. Be prepared and you'll surely enjoy the hike and stunning views!
At any time of the year, we recommend being prepared for any weather, especially if you are by the sea or high up the mountains. Ensure to bring layers, light, warm and waterproof, and to stay hydrated!
What is the best time to visit Northern Ireland?
Northern Ireland is part of the United Kingdom but shares the island with the Republic of Ireland to the south. For a full tour of the island, you could aim to visit both at once.
The best time to do so is probably during the shoulder season, just before or after the summer. That's because at the peak of summer, the natural wonders of Northern Ireland, like the Giant's Causeway can attract big crowds.
In late spring and early autumn, you will enjoy smaller crowds but still beautiful days to explore. The weather will also be ideal for hiking during this entire half of the year.
The capital, Belfast, is great for a city break at any time of the year. It has many museums, like the Titanic Belfast, to keep you occupied in case of a rainy winter's day.
When you visit, you may want to be aware of the bank holidays, to know when attractions and shops are likely to be closed. This includes Good Friday and Easter Monday, St Patrick's Day and Christmas, among others.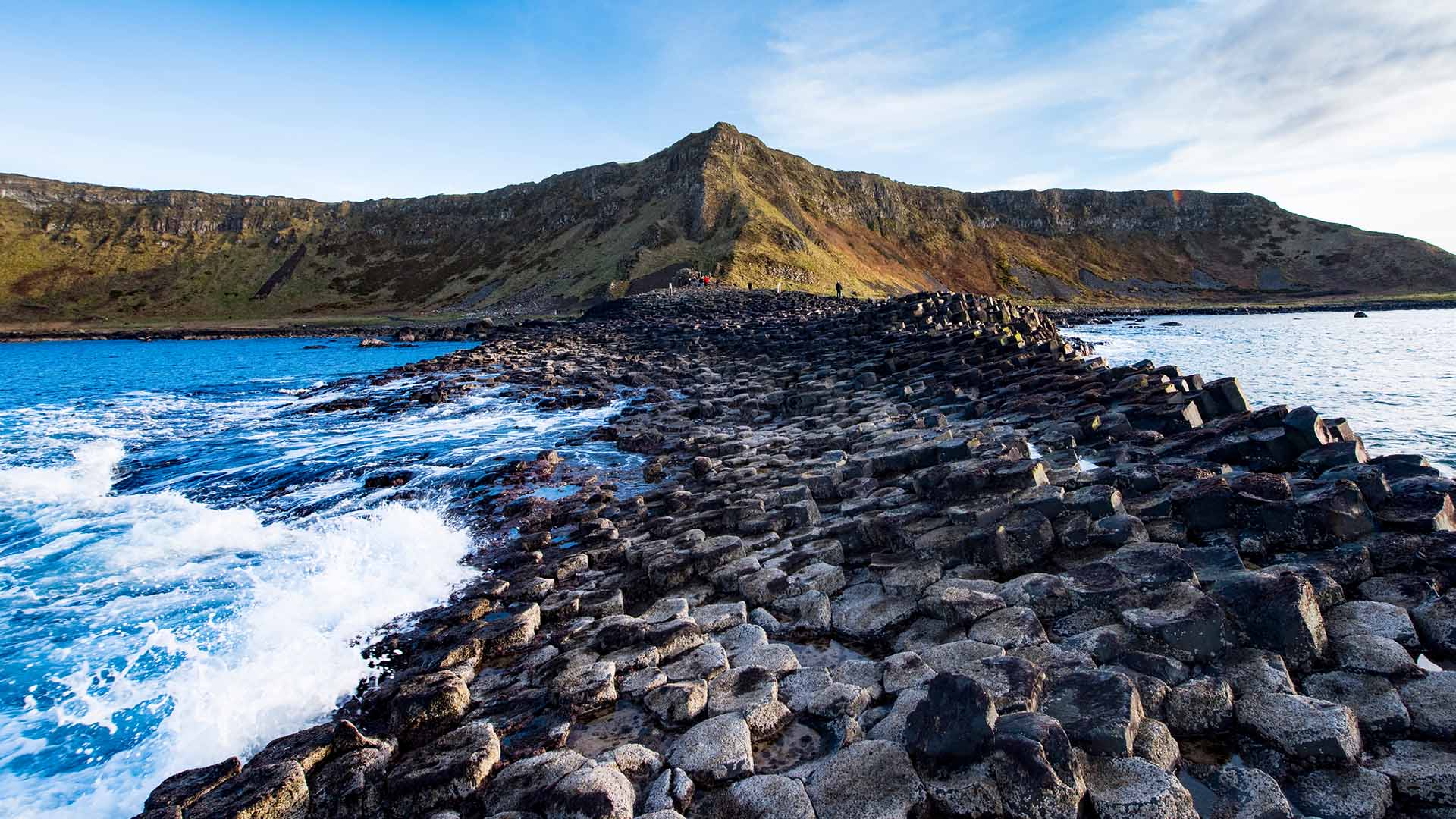 Best time to travel to Ireland for whiskey lovers
Ireland is an ideal country to visit if you enjoy a good whiskey! There's never a bad time of year to enjoy a glass of fine locally distilled whiskey.
In the winter, you may particularly enjoy finding a spot amongst the locals in a cosy pub. Warm up with a glass of the 'water of life', as they call it in Ireland.
You may also enjoy visiting a distillery to see just how your the national spirit is made. You'll have a world of choice, with our favourites being the Old Jameson distilleries in Dublin and County Cork, Old Bushmills in Northern Ireland, and the Kilbeggan distillery in the Midlands.
Many distilleries are open all year long, though they may operate with restricted opening hours during the winter.
---
---
Best time to visit Ireland to explore castles
Ireland's rich history makes it an ideal place to visit for castle enthusiasts. Dotted around the country, you'll find castles, estates and mansions. Many are open to the public, with guided or self-guided tours. Come learn about Irish history, or to see how the other half used to live.
If you want to visit the many castles of Ireland, we recommend visiting between the spring and autumn.
While most castles are open all year long, some operate restricted hours over the winter or may be closed completely. It is also good to note that most attractions are closed on Christmas Day as it is a public holiday.
Depending on the location, if you're adamant on visiting it, make sure to check their specific opening hours and plan your trip accordingly.
To visit in a quieter time, we recommend the shoulder season, just before or after the summer. This is because, at the height of summer, it may be quite busy to visit popular attractions.
If you are here during this time, we recommend visiting early or later in the day to avoid the crowds.
---
---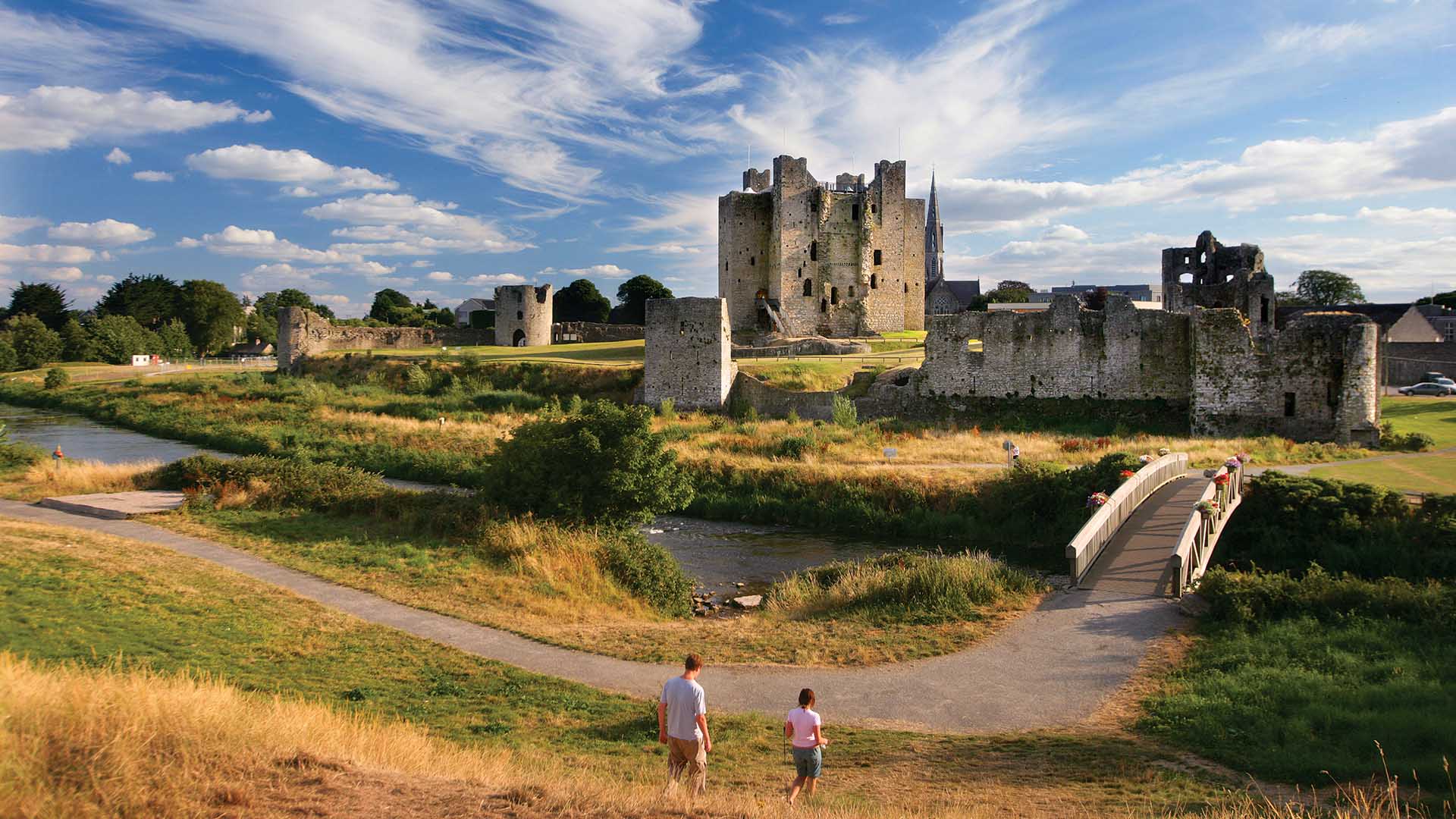 Best time to visit Ireland as a family
Ireland is a great country to visit with the whole family. There is plenty of attractions that will please both adults and children.
Your decision of when to visit Ireland with your children may depend on many factors. Have you already booked to come during the summer school holidays? Do you want to experience a particular activity with them? For this, look up our above categories to get a better idea.
For families, we usually recommend a slow-paced summer self-drive tour. This allow you to stay longer in some locations, and gives you the flexibility to choose what attractions you want to visit and when.
Plus, over the summer, there are plenty of attractions open that kids will love. From castles where they can dress up as knights, to model villages where they can experience the ancient rural Irish life.
The summer also has more daylight hours to take advantage of for sightseeing. This is also the least rainy time of the year, perfect for making the most of the outdoors with your kids.
July and August are two popular months for travelling to Ireland. So if you'd prefer a quieter holiday during which your children can run freely, we suggest visiting in June.
While you're planning your family trip to Ireland, it's worth bearing in mind that young visitors may not be allowed into whisky distilleries for tours. And it's good to know that the minimum age for drinking in Ireland is 18.
Best time of year for an Irish honeymoon
If you've always dreamt of a honeymoon in Ireland, the best time to come may depend on what you want out of it. While only you can answer that question, we're here to help!
Do you want to experience the iconic Ring of Kerry? Summer or autumn are the best time for this.
Are you intent on seeing the island where recent Star Wars movies were filmed, Skellig Michael? You'll want to head here in summer.
Or maybe your goal is to see Ireland's highlights in peace? Travel in winter when there are fewer other visitors.
In the summer, longer daylight hours mean you'll have more time to sightsee. You'll also be able to take advantage of the nicer weather for enjoying the outdoors together. Have a romantic picnic on a white sand beach or stroll through lavish estate gardens.
Wintertime is also a romantic time of year to visit with your new life partner. Imagine listening to traditional Irish music and cosying up with a pint in front of a fireplace in a Galway pub.
With fewer crowds at this time of year, you may find you're spending more quality time together at each highlight. We also recommend a slow-paced tour with longer stops at each location to enjoy a leisurely time together.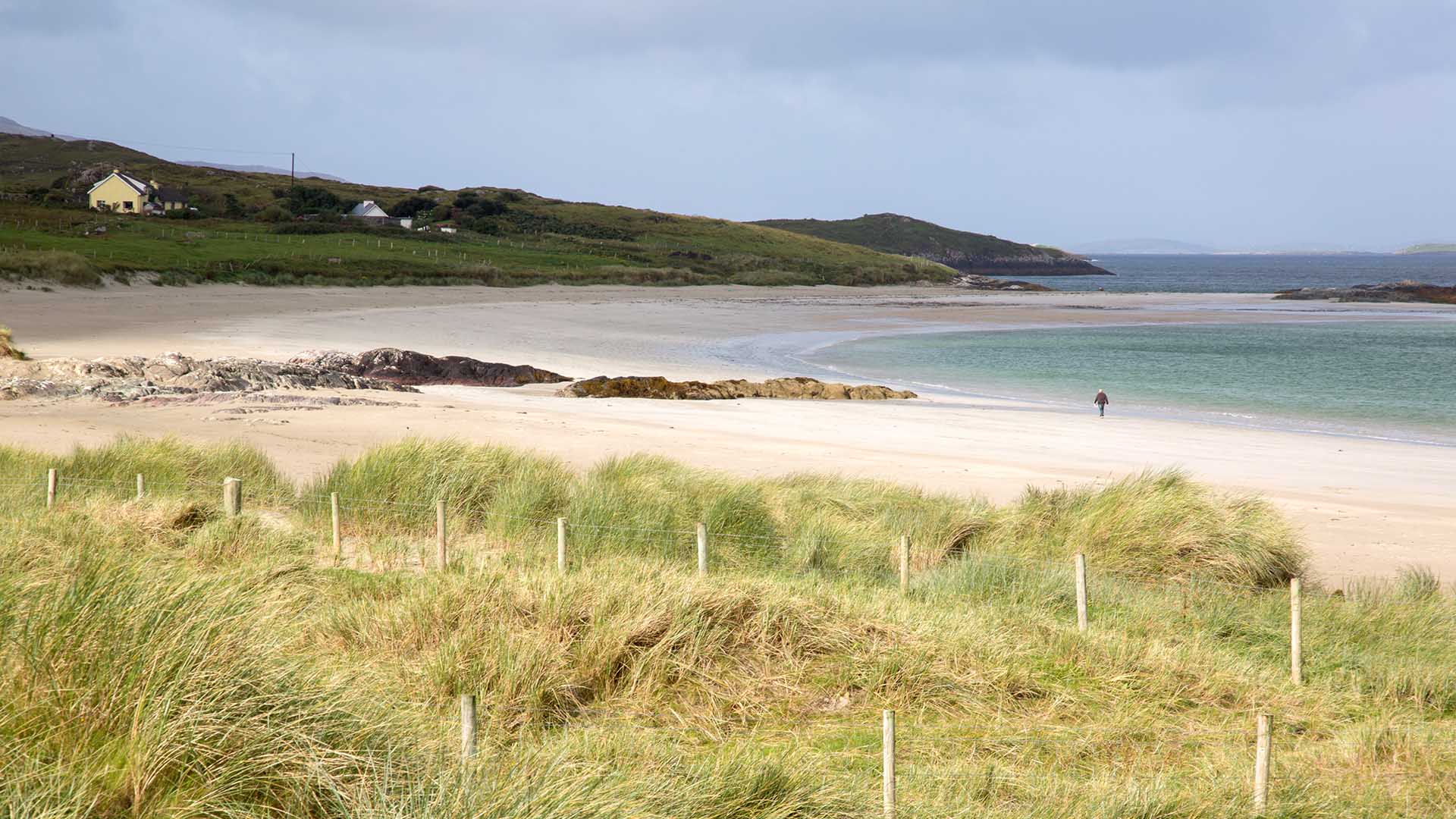 What is the best time to visit Ireland to attend events and festivals?
The Irish are renown worldwide for their festivities, making Ireland a great place to visit if you love attending events and festivals. There is a bit of everything for everyone, with festivals and events on all kinds of subjects, such as:
Film
Art
Theatre
Literature
Seafood
Irish history.
Whether you're here in mid-July or mid-January, you'll always find some fun events to join in. However, summer is the busiest time with events held in towns and cities all over the country.
To mark the New Year, you may want to stay in Dublin. The city hosts a New Year's Festival with not one, not two, but three countdown events to mark the occasion! On the first of the year, continue the celebrations at the family-friendly New Year's Day concert. And it's free to boot!
Later in January, Dublin is also the host of TradFest. Today it is the largest festival of traditional music in Ireland! If you love folk music, you'll definitely enjoy this showcase of the best of Irish and international trad music.
In late February- early March, catch an interesting new film at the Dublin International Film Festival.
Many true Irish descendants may know that March marks the celebrations of St Patrick's Day. Coming at that time of year will be a busy affair!
Especially in Dublin, where the city hosts a five-day festival to the nation's patron saint. The celebration concludes with the parade on the 17th (the actual St Patrick's Day).
---
---
During the summer, you'll find a host of activities and events throughout the country. Two big ones to add to your diary are the Seafest at the Cork City Quays in June and the Galway International Arts Festival in late July.
September is another busy month on the Irish social calendar. Galway hosts the International Oyster & Seafood festival for those who want to sink their teeth into some delicious local food. Dingle has its very own version of Tradfest and Dublin hosts the Fringe Festival.
You'll enjoy a spooky October if you love vampires and literature as Dublin hosts the Bram Stoker Festival.
What is the best time to visit Ireland and Scotland?
Do you want to explore Ireland and Scotland on the same trip? These neighbouring countries go well together, and will make for the ultimate unforgettable journey. They have shared history and traditions. You'll be able to compare the whisky (or "whiskey" if you're in Ireland) and learn about the connections they still have.
With minimal snowfall, the countryside in both countries is usually accessible all year long and you'll find many attractions open in winter and summer alike.
Late spring, April and May, is probably the best time to explore both countries, as well as summer and early autumn. This is because you'll enjoy longer daylight hours as well as mild and warm weather during this half of the year.
Tours of both Celtic nations are feasible in winter too. However, daylight hours are low and it tends to rain more than in summer.
And if you are hoping to travel to some of Scotland's magical islands, remember that there are fewer ferry connections at this time. They are also more likely to be disrupted by the weather.
---
---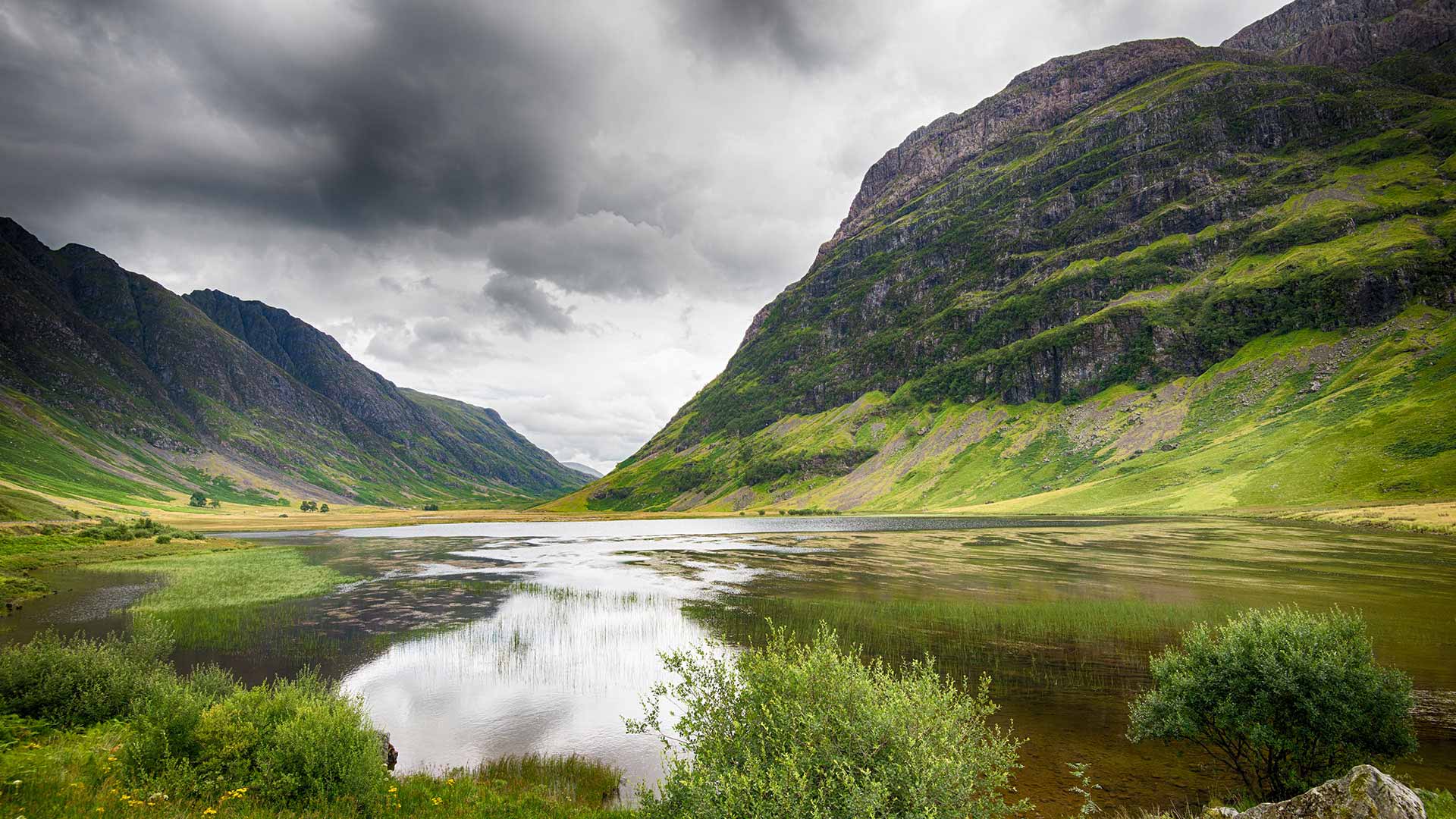 Only you can truly decide which time is best for you to visit Ireland! Every month in this superb country offers great travel experiences, so we hope this guide helps you to choose with confidence.
Contact our travel consultants to discuss what you'd like to get from your Irish adventure. Our goal is to ensure you make the best of your time in Ireland!