The official bird in Iceland is the gyrfalcon. It's a pretty impressive bird of prey with a history of hunting for the Vikings. But it's not the gyrfalcon that draws looky-loos to the edges of towering cliffs and out to sea on sightseeing boat tours. Nope, that's the magical draw of the Atlantic puffin.
The puffin population returns to Iceland each summer for nesting season and we at Nordic Visitor are big fans of these pint-sized birds, so we've put together a list of fun trivia you may not know about Iceland's "other" national bird.
---
1. Puffins are expert divers & flappers
While their monotone plumage and petite wingspan may bring to mind the similarly built -- but completely unrelated -- penguin, the puffin is actually a very capable flier. Since the puffin's wings are on the small size, these eager seabirds put in a lot of work to take to the air, flapping their wings around 400 beats per minute. It all pays off in the end, as they can reach speeds up to 88 km/hr!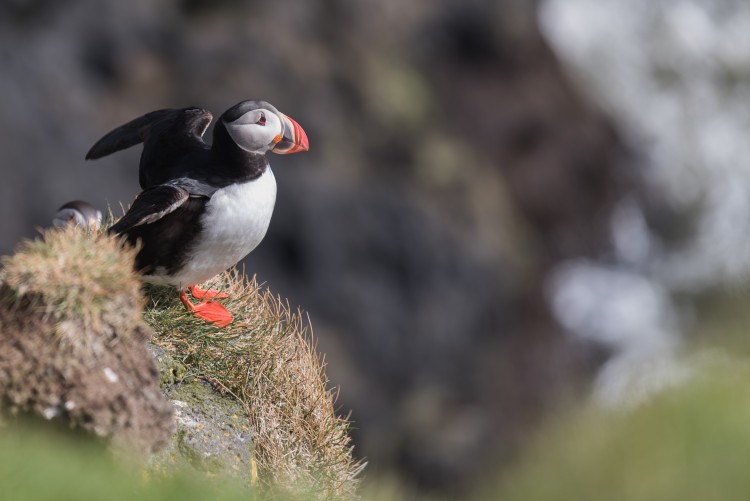 That's not their only impressive physical feat, though. Puffins are also expert divers and swimmers. They flap their wings to swim underwater and can dive to depths of 60 metres (200 feet) in search of delicious fish. It's to their benefit that they can handle themselves in and on water considering...
2. They spend two-thirds of the year at sea
Yep, 8 months of the year the cute little puffin is far from land, bobbing around in the cold sea and hunting for fish. In fact, they only come to land to mate and nest. Their return to nesting grounds generally takes place in mid-April each year and they depart for another winter at see by the end of August.
Nesting spots include the coasts of Iceland, Greenland, Norway, and also Ireland. In fact, the Cliffs of Moher on the Irish coast are a Special Protected Area (SPA) for puffins and other seabirds because so many colonies summer there.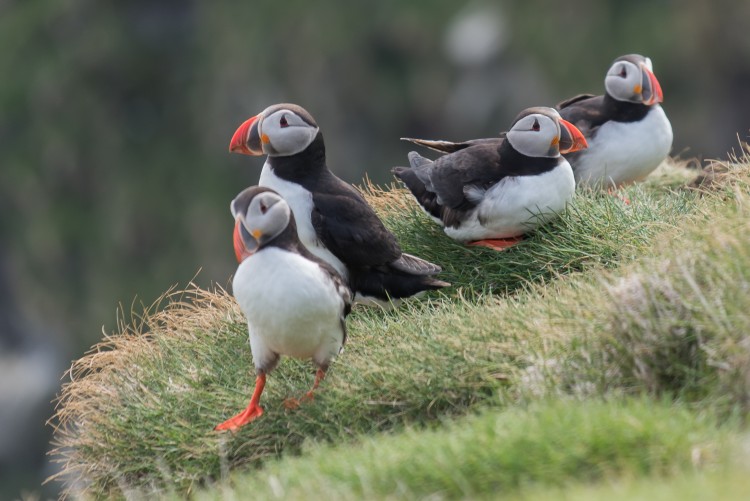 What's interesting, though, is that puffins mate for life but don't necessarily spend their time at sea with their "spouse." Instead, mating pairs meet up at their usual nesting grounds each spring to reunite, make some adorable baby puffins together, and share child rearing responsibilities for a few months before going their separate ways once more. When they are on land, they nest in burrows that stretch just shy of a metre underground.
3. Puffins are the clowns of the sea
Despite spending so much of their lives on the water, they're still considered the clowns of the sea. Why? Well, if you have the chance to watch them taking off from the sea and landing again you'll understand.
As adept as puffins are at swimming and diving, beginning and ending their flight on the water is a comedy routine.
Puffins use their brightly coloured feet to run clumsily across the surface of the water before take-off and their landings are anything but graceful, typically ending in a belly-flop or comedic tumble and roll across the water's surface.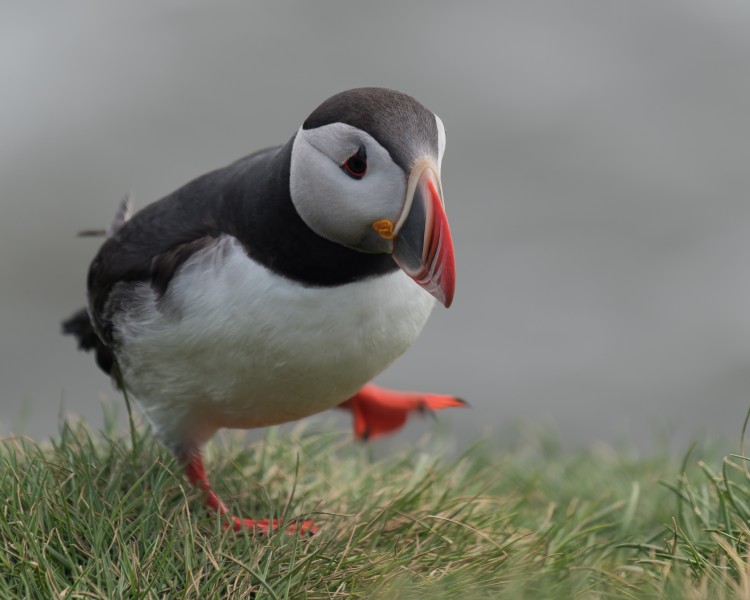 They're also called clowns on account of their brightly coloured beaks, which we'll get to next.
---
See also:
---
4. The puffin's colourful beak is seasonal
The iconic feature of the Atlantic puffin is its brightly coloured striped beak. But did you know those dramatic hues are seasonal? Puffins malt during their time at sea and shed all the colourful portions of their beaks as well as the black markings around their eyes in the process. So if you ever come across a puffin during the winter -- not likely, since even researchers know very little about puffins at sea -- you may not recognize it as a puffin at all thanks to its drab grey pecker.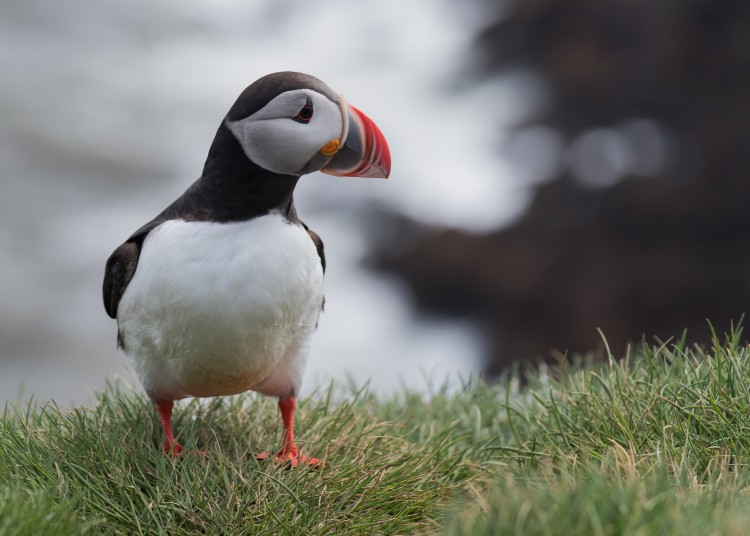 Young puffins are similarly drably coloured when they first face the big wide world. Their faces, beaks and feet are all grey!
5. Puffins have big mouths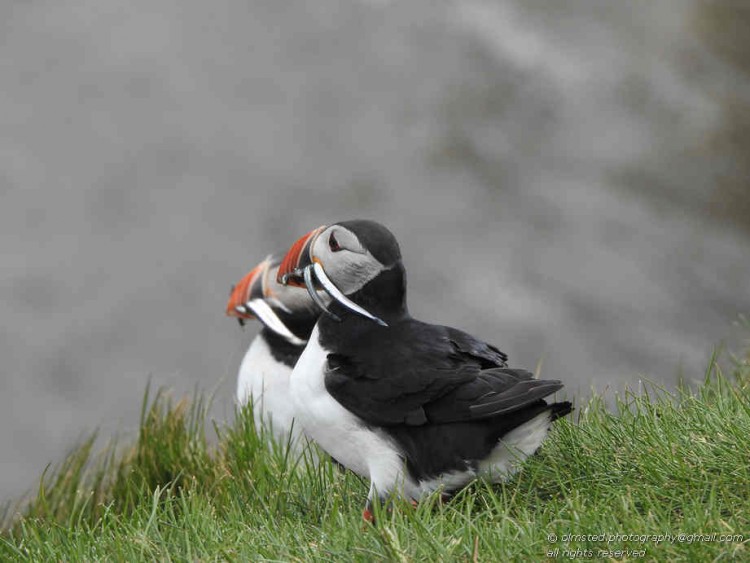 Mama and Papa puffins take turns fishing and delivering their catch back to the nest for their little ones. So to make the chose more efficient, the joint of their beaks are notched so that the birds can hang on to their catch even while diving back in, open-mouthed for more. One little puffin can carry up to 10 fish in its muzzle at any one time!
---
Want to admire the puffin for yourself? Though they are known to nest on the south-west coast of Greenland and along the coast of Norway, around 60% of the global population of Atlantic puffins nest in Iceland each spring and summer.
Come on over and take a gander on one of Nordic Visitor's flexible self-drive tours in Iceland. Or get in touch with one of Nordic Visitor's travel consultants to recommend and tailor a tour that ticks all your boxes.