Iceland whale-watching tours are a must for many visiting the Land of Fire and Ice. Imagine yourself stepping aboard a boat to admire the coastline and spot the local wildlife. A fantastic learning opportunity and chance to take memorable photos!
Did you know that Iceland is one of the best places in Europe to witness the largest mammals of the sea? Tours are available all year-long and are popular for kids and grown-ups alike.
Before booking your tour of Iceland and whale-watching activities, read on to make the best of the experience. We've compiled fun facts about these cetaceans (aquatic mammals) along with information about the species you may spot here.
Not sure whether to consider an Iceland summer tour or a winter trip? Here you'll find everything you need to know about the best times and locations to go whale watching in Iceland.
---
Contents:
---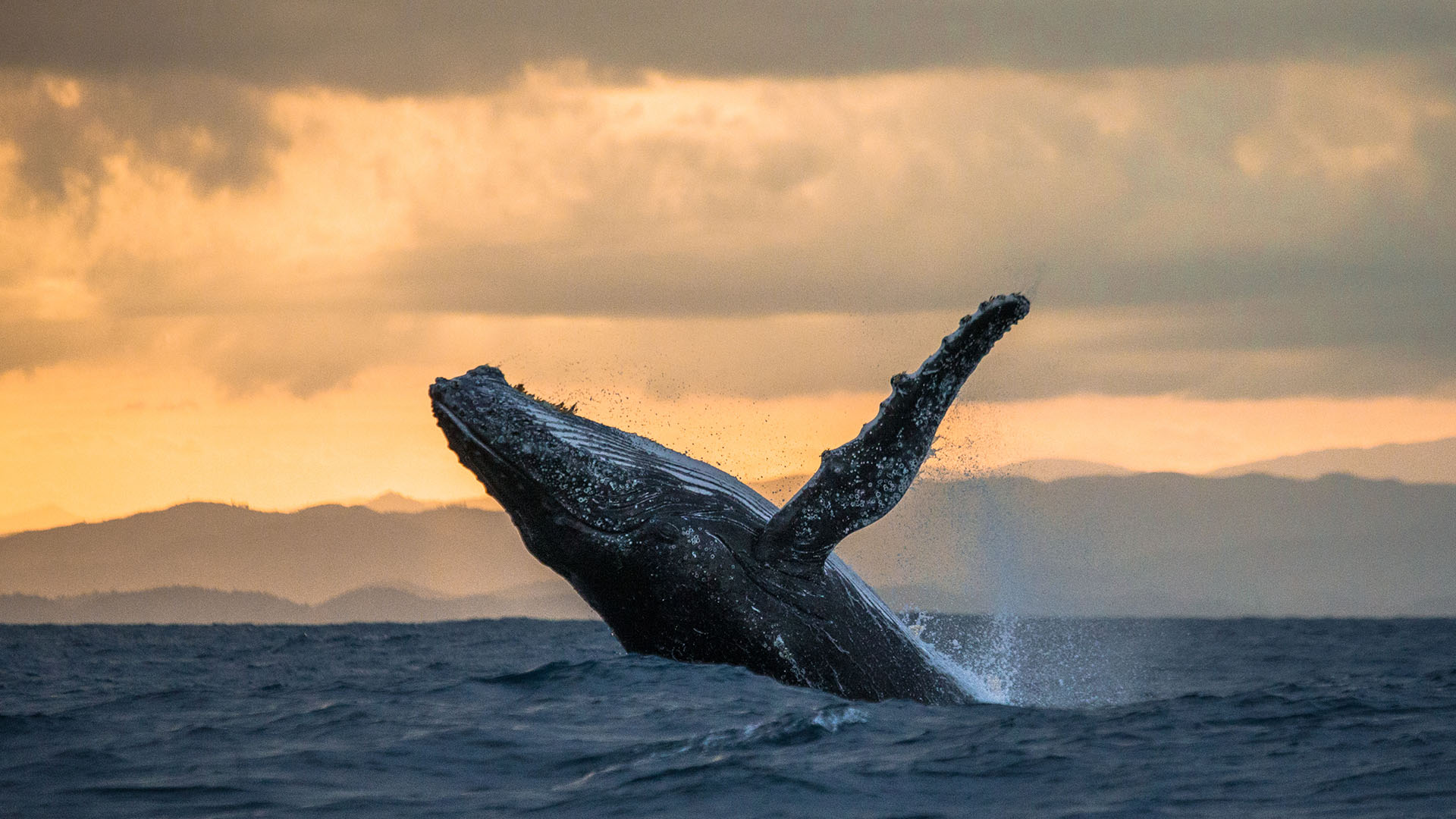 A little bit about whales
Here are 10 quick facts about whales as an introduction:
Whales are not fish but mammals.
Since they aren't fish, whales cannot breathe under water. They must come to the surface to breathe air into their lungs through their nostrils (often called blowholes).
There are 39 recognised species of whales in our world's oceans. There are 90 including porpoises, whales and dolphins together.
The whale species are separated into two categories: baleen whales and toothed whales.
The sperm whale has the largest brain on earth.
The blue whale is the largest animal on the planet.
Orcas, also known as killer whales, aren't actually whales, but part of the dolphin family.
Whales don't have simple mating calls. They are complex "songs", which can last up to 30 minutes each.
The one you're most likely to see from up close is a minke whale.
Baleen whales are generally smaller in the northern hemisphere compared to the south.
And there is so much more to learn about whales. They truly are fascinating creatures!
You may find that your whale-watching trip is very informational. Often marine biologists guide these excursions so you can learn more and ask questions. Certain tour operators also have exhibitions on land available before or after the boat tour.
On some vessels, you'll also find a playroom for children with books about whales. So rest assured, it'll be a fun learning activity for everyone.
---
To travel around Iceland and learn more about the culture and wildlife, check out these family-friendly tours
---
Whale species in Iceland
Many species of whales can be seen around Iceland all year long. Below you can read about the ones you're most likely to spot during your whale-watching tour.
Minke whale
Minke whales are a small species of cetaceans that are generally quite shy. They enjoy their own company and may not approach boats. While they are strong swimmers, they rarely perform acrobatics.
Because of their great numbers in Icelandic waters, they are one of the most common whales you may spot during your boat tour. They can be seen near the coast almost all year round, but your best bet is during the summer.
Humpback whale
Humpback whales are found in all oceans of the world. They undertake one of the longest migrations of any mammals on earth. They swim from warm tropical waters where they mate to the colder seas of the northern latitudes to feed.
They head north in summer so that's when you're most likely to see them in Iceland. They are easy to spot from a boat tour as they are very active. They breach more than any other baleen whale.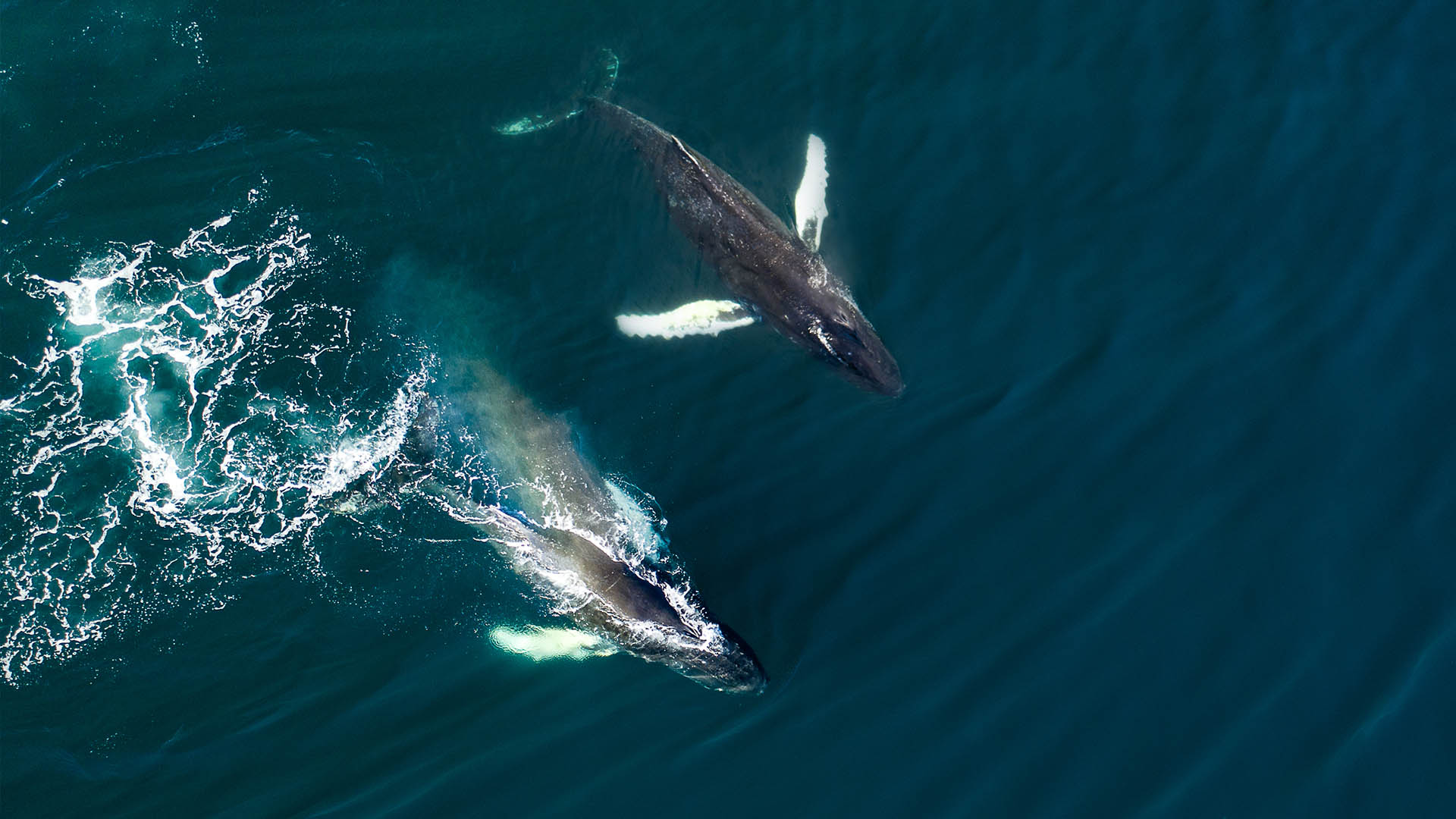 Bowhead whale
The bowhead whale gets its name from the shape of its arched jaw. They are wide and round whales that can't be rushed. They swim slowly conserving their energy, as they live in the polar waters of the Arctic.
They like the sea ice and can break up to half a metre of thick ice with their heads to be able to surface. They can be spotted in North Iceland.
Sperm whale
The sperm whale, also named cachalot, is the largest toothed whale that exists. On average, they measure between 11 and 16 metres in length. Its mythical status was forged by the book Moby Dick by Herman Melville.
They hunt in the deep waters, they can hold their breath up to an impressive 2 hours. As they are similar in size to some baleen whales, but have teeth, one of their favourite food is giant squid.
In Iceland, you may see them in spring or summer off the west coast.
Beluga whale
The beluga is the easiest whale to pick out of a crowd with its bright white colour. One of their close relatives is the narwhal. Female belugas and narwhals look very similar as only the male narwhals have the distinctive tusk.
Belugas have been nicknamed the 'canaries of the sea' thanks to their vocal songs. They can often be heard above the water too.
In Iceland, you're most likely to see them in the North. They migrate south during the winter when ice starts to form in the Arctic.
If you'd like to see some from up close, visit the Beluga Whale Sanctuary in South Iceland. They host formerly captive beluga whales with the goal of rehabilitating them into natural environments.
Blue whale
While it is rare that there are sightings of blue whales in Iceland, we can't talk about whales without mentioning this gentle giant.
Blue whales are the largest whales and mammals on earth. They are also the longest, heaviest, and loudest. They are graceful in the water and it is a privilege to witness them.
It is more likely to see them off the coast of Greenland than in Iceland, but they do appear sometimes in this region.
Where to see whales in Iceland
Iceland is a great location to whale watch. This is thanks to the cold Arctic Sea and warmer Northern Atlantic waters mixing off the coast. This makes for a great habitat for types of small fish, herring and even squid, which in turn makes an ideal feeding ground for whales.
Around the island, there are many locations for whale watching. There are also endless tours you could book, so it can be understandably difficult to pick the best option for you.
There are two main locations for spotting whales in Icelandic waters: Reykjavík, the capital located in the south east, and Húsavík, in North Iceland. Different types of tours are available and you may spot different species of whales too depending on the area.
Your decision may also be influenced by what your planned itinerary involves or how long you're visiting Iceland. Read on to find the best place for you to whale watch.
---
Road trip around Iceland to discover the island at your own pace with one of our self-drive tours
---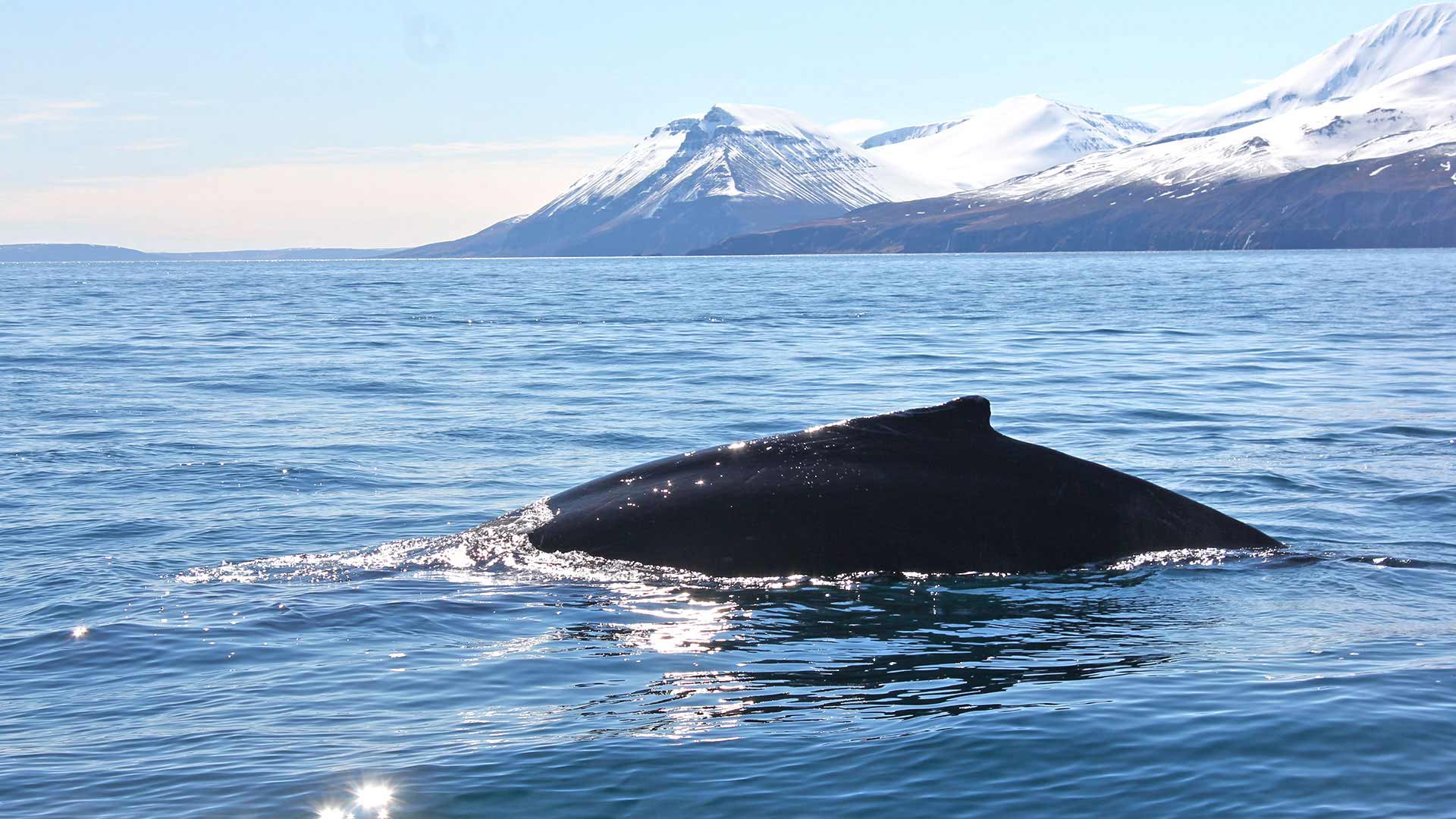 Whale watching from Reykjavík
The easiest location to see whales in Iceland is the capital city, Reykjavík. As the first port of call of most trips to this Nordic island, it is the most accessible point.
Whale-watching tours usually leave from the old harbour located a 10-minute walk away from the city centre. A convenient spot, you may be able to walk from your hotel to your excursion.
Along the Faxaflói Bay, the most common sightings involve minke whales, humpback whales, white-beaked dolphins and harbour porpoises.
With the average tour lasting about three hours, you may be able to combine it with other activities during the rest of the day.
It's also ideal if you're only in Iceland for a short getaway. You could still book a tour to experience whale watching from here.
Another highlight of whale watching in Reykjavík along Faxaflói Bay are the natural sights. This is the bay that spans from the Reykjanes peninsula all the way to the Snæfellsnes peninsula.
Admire the beauty not only below the sea, but above. The high peaks of the Snæfellsjökull glacier in the distance and the conical Kirkjufell mountain, which you may recognise from Game of Thrones.
While you're visiting the capital, you could also visit the Whales of Iceland museum exhibition. Stay firm on land and learn about the gentle giants of the sea.
Whale watching in Húsavík
Since whale-watching tours started in Iceland in the 1990s, Húsavík has been a popular hub for the activity. Originally a fishing village, it has since been dubbed the "whale-watching capital of Iceland". This is thanks to the area boasting the highest success rates of sightings of the island.
Hop onboard a boat to head out onto the Skjálfandi Bay. It has fjord-like characteristics drawing food into the bay and allowing whales to dive deep to hunt and feed.
23 species of cetaceans can be seen in Iceland and they've all been spotted in North Iceland. Among them are the humpback, minke, white-beaked dolphin, and the harbour porpoise. The largest mammal on earth, the blue whale, can often be seen visiting the bay as well.
Húsavík is truly an ideal location for spotting whales in their natural habitat. Indeed, most summer tours record a 100% sightings, so you know you're in for an adventure!
If you're lucky you may not only see them spyhopping (poking their head out of water), but also breaching (jumping) and playfully slapping their fins against the water.
Húsavík is also home to a whale museum. Located in the town centre by the harbour, you can learn about whales and marine ecology in an educational and entertaining way.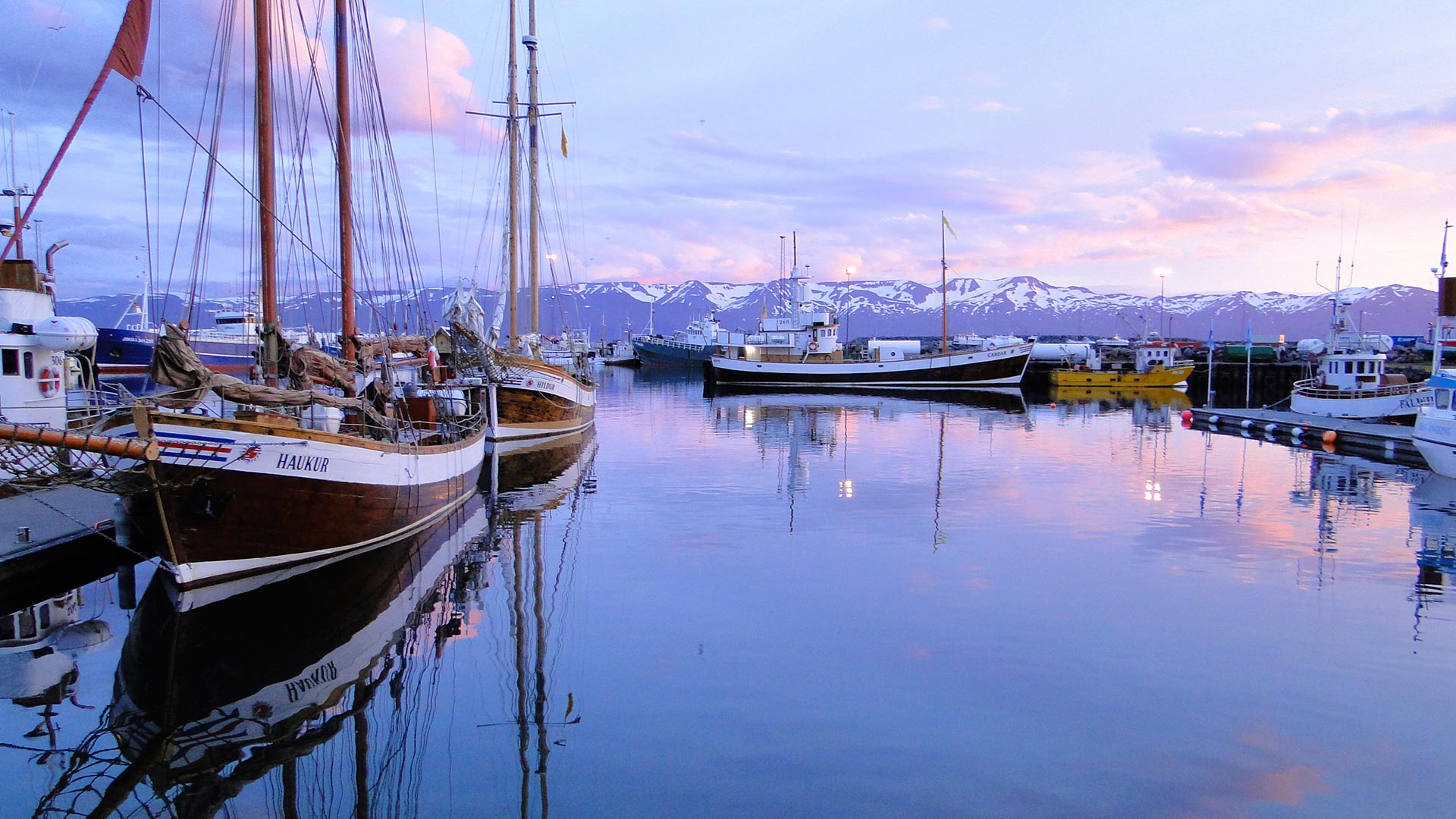 When to go whale watching in Iceland
Whale-watching excursions are available all year long in Iceland. So, whenever you plan your trip here, you should be able to go witness these sea creatures.
If you want to plan your visit to Iceland around this spectacular experience, read on to learn about each season's advantages.
---
If you prefer to sit back and relax, let a local guide lead the way with a guided group tour
For a more exclusive way to see the top sights with your own guide and driver, book a private tour of Iceland
---
Summer tours
Summertime is probably, by most people's standard, the best time to come to Iceland to whale watch. Summer excursions have two main advantages: the weather and a greater number of whales.
The temperatures are, of course, higher during the summer months. It is often colder at sea and you may still find you want to put on the overalls. However, the conditions will be more enjoyable than during the winter. There are fewer chances of storms and better prospects of clear skies.
The summer also coincides with the feeding season in the Northern Atlantic. Some whales spend their winter breeding in the southern waters and travel north to feed in the spring and summer.
As there are more whales in the area and a greater diversity of species, you can expect more sightings during the summer.
At this time of year, you should be able to spot minke whales and humpback whales. In Reykjavík, the bay is shallow, but further north in the deeper waters, you could see the larger sperm whales. If you're lucky you may even catch sight of the elusive blue whale too!
Another advantage is that you could book a whale- and puffin-watching combination tour. Puffins are cute and colourful birds that nest off the coast of Iceland. It is, in fact, home to 60% of Atlantic puffins. Summer is a great time to see them.
Between May and September there are also longer daylight hours. Thanks to this, you could pair your whale watching with another activity later that day. Make the most of your time in Iceland this way, especially if you're visiting on a short getaway.
---
---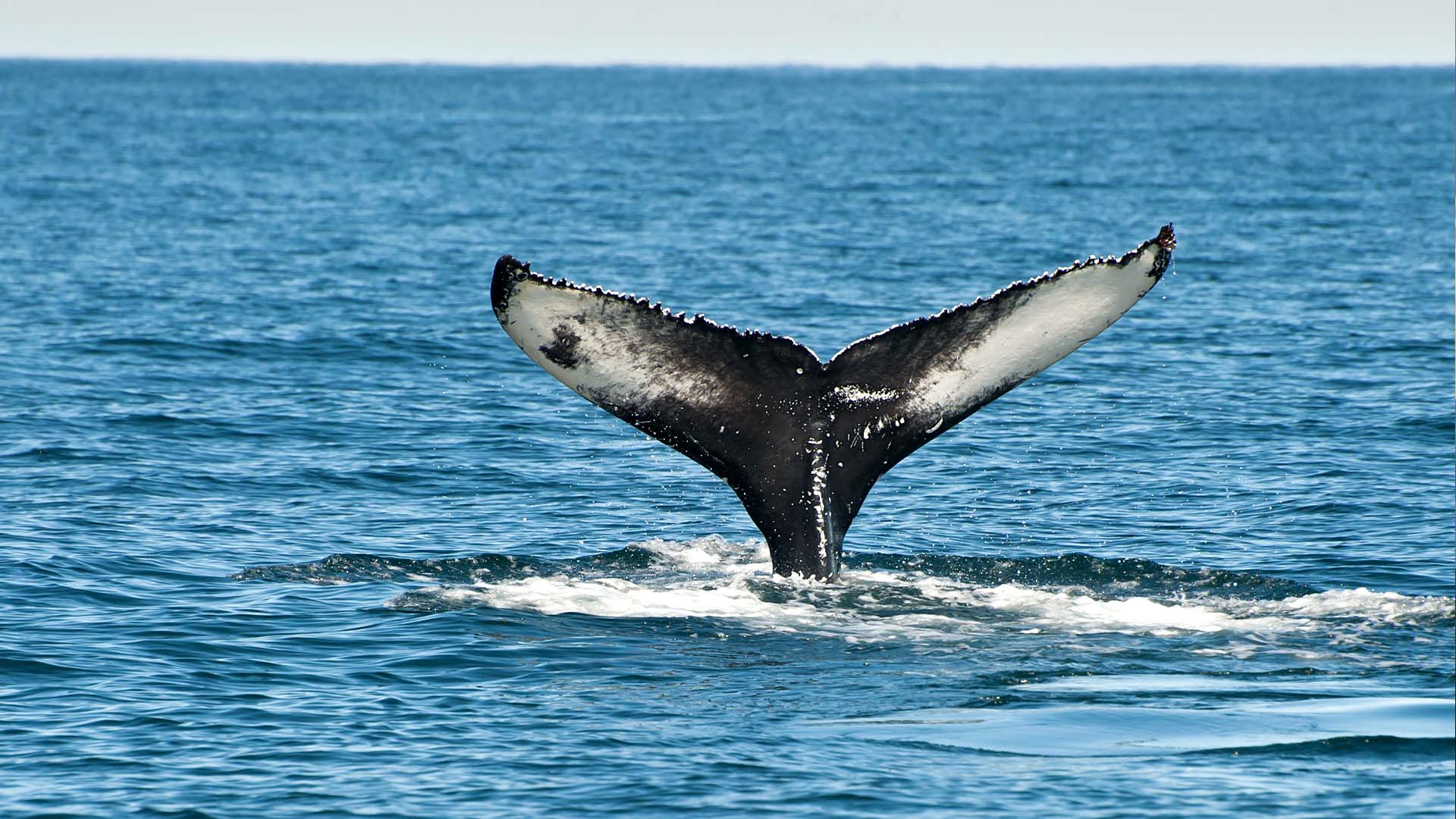 Winter tours
Whale-watching tours are available all year long. If it's an activity you really fancy doing, you can and should book this fantastic winter excursion. Don't be put off by the winter conditions!
Summer has many advantages, but in winter they are trumped by the lower numbers of visitors. Tours are often packed in summer, but between October and April they are far less busy. These tours are recommended if you have good sea legs, as conditions can be choppy in winter.
Having more space can't be underestimated. When there are sightings, it means you'll have a great view to witness the beautiful sea creatures and take fantastic photos. Speaking of capturing nature, look up to take in the beautiful surroundings. Snow-covered peaks, frosty waterfalls and rugged cliffs.
At this time of year, you're more likely to spot dolphins and harbour porpoises. Some greater baleen whales may still be around. If you're lucky you'll spot minke whales and perhaps even a bobbing humpback whale.
In certain areas, like off the Snæfellsnes peninsula, you can spot orcas in the winter. During this season, they can feast on herring as this is the location of their wintering grounds.
If you're whale watching in North Iceland, you're most likely to spot belugas. These friendly giants from the Arctic come south toward Iceland as the ice forms during the winter.
---
---
What is best for you?
Only you can decide what's best for you, but generally speaking summer tours are more enjoyable. You're more likely to have successful sightings and the tours are less likely to be cancelled.
If you really want to go whale watching, but suffer from seasickness, we also recommend summertime. But perhaps you want to experience the wintry conditions and see the snowy landscape.
Either way, you're in for an unforgettable excursion!
The best whale-watching tours in Iceland
There are different kinds of whale-watching tours available in Iceland. Around the country, or even in Reykjavík itself, you'll find a range of options. Simply pick what's best for you!
There are tours of different lengths depending on how long you'd like to spend at sea. There are also different vessels you could experience. The most popular ones are traditional oak boats or RIB boats. But you could even go aboard a yacht if you fancied.
During the summer months, you could opt to go on a whale-watching trip that includes puffin watching. Spot these colourful birds that breed along the coast. In the winter, some tours combine spotting whales with chasing the northern lights.
Good to know: Our tours aren't set in stone. If specific activities, like whale watching, aren't included in your trip, you could always add them to your itinerary. Just ask your travel consultant.
---
---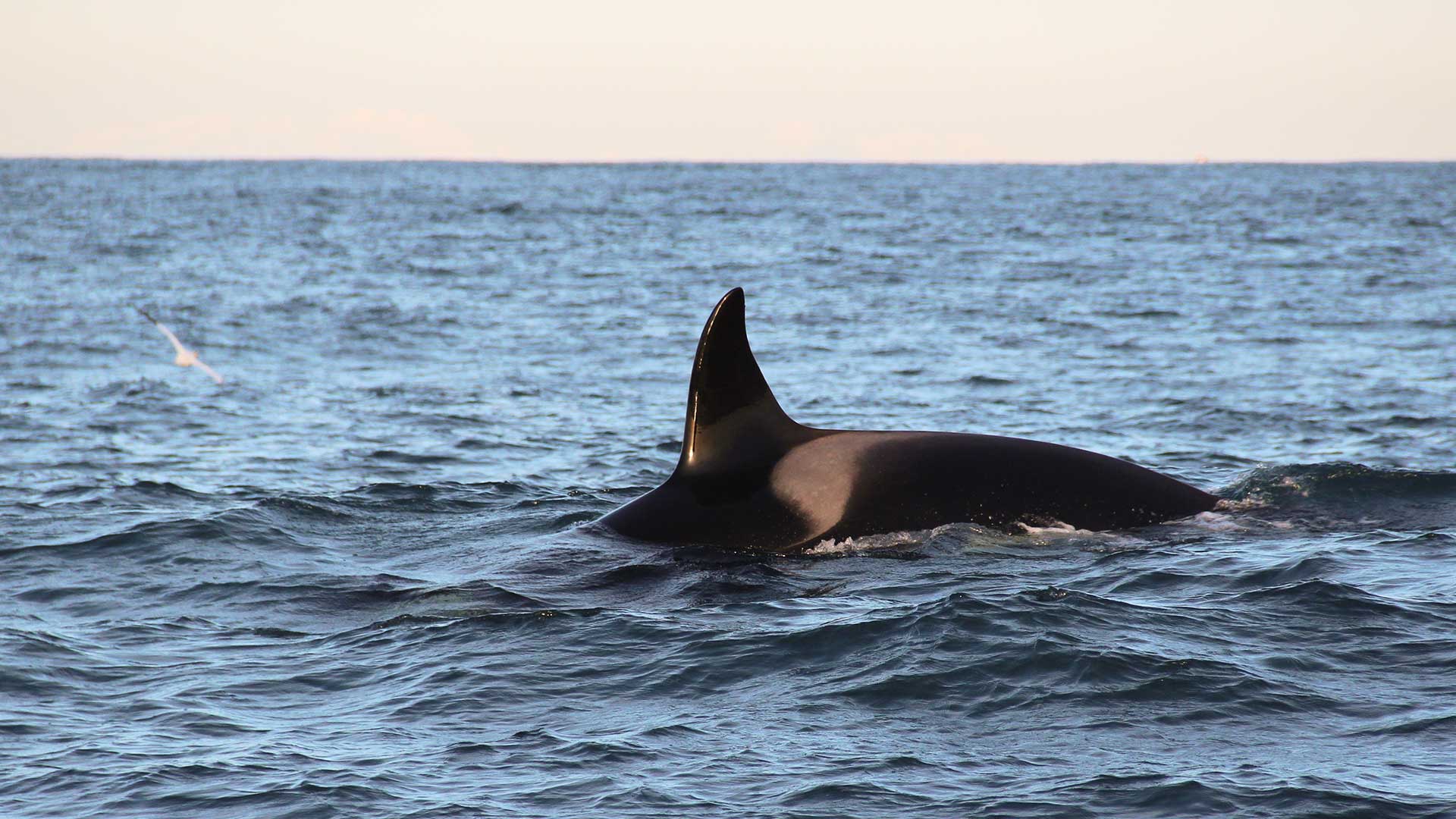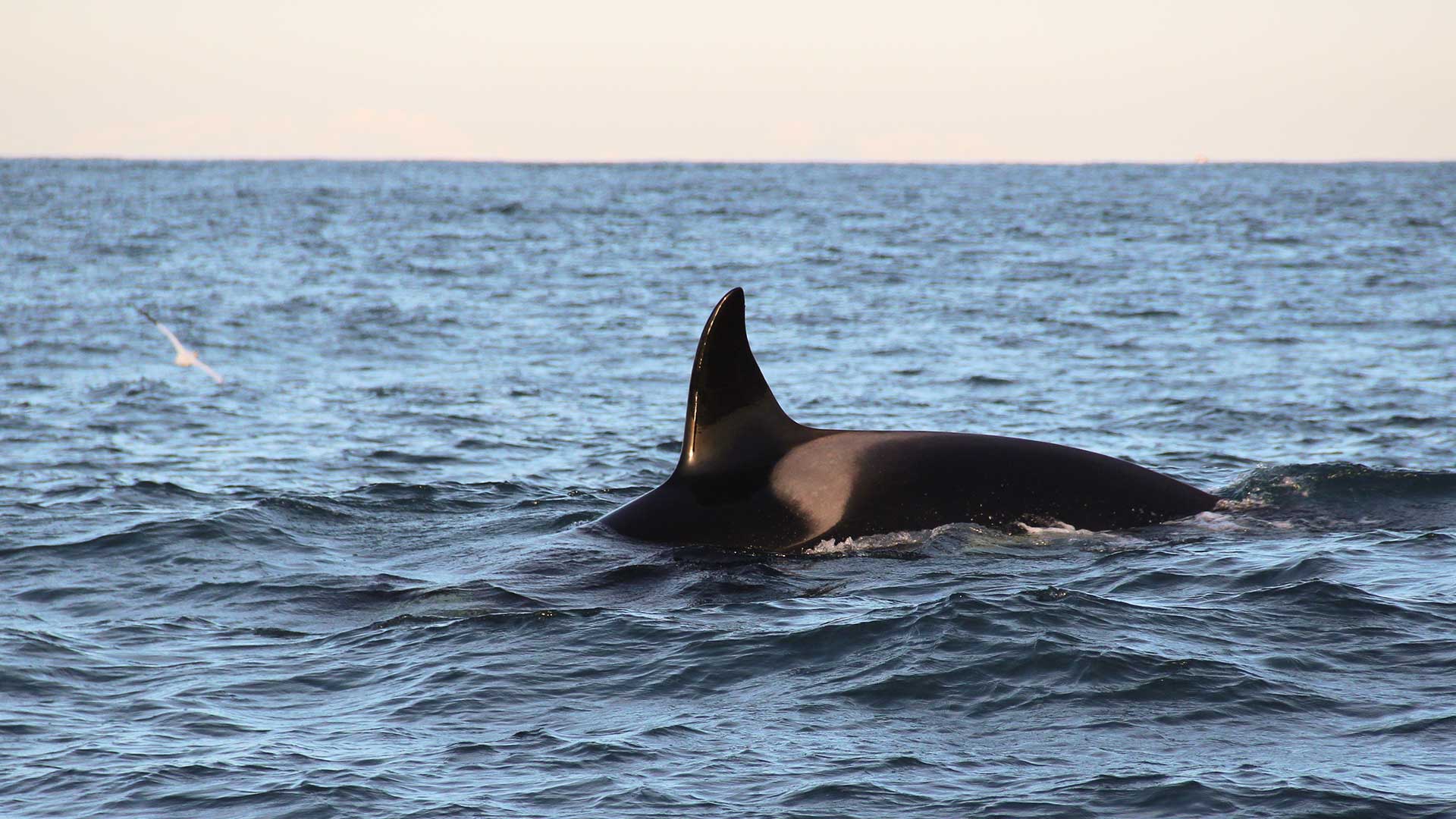 Tips for whale watching in Iceland
Once you're all booked to see the gentle giants, read the following travel advice. We've compiled them to make sure you make the most of your whale-watching experience.
How to dress
It is always colder on the ship decks out at sea than on land, so be dressed for the occasion. Many tours provide warm overalls, which you should put on if you feel the need or it is advised by the guides. You'll also find blankets on board.
Summer or winter, we also recommend packing with you the following:
Good sturdy shoes
Warm clothing including wool jumpers
Thermal socks
Hat, gloves and scarf
Hand packs
Your camera!
If you're worried about being too cold, please rest assured that on most tours you'll find a heated lounge. You can observe from here or head outside for fresh air. You're more likely to take breathtaking photos from the deck.
Facilities
Some operators may offer a warm beverage during your tour. However, generally snacks and beverages are available to purchase from the cafeteria on the boat.
You will find toilets onboard the vessel.
Weather conditions
It's good to be aware that for safety reasons, tour operators may cancel your excursion with short notice. This usually happens when the weather conditions aren't favourable. You'll be contacted immediately and you may be able to reschedule depending on your itinerary.
---
---
Other wildlife you can see in Iceland
While you're out at sea, whales aren't the only wildlife you'll be able to spot. Other marine creatures and birds will appear and make your trip exciting.
Dolphins
The most common dolphin that comes to Iceland's shores is the white-beaked dolphin. They are around all year long as this particular dolphin inhabits the Northern Atlantic waters.
They usually live and travel in pods that range from a handful to 50 or 100 dolphins. When you spot them, you'll be able to distinguish them from their colouration. They are mostly black and light grey with white strips along their flanks and belly.
They are powerful swimmers that are very active, so you may see them breaching and bow riding.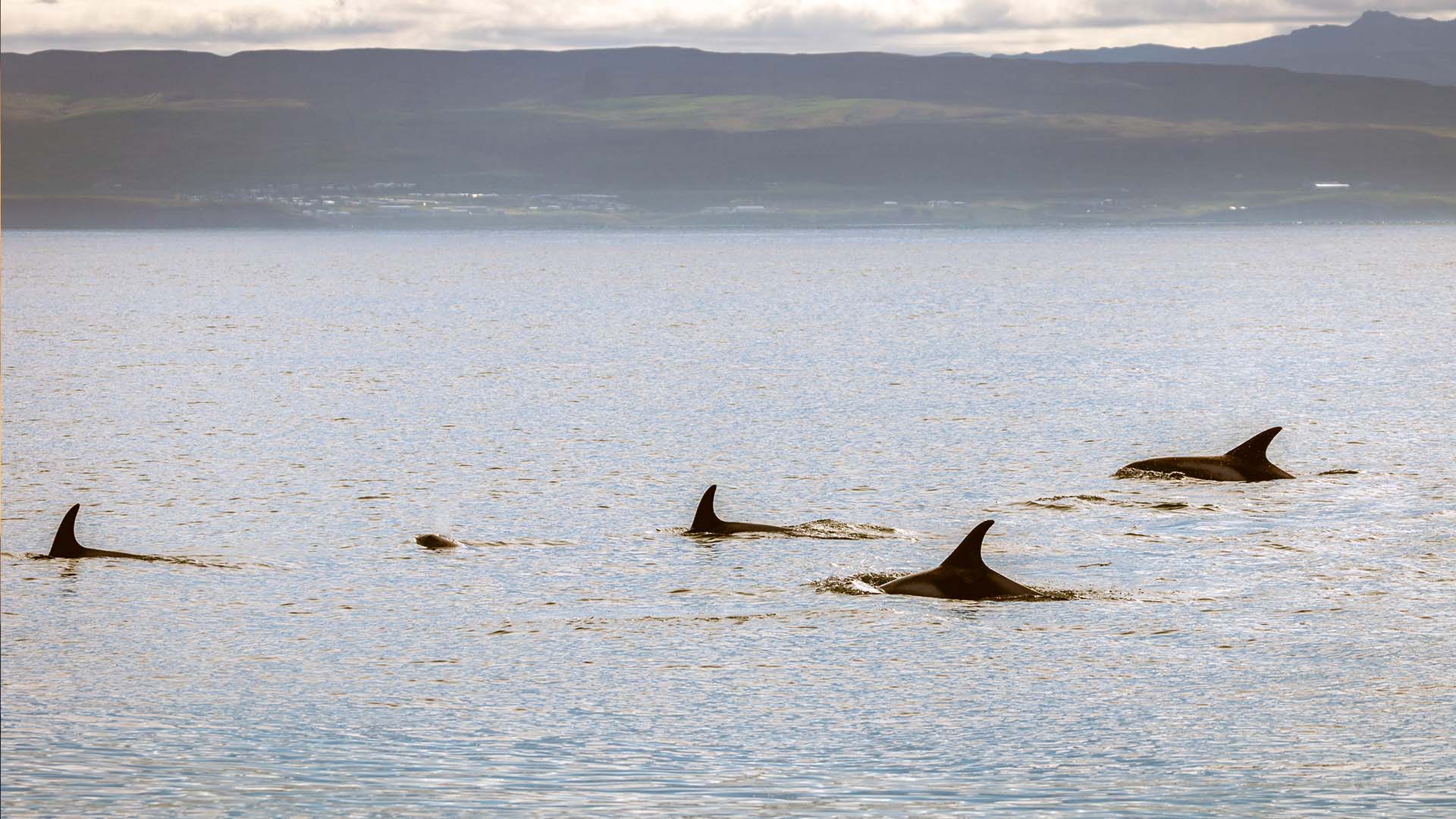 Porpoises
Harbour porpoises are one of the most common species of cetaceans in Iceland and also one of the smallest. They inhabit the waters around the island all year long, but are very shy and you may not notice them at first.
Your guide may be able to point them out during your tour. If you're lucky enough to catch them as they are feeding, you'll see them racing along the surface and jumping in the air.
Orcas
Often called killer whales, orcas are mostly seen off the coast of the Snæfellsnes peninsula. As mentioned previously, West Iceland is one of the best locations to spot these types of dolphins. Come in winter for your best chance to see them.
They are the largest species of dolphins and their great size makes them fun to watch in the water.
Seals
Iceland has a number of seal colonies around the country. The two main ones are grey seals and harbour seals.
If your boat is anchored off the coast near Reykjavík, you may see them poke their heads out. They are curious creatures and harbour seals especially are not too weary of humans. You may also see them frolicking in the water at the Jökulsárlón glacier lagoon.
To learn more about seals, you could stop by the Icelandic Seal Centre on your Ring Road tour. This research facility is located in Hvammstangi in North Iceland, an excellent location for seal watching.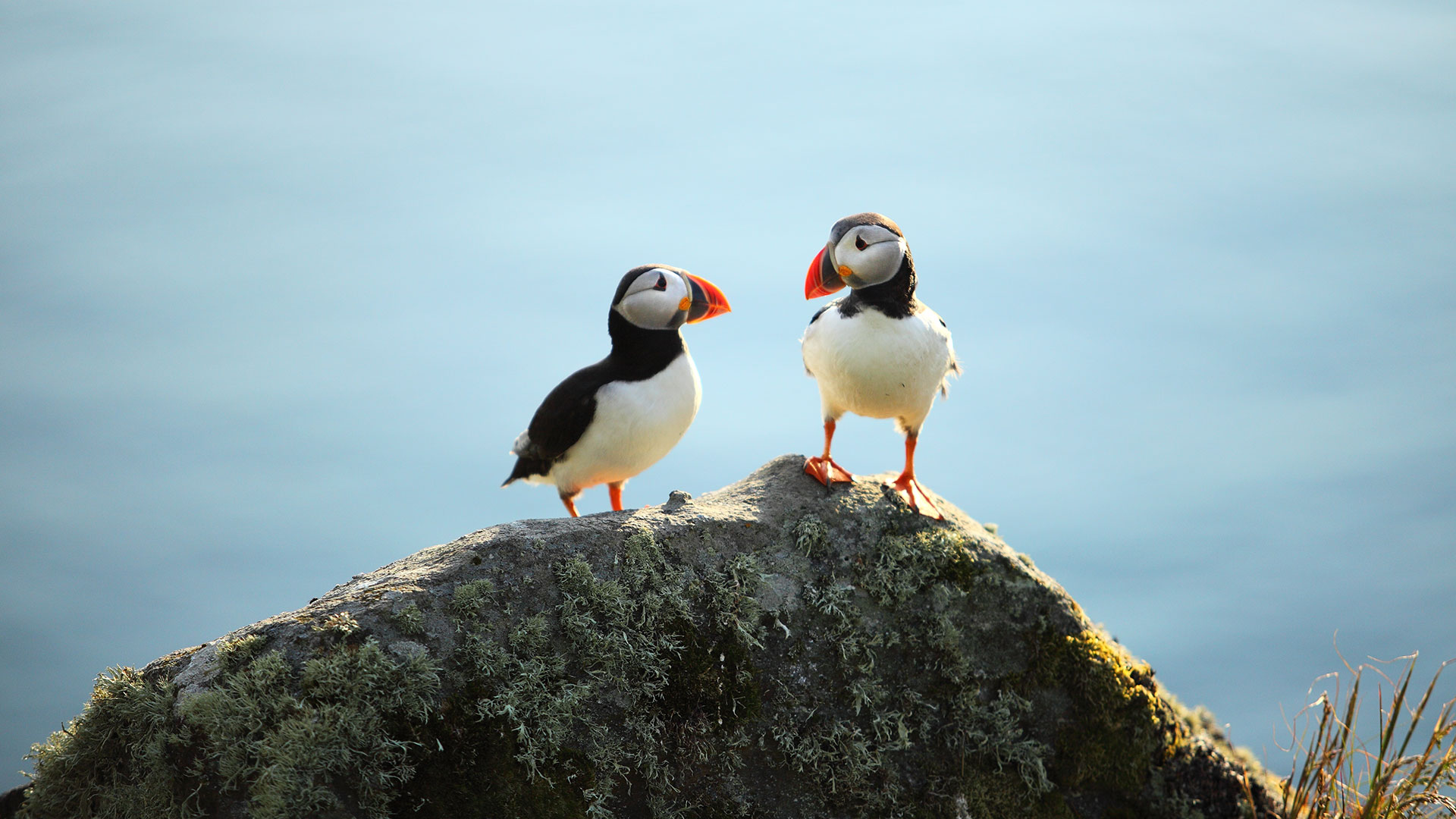 Puffins
During your visit, you'll soon see that puffins are an unofficial emblem of Iceland. Souvenir shops are full of photos, cards and painting of puffins. But you could see real ones!
Over 60% of Atlantic puffins breed in Iceland each year. That's almost 4 million pairs (they mate for life!) of puffins that come to nest on the Icelandic coastline and islands.
The best time to see them is between May and August. They spend the rest of the year at sea.
The best location to see them? There are colonies around the country. From the Westman Islands in South Iceland to Grímsey island in North Iceland.
The three largest bird cliffs in Iceland are located in the remote Westfjords. If you're visiting this beautiful corner of the island, you could combine hiking with puffin watching.
Other birds
During your time in Iceland and especially during your whale-watching tour, you may spot a variety of bird species.
The most common seabirds you may see are gannets, guillemots, razorbills, cormorants, gulls, kittiwakes, and others depending on the time of year.
For our guide to the best places and times to see different types of birds in Iceland, read this useful birdwatching guide.
And don't miss out on all the land wildlife either! Arctic foxes and reindeer roam the countryside.
---
Now that you know what to expect, are you ready to book your whale-watching tour in Iceland? This memorable adventure is easy to book and add on to your itinerary.
On top of seeing all the top sights, you could experience Iceland from the water and see more of the fascinating wildlife.
Alongside your dedicated Nordic Visitor travel consultant, you can create an adventure that fits all your needs and wants. See what interests you most and complement your tour with fun activities and excursions to make the most of it.
Get in touch to start planning your dream Iceland trip.