The popular wisdom in our Reykjavík office goes that "Everyone should go to the Blue Lagoon at least once". If you're planning to visit Iceland, you may want to prepare yourself for a visit to this near-legendary geothermal spa. And we're here to help you.
So if you want to know things like how to book a visit, how to get there, and what to expect, sit tight. Everything will be explained in the next 7 minutes. So, let's start at the beginning.
---
---
What is the Blue Lagoon?
The Blue Lagoon is a geothermal spa in the south-west of Iceland famed for its superheated milky blue waters, which are rich in algae, mineral salts, and silica mud. The Lagoon is fed by a nearby geothermal plant and is set in the middle of a craggy black lava field, providing stunning scenery as you enjoy your soak in the warm waters.
A visit to the Blue Lagoon is the ideal way to wind down after a long day of hiking and sightseeing, or to warm up on a cold winter's day. Not only will the waters of the Blue Lagoon soothe aching muscles, they're also said to do wonders for your skin.
In addition to the pools, the Blue Lagoon complex also boasts a spa, hotel, bar, and several restaurants. There's even a small, hot waterfall that delivers excellent massages!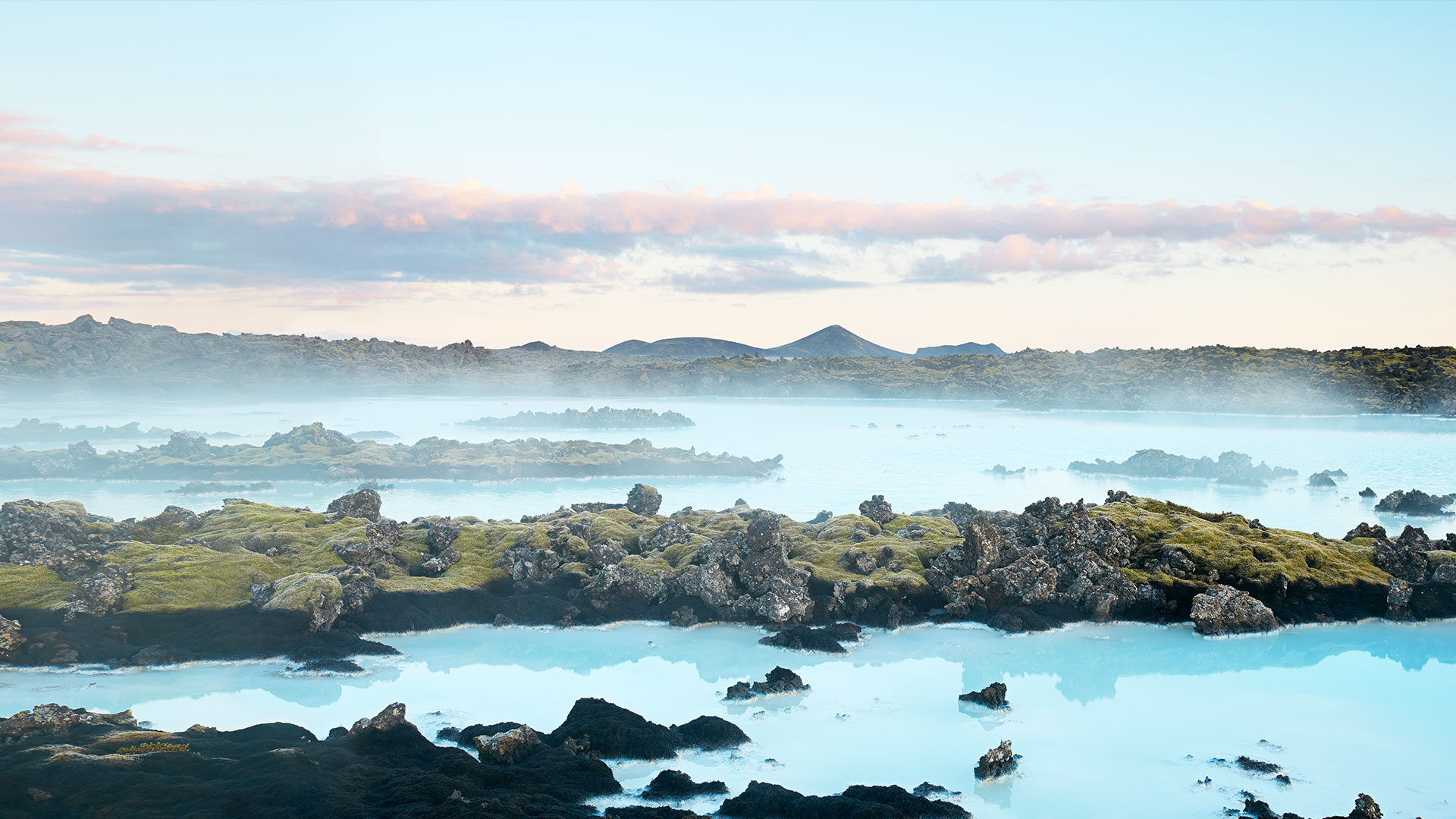 Where is the Blue Lagoon?
The Blue Lagoon is located on the Reykjanes Peninsula on Iceland's southwestern coast. It is situated just off a main road, Route 43, and is only a 10-minute drive from the charming fishing town of Grindavík.
How far is the Blue Lagoon from Reykjavík?
The distance between the centre of Reykjavík and the Blue Lagoon is roughly 30 miles (49km). The drive only takes 45-50 minutes, making it the ideal excursion from the city, or a stop-off point on your way to or from the airport.
When you book through Nordic Visitor, transfers and entrance are included as part of the package or excursion costs.
"If you visit the Blue Lagoon on a sunny day, then I highly recommend taking sunglasses into the lagoon.
Dazzling reflection of sunlight on the water can make it difficult to keep your eyes open, so having the protection can be highly effective and insures you can spend as much time as you wish in the lagoon without any difficulties from the bright sun." - Helga, Travel Consultant at Nordic Visitor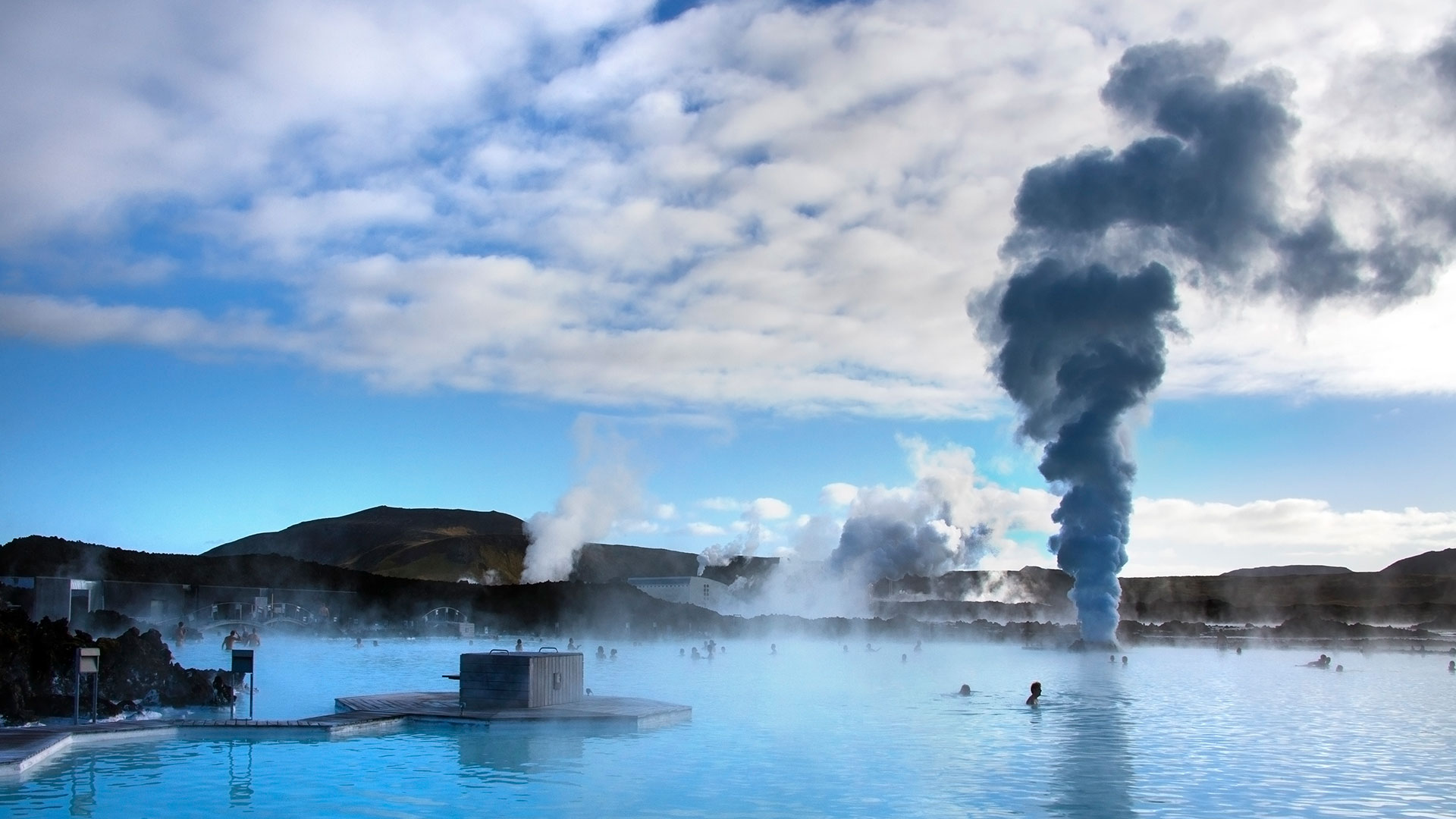 How far is the Blue Lagoon from the airport?
Keflavík Airport is 13 miles (21km) from the Blue Lagoon, with the journey taking only 20 minutes. You can arrange transport yourself, or, again, book a Blue Lagoon bus transfer with your pre-purchase ticket.
Do you have to pre-book the Blue Lagoon?
It's strongly recommended that tickets to the Blue Lagoon are booked in advance. This is because the attraction is immensely popular and specific time slots or days may book out early.
If you book a tour of Iceland through Nordic Visitor that includes the Blue Lagoon, our team will take care of planning your travel and pre-booking your entry. Some of our tour packages include entry to the super luxury Retreat Spa as well.
How can I get there?
Through Nordic Visitor you can book multi-day tours which include the Blue Lagoon. Your trip could also include ice caves, black sand beaches, glaciers, and waterfalls. These packages are a great way to make the most of Iceland's scenery.
---
---
Alternatively, you can also set aside half a day at the beginning or end of your self-drive, small group or private tour of Iceland and head to the Blue Lagoon. Its close proximity to both Reykjavík and Keflavík Airport makes it an easy destination to visit either after you arrive in Iceland or before you head for home.
What do the Blue Lagoon's different entry grades mean?
Admission tickets to the Blue Lagoon are separated into three categories: Comfort, Premium and Luxury.
Comfort and Premium tickets both allow entry to the Lagoon, as well as a silica mud mask, a towel and a drink of your choice. Premium tickets also include a few additional extras such as use of a bathrobe and slippers, a second mask of your choice, and the possibility to book a table at the Lava Restaurant and a glass of sparkling wine with your meal.
A Luxury ticket includes a four-hour exclusive entry to the Retreat Spa, a private spa complex that is part of the Retreat Hotel. With a Luxury ticket you can access the amenities of this premium spa, swimming in the secluded lagoon and enjoying the use of exclusive treatments. You'll even have your own private changing room!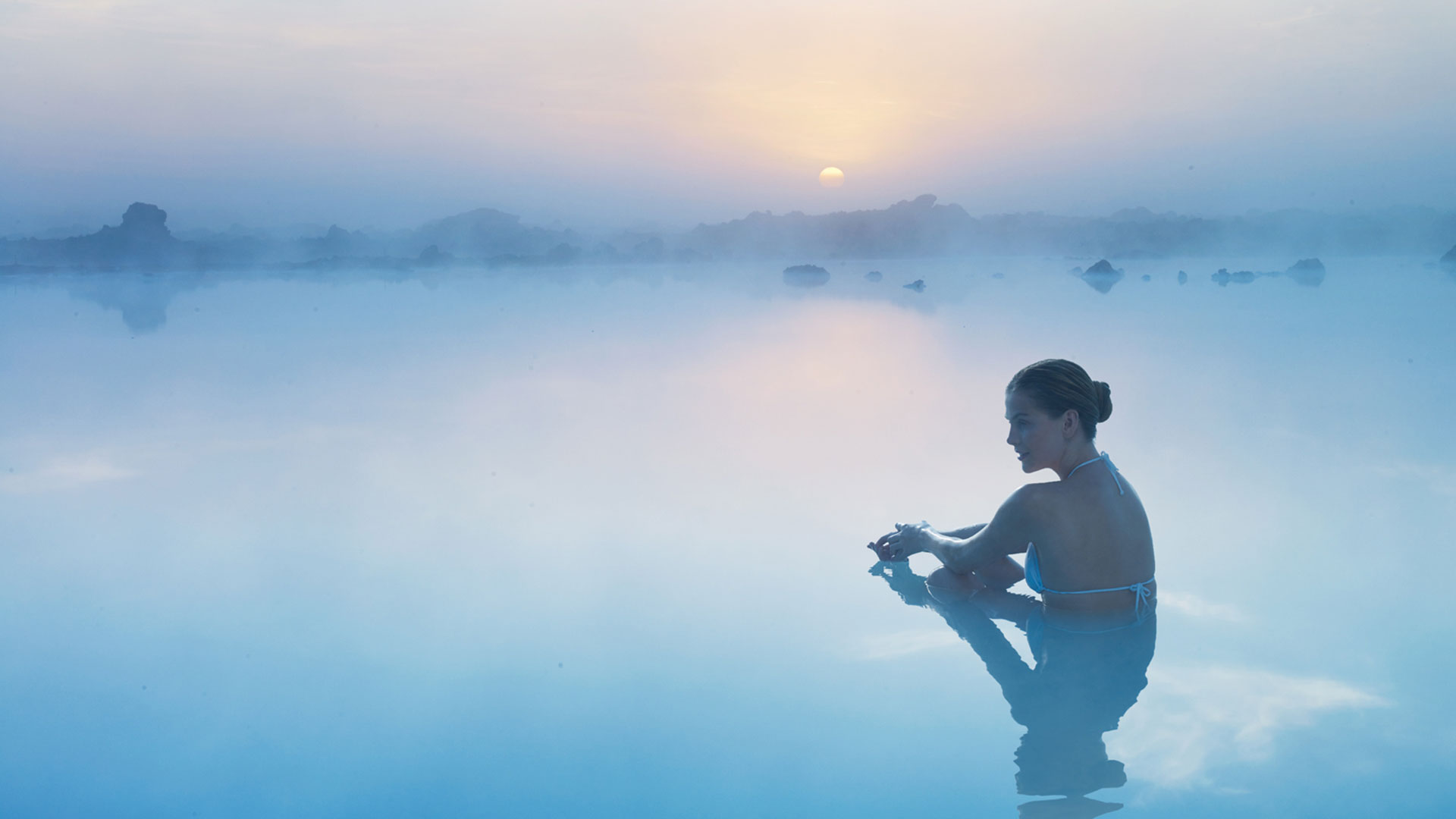 When is the best time to visit?
Visiting the Blue Lagoon is easy and fun all year long. As it is opened year-round – even on Christmas Day – you only have to choose when is best for you.
This may depend on when you want to visit Iceland, or what kind of experience you want to have. In the summer months, when the Lagoon is routinely open until midnight, you can enjoy Iceland's famed "midnight sun". In the winter months, you'll have a chance to spot the northern lights.
More affordable tickets are available when the Lagoon opens (7-8am) or just before closing (8-10pm), however buying a ticket for a late entry will mean you only get one or two hours inside.
What are the spa's opening hours?
Opening hours at the Blue Lagoon vary from month to month. Year-round the Lagoon opens at 8am, with the exception of the summer months when it opens at 7am. Closing times range from 9pm to midnight, with the exception of certain days in December – for example, on Christmas Eve the Lagoon typically closes at 3pm.
For up-to-date opening hours consult the website directly
Where can I eat at the Blue Lagoon?
The Blue Lagoon is home to four eateries. The café and spa restaurant are open throughout the day, while the Lava Restaurant, which is built around a lava cliff, is only open for lunch and dinner.
The Moss Restaurant, which sits atop the Retreat Hotel offering panoramic views, serves a sophisticated, Michelin-endorsed menu inspired by seasonal Icelandic specialties. It is only open for dinner.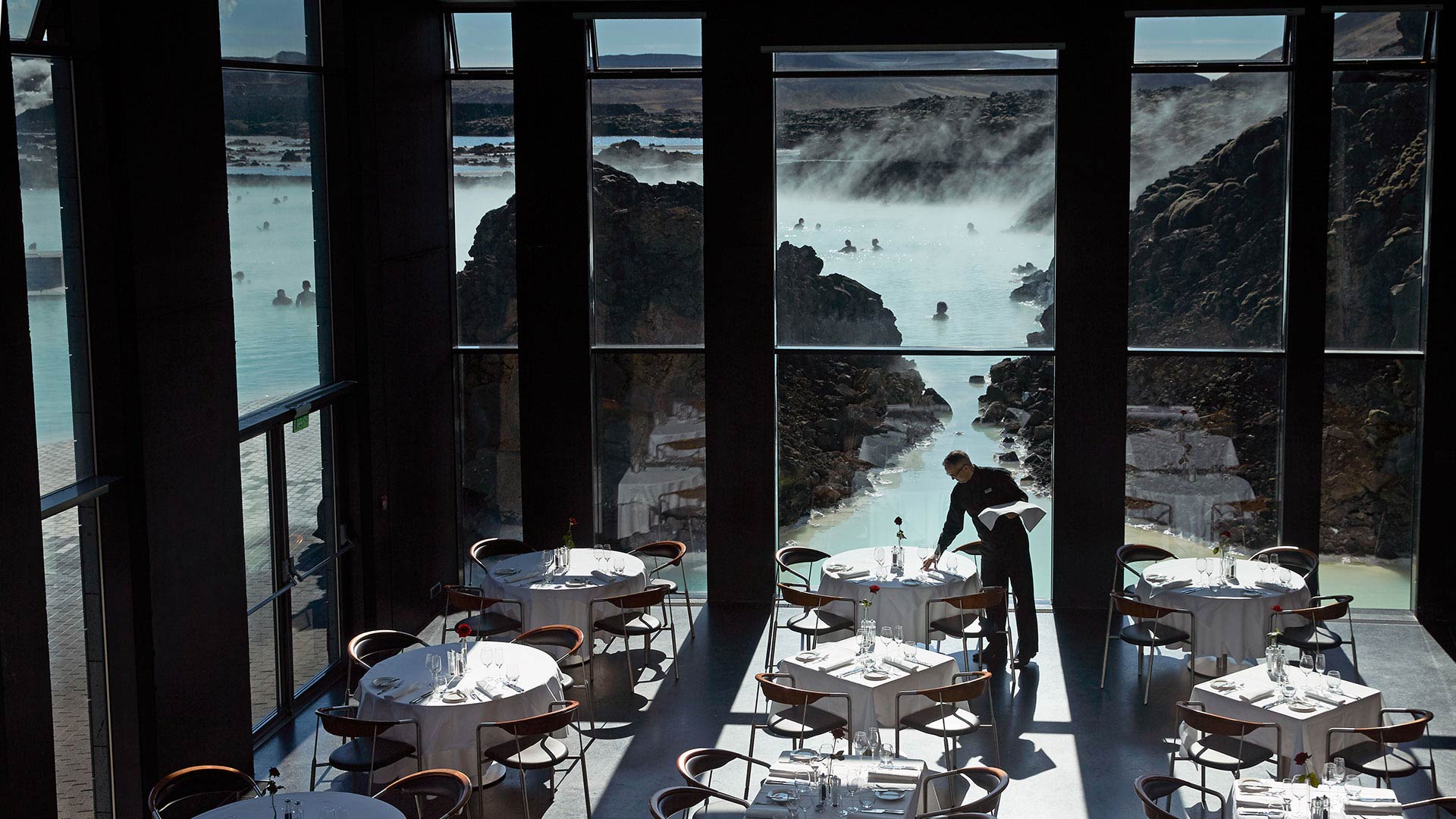 What should I take with me?
It's not necessary to bring much to the Blue Lagoon – all you really need is a swimming costume.
Towels are provided with all tickets, and you'll be able to store your clothes and shoes in a secure locker free of charge. Complimentary toiletries, including shower gel and conditioner, can be found in the showers and changing rooms.
With a Premium or Luxury ticket you'll also enjoy the use of a bathrobe and slippers. If you have a Comfort ticket you could always rent your own slippers or bathrobe. You can even rent your own swimming costume if you forget to pack one!
Do I have to arrive on time?
Yes! This is because the Blue Lagoon is so popular that there's no guarantee that you'll be let in if you arrive late.
When you book your ticket, you'll be asked to choose a specific time slot at which you should arrive. There is however a window of flexibility. If you book a slot for 10am, for example, you'll be allowed to enter any time between 10am and 11am. If you arrive after your hour slot has ended, you may be turned away.
Are there lockers at the Blue Lagoon?
There are two separate changing areas, one for women and one for men, with electronic lockers in each. You can lock your locker using the electronic wristband you'll be given upon entry.
Do I need flip-flops?
You may choose to bring flip-flops to wear when walking around the pools if you want to, however these aren't strictly necessary. Slippers are included with Premium and Luxury tickets, or can be rented for an additional charge if you're entering on a Comfort ticket.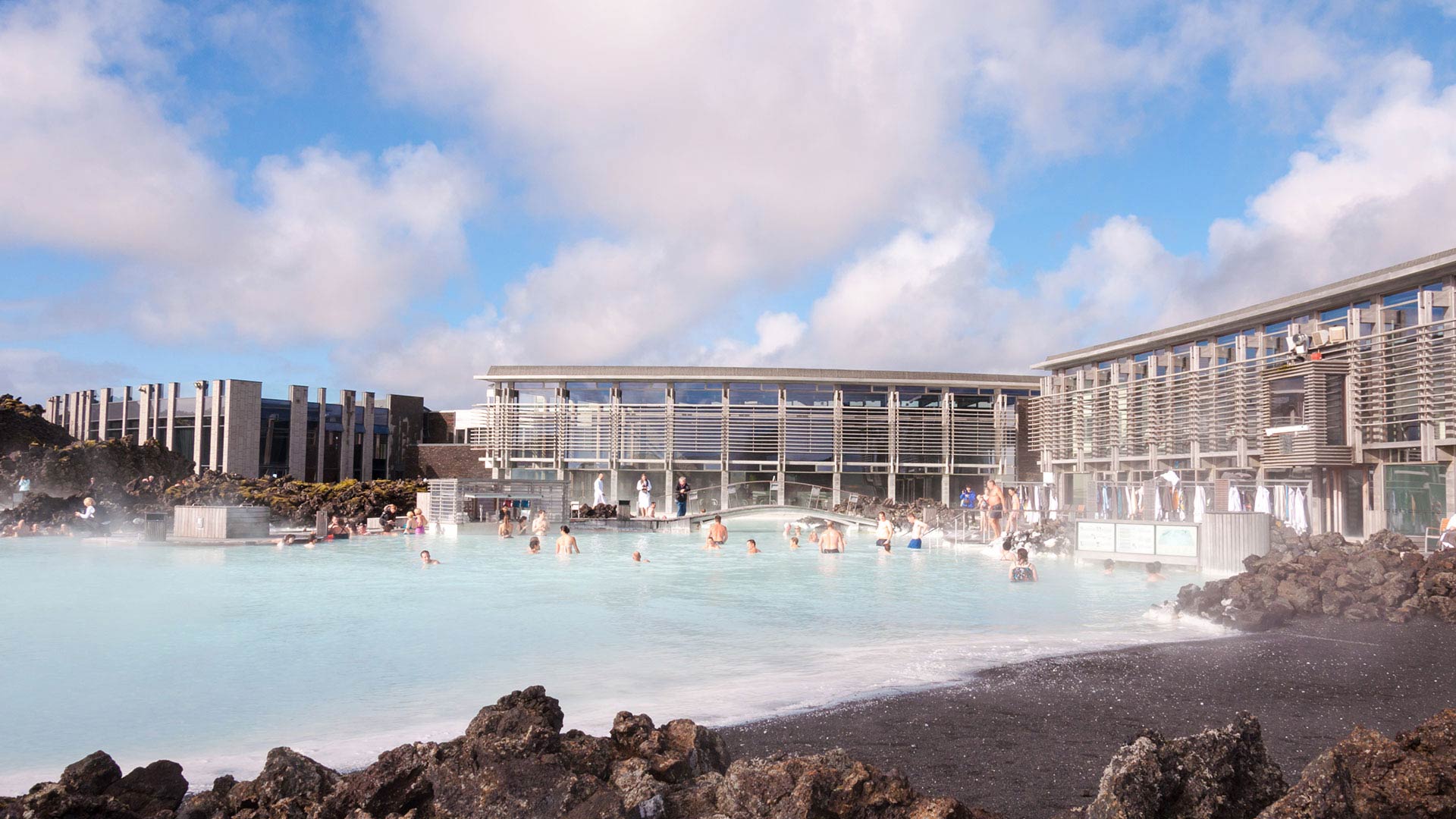 How long should I spend in the Blue Lagoon?
That's entirely up to you! Once you've entered (at the time dictated on your ticket) you can stay for as long as you want, or until the Lagoon closes, normally between 9pm and midnight.
The average visit is around two hours, as this will give you enough time to relax in the pools, enjoy your complimentary mud mask, and get a drink.
Can you swim in the Blue Lagoon?
The Blue Lagoon is not designed for vigorous activity such as laps or diving, however you can enjoy a gentle swim in its waters. The water only reaches a depth of around five feet, and the outer edges of the pool are shallow enough to stand comfortably.
Because the water is cloudy, it is not suited to underwater swimming.
How warm is the Blue Lagoon?
The water in the Blue Lagoon is heated to around 37-40 degrees Celsius (98-104 F). Due to fluctuations in weather conditions, the precise temperature may change month to month, however you can expect pleasantly warm waters year-round. The sensation is similar to stepping into a hot bath.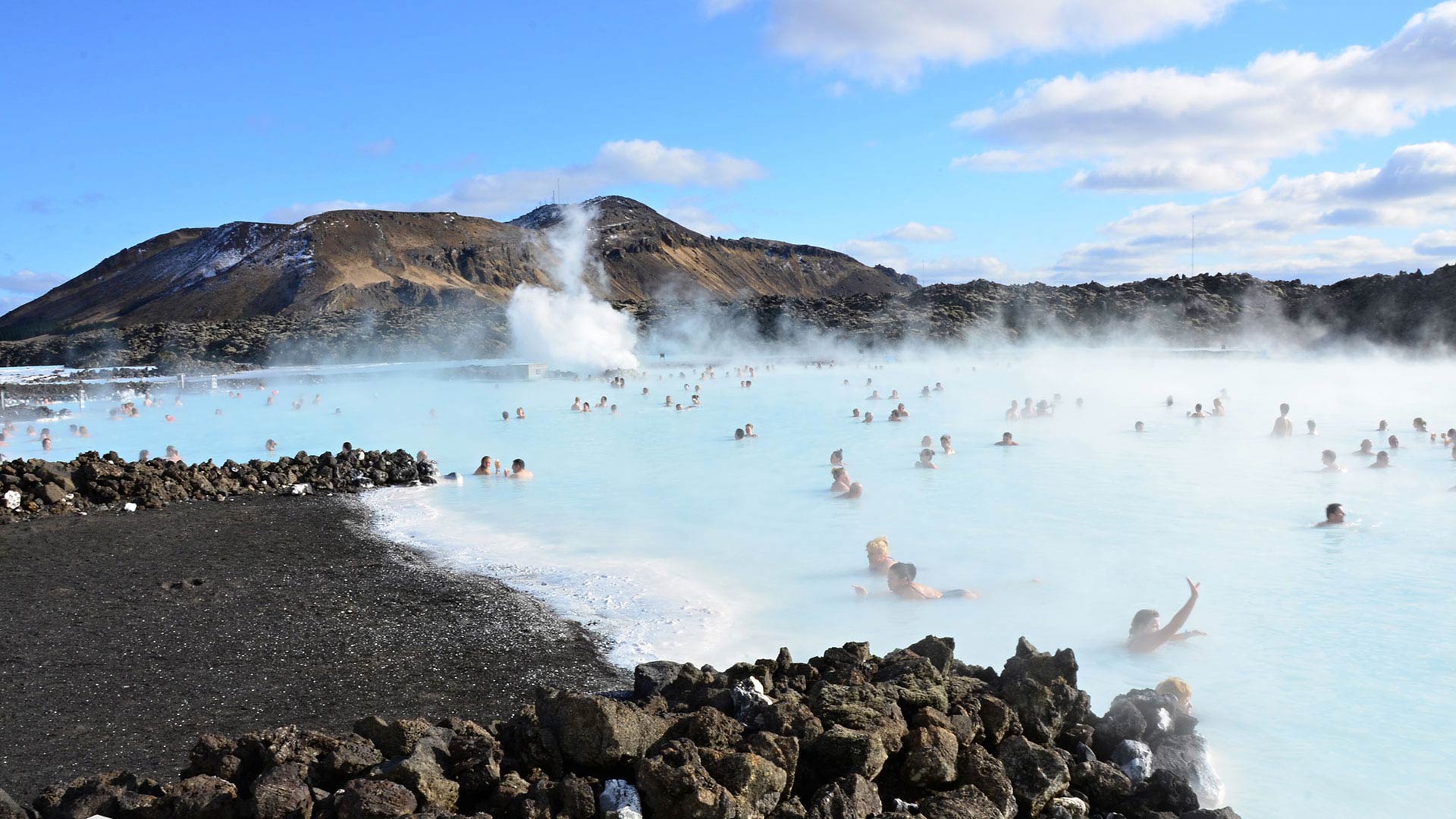 Can I enter the Blue Lagoon if I'm pregnant?
There is no official guidance about pregnant women entering the Blue Lagoon, and many women do it completely safely. It is better to check with your doctor beforehand if you aren't sure.
And whether you are pregnant or not, you should make sure that you avoid getting dehydrated or overheated by staying in the water too long. Take breaks from the Lagoon water and make sure you drink plenty of fluids.
Does the Blue Lagoon ruin your hair or swimming suit?
The water in the Blue Lagoon contains silica, which can (temporarily) make your hair stiff and tangled. If you have long hair, it's a good idea to tie it up. You should also make use of the complimentary conditioner in the showers to protect your hair before and after going in the water.
The water shouldn't ruin the fabric of your swimming costume, but if it's not properly cleaned you may risk some damage. Once you leave the pools you should rinse your swimming costume with soap and cold water. You can then pack your costume (they provide plastic bags for this use), and wash it properly at home.
If you're nervous about wearing your own swimsuit, you can always hire one when you arrive.
Does the Blue Lagoon's water really help skin conditions?
The high mineral content of the water is said to be beneficial for the skin, and particularly for people with psoriasis. You might notice upon leaving the Lagoon that your skin feels softer and smoother.
Is the Blue Lagoon worth it?
In our opinion, yes! A trip to Iceland simply isn't complete without a visit to this iconic location. We recommend taking plenty of time to relax and enjoy the beautiful surrounding. Make sure to bring along your camera to snap plenty of photos of that otherworldly blue water (before storing your camera safely back in your locker, of course!).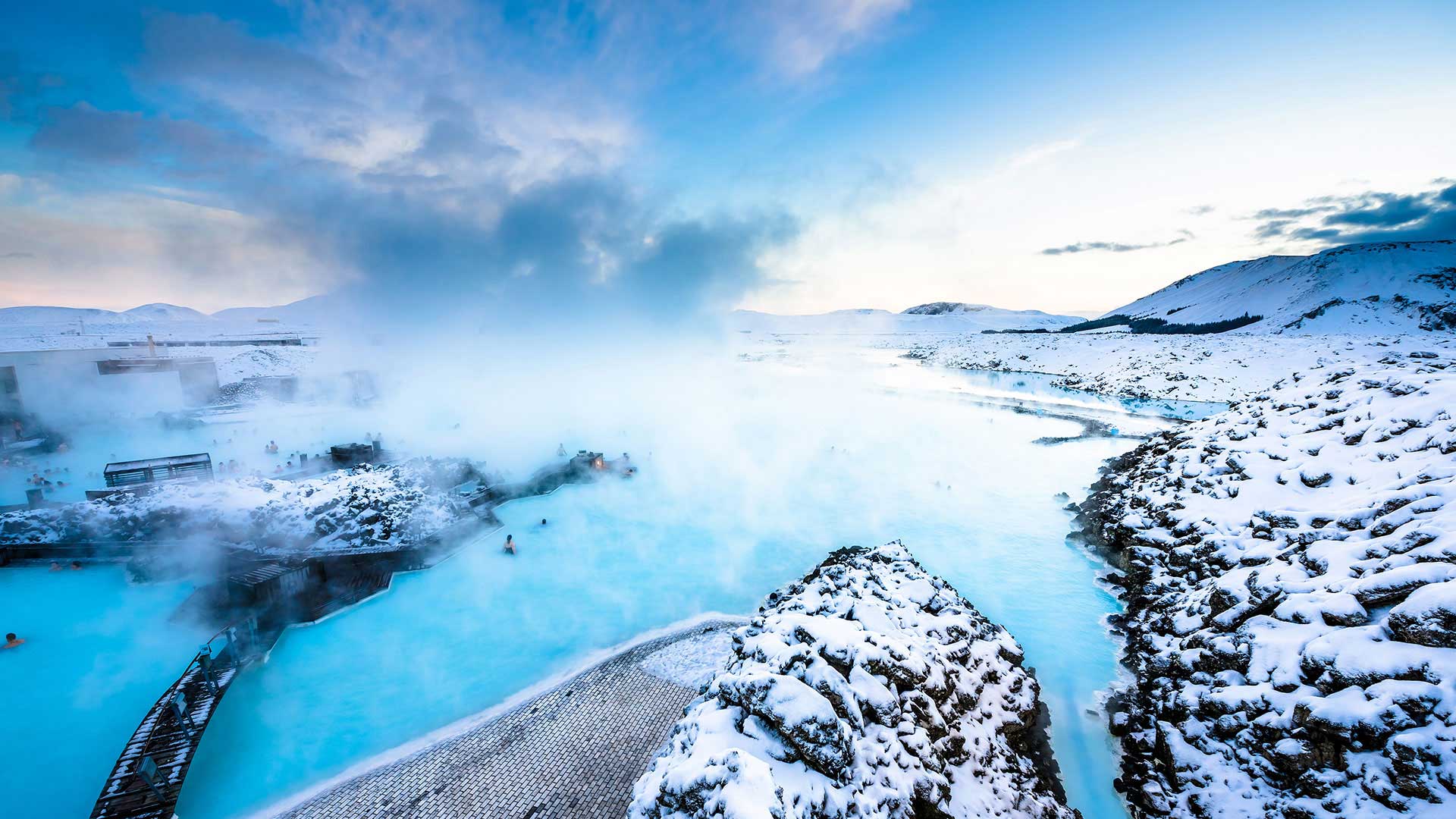 Are there other geothermal spas in Iceland?
Yes! If you're completing the legendary Golden Circle route, it's worth making a stop at the Secret Lagoon, a natural hot spring in Flúðir that boasts its own geyser.
Another geothermal spa that is well worth the detour is the Mývatn Nature Baths in northern Iceland. This complex is located just off the Ring Road, and is famed for its alkaline waters and steam baths.
Browse our multi-day tour packages and enjoy the convenience of your accommodation and day-trips all booked for you by local travel specialists.