Discover the Diamond Beach in Iceland, one of the country's 'coolest' attractions – quite literally. Spend time taking those perfect Instagram-worthy snaps amongst diamonds on the beach or get down on one knee for the perfect proposal.
Located on the southern coast toward East Iceland, the best way to get there is by taking a car or being driven. You could embark on the driving tour of a lifetime around Iceland's Ring Road or join an insight-filled group tour with a guide and some fellow adventurers.
Diamond Beach is sure to be a place you'll remember forever. Before you set off, we have answered the most common questions about this dazzling Iceland attraction.
What is the Diamond Beach?
Diamond Beach is also known as Breiðamerkursandur in Icelandic. This iconic attraction takes its name from the glittering icebergs scattered across its shore like a field of diamonds.
These stunning icebergs were once part of the Breiðamerkurjökull glacier. After breaking away, the blocks of ice floated lazily around Jökulsárlón Glacier Lagoon before ending up on Diamond Beach.
Wander amongst diamond-like icebergs of dazzling blues and whites and varying sizes. As you explore this stunning black sand beach, you'll discover plenty of perfect photo opportunities and fall in love with Iceland's natural beauty.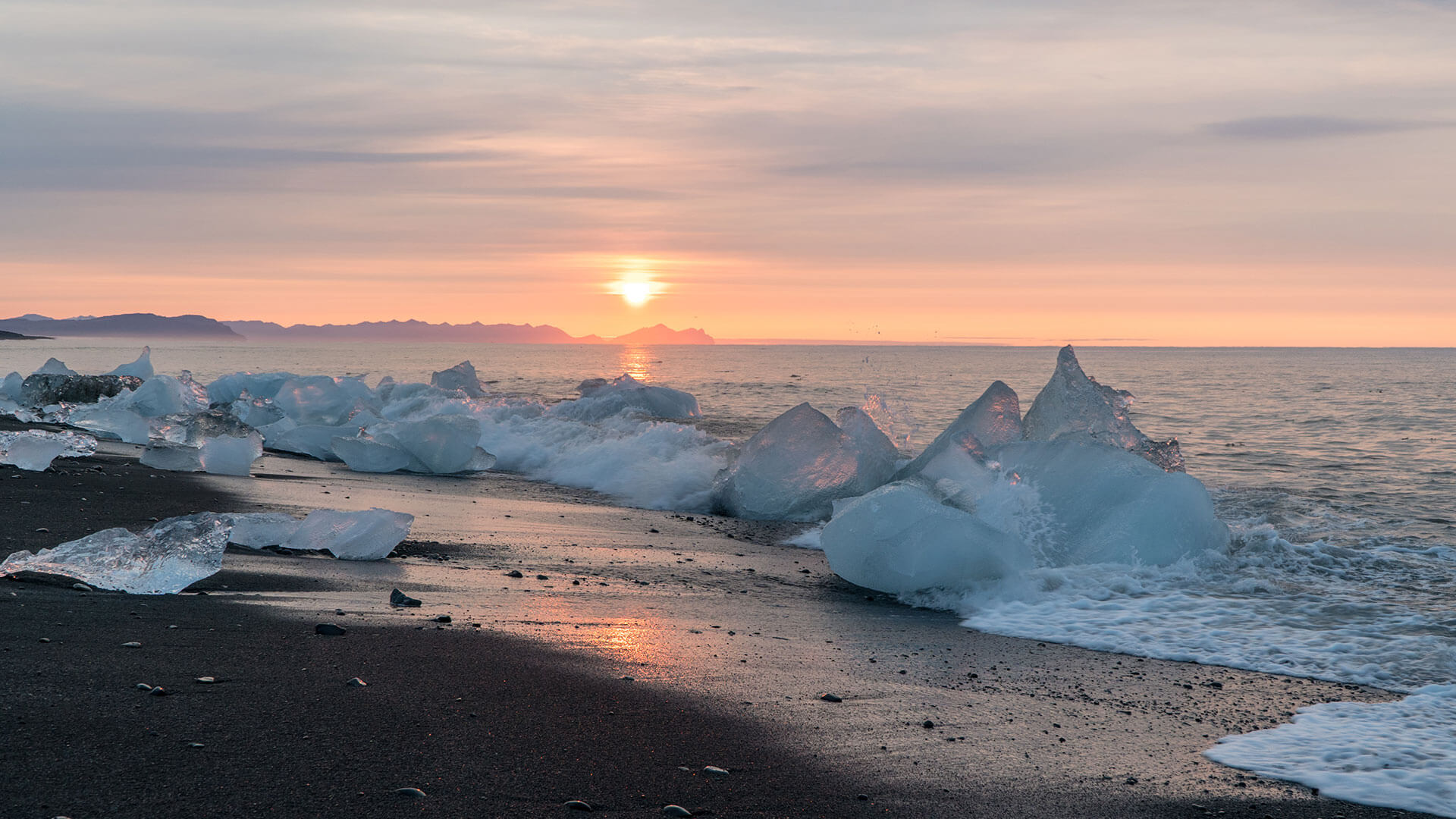 Why is some of the ice blue at Diamond Beach?
The striking chunks of ice on Diamond Beach take on many different shapes, colours, and even sizes. Here you can admire larger-than-life blocks of ice in unique shades of azure blue or small, black chunks of ice.
Many factors influence the colours the ice will take. Blue ice can signify age (older ice) and lack of air pockets. The black colouring can be volcanic dust or the sunlight reflecting the black sand from the beach.
Wandering through the icebergs on Diamond Beach is like visiting an art gallery – you never know what you'll find and each trip presents something totally different.
What to do at Diamond Beach
Most people visit Diamond Beach to admire the dazzling array of icebergs and take Instagram-worthy snaps. You could spend hours walking along the beach with these blocks of ice trying to get the perfect shot.
Once you've satisfied your inner photographer, make sure to spend some time looking for local wildlife. Diamond Beach is a great place to see Icelandic seals and is one of the best places in Iceland to spot orca whales.
Nearby, we also recommend you head across the road to visit the Jökulsárlón Glacier Lagoon.
Can you see the northern lights at Diamond Beach?
Diamond Beach is an excellent location to hunt the northern lights in the winter as there's little light pollution.
This advantage may also create challenges. It can be rather difficult to see, and you don't want to stumble over ice blocks. So make sure to bring a torch.
For safety you should also park your car in one of the designated spaces.
Before you head out, check the northern lights forecast at vedur.is. And please remember that the aurora borealis is a natural phenomenon, meaning weather conditions may affect visibility.
In the summer months, you can enjoy the midnight sun phenomenon instead of the northern lights.
Can you swim in the Atlantic Ocean in Iceland?
Swimming in the Atlantic in Iceland is mostly for the brave-hearted. While you can technically swim in the ocean, the water temperatures are very cold.
In the summer, temperatures can rise over 10°C (50°F) on Iceland's south and west coasts, but then plummet to 5°C (41°F) during the winter months. To put this into perspective, this is compared to mid-to-high 20s (77-86°F) at either Miami Beach or the Mediterranean Sea.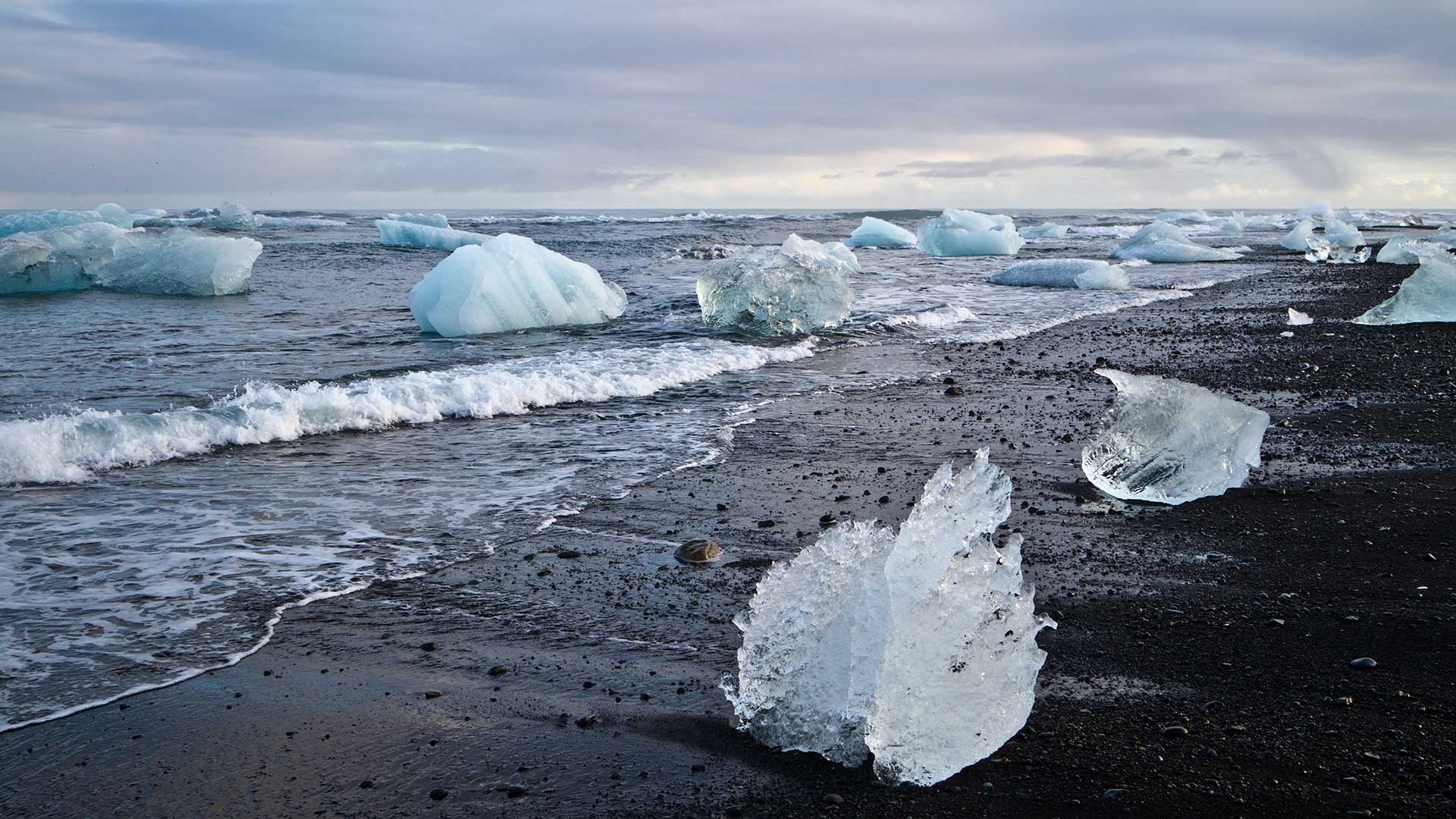 Why do Icelandic beaches have black sand?
The Diamond Beach is one of Iceland's many black sand beaches. The black sand is a direct result of Iceland's volcanic landscape. The sand comes from the basalt lava found within the region.
Volcanoes like Katla in the Vatnajökull National Park are still active, which keeps adding black sand to certain Icelandic beaches.
Are all beaches in Iceland black?
No. While visiting Iceland you'll soon realise that its beaches come in many different colours. For example, beaches on the Snæfellsnes Peninsula have white, yellow and gold sand.
Can you bring sand back from Iceland?
It's not illegal to take black sand from Iceland's beaches, but generally, it's best to leave Iceland's nature alone. The old motto 'take only photos, leave only footprints' certainly applies here.
At present, Iceland's stalactites and rocks, including sand, within nature reserves are actually protected by law. So better to leave things be.
When is the best time to visit Diamond Beach?
Like most of Iceland, you're sure to find Diamond Beach beautiful at any time of year. Regardless of the season, make sure to be dressed for the variable Icelandic weather.
What should you bring to Diamond Beach?
Make sure you're prepared and bring:
Good footwear as the ground is uneven
A camera & tripod to capture the coastal landscapes
Warm clothes including a jacket, jumper, gloves, and hat
Don't forget waterproof layers (jacket and trousers) in case of rainy weather
Find out more about what to pack for your trip to Iceland with our handy travel guide.
Does Diamond Beach have parking?
Yes, there's a free parking lot, a short walk from Diamond Beach.
Staying safe at Diamond Beach
While Diamond Beach isn't any more dangerous than any other attraction, it's best to use common sense and be aware of some of the hazards. To stay safe at Diamond Beach, make sure to:
Avoid the water as the tide can come in quickly and waves can take you by surprise.
Look out for half-hidden icebergs and watch your footing, so you don't trip.
Don't climb on top of the icebergs as they might have jagged edges and could be slippery.
Do not under any circumstances step onto a floating iceberg. This is dangerous as you could get carried out to sea.
Bring plenty of dry clothes and a warm towel in case you accidentally get wet.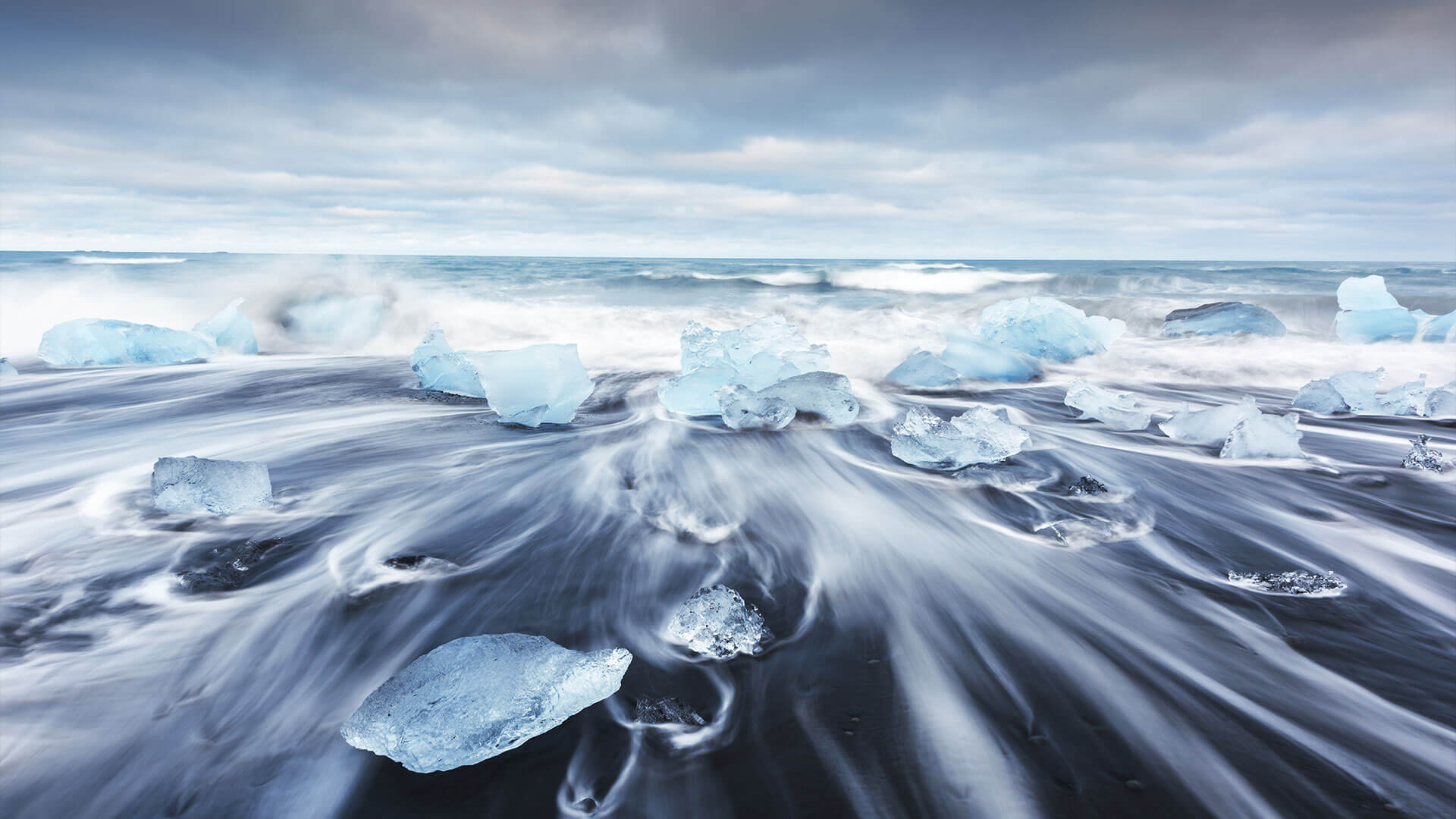 How far is Diamond Beach from Reykjavík?
Drive along Iceland's Ring Road to the south coast, taking in the dramatic landscapes, gushing waterfalls and stunning scenery. Getting to Diamond Beach is half the adventure.
Roughly 370 kilometres (230 miles) from Reykjavík, driving to Diamond Beach should take about 5 hours without stopping. However, there is a lot to see and do along the way, so we recommend breaking up the drive into several days.
How far is Jökulsárlón from Diamond Beach?
To get to Jökulsárlón Glacier Lagoon from the Diamond Beach, you just have to cross the road. It's really that simple.
Located only a few minutes away, Jökulsárlón Glacier Lagoon is part of the Vatnajökull National Park. At Jökulsárlón, you'll find the Breiðamerkurjökull Glacier. This is where the diamond-like blocks of ice on Diamond Beach originated.
The Jökulsárlón Glacier Lagoon is one of the famous attractions in Iceland where you can admire the Nordic landscapes. The view from the shore is stunning, but you can also book a boat tour to see the icebergs from close up.
How do I get to Diamond Beach?
The best way to reach the Diamond Beach is to hire a car and drive.
From Reykjavík, head out of the city to drive south on Route 1, also known as the Ring Road. As mentioned above, the drive along the Ring Road will take up to 5 hours, or multiple days depending on your plans.
Once you reach Jökulsárlón Glacier Lagoon, you should be passing a single-track bridge. Take the first right to reach the Diamond Beach car park. You can walk from there.
Visit Diamond Beach with us
We offer multiple ways to see Diamond Beach on your trip to Iceland.
Hit the road with one of our self-drive itineraries to drive the Ring Road toward the east. Make a road trip out of it by stopping along the way to admire the stunning scenery of the south coast.
If you'd rather relax on your way there, join one of our small guided group tours or opt for a one-on-one experience with a privately guided tour. With both travel styles, your guide will make stops along the way allowing you to take in the beauty of Iceland.
Whatever you choose, you'll have the adventure of a lifetime on the road to the Diamond Beach. Book online today or contact us to learn more about how we can help you plan the perfect trip.