The Land of Fire and Ice has been calling intrepid travellers to its shores for generations. Its landscape has forged ancient lava fields, sparkling glaciers, obsidian beaches, diamond icebergs, rising mountains and cascading waterfalls.
If you're planning a trip to this incredible country and want to know where the best places to visit in Iceland are, look no further. In this guide, we've compiled the legendary sites of this country as well as some hidden gems. So, if you want the know-how to build that bucket-list during a holiday in Iceland, look no further.
1. Reykjavík
While most Icelandic trips start in Reykjavík, this is not a whistle-stop city. Starting or ending your tour in its capital is a great way to understanding the country and the culture.
In Reykjavík, you'll find fine dining, boutique shopping, and trendy bars. But its real charm is in its famed landmarks, museums, and cultural attractions.
Marvel at Hallgrimskirkja
Start by visiting Hallgrímskirkja, the celebrated church of Reykjavík, whose architecture was inspired by the volcanic landscape. Standing at 73 metres high, this is the largest church in Iceland! You can even take an elevator up the tower to get a sweeping view of the city below!
In front, you'll find the statue of Leif Eriksson, legendary explorer, who is believed to have been the first European to land in North America around the year 1000.
See a show at Harpa Concert Hall
The Harpa Concert Hall is another architectural landmark of the city, but also serves as a cultural touchstone thanks to the numerous musical festivals and shows it puts on. No matter what time of year you come visit Reykjavík, you can be treated to operatic Viking sagas, symphony orchestras, jazz festivals, and contemporary bands.
Visit the Perlan Museum
Whether or not you're going to tour the country to discover its rugged and beautiful landscapes, wrought by both fire and ice, then you should visit Perlan Museum whilst in the city.
This interactive museum focuses on showcasing Iceland's natural wonders. It is the perfect place to learn and experience it all from one location.
Because Perlan sits atop Öskjuhlíð Hill, this also means you'll be treated to a great view of the city while you're there. This is an excellent way to kick off a tour to Iceland's countryside.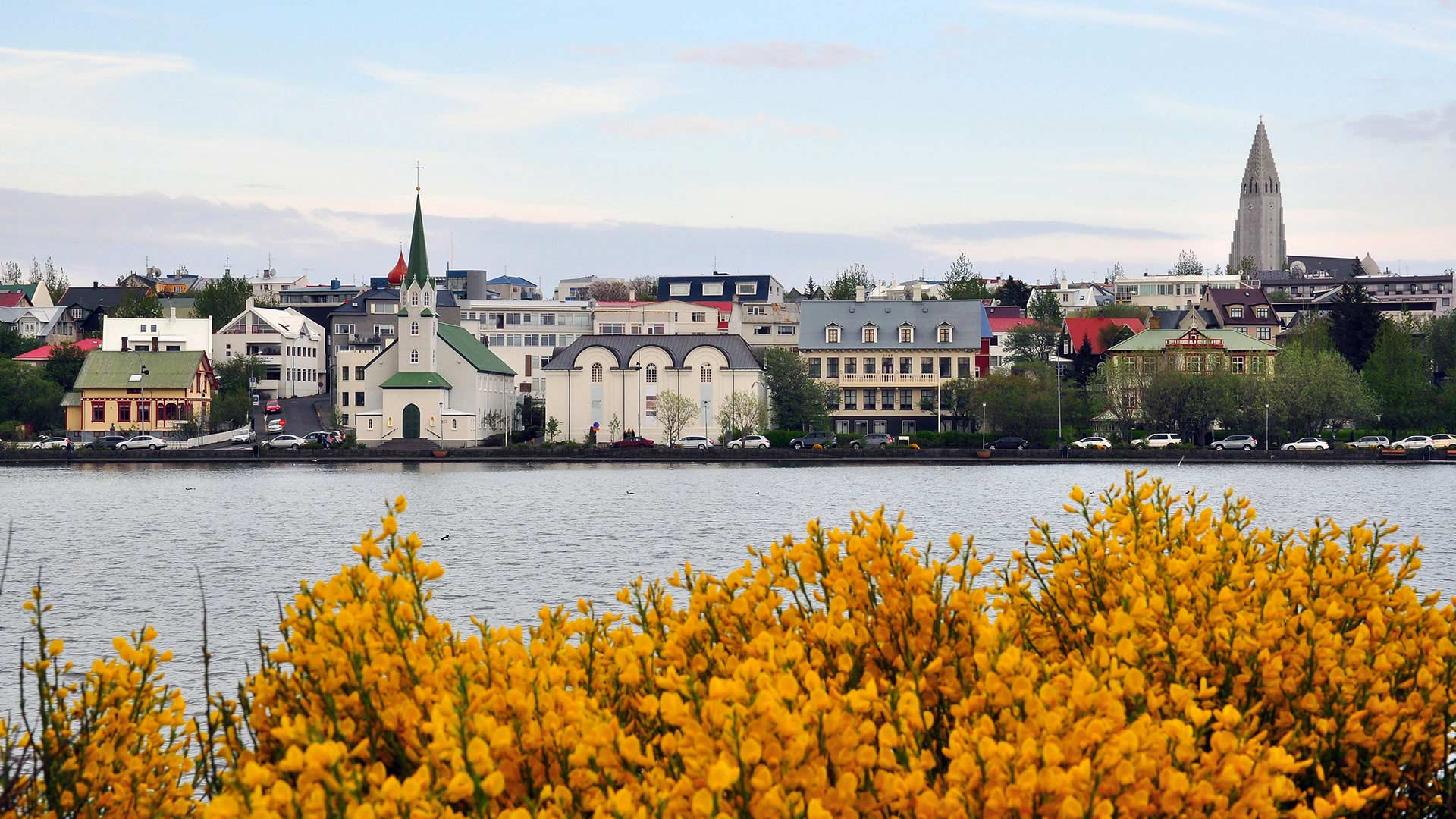 2. Blue Lagoon
In the Reykjanes peninsula, in the south-west of Iceland, you'll find the iconic Blue Lagoon. Gracing Instagram posts and promotional ads alike, the Blue Lagoon is one of Iceland's premier attraction sites. And we promise you the attention is well-deserved.
The Blue Lagoon is a geothermal spa, a hot spring fed by the nearby geothermal plant, meaning the water sits comfortable around 39°C (102°F). Set against a dark lava field background, the milky water is ethereal in contrast. Truly relaxing, beautiful and iconic, it is a must-see.
Because of its location near the airport, but also a short journey from Reykjavík, it is ideal to add on to your trip, either at the beginning or at the end of your Iceland travels.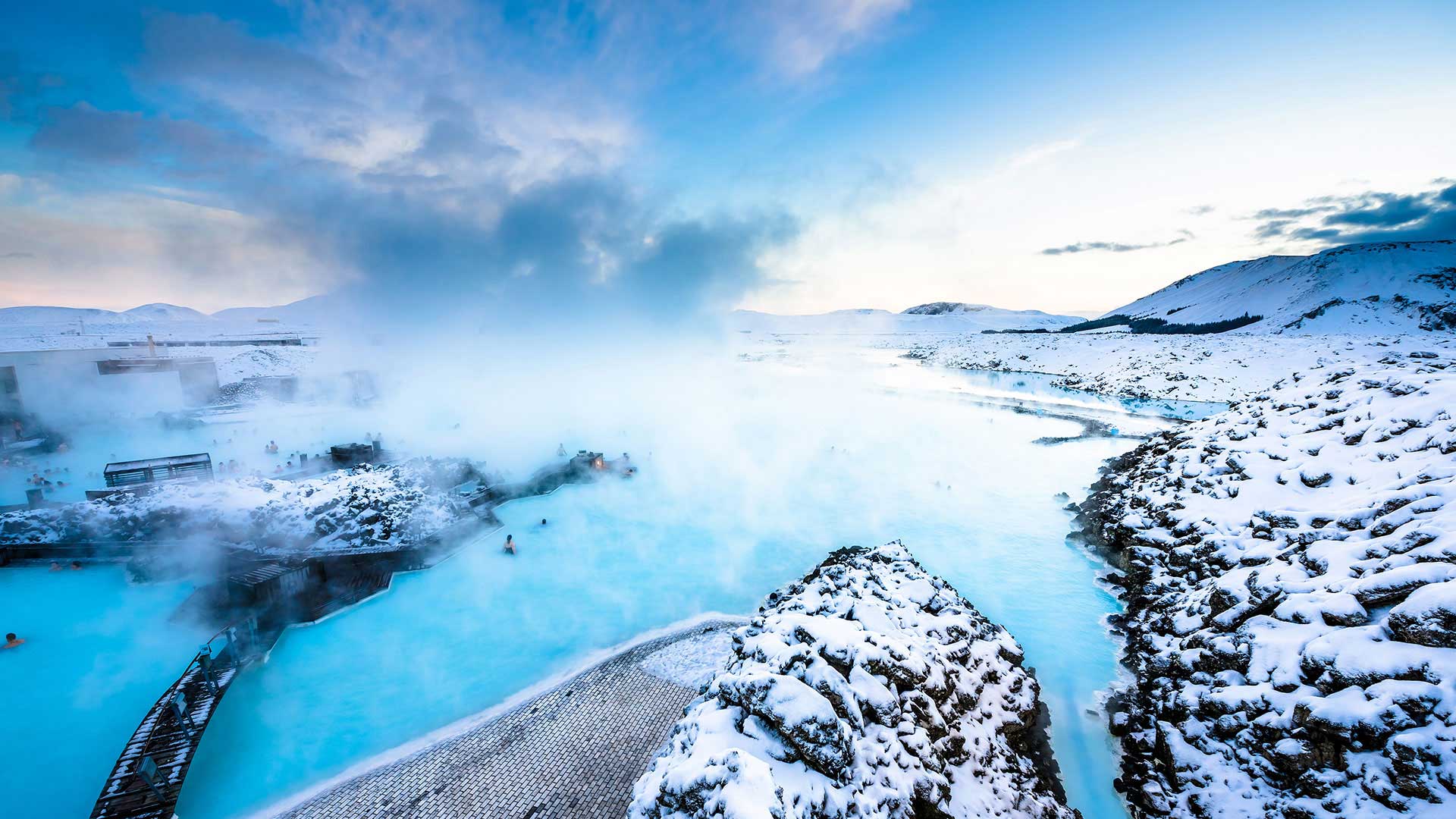 3. Golden Circle
Whether you take the wheel on a self-drive trip or decide to join a guided group tour, the Golden Circle should be on your road plan at least once in a lifetime. Enwrapped in this region is the historical heart of Iceland, and some of its most incredible (and famous) natural sites, including impressive waterfalls, geysers, and hot springs.
Be inspired at Þingvellir National Park
The Þingvellir National Park is a major heritage attraction, in part because of its geographical significance (it sits at the junction of the Eurasian and North American tectonic plates), and because of its importance in Icelandic history. It is here that in the year 930, over 30 ruling chiefs of Iceland joined and created a rudimentary representative parliament. When you walk through this dramatic landscape, you can still see the foundations of that site today.
Heat things up with Geysir and Strokkur
Iceland is also famous for its geothermal energy and hot springs. Perhaps the most renowned hot spring is the giant Geysir. When it is active (it can be years between active periods), this geyser shoots water up into the air as high as 70m (230 feet). Nearby, you'll find the much more reliable Strokkur geyser. It erupts every 5-10mins and can manage heights of up to 40m (130 feet).
Walk on the edge at Gullfoss
Gullfoss means 'Golden Falls' and its hard to argue with the name when you see this gorgeous waterfall in the sunshine. The falls are fed by the the ice tunnels of the glacier Langjökull that run to the Hvítá river, and it is a spectacular way to be introduced to the waterfalls of Iceland.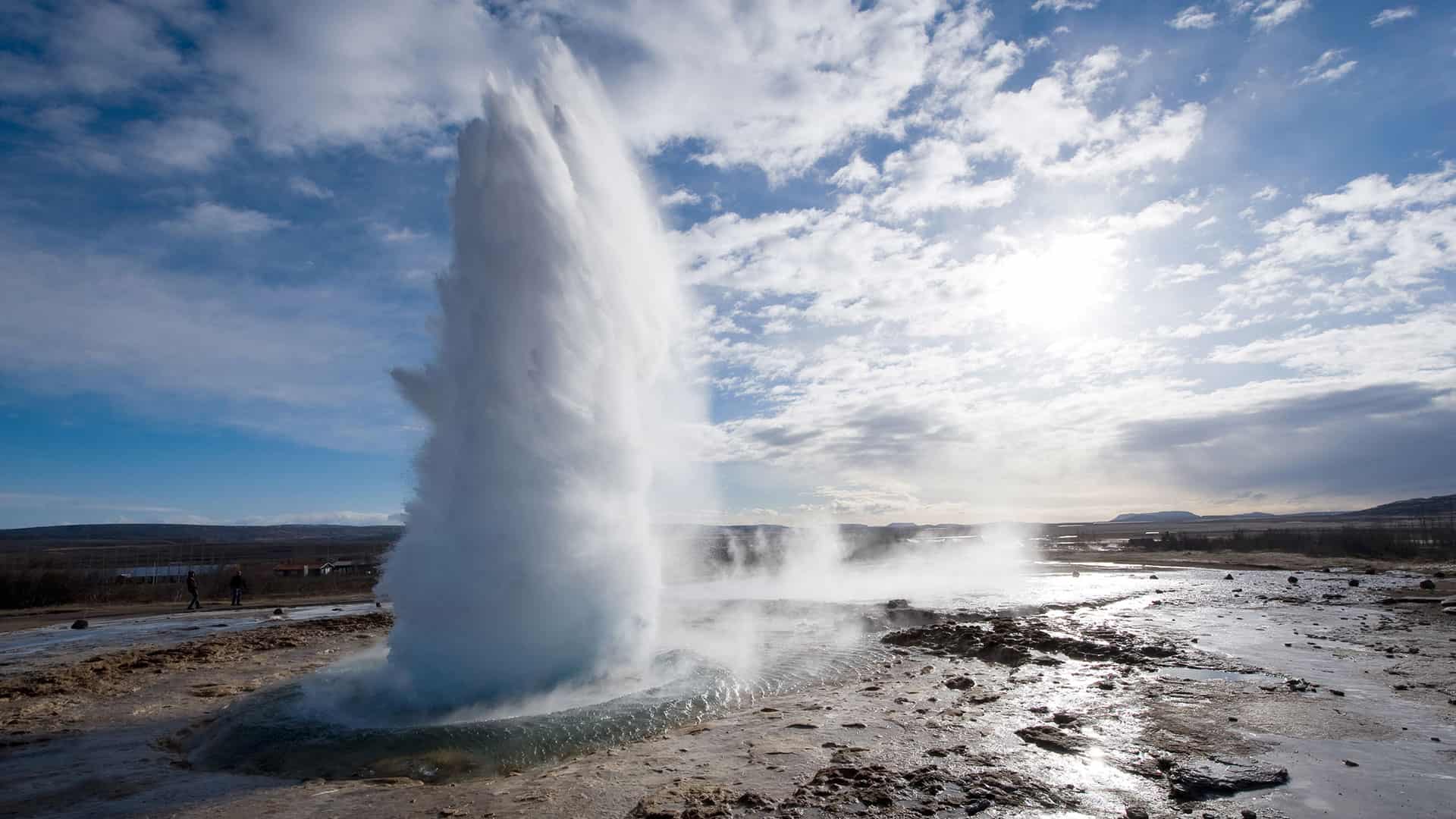 4. Jökulsárlón Glacier Lagoon
What would a trip to Iceland be without seeing a little ice? The magical Jökulsárlón is a glacier lagoon filled with electric blue and glittering white icebergs.
Watch as they drift across the lagoon and out to sea. Some even wash up to decorate the shore of Breiðamerkursandur, now famously known as Diamond Beach. For photographers, adventurers, and romantics, this is the place to be.
"I highly recommend exploring Jökulsárlón Glacier Lagoon by doing a boat tour on the lagoon itself. The view from the shore is amazing, overseeing the lagoon and the glacier but the experience of going in between the icebergs and sailing around the magical lagoon is otherworldly" - Helga, Travel Consultant at Nordic Visitor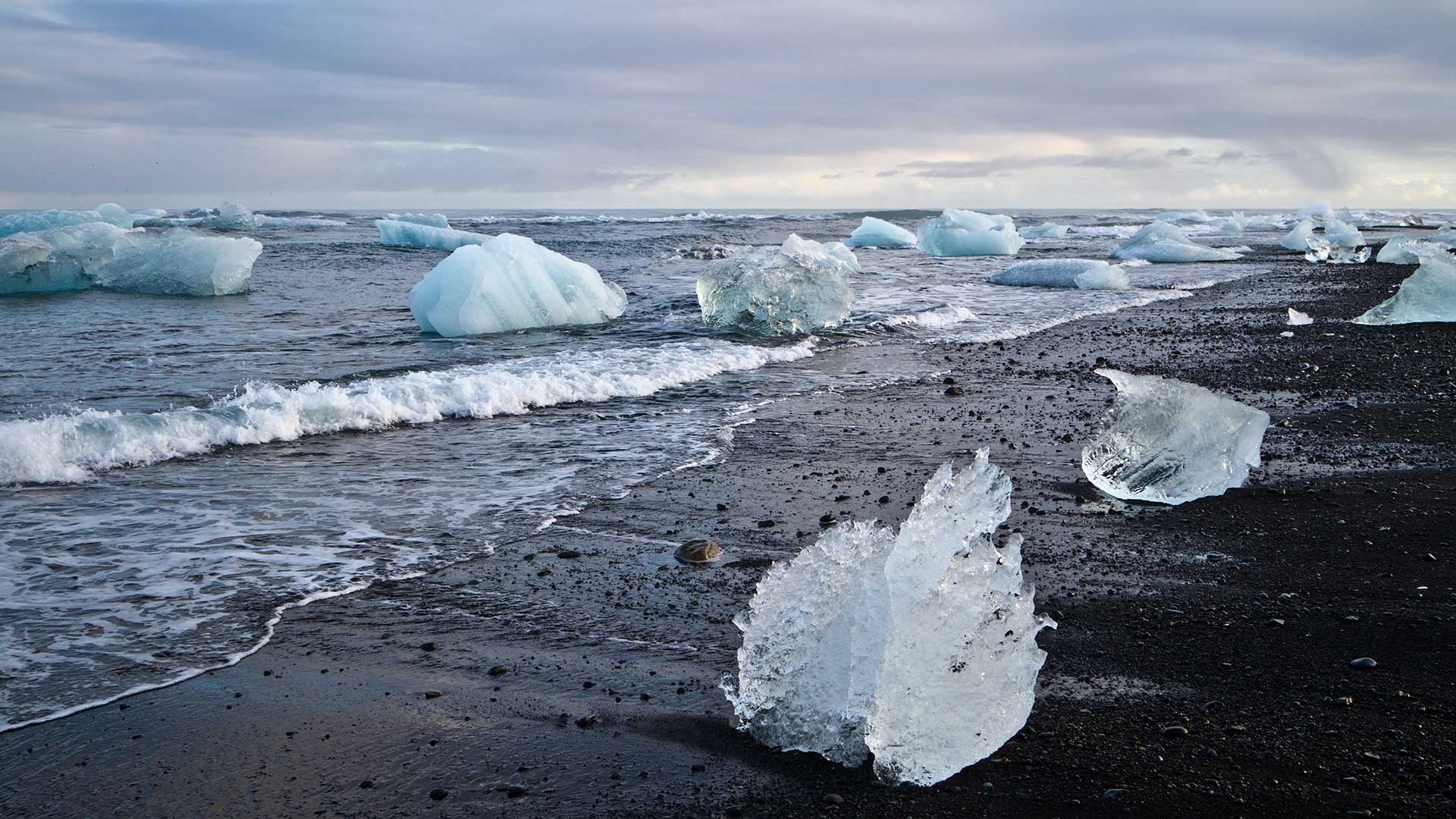 5. Seljalandsfoss (and nearby waterfalls)
While touring Iceland, you'll quickly discover why you must see so many waterfalls – that's because each of them is unique and magnetic in its own way.
You'll definitely want to stop by Seljalandsfoss, one of the most visited waterfalls in the country (after Gulfoss in the Golden Circle). This waterfall sits on the Seljalandsá river which flows all the way down from the famous glacier-topped Eyjafjallajökull volcano.
It's defining trait is the shape of the cliff that allows visitors to walk behind the curtain of water. There is a footpath at the base of the falls, but make sure to be careful as the path can be slippery.
Nearby you'll also find Gljúfrabúi, another gorgeous waterfall located inside a narrow canyon. It is truly a hidden gem, and may be worth going out of your way for a fantastic photography.
Half an hour's drive away, you could also stop at Skógafoss, a magnificent 60-metre high waterfall where, according to legend, the first Viking settler in the area hid a treasure in the cave behind the cascade.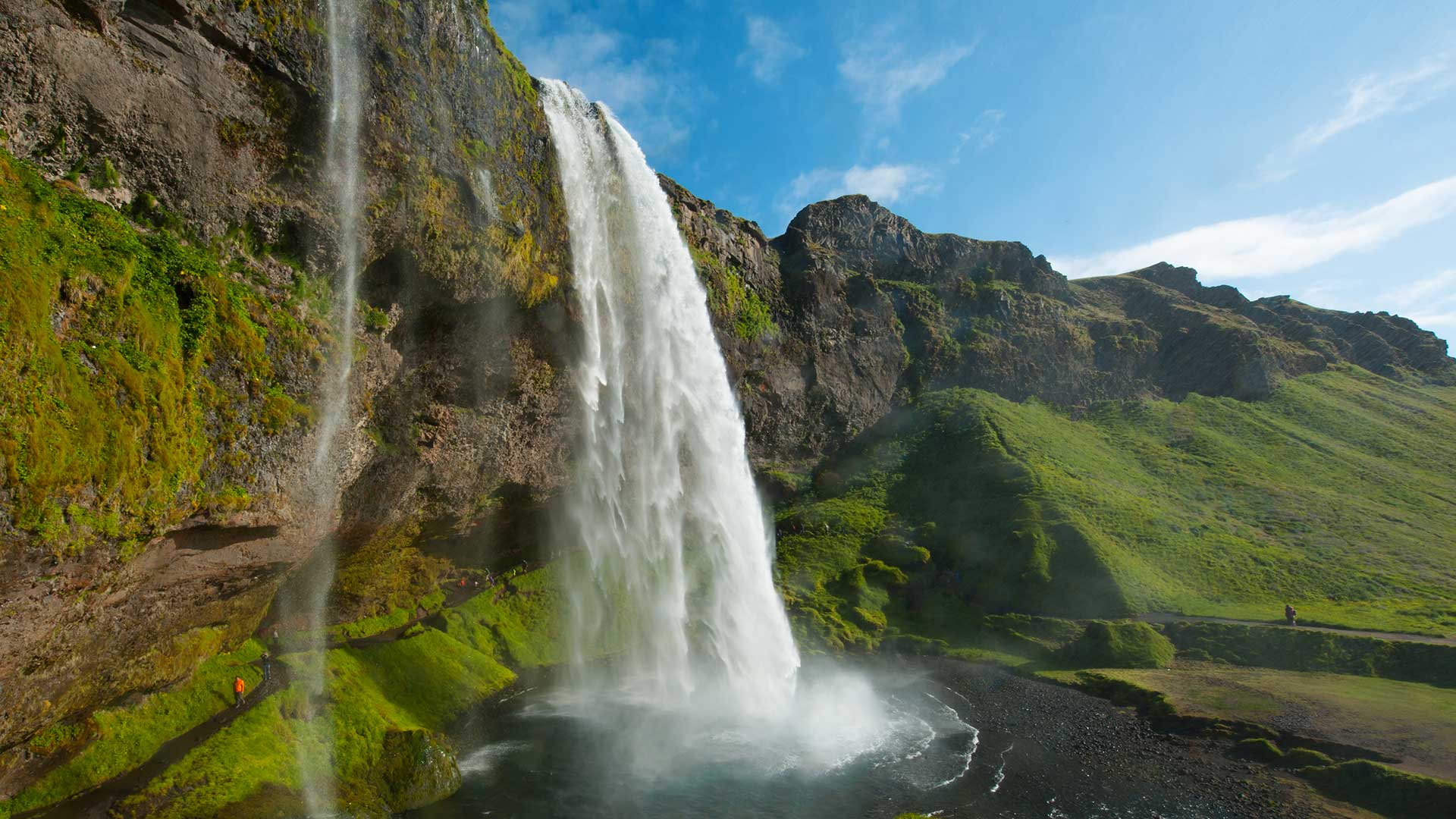 6. Lake Mývatn
In the north, you'll find the other-worldly terrain of Lake Mývatn, Iceland's fourth largest lake, which is set amongst active volcanoes. Beyond the fact that this was a filming site for Game of Thrones and many blockbuster movies, this region is home to a tremendous amount of distinct flora and fauna (ideal for keen bird watchers).
You can explore Lake Mývatn and the surrounds on a journey around the Diamond Circle.
Soak in the Mývatn Nature Baths
If you've been on the road for a few days and would like to relax in geothermal waters, make sure to stop at the Mývatn Nature Baths. They are, in fact, considered the north's answer to the Blue Lagoon.
Be impressed by Krafla and Víti Maar
You've seen ice, now it's time for fire! Near lake Mývatn, make sure to pass by Krafla, a caldera stretching for 10km (7 miles).
It is as collapsed volcanic area that is still active, and where you will also find the Víti explosion crater. Víti Maar, which means Crater of Hell, is now a lake of an opaque teal colour.
This land has been formed and reformed by the volcanic terrain, and its moon-like landscape is unlike anything you've ever seen.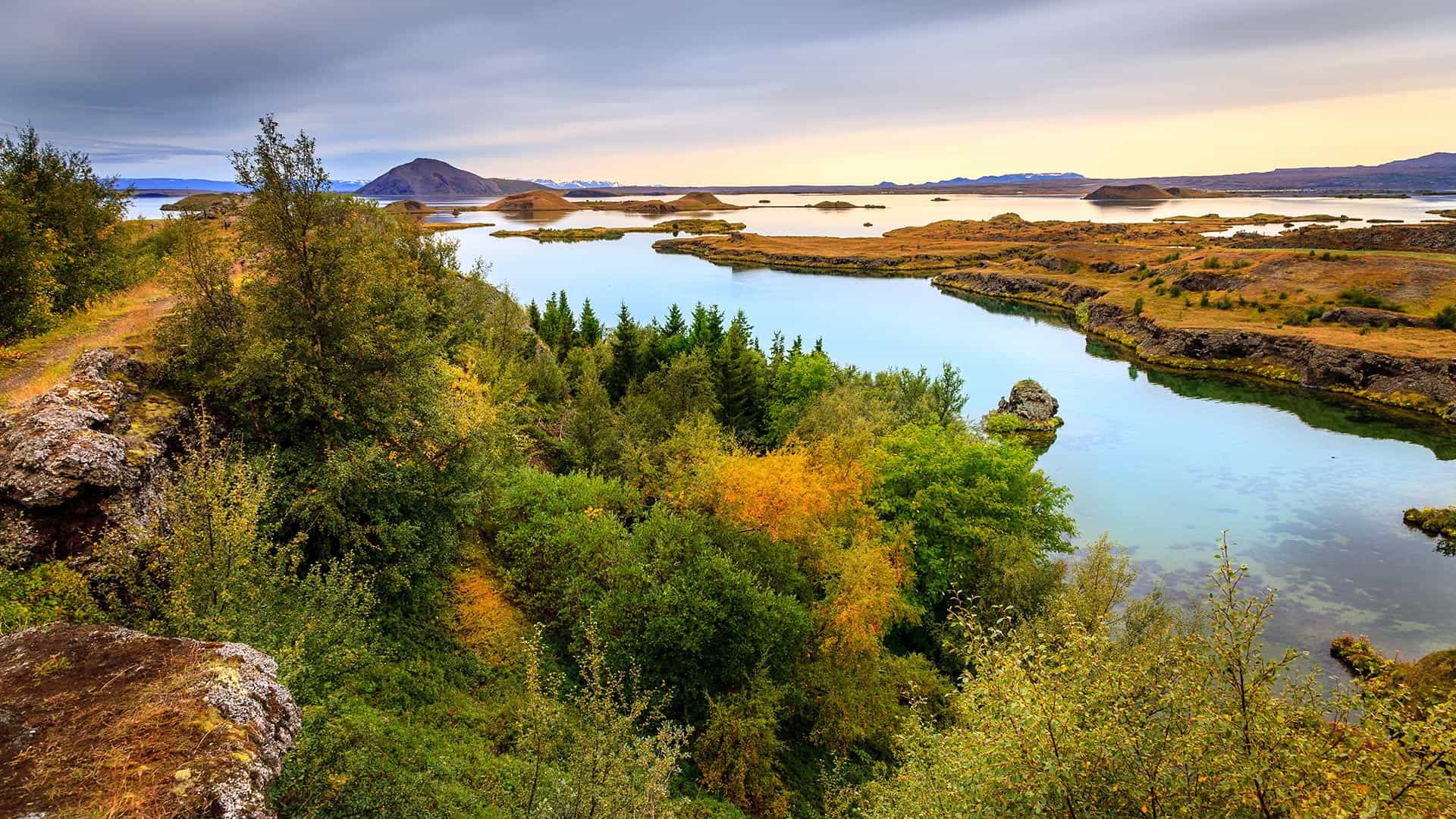 7. Akureyri
This delightful northern holdfast is Iceland's second largest city. Sitting at the base of Eyjafjörður Fjord, this 'Capital of the North' is rich in things to do.
Explore the city area
Wander the streets and you can marvel at its iconic church, visit Akureyri Botanical Gardens, and see the Laufas Turf Homes--quaint, turf-topped examples of how Icelandic homes were made in times gone by.
Go whale watching
One of the highlights that you could get up to when you're in the north, is to go discover its fauna.
You can go horse riding through the region's dramatic landscape, atop Iceland's sweet and sturdy horses.
This is also a great place to go on a whale-watching boat trip around the Tröllaskagi (Troll Peninsula) – especially if you want to take a peek at some humpback whales!
"Icelanders love to stop by the Christmas House located near Akureyri in the north. The Christmas house is the perfect place to visit in any season. There you can look at the decorations and enjoy their famous taffy." - Helga, Travel Consultant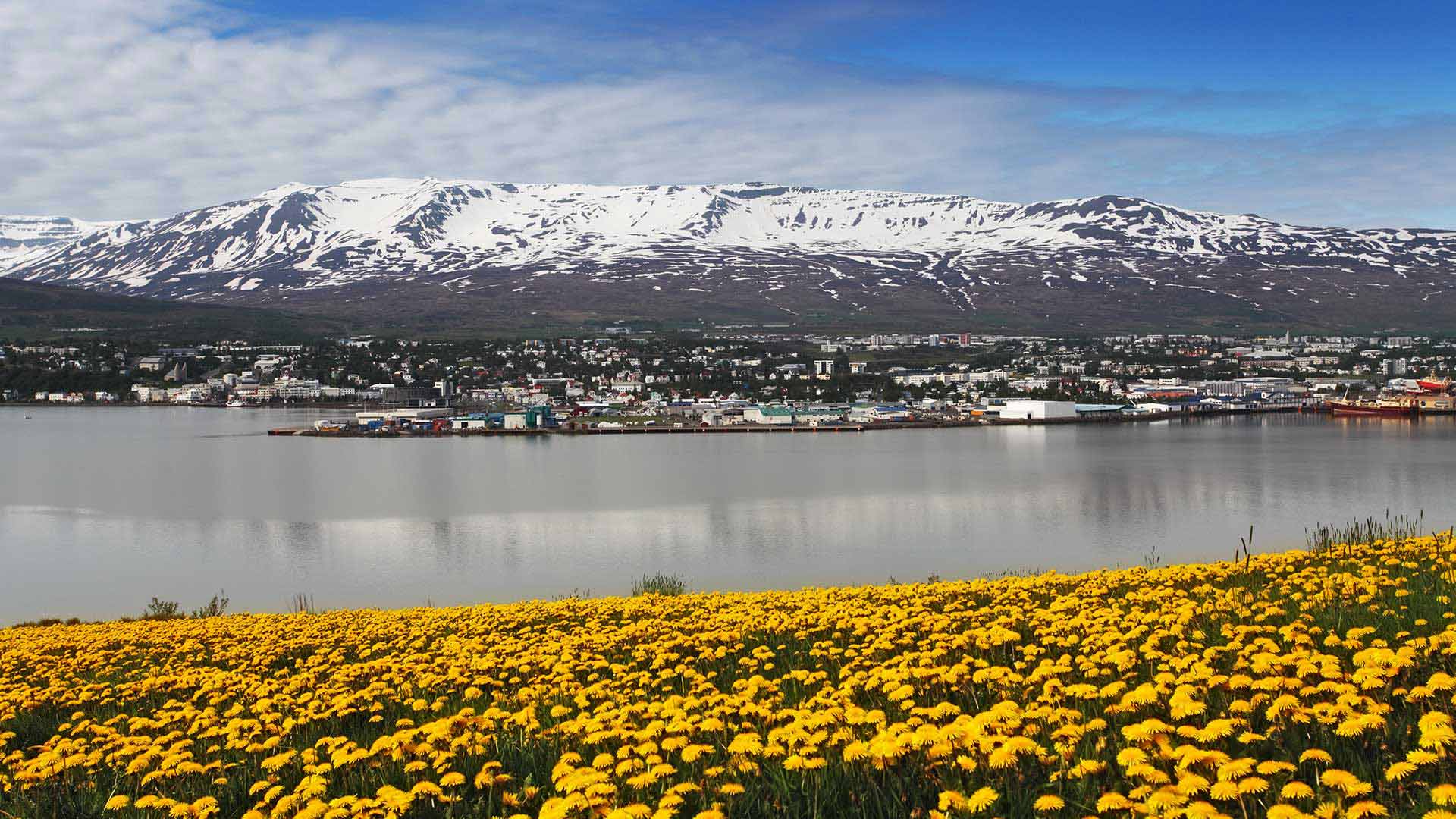 8. Vík
On the south coast lies the village of Vík í Mýrdal, looking out to the mighty Atlantic Ocean, nestled beside seaside cliffs. Located right by the Mýrdalsjökull Glacier, this small community is a real slice of Icelandic maritime life. Wildlife enthusiasts will love to spot the Arctic tern and puffin populations that have made this part of the country home.
See coastal landmarks like Dyrhólaey and Reynisdrangar
One of the reasons Vík has become such a popular stopping point is thanks to the rock formations of Dyrhólaey and Reynisdrangar. The first is a peninsula that ends in a leaping black arch of lava, and the second refers to the incredible volcanic sea stacks that make up the daunting cliffs. This is a sight to behold!
Go hunting for the northern lights
Because the population of Vík is small, and the local light pollution is so low, this region is one of many wonderful places where you can try to spot the northern lights. Be aware that the best time of year to see the aurora borealis is in the winter months, and as it is a natural phenomenon, sightings cannot be guaranteed.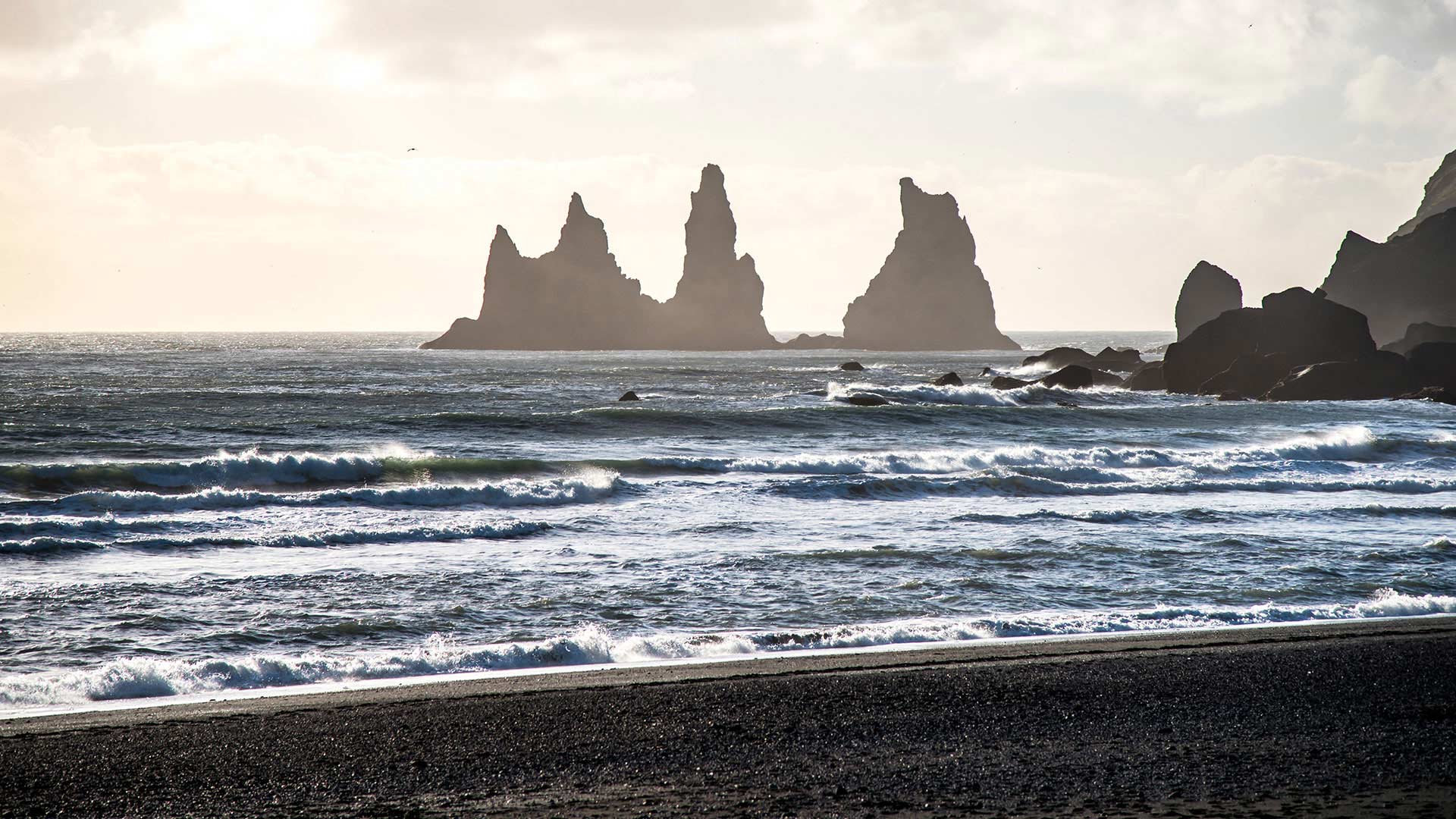 9. Snæfellsnes
The wild west also exists in Iceland! West Iceland is an off-the-beaten path region that will be worth the detour!
Known for its dramatic landscapes, the Snæfellsnes Peninsula is Iceland in miniature. Stretching for 90-km long, this peninsula will show you the diversity of the Icelandic landscape as it comprises It comprises lava fields, craters, waterfalls, hot springs, basalt columns, gorges, volcanoes, and quaint fishing villages all in one.
Make sure to visit the Snaefellsjökull National Park, Iceland's oldest national park, named after the 1446-metre-tall Snæfellsjökull stratovolcano and its dazzling glacier that dominate the landscape.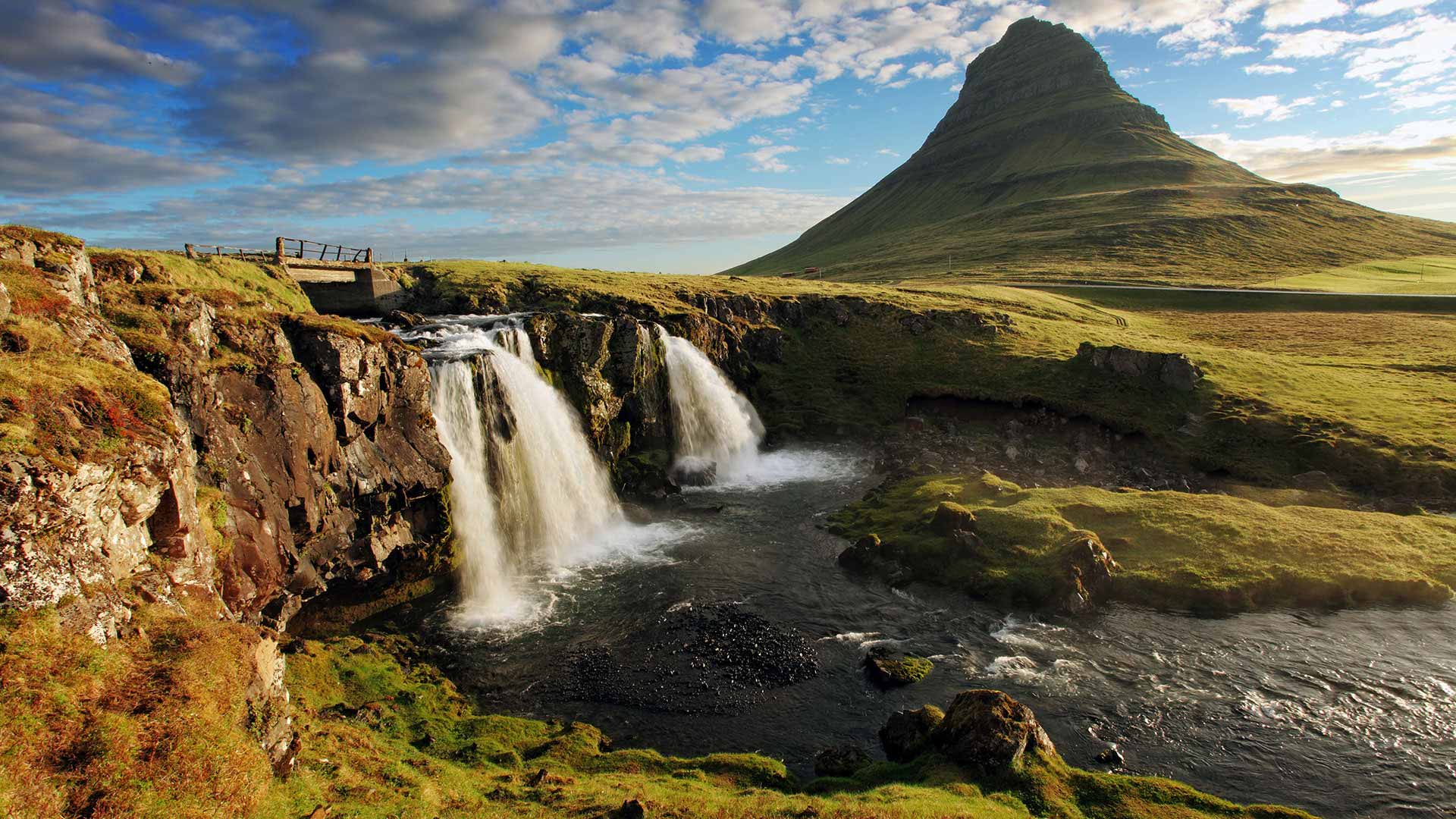 10. Vatnajökull National Park
From Snæfellsnes, the smallest national park in Iceland, we go to Vatnajökull National Park, the largest in Europe.
Feel lofty in the Highlands
Vatnajökull stretches into the highlands of Iceland, which are at its centre. The highlands are made up of volcanoes, glacial rivers, and canyons carved out by the country's namesakes of fire and ice. If you want to see mountains, and the jaw-dropping Svartifoss waterfall, this is where you need to be.
---
---
Witness Iceland's largest glacier!
If you come to this glorious nature reserve, you have to make time for the Vatnajökull glacier, which dominates the park, and has been carving its way through the Highlands for thousands of years.
It is also Europe's largest glacier. It covers the area of 8000 km2, or 8% of Iceland's landmass, while the park itself reaches to 14%!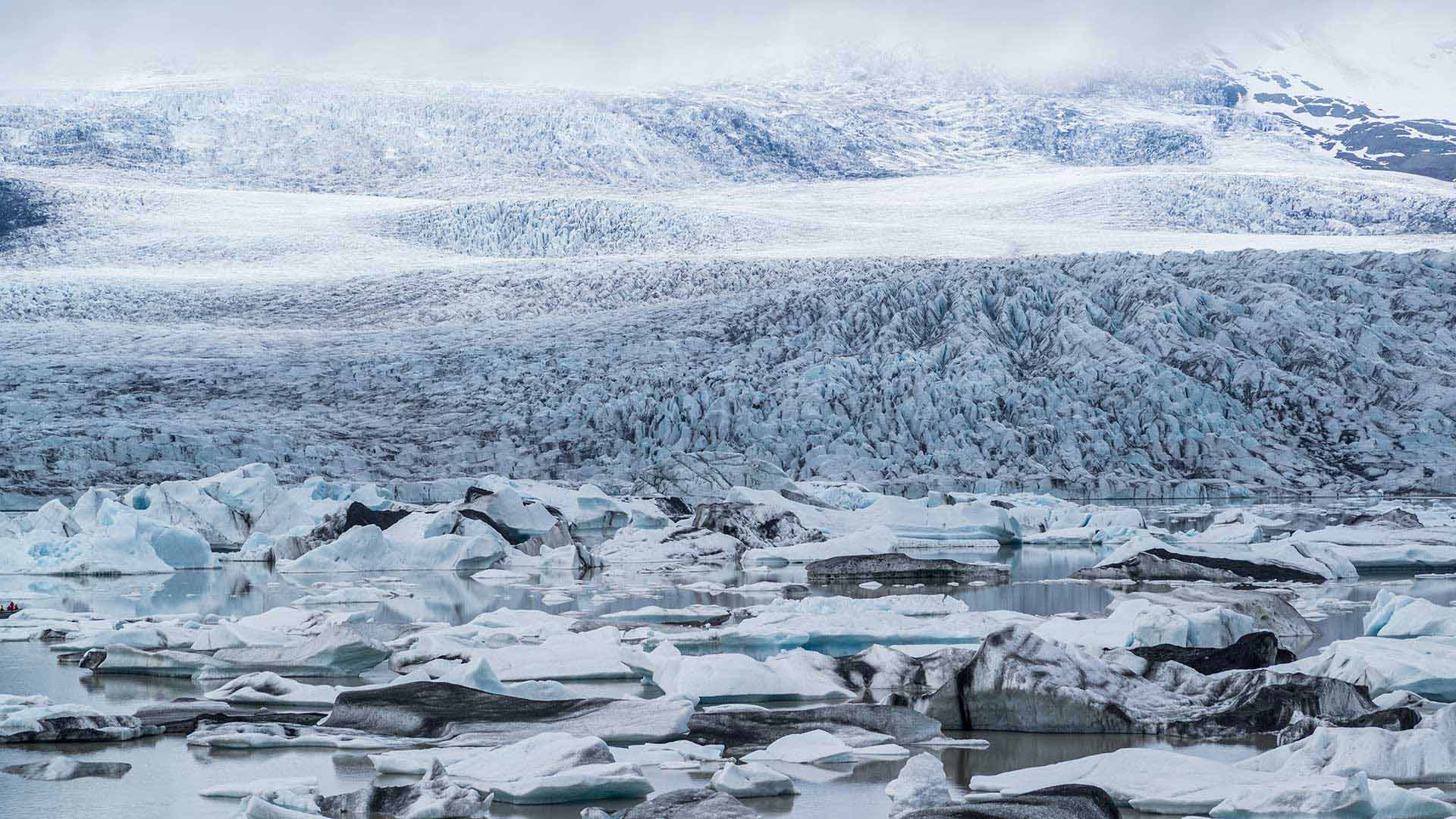 ---
If you come to Iceland, make sure to add some (or all!) of these to your bucket list. Most are available on our tours, and if you want to customise your itinerary to include more, don't hesitate to get in touch with our local travel consultants who will aim to make your Icelandic dreams a reality.