Imagine coasting through stunning countryside to see spouting geysers, thundering many-tiered waterfalls, and dramatic cliff faces. All at your own pace. If that sounds incredible, then you're ready for an iconic adventure with a driving tour of Iceland's Golden Circle.
This iconic route represents one of Iceland's most popular day tours, where you can discover landscapes rich with history and folklore. And inbetween attractions you can find reasons to stop at any number of fascinating locations. Think photogenic Lutheran churches, Icelandic horse farms, and restaurants dishing up Icelandic cuisine.
---
---
When you're ready to hit the road, bookmark this handy guide to the route. It's packed with insider tips on must-see attractions and handy local restaurants to help you make the most of your trip.
What is the Golden Circle?
In the strictest sense, Iceland's famous Golden Circle is a popular route between 3 of Iceland's most visited attractions. Starting in Iceland's capital, Reykjavik, you'll drive into the southern uplands and back, visiting Þingvellir National Park, Geysir geothermal area, and Gullfoss waterfall.
You'll find, though, that many tour routes take in extra attractions along the way. You could visit a geothermal greenhouse on one trip, or a natural hotwater spa with another.
Golden Circle map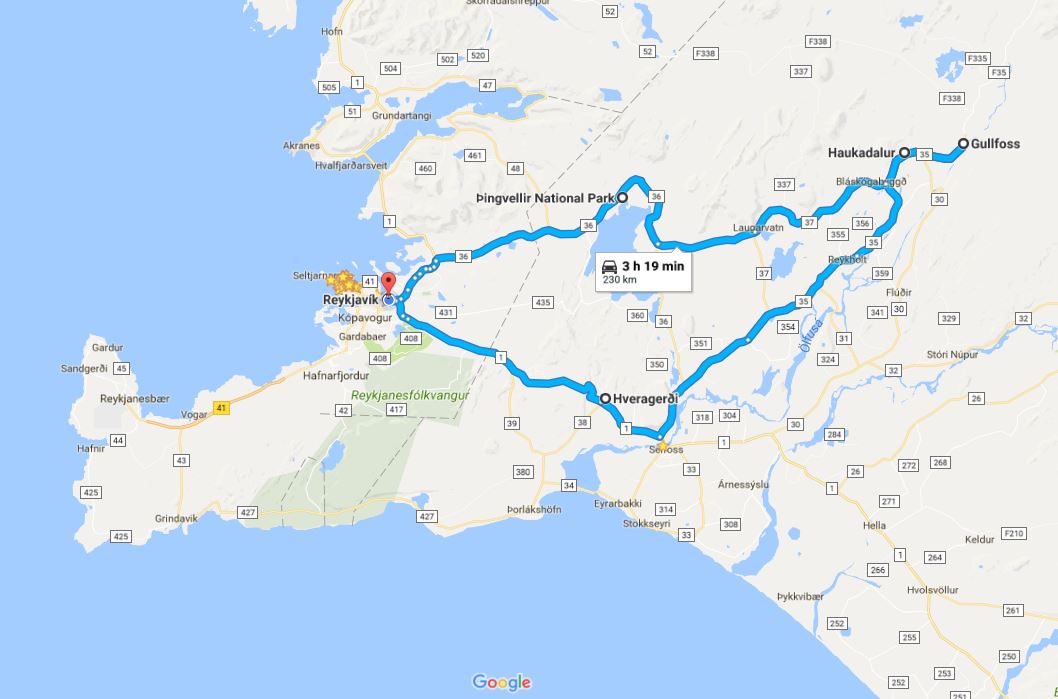 Can you drive it in one day? How many miles is it?
The whole Golden Circle route can easily be done in one day, as the classic journey covers around 230 kilometres (140 miles to you and me). You can actually drive the route in just over 3 hours. But, of course, you need to factor in time to enjoy the attractions, take photos and stay fuelled as well.
Many guided coach tours will take the best part of a '9-to-5' day to visit most stops on the route. But if you're going self-guided, then you can choose exactly how long you want to stay at each attraction. And you can even start early or finish later for quieter sightseeing.
How to drive the Golden Circle in Iceland
While you can join a group tour of the Golden Circle, you may prefer to explore at your own pace and in your own style with a self-drive. For this, you'll need to rent a car, or even a 4x4 if you're planning to drive onward to the Icelandic Highlands.
Hiring a car puts you in control of your trip. You can start early (or late) and explore at times that suit you best. In summer, you could even use the long daylight hours to avoid the crowds often created by larger coach tours.
---
---
When you go with self-drive, though, how you experience the Golden Circle in Iceland is totally up to you.
What to see in the Golden Circle
The Golden Circle has many attractions, but it's mainly known as the route that connects:
Þingvellir (Thingvellir) National Park
The Great Geysir and Strokkur Geysir
Gullfoss Waterfall.
Each has its own special charms, which we've highlighted below.
Þingvellir National Park
Discover a fascinating mixture of Icelandic history and natural beauty. Þingvellir (pronounced 'Thingvellir') is one of the most famous stops on the Golden Circle. It's also Iceland's first National Park and a UNESCO World Heritage Site, too. If you're travelling the Golden Circle clockwise from Reykjavik, it'll be your first stop.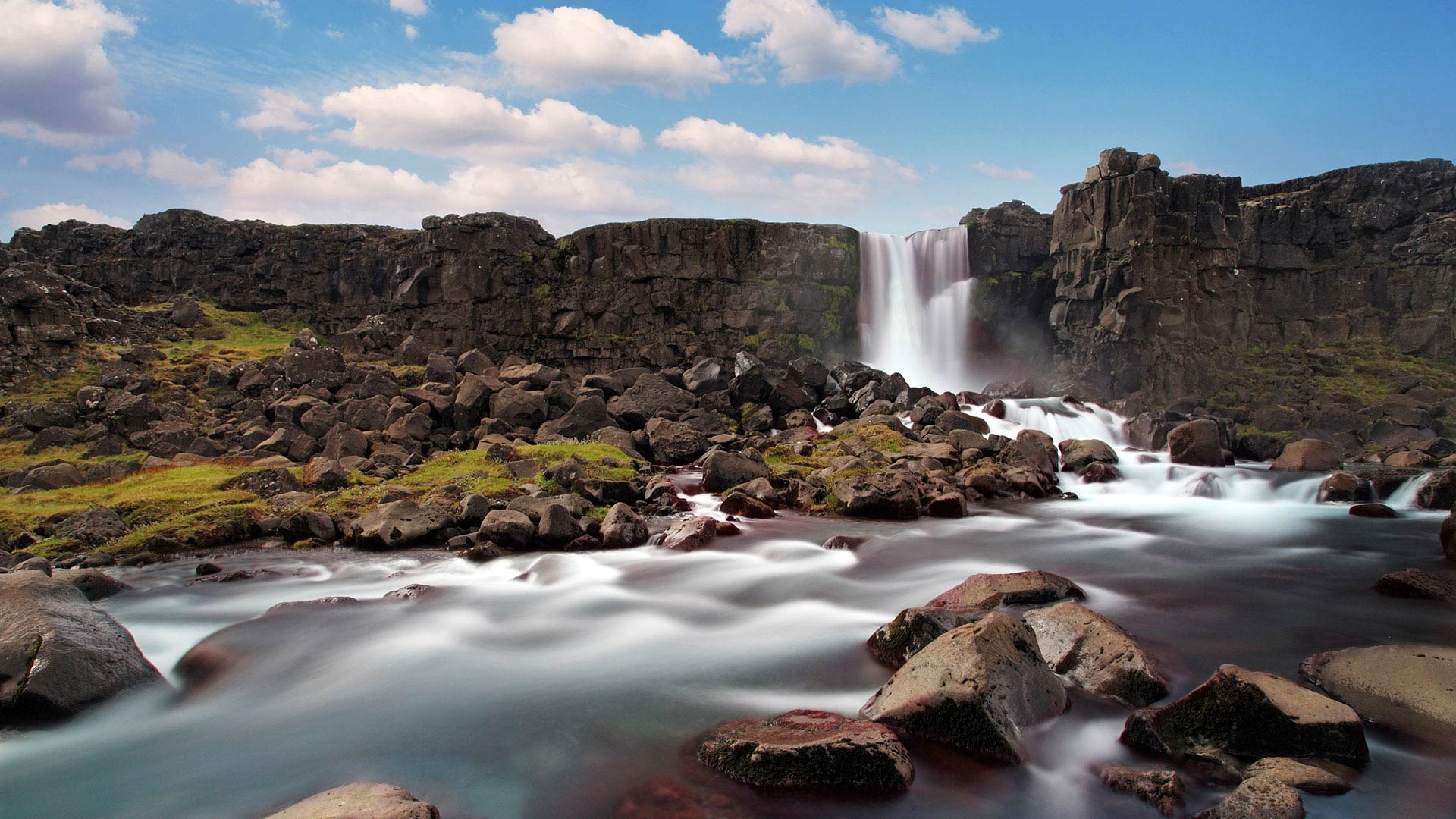 Þingvellir is a keystone of Icelandic cultural history. The first settlers put down their roots in South Iceland in the 9th century CE. As their society developed, they decided an assembly could help ease disputes and create a fairer society. Þingvellir was chosen as the assembly site because the region was accessible from all the most peopled areas.
In 930, it became Iceland's -- and the world's -- first parliament. And the nation's shared cultural heritage has grown ever since.
Then there's the landscape. Geology buffs should note that Þingvellir National Park is also the meeting point of the North American and Eurasian tectonic plates, which creates some stunning geological sights. You can admire its deep valley, the only place in the world where the Mid-Atlantic Ridge is visible on land, or the sheer cliff face that's actually the corner of the North American continent.
Indeed, Iceland's land mass was formed from the magma that bubbled up as these two plates moved away from each other. That's why you can still see volcanic activity and landscape throughout the country. You could say these factors make Þingvellir National Park a natural starting place for your tour of Iceland.
Here's the top things to do in Þingvellir National Park:
Marvel at Þingvallavatn, Iceland's largest natural lake
Witness Langjökull glacier
Snorkel between the tectonic plates at Silfra, one of the world's top 10 dive sites
Hike along the North American plate and through Game of Thrones scenery at Almannagjá gorge
Watch the thundering waters at Öxarárfoss waterfall
Geysir geothermal area
Continue driving clockwise, and you'll arrive at Geysir geothermal area, within the Haukadalur Valley. Your drive will take you past more volcanic landscapes of steaming vents and chimneys. As you get closer to the Geysir geothermal area, the activity becomes more dramatic.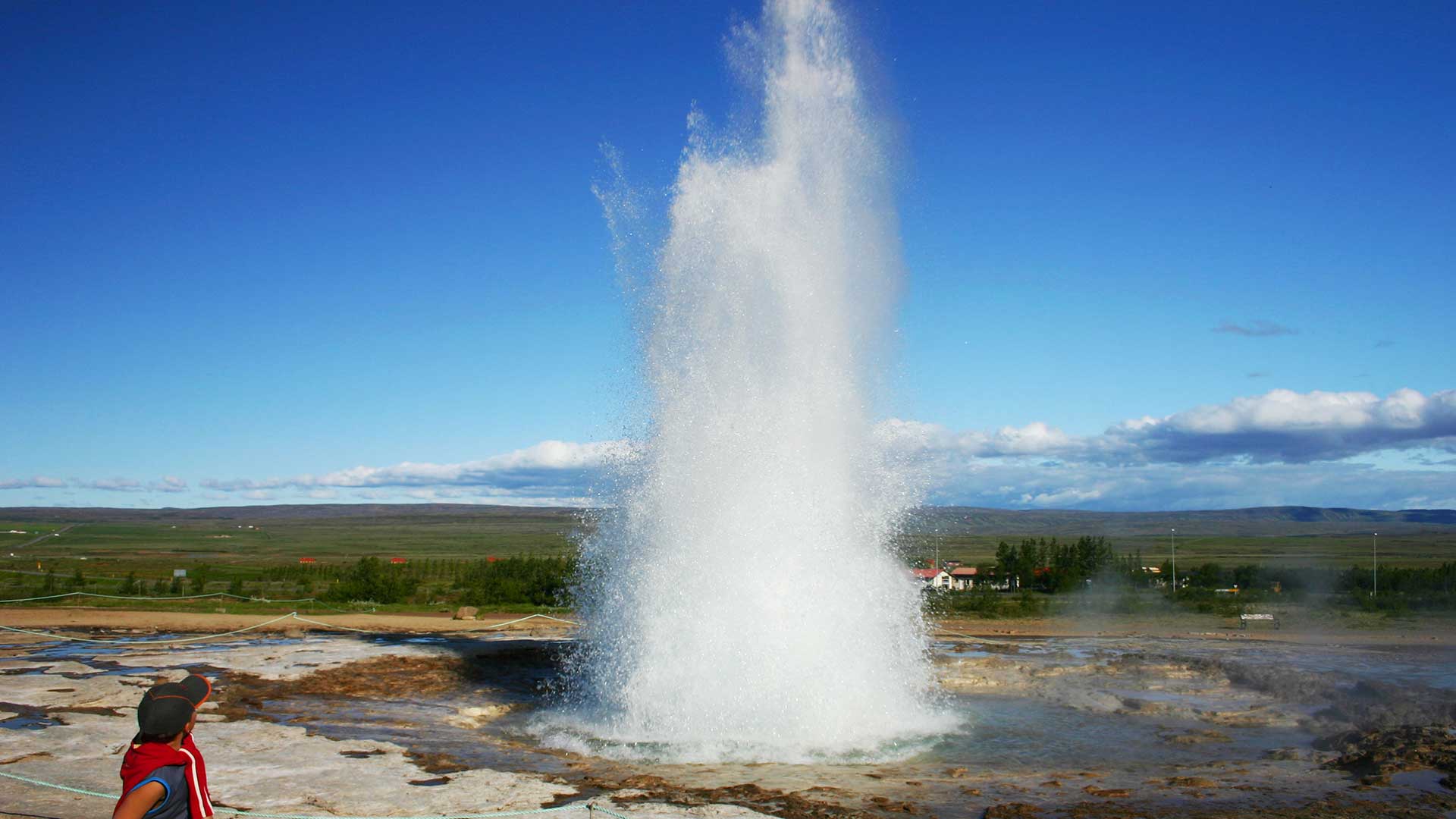 Here, against a vivid landscape, you'll find 2 bubbling geysers of note – Great Geysir and Strokkur Geysir. Great Geysir (or simply 'Geysir') is the earliest documented geyser in European literature, and has been active for around 10,000 years! Don't expect much from it now, though: Geysir is considered all but inactive, stirring only when earthquakes inspire bursts of activity for a few months at most.
For action, though, look no further than nearby Strokkur. This geyser erupts every 6–10 minutes, shooting hot water as high as 40 metres (131 ft) into the air. Just make sure you (and your camera) are waterproofed. As you walk through the surrounding Haukadalur Valley, you can also admire the many hot springs, smaller geysers and bubbling mud pots.
Gullfoss waterfall
A short drive away lies Gullfoss, one of Iceland's most famous waterfalls. Watch as water thunders over 2 drops, falling a total of 32 metres (105 ft) and admire the rainbows that shoot from the spray. From your viewpoint, you can admire the Langjökull ice sheet.
During the summer months, when there's no ice on the ground, you can walk up to the edge of the falls and feel Gullfoss' spray on your face. It's an incredible, invigorating experience.
While you're here, you could also raft the Hvita river, an exhilarating experience that allows you to experience the power of the falls up-close. Or, learn about Sigridur Tómasdóttir, known as 'Iceland's first environmentalist'. This local woman campaigned to protect the falls from property development, and ultimately paved the way for the falls to be forever protected as a national conservation area.
Other Golden Circle attractions
While Þingvellir National Park, Geysir geothermal area and Gullfoss waterfall may be the most well-known Golden Circle attractions, there are some noteworthy detours too.
Fontana Geothermal Baths. Located in the town of Laugarvatn, between Þingvellir and the Geysirs, you can truly relax and unwind at the Fontana Geothermal Baths. Fontana spa uses the natural waters from the area's hot springs to create 3 steam rooms, traditional Finnish sauna and shallow kid-friendly bathing pools
Kerið Crater. Kerið Crater forms a complete oval and has a small lake at the bottom. The rocks surrounding the crater have fiery reds and oranges combine with bursts of black and green while the lake below adds to the pallet with its sky-blue waters. You could take a thousand photos of this beautiful site.
Langjökull Glacier. For the adventure of a lifetime, head to Langjökull Glacier on a snowmobile. You can experience Langjökull Glacier at any time of year as there's always snow. If you're on a self-drive, you can get picked up from and returned to Gullfoss waterfall.
Sólheimar. On the drive from Þingvellir and the Geysir Geothermal Area, stop off at the ecovillage of Solheimar. Visiting this village allows you to learn more about how the community maximises the potential of every resident, regardless of their age or disability, and supports their cause.
Þjórsárdalur (Thjorsardalur) Valley. While not officially part of the Golden Circle, Thjorsardalur allows you to get off the beaten track. Here, you'll find thundering waterfalls like Hjalparfoss, Haifoss, Glanni and Pjofafoss.
Skálholt. This little village is rich with history and is considered by some as Iceland's first town. Skalholt was home to the country's first bishop and school. It's worth stopping to admire its quaint cathedral or visit the nearby Secret Lagoon.
Where to eat when driving the Golden Circle
Driving the Golden Circle provides plenty of photo opportunities. And if you're a fan of Instagramming your food as well -- no judgment here, honest! -- you may want to get a few pictures of some traditional and contemporary Icelandic cuisine while you're there. Along the way, eats such as Skyr yoghurt, fresh seafood like lobster tails, and locally grown farm produce could be a real feast for your senses.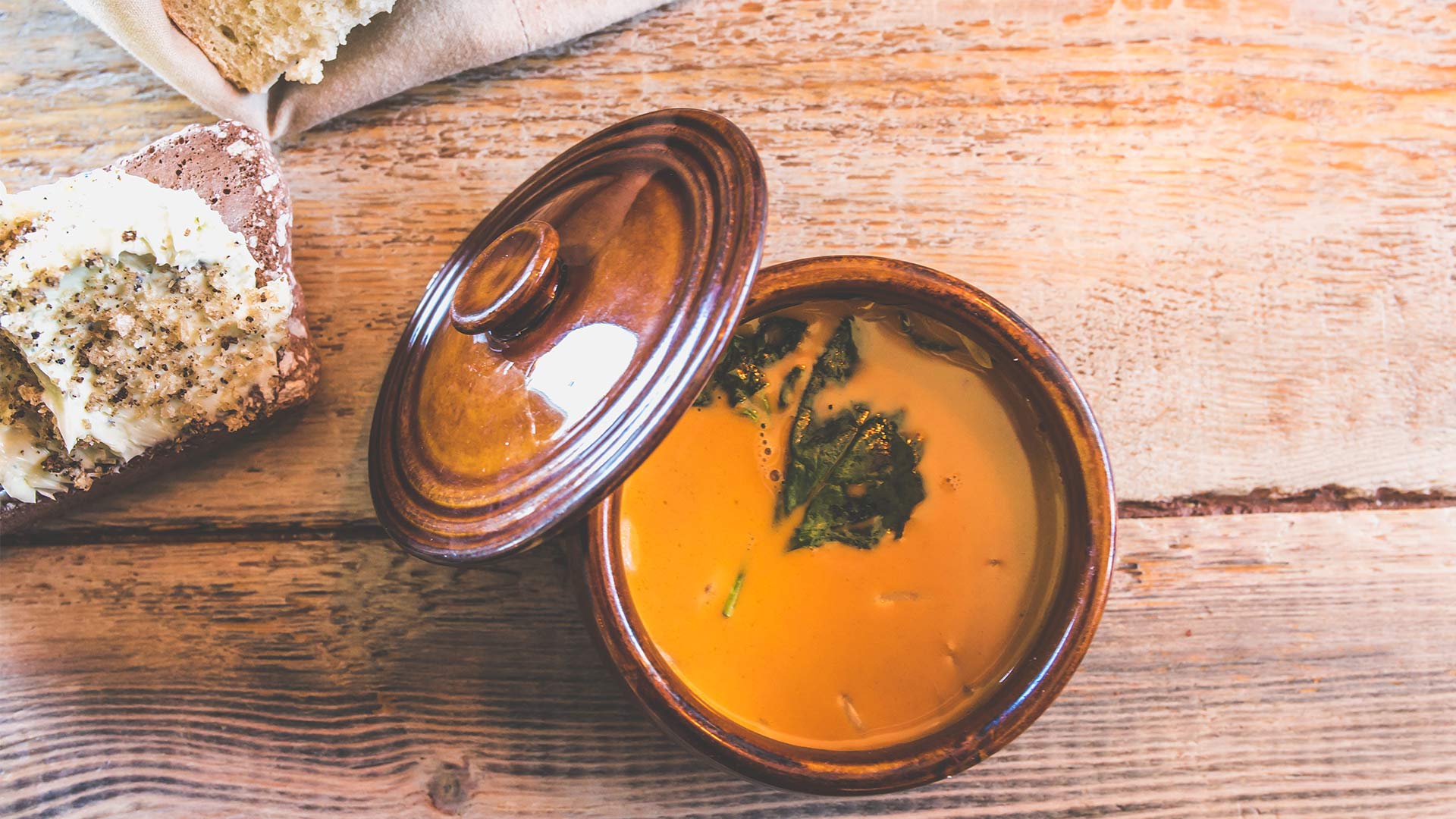 Our travel consultants recommend the following places to eat:
Skyrgerðin. Try traditional sky yoghurt at Skyrgerðin, housed in Hveragerði´s former Skyr yoghurt factory.
Friðheimar Farm. Get a light lunch of special tomato soup and home-baked bread at Friðheimar Tomato and Horse Farm. The tomatoes are all grown on-site, pollinated by imported Dutch bees in a greenhouse powered by the earth's internal heat. Non-drivers can even sample a geothermal Bloody Mary at the greenhouse bar.
Efstidalur. This family farm is in the heart of the Golden Circle, on the way from Haukadalur (Geysir) to Þingvellir. Stop by for a special 'farm to table' experience, where dairy, meat and veg from the farm is served up in the farm restaurant.
Lindin. Indulge in chocolate desserts in a cosy setting at Lindin, located in the quaint village of Laugarvatn. Lindin also serves home-cooked Icelandic meals too.
Gallerý Laugarvatn. Roughly halfway between Geysir and Þingvellir, this cafe and handcraft gallery offers magnificent mountain views and the chance to pick up a handmade souvenir after you've had a snack.
Tryggvaskáli. Whether you like authentic Nordic dishes, seafood or burgers, this restaurant comes highly rated. Head over the bridge and into Selfoss, when you're at the southernmost point of the 'circle'.
Kaffi Krús. If you're thinking of a casual bite in Selfoss, rather than a restaurant meal, try Kaffi Krús. Here you'll discover warm, hearty dishes like pizza, pasta and burgers. Perfect for satisfying kids and parents alike.
Fjöruborðið. If you're willing to make a slight detour, Fjöruborðið in Stokkseyri is a Nordic Visitor staff favourite. Delight in langoustines in garlic butter (prepare to get a bit messy!), creamy tomato and langoustine soup, or traditional homemade cakes.
How much is the Golden Circle? Is it free?
While it doesn't cost anything to enter the Golden Circle, you will need to rent a car and pay entrance fees at some of the sites. The total cost will depend on how long you rent a car for, the type of accommodation you stay at, how many ticketed sites you visit, and where you eat.
Where should you stay?
As noted before, you can do the whole Golden Circle in one day. Most journeys start and end in Reykjavik, where you can find hotels and guest houses to suit all budgets. With so many options to choose from, the only trick will be finding the right place to launch each day of your stay in Iceland.
At Nordic Visitor, we'll sort all the lodgings for you. So, you don't have to worry about researching and planning your route. We've carefully vetted and tested all of our chosen hotels and guest houses, which means you'll always have a comfortable stay at competitive rates.
As a local travel agency, we have special relationships with our accommodation providers and tour organisers. So we will craft a personalised itinerary that provides a seamless getaway, with each day's activities and accommodation organised for you. We do all the heavy lifting so you can just enjoy dreaming of your Iceland trip.
When should you visit the Golden Circle?
The Land of Fire and Ice is a year-round destination, so it's really down to personal preference. Tour Iceland in the summer and you'll enjoy longer days. For a time, the sun barely sets at all, so you don't need to worry about squeezing everything in before dark.
Top tip: self-drive in summertime means you can time your visits to avoid any coach tour crowds.
On the other hand, driving the Golden Circle in winter means you could see the northern lights or the jaw-dropping beauty of icy cliff-walls created by the freezing spray of Gullfoss. Decide how you'd like to spend your time in Iceland before you book a winter or summer break.
---
---
Is the Blue Lagoon part of the Golden Circle?
Technically the Blue Lagoon is not part of the Golden Circle, but you can easily visit both. Many tour companies offer a two-in-one day tour. But personally I feel this is a little demanding on your time: a trip to a spa experience should not be rushed.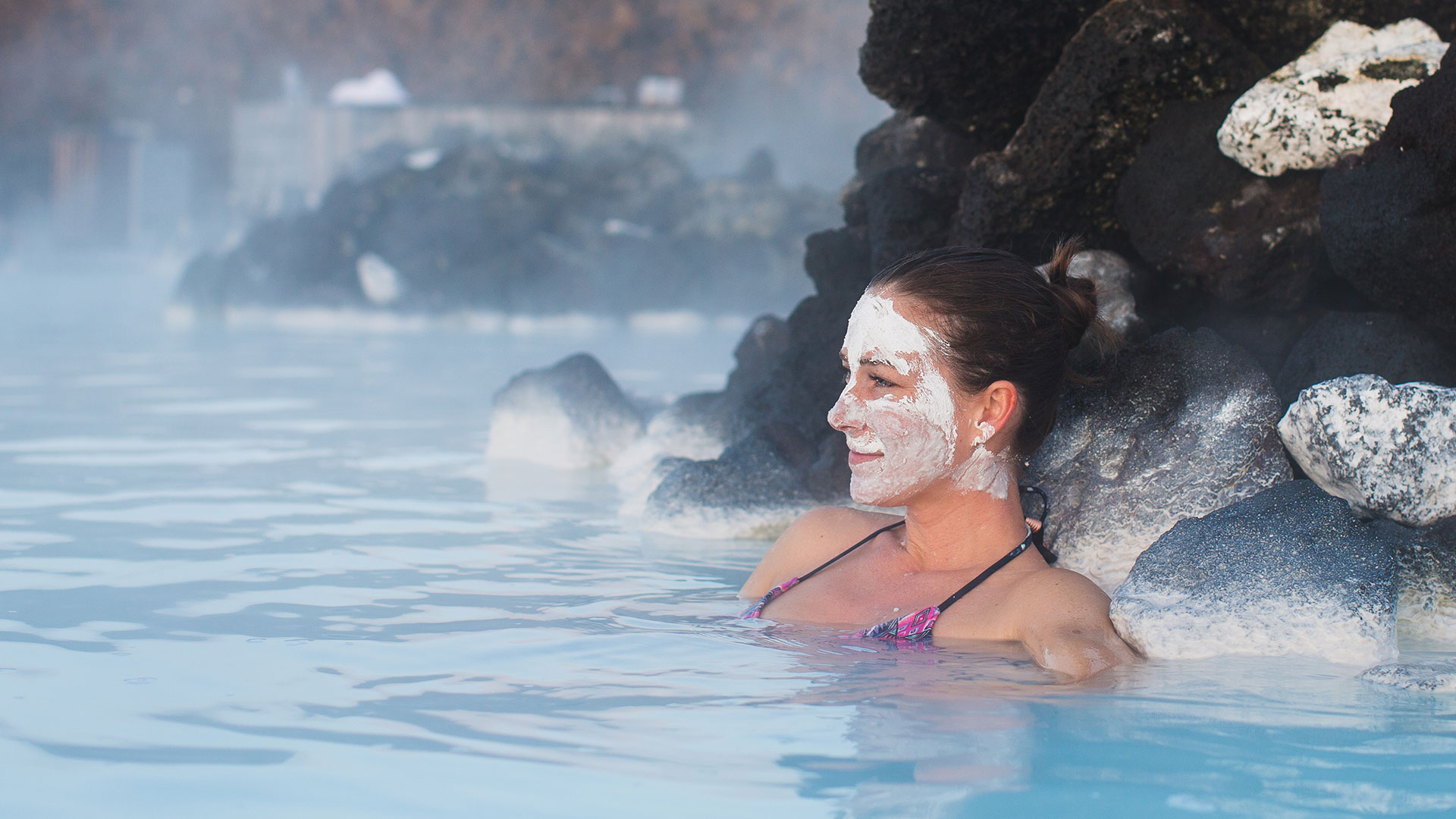 A trip to the Blue Lagoon probably takes at least 4 hours including drive time, and you could easily spend a bit longer there. When self-driving the Golden Circle, meanwhile, you should spend at least 8 hours on the route and attractions. It just gives you more time to enjoy each attraction at your own pace.
That's why I suggest that you'd be better off spending one full day on the Golden Circle, and another half-day enjoying the Blue Lagoon. It can often a good idea to spend half a day relaxing at the Blue Lagoon as a bookend of your trip. That is, either go there after your arrival at Keflavik, or before heading to the airport for an afternoon or evening flight home.
---
---
Arrange your Golden Circle self-drive trip with us
Our dedicated travel consultants will arrange all the fine details of your self-drive Golden Circle adventure. We'll plan your route so that driving time and sightseeing time are perfectly balanced.
When you book with us, your car rental comes with basic insurance, 2-driver allowance, a hand-drawn map, and unlimited Wi-Fi and mileage. All this, plus our 24/7 helpline, means your drive is stress-free.
---
---
We'll also satisfy any special requirements on request. You can add extra destinations from your wishlist to your self-drive tour. Why not spend one final day indulging in the mineral-rich waters of the Blue Lagoon, or cap off your trip with a city tour of chic Reykjavik, finishing with a five-star dining experience?
Check out our driving tours -- they all feature the Golden Circle.