A stone's throw from Sweden's capital is the Stockholm archipelago, made up of thousands of islands that stretch deep into the Baltic Sea.
Island hopping across this archipelago gives you the opportunity to hike, kayak, sail, swim and cycle in pristine terrain. And, you can find all of this less than an hour from the cosmopolitan streets of Stockholm.
Explore uninhabited islands for the ultimate escape to nature. Or, tour the 150 settled isles that are home to charming villages and small coastal towns.
If you are looking into Sweden tours, then adding the Stockholm archipelago to your itinerary is a fantastic way to combine Swedish culture with nature.
Nordic Visitor can arrange a guided tour through the most beautiful parts of the archipelago. Allowing you to embark on your own seafaring adventure, like the Vikings of old.
---
---
Where is the Stockholm archipelago?
The Stockholm archipelago is set in the Baltic Sea on Sweden's eastern coastline. It unfolds from Landsort up to Öregrund, and cradles the capital city, Stockholm.
What is the Stockholm archipelago?
This archipelago, also known as "skärgården" to the locals, is a group of islands that extends 80 kilometres (50 miles) east from Stockholm's city centre. It is the largest archipelago in Sweden, and the second largest in the Baltic Sea.
How many islands are in Sweden's archipelago?
There are some 30,000 islands that make up the Stockholm archipelago, and each isle has a distinct terrain and personality. There are islands with sheer cliffs, sandy shorelines, pine-clad forests, pretty fishing villages, or historical attractions. But all of them come with breathtaking views out to the Baltic Sea.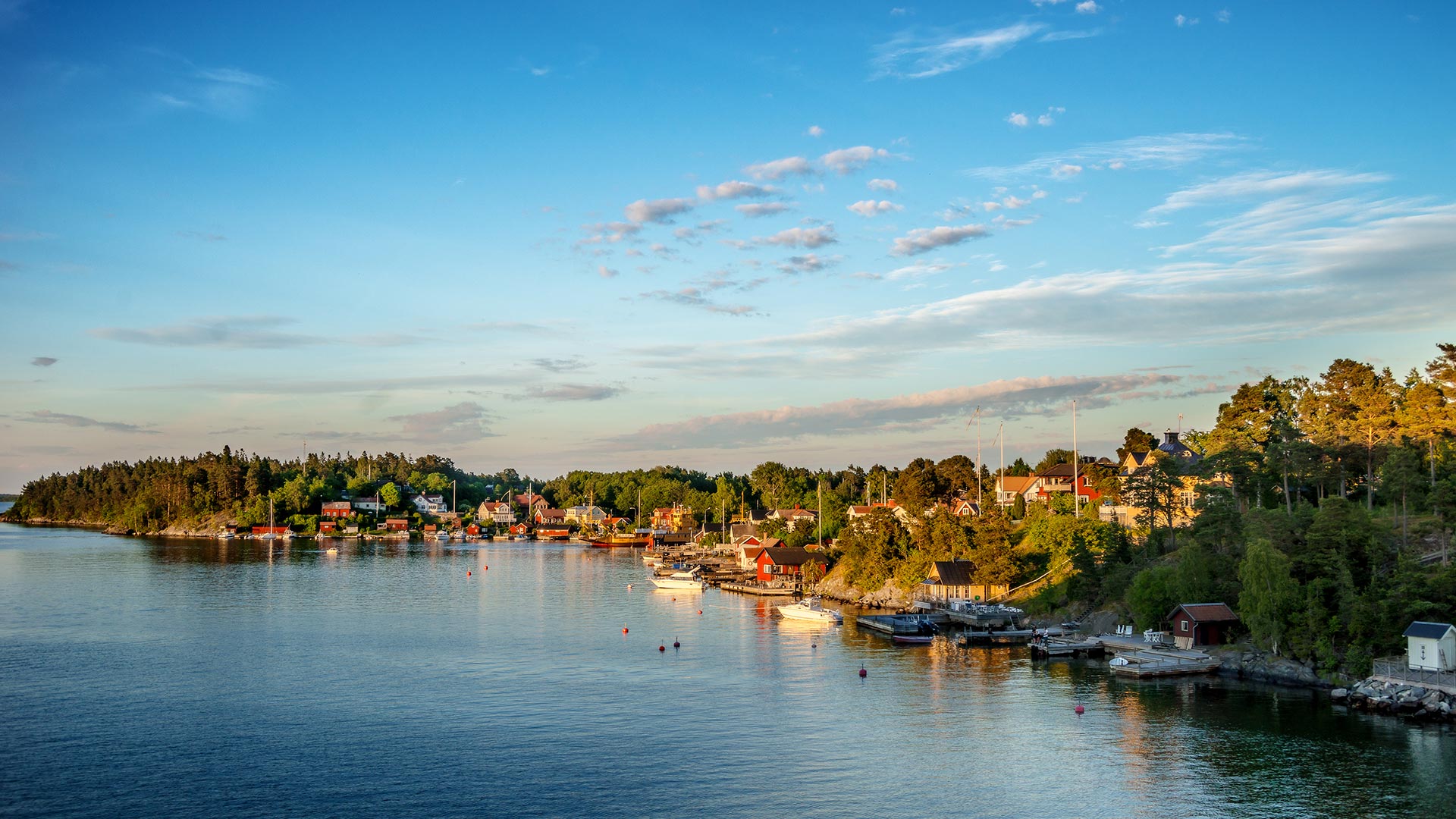 The best Stockholm archipelago islands
On your trip to Stockholm, you'll probably want to tick off top attractions such as Drottningholm Palace, Lake Mälaren, and the Royal Palace. Once you've enjoyed your sightseeing tour, you'll be ready to seek out the treasures of the Stockholm archipelago.

But which islands are the best? With thousands to choose from, we've listed our favourites that you can reach by boat or by car.
Grinda
Boasting a reputation as one of the prettiest isles in the archipelago, Grinda is perfect for a summer day trip. As part of a nature reserve, this island is home to untouched beaches and crystalline waters, making it ideal for a day of sunbathing and swimming.
If you're feeling more active, you can rent kayaks, play volleyball on the beach, or wander through the forest trails on the island. Afterwards, stop by the café or farm shop to rest and refuel. Savour the island's scrumptious Grinda bread or that classic Swedish treat, the cinnamon bun.
Best of all, Grinda is only 1-2 hours by ferry from Stockholm's shores, depending on the boat operator and dock location. This means you can choose between a day trip or an overnight stay on Grinda.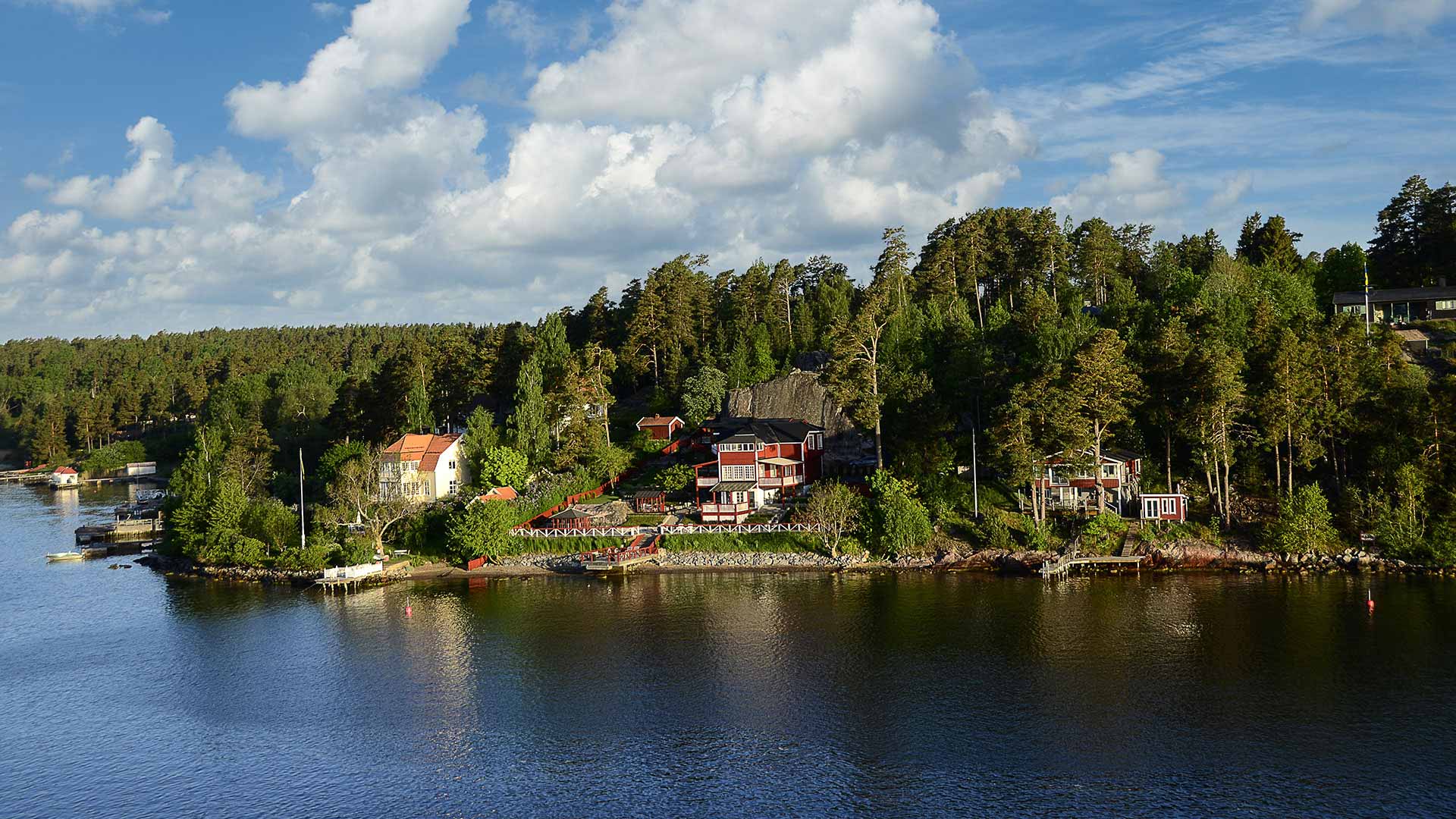 Vaxholm
Vaxholm is the capital of the archipelago and considered to be its gateway. History buffs love Vaxholm, as this island offers several museums and galleries which speak to the region's storied past.
Visit the Vaxholm Fortress Museum, then explore the charming old town. Here, you can tour the pastel-coloured wooden houses, and duck into cafés, shops, bars, and restaurants. Just make sure you try some herring, the local speciality!
If you're on a self-drive tour of Sweden, why not head to the Stockholm archipelago by car? You can drive to Vaxholm from the city centre via roadways, as several bridges connect this lovely island to the mainland.
Svartsö
Set further away from Stockholm, Svartsö is worth the extra time to get there. Known as the "greenest island" in the archipelago, this gorgeous isle has the advantage of being ideal to visit any time of the year.
In summer, you can swim in the lake and bike through the pretty trails. In autumn, you can see the forested shores change colour. Then in winter, you can take a bracing sea swim, and warm up afterwards in a waterside sauna.
This island only has 100 residents, so you really will feel like you've escaped the hustle of modern life for uninterrupted time with nature.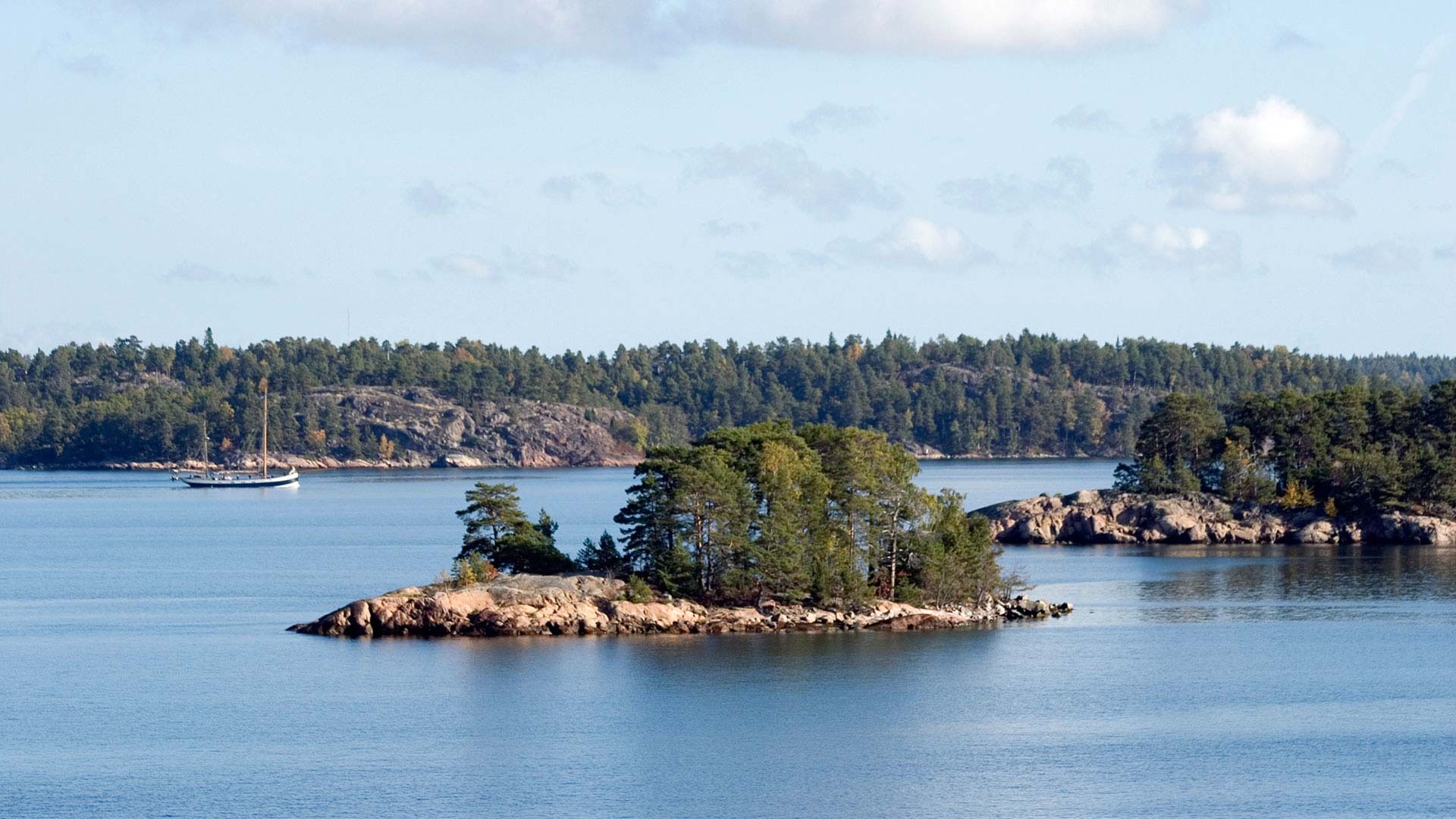 Fjäderholmarna
Accessible and beautiful, you would do well to make time for the Fjäderholmarna islands when you're in Stockholm. Perfect for either full day or half day trips, you can bite off a piece of island life with a 20-minute ferry journey from Strömkajen.
Stop off at Stora Fjäderholmen, the main island, and stroll along the shore. Watch the boats sail by on the rocky outcrops, have a picnic, or discover the forest trails.
Stora Fjäderholmen is also a wonderful place to pick up gifts thanks to all the artist studios that have set up shop here. You'll find ceramics, jewellery, crafts and artwork on this bohemian isle.
Sandön
Sandön, called "Sandhamn" locally, is the furthest island on this list, but thankfully it's well connected to Stockholm via ferry. The journey takes around 2 hours, which in itself is a fantastic way to see the various islands of the Stockholm archipelago as you drift past them.
When you sail into harbour, you'll see clapboard houses, bobbing yachts, rocky shores and white sandy beaches all waiting to greet you.
You may also find yourself rubbing shoulders with Stockholm city dwellers on the island. It's no surprise why the locals love hopping over to Sandön, as it combines a typical Baltic island landscape with a little cosmopolitan flair. Expect to find upmarket boutiques and excellent restaurants here.
The main town is called Sandhamn and is the best place to kick off a trip to this island.
---
---
Best things to do in the Stockholm archipelago
Experience the attractions of the islands, from outdoor activities to cultural highlights. Here are our recommendations on what to see and do in the Stockholm archipelago.
See the Vaxholm Fortress Museum
If you visit Vaxholm you won't fail to notice the formidable military citadel that rises up from its shores. This building now houses the Vaxholm Fortress Museum, giving you a fascinating insight into Sweden's military and maritime history.
Go kayaking
When you're ready for some outdoor activity, go kayaking over the glassy waters of the Stockholm archipelago. You can rent kayaks from most of the inhabited islands, then tour the breathtaking shorelines at your own pace.
New to kayaking? We recommend opting for a tour led by an experienced guide, who will lead you to the best spots in the archipelago.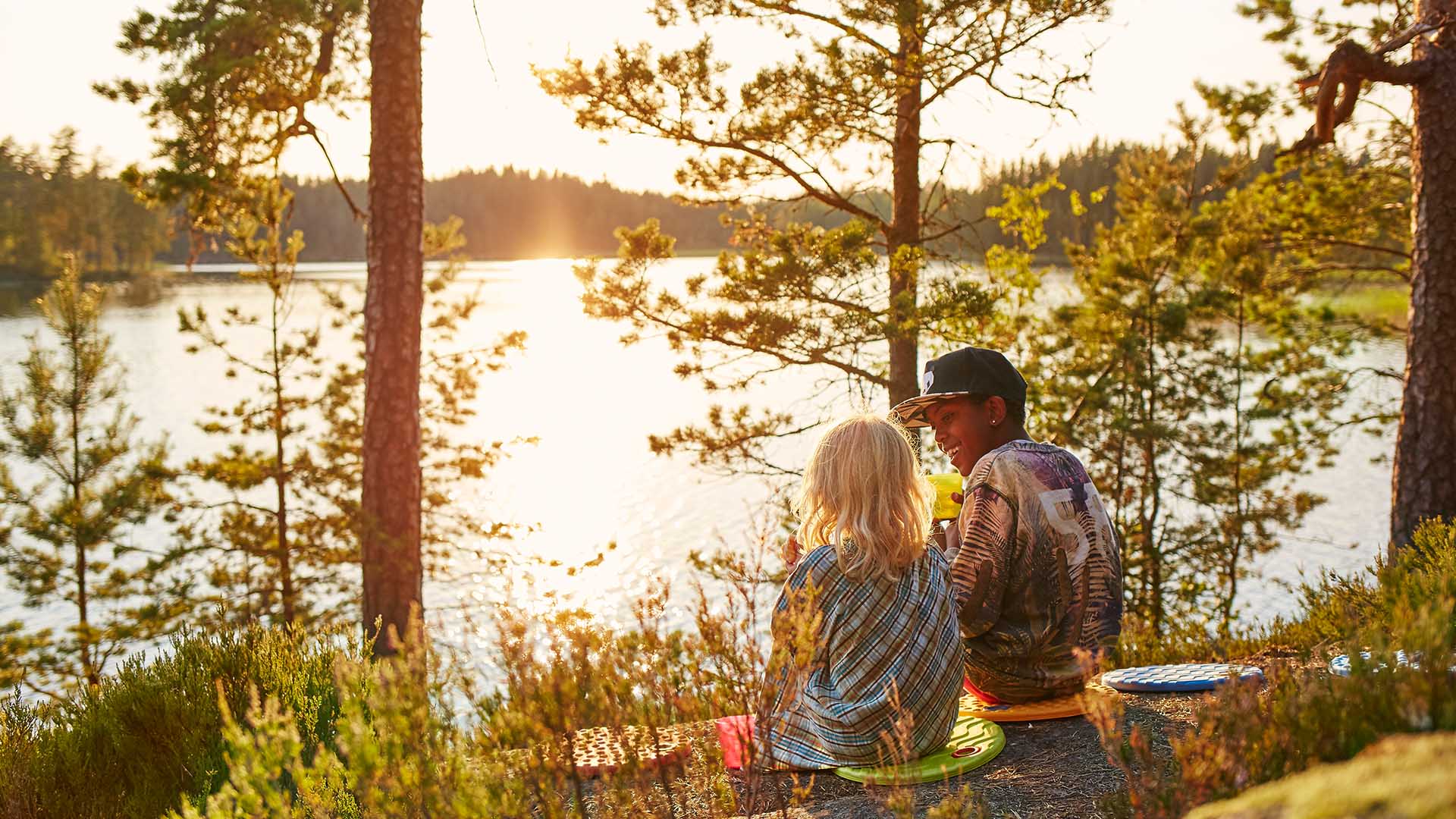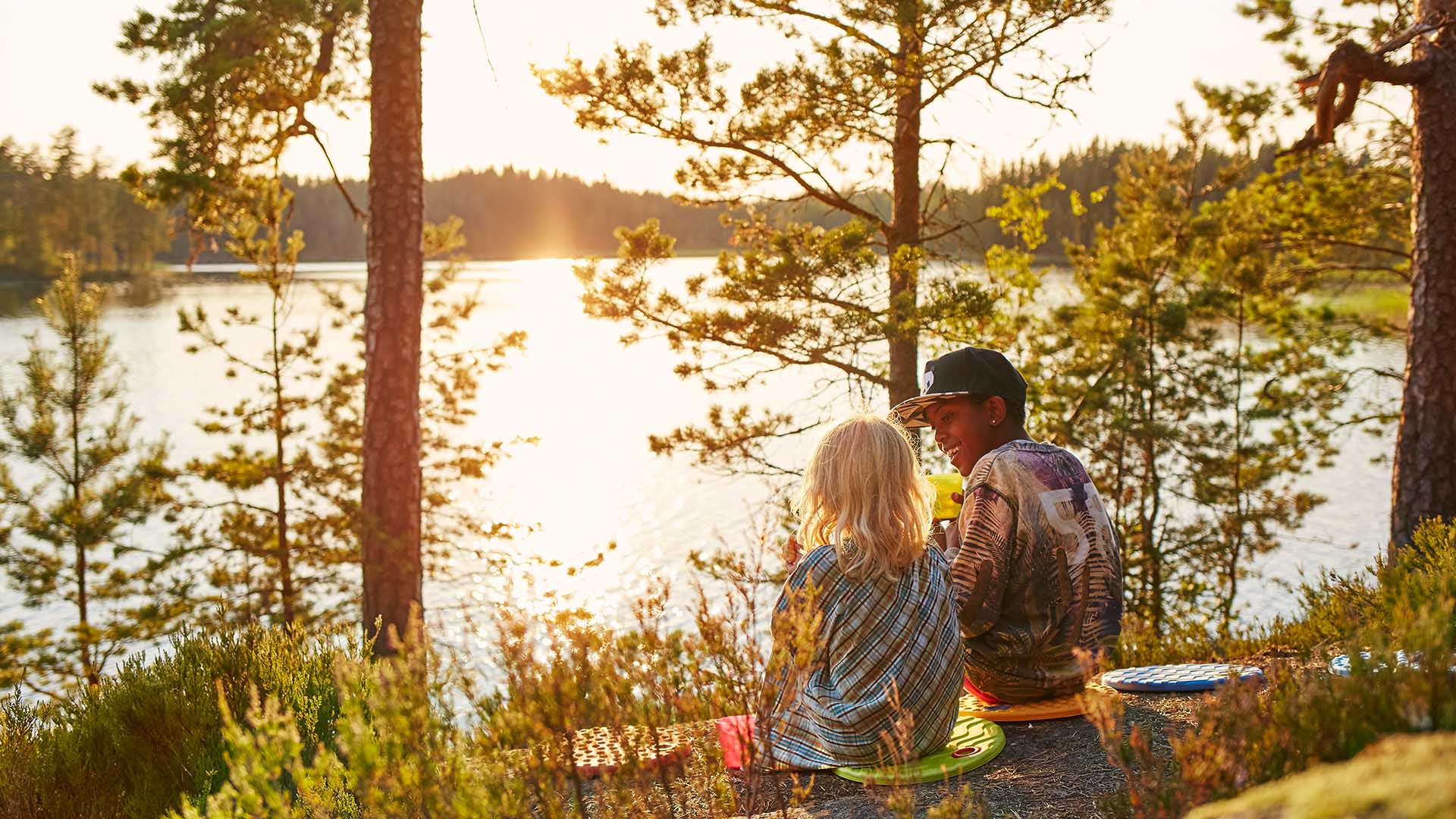 Hike the trails
Discover the picturesque forests, meadows and shorelines of the Stockholm archipelago on a scenic hike. You can pick one island and explore it thoroughly on a day trip, or book a tour of several small islets and get a sense of each.
Many of the winding hiking trails are also ideal for cycling, so grab a bike and explore on two wheels!
Uncover Swedish history
This corner of Sweden is an intriguing place to learn about national history, with a scattering of heritage sites for you to uncover.
For example, 1,000 years ago Vikings were living in and around Vaxholm. Today, you can see their ancient relics, like rune stones and grave sites, and learn about their way of life. .
In the same part of the archipelago, visit Bogesund Castle for a glimpse of Swedish Empire history. The castle was constructed by Count Per Brahe in the 17th century and then rebuilt by Baron Nils von Hopken in the 19th century.
Walking through its eerily beautiful rooms is an atmospheric way to experience Vaxholm island.
---
---
If you're travelling around Sweden on a self-drive tour, seeing the islands of the Stockholm archipelago will be the cherry on the cake. You can drive to larger islands like Vaxholm and Muskö, but for the smaller uninhabited islands take a ferry departing directly from Stockholm.
Kickstart your tour of Sweden with a trip out to these islands from Stockholm. Or, drop the car off and explore them at the tail end of your holiday.
Escape into another world with help from Nordic Visitor.