If you like the sound of exploring one of the most geologically active corners of the globe, look no further than the Diamond Circle, Iceland. Drive this route and you could discover a mind-boggling mix of volcanoes, waterfalls, canyons and geothermal sites.
Imagine gazing out over mud pools, hot springs and craters. Picture yourself spotting whales breaching off the Arctic coast, or birds flying over wetlands set within a volcanic landscape.
All this, and more, is waiting for you on a self-drive tour of Iceland. Read on to get the lowdown on how to drive the Diamond Circle, including where to go and travel tips.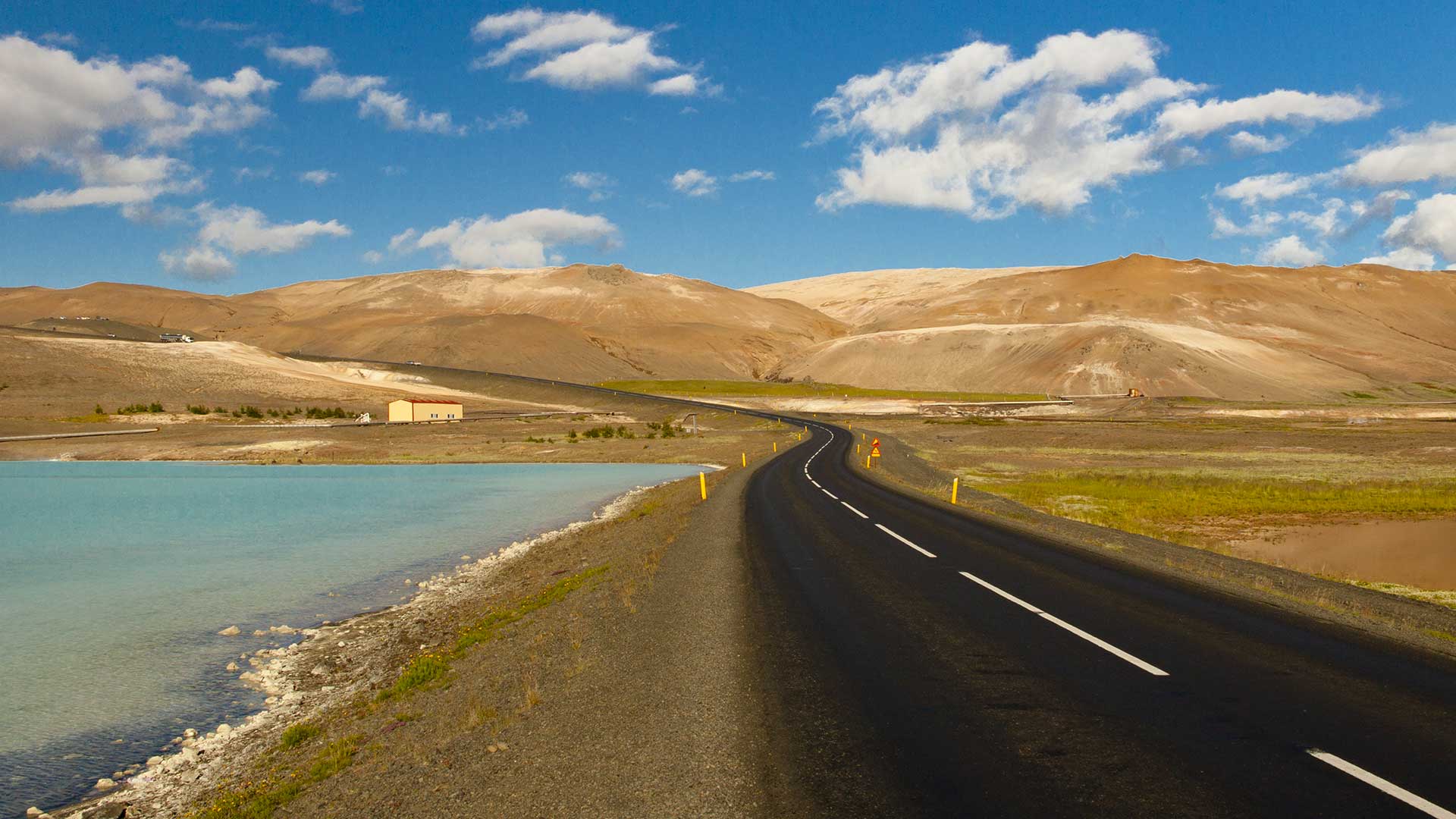 What is the Diamond Circle?
The Diamond Circle is a driving route in Iceland that takes in some of the most breathtaking sights in the northeast of the country. This area is positioned in the Northern Volcanic Rift Zone, where the North American and Eurasian plates diverge.
If you were to drive the full circuit, you'd cover a distance of 250 kilometres (155 miles).
You may already know about the Golden Circle, an attraction-packed touring route located within easy reach of the capital, Reykjavík, in southeast Iceland. But the Diamond Circle – situated on the opposite side of the country – has as much allure as its name would suggest.
---
---
Where is the Diamond Circle in Iceland?
You'll find the Diamond Circle in North Iceland, around 30 kilometres (18 miles) from the regional capital, Akureyri. If you're driving around the Ring Road anti-clockwise, it's 140 kilometres (87 miles) from the town of Egilsstaðir in East Iceland.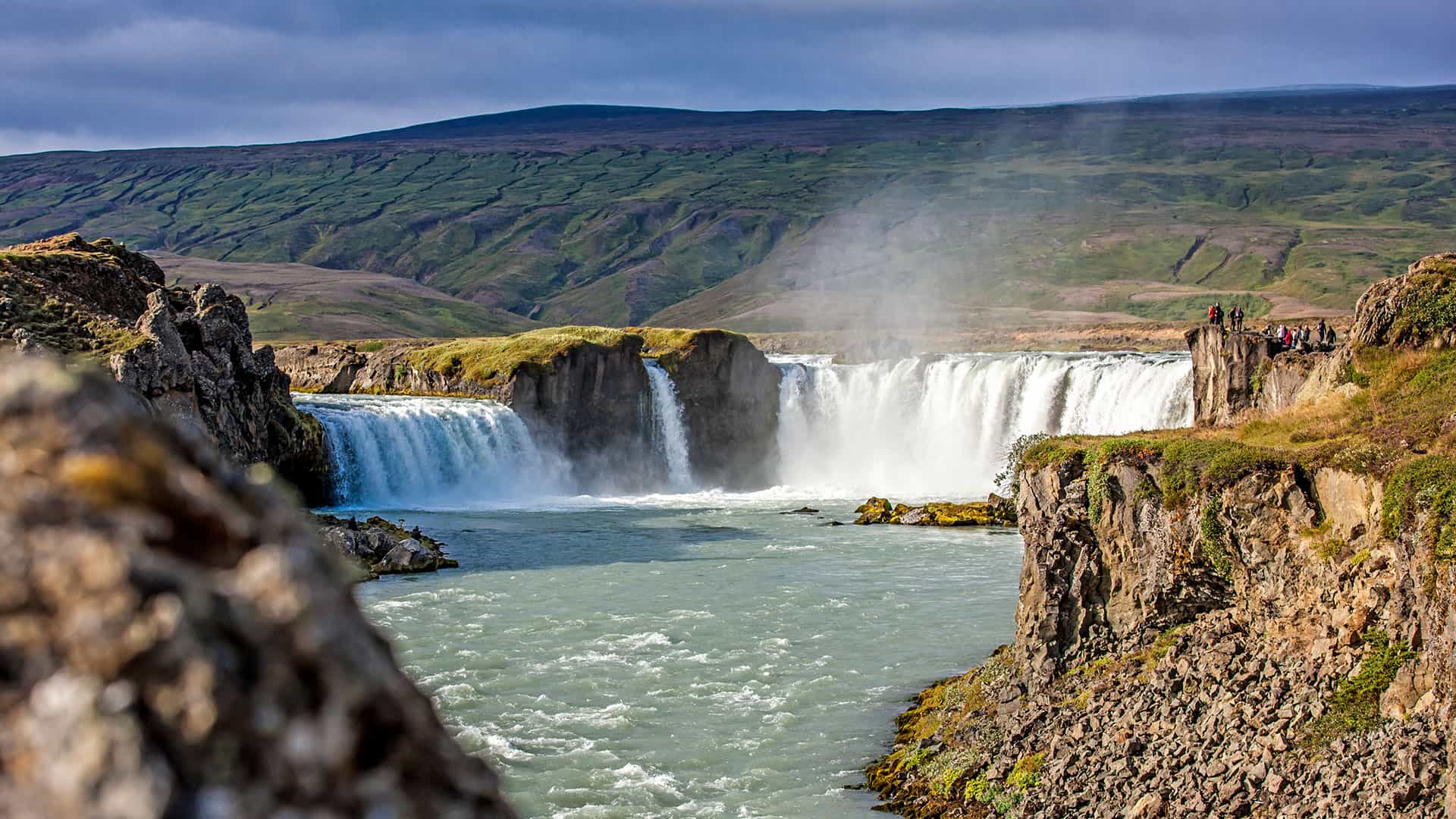 How far is the Diamond Circle from Reykjavík?
You can reach the Diamond Circle from Reykjavík as part of a self-drive trip around Iceland. If you were to travel from the capital city in an anti-clockwise direction, it'd take you 10.5 hours (driving time only). Our local travel experts recommend this way if you're doing the Full Circle tour of Iceland.
Travelling clockwise around Iceland, the driving time from Reykjavík is 6.5 hours. This would be suitable if you're planning on exploring just West and North Iceland, skipping the south coast.
---
---
How long does it take to drive the Diamond Circle?
It would take you about 4 hours to drive the Diamond Circle non-stop. Of course, you'll want to make sure you have plenty of time to enjoy each of the main highlights. That's why it's best to dedicate at least a day to exploring.
If you're visiting in winter, the days will be shorter than in summer. This means you'll need more than one day here if you want to see all the Diamond Circle's top sights.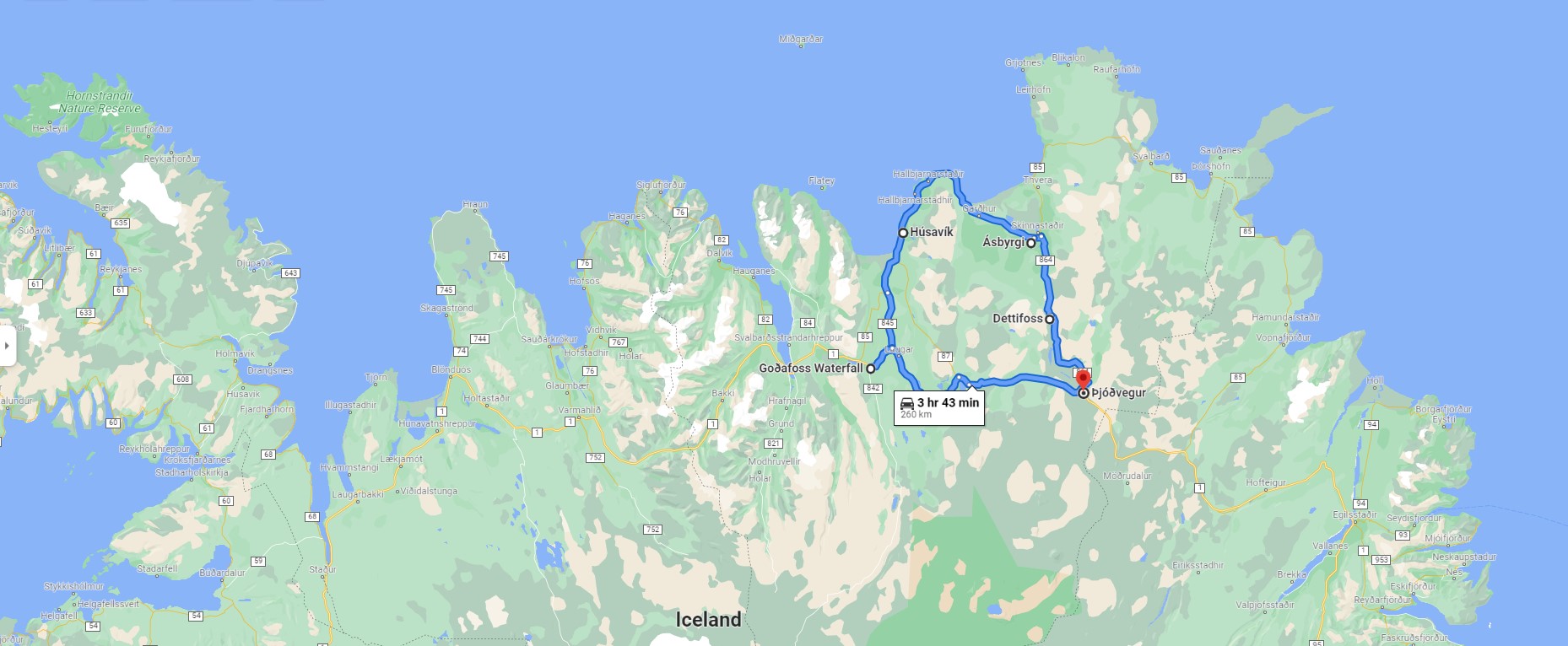 How to drive the Diamond Circle in Iceland
You can discover this jaw-dropping corner of Iceland at your own pace on a road trip. You'll need to rent a car, take out car insurance, plan your route, and organise accommodation. But if you don't want the hassle, you could have a local expert arrange it all for you.
You're in control when you travel the Diamond Circle on a self-drive adventure. You can pack in as much sightseeing as you like in a day, or take your time to explore at leisure. In summer you'd have long daylight hours, so you can visit the attractions at a time of day that suits you best.
---
---
Top 5 sights in the Diamond Circle
When you're driving the Diamond Circle, Iceland, there are 5 main sights you won't want to miss. They are:
Lake Mývatn
Dettifoss waterfall
Ásbyrgi canyon
Húsavík
Goðafoss waterfall
Read on to discover what to expect at these top attractions along the Diamond Circle route.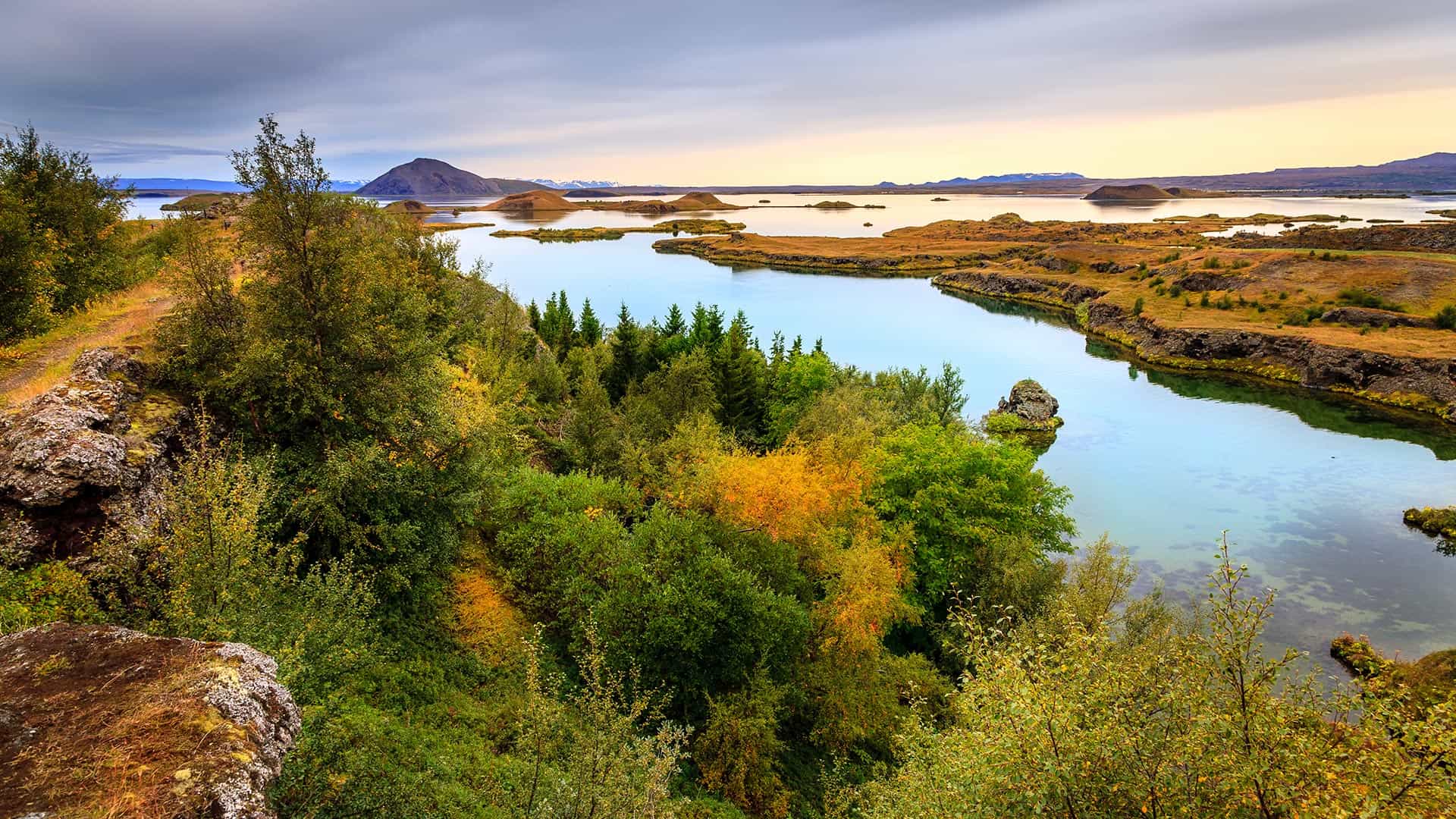 1. Lake Mývatn
Covering more than 37 square kilometres (14 square miles), Lake Mývatn is a vast body of shallow water surrounded by volcanic formations. This area is definitely worth stopping at on your journey around the Diamond Circle.
A basaltic lava eruption which took place around 2,300 years ago led to the formation of Mývatn. Drive Road 848 in a circle around the lake, and you'll find intriguing evidence of volcanic activity. Explore lava pillars, rootless vents, and pseudo-craters, to name but a few.
Keep an eye out for the water birds that thrive here at the lake and wetlands. And don't leave without going for a dip in the Mývatn Nature Baths. This is the Blue Lagoon of the north, and one of the best geothermal pools and hot springs in Iceland.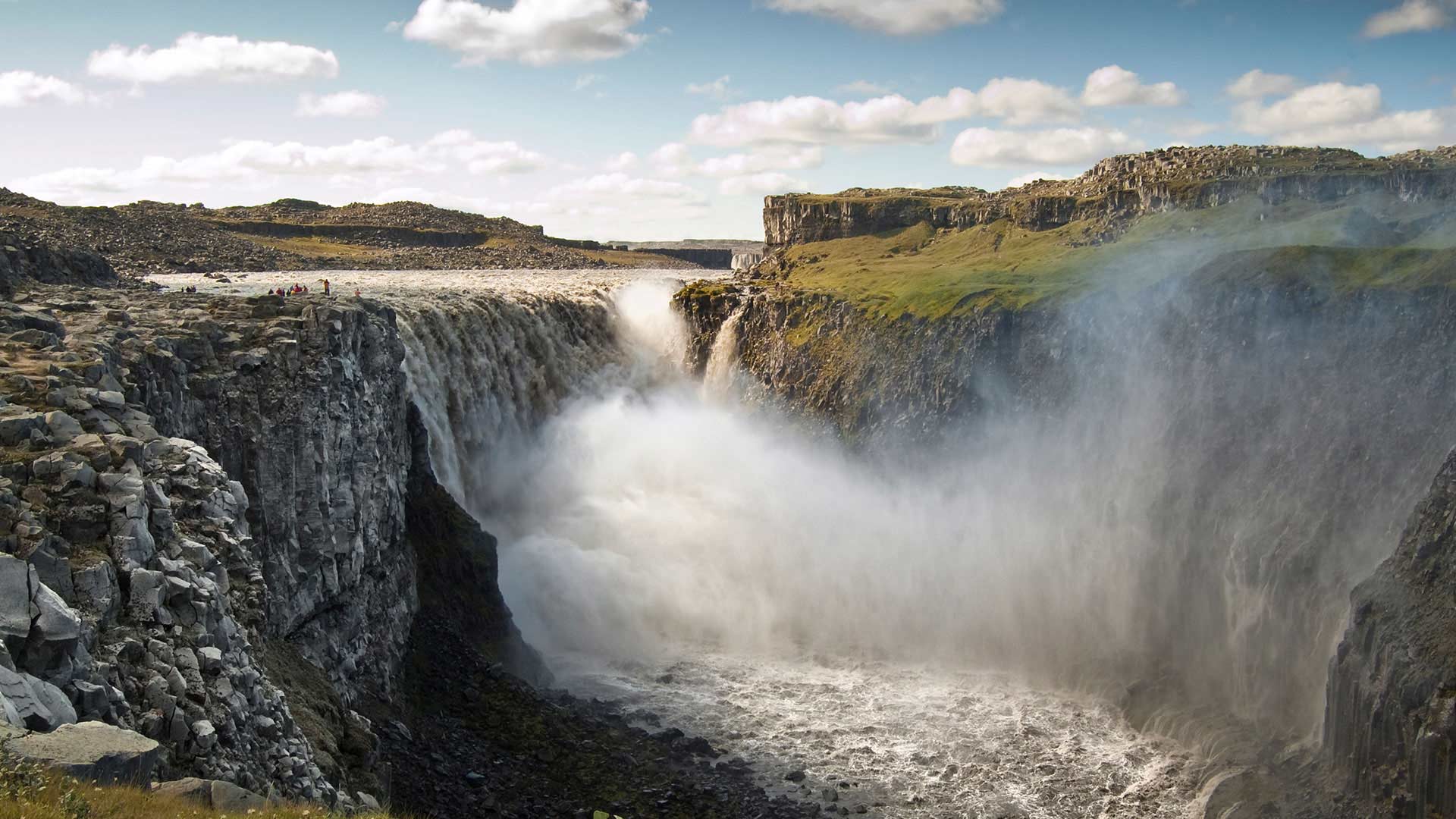 2. Dettifoss waterfall
Visit Dettifoss and you will find yourself gazing at one of the most powerful waterfalls in Europe. Before you lay eyes on it, you'll hear the cascading water crashing over a drop of 45 metres (148 feet).
Watch the mist rising from this immense waterfall, spread across a width of 100 metres (328 feet). We recommend that you look down upon Dettifoss from the east bank, so follow the main pathway to the viewpoint.
One of the top waterfalls in Iceland, you can experience Dettifoss on your Diamond Circle road trip. Turn off Route 1 and drive along Road 864 to reach the east bank.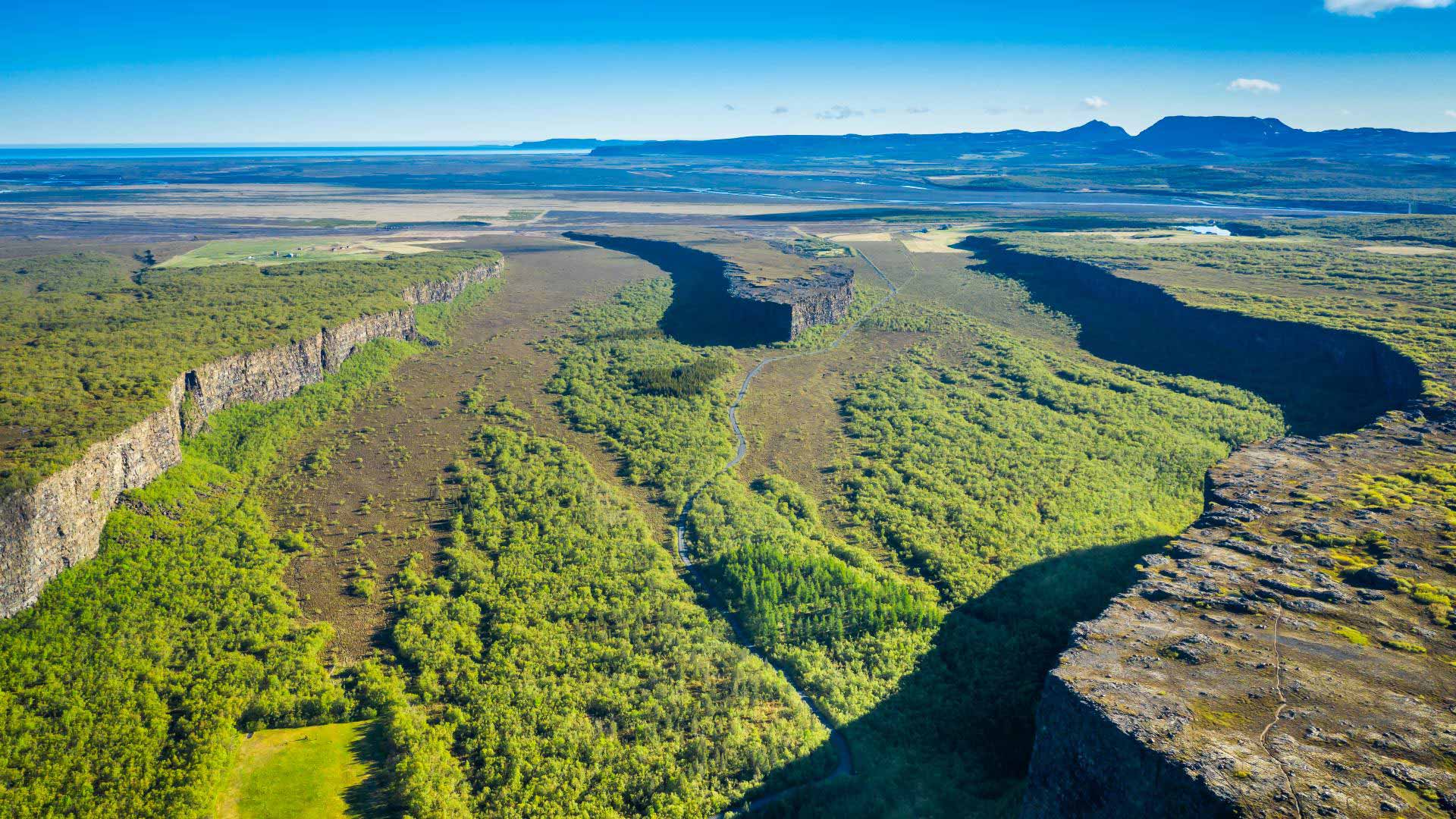 3. Ásbyrgi canyon
You may not associate Iceland with lush greenery, but that's exactly what you can find at Ásbyrgi. This horseshoe-shaped canyon in Vatnajökull National Park is blanketed in plantlife, carved up by rivers and waterfalls.
The tall cliffs and large rock "island" protect the vegetation from powerful weather forces. You can admire Ásbyrgi from above, or by walking the hiking trails that wind their way around the canyon.
How did this marvel of nature come to be? Experts believe that Ásbyrgi was formed by glacial flooding of the Jökulsá á Fjöllum river after the last Ice Age.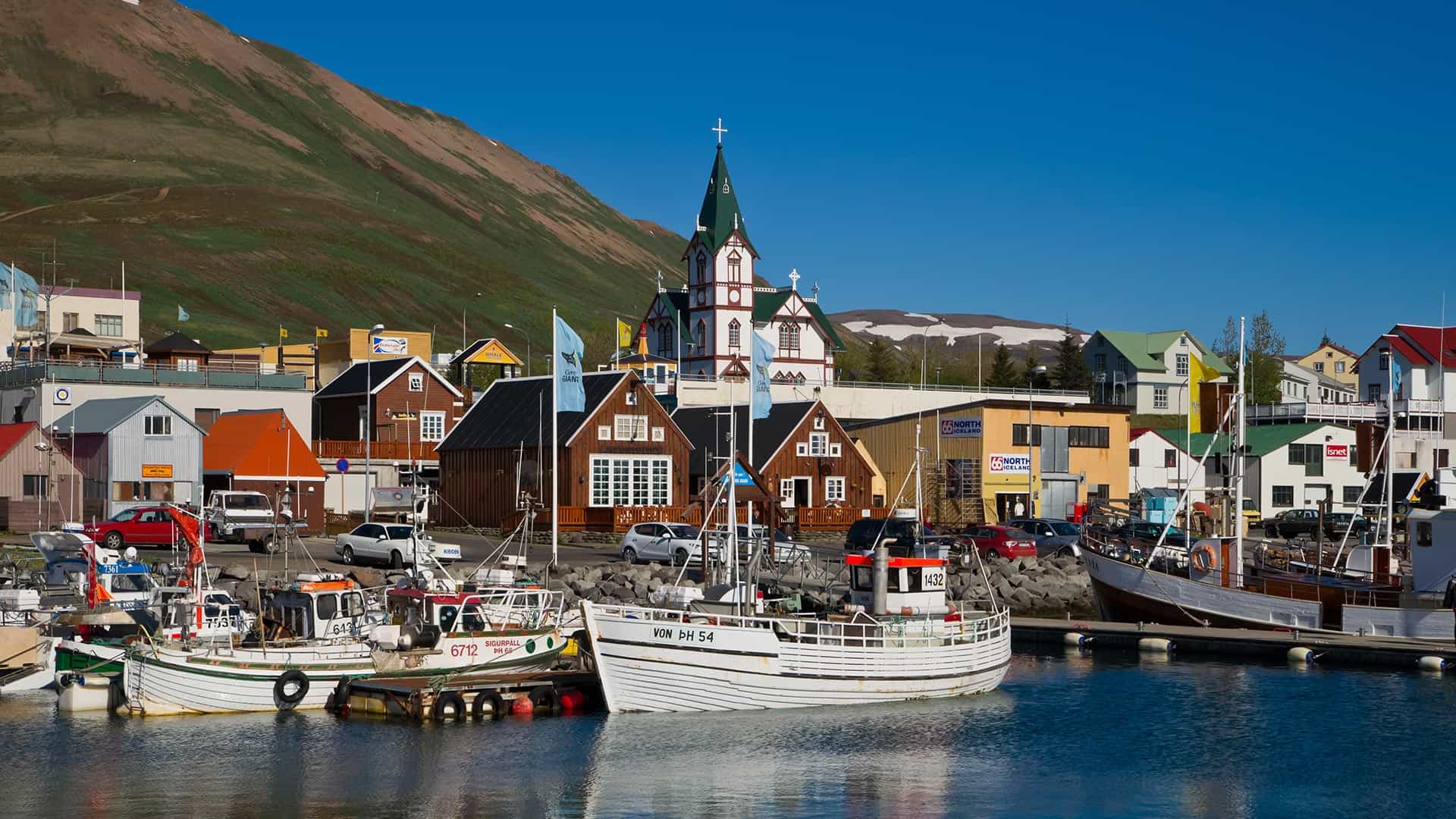 4. Húsavík
Next on your Diamond Circle trip, you could make a stop at the fishing village of Húsavík. This was one of the filming locations for Netflix's Eurovision movie.
Húsavík is a small town that's known as the "whale-watching capital of Iceland". This is because the success rate of sightings here is the highest in the country.
Up to 23 different species of cetaceans dwell along the Arctic coast here, including humpback, minke and blue whales.
As well as whale-watching tours, Húsavík is a great place to soak up the charms of rural Iceland. Check out the wooden church from 1907, watch fishing boats bobbing in the harbour, and look out over the Kinnarfjöll mountains.
There aren't any other towns on the Diamond Circle route, so you may want to make the most of the cafés, restaurants and museums while you're here.
---
---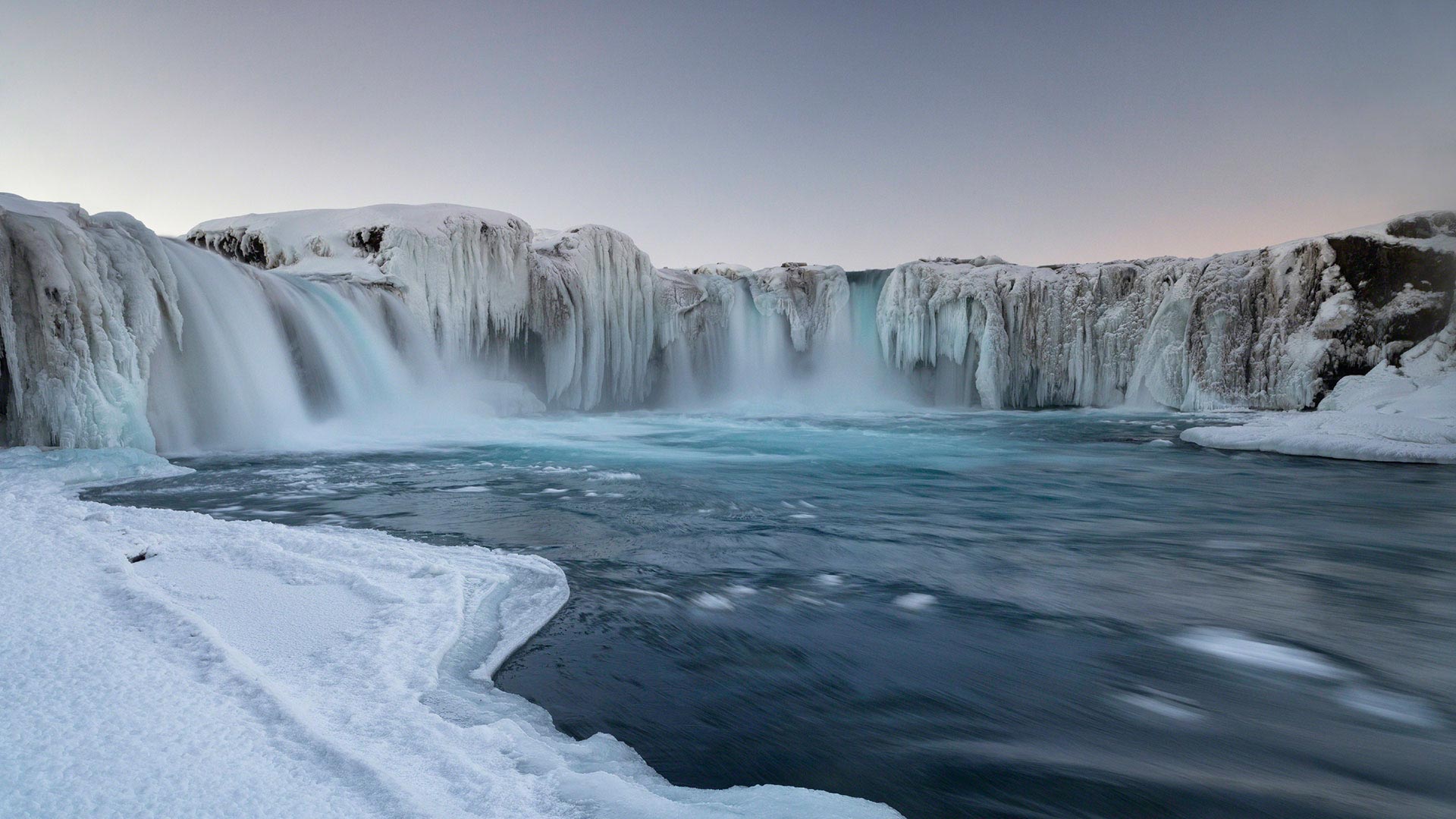 5. Goðafoss waterfall
With a name as evocative as "Waterfall of the Gods", you'd imagine that Goðafoss would be something pretty special. It's safe to say that this mighty cascade won't disappoint!
Admire the picture-perfect waterfall as it tumbles over two horseshoe-shaped drops. The falls themselves are not very high, compared to others such as Dettifoss. But it's the semi-circular formation of Goðafoss that makes it so beautiful.
Goðafoss is the closest attraction on this route to Akureyri, so you could visit it at the start or end of your Diamond Circle drive.
---
---
Other attractions on the Diamond Circle
There's even more for you to discover when driving the Diamond Circle in Iceland. Check out these other highlights of the region – which ones will you add to your road trip wish list?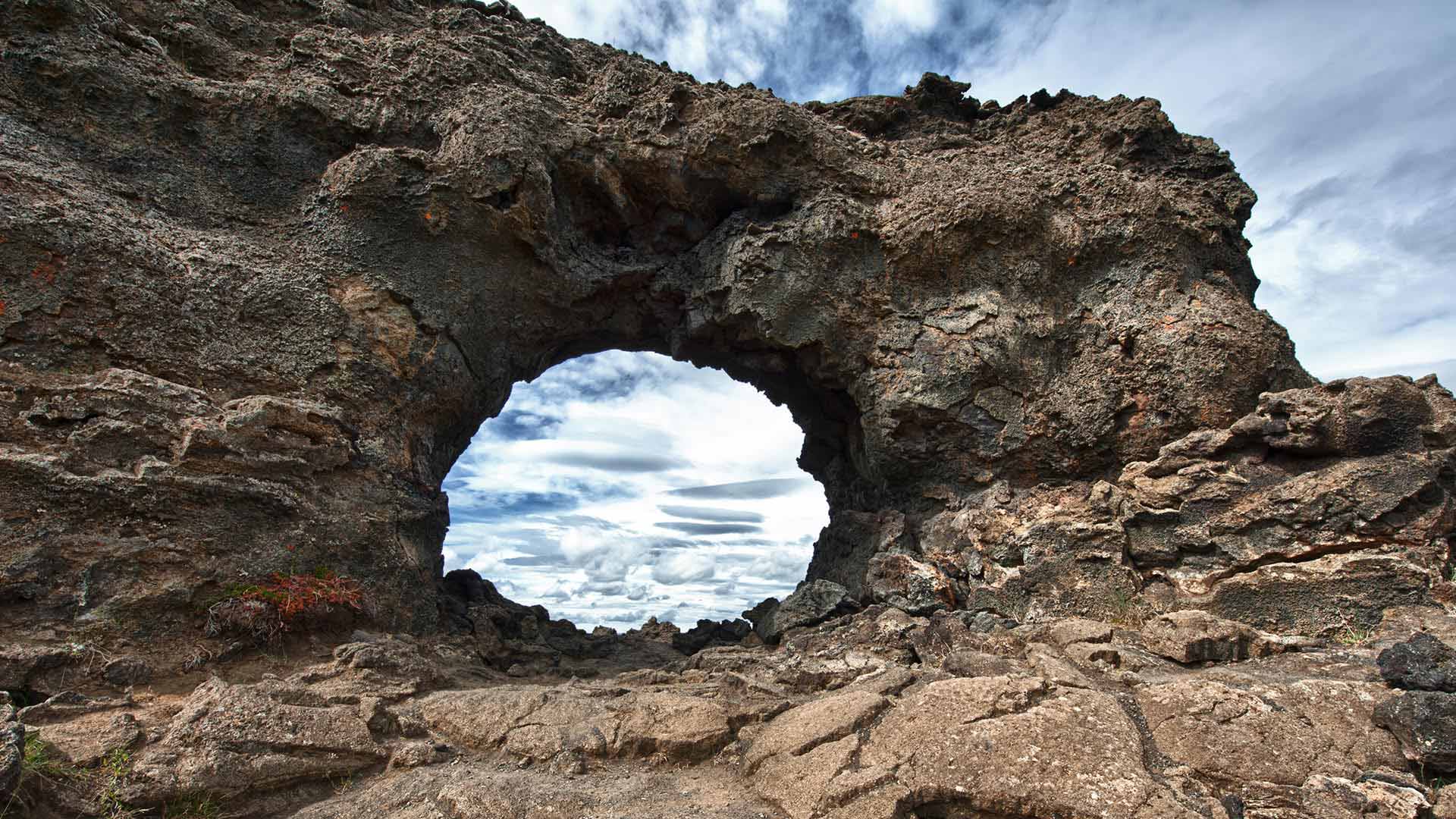 1. Dimmuborgir lava formations
The rock formations at Dimmuborgir ("Dark Castles") are named so for their resemblance to ancient forts. You'll see black lava columns, caves and arches, including the famous Kirkjan ("the Church").
This beautiful, eerie place was created over 2,000 years ago, following the collapse of a lava tube from a large volcanic eruption. You'll reach Dimmuborgir by driving Road 848, a circular route that loops around Lake Mývatn.
2. Hverfjall crater
Head east from Mývatn and you'll find Hverfjall, one of the biggest tephra (tuff ring) craters in Europe at 1 kilometre (3,280 feet) wide. From the top of the rim, you get a sweeping view over Lake Mývatn.
3. Skútustaðagígar pseudocraters
Continue your drive around the lake to see the pseudocraters at Skútustaðir. Walk along the waterfront trail to see these mini-volcanoes up close.
4. Hverir geothermal area
Drive just 3 minutes from the Mývatn Nature Baths to reach the Námaskarð pass, then descend to Hverir. This is a fascinating geothermal area dotted with hot springs, steaming vents, and bubbling mud pools.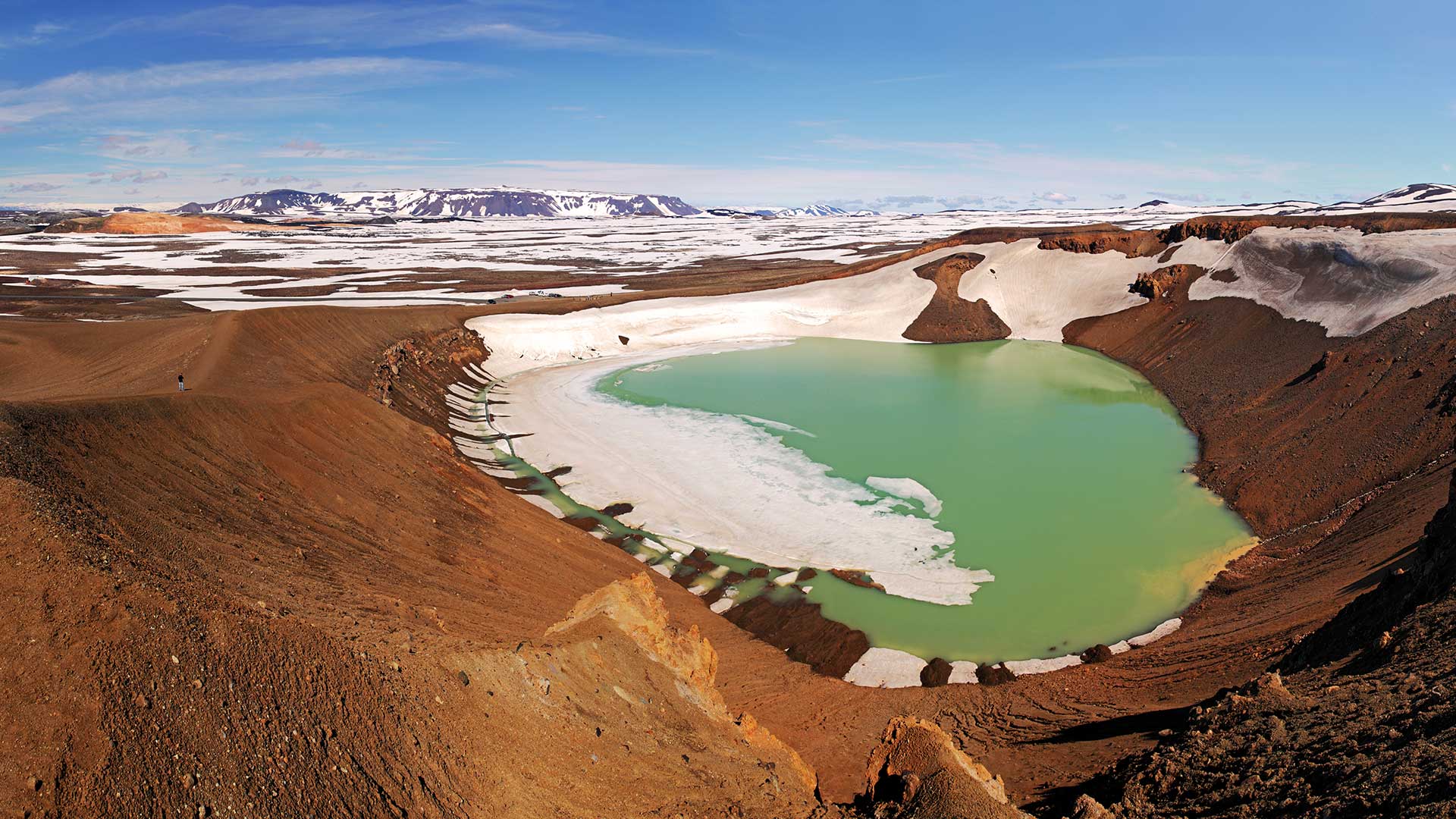 5. Krafla volcano
Turn off the Ring Road from Hverir to marvel at the caldera of Krafla volcano, teetering at a height of 818 metres (2,690 feet). Volcanic eruptions took place 9 times here between 1975 and 1984 in a series of events called the "Fires of Krafla".
6. Víti crater
While you're here, be sure to check out Víti, just a 20-minute walk from Krafla car park. This jade green, volcanic crater lake was created following a huge eruption in 1724.
7. Hljóðaklettar columns
Hljóðaklettar is an extraordinary sight you can add to your Diamond Circle itinerary. These "Echo Rocks" are a collection of basalt columns in the form of arched caves.
Located at the entrance to Vesturdalur in Vatnajökull National Park, you can reach Hljóðaklettar off Road 862 when driving between Dettifoss and Húsavík.
---
---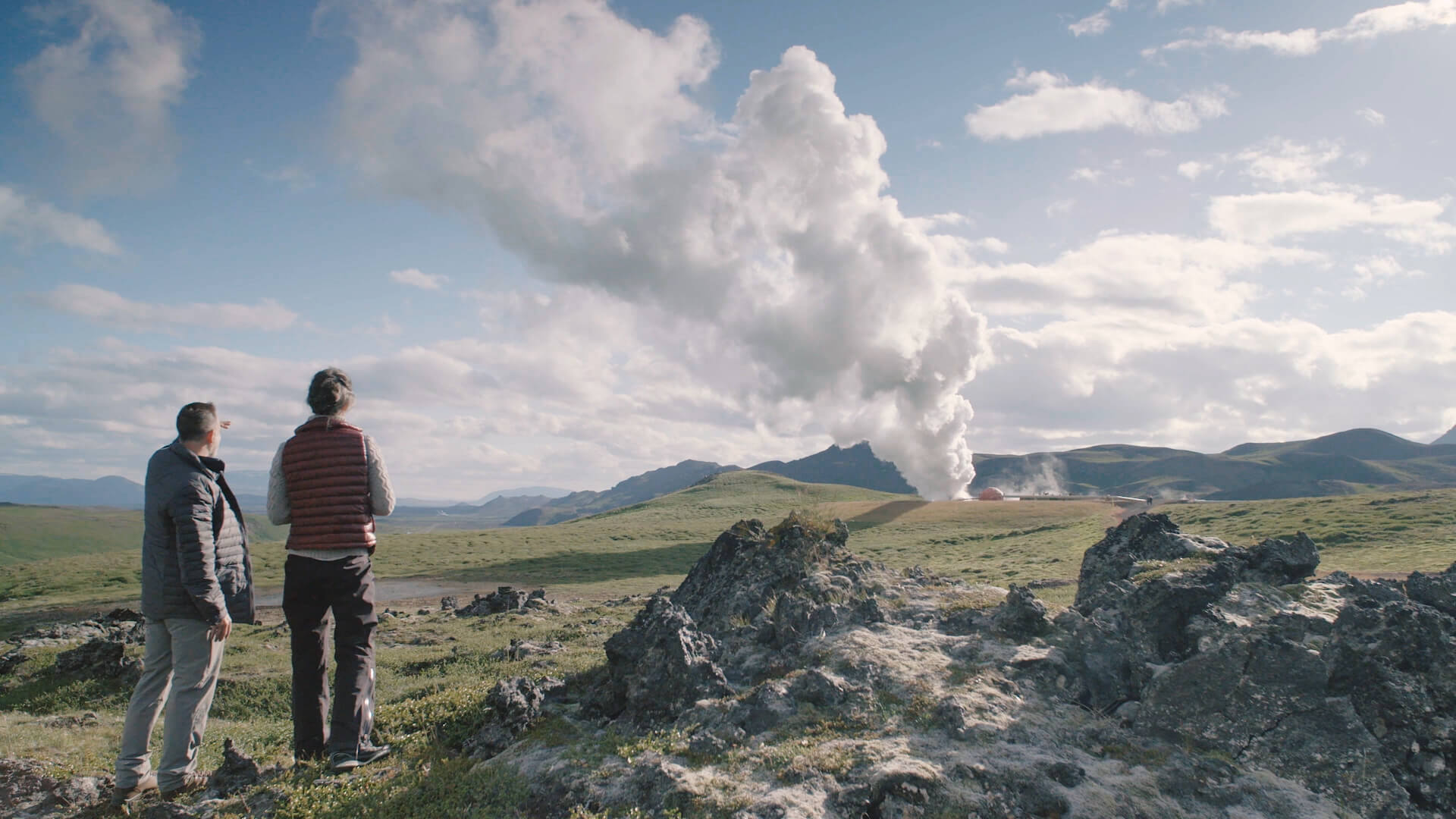 How much is the Diamond Circle? Is it free?
You don't need to pay to drive the Diamond Circle route in Iceland – it is free to enter. The costs involved include your rental car, fuel, and entry fees to some of the attractions you'll visit.
Bear in mind that there is a tunnel toll to pay if you are driving to or from Akureyri via Route 1.
Where should you stay?
We recommend that you base yourself in the Lake Mývatn area. Here you will find some of the best accommodation on the Diamond Circle. Plus you'll be well located to explore the highlights of this driving route.
Your dedicated travel consultant at Nordic Visitor will arrange your accommodation for you. Our Iceland travel experts – who are based in Reykjavík – have special relationships with local hotels and guesthouses. So you can relax knowing that you'll stay in the best possible places on your tour.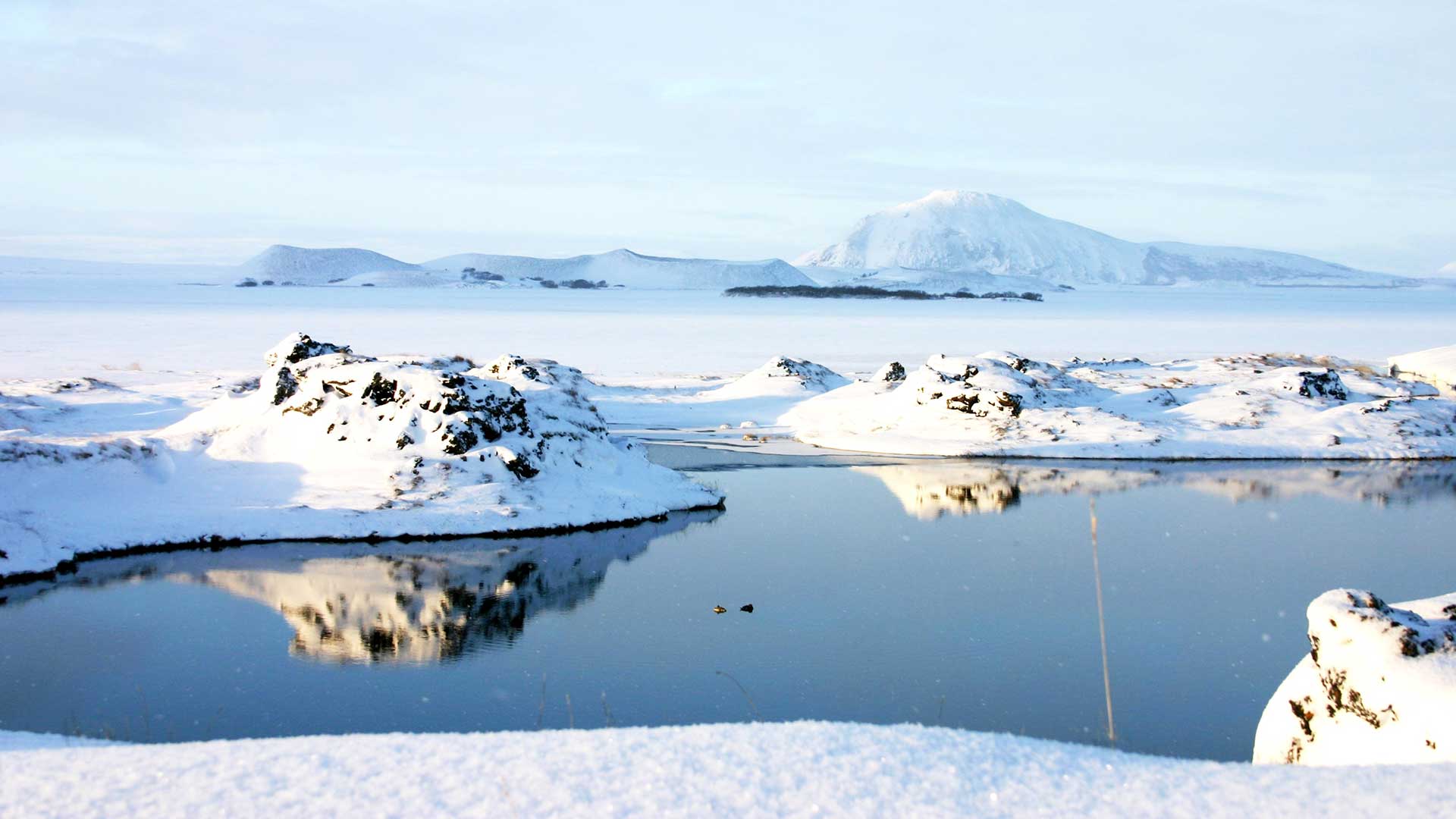 When should you visit the Diamond Circle?
You can visit the Diamond Circle at any time of year. You may want to visit Iceland in winter to increase your chances of seeing the northern lights.
In winter the nights are long and dark, which are prime conditions for catching sight of the aurora borealis. In summer the skies tend to be too bright to notice them.
Plus, in winter you could admire North Iceland's breathtaking scenery cloaked in frost, ice and snow.
But do note that some attractions along the Diamond Circle are not easily accessible in winter. This is because Iceland's F-roads (mountain passes) close after the summer due to weather conditions.
There are many upsides to exploring the Diamond Circle during the summer months. For example, if you'd like to go whale watching in Húsavík, you should visit Iceland in summer.
What's more, you'll have more daylight hours to explore as much as possible. In fact, in the height of summer, Iceland experiences the midnight sun, a phenomenon where it never gets dark. This means you can pack in more attractions of the Diamond Circle in the same day.
---
---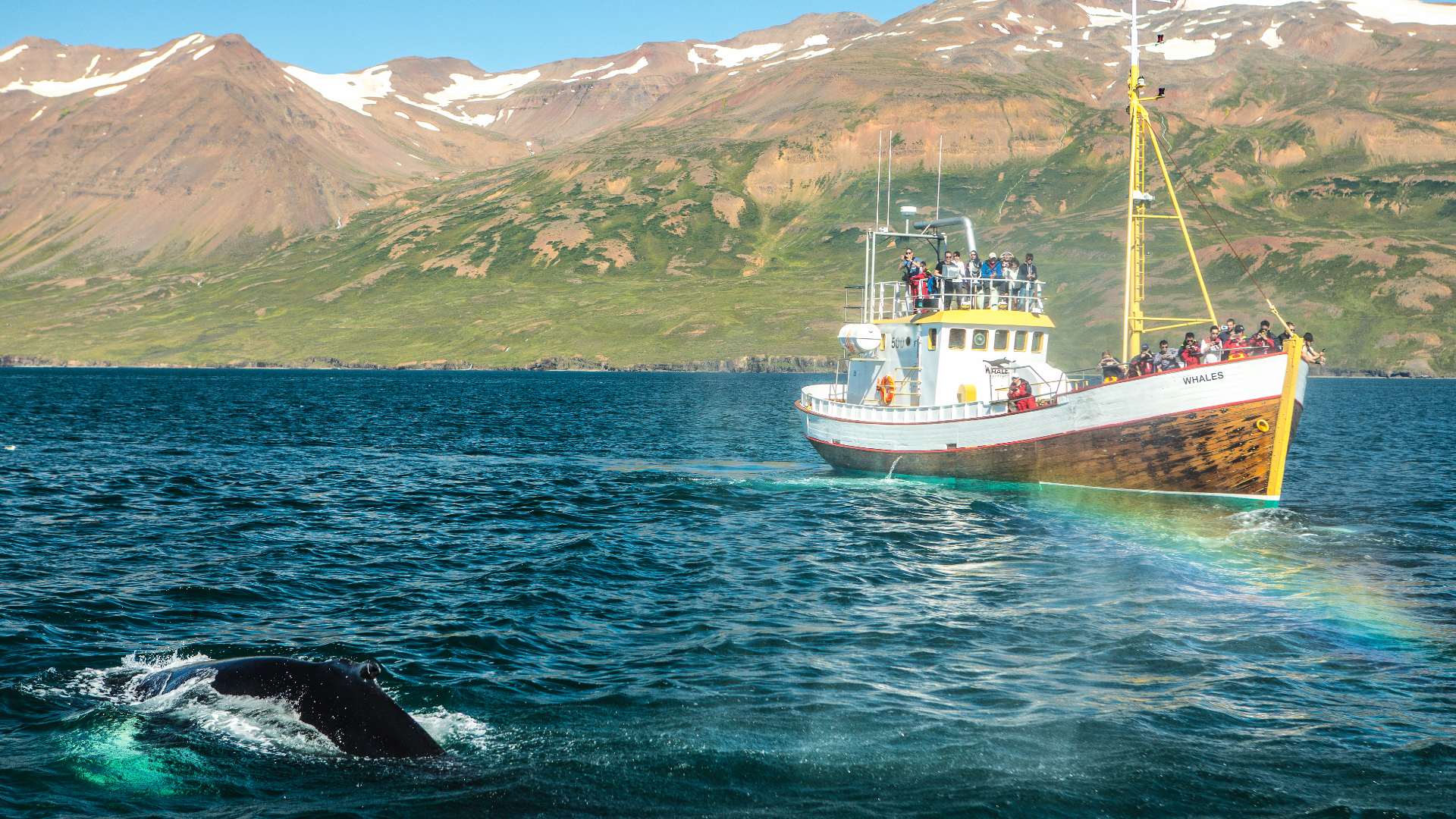 Plan your Diamond Circle Iceland self-drive trip
Get ready to discover these jaw-dropping sights on a road trip around the Diamond Circle. Or you could leave the driving to someone else with a private tour, small group trip, or multi-day adventure.
Take a look at Nordic Visitor's range of tour packages to North Iceland to find your ideal getaway.
Whichever travel style you choose, you'll have a personal consultant who will take care of making all the arrangements in Iceland for you. They will plan and book your route, accommodation, rental car (or other transport), activities, and more.
If you decide to take a self-drive tour of Iceland, you get the following included as part of the package:
Collision Damage Waiver (CDW)
Basic liability insurance coverage
Authorisation for 2 drivers
Hand-marked route map
Unlimited mileage
Free in-car Wi-Fi
Plus you'll have access to our 24/7 helpline during your trip for peace of mind.
Don't hesitate to get in touch with us for more information. Our Iceland travel experts will be delighted to help you plan your tour.