Pop quiz: how many waterfalls are there in Iceland?
Actually, as Iceland experts we can't even give you the exact number. (Sorry.) Fed by abundant glacial rivers, with ample rain and snow in the mix, there are thousands of waterfalls in all forms and sizes scattered around Iceland.
So the good news is that if you're planning to travel around Iceland's Ring Road (aka Route 1, the main highway), you're guaranteed to cross paths with plenty of these natural wonders.
Based on our own staff adventures, and Nordic Visitor traveller feedback, we've compiled the top ten list of waterfalls to see in Iceland. For your geographical convenience, all waterfalls are listed in a counterclockwise order around the country, starting from southwestern Iceland.
---
1. Gullfoss
Gullfoss, or "Golden Falls", is one of the three main attractions of the famous Golden Circle route in southwestern Iceland. This two-tiered waterfall drops 32 metres into a narrow 70-metre deep canyon, creating an impressive spray of mist that often produces rainbows in sunny weather. There's a footpath leading from the car park to a viewing platform where you can experience the waterfall in all its glory.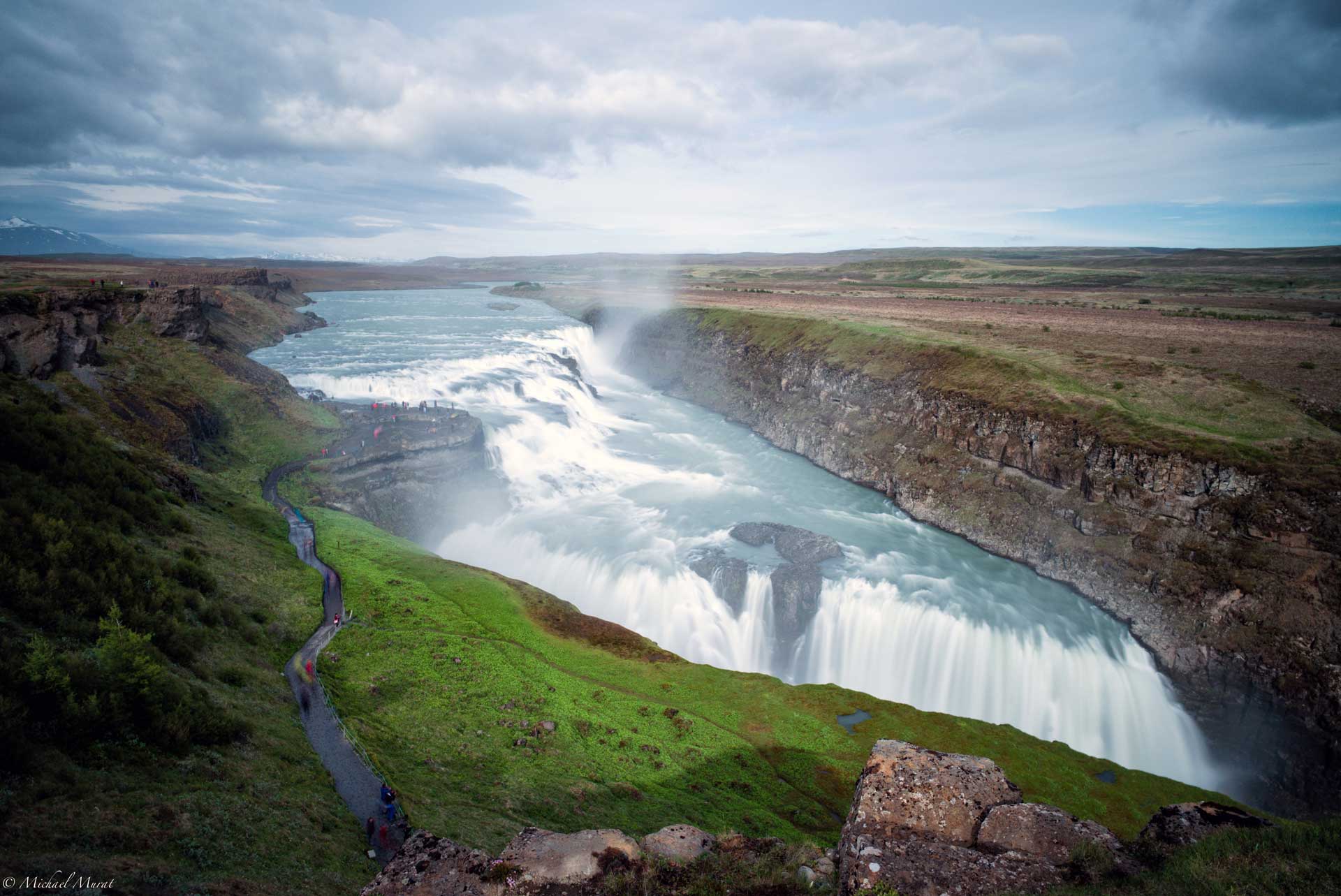 2. Seljalandsfoss
This 40-metre waterfall in South Iceland is spectacular to look at from a distance, but its wow factor lies in the footpath leading behind the tumbling water. If you visit Seljalandsfoss (most visitors do!), make sure to wear good hiking shoes and a raincoat as there's a lot of mist and potential slippery spots on the path.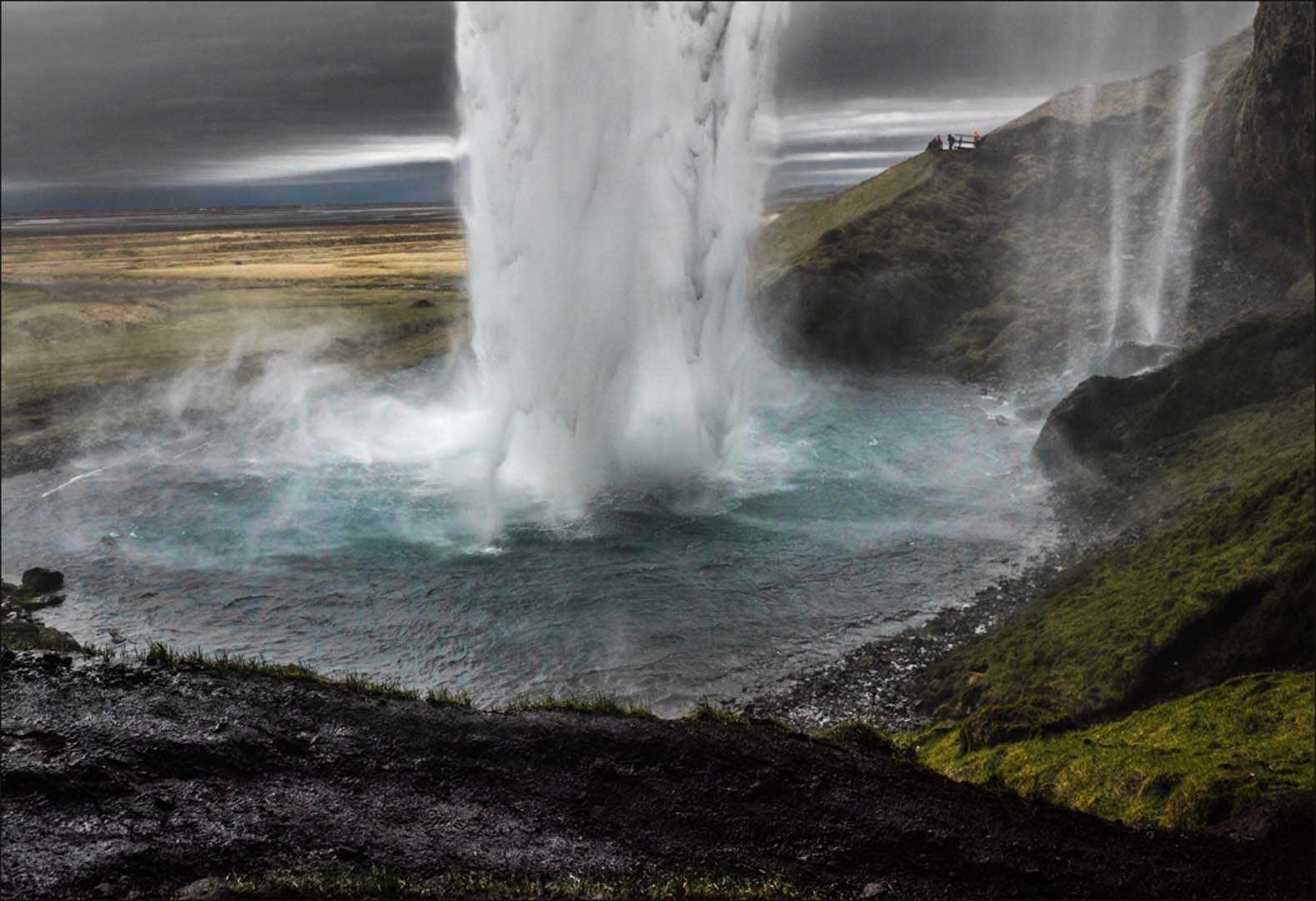 3. Gljúfrabúi
Just west of Seljalandsfoss is the fascinating Gljúfrabúi, also called Gljúfrafoss or simply "the hidden waterfall"—which seems appropriate as its Icelandic name means "Dweller of the Gorge". Living up to its name, it's not so easy to find: visitors must wade into a small stream and enter a narrow opening in the cliff to find the falls.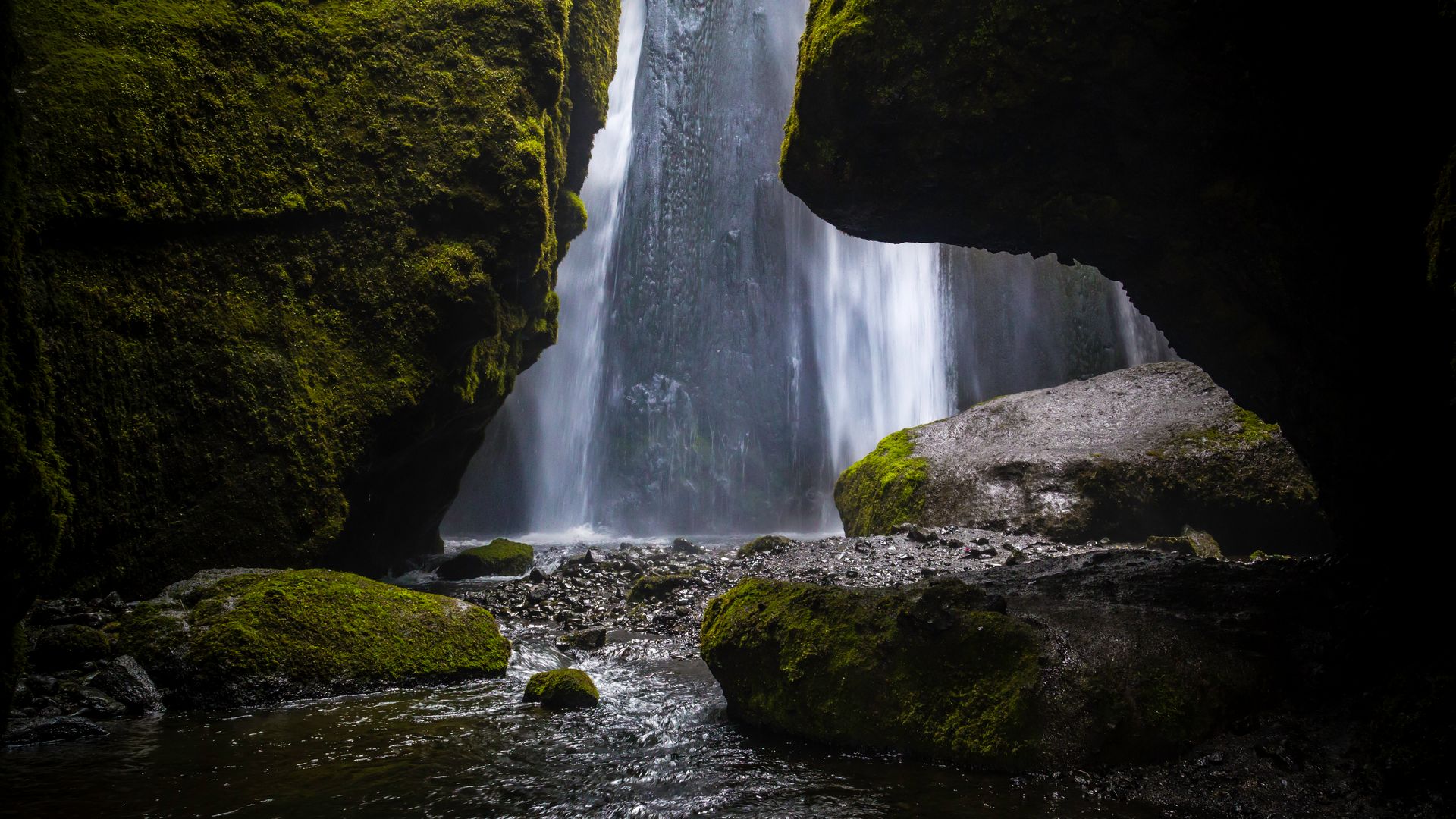 4. Skógafoss
Skógafoss is a magnificent 60-metre high waterfall where, according to legend, the first Norse settler in the area hid a treasure in the cave behind the cascade. This, along with Seljalandsfoss, is among the most popular attractions off the Ring Road in South Iceland.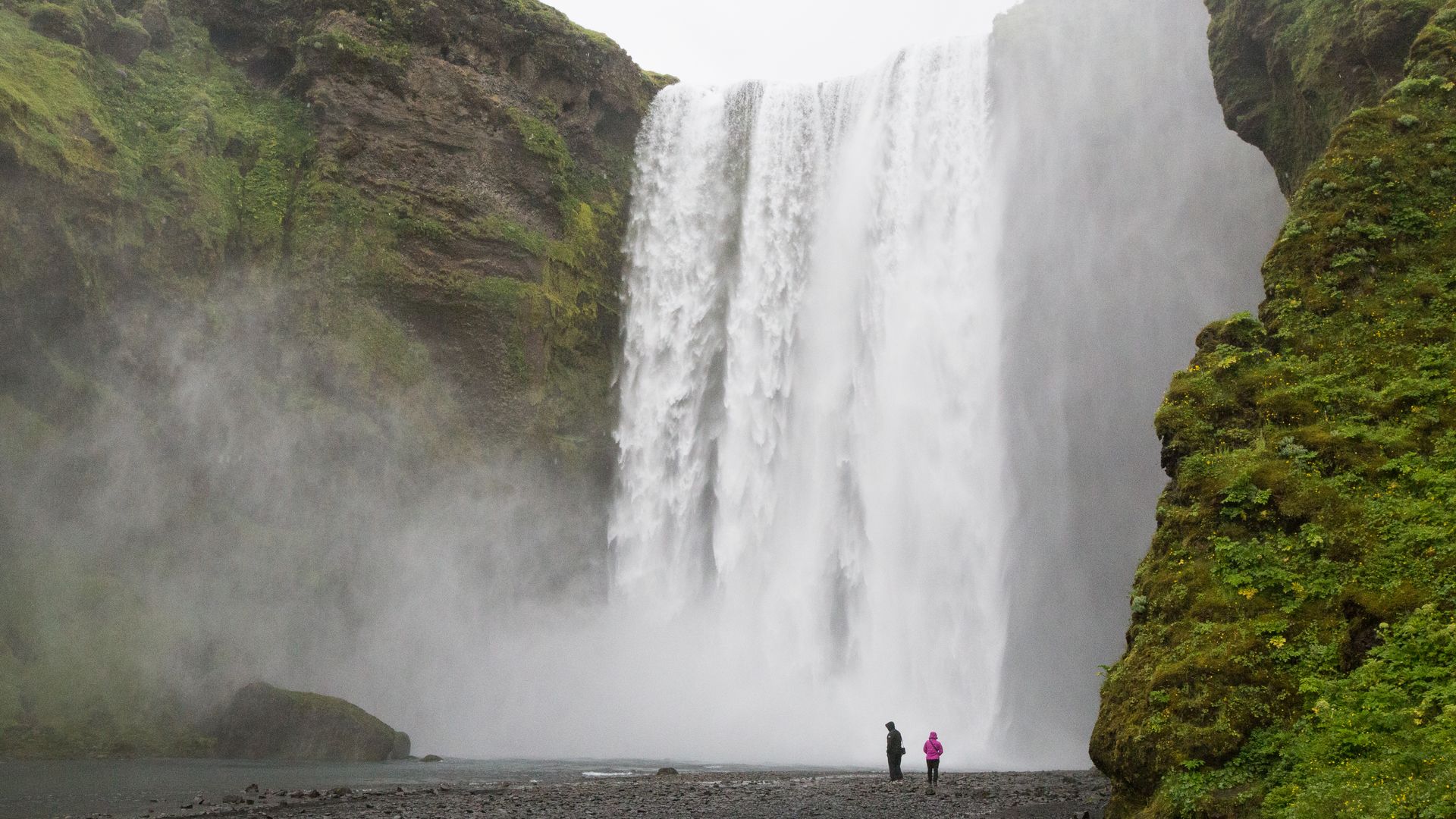 5. Svartifoss
Meaning "Black Falls" in Icelandic, the 20-metre high Svartifoss is named for its cliffs of dark hexagonal basalt columns—similar to those seen at seen at Giant's Causeway in Northern Ireland or Reynisfjara beach in South Iceland. Good to know: a visit to this waterfall requires a hike. From the Skaftafell National Park Visitor Centre it's about 5.5 kilometers round-trip on a marked trail.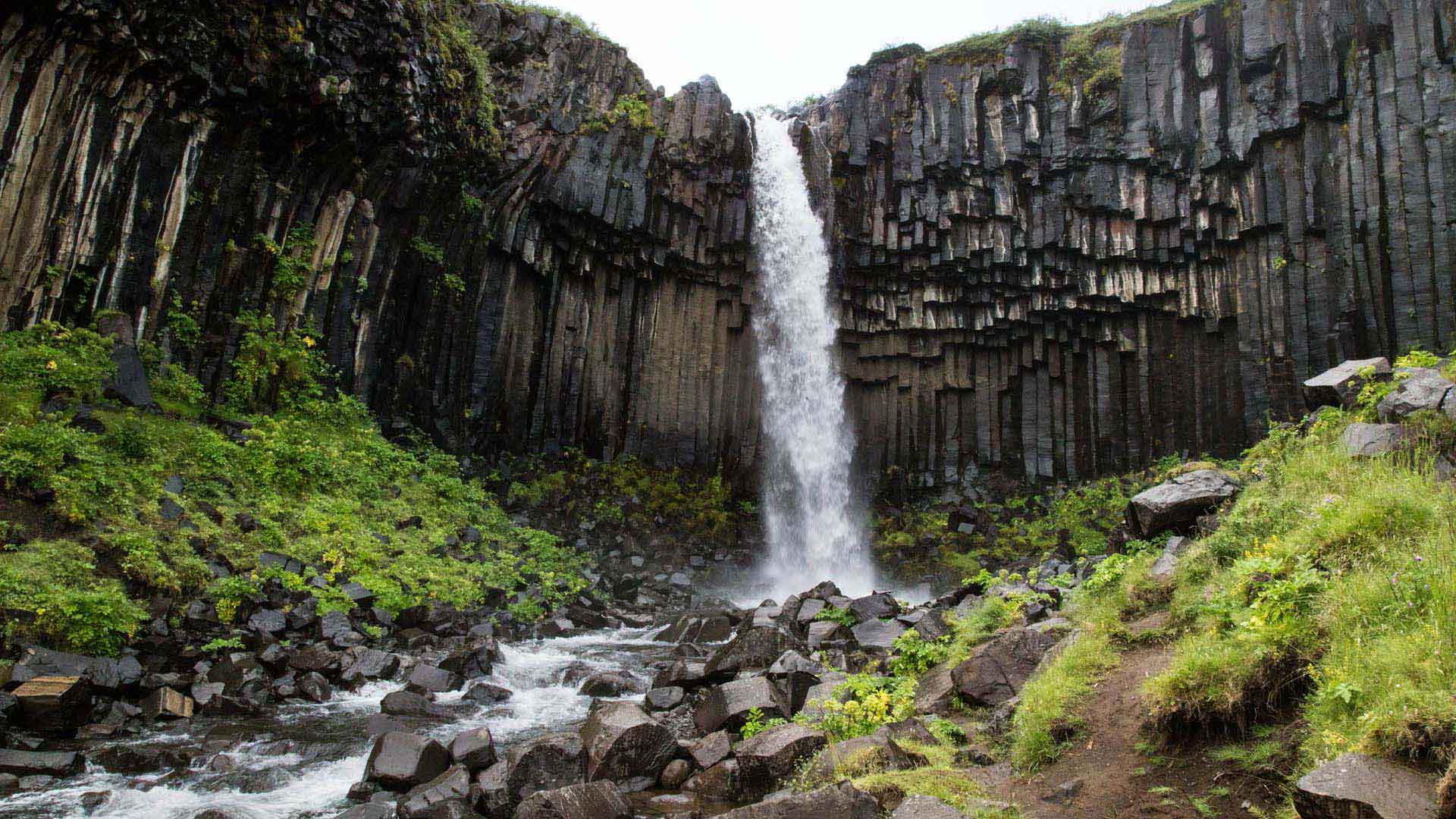 6. Hengifoss
Hengifoss is the third highest waterfall in the country at 118 metres. This spectacular waterfall in East Iceland tumbles into a dramatic gorge and is easy to access from the main road. Below it is a smaller waterfall, Litlanesfoss, which is remarkable for its columnar basalt setting.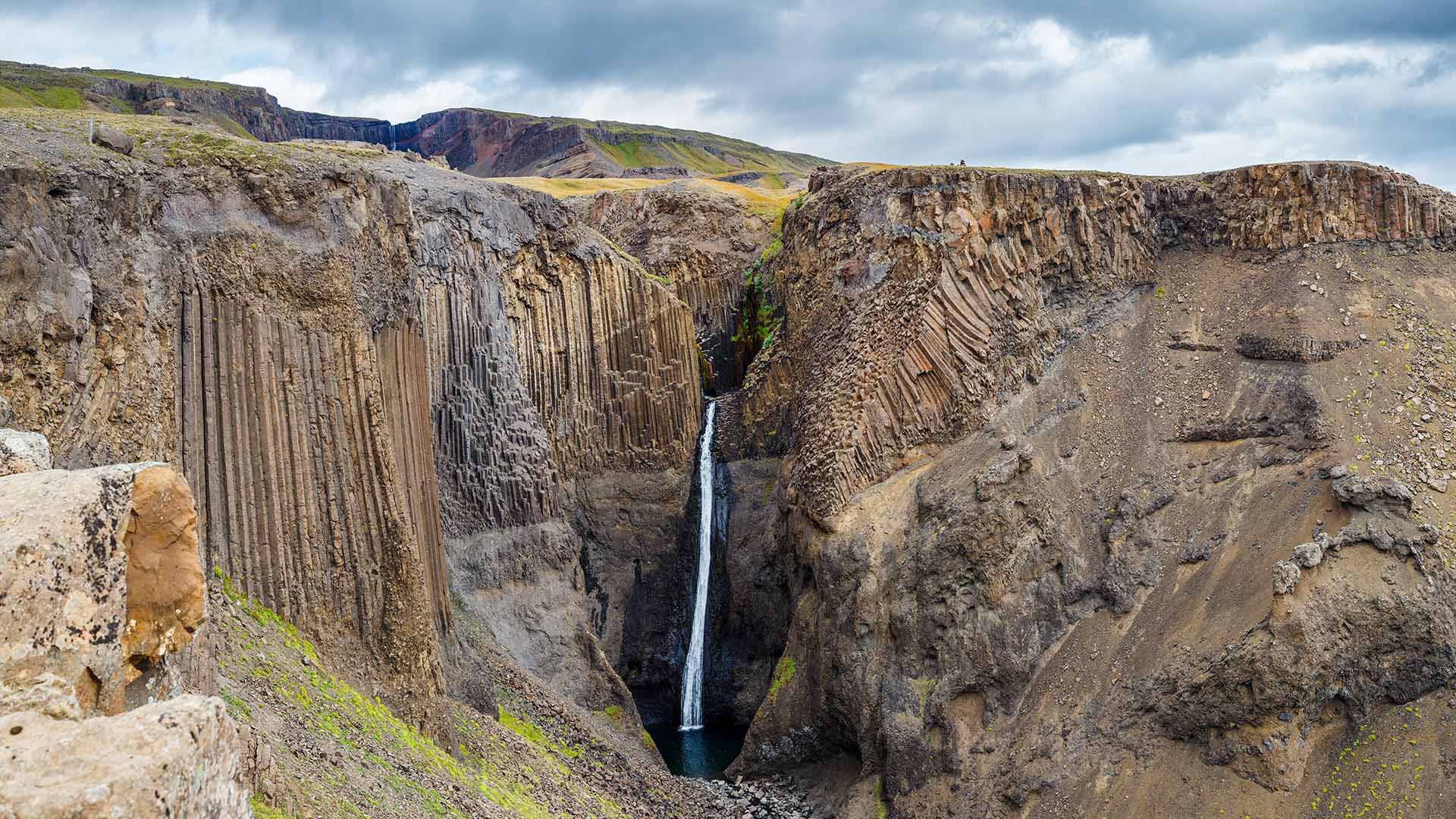 7. Dettifoss
Dettifoss is the most powerful waterfall in Europe, and you'll undoubtedly hear its mighty rumble before you even see it from the pathway. At 45 metres high and 100 metres wide, Dettifoss dumps an incredible 193 m3 of water per second into the gorge below. Though accessible by two roads off the main highway, the best viewpoint is on the east bank, where there are walking paths, an information panel and restrooms.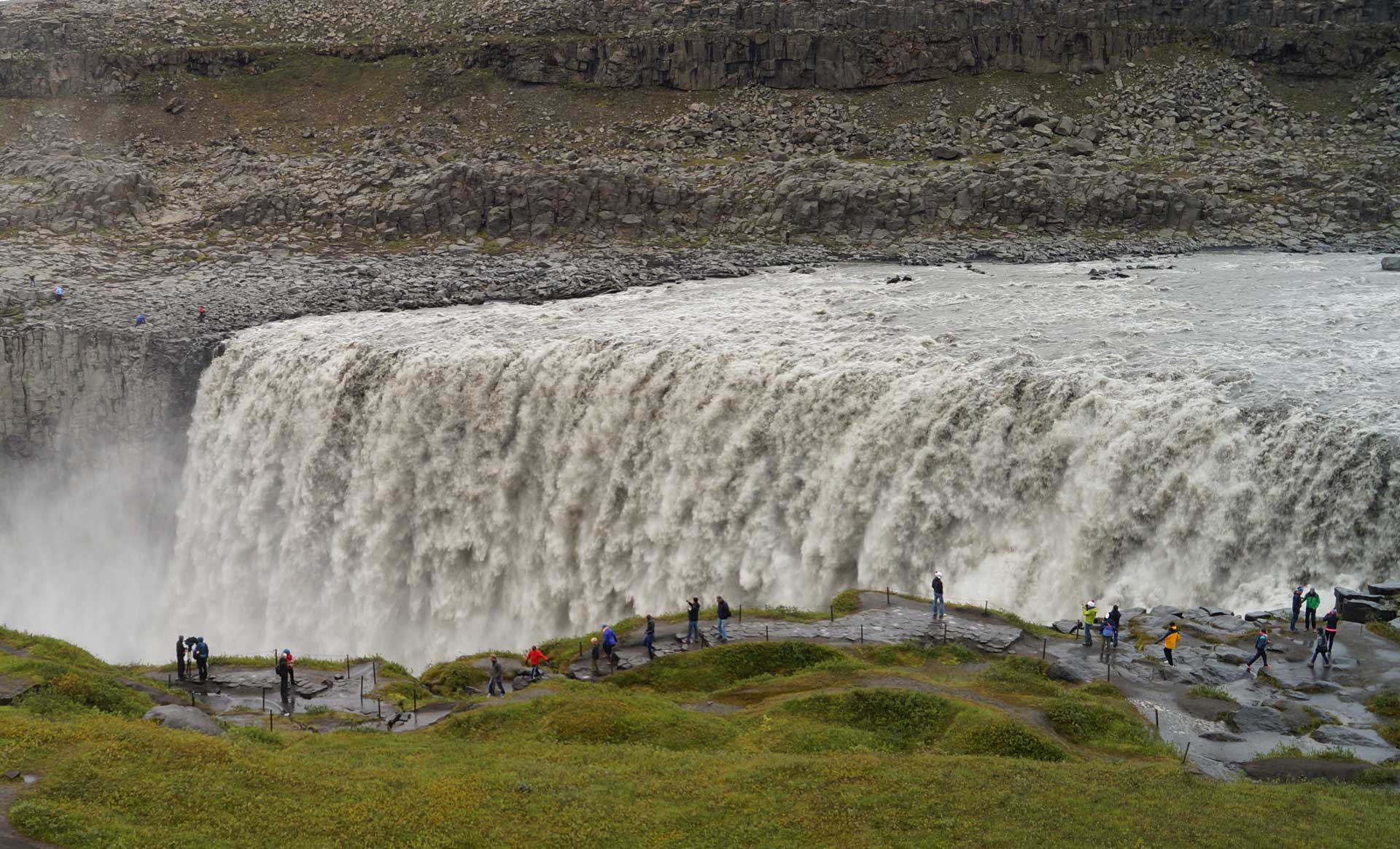 8. Goðafoss
The Goðafoss waterfall in North Iceland isn't just a pretty sight—it also has a good backstory. According to legend, the horseshoe-shaped "Waterfall of the Gods" got its name over a thousand years ago when a local chieftan converted to Christianity and threw his statues of Norse gods into the water.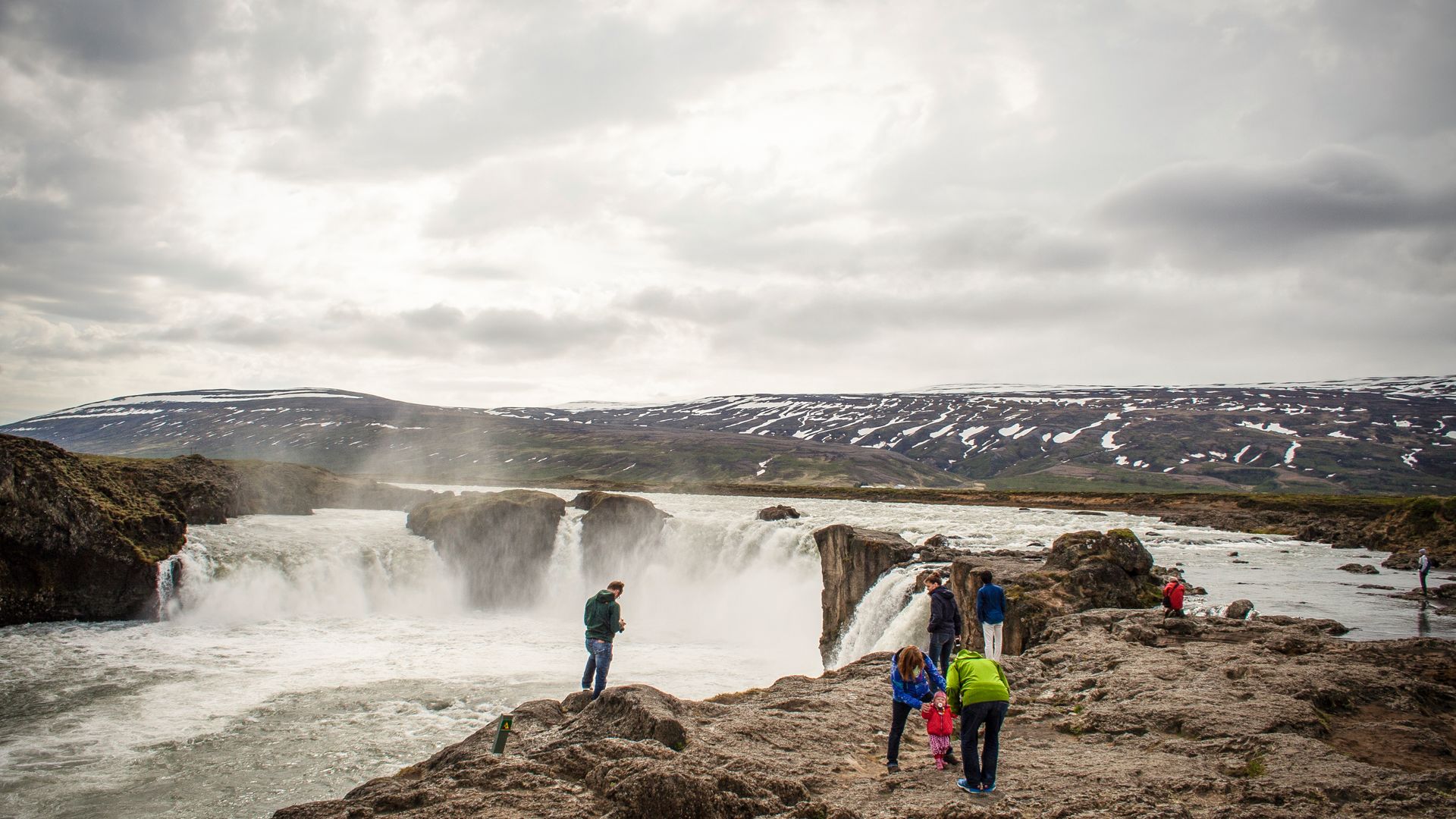 9. Dynjandi
Often likened to a bridal veil, or perhaps a multi-layered wedding cake, the Dynjandi waterfall is among the West Fjords' most stunning sights. Standing at 100 metres tall, the falls are 30 metres wide at the highest point and 60 metres wide at its lowest point. From a parking area on Route 60, it is a 15-minute hike up to the base of the waterfall.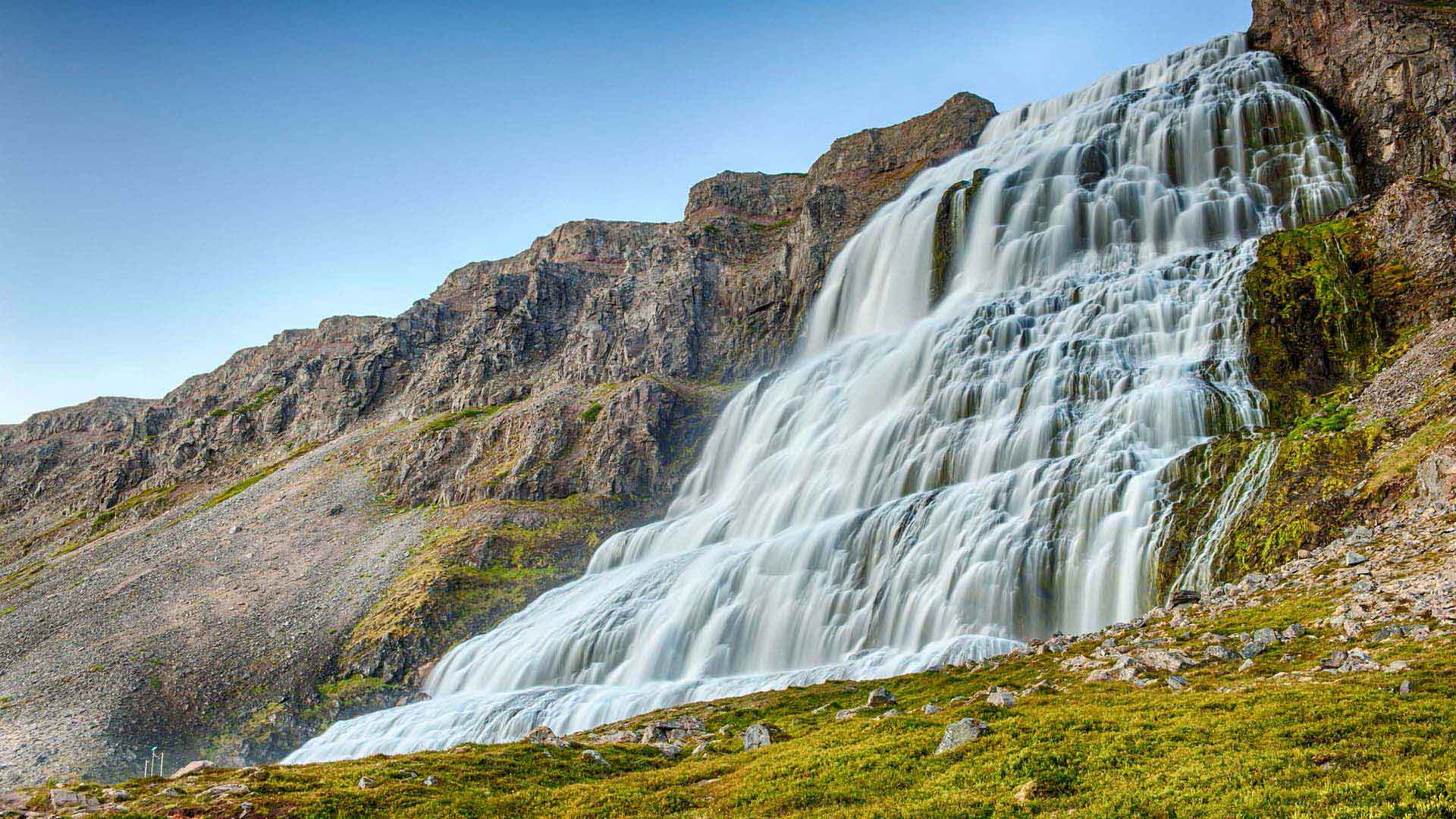 10. Hraunfossar
The beautiful falls of Hraunfossar waterfall make for a wonderful detour off the Ring Road in West Iceland. These falls are unique for the fact that the water streams through a lava field.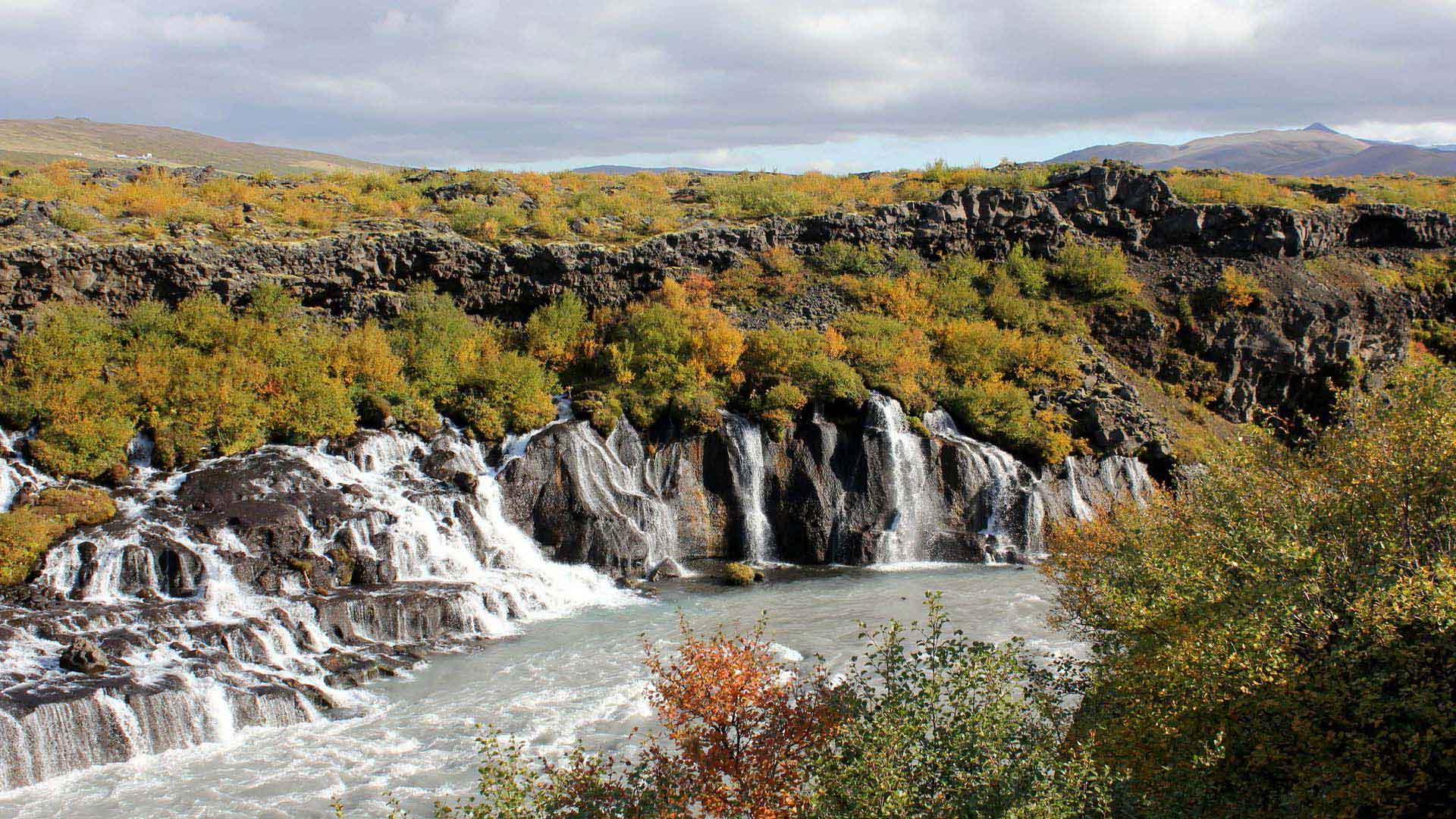 ---
Like what you see here? If you want to visit every single waterfall listed in this post, we recommend travelling on Nordic Visitor's 14-day Iceland Complete self-drive tour.