How many waterfalls do you think there are in Iceland?
Fed by abundant glacial rivers, with ample rain and snow in the mix, there are thousands of falls in all forms and sizes scattered around the country. But the precise number of Iceland's waterfalls isn't known, as there are just too many to count!
The good news is that if you're planning a self-drive tour around Iceland, you're guaranteed to cross paths with plenty of these natural wonders.
Here we've compiled a list of the top 10 waterfalls in Iceland. For your convenience, they are listed in a counterclockwise order around the country, starting from southwestern Iceland (where you'll find Reykjavík).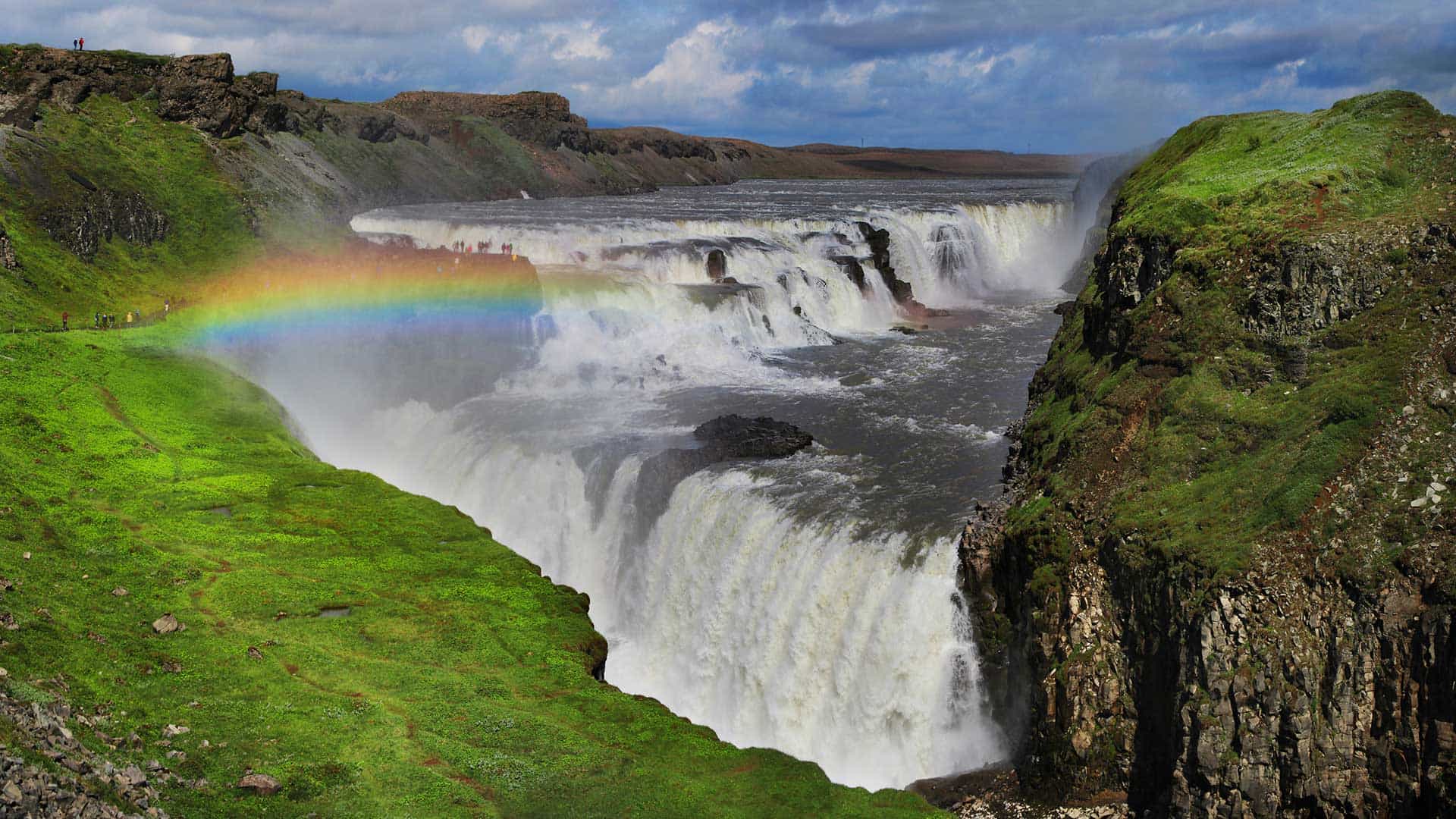 1. Gullfoss
Gullfoss, or "Golden Falls", is one of the 3 must-see attractions along the famous Golden Circle route in southwestern Iceland. This two-tiered waterfall drops 32 metres (105 feet) into a narrow, deep canyon, creating an impressive spray of mist that often produces rainbows in sunny weather.
You'll find a footpath leading from the car park to a viewing platform where you can experience the waterfall in all its glory.
When touring the Golden Circle, as well as Gullfoss waterfall, you can visit the renowned Geysir hot spring and Þingvellir National Park.
---
---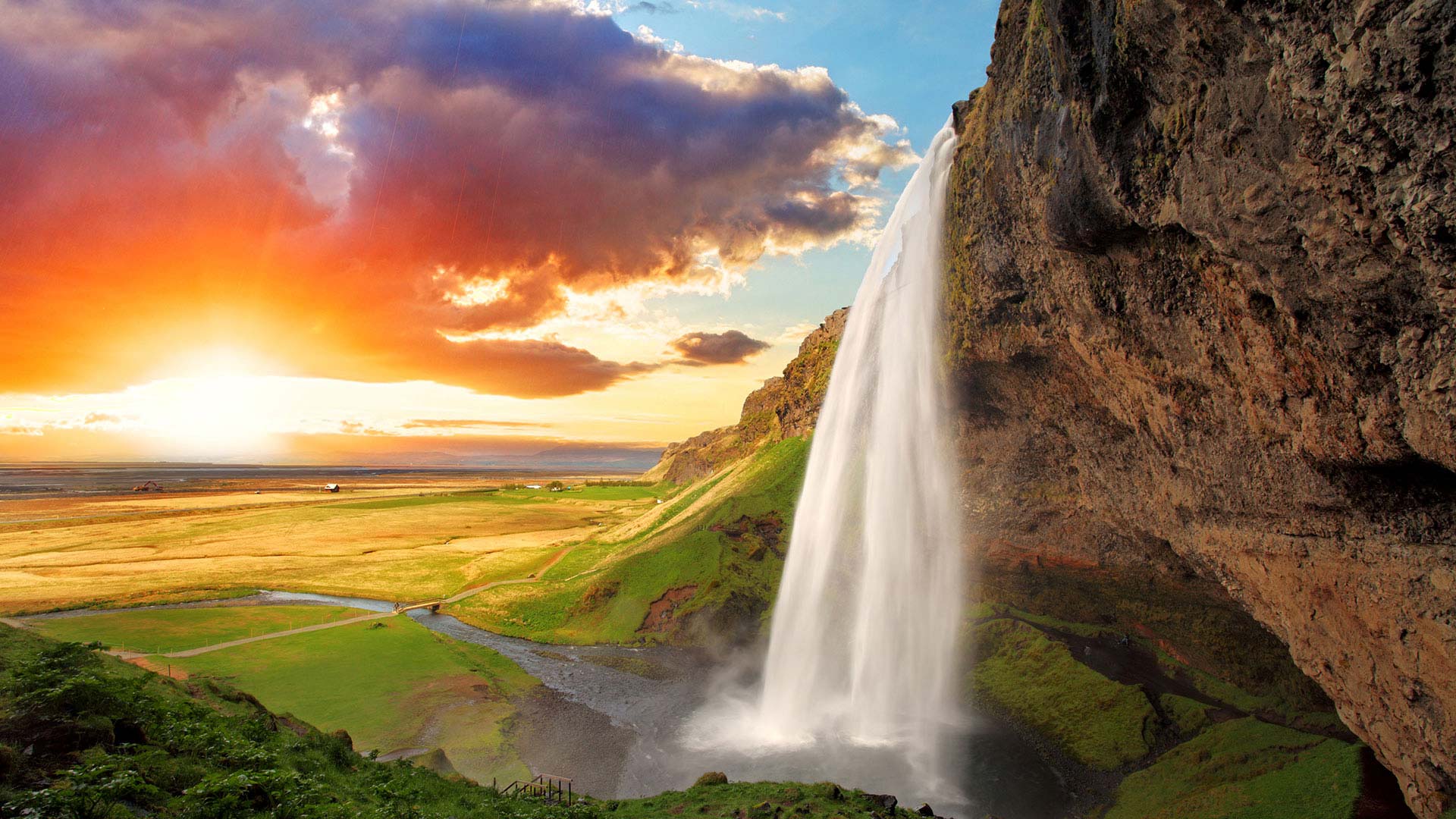 2. Seljalandsfoss
This towering cascade in South Iceland is impressive to look at from a distance, but its wow-factor lies in the footpath leading behind the tumbling water.
This means you can admire Seljalandsfoss from multiple angles and enjoy the exhilarating experience of walking behind it. It's no wonder why so many feel that this is one of the best waterfalls in Iceland!
If you visit Seljalandsfoss, make sure to wear good hiking shoes and a waterproof coat. There's a lot of spray and the path can be slippery in parts.
---
---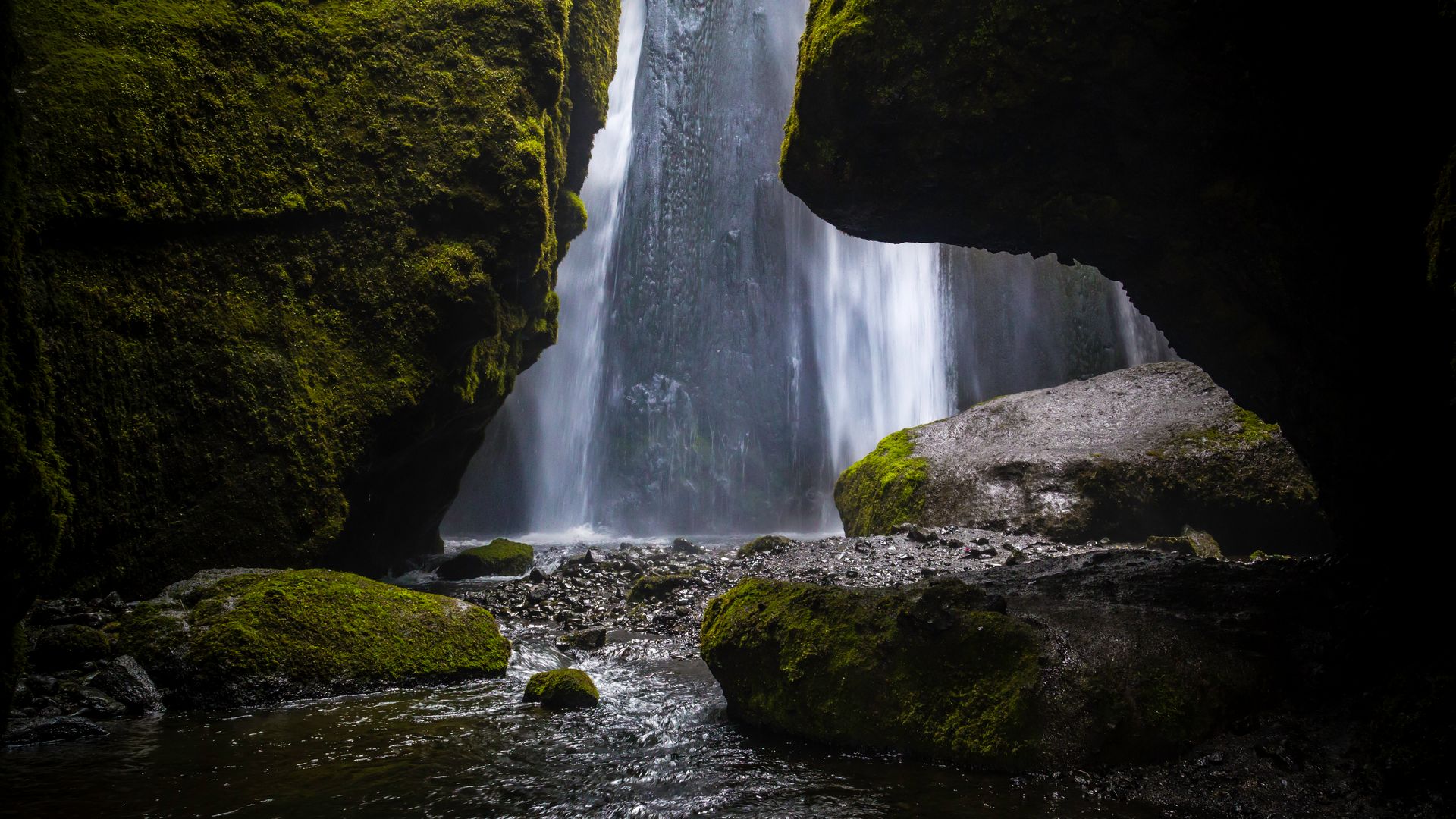 3. Gljúfrabúi
After exploring Seljalandsfoss, you could discover another unusual waterfall nearby. Walk a little further on to reach Gljúfrabúi, or Gljúfrafoss ("Dweller of the Gorge" in Icelandic). Many simply call it "the hidden waterfall".
Living up to its name, Gljúfrabúi is something of a hidden gem in Iceland. You have to wade into a small stream and enter a narrow opening in the cliff to find these mysterious falls.
Once you enter you'll be surrounded by mossy rock on all sides, with the water pouring in from an opening high above. It feels like you're in a scene from a fantasy movie here.
---
---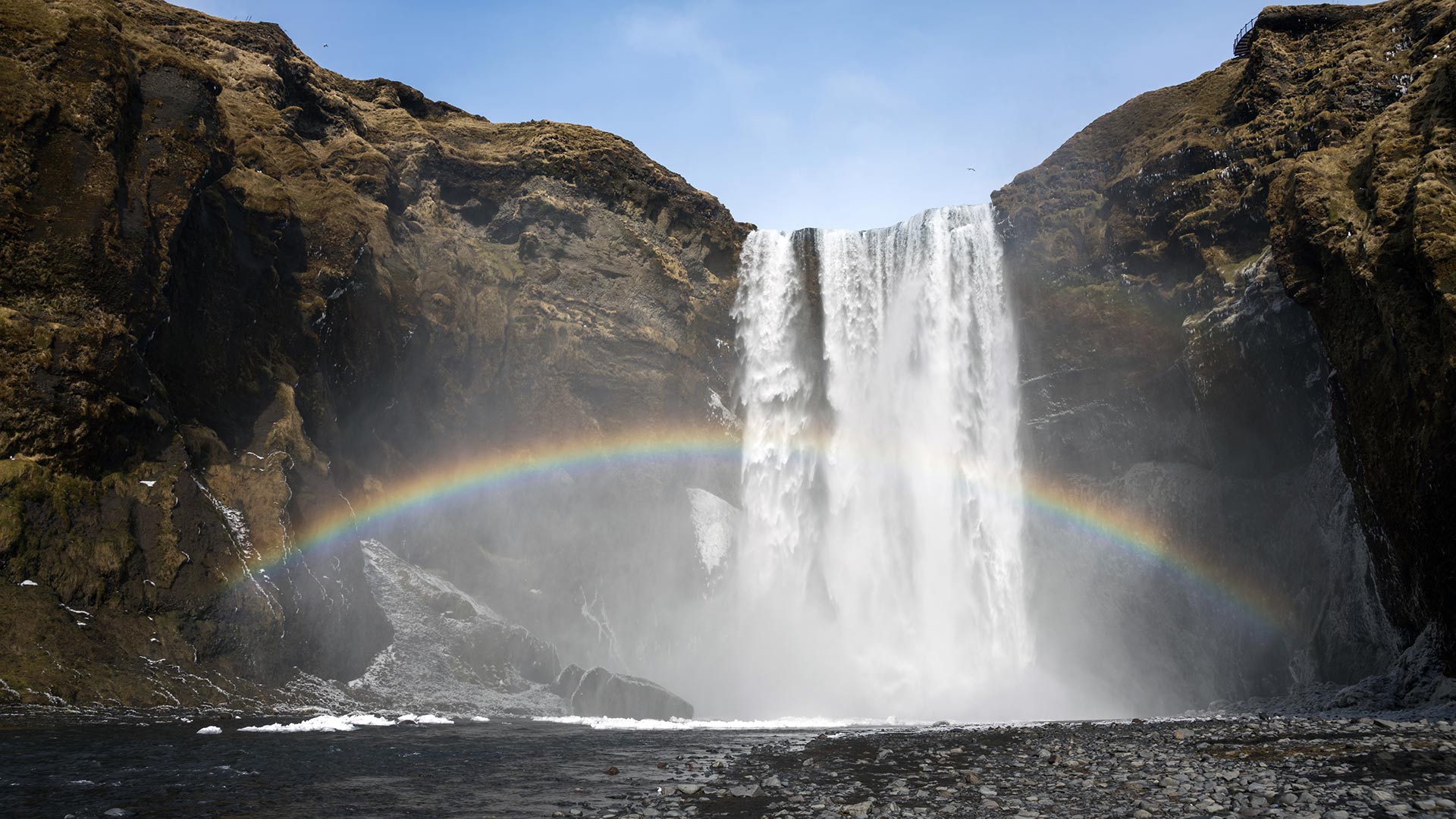 4. Skógafoss
Prepare to be amazed by Skógafoss, a jaw-dropping, 60-metre (197-foot) high waterfall on the south coast of Iceland.
According to legend, the first Norse settler in the area hid treasure in the cave behind the cascade.
You can get quite close to this popular waterfall as the ground beneath it is flat. Or climb the staircase to reach the observation deck at the top.
During your time here, you might like to explore the Skógar Folk Museum. This open-air site is home to an original turf farm that shows how the locals lived hundreds of years ago.
---
---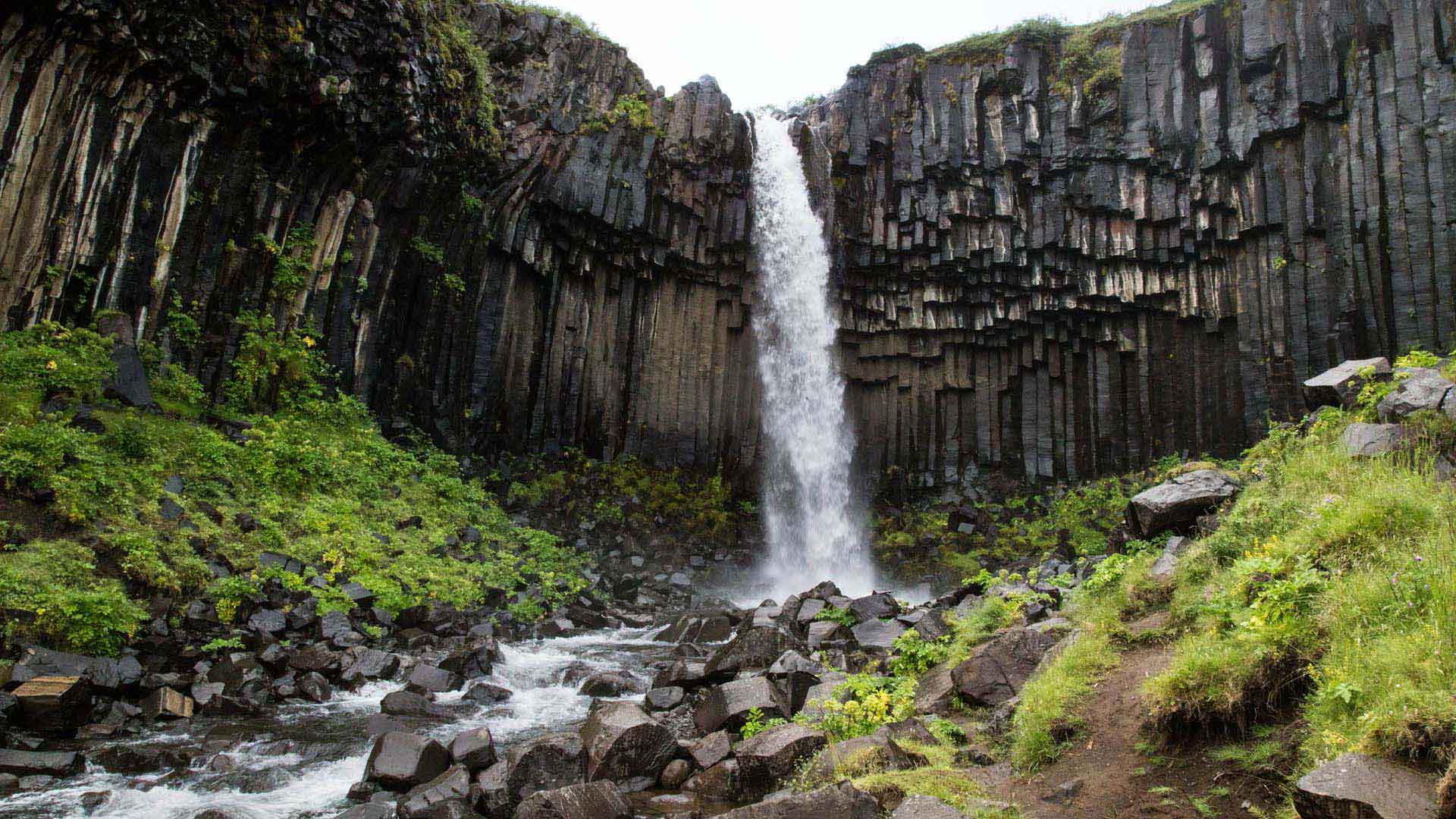 5. Svartifoss
Meaning "Black Falls" in Icelandic, Svartifoss is named for its cliffs of hexagonal basalt columns. They may remind you of those seen at Giant's Causeway in Northern Ireland or Reynisfjara beach in southern Iceland.
Svartifoss waterfall is located in Skaftafell, a nature reserve that forms part of Vatnajökull National Park. When visiting this region you might also like to try glascier hiking. Or simply soak up the beautiful landscape, characterised by canyons, hanging valleys and glacial rivers.
You'll need to hike to reach this waterfall. From the Skaftafell visitor centre, it's about a 5.5-kilometre (3.4-mile) round trip on a marked trail.
---
---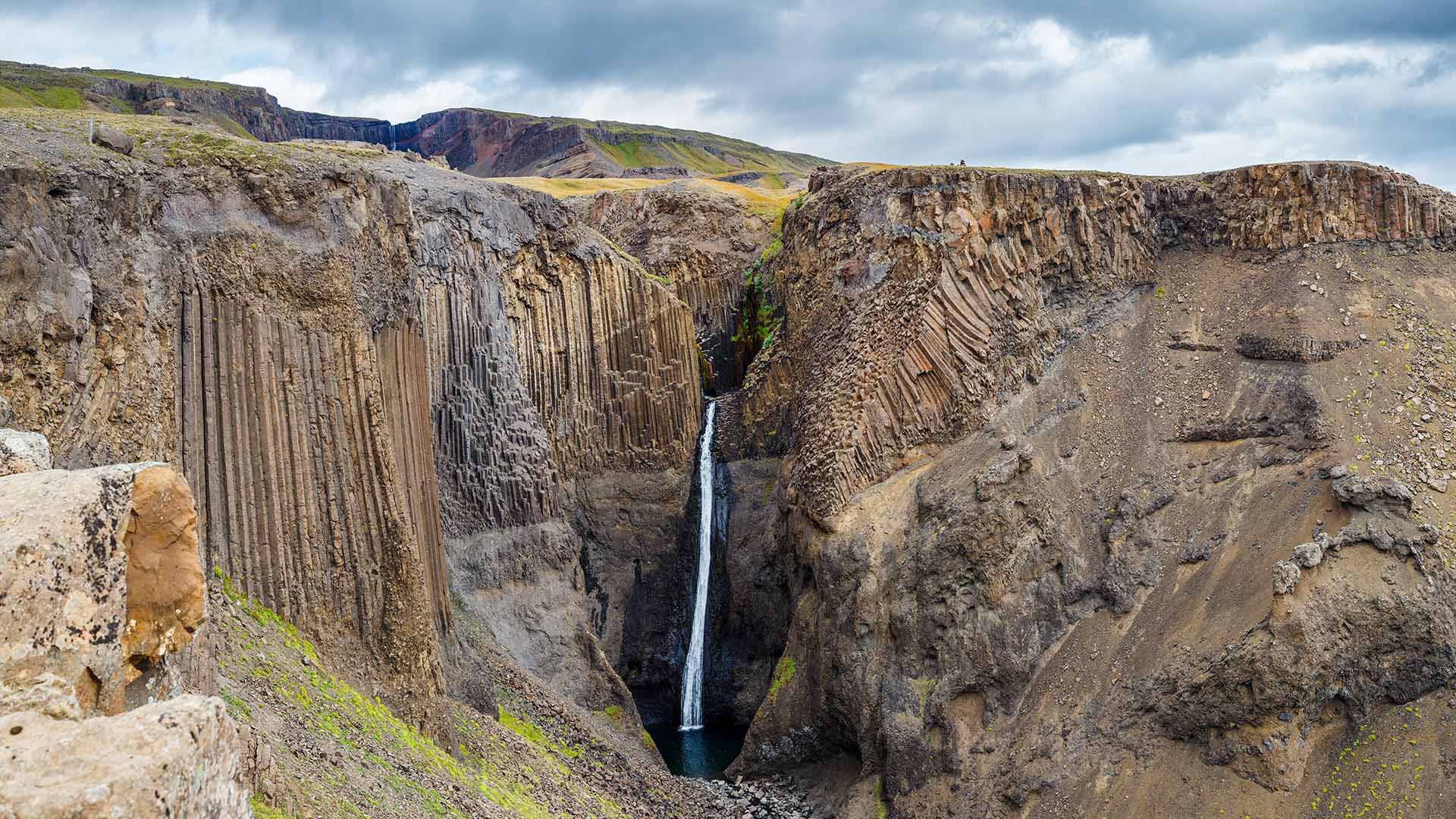 6. Hengifoss
After driving along the south coast from Reykjavík, you'll reach East Iceland, home to untouched nature and quirky little towns.
One of the must-see sights in East Iceland is Hengifoss, thought to be the third tallest waterfall in Iceland at 128 metres (420 feet) in height. Watch the water as it plummets into a dramatic gorge, surrounded by bright red clay. Scientists have actually discovered fossilised trees in the rock here.
There's also another, smaller waterfall to visit nearby: Litlanesfoss. You'll want to stop to admire the falls tumbling between basalt columns – it's a spectacular sight.
---
---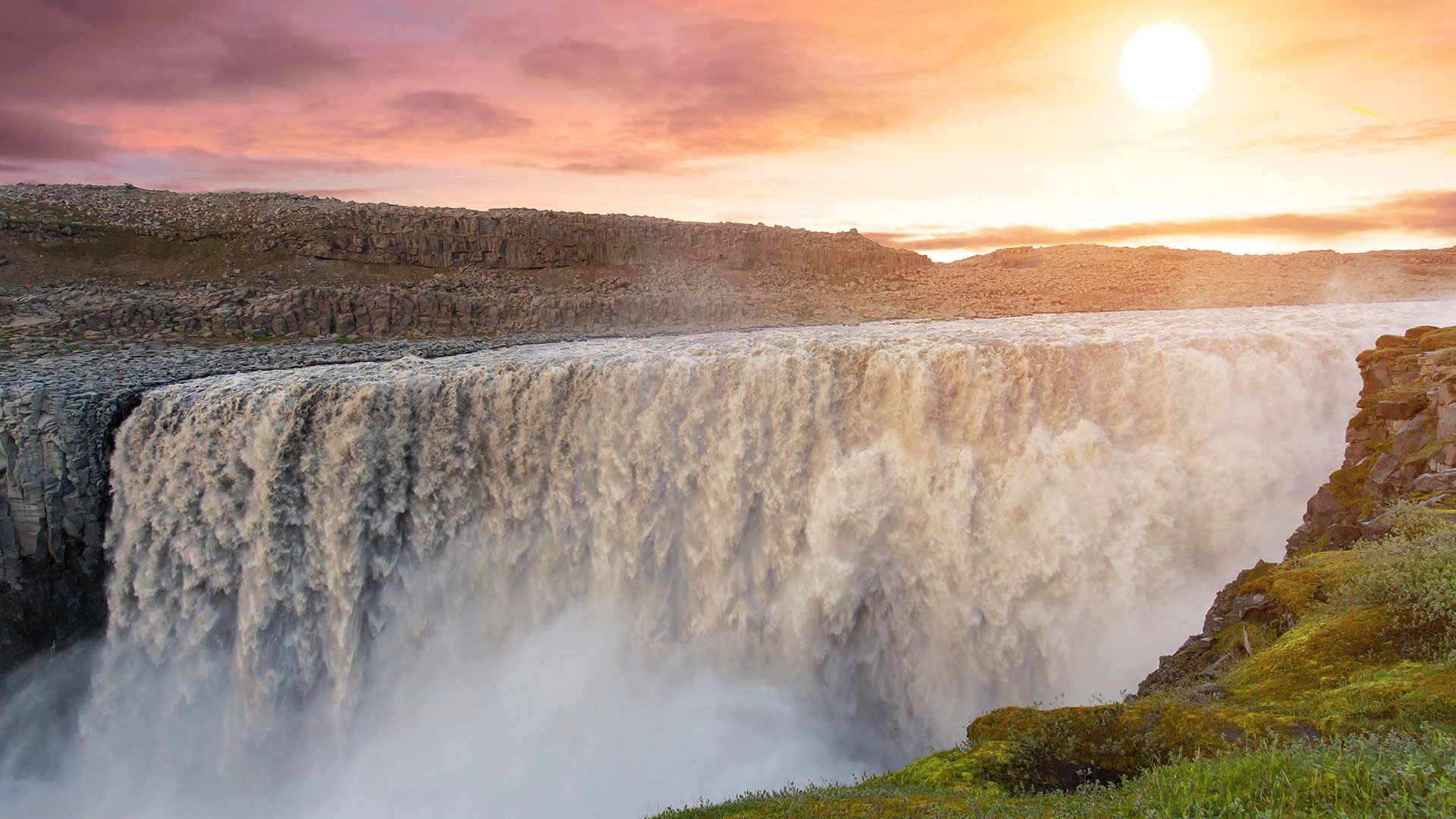 7. Dettifoss
Continue on the Ring Road and you'll enter North Iceland. Don't miss the chance to drive the Diamond Circle route, where you can explore a canyon, vast lake, whale-watching town, and waterfalls. In fact, one of the top sights on this route is Dettifoss.
This is the most powerful waterfall in Europe, and it's also Iceland's largest. Dettifoss pours nearly 200 cubic metres (over 7,000 cubic feet) of water per second into the gorge below. You'll undoubtedly hear its mighty rumble before you see it from the path.
Though accessible by 2 roads off the main highway, the best viewpoint is on the east bank.
---
---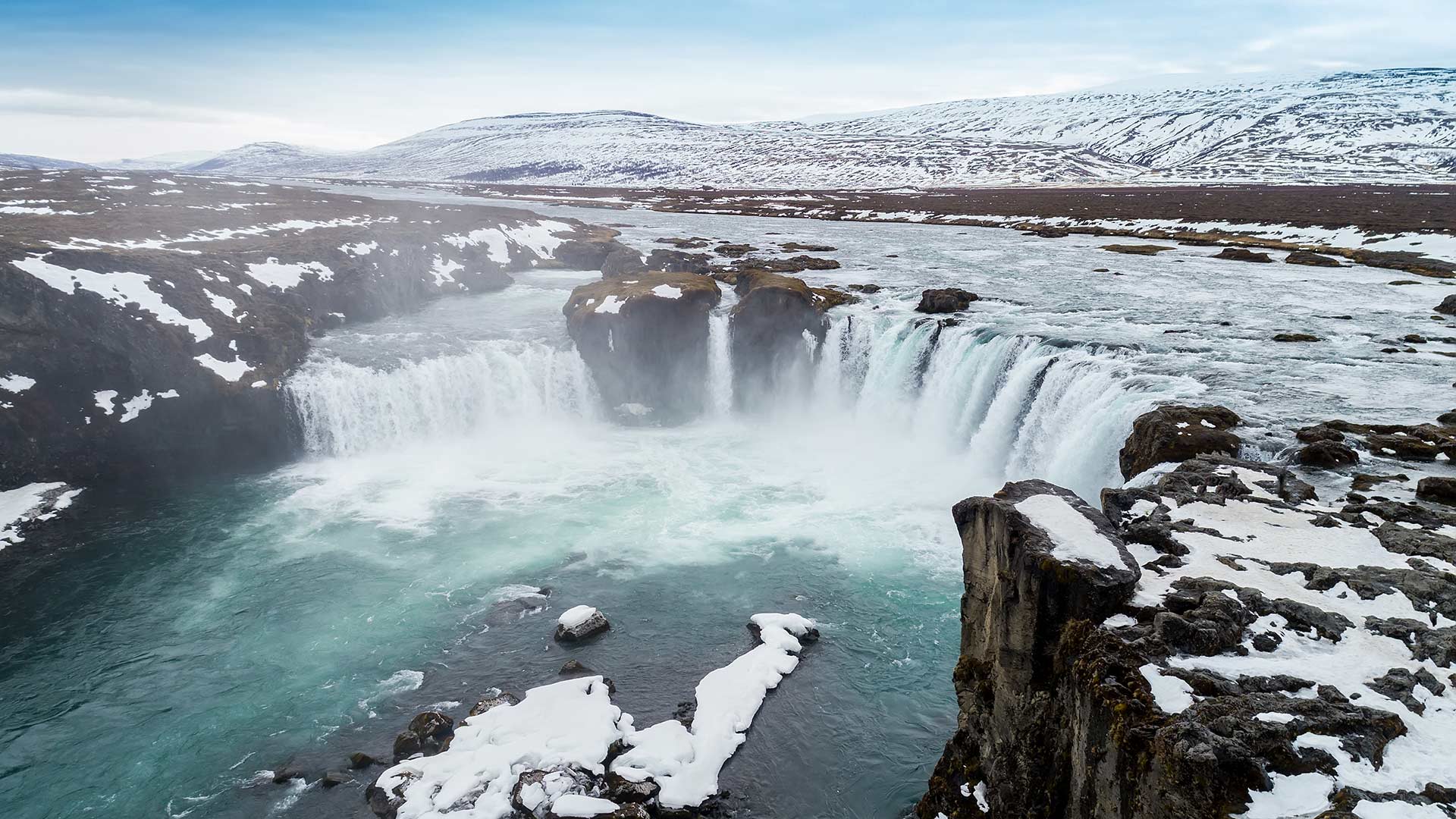 8. Goðafoss
There's another stunning waterfall to be found on the Diamond Circle route: Goðafoss. This one is formed in the shape of a horseshoe, creating a beautiful curtain of water.
Goðafoss isn't just a pretty sight, it's also shrouded in myth.
Legend has it that the "Waterfall of the Gods" got its name over a thousand years ago. It's said that a local chieftain threw his statues of the Norse gods into the thundering water, having converted to Christianity.
---
---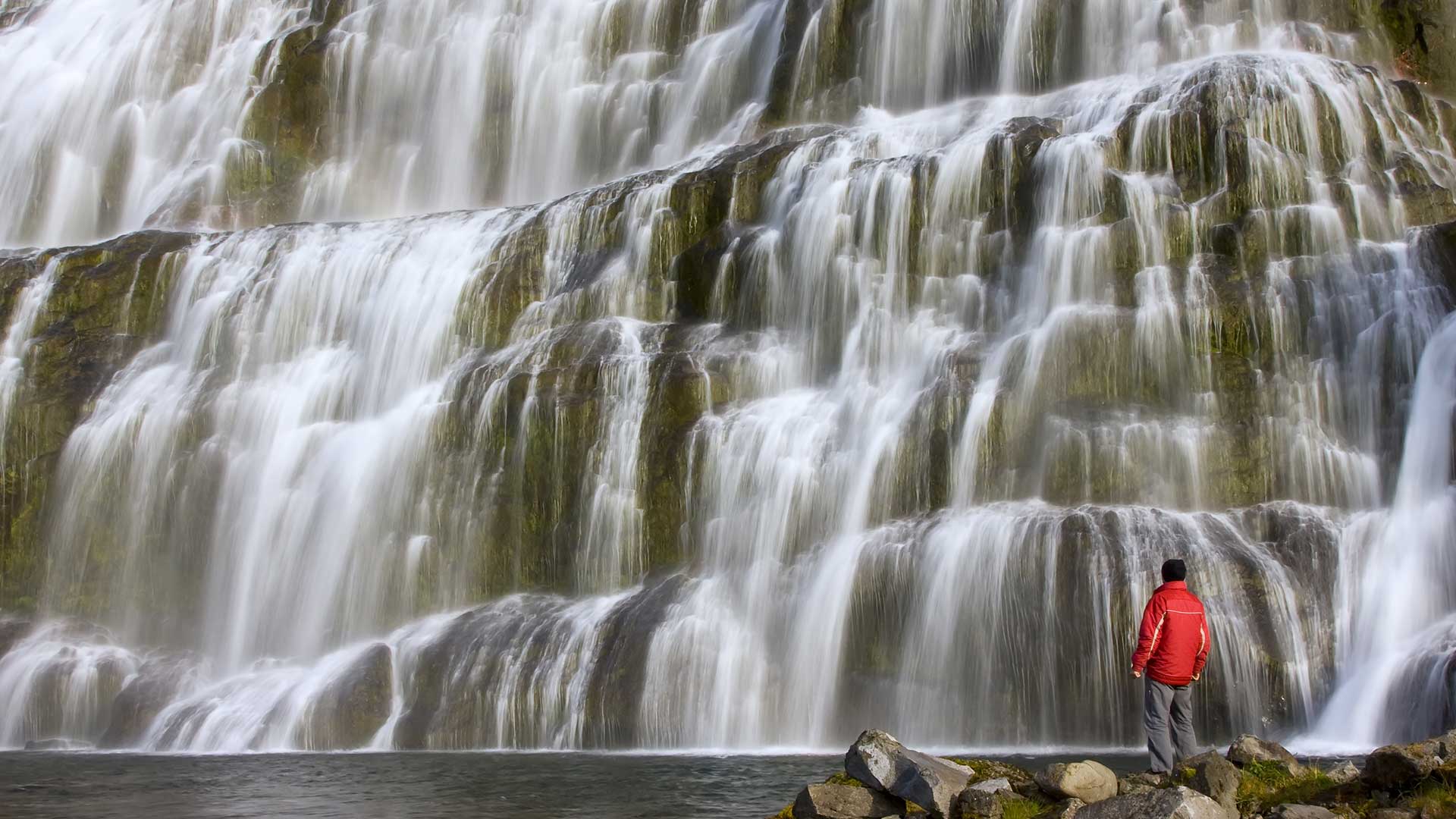 9. Dynjandi
As you circle back towards western Iceland, you'll have the chance to head to the Westfjords. Venture to this remote region and you'll be rewarded with beautiful, lesser-visited nature spots, including mountains, fjords, and cliffs where puffins nest in the summer.
During your time here, be sure to check out Dynjandi, a waterfall that's often likened to a bridal veil, or a multi-layered wedding cake. The water spills over multiple layers of rock across a width of 30 to 60 metres (98 to 197 feet), making it the largest fall in the Westfjords.
On the 15-minute hike to reach Dynjandi from the parking area, you'll pass 6 other waterfalls that are worth a look too.
---
---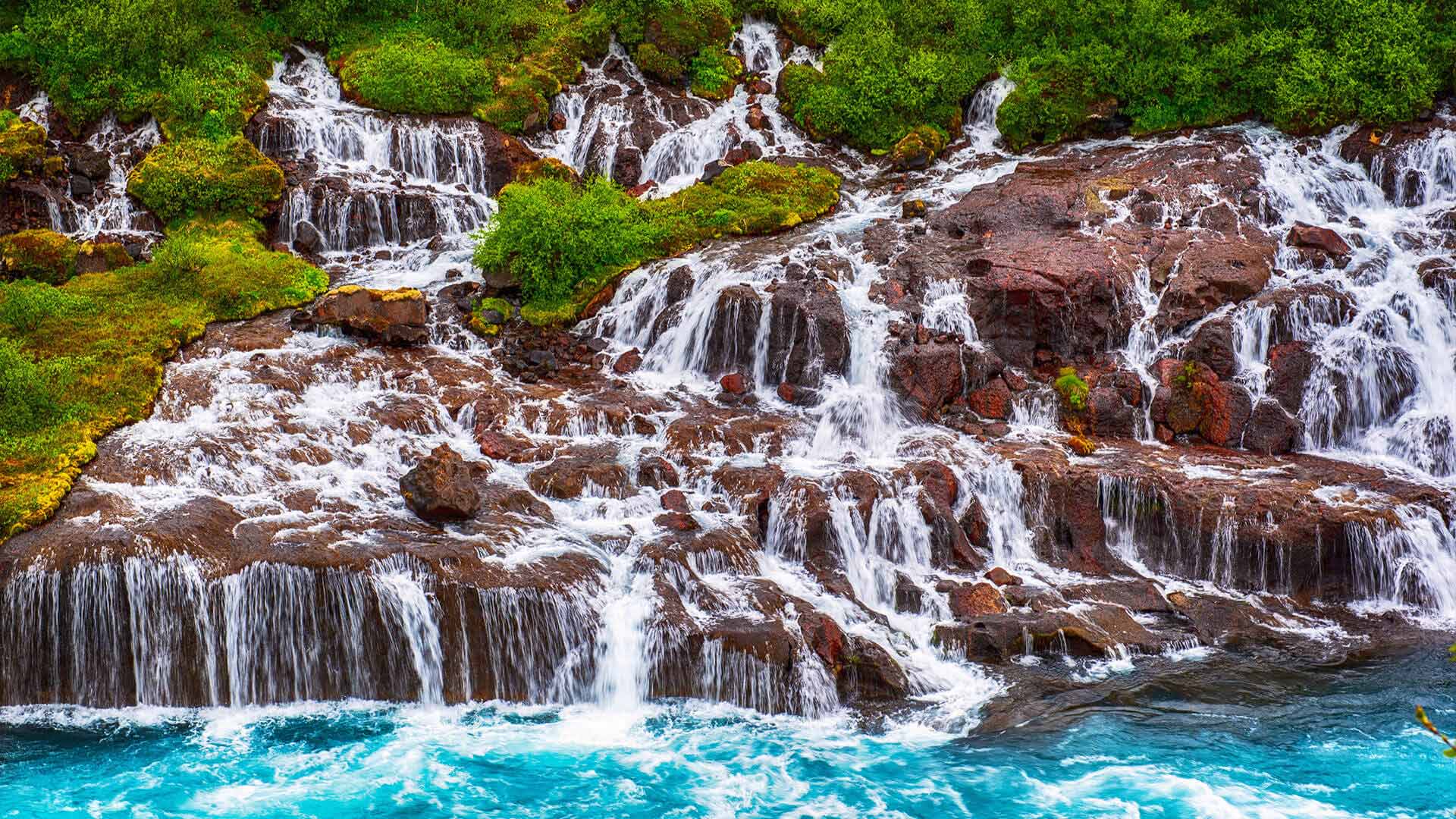 10. Hraunfossar
The beautiful falls of Hraunfossar make for a wonderful detour off the Ring Road in West Iceland, as you travel back to Reykjavík. When you gaze upon this one, you might wonder where the water is coming from, as there is no river or lake in sight.
Its water source actually comes from rivulets in the Hallmundarhraun lava field, which was formed by a volcanic eruption from beneath the Langjökull glacier.
When you make a stop here, be sure to explore the neighbouring Barnafoss falls as well. And why not also take an Into the Glacier tour? You'll be able to walk inside ice tunnels carved out of the nearby Langjökull glacier. This is one of the top things to do in West Iceland.
---
---
These are just 10 of the countless waterfalls in Iceland you could visit on your trip.
Perhaps you'd like to head into Iceland's highlands to see one of the highest waterfalls, Haifoss, tucked away in the Þjórsárdalur valley. Or stop by Glymur waterfall in West Iceland en route to or from Reykjavík. There are many more awaiting you in the Land of Fire and Ice!
Opt for a self-drive adventure around Iceland to travel at your own pace. Or let someone else do the driving and choose from privately guided, small group or multi-day tours of Iceland.
You could explore Iceland in summer to make the most of long daylight hours and marvel at waterfalls in remote parts of the country. Or take a winter trip to Iceland for the chance to see these natural gems surrounded by frost and snow, and to chase the northern lights.
The Iceland travel experts at Nordic Visitor can help. Based in the capital, Reykjavík, they'll use their insider knowledge to plan your trip. So you can relax and look forward to seeing the stunning marvels of Iceland for yourself.
Get in touch with us to make your travel dream a reality.