No trip to Norway would be complete without an exploration of the fjords. These long, narrow, saltwater inlets form the majority of the country's northern coast and boast some of the most exceptional scenery in Scandinavia.
If your curiousity has been pricked, read on for a guide to Norway's best and most beautiful fjords.
---
---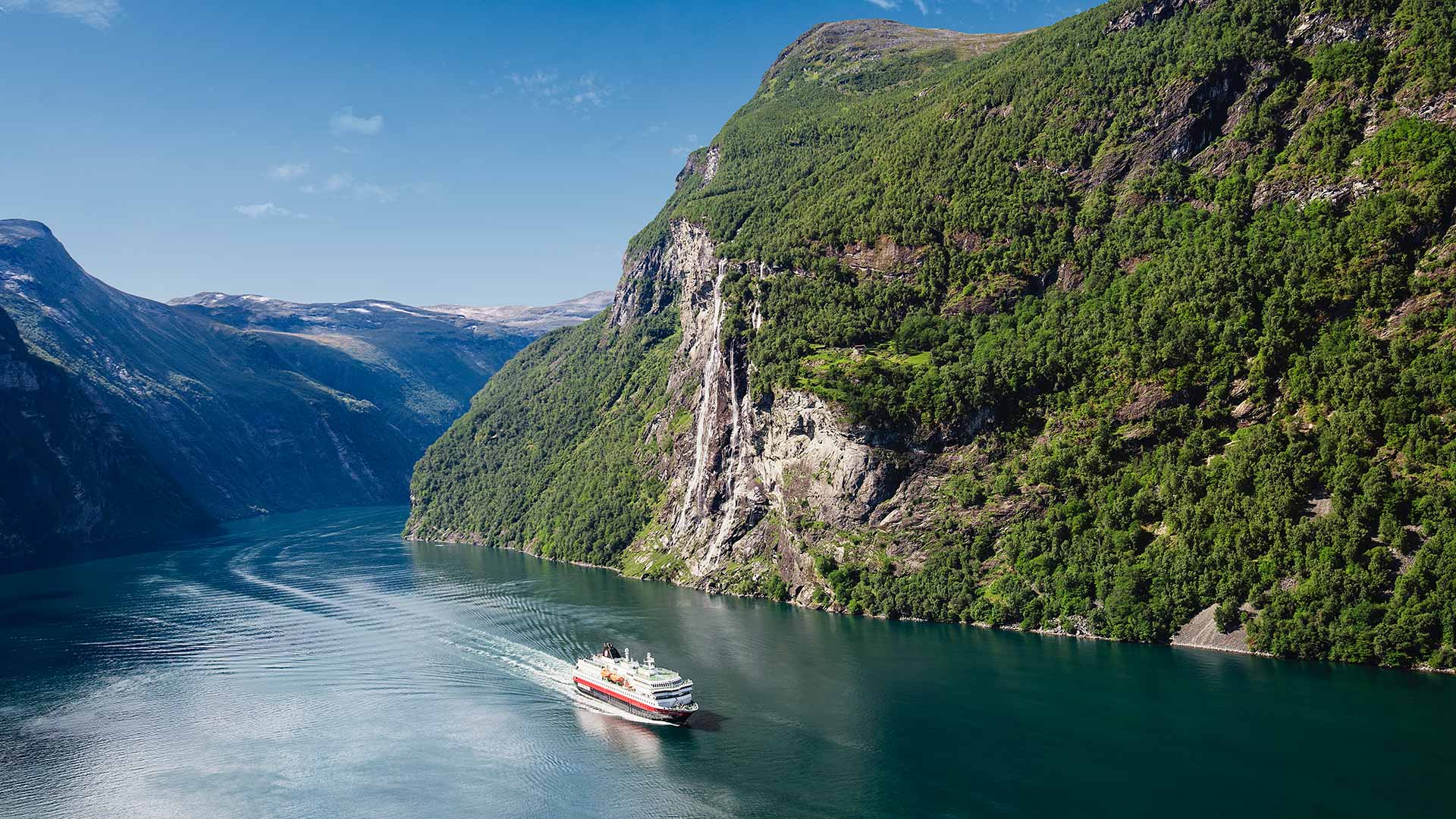 1. Geirangerfjord – A Fairytale Land
Geirangerfjord is a UNESCO World Heritage Site, and arguably the most astonishing fjord on the planet. Famed for its deep blue waters, towering mountain peaks, and abundant waterfalls, Geirangerfjord is the place to go for heart-stopping fairytale scenery.
You'll find many enthralling activities in the surrounding areas. Head to the Geiranger Skywalk, a platform 1500 metres above sea level, for dizzying views.
Then take the winding Eagle Road up to the Ørnesvingen lookout point, and visit the Norwegian Fjord Centre, where you can learn about the formation of these stunning landscapes.
---
---
For the ultimate Geirangerfjord experience, visit in the summer when you can enjoy the ferry journey between Geiranger and Hellesylt, a tiny village that is the country's oldest Viking port. It's the best way to drink in the calm majesty of this otherworldly place.
How do I get to Geirangerfjord?
The easiest way to get to Geirangerfjord is to travel to one of the major transport hubs nearby:
From Ålesund and Åndalsnes you have a number of options for travelling on to Geirangerfjord.
By bus: Bus connections from Ålesund run year round, but are more direct in the summer, incorporating the car ferry between Hellesylt and Geiranger. From June to August, bus connections run from Åndalsnes to Geirangerfjord, while during the rest of the year you can take a bus to Ålesund, and then on to Geirangerfjord.
By ferry: From April to October, a direct ferry runs between Ålesund and Geirangerfjord.
By car: From Ålesund or Åndalsnes, it's relatively easy to drive to Geirangerfjord, particularly in summer when the mountain roads are open. Trollstigen (aka the Troll Ladder) is one of the major driving routes used to access Geirangerfjord, but between November and May large sections are shut.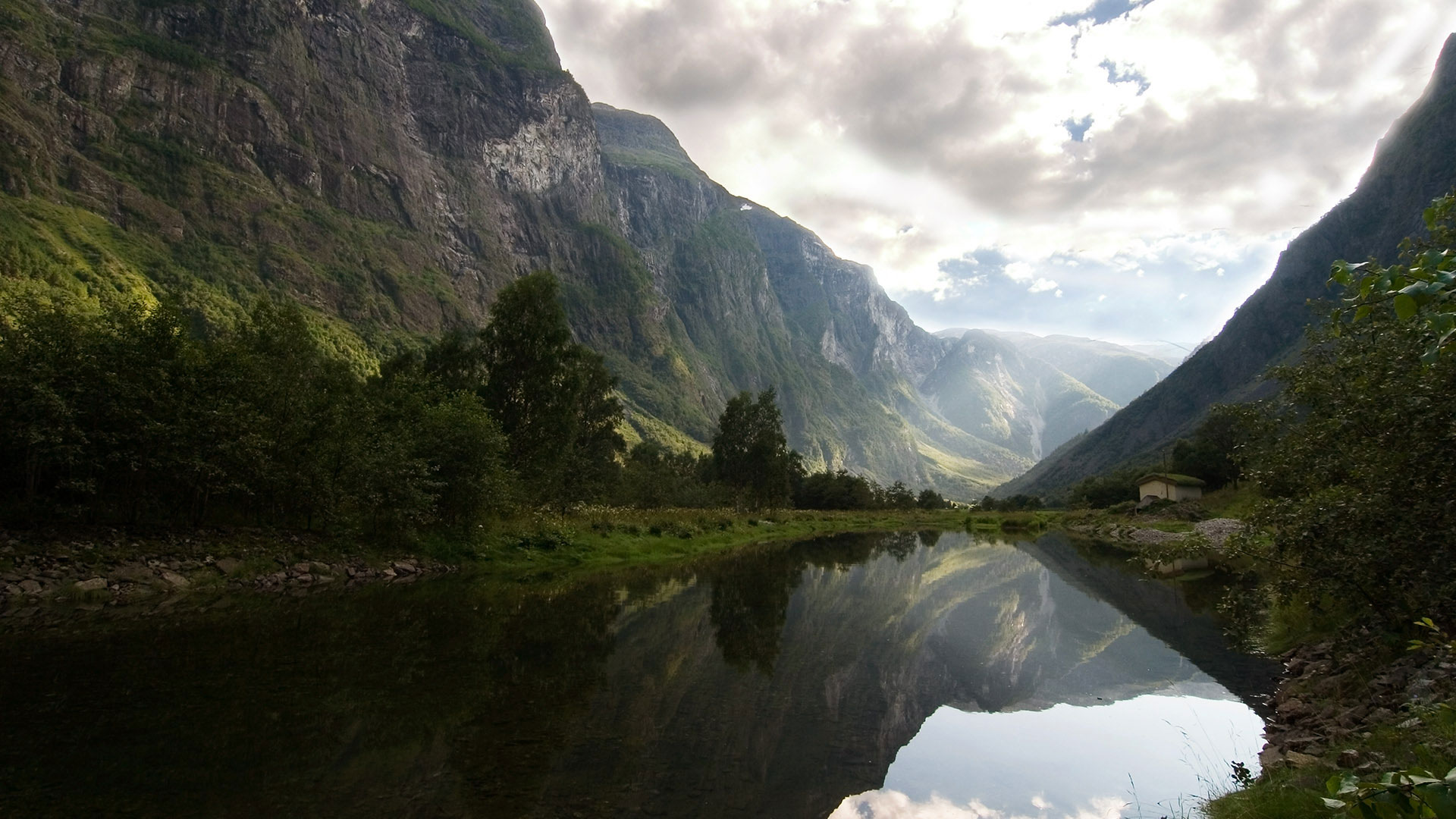 2. Sognefjord – King of the Fjords
Sognefjord is Norway's deepest and longest fjord, celebrated for the scale and drama of its scenery. That's why it's aptly known as the "King of the Fjords".
The main channel stretches over 100 miles inland, with smaller arms such as Aurlandsfjord and Nærøyfjord branching off to the north and south.
Sognefjord is a fantastic destination if you're keen to explore Norway's true wilderness. Two famous national parks, Jotunheimen and Jostedalsbreen, are found in the region, where you can hike along ancient glaciers, ascend towering peaks, and spot the local wildlife, or simply to fish and cycle.
Other highlights include the Flåm railway, which climbs up to the town of Myrdal providing unparalleled views, and the fjord-side Urnes Stave Church, a UNESCO-listed building dating back to the 12th century.
How do I get to Sognefjord?
The best way to visit Sognefjord is to travel to Bergen, which has an airport and a railway station, and arrange transport from there.
By car: The drive to Sognefjord from Bergen takes around 2-3 hours.
By ferry: They are available year round. There are daily express boats running between Bergen and the villages along the Sognefjord. In the summer, you can also get a daily express boat directly to Flåm.
By train: The train station for the Sognefjord region is Flåm, which offers connections from Bergen via Myrdal. The journey takes around 4 hours.
By plane: A small airport, Sogndal, serves the Sognefjord area, offering daily connections from Bergen and Oslo.
3. Aurlandsfjord & Nærøyfjord – Scenic Cruises
These twinned fjords are arms of the vast Sognefjord. The eastern fork, Aurlandsfjord, comes to an end at the village of Flåm, which is famed for its steep railway track.
The western fork, Nærøyfjord, which finishes at the village of Gudvangen, is considered one of the most beautiful fjords in Norway. It's no wonder it is on the UNESCO World Heritage list, along with Geirangerfjord!
As the villages are directly connected by the Gudvangetunnelen you can travel between the two by car or bus in just 20-30 minutes.
A visit to these fjords is the perfect opportunity for a scenic ferry cruise. In fact, this is one of the best cruise journeys in Norway. Year round, ferries run between Gudvangen and Flåm, giving you the opportunity to soak up the sights of both fjords from the quiet comfort of a passenger boat.
How do I get to Aurlandsfjord & Nærøyfjord?
Both fjords are easily accessible from the nearby city of Bergen.
By car: Hire a car and drive directly to Gudvangen or Flåm on route E16 – the journey takes 2-2.5 hours.
By train: There are train connections from Bergen to Flåm via Myrdal station. The journey takes around 4 hours.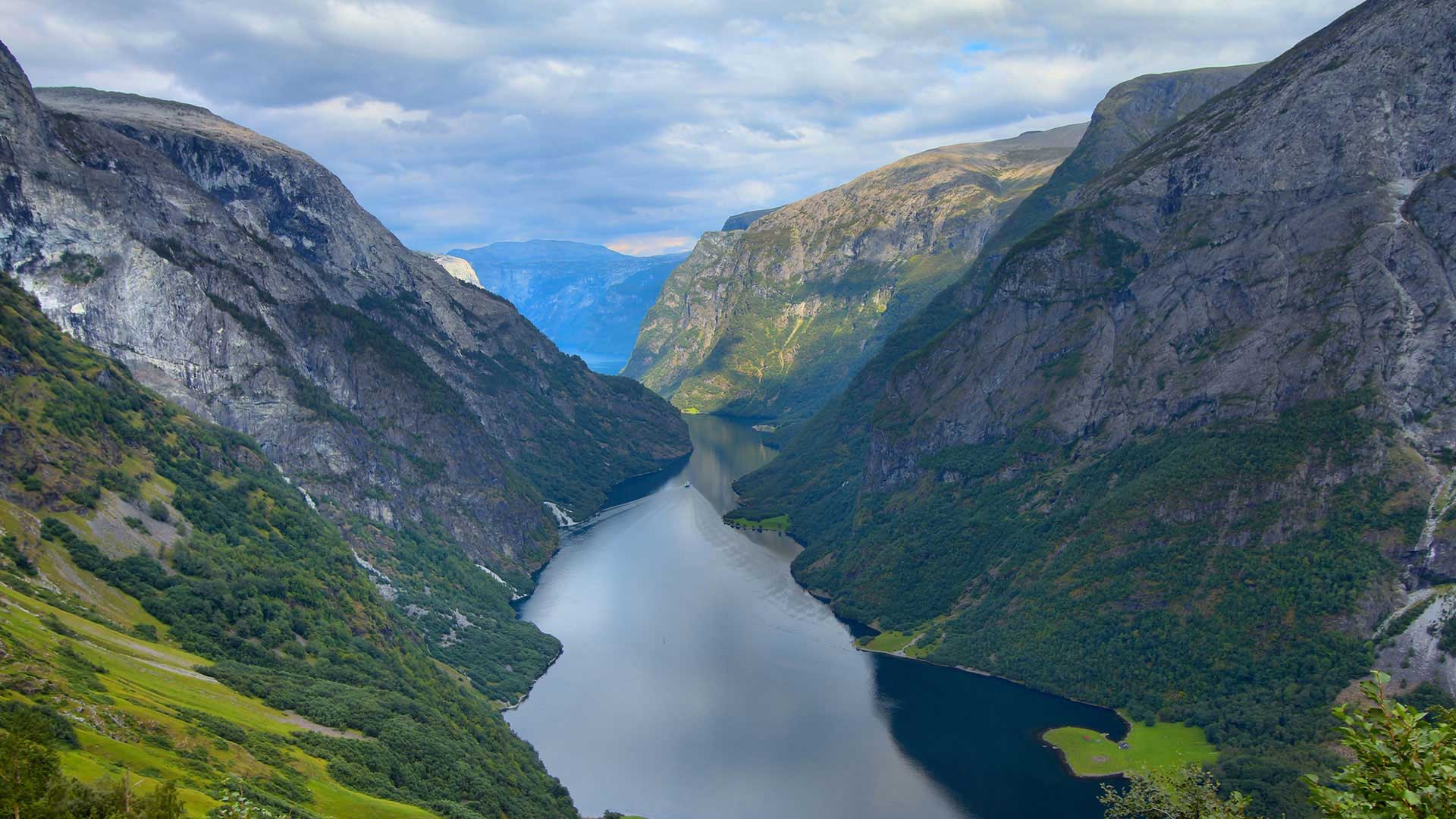 4. Hardangerfjord – Hiking Haven
Hardangerfjord is one of the longest fjords in the world, sinking half a mile at its deepest point. Size aside, it is primarily famous for one thing: hiking trails.
Come here to hike up to Trolltunga, a formidable rock formation perched 1100m above sea level, to stroll behind the Steinsdalsfossen waterfall, and to scramble along the Folgefonna glacier.
A good base for exploring Hardangerfjord is Odda, which is situated at the tip of Sørfjord, the main fjord's longest arm. Odda is sandwiched between the Folgefonna glacier and Hardangervidda National Park, a mountain plateau famed for its cycling and hiking trails.
It's worth noting that many hikes in the region are only open between June and September. Outside of these months the routes may be inaccessible or only possible via guided tour.
How do I get to Hardangerfjord?
The best way to visit Hardangerfjord is to travel from Bergen.
By car: Hire a car and drive from Bergen to Hardangerfjord in just over 1 hour. It's also possible to drive from Oslo, although the journey takes at least 5 hours.
By bus: Buses from Bergen run directly to Hardangerfjord, and the journey takes about 90 minutes.
By ferry: Year round, there are daily ferry departures from Bergen to Rosendal, with bus connections on to the towns of Odda and Husnes. The journey to Rosendal takes 2 hours.
5. Lysefjord – Sustainable Tourism
Lysefjord is a narrow, 25-mile-long fjord situated just east of Stavanger. It's one of 13 regions in Norway to receive the title of Sustainable Destination, making it ideal for environmentally conscious travellers.
Lysefjord is also a popular hiking destination, home to numerous trails and lookout points such as Pulpit Rock (Preikestolen), a square mountain plateau that offers incredible views of the fjord waters below.
Though it doesn't count as a traditional hiking route, the wooden staircase at Flørli (which has a whopping 4,444 steps) is a fantastic way to explore the region and enjoy some dizzying views.
An excellent base for exploring Lysefjord is Forsand, a village at the entrance to the fjord where you can hop on a passenger ferry up to Lysebotn or Flørli.
How do I get to Lysefjord?
The best way to get to Lysefjord is to travel to Stavanger, which has an airport and train station, and arrange transport from there.
By car: A car ferry connects Stavanger with Tau, taking 35-40 minutes. From here you can drive south to Lysefjord. Alternatively, drive to Lauvvik (40 minutes from Stavanger) and catch the ferry to Oanes, which is just a short drive from Forsand.
By ferry: Even if you don't have a car you can still make use of the Tau ferry. From April to September a bus service connects Tau with the starting point for the Pulpit Rock hiking trail. Year round, bus connections run between Tau and Forsand.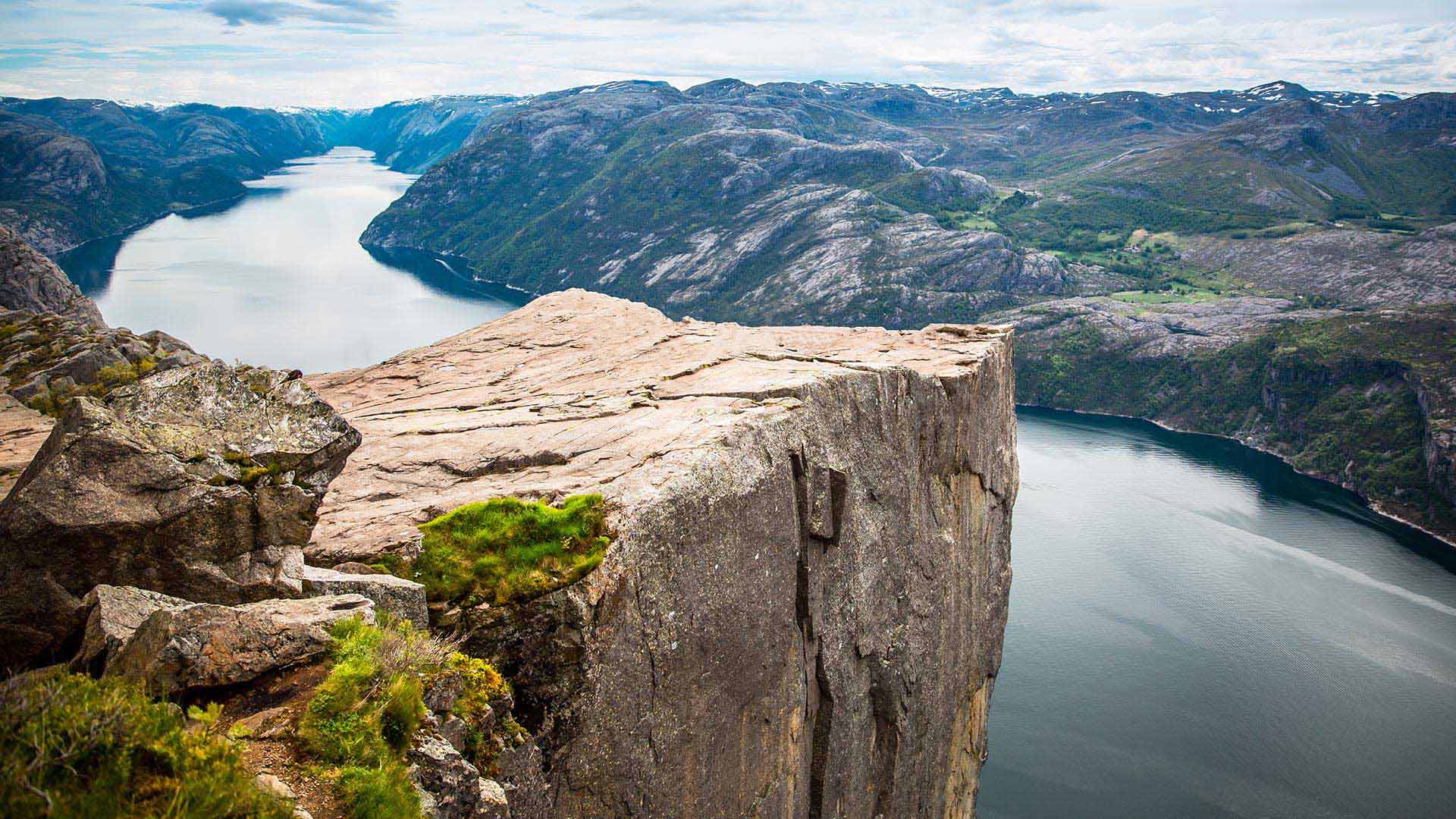 6. Trondheim Fjord – City Splendour
Trondheim is one of Norway's most beautiful and historically significant cities, a former capital where, to this day, new monarchs are consecrated. Sprawled out on the banks of the magnificent Trondheim Fjord, the city acts as the perfect gateway to the surrounding region.
Trondheim itself, which is famed for its colourful buildings and picturesque waterways, has plenty to offer the avid sightseers. While you're here, make time for the excellent museums (the open-air Trøndelag Folk Museum is a must-see) and the Nidaros Cathedral, the world's northernmost gothic cathedral.
As for the fjord itself, in the summer you can hop on one of the hourly ferries over to Munkholmen, a tiny island that houses the remains of a monastery, prison and fort. To enjoy a drive along the northern banks, head to Flakk, just 8 miles west of Trondheim, and take the 25-minute car ferry.
From Trondheim Fjord you can also take a ferry to the picturesque coastal town of Kristiansund, drinking in the majestic scenery as you make your way out to sea.
How do I get to Trondheim Fjord?
Trondheim Fjord is the most accessible fjord in Norway. The banks of the fjord are just a short walk from the heart of the city.
By plane: From both Oslo and Bergen, the flight to Trondheim is just 60 minutes.
By train: From Oslo you can take the train all the way to Trondheim. The journey takes around 7 hours.
By car: From Oslo you can drive to Trondheim in around 7 hours. From Bergen the journey takes closer to 12 hours.
Planning your trip to the Norwegian fjords
Need a little more help planning your trip to Norway? You can let our Norway travel specialists take care of the logistics. Simply book one of our fjord tours, spending 7, 10 or even 16 days exploring the fjords by car, train and cruise ship. The choice is yours!
We can also help with the little details, including what to pack! Check the links below to plan your Norwegian odyssey the easy way:
Discover Norway's starring attractions in style on our fjord cruise and rail tours.