When planning a Scandinavian getaway you might find it important to know when is the best time to visit Norway. The truth is that this beautiful Nordic nation is a worthy travel destination year-round, so it's hard to go wrong!
Having said that, each season has its own unique benefits. The summer is perfect for fjord cruises and road trips. The winter is the ideal time to spot the northern lights and take part in snow-based activities.
To learn more about the best time to go to Norway, read this guide to the 4 seasons followed by our travel experts' answers to frequently asked questions.
You'll know what to expect at each time of year, what activities are best as well as when and where to go in Norway for your ideal trip.
---
Contents:
---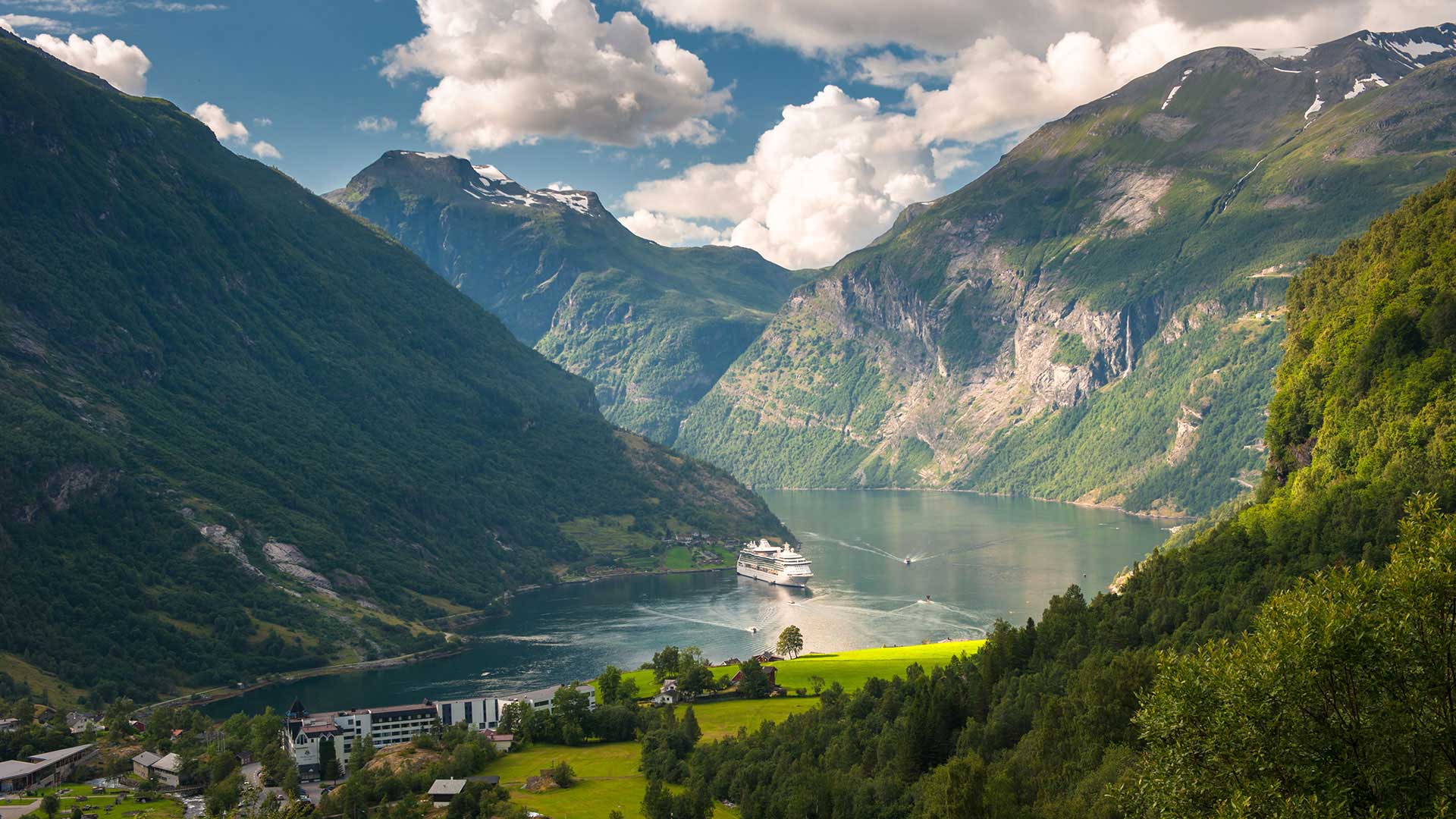 Norway in summer
Best for enjoying the midnight sun & warm waters
June to August is a fantastic time to visit Norway if you want to take advantage of the country's legendary midnight sun. At this time of year, the days are long and pleasant, and greenery stretches as far as the eye can see.
How's the weather?
While temperatures in the north (for example in Tromsø) stay low at around 11°C (52°F), temperatures in the south climb into the 20s°C (68°F +). Perfect summer temperatures to enjoy sightseeing.
Best places to visit
The warm weather, endless daylight hours, and good road conditions mean it's a perfect time for taking on a road trip! You could leave from the capital, Oslo, and head toward the western fjords region.
Make sure to stop by the famous and UNESCO World Heritage-listed Geirangerfjord.
If you're keen to venture into the real north of Norway, summer is a good time to go if you want to avoid the coldest, snowiest weather.
We especially recommend touring the Lofoten islands, just north of the Arctic Circle. This charming archipelago is an idyllic place to enjoy nature, hike, kayak, cycle, boat and fish to your heart's content. Just drink in the astonishing scenery under the midnight sun.
---
---
Fun activities to do
The warmer weather of the summer means the lakes warm up nicely, making them ideal for wild swimming. Even if you don't take to the water yourself, you can still make the most of the weather. How abouta boating or kayaking trip?
If you're in Bergen, you could try the Mt Ulriken zipline. This would allow you to experience the city from a different perspective.
And if you're a lover of birds, it's a great time to come to Norway for birdwatching. There are interesting safaris available at this time of year. We can suggest the one in Honningsvåg, in the north of Norway.
Mark your calendar for these fun summer events:
Riddu Riđđu, an international indigenous festival hosted in July each year. It takes place in Kåfjord, 2 hours outside Tromsø in Northern Norway.
The Norwegian International Film Festival happens every August in Haugesund, 2 hours outside Stavanger.
Midnight Sun Marathon is held in Tromsø each June.
Norwegian Wood, one of Oslo's best music festivals, also happens to be scheduled for June.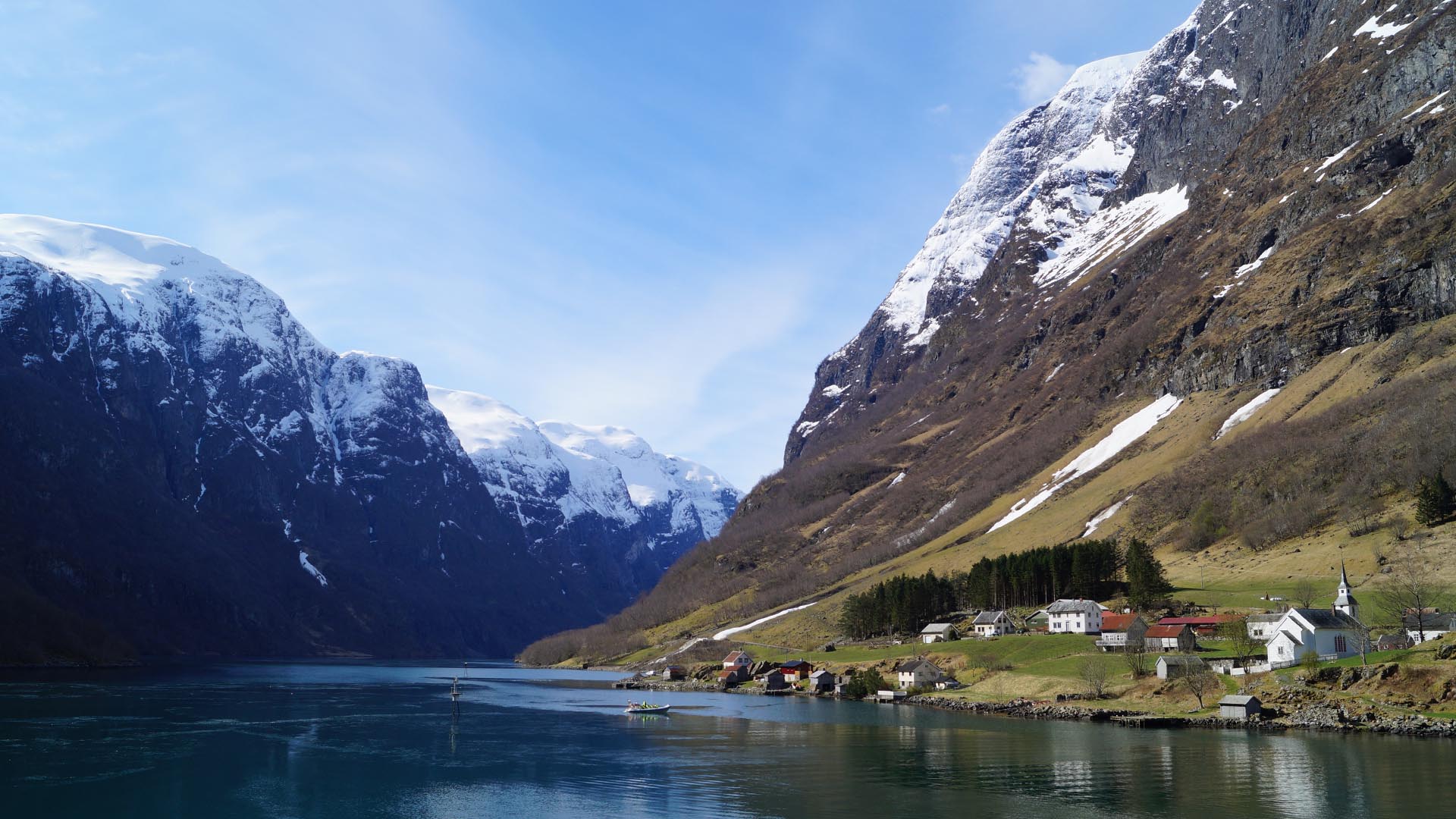 Norway in autumn
Best for enjoying crisp nights & scenic hikes
Between September and November, Norway is transformed. The lush greens of the summer have been replaced with the fiery autumnal shades of yellow, orange and red. At this time of the year, the landscape is on the cusp between colourful foliage and the frost of first snow.
This is the perfect time of year if you enjoy hiking, and especially if you are seeking a quieter ambience. October and November in particular see a drop in visiting travellers, meaning you'll have more of the sights to yourself.
How's the weather?
This is the time of year when the weather in Norway starts to change as the winter approaches. In Oslo, average temperatures come down to around 6°C (48°F) in October, while in the north they are only around 2°C (35°F).
Best places to visit
The cities are must-sees during this season as you have plenty of places to visit, such as museums and attractions. You could make your way between Oslo and Bergen, taking on the iconic Norway in a Nutshell® journey.
Going through the country toward the west coast is an ideal way to spot all the gorgeous landscapes, marked by the colours of autumn.
If you're looking for a fantastic wildlife experience, make sure to head north, maybe on a Hurtigruten cruise all the way to Kirkenes. This is a good time of year to spot sea life, such as humpbacks and orcas, in the chilly northern waters.
Fun activities to do
The crisp weather of autumn means it is a great time if you love hiking and are always seeking an interesting viewpoint.
In September and October, you could take on famous hikes to Pulpit Rock, or even Trolltunga. That said, we recommend following local safety advice and weather warnings when out hiking.
You can't think of the Norwegian autumn without of the aurora borealis. This time of year is the start of the season for going on northern lights tours in Norway.
Mark your calendar for these autumnal events: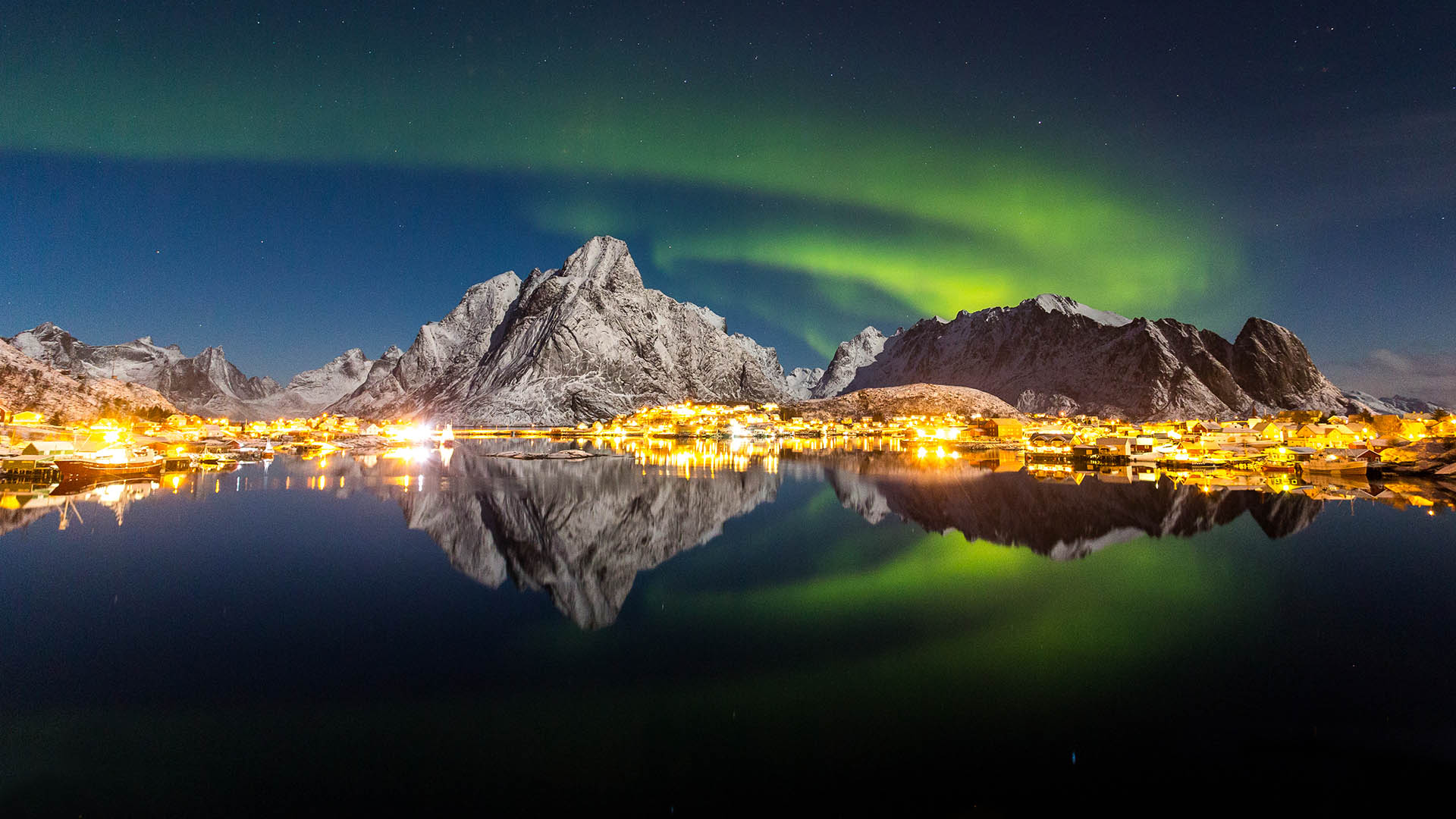 Norway in winter
Best for enjoying the northern lights & winter sports
Norway's winter is magical! While these months may be cold and dark, the beauty of the landscapes more than makes up for it. The country is draped in thick snow, and the fjords are transformed into mystical ice realms.
If you're looking for the best time to travel to Norway to witness a snowy wonderland, this is it.
Some roads are closed over the winter months, but you can enjoy cruises and train journeys all year long.
It's a great time of year to travel through the snow-capped mountains and keep an eye on the dark skies. You may be lucky enough to spot some colourful dancing lights in the sky as well!
How's the weather?
Temperatures fall to an average of -3 or -4°C (25°F) in both the capital and the north. By the coast, however, which enjoys a more temperature climate, it stays around 2°C (35°F).
Best places to visit
Make sure to head north! Within the Arctic Circle, you'll be able to enjoy the true meaning of winter.
One of the key draws of a winter trip to Norway is of course the northern lights. And the best location to have a chance to spot them is in Northern Norway.
In fact, there is a zone called the "Northern Lights Belt", situated from 65 to 72 degrees north. It's known for having the highestt auroral frequency and intensity. The closer you are to it, the better your odds are!
Both the city of Tromsø and the Lofoten islands fall directly within this area, so we highly recommend these destinations. You could also take on an Arcticcruise to the North Cape and Kirkenes. In fact, these are some of the best cruise journeys in Norway.
---
---
Fun activities to do
Winter may be the 'off-season' in some places, but in Norway you'll find plenty to do! And we don't mean just looking out the train window at the gorgeous mountains above, or searching for the northern lights.
In the winter months, you'll be able to enjoy a host of unique activities, including reindeer- and dog-sledding. You could learn more about Sami culture, stay at the SnowHotel, or even chase the northern lights by snowmobile.
Stay the night inside a snow hotel with these ice hotel packages to Northern Norway
Near Oslo, you could visit the Holmenkollen Ski Museum and Tower. The museum is the oldest of its kind in the world and showcases more than 4,000 years of skiing history. Head up to the observation deck at the top of the jump tower for views of Oslo.
Another great place to experience the true north is in Svalbard – a Norwegian archipelago located closer to the North Pole. It is one of the world's northernmost inhabited areas and is famous for its number of polar bears.
Mark your calendar for these winter events:
Ice Music Festival, a glacial event happening every February in the alpine resort town of Geilo.
Northern Lights Festival, a 10-day music festival held in Tromsø every January.
Rørosmartnan held in February and considered the largest winter festival in the country.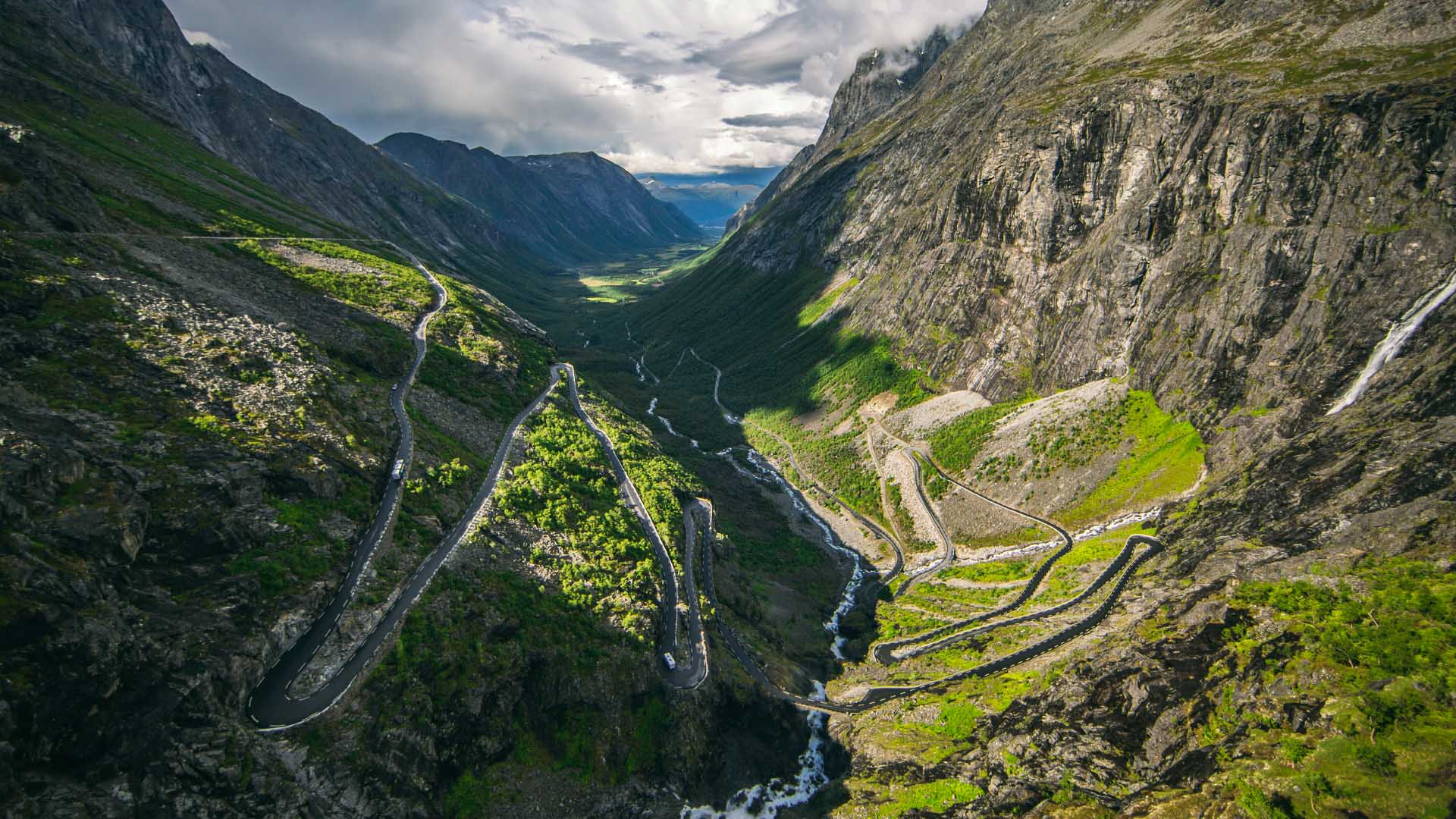 Norway in spring
Best for enjoying flora and bird watching
March, April and May are also beautiful months to visit Norway. As the winter snows melt, the rivers, lakes and waterfalls swell with fresh water and life. Snow-draped landscapes fade away and are replaced with swathes of lush green.
How's the weather?
From April to May the weather rises between 0 and 11°C (32-52°F) in Oslo, and up to, on average, 4°C (39°F). As this is a changeable season, you never know as it may inch a bit higher or lower.
Best places to visit
You'll definitely enjoy the fjords in the spring! The western fjords are gorgeous all year long, but in the spring, the landscape transforms from wintry to luxuriant.
We recommend taking the Hurtigruten Norwegian Coastal Voyage from Trondheim down to Bergen, admiring the coast along the way. At this time of year, many summery activities reopen their doors so you can take advantage of these before the summer boom.
Fun activities to do
Boosted by the meltwaters, the waterfalls of Norway are at their most formidable during spring. You could go on a kayak or rib boat tour at Geirangerfjord to get close to the stunning Seven Sisters and Bridal Veil waterfalls.
One of Norway's biggest attractions at this time of year is also the spring blossom. By May, the flowers are in full bloom across the country and, on a sunny day, the scenery can be out of this world.
In May, when the nicer weather has usually settled in, some roads reopen. One you won't want to miss is the Trollstigen road near Ålesund. You could make sure to drive it on a road trip, or to book an optional excursion to go experience it.
Mark your calendar for these spring events:
Stavanger Vinfest, a food and wine festival held in April.
Constitution Day on 17 May, celebrated all over the country.
Bergen International Festival beginning in late May.
Best time to visit for…
If you're wondering when the best time of year to visit Norway is for a specific activity or to visit a certain location, read below. Nordic Visitor's travel experts share their insider tips to help you plan your ideal trip.
Best time to visit Svalbard, Norway
A great place to experience the true north is in Svalbard – a Norwegian archipelago located halfway to the North Pole. It is famous for having more polar bears than human inhabitants.
If you're keen to fly north, we recommend going between February and September. That is because of the number of daylight hours available during those months.
In the depth of winter, the region experiences a polar night and therefore the sun doesn't rise at all. From February, you get a better balance of darkness, to spot the northern lights, and daylight, to go on excursions.
You'll want to be able to admire the glittering icebergs, frozen tundra and maybe even spot the elusive white bear.
---
---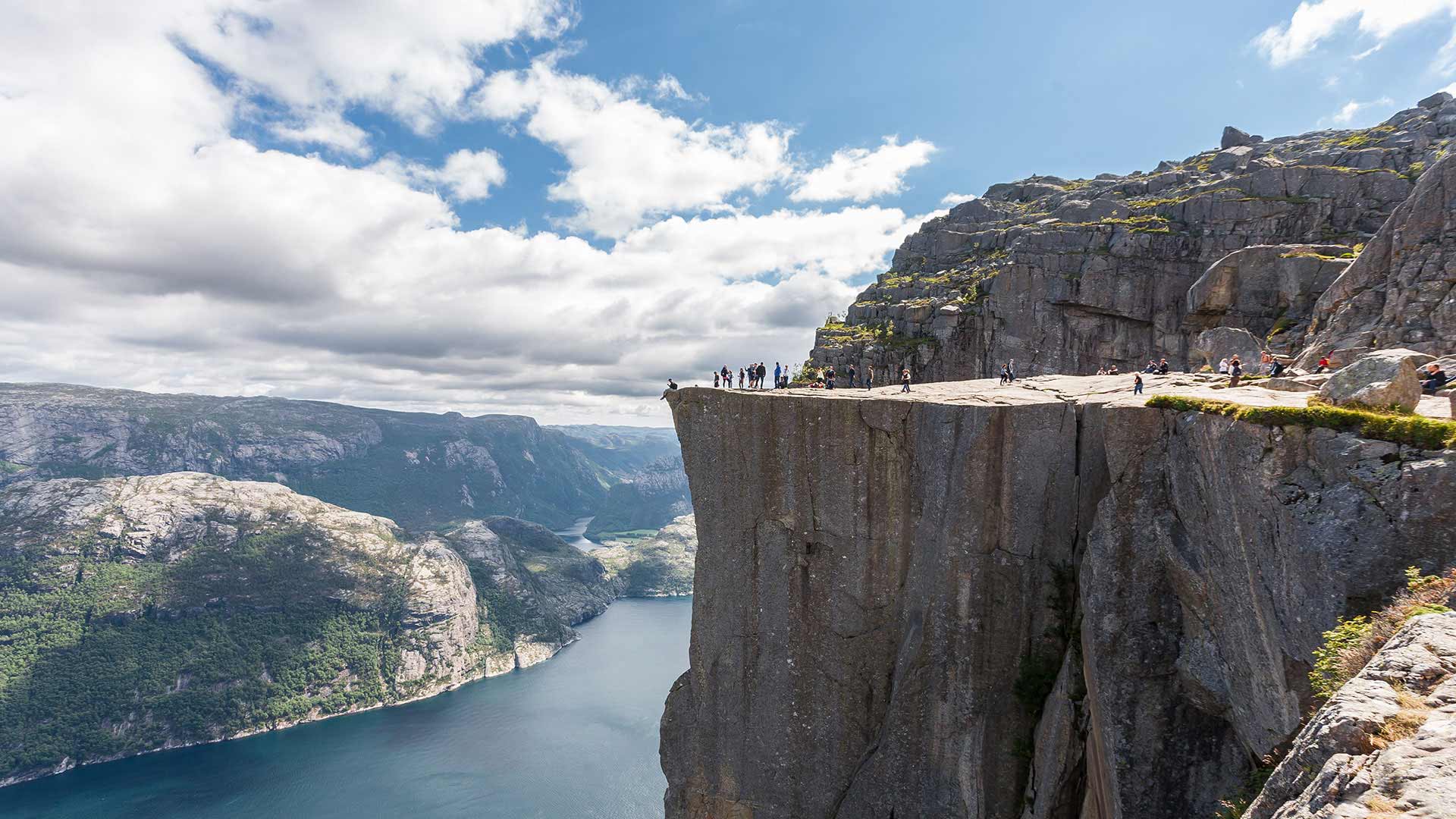 Best time to travel to the Norway fjords
The Norwegian fjords are amongst the most beautiful in the world. It is no wonder that the West Norwegian Fjords, Geirangerfjord and Nærøyfjord, are listed as one of Norway's UNESCO World Heritage Sites. Picture tranquil waters, thundering waterfalls, and sheer mountain faces.
To see the fjords in all their glory, the summer is a great period for a visit. At this time, you could go kayaking along a fjord to take it all in from a different perspective. You could even try dipping your toes in or going wild swimming.
But there are benefits to the other seasons too. Come in spring to see the waterfalls running with even more power thanks to the snow and ice melting. In winter, you may get a view of snow-capped mountains and frosted waterfalls as you sail through the Norway fjords.
---
---
Best time to visit Norway for the weather
First, what is the best weather for you?
As mentioned previously, the warmest weather of the year is definitely during the summer. At this time, you'll enjoy sunny days in the south, either for a city break in Oslo or to take on a fun excursion to the fjords.
But maybe you prefer colder days with crisp air and plenty of snow to enjoy fun activities. Then come in winter.
If you like mild weather, you'll probably prefer the shoulder seasons. In April, May and September, you'll enjoy weather that is perfect for hiking or exploring, with plenty of daylight to do so!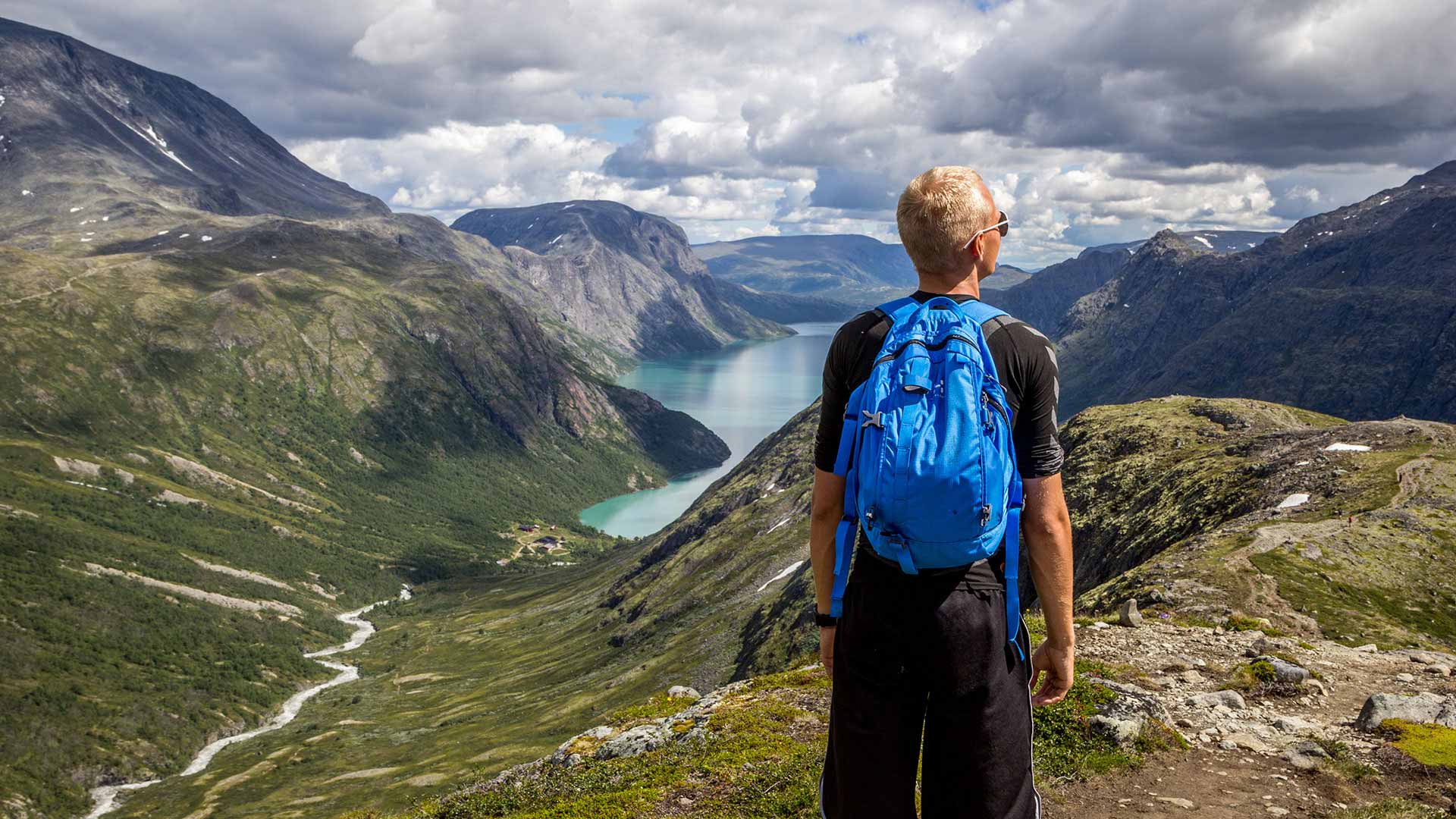 When is the best time to visit Oslo, Norway
Oslo, the formidable capital of Norway, is the ideal Nordic destination for a city break. It's also a great gateway to discovering more of the country.
To see Oslo at your own pace we recommend visiting in the months just before or after the summer. This way you'll enjoy all the top attractions with, hopefully, fewer crowds. This time of year is the best of both worlds.
Spend your days visiting the top landmarks, such as Akershus Fortress and the Royal Palace, which may have more availability at that time of year. Later, walk along Aker Brygge, the old waterfront, and enjoy al fresco dining in the bright and cool evening.
Visit Oslo in early winter for another fantastic experience. At this time, you could enjoy the charming Christmas markets and go sightseeing under fairy lights. A trip to Norway's capital city is a great way to get into the festive spirit.
---
---
Best time to visit Tromsø, Norway
Tromsø is a great year-round destination if you're looking for stunning scenery and don't mind a cooler day out.
Visit Tromsø between October and April to enjoy a winter wonderland and experience a polar night. This phenomenon, where the sun doesn't rise at all, happens from late November until mid-January.
Another bonus of visiting in winter is the city's location, straight into the "Northern Lights Belt". This means you may be able to admire the lights from the city itself.
From Tromsø you could also journey across the northern coast of Norway, to the North Cape and all the way to Kirkenes. This is an amazing winter journey along the Arctic Circle.
In summer, visit Tromsø and the nearby Lofoten islands, to experience the polar opposite (pun intended!). From mid-May until late July, the sun doesn't set at all. This is called the midnight sun. You could go hiking and enjoy the natural landscape at midnight if you wish.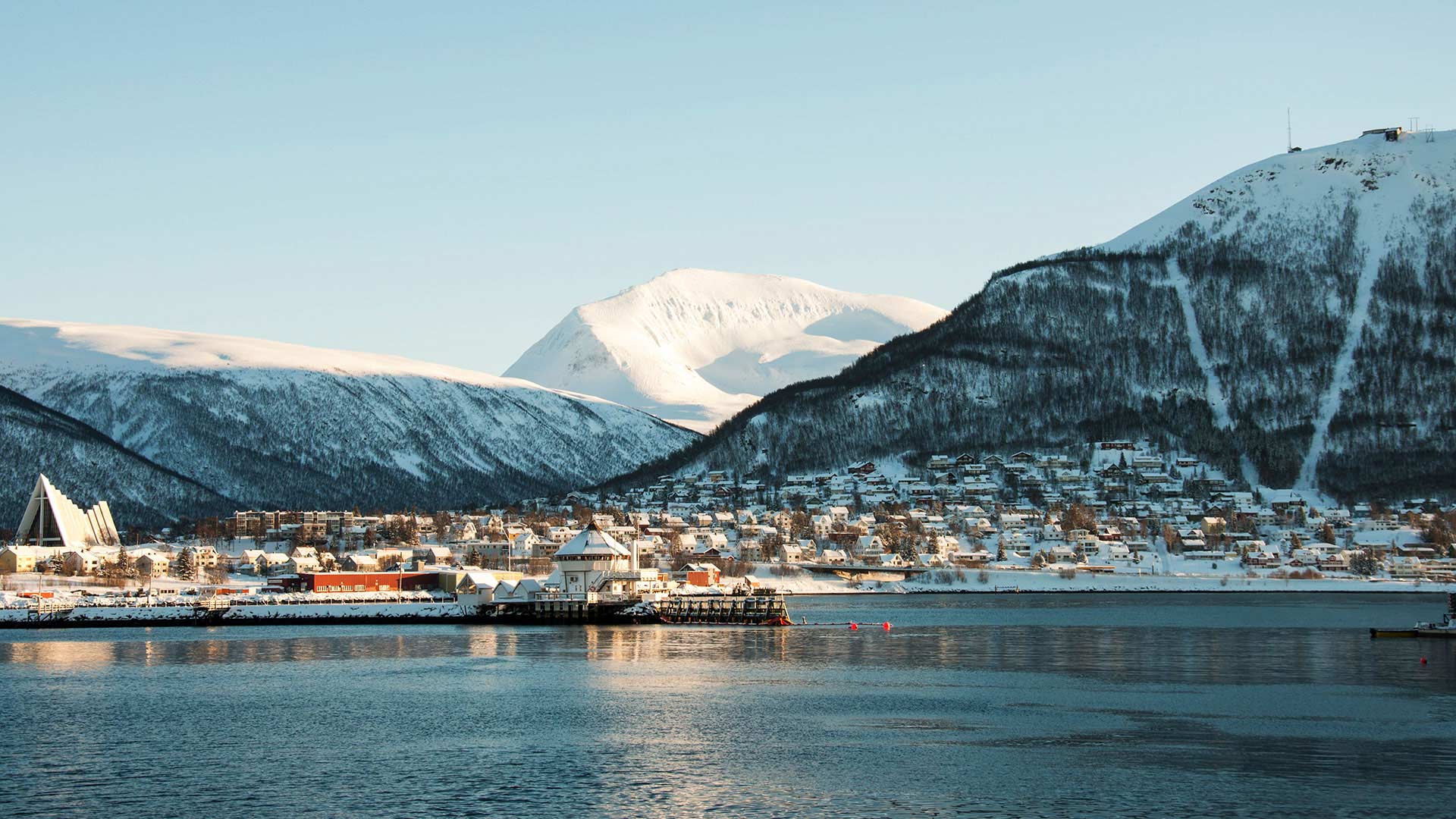 Best time to visit Ålesund, Norway
The charming port town of Ålesund is one of Norway's most visited cities. This is in part thanks to its beautiful setting along a cluster of islands in the western fjords.
It has also become a popular stop as part of the Norwegian Coastal Voyage. If you're cruising your way up or down the country, you could add a stopover in Ålesund. And it is definitely worth the visit!
We recommend travelling here in summer to experience it at its best and to enjoy all the activities available. These include angling, sailing, hiking, and kayaking, among others.
From Ålesund, you can cruiseto the nearby Geirangerfjord. You could also spend your days hiking to local viewpoints. Summer is the ideal time to walk up Mount Aksla and enjoy the panoramic views of the archipelago and the peaks of the Sunnmøre Alps.
---
---
Best time to visit Norway, Sweden and Denmark
Are you looking for a grand tour of Scandinavia? This Northern European region, composed of Sweden and Denmark as well as Norway, is a fantastic destination come winter or summer.
The capital cities, Oslo, Stockholm and Copenhagen, are well connected. That means it's easy to travel between each of them on one single trip.
In summer, you could drive or take a train and then a cruise to see what makes each city so special. In winter, you'll be able to sightsee the highlights of all 3 countries with their mild weather and charming winter lights.
Travel just before or after the summer, to enjoy nice weather and plenty of daylight. At popular locations, such as the capitals, Norwegian fjords and top hiking spots, you'll enjoy having more time and space to yourself.
---
---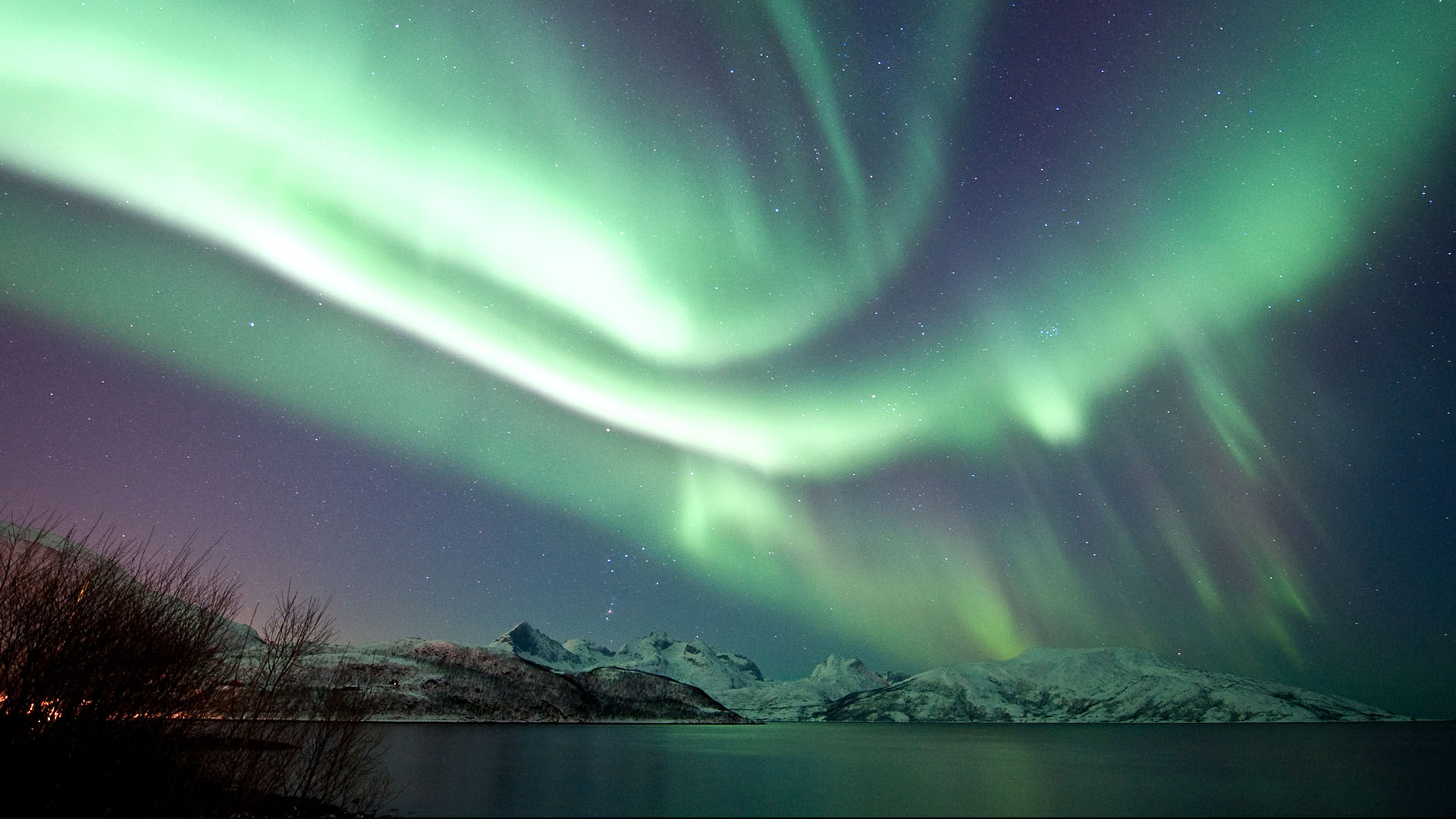 Best time to visit Norway for the northern lights
The northern lights, or aurora borealis, are at their best during the winter season. This means you should visit Norway between October and March.
From late September, the days become shorter making it easier to witness the auroras in the night sky. Indeed, you need darkness, good solar activity, and low light pollution to be able to admire them.
You'll also want to journey into Northern Norway, all the way into the Arctic Circle, to spot the northern lights. The few prime locations for northern lights spotting in Norway are:
Tromsø
Kirkenes
Lofoten
North Cape (Nordkapp)
Svalbard
---
Book one of these aurora tours to see Norway under a sky lit with northern lights
---
Best time to visit Norway and Iceland
To combine both these stunning countries into one epic Nordic trip, we recommend visiting in summer.
At this time of year you will benefit from longer days to make the most of your exploration. Take in the highlights of southern Norway like Oslo and the Norwegian fjords before flying to Iceland where you could tour the whole island.
You could even discover more of Scandinavia if you so wish and have the time for a longer trip. Start your tour in Stockholm, passing by Copenhagen before taking on Norway and Iceland.
Sights can be popular at the height of summer, so you could try planning your tour for early or late summer if you want a quieter holiday.
And if you would rather visit during the winter, fear not, it is also possible! In fact, this season has some bonus points of its own too. You'll be able to admire the glittering frost over amazing Norwegian and Icelandic waterfalls.
This is also the time of year to travel to the Nordics if you want to catch sight of the northern lights. As the darkness sets in, from late September, it becomes easier to see them dancing in the night sky.
---
---
Best time of year to visit Bergen, Norway
Bergen is another Norwegian city that can be visited all year long. As it is one of the rainiest cities in Europe, you'll probably want to travel here in summer for the best weather.
In case of bad weather, fear not, there is plenty to do indoors. You could visit the 900-year-old Bergen Cathedral and one of Norway's oldest fortresses, Bergenhus Fortress. There are also many museums like the Bryggens Museum, the KODE Art Museum, and the Hanseatic Museum.
But really Bergen is known as the gateway to the fjords and is an excellent outdoor destination. In summer, you could hike up one (or more!) of the seven mountains surrounding the city. You could also participate in fun activities like ziplining across Mount Ulriken.
You also won't want to miss hiking or taking the Fløibanen funicular to the top of Mount Fløyen. You'll get some amazing views of the city below and access to some top walking trails.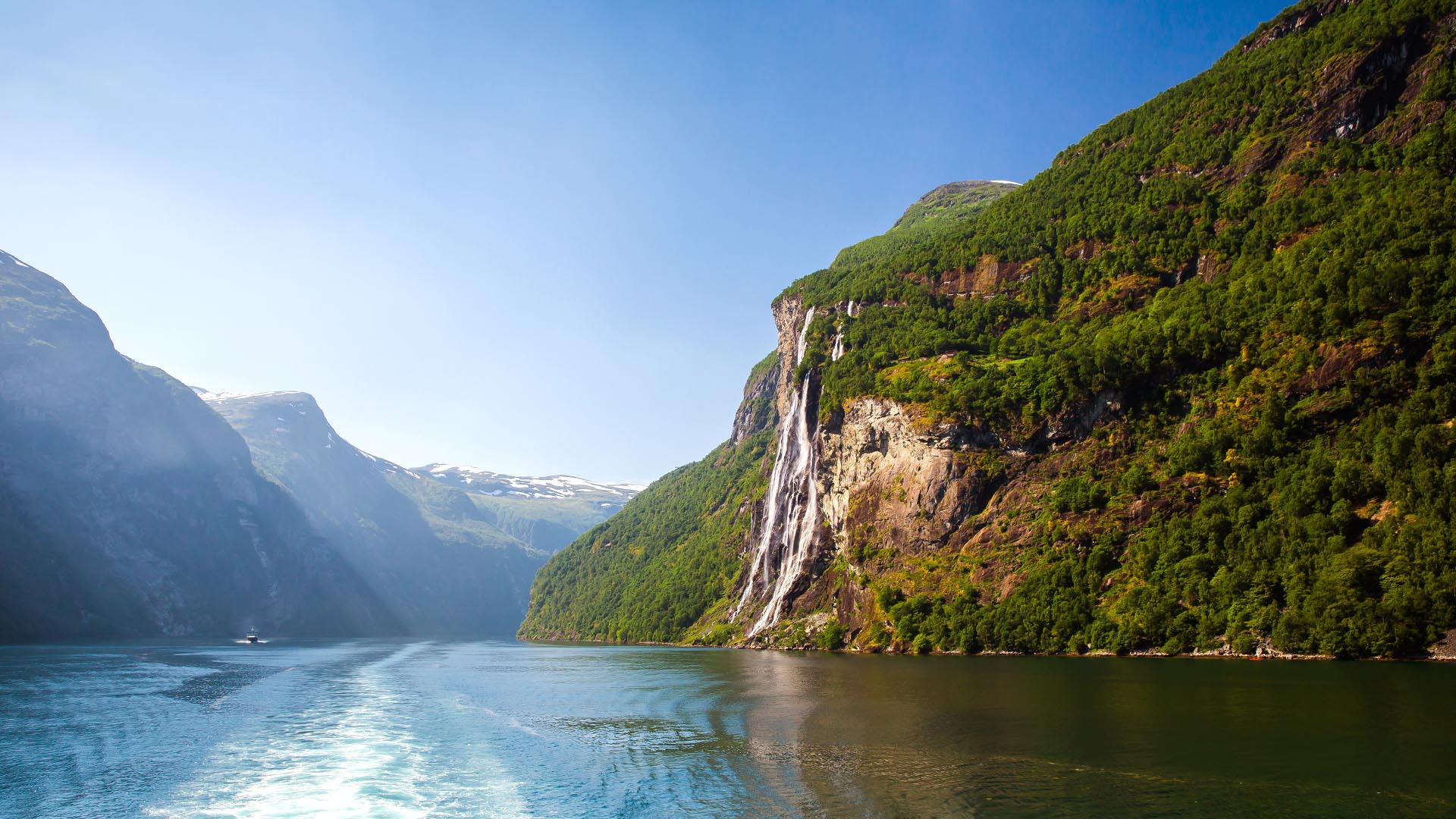 Best time to visit Norway on a cruise
You can cruise Norway's magnificent and diverse coast any time of the year. That said, we do recommend the summertime for the best experience.
Between May and September, you'll enjoy long days, ideal for sightseeing. That's true from the boat or on excursion stops on the mainland. Take photos in the midnight sun and pack more in your day.
In winter, you may enjoy the smaller crowds, but days are much shorter. You may also find the sea is a bit rougher. The one bonus of a winter cruise is the chance to admire the northern lights in the sky above.
A cruise is, in fact, excellent for spotting the auroras as you'll be away from city light pollution.
---
---
Best time to go to Norway for hiking
Do you have dreams of standing proudly atop Trolltunga or Pulpit Rock?
You may have seen the scenic photos of people standing by the cliff edge, with calm fjords below and rocky mountains in the distance.
April until October is the best time to hike to those famous heights. To skip the potential queues for the best Instagram snaps, you should visit during the shoulder season. Late spring and early autumn are quieter times of year that are fantastic to experience the mountains in a bit more peace.
In fact, autumn may be the best time as you'll find more paths accessible at this time compared to spring. And you'll be treated to the orange and yellow foliage of the forest.
---
---
Best time to visit Norway for the midnight sun
The midnight sun is an incredible phenomenon whereas the sun does not set below the horizon. It occurs inside the Arctic Circle during summer.
For example, Tromsø and Svolvær, located inside the Arctic Circle, experience the midnight sun between mid-May and late July. You'll want to visit the northern parts of Norway (or neighbouring Sweden and Finland) at this time to witness it.
Imagine hiking or sitting by the Norwegian Sea admiring the scenery while basking in the light of the sun in the middle of the night.
Just make sure to bring an eye mask to help you sleep!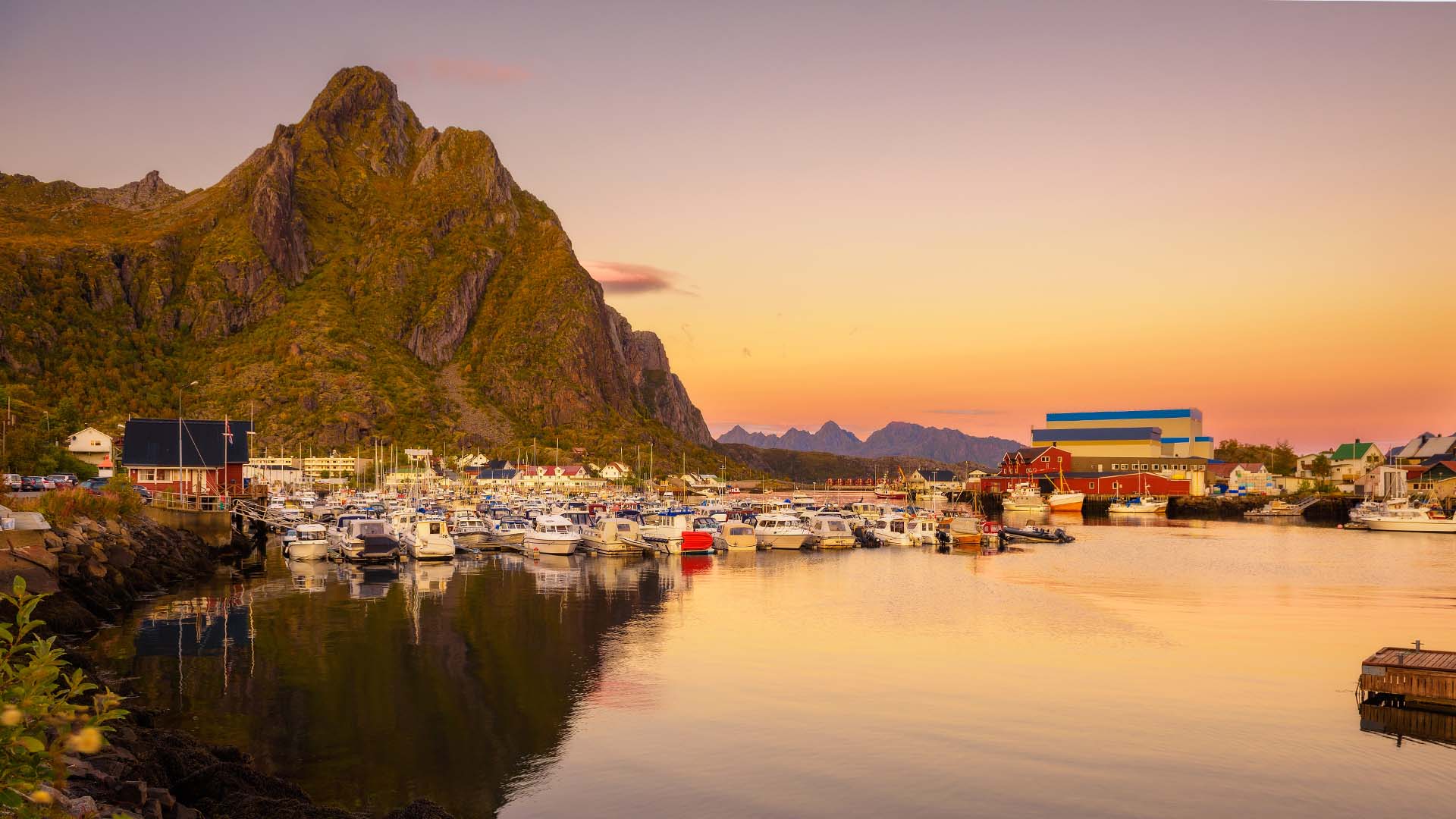 Best time to visit Norway for whale watching
Every year, whales pop up along the Norwegian coast. For this reason, it's a good location to go on a wildlife cruise to spot them up close.
These gentle giants of the sea are most commonly seen along the Vesterålen coast, just north of Lofoten. Make sure to go there in summertime for your best chances and for more varied sightings.
You could spot sperm whales, but also pilot whales, minke whales, humpback whales, dolphins, and killer whales.
For the best whale-watching experience in Northern Europe, we recommend heading to North Iceland instead. Indeed, Húsavík is considered the capital of whale watching. Trips are available all year long, but summer is the best time to visit.
You might see dolphins, minke whales, humpback whales as well as some sperm whales and maybe the elusive blue whale.
Learn more about whale watching in Iceland.
What to pack for a trip to Norway
The weather in this part of the world can be fickle, but don't let that stop you from enjoying the best of Norway. Pack well to come ready for rain or sunshine and take advantage of your trip to the fullest.
For all seasons, you should pack layers so you can be flexible depending on the day's temperature. We especially suggest bringing a waterproof jacket and comfortable walking or hiking shoes.
Even in the summer it's best to have a pair of light gloves, a hat and a scarf handy. Don't forget your sleeping mask to help with the light nights of summer.
In winter, make sure to pack some warm layers (preferably woollen) along with an insulated jacket.
Finally, don't forget your camera to snap away at all the spectacular landscapes!
---
---
Norway is an exceptional destination that can be enjoyed all year long. We hope this post convinced you of that!
When you're ready to book your dream Norway holiday, take a look at these top Norway packages. And if you're still not sure or would like local advice, get in touch. Our travel experts can be reached s via live chat, toll-free numbers or email.