For the adventure-hungry, the remote highlands of Iceland are a beautiful wonderland. Escape here to discover vast expanses of wild and dramatic scenery, forged by unbridled nature.
On a tour of Iceland's highlands, you'd witness some of the most extraordinary and unforgiving landscapes on the island. Imagine standing before Iceland's tallest mountains, snowmobiling on glaciers, surveying active volcanoes, and walking over geothermal areas as mist rises from steam vents around you.
If you're keen to head off the beaten track in Iceland, know that visiting the central highlands is a true adventure. This means you should expect rough mountain roads and quite long journeys. But with untamed scenery awaiting you in one of Europe's largest unpopulated areas, it'll be worth it.
Read on for expert tips on where to go and how you can visit the highlands of Iceland.
---
---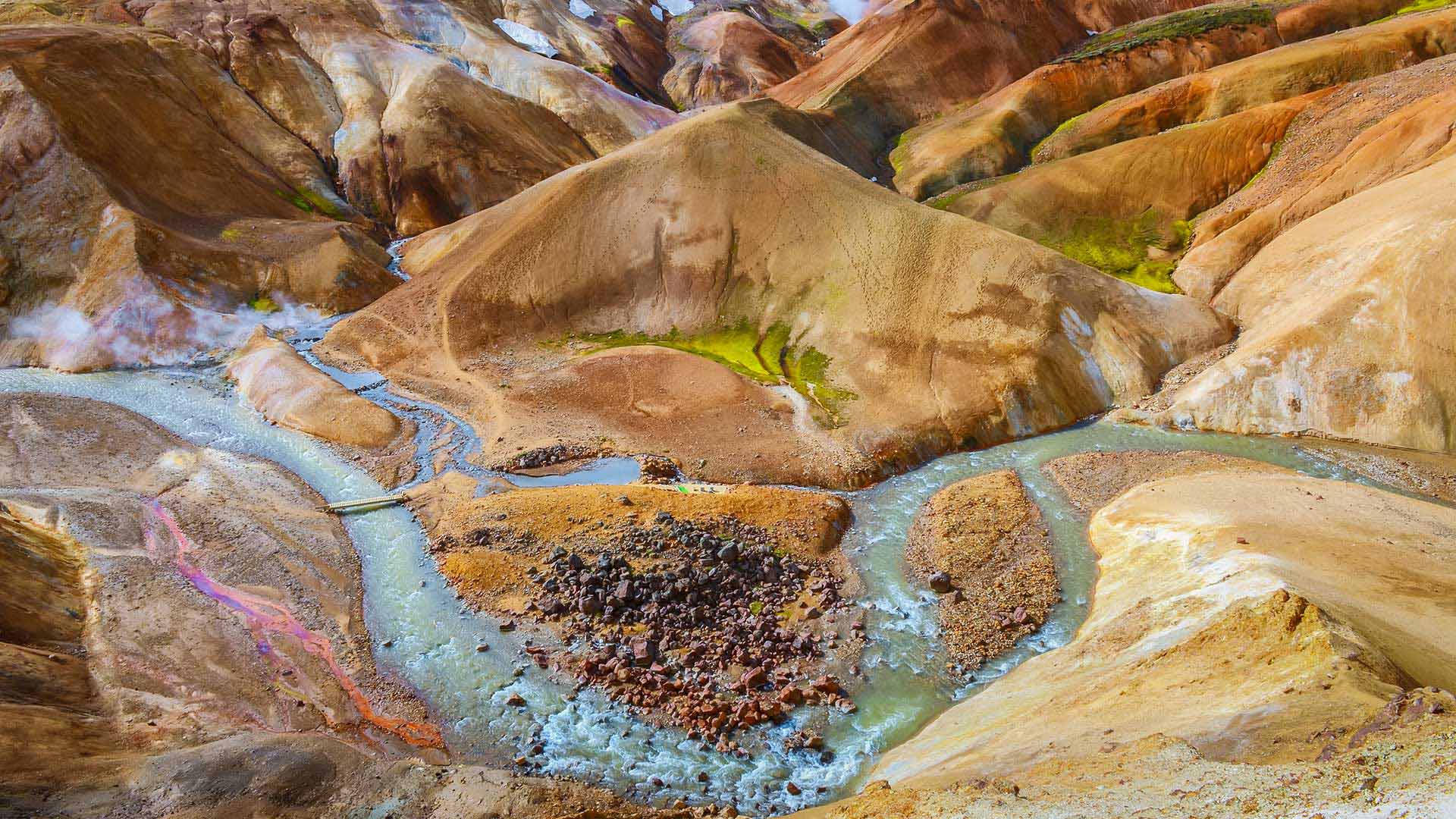 What are the highlands in Iceland?
The highlands make up the heart of Iceland, sprawling for over 40,000 square kilometres (15,445 square miles). Although the region is incredibly vast, covering much of the island, you may not have heard much about it. That's because the Icelandic highlands are wild, untamed, and often impenetrable.
Come here and you will find a place at the mercy of strong volcanic activity, as the highlands lie above the Mid-Atlantic Ridge. The environment is testament to the strong forces of nature: picture volcanoes, canyons, mountain ridges, hot springs, waterfalls and lava fields.
Although remote and largely uninhabited, the highlands of Iceland will bewitch you with their powerful beauty and startling colours.
Where are the highlands in Iceland?
The highlands are located in the centre of Iceland. You can reach them from the south, north, east and west of the country, as they take up so much of Iceland's landmass. That said, it isn't straightforward to drive through the highlands.
The reason why Iceland's main highway, Route 1, encircles the island is that the mountainous highlands are hard to cut through. Rather than travelling through the highlands to get from one side of Iceland to the other, you need to drive around them.
Therefore, you won't find any main roads into this craggy region, where nature rules supreme.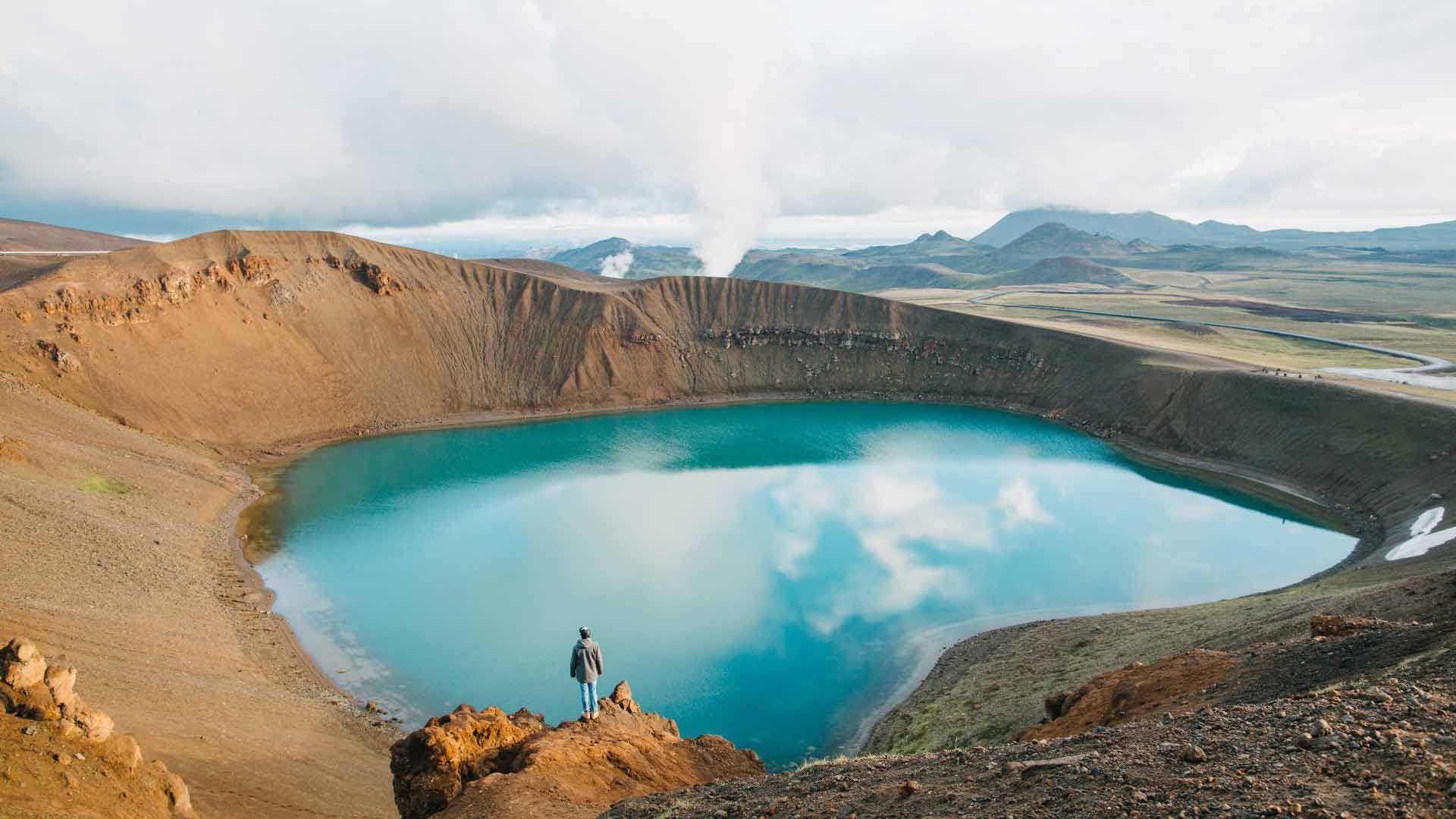 What are highland F-roads in Iceland?
If you journey to Iceland's highlands, you will undoubtedly encounter F-roads. These are unpaved mountain roads which tend to have rough and uneven terrain. To drive on F-roads in Iceland, you must rent a 4x4 vehicle. This is particularly important as highland roads sometimes cross through rivers.
How to visit Iceland's highlands?
How you tour the highlands of Iceland depends on your personal travel preferences. If you are an experienced driver and don't mind tackling rough mountain roads, choose a self-drive tour package. Or have someone else do the driving as part of a privately guided trip or multi-day tour.
You might prefer to opt for one of these guided tours of the highlands to learn from an expert Iceland guide. Not only will they do all the driving, but they'll also share their insider knowledge with you.
As the highlands are such a fascinating place, your guide would provide a really valuable insight into Iceland's geology.
Is a tour of the highlands in Iceland worth it?
If you're looking to get off the beaten track and see some of Iceland's most mind-boggling scenery, then visiting the highlands is totally worth it! This part of Iceland best suits intrepid travellers who don't mind bumpy roads and love adventures.
---
---
Best places in the highlands of Iceland
1. Landmannalaugar
One of the most awe-inspiring places you can explore in the south is Landmannalaugar. Venture here and you'll find yourself surrounded by colourful rhyolite mountains, vast lava fields and hot springs. This area is part of the Fjallabak Nature Reserve, with an altitude of 600 metres (1,970 feet).
Landmannalaugar's otherworldly scenes make the perfect backdrop for hiking adventures. Whether you want to go for a moderate walk or tackle the multi-day Laugavegur trail, you have so many hikes to choose from. Afterwards, why not finish by soaking in a warm geothermal pool to soothe weary muscles?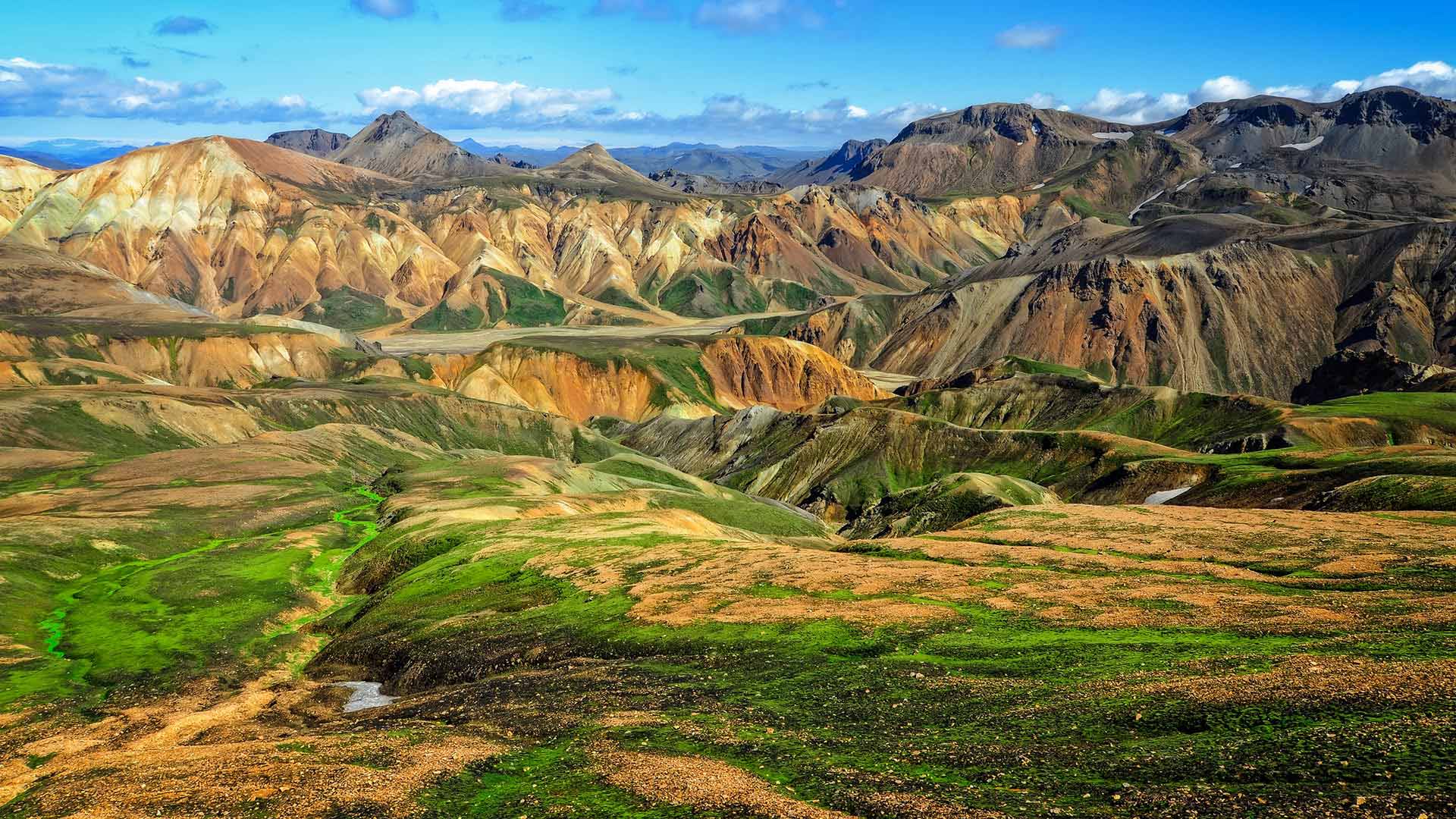 2. Askja
Head to the vast Vatnajökull National Park in Iceland and you'll get to witness a mind-boggling array of landscapes and biospheres. Studded in the north of this protected park is Askja, an active volcano enveloped by lunar-like lava fields and crater lakes.
Here you can take in the view of Öskjuvatn, a huge lake with a depth of 220 metres (720 feet). You'll also see the milky waters of the adjacent Viti crater, where you might spot some brave explorers taking a dip! Both these lakes were formed after volcanic eruptions, forcing the crater floor to sink.
Askja is a fascinating destination to add to your Iceland itinerary if you are intrigued by the island's volcanic geology. Plus, the drive here will reward you with jaw-dropping views of the utterly remote land stretching across the east of Iceland.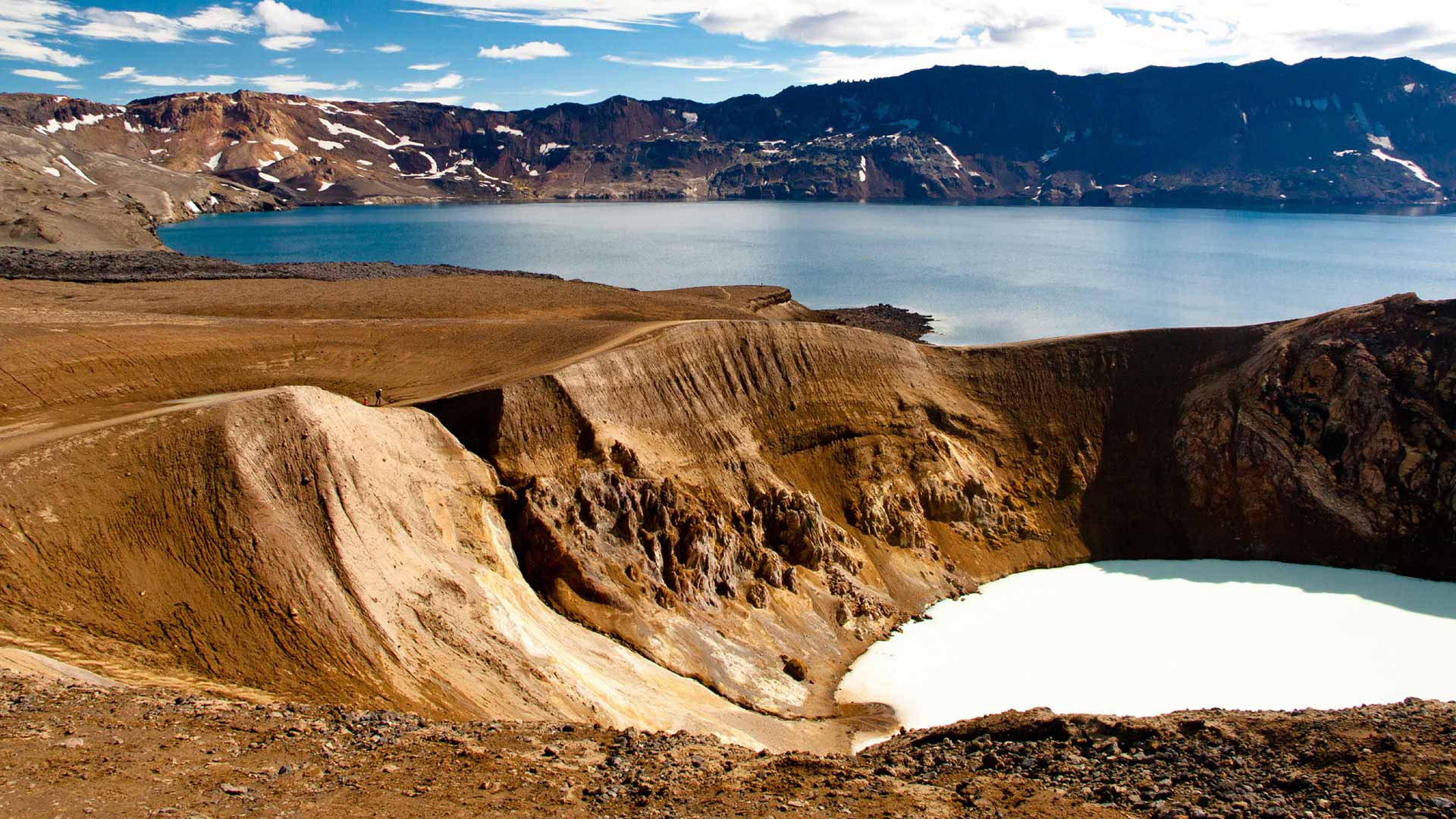 3. Langjökull glacier
Did you know that you can go snowmobiling in Iceland's highlands? Take a trip to Langjökull – the second largest glacier in the country – for a thrilling snowmobiling day tour with views of ice valleys and Eiríksjökull table mountain. You can't help but feel on top of the world here.
Another way to explore Langjökull is by walking inside it. That's right, you can descend Into The Glacier, venturing through tunnels and chambers that have been carved out of the ice.
When you visit Langjökull glacier, you might also combine your tour with trips to waterfalls, lava caves and geothermal pools. Depending on which part of the glacier you explore, you could either base yourself in Húsafell, West Iceland, or along the Golden Circle route, South Iceland.
---
---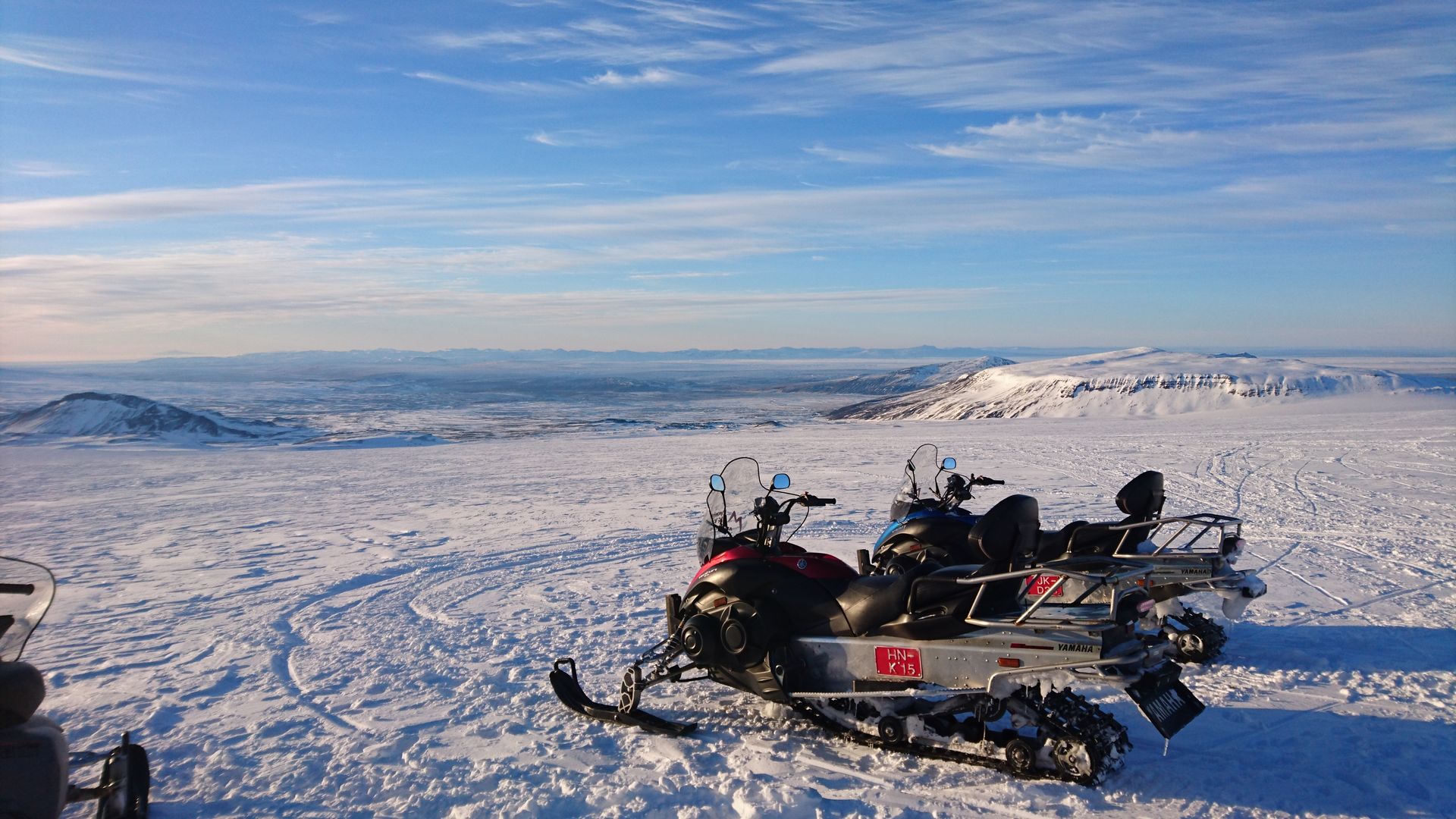 4. Hveravellir Nature Reserve
Hot-foot it to Hveravellir Nature Reserve in the central highlands to immerse yourself in one of the last great wilderness spots in Europe. "Hot" is actually the operative word here, as Hveravellir ("Hot Spring Fields") is a natural geothermal area with smoking fumaroles and bubbling water holes.
You can reach this extraordinary nature reserve by driving down the Kjölur route, flanked by the Langjökull and Hofsjökull glaciers on either side. Also known as the Kjalvegur road, this 200-kilometre-long (125-mile) pass connects the Varmahlíð area in the north with the Golden Circle area in the south.
In Hveravellir, marvel at the geothermal energy at work by visiting hot springs coloured blue, red and green. There is a naturally heated pool that is cool enough for you to dip into, but it's best you admire the others from a distance!
---
---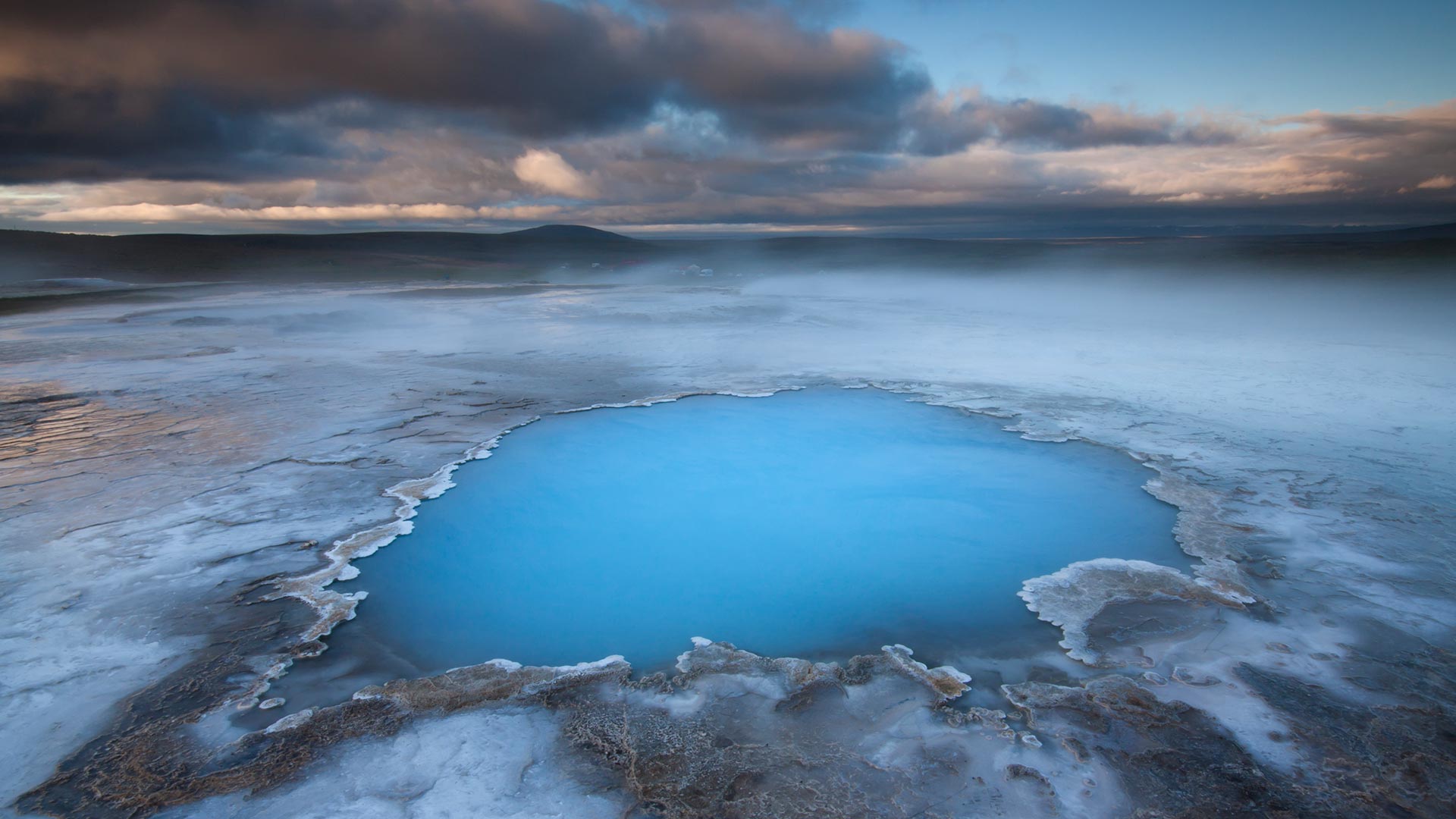 5. Kerlingarfjöll and Hveradalir
If you visit Hveravellir, we recommend you make a detour to the mountains of Kerlingarfjöll, just 1.5 hours south of the nature reserve. This mountain range is striking to behold and a stunning spot to enjoy a day hike. One particular corner of it you shouldn't miss is the Hveradalir geothermal valley.
This volcanic highland area will mesmerise you with its reddish rhyolite mountains, bubbling mud puddles and clouds of steam rising from vents. Take to the hiking trails to walk along mountain ridges, looking out over winding streams below and snow-dusted peaks above.
It's no wonder why so many visitors to Hveradalir feel that the valley is a totally unique place unlike anywhere else on Earth.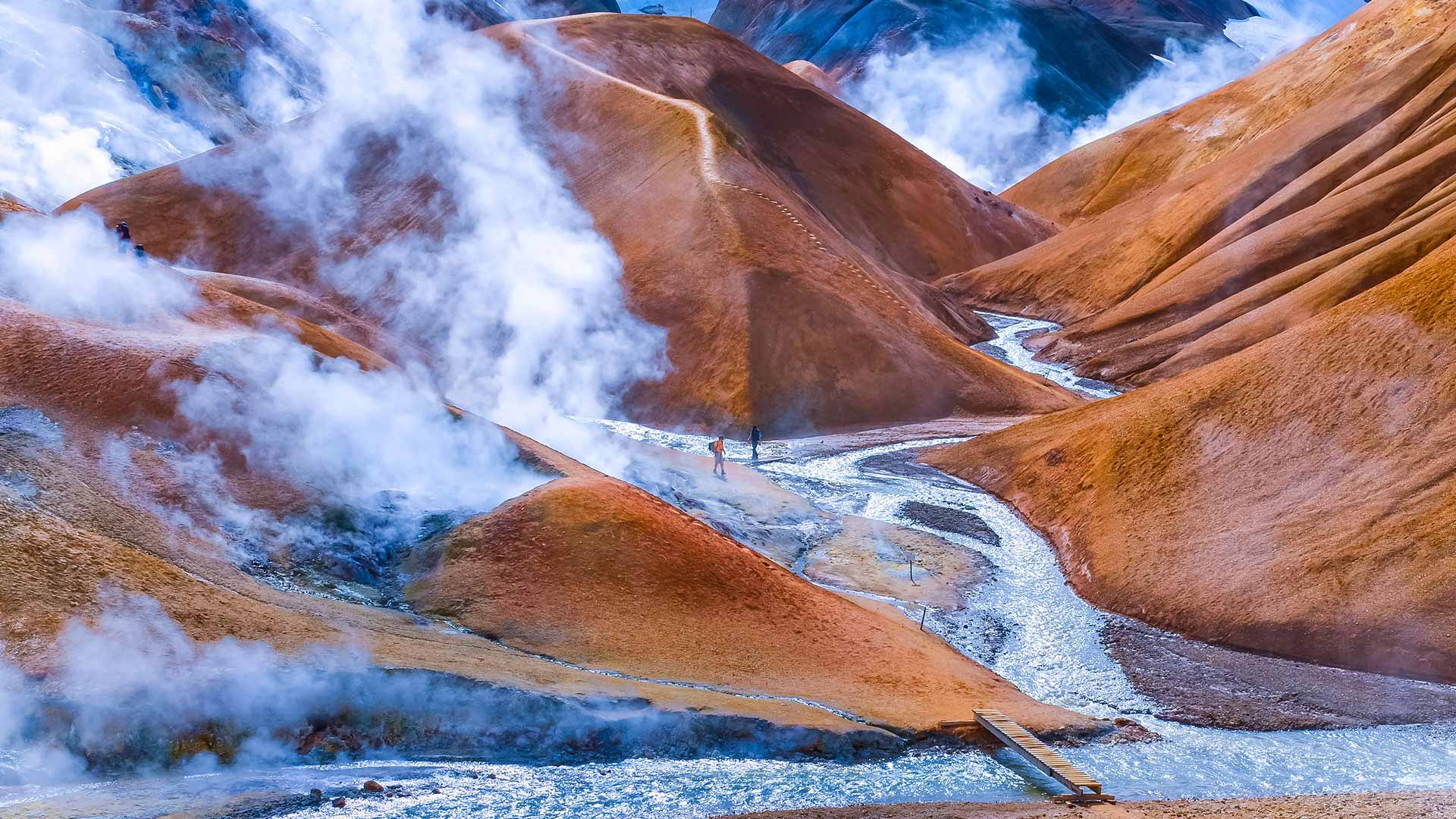 6. Þórsmork
Explore the rugged, wild terrain in the southern highlands by visiting Þórsmork. This ethereal nature reserve is a beautiful mix of mountains, glaciers, gorges, hot springs, rivers and birch forests. It's also where you'll find the infamous Eyjafjallajökull volcano.
If you're a keen hiker, you'll love Þórsmork's diverse landscapes. This is where you can start or end the Laugavegur trail we mentioned earlier, though there are countless other paths you could take.
A convenient thing about Þórsmork is that it's not far from Iceland's Ring Road (Route 1). Turn off at Seljalandsfoss waterfall and take the F249 road for approximately 1 hour. This short journey allows you to combine top highlights along the coast with the hidden gems of Þórsmork on your south Icelandic adventure.
---
---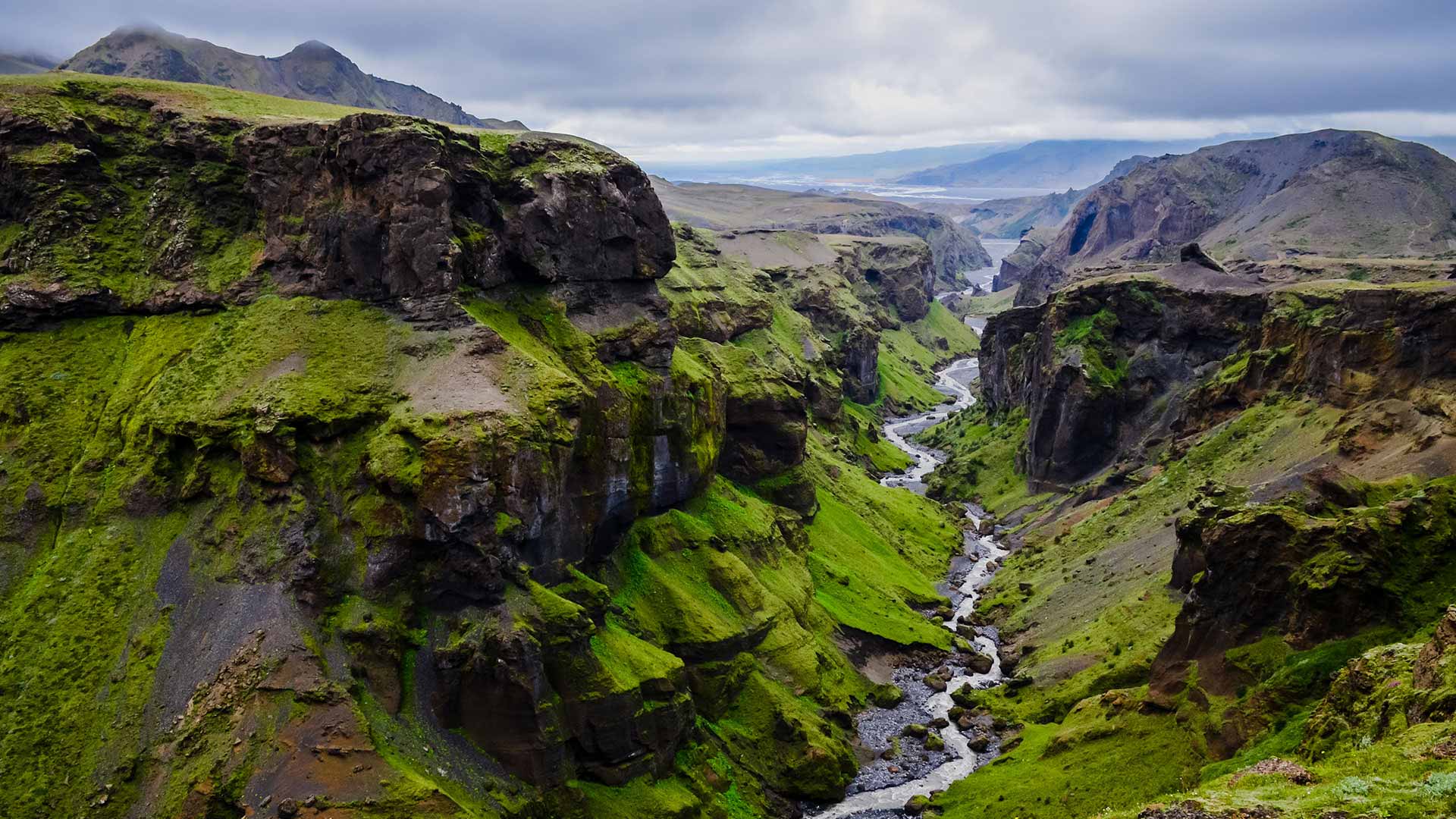 Tips for exploring Iceland's highlands
Driving in the highlands
If you choose a self-drive tour, you must be well prepared for driving in Iceland before navigating the highlands. Pay close attention to road closures and stay up to date with these before you set off each day.
You must rent a 4x4 vehicle if you want to drive in the highlands. Don't attempt to drive on Iceland's F-roads in a smaller car as you will likely damage the vehicle.
Also, make sure you fill up your car with fuel before you turn off main roads and enter the highlands. Petrol stations are few and far between in the remote corners of Iceland.
Highland hiking
If you are planning a hike, be sure to bring appropriate windproof and thermal clothing, adequate supplies of water and food, as well as maps and a compass. Before you set off, check where all the emergency huts are located on your route and alert people of your hiking itinerary.
Be prepared for anything and don't underestimate Iceland's weather. If you find yourself in need of help, dial the emergency number 112.
When to go
You should know that the highlands are generally only open to visitors in the summer. This is when the F-roads are open – in winter they close due to bad weather. However, you could take a guided northern lights tour to Þórsmörk in winter, as this is perhaps the most accessible part of the highlands.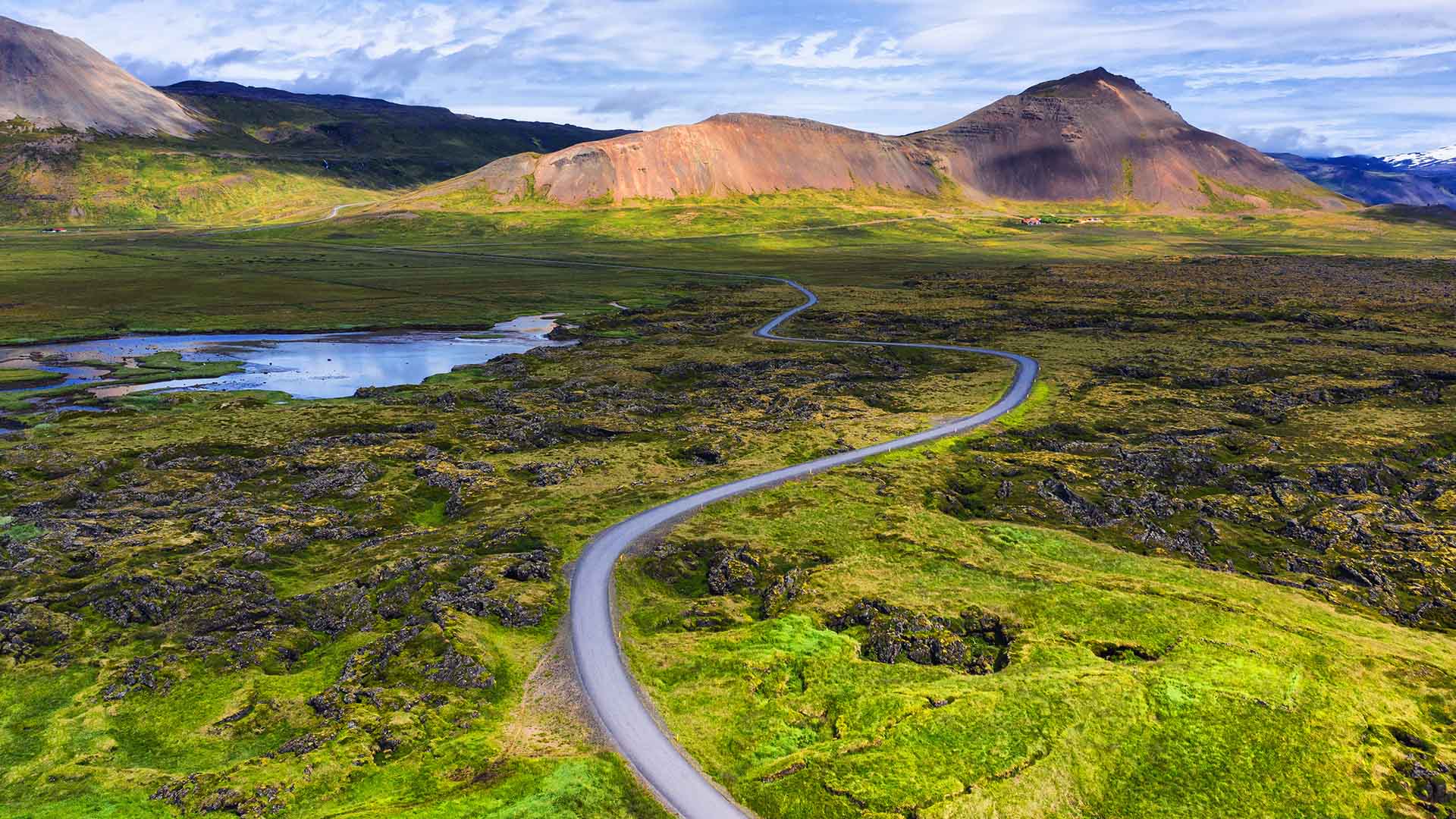 You may want to visit the highlands if you've been to Iceland before and would like to delve deeper into the country. Or perhaps this is your first trip to the Land of Fire and Ice and you're looking for a real off-the-beaten-track adventure. The highlands won't disappoint!
Let a local expert organise your trip for you. Our Iceland travel consultants are based in Reykjavík and have extensive experience of the highlands. They'll use their knowledge to craft the perfect itinerary for you, planning your route, accommodation and activities.
You'll also have Nordic Visitor's support throughout your tour, with access to our 24/7 helpline.
Get in touch with our Iceland travel experts today to get started.