If you're looking for a trip packed with adventure and exciting activities, Iceland is the place to go. In just a few days you could explore glacier caves, tour lava tunnels, ride ATVs on black sand beaches, and snorkel in a tectonic rift.
There's another exhilarating activity that you'll love if you're a thrill-seeker: snowmobiling in Iceland.
Imagine carving your way over the snow atop a glacier or frozen lake, gazing out at mountains and volcanic peaks as you go. This is what makes Iceland snowmobile tours so special.
But first, you probably want to know more about what it's like snowmobiling in the Land of Fire and Ice. That's why we've answered these frequently asked questions about it in this complete guide. You'll also disover where to find the best snowmobile tours in Iceland.
Read on for all the answers you need to plan your active break.
---
---
Where can you snowmobile in Iceland?
The cool thing about snowmobiling in Iceland is that you can ride over glaciers, which are covered in snow year round. You'll get to zip over some of the largest glaciers in Europe as you soak up your stunning surroundings.
And, if you visit in the winter, you could even snowmobile on a frozen lake.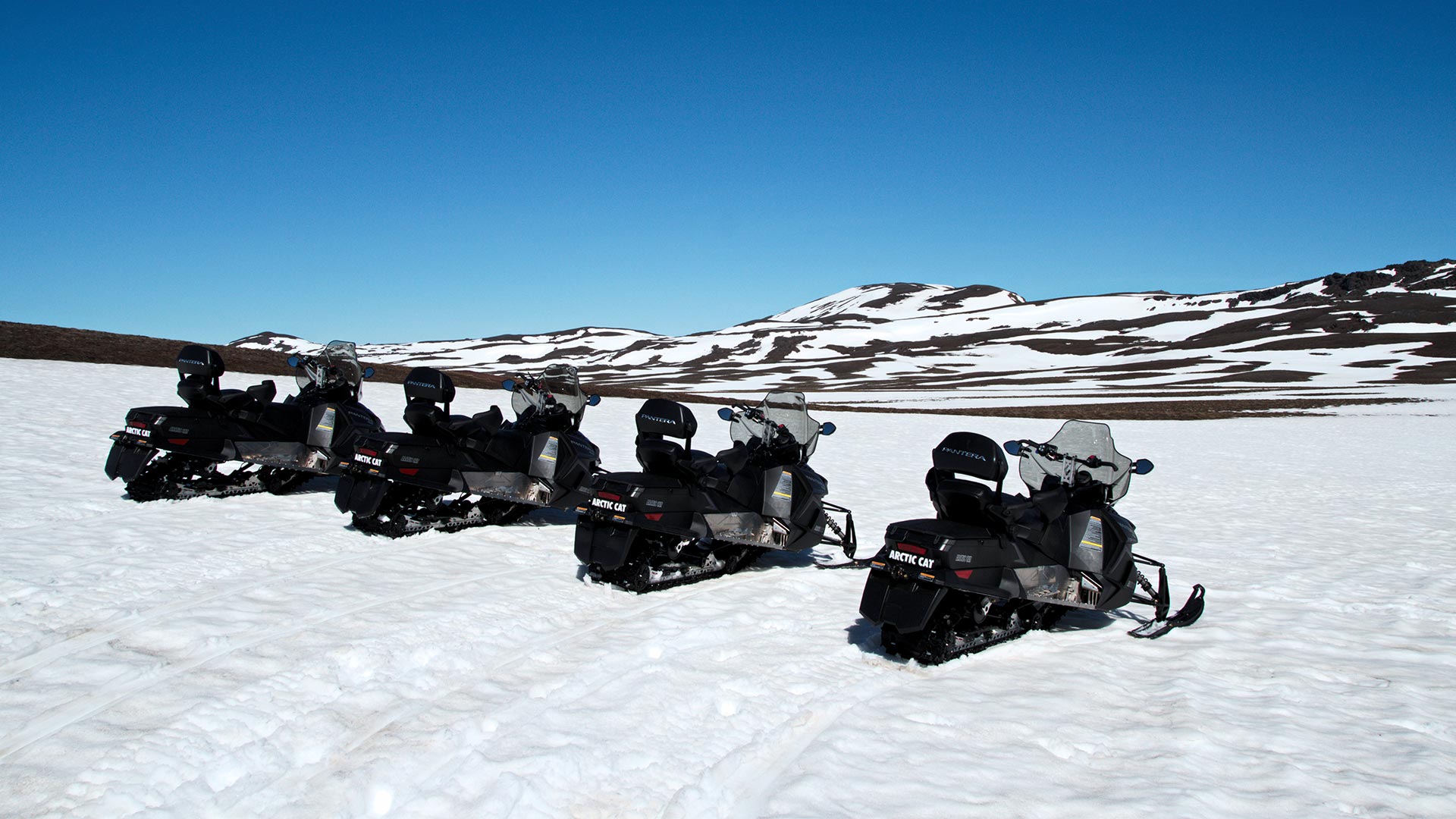 Where are the best places to snowmobile in Iceland?
1. Langjökull glacier
The best glacier in Iceland where you can go snowmobiling is Langjökull. Here in West Iceland, near the small village of Húsafell, you can dash over the smooth, snowy slopes of Iceland's second-largest glacier. You can't help but look in awe at the dramatic ice valleys and Eiríksjökull table mountain in the distance.
Glacier snowmobiling at Langjökull is also great because you are close to other top attractions. You could combine snowmobiling with a tour Into The Glacier to walk through the ice tunnels and chambers beneath Langjökull.
Before or after your snowmobile excursion, you could explore Gullfoss waterfall and the other sights along the Golden Circle route. Or base yourself in Húsafell for a couple of days to discover nearby attractions like the Víðgelmir lava cave, or the Hraunfossar and Barnafossar waterfalls.
Afterwards, there's nothing like enjoying a good soak in the naturally heated hot springs at Húsafell Canyon Baths. You might want to treat yourself to a little more luxury by staying at the charming Hotel Húsafell, one of the best boutique hotels in Iceland.
---
---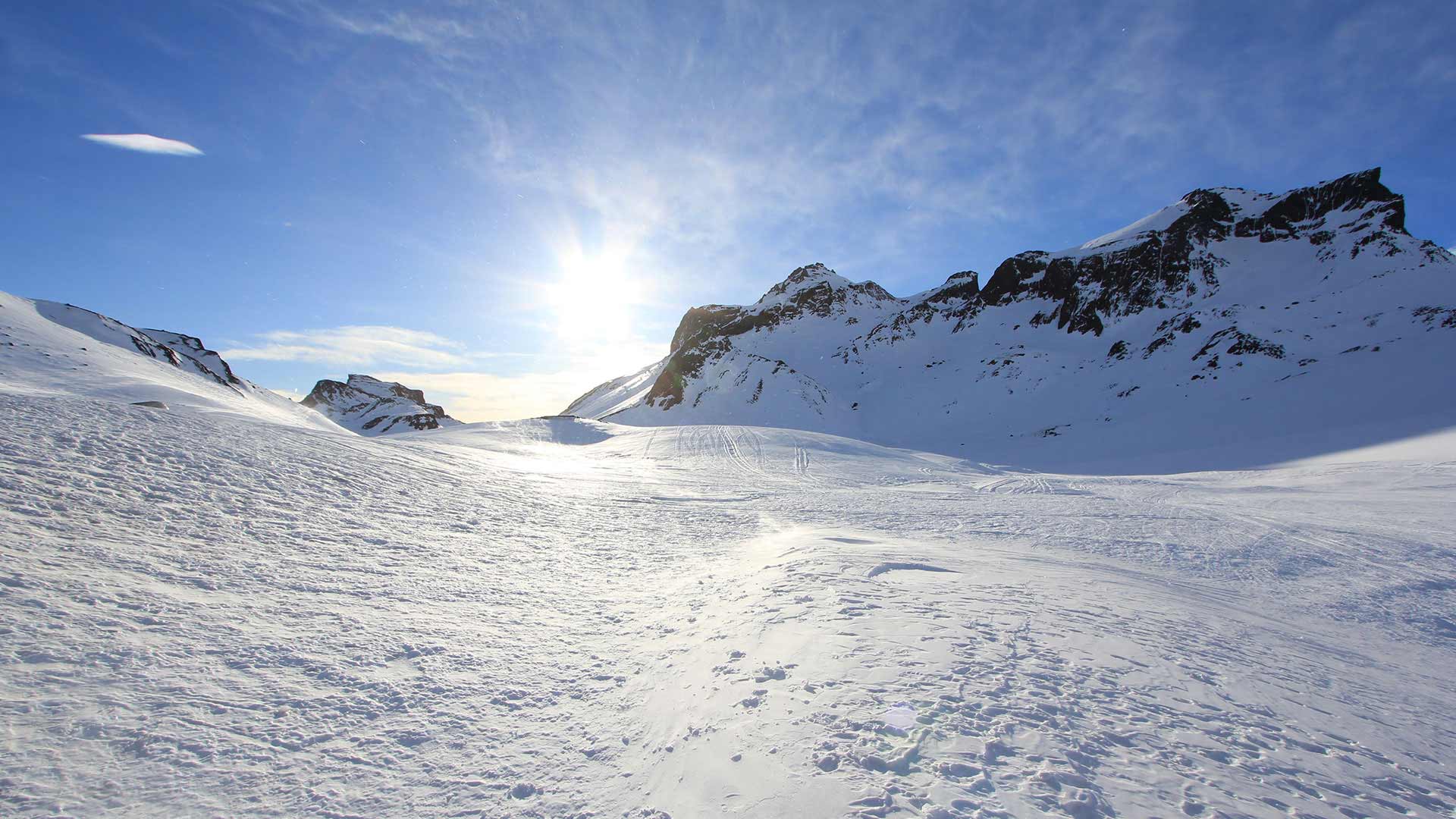 2. Lake Mývatn
Or how about snowmobiling over a frozen lake? In the winter months, Lake Mývatn becomes the perfect playground for your snowmobiling adventure.
Lake Mývatn is in North Iceland, around an hour's drive from the coastal towns of Akureyri and Húsavík. In winter the Lake Mývatn area transforms into a gorgeous snowy wonderland and the lake itself freezes over.
This gives you the perfect opportunity to soak up the view of Krafla volcanic caldera and snow-draped scenery on a thrilling snowmobile ride.
3. Mýrdalsjökull glacier
Mýrdalsjökull is Iceland's fourth largest glacier, with a surface area of 701 square kilometres (436 square miles). You'll find Mýrdalsjökull near Vík in South Iceland, covering part of the active Katla volcano which last erupted in 1918.
Zoom up to the top of the snow-laden ice cap and enjoy panoramic views of the surrounding mountains and coast. As well as exploring Mýrdalsjökull by snowmobile, you could join a Katla ice cave tour to admire the incredible work of Mother Nature here in Iceland.
4. Vatnajökull glacier
Discover one of the biggest glaciers in Europe, Vatnajökull, making up 8% of Iceland's landmass. This vast glacier – located in Vatnajökull National Park, southeast Iceland – sprawls over a few active volcanoes including Grímsvötn, which erupts every few years.
---
---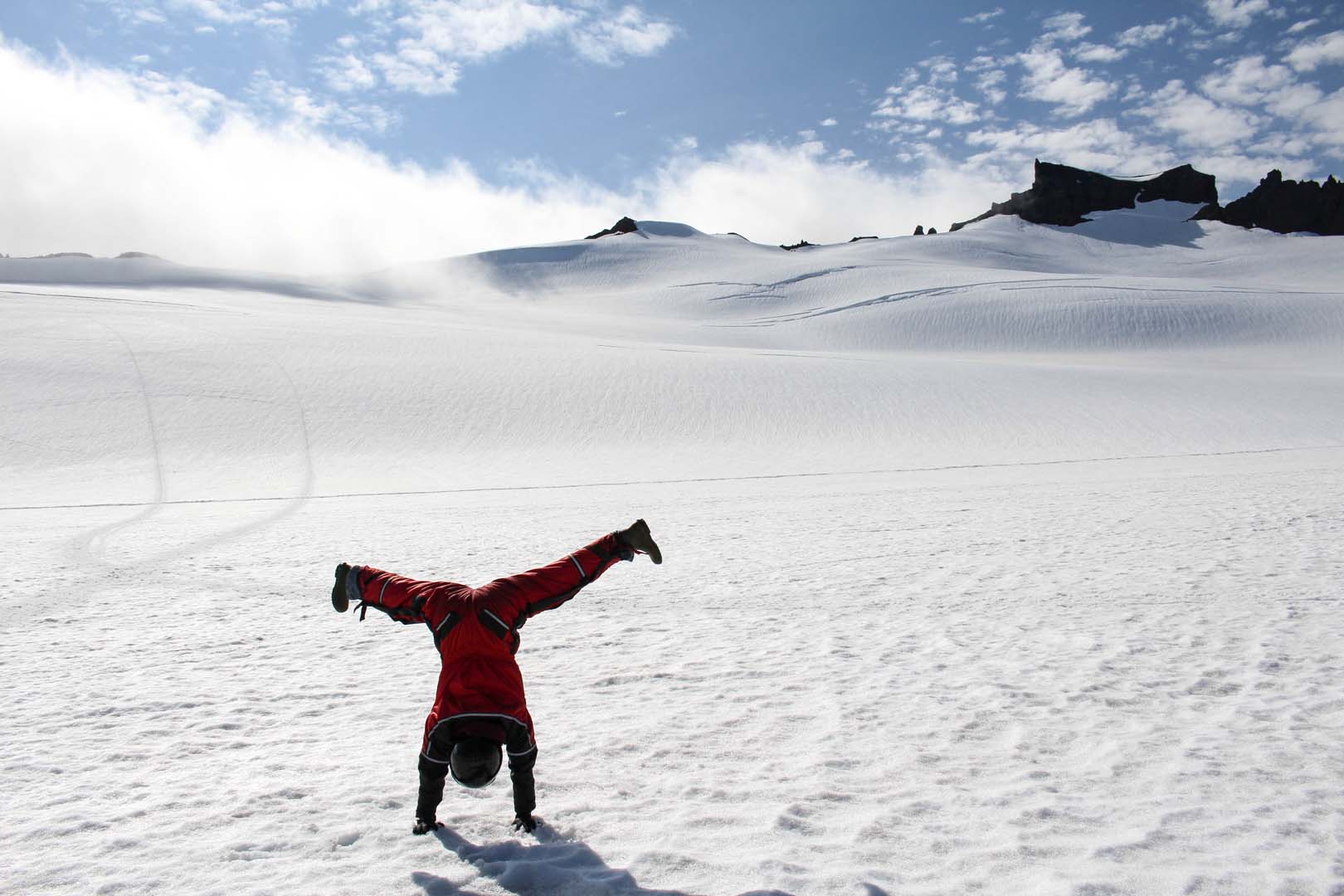 Which are the best snowmobile Iceland tours?
1. Langjökull snowmobiling & Into The Glacier – West Iceland
One snowmobiling tour in Iceland we highly recommend is at Langjökull glacier. That's because the view of the mountains, snow and ice valleys are simply spectacular here. Plus you can combine your snowmobiling activity with a journey Into The Glacier.
You'll be picked up from the Húsafell Bistro, at either 9:30 AM or 12:30 PM, in a super jeep. From there the guide will drive you to Klaki Base Camp, where you will learn about safety instructions before hopping on your snowmobile.
Then the adventure really begins! Follow your guide and enjoy the thrill of riding over the glacier.
After you reach the entrance to the man-made ice cave and "park" your snowmobile, you'll descend 40 metres (130 feet) Into The Glacier. Take your time exploring the fascinating ice tunnels and chambers.
Once you emerge from the ice cave, jump on your snowmobile and enjoy the ride back to base camp, taking in those incredible views. This tour lasts approximately 4 hours in total.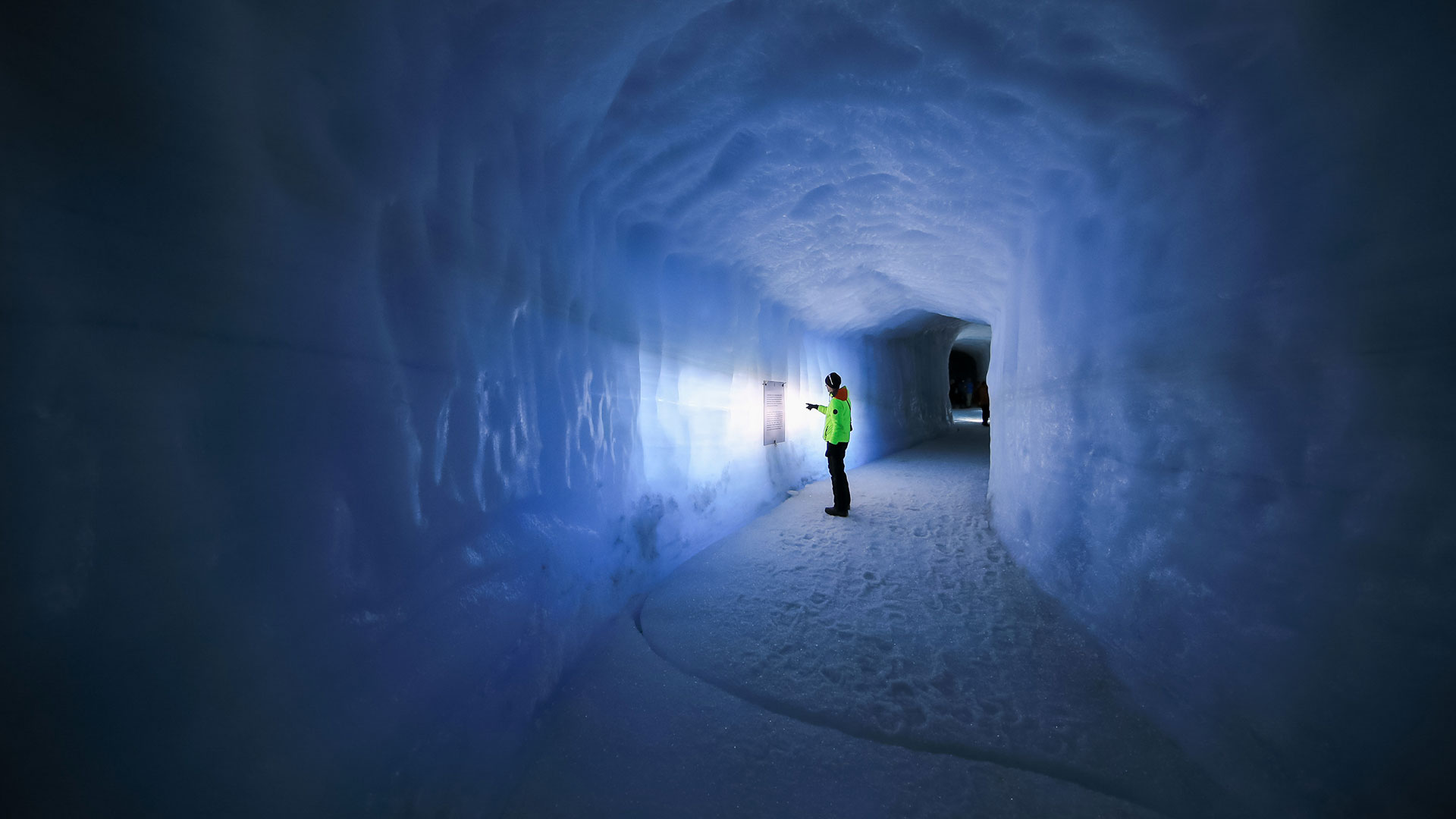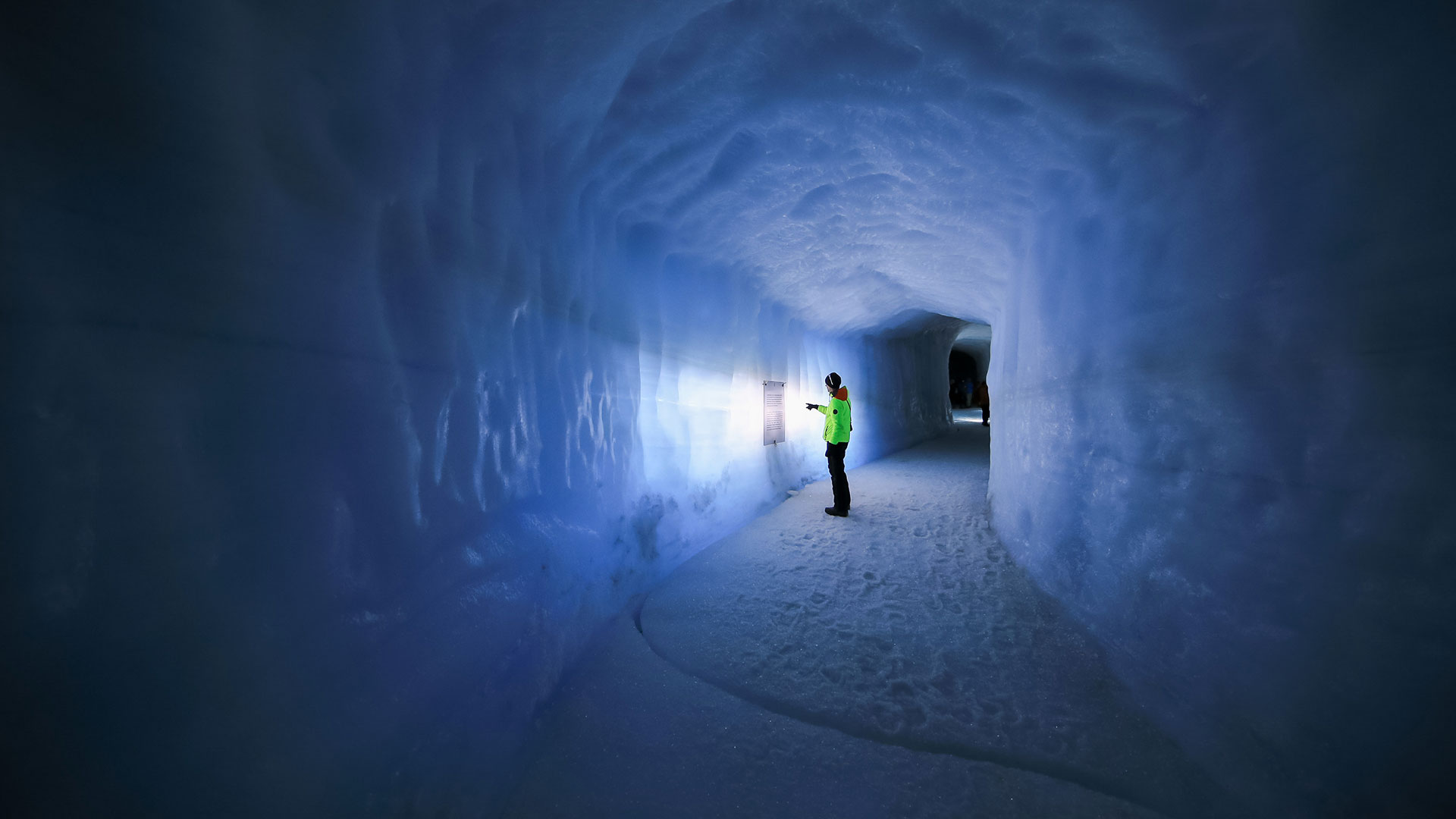 2. Mýrdalsjökull snowmobiling – South Iceland
The Mýrdalsjökull snowmobiling tour is a great option if you're taking a trip along Iceland's south coast. The base camp lies at the foot of the glacier and isn't far from the Ring Road, so it's an easy detour if you're on a self-drive adventure or private tour.
From Mýrdalsjökull Base Camp, you'll be driven up in a glacier truck to the snow-covered terrain.
After a safety and instruction briefing from your guide, you'll have an hour's snowmobile riding to enjoy. There'll be time to stop and take in the sublime views – on a clear day you'll see the ocean.
This tour lasts approximately 2 hours in total. Afterwards, you could head on to the town of Vík and walk on the black sands of Reynisfjara beach. From here you'll see interesting rock formations including Dyrhólaey, with its distinctive rock arch.
---
---
How fast does a snowmobile go?
Snowmobiles are pretty powerful. On average they reach high speeds of up to 190 kilometres (120 miles) per hour. However, the world record for the fastest ever snowmobile speed is an impressive 277.13 kilometres (172.2 miles) an hour.
Of course, on your snowmobiling tour in Iceland, you will go much slower than this. The fastest you can drive is around 70 kilometres (44 miles) an hour, but you can take it as slow as you like.
Is snowmobiling difficult?
Snowmobiling isn't difficult once you get the hang of it. If you've never snowmobiled before, start off gently while you familiarise yourself with it all.
Riding a snowmobile is simple in that there are no gears, just a brake handle and an accelerator handle. There are usually emergency buttons and keys to use if you need to stop the engine immediately.
Your snowmobile tour guide will instruct you on how to drive before you set off. They'll give you all the safety gear and guidance you need. You'll also learn the hand signals to ensure you can communicate with your group.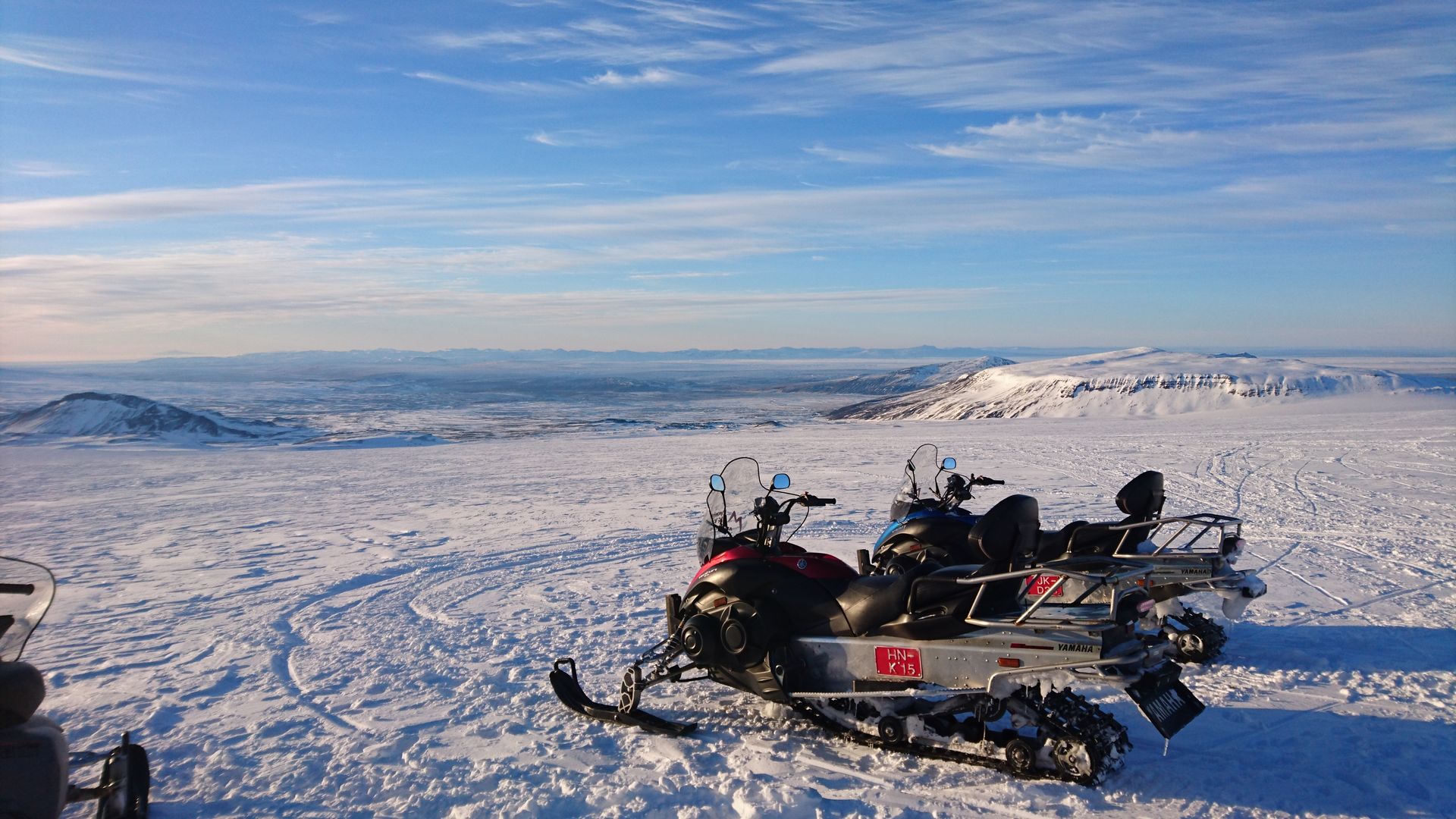 Can you snowmobile in Iceland in the summer?
You might assume that you can only go on a snowmobile adventure in the winter months, as of course, you need snow. But the great thing about enjoying this activity in Iceland is that you can do it year-round on the country's glaciers. So yes, you can snowmobile in Iceland in the summer!
At this time of year – between May and August – you can embark on many other highly recommended Iceland activities too. Plus you'll have lots of daylight hours to go exploring, thanks to the midnight sun.
---
---
Is winter a good time to go snowmobiling in Iceland?
Winter is also a great time to go snowmobiling in Iceland. Although you can enjoy this activity on Iceland's glaciers throughout the year, if you want to snowmobile at Lake Mývatn you need to visit in winter. That's because the lake freezes over between December and March, then melts in the spring.
What's more, visiting Iceland in winter means you can chase the northern lights. There are many more amazing things to do in Iceland in winter and ways to enjoy the snow.
---
---
How many people can ride on a snowmobile in Iceland?
A maximum of 2 people can ride on a snowmobile in Iceland. You can drive a snowmobile on your own, but just note that this would involve a single rider supplement.
Is there an age limit for snowmobiling in Iceland?
To drive a snowmobile in Iceland, you need a valid driver's license and you must be over 18 years of age. If you are travelling as a family, children over the age of 8 can join snowmobiling tours, but they must be accompanied by an adult.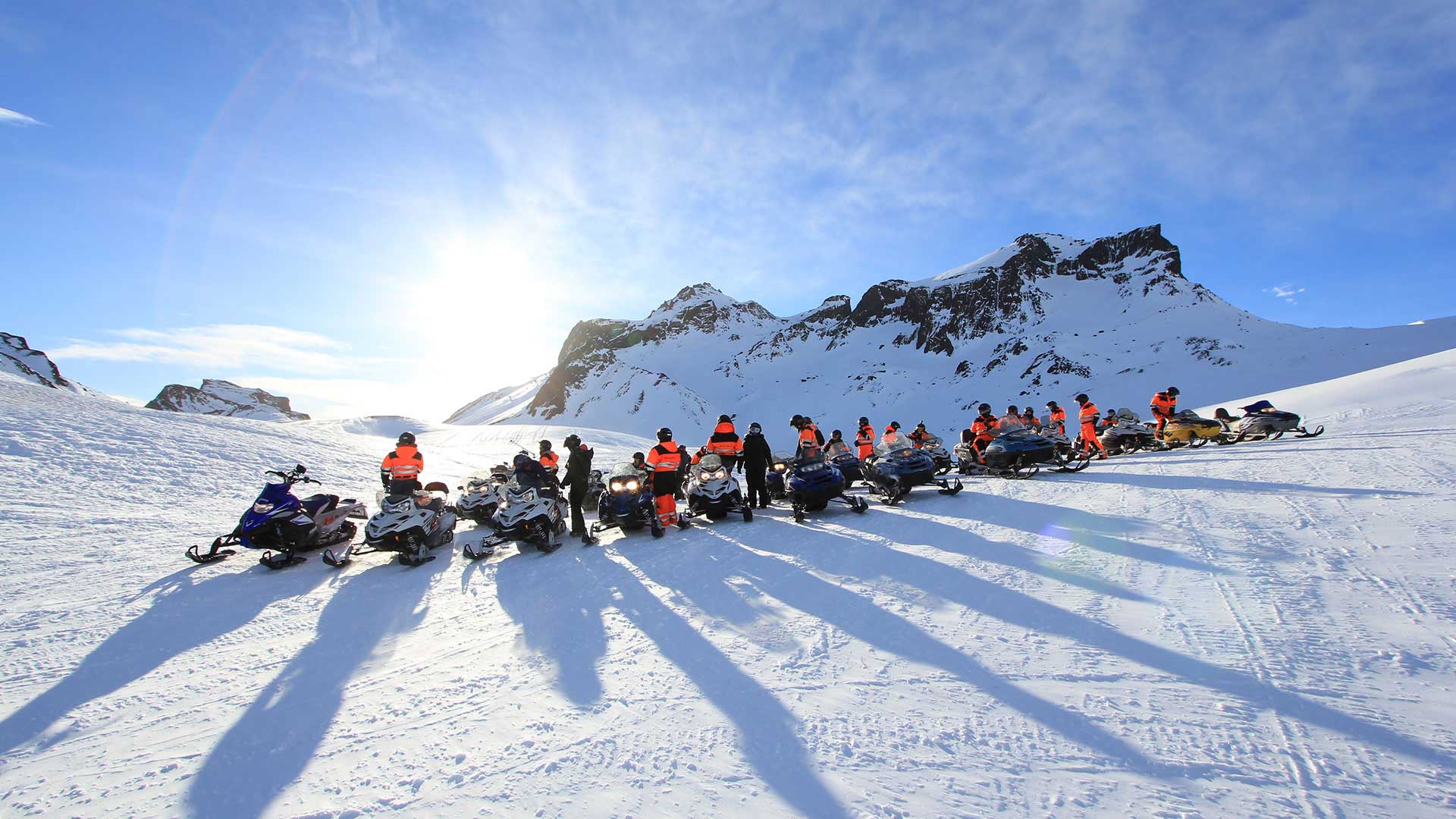 What do you wear snowmobiling in Iceland?
When you join a snowmobiling tour, you will be provided with all the necessary gear. This includes a helmet, thermal suit, gloves and warm headwear. You should dress in layers on the day of your tour to ensure you don't get cold.
You can bring a backpack to carry a camera and some snacks if you like. We also recommend you wear sturdy walking shoes and bring some more warm clothing in case you want to change after snowmobiling.
---
---
How much does snowmobiling cost in Iceland?
The price of a snowmobiling tour in Iceland varies depending on where you do it and how long for. It will cost more if you need return transfers from Reykjavík and if you'd like to do an additional activity in combination with snowmobiling.
When you book an Iceland tour with Nordic Visitor, you can see the price of your itinerary online. Input your preferred travel dates and passenger numbers, then add snowmobiling as an optional extra. For some of our tours, snowmobiling is already included in the package price.
Or you can speak with a local expert directly to chat through your options.
Is snowmobiling in Iceland worth it?
Do you love adrenaline-pumping activities and beautiful scenery? Then snowmobiling in Iceland is definitely worth it! Zipping over the surface of a glacier or frozen lake, with the snowy landscape stretching into the horizon, is an unforgettable experience.
---
If you're ready to embark on a snowmobiling adventure, you can browse our top Iceland vacations to find the right one for you. Some of our packages already include Iceland snowmobile tours, but if not you can add it as an optional extra.
Handpicked accommodation, transport in Iceland, and daily breakfast are also included in your Nordic Visitor itinerary. You'll have a dedicated travel consultant, based in Reykjavík, who will plan and book everything for you.
Plus, you'll have access to our 24/7 helpline during your tour, in case you need our assistance.
Get in touch with our Iceland travel experts and they can give you more advice about your trip. They'll tailor your itinerary to include all the activities you want to experience.