Scottish scenery is breathtaking, to say the least. Whether you're a local or a visitor from further afield, walking Scotland's trails is an exhilarating way to explore the great outdoors.
You might be drawn to the sandy beaches, towering cliff tops and fishing villages along the coast. Or perhaps the soaring mountains, mirror-like lochs and storybook forests of the Highlands most appeal to you. Given its compact size, you can easily enjoy a mix of both on your holiday in Scotland.
Below you'll find 10 of the best walks in Scotland, ranging from short and easy to longer and more challenging hikes. What they all have in common, however, are incredible views that showcase the soul-stirring beauty of Scottish nature.
---
---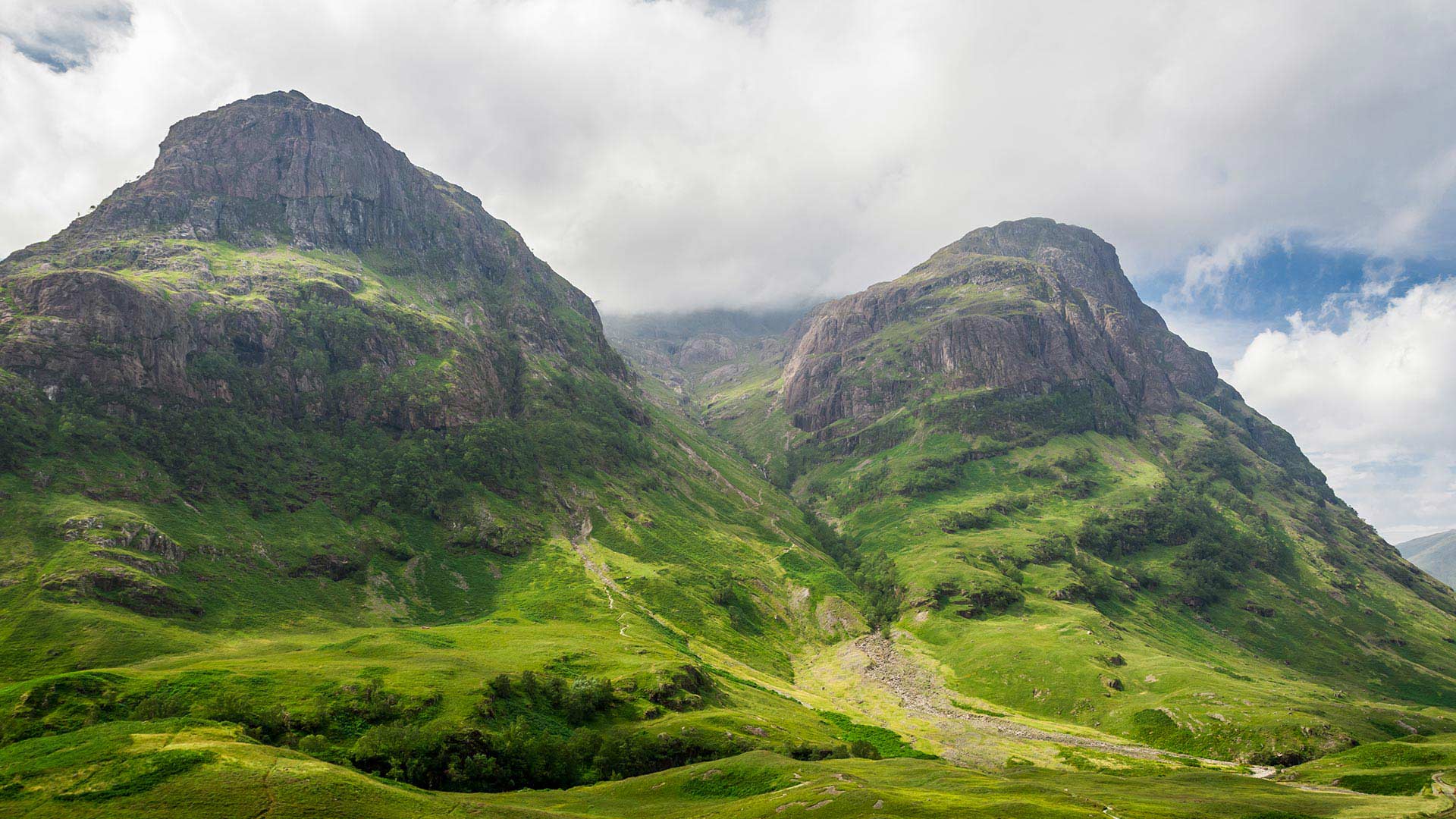 1. The Lost Valley, Glen Coe
Distance: 2.5 miles / 4 kilometres
Duration: 2-3 hours
Ascent: 1,100 feet / 335 metres
Once you arrive in Glen Coe, you'll see why the gorgeous green valley and trio of mountains – the Three Sisters – were handpicked as filming locations for famous movies. You may recognise the area from James Bond: Skyfall or Harry Potter and the Prisoner of Azkaban.
Immerse yourself in this iconic Highland landscape by hiking to the Lost Valley, or "Coire Gabhail". Even before you begin your walk, the view of the Three Sisters from the car park here is breathtaking to behold.
On this trail you'll pass heather-clad slopes, pretty birch trees, and a craggy gorge carved by the River Coe. Once you finish your ascent and reach the Lost Valley, be sure to take a moment to breathe in the peaceful atmosphere.
---
---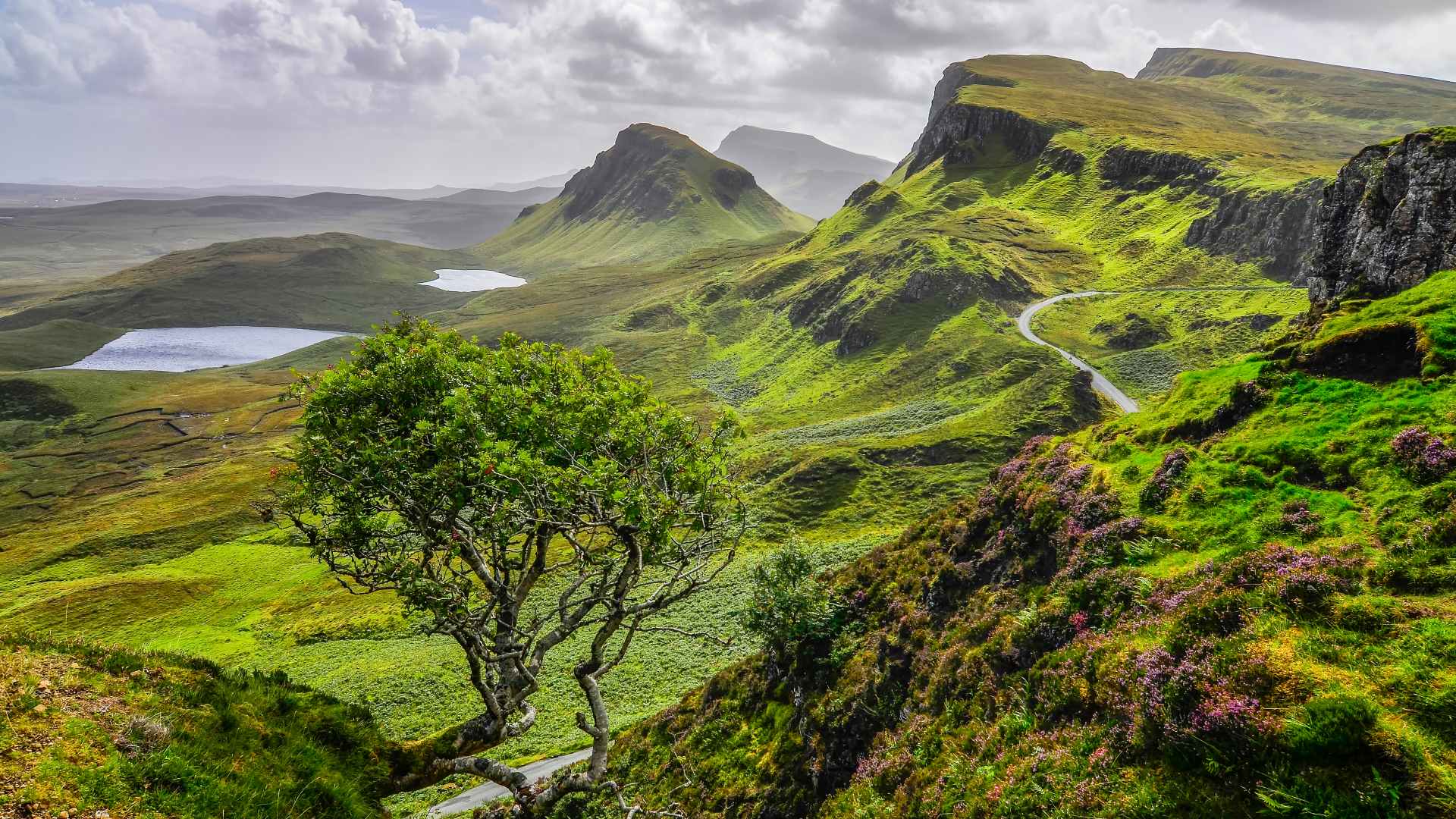 2. The Quiraing, Isle of Skye
Distance: 4 miles / 6.5 kilometres
Duration: 3-4 hours
Ascent: 1,227 feet / 374 metres
If you're visiting the Isle of Skye, you can't miss a drive along the Quiraing. This is a place of jagged rock formations propped up on the Trotternish Ridge, an area shaped by ancient landslides.
Of course, walking through the stunning, ethereal landscape is even better than driving around it. On this circular route, you climb up the slopes and pass craggy rock towers and pinnacles. Look out for the Table, the Needle and the Prison as you ascend.
Many choose to only do the first section, which is ideal if you just want a quick walk. But complete the circuit and you'll be rewarded with panoramic views up on the ridge. Look out over the plateau, across the sea and over to the Torridon peaks on the mainland. You'll definitely need your camera to hand.
---
---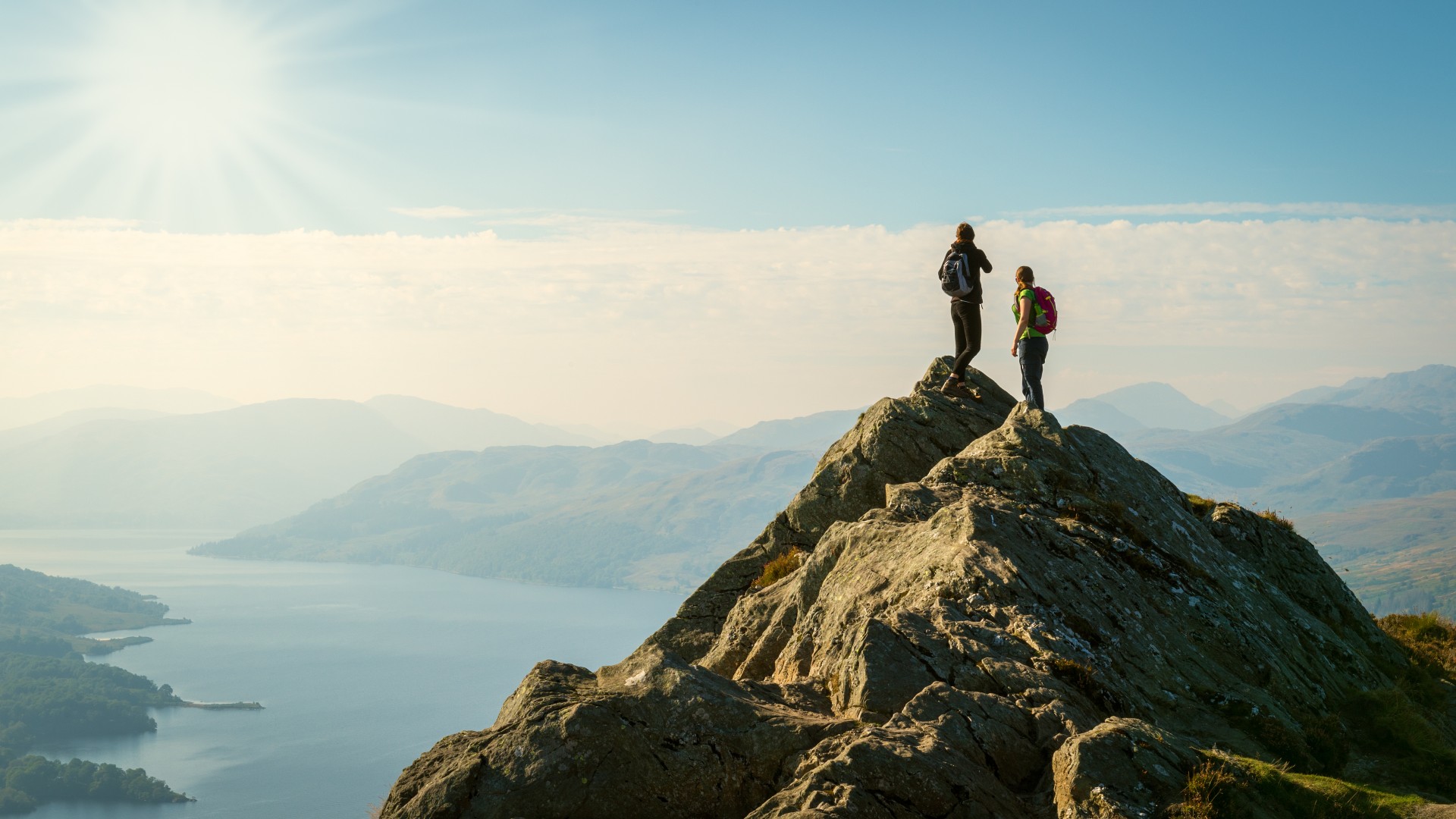 3. Ben A'an, Trossachs National Park
Distance: 2.25 miles / 3.7 kilometres
Duration: 2-4 hours
Ascent: 1,490 feet / 454 metres
For show-stopping vistas without hours and hours of climbing, take a hike up this "mountain in miniature". Ben A'an is one of the many peaks you can conquer in the Trossachs National Park, where forested slopes meet shimmering lochs. The great thing is that it's only an hour or two from Glasgow and Edinburgh.
Make your way up, past trees, moorland and streams, to reach the highest point of Ben A'an. Here, a generous panorama unfolds into the distance, encompassing the waters of Loch Katrine flanked by rolling hills to the northwest.
If you'd prefer to explore this corner of the Trossachs without the climb, stroll along the shoreline of beautiful Loch Katrine. This is a paved pathway so it's fully accessible. You might also like to combine your walk with a ride on the classic Sir Walter Scott steamship.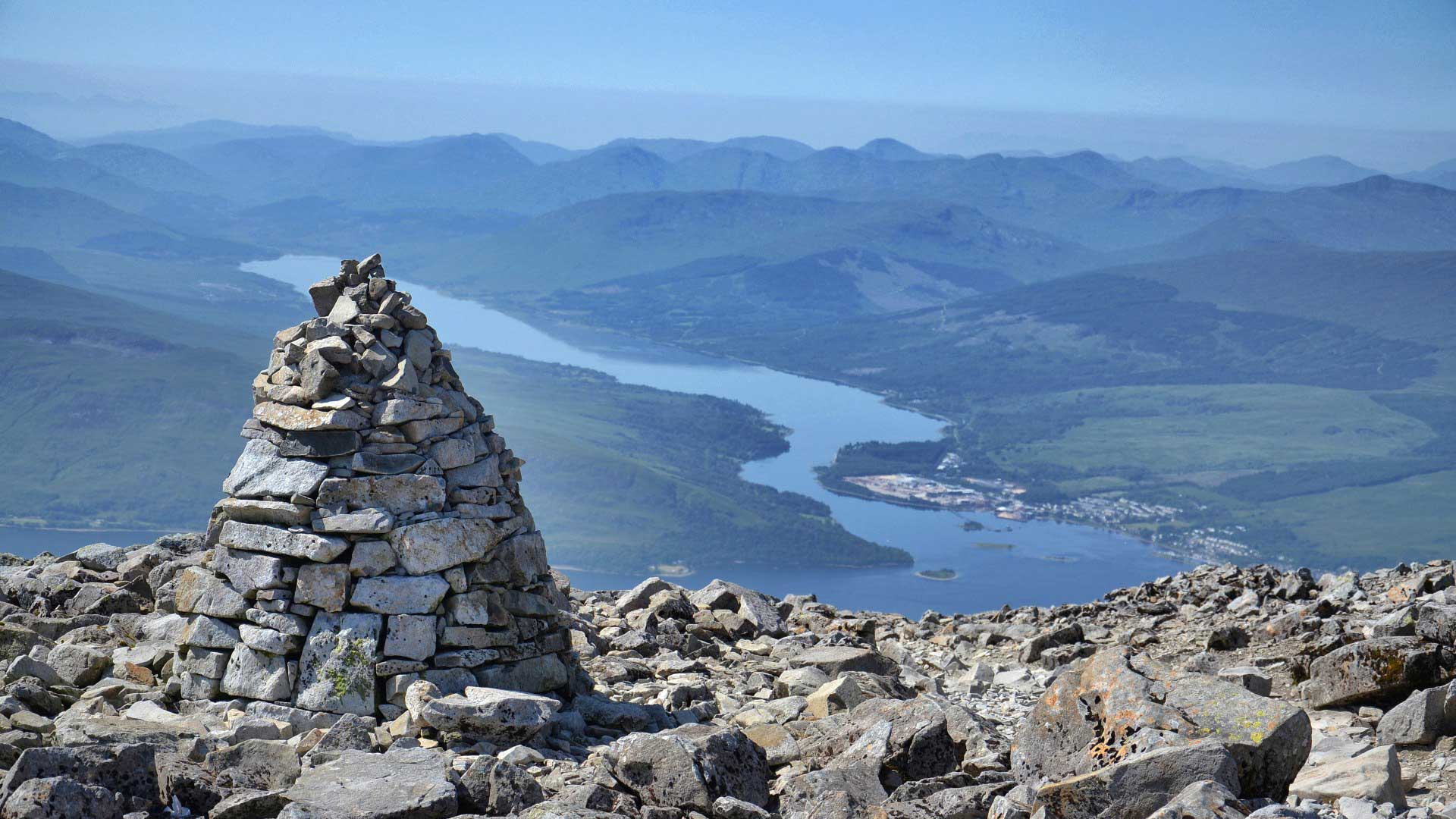 4. Ben Nevis, Fort William
Distance: 10.5 miles / 17 kilometres
Duration: 7-9 hours
Ascent: 4,413 feet / 1,345 metres
One of the best walks in Scotland has to be this climb up Ben Nevis, the highest mountain in the UK.
True to its name – which translates to "mountain with its head in the clouds'' – Ben Nevis will leave you awestruck. This mighty peak was once a vast volcano that collapsed after a huge eruption millions of years ago. Even today, you can't help but sense the drama that shrouds this immense mountain.
For the most straightforward hiking route, take the main mountain track from the Glen Nevis Visitor Centre. You'll mark the half-way point at a small lake, before zig-zagging your way up to the summit. If the weather's on your side, you'll be treated to jaw-dropping vistas of the surrounding lochs and peaks.
Not up for a full-day hike? An alternative walk you might consider is the trail at the foot of Scotland's tallest mountain. Head down Nevis Gorge to reach the Steall Falls, a beautiful waterfall with a 120-metre (394-foot) drop.
---
---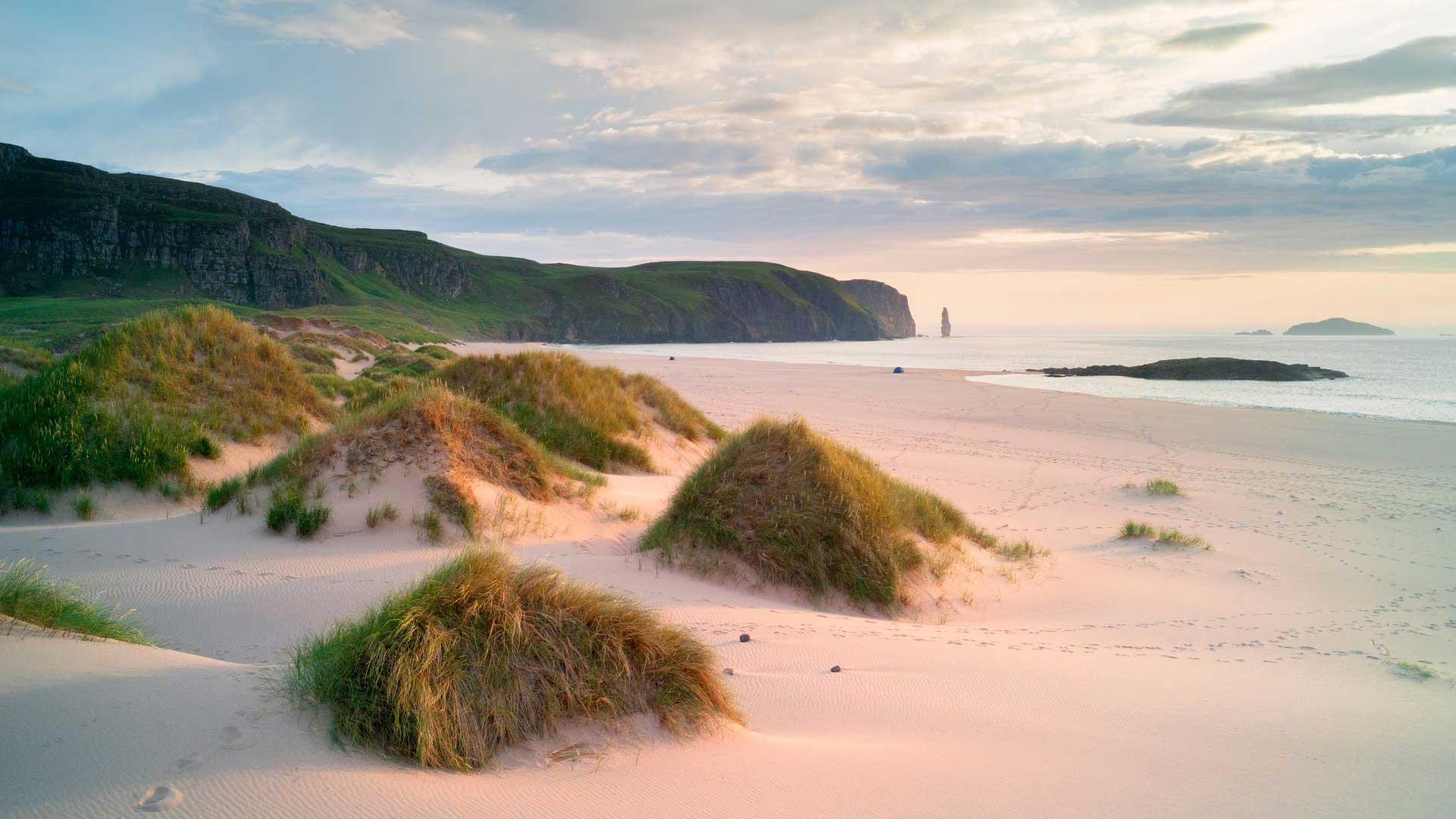 5. Sandwood Bay, Sutherland
Distance: 8 miles / 13 kilometres
Duration: 4-5 hours
Ascent: 492 feet / 150 metres
Many believe that Sandwood Bay is the most beautiful beach in the UK. Come to this swathe of honey sand in the remote northwest corner of the mainland, and you might find you agree with them.
The only way you can get to Sandwood Bay is by walking, which means that the mile-long beach is delightfully unspoilt. Join the trailhead at Blairmore and make your way over peat moorland, passing lochs as you go. The area is owned by the John Muir Trust, whose aim is to protect the natural biodiversity here.
As you approach the bay, you'll spot the cliffs of Cape Wrath looming to the north, and the freshwater Sandwood Loch just up from the dunes. Stroll along the soft sands and look out to see the tall sea stack, Am Buachaille, rising from the water.
You might also spot dolphins playing in the Atlantic waves. Or perhaps – if legend is to be believed – you'll catch sight of a mythical mermaid.
---
---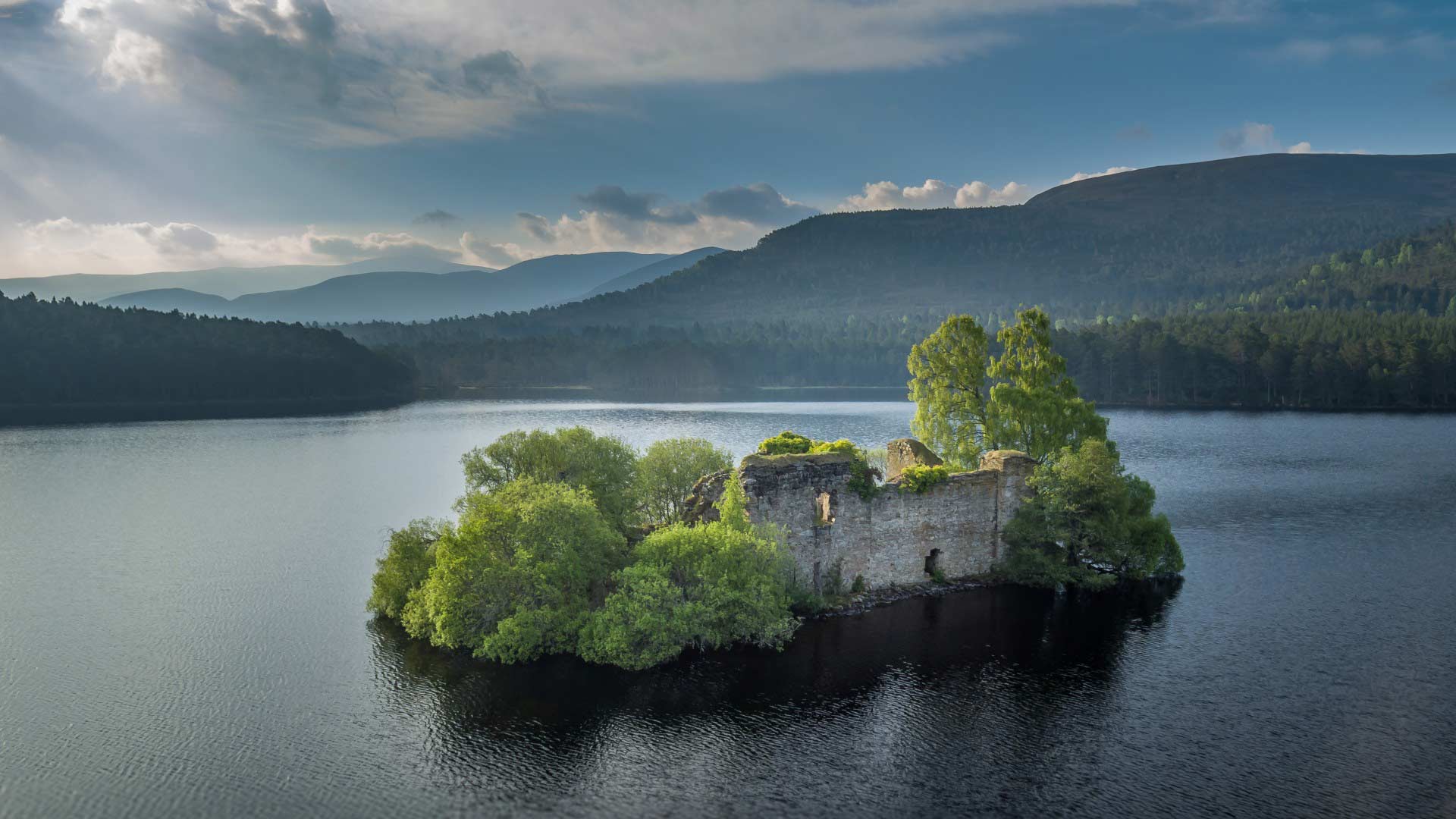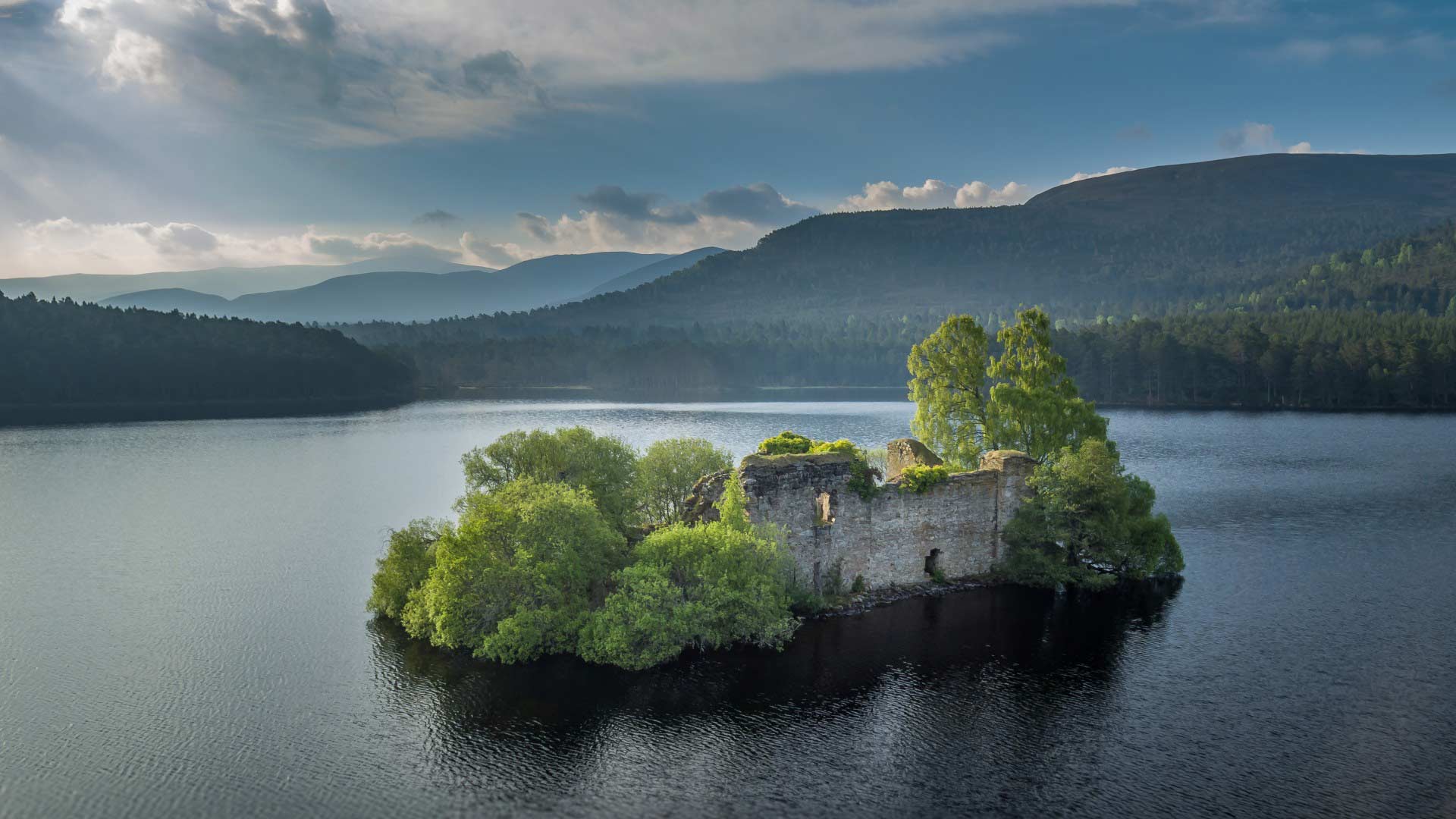 6. Loch An Eilein, Cairngorms National Park
Distance: 4.25 miles / 7 kilometres
Duration: 2 hours
Ascent: 230 feet / 70 metres
A mist-shrouded pine forest, tranquil loch, and island with a ruined castle complete the stunning backdrop for your walk here in the Cairngorms National Park. You couldn't invent a more Scottish scene than this.
The Loch An Eilein circuit is ideal if you have young kids, as the trail is even and easy to navigate. Enjoy this loop around the shimmering loch, walking through the ancient Caledonian pinewoods. Look out for red squirrels darting between the trees, many of which are hundreds of years old.
Towards the end of your walk, the 13th-century castle, enthroned on its island, will come into view. The crumbling ruins rising from glassy waters only add to the mystique of this pristine spot.
---
---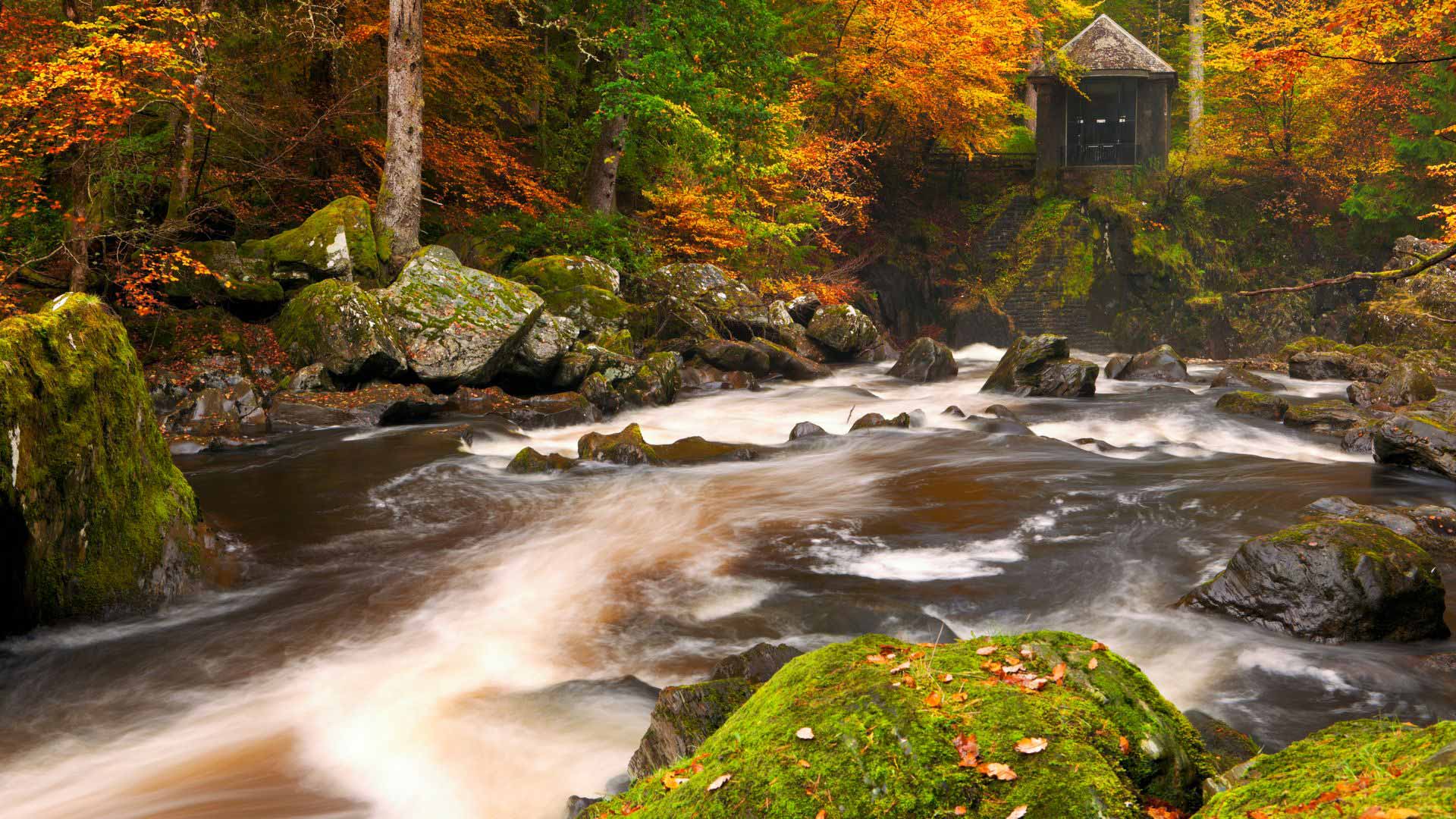 7. The Hermitage, Perthshire
Distance: 4 miles / 6.5 kilometres
Duration: 2 hours
Ascent: 460 feet / 140 metres
Step into Perthshire's "Big Tree Country" and explore the magnificent woodland glen of the Hermitage. Located moments from the charming town of Dunkeld, this National Trust-protected site is the perfect spot for a stroll amongst the trees and gurgling river.
On your woodland walk, follow the River Braan with its rushing water cascading over the rocks. The striking Ossian's Hall – an 18th-century folly overlooking the Black Linn Falls – is a delight to behold.
Go inside and you'll be surrounded by sliding panels and mirrored artwork, making it look as though the water is all around. Further up you'll arrive at another folly, Ossian's Cave, before emerging from the trees and reaching the Rumbling Bridge.
If you're visiting Scotland in autumn, you might catch sight of the salmon leaping up the falls, which is awe-inspiring to witness. The same can be said for the enchanting woods, which turn into a vibrant haze of orange and gold.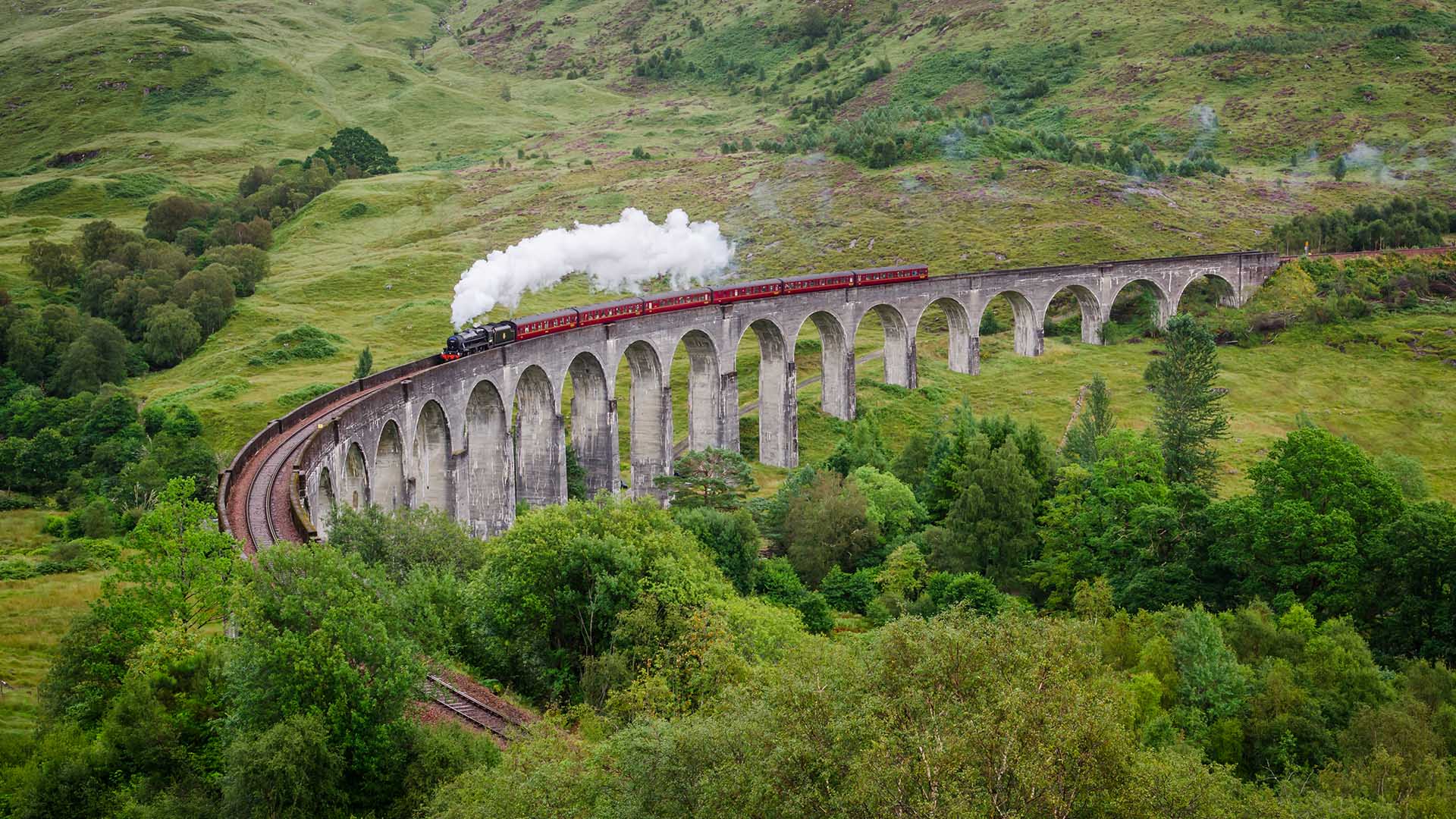 8. Glenfinnan Viaduct, Lochaber
Distance: 2.5 miles / 4 kilometres
Duration: 1-2 hours
Ascent: 420 feet / 128 metres
You won't want to miss this walk if you (or your travel companion) are a fan of Harry Potter. The Glenfinnan area, which is less than half an hour's drive from Fort William, cradles a remarkable viaduct, made famous from the Harry Potter movies.
In summer the real-life Jacobite steam train glides over this 19th-century structure. But you'd be forgiven for thinking it was the Hogwarts Express passing by!
The walking trail will lead you to an elevated viewpoint where you can admire the grandeur of the viaduct and surrounding glen. Further on you'll look out over the picturesque Loch Shiel, backed by mountains that roll into the distance.
Your walk concludes at the loch-side Glenfinnan Monument, which commemorates those who fought in the 1745 Jacobite Rising.
---
---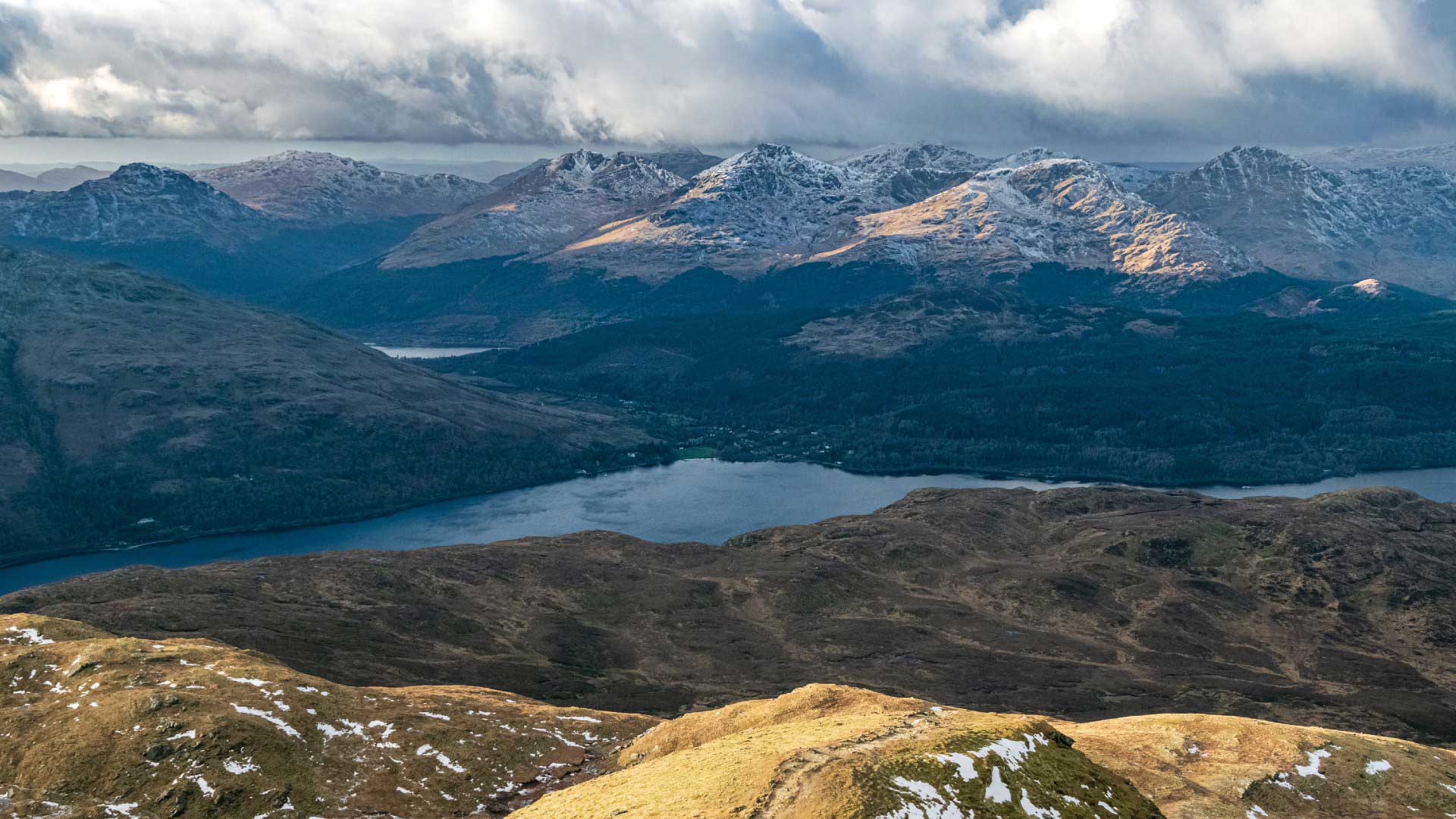 9. Ben Lomond, Trossachs National Park
Distance: 7.5 miles / 12 kilometres
Duration: 4-5 hours
Ascent: 3,195 feet / 974 metres
Soaring up beside the glittering waters of Loch Lomond is the most southerly of Scotland's Munros. Climb up here on a clear day and you'll get to marvel at the undulating mountains that stretch out to the north, towards the Highlands. To the south lies Glasgow and the lowlands of Scotland.
Walk past oak trees, peatland and moorland as you head up to the nearly kilometre-high summit. The view of the Trossachs, with its lochs and peaks, will eventually reveal itself to you towards the northeast. To the southwest, Loch Lomond spreads out below and you can grasp just how big the UK's largest lake really is.
Enjoy the incredible vista as you make your way back down to the shores of the loch. Why not go for a dip or take a boat ride out to one of the islands?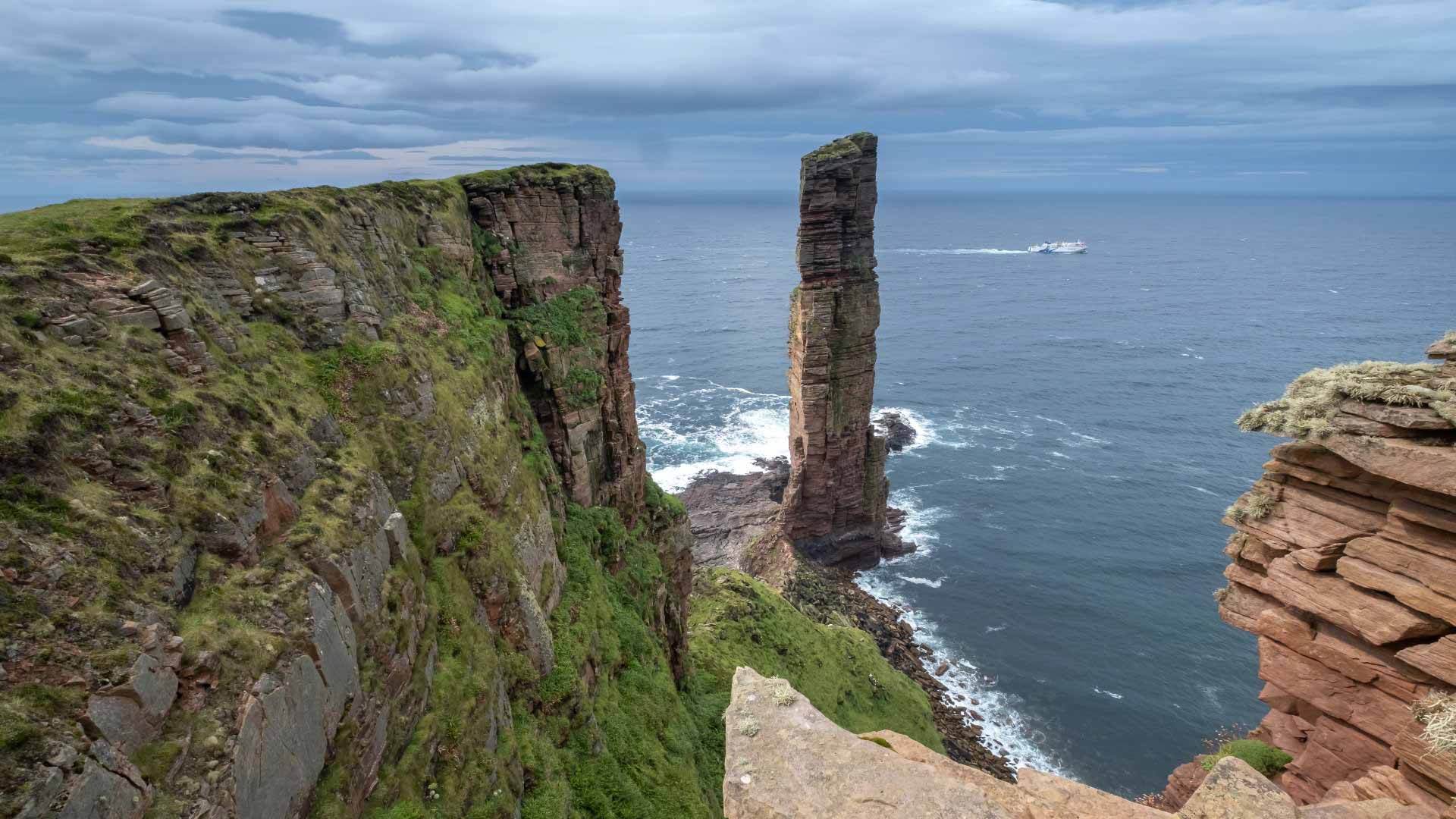 10. The Old Man of Hoy, Orkney
Distance: 5.75 miles / 9.25 kilometres
Duration: 2-3 hours
Ascent: 722 feet / 220 metres
Head to the Orkney Isles and you'll have scores of walking trails to choose from. This is a classic route on the southerly island, Hoy. It bestows you with views of the wild ocean, towering sandstone cliffs, and the Old Man of Hoy sea stack.
You'll start from Rackwick and walk along the coastal path, with the chance to stop at the turf-roofed Cra'as Nest Museum. Enjoy views of the wide open water as you steadily climb higher up the cliffs. Look out for seabirds such as skuas, fulmars and peregrine falcons along the way.
The half-way point is the Old Man himself, rising 137 metres (450 feet) above sea level. Many climbers are drawn to this rocky giant, so you might spot a brave thrill-seeker attempting to scale it.
---
---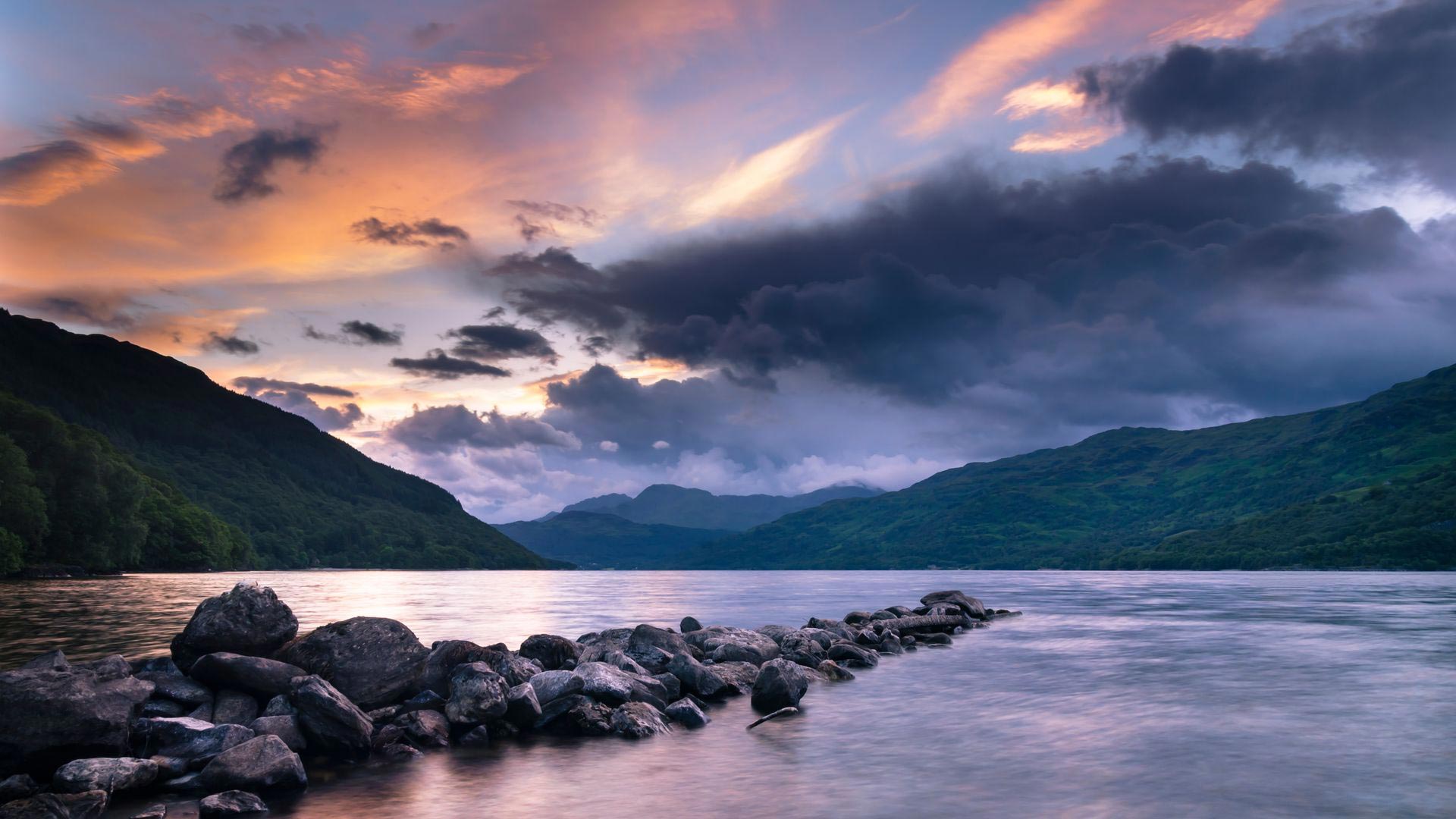 FAQ: Advice about walking in Scotland
We've answered the most frequently asked questions about hiking in Scotland to help you plan your trip.
Can you walk anywhere in Scotland?
You can walk just about anywhere in Scotland. Thanks to the Scottish Outdoor Access Code, you have the right to explore Scotland's landscapes on foot or by bike. Virtually all Scottish land is accessible to you, apart from private gardens and land used for growing crops, for example.
This means you're free to explore Scotland's beautiful nature reserves, hills, forests, moors and beaches. Of course, as part of the code you must always respect the environment and the interests of others.
With so many waymarked trails, you have such a wonderful variety of walking routes to explore when you visit Scotland. For this reason it's always easier and safer to choose a specific hike, follow the path and keep a map to hand.
How many long-distance walks are there in Scotland?
If you're thinking about going long-distance walking, you have 32 trails to choose from in Scotland. Here are 5 of the most popular long-distance Scottish walks:
West Highland Way
Fife Coastal Path
Great Glen Way
Speyside Way
John Muir Way
Did you know that you could walk the length and breadth of Scotland? The Scottish National Trail is a challenging hike that spans 537 miles (864 kilometres), starting in Kirk Yetholm and finishing in Cape Wrath. If that sounds like a challenge too far, you could always walk parts of it in sections instead.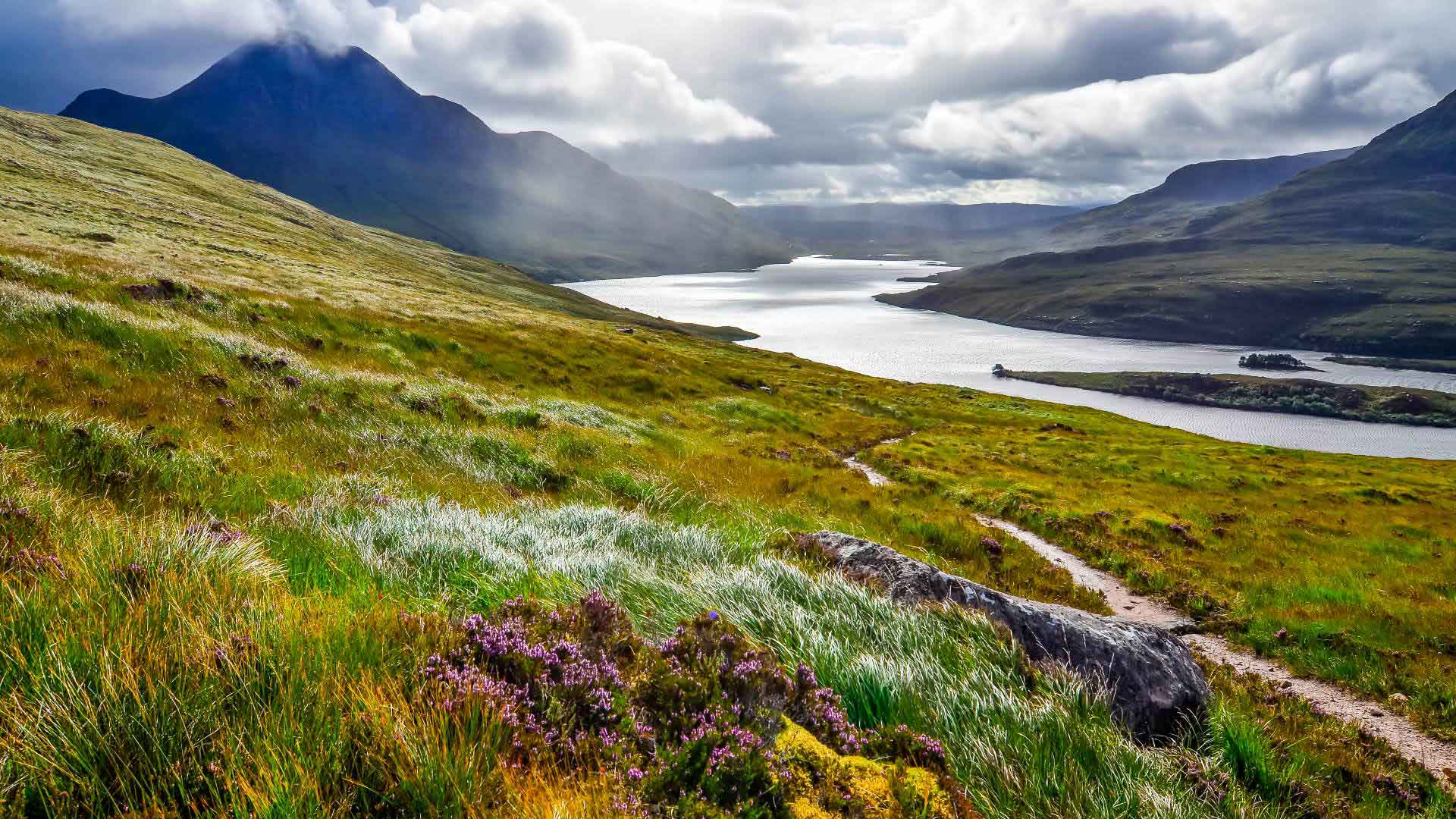 What is Munro-bagging?
Scottish peaks that are higher than 3,000 feet (914 metres) are called Munros, named after the mountaineer Sir Hugh Munro. If you go Munro-bagging in Scotland, it means you're taking on the challenge of climbing as many of them as possible. Once you've hiked to the top of a Munro, you've "bagged" it!
How many Munros are there in Scotland?
There are 282 Munros in Scotland. The biggest one is Ben Nevis, with a height of 4,413 feet (1,345 metres). The smallest are Ben Vane and Beinn Teallach, both 3,002 feet (915 metres) high.
What to wear for hill walking Scotland?
It's really important you come prepared with all the right gear before you go hill walking in Scotland. As well as the usual packing tips, we recommend you bring these items for your Scottish hiking trip:
Sturdy walking boots
Wool socks
Thermal top
Warm sweater or fleece
Waterproof jacket
Waterproof trousers
Hiking trousers
Rucksack
Warm hat
Gloves and neck warmer
Cap or sunhat
SPF lotion
Sunglasses
Midge repellent and midge net (in summer)
Don't forget to bring enough food and water with you on your day hike. You should also have a compass and walking map.
If you're thinking of going hill walking in winter, you'll need to bring much more equipment. This is because the mountains can be covered in snow and ice. Unless you're an experienced mountaineer, we recommend you only go hill walking in Scotland when the weather is mild.
---
---
What is the easiest hill to climb in Scotland?
You don't have to brace yourself for challenging mountain climbs in Scotland as there are plenty of "easy" Munros here too. Get into the Munro-bagging spirit with these top 5 hill hikes for beginners:
Ben Lomond, The Trossachs National Park (3,195 feet / 974 metres)
Mount Keen, The Cairngorms National Park (3,080 feet / 939 metres)
Ben Wyvis, Easter Ross (3,431 feet / 1,046 metres)
Ben Vorlich, The Trossachs National Park (3,231 feet / 985 metres)
Schiehallion, Perthshire (3,547 feet / 1,083 metres)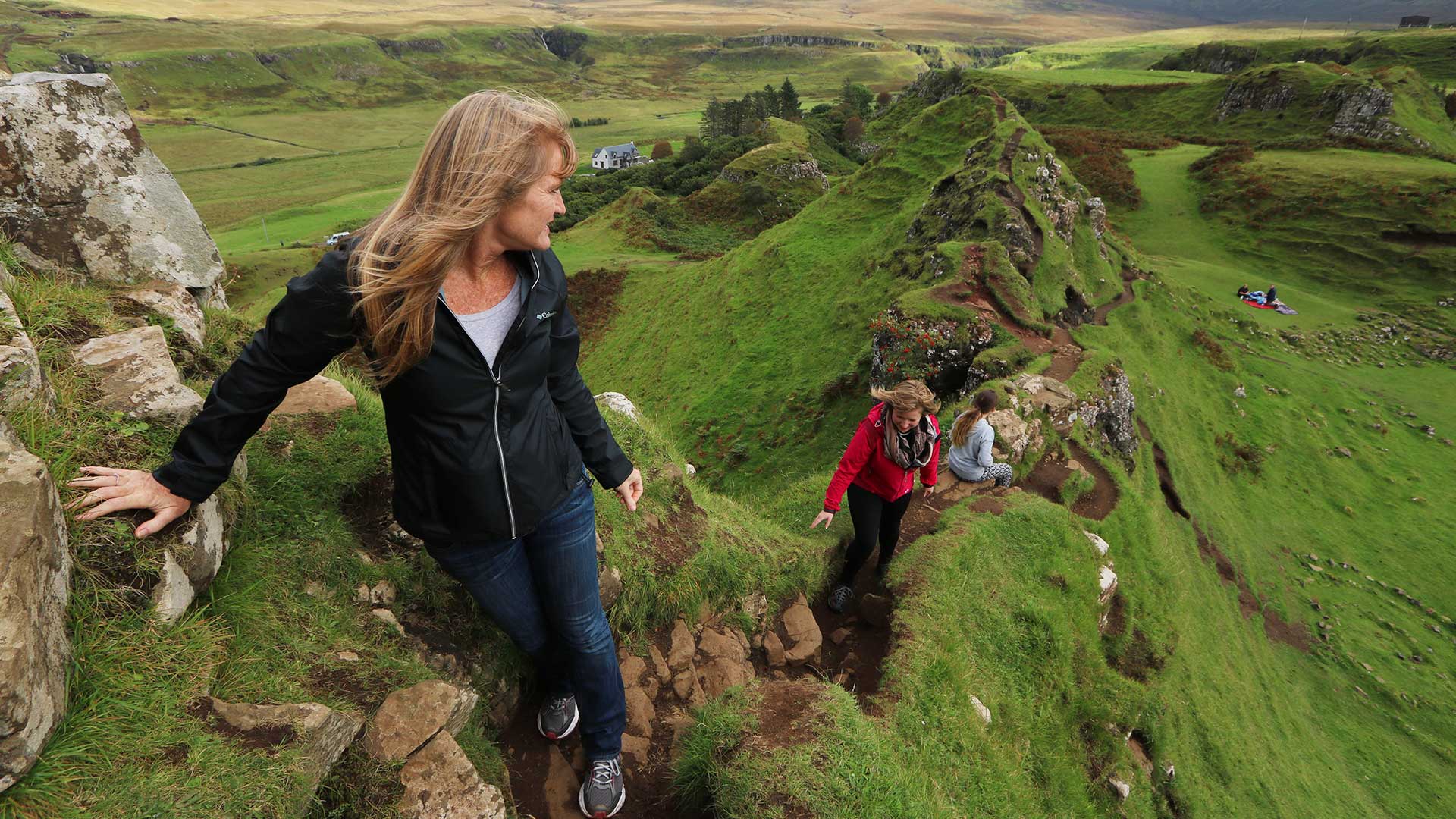 When you're ready to go hiking in Scotland, Nordic Visitor can plan your trip for you. You'll have a dedicated travel consultant to arrange everything on your behalf. Based in Edinburgh, all our Scotland travel experts have in-depth knowledge of the country and will be delighted to tailor a tour for you.
Let them organise a classic Scotland holiday package that incorporates all the places you want to visit and the walks you'd like to enjoy. Having made all the trip arrangements, they'll ensure your experience is seamless from start to finish, with handpicked accommodation for a comfortable stay.
During your Scotland holiday, you'll also have access to Nordic Visitor's 24/7 helpline. This way you can relax knowing that you have our support around the clock, should you need us.
Get in touch with our Scotland travel team to get your trip plans into action and experience these top Scottish walks for yourself.