If you're seeking breathtaking scenery it's hard to go wrong with Scotland. This northern nation is a patchwork of stunning landscapes boasting everything from sandy beaches to snow-capped mountains.
At Nordic Visitor we offer a range of travel options, including self-drive packages, guided group tours and private tours in Scotland. If you're curious about starting your own Scottish adventure, read on to discover the best places to visit in Scotland.
1.
Scotland's Crown Jewel – Edinburgh

Scotland's historic capital – home of Harry Potter and the annual Edinburgh Festival – is a medley of ancient city streets, modern thoroughfares, green spaces, and rolling hills, the largest of which is an extinct volcano.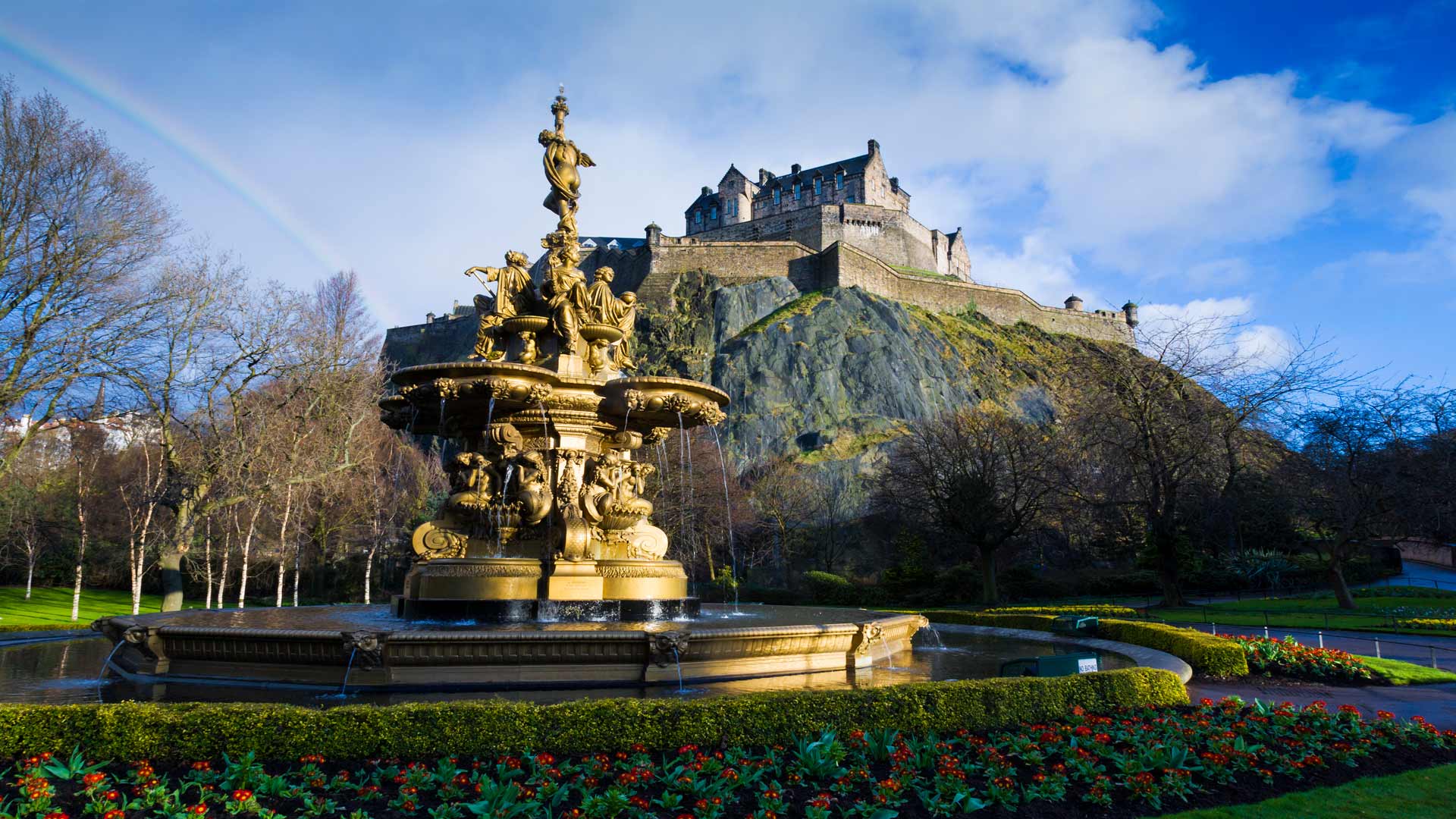 As a place where the ancient meets the modern, it's fitting that the Scottish capital is a city of two halves: the Old and New Towns. For a taste of Edinburgh's medieval past explore the Old Town, discovering winding streets, crooked alleyways, and soot-stained buildings.
Key highlights here include the Royal Mile, which stretches between Holyrood Palace and Edinburgh Castle, the National Museum of Scotland, and the expansive Meadows, Edinburgh's most significant green space.
Head north to the New Town and discover elegant Georgian townhouses lining leafy streets. Here, and in the waterside neighbourhood of Leith, you can enjoy some of the finest food, shopping and art galleries the city has to offer.
How do I get to Edinburgh?
Edinburgh is easy to get to – from London you can reach the city in around 4h30 by train or just 1h30 by plane.
2.
Outdoor Adventuring – Loch Lomond

This spectacular body of water, lying just north of Glasgow, has been the inspiration for countless writers, artists and musicians over centuries, coming second only to Loch Ness in mythic status.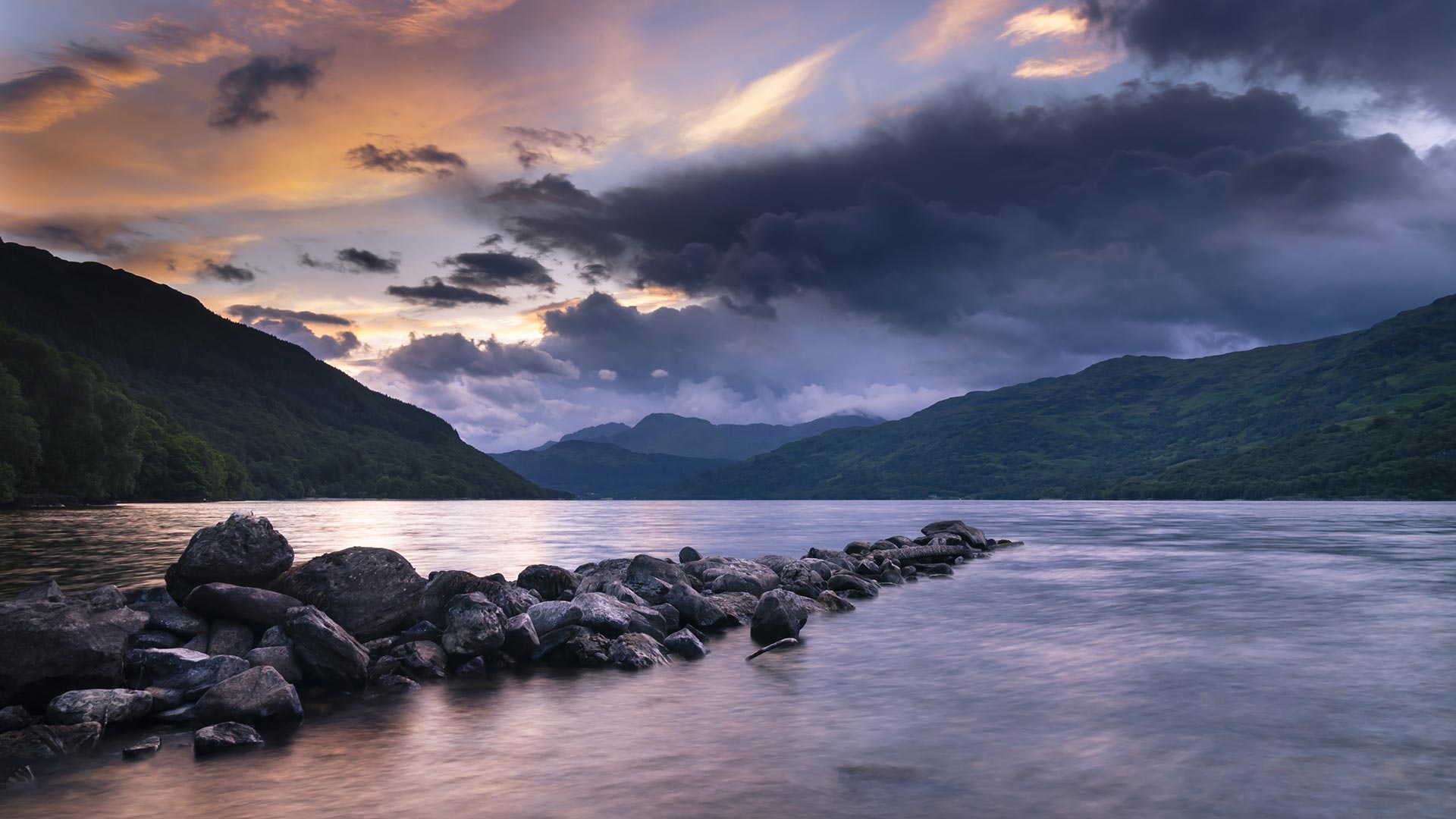 The loch stretches over 23 miles between Balloch and Ardlui. Surrounding the loch, and rolling out to the northeast is the Trossachs, a mountainous national park packed with hiking and cycling routes.
Lomond is a hotspot for water sports, including kayaking, sailing and even swimming. If you'd prefer to stay dry you can book a cruise from Balloch, Luss, Tarbet or Inveruglas, or hop on one of the many waterbuses.
Around Lomond's lush green banks you can enjoy scenic biking trails – keen cyclists might want to try the National Cycle Network Route 7, which takes you from Glasgow all the way to Balloch, before continuing into the Trossachs.
Loch Lomond is also an excellent place to enjoy on foot. All kinds of walking trails can be found in the region, ranging from easy waterside strolls to mountain hikes.
How do I get to Loch Lomond?
Loch Lomond is the ideal destination for day trips from Glasgow or Edinburgh.
From Glasgow you can drive to Balloch in 40 minutes, or Ardlui in just over 1 hour. From Edinburgh, the drive takes round 1h30.
You can also get to Loch Lomond by train, travelling direct to Balloch, Arrochar & Tarbet, or Ardlui from Glasgow (the journey takes 45-90 minutes).
3.
A Legendary Loch – Loch Ness

The world famous Loch Ness might be best known for housing a legendary monster, but it has so much to offer than Nessie mythology. Situated just south of Inverness in the Scottish Highlands, this long, narrow loch is a haven for sightseers and avid walkers.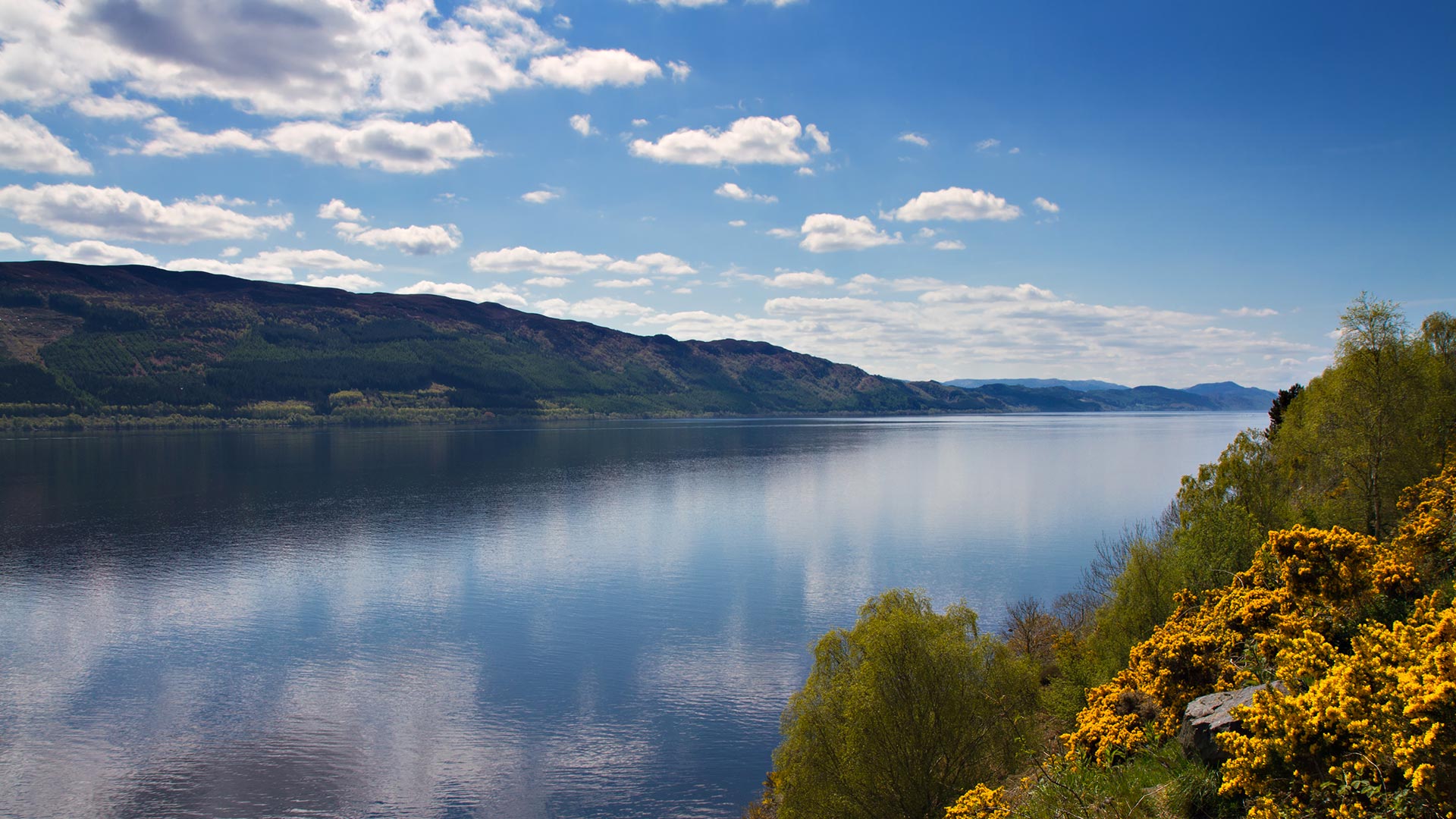 History buffs should head to Drumnadrochit to visit the Loch Ness Centre and tour the waterside 16th-century Urquhart Castle. In Fort Augustus, yet more historic delights await in the Clansman Centre, where you can learn about Highland traditions.
If you're more interested in the nature side of things, head for the beautiful Foyer Falls, or hike up Meall Fuar-mhonaidh, which offers fantastic views from its 700m summit.
Lastly, Loch Ness is a fantastic place to enjoy a ferry cruise, with multiple daily departures leaving from the main loch-side settlements. Just remember to be quick with that camera if you see anything in the water…
How do I get to Loch Ness?
The best way to get to Loch Ness is to travel from Inverness. From here you can drive to the northern tip of the Loch in just 15-20 minutes, or to Fort Augustus in 1 hour. Buses also serve the region – you can get from Inverness to Drumnadrochit in just 30 minutes.
If you're travelling from Edinburgh or Glasgow, you can drive to Loch Ness in around 3-4 hours, or take the bus or train (4-5 hours).
4.
The Land of Wind & Whisky – Isle of Islay

The southernmost island in the Inner Hebrides is best known for its peaty whisky. But if you dig a little deeper you'll find Islay has far more than single malts to offer the curious traveller.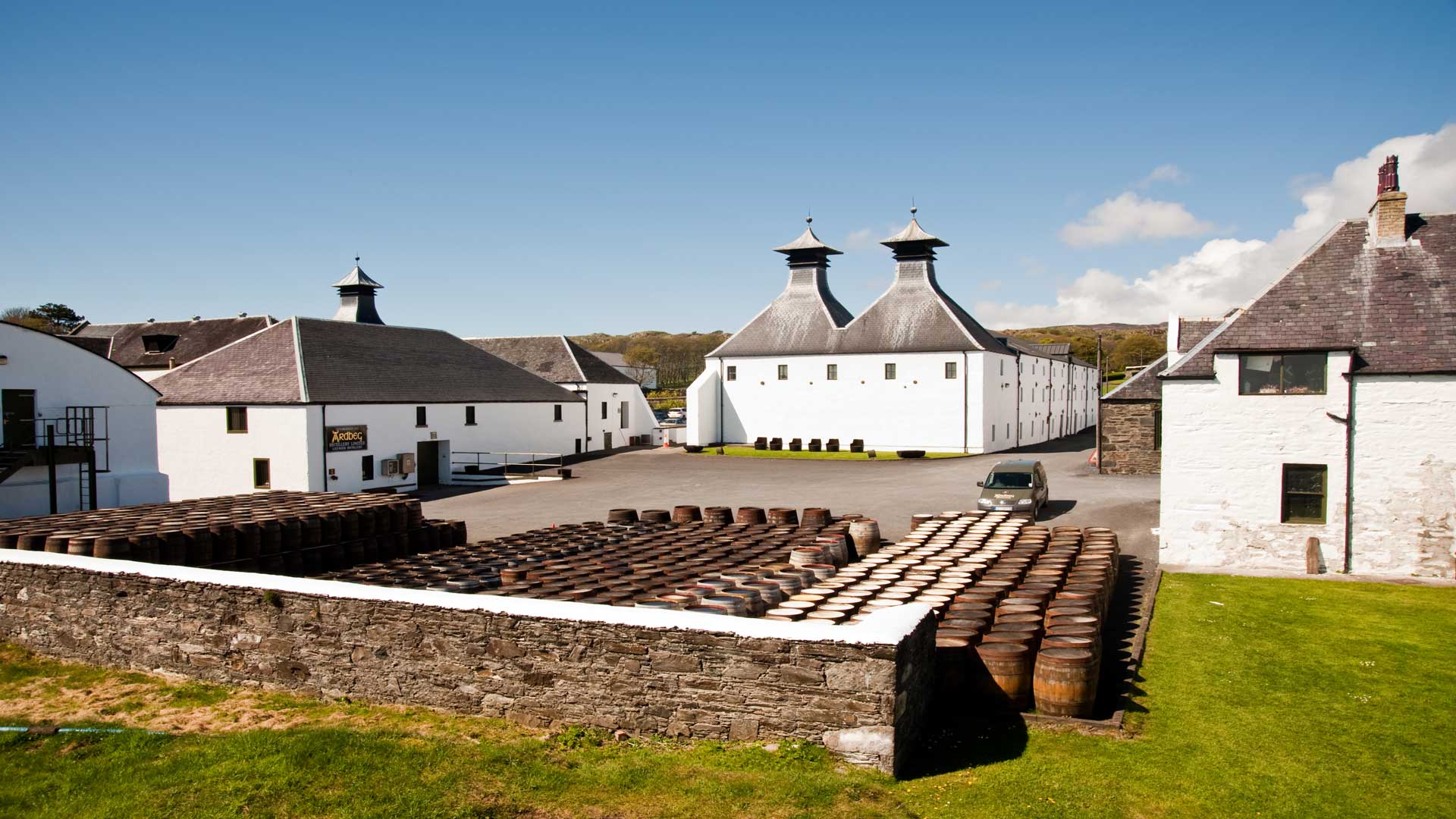 With a population of just 3,200 people, Islay has retained its windswept, untamed side. Head to Machir Bay and Kilnaughton Bay for stretches of immaculate white sand beach, and to the RSPB Nature Reserve at Loch Gruinart to spot barnacle geese, corncrakes and lapwings.
Walking highlights include a stroll to the ruins of Dunyvaig Castle or the scenic Singing Sands, a hike up Beinn Bheigeir, and a visit to the Neolithic Ballinaby Standing Stones.
Of course, no trip to Islay would be complete a tour of the whisky distilleries. Just outside Port Ellen you'll find Ardbeg, Laphroaig and Lagavulin, which create Islay's strongest and peatiest whiskies. Further north Bowmore and Caol Ila give their own unique spins on the iconic Islay taste.
How do I get to Islay?
Islay can be accessed by car ferry from Kennacraig on the west coast of Scotland, with daily departures to Port Ellen (2h20) and Port Askaig (1h55).
To get to Kennacraig from Glasgow you can drive (around 2h30) or get the bus (around 3h30).
5.
A World-Famous Viaduct – Glenfinnan

Glenfinnan is a hamlet nestled on the banks of Loch Shiel. Despite its size, Glenfinnan is an immensely popular destination, in part due to its world-famous viaduct, which featured in the Harry Potter films – apparently quite popular with some people.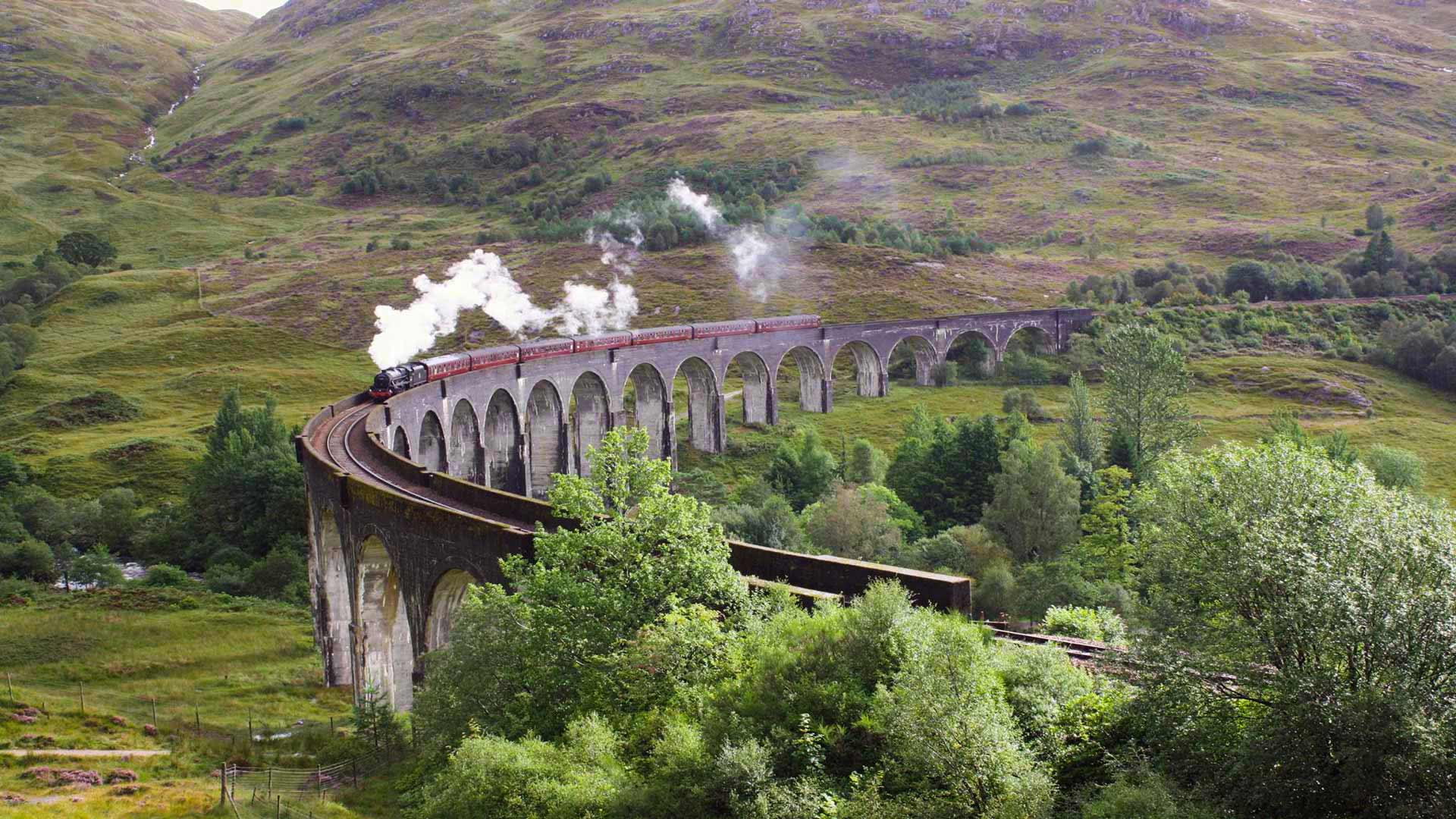 The Glenfinnan Viaduct, which towers 100 feet above the ground, is part of the West Highland Line that runs between Glasgow and Mallaig. The historic viaduct was built in the 1890s and is known for its distinctive archways.
To get the best views of the Viaduct take the walking trail up from Glenfinnan station. Alternatively, book tickets for the Jacobite steam train, which connects Fort William and Mallaig between April and October.
Of course, Glenfinnan has more to offer than its iconic viaduct. This tiny village boasts incredible views of Loch Shiel, which is bordered on its eastern banks by rippling mountain peaks. Glenfinnan is also an important hub for history buffs, home to a 19th-century monument to slain Jacobite clansmen.
How do I get to Glenfinnan?
Glenfinnan is served by its own railway station, which offers direct connections to Glasgow (the journey takes 4h20). Alternatively, you can drive – from Glasgow or Edinburgh the journey takes around 3-4 hours.
---
---
6.
The Heart of the Highlands – Glencoe

This tiny village, which sits on the banks of Loch Leven, is the gateway to an area of astonishing natural beauty.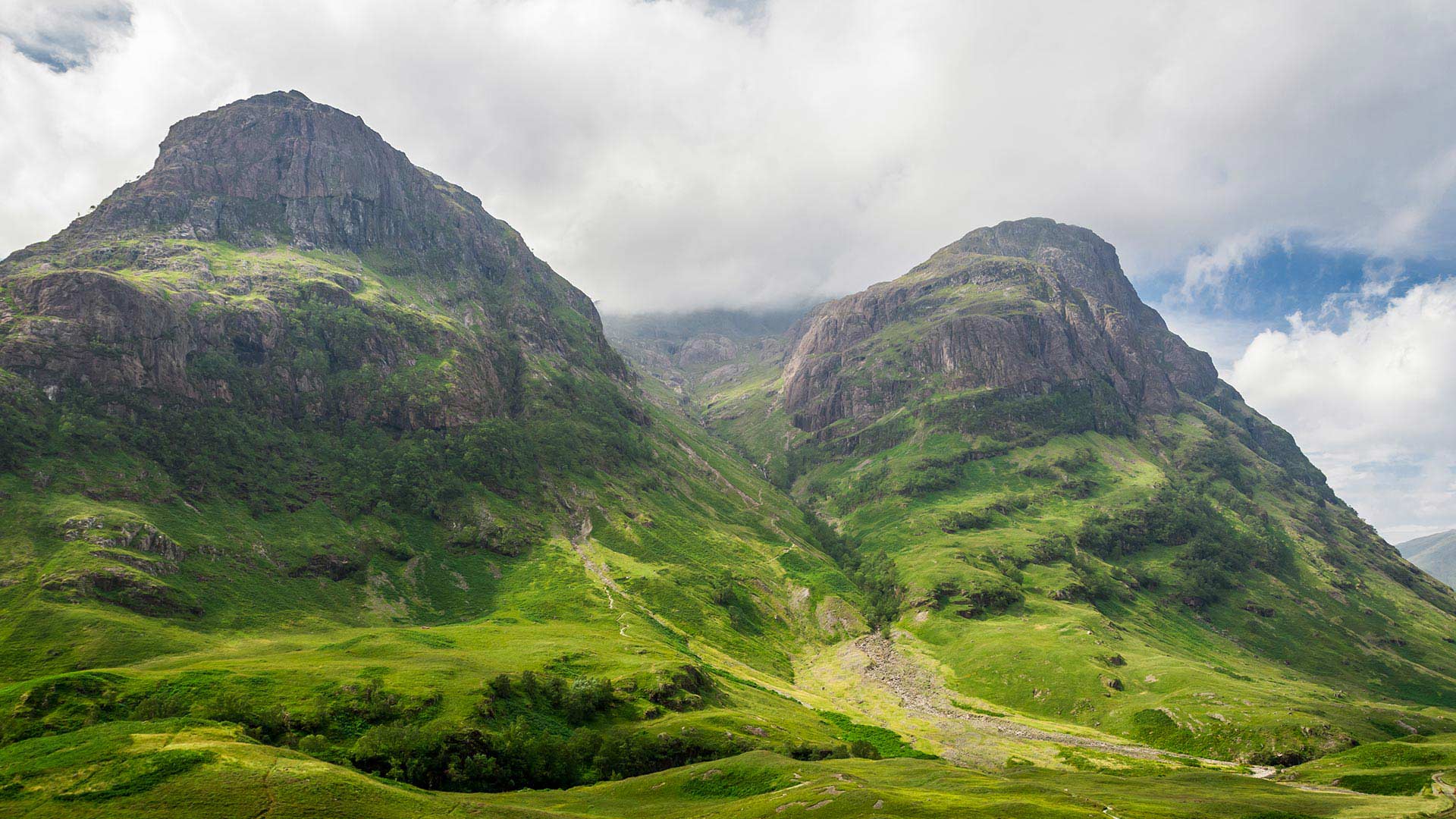 The landscape here was formed by an ice age glacier and is notable for its high, rounded peaks, which slope smoothly down to the banks of the River Coe. In spring and summer the hillsides are vibrant green, turning to rust and gold in the autumn and winter.
If you're looking for more than the stunning scenery, there's plenty on offer. In the winter you can ski and snowboard at the Glencoe Mountain Resort, while in the summer you can get out on Loch Leven to kayak, sail or even swim.
Other activities include a guided tour of the area, which can be arranged at the Glencoe Visitor Centre, and a visit to the Glencoe Memorial Site, which pays homage to those killed at the Massacre of Glencoe in 1692.
How do I get to Glencoe?
The closest transport hub to Glencoe is Fort William train station – from here you can catch a 30-minute bus to Glencoe. To get to Fort William, you can take the train from Glasgow (around 3h40).
Alternatively you can take a direct bus from Glasgow to Glencoe – this takes around 2h40. To drive from Glasgow or Edinburgh, the journey takes 2-3 hours.
7.
Fairytale Scenery – Isle of Skye

Skye is the third largest island in the UK and is notable for its unique geological features, which give it the feel of a fairytale world.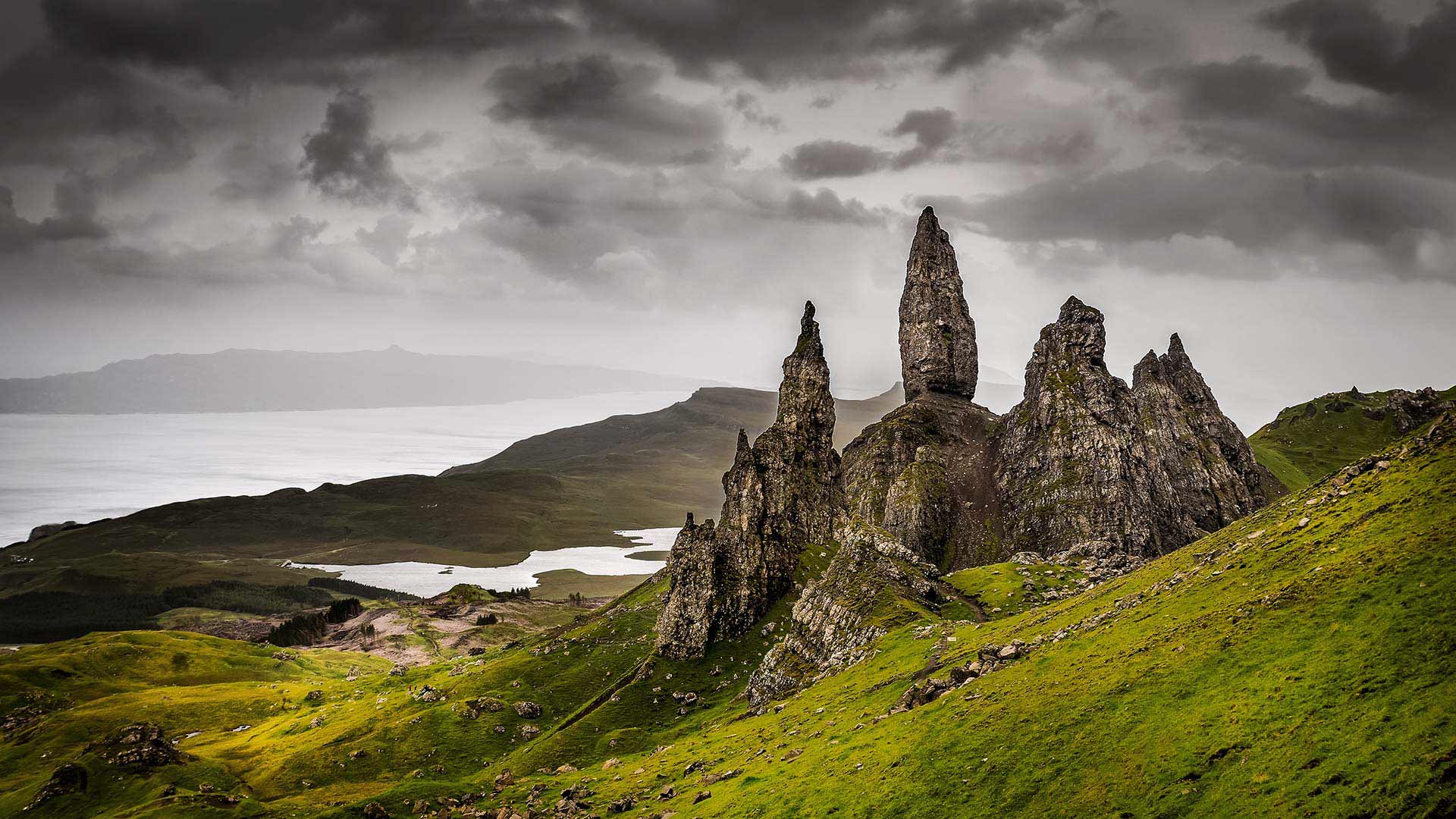 Come here to visit the legendary Fairy Pools, cascading waterfalls which glow green and blue in the sunlight, and to explore the Fairy Glen, where the curious lumpy hills have given the landscape an otherworldly feel.
Other must-see spots include the Storr, a steep rocky hill known for its distinctive pointed rock formations and Mealtfalls, a waterfall that plunges over a cliff directly into the ocean. If you love folklore don't miss a trip to Loch Coruisk, said to house a mythical creature known as a water horse.
Skye is also a place steeped in human history. Explore Dunvegan Castle, the ancestral home of the MacLeod clan, and learn about the island's history at the Skye Museum of Island Life. Or simply sit back with a single malt at the historic Talisker Distillery.
How do I get to Skye?
You can reach Skye by crossing the Skye Bridge at Kyle of Lochalsh or by taking the ferry from Mallaig.
From Glasgow you can drive to Kyle of Lochalsh in around 4 hours. You can also get there on the train – from Inverness the journey takes around 2h30.
To get to Mallaig you can take the train from Glasgow (around 5h30) or drive from Glasgow or Edinburgh (around 4-5 hours).
Planning your Scottish Odyssey
For more inspiration – including tips on weather and what to pack – check out our Scotland Travel Guide.
Talk to our consultants about seeing the stunning highlights of Scotland with one of our Scottish travel packages.