A summer tour of Scotland will take you to some of the world's most unforgettable coastlines. On these exquisite, unspoilt shores, discover turquoise waters and golden sands. With the calls of seabirds for company, in Scotland you'll witness some of the most stunning beaches on the planet.
Read on to discover 12 of the best beaches in Scotland. From seaside towns to the sandy shores of mountain lochs, Scotland's beaches are gorgeous and serene or rugged and untamed. And in the summer months they show off their full breathtaking potential.
Let's start exploring.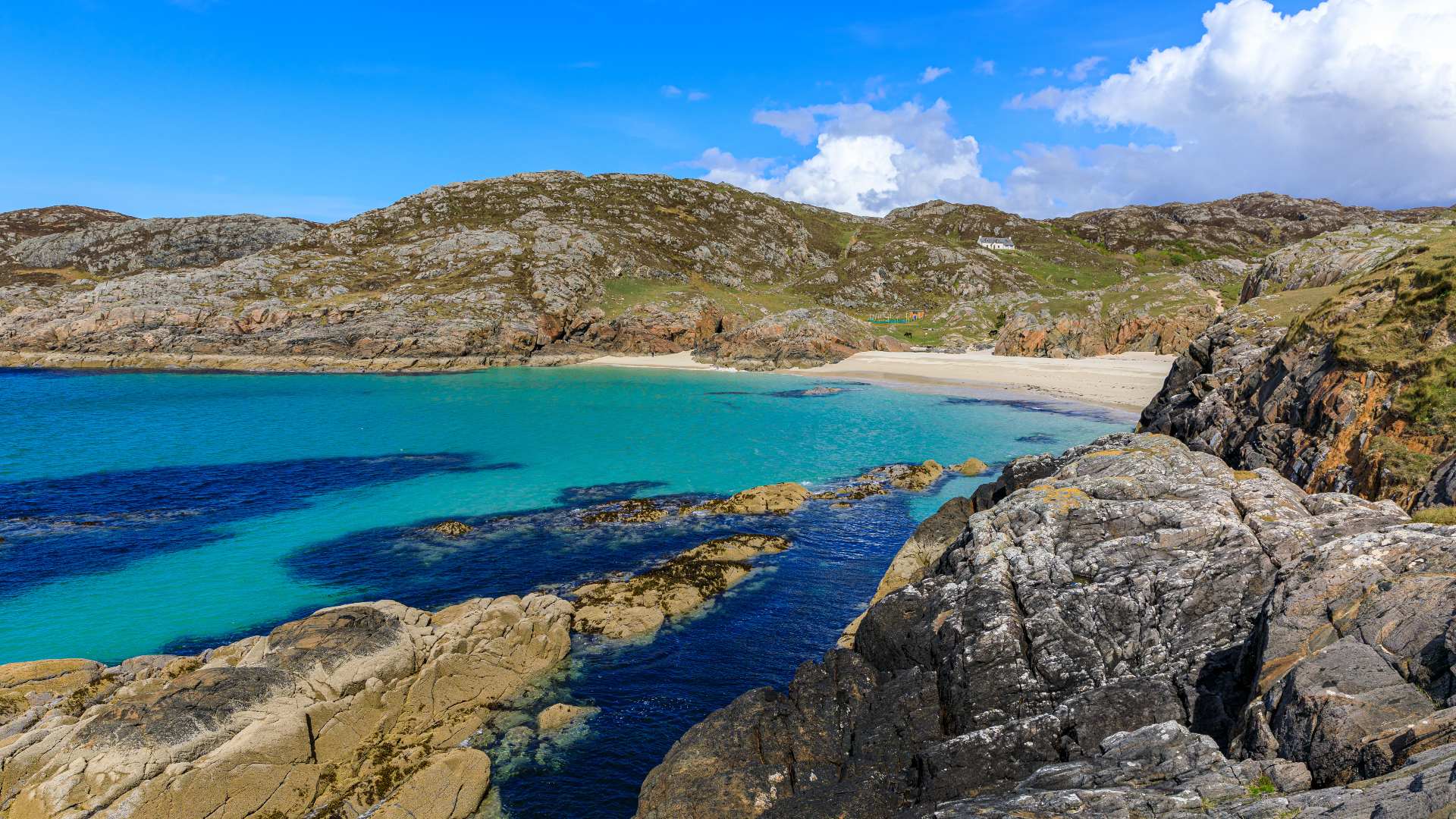 Frequently asked questions about Scottish beaches
You probably have some questions about Scotland's beaches. You'll find the answers right here!
1. Are there beaches in Scotland?
While it's perhaps more famous for mountain glens, lochs, and Highland castles, Scotland has a wealth of glorious beaches to explore.
In fact, some of Scotland's beaches, such as Luskentyre and Sandwood Bay, are among the most beautiful beaches in the world.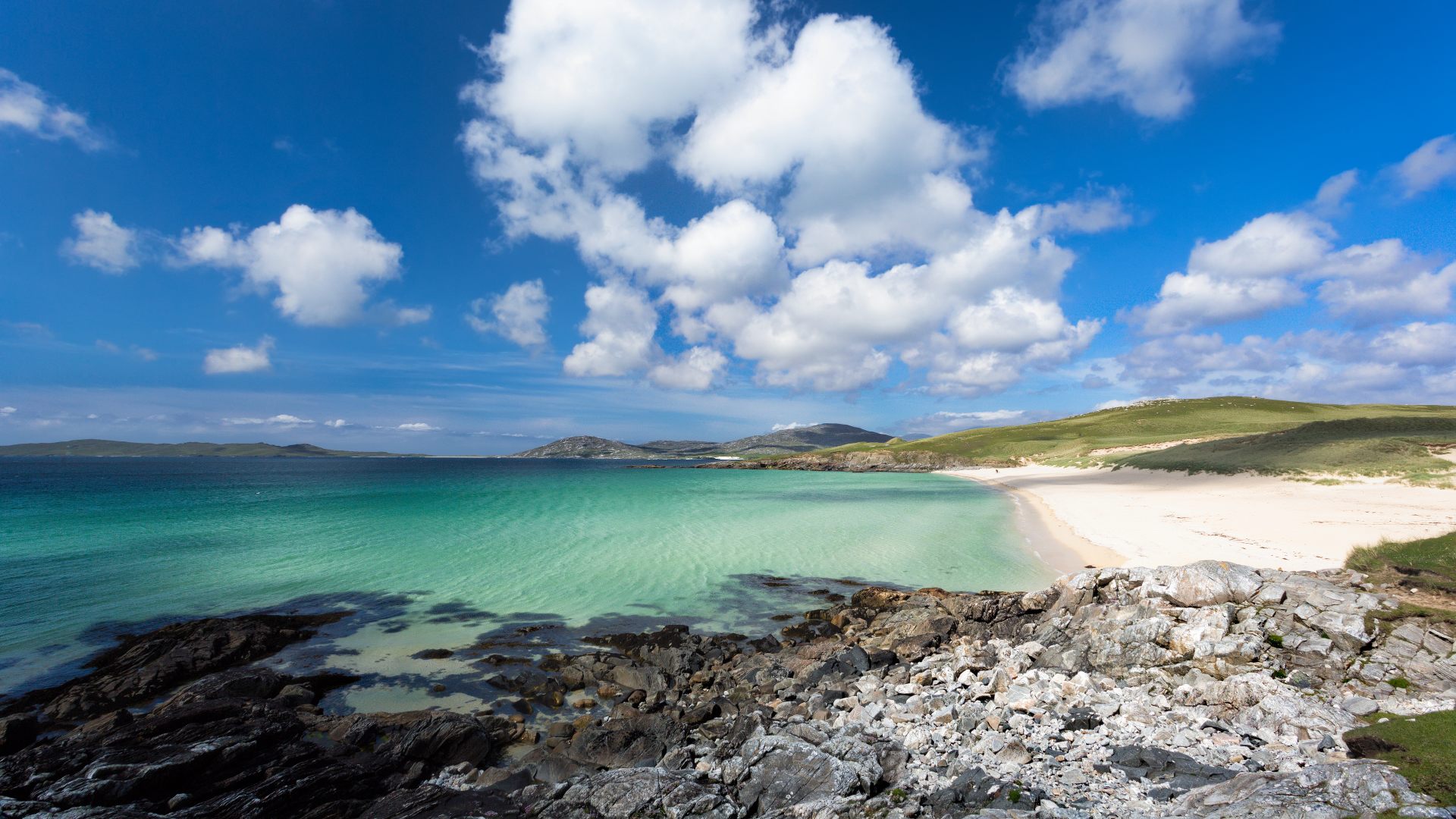 2. Where are the best beaches in Scotland?
You can find the best beaches in Scotland all over the country, from the southeast coast of East Lothian to the far reaches of the Outer Hebrides. Some spectacular Scottish beaches are even found on freshwater lochs far from the sea.
3. Where is white sand in Scotland?
You're never too far from a white sand beach in Scotland. East of Edinburgh, the coast is dominated by golden sand dunes. For example, Whitesands Bay, a hidden gem a short drive from the delightful town of Dunbar, offers precisely what the name suggests.
More famously, the Outer Hebrides and northwest coast of Scotland is home to many stunning white sand beaches.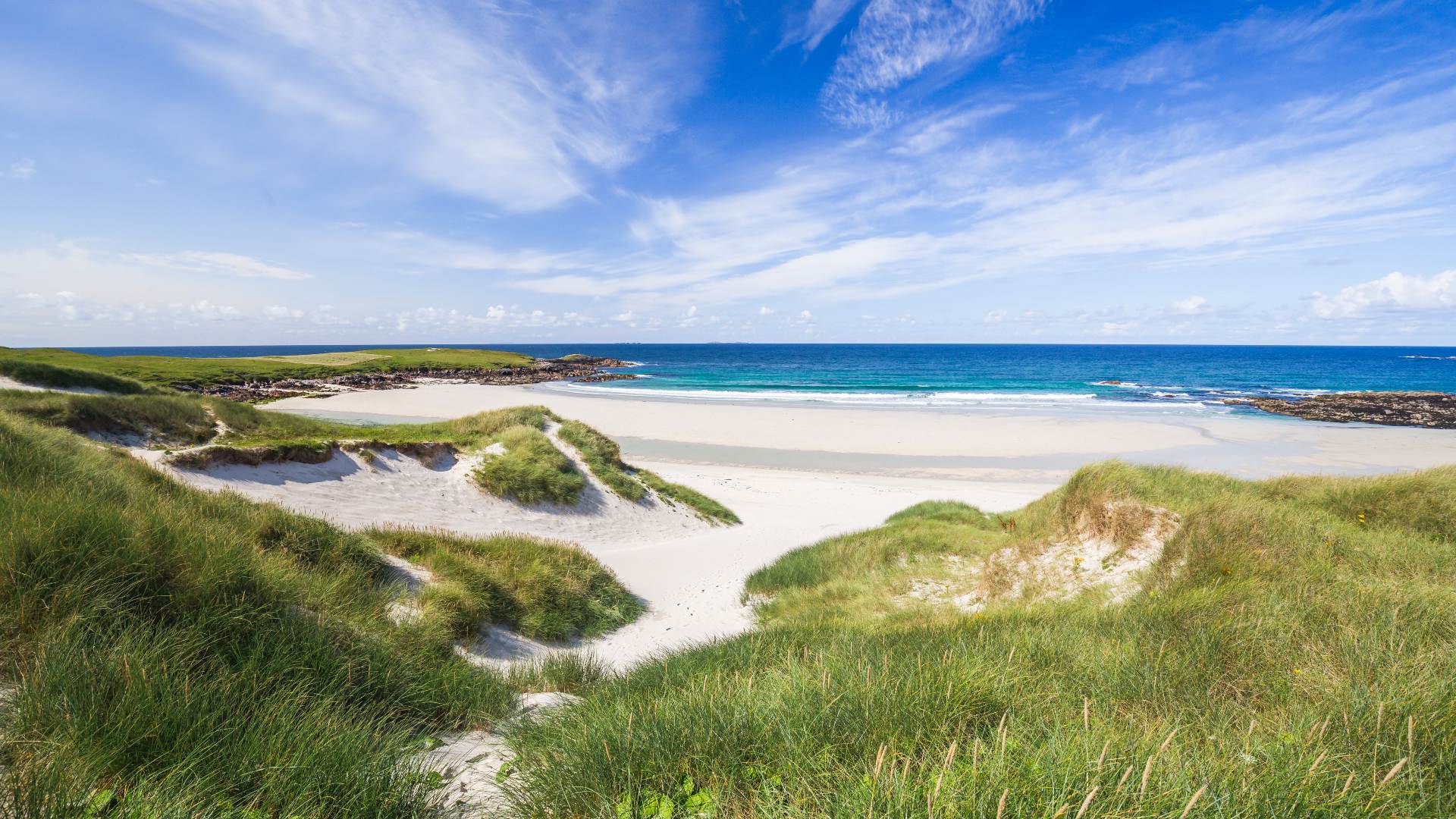 4. Are there any black sand beaches in Scotland?
It's quite rare to find a black sand beach in Scotland. While a charming little bay in Fife is known as Aberdour's Black Sands beach, its sands are not actually black – surprisingly enough.
To see real black sands, head to Talisker Bay on the Isle of Skye. Surrounded by steep cliffs and a waterfall, it's worth a visit not just for its sands.
Does Loch Ness have a beach?
Dores Beach is the pebbled shore at the northeastern end of Loch Ness. It's one of the lake's best vantage points, with an uninterrupted view down the glen.
---
---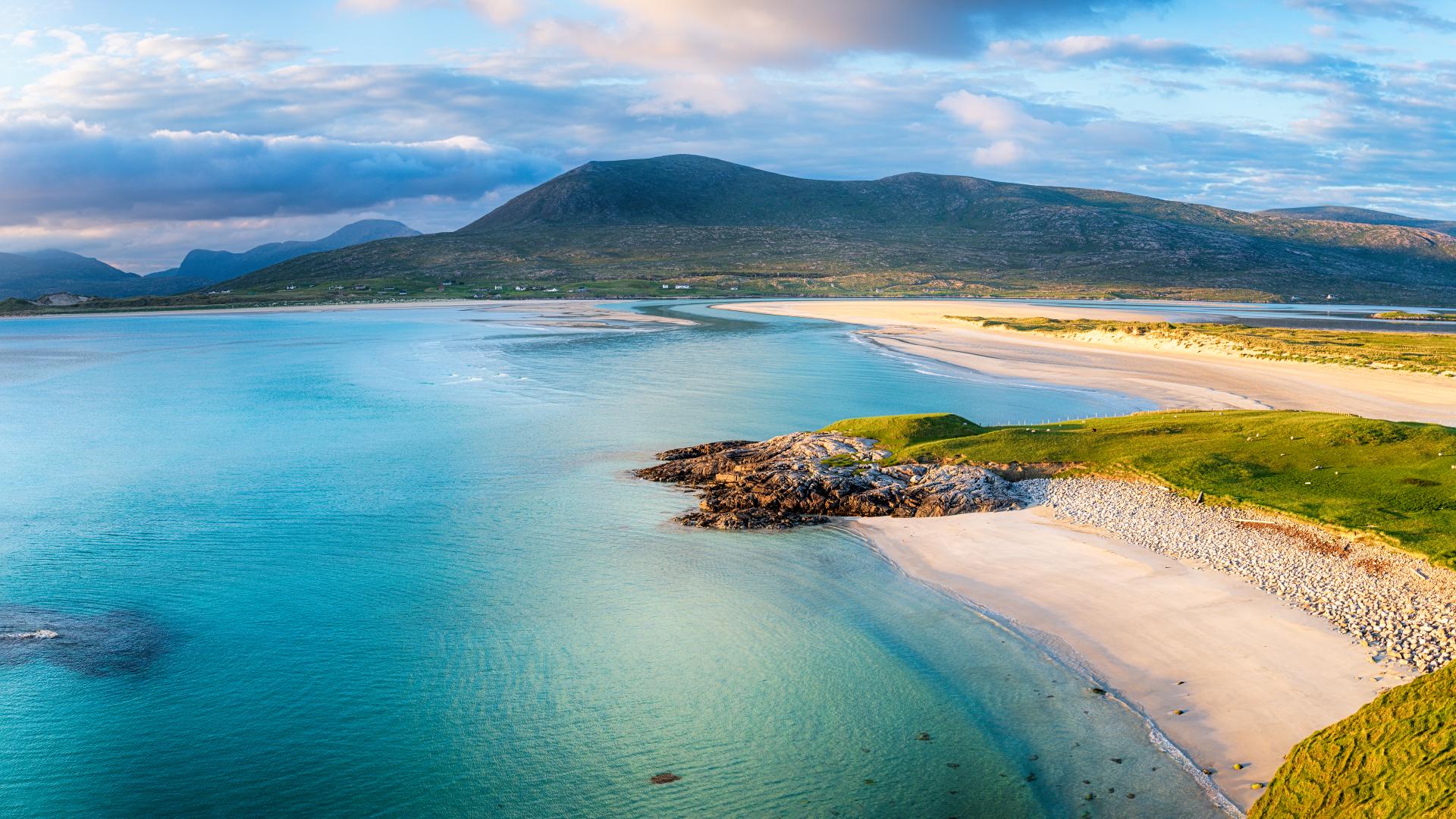 The 12 best beaches in Scotland
Add these stunning spots to your Scotland wish list.
1. Luskentyre, Isle of Harris
Luskentyre is without doubt one of the most spectacular beaches in Scotland, if not the world. On south Harris, you'll find a small taste of the Caribbean on the far reaches of the Outer Hebrides. Think pristine sands and clear blue waters, surrounded by gorgeous, gentle hills.
20 minutes down the winding scenic road to Harris's southern tip, you'll pass Scarista, Luskentyre's less famous sibling. But with a view of the Harris Hills across the sound, it's an astonishing beach that is well worth a visit too.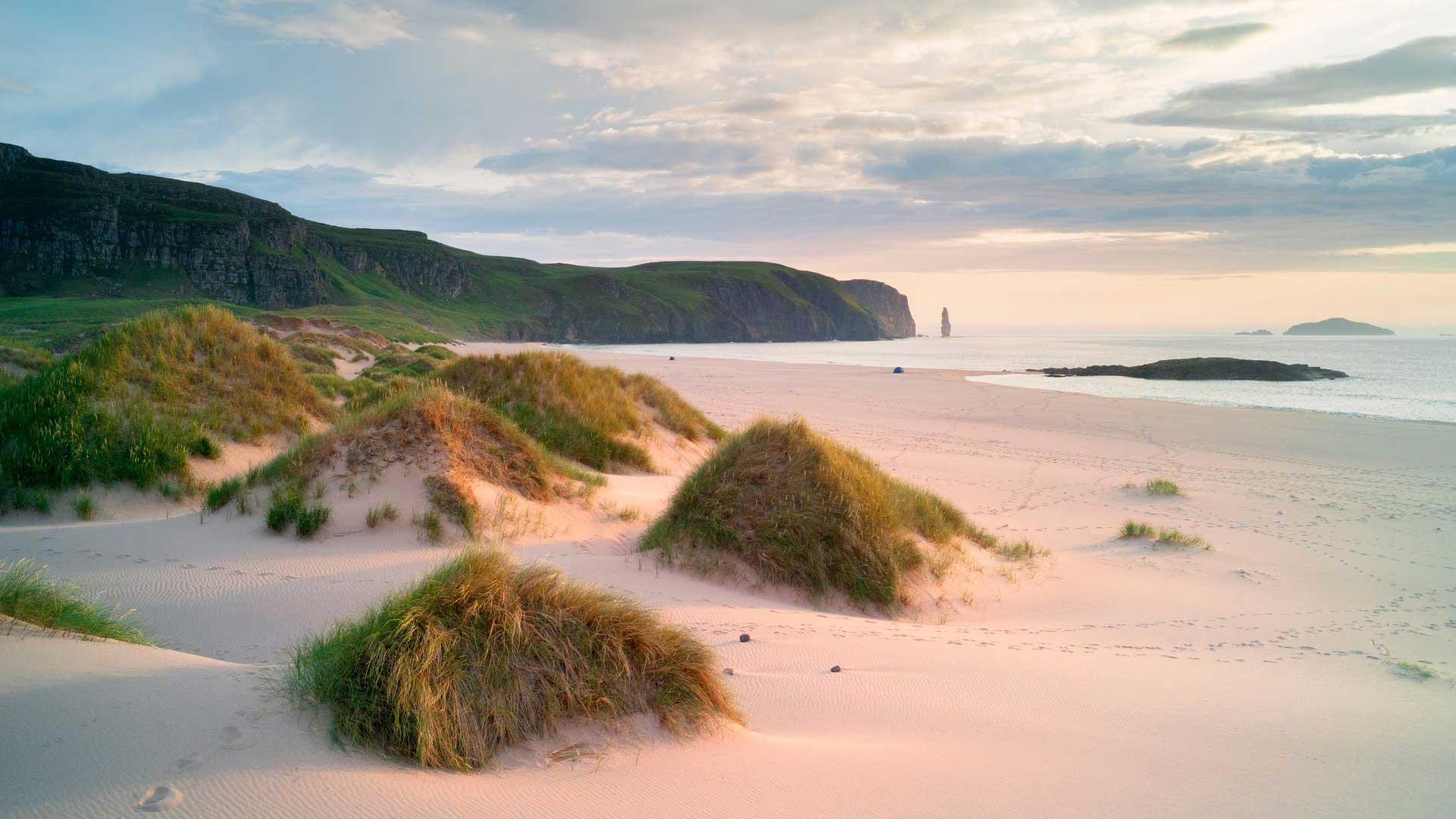 2. Sandwood Bay, Sutherland
Sandwood Bay is legendary among Scottish beaches. With its isolated lagoon, the imposing sea stack, Am Buachaille, and the mythical local mermaid, it's a captivating, mysterious place.
The beach maintains its magic thanks to its location. Known as the most remote beach in Britain, there are no roads to Sandwood Bay. Instead, a gentle 4-mile (6.5-kilometre) walk takes you there across the headland.
For its haunting, picturesque beauty, it's worth every step.
3. Durness beaches, Sutherland
Durness is on the very northern coast of Scotland, along the route that has become known as the North Coast 500. It's the most northwesterly village on mainland Britain, surrounded by the awe-inspiring scenery of Sutherland.
But it's the local beaches that make the area truly remarkable. Try the peaceful sands of Sango Bay, or head further west for the graceful arc of Balnakeil beach. These miles of wildness are a great place for a walk on a summer's day.
---
---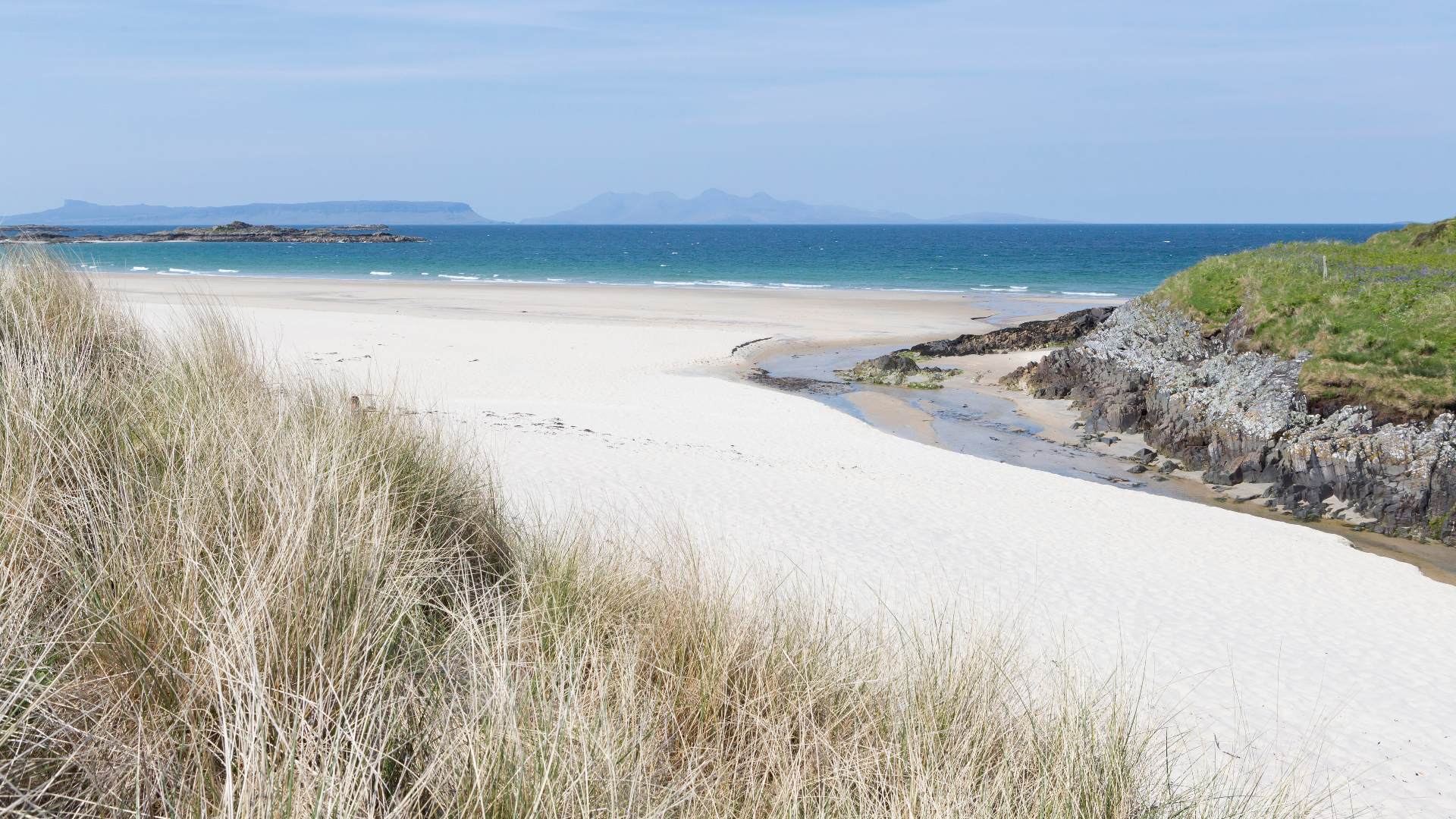 4. Camusdarach, Morar
South of the Morar River estuary on the road from Glenfinnan to Mallaig is Camusdarach beach, a pristine curve of white sand. You'll find it in many lists of best Scottish beaches for good reason.
It's not just the beach itself that's special, although its glistening white sands are sublime. On a clear summer's day, the view of the Cuillin Hills on the Isle of Skye is simply spectacular.
5. St Andrews West Sands, Fife
With its formidable university and beguiling ruins, you would think the charming town of St Andrews had enough to offer. But a 15-minute walk from the town centre is West Sands, one of the most pretty beaches in southern Scotland.
Bordered by St Andrews's world-famous golf course, West Sands makes for the perfect place to stroll, jog, or to dip your feet into the North Sea.
---
---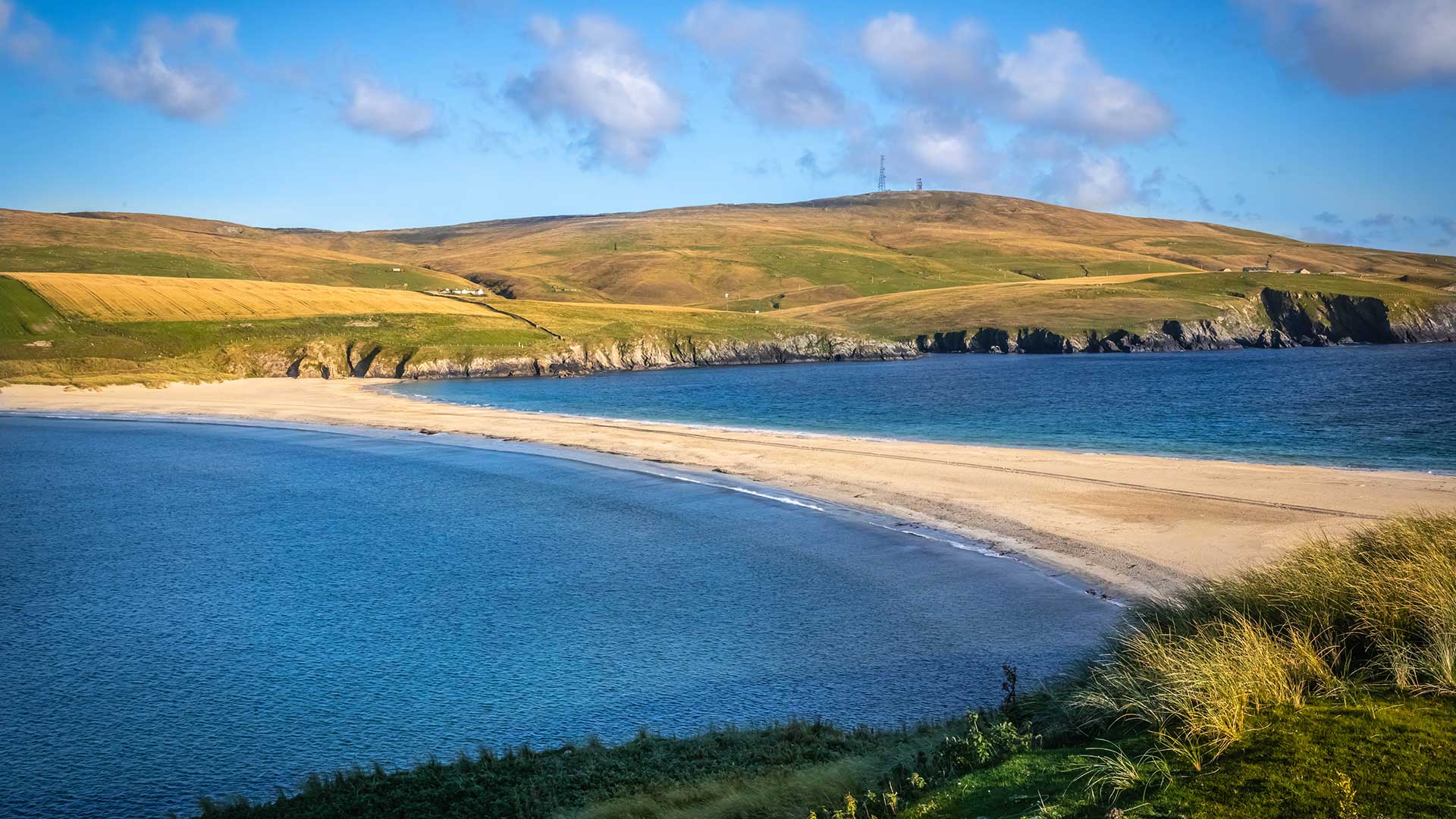 6. St Ninian's, Shetland
You're never far away from a beach on Scotland's northernmost archipelago, the Shetland Isles. But among this wealth of options, St Ninian's is truly exceptional.
The beach is a simple strip of sand separating mainland Shetland from the enchanting jewel of St Ninian's Isle. Walk between the waves on this natural golden causeway and feel as if you're in the middle of the ocean. It's a really special experience.
---
---
7. Gullane, East Lothian
A stone's throw from Scotland's capital, Edinburgh, is Gullane, a quaint seaside town in East Lothian. Gullane beach is the most easily accessed section of the sandy coast that stretches along the Firth of Forth down to England.
It's a delightful family-friendly beach that's a joy for all ages in the summer months. But it takes just a short walk to find yourself alone, with the view over the Kingdom of Fife all to yourself.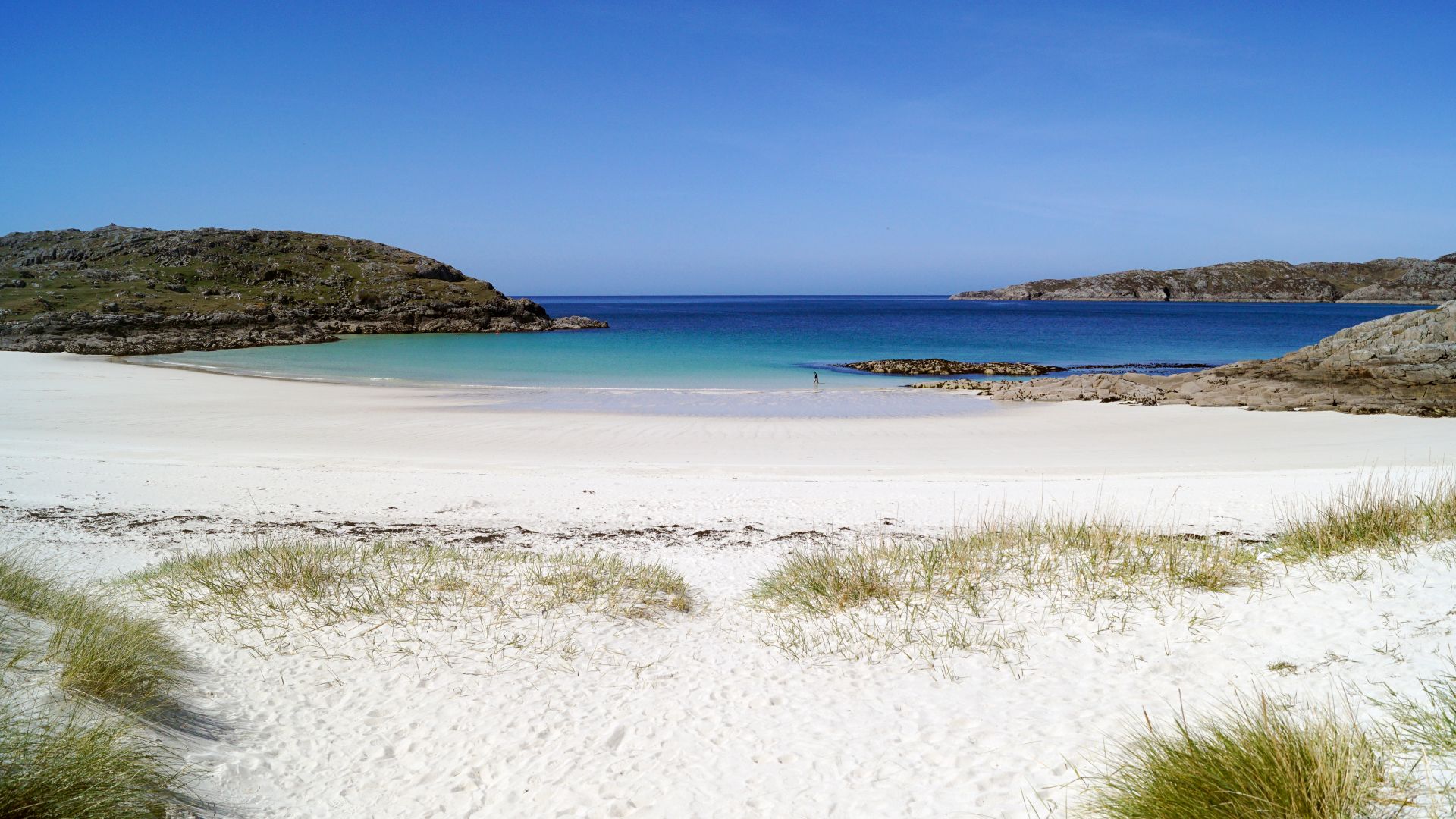 8. Achmelvich beach, Sutherland
Achmelvich means something like "the plain of sandy dunes", and that's exactly the scene you'll find here. Nestled among rocky outcrops some 3 miles (4.8 kilometres) north of Lochinver on the west coast, it's a supremely tranquil spot.
Explore the rock pools along the beach or visit the strange remains of Hermit's Castle on the headland. When the sun shines, the stunning sheltered coves are a superb place to explore by paddle board.
9. Sanna Bay, Ardnamurchan
Sanna Bay boasts the title of the most westerly beach of mainland Britain. This is as remote as beaches come, at the end of a stunning single-track road across the Ardnamurchan peninsula.
Gaze out at views over the Small Isles of Eigg, Canna, Muck, and Rum. Or explore the hidden coves and pools for otters, eagles, and seals that still inhabit these parts. It feels like you're at the end of the world.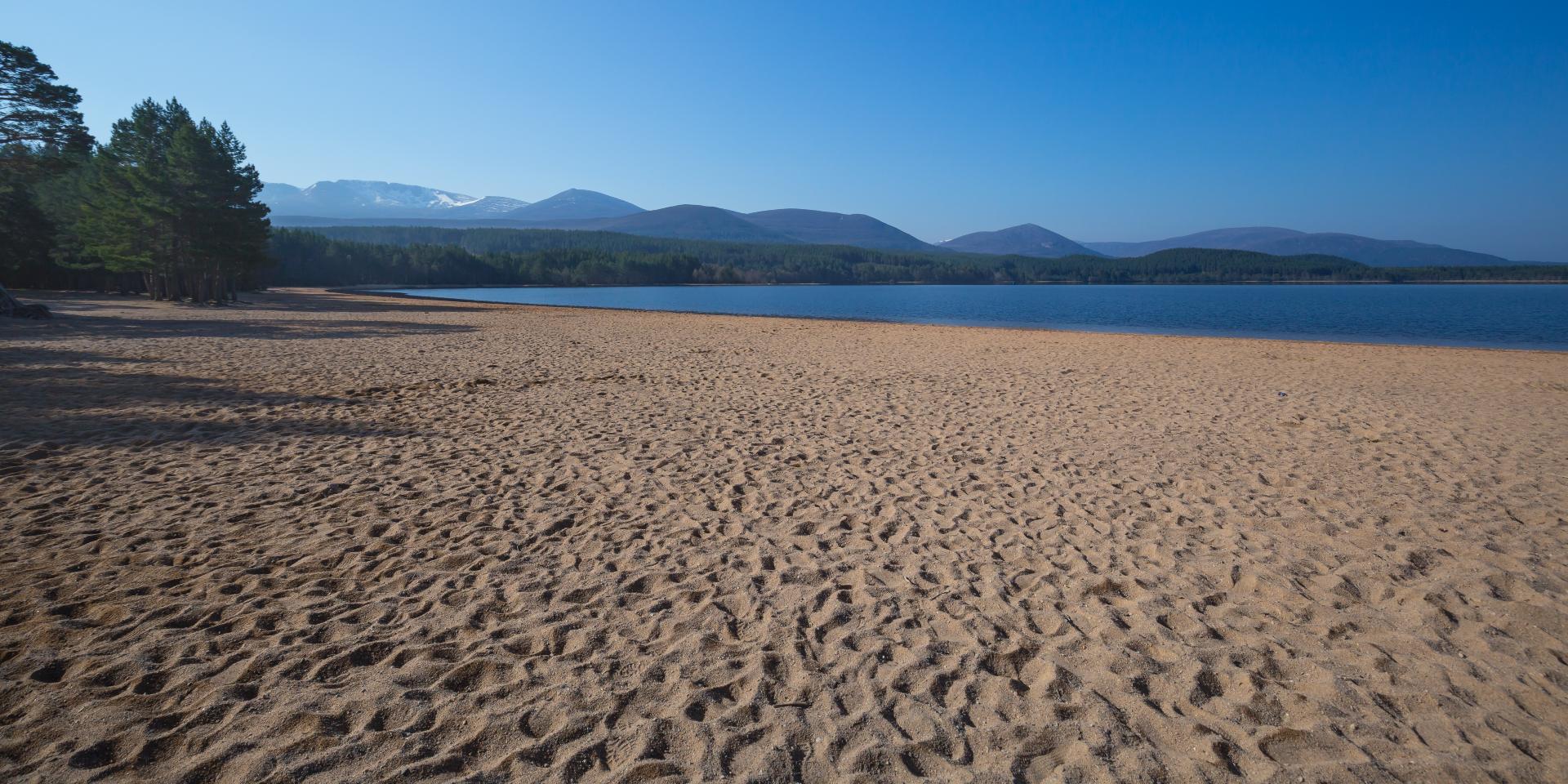 10. Loch Morlich, Cairngorms National Park
Fun fact: Scotland's best beaches are not just on the sea. Rather, one of the country's most impeccable sandy beaches is actually Britain's highest. That's Loch Morlich beach, in the heart of the Cairngorms National Park.
With food shacks and boat hire, it promises a fun day out for the family, beneath the mighty Cairngorm mountains.
---
---
11. Calgary Bay, Isle of Mull
No visit to the Isle of Mull is complete without a trip to Calgary Bay, the island's largest and most scenic beach. Nestled in the headlands at the northwest end of the island, the beach looks out onto the island of Coll.
It's an outstanding beach, with an arts centre and café just up the road.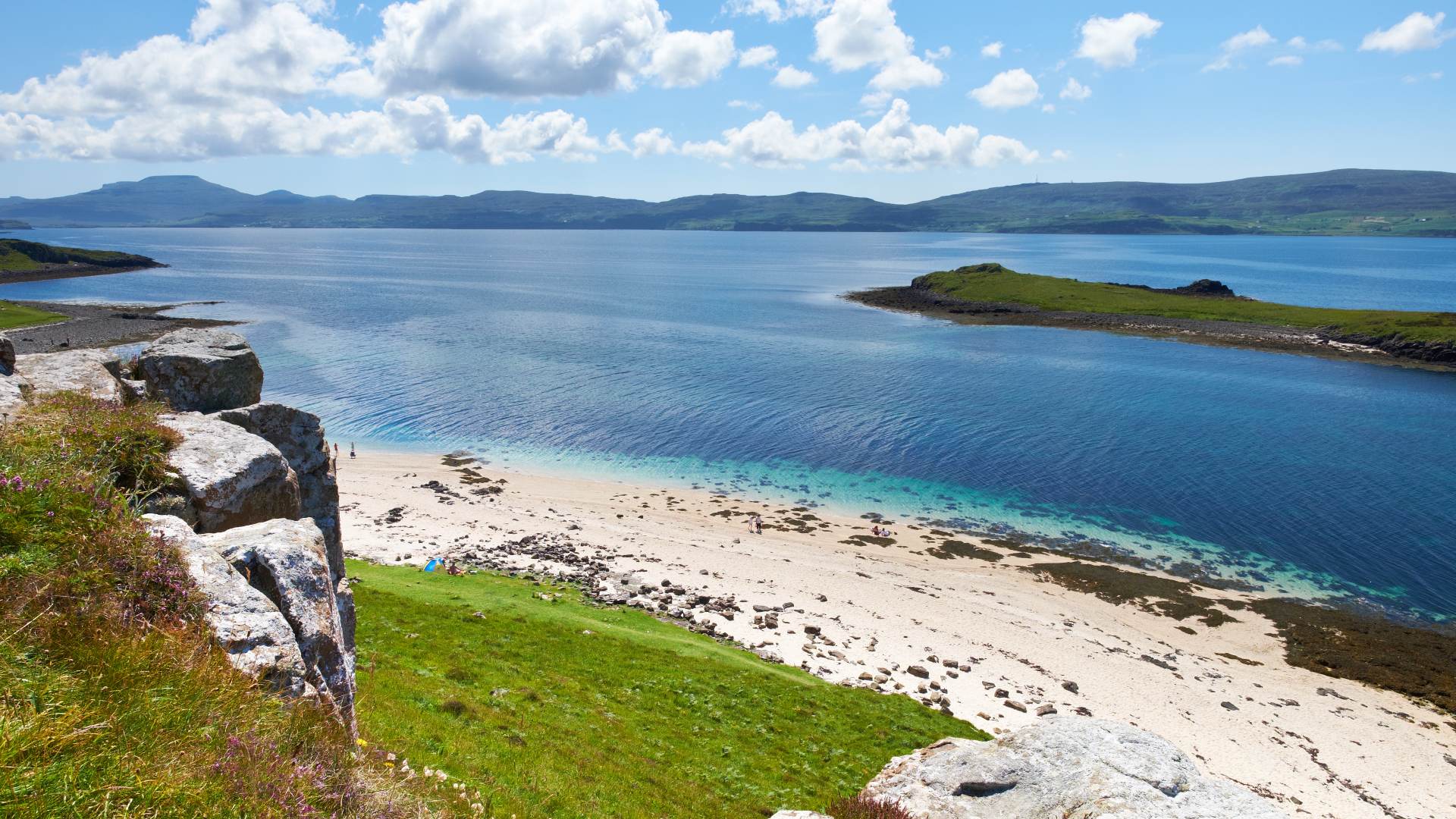 12. Claigan Coral Beach, Skye
Home to some of Scotland's most iconic sights, the Isle of Skye is better known for its awesome mountains and cute towns. Yet its beaches won't disappoint either.
With its dinosaur footprints, An Corran is one of the most famous beaches on the Isle of Skye. But Coral Beach, sheltered in Loch Dunvegan, is probably the most beautiful. Inaccessible by road, it makes a great family walk from the nearby crofting village of Claigan.
---
---
Discover Scotland's best beaches for yourself
In Scotland, some of the world's wildest coastline awaits. And on a holiday to Scotland, you can explore its mysteries and surprises at your own pace.
Book a summer tour of Scotland with Nordic Visitor and we'll make your journey easy. Our knowledgeable local experts can help you decide your itinerary, destinations, and your must-see sights. And we'll handle all your accommodation for you.
Whether in summer or winter, whichever route or tour you decide, we can help you reach the most beautiful beaches in Scotland. Get in touch with us to start planning.