During the winter in Iceland snow makes the country a pretty special place. The island is dressed up in its white winter coat, with pillowy snow falling on the rough, barren landscape. It provides a soft light to the winter darkness.
Come visit between October and April to be lucky enough to see Iceland in all its snowy glory.
If you're visiting in the winter, and wondering what to do in Iceland when it snows, we've got you covered. Here are some ways to spend your time, from chasing the northern lights to snowshoeing in Iceland.
---
---
1. Go snowmobiling
If you travel to Iceland during the winter months, you could opt for a thrilling snowmobile ride.
This fun activity is offered around the country. Take your pick from discovering one of Iceland's glaciers, Langjökull, in the highlands, to exploring the north, close to Lake Mývatn. Zoom on snow and ice across the treeless vast landscape.
2. Walk inside real ice caves in Iceland
Imagine yourself walking into a tunnel where you can admire the different colours of the ice and feel the icy edges along your fingers. Some winter packages to Iceland offer ice cave tours. Here's your chance to explore this naturally formed phenomenon!
Walk the newly formed ice tunnels of one of the outlets of Vatnajökull, which is the largest glacier in Iceland. Or you could discover the Katla ice cave, located in South-Iceland, in the Kötlujökull glacier.
You could even choose between a 3- to 4- hour excursion or an express visit. Either way, you'll get bragging rights!
---
---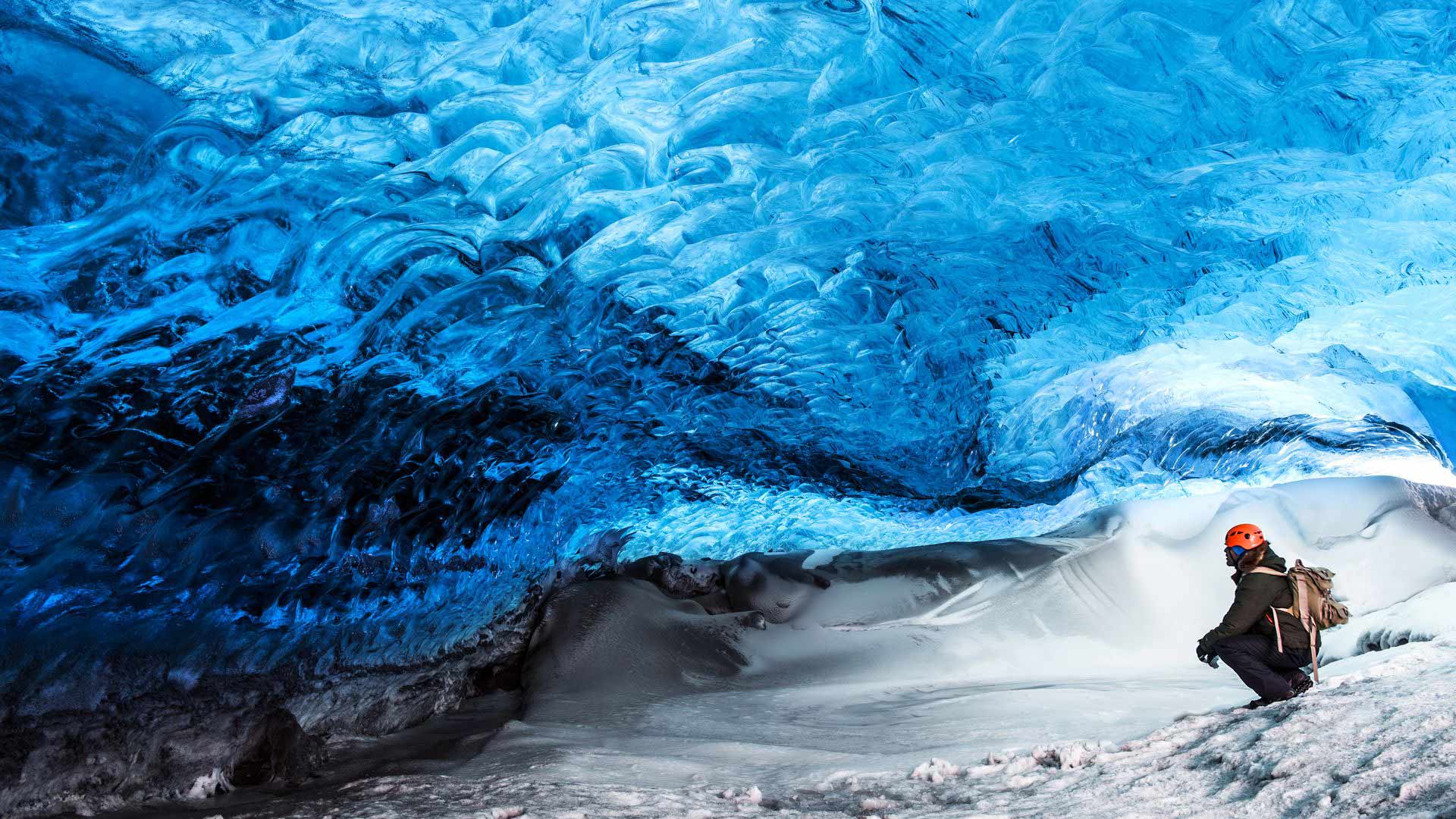 3. Ride an Icelandic horse
Icelandic horses are one of the cute animals you'll want to meet during your stay on the island.
If you didn't already know, these hardy and fluffy horses are special to Iceland.
You're not allowed to take an Icelandic horse out of the country and then return. They are purebred due to these restrictions. They are also the only horses in the world to perform five gaits. On top of the additional four, Tölt is unique to the Icelandic horses.
This is all to say that horse riding in Iceland will make for a memorable excursion. Especially in winter as you can enjoy the diverse landscape from the seat of a strong, stocky horse, that doesn't mind the snow or icy ground.
Good to know: Our itineraries aren't set in stone! If ice caving or horse riding isn't included in your tour, you could always add it as an optional activity.
---
---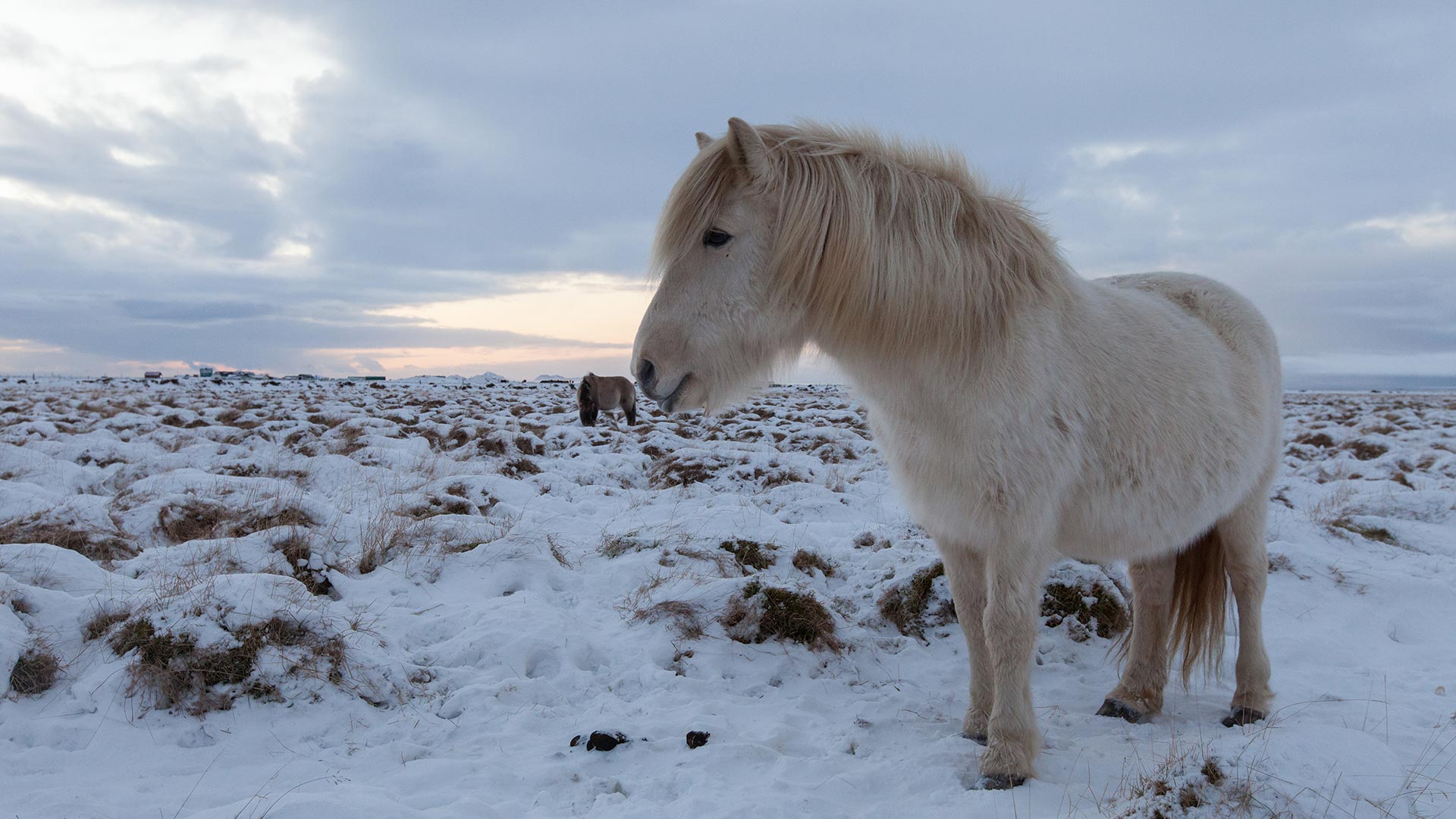 4. Visit the Blue Lagoon
A winter trip to Iceland won't be complete without a visit to a geothermal swimming pool. Thanks to Iceland's volcanic activity, you can find hot springs and naturally heated pools across the country.
Make sure to add a dip to your Iceland itinerary. Whether that's at a local pool in Reykjavík, the Blue Lagoon, or the Secret Lagoon.
During the winter, the experience could be even more memorable. Submerge yourself in warm water as snow falls around you. You may even be lucky enough to witness the northern lights at the same time.
---
---
5. Admire glittering icebergs
Follow the south coast east to find the best spot to admire icebergs. The Diamond Beach and Jökulsárlón glacier lagoon are located right across the road from each other. You'll want to make a stop at both!
Jökulsárlón is by far one of Iceland's most popular sights. The floating icebergs are a photographer's dream, and you can sometimes even see curious seals swimming around. The Diamond Beach is where it opens onto the sea. Here you'll see chunks of ice glistening on the black sands.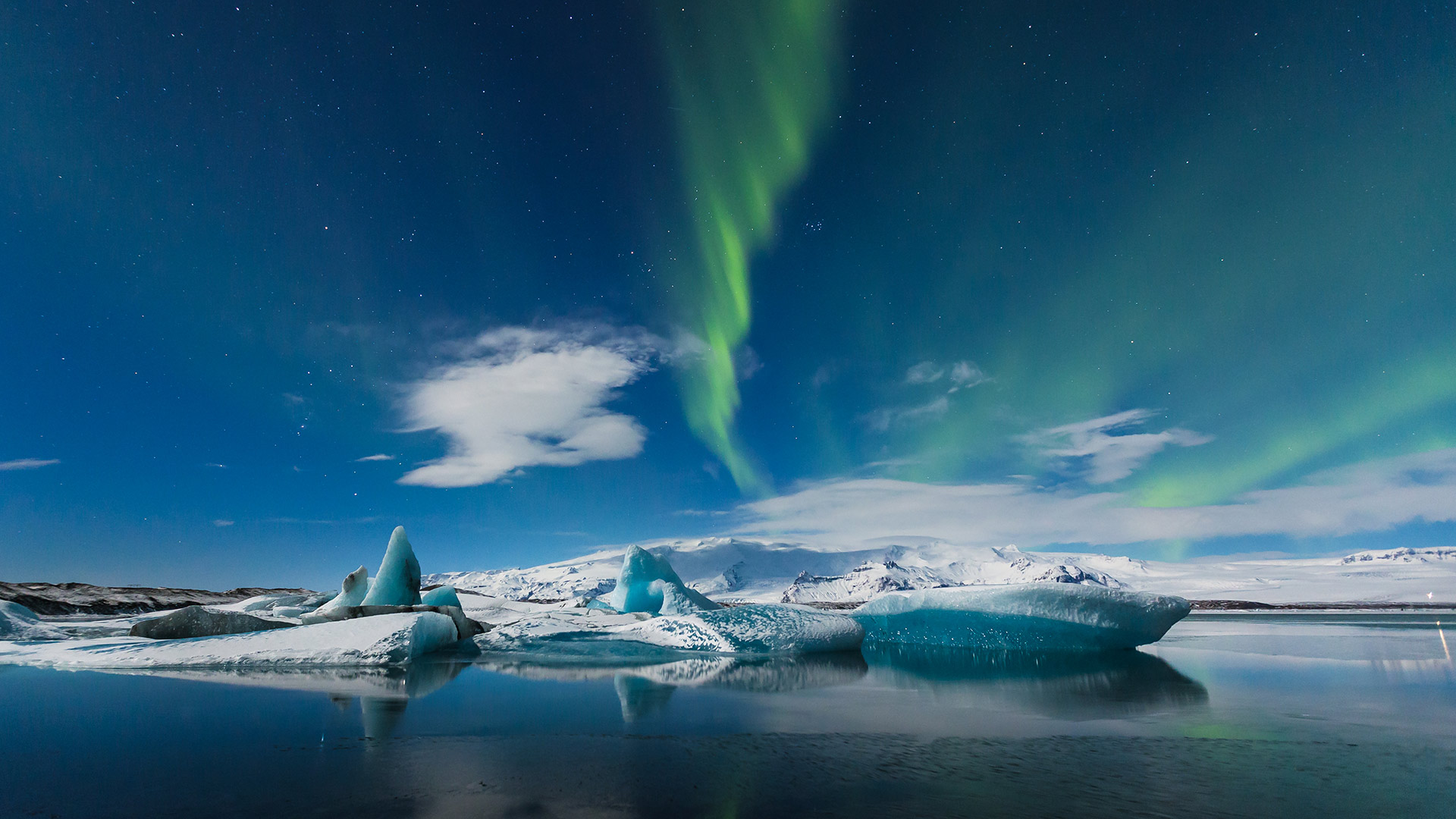 6. Drive the Golden Circle
All year long, Iceland is an ideal location for a road trip. During the winter months, one of the advantages is that there are fewer crowds at top attractions and less traffic on the roads.
At this time of year, you could explore the south coast at your leisure or even drive the full Ring Road (Route 1). Either way, one of the must-do drives is the Golden Circle.
Starting from Reykjavík, you'll drive to three of Iceland's most visited spots. First, walk through the glittering landscape of Þingvellir National Park.
Next stop, the Geysir geothermal area. Amidst the snowy landscape, you'll see the boiling water thundering metres into the air. Finally, admire the Gullfoss waterfall in the majestic frozen landscape.
---
---
7. Experience the glaciers
Did you know that roughly 11% of the country's land area is covered by glaciers? Adventurers may want to not only see the glaciers but experience them firsthand.
One of the most popular outdoor activities in Iceland is walking on a glacier. Join a guided tour to witness the vast surface indented with crevasses, sink holes and ice ridges.
As stated above, you could also walk inside an ice cave which was formed by a glacier.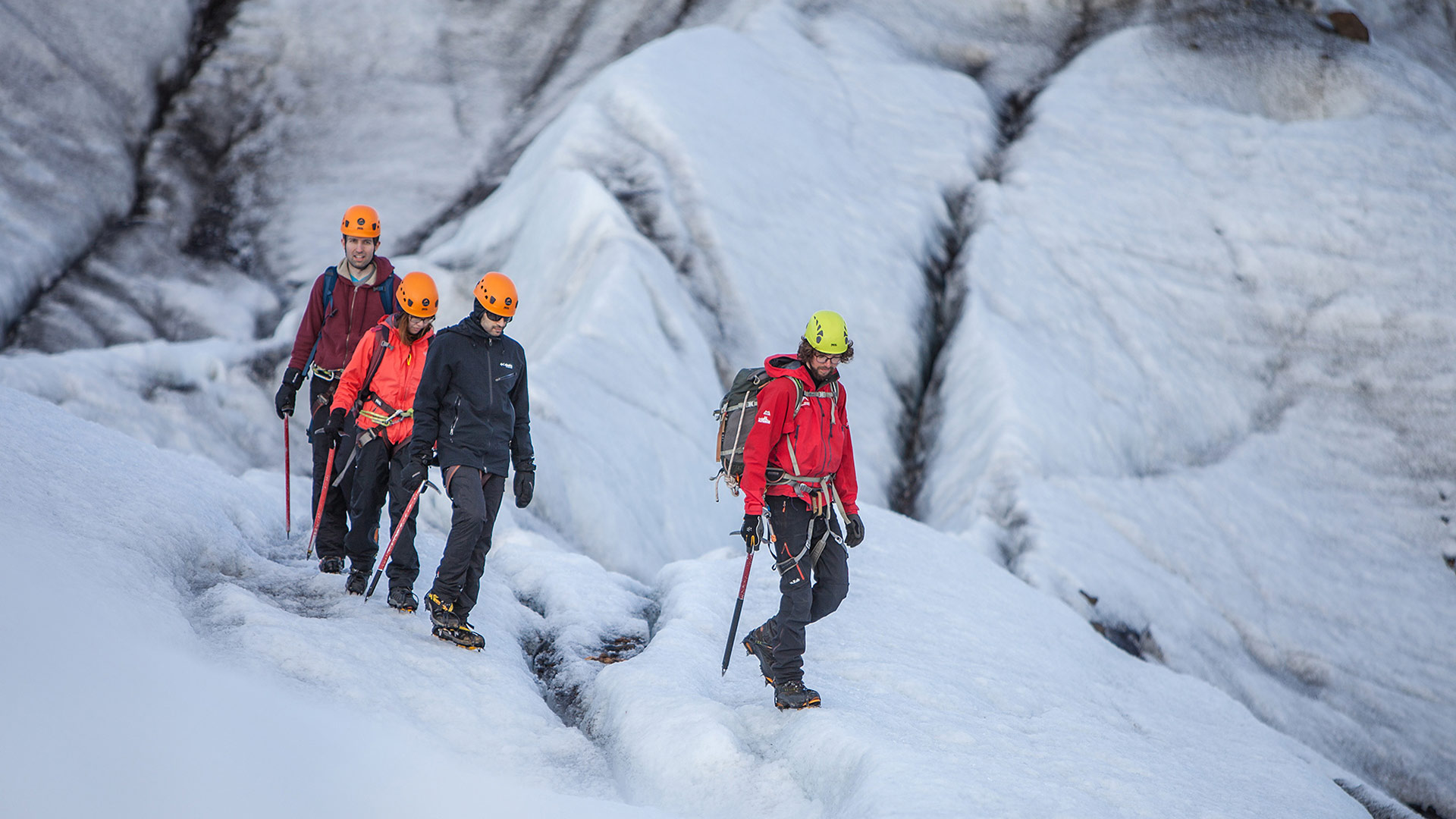 8. Hunt for the northern lights
Catching a glimpse of the northern lights is probably the biggest draw for winter tourists to Iceland, and they look amazing against a snowy backdrop.
If seeing the northern lights is on your bucket list, visit Iceland between October and March, when the nights are long and the skies are dark. These are two of the conditions you'll need for a sighting.
You'll also want to get away from light pollution, which northern lights tour can help you with if you're staying in Reykjavík.
Finally, northern lights are best witnessed on a clear night. You can check weather conditions beforehand and see whether your chances are high with the Icelandic Met Office's aurora forecast.
---
---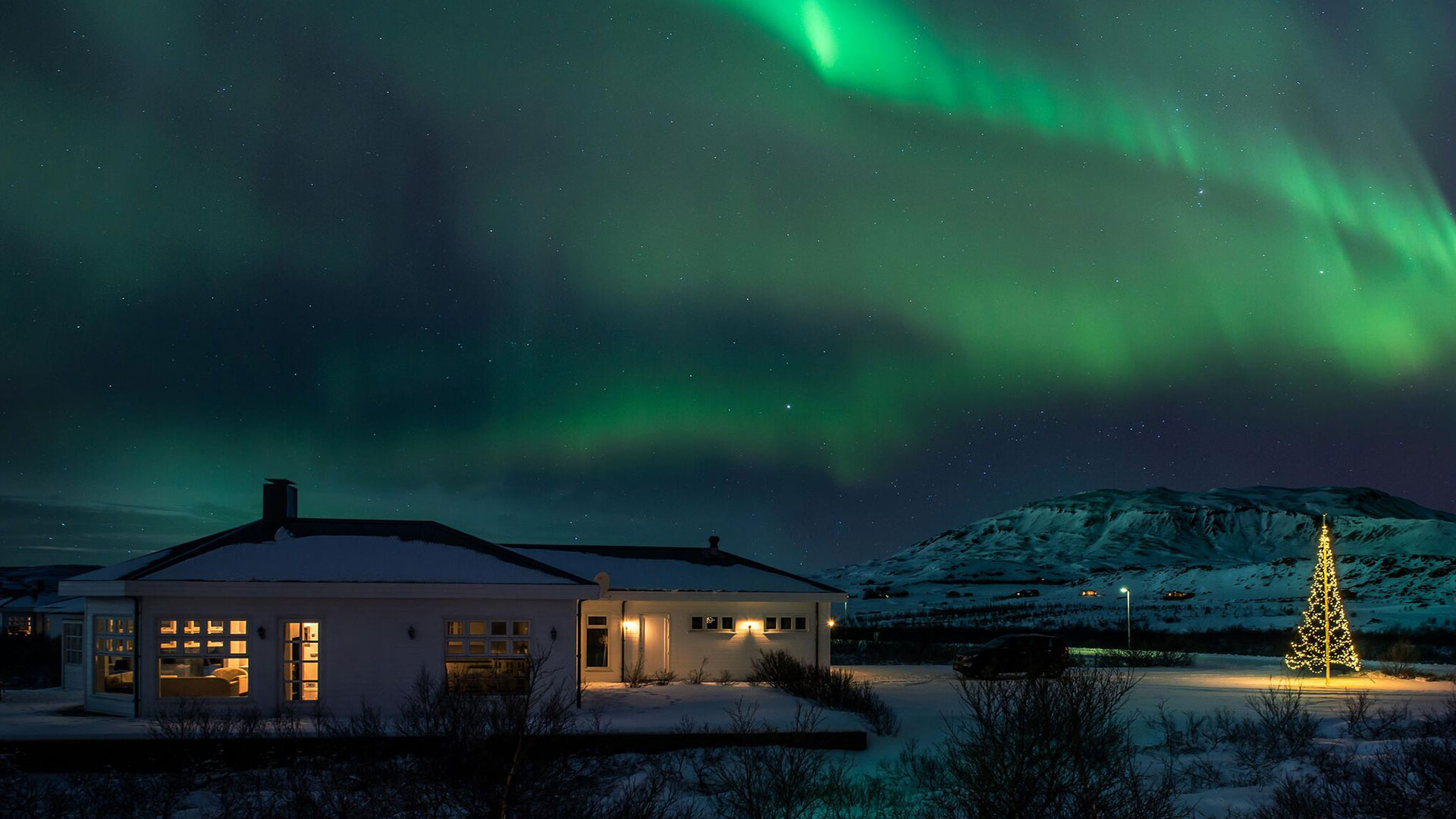 9. Participate in snow sports
For amateurs of snow sports, Iceland is a great destination to try new activities or experience the thrills you love in a new environment. Whether you're a beginner or an experienced Nordic skier, you could try your hand at a few Icelandic slopes.
You can also opt for a snowshoe tour in the highlands.
For those who would like to go hiking in Iceland, we recommend visiting between May and September. During these summer months, the paths are more accessible. There is also more daylight to take full advantage of the trails and Iceland's natural beauty.
---
---
10. Photograph frosty waterfalls
While the landscape is lush and colourful in the summer, Iceland's natural pearls look beautiful during the winter. Just look at Skógafoss below!
Photographers will have plenty of wintry landscapes and frosty waterfalls to capture during their tour. An added bonus? The special blue and golden hours are during the day due to the northern location.
In Iceland, the sun doesn't rise very high in the sky between October and March. This creates a golden hour that can last for the duration of daylight.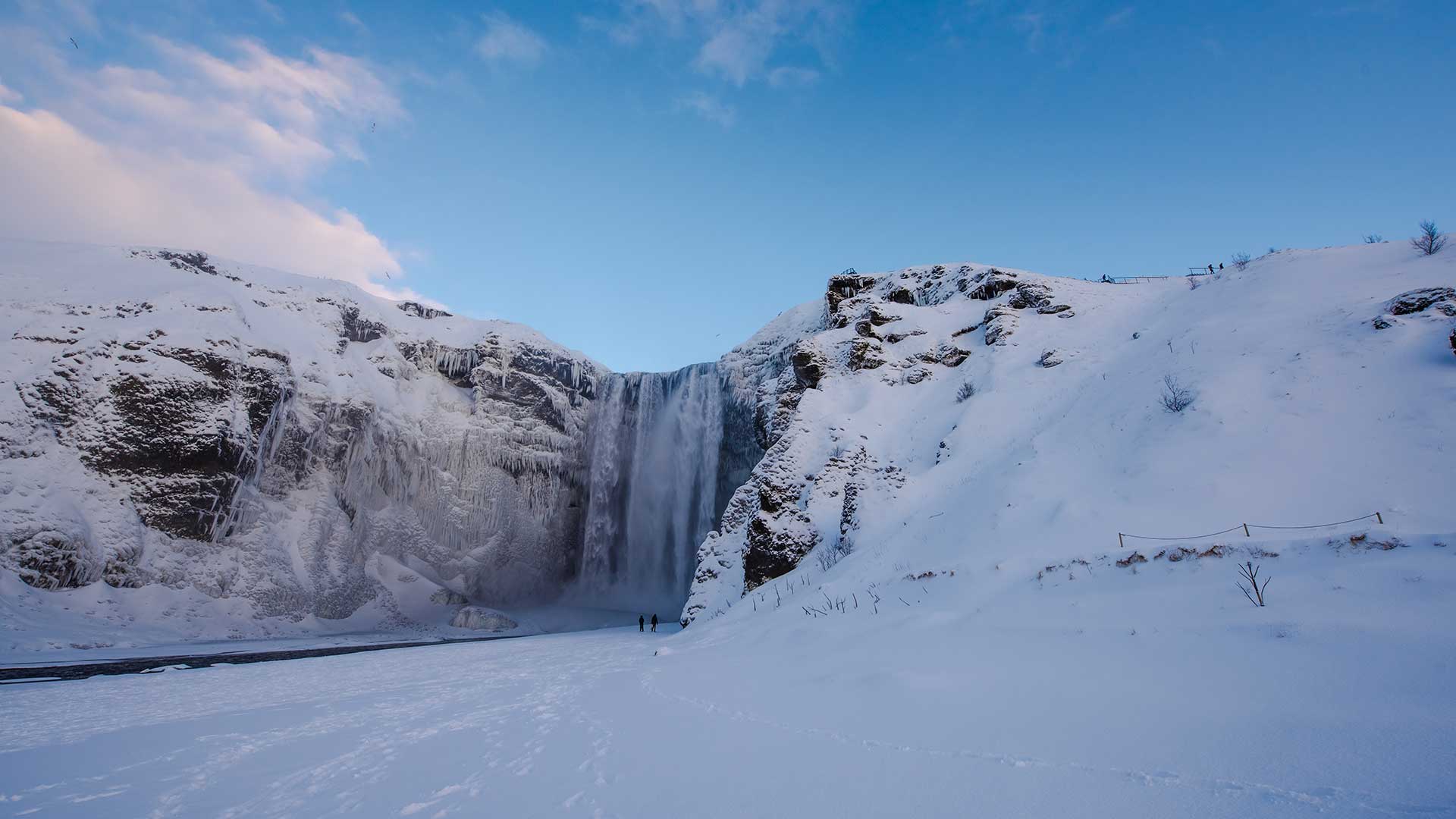 Is a winter trip to Iceland now on your bucket list? Were you inspired by this post? We hope so! Travelling to Iceland between October and April brings an exciting array of possibilities.
Experience the snow-covered landscapes, join fun winter activities like snowmobiling or ice caving, and hunt for the northern lights. Come see Iceland's stunning wintry beauty for yourself!
When you're ready to start planning your dream winter trip to the Land of Fire and Ice, don't hesitate to get in touch with our dedicated travel consultants. Our Icelandic travel experts are local and will use their insider knowledge to plan an itinerary tailored just for you!