To truly immerse yourself in the winter landscape of Scandinavia, think about staying in a Lapland snow or ice hotel. Finland is home to a number of them, so take your pick to have the ultimate stay in Finnish Lapland.
Or perhaps you've arrived here with the idea of staying in an ice hotel already and you're wondering which is the best.
We've compiled this round-up of the top hotels and resorts to help you decide. Plus, you'll also find out why a stay in this unusual type of accommodation is worthwhile during your visit to Finland. Read on to discover more.
What is an ice hotel?
The original ICEHOTEL was built in northern Sweden and inspired many similar resorts across the Nordic countries (and even the Hôtel de Glace in Canada). Some hotels are whole complexes constructed with kilos of snow and natural ice. Others offer more traditional igloos or modern glass igloos.
While the temperatures in northern Finland can drop down to -30°C (-22°F), inside it won't feel this chilly, even if you stay in an ice room.
In fact, temperatures are usually kept between 0°C and -5°C (32-23°F). An ice bed may seem, well, cold, but you'll stay warm with sleeping bags and reindeer blankets. In the morning, you could wake up with a hot berry juice and a visit to the sauna.
Spending the night in a hotel made of snow and ice has become a popular alternative to normal hotels for people visiting northern countries. Come and experience it for yourself!
---
---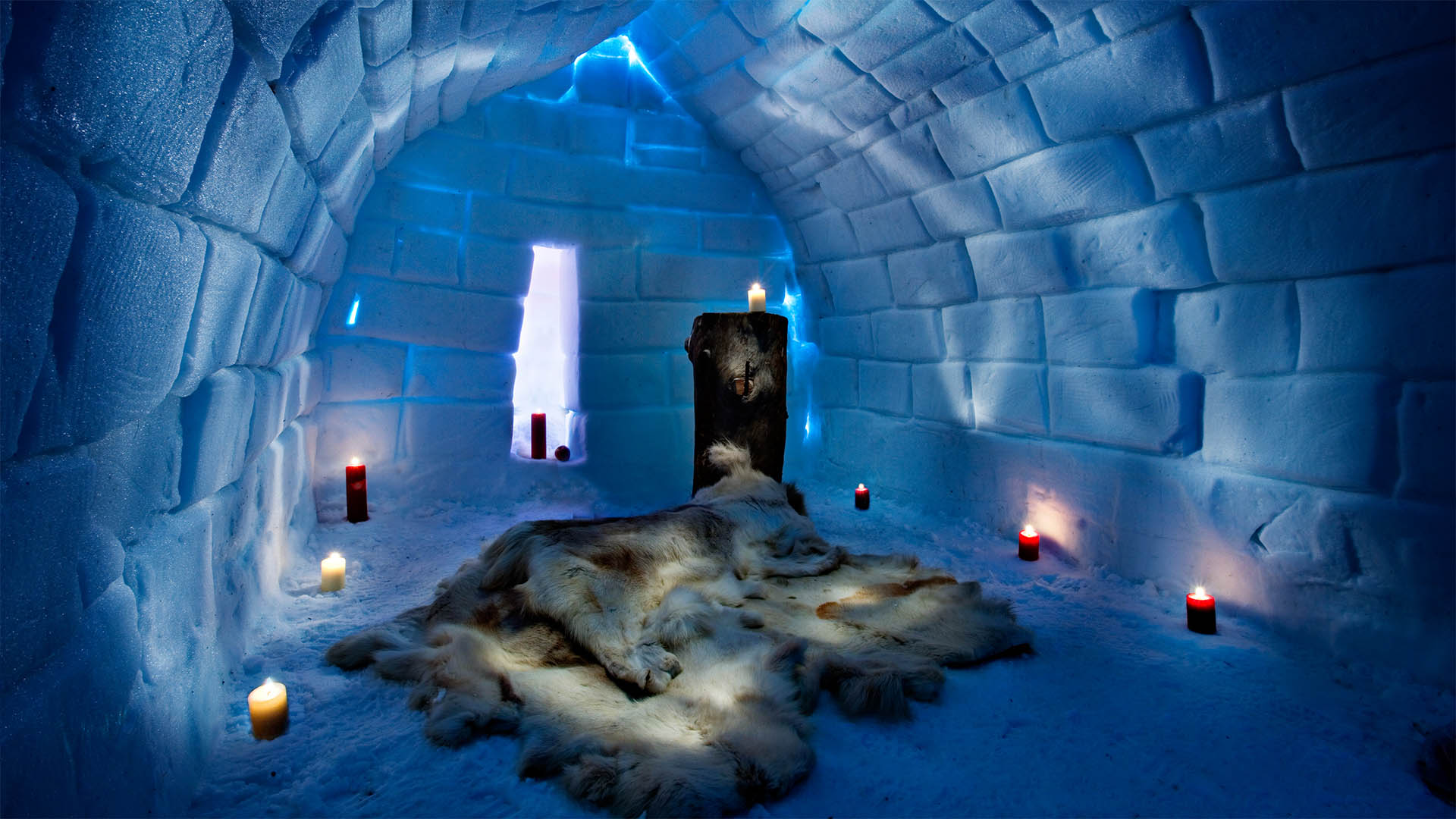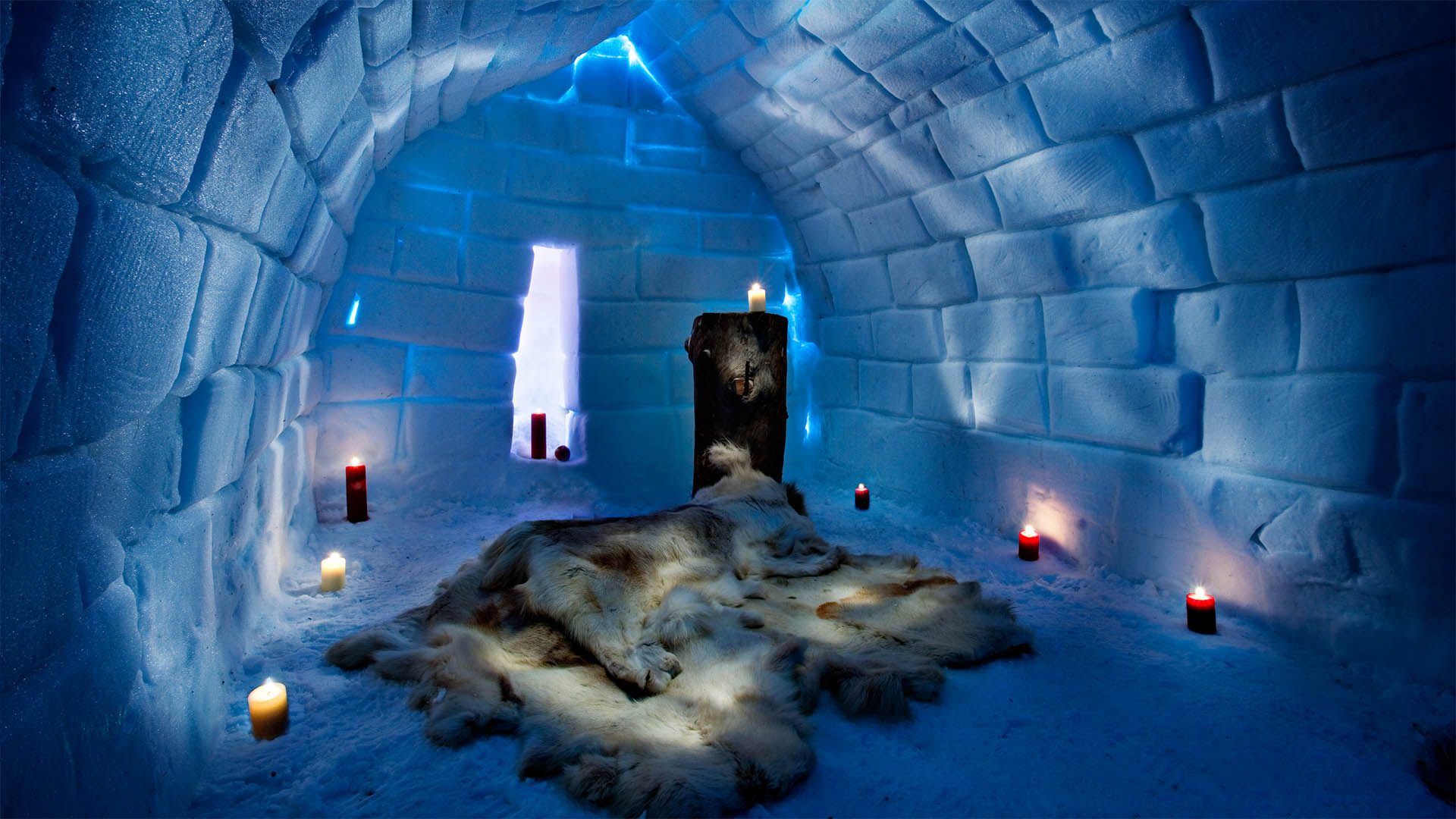 Best reasons to stay in an ice hotel in Finland
Maybe you don't need any reasons and you're already keen for this Nordic experience. But if you're not sure, here are our best 5 reasons to stay in an ice hotel during your winter getaway to Finland:
Immerse yourself in the countryside
Spot the northern lights, as they are at their best at night in rural regions of the Arctic
Admire ice art and get a drink from an ice bar
Feel the cold (and the warmth) as you cuddle up in thick sleeping bags to spend the night in rooms kept at below-freezing temperatures
Get bragging rights for staying in a seasonal hotel
---
And now here are the 4 best ice resorts in Finland:
1. Arctic SnowHotel
When you hear mention of Finnish Lapland, you may immediately think of Rovaniemi, as it's an iconic location in this part of Finland. Not only for its winter wonderland lansscape, but because it's also the home of Santa.
You'll be happy to know that you could also stay at the Arctic SnowHotel when you visit Rovaniemi. This beautiful hotel is hidden away in a nearby forest. Here you can stay in the snow hotel or surrounding glass igloos.
In the complex, you'll find a collection of dazzling ice-sculpted rooms, all furnished with an ice bed that's topped with reindeer furs. You'll also have a choice choice of cold or warm restaurants and bars.
While you're visiting Finnish Lapland, don't miss out on opportunities for fun in the outdoors. From the Arctic SnowHotel, you could enjoy a number of winter activities such as snowshoeing, ice fishing, snowmobiling and more.
And at night, you can warm up and unwind in the outdoor Jacuzzi or the snow sauna.
Are you looking for a unique location to get married? You may want to take a look at the fairytale-like ice chapel where you could tie the knot in a cool ceremony.
---
---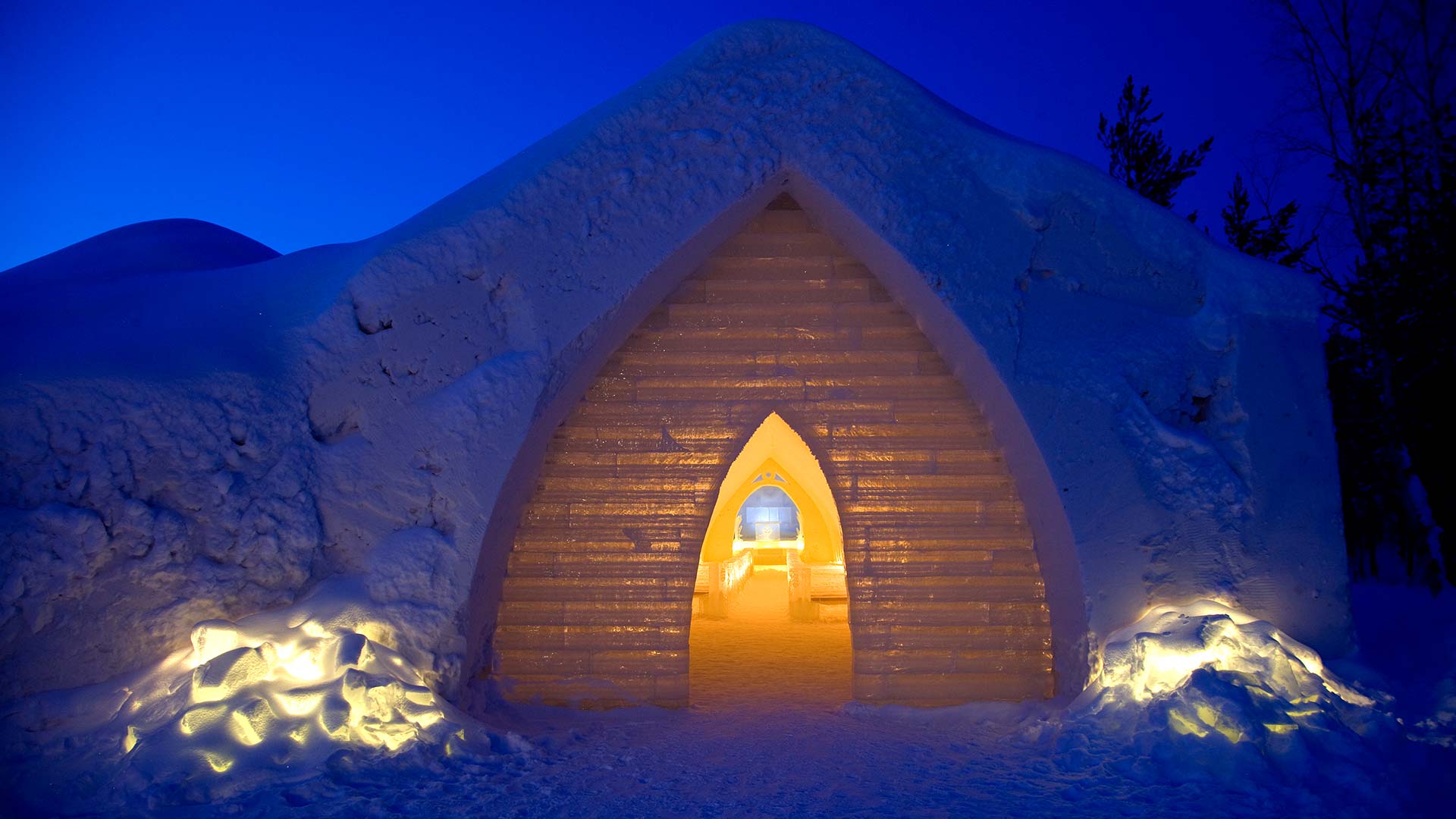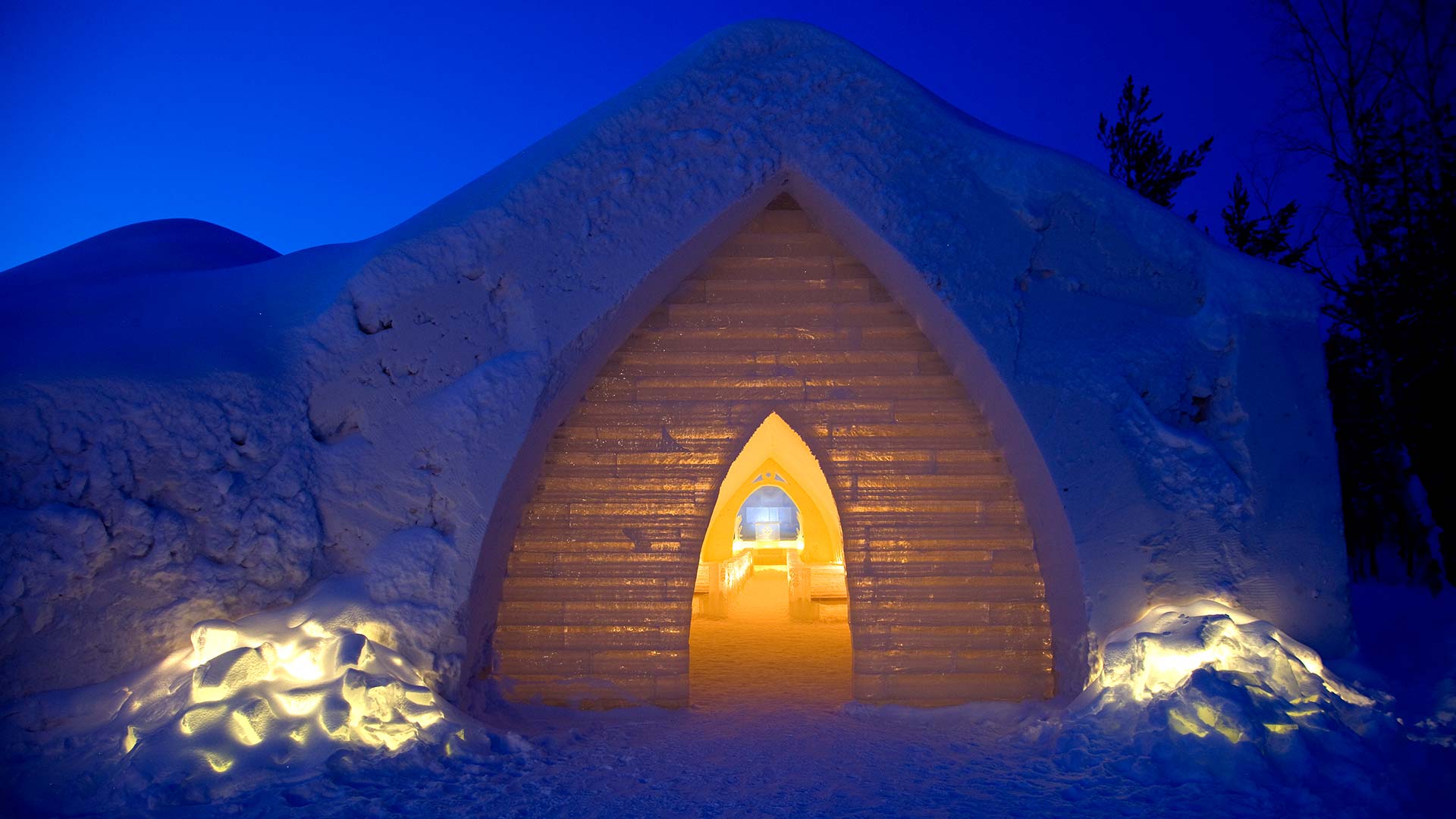 2. SnowCastle
Reminiscent of the film Frozen, you'll feel immersed in a fairytale world when you visit or stay at the SnowCastle. Come and feel the magic of the Finnish Lapland countryside at this impressive hotel.
You'll find it in the town of Kemi, which is also a charming place to explore. The town is located close to the natural border with Sweden, the Torne River. Every year, the surrounding natural resources are used to construct the SnowCastle.
With ice and snow made from the nearby bay's seawater, the hotel is reimagined each year in a different theme. This means you could visit Kemi again and again and see a different SnowCastle each winter.
During your visit, you'll won't want to miss out on dining at the ice restaurant. You can sit at ice tables, drink from handmade ice glasses, and tuck into a three-course meal featuring locally sourced ingredients.
To experience the SnowCastle in a different way, book a night in one of the award-winning seaside glass villas. These are characterised by floor-to-ceiling windows and glass roofs, allowing you to gaze out over your beautiful surroundings.
That said, you might like to stay somewhere nearby and visit the SnowCastle on a day trip. They offer guided tours if you'd rather spend the night in a warm hotel room.
---
---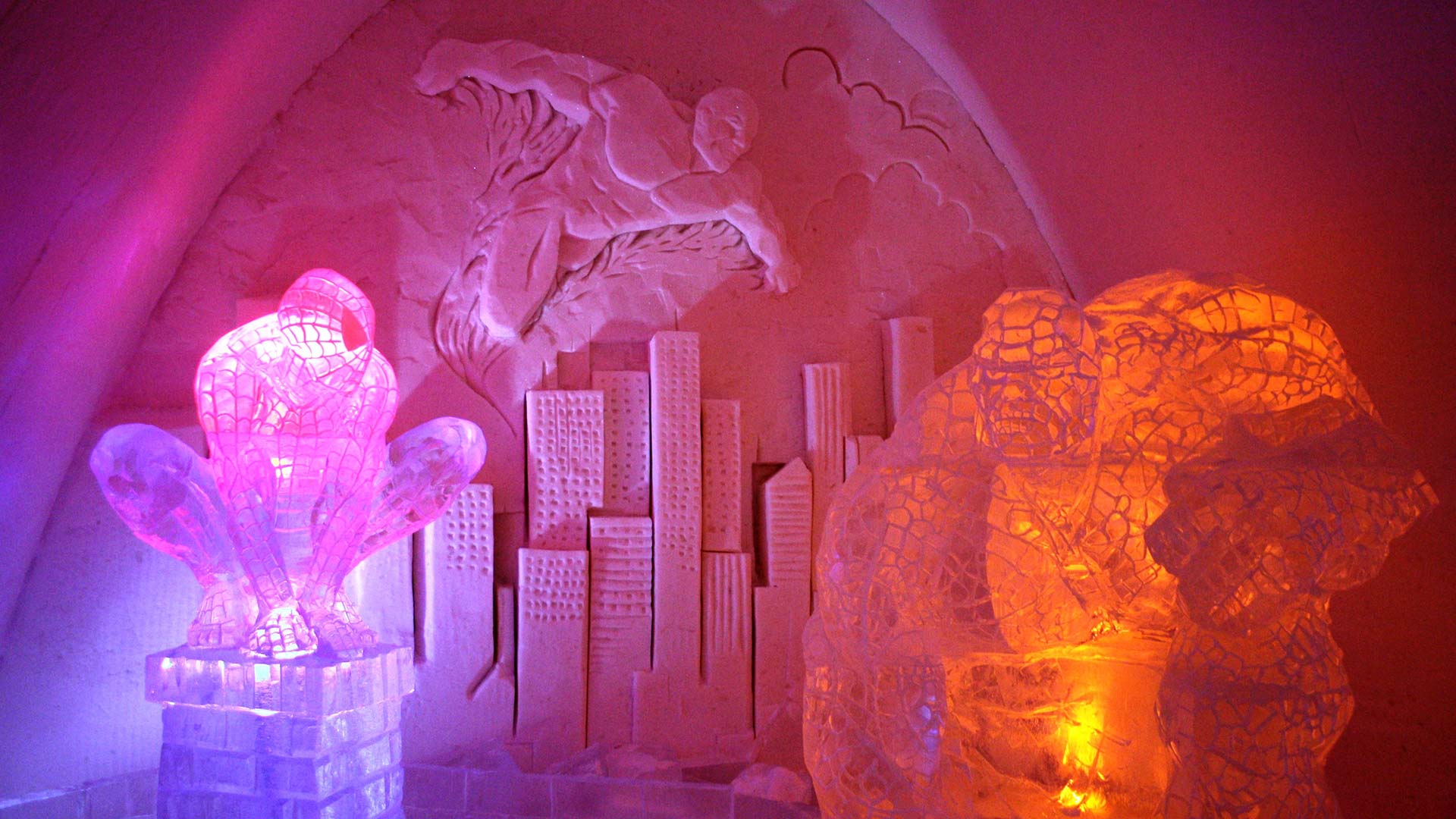 3. SnowVillage
You'll find the SnowVillage in the northern reaches of Finnish Lapland. This is an atmospheric and popular resort near the town of Kittilä.
Each year, in late autumn, the work begins to construct a new themed complex using kilos of snow and natural ice. For example, they once had a Game of Thrones themed hall and hotel rooms.
Like the previous 3 hotels, it also offers a variety of facilities and features intricately carved ice sculptures.
Another bonus of staying at the Snow Village is its position within the Arctic Circle. This northerly location means you'll have a good chance of seeing the stunning northern lights. Plus, you'll be able to participate in an array of thrilling adventures in the snowy landscape.
---
---
4. Igloo Village at Kakslauttanen Arctic Resort
The Igloo Village is a beautiful success story. It started in the 1970s as one small chalet and has since evolved into a popular winter resort in Northern Finland.
Kakslauttanen Arctic Resort is located near the remote Urho Kekkonen National Park. This means it is set against a stunning background of quiet wilderness. Plus, the glass igloos are ideal to observe and immerse yourself in the landscape.
Within your own pod, you could admire the snowy trees and the stars high above. You may even be lucky enough to see the northern lights dancing in the sky.
Each igloo is kept at the cool temperature of -6°C (21°F) and comes with a warm sleeping bag to keep you cosy.
For more cold weather encounters, you could take a dip in the frozen river before warming up with a stint in the smoke sauna. This is a popular way to experience the benefits of a traditional Nordic spa regime.
The resort also offers fun winter activities like taking a husky or reindeer safari, going skiing or snowboarding, or trying your hand at ice fishing. It also goes without saying that a northern lights excursion is a must.
---
---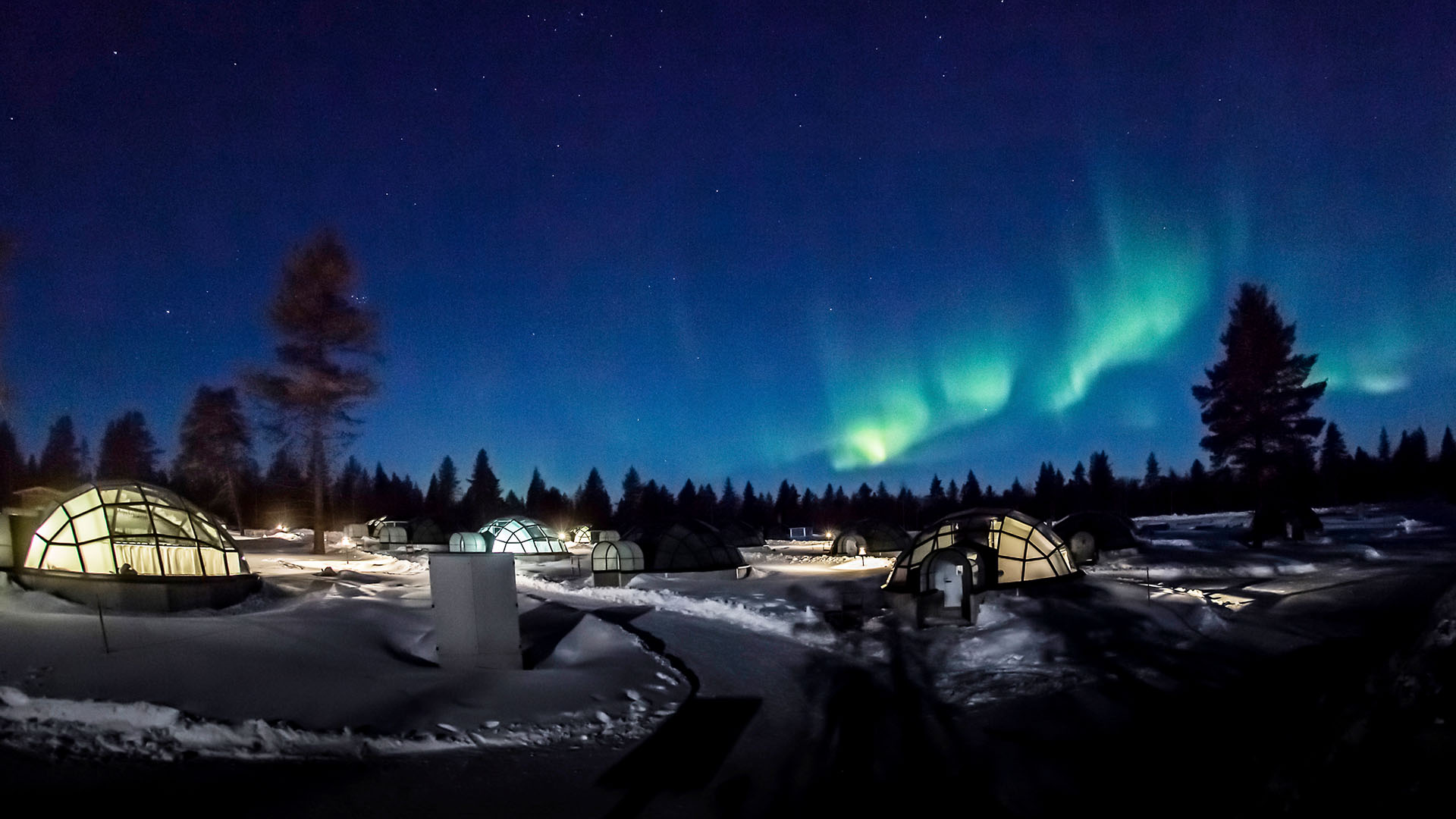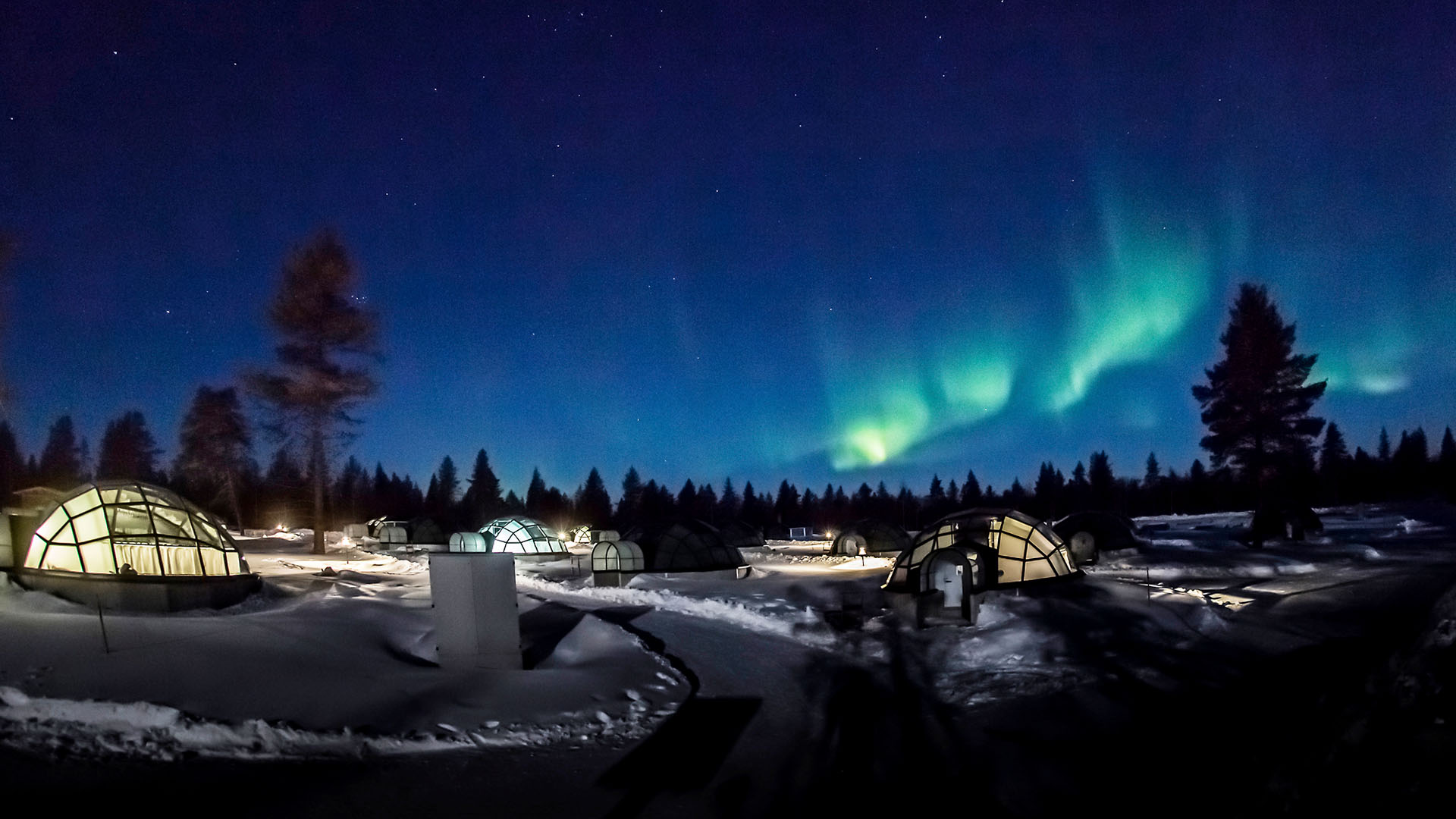 Other ice hotels in Scandinavia
You may be interested in visiting Finland's neighbours, Sweden or Norway, as well. It's good to note that they both also offer the chance to stay, or visit, ice hotels. These are:
ICEHOTEL outside Kiruna, Sweden
SnowHotel near Kirkenes, Norway.
Sorrisniva Igloo Hotel, in Alta, Norway.
---
---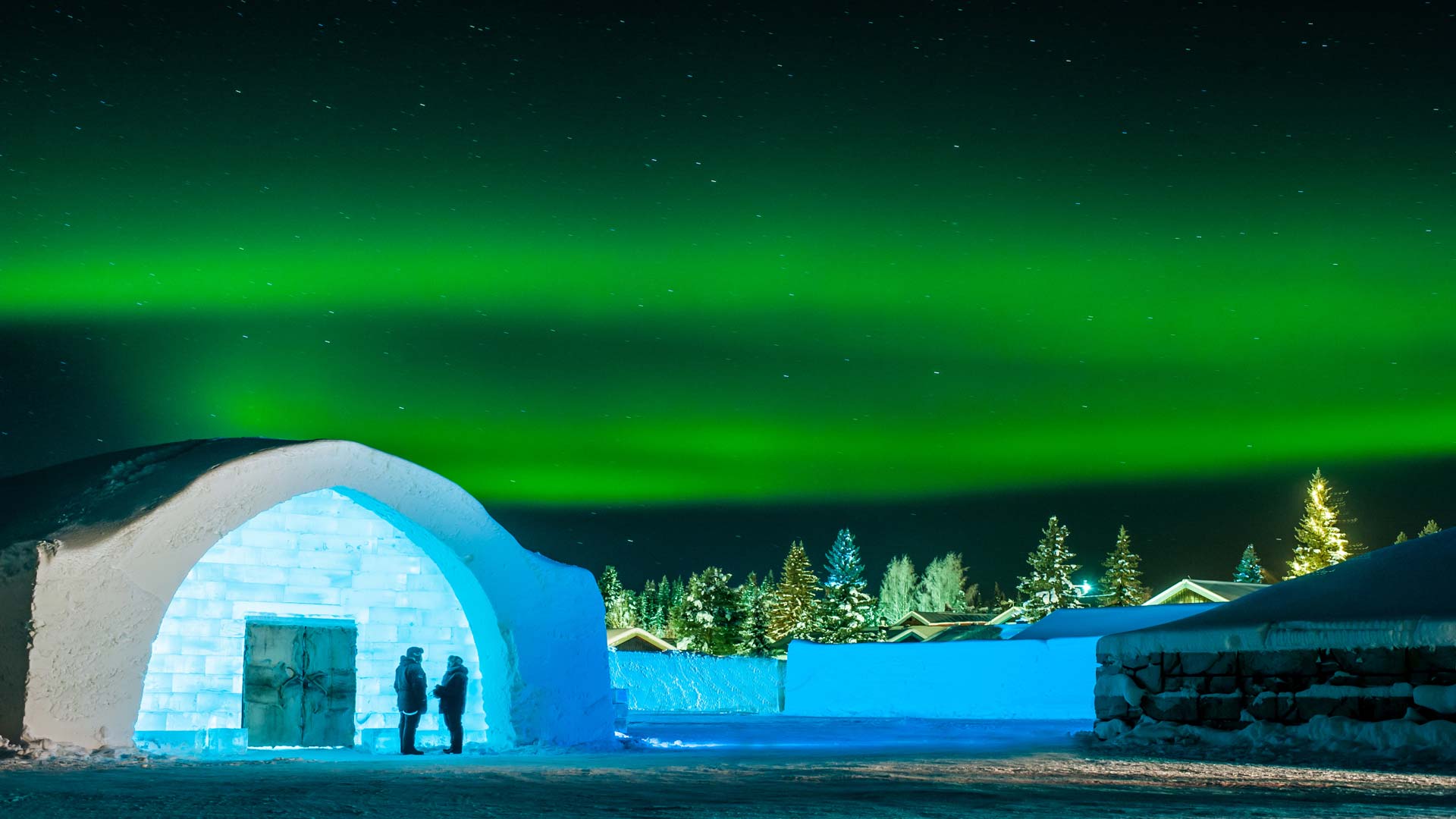 We hope you're now prepared for your upcoming stay in an ice hotel in Finland.
If this has inspired you to book your stay in such a unique hotel, get in touch with our Scandinavian experts. They are located nearby, in Sweden, and know the region inside out.
Or you could consider our classic Lapland holiday packages. Whether you have special requests about adding nights or fun winter excursions to your tour, don't hesitate to ask.
Your travel consultant will do their best to plan your ideal winter wonderland trip.