If you've ever dreamed of staying in a room constructed entirely from ice and snow, then this is the guide for you. We're taking a deep dive into the ice hotels of the Nordic region, which can be found nestling in the northern wilds of Finland, Sweden and Norway.
The ice hotel trend has caught on in other corners of the globe, such as Canada with its Hôtel de Glace. But the original ICEHOTEL is actually located in Scandinavia, or to be exact, in Swedish Lapland.
Stay in a Nordic ice hotel and you could sip cocktails at a frozen bar and admire beautiful, hand-carved ice sculptures. All before you nod off to sleep, wrapped up warm in thermal layers to keep you cosy in your frosted chamber. It's an experience you'll never forget.
---
Contents:
---
Things to know before your ice hotel trip
Ice hotels are quite different from any other accommodation style, and that's why so many people love them! Before you travel to Scandinavia or the Nordics for your ice hotel stay, read these top tips so you know what to expect.
Practical tips for staying in an ice hotel
The rooms in ice hotels are kept at a temperature of around -5°C (23°F) in order to keep the ice intact. Therefore, it's typically recommended that you only spend 1 night in an ice room.
However, other forms of heated accommodation such as chalets and cabins are usually available, letting you easily extend your stay in a warmer environment. This way you can enjoy the hotel bars, restaurants, saunas and surroundings for as long as you like!
Any hotel made of ice will provide thermal protection within the price of the room, ensuring that you are protected from the cold. A standard room usually supplies a mattress, fur or reindeer hide bed covers, and a thermal sleeping bag that is fully equipped to deal with sub-zero temperatures.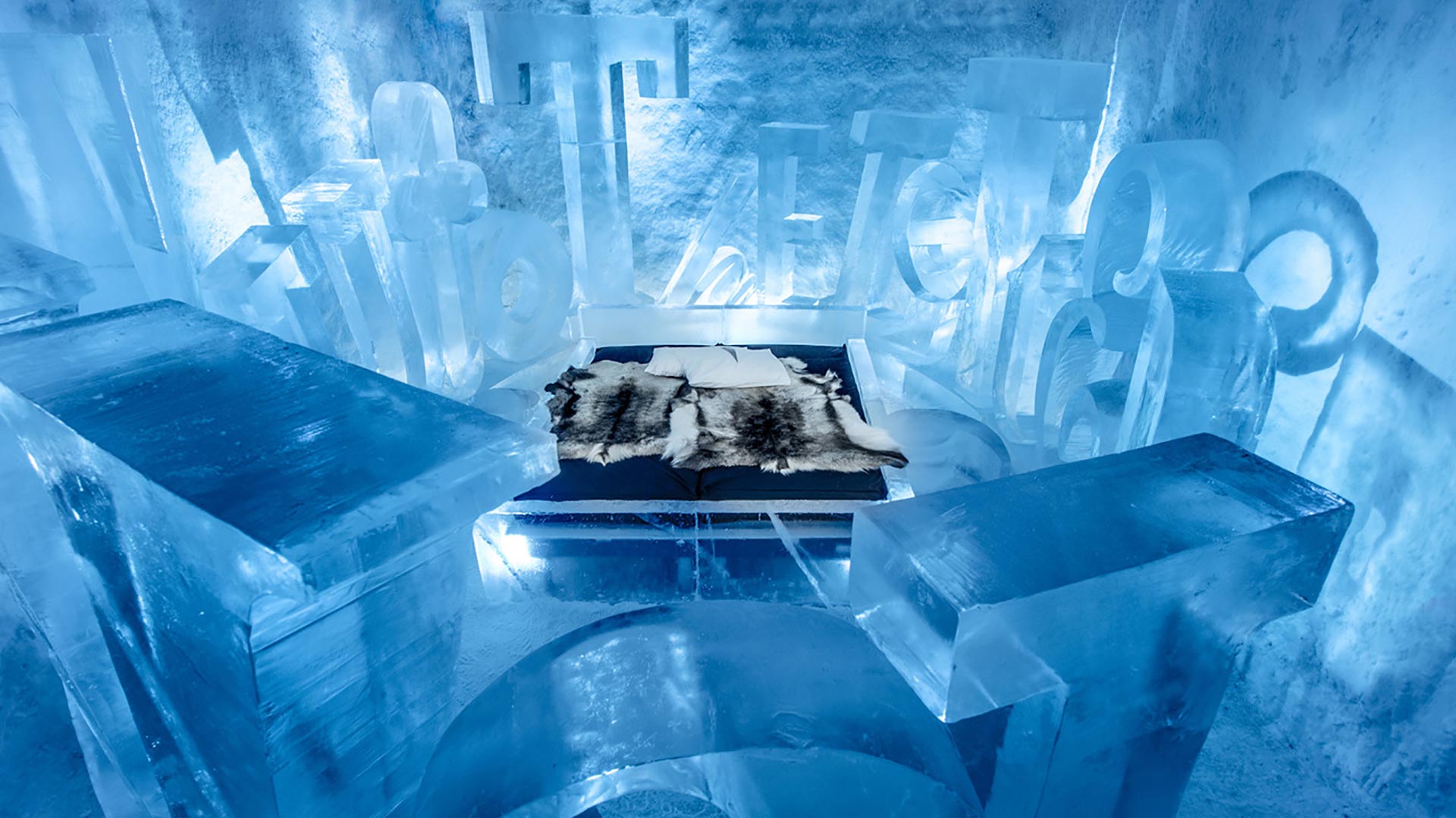 Best time to visit ice hotels
Typically, Nordic ice hotels are built towards the end of the year, in late November and early December. They are kept open until March or April when the ice begins to melt.
Some ice hotels are open year-round, as in the summer you can still stay in ice rooms or chalets. But for the authentic experience, you'll want to visit in the winter or early spring when you can enjoy activities in the snow such as dog sledding.
Ice hotels and the northern lights
Staying in a snow hotel gives you the perfect opportunity to hunt the northern lights. Most Nordic ice hotels are located within the Arctic Circle, in areas of relatively remote wilderness. This means they have little light pollution and are perfectly situated for witnessing the aurora borealis.
For the best chance of seeing the northern lights, visit between October and March. And keep track of the weather forecast – clear skies are essential!
---
---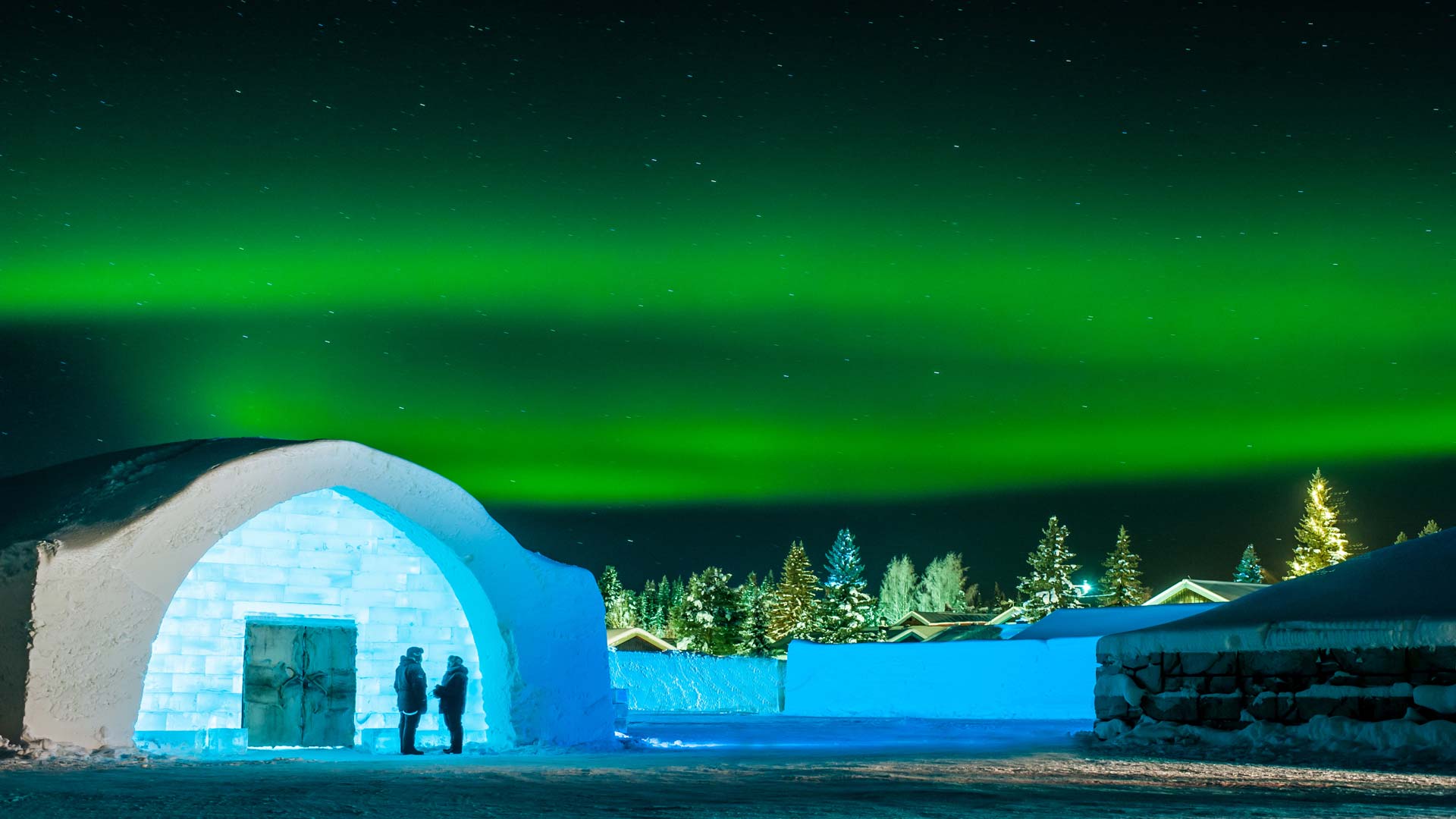 What to pack
Warm clothing is a must if you're visiting an ice hotel. It's a good idea to bring a hat, socks and woollen underwear to wear while you sleep. Some places may provide this kind of gear, but you shouldn't rely on it unless it's specified in your booking.
Ice rooms aside, a winter holiday to this part of the world will require an insulated coat, warm sweater, scarf, gloves, boots and plenty of light layers. Again, some places may provide you with outdoor clothing, but this should be checked before you set off.
---
---
The best ice hotels in the Nordics
Now that you know what to expect, read on to find out which are the top ice hotels in the Nordic region.
1. ICEHOTEL
Jukkasjärvi, Sweden
The most famous hotel made from ice first opened its doors in 1989. ICEHOTEL is situated on the banks of the Torne River in Swedish Lapland and is celebrated for its incredible art installations.
The hotel has acquired legendary status over the years, and still holds the title of largest ice hotel on the planet. Its most notable attribute, though, is that you can stay in one of its ice rooms year-round.
Each November, the main hotel is rebuilt from snow and ice by a group of dedicated artists. A few months later, when spring comes knocking, the building is vacated and allowed to thaw, with the resulting melt water flowing into the Torne River.
Because the hotel is reconstructed anew every year, a different experience can be had each time you visit.
In addition to the winter structure, the complex also boasts ICEHOTEL365, which houses an event space, sculpture gallery and ice bar. This bricks-and-mortar building cleverly uses solar energy (abundant during the summer months) to keep its ice rooms frosty year-round.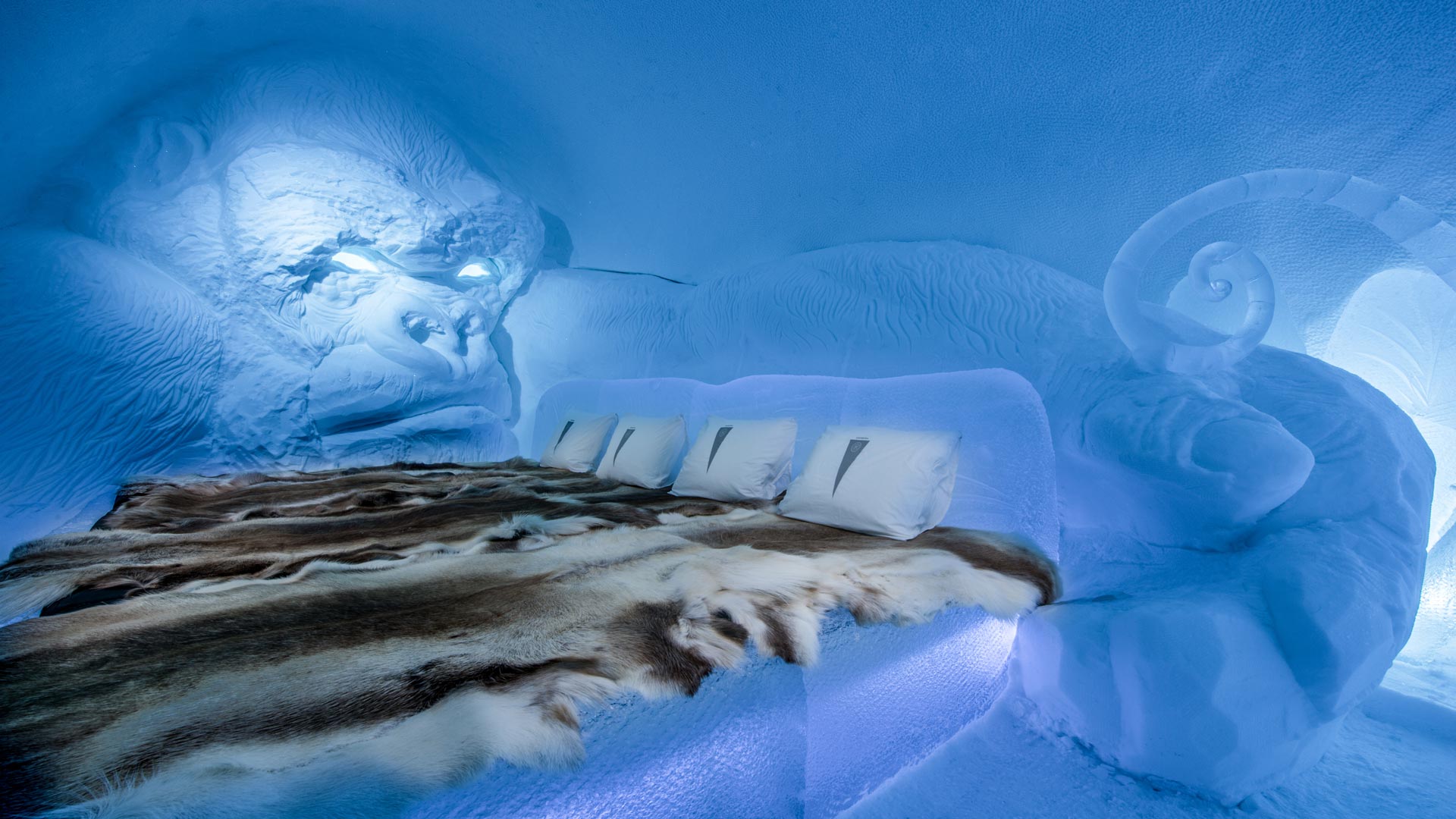 The rooms
The ICEHOTEL buildings have a temperature of between -5 and -8°C (23 and 17°F). So to ensure comfort, all rooms come with a thick mattress, thermal sleeping bag and reindeer hides.
The art and deluxe suites also boast elaborate wall markings, carvings and sculptures, all inspired by their own unique theme.
When you're not in your ice room, you can use the neighbouring Riverside Lobby (open 24/7) to change, bathe and warm up in the sauna. For guests of ICEHOTEL 365, deluxe suites with a heated bathroom are available.
Activities and experiences
In addition to the unique sleeping experience, ICEHOTEL also provides a wide range of activities, eateries and bars. So a stay here makes for the perfect addition to your Lapland winter getaway.
Indoors you can try your hand at ice sculpting, or prop up at the bar with a frosty cocktail. Don't miss the chance to dine in the heated comfort of the Ice Restaurant, sampling homegrown ingredients served – as expected – on ice.
Outdoors you can try excursions including dog sledding, skiing, and snowmobiling. Depending on the time of year you visit, you could bask under the midnight sun or go hunting for the northern lights.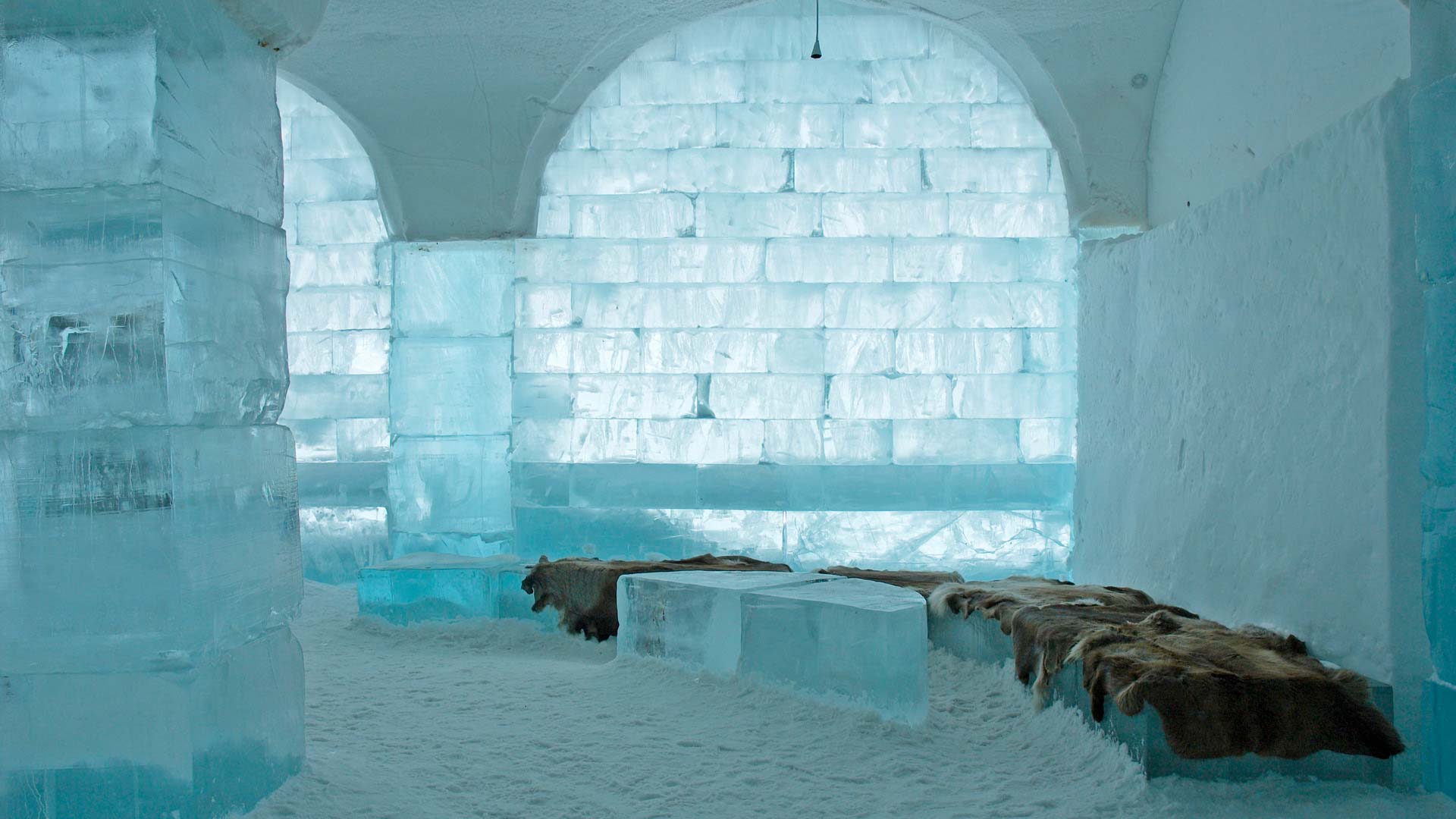 How to get to ICEHOTEL
From Kiruna Airport in northern Sweden, Jukkasjärvi is just a 15-minute drive. You can fly into Kiruna from Stockholm year-round.
---
---
2. SnowCastle
Kemi, Finland
Most people associate a holiday to Finnish Lapland with festive fun at Rovaniemi, the official home of Santa Claus.
For a different – but no less magical – experience, head to nearby Kemi, which sits on the Bay of Bothnia. Here you can step inside SnowCastle, a frosty fortress that looks like something from a fairytale book.
This ice castle hotel is constructed every winter, using ice and snow made from seawater. First built in 1996 as part of a UNICEF project, it has been reimagined every year, each time with a new theme such as "Animal Wonderland" and "Haunted Castle".
The attraction is open daily to visitors between January and April, with guided tours available.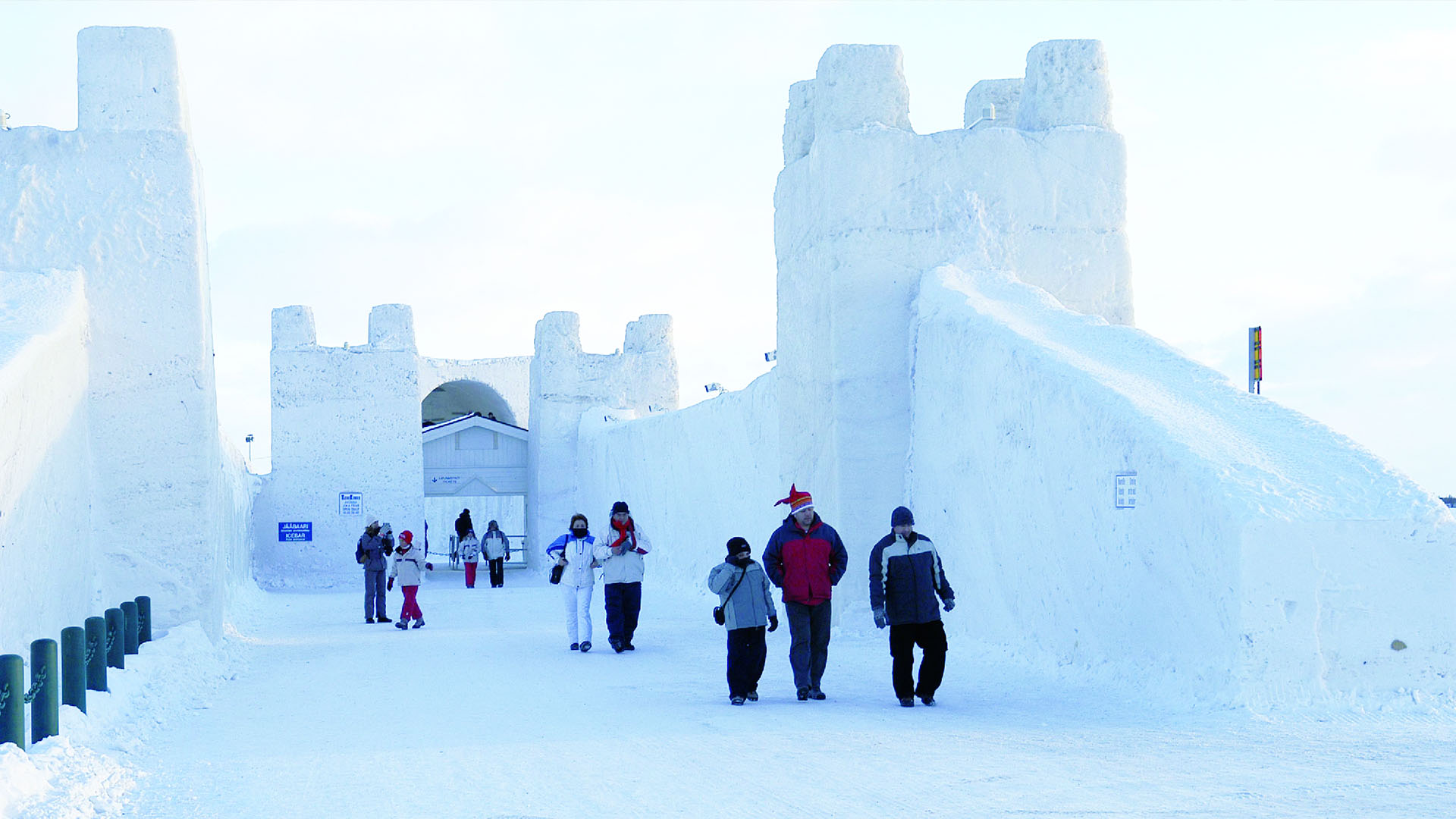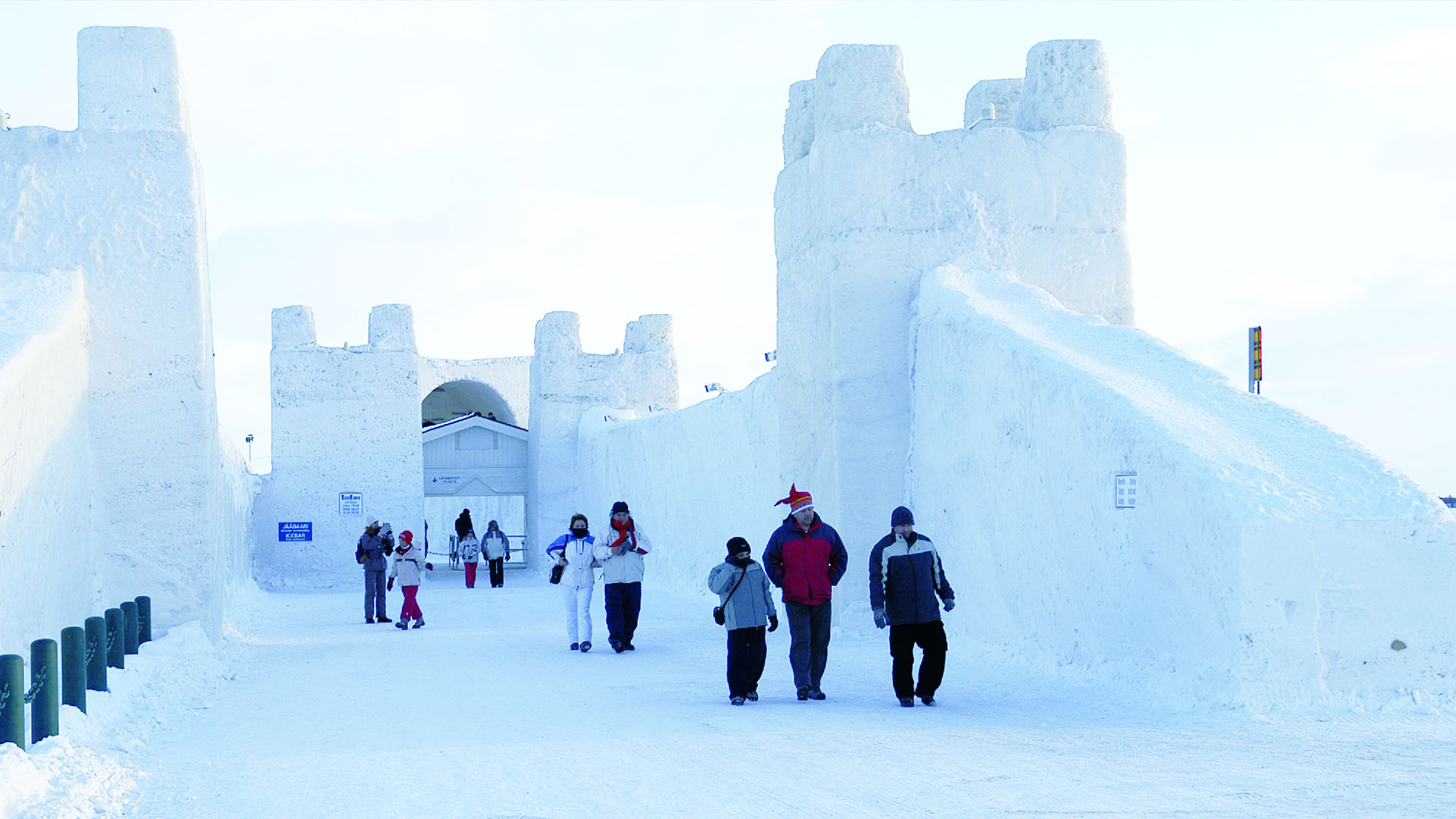 The rooms
If you're seeking the full experience, SnowCastle can also accommodate overnight guests. Rooms in SnowHotel feature intricate carvings and ice sculptures in keeping with that year's theme, and boast atmospheric coloured lighting to enhance the magical mood.
Kept at around -5°C (23°F), these rooms are kitted out with warm and comfy beds, topped with a sleeping bag and fur covers. In the heated lounge nearby, you can enjoy breakfast after a night sleeping in this snow den.
After 1 night in the SnowHotel, decamp to the award-winning Seaside Glass Villas next door.
These luxury private villas are notable for their floor-to-ceiling windows and glass roofs, allowing you to gaze out over the beautiful surroundings. In the winter, the Bay of Bothnia freezes over and snow stretches as far as the eye can see.
Activities and experiences
In addition to the SnowCastle and its hotel rooms, you can enter the surreal world of SnowExperience365. Open year-round, from 9am to 9pm daily, this indoor winter wonderland houses its own elaborate carvings and sculptures, as well as an ice slide.
Whatever time of year you visit, make sure you dine at IceRestaurant365, which can be found in the indoor complex. Here you can sit at ice tables, drink from handmade ice glasses, and tuck into a three-course meal featuring locally sourced ingredients.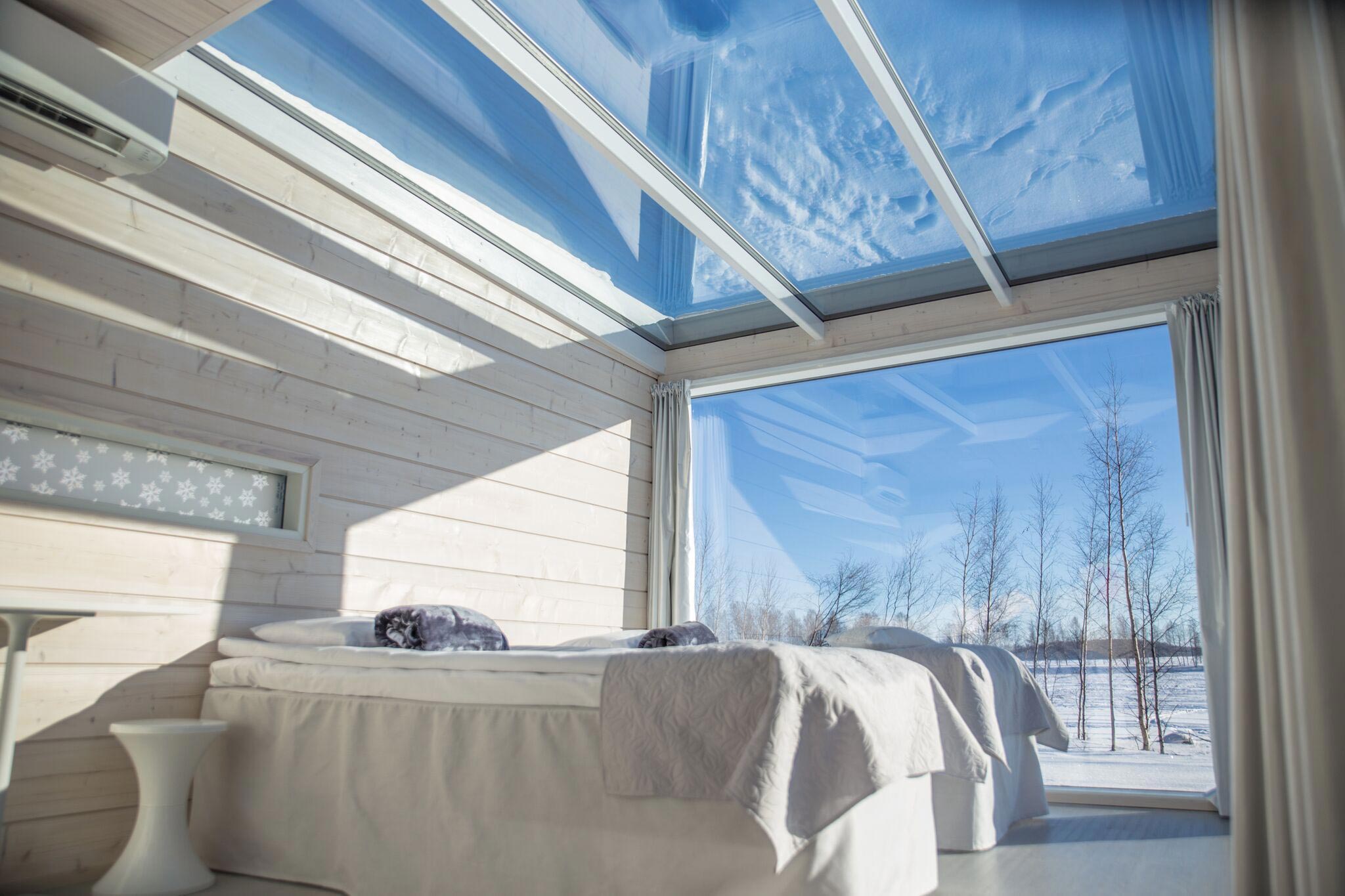 How to get to SnowCastle
You can fly directly from Helsinki to Kemi Airport or nearby Rovaniemi Airport, which also serves a number of seasonal flights from European destinations such as London. From Rovaniemi, the drive to Kemi is around 1 hour 40 minutes.
---
---
3. Snowhotel
Kirkenes, Norway
Until recently, the Snowhotel in Kirkenes, Norway, was reconstructed every winter after being left to melt in the spring. Today, the ice hotel remains standing 365 days a year, making it truly one of a kind.
The complex perches on the edge of a fjord, a 15-minute drive from Kirkenes. Here you'll find the Snowhotel, heated wooden cabins, two restaurants, and a farm that is home to huskies and reindeer.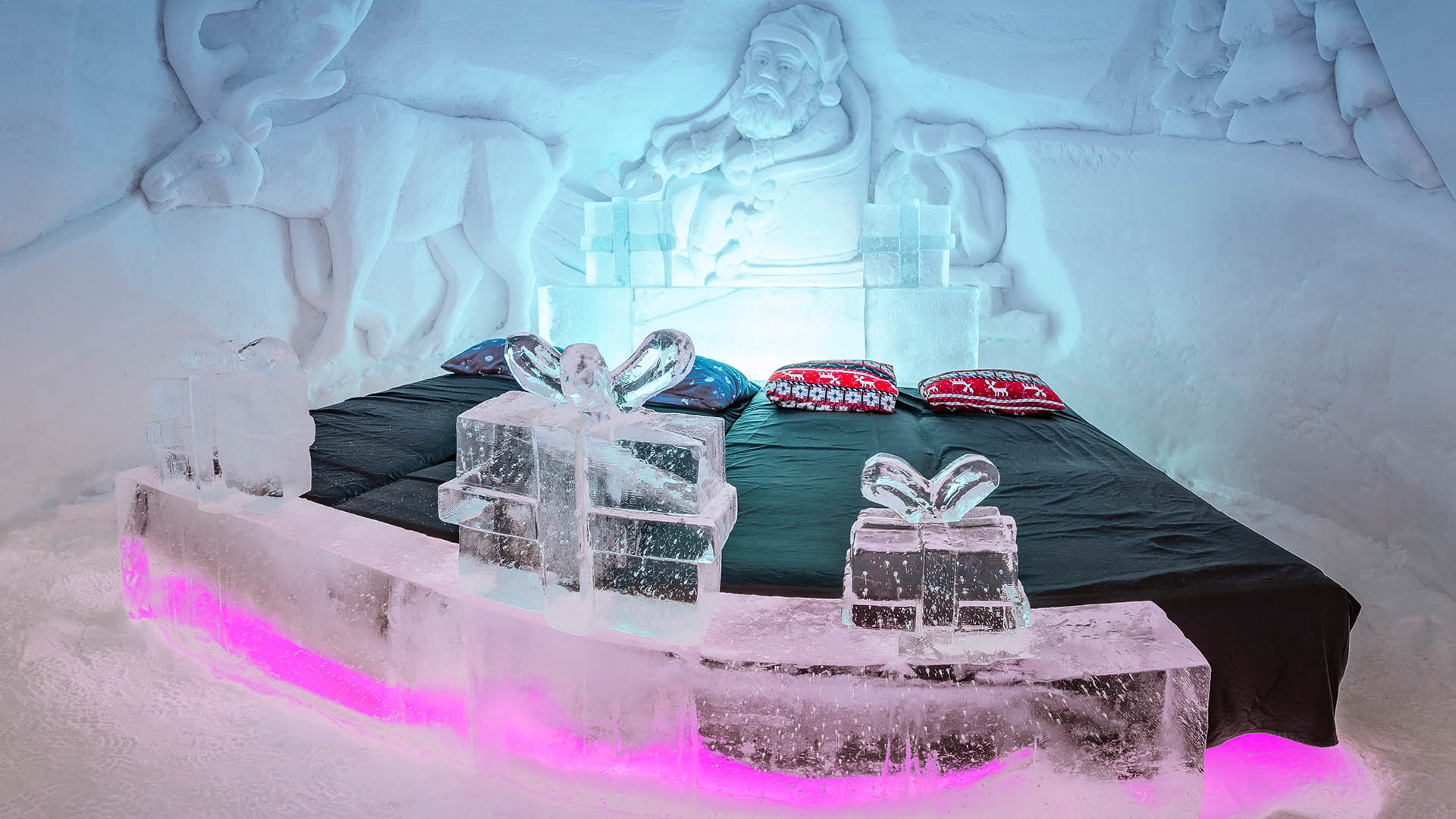 The rooms
For the classic ice hotel experience, spend a night in one of the beautifully designed rooms, which can accommodate up to five people. Your room at the Snowhotel comes with a comfy bed and thermal sleeping bag, and features intricate carvings on the snow-and-ice walls.
Bathrooms, lockers and a sauna are available to all guests in the heated service building, with access included in the price of your room. Additionally you'll enjoy a delicious breakfast and dinner, and get to visit the onsite reindeer and husky farm.
After finishing up your stay in the Snowhotel, you can move across to one of the cosy Gamme Cabins. Inspired by the traditional hunting and fishing huts of the Sami people, these cabins can accommodate up to 3 people. Each comes with a private bathroom and a large, arched window, ideal for spotting the northern lights.
Activities and experiences
In the winter, you can go fishing for King Crab (a local specialty), take a snowmobile, snowshoe or husky tour, and hunt for the northern lights. The hotel also offers a Sami experience, where you can learn about the history of these indigenous people, feed reindeer, and hear folk tales by the fireside.
The hotel's main restaurant is perched on a gentle hillside and offers spectacular views of the fjord through its large floor-to-ceiling window. Try some of the local staples such as King Crab, arctic char and cloudberries. As a bonus, any winter stay in the Gamme Cabins includes a three-course dinner here.
You should also make time for lunch in the restaurant within the Snowhotel itself, where the walls, bar, tables and stools are entirely carved from ice.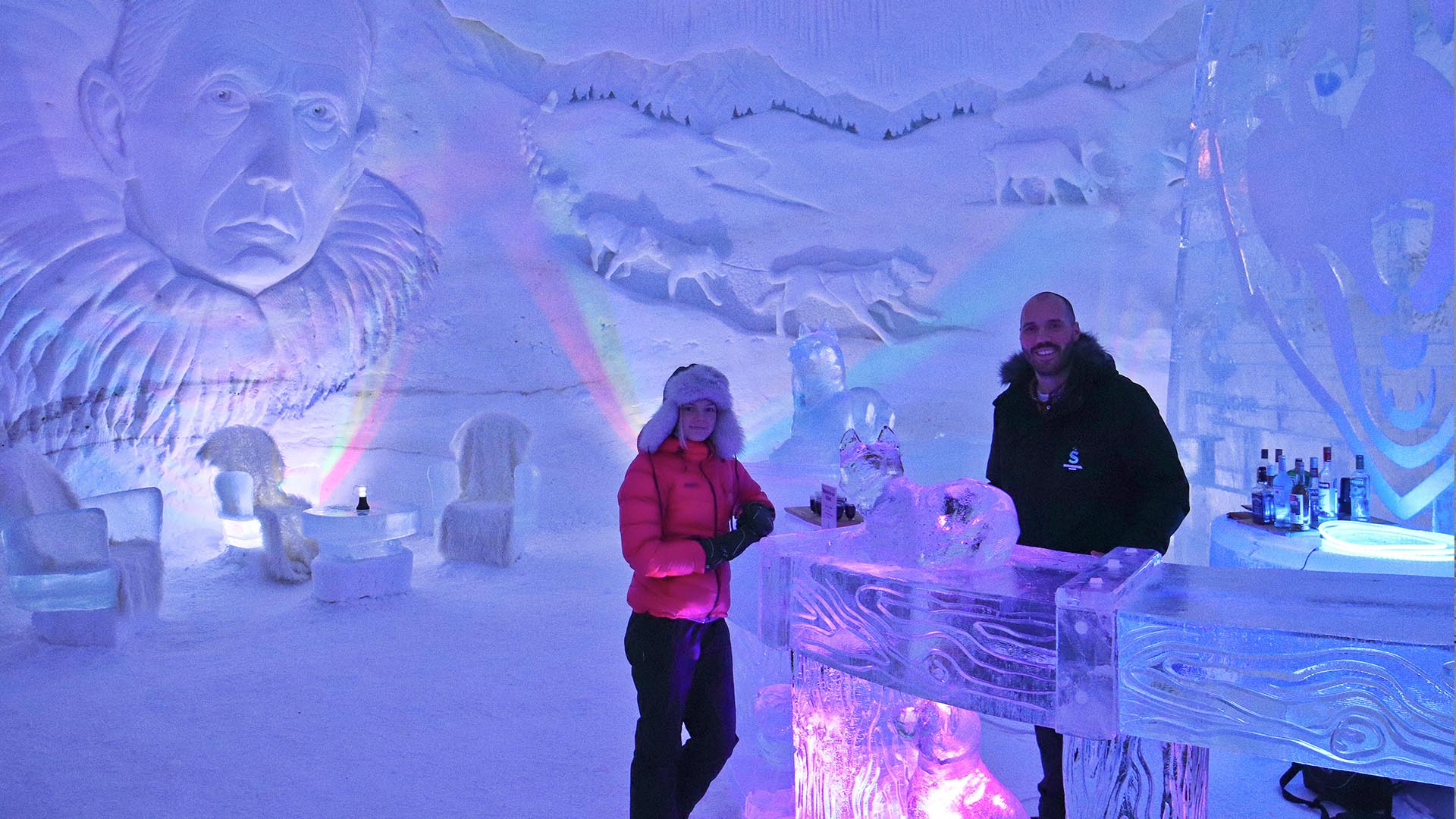 How to get to Snowhotel
You can fly directly from Oslo to Kirkenes Airport. From here, the drive to the Snowhotel is just 15 minutes.
---
---
4. Arctic SnowHotel
Rovaniemi, Finland
The Arctic SnowHotel rests on the tranquil banks of Lake Lehtojärvi, 27 kilometres (17 miles) from Rovaniemi in Finnish Lapland.
The complex offers you the chance to experience an ice hotel (rebuilt every winter), restaurants and bars, a snow sauna, and a series of glass igloos.
Between December and March you can book into one of the ice rooms in the SnowHotel. If you're visiting in autumn, the igloos are ideal for an atmospheric getaway, thanks to glass domes that frame panoramic views of the natural surroundings.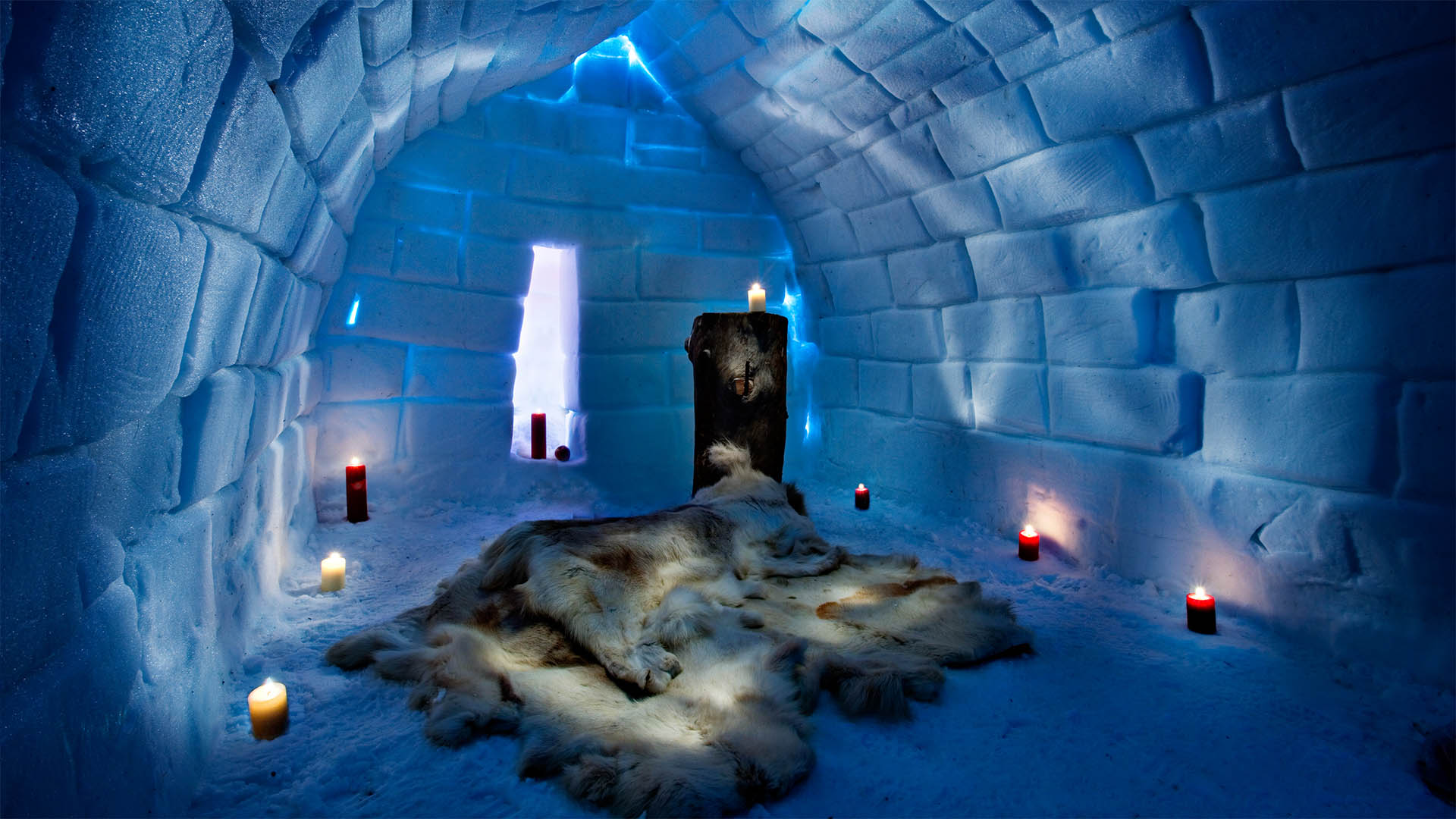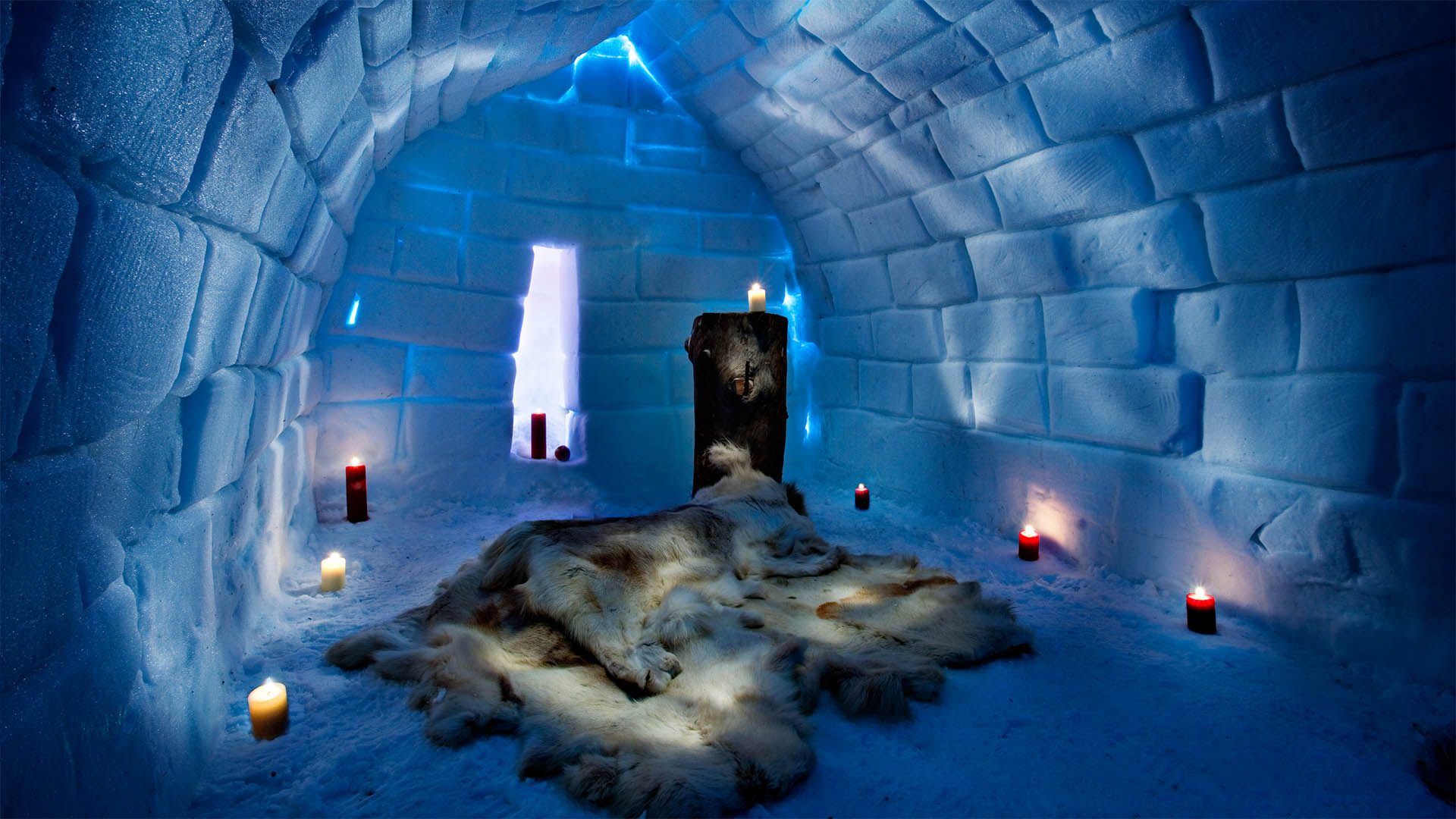 The rooms
Rooms at the SnowHotel vary in size and appearance, but all are kept between 0 and -5°C (32 and 23°F) and come with thermal sleeping bags and reindeer hides. If you'd like to spend the night amongst ice art, book into one of the suites, which boast intricate carvings on the walls.
As a guest of the hotel, you'll enjoy a delectable breakfast, and have access to the showers, changing facilities and Finnish sauna.
If you'd rather avoid the ice, plan your stay at one of the igloos, which are open between September and March and can accommodate up to 5 people. The domed glass ceilings on these clever little pods are heated to keep the interior warm and to melt snow and ice, ensuring 24/7 sky views.
Staying in an igloo gives you an excellent chance of spotting the northern lights from the comfort of your bed. Especially as the beds are electronic, allowing you to adjust them to your liking.
Activities and experiences
During your stay at the Arctic SnowHotel, you can enjoy a number of outdoor activities. Sculpt snow, go ice fishing, take a snowmobile safari, or set out across the frosty landscape on a snowshoe hike.
After a busy day of adventuring, you can hit the outdoor jacuzzi and the snow sauna, which is constructed entirely from snow and ice.
The SnowHotel itself has an Ice Restaurant and Ice Bar, both of which feature tables and chairs carved from ice. For a less chilly dining experience, head to the main restaurant, Kota, and try mouth-watering specialties such as glow-fried salmon, a traditional Finnish dish.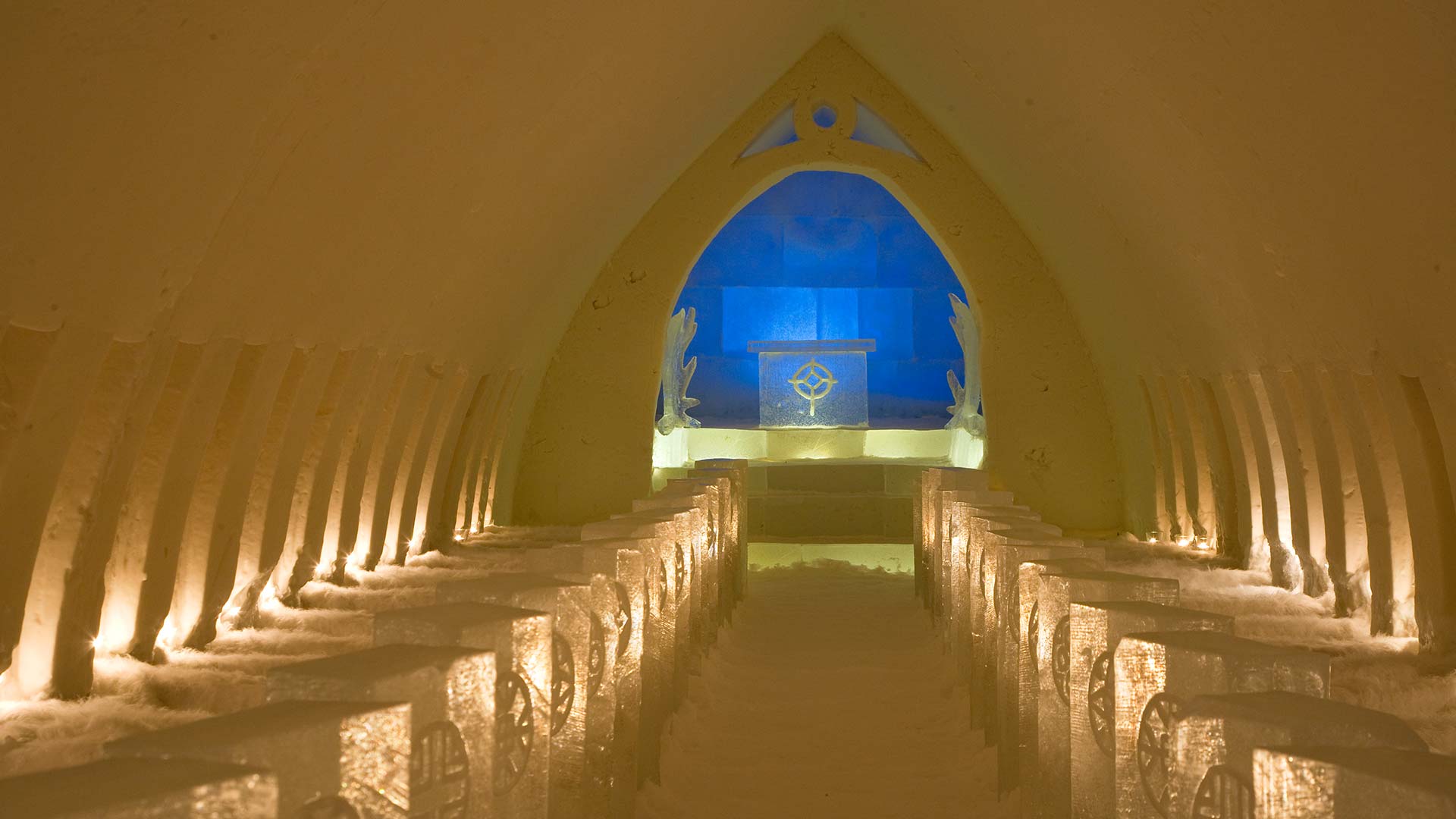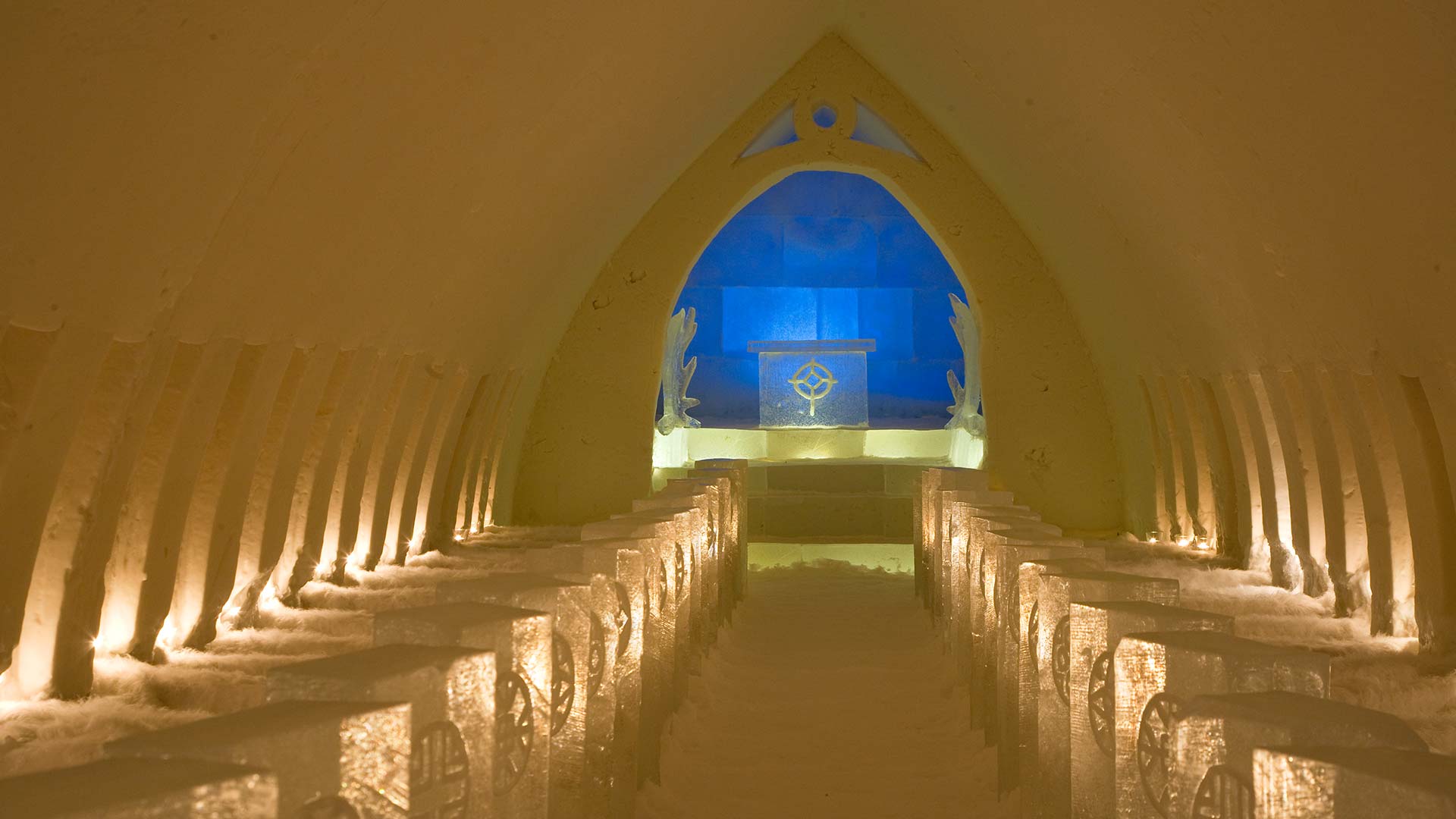 How to get to Arctic SnowHotel
Rovaniemi has an international airport, serving year-round flights from Helsinki and seasonal flights from other European destinations, including London. From the airport, the hotel is around a 30-minute drive.
---
---
5. Igloo Village
Kakslauttanen Arctic Resort, Finland
Kakslauttanen Arctic Resort is a hotel complex situated in Finnish Lapland, a stone's throw from Urho Kekkonen National Park.
The resort was founded in the 1970s with one small chalet and café, and has since expanded into a beloved holiday spot offering an atmospheric break in the wilderness.
Though this resort is perhaps best known for its glass igloos, it's also the place to go if you want to sleep surrounded by ice. Each winter, a snow village comprised of traditional igloos is built within the resort, and the results are surprisingly cosy.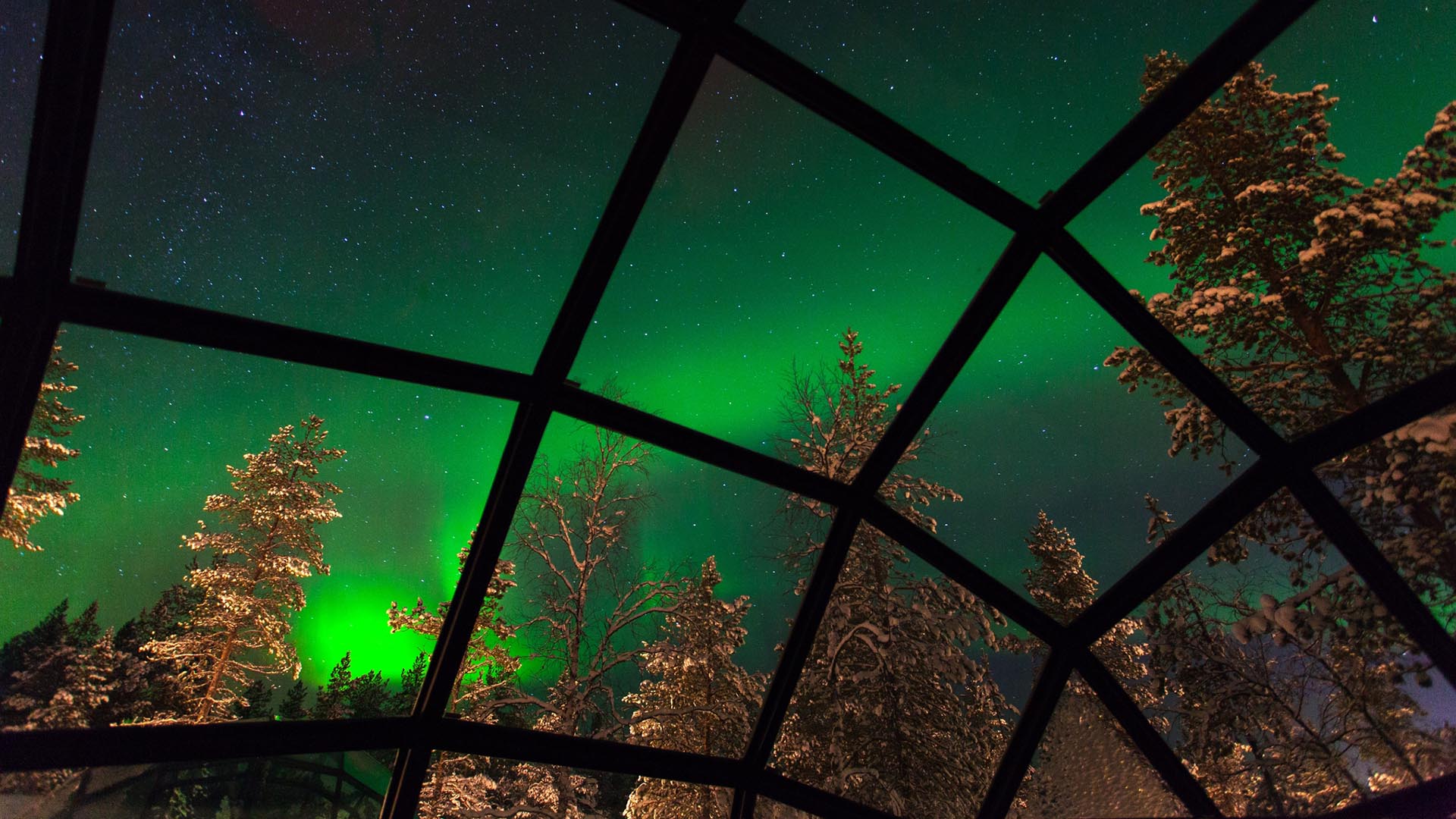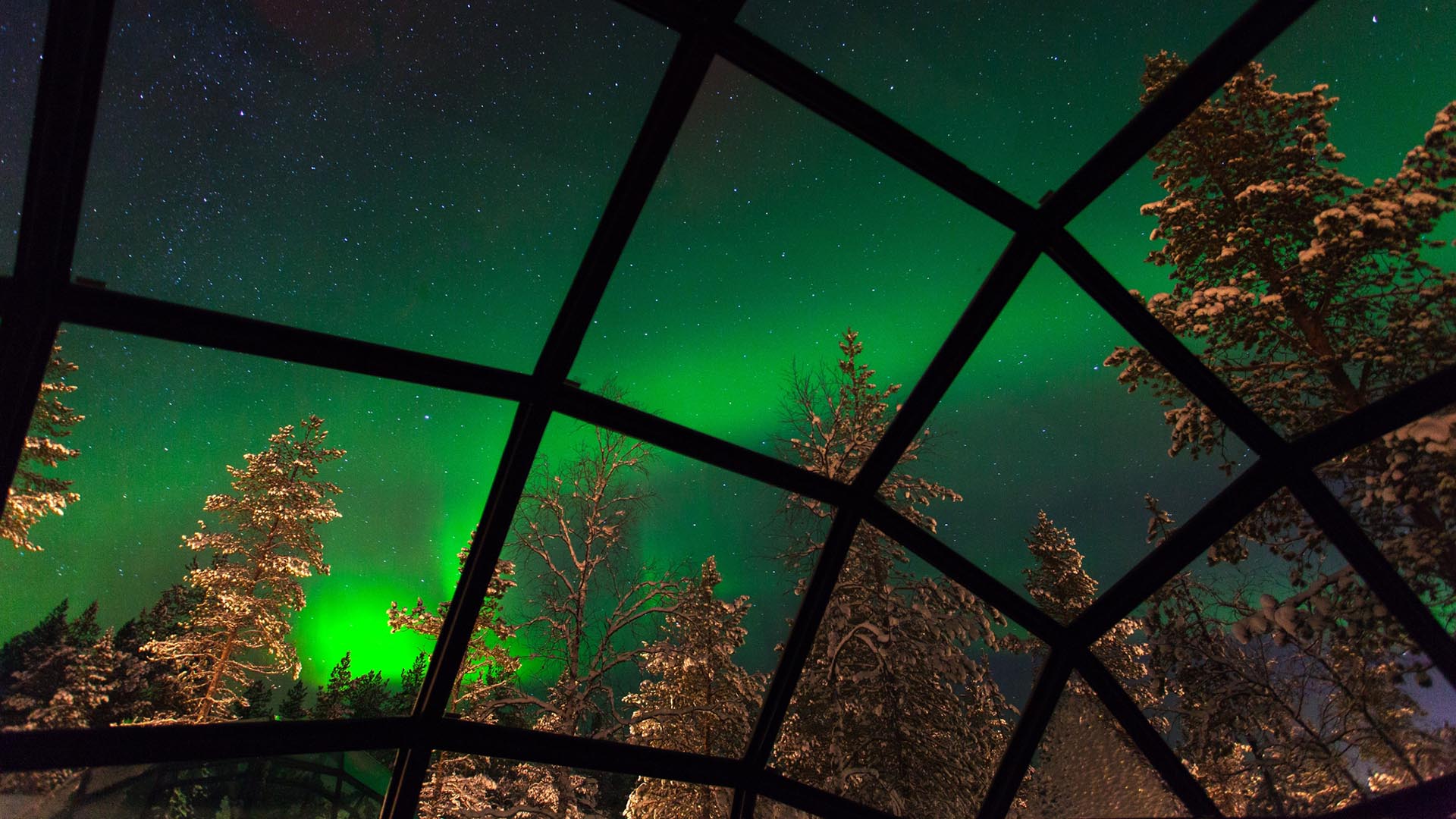 The rooms
Every igloo maintains a temperature of -3 to -6°C (27 to 21°F) and comes with warm down sleeping bags. In the nearby service building there are communal bathroom facilities, as well as a sauna.
Within the resort complex, you can enjoy a traditional Nordic spa regime: heating up in the smoke sauna before taking a refreshing dip in the frozen river.
Activities and experiences
There are two restaurants where you can sample a range of Lappish dishes, then in the Igloo Bar you can sip cocktails while gazing out of the glass-domed roof. Visit Lapland at Christmas and you can even make a trip to Santa's Village.
Exploring the surrounds is all part of the experience at Igloo Village. In winter you can take a husky or reindeer safari, go skiing or snowboarding, or try your hand at ice fishing. It also goes without saying that a northern lights excursion is a must.
Outside of the winter months, Kakslauttanen remains an excellent holiday destination. Though you won't have the opportunity to stay in one of the snow igloos, you can make use of the other accommodation on offer, such as glass igloos and log cabins complete with fireplaces and saunas.
Summer activities here include visiting a husky farm, horseback riding, river cruising, kayaking and mushroom picking. You'll also get the opportunity to pan for gold – an activity that has taken place in this part of the world for centuries.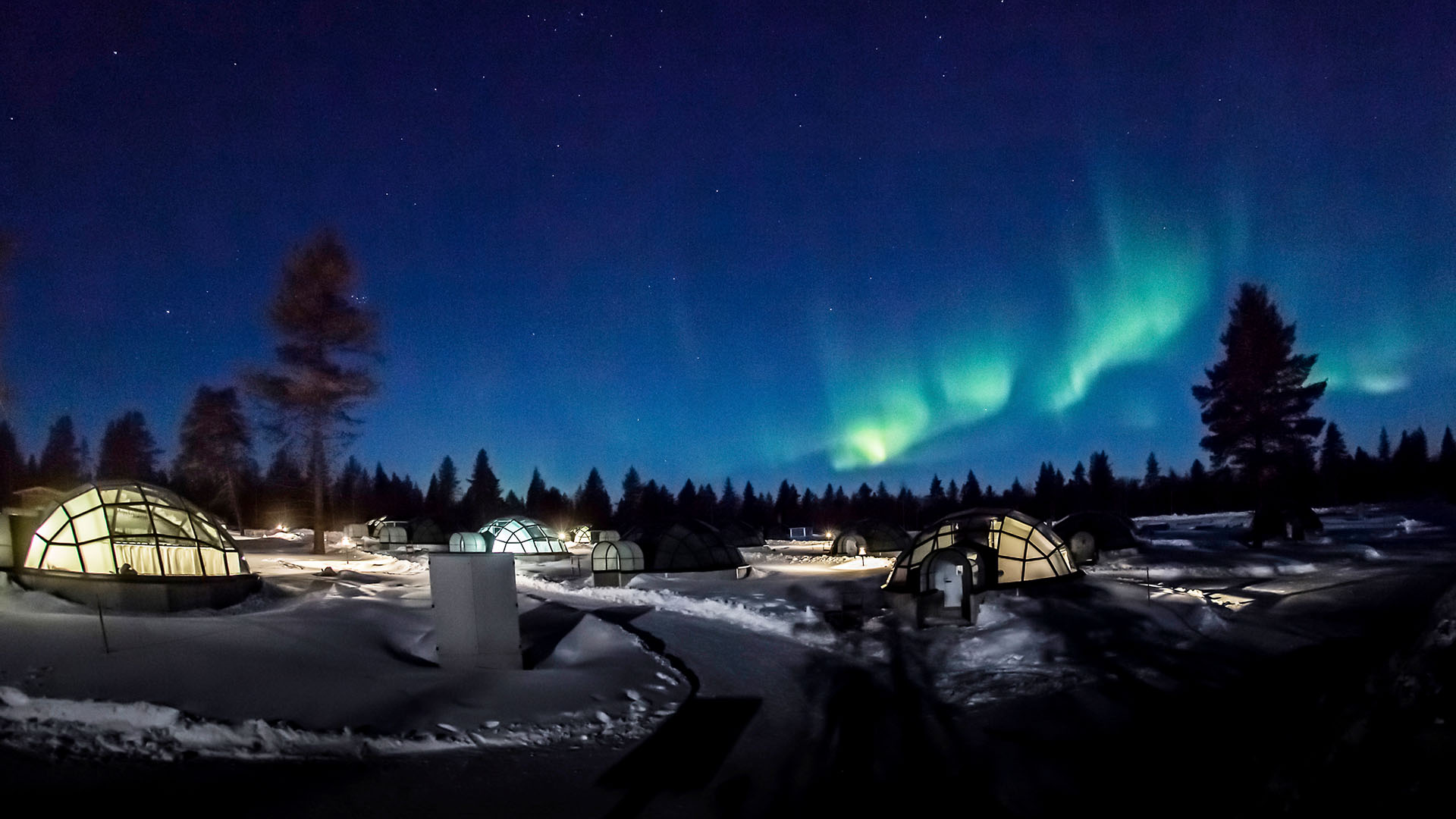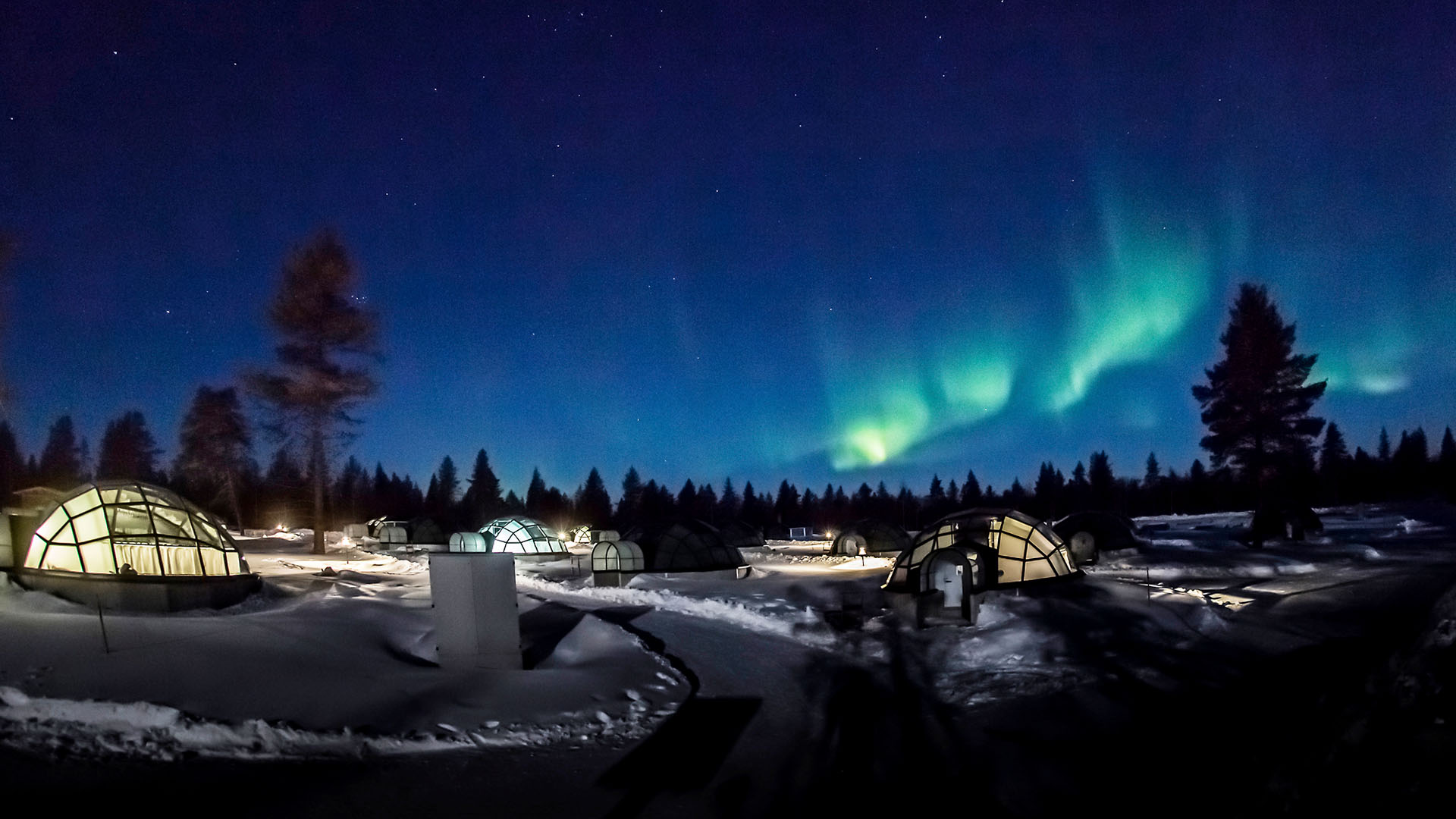 How to get to Kakslauttanen
This resort is just a 30-minute drive from Ivalo Airport, which serves year-round flights from Helsinki. There are also seasonal charters from European destinations such as London.
---
---
Ready to enjoy a totally magical stay at one of these Nordic ice hotels? Our partially guided tours will tick off all your travel considerations and line up lots of fun activities, while giving you plenty of free time to explore on your own.
To start planning your perfect ice hotel adventure, get in touch with us today.