Every winter in the Northern Hemisphere, the aurora borealis dances across the sky in a spectacular natural light show. Now imagine gazing up and seeing the rippling multi-coloured curtains of light arc across the night sky for yourself.
Soaking up northern lights views is a bucket list experience for many. Continue reading for our tips on the best time to see the northern lights in Finland. Not only that, we'll share our favourite places to go aurora-hunting and how to maximise your chances of spotting the northern lights.
---
---
Is Finland a good place to see the northern lights?
Absolutely! Finland is one of the best destinations in Europe to see the aurora borealis.
As well as chasing the northern lights, Finland is the perfect place for enjoying activities in the snow like dog sledding. You also have the chance to meet Santa in his homeland, and stay in a hotel made of ice and snow. You can do all of this on a fun family trip to Lapland or a romantic getaway for two.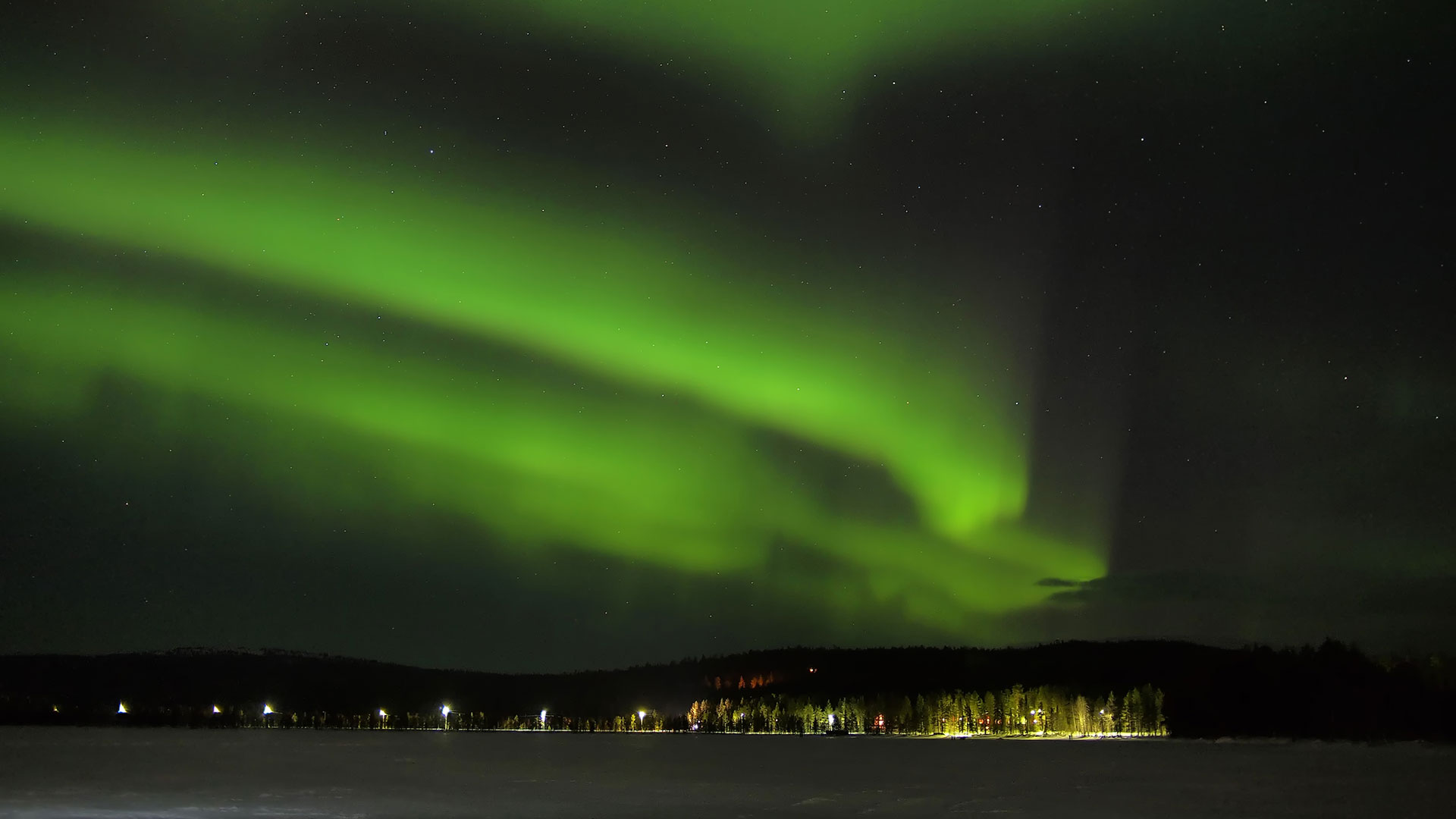 Where can you see the northern lights in Finland?
Finland stretches from its southern capital, Helsinki, on the shores of the Baltic Sea, over 1,300 kilometres (800 miles) north into the Arctic Circle. While it's possible to catch the occasional glimpse of the aurora in southern Finland, you'll have a much better chance if you head north.
In the country's northern reaches is Finnish Lapland. Here you'll discover a landscape peppered with lakes and forested national parks ripe for exploring.
Lapland's northern latitude means that it lies within the "northern lights belt" or "aurora zone", a band encircling the earth at latitudes of 65-72°N. In this region the aurora borealis can be seen with the greatest intensity and frequency.
---
---
Where to stay in Finland for northern lights hunting?
So now that you know Lapland is the best place to go in Finland for northern lights hunting, it's time to get down to specifics.
A couple of the best places to see the northern lights in Finland are Rovaniemi and Kemi. Why, you ask? Because here you can connect with local guides who will share their insider knowledge and favourite aurora-viewing vantage points with you.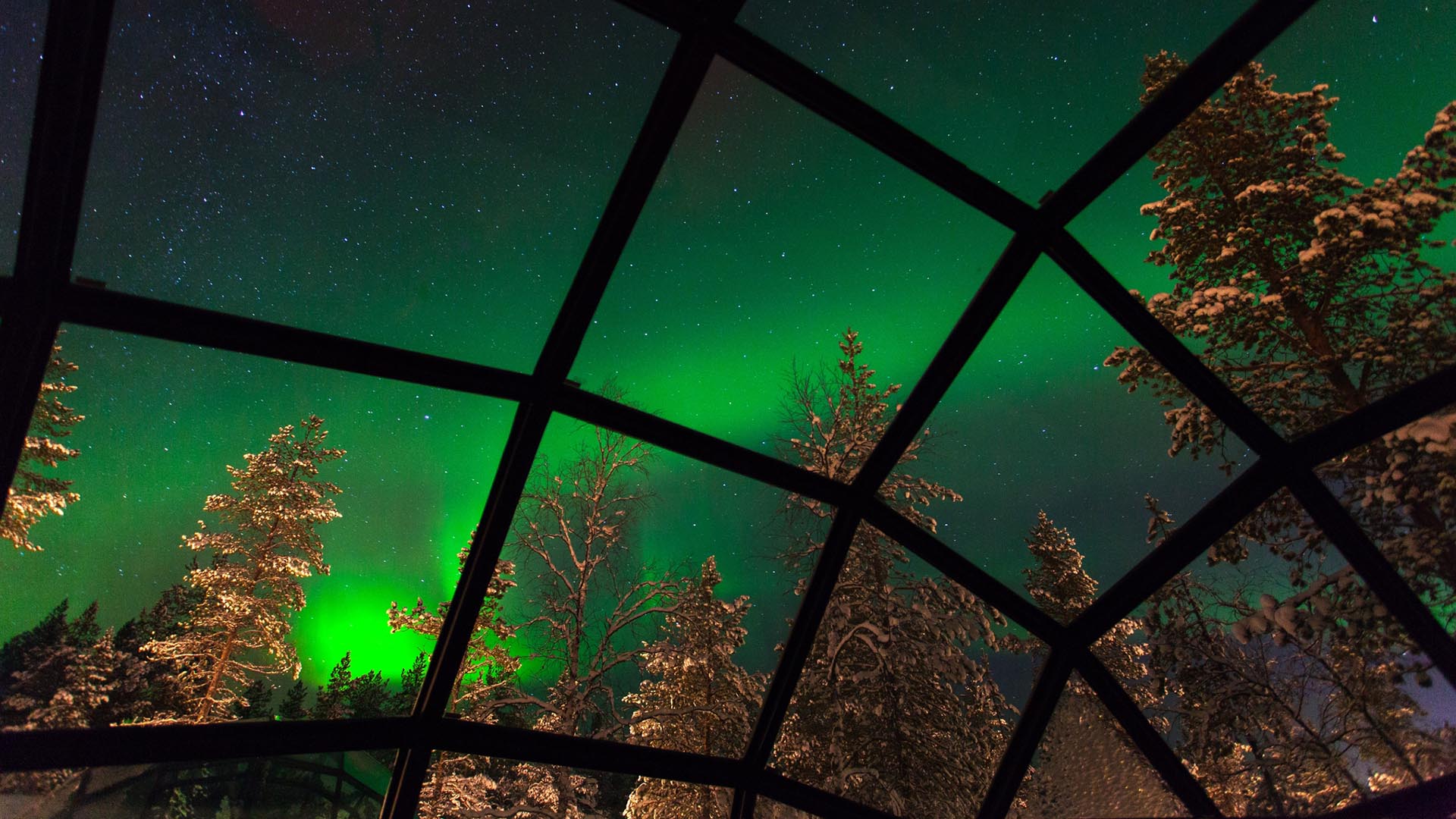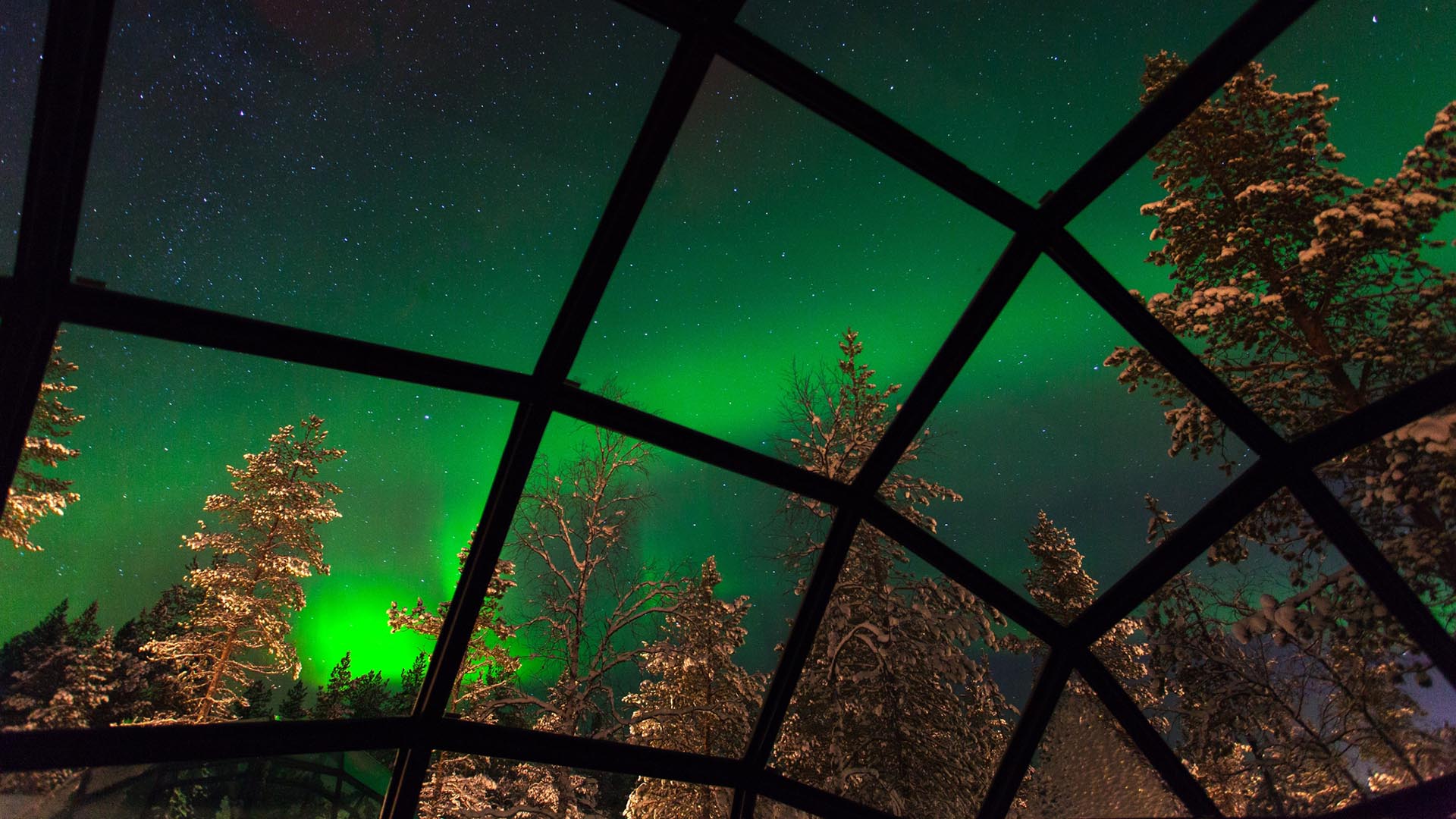 1. Rovaniemi
Renowned as the "official hometown" of Santa Claus, Rovaniemi is the ideal place if you're looking for a dream family trip. With unique places to stay and dining experiences, from the authentic to the sophisticated, couples will also love Rovaniemi.
At Santa Claus Village, the whole family can enjoy visiting Santa's workshop and stroking the velvety nose of a reindeer. Then why not spend an afternoon dog sledding through the snow-blanketed countryside?
Later, leave the bustling town (and its light pollution) behind to seek the northern lights on a snowmobile excursion. If snowmobiling sounds a little too thrilling, then you can opt for one of the many other guided aurora excursions on offer.
Rovaniemi has accommodation options to suit every budget. Make the most of this winter wonderland and stay in a cosy log cabin with a wood burning fire in the Finnish countryside.
Alternatively, on a romantic getaway you'll love sleeping under the stars in a glass igloo hotel after a day of captivating winter activities. Think lying under a glass dome at the Arctic SnowHotel, looking up at the stars simply waiting for the lights to come to you. What could be more romantic?
---
---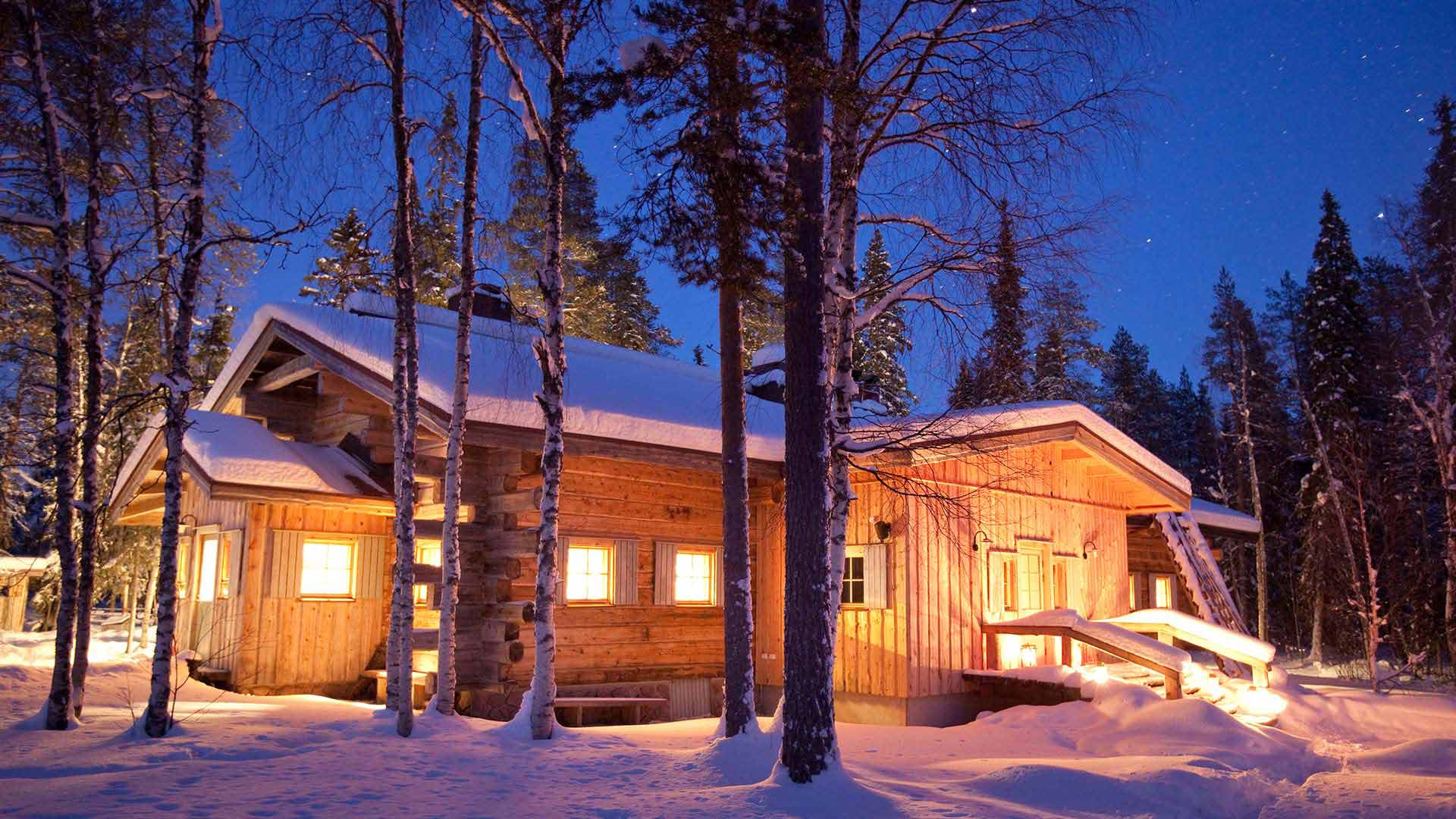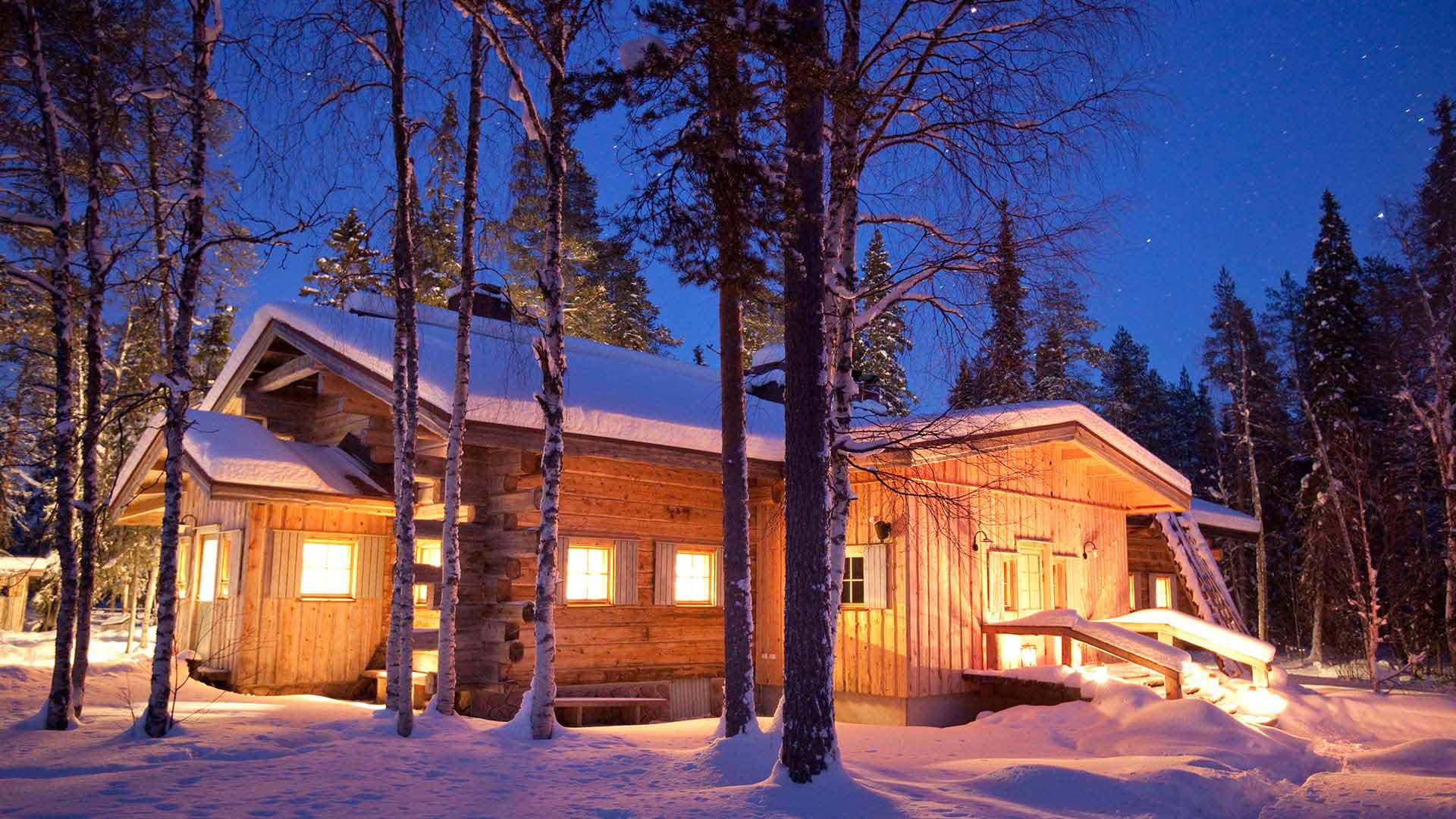 2. Kemi
Although further south, Kemi is still located within the aurora zone. Being a small town, it is also the perfect choice if you are seeking peace and quiet alongside the aurora.
From Kemi, try your hand at ice fishing or take a tour on the Sampo Icebreaker ship. To ramp things up a notch, enjoy a guided aurora hunt by snowmobile.
Because of Kemi's remote location on the shores of the frozen Bothnian Bay, light pollution is low. This means you have a good chance of seeing the northern lights from your accommodation.
Come evening, enjoy a sought-after viewing experience and keep the magic going from a glass-fronted seaside cabin. Savour a glass of warming glögg (mulled wine) and continue watching the spectacle through floor-to-ceiling bedroom windows.
Otherwise, a unique overnight stay at the SnowCastle awaits. Exactly as it sounds, this incredible hotel is sculpted from snow and ice. It is reincarnated afresh each year by contributing artists! Fall asleep cocooned in an insulated sleeping bag in a bedroom carved from ice.
---
---
Best time to go to Finland for northern lights hunting
The northern lights occur all year round but are only visible during the hours of darkness. Give yourself the best chance of seeing them by visiting Finland in winter when skies are at their darkest for the longest.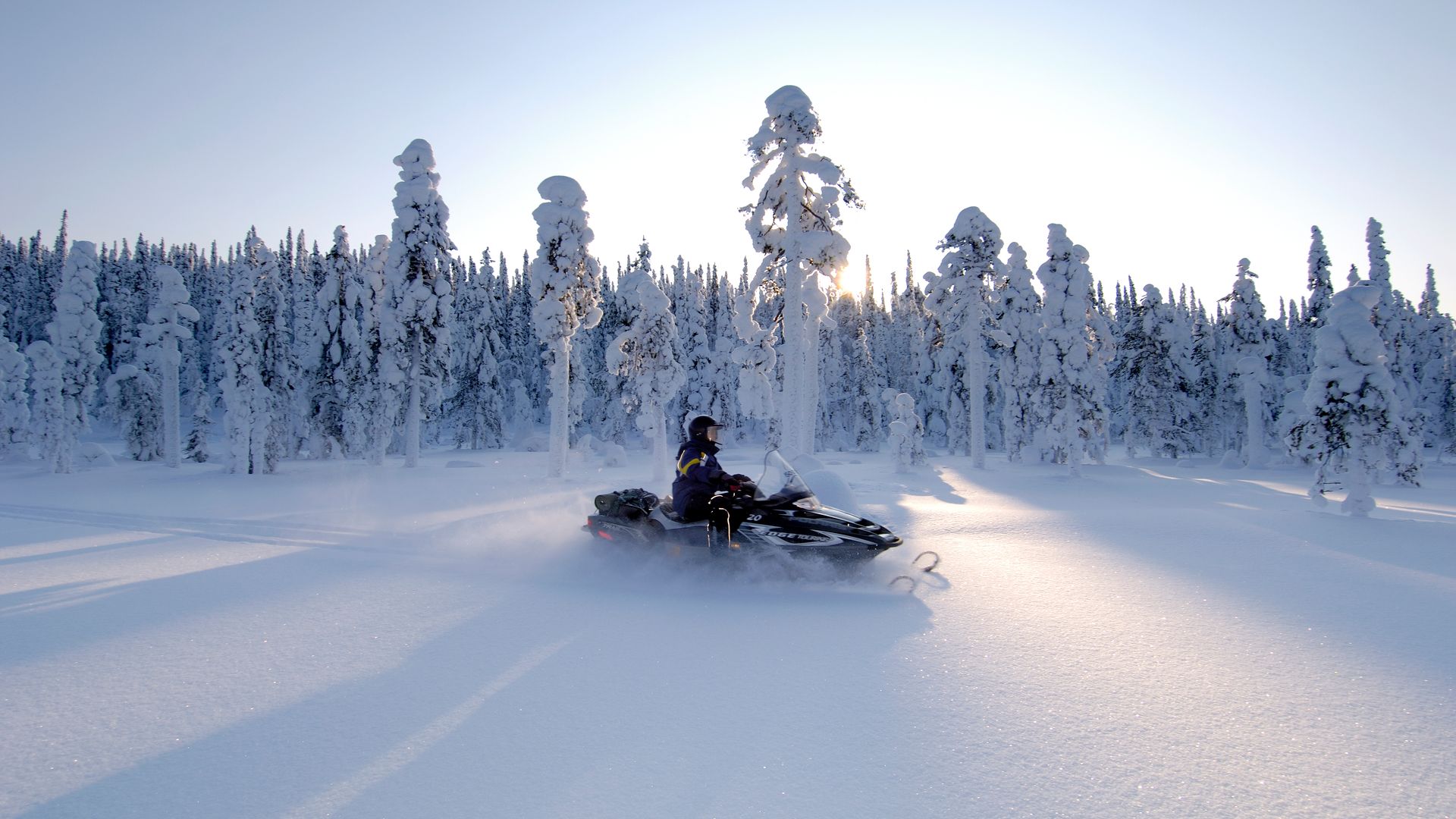 WHEN CAN YOU SEE THE NORTHERN LIGHTS IN FINLAND?
The best time to see the northern lights in Finland is from December to March. During these months there are also plenty of fun winter activities for you to enjoy. So even if the weather isn't on your side, you will still have an incredible time in Lapland.
What month is best to see the northern lights in Finland? Well, there are pros and cons of visiting at different times of the year.
1. Mid-winter
From December through to January, there is lots going on in Lapland! Visit Santa Claus Village in Rovaniemi around Christmas for the ultimate festive experience. Or ring in the New Year with a once-in-a-lifetime stay at the SnowCastle Hotel in Kemi.
At this time of year, glistening snow carpets the landscape adding an extra layer of magic. Of course clouds bring snow, which means less clear nights for aurora spotting. Despite this, you'll still have a high chance of seeing the northern lights if you plan in extra time to work around potential snowfall.
---
---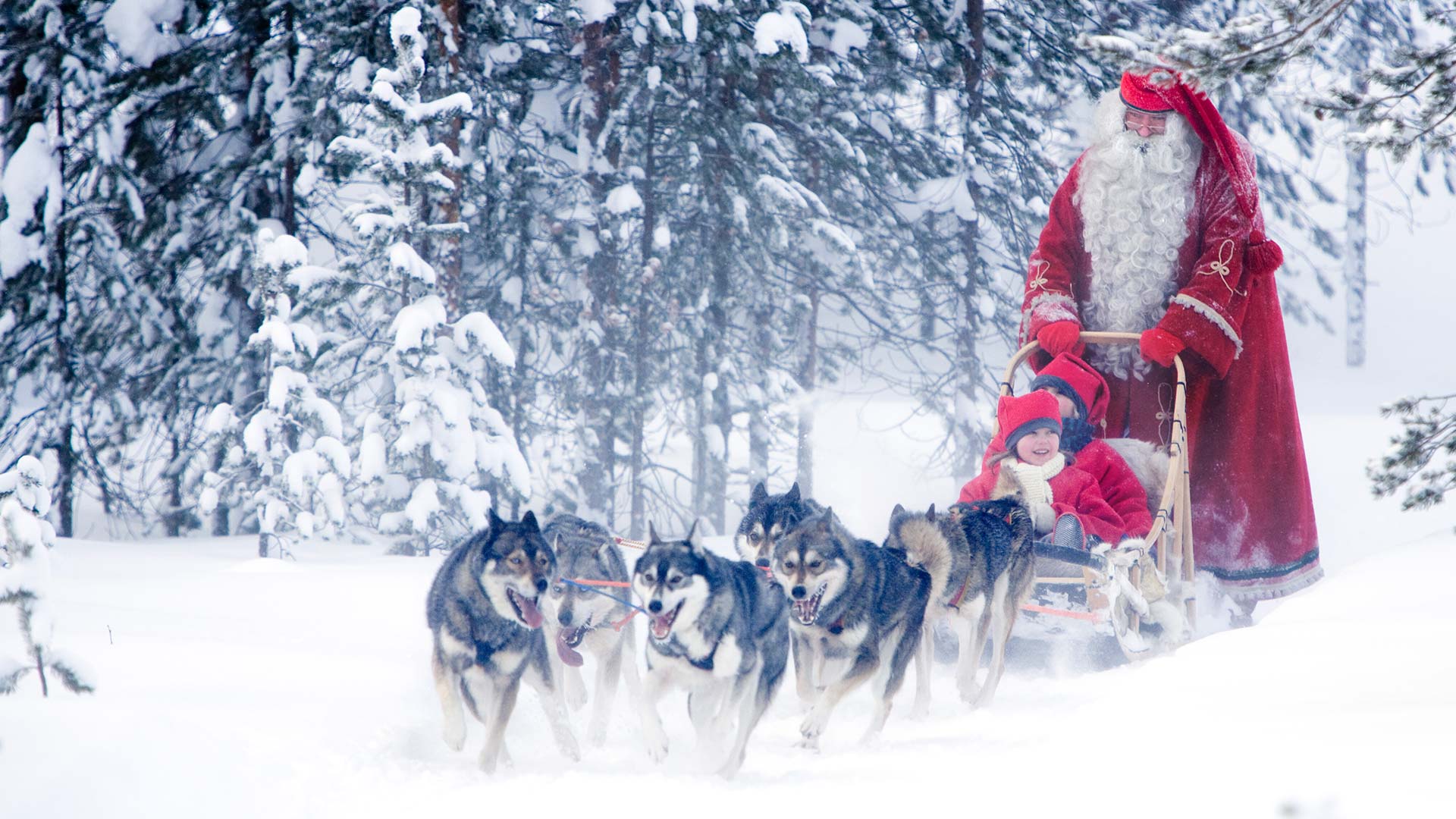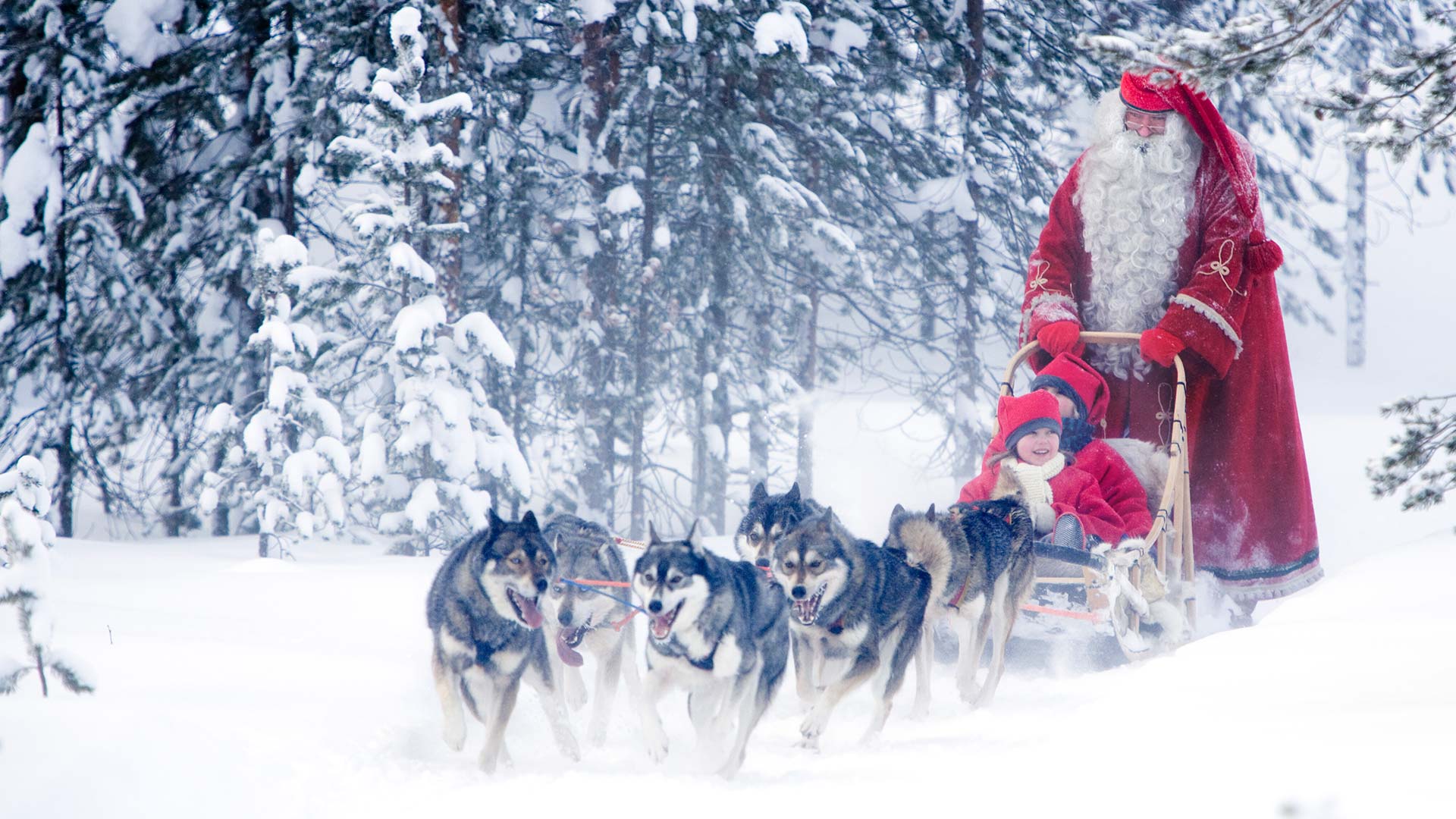 2. Late winter and early spring
February and March are also great months for seeing the aurora. The skies tend to be clearer, meaning you'll have more opportunities to see the lights. The towns will be quieter than at Christmas, and you'll meet more Finns who visit the region's ski resorts at this time of year.
---
---
3. Late summer and autumn
Can you see the northern lights in Finland in August? Technically, yes. Although auroral activity is high approaching the autumn equinox, there are fewer hours of darkness. This means late nights and less chances of spotting the aurora.
---
Not sure what to pack for the time of year? Or wondering what the weather will be like on your northern lights tour in Finland? Find out in our Lapland travel guide
---
WHAT IS THE BEST TIME OF DAY TO SEE THE NORTHERN LIGHTS?
The best time to see the northern lights tends to be from 10 PM to 2 AM. For this reason most northern lights excursions begin at night.
How to keep energised into the evening? Indulge in Scandi coffee culture - enjoy a late afternoon coffee and sweet cinnamon bun.
Remember, the aurora is a natural event so the lights won't appear on cue. But if you are determined your persistence may pay off! Stay out for an hour or two before retreating to your cosy room. Some hotels also offer an aurora alarm service, so that even if you do head to bed you won't miss out.
---
---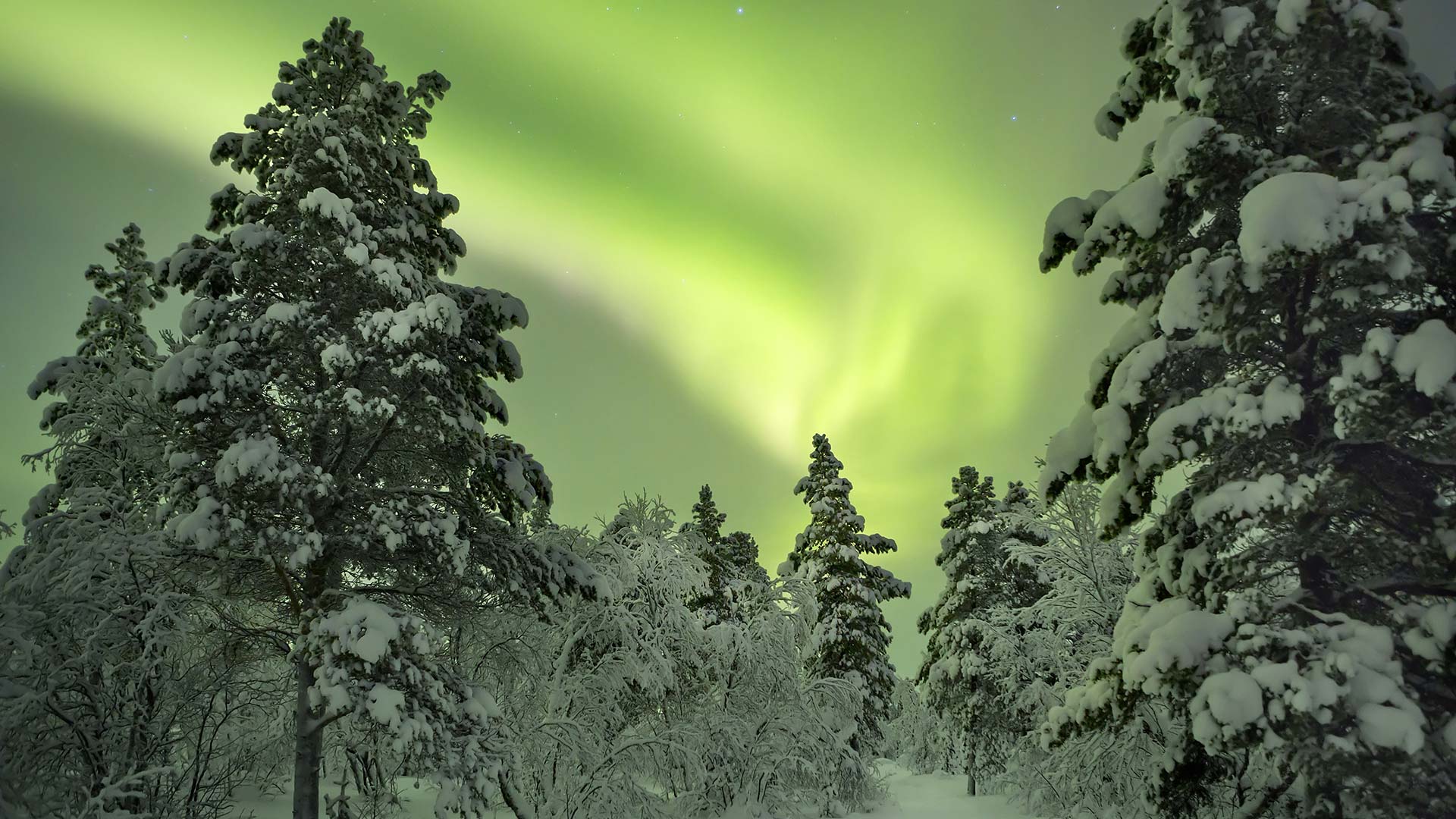 How to see the northern lights in Finland?
To boost your chances of spotting the northern lights, seek out these key ingredients.
1. Low light pollution
The aurora is brightest and easiest to see when you're away from cities and towns with high levels of light pollution. Immerse yourself in northern Finland's wilderness landscapes, away from artificial lights.
2. Dark nights
Increase your chances of witnessing the aurora by taking advantage of the long Finnish winter nights. Between December and early April, the dark skies will allow you to see the aurora borealis clearly.
3. Clear skies
The final ingredient you need to spot the northern lights is clear skies. Any cloud cover will block your view of the aurora, so keep an eye on the weather forecast during your trip.
How often do the northern lights occur in Finland?
The weather may be outside of your control, but picking the right location isn't. Stack the odds in your favour and head to northern Finland. Here the northern lights appear roughly 200 nights of the year. Bear in mind that the number of aurora sightings falls dramatically as you head south.
Although some effort is required to see the aurora, this will just make your experience all the more special. We promise!
Good to know: our dedicated travel consultants research and organise everything ahead of time so you don't have to. We also work with knowledgeable guides who will take you to the best places to see the lights.
---
Top tip: Set up aurora forecast alerts from websites and apps that will do the hard work of checking conditions for you. Getting alerts from the Finnish Meteorological Institute will give you the best chance of success on your trip.
---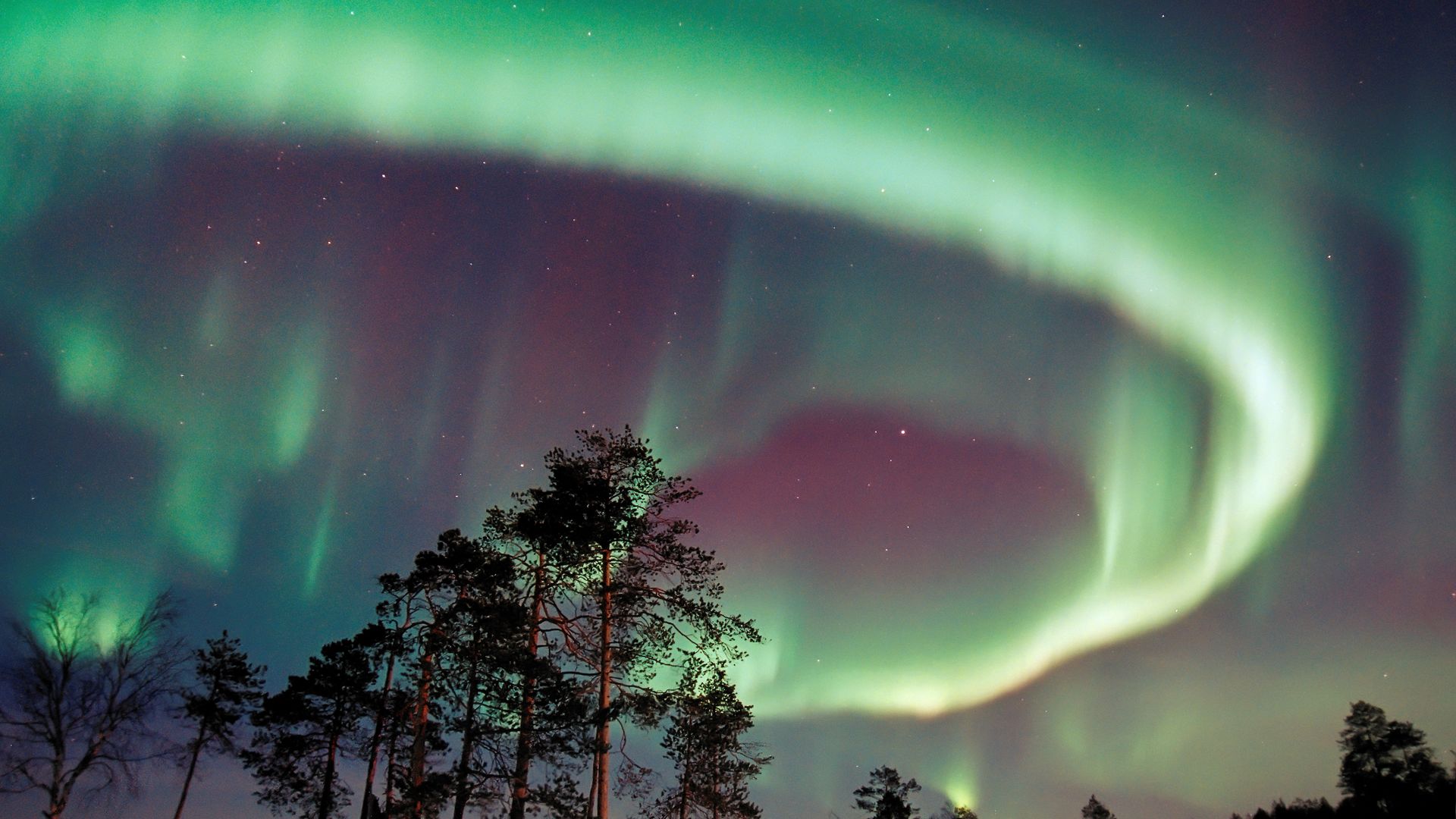 Legends and science behind the aurora
Now we know the best time and place to see the northern lights in Finland, what is it that causes the northern lights? Before science could explain this natural phenomenon, local people developed myths and legends of their own.
The Finnish word for the northern lights, revontulet, translates as "fox fires" and originates from the indigenous Sami people of Lapland. The Sami told tales of a fox that sped through the snow casting colourful sparks up into the sky in its wake.
Nowadays scientists agree that the aurora borealis is caused by solar activity. Wind from the sun sends electronically charged particles towards Earth. The particles interact with Earth's magnetic field when they arrive at the edge of the atmosphere, causing magical light displays.
The aurora australis is the same phenomenon as the aurora borealis, but it occurs in the Southern Hemisphere.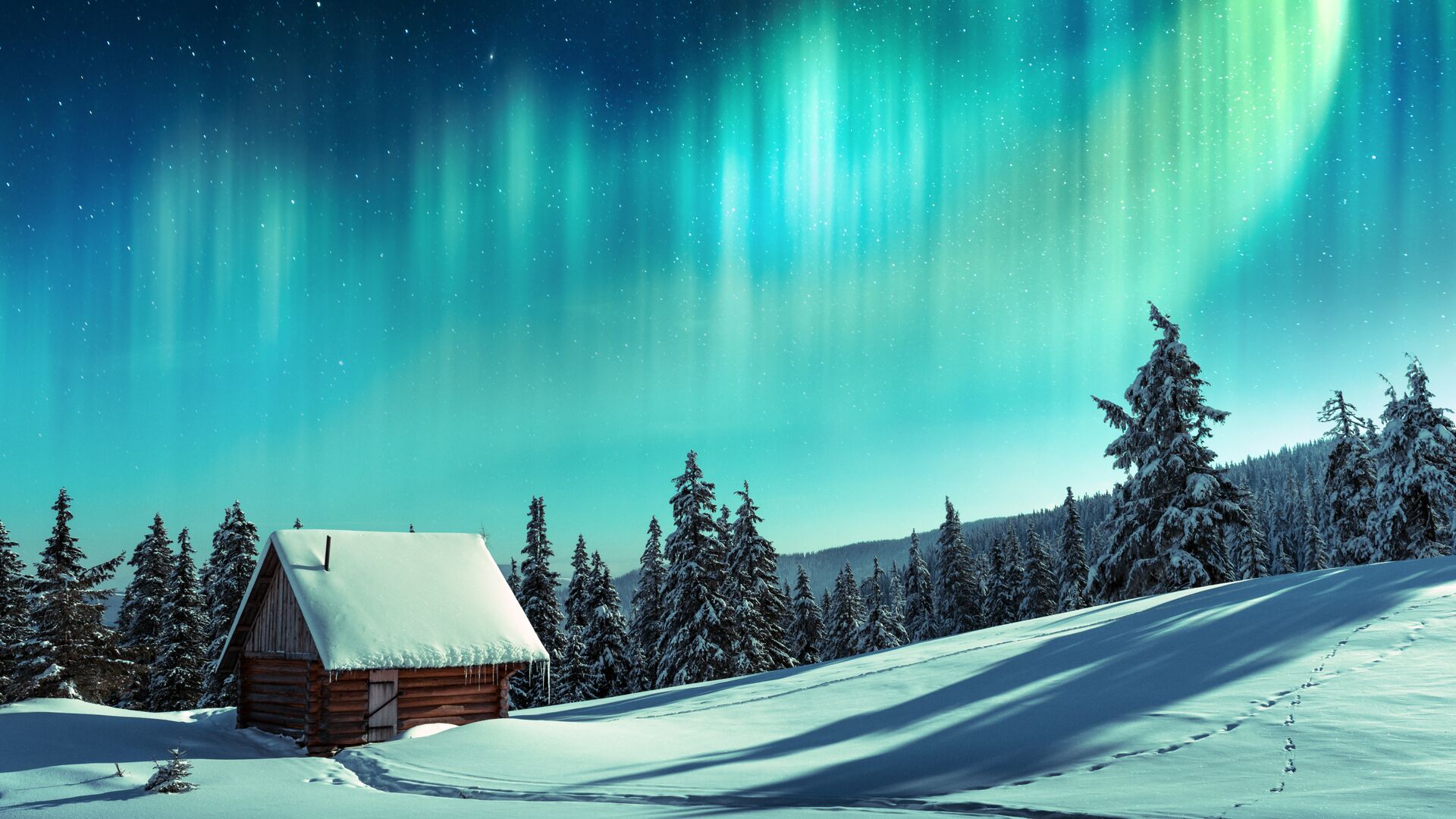 Where else can you see the northern lights in Europe?
If you are planning to chase the aurora in Europe this winter, you may find yourself asking the question: is Norway, Iceland, Sweden or Finland better for northern lights hunting? The answer is that you have a high chance of seeing the northern lights in all four countries.
Although each has its advantages, in Finland you can choose from plenty of fun winter activities. We recommend snowmobiling, dog sledding, meeting reindeer and even paying a visit to Santa Claus himself!
---
---
Our travel experts make finding the right northern lights tour for you simpler. Whether you are looking for a bucket list Christmas trip or a unique honeymoon experience, we can tailor and adjust tours to suit your needs.
A dedicated travel consultant will organise hotels, excursions and transfers on your behalf. Not only that, you can contact us on your trip using our 24/7 helpline.
All you need to do is relax and look forward to an amazing trip! Contact us and realise your dream of taking a northern lights tour in Lapland.