Picture yourself standing on crunchy snow, with frosted trees all around, and the northern lights dancing above. This is Finnish Lapland in winter. It's the perfect place for you to live out your festive fantasies.
Nestled in Northern Finland lies an Arctic hideaway that promises you an unforgettable stay – the glass igloo. With glass-domed roofs, they're designed to bring you closer to nature while keeping you cosy. And, of course, so you can fall asleep while looking up at the star-sprinkled night sky.
Keep reading to discover everything you need to know about a glass igloo Finland trip. You'll learn the best time of year to visit, where to stay, what to pack, and the top activities to try.
---
---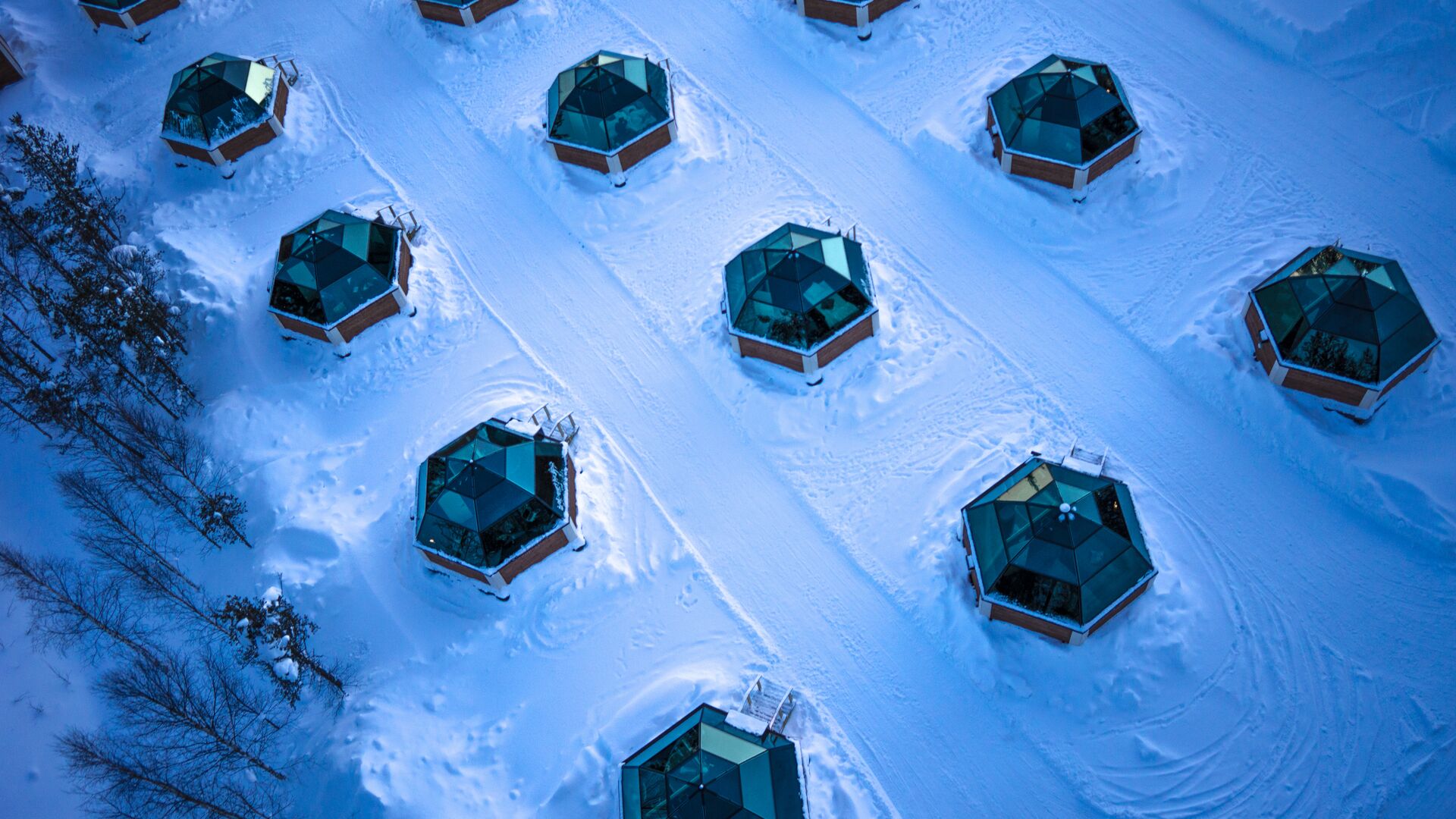 Best time of year for a glass igloo trip
If you want to chase the aurora borealis and explore snow-blanketed landscapes visit Lapland between December and March. During these winter months, you can marvel at the pristine scenery and enjoy your pick of outdoor activities.
Snow is practically guaranteed at this time of year, so you'll be able to make the most of the vast, powdery landscape. Think dog sledding along smooth trails and heading out on a reindeer safari. Or imagine lounging in an outdoor jacuzzi with a glittery, snow-laden backdrop.
What's more, winter is the best time to see the northern lights in Lapland. This is because you can only see the aurora when it's dark. And thanks to the longer nights in Lapland at this time of year, you'll have more opportunities to spot them.
On the other hand, visit in summer and you'll see the midnight sun. This natural phenomenon is when the sun doesn't set, resulting in 24 hours of daylight. Although it's a wonderful sight, you won't be able to make out the northern lights.
---
---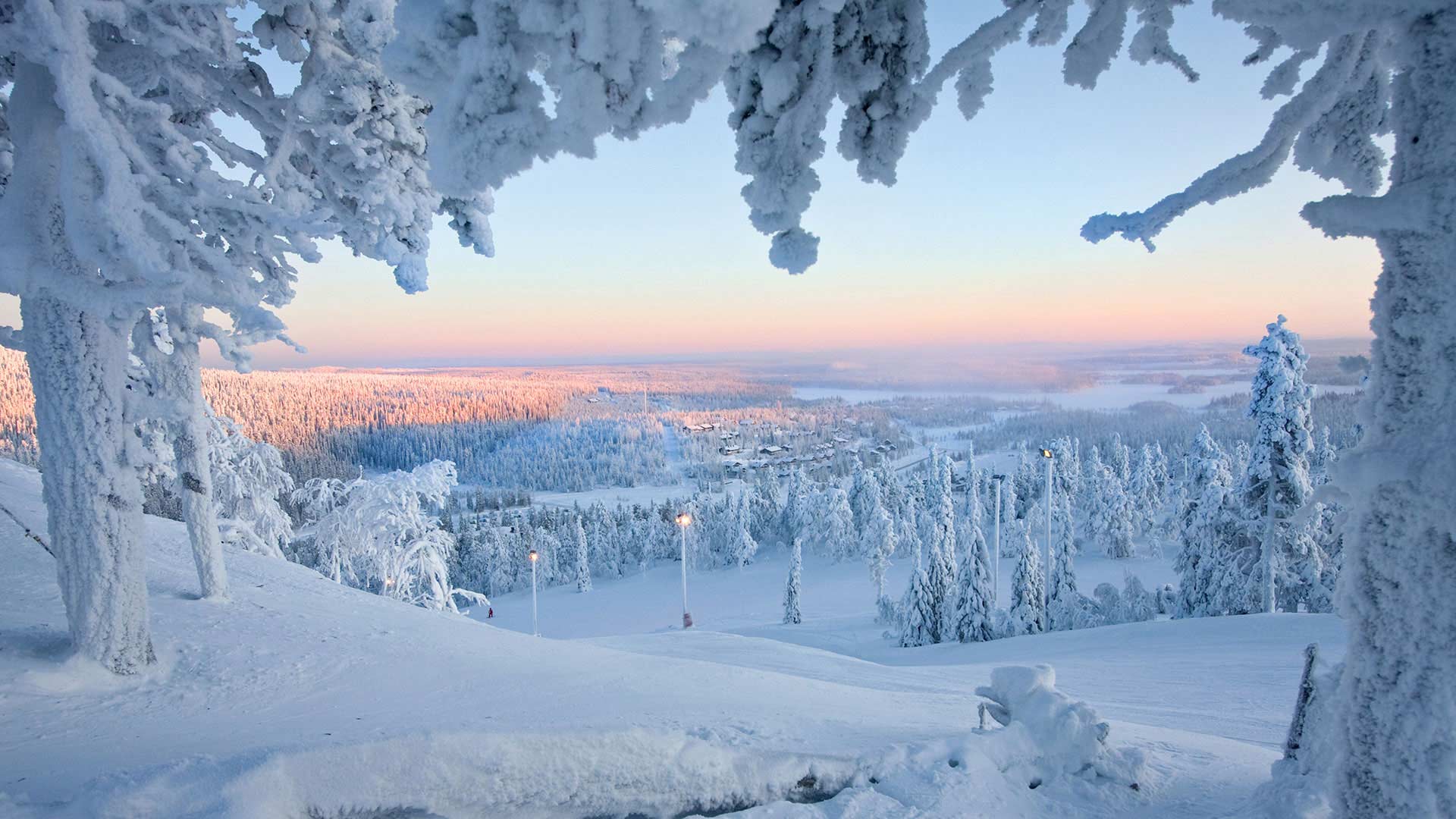 Where to go for a Lapland glass igloo stay
You'll find glass igloos scattered across the northern reaches of Finland, Sweden and Norway, collectively known as Lapland. Most are located within the "northern lights belt" (or "aurora zone") between latitudes of 65-72°N. Because of the high levels of solar activity, this area has the most aurora action in the world.
Unsurprisingly, this is a popular place to build glass-roofed igloos that give you panoramic views of the sky.
Rovaniemi is one of the best places to stay in a glass igloo. You can enjoy low levels of light pollution in the countryside (important for seeing the northern lights). And there's plenty to do nearby – you can visit Santa Claus Village for example. Not to mention the fact that, with an airport nearby, it's easy to get to.
---
---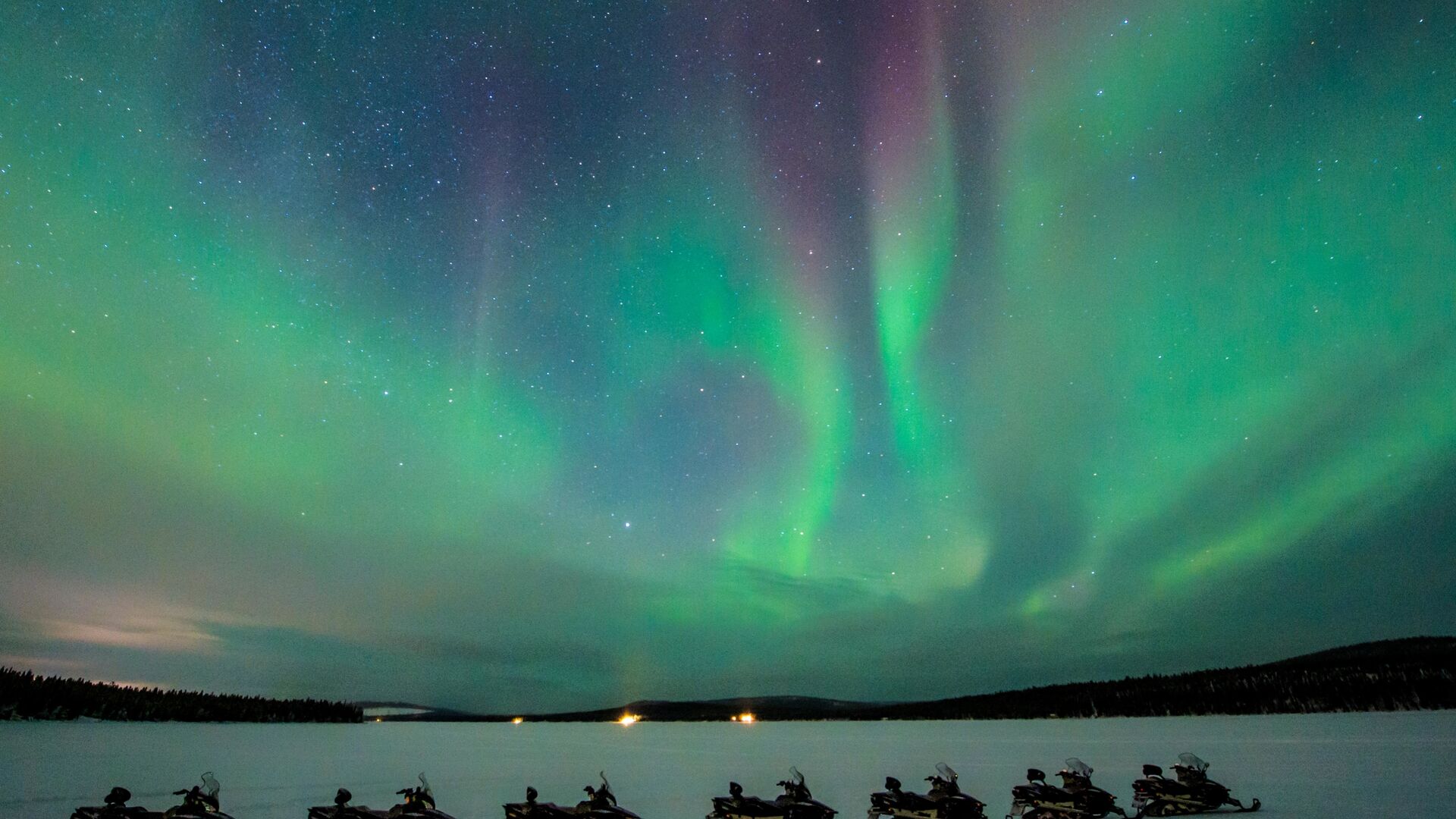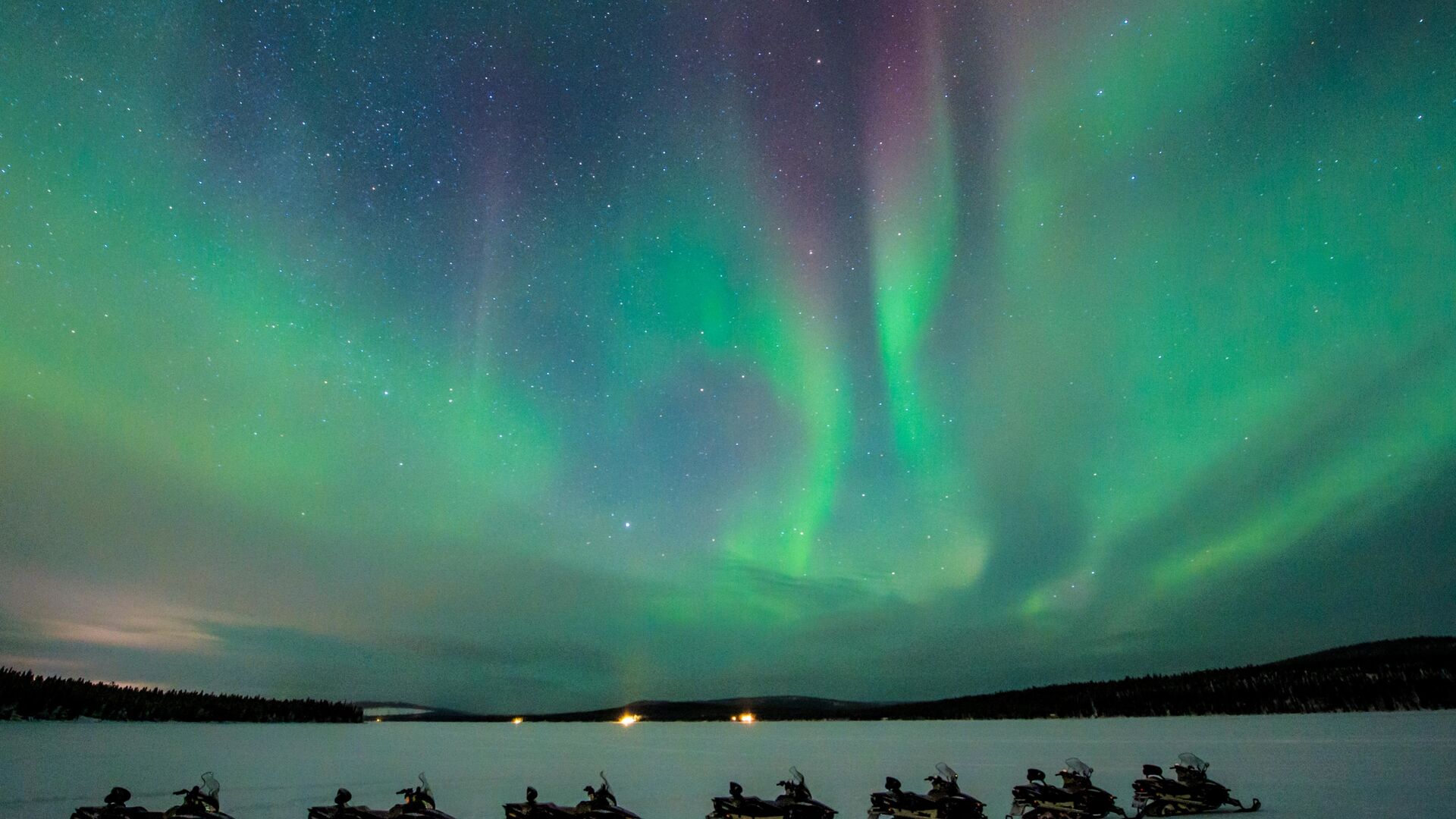 Can you see the northern lights from a glass igloo?
Absolutely, with uninterrupted views of the night sky, glass igloos are perfect for admiring the northern lights. If they appear, you can even lay back and watch them from your bed.
It's good to remember that a few conditions have to come together for the aurora to appear. To glimpse this magical sight, you'll need total darkness, high levels of solar activity, low light pollution and cloudless skies.
Plus, at most Finland igloo hotels you can request to be woken up if the northern lights show up. This means you don't need to worry about missing out if you fall asleep.
---
---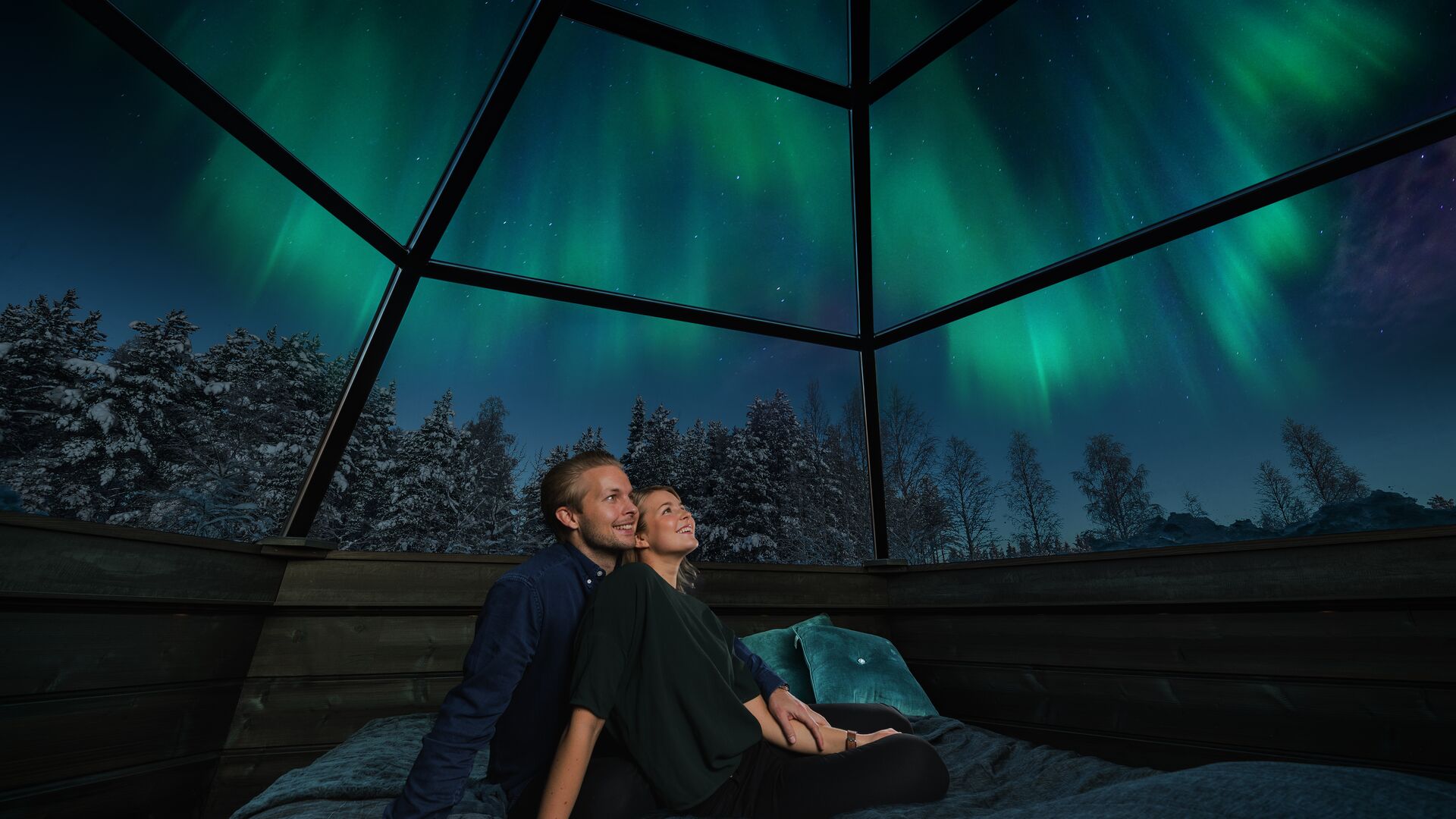 Is it cold sleeping in a glass igloo?
In Lapland, the average temperature in winter is between -7°C (19°F) and -12°C (30°F). Fortunately, your glass igloo is well-insulated and will stay toasty. In fact, you'll find the temperature inside is just like a typical hotel room.
The igloos remain cosy thanks to the heated glass roof, which also melts any new snowfall to free up your view. You can spend your evenings snug in bed, marvelling at the starry sky while looking out for the aurora.
Although log cabins are comfy places to stay, you can't look up at the sky while lying in bed. So by sleeping in a Lapland igloo hotel, you'll have more chances to spot the aurora.
---
---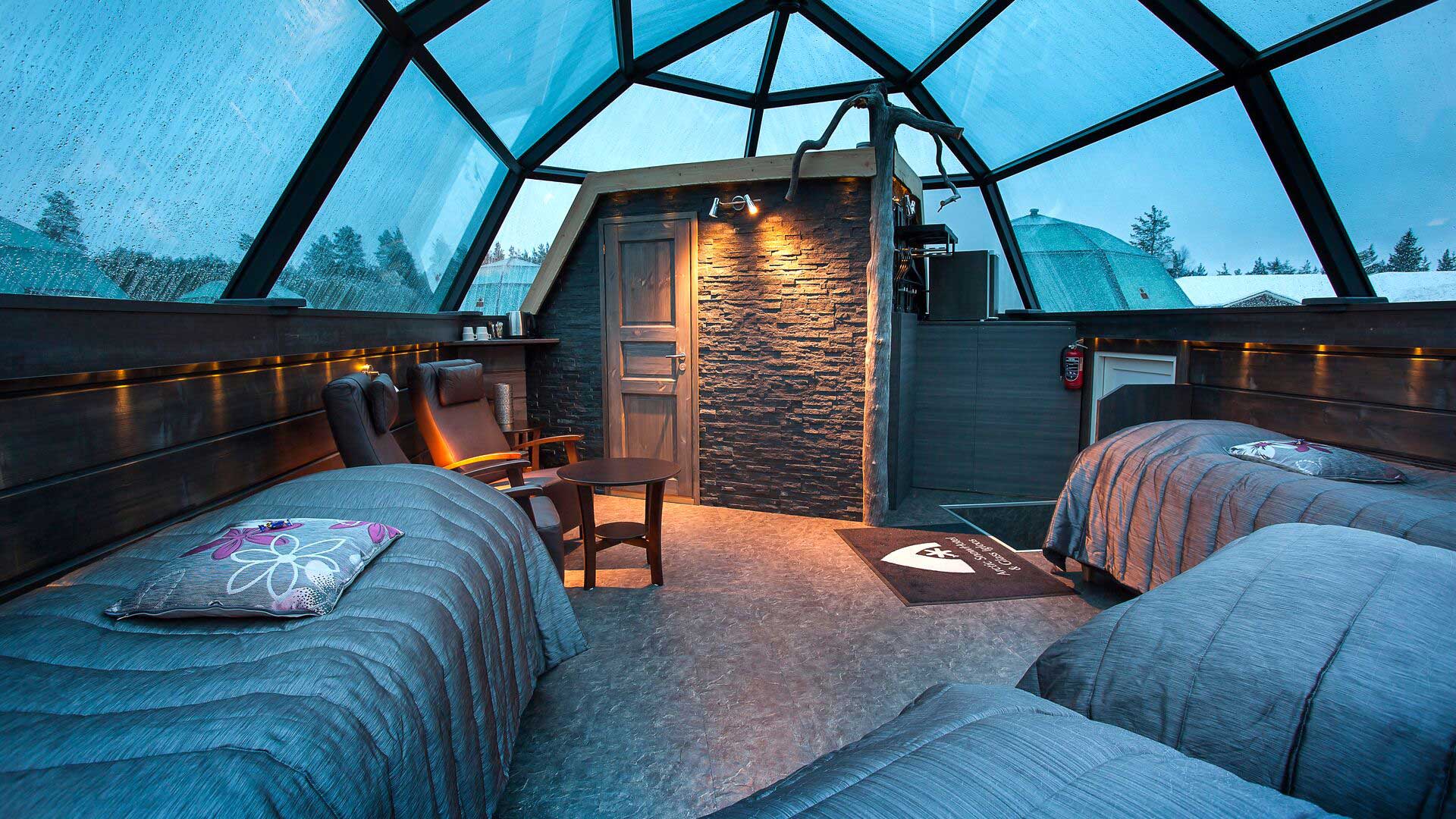 What to pack for a Lapland glass igloo trip
Lapland is located in the Arctic Circle, so it should come as no surprise that it can get chilly here during winter. But, as they say in the Nordics: "There's no such thing as bad weather, only the wrong clothing".
To get you started, here's a basic packing list for your Lapland trip:
● Winter boots with good grip
● Insulated jacket
● Waterproof jacket and trousers
● Thermal base layers
● Woollen or fleece jumpers
● Warm gloves, scarf and hat
● Thin thermal gloves
● Woollen socks
● Small backpack or day bag
● Sunglasses
● Camera with an extra battery pack and a tripod
● Heat pads to put in your gloves or boots when out on activities
Things to do on a glass igloo trip
You'll never be short of activities to try when you visit Lapland in winter. In one day you could head out on a reindeer-led sleigh ride before sampling the local sauna culture.
However you choose to experience Arctic Finland, you'll be immersed in breathtaking natural beauty. Keep reading to discover the top things to do on your glass igloo trip.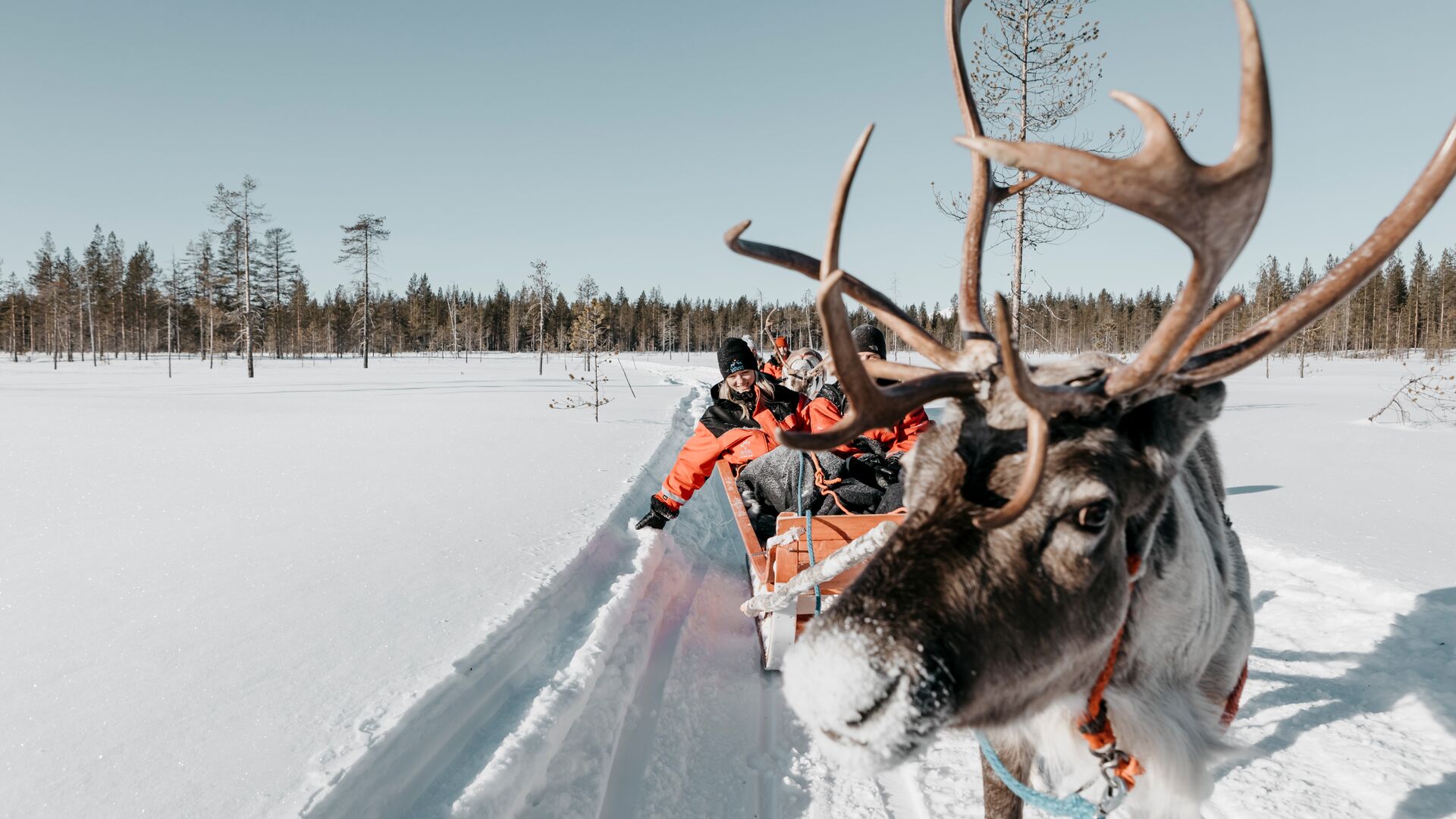 1. Learn how to drive a dog sled
Get in touch with Arctic tradition, and join a dog sledding excursion along snowy forest tracks. An energetic and friendly pack of huskies will be waiting at the kennel to whisk you off on an adventure.
A guide will teach you everything you need to know, including how to "mush" like a pro. And you'll even get the chance to drive your own sled. With a knowledgeable guide and your pack of huskies leading the way, you can relax and enjoy gliding through the snowy forest.
---
---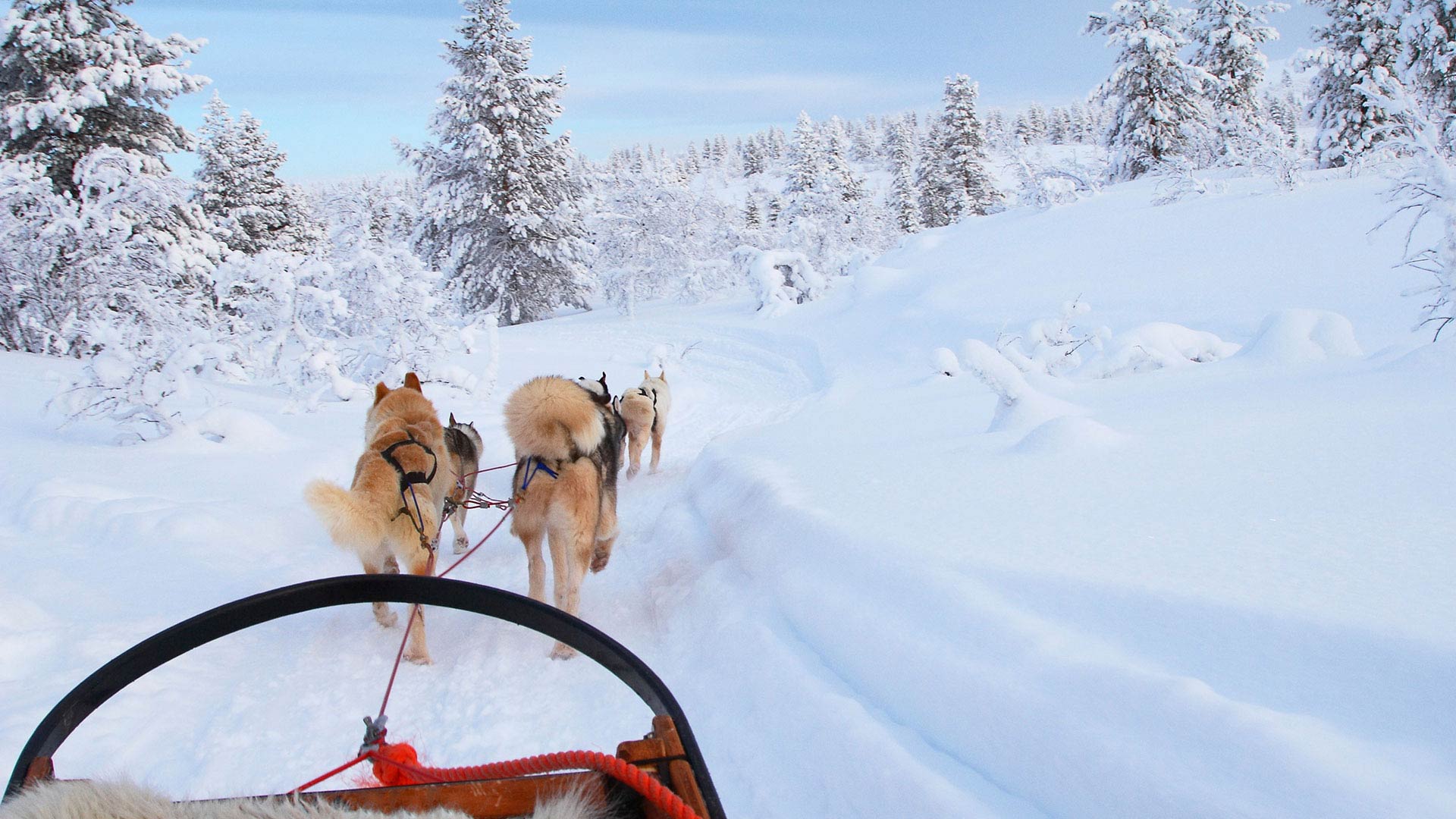 2. Chase the northern lights
Imagine gazing up at a dazzling display of the northern lights from your glass igloo or spotting them while you're out exploring.
Although the northern lights occur all year round, you'll only be able to see them when it's dark outside. And thanks to Lapland's northern latitude the winter nights are long. This gives you even more chances to catch a glimpse of this natural phenomenon.
Of course, you'll also need clear skies to see the aurora borealis. So on a cloudless night, make sure to keep a lookout for this unforgettable sight.
---
---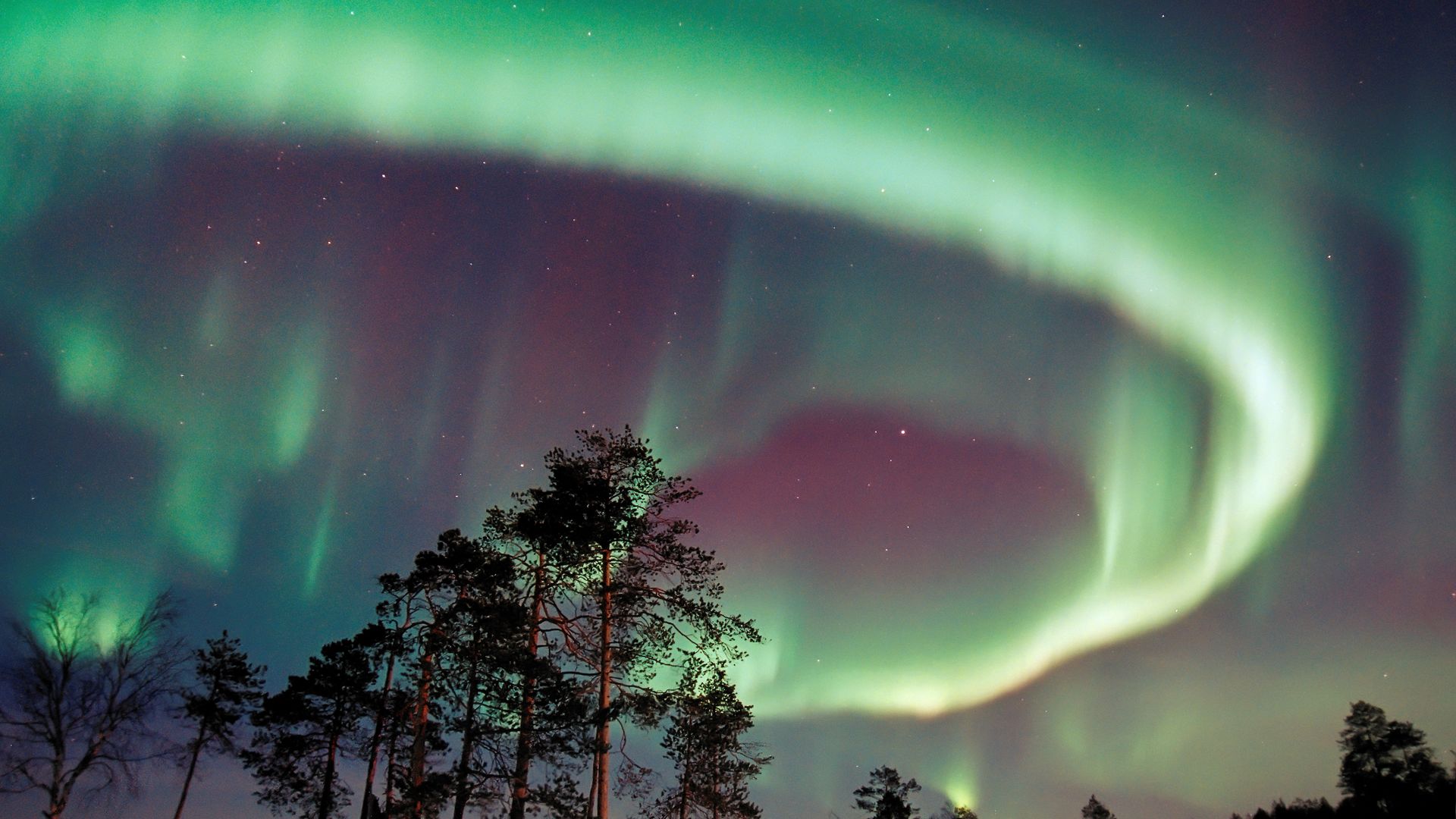 3. Relax in a sauna or jacuzzi
With one sauna for every 1.5 people, you'll find that the Finns take their spa and wellness traditions seriously. So why not soak up a slice of Nordic culture by adding a sauna session to your glass igloo trip?
Here men and women often use separate saunas. But you can book a private sauna if you want to unwind with your travel companions.
You could take things to the next level and recharge in a snow sauna made from ice. Afterwards, relax in an outdoor hot tub and enjoy the contrast of the invigorating Arctic air with the bubbling warm water on your skin.
---
---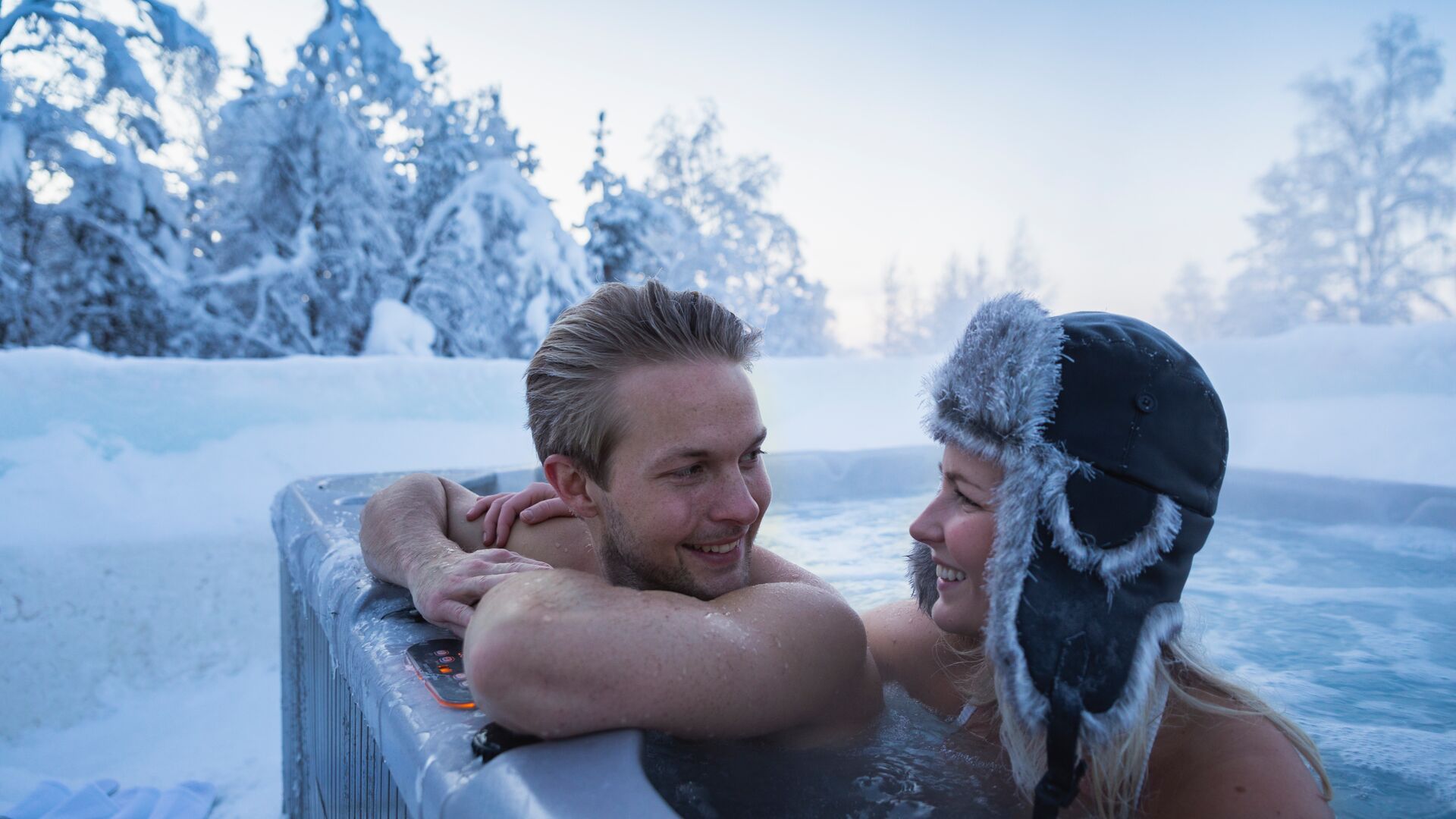 4. Ride a snowmobile
Picture yourself taking to the trails on an exhilarating snowmobile ride. Soon you could be gliding through snow-dusted forests and over frozen lakes.
Plus, a certified guide will join you on the journey and teach you how to ride your snowmobile in no time. Whether you drive or ride as a passenger, you're in for a fun outing in this winter wonderland.
---
---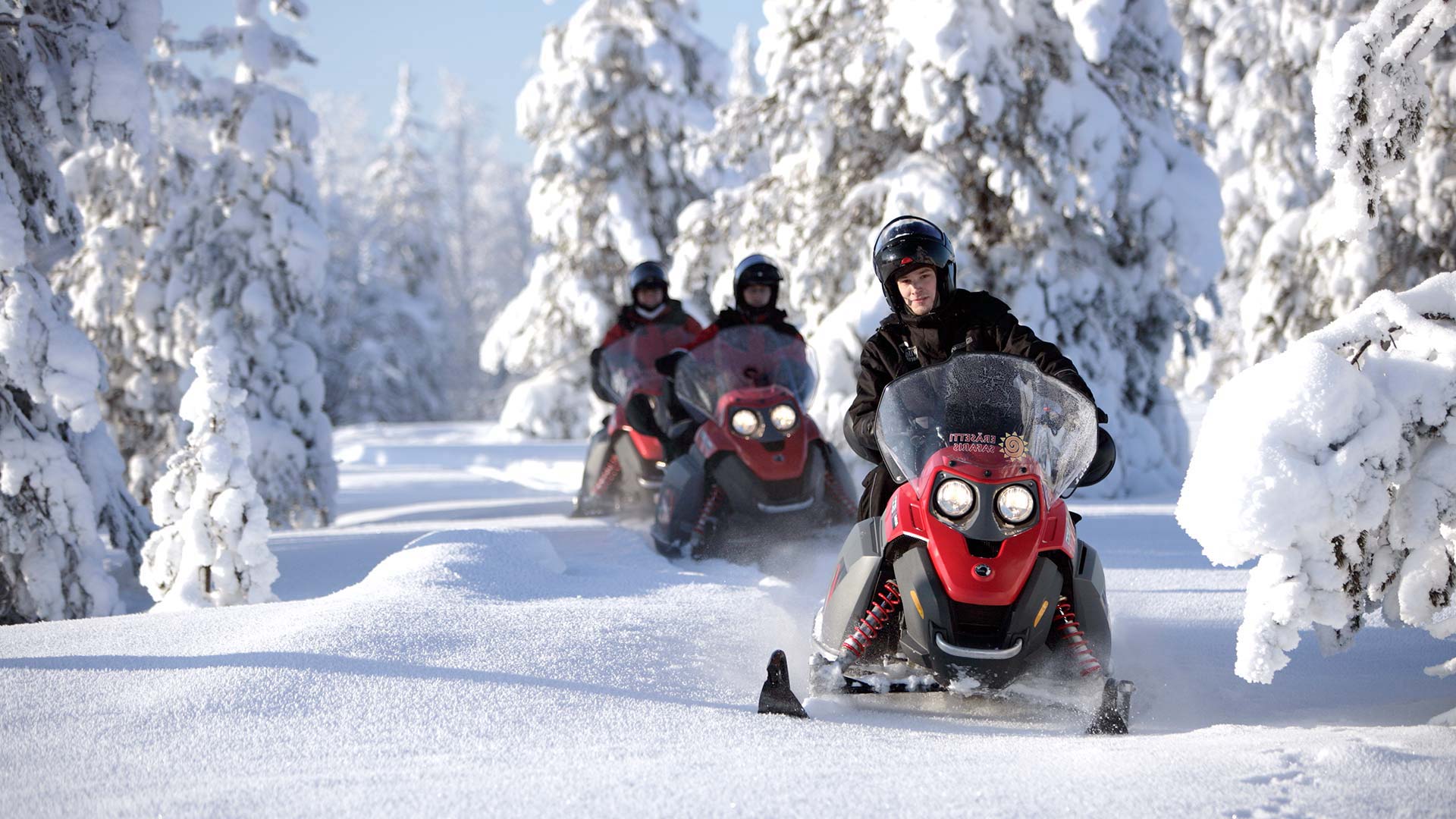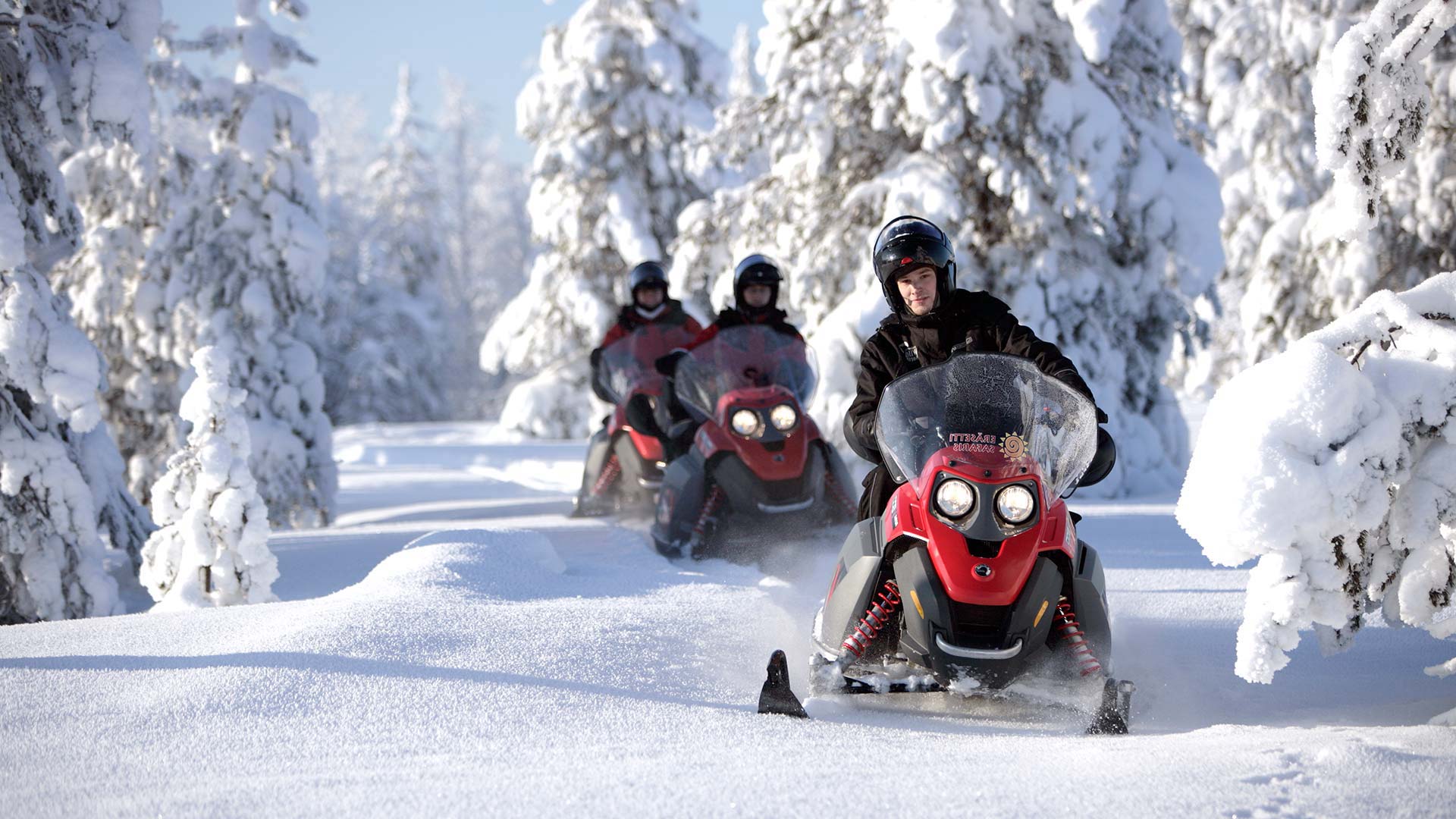 5. Explore Santa Claus Village
Make your childhood fantasies come true when you visit Santa Claus Village in Rovaniemi. This is the official North Pole Residence of Father Christmas.
Not only can you tour Santa's workshop, but you'll get to meet the man himself. Plus, you'll be greeted by his elves and reindeer.
You can also experience a reindeer farm and learn about the local Sámi people who rely on these impressive animals for their livelihood. Then, you could ride off through the snow in a reindeer-led sleigh.
---
---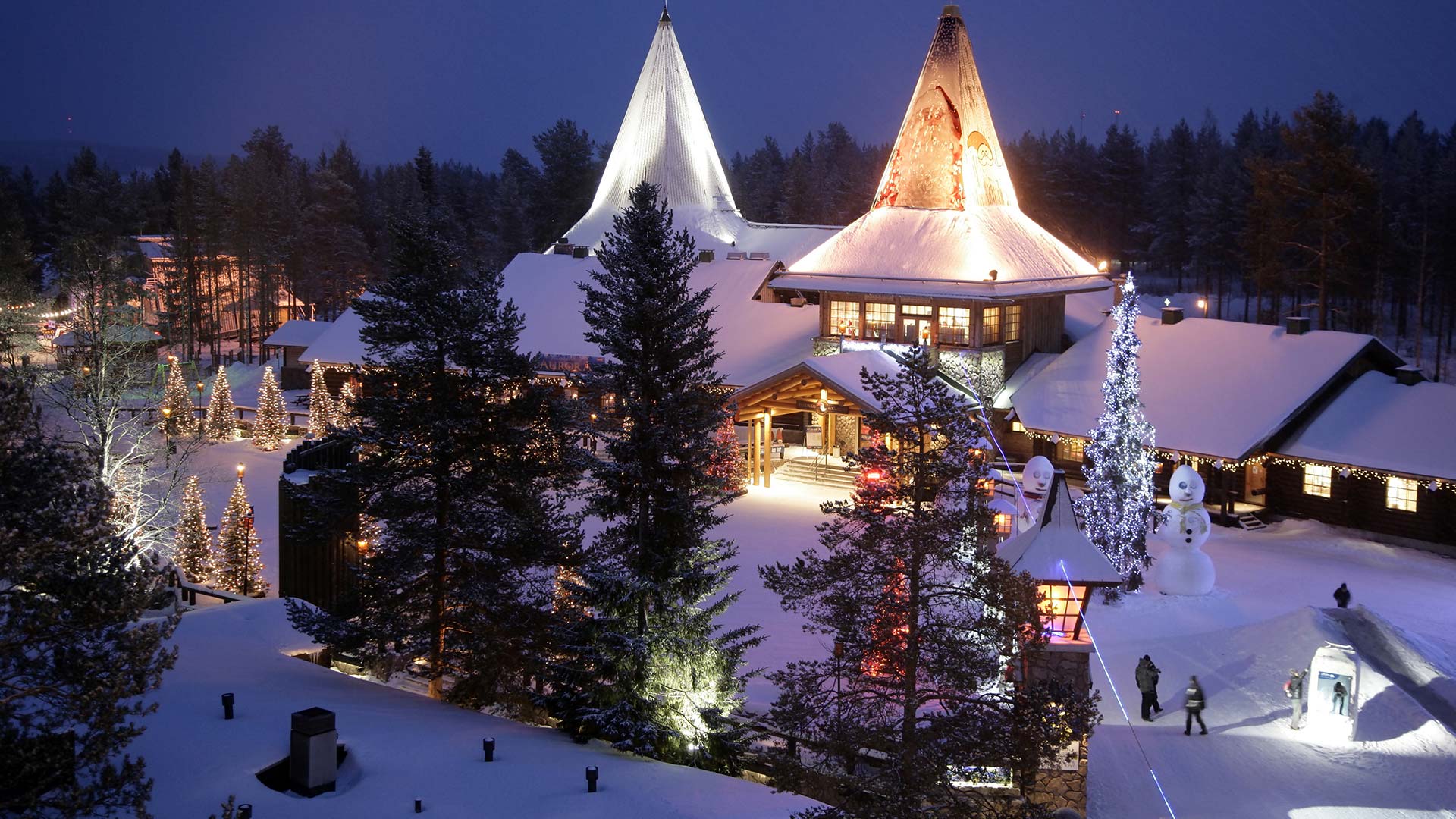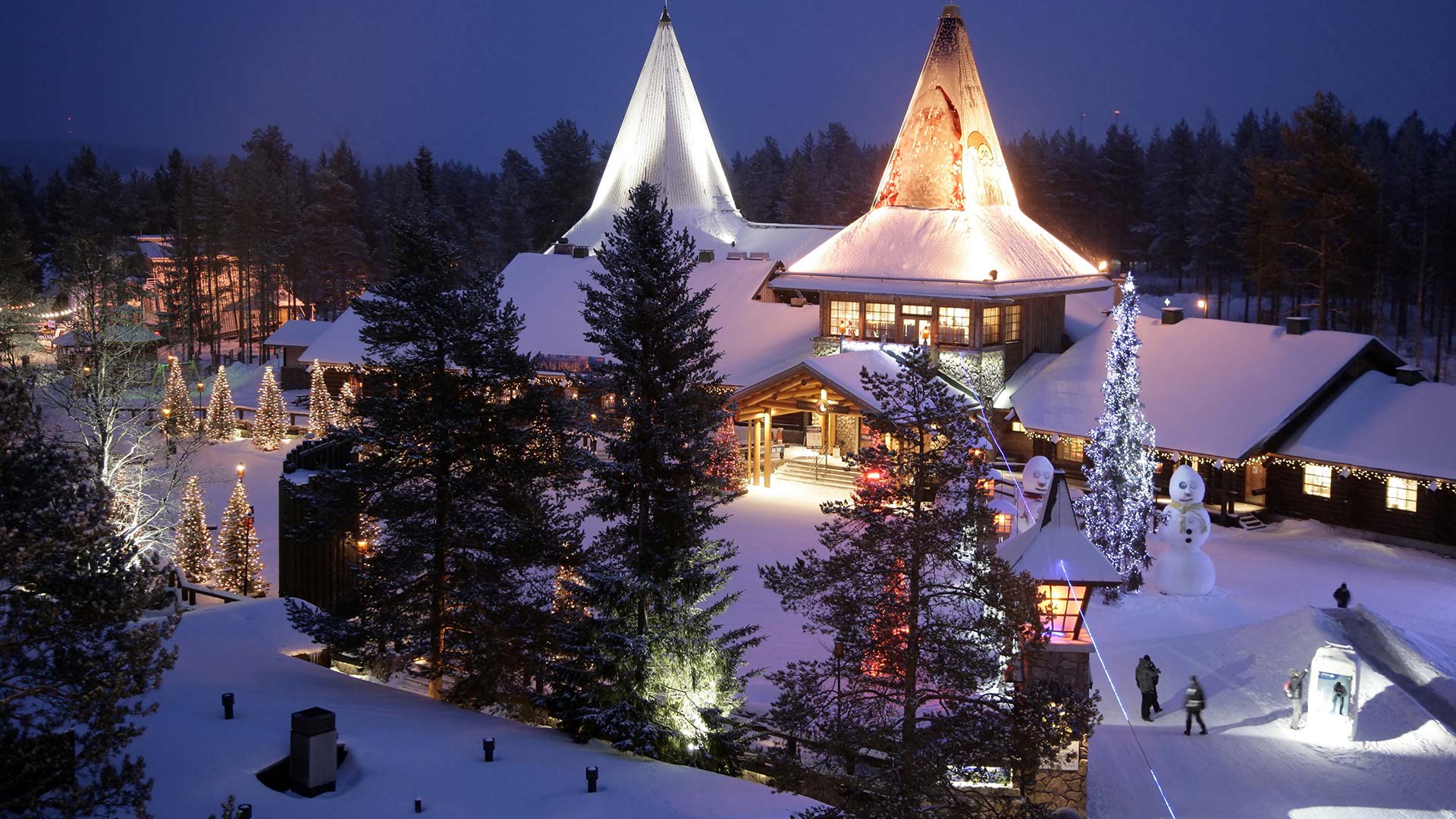 6. Try your hand at ice fishing
Live and dine like a local when you join an ice fishing excursion on a frozen lake in Lapland. Venture into the countryside on snowmobiles with an experienced guide and try your luck fishing beneath the thick Arctic ice.
Afterwards, your guide will cook the catch of the day around a campfire. You'll soon have a real appreciation for the Sámi people who have fed themselves this way for centuries.
---
---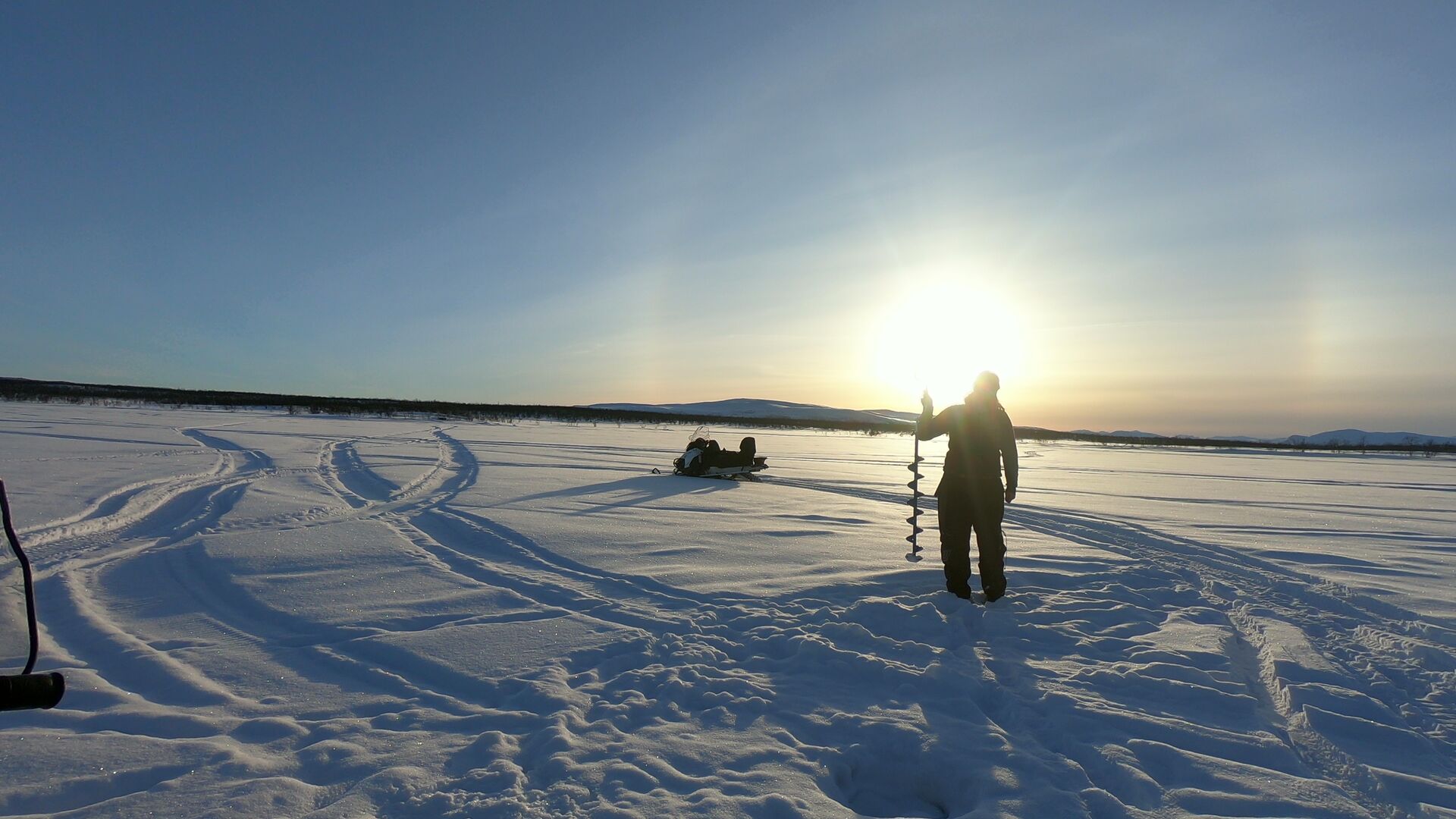 Enjoy a Finland glass igloo stay
With a world of winter magic waiting for you in Finnish Lapland, now's the time to start planning your glass igloo adventure.
Aside from tranquil forests, and the northern lights, Lapland has plenty of exciting activities that will make your trip unforgettable. And whether you're seeking a family-friendly Christmas trip or a romantic getaway, Nordic Visitor has Lapland packages to suit you.
Choose one of these glass igloo trips in Finland and you'll enjoy a combination of guided excursions while having time to yourself. Our regional travel experts have stayed in the glass igloos themselves and know how to craft your perfect trip.
What are you waiting for? Get in touch with us and a dedicated travel consultant will plan your dreamy glass igloo Finland experience.