Lapland is an enchanting winter wonderland waiting to draw you in with its sparkling white landscapes, cosy log cabins, and thrilling adventures in the snow.
Whether you're planning your dream winter escape or need inspiration for your travel wish list, you've come to the right place. Read on for insider tips and ideas on the best Lapland holidays for you.
While it may be the home of Santa Claus Village, the "Man in Red" is certainly not the only attraction. In fact, there's plenty to see and do that'll delight kids and grown-ups alike.
So as well as immersing yourself in the magic of Christmas all winter long, what else can you do on a getaway to Lapland? For starters, picture yourself chasing the northern lights, sleeping in a dazzling ice hotel, and exploring snow-dusted forests. Scroll down to find out more.
---
---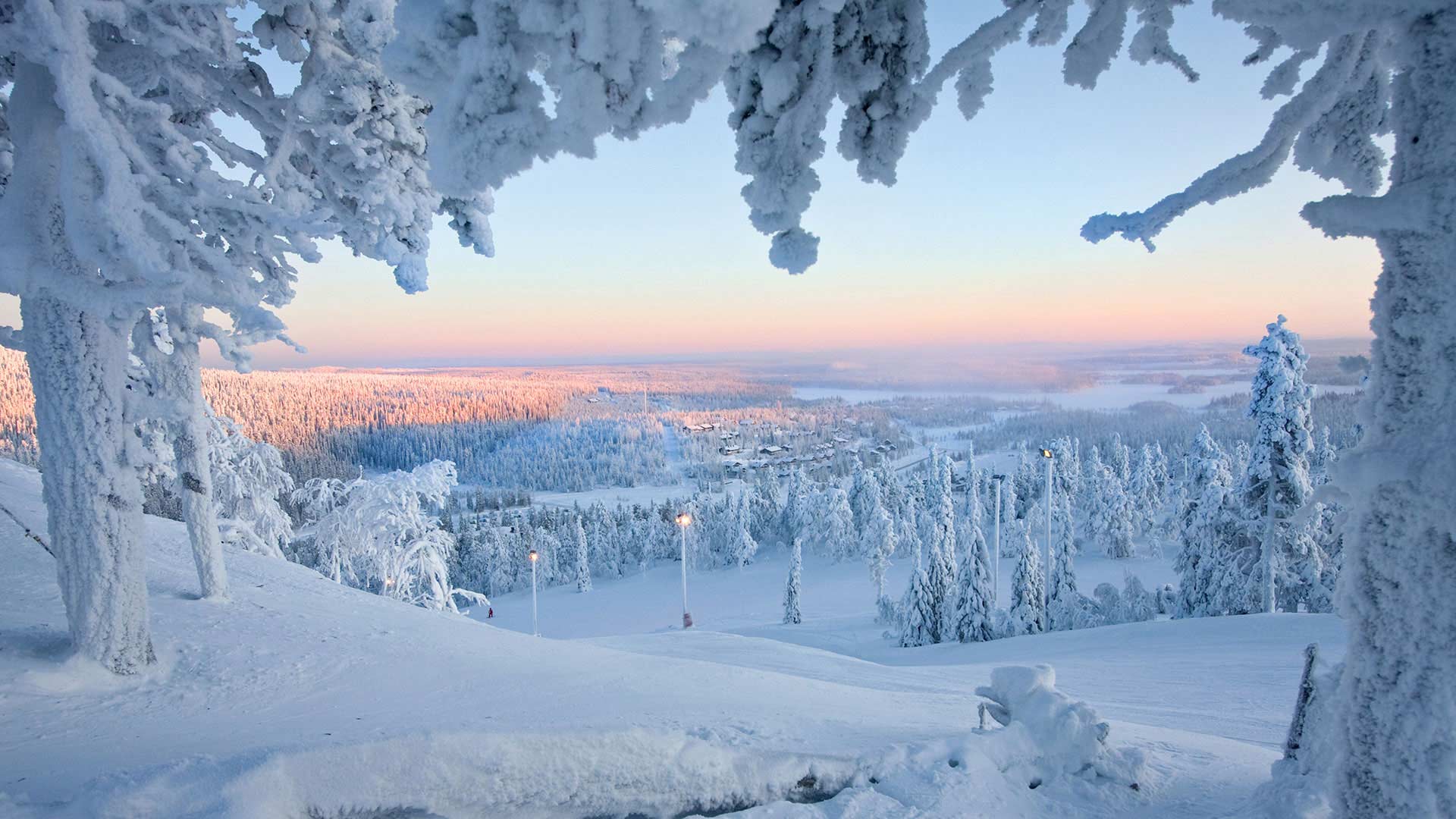 Where is Lapland?
The region of Lapland spans the northerly reaches of Sweden and Finland, along with small areas of Norway and Russia. Sometimes known as the "Land of the Midnight Sun", you'll find that much of this pristine landscape lies with the Arctic Circle.
You may already know that Lapland's lofty position near the top of the Earth means it overlaps with the "northern lights belt". Also referred to as the "aurora zone", this band encircles the Earth at latitudes of 65-72°N.
In this region, the conditions are just right for you to spot the aurora borealis, which can be seen here at their greatest intensity and frequency. So travel to Lapland in winter and you could be lucky enough to witness the spectacle of the northern lights.
Please do keep in mind that the aurora are a natural phenomenon, so sightings aren't guaranteed.
---
---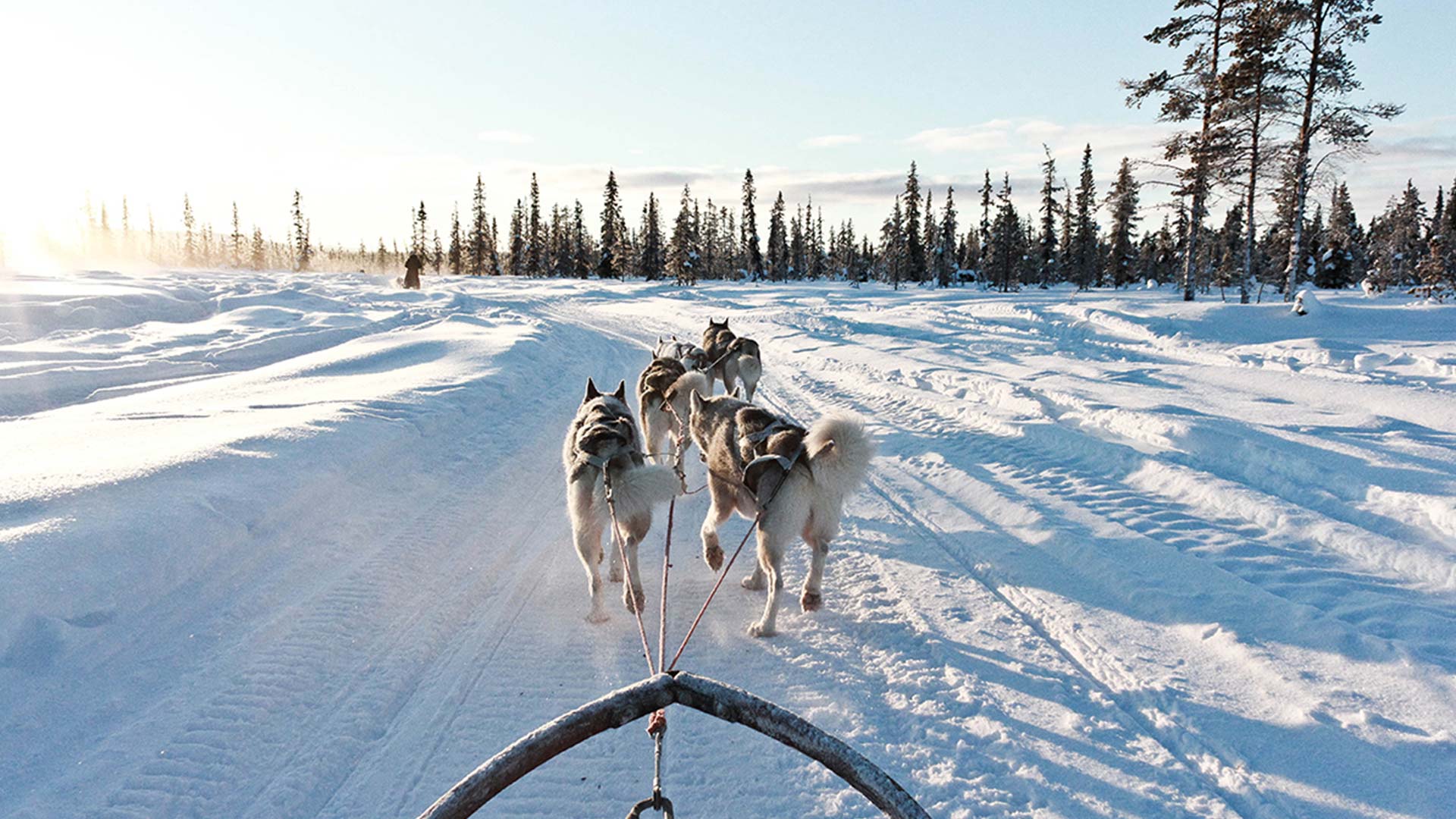 When to go?
The winter months – December, January, February and March – are undoubtedly the best time to visit Swedish and Finnish Lapland.
No matter when you choose to travel between December and March, you'll experience the ultimate in festive fun. As well as revelling in the local Christmas celebrations, you can also make the most of a variety of activities in the snow.
If you'd like to visit Lapland at Christmas or New Year it's worth making arrangements well in advance, as this is a popular time of year. On the other hand, if you're seeking a more peaceful experience then January to March is a better time to travel.
Throughout the winter season the weather in Lapland is undeniably nippy (it is in the Arctic Circle after all!), so you'll need to wrap up warm. But knowing there's a cosy retreat waiting for you at the end of each day will surely banish any chill. And, on most outdoor excursions you'll be given thermal gear to borrow.
Plus, as we mentioned before, this time of year brings the most promising conditions for seeing the northern lights.
---
---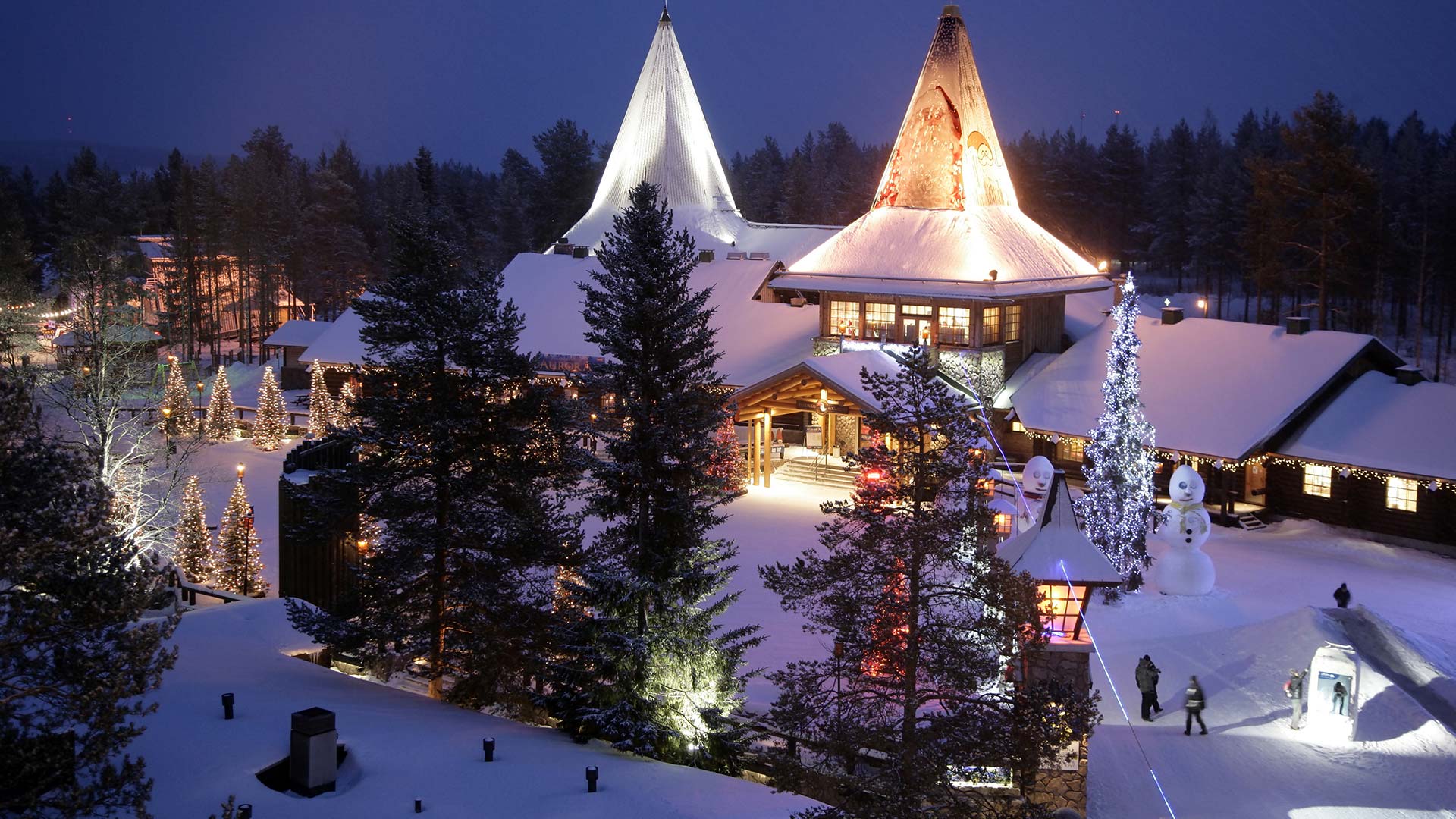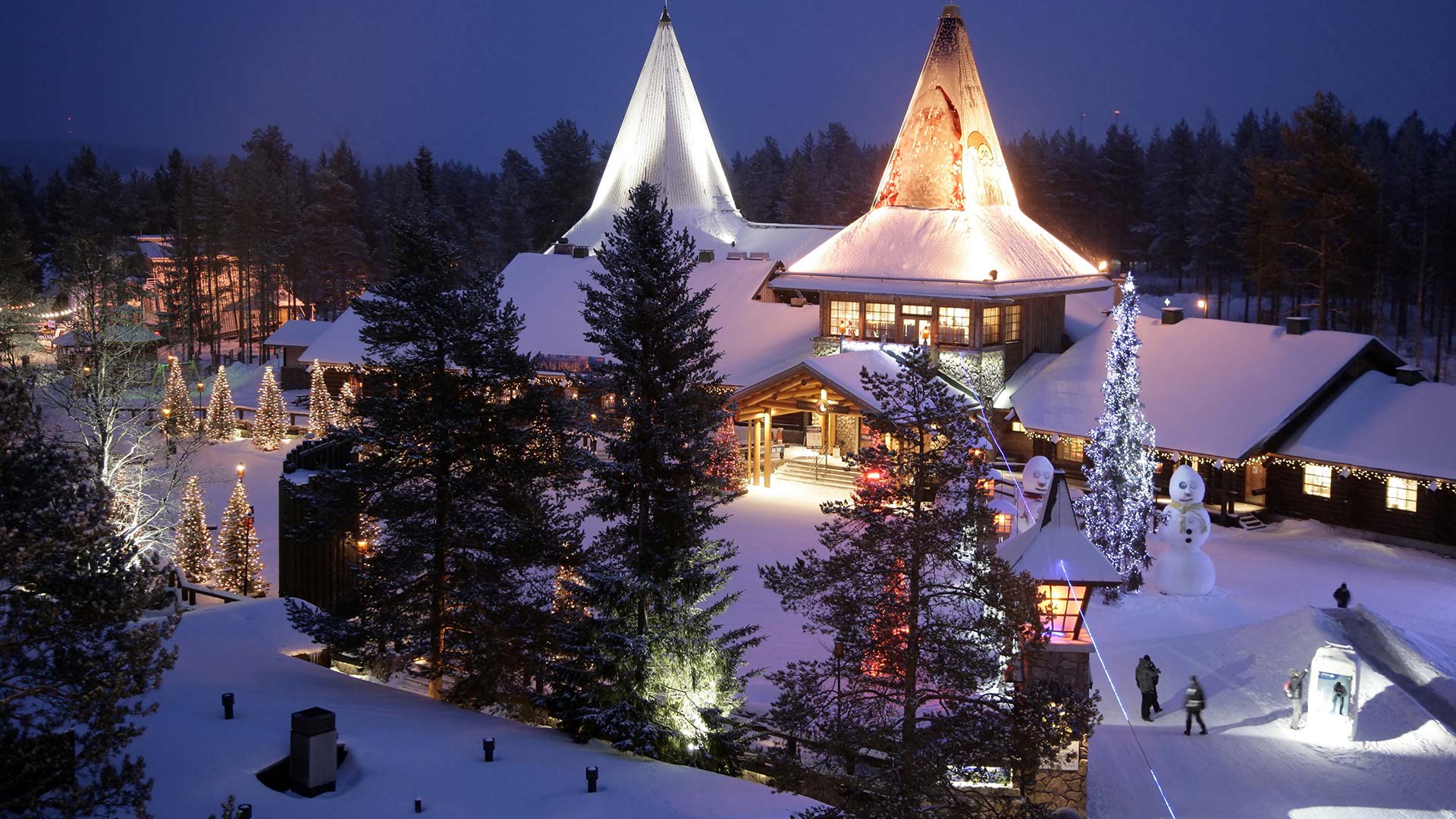 Santa Claus Village, Rovaniemi ©Visit Rovaniemi
Who goes on Lapland trips?
The first things that come to mind when you think about Santa's homeland may be Lapland family trips and kid-friendly fun. And although the chance to meet Santa is high on the list of many travellers, the region's beautiful landscapes hold other possibilities.
For instance, Lapland is also ideal if you're looking for an action-packed winter escape or a romantic trip for two.
Happily, there's also a choice of places to stay in Lapland. You could cosy up in a private family lodge, sleep in a glistening ice hotel, or rest your head in a glass igloo looking up at the northern lights.
---
---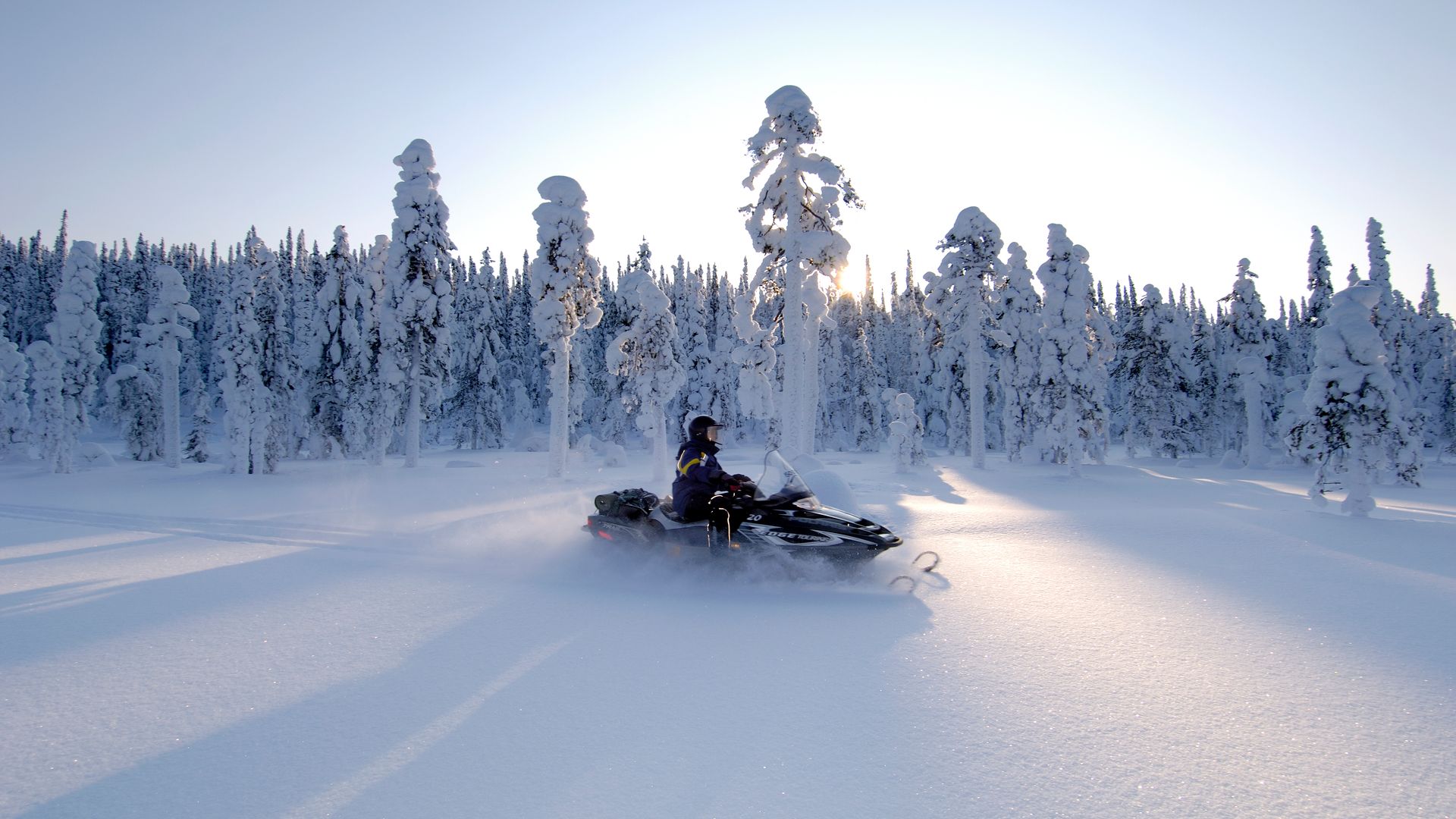 The best trips to Lapland
Now you know there's something for everyone in Lapland, it's time to discover what the best Lapland package holidays are for you. Scroll on to find out the various ways that you can enjoy enchanting Lapland.
1. Festive breaks for kids and grown-ups
Head to Lapland anytime from December to March and you'll be swept off your feet by the region's abundance of Yuletide fun. This means that you don't need to visit at Christmastime for an unapologetic helping of festive cheer.
Whenever you choose to travel, you'll have the opportunity of experiencing Christmas traditions in the Nordics. For example, you could listen to tales from Finnish folklore, celebrate St Lucia's festival of light in Sweden, and sample the local Christmas cuisine.
All sorts of festive fun is waiting for you in Lapland. These are some of the top experiences that you can have:
And remember, you don't need to be visiting with kids to have a memorable Christmas getaway in this captivating winter wonderland. Lapland is the perfect destination for couples, grown-up families, and groups of friends, as well as little ones.
---
---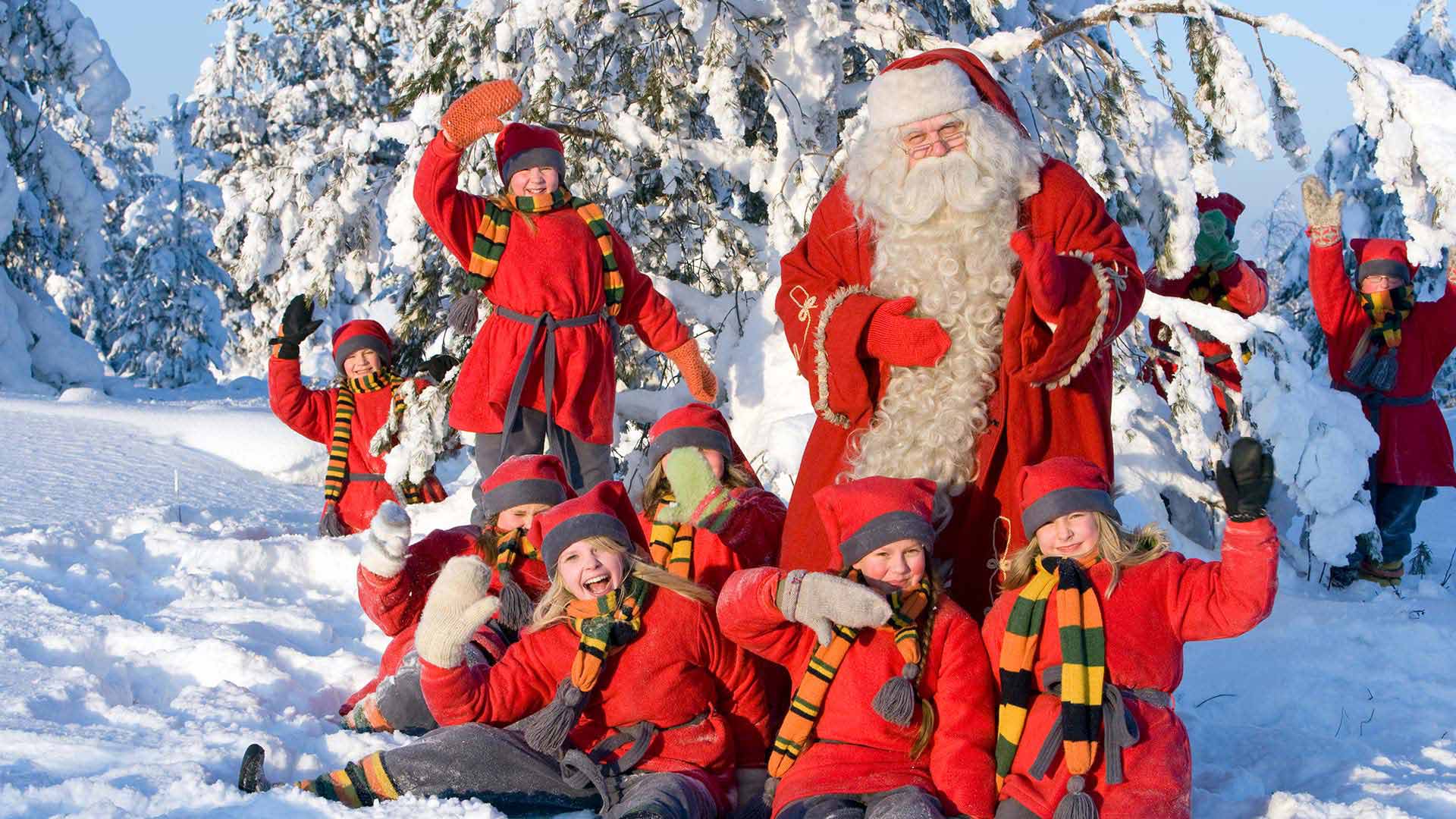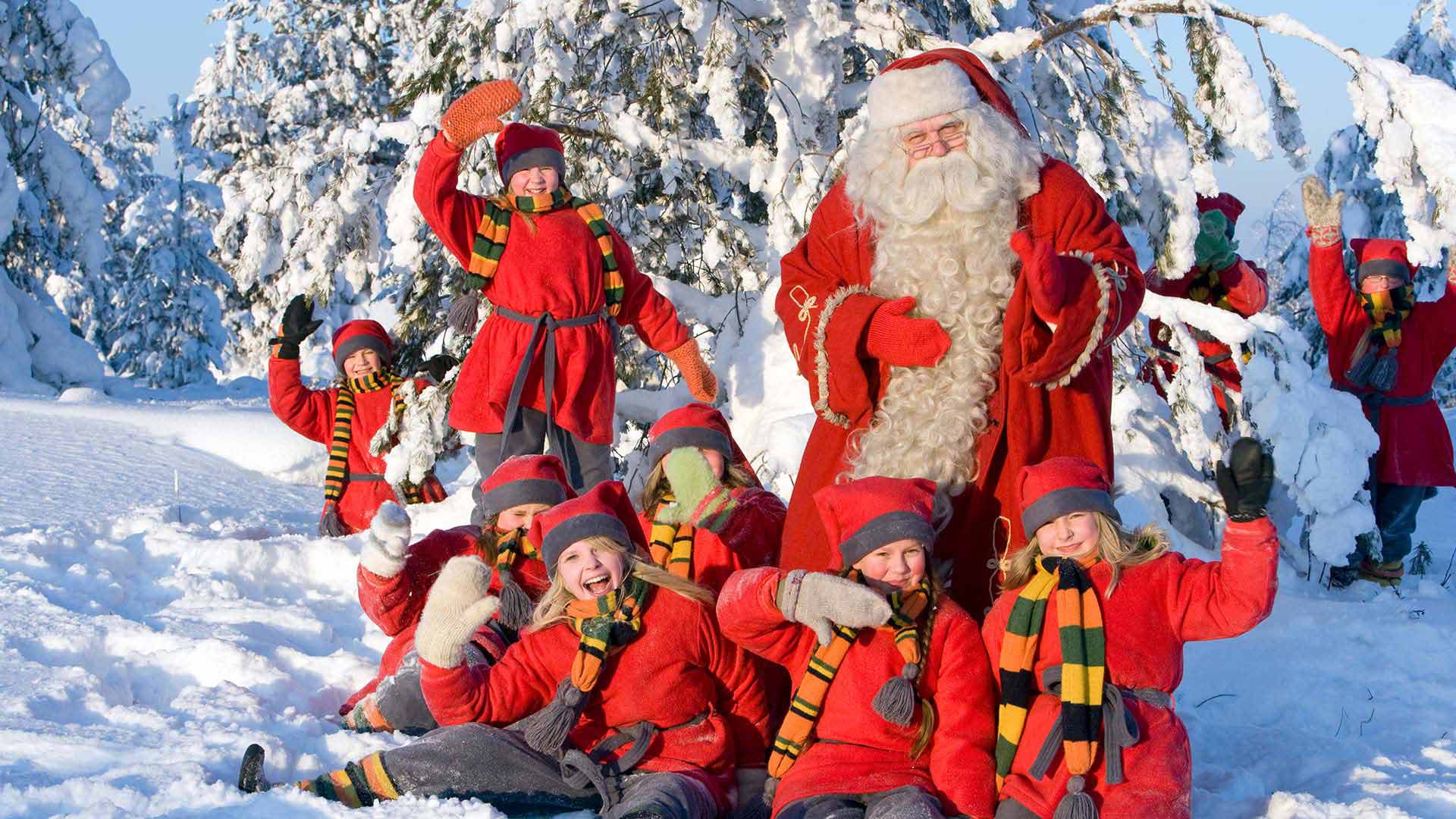 Santa and his elves in Rovaniemi ©Visit Rovaniemi
2. Northern lights tours
Is seeing the northern lights on your travel wish list? If so, then a winter break in Lapland could be the answer to ticking off this unforgettable experience.
Although the aurora borealis occurs all year round, they are only visible during the hours of darkness. Because of its northerly latitude, Lapland's winter nights are long, which makes this the time of year that you're most likely to see the northern lights.
So visit from December to March when the dark nights and snow-covered countryside form the perfect backdrop for chasing the aurora borealis.
Another bonus of seeking the northern lights in Lapland? As the scenery here is remote, there is low light pollution which makes the colours of the aurora appear to be even more striking.
Top tip: Set up alerts on your smartphone from aurora forecast websites and apps in the area that you're visiting.
These are some of the best ways that you can appreciate this natural phenomenon:
---
---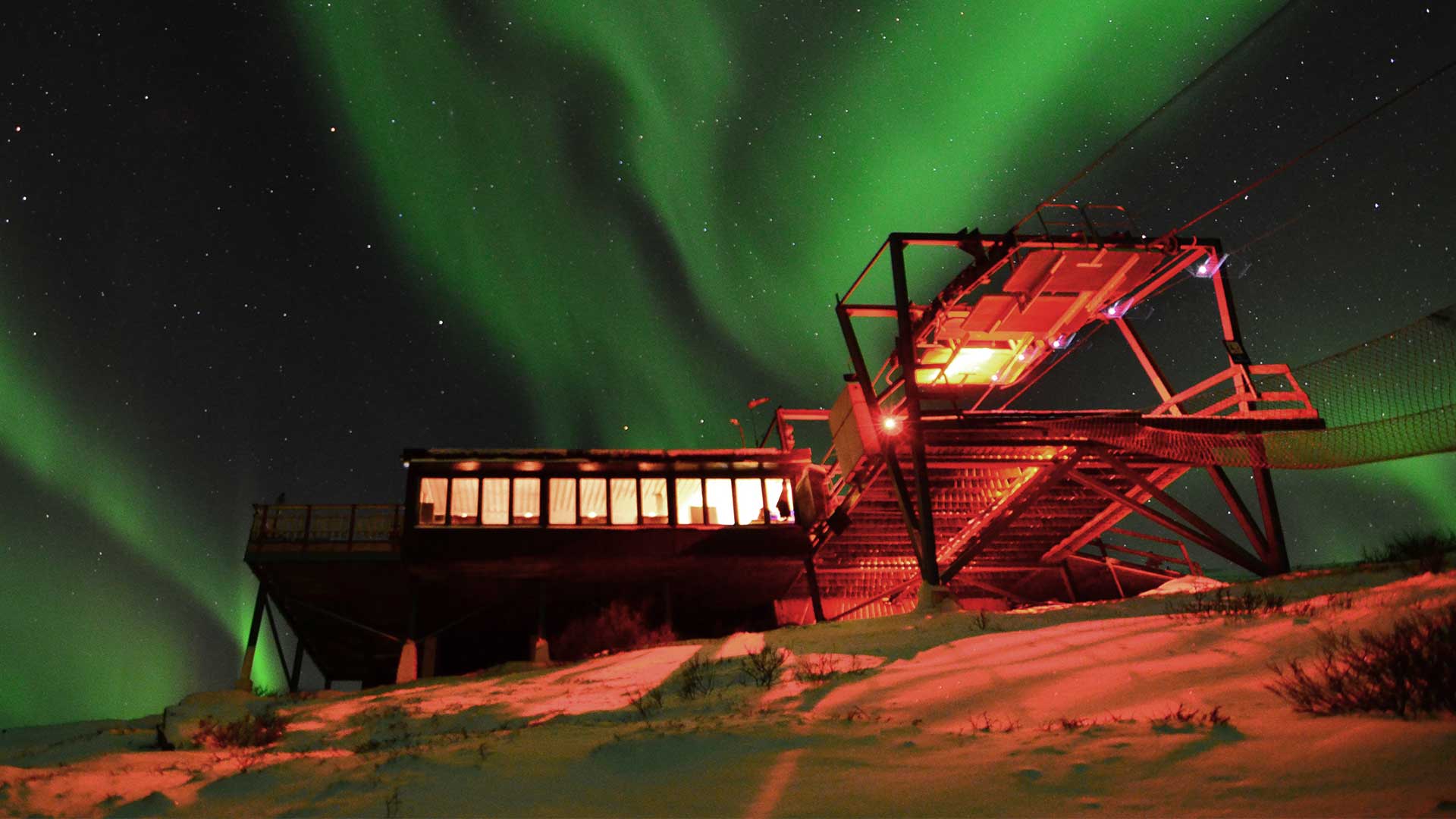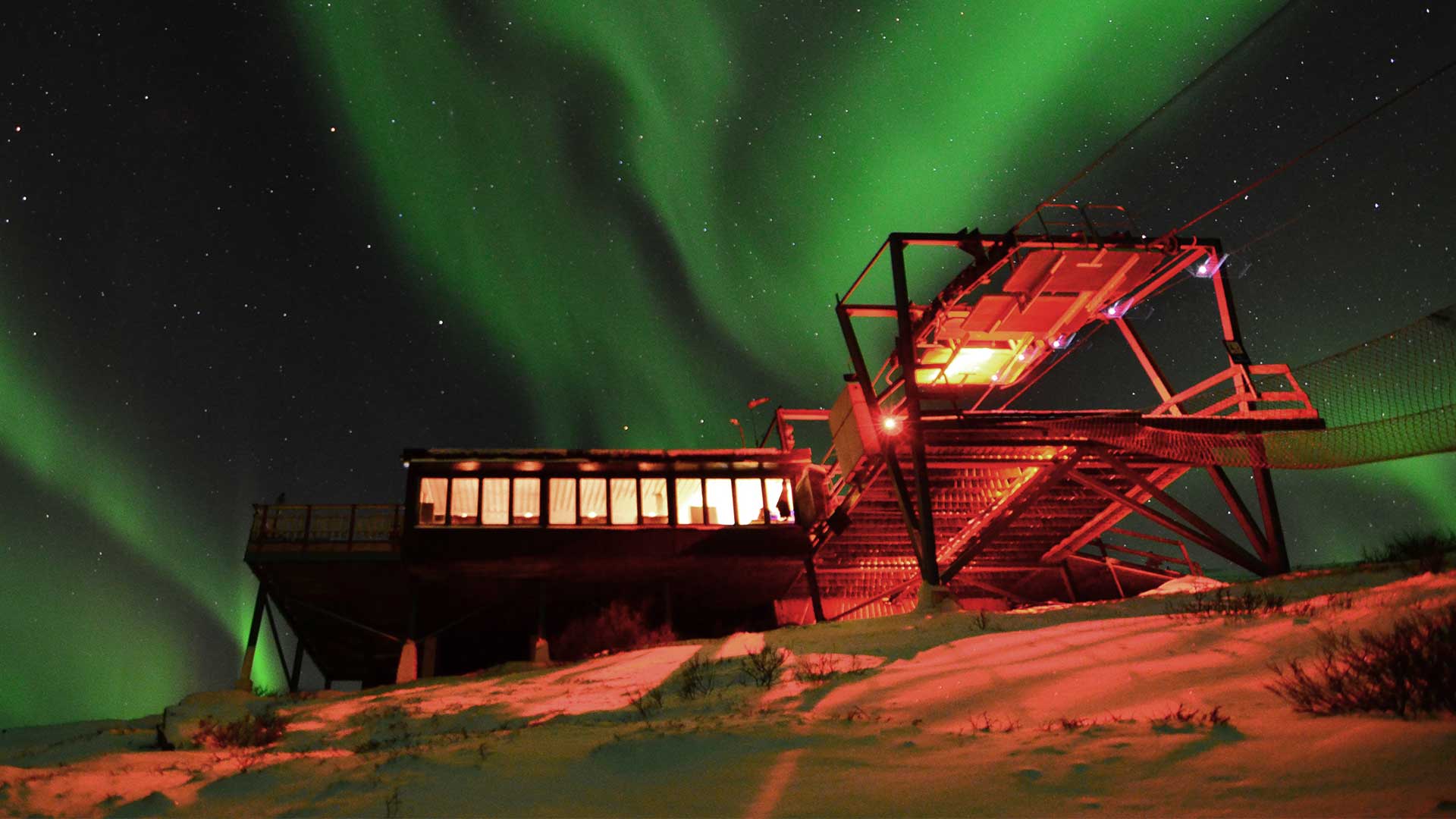 Aurora Sky Station, Abisko ©Chad Blakley
3. Active getaways
When you leave Lapland's charming villages and the twinkling town lights behind, you'll find vast, boreal forests dotted with frozen lakes.
This winter playground is a dream come true if you love being out and about in the snow. Indeed, you can explore your stunning surroundings by including a variety of exciting winter excursions in your trip.
Does indulging your adventurous side sound appealing? Whether you're looking for an exhilarating or easygoing excursion, you'll find something that's right for you. We recommend trying a few of these activities during your visit:
---
---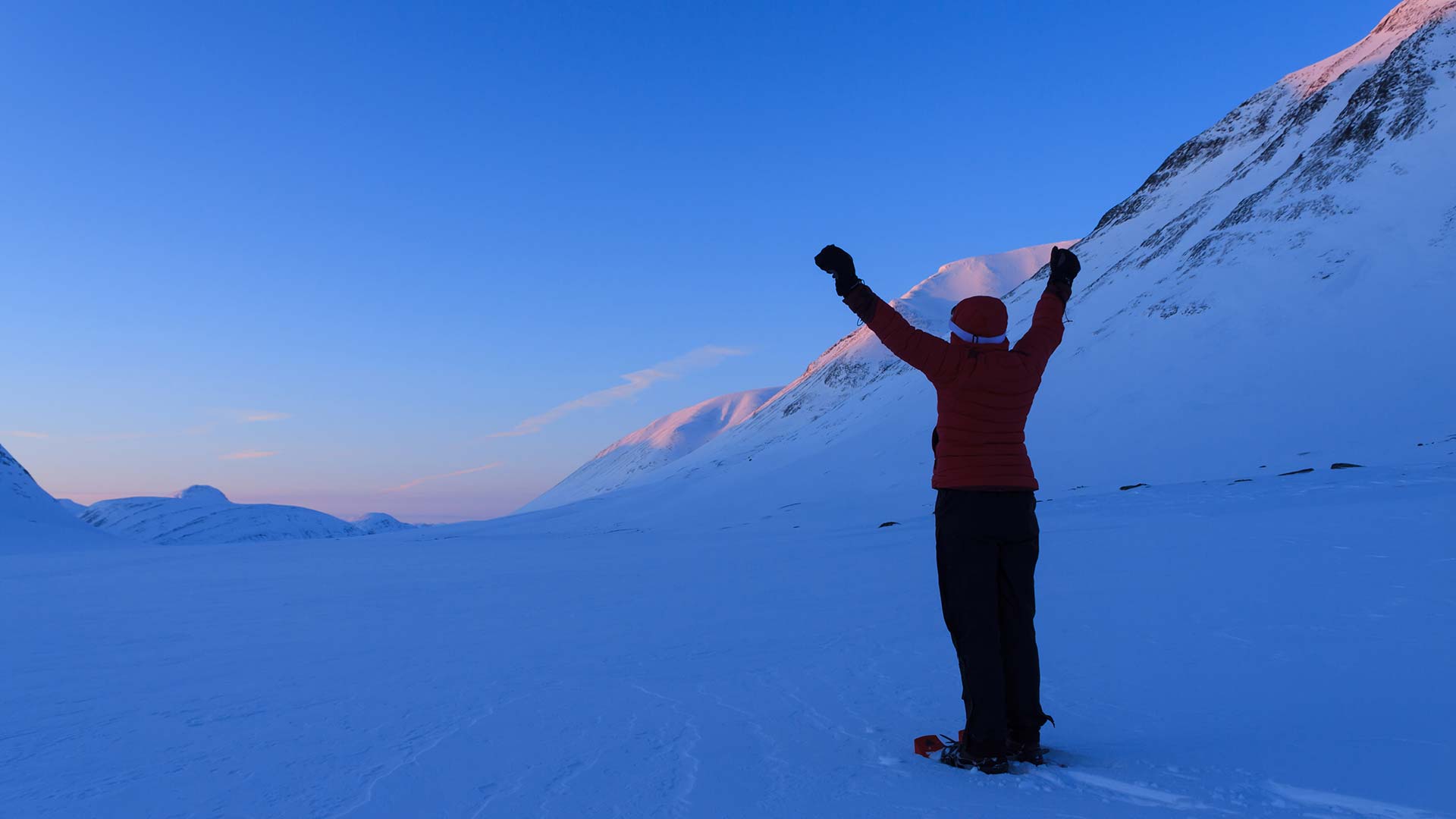 4. Romantic escapes
It's not all about fast-paced outdoor pursuits though. You can also savour a more leisurely winter retreat for two.
Why not relish the simple joy of unwinding with these Nordic spa and wellness traditions? Or add a winter activity, or two, to your trip. For instance, imagine weaving your way between powder-laden trees on a snowshoe hike together.
These are some of our favourite things to do on a romantic trip to Lapland:
---
---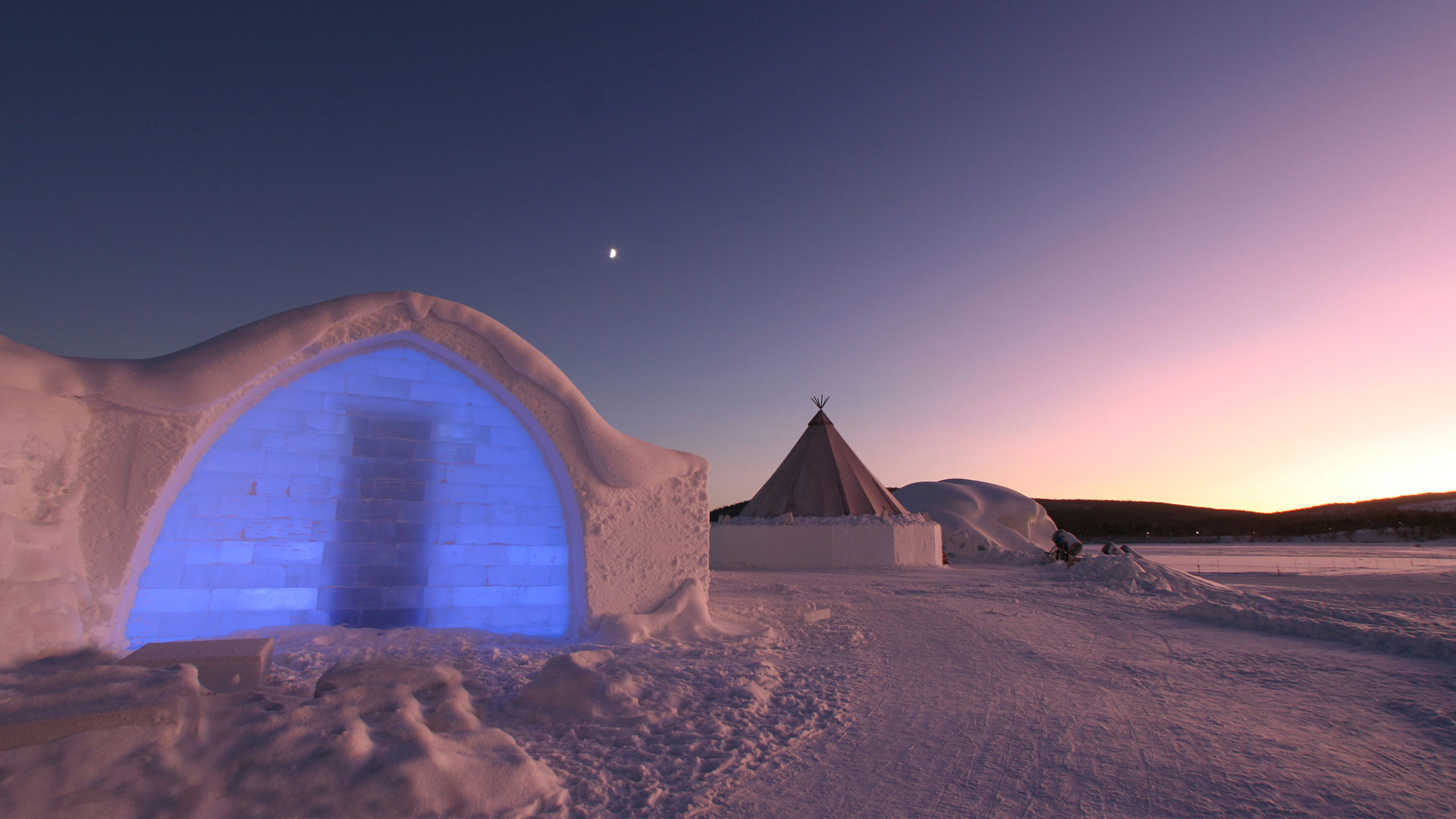 5. Ice hotel stays
Lapland is home to a handful of snow and ice hotels. Each has its own character and is reimagined each year by teams of skilled builders and artists.
If you're tempted by the thought of cocooning yourself in blankets and soaking up your mesmerising surroundings, then this is for you. Here's a round-up of the best ice and snow hotels in Lapland:
Although spending the night in an ice hotel is definitely a "cool" experience, it isn't for everyone. If you can relate to this, it doesn't mean you have to miss out on visiting an ice hotel.
Thankfully, many of these extraordinary hotels offer tours. So, you'll be able to spend time admiring their icy splendour on a day trip before returning to your warm accommodation.
---
---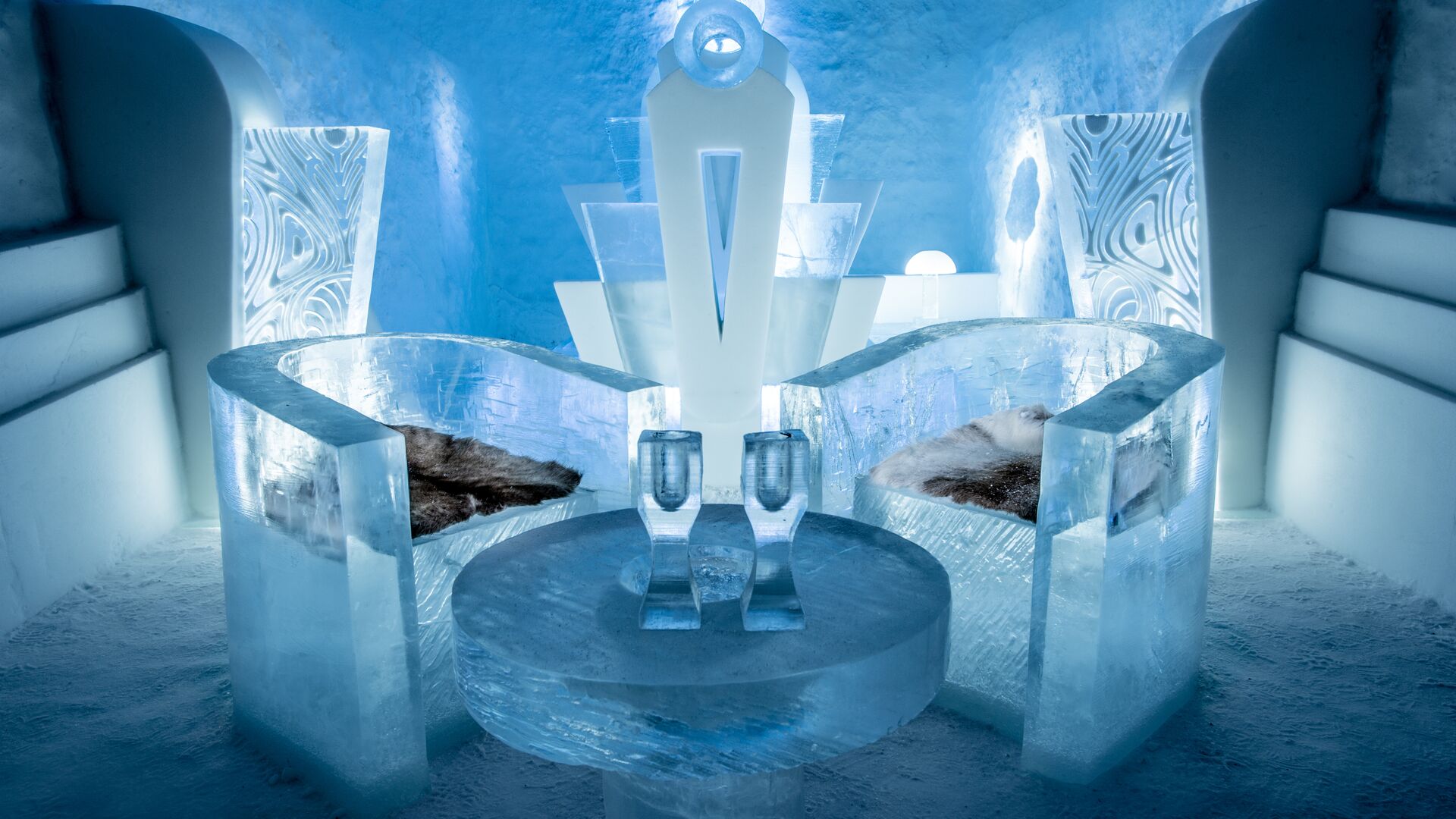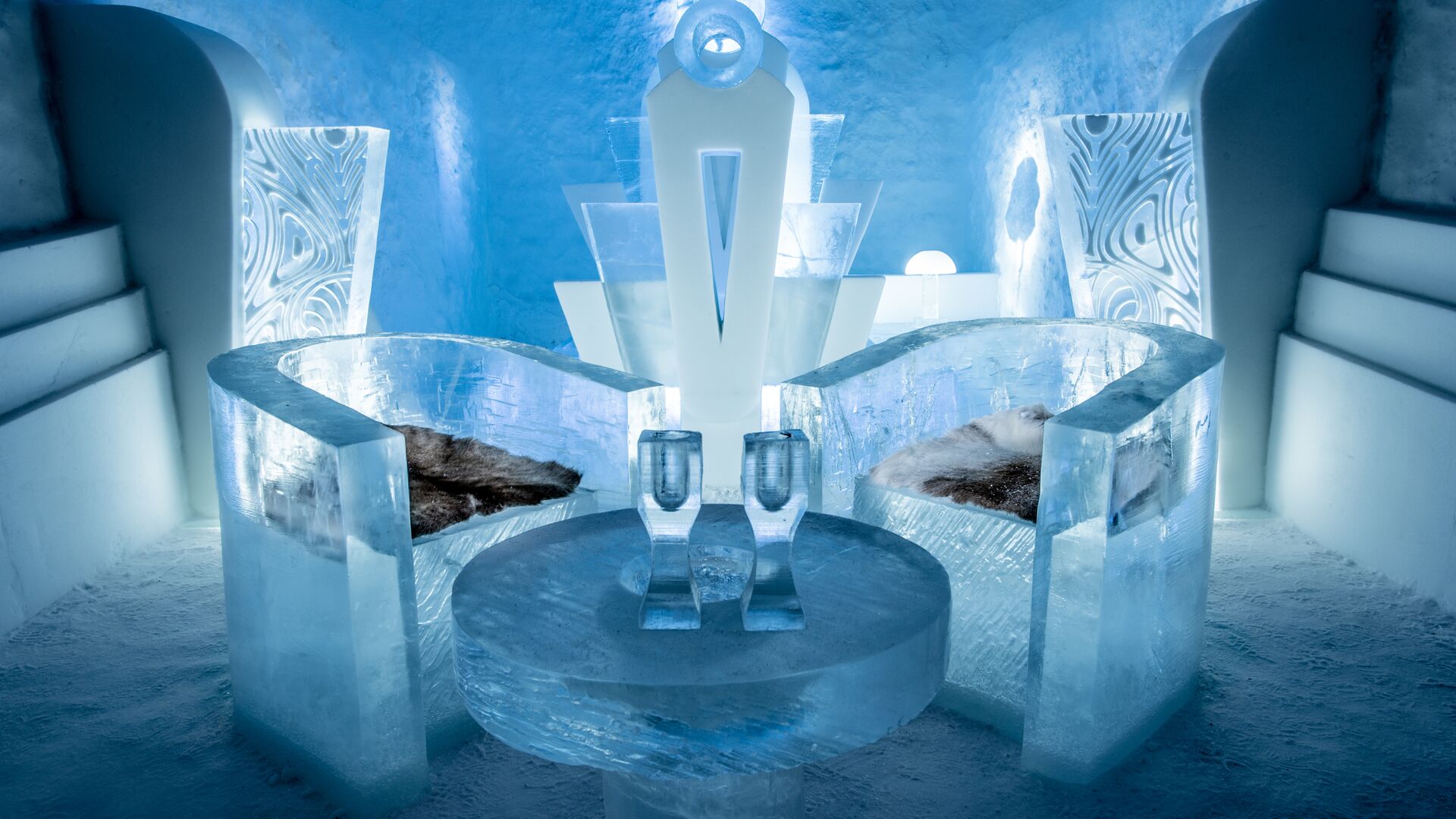 A suite in Sweden's ICEHOTEL ©Asaf Kliger - ICEHOTEL
If all of this has got you started on dreaming up your next winter adventure, check out these Lapland holiday packages for inspiration.
Find out how to get there by reading our helpful Lapland Travel Guide, where you'll find information on which airlines operate Lapland flights. Hotels, airport transfers, a selection of guided excursions, and insider tips from our local experts are included if you book your trip with Nordic Visitor.
If you want to know more about Lapland, and what you can do there just ask our regional travel consultants. They're ready to share their in-depth knowledge of the area with you.
Don't hesitate to get in touch with us to start planning your trip. Soon you could be uncovering the magic of a Lapland winter getaway for yourself.